From Ian:
Anti-Israel rhetoric has always been about the Jews - opinion
The fact that anti-Israel antisemitism is embedded in the halls of power should come as no surprise. When reason abandons the debate, the crazies on all sides feel empowered. Hatred for the Jewish people and Israel is the one thing that the alt-right and the woke Left agree on.

Gaza was just a convenient tripwire for this most recent explosion of rancor. The anti-Israel and antisemitic propaganda that has exploded on the allegedly monitored platforms of Facebook, Twitter and YouTube recalls the most horrific expressions of hate not seen since the pages of Nazi Germany's Der Stürmer, or sadly, the type of educational incitement that can be found in a Palestinian Authority first-grade textbook. Social media has spread the three Ds of anti-Israel antisemitism faster than a radioactive release from the burning Chernobyl nuclear reactor. According to the Anti-Defamation League, the words "Hitler was right" were posted more than 17,000 times in just seven days in May. Extremist hashtags against Israel and Jews were trending wildly. The vile knows no bound. Even Lily Ebert, a 97-year-old Holocaust survivor who educates the world about the horrors of hate on social media, was overwhelmed on her TikTok account by the most disgusting messages, including countless posts that praised Hitler.

Minimizing the horrors of the past promises that they'll become part of our future. Synagogues were desecrated last month, and Jewish businesses vandalized. Jews around the world now think twice before wearing a kippah in public or having a mezuzah on their front door. But let's not kid ourselves: Facebook and Twitter are monopolist businesses, and they've made billions off of this latest round of malignant incitement. The social media platforms did not stop designated anti-Israel terrorist groups such as Hamas and Hezbollah from recruiting and fund-raising online, so why should calling for the extermination of the Jewish people be any different? As the founder of an NGO that battles terrorists in court and who warned anyone who would listen that hatred on social media would lead to bloodshed, this handwriting was hash-tagged on the wall years ago.

In the hate business, antisemitism was always an easy sell and business is really good now. If hatred can't be stopped and decency won't win out over wokeness, perhaps legal liability – even criminal culpability – might be one way of getting the social media behemoths of Silicon Valley to stop their detestable practices. It isn't a vaccine for the hatred, of course, but it will limit the spread of the contagion. Until then, it's a certainty that social media will promote more anti-Israel and antisemitic hate. Terrorists will be emboldened and, in the process, many more innocent Jews will have to pay the price in broken bones and shattered lives.
The Biden administration's half-hearted fight against antisemitism
Sometimes, what leaders don't say, or do, echoes loudest. President Joe Biden's response to May's upsurge in antisemitic incidents is a prime example.

The president has been widely praised by major Jewish organizations and many individuals concerned about antisemitism for his May 28 statement, which said, among other things, "These attacks are despicable, unconscionable, un-American, and they must stop." That was a good sentence.

However, the widely ignored thorn relates to the next sentence: "I will not allow our fellow Americans to be intimidated or attacked because of who they are or the faith they practice." What matters here is the follow-up. And that's where people would be wise to pause the cheering until there's proof that this administration is committed to backing up that promise.

For starters, we're past the point where lofty words are sufficient. The time to try beating back antisemitism with statements alone was early 2019. At that point, the still new Rep. Ilhan Omar, a Minnesota Democrat, had three antisemitism scandals in quick succession, as she repeatedly violated the taboo against open antisemitism and brazened out censure. Biden chose to remain silent, as did many congressional Democrats. Now, more than two years of shattered norms later, American Jews are living with the very real and dangerous consequences of that collective shrug.

During May, American Jews were assaulted for walking while wearing a kippah in Manhattan and being Jewish while eating sushi in Los Angeles, among numerous nationwide attacks on synagogues and Jewish individuals. Notably, Biden announced no acts of solidarity against this anti-Jewish discrimination.

Consider, for example, that when Germany's antisemitism commissioner announced in 2019 that he couldn't recommend Jews always wear a kippah, a German newspaper printed a cut-out kippah that non-Jews could wear in solidarity with Germany's Jews. In that spirit, Biden could have announced he would wear a kippah for a week and encouraged other Americans to do likewise. Biden could have invited Jewish hate crime victims to the White House for an event. The president could have publicly urged Senate Majority Leader Chuck Schumer and House Speaker Nancy Pelosi to send him antisemitic hate crime legislation to sign. As the head of his party, Biden also could have declared that Jew hate has no home in the Democratic Party. He has done none of those things.
The progressive imperialism of Keir Starmer's Palestine policy
Sir Keir's motives are probably an amalgam of cynicism and idealism, but the latter is where the trouble comes in. Progressives may see unilateral British recognition of a Palestinian state as a century-late penance for the Balfour Declaration — Emily Thornberry said as much in 2017 — but it is in fact a continuation of the same map-carving mindset. Britain knows best and if the natives can't see it's for their own good, they will eventually come round. It is progressive imperialism, but imperialism all the same.

There is an enduring myth, fashioned by Arabist historians and naively echoed by Zionist advocates, that Britain has always been the great champion and protector of Zionism. There have been aspects of Zionism to British governments, policies and intellectual traditions but for the most part Britain has been either uninterested in or hostile to Zionism. Even when philo-semitism and proto-Zionism were at their height in Britain in the 19th century, arguments made for Jewish self-governance in the Land of Israel were utilitarian or patrician.

The Spectator was advocating Jewish settlement of Palestine 15 years before Theodor Herzl was born, advising the Ottoman Empire that it would be 'a gainer in every way were it to invite the immigration of such colonists' because 'the Jews would form the nucleus of an industrious, orderly population; consisting of men who have been trained to live as citizens — who know the value of domestic peace assured by laws'. Yet Palestine, it argued, was not to revert to being a sovereign Jewish polity; the settlers would merely be granted 'considerable immunities' by the Ottomans and England.

Thirteen years after Herzl's death, the magazine was still at it, with a 1917 editorial titled 'Palestine for the Jews' predicting 'a little Jewish State in Palestine would serve as a rallying-point for Jews all over the world, and it would confer a benefit also on the Christian and the Moslem worlds, which are equally interested in the Holy Land and its undying religious memories'. Again, even as The Spectator spoke of 'the revival of Palestine as a Jewish land', it was at pains to say Jewish settlement must be 'under the supervision Great Britain, our Allies, and America' with order 'maintained by some form of international control'. Far from Zionism, the motive was more strategic:
"'From the British standpoint, it is essential that Palestine should no longer be in Turkish or German hands; but it is neither necessary nor desirable that we should become solely responsible for the administration of the country.'

Palestine needed a little Jewish state not because it was the homeland of the Jews but because it was a headache for the Brits.

I don't draw attention to these articles to scold The Spectator for espousing the attitudes of the day, or for advocating exactly the sort of protectorate early Zionists envisioned. That the magazine editorialised, and editorialised so early on, for a Jewish return to Eretz Yisrael is to its immense credit. I simply observe — marvel, really — at how little has changed in the intervening years. Then as now, right as left, Britain speaks about Israel in a proprietorial tone.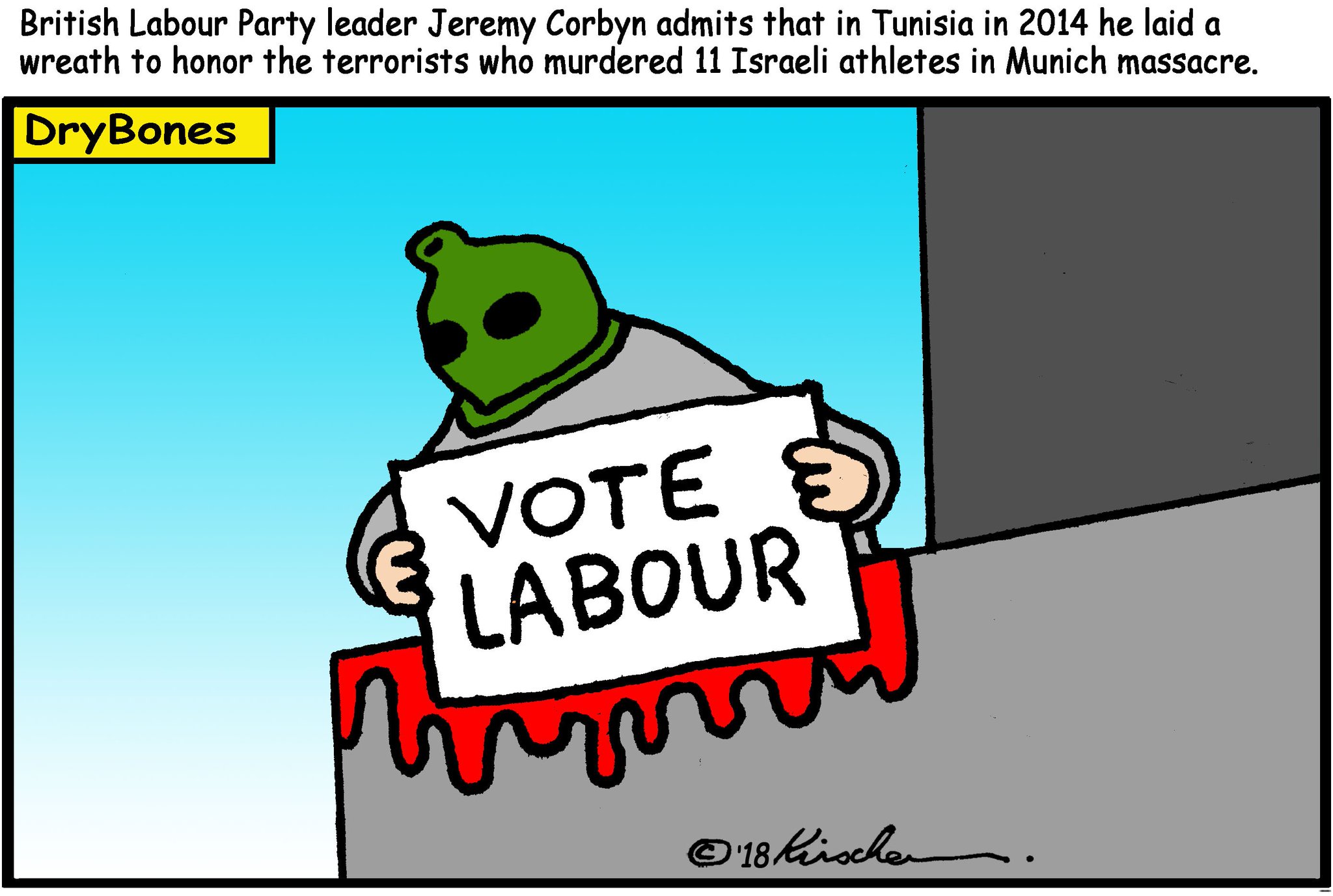 UCLA Confirms BLM Co-founder Who Called to End "Project That's Called Israel" Will Be Commencement Speaker
Associate Dean and Director of Global Social Action Agenda at the Simon Wiesenthal Center Rabbi Abraham Cooper told the Journal that UCLA needs to determine if Cullors still holds the viewpoints she expressed in 2015. Judea Pearl,Chancellor's Professor of Computer Science at UCLA, National Academy of Sciences member and Daniel Pearl Foundation president, told the Journal he asked UCLA Luskin School of Public Affairs Dean Professor Gary Segura if he would ask Cullors if she would retract her 2015 remarks.

Segura said in a statement to the Journal, "Respect for diversity of opinion on matters of public concern is a key tenet of the educational philosophy of the UCLA Luskin School of Public Affairs, and it's important to remember that an invitation to speak does not represent an endorsement of all past or future statements by a given speaker. We do not condone racism, sexism, anti-Semitism or any form of bias. The prerecorded commencement message from Patrisse Cullors is one of unity, tolerance and forgiveness. She suggests that a cooperative spirit can help heal old wounds and advance new solutions. I am confident that our graduating students will appreciate her perspective and find inspiration in her call to look forward without judgment in pursuit of a happier, more equitable society."

Cooper called Segura's statement a "nicely crafted and articulated deflection and dodge." "UCLA has the moral obligation to ask their speaker if she still seeks the destruction of the Jewish state but doesn't have the courage to do so. UCLA graduates know what she has publicly stated in the past—supporting the destruction of Israel. So UCLA believes that this is the messenger to students 'to find inspiration in her call to look forward without judgment in pursuit of a happier, more equitable society'? Has UCLA decided that promoting genocide now falls under the definition of legitimate 'diversity of opinion?'" He added that if UCLA doesn't ask Cullors for clarification, the university "will be contributing to legitimizing the tsunami of anti-Semitic hate that continues to surge right here in Los Angeles and across our nation."

Pearl similarly said in a statement to the Journal, "For the thousands of Jewish students and faculty at UCLA, Cullors represents a bigoted sect of the BLM movement that criminalizes the core of our collective existence and calls for its destruction. Inviting her as a keynote speaker without explicitly retracting or addressing that bigoted part of her ideology amounts to mainstreaming that bigotry and, by implication, expelling Jewish students and faculty from equal membership in the Bruins tent of 'equity, diversity and inclusion.'

"I am fairly sure Dean Segura spoke differently on 'respect for diversity of opinion' in 2018, when Milo Yiannopoulos came to speak at UCLA, and every trumpet on campus condemned his bigotry towards the Latino community. Let it be recorded that Cullors was offered an opportunity to retract her inflammatory statements and convey to the graduating class how essential it is for human rights activists to work toward a peaceful co-existence of Israel with its neighbors."
Today in the HoC @MarcGarneau reaffirmed the government's rejection of the "apartheid" label against #Israel. Canada's stands firm against #antisemitism in all its forms. pic.twitter.com/1wro5WiGPO

— Ya'ara Saks ???? ??? (@YaaraSaks) June 11, 2021
Student Protesters Turn CUNY Zoom Lecture Into 'Anti-Israel Hate Fest'
A group of activists turned an online lecture at New York's Hunter College into a pro-Palestinian protest, Fox News reported Thursday, reading a prepared statement that charged Israel with practicing apartheid.

During a required "Practice Lab" on the history of oppression at the Silberman School of Social Work on May 20, several students changed their pictures to Palestinian flags and changed their account names to "Free Palestine: Decolonize."

Professor Simone Gamble reportedly joined the demonstration, changing her picture as the protesters read a statement for some 20 minutes, which proclaimed that "anti-Zionism is not equivalent to antisemitism."

Participants also posted messages in the Zoom call's comment section, including one that read, "The Holocaust has been used as a tool. The fear of antisemitism as the fear of 'this could happen again' is being used preemptively to oppress and kill others."

No professor attempted to disrupt the protest, according to Jewish students present during the lecture.

"For professors who are the experts in this anti-oppression curriculum not to stand up or do anything or say anything to intervene was quite shocking," one student told Fox News. " What violence could have taken place if this happened in person Because it felt like a virtual mob."

Hunter College is part of the City University of New York, a public university.
As expected, CUNY faculty union passes anti-Israel resolution, alleging "the massacre of Palestinians by the Israeli state."
Final vote was 84-34.
In discussing the origins & events of the Gaza conflict, the resolution doesn't once mention Hamas or its rockets. pic.twitter.com/MFIqIcCFAH

— KC Johnson (@kcjohnson9) June 12, 2021
New York Police Looking for Suspect Who Threatened to 'Bash Jewish Head' of Brooklyn Bystander
The New York Police Department are searching for a suspsect accused of shouting antisemitic threats at a Jewish man outside a Brooklyn yeshiva.

Police said the suspect approached a 30-year-old man outside the Jewish school at 432 Rutland Road in Brooklyn, telling he victim he would "bash your Jewish f*****g head in," according to the Daily News.

The victim was unharmed, and the suspect continued walking toward nearby Brooklyn Avenue.

NYPD Crime Stoppers posted footage of the incident on Twitter, saying that the man was wanted for aggravated harassment.
🚨WANTED🚨for an Aggravated Harassment in front of 432 Rutland Road #wingate #brooklyn On 6/10/21 @ 10:19 AM Reward up to $3500 Seen him? Know who he is? Call 1-800-577-TIPS or DM us! Calls are CONFIDENTIAL! #yourcityyourcall pic.twitter.com/xMIaWhz2im

— NYPD Crime Stoppers (@NYPDTips) June 11, 2021
'Allahu Akhbar!': Pro-Palestinian protesters chant as they BURN Israeli flag in march through NYC that left diners shocked and saw 'blood' thrown at BlackRock offices
A group of pro-Palestinian protestors burned an Israeli flag outside of Rockefeller Center as they marched through the streets of midtown Manhattan while demonstrating over businesses with ties to Israel.

The group carrying Palestinian flags and signs saying, 'None of us are free until all of are free,' 'Imagine justice,' and 'We will free Palestine within our lifetime.' They were also filmed chanting: 'From the river to the sea, Palestine will be free'.' Some critics claim that line is anti-Semitic because it appears to call for the destruction of Israel.

When the group got to Rockefeller Center, the protesters were seen tearing apart an Israeli flag and setting it on fire, and stomping on it, yelling 'Allahu Akbar'. One woman was even filmed kneeling down and spraying more accelerant onto the flag in an apparent attempt to get it to burn faster.

Some members of the group were also seen carrying placards saying 'Abolition Now,' in an apparent call to dismantle the police.

Then, when they passed the BlackRock offices on 52 Street, two men sprayed red paint to symbolize the blood they claim the business has on its hands.

BlackRock, an asset managements firm, has significant investments in US defense firm Lockheed Martin, which supplies weapons technology to the state of Israel. It is owned by Larry Fink, who sits on the board of MoMA.

One protester was filmed shouting about why the group had diverged on Rockefeller Plaza. Oil baron John D Rockefeller's mom was one of the founders of MoMA in 1929.

Pro-Palestinian activists are now angry over Fink's position on the MoMA board. Fellow board member Paula Crown has also been targeted, over her billionaire family's company General Dynamics. General Dynamics also supplies defense technology to Israel.
Right now there's a man standing outside Downing Street screaming into a microphone that 'Palestinian resistance' (Hamas) shouldn't be called terrorists.

That's the same Hamas whose charter explicitly calls for the murder of all Jews

The crowd are loving it! pic.twitter.com/oqut8uDRa5

— SussexFriendsofIsrael (@SussexFriends) June 12, 2021
A disgusting display today in the streets of Manhattan: a truckload of #antisemitism #Jews kill Christian children #Israel kills Palestinian children

Two messages that are one & the same #anti-Zionism equals #antisemitism @AdamMilstein @Eve_Barlow pic.twitter.com/vQea9bckzM

— Shahar Azani (@ShaharAzani) June 11, 2021
Oh, look what's back on London's streets today. pic.twitter.com/93aBEptiwr

— SussexFriendsofIsrael (@SussexFriends) June 12, 2021
Filthy disgusting lying incitement #antisemitism @Campaign4T pic.twitter.com/tSVbbhVfYN

— Eye On Antisemitism (@AntisemitismEye) June 12, 2021
Seth Frantzman:
Significance of UAE being elected to UN Security Council
Sheikh Abdullah bin Zayed, UAE Minister of Foreign Affairs and International Cooperation, said that the Emirates was ready to "shoulder its share of responsibility for the world's most pressing challenges…I hope that our history as a trusted partner and intermediary will enable us to make a lasting contribution during the two years we serve on the Security Council."

He said that he recognizes the significant responsibility that membership conveys. "We affirm that the UAE will strive to contribute to peace and security with great diligence and determination."

The UAE served on the UNSC in the 1980s. The UAE received backing from the Arab League in recent years and the Asia group of countries at the UN to secure its seat. The UAE is a key country in the Middle East working toward stability and economic success in the region.

Close with Saudi Arabia and other Gulf state such as Bahrain, the UAE has pushed for moderation in the region, in contrast to extremist groups and proxies supported by those like Iran and Turkey. It has taken a stand against terrorism. In recent years it has also juggled regional responsibilities, such as playing a role in Saudi Arabia's decision to intervene in Yemen in 2015 and also in the Libyan conflict.

The UAE is also close to Egypt, and has grown closer to Greece and Israel in recent years. The Abraham Accords last year were cemented by the UAE outreach to Israel. The country also expects F-35 and drone sales from the US. There are questions about whether the UAE will shift from its muscular foreign policy to focus on economic affairs in coming years. The UN seat will be important for its diplomatic clout.
You and UAE friends again or what? https://t.co/PFQQTQPJXF

— The Mossad: The Social Media Account (@TheMossadIL) June 11, 2021
Bonnie Glick:
US-Morocco Free Trade : A Lot To Celebrate & More To Come
In 2018, the Trump Administration launched the Prosper Africa Initiative. Prosper Africa was designed to harness the energy, creativity, ingenuity, and reach of African businesses for exports to the United States while simultaneously working with American companies interested in expanding their businesses into African countries. The concept was the countries can become more successful and prosperous when they are self-reliant. A journey to self-reliance is necessarily about economic growth, job creation, and sustainability. Thus the Prosper Africa Initiative was established to promote "trade, not aid." By becoming more self-reliant, through economic growth, trade deficit reduction, market access, and improved legal and regulatory frameworks, African countries will be able to join the world economy on a more equal playing field.

Morocco was identified early on in the discussions about Prosper Africa as a natural country to have as a leading partner. Because of our existing Free Trade Agreement, the Trump Administration decided to open its first Prosper Africa office in Morocco, and the office was opened earlier this year. The additional planning focused on the facilitation of new two-way trade and investment deals between the U.S. and Morocco totaling $1 billion over the next four years, with other North African countries welcomed to join in these deals as well. By virtue of having the Free Trade Agreement in place, it opened the door for Morocco to lead, jointly with the United States, in promoting enhanced trade and investment opportunities throughout Africa.

This joint collaboration in Africa has some important implications for the bilateral relationship between Washington and Rabat. The U.S. views Morocco as a key player and leader on the continent. Our relationship, dating back over 200 years, was further strengthened during the administration of President Donald Trump through King Mohammed's decision to sign on to the historic Abraham Accords. Again, the United States turned to Morocco as a leader in Africa, to pave the way for regional economic integration across the Middle East, from Morocco to the Arabian Gulf. With the announcement of direct flights between Israel and Morocco to begin in the coming months, it is certain that the warm people-to-people ties that already exist between Israelis and Moroccans will blossom into successful commercial ventures as well. Since the U.S. maintains free trade agreements with both countries, there are countless ways that trilateral or multilateral trade and investment agreements can be derived from enhanced relations between Israel and Morocco.

To some people, 15 years seems like a milestone. Couples who are married 15 years celebrate a crystal anniversary with crystal symbolizing lightness, clarity, and durability. What do couples celebrating over 200 years of happiness together use to symbolize their relationship? No one knows – no one has been married that long. But I would propose that we celebrate with iron – the iron-clad relationship that exists between our countries is lasting and solid. We have 15 years in the rear-view mirror on free trade, but we have boundless years and prosperity ahead of us.
US to aid UNWRA on condition of new curriculum
US Secretary of State Antony Blinken confirmed that the Biden administration's renewal of funding for UNRWA is conditional on anti-Israel and anti-Jewish education reform on Tuesday, referencing educational materials that erase Israel from maps and praise terrorism and martyrdom.

"We're also determined that UNRWA pursue very necessary reforms in terms of some of the abuses of the system that have taken place in the past, particularly the challenge that we've seen in disseminating in its educational products antisemitic or anti-Israel information, so we're very focused on that," Blinken said before the Appropriations Committees of the House and Senate regarding the State Department's budget requests for the 2022 fiscal year.

He continued, adding that the State Department would be "looking very, very carefully" at the mechanisms that the refugee organization for Palestinians says it has in place in order to address problematic educational materials, which were discovered by a January 2021 review by Institute for Monitoring Peace and Cultural Tolerance in School Education (IMPACT-se), a non-profit that monitors the content of school textbooks.

IMPACT-se CEO Marcus Sheff called on the US State Department to make the subject a priority.

"UNRWA had been telling donor countries for years that it combats incitement in the Palestinian textbooks. In fact, we found that, in places, UNRWA's own content is even worse than that of the Palestinian Authority. It is right and proper that the US State Department is now going to focus on eradicating hate education in UNRWA schools. The era of UNRWA trying to pull the wool over everyone's eyes while teaching hate every day needs to be well and truly over," he said.

The US State Department reportedly became aware of the UNRWA curriculum in February. The European Parliament also expressed outrage upon being briefed earlier this year of the hate being taught to children. Canada, which pledged $24 million to UNRWA in 2020, and Australia have also announced investigations into the refugee organization.
Hamas denounces Rep. Ilhan Omar's controversial comments on Israel, US
Hamas denounced US Rep. Ilhan Omar in a press release on Friday for equating the "Palestinian Resistance" to the "crimes of Israel and the US invasion of Afghanistan."

The militant organization said that while they appreciated Mrs. Omar's attempt at defending the Palestinian people, they "deplored the unfair combination."

They asked Omar and "and all defenders of Palestinian rights" to describe things accurately, citing the importance of "laying the foundation of just solution to this chronic conflict."

The release refers to a conversation held by Omar with US Secretary of State Antony Blinken last week, a video clip of which she shared on her Twitter account.

Omar's tweet Monday said, "We must have the same level of accountability and justice for all victims of crimes against humanity. … We have seen unthinkable atrocities committed by the US, Hamas, Israel, Afghanistan, and the Taliban."
Dem Rep. Gottheimer: Omar Has Made 'Continued Series of Comments' Targeting U.S.-Israel Relationship
During a portion of an interview with the Fox News Channel aired on Friday's "Special Report," Rep. Josh Gottheimer (D-NJ) stated that Rep. Ilhan Omar's (D-MN) statement comparing the U.S. and Israel to Hamas "just adds to the record" and that Omar has made a "continued series of comments targeted at the U.S.-Israel relationship."

Gottheimer said, "This just adds to the record. So am I satisfied? I'm just really frustrated by the continued series of comments targeted at the U.S.-Israel relationship."

He also stated, "If you make comments like these, you need to be held accountable for them." And "I don't think there's anybody to blame on the coverage. I think you just have to be held accountable for your words."
Republicans call on Democratic leadership to strip Ilhan Omar of Foreign Affairs seat
Democratic leadership, including Pelosi and Hoyer, issued a joint statement on Thursday following Omar's statement welcoming her clarification and making it clear that "false equivalencies" like the one Omar appeared to make are not acceptable. The leaders said they "welcome the clarification by Congresswoman Omar," in an apparent attempt to end the controversy.

Republicans are reportedly considering forcing a floor vote on Omar next week, potentially to strip her of her Foreign Affairs seat or censure her.

"I certainly don't think that option [is] off the table," Gimenez spokesperson Danny Javita told Jewish Insider, when asked if Gimenez would introduce or support a resolution to remove Omar from her committee seat. "Right now, we are focused on ensuring Speaker Pelosi holds herself to her own standards and holds Rep. Omar accountable."

Minority Leader Kevin McCarthy (R-CA) did not immediately respond to a request for comment on potential floor action.

It is not clear that Omar's critics within the Democratic party — a group of the 12 Jewish Democrats who condemned her comments on Wednesday — would join with Republicans on a floor action around Omar.

Rep. Brad Schneider (D-IL), who led the group that condemned Omar, told JI on Thursday, "I am pleased Rep. Ilhan Omar heard our concerns about her tweet, issued a clarification and agrees with our point."

This is not the first time Malliotakis has called on Pelosi to remove Omar from Foreign Affairs. The New York congresswoman did so in February after voting to remove Rep. Marjorie Taylor Greene (R-GA) from her committee seats over a range of offensive and conspiratorial comments. Gimenez, Salazar, Upton, Kim and Kinzinger also voted to remove Greene from her committee assignments.
Or it's just the fact that @IlhanMN shills for terrorists and America's enemies? https://t.co/Oc81DItXNW

— Arsen Ostrovsky (@Ostrov_A) June 12, 2021
Letter to @SpeakerPelosi from @NMalliotakis. They demand @Ilhan be removed from the House foreign affairs committee, and refusal to do so would constitute a form of complicity: pic.twitter.com/XxZJlJDfOY

— The Conspiracy Libel (@ConspiracyLibel) June 12, 2021
Anti-Semitism has no place in Congress.

That's why I'm calling on @SpeakerPelosi to remove Rep. Ilhan Omar from her Committee assignments! pic.twitter.com/qzDP4Xc6j0

— Rep. María Elvira Salazar (@RepMariaSalazar) June 11, 2021
'Jews support violence' – racism proudly on display at Palestine demo
Jeremy Corbyn and John McDonnell have both spoken at a demonstration organised by the anti-Israel Friends of Al Aqsa group at which openly antisemitic placards were held aloft from the crowd.

As the former Labour leader and the ex-shadow chancellor addressed those attending the demo in Whitehall, central London, a misspelt banner raised by one protester read: "What is antisemitic is (in) saying that all Jews support violence and imperialism."

Meanwhile a female attendee displayed her own self-made placard which stated: "It Wasn't Ok In South Africa It Wasn't Ok In Nazi Germany So Why Is It Ok in Palestine (It's Not!).

When challenged by Jewish News on how she could make the comparison between Israel and Hitler's Germany the protester suggested it could be justified because of "Jewish supremacy" and "apartheid."

Asked if she believed there could be a two-state solution to the conflict between Israel and the Palestinians the female protesters said "no."

She also denied Hamas were a terrorist organisation.

Delivering his speech at Saturday's demo Labour's McDonnell drew cheers from around 2,000 people who attended as he blasted the "apartheid regime of Israel".
90% of this is the usual anti-Israel mob with their big allies like WFP

— Daniel Greenfield - "Hang Together or Separately" (@Sultanknish) June 11, 2021
Over 300,000 people have signed the petition to remove Ilhan Omar from the Foreign Affairs Committee.

Understandable given she can't tell the difference between the Taliban and the United States. https://t.co/aOhyWxBjG6

— Adam Milstein (@AdamMilstein) June 12, 2021
Vivian Bercovici:
Nothing Can Come of Nothing
For some time, I've been thinking that Israel has been stuck in Act IV of a Shakespearean tragedy. King Lear, to be precise. Finally, last week began the unraveling and resolution, Act V.

In the end, the protagonist, Lear, no longer has the ability to rage, and on the rare occasions he does, it is for naught. Everyone is worn out by so much relentless deceit and trickery, and more than a few submit to death. All the king's cleverness and masterful manipulation turn and destroy all that had been good, loyal, and pure around him.

And so, Bibi, like Lear, collapses into the denouement, the end of it all, the decline, the tragic resolution of his fate. A great man who has accomplished so much was unable to see his own frailty; to assess his position at all honestly.

Blinded to his weaknesses, perhaps by hubris, he was unable to accept the outcome that was clear to so many others. He remained stuck in Act III, where he was at the height of his power and things always seemed to coalesce in his favor.

Benjamin Netanyahu is every bit the Shakespearean tragic hero. While the majority of Israelis support the "change" government that will be sworn in on Sunday, there is little Schadenfreude in Bibi's fall. There is a sense that one of the great leaders of modern Israel self-destructed, which is just sad.

As journalist Ben Caspit summarized in his superb biography on Netanyahu (recently translated into English), he seemed a leader always on the verge of greatness, but unable to make the bold decisions that would truly change the course of history. This criticism is directed in particular at his avoidance of a serious commitment to advancing a two-state solution with the Palestinian Authority.
Benjamin 'Bibi' Netanyahu, thank you for your service
Following the lead of Prime Minister Benjamin "Bibi" Netanyahu, many of his supporters vilify the three conservative Israeli leaders who rejected his leadership in favor of what is called the Change government. Despite being a long-time (he and I first met in 1983) admirer of the prime minister, I commend Naftali Bennett, Avigdor Liberman and Gideon Sa'ar for their principled actions. They deserve acclaim, not insults.

Those insults form part of a campaign to get the trio and the members of their parties to change their minds. Mr. Netanyahu rails against what he inaccurately calls a "dangerous left-wing government." His ally Itamar Ben Gvir denounced the "emerging left-wing extremist government." Another Netanyahu ally, Aryeh Deri, predicted that Mr. Bennett will "destroy and ruin everything we have maintained for years."

Yet another, May Golan, went further, likening Mr. Bennett and Mr. Sa'ar to "suicide bombers." Public demonstrators burned Mr. Bennett's picture and called him a "traitor." In a highly unusual warning, the head of Israel's internal security service, the Shin Bet, warned that increasing incitement could spark political violence.

That pressure campaign might work because the Change camp has just 61 members of parliament versus 59 in Netanyahu's camp; a single parliamentarian moving over from it would abort the formation of a government and require holding the country's dreaded fifth election in just over two years.

So far, however, the campaign has failed, thanks to principled politicians. Mr. Sa'ar, a long-time member of Mr. Netanyahu's party, exemplifies their course of action. Mr. Netanyahu recently offered him to become prime minister, if only he'd go back on his electoral promise not to form a coalition with him. But Mr. Sa'ar immediately declined the temptation and instead is scheduled for the decidedly more modest post of justice minister in the Change government. If that's not principle, I don't know what is.

I therefore hope the pressure campaign fails. Yes, Mr. Netanyahu has been an excellent leader; but 15-plus years as prime minister leave him barnacled with legal cases that distort his priorities and former allies who mistrust and reject his leadership. Further, the pressure campaign is unethical and dangerous. For these (and a host of other) reasons, Mr. Netanyahu himself has become the focus of national dispute. Israel's current drama has almost no policy content — not Iran, West Bank annexation, the Palestinians, the economy, or the pandemic — but rather, it centers on his character.
Israeli victims of Hamas terror file suit against Qatari banks, charities
The Tel-Aviv based Shurat HaDin Law Center filed a legal action on Thursday in the Jerusalem District court against Qatari banks and charities for alleged transfer of funds to Hamas' military wing during last month's war against the Jihadi organization in the Gaza Strip. Shurat HaDin Law Center initiated the legal action on behalf of 24 Israeli families of terror victims, a total of 120 Israeli individual plaintiffs.

According to a statement from Shurat HaDin, "the NIS 1 billion civil action was filed against charities and Qatari banks, that it is alleged transferred money to Palestinian terrorists in the military wing of Hamas and Islamic Jihad, including during the recent Operation Guardians of the Wall which saw thousands of rockets launched by Islamic groups into Israel. The court papers contend that the Qatari banks and charities played a key competent in financing and facilitating numerous terrorists attacks perpetrated by the Palestinian terrorists groups."

The European Union and United States have classified Hamas a foreign terrorist organization.

Shurat HaDin said included in the "lawsuit as plaintiffs are the families of the late 19-year-old Uri Ansbacher, who was brutally murdered in the Jerusalem Forest, the late four-and-half- year-old Daniel Tregerman from Kibbutz Nahal Oz who was killed in Operation Eitan."
Today (12 June) 7 years ago, 3 Hamas terrorists kidnapped & murdered the 3 Israeli teenagers Naftali Frenkel 16, Gilad Shaer 16, & Eyal Yifrah 19.

2 of the terrorists were killed in an attempt to arrest them. I was personally involved in the prosecution of the third monster.
>>> pic.twitter.com/2F1rUTJvr2

— Maurice Hirsch, Adv. ???? ??''? ????? ???? (@MauriceHirsch4) June 12, 2021
Gallant finalizes decision to revoke Israel Prize from pro-BDS math prof.
Outgoing Education Minister Yoav Gallant told Attorney-general Avichai Mandelblit on Friday evening that he has finalized his decision to deny the 2021 Israel Prize in mathematics and computer sciences from Weizmann Institute mathematics professor Oded Goldreich. The Israel Prize committee filed an appeal to the High Court about Gallant's ruling, leading Mandelblit to decide whether to defend Gallant's decision or not.

The initial decision to deny Prof. Goldreich the award came after right-wing group Im Tirzu published a report which found Goldreich's signature on a petition in which he and 522 others called to boycott academic institutions in Judea and Samaria, the most notable of which is the University of Ariel.

The report also focused on a 2019 letter that he signed along with 240 Israeli and Jewish academics, calling on the German government to reject a resolution which equates the BDS movement with antisemitism.

The letter also urged Germany to continue funding organizations, including pro-BDS NGOs, that "peacefully challenge the Israeli occupation" and "expose severe violations of international law."

"Prof. Goldreich does not currently meet the conditions for contributing to the State of Israel, as his contribution to the state through his research is offset by his vigorous activity to boycott Israeli research institutions - an activity that is constantly and deliberately done and continues to cause real harm to Israeli academia," Gallant wrote to Mandelblit on Friday.
Israeli Guard Shoots Dead a Knife-Wielding Palestinian Woman, Police Say
An Israeli security guard shot and killed a knife-wielding Palestinian woman at a checkpoint in the West Bank on Saturday, police said.

There was no immediate comment from Palestinian officials about the incident, which took place at the Qalandiya crossing near the city of Ramallah.

Police said the 28-year-old woman approached the crossing and "ran towards the forces while holding a knife."

"A civilian security guard who recognized what was happening called on her to stop several times," a police statement said, adding that when the woman continued to move forward "the security guard then fired several bullets."

Police distributed a photograph of the knife they said she was carrying.

Israeli-Palestinian violence flared last month in 11 days of intense fighting between Israel and Palestinian militants in Gaza. A fragile ceasefire is largely holding, though tension remains high.
The Popular Front for the Liberation of Palestine issued a statement mourning the death of 15 year-old Mohammed Saeed Hamayel after he was reportedly shot and killed Friday in the West Bank by the IDF. The wording in the statement suggests his family belongs to the PFLP. pic.twitter.com/EZ9b82cXXD

— Joe Truzman (@Jtruzmah) June 11, 2021
A large number of what appears to be members of Palestinian Islamic Jihad's military wing, Saraya al-Quds, openly carrying weapons and marching tonight in Jenin. I don't recall seeing this many militants in the #WestBank carrying arms in public before. pic.twitter.com/sXDhoLp0Ov

— Joe Truzman (@Jtruzmah) June 12, 2021
To Biden Administration: Record of Iran's Top "Moderate" Mullah
During Rouhani's tenure, thousands of people were executed, including women and children. In its 2019 global review of the death penalty, Amnesty International stated: "Iran retained its place as the world's second-most prolific executioner after China."

In total, according to official estimates of the Iranian regime, more than 4,000 people were executed in Rouahni's two-term presidency: an average of 10 executions a week for eight years.

Rouhani's two terms as President taught many Iranians that the idea of moderates in the Iranian regime is laughable and a myth. Many chants became popular in Iran for the first time, such as "Reformist, hardliner, the game is now over", "Death to Rouhani," "Shame on you Khamenei, step down from power," and "Death to the Islamic Republic."

The Biden administration must not lift sanctions against the Iranian regime and should immediately halt all negotiations with Rouhani's administration. It has presided over unspeakable human rights violations; record-setting executions of men, women and children; suppression of Christians and other minorities, and a brutal crackdown on its population. If a country does not treat its own people well, why would it treat its neighbors any better?
Ex-Mossad Chief Hints at Israeli Involvement in Attacks on Iranian Nuclear Facilities
Yossi Cohen, who recently ended his five-year tenure as head of Mossad (Israel's Intelligence Service), has signaled that Israel was behind efforts to thwart Iran's nuclear program including blowing up the underground centrifuge facility at Natanz and assassinating top scientist Mohsen Fakhrizadeh.

The interview aired Thursday night on Israel's Channel 12 investigative program "Uvda."

A fire and explosion in July 2020 hit the Natanz uranium enrichment center that Iran blamed on sabotage. In April of this year another bomb blast went off at Natanz, damaging thousands of centrifuges.

Cohen discussed the November 2020 killing of Fakhrizadeh, an Iranian scientist who began Tehran's military nuclear program decades ago, while warning that other Iranian scientists involved in the country's nuclear program could also become the target of assassinations.

"If the scientist is willing to change career and will not hurt us anymore, than yes, sometimes we offer them" a way out, Cohen said.

Cohen also described the 2018 Mossad operation that stole archival documents of Iran's nuclear program from a Tehran warehouse.
Ahmadinejad: Iran's Counterintelligence Chief Was Israeli Spy"
Mahmoud Ahmadinejad who served as the sixth President of Iran from 2005 to 2013 on Friday told Iran International that the highest-ranking Iranian intelligence official in charge of countering Israeli espionage in Iran was an Israeli agent (Ahmadinejad Claims Israel Infiltrated Iranian Intelligence). The former president did not name the spy nor provided dates for the alleged infiltration, but he was adamant in attributing the success of Israel's intelligence operations in Iran to the Jewish state's infiltration of Iran's intelligence and security agencies.

Iran International is a Persian-language television station headquartered in London and broadcasting to Iranian viewers via satellite. The channel has reported on human rights violations, politics, and the repression of LGBTQ and women in Iran. It was nominated twice by the Association for International Broadcasting for International Channel of the Year.

Ahmadinejad announced in April 2017 that he was planning to run for a third term in the 2017 presidential election, despite the objections of Supreme Leader Ayatollah Khamenei. His nomination was eventually rejected by the Guardian Council, and Ahmadinejad has remained a harsh critic of the current government. He registered to run in the 2021 presidential election and was rejected again.

Departing Mossad chief Yossi Cohen on Thursday told Channel 12 News that the force that carried out the January 31, 2018 break into the Iranian nuclear archive on the outskirts of Tehran was made up of about twenty agents, none of whom Israeli. Cohen also revealed that the Mossad had accurate information on the place, based on which they built an identical complex outside Israel where they trained those agents. "We understood the internal structure of the site, and the order of containers," Cohen said.
Jewish Groups, German Politicians Call on Government to End 'Cooperation' With Iranian-Backed Islamic Center in Hamburg
Jewish organizations and members of the conservative Christian Democratic party and the Kurdish community in Germany are pressuring the government to pull the plug on its "cooperation" with the Iranian-controlled Islamic Center of Hamburg (IZH), a call that has so far fallen on deaf ears.

"Our demand is first for the Hamburg city government to stop working with the IZH and secondly to look into the possibility of banning the whole center altogether. No one in Hamburg would think of cooperating with right-wing extremists. Why is there a difference between right-wing extremists and Islamists? Why a different standard applies to the IZH has yet to be clarified by the responsible authorities," Remko Leemhuis, Director of the American Jewish Committee (AJC) Berlin told The Algemeiner.

The Islamic Center in Hamburg last attracted attention when it held a funeral service in early January 2020 for Qasem Soleimani, honoring the former Islamic Revolutionary Guard Corps leader as a heroic martyr after he was killed by the US military in Baghdad.

The head of IZH is directly appointed by Iranian supreme leader Ali Khamenei, and according to Leemhuis, the center is not only tasked with spreading the regime's malign state ideology but also serves as a hub for supporters of the Hezbollah, which has been banned in Germany since April 2020.

"There is a difference between supporting the dialogue with a Muslim community and talking to an outlet of the Iranian regime. Until today we still haven't seen any willingness by the Hamburg state government to discuss this with us," Leemhuis said.

The notebooks of Assadollah Assadi, an Iranian diplomat who earlier this year was sentenced to 20 years in prison for plotting a bomb attack against a gathering of Iranian dissidents outside Paris in 2018, revealed his visits and payments to the Islamic Center in Hamburg. Those notebooks served as evidence of Iran's use of cultural and religious institutions in Europe for intelligence work.
Iran: Coronavirus, Not Violent Homophobia, Reason for Pride Cancellation (satire)
June is Pride Month, and in many countries it is a time to celebrate sexual diversity by plastering rainbow flags on pretty much anything and holding parades where people dance down the streets in speedos spreading glitter on everyone and everywhere. However, from some this year's festivities are being put on hold because some governments still can't get their shit together to properly combat the coronavirus. One country, in particular, will miss the traditional pride events more than most: the Islamic Republic of Iran.

The Iranian Ministry for the Management of Sex determined earlier this month that Iran will not hold any events celebrating Pride Month due to yet another coronavirus wave and "for no other reason whatsoever". A notice by the ministry said that it was with a heavy heart that they would not be able to lure any gays out this year. "While we officially stand behind the party line that there aren't any gays in Iran, in reality we know a few have slipped under the radar. Honestly, the cancellation of Pride Month is very disappointing for everyone," Iranian president Rouhani said.

Iranian citizens have had mixed feelings about the cancellation of events. On the one hand, they felt that the government was taking intelligent steps to try to halt the country's 14th coronavirus wave. Yet on the other, some were suspicious that it was not the virus, but the Islamic Republic's fundamentalist understanding of Islam that was the reason behind canceling Gay Pride events. During a photo op, surrounded by cranes, Ayatollah Khomeini assured The Mideast Beast that this was not the case. "All gay people are treated equally here."
Qatar Behind Hostile Israel Statements From American Universities
Students and faculty at American universities in Qatar issued strikingly similar condemnations of Israel during last month's Hamas rocket attacks, one result of a longstanding Qatari campaign to shift U.S. public opinion.

Professors at Northwestern University's Qatar campus issued a letter condemning Israel as an "apartheid" state that commits "crimes against humanity." Georgetown University in Qatar followed suit. The Qatari government bankrolls these and other American schools, which are located in the capital city of Doha, through the Qatar Foundation, an arm of the regime aimed at promoting Qatari interests abroad.

Qatar is not alone in its attempt to infiltrate American educational institutions. The China-backed Confucius Institute maintains chapters on American university campuses to promote Chinese interests among students. Though former secretary of state Mike Pompeo declared the Confucius Institute an arm of the Chinese Communist Party in August 2020, the Confucius Institute still maintains chapters on 47 U.S. campuses.

The Qatar Foundation spends $405 million per year to support satellite campuses of American universities in Doha, according to the Clarion Project. A separate group, Qatar Foundation International, operates at schools in the United States. Qatar Foundation International is not officially recognized as a foreign agent.

"Qatar wants to exert itself more and position itself as a power player," Lawfare Project general counsel Gerard Filitti told the Washington Free Beacon. "They want to find a way to influence other countries to predispose them to back agendas. And one way they've done so is through education. It's no secret. The way to influence the next generation of leaders is by educating them."
'Hitler was right' journalist leaves BBC
Tala Halawa, the BBC journalist who was found to have tweeted 'Hitler was right', is out at the Corporation. Almost three weeks ago, Steerpike highlighted how media watchdog organisation Honest Reporting and others had uncovered a string of tweets posted on Halawa's Twitter account from 2014. These included pronouncing that 'Israel is more Nazi than Hitler' and 'Hitler was right'.

Halawa had also declared 'ur media is controlled by ur zionist government' and tweeted a graphic of a child being burned on a menorah, the Jewish ritual candelabrum. On Facebook, she shared the same meme that got Naz Shah suspended as a Labour MP in 2016, a graphic proposing the 'transportation' of Israel to the United States to end 'foreign interference' in the Middle East.

She further proclaimed that 'Zionists can't get enough of our blood' and 'they're [sic] are crying the holocaust every single moment but they're practicing it every single moment as well'.

After the tweets came to light, the BBC launched an investigation into Halawa, who joined the Corporation in 2017 and was employed as a 'Palestine specialist' at BBC Monitoring, where she contributed to reporting on the fallout from the recent fighting between Israel and Hamas. Mr S was contacted by several concerned BBC journalists furious at being linked by association to their disgraced colleague.

At first the Corporation seemed keen to stress the tweets pre-dated Halawa's hiring — though why that would reflect better on it isn't clear — but Steerpike understands as of Friday that she no longer works for the BBC.

Let's hope their recruitment background checks are more rigorous in the future...
Two Jewish Communities in Southern France Menaced by Anonymous Death Threats
Two Jewish communities in southern France were targeted by menacing antisemitic threats this week, in separate incidents that are being investigated by French police.

On Wednesday, a handwritten letter containing threats of violence was delivered to the Jewish community in the town of Béziers, in the Haute-Languedoc region. Its writer derided Jews as a "sh**ty race," echoing Nazi antisemitic rhetoric as he described them as "parasites" and the "cancer of humanity."

The author stated that he was "very armed," claiming to have already purchased two Kalashnikov semi-automatic rifles. He warned that he would attack the Béziers synagogue on an occasion when it was "full of vermin" in order to cause "more carnage than in the Bataclan" — a reference to the nightclub in Paris where 90 people were murdered by Islamist gunmen during a terrorist attack on Nov. 13, 2015.

The head of the Jewish community in Béziers, Maurice Abitbol, told local media outlets that he had received and reported antisemitic harassment in the past, but had never witnessed "such violent and explicit threats."

A similarly threatening letter was received on Thursday by the Jewish community in La Grande Motte, a coastal town about 60 miles to the east of Béziers.

Sabine Atlan, the president of the town's Jewish community, told news outlet France bleu that she had filed a complaint with the local police.
?? Clifton, NJ - a hookah shop refers to the Jewish nation and her Prime Minister (former) as Nazis.

This vile comparison is deemed antisemitic by #IHRA and once again shows us the importance of having such a definition. pic.twitter.com/bQiixYOyXX

— StopAntisemitism.org (@StopAntisemites) June 12, 2021
New mass burial site is found near Auschwitz concentration camp after local spotted 12 skulls on river bank
A suspected mass burial site found near the former Nazi death camp of Auschwitz is being investigated by Polish prosecutors.

A resident discovered 12 human skulls and many bones on the banks of the Sola river, part of which flows within metres of Auschwitz, near the town of Oswiecim in Poland.

Police and prosecutors are investigating whether the remains might be linked to the former death camp and the state National Remembrance Institute, which investigates Second World War and communist-era crimes, has been notified.

During the Second World War, more than 1.1 million people - most of them Jews - were killed at Auschwitz, which Nazi Germany opened first as a concentration camp after their invasion of Poland in 1939.

The press office of Auschwitz Museum said it was aware of the find and others before it, but the area is outside the museum's perimeter and administrative authority.

Any further steps depend on the findings from the investigation.

It first opened as a labour camp for political prisoners before further sites - including Auschwitz II-Birkenau were opened - and it became an extermination centre from 1942.