From Ian:
New York Times Video Whitewashing Hamas Is Condemned as 'Shocking' 'Hatchet Job'
The New York Times is being condemned for publishing a nearly-15-minute long propaganda video criticizing Israel for an attack that "could be a war crime."

The video, headlined, "Gaza's Deadly Night: How Israeli Airstrikes Killed 44 People," carries the bylines of a staggering ten people: "Evan Hill, Ainara Tiefenthäler, John Ismay, Christiaan Triebert, Soliman Hijjy, Phil Robibero, Drew Jordan, Yousur Al-Hlou, Christoph Koettl and Patrick Kingsley."

The video, in typical Times style, is full of self-congratulatory and self-referential hype.

"The Times spent more than a month investigating these attacks to find out what went wrong," a narrator solemnly intones. "It was a complicated and intense month-long team effort."

But, also in typical Times style, all this work by all these people ultimately delivers not much. "Experts say that the type of Israeli strikes we documented can easily lead to catastrophe and could be a war crime," the script for the documentary speculates. "Could be?" After all that effort the Times can't even find an expert to say it "is," a war crime, just that it "could" be? And the expert turns out to be from the notoriously anti-Israel group Amnesty International: "Saleh Higazi of Amnesty International said that Israel should have foreseen the disastrous effects of such strikes on a dense civilian neighborhood could have. Attacking anyway, without warning and with heavy bombs, could be a war crime and should be part of an ongoing investigation into Palestine by the International Criminal Court, he said."

Several of the bylines on the video are of people with experience at advocacy groups and who were educated in Europe, which can tend to tilt more favorably toward the Palestinians and against Israel than US institutions. Evan Hill, a producer on the project, before coming to the Times spent three years as a Middle East researcher from Human Rights Watch, a notoriously anti-Israel advocacy group; beefore that, he worked for Al Jazeera. Triebert is a 2015 graduate of the University of Groningen in the Netherlands, and Tiefenthäler is a 2012 graduate of Humbolt University of Berlin, according to their LinkedIn profiles. Kingsley, the Times Jerusalem bureau chief, was educated in England and came to the Times from the British Guardian newspaper.

A former Israeli diplomat, Lenny Ben-David, called the video a "hatchet job," and said the Times video "relied on Gaza photographers & 'fixers' who are owned or threatened by Hamas."
Where's the Outrage?
There's an entire global industry dedicated to vilifying and isolating Israel, the world's only Jewish-majority nation.

Where's the outrage?

Of the 193 UN member states, only one, Israel, is targeted by another, Iran, for annihilation, even as many countries conduct a shameful business-as-usual policy with the Iranian regime.

Where's the outrage?

At the UN Human Rights Council in Geneva, just one nation is deemed such a violator of human rights that it warrants a separate and permanent agenda item. Not China. Not Cuba. Not Iran. Not Russia. Not Syria. Only Israel, the lone liberal democracy in the Middle East.

Where's the outrage?

Every country but one has the recognized right to designate its own capital city. Only Israel is denied that right by a majority of states.

Where's the outrage?

Unlike other countries, Israel's legitimacy is constantly challenged, yet Israel's claim to a sovereign sliver of land has been validated by more international bodies (San Remo Conference, League of Nations, UN Special Committee on Palestine, UN General Assembly) than most other nations, including several that happen to be located in the Middle East.

Where's the outrage?

Jews have been connected to the region for 3,500+ years, established Jerusalem as the center of Jewish prayer, and, even in forced exile, never stopped yearning for a return. Nonetheless, Jews are called "crusaders" and "colonizers," rather than the indigenous people they are.

Where's the outrage?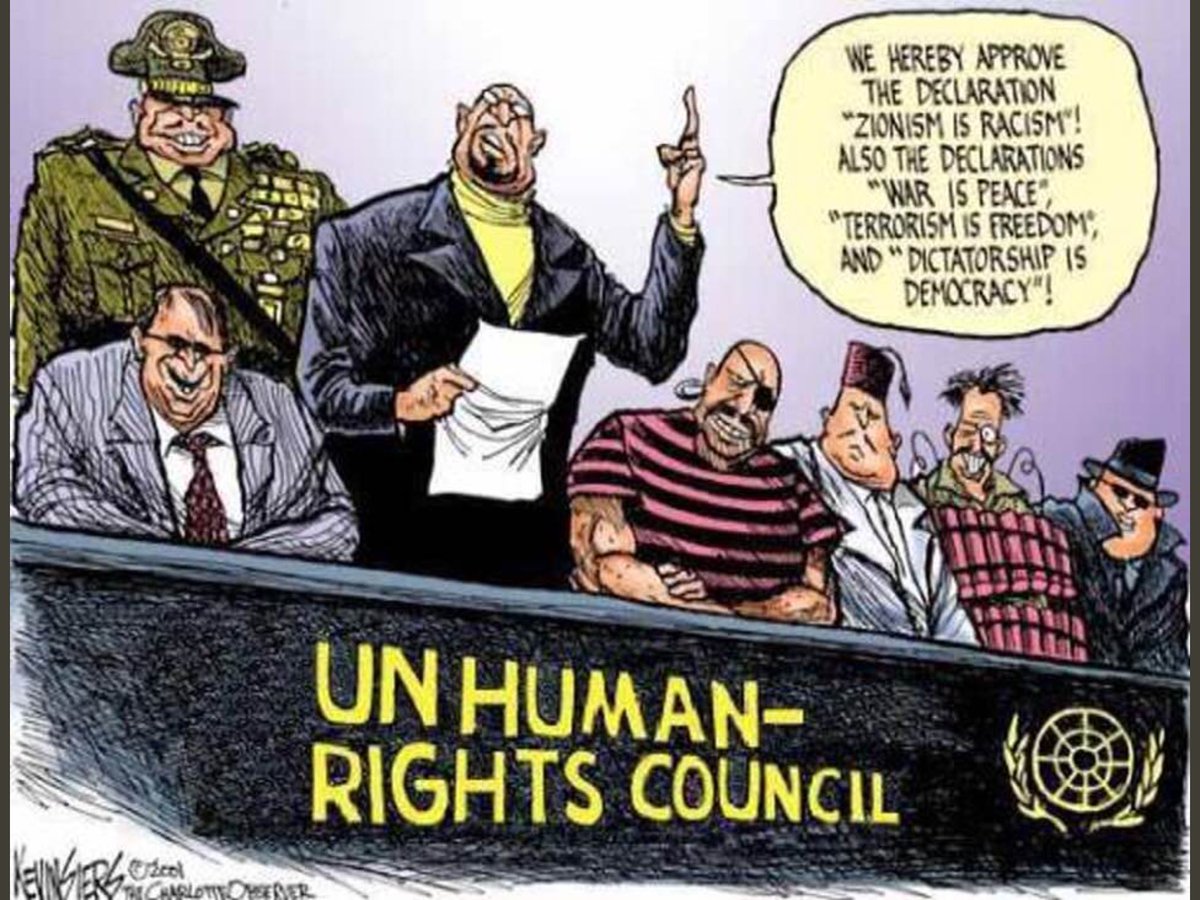 Watchdog Group Says UN Report on Children and Armed Conflict Biased Against Israel Due to NGO Influence
A top watchdog group asserts that a new UN report on children in armed conflict that will be presented to the Security Council on Monday is biased against Israel due to the involvement of "radical" NGOs in its formulation.

A review by NGO Monitor said of the Children and Armed Conflict (CAAC) report to the UN Secretary-General that its allegations against Israel "primarily originate with a group of radical NGOs that belong to a 'working group' tasked by UNICEF with monitoring and advocacy on children's issues. Together with UNICEF, they engage in a campaign to demonize Israel in the Secretary-General's annual report."

The group said that there is also an issue of disproportionate criticism of the Jewish state, which is driven by institutional pressures.

"The relatively large number of NGOs active in the Palestinian-Israeli conflict — enabled by significant funding from the EU, European governments, and others — leads to a selection bias: [the] UN receives and reports a high number of allegations against Israel because of NGO engagement," the Israel-based group said. "Grave violations that occur in places with less NGO presence are underreported."

NGO Monitor also criticized the report's redefinition of the term "maiming" to include the inhalation of tear gas, which then amounts to 50% of the number of children the report claims have been maimed.

This redefinition has been used only in relation to Israel, it said.
no surprise. These NGO-terror links go way back. Jabarin is also on the @KenRoth @hrw "Middle East Board" and SecGen of the Paris based propaganda org @fidh_eu https://t.co/nLQR6ZhELm

— Prof Gerald M Steinberg (@GeraldNGOM) June 28, 2021
Jonathan Greenblatt:
Iran's New President Has a Track Record of Antisemitism
Raisi's history of hate mongering throws into stark relief the twin perils of U.S. engagement with Iran over its nuclear activities. On the one hand, real progress will be tough to achieve with such a regime, especially now that Raisi's election erases the fiction that Iran's Supreme Leader, Ali Khamenei, might be offset by a less provocative Iranian president. But on the other hand, these revelations also highlight the urgency of such negotiations, given how terrifying the prospect would be of nuclear weapons in the hands of such cruel and hateful men.

Clearly, such a dilemma offers no easy answers. Yet our discovery that Raisi was responsible for systematically propagating The Protocols of the Elders of Zion, one of the most dangerous tracts in history, provides an unsettling reminder of just how engaged Iran's government and leaders have been in inciting antisemitism. The revelation appears to substantiate the profound anxiety among Israelis and others in the region about an ascendant and militarized Iran.

The Biden Administration's recent disruption of regime-backed websites that spread Iranian disinformation and bigotry was a positive step, even if those sites already are resuming activity. What's needed now is a forthright recognition by this Administration that Iran's regime remains the number one state sponsor of antisemitism, which the Trump team actually got right. And based on that, the Administration should issue a strategy for constraining and counteracting Iran's initiatives inciting hatred and violence against Jewish communities around the world.

The devastation wrought by dictators from Hitler to Stalin to Khomeini brandishing The Protocols should compel all of us to take seriously the threat represented by an Iranian regime bent on acquiring nuclear weapons and sponsoring terrorism across the region. Raisi comes to this job as a perpetrator of crimes against humanity, and no responsible country should host him for a state visit or any official talks. Now the U.S. and all world powers must work together to assure that he can commit no additional crimes against humanity.
US airstrikes target Iran-backed militia in Iraq, Syria over drone attacks
The Pentagon announced Sunday it had conducted targeted airstrikes against "facilities used by Iran-backed militia groups" on the Iraq-Syria border, which it said were authorized by US President Joe Biden following ongoing attacks on US interests.

"At President Biden's direction, US military forces earlier this evening conducted defensive precision airstrikes against facilities used by Iran-backed militia groups in the Iraq-Syria border region," Pentagon spokesman John Kirby said in a statement.

Kirby added that the targets — two in Syria, one in Iraq — were selected because "these facilities are utilized by Iran-backed militias that are engaged in unmanned aerial vehicle (UAV) attacks against US personnel and facilities in Iraq."

US interests in Iraq have come under repeated attack in recent months, with the United States consistently blaming Iran-linked Iraqi factions for rocket and other attacks against Iraqi installations housing its personnel.

"Given the ongoing series of attacks by Iran-backed groups targeting US interests in Iraq, the president directed further military action to disrupt and deter such attacks," Kirby said.

"Specifically, the US strikes targeted operational and weapons storage facilities at two locations in Syria and one location in Iraq, both of which lie close to the border between those countries," he added.

While the United States did not provide information on casualties, the Britain-based Syrian Observatory for Human Rights — a pro-Syrian opposition organization of uncertain funding based in the UK which has had its credibility questioned in the past — said that "at least five Iran-backed Iraqi militia fighters were killed and several others were wounded in an attack by US warplanes" on the Syrian side of the frontier.
US airstrike on a KSS/KH position in Abu Kamal https://t.co/WARfKLU9BA pic.twitter.com/jJWpyO6YrQ

— Samir (@obretix) June 28, 2021
Four members of Kata'ib Sayed al-Shuhada were reportedly killed tonight by US airstrikes at the #Iraq-#Syria border. pic.twitter.com/w5zqQKU3xn

— Joe Truzman (@Jtruzmah) June 28, 2021
Seth Frantzman:
Will US airstrikes be a gamechanger for Biden's Mideast policy? - analysis
He tweeted that he was "not convinced that hitting drone facilities themselves is very fruitful. These are cheap drones using many dual-use and low-cost systems, Iran is close enough [by land so that] resupply is easy and assemblers are replaceable. Only leadership strikes deter."

The larger point Knights is making is that drone and rocket attacks have increased this year, and the new threat includes at least 10 attacks with several types of drones. If the US rate of response is only two retaliatory rounds of strikes in response to dozens of attacks since January, then the US is not deterring the pro-Iran groups.

Along with Crispin Smith, Knights wrote an article at the Washington Institute for Near East Policy regarding the drone threat.

This leaves a major question mark over whether Biden will go further and whether more strikes will occur. It is clear the Biden administration is attempting to justify the strikes to Congress. However, Iran appears to feel it has the impunity to attack the US, striking secret sites and targeting air defenses and other sensitive areas.

While some pro-Iran claims of attacks may be disinformation, the reality is that they appear to have the upper hand. The US is not prepared to do what the Trump administration did, which was to target Qasem Soleimani and Abu Mahdi al-Muhandis, key leadership figures of the Islamic Revolutionary Guards Corps and Popular Mobilization Forces, respectively.

This means the strikes may be more of an example of doing something just so that the US can say it did something. That would not be a game changer, and Iran will likely know that.

This then puts the Pentagon and White House in a bind: They know what needs to be done to deter Iran, but they may not want to increase tensions.

Instead, the US is withdrawing air-defense systems from the region, officials have told The Wall Street Journal. That is not a good message to an Iran that increasingly wants to push the US out of the way.

In addition, during the 11-day conflict between Israel and Hamas in May, a drone was launched from Iraq or Syria and flew into Israeli airspace before being shot down. This means the threats in Iraq to US forces also run parallel to emerging threats to Israel in the region.
JCPA:
The Gaza War 2021: How Iran and Hizbullah View the Attacks on Israel
Senior Hamas and Islamic Jihad leaders in Gaza were in contact with Iran's top brass, including Supreme Leader Ayatollah Khamenei and the heads of the Iranian Revolutionary Guard, during the 2021 Gaza War. Sources close to Hizbullah revealed that the Iranian Revolutionary Guards, Hamas, and Hizbullah coordinated the military confrontation in Gaza from a military operations center in Beirut. The commander of the IRGC's Quds Force, General Esmail Qaani, visited Lebanon twice to attend meetings at the joint command center.

Iranian aid to Hamas and Islamic Jihad is constant and flows all the time through various channels, regardless of the economic situation in Iran and Lebanon. Iranian influence could be seen in Hamas' efforts to attack Israel's strategic and energy infrastructures, including efforts to damage Israeli gas rigs in the Mediterranean. This copies the efforts of the Houthis in Yemen to attack similar targets in Saudi Arabia.

These efforts involve long-range attack drones, GPS-guided unmanned suicide vessels, underwater guided weapons, and long-range missiles. The Houthis in Yemen are using these capabilities against oil infrastructure in Saudi Arabia and against civilian infrastructure such as airports, power plants, and desalination facilities. Iran seeks to develop these capabilities and test them against Israeli civilian and military targets.

From their perspective, Iran's leaders see a string of successes, including confronting sanctions, surviving the Trump administration and ex-Israeli Prime Minister Netanyahu, maintaining an active military nuclear program, overthrowing Saddam Hussein, the Shia revival in Iraq, and the "victories" of the Palestinians in Gaza and Hizbullah in Lebanon against Israel with Iran's support.

They believe that the prophecy of the leader of the 1979 Iranian Revolution, Ayatollah Khomeini, regarding the destruction of Israel will eventually be fulfilled, and that Iran has the power to bring it about.

For Iran, "Palestine" is only one part of a complex strategy of building the Axis of Resistance from the Persian Gulf to Lebanon, aimed at Saudi Arabia, Yemen, Syria, and Lebanon; each arena has its own blueprint, a toolbox of hostile insurgency actions, and the guidance of Hizbullah, the Quds Force, and well-trained militias.
Seth Frantzman:
Iran's 7,000km range drone is a warning to Israel - analysis
Iran says a new drone it has unveiled has a range of 7,000 kilometers, according to Tasnim News Agency and other reports, making it a challenge to the United States and a clear warning to Israel.

Even if the drone has not achieved such a long range in a real flight (easily far enough to fly from Tehran to Reykjavik), Iran is sending a warning message that it can strike Israel with this weapon.

Islamic Revolutionary Guard Corps Commander Maj.-Gen. Hossein Salami has said the new drone has a 7,000-km. range, which means it could fly from Iran or via Yemen or Syria over Israel and back to its base.

Iran recently unveiled a drone called Gaza, a clear reference to the recent 11-day conflict between Hamas and Israel. It is unclear if the 7,000-km. range refers to the range of the new Gaza drone or another type.

IRGC Aerospace Force Commander Gen. Amir Ali Hajizadeh is one of the key figures behind the drone and missile program.

The "IRGC commander-in-chief, who was enumerating the country's achievements in technology and science and also developed the field of aerospace, said today we have wide-body drones that go back and forth 7,000 kilometers and land anywhere they want," Tasnim reported. The new Gaza drone is called the Shahed 149 and is larger than the Shahed 129, the report said.
Bennett government to advance legalization of Evyatar outpost
Prime Minister Naftali Bennett has cautioned that a deal to prevent the forced eviction of the West Bank outpost of Evyatar had still not been finalized, even though settlers had announced hours earlier on Monday that they had accepted the terms of an agreement.

"This is a sensitive issue. The matter is not yet closed. We are trying to reach a compromise," Bennett told his faction, adding that it was still too early to celebrate.

Bennett added that Defense Minister Benny Gantz (Blue and White) and Interior Minister Ayelet Shaked (Yamina) were working on an agreement with the settlers.

Hours earlier, Samaria Regional Council head Yossi Dagan and the Nahala Movement leaders Daniella Weiss and Zvi Elimelech Sharaf held a celebratory press conference to announce what they thought had been a concluded rare deal to allow for the eventual legalization of the hilltop community.

It was unclear, however, that one the deal is announced, whether the Evyatar would be designated as a new neighborhood of the settlement of Kfar Tapuach located several kilometers away, or if it would be classed as an entirely new settlement.

Settler leaders have characterized Evyatar as a new settlement.
B'Tselem activists arrested for torching land in West Bank
Two activists in the left-wing Israeli NGO B'Tselem were arrested for torching land on Hill 16 next to Kiryat Arba last week, Im Tirztu reported on Sunday.

The activists were Imad Abu Shamsiyya, a photographer for B'Tselem who documented the controversial Elior Azaria case, and Araf Jabber.

Im Tirtzu claimed that the torched land fell under Israeli control and that the two activists, not Israeli citizens, sparked the fire on the hill in order to prepare it for agricultural activities in the future to allow Palestinians to take the land.

B'Tselem denied that the hill was under Israeli control, claiming that the land in question belongs to Jabber.

"This is not the first time that links between activists in anti-Zionist propaganda organizations working with foreign governments and the New Israel Fund and terrorist acts have been linked," said Matan Peleg, chairman of Im Tirtzu. "For the terrorists and seekers of Israel's evil, these are different activities in nature but with the same purpose. Sometimes it is found that these are the same people."

"The anti-Zionist organization B'Tselem has never done anything good with the millions of dollars it feeds on from foreign countries, but only makes a living from the existence of the conflict and takes care of perpetuating it," said Peleg. "The Israeli government must act immediately to reduce the funding of foreign governments for delegitimization organizations operating in Israel."
Palestinians continue their nightly disturbances near the Evyatar outpost in the #WestBank. If the outpost does evacuate (by force or willingly) it's likely this will repeat itself in other areas in the #WestBank. pic.twitter.com/Da730MBdfo

— Joe Truzman (@Jtruzmah) June 27, 2021
Bennett, Sisi discuss Israeli captives in Gaza, agree to meet
The two Israeli men and the remains of two IDF soldiers held captive in Gaza must be returned, Prime Minister Naftali Bennett told Egyptian President Abdel Fattah al-Sisi on Monday in the first phone conversation between the two leaders as efforts continue to consolidate a permanent ceasefire between Israel and Hamas.

Both Bennett and Sisi agreed to set up a face-to-face meeting as soon as possible.

Sisi emphasized the importance of Gaza Strip ceasefire and the need to improve the civilian and humanitarian situation for the Palestinians living there, Bennett's office reported.

Bennett spoke of the importance of Hamas returning the remains of two IDF soldiers killed in the 2014 Gaza war - Hadar Goldin and Oron Shaul - and the release of the two Israelis - Avera Mengistu and Hisham Al-Sayed - held captive in Gaza.

The conversation took place hours after Israel allowed fuel for the Gaza power plant to enter the Strip for the first time since the anti-Hamas operation last month, labeled by Israel as operation "Guardian of the Walls."

It is yet another sign that tensions between Israel and Hamas are easing.
In Ramallah today, Fatah thugs continued to attack Palestinians. pic.twitter.com/8Sf4rHDaDu

— Khaled Abu Toameh (@KhaledAbuToameh) June 27, 2021
Golf Clap for Peter Beinart finding a way to blame Israel for Palestinian oppression by Palestinian authorities. https://t.co/CKi5pwbRfo

— Noam Blum (@neontaster) June 27, 2021
A Palestinian journalist appeals to the EU, human rights organizations, to protect him from attacks and restrictions by the Palestinian Authority security forces. pic.twitter.com/hfJuAcq467

— Khaled Abu Toameh (@KhaledAbuToameh) June 27, 2021
PreOccupiedTerritory:
BBC, NY Times Bravely Not Noticing Palestinian Corruption, Repression (satire)
Intrepid journalists from some of the planet's leading outlets continued to justify their earned reputation for getting out the stories the world needs to hear, as they displayed the nerve necessary to ignore ongoing violent suppression of dissent by President Mahmoud Abbas's administration.

Media observers expressed once again today their admiration and marvel for the fearless reporters from the New York Times, British Broadcasting Corporation, Reuters, The Guardian, the Associated Press, Agence France-Presse, and other marquee names in international news, whose go-getter approach to informing readers and audiences what they need to know about this strategic region forces them to perform the daring, daunting task of pretending not to see or need to report on Palestinian dissatisfaction with its autocratic leadership and the latter's use of thuggery, intimidation, and deadly force to discourage the former, except as a roundabout reference in a larger Israel-demonizing narrative.

"They are so good at what they do," gushed CNN commentator Christiane Amanpour. "They know what it's all about, having that fearless attitude of getting the story no matter what, unless the story somehow implies Palestinian have agency, in which case it has to be couched in terms of Israeli moral failure."

BBC personality Jeremy Bowen acknowledged the praise with characteristic humility. "It's not easy, but it's what we signed up to do," he allowed. "We have standards to maintain and an audience who counts on us to shape their perception of the world. We do that by bolstering the assumption that Jews with power can't be trusted, and that Palestinians are the darling underdogs. Developments that challenge or undermine those assumptions must remain underreported, lest the delicate picture we have painted in the minds of the public suffer from complexity, or worse, the extent of our bias becomes more widely known."
PMW:
Fatah calls for an "expansion of confrontation" with Israel, prides itself that "all Fatah frameworks" have been involved in "the popular resistance in all places"
Fatah is calling for "expansion of the confrontation" with Israel. That was the message coming out of a meeting of the Fatah Revolutionary Council led by Palestinian Authority Chairman Mahmoud Abbas, who is also the head of Fatah. The council also stressed Fatah's involvement in violence, using the PA euphemism "popular resistance" – a term Palestinian Media Watch has proved is used by PA leaders at times to refer to deadly terror attacks and terror waves:
"The Fatah Revolutionary Council… also emphasized… the involvement of all the [Fatah] Movement frameworks in the popular resistance in all places, and the expansion of the confrontation with the settler colonialism in all districts."

[Official PA daily Al-Hayat Al-Jadida, June 25, 2021]

Opening the meeting of the Revolutionary Council, Abbas emphasized the message that terror is legitimate and terrorists are heroic. Doling out his "blessings," he first singled out groups that are notoriously known to be comprised of terrorists – "the Martyrs, the prisoners, the wounded." Then he addressed the rest of the Palestinian people, again stressing the value of "fighting." He rounded this off by specifically lauding "all the members of our people who supported the Jerusalem uprising" – a clear reference to the violence and riots that started in April and continued into the recent war in May, when terrorists from Hamas, Islamic Jihad, and even Fatah fired over 4,300 rockets at Israel:
Abbas: "Blessings to the Martyrs, the prisoners, the wounded, the masses of our people that is standing firm in Jerusalem, our state's eternal capital. Blessings to our people in the Sheikh Jarrah [neighborhood of Jerusalem], in the Silwan [neighborhood of Jerusalem], and in all the streets, neighborhoods, and alleys of Jerusalem. Blessings to those carrying out Ribat (i.e., religious conflict over land claimed to be Islamic) who are standing firm in the blessed Al-Aqsa Mosque plazas, and to all those who are defending our Islamic and Christian holy sites. Blessings to our fighting people in Beita, which has become a model and an icon of popular resistance, and on whose land Martyrs have fallen…

Blessings to all the members of our people who supported the Jerusalem uprising in our villages, our cities, and our refugee camps.'"

[Official PA daily Al-Hayat Al-Jadida, June 22, 2021]
PA TV praises 3 murderers who killed 8 Israelis
Official PA TV reporter: "The village [Jabel Mukaber] gave Martyrs for the sake of Jerusalem like Martyr Fadi Al-Qunbar, Baha Alyan, Alaa Abu Jamal (i.e., terrorist murderers), and many others who refused to submit to the occupation."

[Official PA TV News, June 26, 2021]

Fadi Al-Qunbar – 28-year-old Palestinian terrorist who murdered 4 Israeli soldiers – officer Yael Yekutiel, 20, and cadets Shir Hajaj, 22, Shira Tzur, 20, and Erez Orbach, 20 – and wounded over 15 other soldiers in a truck ramming attack at the Armon Hanatziv Promenade in southeast Jerusalem on Jan. 8, 2017. After ramming into the soldiers at high speed, Al-Qunbar ran over the prone soldiers again before being shot and killed by soldiers and an armed civilian. Al-Qunbar supported ISIS online.

Baha Alyan and Bilal Ghanem – 22 and 23-year-old Palestinian terrorists who on Oct. 13, 2015, boarded a bus in Jerusalem's Armon Hanatziv neighborhood with a gun and a knife and attacked passengers, murdering Israelis Chaim Haviv (78) and Alon Govberg (51), and Richard Lakin (76), and wounding 3 Israelis. Alyan was shot and killed by an Israeli security guard at the scene and Ghanem, a Hamas terrorist who had served time in Israeli prison in 2013-2014, was wounded. Ghanem is serving 3 life sentences and an additional 60 years for these murders.

Alaa Abu Jamal - Palestinian terrorist who deliberately drove his car into Israelis standing at a bus stop on Malchei Yisrael Street in Jerusalem on Oct. 13, 2015, hitting 3 people. Yeshayahu Krishevsky, 60, was murdered and the other 2 were injured. Abu Jamal then got out of his car and started attacking people with an axe, wounding others. The terrorist was killed by a security guard during the attack.
Qatar-funded fuel enters Gaza via Israel for 1st time since May fighting
Israel allowed 17 trucks carrying Qatar-funded gasoline to enter the Gaza Strip on Monday to fuel the enclave's only power station, for the first time since May's fighting.

The Kan public broadcaster reported on Monday that Palestinian sources told the Lebanese Al-Akbar newspaper that Egypt sent a message to the Gaza Strip's Hamas rulers that if all remains quiet in the area Israel will fully open the border crossings into the enclave.

However, the sources said that Hamas responded by telling Cairo that it intends to keep up pressure on Israel, without clarifying what that entails.

The border crossings were shut after a soldier was lightly wounded in a mortar attack while assisting in the transfer of humanitarian aid shipments into the Gaza Strip through the Erez Crossing during the 11-day conflict in May. Last week Israeli relaxed some of the restrictions to allow some goods into Gaza.

Delivery of the fuel supplies came the day after Israel's military liaison to the Palestinians, known by its acronym COGAT, said the continued entrance of Qatar-funded fuel will be "conditional on the preservation of security stability."

Since 2018, Qatar has pumped money into Gaza to fund fuel subsidies, salaries for Hamas government employees, and stipends for poor families. At the beginning of 2021, Qatar announced that it hoped to provide $360 million in cash aid to Gazan families.

But the 11-day military conflict last month between Israel and terror groups in the Strip changed matters, and Israel has not agreed to allow Qatari subsidies into the enclave since then.