From Ian:
Clifford D. May:
The U.N.'s final solution to the Israel question
The endless drumbeat of anti-Israeli vilification by the UN Commission of Inquiry (COI) is sure to energize the economic campaign against Israel (echoing the 1933 Nazi "Don't buy from the Jews" campaign) and perhaps lead to prosecutions of Israelis by the International Criminal Court, a politicized entity whose authority is recognized by neither Israel nor the U.S.

More concerning: The "findings" of the COI "inquiry" will be used to justify the genocidal threats frequently made by the Islamic Republic of Iran, its Lebanese-based proxy, Hezbollah, and of course Hamas and Palestinian Islamic Jihad.

I could fill this column with examples of such threats, but two should suffice. Iranian Supreme Leader Ali Khamenei has called on Muslims "to remove the Zionist black stain from human society," adding that there is a religious "justification to kill all the Jews and annihilate Israel, and Iran must take the helm."

When Nikki Haley was ambassador to the U.N., the Trump administration withdrew from the UNHRC, having concluded that significant reforms were unachievable. The Biden administration returned to that body this month, asserting that it can make a difference through diplomatic engagement. We shall see.

The U.N. campaign will make settlement of the Palestinian-Israeli conflict impossible for the foreseeable future. Why would any Palestinian leader compromise so long as there is a possibility that what happened to the Jews of Europe — defamation followed by extermination, a "final solution" — could happen to the Jews of Israel with the assent of the "international community"?

The U.N. was established following World War II to prevent and resolve conflicts. Today, it promotes antisemitism and enables both terrorists and genocidaires. Acknowledgment of this reality must precede any attempt to change it.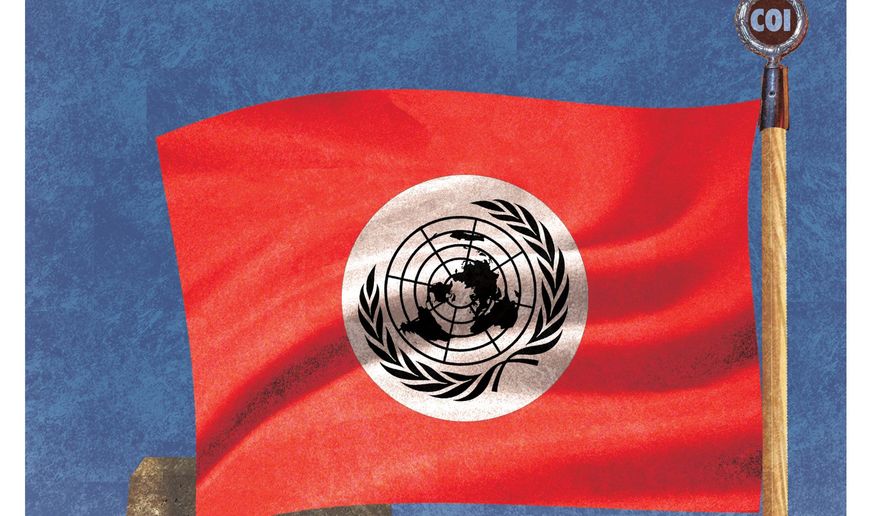 Saying 'never again' is empty in the face of ongoing antisemitism - opinion
We have talked so much about bearing witness, about the importance of never forgetting but what good does that do? For the first time, I begin to understand the words we had heard so many survivors repeat over the years, "every home no matter how welcoming it seems is temporary except for Eretz Israel."

We had discussed this sentiment at the beginning of our trip and our teacher had told us that we would understand it more deeply at the end of our Poland journey, but I doubt this is what he had in mind.

During that Shabbat as we fill the empty synagogue in Krakow with our prayers and songs, I find myself thinking about another synagogue, now most likely silent. Just another place where Jewish blood has been spilled. I feel as though nothing has changed, my people are still targeted for something I still cannot comprehend.

I think back to all the times I had defended Israel on my high school debate team and in Model UN, and how until this second it had simply been an academic or intellectual challenge to me.

Similar to the words "never again," at the end of the day nothing more than words – impactful but at the same time suddenly empty. I understand that while merely bearing witness and not letting others forget is important, it isn't enough. I don't want to have to say the word "again" ever again. I make a promise to myself to find a way to do more to end this cycle.

Today as I sit here writing this, I am in a very different type of barracks. Our barracks aren't empty, instead, they are filled with the sounds of good and life and of the Jewish future. I am on my base as I serve in the Israel Defense Forces. It's 2021. I'm a combat soldier here to defend the Jewish people. I take in my surroundings. This place isn't barren. It's alive with hope. We truly are here. We are happy. We are strong. Now when I say the words "never again" I really mean it.
Wanna know how bad @tiktok_us's algorithm is? I made this video about Holocaust denial and TikTok removed it for "hate speech."

Yet antisemitic content runs rampant across the platform. #antisemitism pic.twitter.com/2AeSWFbIUB

— Emily Schrader - ????? ?????? (@emilykschrader) January 12, 2022
Think the goblins in Harry Potter are antisemitic? Try the rest of British literature
The grasping Jew isn't unique to British writing. You come across them in Tolstoy, Dostoyevsky and Chekhov. Or in Hemingway and Edith Wharton, for that matter. I don't believe there is something uniquely antisemitic about British culture or people, and I speak from experience. I work part-time for a British company. I've published fiction set in England. Some of my best friends are British (ha-ha).

And yet I never had any illusions about the figure of the Jew in the British literary tradition, how, through the centuries, Jews keep reappearing in its plays, poems, and novels, and what these characters are meant to signify for the reader.

After describing the goblins on his podcast like something "straight out of 'The Protocols of the Elders of Zion,'" Jon Stewart later clarified that he doesn't think JK Rowling has anything against Jews—it was more that "some tropes are so embedded in society that they're basically invisible even in a considered process like moviemaking." Similarly when the Royal Court apologized for the blatantly Jewish name in "Rare Earth Mettle," they cited "unconscious bias."

The implication, I suppose, is that with diversity training, such tropes would disappear from literature. Except I've sat through diversity training courses for various corporate gigs, and I can't recall anti-Jewish bias coming up. "Religion" was mentioned a lot, but never specifically Jews.

In his book "Jews Don't Count," David Baddiel describes how British progressives have removed or ignored antisemitism as a serious topic of discussion. He thinks it's because Jews are perceived as having both "high and low status." On the one (long-fingered) hand, we're dirty and thieving. On the other hand, we're moneyed and privileged.

This is astute, but it doesn't fully explain the anti-Jewish motif reappearing in contemporary British writing. Surely unconscious bias does play a part. (We're all guilty of it. Notice how I've used "British" when all the writers I've mentioned are English. There's a difference.) But citing unconscious bias lets twenty-first-century writers off the hook too easily. Because the tropes in question are clichés, and a cliché is a sign of laziness. That's what's at the heart of it, I think—a combination of cultural amnesia and lazy thinking.

But let's get back to the question of what a Jewish reader is supposed to do. I can speak only for myself by answering, "Keep reading." Nobody needs to be canceled, no books need to be banned. We just have to recognize the complicated history of Jews in Britain, in Europe, in Western culture in its entirety. (On the function of Jews as a symbol in Western culture, I suggest David Nirenberg's book, "Anti-Judaism".) If we stopped reading literature when we were offended by antisemitism (or racism, or misogyny, or ableism, and so on) we wouldn't have much left to read.
With great influence comes great responsibility
Celebrities with large followings on social media have significant influence. Reaching millions of devoted fans with every post, these figures have the power to shape opinions and create movements.

Some use their influence for good, inspiring people to take action on behalf of important causes, and encouraging them to be the best versions of themselves. Yet others display an alarming lack of social responsibility.

British actress Emma Watson's Instagram account is illustrative—.

According to her Instagram bio, Watson lent her account to "an anonymous Feminist Collective." The blue check mark next to her username is supposed to verify that the Instagram account does, indeed, belong to her, but it's clearly not her posting. If this is the case, why is Instagram violating its own rules by allowing this and undermining the integrity of its prestigious blue check? Subscribe to The JNS Daily Syndicate by email and never miss our top stories

Watson has more than 64 million Instagram followers, all of whom are now seeing posts in their feeds that they reasonably assume were from her, but are not. Until you click on her profile and read her bio, there is nothing alerting you to this identity swap.

Some of these posts display a disturbing lack of social responsibility. Recently, for example, a picture posted on her account shows Palestinian flags and "Free Palestine" posters in the background of a sign adorned with the quote: "Solidarity is a verb." This implies that Israel is an aggressor. It's a one-sided vilification of the world's only Jewish nation.

There are no posts decrying atrocities in other parts of the world. Israel alone is singled out.
Emma Watson is right about Palestinians being enslaved
What about women's rights in Occupied Palestine? Amnesty: "Women and girls faced discrimination in law and practice and were inadequately protected against sexual and other gender-based violence, including so-called honour killings." Last year alone, "nineteen women died in the West Bank and 18 in Gaza as a result of gender-based violence."

Human Rights Watch points out that the PA "has no comprehensive domestic violence law." Keep in mind that the PA has been ruling for 27 years. Nearly three decades in power and still no comprehensive domestic violence law.

With regard to gay rights, Amnesty reports: "Lesbian, gay, bisexual, transgender and intersex people continued to face discrimination and lacked protection" at the hands of Hamas and the PA In Gaza, section 152 of the penal code "criminalizes consensual same-sex sexual activity and makes it punishable by up to 10 years' imprisonment."

Citing local Palestinian Arab human-rights activists, Amnesty says that in the past year, there were numerous "violations of freedom of expression, freedom of assembly and freedom of the press," as well as "158 cases in the West Bank and 118 in Gaza of the arbitrary arrests of opponents and critics."

Amnesty says that last year, the Palestinian Centre for Development and Media Freedoms "recorded 97 incidents of attacks against journalists, including arbitrary arrests, ill-treatment during interrogation, confiscation of equipment, physical assaults and bans on reporting: 36 in the West Bank and 61 in Gaza."

As for elections, PA leader Mahmoud Abbas is now in the 17th year of his four year-term and has repeatedly postponed parliamentary elections. In Gaza, too, democracy is a dirty word.

I realize that Emma Watson is an actress, not an expert on Middle East affairs. And in posting about "Palestine," she might have just been going along with what she thinks all the cool young celebrities are doing.

But perhaps the international uproar that she has provoked will inspire her to take a closer look at the implications of what she posted on Instagram. Because in raising the issue of freeing the Palestinian Arabs from their real occupiers, she's actually on to something.
Ouch! The #SydneyFestival boycott organisers have repeatedly claimed that Belvoir Theatre joined the boycott. Turned out they lied: https://t.co/x2uGOP6gBt

— Zionist Federation of Australia (@ZionistFedAus) January 11, 2022
Another anti-Zionist own goal.

Who's gonna tell her Hebrew came before Arabic? ?? pic.twitter.com/eWOVGeY5KU

— Emily Schrader - ????? ?????? (@emilykschrader) January 12, 2022
Additionally, Fauda Palestine shares information on how to carry out a successful fatal stabbing operation against the "Zionist" enemy, including getting the right knife and finding the target! pic.twitter.com/wgVmbFul9n

— GnasherJew®????? (@GnasherJew) January 12, 2022
NYC Comptroller Has 'Full Confidence' in Anti-Israel Activist at Helm of His Press Shop
New York City's newly elected Democratic comptroller Brad Lander says he has "full confidence" in his chief spokeswoman, a longtime anti-Israel activist who has promoted boycotts of the Jewish state, raising questions about Lander's conflicting public positions on the anti-Israel Boycott, Divestment, and Sanctions movement.

Lander told the Washington Free Beacon that he has "full confidence" in communications director Naomi Dann, who has accused Israel of "racism and colonialism" and worked with an activist group that facilitated donations to a pro-BDS coalition that included Hamas and other designated terrorist organizations.

The news comes amid controversy over the BDS movement in New York, where state comptroller Tom DiNapoli recently pulled pension fund investments from Ben & Jerry's parent company due to the ice cream brand's boycott of the Jewish state.

Lander, a former city council member, maintained to the Free Beacon that he does not personally support the BDS movement despite his criticism of DiNapoli's decision to penalize Ben & Jerry's.

"Mr. Lander does not support BDS," Lander's office told the Free Beacon, adding that "he has strong confidence in Naomi Dann's work as communications director."

Dann's unabashed anti-Israel activism is at odds with Lander's professed opposition to BDS, pro-Israel leaders told the Free Beacon. A self-described "progressive Zionist," Lander has repeatedly stated his opposition to the boycott movement. In July, however, the Democrat expressed his support for Ben & Jerry's after the ice cream company decided to pull out of the West Bank, which it called the "Occupied Palestinian Territory."

Dov Hikind, a pro-Israel activist and former Democratic New York state assemblyman who supported Lander when he ran for city council, said he spoke to Lander over the weekend and "he reiterated to me that he is 100 percent against BDS."

But Hikind called Dann's pro-BDS activism "detrimental" and "insane."
Anas Sarwar praises Tony Blair as he calls on Jeremy Corbyn to apologise over anti-semitism row
On the day before Sarwar made his first major speech of 2022, left wing MSP Mercedes Villalba tweeted: "Jeremy Corbyn is a Labour Party member and should have the whip restored to him immediately."

At a media briefing, Sarwar was asked about Villalba's call. "The reality is that that is an internal disciplinary process," he said:

"And we've got to reflect on the impact that the anti-semitism row had - it's more than a row - had on communities across the country.

"I have been spending a lot of time speaking to the Jewish community here in Scotland, and I've heard directly about the pain and the anguish that that whole episode caused, and I am working to rebuild our relationship with all our communities across Scotland, including the Jewish community."

He added: "I would much prefer that those responsible for the pain apologise directly, reflected on their positions, removed posts that I think are unhelpful."

Asked if he believed Corbyn should apologise, Sarwar said: "Yes. I think that's the least that anyone that has caused pain or hurt should do in that situation."

On Blair, Sarwar said of the man who won three general elections as Labour leader:

"Knighthoods are not made by me. Clearly former prime ministers do get awarded knighthoods typically.

"And whilst I vociferously disagreed with Tony Blair on the Iraq war in particular, what we can't deny is that we had a UK Labour government that did transform people's lives here in the UK.

"That halved child poverty, that tripled spending on the National Health Service, that helped us rebuild and renew most schools across the country and helped create the Scottish Parliament."
CAA to write to BBC after Rachel Burden insists on BBC 5 Live there is "absolutely no evidence" that Jeremy Corbyn is antisemitic
Campaign Against Antisemitism shall be writing to the BBC after a presenter claimed on BBC 5 Live Breakfast this morning that there is "absolutely no evidence" that Jeremy Corbyn is antisemitic.

Rachel Burden said towards the end of the programme, referring to her interview earlier with the businessman John Caudwell, who described the former Labour Party leader as an "antisemitic Marxist", that she redirected him back to the topic under discussion but "I should have challenged him on the particular allegation of antisemite [sic] because there is absolutely no evidence that the leader of the Labour Party at that time, Jeremy Corbyn, was or is antisemitic. He had to deal with allegations of that within his party but there is nothing to suggest that he himself as an individual was. So I apologise for not challenging more directly, I should have done, and I want to emphasise there is no evidence for that at all."

It would be understandable for Ms Burden to say that Mr Corbyn would dispute the characterisation, but it is unacceptable for her to editorialise and dismiss publicly-available evidence that has been reported in the national media for years.

Over two years ago, for example, Campaign Against Antisemitism published data, using a peer-reviewed research method, showing that Mr Corbyn was personally responsible for 24 incidents relating to antisemitism, which was equal to fifteen percent of all recorded incidents involving parliamentary candidates and party leaders in the lead-up to the 2019 General Election. That meant that, if Jeremy Corbyn were a political party, the 'Jeremy Corbyn party' would be responsible for almost four times more incidents than all the other major parties combined.

For Ms Burden to dismiss this evidence without basis represents both offence and inaccuracy under the BBC's code.
A marketing firm that works with Jewish groups, Big Duck, has nixed a potential client because of its Israel ties
A marketing firm that has worked extensively with Jewish nonprofits has declined to work with one because of growing concerns among its staff members about groups with "significant programming in Israel."

The Shalom Hartman Institute, a leading Jewish educational think tank, reached out to Big Duck, a Brooklyn-based worker-owned cooperative, because of Big Duck's history of working with Jewish organizations in the past.

But Farra Trompeter, Big Duck's co-director, told Dorit Rabbani, Hartman's North America communications director, last week that the firm would not work with Hartman because Big Duck staff had concerns about the Hartman Institute's activities in Israel, both officials said.

Hartman, which has headquarters in Jerusalem and New York, has a broad ambit of advancing Jewish education and promoting dialogue among Jews and between Jews and other faiths. It is expressly Zionist.

This story is part of JTA's coverage of New York through the New York Jewish Week. To read more stories like this, sign up for our daily New York newsletter here.

Big Duck's past clients have included the Jewish Theological Seminary, the National Council of Jewish Women, and Keshet, a Jewish LGBTQ group. Hartman would not be among them.

"Being more vocal and committed to fighting oppression has led us to more active questioning of working with organizations with significant programming in Israel, among other issues, and in those cases, we have mutually agreed that it does not make sense to work together," Trompeter said in an email to the Jewish Telegraphic Agency.
Stanford to investigate claims that it capped admissions for Jews in the 1950s
That Ivy League schools placed quotas on the number of Jews admitted to their classes through much of the first half of the twentieth century has long been established as fact.

But the existence of a quota on Jewish students at Stanford University in Northern California was never more than a rumor — at least not until the publication of a blog post written by a researcher last year.

Now Stanford has appointed a task force to investigate the existence of a quota for Jews at the school during the 1950s. The task force will be led by Ari Kelman, a professor of education and Jewish studies. The group, which will begin its work this month, was tasked with researching the existence of quotas and recommending ways to "enhance Jewish life on campus, including how best to address any findings resulting from the research on admissions practices."

"It is important to face our history as an institution and fully understand the impact of past actions," Stanford President Marc Tessier-Lavigne said in a statement. "I am grateful to Dean Steinwert and Vice Provost Dunkley for leading this effort, and to those who have agreed to serve on this task force. Their work will help the university make a well-informed, deliberative response – making clear that bias in any form has no place in higher education or at Stanford."

The claims about Stanford's admissions quota were first raised in a blog post by Charles Petersen, a postdoctoral fellow at Cornell University studying the concept of meritocracy, particularly in Silicon Valley.
US university faces lawsuit for firing Prof. for pro-Israel activity
The prominent American academic Melissa Landa is suing the University of Maryland for her alleged illegal termination and documented accusations of anti-Jewish discrimination by the academic institution that she experienced in connection with her religious background and her pro-Israel advocacy.

Landa told The Jerusalem Post on Monday that "In January 2016, from the time when I informed my associate chair about my efforts to combat antisemitism at my alma mater, Oberlin College, and continuing as I became an outspoken opponent of the BDS campaign against Israel, I experienced growing hostility and then overt religious discrimination toward me from my superiors. They marginalized me, excluded me, and denied me professional opportunities. Finally, after I complained about religious discrimination, they fired me. It was a traumatic experience."

BDS is an abbreviation for the Boycott, Divestment, Sanctions campaign targeting Israel.

The Post obtained a copy of Landa's thirty-page lawsuit, which was filed on January 4, against the university. According to the lawsuit, "When Dr. Landa began expressing her Jewish identity and faith more fully and publicly, she was immediately subjected to disparate treatment and unequal terms and conditions of employment including, but not limited to, adverse employment actions for observing Jewish holidays, removal from teaching classes she had taught for almost a decade, denial of teaching assistance, new limitations on her participation within the Department, hostility, retaliation, and ultimately, termination."
MAC Montréal Hosts Exhibit Claiming Israel Carried Out "Extrajudicial Execution" of Palestinian
Montreal's Museum of Contemporary Art, MAC Montréal, is presently hosting an exhibit that portrays Israeli forces as having carried out an "extrajudicial execution" of what it depicts as an innocent Palestinian man.

The exhibit called Terror Contagion is being featured until April 18, 2022. The exhibit is based on an investigation by a highly politicized anti-Israel organization called Forensic Architecture which claims that Israeli forces used excessive and unwarranted deadly force to kill Ahmad Erekat, nephew of the late Saeb Erekat.

In an incident that made headlines in June 2020, Ahmad Erekat was caught on video committing an act of terrorism in a car-ramming attack on Israeli soldiers. In the attack, Erekat approached an Israeli checkpoint in Abu Dis, near Jerusalem and then abruptly accelerated and swerved his car 90 degrees into Israeli police, ramming and knocking a female officer into the air, before colliding with the booth and coming to a stop. Erekat is said to have ignored warnings issued by Israeli officers and swiftly exited his car, possibly in an effort to attack more soldiers.

Israel says he carried out a premeditated and intentional terror attack, whereas Erekat's family says he was rushing to pick up his sister and mother ahead of a family wedding later that evening, and lost control of his vehicle.

Visitors at Mac's exhibit watch an 18-minute video made by Forensic Architecture which claims that Erekat was "executed" by "Israeli occupation forces" after his car crashed at an Israeli checkpoint (Watch the video narrated by anti-Israel activist Angela Davis below). In the video, Israel is called a "neo-colonial regime", and checkpoints are erroneously described as "illegal".
Brighton mosque leader, 53, made stabbing hand gesture and said 'Jihad is compulsory' to his congregation of adults and children, terror trial hears
Mr Lloyd told the jury: 'Let me make one thing clear: what the case is not about is the freedom to practice religion or the freedom to worship.

'Of course, none of that is unlawful in this country.

'This is not about those who believe in Islam, rather, this case is about those who encourage violence in the name of religion, which, for very good reason you may feel, is a criminal offence.'

Deghayes, from Saltdean, Sussex, is originally from Libya, and had set out an 'us and them approach - you are either on the side of Allah or you are a non-believer,' Mr Lloyd said.

In the speech, Deghayes mixed English and Arabic, and told the congregation to ignore the British government and the Prevent de-radicalisation programme.

He said: 'Allah is more powerful than you. You, idiots. You non-believers, idiots.

'Allah is more powerful than you. The non-believer...is an idiot; he's stupid.

'Jihad is compulsory upon you, you, you and you until the Day of Resurrection, whatever the British Government thinks, whatever Prevent thinks, whatever Israel thinks.
Charity Commission reportedly launches inquiry into mosque whose manager is said to have compared Israel to the Nazis and praised the Taliban
The Charity Commission has reportedly launched an inquiry into a mosque whose manager is said to have compared Israel to the Nazis and praised the Taliban.

Saddique Hussain, the general manager of Birmingham's Central Jamia Mosque Ghamkol Sharif mosque, reportedly shared a clip of Taliban fighters showing off assault rifles whilst reciting quotes from the Quran and wrote: "How beautiful and civilised and no 'I'. May Allah SWT guide us on to His beautiful religion."

It was said that Mr Hussain also shared a post which said that Israeli soldiers kill Palestinian children "for fun". He allegedly shared a video clip from the news outlet TruNews, which has been described as a "far-right conspiracy theory and fake news website", and according to the ADL has "increasingly featured antisemitic and anti-Zionist content, and also has a long record of disseminating radical Islamophobic and anti-LGBTQ messages". The clip in question was from Rick Wiles, a pastor who has previously labelled Jews as "deceivers" who "plot" and "lie", in which Mr Wiles compared Israel to the Nazis.

According to the International Definition of Antisemitism, "Drawing comparisons of contemporary Israeli policy to that of the Nazis" is an example of antisemitism.

Mr Hussain allegedly shared another clip which stated that "Zionist lobbying" could have a Sky News video that reported on Israeli military actions removed if they wanted, while another shared video reportedly contained text that said: "I am Israel – I have the power to control American policy. My American Israel Public Affairs committee can make or break any politician of its choosing."
PROMOTED AND QUOTED: THE BBC'S PREFERRED NGO CONTRIBUTORS IN 2021
As has been the case in previous years (see related articles below), the Israel-related content produced by the BBC throughout 2021 often included contributions or information sourced from non-governmental organisations (NGOs).

Frequently portrayed by the BBC as 'human rights groups', those inherently agenda-driven organisations make no claim to provide unbiased information and are obviously not committed to the BBC's editorial standards.

When political agendas and journalism meet, questions obviously arise concerning accuracy, impartiality and reliability. One of the few safeguards in place comes in the form of the section titled 'Contributors' Affiliations' in the BBC editorial guidelines on impartiality which, since their overhaul in July 2019, states:
"4.3.12 We should not automatically assume that contributors from other organisations (such as academics, journalists, researchers and representatives of charities and think-tanks) are unbiased. Appropriate information about their affiliations, funding and particular viewpoints should be made available to the audience, when relevant to the context."

Nevertheless, throughout 2021 we once again documented numerous examples of that editorial guideline having been ignored in Middle East-related content sourced in one way or another from political NGOs and their representatives.

One of the topics most vigorously promoted by the BBC in 2021 was a campaign to pressure Israel to vaccinate residents of the areas under the control of the Palestinian Authority or Hamas. That campaign began in late 2020 just as Israel began vaccinating its own citizens against the Coronavirus and it was initiated by a group of political NGOs, some of which have a record of lawfare campaigns against Israel, including B'tselem, Amnesty International Israel, Gisha, Lawyers for Palestinian Human Rights, Adalah, Al Mezan and the PCHR.
On Jerusalem, Sinclair TV's "Full Measure" Is Fully Misinformed
"Sinclair Broadcast Group, Inc. is a diversified media company and leading provider of local sports and news," according to the company's website. Judging from Scott Thuman's Jan. 3 broadcast on "Full Measure with Sheryl Attkinsson" concerning U.S. policy vis-à-vis Jerusalem, Sinclair is ill equipped to cover events further afield.

"Full Measure with Sharyl Attkisson is a weekly national news program focusing on investigative, original and accountability reporting unique in today's media and is dedicated to pursuing untouchable subjects through fearless reporting," says Sinclair. By "fearless reporting," does Sinclair mean journalists report on topics about which they actually know very little? (Also, as serious consumers of international news well know, coverage about these Jerusalem issues is obsessive, hardly "untouchable.")

Sinclair's chief political correspondent flounders in the unfamiliar foreign terrain, starting with his erroneous reference to the potential "reopening of a diplomatic compound, an American consulate, located in a part of Jerusalem considered Palestinian territory."

Thuman's error is two-fold. First, no part of Jerusalem is, or ever has been, "Palestinian territory." From 1948 to 1967, it was occupied by Jordan. Before that, Jerusalem was part of the British Mandate. The Nov. 29, 1947 partition plan had called for Jerusalem to be a corpus separatum, an international city administered by the UN for 10 years, at which point the city's status was to be decided in a referendum. Before the British Mandate, the city was under Ottoman control, and so on. Going back through history, at no point was any part of the city "Palestinian territory."
Washington Post Piece About Israeli Cinema Concocts 'Relentless' Settlement Expansion, Conceals Palestinian Rejectionism
The Washington Post on January 10 published a piece by Bloomberg columnist Max Hastings, titled "Israel's Filmmakers Take Aim at the Nation's Moral Ambiguities," which seeks to reconcile the paradox of depictions on film of Israeli power and heroism with what he perceives to be contradictory realities on the ground.

Specifically, Hastings notes that Israeli perseverance has of late been depicted in works such as "The Spy" (2019, about an Israeli who for years infiltrated the highest ranks of the Syrian government), "Tehran" (2020, about spy operations in Iran), "Valley of Tears" (2020, about the 1973 Yom Kippur War) and the upcoming "Golda" (about Israel Prime Minister Golda Meir). Yet, the author argues, in the five decades since the Yom Kippur War, "the world has seen Israel exploit its military dominance to treat the Palestinian people with a harshness that cannot be justified merely by rehearsing the wickedness of terrorism."

Under closer scrutiny, Hastings' assertions turn out to be rather specious.

Ignored: Israeli Peace Efforts, Palestinian Rejectionism
Referring to the words of a former Shin Bet (Israel's internal security service) chief from the film "The Gatekeepers," Hastings concludes that "since the 1995 assassination of Prime Minister Yitzhak Rabin, successive Israeli governments had made no serious political attempt to secure peace, relying instead on the army and intelligence services to hold down the occupied territories."

Yet it was five years after Rabin's assassination that the Camp David Accords were convened. Mediated by US President Bill Clinton, the parameters of the deal offered sweeping concessions to Palestinian demands: an independent state on nearly 100 percent of the West Bank and Gaza with a road connecting the two territories, eastern Jerusalem as their capital with control over the Temple Mount, and a formula for the "Right of Return," the claim by Palestinians that refugees and their descendants should be allowed to resettle in Israel.

Yet while Jerusalem accepted these terms, Palestinian leader Yasser Arafat rejected the peace offer.
'Das ist Antisemitismus': City of Berlin Launches Awareness Campaign to Counter Bias, Hatred Against Jews
The city of Berlin on Monday launched an ambitious poster campaign aimed at deepening awareness of antisemitic prejudice, at a time when anti-Jewish attacks in the German capital have reached new peaks.

The posters were unveiled at the Klosterstrasse underground station by Iris Spranger, the Berlin Interior Minister who represents the center-left SPD Party in the Berlin Senate. "The fight against antisemitism is a task for society as a whole. Every Berliner can pay attention to incidents and report them," Spranger stated at the launch.

Urging the Berlin public to "look, recognize, act," the campaign is built around four posters which emphasize the theme that antisemitism is not always visible at first glance.

One poster highlights how jokes and off-the cuff remarks can be interpreted as antisemitic, carrying the message "This is antisemitism, not a joke." A second poster aims to place conspiracy theories beyond the pale of legitimate discourse, declaring "This is antisemitism, not a thesis." The final two posters focus on antisemitic violence ("This is antisemitism, not a dispute") and antisemitism in the arts and popular music ("This is antisemitism, not a rhyme").

Sigmount Königsberg, a leader of the Berlin Jewish community, told local media outlets that the campaign would clarify that antisemitism began with what he termed the "little things."

"For example, when it is said that we are not real Germans, or when we are held responsible for the actions of the State of Israel," Königsberg explained.
Antisemitic attacker of Jewish man wearing IDF hoodie charged with hate crime
The attacker of Blake Zavadsky, a Jewish-American who was assaulted in Brooklyn for wearing an IDF sweatshirt, was charged with aggravated harassment and assault as a hate crime by the New York Police Department (NYPD) on Tuesday.

Suleiman Othman, a 27-year-old Staten Island resident, approached Zavadsky and Ilan Kaganovich on the streets of Brooklyn along with another man and attacked them in an antisemitic hate crime, after asking Zavadsky how "he could support those dirty Jews" by wearing the IDF sweatshirt.

Othman told Zavadsky he had to remove the sweatshirt or he would get hurt. When Zavadsky refused to take off the hoodie, Othman punched him twice before pouring his ice coffee on the hoodie. Meanwhile, the attacker's friend told Kaganovich, who was trying to stop Othman, that if he got involved he would get hurt too.

After the attack, Zavadsky was treated at the scene for a laceration, bruising and swelling to the side of his face.

Othman, the antisemitic attacker, has a history of assault and crime according to the New York Post.

The 27-year-old was reportedly arrested seven times since 2010 for crimes ranging from assault and robbery to endangering the welfare of a child and he was last arrested in July 2020 on a menacing charge.
Suleiman Othman appears to be the same man from May's "Free Palestine" protest in NYC that resulted in a man being severely beaten and an explosive being set off in Midtown. https://t.co/BBdizFAg16 pic.twitter.com/kIWf8f3IQd

— StopAntisemitism.org (@StopAntisemites) January 12, 2022
MEMRI:
Neo-Nazis Look To Forge Bromance With Jihadis
Recent events have highlighted a disturbing trend among some of the most extremist neo-Nazi and white supremacist groups: looking to Islamist terror organizations as a model and inspiration. This became noticeable with the August 2021 Taliban takeover of Afghanistan and with the Islamic State Khorasan (ISIS-K) killing of U.S. soldiers there. It continued with the 20th anniversary of 9/11, when groups, including some Proud Boys affiliates, celebrated the attacks.

During the November 2021 Unite the Right rally trial, in which the jury awarded over $26 million in damages, defendant Matthew Heimbach, who at the time of the rally was leader of the neo-Nazi and white supremacist Traditionalist Worker Party and an early promoter of the neo-Nazi-jihadi bromance, was called to the stand, where he made news by joking about Hitler. Known for years as a fervent supporter of the designated anti-U.S. terrorist organizations Hizbullah and Hamas, he said in 2017 that he had modeled his organization's recruitment approach after them.

This follows the widespread support other neo-Nazi and white supremacist groups expressed for Hamas and Hizbullah during the May 2021 Gaza conflict; they remain some of their most vocal fans online and continue to post content lauding them. Another recent example highlighting the global aspect of this bromance, French extremist nationalist and presidential candidate Yvan Benedetti, leader of the "Les Nationalistes" movement, enthusiastically endorsed Hizbullah numerous times on his Telegram channel.

While countless media reports and research papers have discussed many aspects of the last Gaza conflict, a new disturbing phenomenon has been documented and exposed extremists' support for Palestinian terrorist entities and their cause. The Gaza events gave these seemingly opposing groups an opportunity to connect, communicate, and influence each other. These extremists – who are desperate for publicity – will not be named here.

Neo-Nazis and white supremacists shared online a great deal of content expressing this solidarity, along with hatred for Jews and Israel, and, most disturbingly, support for these views taken from Nazism – including admiration for Hitler. Their aim was to set the stage for future collaboration – a new strategy for attacking Jews worldwide – and they seized the opening provided by the conflict to jump on the bandwagon of virulent antisemitism and Israel-hatred.

Influential leaders in these movements urged followers not just to find common cause with Palestinian terrorist groups, but to work covertly with the anti-Israel and antisemitic left – whose views were also reflected in attacks on Jews by Arabs and Muslims in the U.S. and other Western countries.
Italian Catholic, Jewish Leaders Condemn Use of Nazi Flag at Church Funeral
Italian Catholic and Jewish leaders on Tuesday condemned as outrageous an episode in which right-wing extremists put a flag with a swastika on a coffin outside a church after a religious funeral and gave Nazi salutes.

Rome's Catholic archdiocese said in a statement that priests at the parish of St. Lucy in a central Rome neighborhood, including the one who presided at the funeral rite, had no idea of what would happen outside the church on Monday.

Pictures on the internet showed the coffin bearing the body of Alessia Augello, a former member of the right-wing extremist group Forza Nuova, covered by the flag.

The diocese statement called the flag "a horrendous symbol that cannot be reconciled with Christianity" and said the episode was an offensive example of "ideological exploitation" of a religious service.

Police said they were investigating the incident as a possible hate crime.

Rome's Jewish community expressed outrage that such events could still happen more than seven decades after the end of World War Two and the fall of Italy's fascist dictatorship.

"It is unacceptable that a flag with a swastika can still be shown in public in this day and age, especially in a city that saw the deportation of its Jews by the Nazis and their fascist collaborators," the statement said.
Neo-Nazi leader gets 7-year sentence for threatening Jews, journalists
A 25-year-old neo-Nazi organization leader was sentenced to seven years in prison for his role in a scheme to threaten journalists and advocates working to expose antisemitism, the US Justice Department said in a statement on Tuesday.

The neo-Nazi in question, Kaleb Cole, is a leader of the internationally-recognized white supremacist hate group known as the Atomwaffen Division and had engaged in a plot to terrorize journalists, especially those who were Jewish or people of color. He was convicted by a federal jury in Washington of one count of interfering in a federally-protected activity due to religion, three counts of mailing threats and one count of conspiring to commit said crimes in addition to cyberstalking.

"Kaleb Cole helped lead a violent, nationwide neo-Nazi group," said US Attorney Nick Brown for the Western District of Washington said in a statement.

"He repeatedly promoted violence, stockpiled weapons, and organized 'hate camps.' Today the community and those Mr. Cole and his co-conspirators targeted, stand up to say hate has no place here. He tried to intimidate journalists and advocates with hate-filled and threatening posters, tried to amplify their fear. Instead, they faced him in court and their courage has resulted in the federal prison sentence imposed today."

"The defendant sought to intimidate journalists and advocates working to expose antisemitism, but that effort failed," said Assistant Director Timothy Langan of the FBI's Counterterrorism Division.

"Cole's intended victims fought back but not with threats of violence; they fought back in a court of law. The FBI will continue to do our part by aggressively investigating cases involving threats or acts of violence."

In late January 2020, the group had left or attempted to leave threatening posters covered in swastikas and statements such as "You have been visited by your local Nazis" at the homes of journalists. The posters contained threatening images, such as a hooded figure preparing to throw a Molotov cocktail at a house.
California Holocaust memorial fountain overturned for 2nd time in two years
A Holocaust memorial fountain in a Santa Rosa, California cemetery was vandalized for the second time in two years.

The memorial, located in Santa Rosa Memorial Park cemetery, contains a fountain for ritual hand washing and a mosaic. It memorializes victims of the Nazis, including 12 family members of Dennis Judd, who commissioned the monument to honor them as well as his survivor parents, Lillian and Emil Judd.

Lillian Judd, who died in 2016, was a longtime Holocaust educator who frequently spoke to children, telling them her story of surviving Auschwitz, according to the Press Democrat.

On Friday, Judd found out that the fountain had been toppled for the second time after receiving a call from an employee of the cemetery, JWeekly reported.

The monument was first overturned in June 2020. The fountain had since been rebuild, with the repaired damage still visible.

Santa Rosa police do not have a suspect for either incident. A police spokesperson told the news outlet that both acts of vandalism are being looked at as possible hate crimes.

Judd said that he believed antisemitism was the motive of the perpetrator.
Green Mediterranean diet can slow brain atrophy, Israeli-led study suggests
Israeli researchers have discovered that age-related brain atrophy can be slowed with a green Mediterranean diet, high in polyphenols — a type of micronutrient naturally occurring in plants — and low in red and processed meat.

The results of the study were published on Tuesday in The American Journal of Clinical Nutrition.

The trial was led by Prof. Iris Shai and Dr. Alon Kaplan from Ben-Gurion University of the Negev, together with several international teams of brain experts.

The study saw 284 participants aged 31-82 — all employees at the Dimona Nuclear Research Center — randomly divided into three groups that would follow a diet based on set guidelines: a healthy diet, a Mediterranean diet, and a green Mediterranean diet.

Both groups following a Mediterranean-style diet were additionally given walnuts to eat, while those on the green Mediterranean diet were also given three-four cups of green tea daily and a shake made of Mankai, an aquatic plant. Shai has acted as an adviser to an Israeli company marketing the product.

All participants underwent a full brain MRI scan before and after the study. They also received free gym memberships and undertook daily physical exercise.
A rental truck filled with pantry items arrived at a Webster Ave. mosque for the victims displaced by the Bronx fatal fire, donated by @MasbiaRelief. Their message is written right on the boxes: "With love, from the Jewish community."https://t.co/TnGsc4rApW pic.twitter.com/9f0KtWCmv1

— Hannah Kliger (@HannahKliger) January 11, 2022
Trust me, the only thing Jews will care about is whether or not the movie is fair. If it is, they're feel flattered that such a famous actress was cast to play her.

— Noam Blum (@neontaster) January 12, 2022
Prince Charles commissions Holocaust survivor portraits
The Prince of Wales has commissioned seven artists to paint portraits of seven Holocaust survivors, in a tribute to their passing generation.

"As the number of Holocaust survivors sadly but inevitably declines, my abiding hope is that this special collection will act as a further guiding light," Prince Charles said.

The paintings will be put on public display in Buckingham Palace.

And the art project will feature in a BBC Two documentary later this month.

As well as providing a reminder of "history's darkest days", Prince Charles said the portraits would show "humanity's interconnectedness, as we strive to create a better world for our children, grandchildren and generations as yet unborn - one where hope is victorious over despair and love triumphs over hate".

The documentary will feature the survivors' accounts of what the Nazis did to them and their Jewish families.

Many are now over 90, having been in concentration camps as children and then spent much of their adult lives in Britain.

Paul Benney has painted Helen Aronson, 94, who survived the incarceration of Jewish people in the Lodz ghetto, in Nazi-occupied Poland.
'A pioneer': Aura Herzog, wife of one president, mother of a second, laid to rest
Hundreds of mourners gathered at Jerusalem's Mount Herzl cemetery on Wednesday to pay their last respects to Aura Herzog — the mother of President Isaac Herzog and widow of Israel's sixth president, Chaim Herzog — who died earlier this week at the age of 97.

A wide range of officials attended the ceremony, including Prime Minister Naftali Bennett and his wife, Gilat, opposition leader Benjamin Netanyahu and his wife, Sara, IDF Chief of Staff Aviv Kohavi, Israel Police Commissioner Kobi Shabtai, Mossad chief David Barnea, Shin Bet head Ronen Bar, and many ministers, lawmakers and religious leaders.

"Mother, you had three great loves in your life. First of all, your love of our father and the family. You were his source of strength and his partner on his extraordinary life journey," the president said during his eulogy.

"Your second love was the State of Israel," he continued, hailing his mother as "a pioneer."

"For you, the state was above all else; hence your wonderful suitability — yours and father's — for all your roles, because your mission, your shared mission, for our nation and our state, was above all else."