From Ian:
Crushing Palestinian hopes of destroying Israel should be our only strategy
This might make some sense for the short term, but clearly it's not going to dissuade or deter violent Palestinian rejectionist and terrorist groups. Each time that Israel climbs down from its tree, they believe that they're facing a paper tiger and have renewed hope for ultimate victory.

This sadly brings to mind what Winston Churchill famously and presciently said to Neville Chamberlain after the latter thought that he had made a deal to stave off war with Hitler and the Nazis in 1938: "You were given the choice between war and dishonor. You chose dishonor, and you will have war."

Israel has many choices and options in its relations with the Palestinians. The history of these relations over the last three decades has amply demonstrated that seeking agreements, offering compromises or trying to stave off conflict merely feeds the beast of violent Palestinian rejectionism.

It is time for a different strategy—one that involves pushing back against Palestinian demands and threats. Every opportunity should be utilized to express to the Palestinians that their rejectionism will be defeated, and that Israel will ultimately emerge victorious.

As things stand at the moment, however, the Palestinians harbor hopes of victory. These must be crushed.

Doing this doesn't necessarily require a single major maneuver or activity, but it does mean looking at each and every interaction to ascertain whether it further fuels Palestinian hopes of victory and an end to Jewish sovereignty, or Israeli victory and an end to the conflict.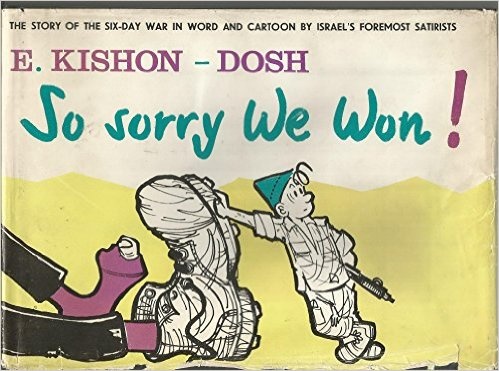 David Singer:
Israel must negotiate with Jordan, not with anti-peace Mahmoud Abbas
The map Abbas brandished (pictured below) was a phony map of "Historic Palestine" – dating from 1947 - not 1920. "Palestine" historically, referred to a region peopled by Jews and others and is the name the Romans called the area known up to then as Judea.

- Article 2 of the PLO Charter recognizes that Palestine between 1920 and 1946 included what is today called Jordan - 78% of the territory of Palestine under the League of Nations Mandate for Palestine:

- "Palestine, with the boundaries it had during the British Mandate, is an indivisible territorial unit."

- Jordan was granted independence by Great Britain in 1946 - terminating its Mandate in the remaining 22% of Palestine in 1948.

- The PLO never claimed sovereignty in Judea/Samaria '(West Bank') or Gaza on its establishment in 1964 – article 24 of its founding Charter declaring:
"This Organization does not exercise any regional sovereignty over the West Bank in the Hashemite Kingdom of Jordan, on the Gaza Strip or the Himmah Area. Its activities will be on the national popular level in the liberational, organizational, political and financial fields."

Jordan occupied Judea/Samaria between 1948 and 1967.

Jordan's history certainly qualifies it to replace the PLO as Israel's negotiating partner to implement Trump's Plan.

Abdullah stressed to Gantz the: "importance of maintaining calm in the Palestinian Territories and taking all measures to create the horizon needed to achieve just and comprehensive peace based on the two-state solution"

Jordan - stepping into the negotiating void created by Abbas's continuing rejection of Trump's Plan – would become a major driver in maintaining that calm.

Israel-Jordan negotiations to redraw their currently-agreed existing international border - using Trump's Plan - could result in the following two-state solution first contemplated by the 1922 Mandate for Palestine:

Israel acquiring sovereignty in about 30% of Judea/Samaria ('West Bank').

Jordan acquiring sovereignty in about 70% of Judea/Samaria ('West Bank'), all of Gaza and parts of Israel's existing sovereign territory.

No Arab or Jewish residents being forced to move from their current homes or business locations.

Trump's Plan has now become the definitive blueprint for resolving the 100-years old Arab-Jewish conflict in former Palestine.
Jordan's deputy prime minister is doing the Washington rounds this week. The darker parts of the Jordan/US story mysteriously get no coverage in the US media. Via this thread, we try to shine some light: https://t.co/ibBUGgirdp

— This Ongoing War (@ThisOngoingWar) January 11, 2022
Jpost Editorial:
The Abraham Accords caucus is welcome new
The caucus's eight co-founders include senators Lankford, Jacky Rosen (D-Nevada), Joni Ernst (R-Iowa) and Cory Booker (D-New Jersey), and representatives Cathy McMorris Rodgers (R-Washington), David Trone (D-Maryland), Ann Wagner (R-Missouri) and Brad Schneider (D-Illinois). The bipartisan composition is not an everyday occurrence in the wildly partisan atmosphere in Washington and is a pleasant throwback to days when Israel was one issue that both parties could agree on.

"The caucus will provide an opportunity to strengthen the Abraham Accords by encouraging partnerships among the existing Abraham Accords countries and expanding the agreements to include countries that do not currently have diplomatic relations with Israel," the group said in a statement after its launch.

For countries on the fence, wondering whether it's in their interest to take the leap and normalize ties with Israel, the existence of a bipartisan caucus may give them confidence that if they do make the move, they will have earned goodwill points with American lawmakers, something that could serve their countries in good stead in the future.

Among the countries that have been mentioned as next in line to join the process are the Comoros, Maldives, Indonesia, Tunisia and Oman. Saudi Arabia is the biggest prize, but unlikely to make the move anytime soon, or at least not until Crown Prince Mohammed bin Salman takes over from his father, King Salman.

While the relations between Israel and the UAE, Bahrain and Morocco are developing nicely and have already brought about significant changes in the Mideast, ties with Sudan are stuck because of the volatile domestic situation there, and the Abraham Accords "peace train" has stalled before reaching its next station.

We hope this caucus will inject new momentum into this process by convincing the White House and State Department to incentivize other countries to join a framework that holds out so much promise for the region.
Strengthening Abraham Accords stabilizes the region - opinion
Since the early months of president Barak Obama's first term in 2009, the United States (US) looked to pivot from the Middle East towards the Far East to confront a growing and assertive China. Unfortunately, the Obama administration thought the path forward was to rebalance the Middle East, beginning a process to elevate and normalize Iran, while downgrading and creating daylight with longtime US allies, Israel and Saudi Arabia.

This culminated in the unprecedented move to grant Iran, a terror state, the right to enrich uranium in the 2015 Joint Comprehensive Plan of Action (JCPOA, the Iran Nuclear Agreement). Its resurrection in 2022 is clearly on the horizon. Iran knows, despite its protestations, that it can gain tens if not hundreds of billions of dollars in sanctions relief while restarting an internationally approved path to becoming a nuclear threshold state in less than ten years.

The JCPOA did not make the Middle East more stable, quite the opposite. Its sanctions relief helped Iran financially support its proxies to control or profoundly influence Lebanon, Syria, Yemen, Gaza and Iraq, tipping the scales of the Middle East in Iran's favor. A nuclear threshold Iran makes an Israeli strike more likely, further destabilizing the region. Against this backdrop add the repercussions of the Arab Winter, Turkish president Recep Tayyip Erdogan's pivot from the West and the message of an unreliable US because it bungled the Afghanistan withdrawal. The US now faces a much more dangerous Middle East and the last thing we want is to be pulled back into the maelstrom, especially on even worse terms than before. What is not appreciated enough is how much this region affects our more significant geopolitical strategy. The one diplomatic achievement that did change the course of the Middle East for the better was the Abraham Accords. It was not only a diplomatic coup but a genuine people-to-people rapprochement, with the potential, if nurtured, to stabilize the Middle East and allow the US to focus on the China Sea.

Unfortunately, the Biden administration thinks a stronger alliance of Gulf nations and Israel would upset Iran and chase them away from rejoining the JCPOA. This profound strategic misjudgment is a self-inflicted wound undermining their interests and ability to move into the Far East under their terms.
Jewish, Pro-Israel Groups Urge Senate Leaders to Advance Bipartisan Iron Dome Funding Bill
A coalition of eight Jewish and pro-Israel organizations on Tuesday urged Senate leadership to pass funding to replenish Israel's defensive Iron Dome missile system, arguing that the widely popular bipartisan initiative should not be derailed by a single member.

The US House of Representatives overwhelmingly passed a $1 billion bill in September to fund the Iron Dome, which has played a key role in intercepting rockets fired at Israel by terrorist groups like Hamas and Palestinian Islamic Jihad. Yet the bill, which requires unanimous backing in the Senate, has been held up several times by opposition from US Senator Rand Paul. The Kentucky Republican has argued that funding for the air defense system should come from aid already appropriated for Afghanistan.

In a letter to Senate Democratic Majority Leader Chuck Schumer and Senate Republican Leader Mitch McConnell, the eight groups pointed out that while the "critical" funding has bipartisan support in the Senate, its passage has been "stymied."

"One person's objection should not undermine the overwhelming bipartisan will of the Senate nor stand in the way of ensuring Israel has the tools necessary to keep its people safe," wrote the signatories, which include the Jewish Federations of North America, the Union for Reform Judaism, the United Synagogue of Conservative Judaism, the Union of Orthodox Jewish Congregations of America, Christians United for Israel, Hadassah: the Women's Zionist Organization of America, the Jewish Council for Public Affairs, and the Anti-Defamation League.

"While we understand the supplemental Iron Dome funding would likely be included in a final omnibus spending package, the delay and even the prospects of a second continuing resolution undermine Israel's security when the need to replenish this defensive system is urgent," they added.
Why peace with Israel's neighbors depends on cultural diplomacy
We do not take for granted this opportunity to present Israelis to the world through this festival. Art, through a means of overcoming intercultural obstacles, also has its limits created by the political institutions. It is an amazing tool creating bonds between societies that want to be connected, such as the UAE and Israel; art is the visual manifestation of the artist's spirit and soul, and that's the main reason it links people in a very direct way. Bonding is possible only when you find commonalities.

For me, personally, curating and working in the art field has opened my awareness of the socio-political issues of the Palestinian and diverse Arab communities living in Israel. Coming from a centuries-rooted Algerian and Moroccan Jewish family, the vision I had of 'the Arab' comprised all the history of the Jews in those countries and thus was very narratively limited. Knowing that for many visitors to the RAK Fine Arts Festival this will be their first contact with something coming from Israel is such a great honor because art is a mind opener and a tool for building peace between people far beyond politics.

As Israeli artists, we can not only remind the region of our own origins here, exiled from our homes from Morocco to Yemen, Iraq to Lebanon, but it is also the opportunity to show the challenges we face within Israeli society, too. One of the projects in this exhibition is called The Sheikhs of the Negev, a project by the Israeli-Dutch photographer Ariel van Straten and the Bedouin economist Salam al-Touri.

Over three years, Ariel and Salam researched the lives of 30 Bedouin Sheikhs living in the Negev Desert in southern Israel, about their way of life, their status of being sheikhs in a modern society that sometimes forgets the tradition and its symbolism. It raises the political problem of being nomadic communities in an AI era.

Art allows us to address the issues around segregated and minority communities. It allows us to address unresolved conflicts to revive forgotten histories and allows communities to have a peaceful voice, to protest, to express. Art does what politics cannot and this is why art remains one of the most powerful peaceful diplomatic tools we have access to.
How agriculture led Indonesia's defense minister to talk normalization with Israel
Agricultural cooperation has played a big role in a recent warming of ties between Israel and Indonesia, with Indonesian Defense Minister Prabowo Subianto leading the charge from Jakarta.

A recent series of meetings, statements and reports in the last few months of 2021 indicate that Israel and Indonesia, the world's most populous Muslim state, have grown closer.

The two countries do not have formal diplomatic relations, but they cooperate in trade and tourism, and the Foreign Ministry maintains a Facebook page in Indonesian.

In the 1970s and '80s, Indonesia bought arms from Israel, and Indonesian soldiers have trained in the Jewish state. In 1993, then-prime minister Yitzhak Rabin met then-Indonesian president Suharto in Jakarta. In 2016, then-deputy foreign minister Tzipi Hotovely – now ambassador to the UK – said Israel was in constant contact with the Oceania multi-island nation and hoped to establish official ties.

Jakarta was in talks with the Trump administration in December 2020 to normalize ties with Jerusalem, and the US International Development Finance Corporation offered to double its investment in Indonesia, but to no avail.

Subianto met with National Security Adviser Eyal Hulata at a conference in Manama last November, and he was seen speaking with Israel's chargé d'affaires in Bahrain, Itay Tagner, at the same event. After the photo was published, Subianto issued a statement, saying it was not prohibited for him to speak to Israeli officials when it is in the national interest.
Shin Bet thwarted Iranian attempt to recruit Israelis as spies
The Shin Bet (Israel Security Agency) has arrested five Israelis who had been recruited by an Iranian intelligence agent to whom they sent photographs and other information, the agency revealed on Tuesday.

The investigation was carried out by the Shin Bet and Israel Police after it was suspected that a number of Israeli citizens were in contact with an Iranian intelligence agent known as Rambud Namdar, who recruited the Israelis to carry out missions within the country.

The suspects, four women and one man from central Israel met Namdar, who said he was a Jew living in Iran, on Facebook. According to the agency, Rambud requested from all suspects that instead of being in contact on Facebook, they would talk on WhatsApp, where he also video chatted.

Prime Minister Naftali Bennett praised the Shin Bet for stopping the spy ring.

"Israel is in a campaign against Iran," he said. "We see clear efforts and incessant attempts by the Iranian Revolutionary Guard Corps to recruit Israeli citizens."

Iran is not only trying to attack Israel physically, but is also coming after Israeli civilians and society, to try to sow divisions and destabilize Israel politically, the prime minister warned.
AnalysisWhy tree planting in the Negev sparked protests, riots and a coalition crisis
The slender saplings, placed into soil churned up by tractors, seem far too innocuous to spark a coalition crisis. But where and how they're planted turns out to matter on a national scale.

The Jewish National Fund, a quasi-governmental body that oversees 13 percent of Israel's land, began several days of planting trees on disputed land in the Negev on Sunday. The response was immediate: protests by Bedouin residents that escalated into clashes.

Many Negev Bedouin live in unrecognized townships scattered across Israel's southern desert. The government has sought to relocate them into planned, recognized cities, but most Bedouin have refused, insisting on the right to stay where they are.

Bedouin leaders have called the forestation work the beginning of an attempt to expel some of those living in the unrecognized villages and take over disputed land. Although this week's planting has been limited to a small area of farmland, they see it as part of a larger plan to depopulate the area of Bedouins.

The JNF, also known as the Keren Kayemet L'Yisrael, says it is simply planting trees on state land. Environmental experts see afforestation of Israel's national lands as a key ecological goal.

"There's no expulsion. These are national lands; we have a right to protect them for all citizens, and one way to do that is by planting trees," said Blue and White parliamentarian Alon Tal, a long-time environmentalist who formerly oversaw forestry for more than a decade at the JNF.

By Tuesday night, the situation had spun out of control. At least 18 Bedouins, including seven minors, had been arrested. Young Bedouin teenagers set a journalist's car ablaze near Segev Shalom and hurled stones at a passing train.

Ra'am party leader Mansour Abbas announced that his faction would no longer vote with the coalition. The Islamist party sees the conservative, overwhelmingly religious communities as a key electoral stronghold.
10% of Knesset absent due to virus as COVID spreads among lawmakers
At least 14 lawmakers and ministers infected with COVID-19 were absent from governmental work on Wednesday, as cases continue to climb to new records in both the country and the Knesset.

Six members of the coalition, including Foreign Minister Yair Lapid, his deputy Idan Roll (Yesh Atid), Public Security Minister Omer Barlev (Labor), and MKs Michael Biton (Blue and White), Yomtob Kalfon (Yamina) and Emilie Moatti (Labor), are self-isolating after testing positive for the coronavirus.

In the opposition, eight lawmakers were quarantined on Wednesday after testing positive, including three Likud MKs: Haim Katz, Ofir Katz and Etty Atia. Yoav Ben-Tzur (Shas), Yisrael Eichler (UTJ), Yitzhak Pindrus (UTJ), Osama Saadi (Joint List) and Ofir Sofer (Religious Zionism) were also infected.

Meaning, 10%, or 12 out of 120 MKs have the coronavirus as of Wednesday afternoon. (Barlev and Roll are not members of the Knesset.)

Wednesday's Knesset sessions continued despite the missing lawmakers.

The rapid rise in coronavirus cases that has seen record caseloads every day over the past week continued Tuesday with 43,815 new patients confirmed, the highest number since the pandemic began in early 2020.
PMW:
"We replaced bracelets with weapons" song chosen by the PA for Expo 2020 Dubai
Last month, the PLO embassy in the United Arab Emirates celebrated Palestinian National Day at the Expo 2020 in Dubai. Among the songs at the event was the well-known Palestinian hit Oh Flying Bird that presents a world without Israel, misrepresenting several Israeli cities as if they were in "Palestine." Another song, a PA terror promoting classic, was also featured at the event: Pull the Trigger glorifies violence and announces that "we replaced bracelets with weapons." Both messages are of course in line with PA policies and ideologies as Palestinian Media Watch has exposed. While Oh Flying Birddenies the existence of Israel and tells the story of a bird that visits places in "Palestine" that include Israeli cities like Jaffa, Acre, and Haifa, Pull the Trigger calls on Palestinians to "redeem the country" by using violence. The following are excerpts of the songs broadcast live by official PA TV from the event:
Lyrics: "The orchard called us to the struggle
We replaced bracelets with weapons
We attacked the despicable [Zionists]
Pull the trigger
We shall redeem Jerusalem, Nablus, and the country"


[Official PA TV, Dec. 24, 2021]

Lyrics: "Oh flying bird, circling around,
by Allah, oh traveling [bird], I burn with envy.
My country Palestine is beautiful.
Go to Jenin and bring me from its valley greetings to Nablus, Tulkarem and their soil.
Drink the water of Jaffa's port, don't forget Ramle (i.e., Israeli cities) and Ramallah.
Oh flying bird, circling around,
by Allah, oh traveling [bird], I burn with envy.
My country Palestine is beautiful.
Turn to Safed, and then to Tiberias, and send regards to the sea of Acre and Haifa (i.e., all Israeli cities).
Don't forget Nazareth, the Arab fortress, and tell Beit Shean (i.e., Israeli cities) about its people's return"

[Official PA TV, Dec. 24, 2021]
"Glory bows only to the Al-Aqsa [Martyrs'] Brigades" - Fatah ceremony honors Fatah's terror wing
PA libel: Israeli soldiers murder kids for no reason
PA Fatah lie that Jesus, a Jew, was Palestinian
Fatah leader Jibril Rajoub: We have much respect for Hamas's Saleh al Arouri. Hamas is an original part of our political and national fabric. pic.twitter.com/LQdG1YwvgE

— Khaled Abu Toameh (@KhaledAbuToameh) January 12, 2022
Sisi: Gaza reconstruction needs more than $500 million
The reconstruction of the Gaza Strip requires far more than $500 million, Egyptian President Abdel Fattah el-Sisi said on Wednesday.

"We were hoping to contribute more than this sum," Sisi said at a panel of the World Youth Forum (WYF) conference in the Egyptian Red Sea resort of Sharm e-Sheikh.

In May 2021, Sisi announced that Egypt would allocate $500m. for rebuilding efforts in the Gaza Strip in the aftermath of the 11-day war between Israel and Hamas.

"The Gaza Strip needs more than $500 million, and we wish we could have contributed more [for the reconstruction process]," Sisi said on Wednesday. "I hope that the reconstruction process we promised will end as soon as possible for the sake of our brothers in the Gaza Strip." He said that the residents of the Hamas-ruled Gaza Strip, and not foreign workers, should be involved in the reconstruction efforts.

Sisi called on the donor countries to provide financial aid to the United Nations Relief and Work Agency for Palestine Refugees (UNRWA) so that it would be able to fulfill its duties towards the Gaza Strip.

"Our role [in the reconstruction effort] will continue and we urge the donors to never abandon UNRWA," the Egyptian president said.
Killer Zionist dolphins? Hamas claims they exist
Israeli security forces used a dolphin to chase Hamas frogman commandos off the coast of the Gaza Strip, the terrorist organization claimed on Monday, according to a report by Al-Quds.

During an operation that occurred at an unstated time, Hamas naval operatives were chased into the sea by a dolphin equipped with a device capable of killing the terrorist group's frogmen, an Al-Qassam brigades naval commandos spokesperson revealed in a video.

"Killer Zionist dolphins exist, according to a Hamas publication," tweeted Joe Truzman, research analyst at the Foundation for Defense of Democracies' Long War Journal. "Abu Hamza explains that a member of Hamas' Frogman unit who was killed by Israel during the May conflict found the killer dolphin. The device the alleged killer dolphin was wearing is shown in the publication."

The exact nature and function of the aquatic attacker's device were not revealed, but Al-Quds claimed it had sources regarding another combat cetacean incident in August 2015 that was equipped with a remote control, a camera and a weapon that could fire harpoon-like projectiles.

The Al-Quds sources claimed that Hamas had succeeded in capturing the 2015 Israeli dolphin operative, but did not report what became of the military mereswine, which may still be in captivity. According to BBC, The newspaper claimed that the marine mammal was "stripped of its will" and turned into "a murderer" by Israeli forces.
Hamas Video: Israel Uses Dolphins to Hunt Down and Kill Our Naval Commandos #Hamas #Gaza pic.twitter.com/d3bBzIbSJJ

— MEMRI (@MEMRIReports) January 12, 2022
PreOccupiedTerritory:
Let's Make War Crime Accusations Now For The Next Gaza Conflict By Arafat Masri, Palestinian Human Rights activist (satire)
No one knows what 2022 will bring. The uncertainty colors all of our decision-making, all the more so in the shadow of COVID-19 and continued high tensions in the region. I take all that into account when I recommend that rather than waiting for the fighting to occur, whenever that happens, and then rush to document everything in a way that highlights Palestinian virtue and Jewish bloodthirst, we devise the stories of the poor victims of Israeli strikes now, when we have time to give proper attention to the matter, and not later, when events overtake us and we must adapt to the harsh realities of the actual war, with results that fall short of our desired PR goal.

Hear me out: "human rights" NGOs, credulous Western journalists, and media that Hamas subjects to censorship all carry water for those who make the accusations, and often participate themselves in the pile-on, regardless of credible evidence. My suggestion involves a proactive approach instead of the reactive method that requires an actual violent conflict to take place before the war-crime accusations hit the public eye and ear. That way, when fighting does begin, we have the allegations in our pockets already, and need not rush around trying to use already-reported stories as the basis for our charges of brutality.

Consider the freedom this offers in shaping the narrative around the conflict the way we want, as the enemy traps itself in adherence to mere events that have occurred. In fact this approach represents only an incremental shift from our previous modus operandi; we seldom let facts get in the way of a good blood libel. My suggestion takes our information war to the next level by divorcing it entirely from specific news items and simply spraying the media ether with wrenching, enraging tales of innocent Palestinians cut down in fits of Zionist cruelty, without bothering to link those tales to any actual reporting.
110 Republican Lawmakers Call on Biden To Abandon Iran Nuclear Talks
A coalition of more than 100 Republican lawmakers is calling on the Biden administration to abandon negotiations with Iran aimed at securing a revamped nuclear agreement, according to a letter sent Wednesday to the State Department and obtained exclusively by the Washington Free Beacon.

"We write to urge you to immediately withdraw from the fruitless Vienna talks to re-enter the Joint Comprehensive Plan of Action (JCPOA) and instead strongly enforce existing sanctions against Iran, particularly with respect to the oil trade between Iran and the People's Republic of China," the lawmakers write in a letter spearheaded by House Foreign Affairs ranking member Michael McCaul (R., Texas) and cosigned by 109 other lawmakers. "Further delay of action on this only further enables Iran's malign activities, including their aggressive nuclear pursuits."

The letter is a sign that Republicans are united against reentering the 2015 accord. It also comes as negotiations with Tehran drag into a second year, with the Iranian regime demanding further concessions from the Biden administration, including the full reversal of sanctions on the country's nuclear program and regional terrorism enterprise.

As diplomatic talks resume after months of delays, Iran has greatly expanded its nuclear program, including its enrichment of uranium, a main component in an atomic weapon. Iran is now enriching and stockpiling highly enriched uranium, which can only used for a bomb. This work has continued in the face of ongoing sanctions and opposition from the international community. Senior Biden administration officials have acknowledged in recent weeks that Iran is stalling negotiations while it advances its nuclear program.

"Iran is charging forward with its nuclear program, using advanced centrifuges and producing equipment for such centrifuges while stockpiling increasing quantities of uranium enriched at 20 percent and 60 percent purity," the GOP lawmakers write. "Iran also continues to gain irreversible knowledge through this nuclear work. While the Administration has consistently indicated a willingness to negotiate toward a return to the JCPOA, Iran has made a return even less valuable for the [international community] as it makes greater nuclear gains and gets closer to the deal's sunsets."
Biden Admin Delays Trial of Alleged Iranian Spy for Third Time
The Biden administration has for the third time delayed the trial of an accused Iranian spy, renewing concerns that the high-profile case is being used as a bargaining chip in nuclear negotiations with Tehran.

The Justice Department confirmed to the Washington Free Beacon on Tuesday that the trial for Kaveh Lotfollah Afrasiabi would again be delayed. The Iranian citizen and U.S. permanent resident was charged last year with acting as an unregistered foreign agent for the Iranian regime. The trial, which was scheduled to move ahead in January, was postponed twice last year at Afrasiabi's request, sparking Republican concerns that the Biden administration was allowing delays to appease Iran while it negotiated a new nuclear deal.

"The defendant complained of medical issues that he claims make it difficult for him to assist in the preparation of his defense, so he has asked for more time and we have not objected," a Justice Department spokesman told the Free Beacon. "This was the motion publicly filed by his standby counsel." No date has been set yet for the trial to commence, according to the spokesman. Afrasiabi's counsel requested that the case be rescheduled for April 20, according to a court filing.

Afrasiabi's case has emerged as a flashpoint between the Biden administration and congressional Republicans, who suspect the case is being used as leverage in ongoing talks with the Iranian government about inking a revamped version of the 2015 nuclear accord. In October 2021, after the case was delayed for a second time, a group of House Republicans wrote to the Biden administration to express their concern "that Afrasiabi is being used by the Iranian regime as a political tool for backdoor negotiations" with Iran, as the Free Beacon reported at the time. The third delay has renewed these concerns.
CAMERA Op-Ed The Press Embargoes Iran's Oil Smuggling
The Islamic Republic of Iran has long been considered the world's leading state sponsor of terrorism. But the regime is also, in a more common sense, a criminal enterprise of the mafia variety. Indeed, smuggling is its lifeblood.

Tehran has long been reliant on smuggling, both to offset Western sanctions and to line the pockets of the Islamic Revolutionary Guard Corps (IRGC) members who command Iran's shadow economy. Some estimates have indicated that the regime's underground economy might account for as much as 36 percent of the country's GDP.

The IRGC's Quds Force is responsible for training US-designated terrorist groups like Hamas, Hezbollah, Palestinian Islamic Jihad, and others. But it also dominates the country's key economic sectors, including construction, information technology, port and mine development, railways, and, perhaps most importantly, energy.

The Quds Forces runs an extensive smuggling network that the ruling theocrats have dubbed a "resistance economy," for its role in evading sanctions. But while the IRGC is aware of its importance, many major US news outlets have shown little interest.

A recent Washington Post report was a noteworthy exception.

The January 3 dispatch by Katie McQue, entitled "Smuggled Iranian fuel and secret nightmare transfers," shed a light on the shady business. McQue, a freelance journalist based in Dubai, did a deep dive into a subject, and a world, that is often overlooked.

McQue spoke to smugglers, many of whom spoke anonymously "for fear of reprisals." All were Indian nationals who worked for companies that helped smuggle Iranian oil to Somalia. Their description of the process is worth noting, as they offer a "rare inside look at how these activities are carried out," the journalist observed.
Albright and a US official explain the problems of focusing solely on missile deliverability, which @Amb_Ulyanov & others prefer to emphasize. Importantly, Iran could test a nuclear device much sooner than that; we estimate today Iran could test underground in 6 months. 2/

— Inst for Science (@TheGoodISIS) January 11, 2022
Fury in Argentina as Top Iranian Official Wanted for AMIA Bombing Atrocity Is Feted by Nicaraguan, Cuban Leaders
Jewish leaders in Argentina have expressed fury at the presence in Nicaragua of a leading Iranian official wanted for the 1994 bombing of the AMIA Jewish center in Buenos Aires, at the same time accusing the Argentine foreign ministry of doing nothing to secure his detention under the terms of an outstanding international arrest notice.

Iranian Vice-President Mohsen Rezaei was among the guests at Monday's presidential inauguration in Managua of Nicaragua's authoritarian leader, Daniel Ortega, who won a fourth term in office last November in an election marred by suppression of opposition parties and allegations of voter fraud.

A former commander of the regime's Islamic Revolutionary Guards Corps (IRGC), Rezaei was one of six Iranian operatives who were the subjects of "Red Notices" originally issued in 2007 by Interpol, the international law enforcement agency, for their roles in the bombing of the AMIA center in downtown Buenos Aires. Eighty-five people lost their lives and more than 300 were wounded when a truck packed with explosives rammed into the AMIA building on July 18, 1994.

Despite his status as a fugitive from international justice, Rezaei was feted in Managua during meetings with both Ortega and Cuban President Miguel Díaz-Canel. But while Argentina's foreign ministry issued a statement condemning Rezaei's presence as "an affront to Argentine justice and to the victims of the brutal terrorist attack," Argentina's main Jewish community organization excoriated Daniel Capitanich, the Argentine Ambassador to Nicaragua, for attending Ortega's inauguration nonetheless.

A letter on Tuesday to Argentine Foreign Minister Santiago Cafiero from the leaders of DAIA, the community's umbrella organization, expressed "absolute condemnation of the conduct of the ambassador of our country in Nicaragua, Daniel Capitanich."
Mohsen Rezaei, #Iran's VP responsible for murdering 85 innocent people in 1994 #AMIA Jewish com. building in Buenos Aires & has #Interpol warrant against him, travels the globe with impunity. Outrageous.

Important condemnation from @ArgentinaMFA https://t.co/rVsDOvRPEY pic.twitter.com/23edkwgxkf

— Tammy Rahamimoff-Honig (@RahamimoffTamar) January 12, 2022
Iranian Video Mocks Israel's National Anthem: No Hope Remains for the Zionist Army; Those Who Remain in Israel Will Be Buried #Iran #Israel pic.twitter.com/mIgQmvw3o5

— MEMRI (@MEMRIReports) January 12, 2022