From Ian:
UN's war on Jewish Jerusalem: A denial of indigenous rights - opinion
The UN's attack on Jewish Jerusalem is simply part of its wider anti-Israel strategy seeking to undermine and delegitimize the only Jewish state in the world. UN bias is well known, with its demographic makeup largely ensuring an automatic majority for every anti-Israel resolution proposed. The organization's position not only flies in the face of 3,000 years of the city's history, but also blatantly contradicts its own position on the rights of indigenous peoples.

It was in the Land of Israel that the Jewish people developed its unique culture and religious practices. It clearly fulfills the criteria of indigenous peoples, according to the UN's own definitions: self-identification; historical continuity with precolonial and/or pre-settler societies; strong links to territories and surrounding natural resources; distinct social, economic or political systems; distinct language, culture and beliefs; resolve to maintain and reproduce ancestral environments and systems as distinct communities.

It is more than a mere discourtesy to avoid using the Jewish names and terms – the UN is directly contradicting its own 2007 Declaration on the Rights of Indigneous Peoples by denying Jewish indigenous rights "pertaining to their lands, territories and resources, including those which were traditionally owned or otherwise occupied or used." By its antihistorical and unjust declarations, the UN merely discredits itself and undermines its status as a human rights body.

Jews are undeniably the indigenous people of Jerusalem, a claim supported by historical, archaeological and genetic evidence. Jerusalem, otherwise known as Zion, is the Holy City of the Jewish people. Israel's declaration of Jerusalem as its complete and united capital city should be supported by all who care about indigenous peoples and their rights.

If the UN were to apply to some good purpose all the energy expended against Jews and their ancient and indissoluble connection to Jerusalem, so much good could be achieved.

We call on people of goodwill everywhere to urge their respective governments to stand on the side of truth and justice, and to bring change at the UN.
US Jewish Leaders 'Appalled' by UN Vote to Approve Funding for 'One-Sided' Permanent Inquiry Into Israel
Leaders of the Conference of Presidents of Major American Jewish Organizations voiced their dismay at last week's majority vote at the United National General Assembly (UNGA) to fund a permanent, open-ended probe into alleged human rights abuses committed by Israel.

"We are appalled by the UNGA vote to approve an open-ended commission of inquiry solely focused on Israel's response to the conflict initiated by the Hamas terrorist regime last May, also known as Operation Guardian of the Walls," stated Conference Chair Dianne Lob, CEO William Daroff and Vice Chair Malcolm Hoenlein on Monday. "We vehemently oppose this one-sided farce of a probe, which again demonstrates the clear anti-Israel bias in the UN body. Israel is the only member state in the history of the UN to be singled out for taking defensive military action to ensure the security of its civilian population."

"Throughout the history of UN actions, no other investigation received authorization to spend unlimited resources without an explicit mandate," the umbrella body representing the main US Jewish advocacy groups added.

In May — when the resolution by the UN Human Rights Council was adopted to open an ongoing investigation into incidents that occurred both before and after April 13, 2021, in the wake of the Gaza war — Israel argued that its security forces "acted with the highest ethical standards, in accordance with international law, in defending our citizens from Hamas' indiscriminate rocket fire."

At the UN's Fifth Committee session on budget approvals on Thursday, 125 countries rejected a proposed amendment by the Israeli representative to defund the permanent commission of inquiry, which it considers "discriminatory and biased." Eight countries, including the US, Hungary and Papua New Guinea voted in favor, and 34 abstained.

"No such body has been created to investigate Hamas, despite its many rocket attacks targeting Israeli civilians and infrastructure," the Israeli representative said. "This latest commission has an indefinite time frame with broad budgetary implications and redundant staff."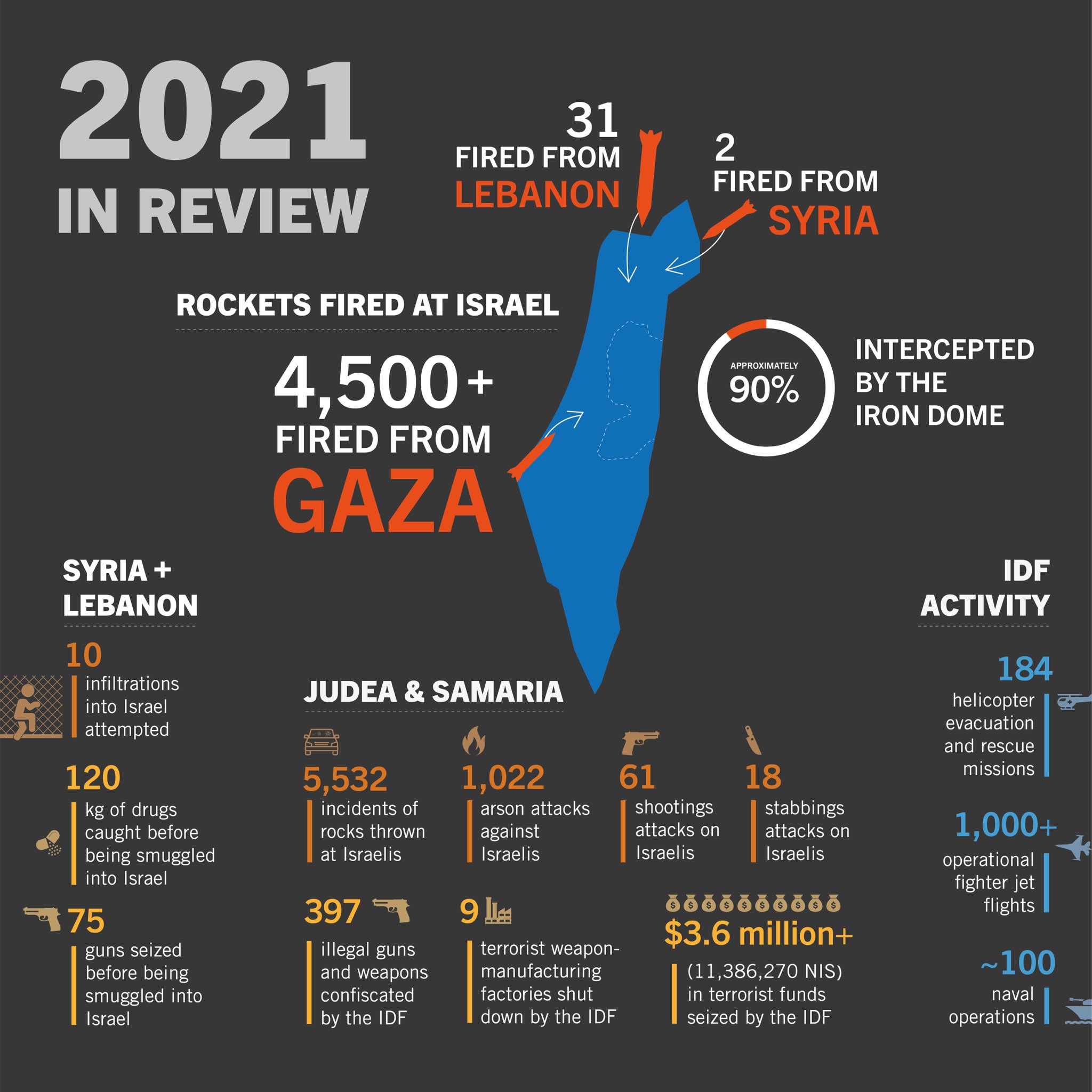 PMW:
All terrorists are "innocent civilians" and victims of an Israeli plot according to the PA
Earlier this month, a 65-year-old Palestinian woman named Sa'diyya Farajallah stabbed an Israeli civilian near the Cave of the Patriarchs in Hebron. The 38-year-old Israeli man fought her in self-defense until she was arrested by Israeli police.

But in the PA's fake news the story was different. According to official PA TV, Farajallah was "attacked," "beaten," and "wounded" for no reason by "the occupation forces." PA TV never mentioned the fact that Farajallah had stabbed an Israeli man:
Official PA TV newsreader: "The occupation forces arrested a female civilian from Hebron after she was severely beaten (sic.) near the Ibrahimi Mosque (i.e., the Cave of the Patriarchs). Our reporter said that civilian Sa'diyya Farajallah (i.e., terrorist, wounded 1), 65, was wounded in various parts of her body as a result of being attacked by the occupation forces stationed at the military checkpoint in front of the Ibrahimi Mosque, and he noted that the occupation forces prevented the civilians and first aid teams from reaching the wounded woman who fainted and lost consciousness."

[Official PA TV News, Dec. 18, 2021]

The fake news and the distortion of a Palestinian terror attack into an "unprovoked Israeli assault" against "an innocent Palestinian victim" is not new. Even when there is video footage of an attack, and the terrorist is clearly seen attacking his/her victims, the PA misrepresents the Israeli response as an assault or "execution." During the terror wave in 2015-2016, also coined the Knife Intifada, when numerous stabbing attacks took place, Palestinian Media Watch exposed that the PA routinely claimed Israel fabricated the attacks and planted the knives at the scene. The PA has since continued to describe Palestinian stabbers as "unarmed" victims of Israeli "executions."

Sa'diyya Farajallah – 65-year-old female Palestinian terrorist who stabbed and wounded an Israeli civilian near the Cave of the Patriarchs in Hebron on Dec. 18, 2021. The civilian fought off Farajallah to defend himself until she was arrested by Israeli border police officers.
David Amess and the deafening silence on Islamism
The cases of Swealmeen and Saadallah raise serious questions about the UK's asylum procedures. How is it possible that violent individuals, some with clear connections to Islamism, are allowed to stay in the UK indefinitely?

But such questions are simply not asked by our political and media elites. Their approach to terrorist attacks is almost always expedient and superficial. They wilfully overlook the largely Islamist motives of those involved and brush over the fundamental system failures at play.

This terror denialism is informed by identity politics and political correctness. It combines a reluctance to acknowledge the major threat posed by Islamist extremism with a refusal to accept that many of its perpetrators are foreign nationals either claiming or having been granted asylum in the UK.

So, as we head into 2022, we need to see a greater recognition of the scale and nature of the terror threat in modern-day Britain. And we must stop shying away from the realities of Islamist extremism.

Too many metropolitan liberals seem to think that acknowledging the threat of Islamist extremism is a form of anti-Muslim prejudice. This line of thinking lets down Brits of all backgrounds – including British Muslims. Indeed, according to a recent study published by crime and justice consultancy Crest Advisory, British Muslims are just as worried about Islamist extremism as the wider population.

Moreover, recognising the failings of our asylum system does not mean turning our back on those in need. Britain can – and should – take pride in its rich history of rehoming some of the world's most persecuted people. But a willingness to take in asylum seekers should not come at the expense of social cohesion and public security. As it stands, a toxic mixture of broken asylum procedures and failed integration outcomes is feeding the beast of Islamist extremism in Britain. Admitting this does not make one a bigot.

To counter Islamist extremism, we need to recognise it as the prevailing terror threat of our time. It is time to do away with the terror denialism.
Sheldon Adelson: The Megadonor Who Underwrote the GOP's Pro-Israel Shift
In these pages and much of the rest of the media, Sheldon Adelson — an up-by-his-bootstraps casino magnate who reinvented Las Vegas and the world of gambling across Asia — made headlines largely for giving hundreds of millions of dollars to Republican political candidates.

That's true enough. But it misses the singular intensity of Adelson's giving, which was focused on the U.S.-Israel relationship and Jewish causes more broadly. That focus, combined with the scale of his generosity, suggests Adelson, who died in January at 87, belongs in the pantheon of great Jewish philanthropists like the Rothschilds and the Montefiores — and, indeed, among the great American philanthropists like Andrew Carnegie, John D. Rockefeller and Andrew Mellon.

Adelson's wealth got him access to the halls of power. But he didn't use that access to angle for invitations to state dinners or cocktail parties, or to press strongly for tax breaks or business advantages. He cared about few political issues save the U.S.-Israel relationship, using his money and influence to prod for the changes he wanted to see, almost all of them aimed at strengthening the alliance and protecting the Jewish people. In fact, Adelson, who was pro-choice and socially liberal, routinely supported pro-Israel Republican candidates whose views on social issues were at odds with his own.

"There are many people who are big donors, and what they seek is access. What Sheldon was actually seeking was to make a difference. What he was seeking was change," says Ron Dermer, the former Israeli ambassador to the United States. "Access was a means to an end, and the end was to do things that were critical to Israel and the U.S."

Chief among those changes was the relocation of the American embassy in Israel from Tel Aviv to Jerusalem, which both Israelis and Palestinians claim as their capital — a move that successive presidential candidates from both parties had promised but never delivered. In 2008, the New Yorker's Connie Bruck described a scene in which Adelson and his wife, the Israeli-born Miriam, gave President George W. Bush grief over then-Secretary of State Condoleezza Rice's efforts to restart the Israeli-Palestinian peace process. "I can't be more Catholic than the Pope," Bush said, referring to Israeli Prime Minister Ehud Olmert's support for that process
'A true friend of Israel': Bennett, Lapid eulogize ex-Senate majority leader Reid
Prime Minister Naftali Bennett and Foreign Minister Yair Lapid joined the stream of leaders in the US and around the world eulogizing former US Senate majority leader Harry Reid on Wednesday.

"Harry Reid was a fearless leader and a true American patriot," Bennett tweeted. "His deep commitment to the State of Israel and the Jewish people will leave a legacy to be remembered. May his memory be a blessing."

"Senator Harry Reid was a dedicated public servant, a distinguished leader, and a true friend of Israel who made a significant contribution to strengthening the relationship between our two countries. I send my condolences to his family, friends, and to the American people," wrote Lapid in his Twitter post.

Opposition chairman Benjamin Netanyahu called Reid "a dedicated public servant of America, a great supporter of the US-Israel alliance and a personal friend of many years."

"I will never forget Harry's moving words to my family and me after he had read the book of my brother Yoni's letters. Rest in peace, Harry," Netanyahu added.

The former Democratic senator and Nevada's longest-serving member of Congress died Tuesday at the age of 82 after a four-year battle with pancreatic cancer.
Gantz announces series of gestures to Palestinians after meeting Abbas
Defense Minister Benny Gantz announced on Wednesday that Israel would implement a series of measures intended to prop up the indebted Palestinian Authority and ease Palestinians' daily life.

The announcement followed a meeting between Palestinian Authority President Mahmoud Abbas and Gantz in Gantz's Rosh Ha'ayin home, near Tel Aviv, on Tuesday night. The meeting was the first working session between Abbas and a senior Israeli official inside Israel in over a decade.

Israel will provide the PA with a NIS 100 million loan ($32.2 million) on tax revenues Israel collects on Ramallah's behalf, in an attempt to reduce the PA's spiraling deficit. Ramallah, the PA's seat of government, has seen dwindling foreign aid for years, and almost none from its biggest backers in 2021.

The meeting was Gantz and Abbas's second since the current Israeli government was formed in June. Following an earlier meeting between Gantz and Abbas in late August, Israel handed the PA a similar NIS 500 million advance ($160 million) in an attempt to stave off a looming fiscal crisis.

Israel will also legalize the status of 9,500 undocumented Palestinians and foreigners living in the West Bank and Gaza, Gantz said. Tens of thousands of Palestinians and foreign nationals are believed to live in the West Bank and Gaza without proper documentation.
Gantz Gives Away the Store to Mahmoud Abbas, Faces Harsh Criticism from the Right
Defense Minister Benny Gantz and Palestinian Authority Chairman Mahmoud Abbas met Tuesday night at the home of the defense minister in Rosh HaAyin. It was the first working meeting between the chairman and an Israeli senior official inside Israeli territory since 2010. It was also the first time Abbas had officially been inside pre-67 Israel since the funeral of Shimon Peres. The two agreed on some economic and civic gestures to the Palestinian Authority.

The meeting was organized by the Coordinator of Government Operations in the Territories, Major General Ghassan Alian. Also on hand were PA Intelligence Chief General Majd Faraj and PA senior official Hussein a-Sheikh. It lasted about two and a half hours and a small part of it was devoted to a private conversation between Ganz and Abbas.

The opposition attacked the government for returning the Palestinian issue to the agenda, on the left Gantz received congratulations for "striving for a political solution," and the DM received harsh criticism from within the coalition government.

Housing and Construction Minister Zeev Elkin (New Hope) on Wednesday morning told 103FM: "Gantz has no rope from the government to conduct political negotiations, Gantz knows this." Elkin added with considerable derision: Gantz's ideology probably allows him to comfortably host someone who pays salaries to terrorists."

Of course, all the governments in which Elkin served in the past also tolerated (though penalized) the PA's salaries to terrorists behind bars in Israel, with a few exceptions. If the salaries are a do-or-die issue, then there could be no dealings with the PA, which is righteous, but would also mean the weakening of Fatah in Ramallah, and its possible replacement by Hamas. So, being a purist is cheap. At the same time, there are many other problems with the PA's behavior that should trouble Elkin and the Lapid-Bennett government.

When asked if Prime Minister Naftali Bennett is close to Gantz's positions, he replied: "It was done with his approval, but I don't see anything unusual here in terms of what was in the past." But he stressed again, "I would not invite someone to my house who pays salaries to the murderers of Israelis. "It's delusional, Abbas is financing a campaign in The Hague to put Gantz behind bars because he sees him as having been a war criminal during his time as chief of staff. I would not invite such a person into my home, it would have been better if he had found a different guest."
I find it odd that the Defense Minister and former Chief of Staff, would invite into his home the man who is leading the campaign to indict Israeli soldiers, very ones who served under his command, before the Int'l Criminal Court. https://t.co/KQiijursOu

— Arsen Ostrovsky (@Ostrov_A) December 29, 2021
Palestinian factions decry 'disgraceful' Abbas-Gantz meeting
Several Palestinian factions have condemned Tuesday night's "disgraceful meeting" between Defense Minister Benny Gantz and Palestinian Authority President Mahmoud Abbas.

The meeting, which took place at Gantz's home in Rosh Ha'ayin, surprised many Palestinians, especially because it came in wake of growing tensions and violence in the West Bank in recent weeks.

Palestinian activists took to social media to voice their rejection of the meeting and condemn Abbas as a "traitor" and "collaborator." Hussein al-Sheikh, head of the PA General Authority for Civil Affairs and member of the Fatah Central Committee who attended the meeting together with Majed Faraj, head of the Palestinian General Intelligence Service, on Wednesday pushed back against the criticism.

"The meeting is a challenge and the last chance before the explosion and finding ourselves at a dead end," Sheikh wrote on Twitter. "It is a serious and bold attempt to [reach] a political path based on international legitimacy and an end to the escalation against Palestinians." In an apparent attempt to stave off the criticism, the PA continued its condemnations of Israel.

The PA Foreign Ministry said in a statement released hours after the Gantz-Abbas meeting that there is no peace partner on the Israeli side. The ministry said that it "condemns in the strongest terms the occupation's strengthening of settlements, theft of Palestinian land and the continuation of the brutal and unjust siege on our people in the Gaza Strip."
Hamas is not happy with the meeting between Mahmoud Abbas and Benny Gantz. This cartoon was published by a Hamas-affiliated website. (The man speaking to reporters is Hussein al-Sheikh, who says the meeting was productive and positive). pic.twitter.com/yzeHU3in8A

— Khaled Abu Toameh (@KhaledAbuToameh) December 28, 2021
Whose Two-State Solution Is It? Media on Holiday as Palestinian Authority Attacks Arab-Israeli Politician for Recognizing Jewish State
Last week, Israeli Arab politician Mansour Abbas, head of the Islamist Ra'am (United Arab List) party and a member of Israel's ruling coalition, made a simple statement recognizing Israel's existence as a Jewish state in accordance with the 1947 UN Partition Plan:

"Israel was born as a Jewish state. And that was the decision of the Jewish people, to establish a Jewish state," Abbas noted in Hebrew. "The question is not 'what is the identity of the state?' That's how the state was born, and so it will remain […] This is the reality. The question is not about the state's identity — but what the status of Arab citizens will be in it. [Translation: Israellycool]

Abbas' declaration appeared to be at odds with his party's rejectionist charter, as well as previous comments, and earned him praise in Israel, with some hailing the speech as "historic."

On December 23rd, leading Israeli newspaper Maariv even printed a cartoon depicting Theodor Herzl, one of the founding fathers of political Zionism, inviting the Arab politician into his iconic 1897 portrait. "Come, there's room," Herzl can be seen telling Abbas.

Meanwhile, Abbas' remarks in support of coexistence quickly drew the ire of Palestinian Authority (PA) officials in the West Bank.

In a statement, Ramallah furiously condemned what it called "irresponsible statements [that are] consistent with the calls of extremists in Israel to displace the Palestinians and harm the status of the blessed al-Aqsa Mosque and the history of the Palestinian people."

PA President Mahmoud Abbas accused the Ra'am leader of repeating "the lies of the Zionist movement," and said Mansour Abbas "only represents himself" when he speaks about accepting Israel's existence as a Jewish state. "His fate and the fate of those like him will be in the dustbin of history," the ruling Palestinian Fatah faction added.
Everything that you have to know about Hebron
You've probably heard that Jerusalem is the center of the conflict between Israelis and Palestinians but there's another city known for being even more intense for Jews and Arabs..here is everything you need to know about Hebron
Ron Prosor Tapped as Israel's Next Ambassador to Germany
Former Israeli Ambassador to the United Nations Ron Prosor was tapped on Tuesday to serve as the country's next envoy to Germany.

The appointment of Prosor, who also served as Israel's ambassador to Britain, "symbolizes the importance of Israel-Germany relations and the continued strengthening of cooperation with the new government in Berlin," Foreign Minister Yair Lapid stated while announcing the move.

"Prosor's extensive experience and familiarity with the Israeli foreign service will greatly contribute to the challenges in the international arena," added Lapid.

"I'm moved from the bottom of my heart," stated Prosor, calling his appointment the opportunity to "close a circle, and return to his late father Uri's birthplace."

"As someone who has represented Israel in both the UK and the UN, I am embarking on my third mission as an ambassador with a sense of responsibility and mission, out of an understanding and recognition of the importance of Europe's key country," said Prosor in a statement on social media.

"I thank Foreign Minister Lapid for the trust he has placed in me, and promise that I will do my best to leverage the special relationship between the two countries," he said.
WATCH: The first Israeli Ambassador to the Kingdom of Bahrain, @AmbassadorNaeh, handed his credentials to His Majesty King Hamad bin Isa Al Khalifa ???????? @IsraelinBahrain @BahrainEmbIsr pic.twitter.com/OPnJv69SGI

— Israel Foreign Ministry (@IsraelMFA) December 29, 2021
Gaza: Israeli Tanks Attack Hamas Outposts in Response to Shooting
Israeli tanks on Wednesday attacked military positions of Hamas – the Palestinian militant faction in Gaza – in response to a shooting that left at least three people wounded, including an Israeli citizen.

The shooting transpired Wednesday afternoon at the northern Israel-Gaza border.

According to Israel's army, the Israeli citizen is a contractor on behalf of Israel's Defense Ministry who was doing maintenance work on the security barrier around the Gaza Strip.

Those wounded were evacuated to Shifa Hospital, the central medical center in Gaza, where one was said to have severe wounds.

In response, Israeli tanks hit four outposts belonging to Hamas.

Residents of nearby a kibbutz were asked to leave the area.

The sudden emergence of violence comes as Israel announced it was considering easing several restrictions in the Gaza Strip to alleviate the territory's economic woes and to encourage the population to put pressure on Hamas to maintain calm.
Israeli civilian shot by Palestinian on Gaza border
Israel's army fires at Hamas targets after Gaza attack
'Campaign Between Wars': Israel Struck 'Dozens' of Syrian Targets in 2021 to Disrupt Weapons Transfer to Iranian Proxies
The Israeli army said Tuesday that airstrike operations carried out this year hit "dozens" of targets in Syria and have limited the ability of Iran to funnel arms to its proxies in the region.

"The increase in the scope of operations over the past year has led to a significant disruption of the movement of weapons into the various arenas by our enemies," IDF Chief of Staff Lt.-Gen. Aviv Kochavi stated.

During 2021, the Israeli army has struck dozens of targets in Syria and three targets in Lebanon as part of the country's so-called "campaign between wars," the IDF said in an end-of-year report. The campaign focuses on striking targets in Syrian territory and Lebanon, mostly linked to Iran and its proxies, to hit the Islamic Republic's military build-up and its capabilities, while avoiding escalation.

"The IDF concludes a year of very significant operational activity. We have dealt with threats on various fronts, all of them fueled by Iran," said Israel's Defense Minister Benny Gantz. "We will not allow Iran to funnel disruptive weapons to its proxies who threaten the citizens of Israel."

Syrian state media on Tuesday charged Israel with carrying out air strike on the Syrian port of Latakia, causing fire at the container storage area, damaging nearby buildings, and leading to "big material damages," in a second attack on the facility this month.

Israeli media reported earlier this month that three quarters of Iran's weapons supply in Syria has been hit by IDF strikes.

Meanwhile, the Israeli army has in recent months stepped up its readiness for a potential conflict and is fortifying the civilian resilience along the northern border with Syria and Lebanon. Foreign Minister Yair Lapid on Tuesday reiterated Israel's intention to "act alone" to prevent Iran from becoming a nuclear-threshold state "if necessary," as negotiations between Tehran and world powers resumed in Vienna.
Israel's military allegedly hits Syrian port Latakia
The company that operates the container terminal at the port is a subsidiary of the French CMA CGM, which also operates the port of Tripoli in Lebanon and wants to rehabilitate and operate the port of Beirut. Macron brought its CEO with him to Beirut in 2020. https://t.co/CvHBkwbiwb

— Tony Badran (@AcrossTheBay) December 28, 2021
Normalizing Assad? Associated Press, AFP Botch Israel's Golan Heights Development Plan Story
The timing of the Israeli government's decision to approve the Golan Heights plan coincides with the Islamic Republic of Iran's growing machinations in Syria, foremost its efforts to revitalize a regional alliance known as the "Axis of Resistance." Some experts maintain that Tehran is pushing to enhance ties with its Mideast terrorist proxies in response to the recent agreements between Israel and several Arab countries to normalize relations.

In December 2020, former Iranian president Hassan Rouhani said that Tehran and Damascus share a common goal of destroying Israel:
The Islamic Republic of Iran will continue its support to the Syrian government and people as our strategic ally and we will stand by Syria until its final victory … [confronting] Zionist occupiers and terrorism is the joint goal of both nations.

Yet the Associated Press piece completely decontextualizes the role of the Syrian government in fomenting violence on Israel's northern border. Since the start of the war in Syria over a decade ago, the Israel Defense Forces (IDF) have been forced to launch hundreds of strikes against military assets in response to moves by Iran to establish a permanent foothold in the country, and efforts to transport advanced weapons to terrorist groups such as Lebanon-based Hezbollah.

As such, many analysts have construed the Jewish state's retaliatory measures as a two-fold message: first, that Israel will never allow Iran to create forward-operating bases along its frontier and, second, that Jerusalem holds Damascus responsible for facilitating Tehran's ambition to destroy the Jewish state.

By depicting the Israeli government's recent decision vis a vis the Golan Heights as "complicating any future attempt to forge peace with Syria," the Associated Press blithely ignores the primary catalyst for ongoing instability: the Islamic Republic of Iran.

With regards to the development plan, Israeli Prime Minister Naftali Bennett said: "Every knowledgeable person in the world understands that it is preferable to have Israeli heights that are quiet, flourishing and green as opposed to the alternative."

One can reasonably deduce the most likely alternative.
Coverage Citing Israeli Capture of Golan Heights Omits Syrian Attacks
Multiple international media outlets covering Israel's announcement this week of a development plan for the Golan Heights uniformly note that Israel captured the strategic plateau from Syria in 1967 but failed to inform why.

Thus, the Associated Press report on Israel's "multimillion-dollar plan meant to further consolidate Israel's hold on the territory it captured from Syria more than five decades ago," provided this truncated history lesson: "Israel captured the Golan Heights in the 1967 Mideast war and later annexed the territory, promoting settlement and agriculture there as well as creating a thriving local tourism industry" ("Israel plans to double settlement in Golan Heights").

Similar language appears in a follow-up AP story, "Syria condemns Israel's plans to expand Golan settlements."

Reuters faired only marginally better with an opening paragraph citing "the territory [Israel] occupied in fighting with Syria in 1967" ("Israel sets goal of doubling number of Jewish settlers on Golan Heights"). While at least noting that the Israeli capture of the territory came about in the context of fighting, no additional information is forthcoming.

AFP also refers to "the territory captured from Syria" while skipping over the reason for Israel's capture from the Golan Heights ("Israel approves plan to double settlers in occupied Golan").

Here's the missing essential history that the wire agencies could have included in one simple sentence: From 1948 until 1967, Syria used the Golan Heights as a military stronghold from which to attack Jewish communities in the Hula Valley.
Khaled Abu Toameh:
Lebanon: Do Not Let the Palestinians Destroy Our Country
A growing number of people in Lebanon fear that... Hamas could drag Lebanon into another war with Israel -- as Lebanon's Hezbollah terrorist militia, backed by Iran, has done for the past three decades.

The fears of the Lebanese are well-grounded in reality.

Since 2007, Hamas has fired thousands of rockets at Israel from the Gaza Strip, triggering military confrontations that have wreaked havoc on the lives of Palestinians living there.

The Lebanese are making it clear that they do not want Hamas -- or any other Palestinian group -- to drag them into another war with Israel. They are saying that they are done with decades-long Palestinian efforts to transform Lebanon into a war zone.

With all this clarity on the part of the Lebanese, it remains to be seen whether international bodies will themselves speak out to prevent another catastrophe in Lebanon carried out by a Palestinian terrorist group.
Official logo adopted by Fatah for the 57th anniversary of its first attack against Israel. Activists and supporters will celebrate the anniversary on January 1. pic.twitter.com/hmlY0I4hLJ

— Joe Truzman (@JoeTruzman) December 28, 2021
A Saudi appeals court reduced the sentence of Hamas representative Muhammed al-Khoudari to three years after he and other Hamas members were found guilty of raising funds for Hamas. He is scheduled to be released next month. https://t.co/jWlDvwn4mu

— Joe Truzman (@JoeTruzman) December 28, 2021
WATCH: The first Israeli Ambassador to the Kingdom of Bahrain, @AmbassadorNaeh, handed his credentials to His Majesty King Hamad bin Isa Al Khalifa ???????? @IsraelinBahrain @BahrainEmbIsr pic.twitter.com/OPnJv69SGI

— Israel Foreign Ministry (@IsraelMFA) December 29, 2021
Senior Muslim Brotherhood Figure and Former Morsi Government Official Dr. Gamal Abd Elsattar: The Jews Are a Malignant Growth, an Evil Seed; the Earth Will Get Rid of This Scum #antisemitism #Turkey #Muslimbrotherhood pic.twitter.com/BK524JqbAv

— MEMRI (@MEMRIReports) December 29, 2021
Jordanian Parliament Debate over Constitutional Amendment Degenerates into Brawl #Jordan #WomensRights pic.twitter.com/hb9nxtZ5e7

— MEMRI (@MEMRIReports) December 29, 2021
JCPA:
Did Iran Mistakenly Admit that a Sought-After Revolutionary Guard Commander Was Disguised as a Diplomat?
In the fall of 2020, the U.S. Government set a $15 million reward for information leading to the capture of Abdul Raza Shala'i, commander of the Iranian Revolutionary Guards Corps Quds Force (IRGC-QF) in Yemen. General Shala'i was placed on the U.S. sanctions list at the time, but no one even knew if any such person existed. In early January 2020, the United States confirmed that at the same time as the assassination of Qasem Soleimani, an assassination attempt was also carried out on Shala'i in Yemen, but he survived.

The United States Government issued a WANTED poster for Yemeni terrorist leader Abdul Reza Shala'i with a $15 million reward.1 Was he disguised as Iran's ambassador to the Houthis?

Now, the supposed Coronavirus death of Hassan Irlou, Iran's Ambassador to the Houthi forces in Sanaa, Yemen, has possibly revealed one of Iran's deepest secrets in Yemen. It has left the Iranian press confused and embarrassed by the identity confusion and circumstances of Irlou's death.

IRNA, an official Iranian News Agency, profiled Hassan Irlou on December 22, 2021. It noted that the diplomat was also known as Brig. Gen. Abdul Reza Shahla'i. The article emphasized that Hassan Irlou was "a comrade in arms of Qasem Soleimani," played a key role as "one of the commanders of the resistance," and carried the nickname "Sardar [General] Shahla'i." Sources close to Iran's military institutions, such as IRGC's Tehran's Ammar cyber base (monitoring "counter-revolutionary" "covert" activities), noted that Hassan Irlou was one of the closest figures to Qasem Soleimani and one of the most influential figures in recent years in the resistance scene in Yemen.

Hassan Irlou served alongside Qasem Soleimani in Iraq. He was disabled in the Iran-Iraq War after being exposed to chemical weapons fired by Saddam Hussein against Iranian forces. Irlou's two brothers were killed on the front lines of that war. His younger brother was only 15 at the time of his death, and the brothers' bodies have not been found.

Irlou infiltrated into Yemen last year, possibly disguised as a repatriated wounded Houthi soldier, according to Middle East analyst Yoni Ben Menachem.3 Once in Yemen, Irlou was declared Iran's ambassador to the parts of Yemen controlled by Houthi rebels. He played a leading role in formulating the Houthis' political and military strategy in their war against Saudi Arabia. Iran has a familiar pattern of using al Qods' activity under diplomatic guise in various arenas.
MEMRI:
Iraqi Writer: Nuclear Deal With Iran Will Deepen Its Control Of Region, Gravely Threaten Regional Peace
In a December 19, 2021 article in the London-based daily Al-Arab, Iraqi poet and writer Farouq Yusouf slammed the U.S. policy in the Vienna nuclear talks with Iran. He accused the U.S. of trying to obtain peace "at any cost" while Iran is posing terms aimed at irreversibly consolidating its control over the region. He expressed apprehension that renewing the nuclear agreement with Iran – which is clearly unreliable, as evident from the nuclear archives exposed by Israel – will gravely threaten the stability and peace of the region and subject it to a new kind of imperialism, namely an Iranian occupation.

The original fault, he added, lies with former U.S. president Barack Obama, who rewarded Iran's willingness to sign the nuclear agreement by putting a time-limit on this agreement, which was "a crime against the countries of the region" and led to the consolidation of Iran's control over Syria, Iraq and Lebanon. Renewing this deal, he said, would be "a dangerous game" for America and would bring further countries under the control of Iran.

"The U.S. is eager for the talks in Vienna to succeed at any cost, whereas Iran also wants them to succeed, but not at any cost. Iran wants them to succeed on its own terms, which will be to its advantage… It wants to make sure that the West, led by the U.S., will not only ignore its plan of regional expansion but will actually help it to establish [this expansion] as an irreversible political reality. If this happens, Iran will cross all the red lines [in terms of threatening] regional peace and security and strive to consolidate its direct intervention in all the interests of the Gulf states and of Israel, and through them also in the interests of the U.S. – [the country] that put aside the issue of Iran's attack on the Saudi oil facilities, which has yet to be discussed in the Security Council, [although] many assessed it would not do so. [As a matter of fact,] there are quite a few Iranian issues that remain open. Is it possible to just ignore them and sign an agreement that Iran will be able to violate at any moment, due to the feebleness of its clauses?

"I don't understand how Europe and the U.S. can trust Iran after, in the negotiations leading up to the 2015 agreement, they directly encountered Iran's ability to lie, deceive and twist the facts. Former [Iranian] foreign minister Mohammad Javad Zarif excelled at this. Moreover, they can figure out the truth, part of which was exposed by [former Israeli prime minister] Binyamin Netanyahu when he announced the interception of the Iranian nuclear documents, whose scandalous [character] apparently failed to make a sufficient impression on the U.S. The information exposed by Netanyahu was not new to the relevant security circles in the U.S., [although] Europe may not have known much [about them]. But the paltry [demands] the American circles intend to make [in the nuclear agreement] may expose the region to grave danger and threaten its peace and security. The U.S. is therefore playing a dangerous game whose consequences will be difficult for it to tolerate.

"[Former U.S.] president Obama rewarded Iran for [its willingness to] sign the [2015] nuclear agreement by placing a time limit on [this agreement] – and this was a crime against the countries of the region. One of the first consequences of this crime was that Iran tightened its control over Iraq, Lebanon and Yemen, and established itself comfortably in Syria, so much so that, if [Syrian President Bashar] Al-Assad himself wanted to oust it, he would have been unable to do so. Iran took control of [Syrian] territory, first of all by buying it[2] and then by defending it by the force of arms, with the help of Hizbullah and the Iraqi and Afghan militias.
Iranian, Russian Officials Strike Positive Tone on Nuclear Talks
The parties to the deal besides the United States — Iran, Russia, China, France, Britain, Germany, and the European Union — kicked off the new round of talks on Monday.

Iran refuses to meet US officials directly, meaning other parties must shuttle between the two sides.

Mikhail Ulyanov, the Russian envoy, said on Tuesday that a working group was making progress. "Sanctions lifting is being actively discussed in informal settings," he wrote on Twitter.

The 2015 deal extended the time Iran would need to obtain enough fissile material for a nuclear bomb — if it chose to — to at least a year from about two to three months. Most experts say that time is now less than before the deal, although Iran says it only wants to master nuclear technology for civil uses.

Israeli Prime Minister Naftali Bennett said Israel would not automatically oppose a nuclear deal but world powers must take a firmer position.

Israel says it will never allow Iran to get nuclear weapons and that all options are on the table. Israeli leaders have said that a nuclear Iran would pose an existential threat to Israel.

"We are not the bear who said 'No,'" Bennett said in an interview with Israel's Army Radio, referring to a popular naysaying character from children's literature.

"For sure there can be a good agreement. For sure. We know the parameters. Is that expected to happen now in the current dynamics? No. Because there needs to be a much firmer position."

Bennett declined to comment on Israel's military strike capabilities against Iran, saying he preferred the approach of "speak little and do a lot."
https://t.co/FJhSczlO2j pic.twitter.com/P9WvynZBb2

— Stephen L. Miller (@redsteeze) December 28, 2021