From Ian:
Emily Schrader:
Two-state solution still is Israel's only option
It has suddenly become very popular on the Left and Right to declare the two-state solution dead. In fact, recent statistics bolster such claims, with popularity and support for the two-state solution decreasing over time.

Last week, former adviser to former prime minister Benjamin Netanyahu, Mark Regev, wrote about how the two-state solution is problematic when you have the Palestinians refusing to accept the legitimacy of a Jewish state. He's not wrong, but he's also not providing realistic solutions for what that means.

Here is the reality: there is no alternative to the two-state solution unless you either support an apartheid state, or don't care about having a Jewish majority state. The only option for the survival of a Jewish and democratic state of Israel is a two-state solution where compromises will have to be made for peace. Both Israelis and Palestinians are refusing to accept reality when it comes to a long-term solution, and in doing so, they have made it even more complicated and unpleasant to find a lasting agreement that respects the rights to self-determination of both peoples.

Palestinian rejectionism, I believe, is the core reason for the lack of peace and a long-term solution. It is absolutely true that Palestinians have refused every opportunity for peace, and that public opinion is very much against a compromise that allows the state of Israel to exist side by side in peace with the Palestinians. That is why Fatah and Palestinian President Mahmoud Abbas are cursed at and criticized as "collaborators" with Israel. That being said, it also doesn't really matter that it is unpopular because there is no alternative.

Palestinians who refuse to accept that the state of Israel is not going anywhere are perpetuating a fantasy that prevents them from moving forward in a healthy and prosperous society, and this will continue as long as public opinion pushes this narrative in schools, television, newspapers, and government. Perhaps more problematic for the Palestinians than for the Israelis, the longer they wait to actually negotiate in good faith, the less they have to bargain with – a fact even Mahmoud Abbas agreed with when he stated in an interview that the Palestinians were wrong to reject the UN Partition Plan.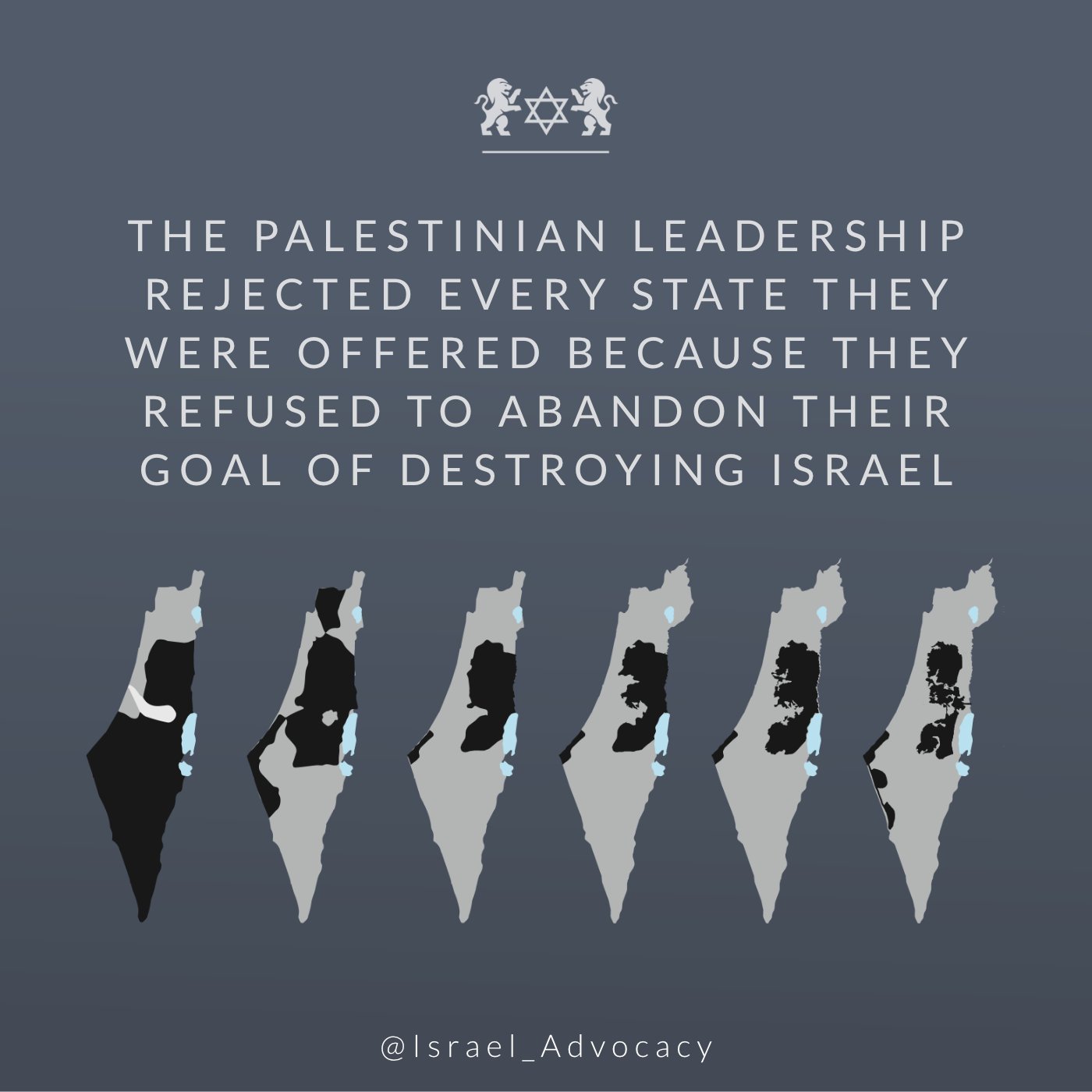 Arab Party Leader Abbas: Israel 'Will Remain' Jewish State
Prominent Israeli-Arab politician Mansour Abbas, head of the Islamist Ra'am party, on Tuesday broke with the traditional stance of Israel's Arab parties by declaring that Israel will always be a Jewish state.

"Israel was born a Jewish state, that was the decision of the people, and the question is not what is the identity of the state — it was born this way and it will remain this way," Abbas said in an interview with Channel 12 News commentator Mohammad Magadli

"The question is what is the status of the Arab citizen in the Jewish State of Israel. That is the question. And this challenge does not just stand in front of Mansour Abbas, but in front of the Jewish community and the Jewish citizen," the MK continued.

Arab parties in the past have promoted the view that Israel should be a state for all citizens, including advocating for changing the Law of Return that allows Jews in the diaspora to move to Israel and acquire citizenship.

This past summer Abbas made history by joining the "change coalition" that unseated Benjamin Netanyahu after 12 years as Israel's longest-serving prime minister. In doing so, he became the first Arab party leader to join a coalition government.
Most popular baby names of 2020: Mohammed, David, Tamar and Maryam
Muhammad, Yosef, David, Tamar and Maryam were some of the most popular baby names in various sectors in 2020, the Central Bureau of Statistics reported Tuesday.

Muhammad was the most popular baby name overall in Israel and among Muslims, with 2,396 boys receiving the name in 2020.

The most popular name in Israel after Muhammad was Yosef, with 1,176 Jewish boys and 656 Muslim boys (Yusef) receiving the name. The third most popular name in the country was Ariel, with 1,223 Jewish boys and 579 Jewish girls receiving the name.

Among Jewish girls, the most popular names were Tamar and Maya, with 1.85% (1,116) of girls named Tamar and 1.84% (1,107) named Maya.

The other names in the top 10 for Jewish girls were Avigail, Noa, Sarah, Ayalah, Adele, Yael, Shira and Esther.
IOC: Countries banning Israel can't hold competitions
International sports federations must make sure all countries can compete in their tournaments, the International Olympic Committee emphasized, following the cancellation of the World Team Squash Championship in Malaysia due to Israel's ban.

"We urge all [international federations] to be extremely vigilant when allocating and organizing international sports competitions," IOC Sports Director Kit McConnell and Director of Olympic Solidarity James Macleod wrote.

The IOC said the heads of sports federations must make sure to receive written assurances from the governments hosting tournaments that all eligible athletes and teams will be able to compete and be treated equally without any political discrimination, and to make sure those assurances are implemented.

The letter specifically cites the cancellation of the World Team Squash Championship in Malaysia over Kuala Lumpur's refusal to allow Israeli athletes into the country, as well as the AIBA World Boxing Championship, in which Serbia did not allow Kosovo's boxing team to compete.

The IOC said it plans to work with the National Olympic Committees of Malaysia and Serbia to come up with a long-term solution with their governments, "failing which such countries would, unfortunately, exclude themselves from the right to host international sports events until all the necessary assurances can be obtained and respected."
Moynihan's Law: The amount of human rights violations in a country is always an inverse function of the amount of complaints about human rights violations heard from there. The greater the number of complaints being aired, the better protected are human rights in that country. pic.twitter.com/FTzgTwdi3K

— Hillel Neuer (@HillelNeuer) December 20, 2021
Syrian soccer player expelled from national team after match with Israeli coach
Syrian soccer player Firas Al-Khatib was expelled on Monday from the national team after he played in a showcase match with an Israeli coach.

The Syrian Olympic Committee announced that Al-Khatib was being expelled from the National Olympic Committee and General Sports Federation for "violating the values and ideals of the organization and deviating from its national principles."

The showcase match at the FIFA Arab Cup starred former soccer players from Arab countries and around the world. The team of world legends was coached by Israeli Avram Grant. Three Algerian soccer players withdrew from the match and a number of Arab players erased the Israeli flags from their shirts in protest against Grant's involvement.

Al-Khatib, for his part, expressed shock at the Syrian Olympic Committee's decision, writing in a post on his social media accounts that the penalty was "unjust" and that he was not summoned in advance to provide answers about the situation.

The soccer player stressed that he was not aware that Grant was participating in the match and that he has documents that can confirm this. He added that Grant's name was not on the list he was provided with before the match and that he was only made aware that Grant was participating on the day of the match.
Ben-Dror Yemini:
Apartheid in Israel? Look at how Lebanon treats Palestinians
It looks as though the world is preoccupied more with the Palestinians than any other unfortunate ethnic group in the world combined. But that is only an illusion. The world isn't really interested in them. The Palestinians only interest the world when they can point an accusatory finger at Israel. Case in point, the most oppressed group of Palestinians in the world - close to half a million people, according to UNRWA - is the one living in Lebanon.

For the sake of accuracy, some Palestinian Christians managed over the decades to obtain Lebanese citizenship. It isn't clear whether they identify as Palestinians at all. Doing so can only hurt them. That leaves the Sunni Muslims, who account for the overwhelming majority of the Palestinian refugees. What has been their fate? Fifty-six percent are unemployed, according to a study that was published at the end of 2019, irrespective of the current crisis in Lebanon. They live on six dollars a day. Fifty percent do not have even minimal training to allow them to get a job. All of that has happened because of historic decisions that were taken by the Arab countries to deny the Palestinians citizenship.

The openly stated goal was the need to perpetuate their refugee status so that they might continue to serve as a weapon in the fight against Israel, and so that they might never abandon for even a single moment their fight for the "right to return," to facilitate Israel's destruction.

Lebanon went even further when it complemented that decision with other draconian laws that prevent the Palestinians from earning a living in a long list of professions, restricting them to living in refugee camps, and deny them access to the public school system. Put in clearer terms: that is apartheid for all intents and purposes.

The Arabs who made their way from Palestine into Lebanon were not foreigners. They share the same language, the same culture, and the same religion. Nevertheless, they were subjected to apartheid that was anchored in law. Despite that apartheid, we never hear nor see any protests. Every once in a while, a paper gets published by a human rights organization, but that is where things end.

The UN Human Rights Council has never condemned Lebanon - not even once. Human Rights Watch disseminated the libelous claim that Israel is an apartheid state, even though the conditions of the Palestinian Arabs on both sides of the Green Line are far better than those suffered by the Palestinians in Lebanon. And the refugees? They will continue to stockpile weapons in storehouses beneath mosques in Lebanon just like in Gaza. All of that is done in the context of the fight against Israel. And who pays the price? The refugees themselves. Both in Gaza and in Lebanon.
Quoting anti-Zionist @PeterBeinart, who calls for the destruction of the Jewish state, really doesn't help @KenRoth's case that he's not an antisemite. He is. https://t.co/KJ0UHP4Pk6

— Arsen Ostrovsky (@Ostrov_A) December 20, 2021
Can AIPAC foster bipartisan surge of support for Israel?
Republicans who were once divided on Israel have, in the last few decades, become a lockstep pro-Israel party with virtually little or no dissent within their congressional caucuses. By contrast, Democrats are deeply divided on Israel. Their activist base, which buys into intersectional myths about Israel being a manifestation of white privilege and colonialism, has shifted to the hard left. While outnumbered in the Democrats' congressional caucus, "The Squad" of leftists led by Rep. Alexandria Ocasio-Cortez (D-NY) and Omar have gained the sympathy of the far larger Progressive Caucus. Even worse, the divide within the Democrats is largely generational. It's not hard to imagine that in the future, when octogenarian House leaders like Speaker Nancy Pelosi (D-Calif) and Majority Leader Steny Hoyer (D-Md) retire, the Democratic leadership will be a lot less sympathetic to Israel.

Just as important is the fact that many Democrats, including those who claim to be Israel's "guardians" – like Senate Majority Leader Chuck Schumer of New York – prize partisan loyalty over their principles. That's what led the overwhelming majority of them to support the dangerous Iran nuclear deal in 2015, and there's little evidence that the same bunch will do much to resist any further appeasement of Tehran by the Biden administration.

So it's reasonable to ask what the true definition of "pro-Israel" is at a moment when that designation is fairly loosely applied to some Democrats. That includes not only those who are traditional friends of the Jewish state but who are nowhere to be found when it comes to opposing their own party's leadership on issues like Iran. It's fair to wonder what it actually means when it's applied to people like Rep. Jamaal Bowman (D-NY), a member of the now expanded "Squad" who visited Israel and claims that he supports its existence, but takes stands that are antithetical to its survival and supportive of its foes.

The same question applies to some left-wing Jewish Democrats like Rep. Andy Levin (D-Mich) who speaks to groups like the anti-Zionist IfNotNow and downplays the threat of left-wing Jew-hatred while boasting of his friendship with antisemites like Omar and Rep. Rashida Tlaib (D-Mich).

AIPAC is right to continue to push for support for Israel on both sides of the aisle. Still, bipartisanship is not the only value. The options for pro-Israel activists in many deep blue districts may be unpromising, but it's imperative that the movement make it clear that it will oppose all those whose positions put them more in the anti-Israel camp than among its supporters. AIPAC's new fundraising efforts deserve the good wishes and support of friends of the Jewish state. The challenge going forward, however, is whether those efforts – from the lobby or other similarly-minded groups – are directed towards promoting genuine allies, regardless of their party label.
Pompeo to ZOA: Biden Reversing Trump's Historic Support for Israel
Pompeo said that today, he sees the Biden administration reversing this progress and support for Israel.

He said that despite more than 80 percent of Judeo-Christian historical sites being located in Judea and Samaria and Arabs controlling 23 countries in the Middle East, and the fact that the people of the Arab bloc officially took the name Palestinians in 1964, Israel is still called the occupier.

"You know, often when an international leader talks about Jerusalem, Judea and Samaria, we hear them accuse our ally Israel of occupation and of illegal settlement. President [Barack] Obama, Secretary [of State Hilary] Clinton did this repeatedly. And so has the new Biden administration. Even though these legal terms are just a casual way of calling the Jewish state of Israel a thief in essence, they use it," Pompeo said.

"In turn, we see at the United Nations, institutions, and in the media and political circles how these accusations are used to launch all manner of hostile misrepresentations and condemnations. They do this to encourage antisemitic boycotts against the Jewish state to suppress religious freedom for Jews and Christians and ancestral heritage sites. And they do it to justify acts of terrorism and mass murder. But is there really any legal truth to the accusation that Israel is occupying Palestinian land? You all know, the answer is absolutely not."

During his administration, he said he created what was called the Pompeo Doctrine, which made it the official position of the US State Department to not call Israel's control of Judea and Samaria an occupation and make clear that Jerusalem is the undivided capital of Israel.

"The bottom line is that Israel is not an occupier, and the hundreds of thousands of Jews and Christians who call Judea, Samaria and eastern Jerusalem home have a perfectly legitimate right to live there in safety under Israeli sovereignty," he said. "But you can see this today, the Biden administration is now preparing to reverse the Pompeo Doctrine to once again suggest somehow that the Jewish state of Israel is an illegal occupier … and to pressure Israel into territorial concessions that threaten the free access and freedom of worship of many faithful pilgrims. We can't allow that to happen. We can't allow the current administration to reverse the historic change—the historic progress we brought to the Middle East."
IDF officials briefed UN ambassadors on terrorist threats facing Israeli civilians.

But these threats go far beyond Israel—that's why we must take action together.

This means designating Hezbollah & Hamas as terrorist orgs, sanctioning their operatives & enforcing UNSCR 1701. pic.twitter.com/BhAmrS2LVR

— Israel Defense Forces (@IDF) December 20, 2021
Knesset panel okays US travel ban from midnight in race to curb Omicron spread
Israel blocked nearly all foreign visitors last month after Omicron was detected in South Africa, just weeks after permitting tourists to enter for the first time since the pandemic began.

Health expert Eran Segal of the Weizmann Institute said on public radio that preventing Israeli citizens and residents from travel was only a partial solution.

"Everyone knows the restrictions on the skies are to delay the arrival of Omicron, not to avert it," he said. "We must take advantage of these restrictions… so they help us with the vaccine efforts."

Still, Segal said there was "room for optimism" as Omicron may not cause as severe infection as previous coronavirus variants.

More than 4.1 million Israelis have received three doses of a coronavirus vaccine in the country of roughly 9.3 million people.

But inoculation rates remain low among teens and young children. Fewer than one percent of children aged 5-11 have received a single coronavirus jab.
Just another shameful low day for @haaretzcom! pic.twitter.com/5qyFLkErbO

— Arsen Ostrovsky (@Ostrov_A) December 20, 2021
Israeli talks with Hamas on Gaza prisoner swap at dead end
Talks between Hamas and Israel over a long-term truce in the Gaza Strip and a possible prisoner swap have once again led to a dead end, according to a report by Walla News defense correspondent Amir Bohbot.

The sides have been engaged in indirect negotiations – with Egyptian mediation – for the last six months since the last round of violence in the Gaza Strip in May.

Israeli defense officials have held a number of rounds of talks with Hamas in Egypt – and on Monday night, the latest round is said to have failed, according to the report. Hamas is holding the bodies of two IDF soldiers – Hadar Goldin and Oron Shaul – as well as Israeli civilians Avera Mengistu and Hisham al-Sayed.

The Defense Ministry is said to be working on a new proposal in an attempt to keep the talks with Hamas alive.

Earlier this week, Hamas and Palestinian Islamic Jihad (PIJ) reached an agreement to step up terror attacks against Israel, especially in Jerusalem and the West Bank.
Hamas sees terrorism as the way to push Israel towards concessions - analysis
Hamas is increasingly pushing for deadly terrorist attacks in the West Bank as tensions continue to rise in the Gaza Strip and inside Israeli prisons for Palestinian prisoners.

More than half a year since the last round of violent escalations between the two sides, Hamas has understood that terrorism is the route it must take in order to push Israel to make concessions.

Though there has been relative quiet in southern Israel since a ceasefire brought to an end the 11 days of fighting in May, there have been close to a dozen attacks on Israeli civilians by Palestinians in the West Bank and Jerusalem in the past month and a half.

Two of the attacks were deadly: A Hamas member killed 26-year-old Eli Kay in a shooting attack in Jerusalem, and Palestinian Islamic Jihad claimed responsibility for the death of 25-year-old Yehudah Dimentman in a shooting attack near the West Bank settlement of Homesh.

According to reports, Hamas told Egyptian mediators they do not accept Israel's connection of reconstructing the coastal enclave with a prisoner swap deal and warned of renewed hostilities over Israel's "foot dragging" over the Strip's reconstruction and the lifting of the blockade.
Palestinians concerned about growing violence on campuses
The administration of Bir Zeit University near Ramallah has expressed deep concern over the recurrence of violent incidents on campus between students belonging to rival Palestinian factions.

The violence at Bir Zeit University, which describes itself as "the most prestigious Palestinian university," is the latest in a series of incidents that hit other leading academic institutions in the West Bank in recent weeks.

Palestinian Authority security forces arrested several Bir Zeit University students on suspicion of involvement in the violence. A Palestinian academic described the tensions on campus as "dangerous and intolerable."

"We can't allow our academic institutions to turn into battlefields for settling scores between rival factions and gangs," the academic told The Jerusalem Post. "We call on the Palestinian Authority to assume its responsibilities and take tough measures to enforce law and order."

The latest tensions at Bir Zeit University began earlier this month when a fight erupted between students affiliated with Fatah and others belonging to Hamas and the Popular Front for the Liberation of Palestine (PFLP).

The Fatah supporters on campus were reportedly outraged by a statement, signed by Hamas and PFLP students, condemning security coordination between the PA and Israel.

The statement also condemned the PA security forces for raiding and searching the nearby dormitories.
PMW:
Get your friends to envy you - have a murderer of Israelis in the family
Family pride is usually felt when a relative has done something good, made an accomplishment, or had a positive impact – whether by talent, hard work, or both.

In the PA, family pride is when a relative has murdered one or several Israelis!

On PA TV, a woman told how she brags to her friends about her uncle who is in prison for the murder of 7 and a boy expressed his pride in his uncle who was involved in the murder of 4.

Imprisoned terrorist Samir Abu Nimeh was involved in a bus bombing in 1983 in which 6 were murdered, including two sisters aged 13 and 15, and 44 were wounded, and an attack with grenades at a ceremony at the Western Wall in 1986, in which one was murdered and 69 wounded. For his adult niece, these crimes are a source of immense pride, so much so that she "always brags about him to her friends and acquaintances." Addressing him directly on official PA TV, which Palestinian terrorists watch in Israeli prisons, Abu Nimeh's niece called her murderous uncle a "hero" and "national symbol":
Brother of terrorist Samir Abu Nimeh: "[Samir Abu Nimeh] was arrested over an operation at the Mughrabi Gate throwing grenades at a group of Givati [Brigade] soldiers being inducted at the Al-Buraq Plaza (i.e., the Western Wall). A soldier was killed (sic., a civilian) and more than 70 other soldiers were wounded (sic.). He was arrested for providing them with the weapons – grenades and rifles. During interrogation he admitted to carrying out an operation in 1983, the bombing of bus line 18 in Jerusalem (i.e., 6 murdered)."

Niece of terrorist Samir Abu Nimeh: "You are a hero [Uncle Samir]. I always brag about you to my friends and acquaintances. I always talk about you with great pride. You are a national symbol in the town [of Abu Dis]. Your name is known and there is no need to explain who you are, but I always take pride in mentioning you."

[Official PA TV, Jerusalem Prisoners, Dec. 13, 2021]
Relatives are "proud" of "hero" terrorist involved in murder of 4
Anything about @UNRWA's structural incitement and antisemitism? No @antonioguterres, didn't think so ... https://t.co/FMk1MdD0bM

— Arsen Ostrovsky (@Ostrov_A) December 21, 2021
MEMRI:
Palestinian Islamic Scholar Sheikh Issam Amira In Al-Aqsa Mosque Address: The Omicron Variant Is Brought Upon Us Because Of Muslim Rulers Who Permit Homosexuality, Follow Feminist Organizations
Palestinian Islamic scholar Sheikh Issam Amira said in an address at the Al-Aqsa mosque that the coronavirus, with its Indian and Omicron variants, have spread because of the conduct of the Muslim rulers. Video footage of his address was posted on Al-Aqsa Call on YouTube on December 18, 2021. Amira said that such a disease that was not known to previous generations, and has now spread because of Muslim rulers who permit homosexuality and follow feminist organizations, as well as the "infidel and licentious" media, who make immorality that is committed in private known to all. He added that it is necessary to unite the efforts of all Muslims against the "ruthless rulers, who have brought these catastrophes upon us." For more about Issam Amira, see MEMRI TV clips Nos.9045 8492, 7244, 6789, 6114, 5626, 5175, 5041, 5001, 4991, 4901, and 4890.

COVID And Its Variants Are Spreading Because Of "Our Rulers Who Permit And Promote Homosexuality[,] Who Follow The Feminist Organizations With Their CEDAW... These Are All The Precursors Of The Spread Of Disease"

Sheikh Issam Amira: "Why has this abomination spread? Why has coronavirus – with its Indian variant and its Omicron variant – spread? What are these names, these diseases, that were not known to our forefathers? The reason is clear. 'Immorality never appears among people to such an extent that they make it known to all.' Who would make this known to all? The common people? No. It is the infidel and licentious media that makes it known to all.

"It is our rulers who permit and promote homosexuality. It is the rulers who follow the feminist organizations with their CEDAW [Committee on the Elimination of Discrimination against Women], gender issues, and whatever… These are all the precursors of the spread of diseases, which did not exist among our forefathers.

Muslims Must Unite To Fight "Against These Ruthless Rulers, Who Have Brought These Catastrophes Upon Us"

"It is necessary to unite the efforts of all Muslims, individually and collectively, against these ruthless rulers, who have brought these catastrophes upon us."
Palestinian Islamic Scholar Sheikh Issam Amira in Al-Aqsa Mosque Address: The Omicron Variant Has Been Brought Upon US Because of Muslim Rulers Who Permit Homosexuality, Follow Feminist Organizations #COVID19 #covidvariant #OmicronVariant #homophobia #Palestinians pic.twitter.com/Ha90WrAO24

— MEMRI (@MEMRIReports) December 21, 2021
Rajaa Al-Halabi, Head of Hamas Women's Movement, Praises Female Suicide Bombers: All the Women of Gaza Are Willing to Sacrifice Their Lives #Hamas #Gaza #terroristattack pic.twitter.com/h4xhZHCagl

— MEMRI (@MEMRIReports) December 21, 2021
A family member of Yousef al-Mabhouh distributed sweets celebrating his stabbing attack against an Israeli Prison Service guard in Nafha prison earlier today. Mabhouh is reportedly a member of Hamas. pic.twitter.com/z6qFB023HY

— Joe Truzman (@JoeTruzman) December 20, 2021
Facebook tagged photos of beheadings and violent hate speech from ISIS and the Taliban as 'insightful' and 'engaging' - despite claims to crack down on extremists, report reveals
Facebook allowed photos of beheadings and violent hate speech from ISIS and the Taliban to be tagged as 'insightful' and 'engaging', a new report reveals.

Extremists have turned to the social media platform as a weapon 'to promote their hate-filled agenda and rally supporters' on hundreds of groups, according to the review of activity between April and December this year.

These groups have sprouted up across the platform over the last 18 months and vary in size from a few hundred to tens of thousands of members, the review found.

One pro-Taliban group created in spring this year and had grown to 107,000 members before it was deleted, the review, published by Politico, claims.

Overall, extremist content is 'routinely getting through the net', despite claims from Meta – the company that owns Facebook – that it's cracking down on extremists.
MEMRI:
Following Explosion Of Hamas Arms Depot In South Lebanon Mosque, Lebanese Politicians, Journalists Call To Remove Palestinian Weapons From Country
On December 10, 2021, a Hamas weapons depot exploded in the Burj Al-Shamali Palestinian refugee camp in South Lebanon. According to reports in the Lebanese media, the depot exploded after a fire that had started in a fuel tank spread to the nearby Ubayy Bin Ka'b Mosque, where the weapons were stored.[1] Hamas, for its part, firmly denied these reports, claiming in an official statement that the explosion was caused by an electrical short-circuit in a storeroom that held oxygen tanks and disinfectants used to treat Covid patients.[2] This claim is at odds with the eulogy Hamas issued for Hamza Shaheen, its operative who was killed in the explosion, which said that he "was martyred while waging jihad." Moreover, Hamas officials, including the head of the movement's political bureau, Isma'il Haniya, visited his family to convey their condolences.[3]

The incident caused intra-Palestinian tensions after shots erupted at Shaheen's funeral on December 12, killing three Hamas operatives and wounding several others, including political bureau member Zaher Jabarin.[4] Hamas accused "the Palestinian Authority leadership in Ramallah and its security apparatuses in Lebanon" of deliberately murdering the Hamas operatives, sparking tension between Hamas and Fatah in the country.[5]

The explosion of the arms depot at the mosque and the shots fired during the funeral sparked criticism from Lebanese politicians and journalists, who lambasted Hamas for storing weapons in a house of worship. They added that Hamas keeping arms in South Lebanon was a violation of UN Resolution 1701, which bans any armed presence south of the Litani river except for that of the Lebanese army. They argued further that there was no justification for any armed Palestinian presence in Lebanon, for this contributes nothing to liberating Palestine but only serves the interests of Iran.

This report reviews the criticism against Hamas in Lebanon following the explosion of its arms depot in the Burj Al-Shamali refugee camp.

Lebanese Politicians, Journalists: Palestinian Weapons In Lebanon A Danger, Violate UN Resolutions

Samir Geagea, head of the Lebanese Forces Party, tweeted: "[We demand that] the ministries of defense and the interior disclose the full official version regarding the explosion that occurred the day before yesterday in Burj Al-Shamali near Tyre, so we can draw the necessary lessons from it."[6]

Former MP Fares Sou'aid tweeted: "The explosion in Burj Al-Shamali is a grave incident, despite Hamas' clarification.
"1. It awoke the Lebanese to the existence of the Palestinian weapons [in Lebanon].
"2. [It indicated] that there are weapons depots in areas where [UN] Resolution 1701 [bans weapons except for those of the Lebanese army].
"3. The natural place for [Palestinian weapons] is in Palestine, not in Lebanon.
"4. The worst thing is that these weapons are [controlled by] orders from Iran, which do not serve the interests of either Lebanon or Palestine, but only the interests of Iran.
PreOccupiedTerritory:
Fire Guts Hezbollah Warehouse Of Dolls For Use In Photos Of Bombed-Out Ruins (satire)
A suspicious blaze struck a facility in the Lebanese capital yesterday where the Iran-backed Shiite militia that in effect governs the country keeps most of the children's toys and stuffed animals that it places at sites hit by IAF air strikes before allowing international media to take pictures, a spokesman for the group disclosed today.

Bali Oud told reporters that authorities consider the fire that hit a Hezbollah-owned storage depot Monday night to have started because of human activity, and have so far ruled out an electric origin, gas leaks, or, as in the case of the disastrous explosion in Beirut's port two years ago, negligent accumulation of explosive nitrates. The remaining plausible scenarios, he remarked, involve a sabotage operation to deprive the organization of propaganda resources useful in creating an emotionally-resonant photograph to deploy in the cognitive war against the Zionist Entity to the south.

"We know exactly who would stand to benefit from the destruction of our inventory of Mickey and Minnie Mouse, baby, and numerous other dolls, along with a smattering of other toys for small children," Oud insisted. "We know our enemy has developed numerous nefarious skills and continues his wicked attempts to undermine the Resistance. At this point, we consider the damning evidence strong enough to point to a Zionist operation, if only because no more prosaic cause has presented itself to investigators, so, yeah, obviously Israel."
MEMRI:
Speaking In Hitler's Name, Egyptian Researcher Justifies His Hatred For The Jews
As part of his weekly column in the daily Al-Masri Al-Yawm, Egyptian urologist and Egyptologist Dr. Wassim Al-Sisi recently published an antisemitic article titled "This Is I, Hitler, Addressing You," in which he spoke in Hitler's name and justified his hatred for the Jews. The article states that Hitler's book Mein Kampf reveals why he hated the Jews: because they are responsible for Germany's defeat in World War I and for the Bolshevik Revolution, and because they are consummate liars who distort the course of history, so it is necessary to beware them.

This is not the first time Al-Sisi has expressed such views. In previous interviews he said that Hitler hated the Jews because they caused Germany's collapse by denying it funds after World War I; that the Jews toppled Germany, the Ottoman caliphate and Czarist Russia at Britain's request in return for the Balfour Declaration; that Global Zionism is the enemy of the entire world, and that the U.S. is putty in the hands of the Jews.[1]

The following are translated excerpts from Al-Sisi's column:[2]
"Curse me as much as you like, I caused the death of 50 million people around the world. I was born in 1890 and killed myself in 1945. My life was tragic… My father beat me brutally and I was not sorry when he died when I was 13 years old. My mother's death two years later did cause me sorrow, and a part of me died with her. I came to Vienna and studied construction engineering [sic]… I moved to Munich. These were the most beautiful days of my life. I made a living making technical drawings. [In that period] the Zionist movement appeared and World War I broke out with the Jews controlling the German energy [sector]. They were behind Germany's defeat in the war, and behind the 1917 Bolshevik Revolution and Russia's falling into the claws of Marxism. That is why I coined the term 'Communist Jew' in my book Mein Kampf.

"[If] you do not yet understand the secret behind my hatred of the Jews, now you will! If you read my book, which was translated into Arabic by Hisham Hader[3]… you will understand it better. I was the one who warned about Marxism and about the Jews. I was also the first to say that, if the Jews had a state, they would refuse to delineate its borders because its borders would be where the last Israeli soldier was standing! As Sigmund Freud said about them in his book Moses and Monotheism, their eternal complex is the ancient Egyptian civilization. They are a people without a history. How can someone be prompted to love his country when he is ignorant of its history and culture? They are experts at rhetoric and paragons of lying. They are the ones who drafted the principles of Marxism… [You can] curse me again for the Jewish Holocaust. It was necessary to prosecute them, not to burn them. I hope God forgives me for this terrible crime against humanity. Austria was an integral part of the German empire, so when I came to power I reunited it with the motherland, for we are [all] part of the Arian race. The Jews derided our culture and disparaged it, [including] our great national philosopher Goethe, [the philosophers] Schopenhauer and Hegel,… [the Prussian king] Fredrick the Great and the great [leader] Bismarck, [who united Germany]. They sought to sever [our] present from [our] past so that our country will not awaken (p. 138)…[4] Jewish thinking developed by merging with other thought that benefited from noble cultures (p. 140). They do not know the true meaning of solidarity unless they have a shared enemy and victim (p. 141). Indeed, the chosen people are the greatest experts at the art of lying.
Iran Fires Ballistic and Cruise Missiles in Gulf War Games
Iran's Revolutionary Guards fired ballistic and cruise missiles on Tuesday during war games in the Gulf, state TV reported, amid heightened tensions with the United States and Israel over possible Israeli plans to target Iranian nuclear sites.

"The use of ballistic missiles by the Revolutionary Guards' navy is a new concept … and they hit their targets with 100% precision," Guards chief General Hossein Salami told the broadcaster.

Iran says its ballistic missiles have a range of 2,000 km (1,200 miles) and are capable of reaching arch-foe Israel and US bases in the region.

On Monday, Iran warned of a "crushing" response to any move against it by Israel, which opposes efforts by world powers to revive Tehran's 2015 nuclear deal and has long threatened military action if diplomacy fails to prevent it from acquiring a nuclear bomb. Iran says its nuclear ambitions are peaceful.
Same Iranian regime that helped kill 500,000 Syrians https://t.co/KOkvf5AEeU

— Hillel Neuer (@HillelNeuer) December 21, 2021