From Ian:
Palestinians slam Mansour Abbas for 'recognizing' Israel as a Jewish state
Palestinians from across the political spectrum have strongly condemned Ra'am (United Arab List) leader and MK Mansour Abbas for allegedly recognizing Israel as a Jewish state.

On Tuesday, Abbas was quoted as saying, "The State of Israel was born as a Jewish state, and it will remain one." He made the statement at a conference of the Hebrew economic newspaper Globes.

Palestinian Authority President Mahmoud Abbas, who has repeatedly stated his refusal to recognize Israel as a Jewish state, on Wednesday expressed outrage over the statements of the Arab MK.

"These irresponsible statements are consistent with the calls of extremists in Israel to displace the Palestinians and harm the status of the blessed al-Aqsa Mosque and the history of the Palestinian people," he said in a statement released by the PA president's office.

The statement added that Mansour Abbas represents only himself when he talks about accepting Israel as a Jewish state.

"He does not represent the Palestinian people at home and everywhere in the world," the statement read, adding that such remarks "contradict religion, history and Palestinian heritage."

Accusing Mansour Abbas of being part of a "current that promotes the Zionist colonial project," the PA statement continued, "It is unfortunate that instead of siding with the rights of his people and condemning the settlements, killings and displacement committed by the occupation and the plans of Israeli extremists to empty Palestinian lands, we see him repeating the lies of the Zionist movement."

The PLO Executive Committee, which consists of representatives of several Palestinian factions, expressed "strong condemnation" for the statements of Mansour Abbas, saying they do not reflect the views of the Palestinians.

The committee accused the Arab MK of supporting Israeli "racist" laws and aligning himself with the "right-wing, racist and extremist policy" of Prime Minister Naftali Bennett and Interior Minister Ayelet Shaked.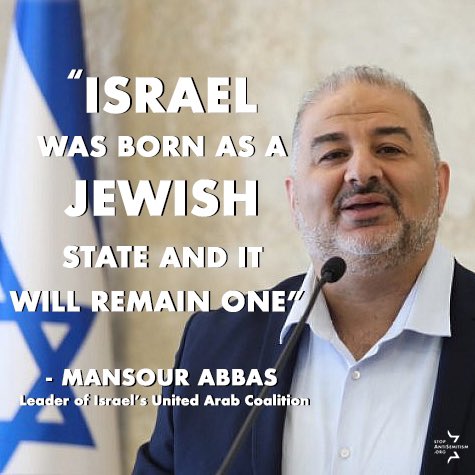 Einat Wilf Goldman Lecture - "Arab Zionism and the Path to Peace".
Dr. Einat Wilf, the 2021 Georgetown Goldman Visiting Professor, gives the annual Goldman lecture hosted by the Center for Jewish Civilization at Georgetown.
Samantha Power and the Business of Funding Terrorism
Samantha Power, who had once called for a military invasion and occupation of Israel, appeared in her new role as the head of USAID to complain about aid to the terrorists.

Power made her complaints at the virtual winter event for the Alliance for Middle East Peace, an organization that, like anything middle eastern with the word "peace" in it, is anything but peaceful, but managed to lobby Congress into allocating a quarter of a billion dollars to promote "peacebuilding" efforts by organizations like its anti-Israel member groups.

"Investments in the health and wellbeing of Palestinians benefits everyone, including Israelis," Samantha Power complained. "Yet today, it has become controversial to provide life-saving aid to the Palestinian people and invest in their development."

Having the United States fund a welfare state in the West Bank and Gaza, buying butter so that Hamas and the PLO are free to focus on buying guns, missiles, and suicide bombers helps no one, least of all Israelis. The PLO's Palestinian Authority paid out some $150 million in 2019 to imprisoned terrorists and the families of dead terrorists as part of its 'Pay-to-Slay' program.

The PLO's puppet regime has over $4 billion in debt, and keeps claiming that it's on the verge of bankruptcy. And yet despite pressure from its donors, it has refused to stop paying terrorists.

Power is well aware of this even as she decided to play dumb in her address to her partners.

The Alliance for Middle East Peace cheered Power's nomination to head USAID. And Power in turn praised ALLMEP for convincing Congress to allocate $250 million to promote "peace" which will be allocated through USAID.

Power, the NGOs, and the terrorists win while Americans lose. Again.
Israel's UN Ambassador Erdan Asks UN to Stop Funding to NGOs Groups Tied to Palestinian Terror Group
Israel's Ambassador to the United Nations Gilad Erdan has urged UN Secretary-General António Guterres to not allow the international body's Office for the Coordination of Humanitarian Affairs to donate to two organizations that have ties to the terrorist group the Popular Front for the Liberation of Palestine (PFLP).

The OCHA published last week its Humanitarian Response Plan for 2022 and it includes proposed partnerships with the Union of Agricultural Work Committees on food security, and the Union of Health Work Committees on issues related to health and nutrition.

Erdan wrote in an urgent letter to Guterres on Friday saying that both organizations have been designated by Israel as terrorist organizations for supporting the PFLP.

Erdan told Guterres, "It is outrageous that an organization with a mission to ensure international peace and security would partner with organizations that directly and materially support terrorism and provide the PFLP — a designated terrorist organization worldwide, including in Israel, the United States, the European Union, Australia, Canada, and Japan — with its financial lifeline."

"I call on you to take urgent and deliberate action to ensure that OCHA does not collaborate with or give an active hand to the malign activities of these ostensible civilian institutions that serve as the backbone of the PFLP money laundering and financing network," Erdan added. "It would be both unfortunate and ironic if it was the UN and its bodies that gave these organizations the guise of legitimacy that they need in order to continue to materially support terrorist activities."
The Caroline Glick Show: Ep31 – The Untamable Zionist – Interview with MK Amichai Chikli
In Episode 31 of the Caroline Glick Middle East News Hour, Caroline was joined by MK Amichai Chikli, the only member of Knesset from Naftali Bennett's Yamina party's Knesset faction who would not betray the party's right-wing voters and refused to join Bennett when he formed a post-Zionist government with the radical left and the Islamist Ra'am party.

Caroline and Amichai discussed his decision to remain true to the voters, the events and discussions that preceded it and the split itself. They then moved on to discuss Amichai's work in the Knesset against the BDS campaign and the European Union's proxy war against Israel which it wages with NGOs. It was a riveting discussion with what is usually an oxymoron – an honest politician.
What's behind the AIPAC strategy shift?
AIPAC surprised many observers last week with the announcement that it would establish two new PACs that will allow the pro-Israel lobby to directly fund political campaigns.

That was a major shift after 70 years in which the American Israel Public Affairs Committee avoided entering the campaign arena in order to be able to balance relationships with both sides of the aisle. However, some experts believe that in the current political climate, it should come as no surprise that AIPAC would decide to make that strategy shift.

"The only thing that's surprising about AIPAC's decision to enter into campaign funding is that it took the group so long to do this," said Prof. Dov Waxman, director of the UCLA Y&S Nazarian Center for Israel Studies. The defeat of pro-Israel stalwarts such as Eliot Engel in Democratic primaries in the run-up to the 2020 election was "a clear warning signal that pro-Israel PACs needed to do more to defeat politicians deemed to be 'anti-Israel' or reelect 'pro-Israel' ones," he said.

"Although for decades AIPAC has had informal ties with pro-Israel PACs, it has always refrained from forming its own PAC," he added. "I think its decision to establish its own PAC and super PAC is based on the recognition that campaign funding is a crucial means of exerting political influence in Congress, and that AIPAC now needs this tool in order to maintain its influence in Congress and remain the preeminent pro-Israel lobby group.

"AIPAC's rival, J Street, has had its own PAC since it was founded. I expect AIPAC's PAC, and especially its super PAC, will particularly be deployed to support moderate pro-Israel Democrats against progressive rivals who are outspoken in their criticism of Israel," Waxman said.
JPost Editorial:
Human Rights Watch's 'apartheid' claims outrageous
If anyone has any lingering doubts that Human Rights Watch – the New York-based NGO founded in 1978 to pry open closed societies – was obsessed with Israel, a recent tweet by its executive director Kenneth Roth should put those doubts to rest.

Sitting atop a list he tweeted this week of the "top human rights news in 2021" was "Israel's apartheid." That's right, the head of the organization that declared in an easily debunkable report in April that Israel was an apartheid state has self-importantly placed in his tweet that declaration itself as the top human rights story of the year.

In Roth's view, HRW's characterization of Israel as an apartheid regime is more significant in the human rights universe than the abuses committed by the Iranian or Syrian governments against their own people, by China against the Uyghurs, or by the Taliban against those unfortunate Afghanis who now find themselves under itd rule.

Forget Turkey and the Kurds, forget Belarus and the refugees, forget the massacres in Ethiopia or the abuses in Mali, Nigeria, Yemen, Saudi Arabia and Russia. For HRW, it's all about Israel.

A click on to the link provided in Roth's tweet takes one to HRW's website, where – under an orange "Donate Now" banner – the group listed its most read stories of the year. Nowhere on the list is there a story about Iran's subjugation of dissent nor how North Korea terrorizes its citizens. What tops this list is HRW's "Israel apartheid" report. No great wonder, since the organization breathlessly promoted it.
.@joshhkernn of @9bedfordrow and I have published a report comprehensively analyzing the intl crime of apartheid and the historical origins of the charge as levied against Israel. A pointed response to the muddled writings of @hrw @btselem and others. https://t.co/eTZEpNRiuu pic.twitter.com/lGladWQt7Z

— Anne Herzberg (@AnneHerzberg14) December 9, 2021
Israel's Environmental Ministry Delivers Setback to Israel-UAE Pipeline Deal
Israel's Ministry of Environmental Protection announced on Dec. 16 that it has halted a plan that would have allowed more oil tankers to enter the Gulf of Eilat, imperiling a major deal to transport United Arab Emirates' oil over a "land bridge" from Eilat on the Red Sea to Ashkelon on the Mediterranean.

The pipeline deal, signed on Oct. 19, 2020, between Israel's state-owned Europe Asia Pipeline Co. (EAPC) and MED-RED Land Bridge Ltd., a private Dubai-based company, calls for Israel to serve as an artery for Emirati crude to Western markets through an existing EAPC-run pipeline.

Hailed as the first major partnership to come out of the Abraham Accords, the deal quickly came under fire from environmental groups for allegedly posing a risk to the Gulf of Eilat's coral reefs. The advocates argued the pipeline would lead to a higher rate of oil tankers arriving in the gulf, increasing the risk of spills.

"We blocked the entry of dozens of oil tankers into the Gulf of Eilat," Minister of Environmental Protection Tamar Zandberg said in a statement on Dec. 16. "The State of Israel and the Gulf of Eilat will not become a bridge to oil pollution in an era of climate crisis."

Zandberg said her ministry had presented "data and facts" to all the relevant ministries "and convinced them that there is no argument that could justify the expansion of EAPC activities for the transportation and storage of oil in the Gulf of Eilat."
Amid Warming Ties With Muslim World, Observers See Bangladesh as Potential Partner For Israel
The lack of official diplomatic relations between the countries does not appear to be borne out of overt antisemitism, though it certainly exists in Bangladesh society. However, one of Bangladesh's most revered war heroes was Jewish. Lt. Gen. Jack Farj Rafael Jacob, an officer in the Indian army, played a crucial role in negotiating the surrender of Pakistan in Dhaka during the Bangladesh Liberation War in 1971.

His death was publicly mourned by high-level officials, and he was previously bestowed with the "Friend of Liberation War Honor" award. Louis Isadore Kahn, a Jewish Estonian-born American architect, designed Bangladesh's National Assembly parliament building, looked at as an extraordinary example of modern architecture.

Bangladesh's rapid development has not gone unnoticed by Israeli officials, who publicly welcomed the removal of Israel's printed exclusion on Bangladesh passports and have openly called for warmer ties over the years. Bangladesh is experiencing a GDP growth of 7.9 percent, with a $409 billion economy, and its government structure is quite liberal. Women have led the country for nearly all of the last 20 years, and the current prime minister, parliament speaker and opposition leader are women.

Ilan Sztulman Starosta, head of Mission of the Israeli Consulate in Dubai, recently became the highest ranking Israeli official to give an interview to a Bangladesh media outlet, telling the Weekly Blitz that, "Bangladesh could be a very important partner for us. Bangladesh has centers of innovation, a big population, resources, and [Bangladeshi] people understand that the next step in business is innovation as the old technologies are cold and spoiled and have a limited lifespan. We're waiting for partnerships with Bangladeshi researchers, universities, companies, and I think that everybody in the region would benefit from this relationship," intimating that mutual ally India could play a critical role in bringing Israel and Bangladesh together.

"In international relations, nothing is permanent. Borders change. Governments change. It's a matter of time," said Rahman.
Chile: Left-wing president-elect Boric causing concern among Jews
Calev sits with Gabirel Colodro, the president of the Chilean Jewish Community of Israel and with Sivan Gobrin, Spokesperson and VP of the Chilean Community of Israel.
West Bank Car Ramming Attack Targeting IDF Soldiers Thwarted by Israeli Forces in Latest Terror Wave
The Israeli military said Tuesday it thwarted a car ramming attempt by a Palestinian terrorist into a military checkpoint in the West Bank in the latest wave of attacks targeting Israelis.

According to an initial report, the car attacker attempted to ram into a manned military post outside the Mevo Dotan settlement, north of Jenin in the West Bank. The Israeli soldiers at the military post opened fire at the vehicle as the driver accelerated towards them and "neutralized" him, the Israeli army stated.

The assailant's vehicle then collided with a military jeep that was parked near the post, setting both on fire. There were no serious injuries reported.

Back in March 2018, two Israel Defense Forces soldiers were killed and two others injured in a car ramming attack by a Palestinian terrorist near the Mevo Dotan settlement.

Tuesday's incident is the latest in a series of eight Palestinian terrorist attacks targeting Israelis over the past month in Jerusalem and around the West Bank using knives, guns, and vehicles.
Israel bombed a potential 'Auschwitz' in Syria - opinion
It has often been said that if only the State of Israel had existed in the 1940s, its air force could have bombed Auschwitz, interrupting the gassing of countless innocents.

Well, now it does exist. And it turns out that it has been using the IAF to interrupt a contemporary regime's gassing of countless innocents. The Washington Post has just revealed that two Israeli bombing raids inside Syria in 2020 and 2021, which previously had been shrouded in mystery, were in fact part of a covert campaign to stop "a nascent attempt by Syria to restart its production of deadly nerve agents."

Syrian dictator Bashar Assad has used sarin nerve gas to slaughter thousands of civilians whom he regarded as his enemies since the outbreak of the country's civil war in 2011. One attack alone left 1,400 dead in a Damascus suburb.

Assad promised the Obama administration in 2012 that he would stop using chemical weapons and destroy his arsenal. But he secretly held on to part of his stockpile, and has carried out "more than 200 attacks" with deadly nerve agents in recent years, the Post reports.

The Israelis are well aware that Syria's original purpose in developing the poison gas was to use it against the Jewish state – to continue, in a sense, the gassing of the Jews that began in German-occupied Poland 80 years ago this month.
Mahmoud Abbas: HonestReporting Fast Facts in Response to CNN's Alternate Reality
On December 19, CNN updated its Mahmoud Abbas Fast Facts piece. Compiled by the network's research department, it contains 13 references to Israel, including the following:
Played an integral role in the forging of the Declaration of Principles, the historic Oslo Accords signed in 1993 by PLO Chairman Yasser Arafat and Prime Minister Yitzhak Rabin of Israel."

"Was the primary force behind the Palestine National Council's decision to work with Israeli peace groups."

"Attends the funeral of Israeli statesman Shimon Peres and shakes hands with Israeli Prime Minister Benjamin Netanyahu."

"Abbas calls on the PLO to 'revise all the agreements signed between the PLO and Israel because Israel has brought these agreements to a dead end,' and accuses Israel of ending the Oslo agreement."

CNN depicts Palestinian Authority President Abbas as having been actively engaged in peace talks with Israel that repeatedly fell apart through no fault of his own. The network, which claims to reach more people in the United States than any other news brand (175 million), fails to mention the violent rejectionism – typified by incessant incitment against Israel – that has characterized Abbas' reign.

While the word 'peace' appears eight times in Mahmoud Abbas Fast Facts, 'incitement,' 'violence,' 'terror,' 'martyr,' and 'militant' don't appear once.

HonestReporting has repeatedly shown this portrayal of Abbas as a political moderate who actively supports a two-state solution to the Israeli-Palestinian conflict to be little more than a media creation.
The Israel Guys: SIX REASONS Why Mahmoud Abbas Should Be in Prison FOR LIFE
This is part 2 in our series about former President Donald Trump's recent remarks about Israel. In today's program, we discuss Trump's referring to PA Chairman Mahmoud Abbas as a "father figure" and someone "who was so nice". We go through some of Abbas' history, including his role in the 1972 Munich massacre that left 11 Israeli Olympic athletes dead.

We also go over six facts about Mahmoud Abbas, and why he should be sitting in prison for life. From a funder of terrorism to his constant incitement to violence against Jews, it is clear that President Trump should not be relating to Abbas in a friendly way at all.
The Palestinian School of Terrorism
The young terrorists have been brainwashed by Palestinian leaders and "scholars" spewing hate against Israel and Jews on a daily basis.

In addition, they are being assured that anyone who dies while carrying out a terrorist attack against Jews is a "martyr" whose place in heaven is guaranteed.

IMPACT-se found that Palestinian leaders have failed to fulfill their promise to Western donors to change the textbooks. The study showed, in fact, that the newly published textbooks were even more radical than previous ones.

"There is a systematic insertion [in Palestinian textbooks] of violence, martyrdom and jihad across all grades and subjects. Extreme nationalism and Islamist ideologies are widespread throughout the curriculum, including science and math textbooks. The possibility of peace with Israel is rejected." — Institute for Monitoring Peace and Cultural Tolerance in School Education (IMPACT-se), May 2021.

The textbooks demonize Israel, and the Jews are maligned and presented as a rival of the prophet of Islam. "In short, there is no encouragement towards coexistence throughout the entire curriculum," according to the study.

This is the poison that is being injected into the hearts and minds of Palestinians at the very moment that the Biden administration continues to talk about funding the Palestinian Authority and the need to revive the peace process between Israel and the Palestinians.

The Biden administration is prattling on about peace and a "two-state solution" while Palestinian leaders are doing their utmost to prepare the next generation to stick more knives into Jews.
MEMRI:
Rajaa Al-Halabi, Head Of Hamas Women's Movement, Praises Female Suicide Bombers: All The Women Of Gaza Are Willing To Sacrifice Their Lives
Rajaa Al-Halabi, the Head of Hamas's Women's Movement, said in a December 13, 2021 interview on Al-Aqsa TV (Hamas-Gaza) praised female suicide bomber Rim Al-Riyashi and would-be suicide bomber Fatima Al-Najjar. She said that all the women of Hamas and Gaza would become suicide bombers if asked. In addition, she said that if the Al-Qassam Brigades were opened to women, there would be just as many female members as male members. For more about Rajaa Al-Halabi, see MEMRI TV clips Nos. 8150 and 7800.

All The Women Of Gaza Are Willing To Carry Out "Martyrdom Operations"

Rajaa Al-Halabi: "When I talk about women's role in jihad, I recall martyrdom-seeker Rim Al-Riyashi, who left her children behind [and blew herself up in 2004]. Sister Fatima Al-Najjar, an elderly woman, [tried to blow herself up in 2006]. She never left the battlefield of jihad. There have been other women, as well. I say that all the women of Hamas, and I believe you to be one of them... The women of Hamas and in fact, all the women of Gaza, not just those who belong to Hamas...

"If they were asked to carry out martyrdom operations, they would not refuse.

"The Women Of Hamas Aspire To Be Martyred For The Sake Of Allah"

"The women of Hamas aspire to be martyred for the sake of Allah. If our women were allowed to join the Al-Qassam Brigades, their number would not be less than that of the men."
245 Palestinians have been arrested by the Palestinian security forces between April and December on charges of inciting sectarian strife, illegal gatherings, possession of illegal weapons, and collecting money (for rival groups) and receiving money (from these groups).

— Khaled Abu Toameh (@KhaledAbuToameh) December 21, 2021
Hezbollah has some 2,000 unmanned aerial vehicles - ALMA
Hezbollah has some 2000 unmanned aerial vehicles, many of them advanced UAVs from Iran and others manufactured independently by the Lebanese terror group, a new report by the ALMA Research Center has found.

Hezbollah has been using UAVs since the 1990s and has used its drones in Syria as well as against Israel. Even before the Second Lebanon War in 2006, the group launched drones into Israel and during the war, Hezbollah launched several armed drones into the country.

The report by ALMA listed several attempts by Hezbollah to fly their drones into Israel, including in October 2012 when a UAV launched over the Mediterranean Sea reached the Negev region of Israel before it was intercepted by Israel Air Force jets.

The group was said to have 200 Iranian-made UAVs in 2013 and with the help from the Islamic Republic, it has since significantly increased its fleet that is set to be used for kamikaze attacks on strategic national assets in Israel as well as reconnaissance against IDF troops and bases.

According to the report, Hezbollah "most likely" has advanced UAV models such as the "Mohajer," "Shahed," and "Samed" (KAS-04), "Karrar," and "Saegheh" types. It also possesses dozens of smaller civilian drones made by China that are used to photograph as well as carry and drop bombs.
Any mention about destructive role of Hezbollah and Iran in #Lebanon and the region? https://t.co/hMG3bXe4zp

— Arsen Ostrovsky (@Ostrov_A) December 22, 2021
Herzog says Iran 'timebomb' must neutralized 'once and for all'
President Isaac Herzog and Defense Minister Benny Gantz warned Iran on Wednesday that Israel would not let it become a nuclear threat, even if it had to act alone.

Speaking at the graduation ceremony for the Israeli Air Force Flight Academy cadets, Herzog said, "There are many actions and operations that should not be spoken of, but they have proved our air force can reach anywhere, regardless of the situation." He added that "this capability is all the more important in these days when the Iranian tentacles continue to expand all across the Middle East."

The president warned that Iran is a "ticking time bomb threatening Israel and the entire Middle East," concluding that "the danger posed by a nuclear Iran must be neutralized once and for all, with or without an agreement."

Iran's nuclear program has picked up pace in recent months, despite the ongoing talks with the world powers over a new deal that would replace the all-but dead Joint Comprehensive Plan of Action from 2015. According to some estimates, Iran could have enough fissile material for a bomb within a month once it makes a determination to reach that threshold.
Biden's Legacy: A Nuclear Iran
The Iranian regime is currently advancing its nuclear program at a rapid pace, spinning centrifuges and enriching uranium at a high level, all while the international community has no access to monitor the regime's nuclear activities to check how far away the Iranian government is from obtaining nuclear weapons.

While the Iranian leaders claim that the country's nuclear program is designed for civilian purposes....[a] joint statement issued by the UK, France and Germany acknowledged that the Iranian regime "has no credible civilian need for uranium metal R&D and production, which are a key step in the development of a nuclear weapon."

Meanwhile, the Biden administration is completely silent as the Iranian regime disregards and refuses to answer the IAEA's questions about three undeclared clandestine nuclear sites in Iran.

All the Biden administration has done so far is to appease a regime that chants "Death to America" and "Death to Israel," and that is determined to push the US out of the Middle East.

Iran -- one of only four state sponsors of terrorism, according to the US Department of State, as well as a leading violator of human rights -- is also committed to uprooting and replacing Israel and seizing all the oil in the Middle East from Syria to Saudi Arabia and the Gulf States.

So, we are just to sit back and watch the predatory, terrorist regime of Iran, which has already begun taking over the entire Middle East, become nuclear state and wreck the Middle East -- under the Biden administration's watch.
US National Security Adviser Sullivan Says US, Israel Need Joint Strategy Amid Iran Diplomacy
The United States and Israel are at a "critical juncture" on various security issues and should develop a joint strategy, US National Security Adviser Jake Sullivan told Israeli Prime Minister Naftali Bennett during a Jerusalem visit on Wednesday.

Bennett's office, which issued video of the meeting, said in a statement that the two discussed Iran and world powers' efforts to renew the 2015 nuclear deal.

"What happens in Vienna has profound ramifications for the stability of the Middle East and the security of Israel for the upcoming years," Bennett told Sullivan, referring to the site of the negotiations with Iran this month.

Israel is not a party to those talks. It has long hinted that, should it deem diplomacy a dead end, it could resort to military force to prevent Iran from gaining the means to make a bomb.

Iran denies seeking nuclear weapons.

Sullivan said he had been sent to Israel by President Joe Biden "because at a critical juncture for both our countries on a major set of security issues, it's important that we sit together and develop a common strategy, a common outlook."

Top-selling Israeli newspaper Yedioth Ahronoth ran an interview with the country's incoming air force chief in which he was asked if his corps was poised to attack Iran "tomorrow," if required. "Yes," responded Major-General Tomer Bar.
So why is this administration letting Iran shred it to pieces? Do you really care about the NPT or is this just lip service? https://t.co/0Ra4W5rxPr

— Richard Goldberg (@rich_goldberg) December 22, 2021
#NoJoke @margotwallstrom: "In the Commission of the Status of Women, there is also Russia, Belarus, Iran, Pakistan. And if we would have as a criteria that they have an ambitious policy when it comes to women's rights, very few countries would actually take place there." /1

— Hillel Neuer (@HillelNeuer) December 22, 2021
Iran state media slams Tehran mall for 'promoting a Jewish holiday'
The Islamic Republic of Iran's Mehr news agency blasted a decoration in a mall in northern Tehran because it allegedly combined symbols of the Persian Yalda celebration with Sukkot.

Writing for Mehr News, which is owned by the Islamic Ideology Dissemination Organization, Fatima Karimi lashed out at the mall for "promoting a Jewish holiday," according to Iran International.

The London-based Iran International wrote that Mehr News "has criticized decoration of a mall in northern Tehran which it says has combined symbols of the Persian feast of Yalda Night with those of Sukkot observed by Jews."

Yalda is an Iranian festival that takes place on the longest day of the year and celebrates the winter solstice. The Jerusalem Post reviewed the Persian-language article on the Mehr News website, with its blaring outraged headline about its alleged combination of Yalda with Sukkot.

The Mehr News journalist wrote that "at the bottom floor of this passage is a small decoration with which many people take souvenir photos, but how many of them know that this decor is a combination of the Yalda celebration and Jewish...celebration!" The issues that prompted the Mehr News reporter's outrage appear to be her perception that "The roof and the accompaniment below it are reminiscent of the Sukkot... held by the Jews."
Canadian Imam Younus Kathrada: Congratulating People on Christmas Is Like Congratulating Murderes and Pedophiles; It Is a Major Sin @Canada #Christmas pic.twitter.com/X1i1Cn12hu

— MEMRI (@MEMRIReports) December 22, 2021
Saudi Journalist Abdallah Al-Mazhar: The Promotion of Homosexuality Is a Moral Crime; It Is Not a Human Rights Issue– It Is an Economic and Political Issue #KSA #homophobia pic.twitter.com/kI5fh3iPLX

— MEMRI (@MEMRIReports) December 22, 2021