From Ian:
Does antisemitism exist in Israel?
By and large, Israelis intuitively understand that the BDS movement—with its aim to kill Jews, and eliminate the Jewish State, its demonization and double standards against Israel, and its tacit, if not explicit, support for violence and terrorism against Israelis and its Jewish and non-Jewish supporters—is inherently antisemitic.

It's well past time that Israeli leaders caught up to the reality that antisemitism is present and a clear danger in Israel and those killing innocent Israelis in Israel and worldwide are acting on antisemitic motives.

Given BDS's irrefutable antisemitic and violent nature, it is deeply alarming that Israeli leaders are soft-pedaling the antisemitic menace that BDS is. The war against Israel, for which BDS essentially serves as the public relations arm, is part and parcel of global antisemitism. Jews in the Diaspora and Israel are both targets in this campaign.

We must stand together against BDS and all forms of antisemitism. The war against Israel is rooted in antisemitism, and we must no longer inaccurately diminish the conflict as some kind of intercommunal, territorial struggle. Rejection of a sovereign Jewish presence in Israel, which BDS promotes, is antisemitic.

I call on Israeli Jews to forthrightly recognize the antisemitic war that has been unjustly thrusted upon them, as well as past and future generations, for so many decades, and stand together with their Jewish brethren in the Diaspora who are also under assault.

They must also demand that their leaders directly identify and combat this antisemitic menace and not dilute this real and present danger, which all too regularly kills and maims Jews in Israel and worldwide. Together, we can prevail against this evil.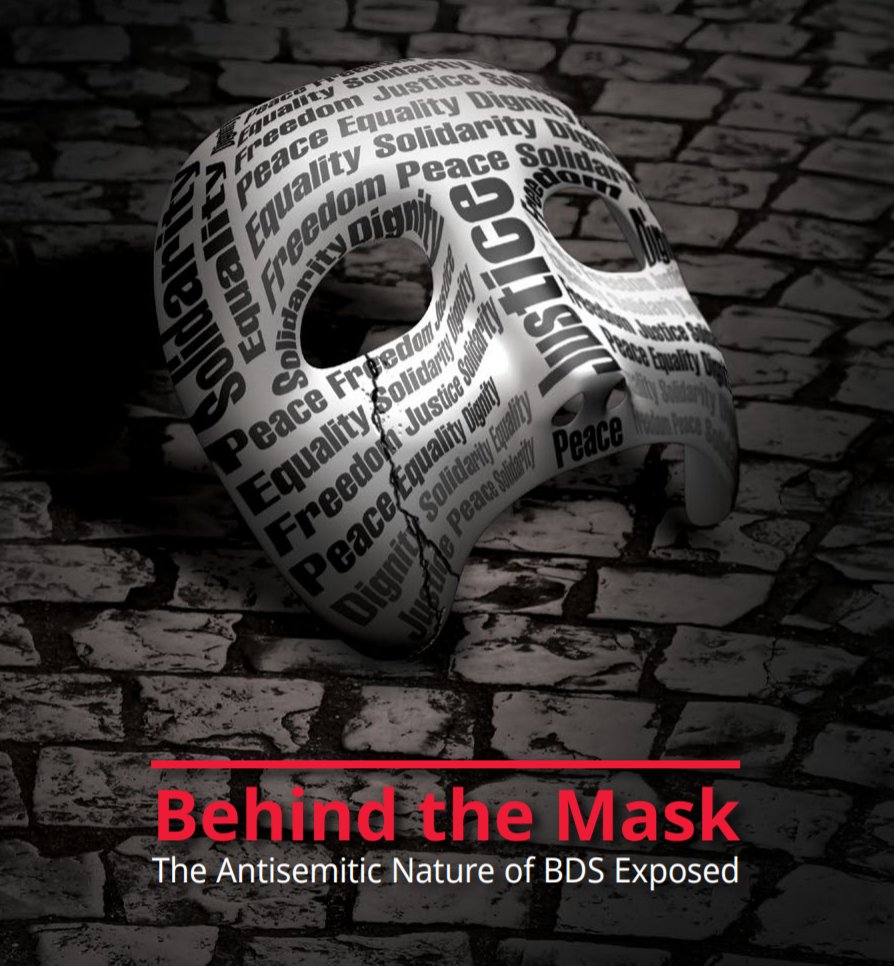 Translated from Portugese:The UNRWA fake concern for refugees
Letter to Secretary General of the UN Mr. Antònio Guterres. "According to UNRWA, there are now over 5 million Palestinian refugees, the only people whose refugee status is passed on to the next generation with its own agency,

By not following UNHCR's refugee resettlement standards. UNRWA now employs more than 30,000 people and has a billion-dollar budget annually, where more than 58% of the money goes to education.

With this data alone, we can already conclude that UNRWA and the Palestinian people have a differentiated international status, as no other people have as many economic and political resources as the international community.

On December 20, 2021. Mr. António Guterres, UN Secretary General, visited an UNRWA refugee camp in Tripoli, Lebanon. During the meeting, participants, including President Michel Aoun, reaffirmed their commitment to "openness, tolerance and coexistence".

It is noteworthy that the Secretary is aware of the questionable fate of donations to UNRWA, financing of chaos and terrorism at the expense of quality education for refugees.

The camps that should provide refugees with quality of life and provide for their resettlement instead perpetuate their life of despair in refugee camps which have been "temporary" since 1949

In UNRWA schools across the Middle East, the doctrine taught is that the best way to honor the Palestinian cause is bloodshed. UNRWA has gigantic power, not only economic and political, but also influence, its structure has become a factory of extremists and terrorists who grow up believing in an ideal world where evil is represented by Jews and Israel.
9. U.N. Human Rights Council Ends Yemen Investigation After Saudi Pressurehttps://t.co/HWlk5iBwQO pic.twitter.com/ovHtD1WFKR

— Hillel Neuer (@HillelNeuer) December 26, 2021
New translation of 'Bambi' showcases tale as allegory on early Austrian antisemitism
The 1942 animated film "Bambi" has charmed generations and has cemented its status as a cinema classic. However, the tale has a darker origin, dating to the antisemitism of 1920s Austria.

A new translation is looking to showcase the original text as a parable foreshadowing the fate of Jews in the Holocaust, The Guardian reported Saturday. Departing from the somewhat sanitized version audiences are familiar with, the new text is aiming to make clear the political and societal undertones that informed the original version.

The new edition will be published by Princeton University Press and released in the US on January 18, 2022, translated by Jack Zipes, a professor emeritus of German and comparative literature at the University of Minnesota, and illustrated by Alenka Sottler.

Felix Salten, a rabbi's grandson born in Austria-Hungry in 1869, wrote the iconic and poignant tale of the fawn bereaved of his mother by hunters in 1922, under the title "Bambi: A Life in the Woods."

Salten was a product of the cultural blossoming in the capital of the Austro-Hungarian empire around the turn of the 20th century, a prolific writer who moved in the same circles as the likes of Sigmund Freud, the father of psychoanalysis.

But beneath the trappings of prestige and privilege that were afforded Salten, a dark undercurrent of antisemitism was sweeping through Austria, a trend that he picked up on and that informed his writing while he was putting together this work.

"The darker side of 'Bambi' has always been there," Zipes told The Guardian. "But what happens to Bambi at the end of the novel has been concealed, to a certain extent, by the Disney corporation taking over the book and making it into a pathetic, almost stupid film about a prince and a bourgeois family."
Ra'am leader isn't alone
Ra'am leader Mansour Abbas' statements about Israel being a Jewish, democratic state was a foundational one and sparked hope that despite everything, those in the Arab sector who feel a connection with the country and want to integrate will be able to do so.

Of course, the regular voices broke out in a chorus of opposition to the shred of hope that Abbas inspired. The screams and the fury were stronger than last week's torrential rains. The people shouting in unholy rage were the same ones who opposed the peace agreements, the Abraham Accords, the one who insist we live by our swords, since we will always be at war.

Mansour Abbas' important comments reminded me of 1980, when the Arab leadership in Israel was sober and realistic – a leadership that recognized Israel as a Jewish, democratic state. That leadership grew out of power, understanding, and a recognition of reality and respect for the nation and its symbols. MK Sif a-Din al-Zoabi, from the United Arab Party, was the first member of the community to insist that Arab Israelis should stand up and be full partners in the Jewish state of Israel.

Abbas is striding brilliantly and with confidence on a path the leader Sif a-Din al-Zoabi laid out wisely and courageously. This path sees things as they are, accepts, espouses a dignified life, and eschews the torturous path of endless death that Mansour's friends set out and followed until they woke up.

Then, like now, the professional warmongers called the Arab leadership "traitors," "collaborators," and "anti-patriots." They slandered them and slung mud, accused them of turning their backs on the Arab nation, and if they could they would have put the brave and honorable Arab leadership on trial for treason.
The Hamas Takeover of Gaza Killed the Two-State Solution
Few realize to what extent the Palestinians are divided into two rival Palestinian "statelets" (a term coined by a former Washington Post correspondent in Israel). Hamas and the PA each have their own leadership, legislature, security forces, and laws. Palestinian society is further divided by the tribal politics of the family and clan.

Gaza is dominated on the leadership level exclusively by Hamas leaders Ismail Haniyeh and Yahya Sinwar. On the administrative level, the Interior and National Security Ministry, whose minister is a Hamas stalwart, has great control. The ministry runs the internal security agency, the gendarmerie and the police. On numerous occasions, when the military arm — the Izz al-Din al-Qassam Brigades — announces the "martyrdom" of its fighters, they are simultaneously identified as members of the Interior and National Security Ministry.

Much the same relationship prevails between Fatah and the PA security forces. The common denominator between Hamas-dominated Gaza and the PA is that they are both one-party militias that perceive the other as an existential threat that must be monitored, punished and subdued.

The regional and international dimensions that reinforce the Palestinian divide are cementing this Palestinian partition that buries prospects for a two-state solution. The PA owes its continued existence to Western monetary and political aid; support from the moderate Arab states, namely Saudi Arabia and Egypt; and last but not least to its security coordination with Israel. It is Israel that makes the majority of preventive arrests that keep Hamas and Palestinian Islamic Jihad at bay in areas controlled by the PA. For Hamas, its regional allies are different: Iran, Turkey and Qatar.

In sum, the two-state solution can hardly be threatened by building in Judea and Samaria or elsewhere — it died in 2007. It should be allowed to rest in peace.
Rep. Josh Gottheimer says progressive protesters shouted 'Jew' at NJ event
Commerce Secretary Gina Raimondo is backing up a Jewish congressman's incendiary claim that he heard protesters scream "Jew!" at him during a September event in New Jersey.

Garden State Democratic Rep. Josh Gottheimer caused a stir during a Dec. 13 speech at Rutgers University in which he said he was set upon by anti-Semitic protesters on Sept. 20 as he and Raimondo made a series of stops in Bergen County promoting President Joe Biden's infrastructure bill.

The pair were greeted by around 100 hecklers in Glen Rock — most of whom, Gottheimer claimed, came from the local chapter of the Working Families Party. The situation was intense enough that Raimondo's security detail insisted the pair travel in the commerce secretary's vehicle.

"They were going from store to store protesting and as we were going into the bakery someone from the crowd derisively screamed 'Jew!'" Gottheimer said, adding that Raimondo heard the remark too and reacted with disgust. "She couldn't believe it. I remember looking at her."

Raimondo told The Post this week she too heard the hateful jeers.

"Anti-Semitism is wrong, reprehensible and unacceptable. I join Congressman Gottheimer in condemning these hateful attacks that have absolutely no place in our politics," Raimondo said.

Though a Democrat, Gottheimer is among his party's most moderate voices and his attacks on "The Squad" and progressives has long drawn activist ire. WFP endorsed his unsuccessful 2020 primary opponent Arati Kreibich — who was at the protest herself.
Palestinian-Americans to be allowed to land at Ben-Gurion Airport - report
Israel has informed the US that Americans of Palestinian descent will be allowed to land at Ben-Gurion Airport as negotiations continue for a visa waiver for Israelis visiting the US, Army Radio reported on Sunday.

The decision was made after discussions by the Shin Bet and the defense establishment, although it is still unclear what the inspection for these citizens will be at the entrance to the country.

According to the report, Interior Minister Ayelet Shaked updated US Ambassador to Israel Thomas Nides a few days ago about the decision. An American delegation is set to arrive in Israel at the end of January to work on the process which is still expected to take much longer.

In November, Shaked stated that the process granting a visa exemption for Israeli travelers to the US will not be finished before 2023.

Israel will also have to lower its rate of visa refusals to 3%. "There are several things that can be done to meet this threshold," said Shaked in November. "For example, we asked Mayorkas' team that if a person opens a visa application but ends up not submitting it, it would not count as a refusal. Today, such cases count as if a person who did not complete the form was rejected."
Public doesn't think Israel won May Gaza war, but was justified - INSS
A 59% plurality of Israelis believe that Israel did not win the war with Hamas in Gaza this past May, a recent INSS survey and report found.

Paradoxically, the same general public also viewed the war as justified, though there were disputes about which reasons for war could be defined as worthwhile.

The impetus for the study was the ongoing discourse since the 2006 Second Lebanon War about how the public perceives victory in military conflicts when neither side achieves an unconditional surrender from the other.

Breaking down the 59%, 44% answered that neither side won, and 15% percent answered that both sides lost.

Only 32% thought that Israel won.

The study, authored by senior research fellow at INSS and Tel Aviv University lecturer Zipi Israeli and INSS media relations associate Ruth Pines, pointed out that the public had similar feelings about the Second Lebanon War and the 2014 Gaza War, both during the conflicts and in hindsight.

According to INSS, "The issue of the perception of victory in retrospect is important, as what remains in the public consciousness regarding the previous campaign can affect cognition vis-à-vis the next campaign."
Government set to approve NIS 1 billion Golan Heights development plan on Sunday
Government ministers are to hold their weekly cabinet meeting on Sunday in a kibbutz in the Golan Heights, where they will approve a NIS 1 billion ($317 million) development plan aimed at encouraging demographic growth in the strategic area in the coming years.

The plan's goal, formulated by a team headed by the Prime Minister's Office director-general, Yair Pines, is to boost the population in the Golan Regional Council and the Katzrin Local Council in 2022-2025.

Prime Minister Naftali Bennett announced the plan in October, saying that the ultimate goal was to reach 100,000 residents in the coming years.

Currently, some 53,000 people live in the Golan Heights: 27,000 Jews, 24,000 Druze, and some 2,000 Alawites (an ethnoreligious group originating from Shia Islam and a minority sect to which Syria's ruling family, the Assads, belong).

Describing the Golan as a "strategic goal," Bennett said the aim was "to double, and then double again the number of residents on the Golan Heights."
Qatar, PA ink deal to supply Gazan power plant with Israeli natural gas
Qatar, the Palestinian Authority and Gaza's electrical company sign a deal to advance a long-term project to supply Gaza's only power plant with Israeli natural gas.

Qatar's envoy to the Gaza Strip, Mohammad al-Emadi, says that today's memorandum contains a pledge to invest $60 million in laying the pipeline for the proposed project.

The so-called Gas for Gaza initiative is a complex diplomatic dance, involving Israel, Hamas, the PA, Qatar, Egypt and the European Union, among other players. But the basic idea is simple: to replace the diesel fuel that currently powers Gaza's electrical plant with Israeli gas.

Under the proposal, natural gas will flow from Israel's Leviathan gas field, which lies off Gaza's coast, to a power station in southern Israel. The EU and Qatar will then fund extensions to the pipeline to Gaza's power plant.

The project has been in the works for years, and has been repeatedly delayed due to wars between Israel and Gaza's Hamas rulers. In February, al-Emadi said he hoped a final deal could be reached soon, only to see another battle between Israel and Hamas break out a few months later, in May.
Palestinians: Israeli practices, settler 'aggression' will lead to intifada
Palestinian groups and activists have warned that Israel's practices and settler "assaults" against Palestinians in the West Bank will lead to a new intifada (uprising).

The warning came as clashes between Palestinians and IDF soldiers continued over the weekend in various parts of the West Bank.

Some Palestinian activists said the intifada has already begun and called for escalating "popular resistance" against the IDF and settlers. "The intifada is already here," said a senior activist belonging to the ruling Fatah faction. "What we are witnessing in the West Bank is similar to what happened during the First Intifada," which erupted in 1987.

Another activist affiliated with the PLO's Democratic Front for the Liberation of Palestine said the growing resentment in the West Bank was also directed toward the Palestinian Authority.

"Many people are angry because the Palestinian Authority is not doing anything to defend them against increasing attacks by the Israeli army and the settlers," the activist said.

According to Palestinian sources, dozens of Palestinians were injured on Friday during clashes with IDF troops in several villages and towns in the northern West Bank.

Hamas and other Palestinian factions, meanwhile, renewed their call for stepping up "all forms of resistance" against Israel.
Turning water pipes into rockets: This is how #Hamas prioritizes the death of Israeli civilians over the lives of #Gaza's Palestinians. pic.twitter.com/1UiSg0IjRK

— Arsen Ostrovsky (@Ostrov_A) December 26, 2021
Israel Plans to Ease Restrictions on Gaza to Prompt Hamas to Keep Calm
Israel is considering easing several restrictions in the Gaza Strip to alleviate the territory's economic woes and to encourage the population to put pressure on Hamas to maintain calm, Haaretz reported Sunday, citing security sources.

Among the measures envisaged are increasing the number of work permits granted to Gazans in Israel and authorizing the entry of certain dual-use materials, in coordination with the United Nations, to ensure that they are used for civilian and non-terrorist purposes.

The plan would, however, run counter to statements by Israeli officials that reconstruction in Gaza must be made conditional on an agreement that would see Hamas release two civilians and the bodies of two Israeli army soldiers it is holding, possibly in exchange for Palestinian prisoners.

Sources within the security apparatus say, however, that the economic deterioration of the Palestinian territory must be halted, regardless of other issues.

Israel has already relaxed several restrictions, as calm has largely prevailed since the fighting last May, in which Palestinian terrorist groups launched thousands of rockets at Israeli towns. The Jewish state responded with strikes that devastated parts of the Gaza Strip.
Gaza terror groups launch military exercise amid growing West Bank tensions
The so-called "military" wings of several Palestinian factions on Sunday said they have launched a large-scale, joint maneuver in the Gaza Strip.

The announcement came amid growing tensions in the West Bank and calls by Hamas and other Gaza-based factions for stepping up attacks against Israel.

It also came in wake of unconfirmed reports that Egyptian mediation efforts to prevent an all-out military confrontation between the Palestinian groups and Israel have failed.

The maneuver, the second of its kind in the past year, aims to "raise military readiness" for a possible confrontation with Israel and increase coordination between the factions, according to the "Joint Room of the Palestinian Resistance Factions," which includes most of the armed groups in the Gaza Strip.

The maneuver will continue for several days at training sites, it said in a statement. At least 12 groups were taking part in the exercise, Palestinian sources said.

Earlier this month, Izzadin al-Qassam Brigades, the so-called "military" wing of Hamas, held a military exercise called Shield of Jerusalem. The drill was held to mark the 34th anniversary of the founding of Hamas.
The emerging story of the Hezbollah-Houthi alliance is interesting, there has been increasing talk of coordination and of the leaders of both movements praising eachother, also threatening Israel, the US, Saudi etc; with drones and new tech this has new implication for region https://t.co/3MBq0HYm4C

— Seth Frantzman (@sfrantzman) December 26, 2021
Seth Frantzman:
Why Iran's threat to attack Israel's Dimona matters - analysis
Iran has published and distributed a video of rockets and drones being used to attack Dimona in the Negev Desert. It says the attack took place during the recent 17th Great Prophet drill with the Islamic Revolutionary Guard Corps and the IRGC Air Force.

Tehran says it "simulated a missile and drone attack on the Dimona nuclear center using 16 ballistic missiles and five suicide drones, successfully," according to its semi-official Fars News Agency. The Jerusalem Post reported on the initial videos on Saturday. Iran has now doubled down with its own reports, bragging about its abilities.

This matters more than in the past because Iran is threatening to attack the Dimona nuclear facility, a dangerous escalation in rhetoric. It is also tied to Tehran revealing aspects of its drone program and new technology.

The video was published by Fars and Tasnim New Agency, main Iranian media outlets linked to the government and the IRGC. This means the video is a purposeful attempt by Iran to threaten Israel, which, of course, isn't exactly new. Tehran threatens Israel everyday with various forms of destruction; it continually has to come up with new threats.

However, the decision by Iran to test long-range ballistic missiles and unveil a new multiple drone launcher while splicing that with a digital mock-up of Dimona appears to be a new level of Iranian aggressive threats.
Sure, Iranian nuclear agency chief Mohammad Eslami (sanctioned by the U.N. in 2008 for his procurement of banned materials for Iran's illicit nuclear weapon delivery systems) seems like a trustworthy guy. https://t.co/SapwziBsMC

— Hillel Neuer (@HillelNeuer) December 26, 2021
Seth Frantzman:
Is Iran's new drone swarm Shahed-136 tech a gamechanger?
Images of a new Iranian drone launcher have appeared online and in Iranian media over the past several days. The drones, dubbed Shahed-136, were combined with missiles in a drill that Iran says took place last week.

Iran has called these types of drones a "suicide drone," or kamikaze drone. This means they fly into a target and self-destruct. These types of drones have been mentioned before but have not been shown in such close-up detail.

In January, Tom O'Connor wrote in Newsweek: "Imagery seen by Newsweek and confirmed by an expert who follows Iranian activities in the region indicate the presence of Iranian Shahed-136 loitering munitions, also called 'suicide drones,' deployed to the northern Yemeni province of Al-Jawf, an area of the country controlled by the Ansar Allah, or Houthi, Zaidi Shiite Muslim rebel movement."

This was the first time this type of drone was mentioned in overseas deployment. Prior to this, Iran had built kamikaze drones, but this specific type had not been seen in public military drills.
Iranian Video Shows IRGC Military Exercise as a Simulation of Combined Missile and Drone Attack on Israel's "WMD Development Center" #Iran #Israel #Dimona #JCPOA pic.twitter.com/RUpmfbAgGc

— MEMRI (@MEMRIReports) December 26, 2021
The bizarre life and death of Iran's 'ambassador' to Yemen's Houthis
On December 22 Ayatollah Khamenei, the Supreme Leader of Iran, wrote about "the martyrdom-like death of the hardworking, productive Ambassador of #Iran to Yemen, Hasan Irloo." He said he offered "condolences and congratulations to his family and diligent, like-minded people. His honorable record includes much political work, diplomatic efforts and social activities."

Irloo's death has led to some controversy because it is unclear how he died and it has shed light on Iran's commitment to the Houthi rebels in Yemen. The Houthis have been increasingly backed by Iran since 2015. They have received weapons, including ballistic missile and drone technology, from Iran. They have struck frequently at Saudi Arabia and also threaten US and Saudi partners and allies. In the last several years the Houthis have also increasingly threatened Israel and been working with other Iranian proxies and allies such as Hezbollah. The Houthis official slogan includes threats and curses to Jews and Israel. The US briefly declared the Houthis a terrorist group. In 2015 Saudi Arabia led a coalition of Arab countries to intervene in Yemen to stop the Houthis taking Aden. That war has ground on for years. Yemen has suffered greatly.

Back on December 17, the Wall Street Journal reported that Irloo was being pushed out of Yemen at the behest of the Houthis due to supposed tensions between the Houthis and Iran. A western official and some other source from the region apparently confirmed this. This came after mid-November reports that an IRGC commander in Syria had also been asked to leave by the Assad regime. This came as the Assad regime had welcomed the UAE and there was talk of more Arab states normalizing with Syria. Syria is backed by Iran. The two reports seemed to show Iran was suffering setbacks among key countries that it has tried to turn into bases for proxies.

However, reports in Israel on December 18 appeared to refute the Wall Street Journal article. Iran claimed Irloo had Covid and was being evacuated for health reasons. Khaleej times in the UAE reported on December 18 that "the [Iran] Foreign Ministry said on its website that Ambassador Hassan Irloo was in need of urgent medical care after being infected for several days, and was en route to Iran." So was it strains with the Houthis or health? Was Covid a cover story? What really happened.
Richard Falk, ex-@hrw, condemns the 1 thing the UN got right: "The UN discredits its own commitment to human rights by endorsing this one-sided resolution on 'The Human Rights Situation in Iran.' Massive suffering of Iranian people is from US sanctions..." https://t.co/1dTr6SfkOM

— Hillel Neuer (@HillelNeuer) December 25, 2021
Join Iranians and call on Twitter to #BanKhamenei because he banned 83 million Iranians from Twitter. In Islamic Republic using Twitter is a crime but the officials are using Twitter to oppress us.
Many people are in jail for the crime of using social media and cry for justice. pic.twitter.com/O2NZYAqPfx

— Masih Alinejad ??? (@AlinejadMasih) December 25, 2021
William Jacobson:
Middle East Studies Association Boycotting Israel "Is Basically the Old Anti-Jewish Boycott"
I appeared on Breitbart News Sunday on SiriusXM Patriot 125 on December 19, 2021, to talk about the pending academic boycott of Israel by the Middle East Studies Association (MESA). The audio is at the bottom of this post.

That boycott, passed by the annual business meeting on December 2, and headed for a mid-to-late January 2022 full membership vote, was the subject of the column I wrote, along with Johanna E. Markind, Esq., of Legal Insurrection Foundation, in the NY Post. Our coverage is being noticed, with mentions in several publications.

Florida Gov. Ron DeSantis' office has made clear, in light of our coverage, that MESA will not be permitted to carry out its discriminatory boycott at or through Florida State University (a MESA institutional member):
"It is our expectation that Florida State University will not permit MESA to operate a boycott of Israel through a public institution, will not accept the academic boycott of Israel, and will not allow university funds to be paid indirectly or directly to any organization that endorses BDS. The same goes for any other institution that receives state funding."

My radio appearance also was the subject of an article at Breitbart News, Exclusive — William Jacobson: BDS Boycotting Israeli Universities 'Is Basically the Old Anti-Jewish Boycott', which contains some quotes from the interview.
Archbishop Desmond #Tutu gained prominence as human rights activist and crusader against apartheid South Africa. Sad his later years also became defined by his visceral antisemitism & hostility towards Israel. Tutu has just passed away, aged 90. pic.twitter.com/Bn61DtrJqu

— Arsen Ostrovsky (@Ostrov_A) December 26, 2021
I actually think is great that @Reuters founded fitting to quote Hamas & PLO on #Tutu's passing. Just underscores he was an antisemite, in bed with jihadists and terrorists! https://t.co/PLKgrQS08P pic.twitter.com/bpWk4KJ1h3

— Arsen Ostrovsky (@Ostrov_A) December 26, 2021
Antisemitic under definition of …. https://t.co/1SSvfz6s2V #tutu @Campaign4T

— Eye On Antisemitism (@AntisemitismEye) December 26, 2021
??#PODCAST: @TomTugendhat MBE MP:
???? Corbynite obsession with #Israel "deeply, deeply unhelpful" to #Arab civil rights "nothing to do with Israel/Palestine".
???? Terror attacks by British citizens on home soil should be treasonable

???? PLAY FULL EPISODE https://t.co/JhrMRL3eQc pic.twitter.com/RvnuKOSkax

— Jonny Gould's Jewish State podcast????????? (@jonnygouldpod) December 26, 2021
Tis the season for antisemites to co-opt Jesus.

On cue, hatemonger Linda Sarsour starts spewing her garbage about Jesus being "Palestinian"

Yoseph — who is an Israeli Arab from Nazareth, and I are happy to clarify for her… @YosephHaddad #christmaspic.twitter.com/5HEbCT1Ate https://t.co/UcutN4L5Vd

— Emily Schrader - ????? ?????? (@emilykschrader) December 25, 2021
BBC 3rd on Wiesenthal's Top Ten Worst Global Antisemites for 2021 – After Iran & Hamas
The Simon Wiesenthal Center picked the BBC for the third spot on its Global Antisemitism Top Ten list for 2021, The Daily Mail reported Saturday (BBC only just behind Hamas in respected Jewish organization's antisemitic 'list of shame').

Rabbi Marvin Hier, dean and founder of the Simon Wiesenthal Center, its Museum of Tolerance, and Moriah, the center's film division, told The Mail on Friday: "We believe the BBC has been guilty of several incidences of antisemitism during the past year. People might assume we would put neo-Nazi groups on our list but the BBC is there because when a globally recognized organization allows antisemitism to creep into its reporting, it makes it all the more insidious and dangerous."

"People around the world trust the BBC and rely on it for truthful reporting of world events," Rabbi Hier explained.

The Wiesenthal Center head illustrated his case citing an incident last November in which a busload of Jewish tens was attacked by Israel haters on Chanukah, which, according to the BBC, was ignited by an anti-Muslim slur from the kids on board. An examination of the tape revealed that it was a call for help in Hebrew by the victims. The BBC issued a statement insisting its story was a "factual report."

The top ten list of Jew-haters stars Iran in first place, next is Hamas, and in third place the British Broadcasting Corporation, with a citation of former BBC reporter Tala Halawa who in 2014 posted tweets suggesting "Hitler was right," and "Zionists can't get enough of our blood."
We have written this letter to @pikkupublishing asking them to withdraw the book, used as a teaching aid, titled 'Amazing Women of the Middle East: 25 Stories from Ancient Times to Present Day', and to republish it with #Israel on the map & famous Israeli women duly represented. pic.twitter.com/N1Qmimpg49

— Zionist Federation (@ZionistFed) December 24, 2021
Antisemitic stickers propagating hateful messages, such as "Antifa is Jewish militia," "2 Party Jew Party," and "Lying Jewish Media," were found in Manhattan Beach, California, just days after a statewide campaign led by Goyim Defense League supporters.

->https://t.co/M6F4m6xMO4 pic.twitter.com/WkcrnDPVaz

— Combat Antisemitism Movement (@CombatASemitism) December 26, 2021
NY Banks Urged to Waive Transfer, Processing Fees for Holocaust Reparation Payments
The New York State Department of Financial Services has asked state-chartered financial institutions to waive wire transfer and processing fees for recipients of Holocaust reparations if they do not already do so.

"These fees impose a significant burden on elderly Holocaust survivors, victims and heirs who often rely on these payments to meet their everyday needs," Acting Superintendent Adrienne Harris said in a press release on Wednesday. "Waiving these fees sends a powerful message on the willingness of New York's financial community to have a meaningful impact on the lives of the people they serve."

The department estimated that over 20,000 Holocaust survivors currently live in the New York City metro area. The Holocaust survivors and their heirs are charged between $15 and $40 per transaction on each compensation payment.

The department created the Holocaust Claims Processing Office in 1997 to "help Holocaust victims and their heirs recover assets deposited in banks; unpaid proceeds of insurance policies issued by European insurers; and artworks that were lost, looted or sold under duress." The HCPO has received claims from 46 states and 40 countries to date, and has helped secure "over $182 million in offers for bank, insurance, and other losses." The office has also assisted in settlements involving 179 cultural objects.
Gal Gadot hits 70M followers on Instagram
Gal Gadot has hit another career peak – reaching a jaw-dropping 70 million followers on Instagram, putting her within 2 million of the number of people who follow supermodel Gigi Hadid on the same platform.

Gadot also has 3.1 million followers on TikTok and 2.9 million followers on Twitter.

Speaking to Israel Hayom in a recent interview, Gadot said, "I can sometimes be a hysterical mother and sometimes be a funny mom, we laugh a lot."
The Christian population in #Israel is constantly growing and is part of the unique fabric of Israeli society. Here are some facts and figures pic.twitter.com/U1wMu350SI

— Yonatan Gonen (@GonenYonatan) December 25, 2021