From Ian:
Gil Troy:
Anti-Zionists rob US Jews of their Zionist dreams
Our enemies try making Zionism a dirty word; in Israel, Zionism is a blessed blueprint, helping the Jewish people flourish. Our enemies try making Israel the world's greatest problem; here, Israel is the greatest platform for finding meaning – and building a good life. Our enemies try unraveling Judaism, falsely distinguishing the religion's "good" spiritual dimensions from the "bad" peoplehood and statehood parts; Israel – at this wedding and every day – brings alive the Jewish Oreo cookie, the natural integration between our religious and national identities, cemented by culture, history, fate and faith.

Our enemies try making every Israel-oriented conversation about the Palestinians and "the" Arab-Israeli conflict; but Israel is a multidimensional country with so much more to it than its Palestinian enemies. Prime Minister Naftali Bennett's trip to the UAE proves that "the" Arab-Israeli conflict should be rebranded as the Arab-Israeli conflicts, wherein we emphasize "Peace More" – the growing peace we have with Egypt, Jordan, the UAE, Morocco and Sudan.

Sun Tzu taught 2,500 years ago: "If you know the enemy and yourself, you need not fear the results of a hundred battles. But if you know neither the enemy nor yourself, you will lose every battle. Most Israelis know themselves, their enemies, our identities – fewer American Jews do.

It's easy to get mired in day-to-day problems. But anyone with any historical perspective should realize we all won the historical lottery. The young Jews marrying today, establishing homes in Israel, are far better off than their parents and grandparents were as they struggled to establish themselves in a war-torn, impoverished Israel, or their ancestors were in benighted, undemocratic, antisemitic countries, be they Tunisia, Yemen, Russia or Poland.

We should continue dreaming up solutions to our problems, while always appreciating how lucky we are to be living the dream, as a free people, with secure identities, in our homeland, the land of Zion, Jerusalem.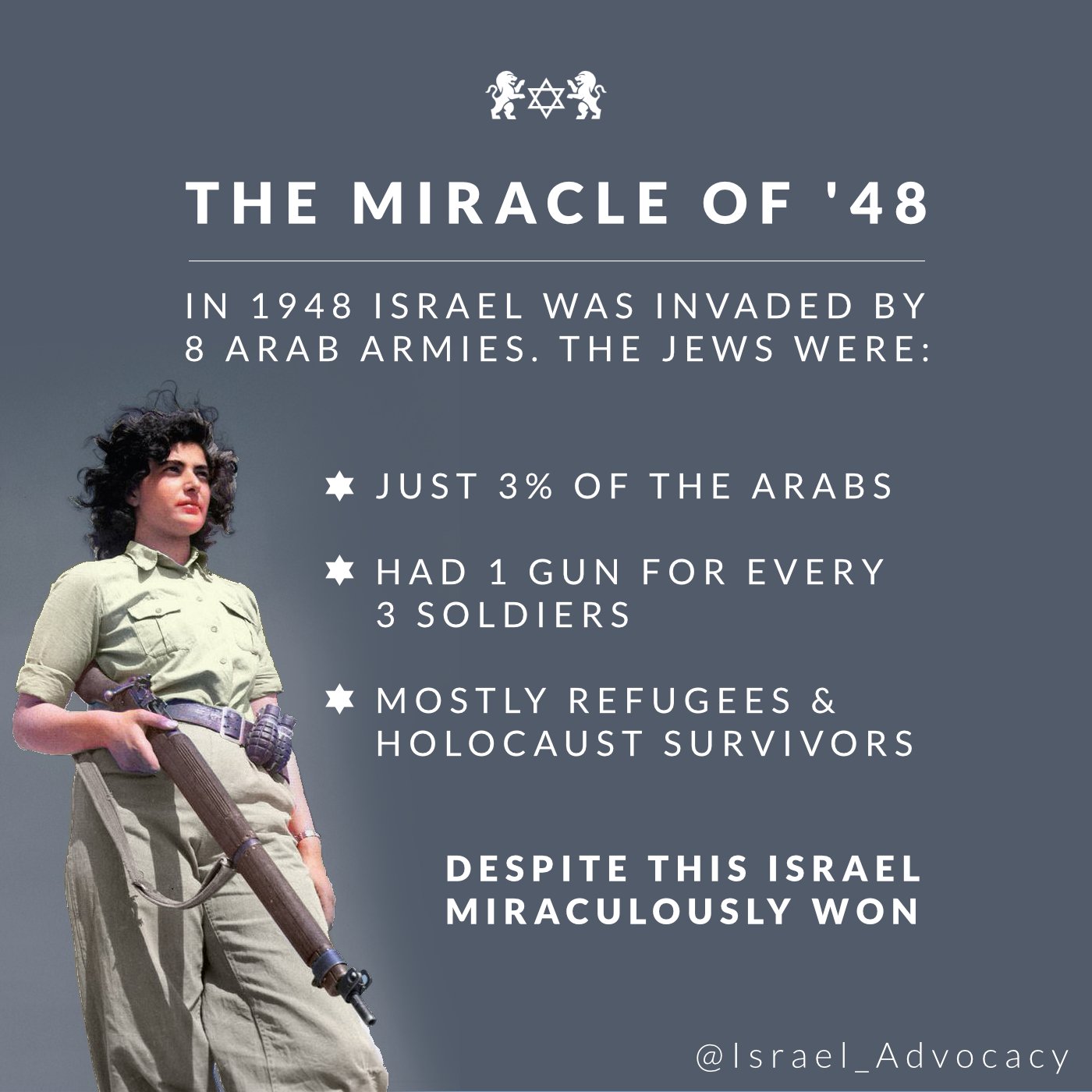 Hussain Abdul-Hussain:
Introducing How to Fight Anti-Semitism in Arabic
Ideas Beyond Borders asked me to write a forward to Bari Weiss's book How to Fight Anti-Semitism, which the organization is translating to Arabic. The lines below are a rough translation to English of the forward that I wrote to address an Arabic-speaking audience.

Arabs never experienced freedom. Islam, the religion of the majority of the Arabs, imagines a relationship between the individual and his Creator, and promises reward and punishment on the Day of Judgment, which — in theory — gives the believers a lifetime for experimenting with ideas and ideals that are at odds with the established norms. The majority of Muslims, however, violate such Islamic teaching by elevating the opinion of the group, often the ruling group, over the opinion of minority groups and individuals. The ruling Arab group therefore designs public space in its image, imposes its tastes, customs and traditions, and punishes dissenters, often accusing them of blasphemy and, at times, even practicing violence against them. This is the same tyranny against which Islam originally revolted, when the Messenger of Muslims rebelled against prevailing beliefs and customs.

The majority of Muslims are not aware of their tyranny, but rather perceive of their social code as being tolerant and merciful. Ask any Muslim about the situation of minorities in his country, and he will answer that their situation has been always excellent, and that the exodus of minorities has been for their own nefarious reasons, and because of foreign instigation and conspiracies against Islam and Muslims. Such Islamic perception falls short of understanding the meaning of equality.

The Islamic system of dhimma, reserved for the People of the Book (Jews and Christians), denies non-Muslims the rights that it grants to Muslims. The system was designed to encourage the conversion of non-Muslims, with lesser rights, to Islam, in order to allow them to enjoy full rights. Islam's two-tier dhimma system entrenches inequality.
Synagogue group helps Afghan family flee Taliban, reunite with relatives in New York
The family had been on the run for weeks already, since the Afghan government fell and the Taliban took Kabul.

They had fled the capital along with others in a convoy of buses, arriving in the northern city of Mazar-i-Sharif under the cover of night and taking cover in a wedding hall.

Taliban fighters prowled outside, carrying lists of names and photographs, and the furtive organizers of their group did not allow the family outdoors.

Eventually, some of the children in hiding got sick and needed medical attention, so the family ventured out.

"Anything could happen," the father said. "Their checkpoints were increasing by the passing of each day. We didn't know whose name was on their list or whose picture they used to carry.

"We did not go out until we had to."

'Chaos, like our country'
Months after fleeing Kabul, the family has reached safety and freedom in New York, with the help of organizations, relatives and individuals on the ground in the United States and Afghanistan.

Their journey illustrates the widespread, ongoing fallout from the messy American withdrawal from Afghanistan and the improvised networks used to extricate and support some refugees from the war-torn nation.
UK to outlaw BDS in the 'following months,' Conservative MP says
British MP and member of prime minister Boris Johnson's Conservative Party Robert Jenrick, has announced on Tuesday that the British government will pass legislation to outlaw the Boycott, Divestments and Sanctions (BDS) movement in the UK.

Jenrick, formerly the UK's secretary of state for housing, communities and local government, made the comments during the Leadership Dialogue Institute's (LDI) 2021 online conference on pandemic management, antisemitism and Israeli technology.

During a conversation titled "Why Do So Many People Hate Jews?," moderated by former Labour Party MP Joan Ryan and featuring Likud MK Avi Dichter, Jenrick stated that "In the following months, we will be working to outlaw BDS in the UK."

"I do think BDS is being beaten back here," the Conservative MP said.

"There is no political party in the UK that would support BDS today and [supporting BDS] is becoming much more of a fringe activity," he added. Despite Jenrick's comment that no political party in the UK would support BDS today, the UK Labour Party, headed by Keir Starmer, passed a motion in their annual Brighton conference in September to define Israel as an apartheid state and impose sanctions against the Jewish state as a result.

The motion further demanded actions against "the building of settlements, reverse any annexation and ends the occupation of the West Bank and the Blockade of Gaza."

The Conservative Party's manifesto during the 2019 general election in the UK included a commitment to "ban public bodies from imposing their own direct or indirect boycotts, disinvestment or sanctions campaigns against foreign countries."
US Rep. Gottheimer Condemns Antisemitism on 'Far Right and Far Left' at Rutgers Hillel
New Jersey Congressman Josh Gottheimer spoke at Rutgers University Hillel on Monday evening, condemning antisemitism across the political spectrum and addressing two controversies on campus this year that frustrated Jewish students.

"As we all know, antisemitism is nothing new. We have certainly faced more virulent, painful, and punishing moments in out history. But in recent years, what had been simmering beneath the surface has now been uncorked and we are seeing it rear its ugly head from extremists both on the far right and far left," Gottheimer said in his remarks, delivered at the newly constructed Eva and Arie Halpern Hillel House.

The Democratic lawmaker pointed to an ADL survey in March revealing that 63% of American Jews had heard antisemitic comments or threats in the past year — and noted that he himself was among them, describing slurs issued online and in-person remarks made in New Jersey and in the "halls of Congress."

"Not long ago, I held an event in my district to talk about the benefits of the bipartisan federal infrastructure bill, only to have members of the Working Families Party disrupt the event by screaming 'Jew' at me," he continued. "What has our country come to?"
BBC WS 'OS' amplifies anti-Israel activists' Miss Universe talking points
Listeners were not told which contestants besides Miss South Africa supposedly "refused to bow to pressure from…their governments" – presumably because there were none – and once again the BBC declined to explain what the phrase "Israel's treatment of Palestinians" is supposed to mean.

The BBC journalist bought into the politically motivated talking point about "Palestinian embroidered long robes" even though such dresses are traditional in many parts of the Middle East and North Africa and stuffed vine leaves are by no means exclusive to Palestinian cuisine. The social media post cited was in fact not "sarcasm" – it came from the Philippines contestant.

The fact that a significant part of this item was aimed at focusing audience attention on the uncritically amplified and completely unquestioned talking points of unnamed, obscure anti-Israel activists and outlets obviously speaks volumes about how keen the BBC was to create the impression of a "controversy" surrounding Israel's hosting of the pageant in the minds of its audiences worldwide.
Condemning the Middle East Studies Association's Race to Embrace BDS
Change.org: Sign the Statement Here

Statement Condemning the Middle East Studies Association's Race to Embrace BDS
We are greatly concerned that the Middle East Studies Association (MESA) has set itself on the path of approving the boycott, divestment, and sanction (BDS) of Israel its organizational policy.

At its recent 2021 annual meeting, 93 percent of the 444 members attending voted to send to its full membership early next year a resolution (text) adopting BDS against Israel as its policy.

Singling out Israel for opprobrium makes a mockery of MESA's mission statement, which claims to promote "high standards of scholarship," "further intellectual exchange" and "defend academic freedom."

By giving its imprimatur to BDS, MESA adds its voice to ongoing efforts to whitewash Palestinian violence and refusal to accept Israel's existence, and to make the Jewish state a pariah.
US House approves proposed State Dept anti-Islamophobia office
The US House of Representatives voted on Tuesday to approve a Democratic proposal for a US State Department office to address anti-Muslim bias after a Republican congresswoman used an Islamophobic slur against a Democratic colleague. The House backed the bill in a party-line vote of 219-212.

The bill, authored by Representative Ilhan Omar, would create a special envoy for monitoring and combating Islamophobia and include state-sponsored anti-Muslim violence in the department's annual human rights reports.

"We are in the midst of a staggering rise of anti-Muslim violence and discrimination around the world," Omar said on the House floor.

"Islamophobia is global in scope and we must lead the global effort to address it."

The House vote comes a few weeks after a video emerged showing first-term Republican lawmaker Lauren Boebert calling Omar, a Muslim second-term congresswoman who was born in Somalia, a member of a "jihad squad."
PreOccupiedTerritory:
'Antizionism Not Antisemitism' Claim Failing To Make Inroads Beyond Antisemities, Idiots (satire)
Opponents of Jewish sovereignty in the ancestral Jewish homeland voiced frustration today at their continued inability to convince anyone with either no anti-Jewish animus, or with an iota of intelligence, that such opposition does not represent any animosity toward Jews.

Anti-Zionists-not-antisemites throughout the Five Boroughs, and from several locations in the Midwest and California, conducted an online powwow Wednesday to discuss the the most persistent, fundamental challenge facing the "pro-Palestine" movement: protestations that their anti-Zionism in no way represents antisemitism has failed to resonate truthfully outside the antisemitic circles in which the participants move, or outside any human with minimal cognitive capacity.

"I find myself having to make this point again and again, but seem not to be getting through," complained academic-turned-school-bus-driver Steven Salaita. "We can repeat, over and over again, that anti-Zionism isn't antisemitism, but only our echo chamber of activists really accepts that, other than total morons. There's some overlap in the two groups, mind you, but that only underscores the limited reach we have with our message of justice and peace. At this point I have no concrete proposals to address the bleak situation we face."

"Recruitment is obviously key," responded Congresswoman Rashida Tlaib (D-MI). "Fortunately, reasonably intelligent people predisposed to anti-Zionism gravitate toward association with us, without our having to put too much emphasis on outreach work. But it's everyone else that's the trouble. If you look beyond the tight cadre of pro-Palestine activists, it's hard to point to anyone capable of distinguishing their right shoe from their left who accepts at face value the distinctions we work so hard to draw between anti-Zionism and antisemitism. I don't think I will surprise anyone participating in this conversation when I say I know exactly (((who))) bears the blame for this state of affairs." Tlaib's words produced angry murmurings and vigorous head-nodding, some of which aimed to clear those heads after hearing a dog-whistle.
Since 2019, Independent Arabia referred to Tel Aviv as Israel's capital 400 times
With the third anniversary of The Independent's Arabic edition approaching, we wish to remind our readers of several other reports still featured on its website. Most were covered by CAMERA Arabic in the past:
1. A theater critique where the author applauded a Beirut play, with an 'adaptation' of Anne Frank depicting her as a bloodthirsty Israeli looking to deprive a Palestinian widow of her home, 27 September 2019
2. A piece about the Hebrew language where fake experts on Jewish history claimed that modern Hebrew "was fabricated out of Arabic for specific purposes," 20 December 2019
3. An op-ed which argued that "many" Jews still live "an ordinary life" in countries like Algeria, Libya, Sudan, Egypt, Syria, Lebanon and Iraq; there, they "are freely practicing their rituals and engaging in various walks of life", 29 April 2020.
4. A piece which featured the following Palestinian civil society take on Israel: "the Jews had the infrastructure and the physical power to establish a state, but they lacked anything to connect them to Palestine, and that is what they are trying to form," 14 February 2021
5. A report that argued (it is unclear whether in the reporter's voice or her interviewee's) that in recent years, "religious Jewish families" and "settlers" took over "most of the streets of Jaffa in the Arab neighborhoods", 18 November 2021
'Teen Vogue' Uses Hanukkah and Grandparents to Demonize Israel Again
Our grandparents and great-grandparents who survived the Holocaust and other horrors should not be discredited, especially now. We are the last generation that can directly hear their stories.

Young Jews also need to remember that you can support something while still critiquing it. I, for one, am proud of my Jewish roots and where I come from — but I can also be critical of the government of Israel when I disagree with it. You can critique Israel and acknowledge that it isn't solely to blame for the conflicts in the Middle East.

Had I been exposed to the media's portrayal of Israel without the strong educational foundation that I have received from my family about my culture and religion, I can't say that I would feel the way I do today. We can't preach equal rights in the media and then continuously bash Jews — and the one safe haven for Jews — without thinking of how that affects Jewish youth like myself.

Our grandparents survived war and famine, and dealt with some of the worst of mankind. Many of them would not be alive today without Israel. Our grandparents only want us to live the lives they couldn't, which is why they understand Israel's importance. I can't condone disrespecting one's grandparents or negating their experiences, just as I can't condone using the time of Hanukkah to tell my grandparents that their views and experiences about Israel are wrong.

Teen Vogue's article was an abuse and a desecration.

Hanukkah is about our connection to Judaism and our Jewish homeland. It's a time to discuss the holidays and the positives of our culture and religion. It would be great to read about such a narrative in outlets like Teen Vogue.
2/ Ah yes growing up Jewish you definitely never hear stories about us being colonized by outside forces this is a really really good point pic.twitter.com/mO2ZEJhpf3

— Jesse Singal (@jessesingal) December 14, 2021
CAIR fired one of its executives for spying for the Investigative Project on Terrorism, which tracks Islamic extremism. NPR runs with CAIR's characterization of them as a "hate group." https://t.co/7Uf626ZBxj pic.twitter.com/mvvieZ2ZdS

— Chuck Ross (@ChuckRossDC) December 15, 2021
British Actor Eddie Marsan: Antisemitism Now a 'Seductive and Trendy Racism'
British actor Eddie Marsan spoke about antisemitism and his devotion to speaking out against it in a podcast interview last week.

"There isn't only a blindspot against antisemitism. In some ways, I think antisemitism is a trendy racism," the former "Ray Donovan" star explained to Campaign Against Antisemitism (CAA).

Marsan told CAA he thinks those with prejudice against Jews, in particular those on the left, "believe that they're shooting up to this all-powerful Jewish cabal that runs the world and it's quite often sold as a form of egalitarianism, anti-capitalism [and] anti-imperialism."

"And so you have lots of very, very experienced left-wing intellectuals that are telling younger people, 'This isn't racism, this is anti-capitalism. Then morally, it's OK to do.' So that's why I say it's a very seductive and trendy racism," he added. "And it goes against my culture."

The actor, who is not Jewish, received online abuse in October for playing a Jewish character in the new UK drama series "Ridley Road," a BBC show that itself faced backlash for chronicling the rise of antisemitism and fascism in London's East End following World War II. He tweeted at the time, "F**k me, this is relentless, all I did was play a Jew, I dread to think what would've happened if I was actually Jewish."
Atrocious antisemitism from former Mayor of Baltimore @SheilaDixonBalt who blamed the closing of a high school on Orthodox Jews.

The other women on the Zoom don't even flinch as Dixon spews her vile accusation. pic.twitter.com/iGlighWOdq

— StopAntisemitism.org (@StopAntisemites) December 15, 2021
290 streets in Berlin named for people with antisemitic views, analysis finds
The 19th-century German historian who coined the phrase, later popularized by the Nazis, "the Jews are our misfortune" has a street named for him in Berlin.

So does a 15th-century official who supported a murderous purge of Jews from his region, and a competitive athlete who was a darling of the Nazi regime.

In all, at least 290 streets or squares in Berlin are named for people who espoused antisemitic views, according to a new analysis conducted by the city's commissioner in charge of fighting antisemitism.

Samuel Salzborn, a scholar of political science who was appointed to the commissioner role last year, is not calling for the names of the streets to be changed. Instead, he told the German broadcaster RBB that his office initiated the study to "create a systematic basis for an important social discussion."

That discussion includes how to reckon with the fact that antisemitism was a mainstream view for centuries in Germany, meaning that many people who made significant contributions to the broader society may have expressed antisemitic views.
Far-Right European Youth Groups Using Mix of Social Media Platforms to Lure Peers to Racist, Antisemitic Ideologies, Report Reveals
A new report published on Tuesday explored how a generation of far-right teenagers are using mainstream social media platforms, including Instagram, Twitter, TikTok and Telegram, to radicalize and recruit other teens and young people into racist and antisemitic ideologies.

Research for the report was carried out by two UK organizations, the International Centre for the Study of Radicalization (ICSR) and the Community Security Trust (CST). In view of the rising number of teens arrested for terrorism offenses, the report — "We are Generation Terror!": Youth-on-youth Radicalization in Extreme-Right Youth Groups" — dove deep into the dynamics and recruitment strategies of ten racial nationalist youth groups across Western Europe.

The groups include recently convicted British Hand activists, who operate mainly online; the rapidly-growing Spanish group Bastión Frontal; and the UK's Blutkrieg Division, founded by a 16-year-old boy in Newcastle, who has been convicted of encouraging terrorism and stirring up racial and religious hatred.

"Young people – politicized, active and highly connected – are no longer just passive consumers of online terrorist content by adult groomers but are themselves propaganda creators, group organizers, peer recruiters, extremist financiers and terrorist convicts," wrote ICSR Research Fellow Hannah Rose, who co-authored the report.
Can't help but be reminded of the Brighton CLP in 2019... pic.twitter.com/u69cL23b9u

— James Vaughan (@EquusontheBuses) December 15, 2021
Citing Anti-Jewish, Anti-Christian and Homophobic Hate Sermons, French Interior Minister Orders Closure of 'Islamist' Mosque
France's interior minister announced on Tuesday that he had begun the process of shuttering a mosque where sermons promoting antisemitism, anti-Christian hatred and homophobia are frequently preached, he claimed.

In an extensive interview with French broadcaster C News, Gérald Darmanin said that the mosque in Beauvais, a town of 50,000 about 60 miles north of Paris, would be closed down because of the "unacceptable" sermons.

"Today I initiated the closure of the Beauvais mosque, [because of its] unacceptable incitement against Christians, homosexuals, Jews," Darmanin stated.

Under French law, the Bilal mosque in Beauvais now has 10 days to appeal Darmanin's order that it be placed under administrative closure for six months.

Darmanin acted after local authorities in the Oise region, where Beauvais is located, said last Friday that they wanted to close the mosque because of the radical Islamist sermons heard there. The prefecture of Oise called for the mosque to be temporary closed, citing sermons that promoted "hatred, violence and jihad."

Local news outlet Courrier picard reported that the Muslim community in Beauvais had been left "in shock" by the prefecture's announcement. Samim Bolaky, a lawyer for the mosque, told the paper that the sermons of Imam Islem, who presides at the Beauvais mosque, had been "taken out of context." He said that the imam had been referring in his sermons to "reported facts dating back more than 1,400 years, in particular on the first two main wars in the history of Islam," adding that Islem "probably did not have the delicacy to speak in the past tense." Asked about the charge that Islem incited against the LGBTQ community, Bolaky replied that "the imam only gives the point of view of religion to a question that was put to him. This question was: Is homosexuality allowed in religion?"
What's that on this coin I happened to find in my wallet today?

Oh, just Germany commemorating the time its Chancellor fell to his knees in front of the monument to the victims of the Warsaw Ghetto Uprising in a spontaneous show of contrition for the Holocaust. pic.twitter.com/O7HRnppYCi

— Yascha Mounk (@Yascha_Mounk) December 15, 2021
Israeli Tech M&As and IPOs Reach Record $82.4 Billion in 2021
M&As and IPOs by Israeli companies surged to an unprecedented figure totaling $82.4 billion in 2021. According to the PwC Israel High Tech Exit Report, this represents a 520% increase from 2020, when the figure was $15.4 billion. With the addition of over $25 billion raised by startups, the total sum entering Israeli tech in 2021 crossed the $100 billion mark.

PwC reported a total of 171 deals (M&As and IPOs) during 2021, compared to 60 last year. The average deal over the past year reached $482 million — 190% growth over 2020, when the average value per deal amounted to $257 million.

Even though there was a relatively low amount of deals signed during 2020 due to the outbreak of the Covid-19 pandemic, the figures registered in 2021 are still significantly higher than those of previous years. This year's IPO record has been notably exceptional, with 72 offerings, totaling approximately $71 billion. There were 21 offerings completed by Unicorns, in which companies were valued at over $1 billion. 20 of the 21 Unicorns went public on Wall Street, with fintech company Nayax the exception after entering the Tel Aviv Stock Exchange.

The highest-valued offering of the year was ironSource, which was valued at $11 billion. Next was SentinelOne, valued at $9 billion; and monday.com, valued at $6.8 billion. There was also an increase in the number of IPOs on the local stock exchange, with 45 tech companies going public, the primary of which were Nayax (valued at $1 billion) and Glassbox (valued at $350 million).
Report: Switching to natural gas saved Israeli economy $57B
Israel has saved 180 billion shekels ($57 billion) since 2013 thanks to the switch to natural gas, according to a report presented at the Knesset this week by the Energy Ministry.

Data shows that NIS 51 billion ($16 billion) was saved due to the reduction in the cost of energy production for electricity and industry, and NIS 130 billion ($41 billion) due to the decrease in air pollution following a reduction in coal and fuel oil use.

By 2025, coal-run power plants will fully transition to natural gas, the report said. Between 2019 and 2020, the total supply of natural gas to the economy spiked by 43%. Export of natural gas went from non-existent in 2016 to 4.25 billion cubic meters last year.

The Energy Ministry estimates that by 2045, natural gas consumption by the electricity sector will increase by 150%, and as such, it will continue to serve as a major energy source alongside solar energy and wind power.

Currently, four hospitals and eight Israel Defense Forces camps are connected to the natural gas networks, with many more expected to join in the coming years.
Israeli startup Noname Security hits $1b valuation after $135m investment
Israeli-founded startup Noname Security, a cybersecurity company specializing in API (application programming interface) protection, said on Wednesday that it nabbed a new $135 million investment at a valuation of $1 billion, making it the newest Israeli unicorn company.

Noname Security joined at least 33 other Israeli companies in the unicorn club, companies valued at over $1 billion, in 2021. This past year has seen record funding for Israeli companies, driven by massive investments in cybersecurity, fintech, and enterprise IT and data firms.

Headquartered in Palo Alto, California, Noname was founded in 2020 by entrepreneurs Oz Golan, who is the CEO, and Shai Levy, Vice President of Technology. The startup developed a security platform that it says helps protect enterprises from data leakage, authorization issues and data corruption. Noname says it works with a number of Fortune 500 companies and its platform blocks over 1,000 attacks per day.

The funding round was led by Canadian fintech company Georgian and US venture capital firm Lightspeed Venture Partners, with participation from Insight Partners, Cyberstarts, Next47, Forgepoint and The Syndicate Group (TSG).

This investment will fund recruitment for Noname Security's sales and R&D teams, the company said.
Cleantech firm nabs $170m to make eco-friendly plastic substitute from waste
Israeli cleantech company UBQ Materials, a maker of bio-based products converted from waste, nabbed a $170 million investment to further fund its expansion and build a large-scale conversation facility in the Netherlands next year, the company said Wednesday. The investment is one of the largest in the cleantech sector to date, and the biggest in the local environmental tech industry this year.

The funding round was led by TPG Rise, the investment arm of American private equity firm TPG, and included participation from existing investor Battery Ventures, as well as M&G's Catalyst strategy, a UK-based investor specializing in long-term impact investments.

UBQ has patented a process to convert household trash, organic, paper and plastic — including banana peels, dirty diapers, used yogurt containers and cardboard — into a bio-based thermoplastic, or a plastic substitute, that can replace oil-based plastic, wood and concrete in the manufacture of everyday products.

The startup was founded in 2012 by Yehuda Pearl and Jack Bigio, both with a background in business and entrepreneurship, who were inspired by the idea that organic materials could be broken into their natural components to be later transformed into usable material. Pearl is also the founder of the Sabra hummus brand.
Tel Aviv University breakthrough touted as key to reversing ALS
Israeli researchers announced Tuesday that they have uncovered a key mechanism that causes the neurodegenerative disease ALS, which may unlock a way to delay or reverse the condition which affects thousands of people annually.

The team from Tel Aviv University, along with researchers from Sheba Medical Center and from institutes in Germany, France, the UK and US, found that a buildup of a protein called TDP-43 near neuromuscular junctions, which translates neural signals into motor activity, causes motor neurons to degenerate and die by inhibiting mitochondrial production.

This in turn leads to amyotrophic lateral sclerosis, also known as Lou Gehrig's Disease, which causes sufferers to lose the ability to walk, talk or even breathe.

"The paralysis caused by the disease results from damage to the motor neurons, which leads to the degeneration nerve endings and to the loss of muscle innervation," Prof. Eran Perlson, who led the study with doctoral students Topaz Altman and Ariel Ionescu, said in a news release.

"This consequently leads to the degeneration of the nerve and the death of motor neurons in the spinal cord, however until now we could not understand the basic biological mechanism causing the initial damage behind this vicious cascade."
UK's Deep Purple, Colombia's Maluma head to Tel Aviv this spring
Forget Omicron and threats of a fourth coronavirus wave: Bands and performers are booking concerts in Israel.

The latest additions are British rockers Deep Purple and Colombian singer Maluma, who've added concert dates for May and April.

Sixties rockers Deep Purple will perform May 22 at Tel Aviv's Menora Mivtachim Arena, featuring songs from their latest album, "Turning to Crime," released in November, a fun pandemic concept featuring the band's covers of some of rock n' roll's best works.

The album was born during the coronavirus lockdowns, when the band couldn't get together to jam and write music. Instead, they came up with the idea of Deep Purple-inspired covers of songs, with a playlist of rock favorites voted on by band members.

There's a wide mix of music on the album, from Ray Charles to Stevie Nicks, with each song recorded by the Deep Purple musicians in their own home studios and then mixed together.
Miss South Africa ???? thanks supporters for the warm welcome home from ???? pic.twitter.com/XiY0RRaKyh

— South African Friends of Israel (@MZANSIISRAEL) December 15, 2021
And just like that #BDS is shut down!

Miss South Africa arrives home to adoring and cheering crowds and was immediately asked if she regrets defying boycotts and going to #Israel.

This was her response:
pic.twitter.com/H2bSvuFGv7

— Emily Schrader - ????? ?????? (@emilykschrader) December 15, 2021
New York Jewish Film Festival to Showcase Diverse Features, Shorts and Documentaries on Jewish Experience
The 31st annual New York Jewish Film Festival (NYJFF) is set to take place next month and will feature 33 Jewish-themed films from around the world.

The lineup includes 24 full-length films and nine shorts, as well as the world premiere of a new 4K restoration of Steve Brand's 1984 film "Kaddish." Other notables in the lineup are "A Kaddish for Bernie Madoff," which gives a new creative perspective on the Jewish financier's financial fraud, and "The Lost Film of Nuremberg," which chronicles the effort by two Hollywood filmmakers to find film evidence that could convict the Nazis at the Nuremberg Trial, and examines why a movie about the trial was intentionally buried by the US Department of War.

NYJFF, hosted by the Jewish Museum and Film at Lincoln Center, will be held January 12-25, 2022, both virtually and with in-person screenings at the Walter Reade Theater in New York City. The 2021 event took place exclusively online due to the coronavirus pandemic.

Also being showcased is Bernard-Henri Lévy's "The Will to See" and Rafael Zielinski's "Tiger Within," one of actor Edward Asner's final roles before he died in September. Asner stars as a Holocaust survivor who forms an unlikely friendship with a teenage runaway, who wears a jacket bearing a swastika design.

The NYJFF's opening selection — "Neighbours," by director Mano Khalil — is about a 6-year-old who is fond of the Jews living near his home in a Kurdish community near the Syrian-Turkish border in the early 1980s, but gets confused by his new teacher's embrace of nationalism and antisemitism. The film will be presented in Kurdish, Arabic, Hebrew and Turkish with English subtitles.
Antiquities Seized from Arab Bandits Believed to be Loot Taken by Bar Kochba Rebels from Romans
Ancient decorated bronze firepans for incense and vessels for pouring wine that were probably taken from a hiding tunnel system from the days of the Bar Kochba in the Judean lowlands and which were found in the possession of Arab bandits, were part of loot taken by Bar Kochba rebels in battles with Roman soldiers, investigators at the Israel Antiquities Authority (IAA) estimate.

These spectacular archaeological finds were seized by Jerusalem's police from antiquities dealers last week. Police on patrol noticed during routine activity a car driving illegally. This aroused the suspicion of the policemen, and they stopped the vehicle and its occupants for inspection. To their amazement, the police found a crate in the trunk, containing impressive and unusual archaeological finds.

Inspectors from the IAA's Robbery Prevention Unit who were called to the police station immediately understood that these were finds from the Roman period, in an exceptional state of preservation.

The treasure included two 2,000-year-old decorated bronze censers that were used for incense in rituals and in Roman houses and temples.

A bronze jug that was used to pour wine was also found in the collection. The vessel depicts a scene of a Roman banquet – a human figure lying in pleasure, holding a jug of wine in its hand.

A decorated stone bowl with three legs, Roman pottery candles, and hundreds of coins, dating to the Late Roman period, the 2nd and 3rd centuries CE, were also seized.
2nd-Temple-period synagogue found where Gospel's Mary Magdalene was born
A 2,000-year-old synagogue was discovered in the ancient Jewish settlement of Migdal in Galilee, the second synagogue from the Second Temple Period uncovered in the town, also known as Magdala. The location is prominently featured both in the Jewish-Roman historian Flavius Josephus' writings, and as the birthplace of Mary Magdalene in the Gospels.

"The discovery of a second synagogue in this Galilean settlement casts light on the social and religious lives of the Jews in the area in this period, and reflects a need for a dedicated building for Torah reading and study and for social gatherings," said Dina Avshalom-Gorni, one of the directors of the excavations. "We can imagine Mary Magdalene and her family coming to the synagogue here, along with other residents of Migdal, to participate in religious and communal events."

According to the Gospels, Mary Magdalene – also known as Mary from Magdala – was one of the women who traveled with Jesus and witnessed his crucifixion and resurrection.

In the first century CE, Migdal was also the main base of Yosef ben Matityahu (Flavius Josephus), who served as commander of the rebellion against the Romans in Galilee before he surrendered to them and eventually obtained Roman citizenship.

The first synagogue was uncovered in the Migdal in 2009, when an excavation by the Israel Antiquities Authority unearthed Jewish ritual baths (mikvaot), streets, a marketplace and industrial facilities. A unique artifact stood in the middle of the synagogue's main hall: a large stone portraying the Second Temple of Jerusalem, with a carved seven-branched menorah on one of its sides. It represented a crucial discovery because the depiction was engraved in the stone when the temple was still standing.
HAPPENING TODAY: A STATE memorial service for the late Australian Holocaust survivor and author #EddieJaku (z'l).

For those who cannot attend in person (in Sydney), you can watch a live-stream, starting 10am.https://t.co/XF6XB4WB13

— Arsen Ostrovsky (@Ostrov_A) December 15, 2021