From Ian:
WSJ Editorial:
The U.N.'s Israel Libel Machine Expands
Israel's defense of its civilians was lawful, targeted and restrained, but the U.N. wants to use the war as a pretext to indict Israel for "crimes," real or imagined. The commission staff, led by figures with records of anti-Israel rhetoric, are charged with "investigating all underlying root causes of recurrent tensions" in the Israeli-Palestinian conflict (meaning causes excluding Hamas terrorism) and delivering biannual U.N. reports indefinitely into the future.

Israel is already an irrational fixation of the U.N., which issued 17 resolutions condemning it in 2020. But the funding stream approved at the General Assembly Thursday further institutionalizes the anti-Israel libel machine. The Jerusalem Center for Public Affairs notes that the new commission will have 24 permanent staff, compared to 20 permanent staff for the Human Rights Council branch covering all of Asia. With an annual budget greater than $5 million, it will fund "790 days of travel for experts and staff every year from 2022 on."

The commission has issued a public "call for submissions" and will recommend "criminal and command responsibility" for anything Israeli officials have ever done or may do in the future—an extraordinary attack on the sovereignty of a democratic member state.

As international order frays, the U.N. is focused on enlarging impotent bureaucracies and encouraging malevolent ideological campaigns. This will inflame Israeli opinion and do nothing to solve the conflict. The Biden Administration says it will oppose the new commission, but it ought to use it as a reason to exit the Human Rights Council and stop funding it.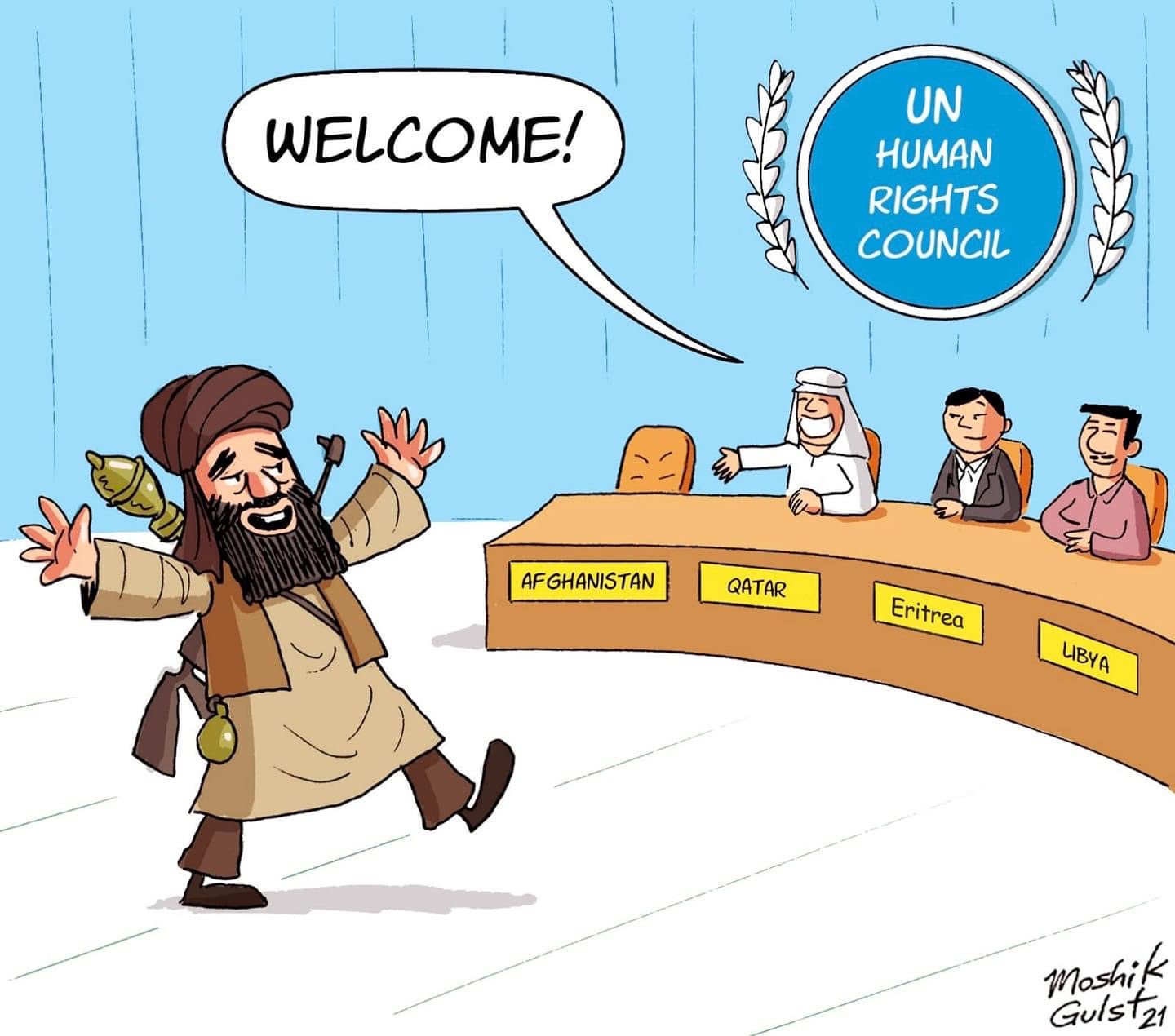 Eugene Kontorovich:
Trump Was Right To Recognize Moroccan Sovereignty Over Western Sahara
The Trump administration has achieved yet another success in brokering peace between Israel and the Islamic world, with the recent announcement of normalized relations between Israel and Morocco. The U.S. benefits greatly from good relations between two of its long-standing Middle East allies—and as part of the arrangement, the U.S. agreed to recognize Moroccan sovereignty over the disputed territory of Western Sahara. There is nothing unusual about adding "sweeteners" to such deals: The Carter administration, for example, made Egypt one of the largest non-NATO recipients of U.S. aid as a result of the Camp David Accords between Cairo and Jerusalem.

But the Western Saharan recognition has come under attack from those who had long supported unsuccessful policies for resolving the conflict. Former National Security Advisor John Bolton and Former Secretary of State James Baker both penned op-eds lambasting President Trump's move. These criticisms claim that the recognition is a radical departure from both U.S. policy and international law norms. Neither claim has any basis.

First, some background. Western Sahara had never been an independent state; rather, it was a Spanish colony until 1975, when Spanish rule crumbled at the end of the Franco regime. Morocco promptly took control of Western Sahara as the Spanish were on their way out, leading to a three-way conflict with Mauritania and the Algeria-backed Polisario guerrilla group. Morocco prevailed and has administered the territory as its "southern provinces" ever since.

The United Nations has described Morocco's presence as an "occupation" in a couple of resolutions. But much of the international community, including the United States, has taken a more ambiguous position, describing the territory as "disputed" between Morocco and the Polisario, which claims to govern an independent state that it calls the Sahrawi Arabic Democratic Republic.
US lawmakers urge Biden to impose sanctions on Hamas, Hezbollah for use of human shields
A bipartisan group of 20 members of Congress is calling for the Biden administration to apply provisions of a law passed unanimously in 2019 to punish organizations that engage in the use of human shields, such as the Hamas and Hezbollah terrorist organizations.

Reps. Mike Gallagher (R-Wis) and Tom Suozzi (D-NY) co-authored a letter to US Treasury Secretary Janet Yellen and Secretary of State Antony Blinken urging them to fully implement the Shields Act of 2018, which requires that the administration submit an annual report to Congress on the use of human shields and sanction individuals implicated in such crimes by Dec. 21, 2019.

Yet, two years after this deadline, and despite evidence that Hamas used human shields during its conflict with Israel in May, no sanctions have been implemented.

"While the US government has taken other strong measures to combat Hamas and Hezbollah in recent years, it has yet to sanction Hamas and Hezbollah leaders for their use of human shields," the lawmakers wrote in the letter. "Imposing such sanctions would make clear the US government does not tolerate the use of human shields and would encourage like-minded countries to take similar measures against this war crime. It would also augment the Biden Administration's efforts to undermine Hamas and weaken Hezbollah."

The letter was also signed by Reps. Elise Stefanik (R-NY), Steve Cohen (D-Tenn), Joe Wilson (R-SC), Brad Sherman (D-Calif), Vicky Hartzler (R-Mo), Josh Gottheimer (D-NJ), Liz Cheney (R-Wyo), Peter Meijer (R-Mich), Lee Zeldin (R-NY), Ronny Jackson (R-Texas), Michael Waltz (R-Fla), Brian Fitzpatrick (R-Pa), Andrew Gabarino (R-NY), Maria Salazar (R-Fla), Dan Crenshaw (R-Texas), Greg Steube (R-Fla), Fred Keller (R-Pa), Carlos Giménez (R-Fla), Tim Burchett (R-Tenn) and Mark Green (R-Tenn).

The letter included the multiple examples of Hamas's human shield use from May, including placing weapons warehouses in houses and apartment buildings, installing a military intelligence headquarters near a kindergarten, positioning rocket launch sites next to civilian buildings including in a school courtyard, among a few examples cited in the letter.
There's no place for a Palestinian consulate in Jerusalem, Bennett says
Israel is opposed to the re-opening of the US consulate for Palestinians in Jerusalem, Prime Minister Naftali Bennett told the Knesset on Monday night.

"The government under my leadership has repeatedly clarified its position that there is no place for a Palestinian consulate in Jerusalem," he said. "Jerusalem is the capital of one state, the State of Israel – period."

Israel has opposed the move, which it believes gives the PA a foothold in Jerusalem and authenticates its claim that east Jerusalem is the future capital of a Palestinian state.

At issue is a Biden administration promise that it would reopen America's former Jerusalem Consulate-General that had serviced the Palestinian Authority and was considered to be a de facto embassy for the Palestinians.

Former US president Donald Trump closed the consulate in 2019. Close to a year into his presidency, Joe Biden has yet to make good on his pledge to reopen it, which would require Israel's consent.
Earlier, the Palestinian newspaper Al-Quds reported that the Biden administration has shelved plans to reopen the consulate.

— Khaled Abu Toameh (@KhaledAbuToameh) December 28, 2021
Israel Hits Syrian Port for Second Time This Month: Syrian State Media
Israel launched an air strike on the Syrian port of Latakia on Tuesday, setting ablaze the container storage area and damaging nearby buildings in a second attack on the facility this month, Syrian state media reported.

An Israeli military spokesperson declined to comment. "We don't comment on foreign reports," the spokesperson said.

The Syrian reports made no mention of any casualties.

Israel has mounted frequent attacks against what it says are Iranian targets in Syria, where Tehran-backed forces including Lebanon's Hezbollah have deployed over the last decade in support of President Bashar al-Assad in Syria's civil war.

Citing a military source, Syrian state news agency SANA said Israel had carried out the air strike targeting the container storage area at 3.21 a.m., causing a fire and leading to "big material damages."

Fire fighters were working to extinguish the blaze, SANA cited the head of the Latakia fire brigade as saying. The containers targeted in the strike contained oils and spare parts for machines and cars, it quoted him as saying.

Footage aired by the Syrian state TV showed flames and smoke in the container area.
Massive explosions from Israeli missile strikes on Latakia port, from the blasts and sparks/secondary explosions likely Iranian weapons shipment pic.twitter.com/yleDkUE1GT

— ELINT News (@ELINTNews) December 28, 2021
Israel Fortifies 'Northern Shield' Along Lebanese Border to Protect Civilians Against Rocket Attacks
Israel announced on Monday that it expanded a program to install rocket-proof protection in the homes of another three communities located along the country's northern border with Lebanon.

Under the Israeli Defense Ministry's plan, dubbed "Northern Shield," private homes in the communities of Metula, Shlomi and Shetula will be fortified to protect civilians from rocket or missile attacks. In recent years, the Lebanon-based terrorist group Hezbollah has continually threatened to fire rockets at Israel from across the border.

"The civilian resilience of the residents in the North is a key part of our readiness for combat scenarios," said Defense Minister Benny Gantz. "We will continue to strengthen and protect the communities in the North, and put the issue of home front readiness at the top of the defense establishment's priorities."

As part of the Northern Shield program, tenders have been approved to build dozens of bomb shelters in homes that do not currently have a protective room in the three border communities. The expansion of the program comes after was kicked off several weeks ago with homes in the border village of Yuval.

In the coming weeks, the ministry said it plans to bring in an additional four northern communities: Avivim, Margaliot, Misgav Am and Manara.

Approved by the government back in 2018, Northern Shield will bring bomb shelters and protection rooms to homes in a total of 21 communities.
The truth is even citizens in enemy states of #Israel know the truth.

Watch this incredible video of a Syrian blogger literally asking the Israeli government to "occupy" all of #Syria to save it from Assad.

H/t @EdyCohen pic.twitter.com/4TaoSRbLXC

— Emily Schrader - ????? ?????? (@emilykschrader) December 27, 2021
Right fumes at Dome of the Rock replica erected in Jerusalem
Right-wing watchdog group Im Tirtzu expressed criticism this week after a replica of the Dome of the Rock – an Islamic shrine sitting atop the Temple Mount in Jerusalem's old city – was erected in a Palestinian neighborhood without approval from the city council.

It was erected in the southern Jerusalem neighborhood of Beit Safafa, reportedly through donations and by volunteers.

According to one resident, "Those who didn't donate helped in the actual physical labor of building it. There's no external funding, only the locals."

Constructed of stainless steel at about 20 feet in diameter, it is roughly a third of the size of the original dome.

Im Tirtzu and several other right-wing organizations petitioned the city council to remove the structure based on the fact that it had been built without a permit.

The replica "represents the fact that there is no law and no enforcement in the State of Israel," Yehuda Sharabanay, Project Director of the Im Tirtzu, told i24NEWS.
Al-Aqsa guard attacked Israeli policeman for saying 'good morning'
A guard working for the Waqf on the Temple Mount was arrested in the past week after he attacked an Israeli police officer at the site, according to an indictment issued against him on Tuesday.

On December 21, the guard, Louay Abu Al-Sa'ad, disrupted Israel Police officers who were arresting a Waqf employee on the Temple Mount. He filmed the officers and stayed close to them in a "threatening manner," as well as raising his voice. The Waqf guard refused to calm down, even after being warned that he was disrupting the officers' work.

On Sunday morning, Al-Sa'ad saw one of the guards who had arrested the Waqf employee while sitting in front of the al-Aqsa Mosque. The officer saw al-Sa'ad looking at him and wished him a "good morning." The Waqf guard proceeded to run after the officer as he yelled "don't tell me good morning!" and began punching and kicking him.

The officer managed to pull out his baton, causing the guard to run away into the mosque and lock the doors. The officer waited for more police to arrive and, half an hour later, the guard exited the mosque and was arrested. According to Palestinian reports, two other Waqf employees were arrested at the site on Sunday as well.

The Jerusalem district attorney requested that al-Sa'ad's arrest be extended until the end of legal proceedings against him.

The Waqf, an arm of the Jordanian Ministry of Sacred Properties, administers the Temple Mount site.
Attacks up, fatalities down in the West Bank
Violent attacks in the West Bank have jumped significantly over the past year, while the number of deaths from terrorist attacks is the lowest in a decade.

According to data released by the military, there have been 5,532 incidents of rocks being thrown over the past year, 1,022 Molotov cocktails, 61 shooting attacks, and 18 stabbing attacks.

Despite the high number of attacks, only two Israelis were killed in 2021 in the West Bank: 19-year-old student Yehuda Guetta on May 5, and 25-year-old Yehuda Dimentman on December 16.

Both Guetta and Dimentman were killed in shooting attacks. In the past seven years, 21 Israelis were killed in 2014, 28 in 2015, 17 in 2016, 20 in 2017, 11 in 2018, five in 2019, and one Israeli was killed in 2020. Those numbers do not include soldiers or civilians killed in attacks from the Gaza Strip.

In the past month, about 10 major attacks have occurred along with hundreds of smaller ones. The attacks carried out by lone wolves or members of Palestinian Islamic Jihad or Hamas included shooting attacks, vehicular ramming attacks, stone-throwing and stabbing attacks.
MEMRI:
The Water-for-Energy Deal Between Jordan And Israel: A Jordanian Interest Amid Popular Opposition
On November 22, 2021, on the periphery of the Expo in Dubai, Jordan, Israel and the UAE signed a letter of intent for cooperation in the spheres of solar energy and water desalination as part of combating climate change. According to the declaration – which was signed by Jordanian Water Minister Muhammad Al-Najjar, Israeli Energy Minister Karine Elharrar and Emirati Food and Water Security Minister Maryam Bint Muhammad Al-Mahiri, in the presence of U.S. Climate Envoy John Kerry – an Emirati company will construct a solar power plant in Jordan that will export 600 MW of power to Israel, while Israel will supply Jordan with 200 million cubic meters of desalinated water to alleviate its severe water shortage.[1] The emerging agreement has therefore been dubbed the "Water-for-Energy deal."

The Jordanian public was surprised to learn about the emerging deal from reports in the Israeli and global media. The Jordanian media reported on it only after the signing of the letter of intent. Moreover, only a few hours before the signing ceremony, Jordan's State Minister for Media Affairs and government spokesman Faisal Al-Shboul gave a radio interview in which he denied the reports in Israel and the world about a trilateral agreement and said that the sides were only holding consultations.[2]

The news about the deal led to a wave of anger in Jordan, sparking protests on the streets and drawing criticism from politicians and public figures, as well as on social media and in the press. The arrest of people for protesting against the deal infuriated the public even further. The opponents of the deal described it as another expression of normalization with Israel and even called it "treason" and a threat to the kingdom's interests and national security, and warned against making Jordan's water supply dependent on the "hostile entity" Israel. They also called it an implementation of the economic component of the so-called Deal of the Century, the plan promoted by the Trump administration as a solution to the Israeli-Palestinian conflict,[3] which Jordan strongly opposed.[4]

It should be noted that the protest against the water-for-energy deal comes on top of ongoing protests against Jordan's importation of natural gas from Israel, which have not abated for years. According to this deal – signed in 2016 between Jordan's National Electric Power Company and Noble Energy, the operator of Israel's Leviathan offshore gas field – Jordan will be provided with gas from this field over a period of 15 years. The public protest against this deal, which began even prior to its signing, is voiced by many political and tribal figures and forces in Jordan, including the Muslim Brotherhood and various MPs, who oppose any cooperation with the "hostile" state of Israel.[5]

In response to the widespread protests against the water-for-energy deal, Jordanian officials downplayed the significance of the letter of intent and stressed that it is non-binding. At the same time they emphasized Jordan's severe water shortage and clarified that the deal would not prevent the kingdom from seeking alternative solutions to the water crisis, such as the national project for digging a canal from the Red Sea to the Dead Sea and building a desalination plant. Even the Jordanian king implicitly alluded to the issue, saying that "the interest of the homeland supersedes all else."

At the same time, articles reflecting the position of the regime, such as an editorial in the government daily Al-Rai and an article by a former government spokesman Muhammad Al-Mu'mani, defended the deal and criticized the populistic discourse against it. They stressed its advantages, noting that it serves Jordan's interest and is in fact vital in light of the severe water crisis in the country. They also emphasized that Jordan would continue to uphold the Palestinian cause, which it likewise regards as a supreme national interest.
PMW:
PLO condemns Morocco - UAE - Israel football matches
In an official statement, the PLO Supreme Council for Youth and Sports has condemned football teams from Morocco and the United Arab Emirates (UAE) for participating in friendly matches with Israeli teams in Israel.

The PLO council called the matches "an insult" to Palestinians and "a serious and deep stab in the heart of every free Arab." It warned the Arab teams not to "fall into the trap of a Nazi occupation," stating that it would shake their hands with hands "covered in the blood of Palestine's children." [Official PA daily Al-Hayat Al-Jadida, Dec. 14, 2021]

Similarly, a regular columnist for the official PA daily complained over the Palestinian media's lack of focus on "the stench of normalization that wafted from" the match between the FIFA Arab Legends team and the FIFA World Legends team in Dubai on Dec. 17, 2021. The "stench" arose from the fact that an Israeli who the columnist coined "Zionist coach Avram Grant," was coaching FIFA World Legends team:
"I [was] monitoring the normalization match between the former Arab stars and the former world stars, which took place two days before the [Arab Cup] final in the presence of Zionist coach Avram Grant… The media did not focus on Algerian stars Rabah Madjer, Rafik Saïfi, and Rafik Halliche's withdrawal from the match in protest of the stench of normalization that wafted from it."

[Official PA daily Al-Hayat Al-Jadida, Dec. 21, 2021]

Senior PA official and Secretary of Fatah's Central Committee Jibril Rajoub is also the head of the PLO Supreme Council for Youth and Sports, head of the Palestine Olympic Committee, and Chairman of the Palestinian Football Association. Palestinian Media Watch has documented that he is one of the strongest opponents of normalization with Israel in sports. PMW has submitted a number of complaints against him, the latest to the International Olympic Committee for his praise for athletes who refused to compete against Israeli athletes at the Olympics in Tokyo.
US has promised $225 million in development aid, says PA Minister of Finance's advisor
US has promised $225 million in development aid, $150-200 million to UNRWA in 2022, says PA Minister of Finance's advisor

PA Minister of Finance Shukri Bishara's Advisor Stephan Salameh: "The promises [from the US] are: There are promises that next year [2022] $225 million will be allocated to development projects. Also $50 million will be transferred for joint projects."

Official PA TV host: "From institutions, not from the American administration?"

Stephan Salameh: "From the American administration, $225 million for development projects, not through the Palestinian [PA] government but rather projects by other bodies, but for developmental needs."

TV host: "That's a good sign."

Salameh: "Of course. $50 million for joint economic projects and support for the private sector. Also, from this $225 million there is a project to support the private sector. In addition to this, there will be between $150-200 million to support UNRWA, and additional support for other issues."

[Official PA TV, Personal Encounter, Dec. 16, 2021]
Journalist and Palestinian National Council member calls for coexistence
Journalist and Palestinian National Council member calls for coexistence, both Palestinians and Israelis must make concessions

Journalist and Palestinian National Council member Ziyad Abd Al-Fattah: "There is no choice but to sit together. Coexistence. We all need to live in coexistence. Because if not, [the Israelis] will come to an end before us… There is no choice but to make concessions – us and them. They need to understand. I direct this to the Israelis too. Let us talk together, let us reach understandings, let us reach agreements."

[Official PA TV, 11 Days, Dec. 6, 2021]

Ziyad Abd Al-Fattah was one of the founders of the official PA news agency WAFA.
Internal conflicts between Palestinian Arab factions and wings
I have read numerous media reports recently about the worsening differences between Hamas leaders. Indeed, the differences have come to light, at least according to The Times, which reported on the dispute between two wings within Hamas in an article by Anshel Pfeffer.

One wing is led by Ismail Haniyeh, who wants to turn the movement into a military agent of Iran, like Lebanon's Hezbollah, while the other wing, led by Khaled Mashaal, wants to restore the movement's ties with Arab countries. The divisions within Hamas have long been public knowledge. The positions of Haniyeh and Mashaal are known to all observers of Palestinian Arab affairs.

There is nothing new at this level. But it is strange how the experiences of Hezbollah, Al Houthi militia and others impress those who supposedly seek a Palestinian Arab state and a final solution for a cause that has no need to repeat failed experiences.

It is odd that those who want to build a state can follow the example of those who successfully destroyed an existing state or doomed their state to failure and collapse. The problem of Mashaal and Haniyeh is not only the trade-off between depending on Iran and sticking to the natural Arab fold.

It is the narrow, one-sided view of violence and terrorism as an effective means of asserting the rights of the Palestinian Arabs. It is true that history is full of experiences in which some liberation movements succeeded in gaining their independence and achieving their goals by force of arms.

However, it must be recognized that international circumstances have changed or that there are strategic contexts that do not support the option of armed resistance as the only alternative to achieve the rights of various peoples. The Palestinian Arab cause's realization, at least for me, will probably not go through Tehran.
#Palestinians whom his father (#YasserArafat) represented,suffer from poverty & unemployment but she & her mother spend most luxurious life in #France yet they will ask you to defend #Palestine.
You will never see them walking in the street or represent the people of #Gaza or PA.

— Noor Dahri - ??? ????? ? ???? (@dahrinoor2) December 27, 2021
Remi Kanazi is mad that a Holocaust survivor compared groups like Hamas and Islamic Jihad to Nazis.

Now, why do you think he did that Remi? Here's the clue:https://t.co/vfzpCr7AtJ pic.twitter.com/dceWWk8OCL

— Israel Advocacy Movement (@israel_advocacy) December 28, 2021
Lebanese Politician Samy Gemayel: We Are Held Hostage by Hizbullah, Iran; We Need International Supervision over Our Parliamentary Elections #Lebanon #Hizbullah @samygemayel pic.twitter.com/1KkoFoikUb

— MEMRI (@MEMRIReports) December 28, 2021
Israeli defense official says Iran faces 'no deterrent' to its nuclear goals
A senior Israeli defense official said that there currently exists no deterrent against Iran's nuclear program.

"The problem with Iran's nuclear program is that, for the time being, there is no diplomatic mechanism to make them stop," said Zohar Palti, the former intelligence director in the Mossad who now heads the Defense Ministry's political-military bureau, in an interview with the New Yorker magazine.

"There is no deterrent," he added. "Iran is no longer afraid."

"We don't want to reach a point where we will have to ask ourselves how Iran was allowed to enrich to 90%," Palti added.

On Monday, world leaders and Iran resumed talks aimed at reviving the 2015 nuclear deal. The latest round of talks in Vienna, the eighth, reconvened after a more than five-month gap prompted by the arrival of a new hardline government in Iran.

In the in-depth New Yorker article published Monday on the ongoing talks with Iran and Tehran's history of belligerence, journalist Robin Wright spoke with a wide range of Israeli and American officials about the looming threat of a nuclear Iran and its other malign activities in the region.

US special envoy on Iran Rob Malley said Tehran is "playing with fire" in the region and that reviving the 2015 nuclear agreement is far from a done deal.

"We've seen Iran's nuclear program expand, and we've seen Tehran become more belligerent, more bellicose in its regional activities," Malley said of Iran's activities this year. "They are miscalculating and playing with fire."

By the time the latest round of talks began, said Malley, Iran had "blown through" the limits imposed by the nuclear deal. Malley is the senior American delegate to the talks, but the US is only participating indirectly in the negotiations, at Iran's behest.
Credit to Robin Wright for always being in the lead on forming the narrative.

The latest: regime in Iran is so powerful that we must be prepared to capitulate.

?@Rob_Malley? gave her access to shape this narrative because of his failed Iran policy. https://t.co/850BT17Z7W

— Mark Dubowitz (@mdubowitz) December 27, 2021
Bennett: Israel is not opposed to a 'good' nuclear deal with Iran
Prime Minister Naftali Bennett said Tuesday morning that Israel would not automatically oppose any deal forged by world powers with Iran during the ongoing nuclear talks in Vienna.

"We are not automatic naysayers. We're taking a practical approach," Bennett said during an interview with Army Radio. "Unlike others, we're not looking to fight for the sake of fighting; rather, we're trying to bring a result."

But he suggested that the possibility of a deal suited to Israel's interests emerging from the Vienna talks was slim.

"At the end of the day, of course there could be a good deal — we know the parameters," he added. "But is that currently expected to happen in this dynamic? No, because you need a much stronger position [from world leaders]. Iran is holding very weak cards, but the world is acting as if it's negotiating from a position of strength."

On Monday, world leaders and Iran resumed talks aimed at reviving the 2015 nuclear deal. The latest round of talks in Vienna, the eighth, opened 10 days after negotiations were adjourned for the Iranian negotiator to return home for consultations. The previous round, the first after a more than five-month gap prompted by the arrival of a new hardline government in Iran, was marked by tensions over new Iranian demands.
No, @IranMissionEU, we listen not to your regime, but to your people:
"Soleimani was a murderer, his Leader is also a murderer!"
"Soleimani was a murderer, his Leader is also a murderer!"
"Soleimani was a murderer, his Leader is also a murderer!"

Bravest people in the world. https://t.co/CfAeeIPwTS pic.twitter.com/AKkqNd86AE

— Hillel Neuer (@HillelNeuer) December 28, 2021
Chile's new president is a win for Iran - comment
The Iranian cultural center in Santiago de Chile is hard to spot. Located inside a private home in a residential neighborhood, it bears no obvious sign to mark its presence. There is neither minaret nor dome. Much like Iranian influence operations in other parts of Latin America, it has a low profile. But that is about to change.

Last Sunday, Chileans elected Gabriel Boric, a young, former social justice student activist, as president. He is the most left-wing politician to run the country since Salvador Allende from 1970-73. As markets crashed and Chilean currency devalued, foreign observers worried about his economic vision. In fact, it is foreign policy they should watch. President Boric's progressive domestic agenda will have to contend with his lack of a parliamentary majority. There will be no similar constraints on foreign policy, where his leftist instincts, backed by a strong anti-Israel domestic constituency, will likely put him in sync with Iranian influence operations in Latin America.

For Iran, Boric's election represents an opportunity to raise its profile and protect its assets in this remote corner of Latin America, at a time when a rising tide of left-wing populism is again sweeping into power across the region.

Iran has two cultural centers in Chile. The one in the capital Santiago is run by a Hezbollah cleric from the Tri-Border Area of Argentina, Brazil and Paraguay, with family ties to sanctioned Hezbollah financiers and strong personal connections to Hezbollah's West Africa fundraising and recruitment operations. Yet for years, he and his colleagues have been able to weave themselves into Chile's public discourse, donning the mantle of religious scholars devoted to inter-religious dialogue and portraying Iran's Shi'a (Shi'ite) brand of Islam as a moderate bulwark against Salafi extremism and a model of religious coexistence. The center has also organized annual al-Quds International Day marches in Santiago, exploiting the opportunity to forge alliances with local Palestinian activists. While preaching tolerance, its proxies have spread pro-Iranian and anti-Israel virulent propaganda.
Venezuelan President Nicolas Maduro on Lebanese TV: Al-Assad Is a Hero – He Will Liberate Syria; I Admire Khamenei – He Has Great Wisdom; Soleimani Was a Brave Man – His Assassination Was a Crime; I Will Visit Iran, Meet President Raisi #Venezuela #Iran pic.twitter.com/4HgNIMChxg

— MEMRI (@MEMRIReports) December 28, 2021