From Ian:
The Palestinian assault on Jewish history and heritage
If anyone still has doubts about the Palestinian Authority's determination to erase all traces of Israel's ancient Jewish heritage, an important new report should lay to rest any such uncertainties.

The 65-page document, entitled "National Heritage Survey" and published by the Shilo Forum and the Shomrim al HaNetzach ("Preserving the Eternal") organization, examined a selection of 365 of the most important national and cultural Jewish archaeological and historical sites in Judea and Samaria.

The findings are nothing less than shocking and infuriating and require immediate attention from Israel's government.

Simply put, hundreds of cherished Jewish sites in the Land of Israel which survived 2,000 years of Roman, Byzantine, Arab, Crusader, Mameluke and Ottoman occupation are being systematically destroyed right under our noses by the Palestinians.

The report, which has not received the widespread attention it deserves in the Israeli and international press, found that 289 sites, representing a whopping 80% of those surveyed, have been damaged or destroyed.

These include sites dating back to biblical times, as well as those from the Second Temple, Herodian and Hasmonean periods.
Alan M. Dershowitz:
The Squalid "Squad" Is Trying to Destroy Bipartisan Support for Israel
The fact that the Squad picked on the Iron Dome to make its stand against Israel is significant. The Iron Dome is a system developed jointly by the United States and Israel that is purely defensive. It does not kill, injure, or threaten anyone. It only protects civilians against war crimes committed by terrorist groups that direct lethal rockets against innocent civilians.

The fact that the Squad would try to deny Israel the right to defend its civilians speaks volumes about the lack of morality and decency among Squad members and their allies.

It follows from this effort that the Squad will oppose any and all aid to Israel, including protecting its innocent civilians against Iran's nuclear threat. The obvious goal of Squad members is to deny Israel the right to defend itself against aggression. At least one of its members has denied that Israel has the right to exist.

These bigoted actions directly violate the platform of the Democratic Party (as well as that of the Republican Party). The Democratic Party must decide whether it will become captive to its most extreme wing or whether it will marginalize these radicals who are not only anti-Israel but, in many ways, anti-American. They are intolerant of dissent and due process for those who disagree with them. They are anti-police, anti-military, and anti-free market economy.

The time has come, indeed it is long past, for the Democratic leadership to stand strong against the anti-American, anti-Israel and anti-decency squalid Squad. The leadership can no longer stand idly by the bigotry of their members. If they persist in tolerating the intolerable, they will lose the support of the all-important mainstream voters.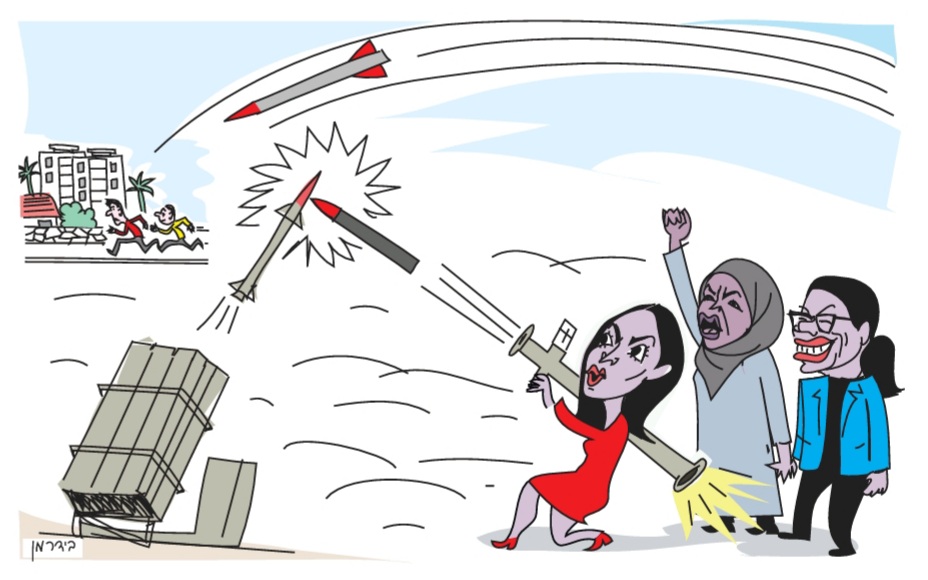 Understanding the Enemy
IDF Lt.-Col. (ret.) Dr. Anat Berko is a criminologist, former Knesset member, and a world-renowned expert on terrorism, whose research focuses on suicide bombers and their handlers. Over the course of 20 years, she met with Palestinian terrorists, including senior Hamas figures such as the group's founder, Sheikh Ahmed Yassin. "The personal relationships that I built with them led to deep insights," she said. "I come from an Iraqi family, I understand Arab culture from the inside."

Q: What is the recurring pattern in the inner world of security prisoners?
Berko: "They are...people who are rooted in a collective society, while we conduct ourselves as individuals. The issue of masculinity is very important to them, and they don't see incarceration as a blow to their status, as criminal prisoners do, but as something that reinforces their status in the eyes of society - something for which they receive recognition as future leaders."

"In their society, they are seen as normative people....They are essentially conformists, since acts of terrorism are not seen as something wrong [in Palestinian society]. Even inside the prison walls, they don't feel isolated, unlike criminal prisoners. Security prisoners feel safe in prison since they are jailed in certain affiliation groups, according to the terrorist organization to which they belong, so that they have social support from the inside, and public support from the outside."

Q: Is there a possibility of rehabilitating Palestinian prisoners?
Berko: "They don't express remorse; in my opinion, there's no potential of rehabilitating them because, from their perspective, they didn't do anything wrong or forbidden. Their society empowers them for what they did."

"Palestinian security prisoners...receive medical care that isn't included in the [Israeli] healthcare basket....There are security prisoners with serious illnesses who get imprisoned only so they can receive certain medications, or others who get imprisoned so they can study quietly for their matriculation exams. The life of Hamas leader in Gaza Yahya Sinwar, for example, was saved thanks to brain surgery he had when he was a prisoner [in Israel]. If he had been in Gaza, he wouldn't be alive today."
Amb. Yousef Al Otaiba deserves a Nobel Peace Prize
In the coming months, the Norwegian Nobel Committee will collect nominations for recipients of the 2022 Nobel Peace Prize. There is probably no one more deserving of such an honor than Ambassador Yousef Al Otaiba, the UAE ambassador to the United States, for his role in facilitating the Abraham Accords.

The Abraham Accords, which had their first anniversary this week, marked the inception of a new era in the Middle East by concretizing a warm relationship between the Israeli, Emirati, and Bahraini peoples in a region historically fraught with conflict.

In the past year, ambassadors have been exchanged, and flights paths have been established. Israel and the UAE alone have struck 25 deals across 15 sectors, while trade has reached $500 million between the two nations and is expected to double in the next year.

Meanwhile, Bahrain and Israel just agreed on a framework for economic cooperation in July, which is expected to undergo review by the respective governments. The agreement encourages the free flow of goods, economic cooperation in the private sector, joint R&D activities and a system for the exchange of expertise and knowledge.

Al Otaiba was the brainchild of the normalization, beginning with a bold op-ed printed in Hebrew in Yediot Aharonot, warning against the application of sovereignty over parts of the Jordan Valley, including the possible exploitation of the situation by the inimical states of Turkey and Iran. Al Otaiba's piece was the first op-ed by a Gulf diplomat to ever appear in an Israeli newspaper.

Al Otaiba's epiphany: he saw normalization as the olive branch to halting Israeli sovereignty.

As Avi Berkowitz, former US special representative for international negotiations, told The Jerusalem Post last year that the Emirati ambassador was simply indispensable in the creation and conclusion of the accords. "He was the one who was in the weeds on every single detail, one of the main negotiators. The deal could not have happened without him.

"When you're dealing with him, you know that you're dealing with someone you can trust."
On Abraham Accords anniversary, there is accord on calling it 'Abraham'
Wrapping up the feel-good-fest that marked the first anniversary of the Abraham Accords, the normalization agreements between Israel and four Arabs states, U.S. Secretary of State Antony Blinken gave a shout-out to the big guy who started it all.

No, not Donald Trump, but Abraham himself.

"Abraham, in our Bible, had the temerity to engage God, to argue with God, to ask why, and maybe more important, to ask why not," Blinken said at the virtual get-together Friday that marked the Sept. 15, 2020, anniversary (a day or so late, but Yom Kippur got in the way).

"And I think each of you and each of your countries asked, 'Why not?' And the answer now we see before us with the accords, with normalization, and with the manifest benefits that it's bringing to people not just in the countries concerned, but I think increasingly more broadly."

By invoking Abraham, Blinken put to rest any concerns that President Joe Biden was anything less than fully committed to the accords, despite the fact that they happened under Trump.

The friendly back-and-forth between Blinken, who is Jewish; the foreign ministers of Israel and Morocco; the former holder of that post in the United Arab Emirates; and the Bahraini ambassador to the United States covered what has become familiar territory: Praising the gains already made and pledging to expand the agreements.

But it was the tone that stood out, down to Blinken not just saying Abraham's name, but in his assigning a quasi-religious significance to the accords by noting the shared Jewish and Muslim investment in the original founding father. Blinken and the Arab diplomats also made sure to wish Israeli Foreign Minister Yair Lapid, in attendance, a happy new year.
The Abraham Accords: Accomplishments One Year Later
Speaking at the newly established Abraham Accords Peace Institute (AAPI) in Washington on the first anniversary of the accords, Jared Kushner, a former presidential advisor tasked with leading the Israeli-Arab peace process, said that within a 12-month period, Israel has exchanged ambassadors with Bahrain and UAE, opened an embassy in Dubai and a consulate in Abu Dhabi, and inaugurated a diplomatic mission to Morocco.

Commercial airlines have begun operating nonstop flights between Israel and the UAE, Bahrain, Morocco and Egypt, and a flyover agreement with Saudi Arabia was reached.

There have been 35 diplomatic agreements and hundreds of business transactions involving innovation, tourism, sports, culture, science, air transit, and technology, as well as a drastic increase in Israel's trade with the accord's members.

"This means that more jobs and opportunities will be available for Jews, Muslims and Christians throughout the entire region," he said.

Kushner's speech was interrupted by a protestor screaming, "Free Palestine!"

After she was moved out of the hall, Kushner said, "I don't know why people do that....Quite frankly, there is so much that's available to the Palestinians today and to their leadership if they would just go with focusing on what's best for the people."
First statement by Abraham Accords signatories at UN promotes women
The Abraham Accords states worked together as a group at the UN for the first time on Wednesday, garnering support at the Human Rights Council for a statement promoting women's involvement in peace and diplomacy.

The statement by Israel, the United Arab Emirates, Bahrain and Morocco was presented by Bahrain's Ambassador to UN Institutions in Geneva Yousef Abdulkarim Bucheeri. The timing was chosen to mark a year since the first three states signed the Abraham Accords.

"The integration of women in the peace processes and in all discussions relevant to promote peace around the globe has a significant value and importance," Bucheeri said. "Although the contribution of women to peace-building is increasingly recognized, the role of women in preventive diplomacy has so far been quite limited. We need to have women's voices influencing an agenda for human rights, sustainable development, security and peace."

The Abraham Accord states called on UN member states to commit to giving "women a seat at every table" so they can contribute to finding solutions and resolving conflicts.

"We are committed to taking into account the experiences of women and girls, both living in conflict zones but also in peace and stability, and to always include a gender perspective, recognizing the unique impact different situations may have on women and girls," Bucheeri stated.

The statement was supported by 52 states and the UN's University for Peace.

"The emphasis on the integration of women in peace processes is important and shows the new dynamic that we want to promote in our region and beyond it," said Israeli Ambassador to UN Institutions in Geneva Meirav Eilon Shaha.
'A new chapter in the history of peace'
ISRAEL'S top diplomat in Australia has told The AJN that the first anniversary of the Abraham Accords shows that peace truly can be achieved.

Over the weekend, Canberra's iconic National Carillon and Telstra Tower were illuminated with the colours of the Israeli and United Arab Emirates flags to mark one year since the agreement was signed.

Speaking to The AJN on Monday, Israel's deputy chief of mission in Australia Ron Gerstenfeld said the anniversary "is a living testimony of how the region could fulfil its potential for the good of all the people if we eradicate the extremism and fundamentalism".

"The accords prove that modern and moderate nations, young and innovative people, could collaborate for the prosperity of the region," Gerstenfeld said.

"It also shows that peace could be warm, people to people peace which promotes economic ties and joint solutions for the core issues of the countries and the world in the fields of water, food security, agriculture, space and more."

Stating that the accords "changed the paradigm that an Arab nation could not promote peace and normalisation with Israel without getting the green light from the Palestinians", he added that it is for the Palestinian Authority's "own benefit to get on board the train of peace if it is genuinely concerned about the future and prosperity of its people".
Over the weekend the National Carillon and Telstra Tower Canberra were illuminated with the colours of the #Israeli and #UAE flags to celebrate the first anniversary of the #AbrahamAccords!

Did any Canberra locals catch these stunning displays live? pic.twitter.com/EWMqkG8yHc

— Israeli Embassy OZ (@IsraelinOZ) September 20, 2021
Much Worse Than a 'Technical Delay': How 'Fringe' Politicians Removed Emergency Iron Dome Funding From US Congressional Aid Bill
The Alarming Rise of Fringe Politicians
Anti-Israel attitudes are nothing new, but they are becoming increasingly mainstream, even among American Jews. A recent survey of US Jewish voters found that 25 percent consider Israel an apartheid state, 34 percent view Israel's treatment of Palestinians as comparable to racism in the United States, and 22 percent believe that Israel is committing "genocide" against the Palestinians.

And now comes the Congressional move against Israel that succeeded.

It is tempting to think of this week's events in Congress as a mere "technical delay." After all, Israel will in the end still receive precision-guided munitions and Iron Dome funding. However, this is the first time that supposedly "fringe" politicians have managed to produce such a large, mainstream impact: namely, altering a major Congressional budget bill.

Evidently, this "fringe" is growing in general popularity — which is what drives democracies — and, consequently, is increasing its real-world political impact.

Could Support for Israel Become Untenable?
If this anti-Israel trend continues, it will become increasingly untenable for American political leaders to support Israel in all the ways urgently needed. For example:
- It has been long understood that Israel must maintain a "Qualitative Military Edge" over its neighbors, because Israel typically acts defensively. But given the opportunity, Israel's neighbors are liable to initiate hostilities. Consider what could happen if countries such as Turkey and Egypt, both US allies, possessed the latest F-35 fighter jets but Israel did not.
- Another area of concern is pending action in the International Criminal Court (ICC) that could make it impossible for Israelis to leave their country since they would risk being arrested on charges of "war crimes," "apartheid" and "crimes against humanity." This scenario is not merely theoretical: Israeli leaders have already faced arrest warrants for such accusations in friendly nations as the United Kingdom, Spain and others. The ICC does not function as an impartial court but rather is highly politically motivated. Without US political support behind the scenes, prosecution against the Jewish state may succeed, and many Israelis would be subsequently cut off from the world as a result.
- The Boycott, Divestment and Sanctions (BDS) movement has often been dismissed as ineffective, but a boycott by Airbnb would have succeeded were it not for action taken through America's legal system. A more recent boycott by Ben & Jerry's is especially troubling because the brand is owned by consumer products giant, Unilever. If Israel loses popular and political support, then such boycotts could extend to other large corporations including oil, financial and shipping companies, global internet systems and more. Such boycotts, if imposed in concert, have the potential to destroy a sovereign state.
Inside the House's Iron Dome meltdown
The incident prompted a call from Israeli Foreign Minister Yair Lapid to Hoyer. In a statement following the call, Lapid blamed former Israeli Prime Minister Benjamin Netanyahu's government for having "neglected the Congress and the Democratic Party, and caused considerable damage to Israel-US relations."

"We are today rebuilding a relationship of trust with the Congress," Lapid continued.

Sen. Chris Murphy (D-CT) said on Wednesday that he wanted funding for Iron Dome advanced alongside additional funding for Palestinian aid, setting up further battles once the measure reaches the upper chamber.

Murphy told JI he saw "a bunch of different pathways" forward, including the potential appropriation of additional reconstruction funds for Gaza and the release of Palestinian aid which, until recently, had been held back by Sen. Jim Risch (R-ID) — a move Murphy called "indefensible." Risch had been attempting to prevent funds from ending up in the hands of terrorists, a spokesperson has said. The Idaho senator has since lifted the hold, a spokesperson announced late Wednesday.

"I'm 100% for Iron Dome, I can get my head around the $1 billion number," Murphy said. "But I think it's important for us to use this as a moment to make clear that we are still in the business of setting a table for peace. And that involves U.S. support for Israel, and it also involves some support for Palestinians."

Deutch, who emphasized that he has "steadily been supportive of providing much-needed humanitarian assistance to the Palestinians," said he did not understand why the two issues would be linked together.

"Either it's important to save civilian lives [with Iron Dome], or it isn't. Likewise, it's important to support humanitarian programs that help Palestinians," Deutch said. "I think both of them stand on their own. I don't understand why we wouldn't do everything we can to advance our values, which I know is important to Sen. Murphy."
#dems cave on israel defense. I thought Democrats should supper DEMOCRACIES. pic.twitter.com/t991Isr8I1

— (((noa tishby))) (@noatishby) September 22, 2021
.@AOC & the Hamas Caucus continue to show their true colors by trying to deprive Israel of defensive weapons critical for keeping civilians safe from Hamas and Hezbollah rockets: those colors are not of "humanitarians" but antisemites!

If ppl stay silent now, worse will follow! pic.twitter.com/ijuDdUj7wg

— Dov Hikind (@HikindDov) September 23, 2021
This is what it looks like when terrorists launch barrages of rockets at Israeli cities.

Each flash is an Iron Dome interceptor destroying a rocket and saving lives.

The House will vote TODAY on funding to replenish Iron Dome. Urge your rep. to vote YES.

?? IRON DOME to 73075 pic.twitter.com/BVPXpVQA3i

— AIPAC - Text IRON DOME to 73075 (@AIPAC) September 23, 2021
when someone asks how the holocaust could have happened, i'm just going to ask them to read some of the bigoted ignorant responses to this wonderful post.

— MF ???? #stophamasnow (@mf_cohen) September 23, 2021
At UN, Jordan, Saudi kings back Palestinian state with East Jerusalem as capital
The kings of Jordan and Saudi Arabia used their speeches to the UN General Assembly on Wednesday to urge a two-state solution for the Israeli-Palestinian conflict by creating a Palestinian state with East Jerusalem as its capital.

Jordan's monarch recalled the 11-days of fighting between Israel and the Gaza Strip earlier this year in his speech before the United Nations, saying the latest round of conflict was a reminder that the status quo is "unsustainable."

The war in May was the fourth in Gaza since the Hamas Islamic terror group seized power in 2007. There were 13 deaths in Israel, including one soldier as Hamas fired thousands of rockets at the country which responded with intensive airstrikes on terror targets. More than 4,000 homes in Gaza were destroyed or severely damaged. More than 250 people were killed in Gaza, including dozens of children and women, according to the UN. Israel believes roughly half of those killed were combatants.

"But how many more homes will be lost? How many more children will die before the world wakes up?" said King Abdullah, who delivered his pre-recorded remarks remotely to the UN General Assembly, though some 100 heads of state and government are attending in person amid the COVID-19 pandemic. "Genuine security for either side — indeed, for the whole world — can only be achieved through the two-state solution."

He reiterated that such a solution must result in an independent Palestinian state with East Jerusalem as its capital, living side-by-side with Israel in peace.

The Jordanian king is a close US ally and his nation has custodianship over the Temple Mount compound in Jerusalem, a site holy to both Muslims and Jews. The area was the scene of violent confrontations between Israeli security forces and Palestinian worshippers during the last days of the Muslim fasting month of Ramadan in May.

Saudi Arabia's monarch used his speech to stress his country's longstanding public position on Palestinian statehood, saying that lasting peace must guarantee an independent Palestinian state with East Jerusalem as its capital.
Liberal US Legislator to Introduce 'Two-State Solution Act'
A liberal Jewish lawmaker on Thursday is set to introduce a bill that would make the two-state solution to the Israeli-Palestinian conflict official United States policy, Politico reports.

Andy Levin, a Democratic representative from Michigan, will unveil the legislation on Capitol Hill that is adding to an already heated debate about the US approach to the Jewish state that has divided Democrats between the moderate and progressive wings of the party.

That divide was clear this week when progressive Democrats in the House of Representatives blocked $1 billion in funding to replenish Israel's Iron Dome missile defense system that was depleted during May's 11-day conflict with the Hamas-ruled Gaza Strip.

Levin already has 18 Democratic co-sponsors and the support of left-leaning pro-Israel groups, including J Street.

Still, the bill faces an uphill battle in Congress, with expected universal opposition from pro-Israel Republicans and skepticism from moderate pro-Israel Democrats in the House and Senate.

The bill will also not be popular with the current Israeli government.

The "Two-State Solution Act" formally states "that the West Bank, including East Jerusalem, and Gaza are occupied territories and should be referred to as such consistently in official United States policies, communications, and documents."

It is unclear why Gaza is mentioned since Israel unilaterally withdrew from the coastal enclave in 2005.
If it's got Jeremy Ben-Ami and J-Street's enthusiastic backing, you know this bill is bad for Israel. https://t.co/tmUCxx7HcE

— Arsen Ostrovsky (@Ostrov_A) September 22, 2021
Chuck Schumer Releases Video That Features Him Alongside BDS Supporter
Senate Majority Leader Chuck Schumer (D., N.Y.) on Tuesday released a pro-union video that features him alongside a New York state assemblyman who supports the anti-Israel Boycott, Divestment, and Sanctions (BDS) movement.

Schumer and Zohran Kwame Mamdani (D.), an assemblyman from Queens, released a two-minute video in support of the 25,000-member New York Taxi Workers Alliance. Schumer and Mamdani spoke out against what they said are predatory loans for taxi medallions in New York City.

A self-described democratic socialist, Mamdani supports various left-wing causes, including BDS and the movement to defund police departments. He has called BDS "a righteous movement for liberation" and has spoken out against U.S. aid to Israel. Mamdani at a rally this year criticized elected officials for accepting taxpayer-funded trips to Israel. He also blasted officials who march in parades in support of Israel.

"We ought to let them know that there are three letters that we have as an answer to what's happening in Palestine, and it's 'BDS,'" Mamdani said at a May 12 rally.

Schumer, who is Jewish, has been a staunch opponent of the BDS movement. He cosponsored legislation in March 2017 with Sen. Marco Rubio (R., Fla.) to protect state and local governments that cut ties with companies that boycott Israel. He called BDS an anti-Semitic movement in 2018. Schumer has also repeatedly marched in the pro-Israel parades that Mamdani decried this year.

Though Schumer and Mamdani are at odds on the BDS issue, the Senate leader has in recent months courted the left wing of his party to ward off a potential primary challenge next year. Schumer has held a series of meetings with activists in New York and Washington to burnish his progressive credentials, the New York Times reported. Rep. Alexandria Ocasio-Cortez (D., N.Y.) said last month that she has not ruled out running against Schumer, who is seeking his fifth term.
GOP bill would keep settlement products labeled 'Made in Israel'
New legislation by Republicans in the US House of Representatives seeks to reinforce the Trump-era instruction to label products of Judea and Samaria "Made in Israel."

Rep. Claudia Tenney (R-New York), a member of the House Foreign Affairs Committee, was set to introduce what she called the Anti-BDS Labeling Act on Thursday, meant to stop the Biden administration from reversing the instruction from former US secretary of state Mike Pompeo in the final months of the Trump administration.

Pompeo's November 2020 decision reversed a guideline from the Clinton administration in 1995 that settlement goods must be labeled "Made in the West Bank." That was not enforced until 2016, when the Obama administration republished those guidelines, warning that violators could incur fines.

US law states that every article of foreign origin imported into the US must be marked with its country of origin unless an exception is provided by law. Though decisions about settlement labeling have been made by the executive branch in recent decades, Congress has the authority to pass laws regarding foreign commerce.

Tenney argued that returning to the pre-Pompeo policy would empower those who seek to boycott Israel. Labeling Israeli products from Judea and Samaria differently from other products makes it easier to seek them out for boycott.

"The Boycott, Divestment, and Sanctions movement is fueling antisemitism in the United States and around the world," she stated. "The United States must remain steadfast in our support for Israel, which is why I introduced this bill. My legislation defends the integrity of the Jewish state and prohibits the Biden administration from targeting specific goods made in Israel by banning 'Made in Israel' country-of-origin labels."
CNN's Jerusalem Storytelling Tainted by Partisanship, Bigotry
As CAMERA has detailed several times already, CNN's series on "Jerusalem" has seriously struggled with accuracy. The material errors and bizarre narratives have slanted toward a telling of the story of Jerusalem in which Arabs are solely victims and Jews are repeatedly erased. This absurd storyline becomes less surprising, however, when examining which "experts" and commentators CNN chose to include in the series.

Many are vituperative partisans with long histories of anti-Israel and antisemitic statements and beliefs. While providing a range of viewpoints would be perfectly acceptable, CNN never adequately identifies these individuals as partisans, nor does CNN enable Jewish or pro-Israel voices to truly counter these partisan individuals when they cross into outright falsehoods and slander. Below are some of the more notable partisans CNN featured.

Among the most questionable decisions by CNN is the inclusion of Huda Imam, described by CNN as "Founder, Centre for Jerusalem Studies, Al Quds University." Imam is allowed to make, unchallenged, multiple incendiary assertions. Most shockingly, CNN even gives her a platform to spew outright antisemitism:
"The whole of Palestine continues to be eaten up like a cancerous disease. Deleting, erasing, arresting, demolishing, and the world is silent again."

This kind of invective has an obvious, implied meaning, in which the Jewish State is equated to a "cancerous disease." What does one do with a cancer? Iranian Ayatollah Khamenei put it bluntly when he infamously tweeted: "Israel is a malignant cancerous tumor in the West Asian region that has to be removed and eradicated." This kind of language – associating Jews with diseases – has a long history. Even before the Nazis compared Jews to lice, typhus, syphilis, and cancer, medieval Europeans were blaming Jews for the Black Death, such that between 1348 and 1351, "more than 200 Jewish communities were wiped out, their inhabitants accused of spreading contagion or poisoning wells."

Referring to the Jewish State as a "cancerous disease" is not excusable because it is directed at Israel. As former Deputy Prime Minister of Sweden Per Ahlmark once said, "This new anti-Semitism is often less directed against individual Jews. It attacks primarily the collective Jews, the state of Israel…"
PMW:
Are Palestinian mothers genuinely joyous over the deaths of their ?children as "Martyrs" or are they just keeping up appearances??
Are Palestinian mothers (and fathers too) genuinely happy for their children who died as "Martyrs" and had "weddings" to the 72 virgins of Paradise instead of funerals? Or are they just keeping up appearances?

There's no way of knowing, but one thing is certain: Expressing joy over a Palestinian child dying in terror attacks and violent confrontations with Israel is what the PA expects and demands of its people. One of the ways the PA promotes this is by broadcasting the parents' statements repeatedly in official PA media. Palestinian Media Watch has been exposing this since the beginning of the PA terror campaign – the second Intifada - in October 2000. PMW's first report on the PA promoting child Martyrdom entitled "Wajdi, a 14-year-old: "When I become a Shahid [Martyr], give out cake," published already in November 2000.

This PA practice of promoting child Martyrdom and pressuring parents to support it continues until today. The following are a few recent examples of statements of joy by mothers whose sons died "as Martyrs" – statements that the official PA TV chose to broadcast to the Palestinian public. Note that the parents' references to the Martyrs' weddings are based on the Islamic belief that a Martyr for Allah marries 72 "dark-eyed", i.e., the Virgins in Paradise.

Mother of terrorist "Martyr":
"My son had nothing called a funeral, rather it was a wedding"

Mother of terrorist "Martyr" Diya Al-Sabarini: "Praise Allah, my son had nothing called a funeral, rather it was a wedding… I didn't feel that it was a funeral, I felt that it was a wedding. I told them: "Wedding."

[Official PA TV News, Aug. 28, 2021]

Diya Al-Sabarini – Palestinian terrorist who shot at Israeli security forces in Jenin on Aug. 3, 2021 and was shot and killed by them.
Father brings son to see "popular uprising," brags about 4-year-old's hopes of dying
Has the PA lost control over Hebron?
Fatah leaders in Hebron have openly challenged the Palestinian Authority leadership, including PA President Mahmoud Abbas, in what appears to be one of the worst crises within the dominant Fatah faction in recent years.

The latest crisis erupted after Emad Khurwat, a senior Fatah official in Hebron, threatened to use force to prevent PA officials from entering the city.

The threat, which was made during a public meeting of leaders of several Palestinian clans in Hebron, came in the aftermath of lawlessness and anarchy in the city in the past few weeks.

Many of the clans in Hebron have thousands of members and are considered more powerful than the PA and its security forces. The clans administer their own legal system and often replace the PA security forces and courts in enforcing law and order and issuing verdicts, including in murder cases.

Khurwat and other activists in Hebron said that the PA has lost control over the city, paving the way for large clans to take matters into their own hands and deploy dozens of gunmen on the streets.

They said that several gunmen have been involved in various criminal activities in the city, including collecting "protection money," vandalism and murder.
Journalist Salah Skaik says he was beaten by Hamas police officers in Gaza. pic.twitter.com/POeKtQcOZh

— Khaled Abu Toameh (@KhaledAbuToameh) September 23, 2021
After Fall of Bashir, Sudan Closes Door on Support for Hamas
Sudanese authorities have taken control of lucrative assets that for years provided backing for Hamas, shedding light on how the country served as a haven for the Palestinian militant group under former leader Omar al-Bashir.

The takeover of at least a dozen companies that officials say were linked to Hamas has helped accelerate Sudan's realignment with the West since Bashir's overthrow in 2019. Over the past year, Khartoum has won removal from the US state sponsors of terrorism (SST) list and is on course for relief of more than $50 billion in debt.

Hamas has lost a foreign base where members and supporters could live, raise money, and channel Iranian weapons and funds to the Gaza Strip, Sudanese and Palestinian analysts said.

Seized assets detailed by Sudanese official sources and a Western intelligence source show the reach of those networks.

According to officials from a task force set up to dismantle the Bashir regime, they include real estate, company shares, a hotel in a prime Khartoum location, an exchange bureau, a TV station, and more than a million acres of farmland.

Sudan became a centre for money laundering and terrorism financing, said Wagdi Salih, a leading member of the task force — the Committee to Dismantle the June 30, 1989 Regime and Retrieve Public Funds.

The system was "a big cover, a big umbrella, internally and externally," he said.

A Western intelligence source said techniques were used in Sudan that are common to organized crime: Companies were headed by trustee shareholders, rents collected in cash, and transfers made through exchange bureaux.
Hezbollah threatens Beirut Port blast investigator - report
Hezbollah security official Wafiq Safa reportedly threatened Tarek Bitar, the judge leading the investigation into the Beirut Port explosion which devastated Lebanon's capital in August 2020, this week, saying the movement would remove Bitar from his position by force if the judge displeases them.

"We have had enough of you. We will go to the end of the legal path, and if that does not work, we will remove you by force," said Safa to Bitar, according to Edmond Sassine, a journalist with the Lebanese LBCI news.

LBCI and the Lebanese Annahar news both reported based on judicial sources on Wednesday that Bitar had confirmed the reports about the alleged threat by Hezbollah.

Lebanese Interior Ministry Bassam Mawlawi denied to the Lebanese Al-Akhbar news that he was aware of the reported threat to Bitar, saying that "security forces are doing their duty and the judge is doing his duty."

Families of the victims of the Beirut explosion expressed outrage at the report, telling Lebanese media that they would be guards under Bitar's house and stressing that the judiciary must be respected.
Great bi-partisan effort by @SenJackyRosen (D-NV) and @MarshaBlackburn (R-TN) urging the European Union to designate Hezbollah in full as a terrorist organization. https://t.co/PtawsBx5nh

— StopAntisemitism.org (@StopAntisemites) September 23, 2021
A mural of Qasem Soleimani adorned with flags of the 'Resistance Axis' has been added to the border wall between Lebanon and Israel. pic.twitter.com/cG3RTNVxDj

— Joe Truzman (@JoeTruzman) September 23, 2021
Lebanese Expert Abdo Laqis: U.S., Israeli Intelligence Agencies Planned 9/11 Attacks as a Pretext for Invading Muslim Countries #nineeleven #ConspiracyTheories pic.twitter.com/qpU9NTjhmg

— MEMRI (@MEMRIReports) September 22, 2021
2/2 Iranian Cartoonist Masoud Shojaei Tabtabaei on the Holocaust Cartoon Contests He Organized: Our Contests Were Counterattacks for the Prophet Muhammad Cartoons; There Were 4.5 Million Jews in Europe, So How Could 6 Millions Be Killed? #Iran #Antisemitism #Holocaust pic.twitter.com/wMXyxlfvIv

— MEMRI (@MEMRIReports) September 23, 2021