From Ian:
Islamic terrorism and the Age of the Holocaust
The Islamist genocidal agenda is promoted by PA/PLO/Hamas media and textbooks, and by UN organizations, such as UNRWA. Not only is the Holocaust denied, it is portrayed as an attempt to "steal Palestinian land" and deprive Arab Palestinians of their goal to wipe out Israel. Enshrined in proposals for a "two-state-solution," it's the core of what the Muslim Brotherhood and Hamas, an acronym for "The Islamic Resistance Movement," and others represent. It's also promoted by Fatah and the PLO.

The Muslim Brotherhood's totalitarian ideology has become dominant in Islam and among Muslims. Centered in Egypt, where the highest Islamic authorities convene, the Brotherhood asserts its gospel of hatred of Jews and Israel via mosques throughout the world and their media. In North and Latin America and Europe, it supports hundreds of student and political organizations. In Israel, it is represented by the largest Arab-Israeli political party, the Joint List, which is part of the current governing coalition.

The Muslim Brotherhood supported the Nazis and after the war it helped thousands of war criminals find refuge in Arab countries. Brotherhood apologists argue that this activity was in the past, but it's not – documented by Palestinian Media Watch and NGO Monitor. Attacking Jews in Israel happens daily and is promoted by all Islamists.

This is their "holy war" against Israel and anyone who stands in their way – Muslims and non-Muslims. Any recognition of Israel and its right to exist is considered a betrayal of Islam. It's what justifies their support for terrorism and suicide bombings, which they call "martyrdom." Their goal is another Holocaust mandated, they preach, by their "prophet, Muhammad." Ultimately, they boast, they seek world domination under their Caliphate.

According to Richard P. Mitchell (The Society of Muslim Brothers), jihad, death and martyrdom are not only a means to an end, but an end unto itself. David Brooks called the Brotherhood's ideology promoting suicide bombing "the culture of martyrdom." For further information, consult Steven Emerson's Investigative Project on Terrorism.

Radical Islamists, led by the Muslim Brotherhood and Iran, are one of the greatest threats not only to America and Israel, but to our society and our civilization. Understanding this matters. It's about survival.
'What's mine is mine, and what's yours will be mine'
Beyond that, though, it is worth taking a moment to bring the larger picture into focus – and to get a clear understanding of what's wrong with this picture, as it were. The facts indicate that the recent pronouncements by Gantz and Bennett are nothing more than a smokescreen.

Since the ratification of the Oslo Accords, the Palestinian Authority has been in control of areas A and B; this includes the authority to grant building permits as it sees fit. As of this writing, 70% of the territory under PA jurisdiction remains completely empty. The PA has the right, the obligation and the means to plan and build, to utilize this territory as it chooses, without any Israeli involvement whatsoever, and without any expectation of commensurate approval of Jewish construction in PA-administered areas A and B – which are judenrein.

The fact that the PA chooses not to build in the areas under its own jurisdiction, and instead pours all of its resources into illegal construction in Area C, is a choice – with very clear motivations. This very simple fact makes the current government's capitulation to the Biden administration's demand for "construction parity" a dangerous precedent.

Just as the Americans have no expectation that the Palestinian Authority will match every construction permit issued in areas under PA jurisdiction with a commensurate approval for Jewish construction, so too can there be no justification for the demand that every construction project approved by the State of Israel for Jewish residents of the areas under Israeli jurisdiction be matched with projects for Arabs.

To make matters worse, the asymmetry extends beyond the issue of demography, into the realm of geography. The area taken up by residential structures in the Jewish sector, numbering about half a million residents (again, limited to Area C) is only 3.5% of the total area under Israeli jurisdiction, whereas the area taken up by Arab settlement in Area C, which numbers about 200,000 people according to recent estimates, currently takes up more than double that area.

Rather than counting the number of housing units approved for Jewish versus Arab residents of Area C, the question we should be asking about the new construction projects is how many more square meters will this add to the area taken up by Jewish settlement as opposed to the area that will be ceded to Arab settlement in Area C?
Government Watchdog Calls on New York Pension Fund to Divest From Ben and Jerry's Parent Company
A government watchdog group is calling on New York's public pension fund to divest from Unilever, the parent company of Ben & Jerry's, in response to the ice cream company's decision to boycott Israel.

The National Legal and Policy Center asked New York state comptroller Thomas DiNapoli in a Thursday letter to "effect the immediate divestiture" of the state pension fund's $73 million holdings in Unilever, arguing that the company has not taken sufficient steps to oppose anti-Semitism and the anti-Israel Boycott, Divestment, and Sanctions movement.

The letter comes after Arizona and New Jersey announced they would pull investments from Unilever, and as Florida and Illinois have said they are looking at taking similar action. DiNapoli said in July that Ben & Jerry's boycott decision would make New York reconsider its investments with Unilever in the future.

"Unilever's position that it is opposed to anti-Semitism is belied by the actions and associations of Anuradha Mittal, the chair of Ben & Jerry's Board of Directors," wrote NLPC chairman Peter Flaherty in the Sept. 16 letter. "Mittal is the architect of the ice cream company's policy of ending sales in Israeli 'occupied territories.' Reportedly, Mittal also proposed a boycott of all of Israel. Her Twitter account has many anti-Israel tweets and contain specific endorsements of the Boycott, Divestment, Sanctions movement."

Flaherty also noted that Mittal is a trustee of Ben & Jerry's nonprofit arm, which issued $170,000 in grants to an unrelated nonprofit that Mittal also controls called the Oakland Institute. The arrangement could violate IRS rules against self-dealing, according to the NLPC, which filed a complaint with the IRS about the financial activities last month.

Mittal's Oakland Institute has published defenses of Hezbollah and Hamas, the Washington Free Beacon reported in July.

In one article published by the Oakland Institute, former Green Party Senate candidate Todd Chretien argued that progressives should support Hezbollah during the Israel-Lebanon war in 2006.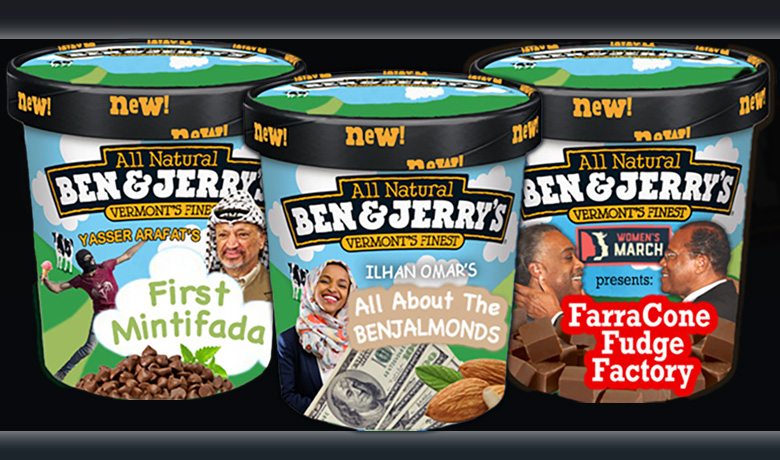 Seth Frantzman:
Controversial US, UK, Australia deal has ramifications for Middle East
Why does this matter for Israel and the Middle East?

The US, UK, and Australia often work closely on policies in the region. The UK was a key ally of the US in wars in Iraq and Afghanistan. Australia and the US have been deeply supportive of Israel over the years, and the current UK leader is close to Israel.

France is also an important player in the region, but its policies sometimes diverge from the American role. For instance, France has interests in Lebanon that are not always the same as the US. France has shown flexibility regarding talks with Hezbollah. In addition, France attended a recent meeting in Baghdad where Turkey, Iran and other key states were present. The US and UK did not come to the meeting.

What this shows is that France wants to play a more robust role in the Middle East at the same time the US and UK may be shifting policies. The US wants to concentrate on near-peer rivals like China. That means big investments in naval power. It also means the US is cutting back on counter-terrorism interests in the Middle East after leaving Afghanistan. Large questions loom about US commitment to eastern Syria and Iraq.

For Israel, this is important because Israel is confronting Iranian threats in places like Syria and Iranian proxy threats that include Hezbollah and also Tehran-backed groups in Yemen and Iraq.

These groups now have advanced Iranian drone technology. A shift in European and French relations with the US and UK in the region could have ramifications for Israel if those states appear keener on dealing with Iran and its militias. That also has ramifications for the nuclear deal talks. It is important for Israel to be aware of these shifting sands to analyze where the next moves may be.
The State Department's Failed Diplomacy in the Middle East
When it comes to Israel, we should expect to see less diplomatic attention paid to Palestinian militants and more to pressing Israel to make more concessions. Already Biden has performed an about-face on the Taylor Force Act and resumed aid to the Palestinian Authority in spite of the PA's funding the families of suicide bombers. Perhaps another premature push for a state of "Palestine" is in order — Oslo II.

Biden's team has been dismissive of the Abraham Accords from the moment he took office. He may not actually push to overturn U.S. involvement, but his State Department will do nothing to advance the Accords.

What about Turkey? Will Biden's diplomats press Erdogan to stop buying Russian S-400 anti-aircraft missiles? Will they push Turkey to act more like a NATO member and less like a rogue Islamist nation? Will they decline any of Erdogan's requests? Fethullah Gülen better watch his back. Ditto for the Kurds.

Iran policy is where the State Department is likely to do the most damage, rushing to re-negotiate Obama's nuclear deal and treating Iran's newest president (a mass-murderer) like a diplomat. With Robert Malley as the State Department's special envoy to Iran, new gifts surely await the Ayatollah in JCPOA II.

The Biden presidency makes one long for the rough and tumble days of the Obama era when Secretary of State John Kerry might muster up enough spine to prepare a harshly worded démarche to an enemy or at least a haughty speech. When Kerry went to China last week to implore the Communist Party leadership to be "greener" and stop burning so much coal, they wouldn't even meet with him face-to-face (but they met face-to-face to welcome the Taliban back into power).

How bad can this get? If the current Biden/Blinken policies continue, we will soon face a nuclear Iran, a reconstituted Al-Qaeda in Afghanistan, and ISIS back in control of large swaths of land. The ultimate shame will come when we are forced to witness the Cavemen from Kandahar and the Haqqani Hillbillies giving speeches at the United Nations, lecturing us on imperialism, and demanding a seat on the Human Rights Council.
In First for Israeli Diplomat, Lapid to Visit Bahrain
Foreign Minister Yair Lapid said Friday that he will visit Bahrain later this month, the first such visit by an Israeli minister to the Gulf country following a diplomatic agreement reached last year.

Yair Lapid announced the visit in a conference call with US Secretary of State Antony Blinken and diplomates from Bahrain, the United Arab Emirates and Morocco, states that signed US-brokered agreements to normalize relations with Israel last year.

The officials marked the first anniversary of the Abraham Accords, which have led to the opening of embassies, the launch of direct flights and a raft of agreements to boost economic ties. They expressed hope that the new relationships would be deepened and that other nations would follow suit.

"This Abraham Accords club is open to new members," Lapid said, before announcing that he plans to visit Bahrain by the end of the month.

Israel's top diplomat had already visited the UAE in June and Morocco last month.
"Germany, Palestinian Authority Sign $117 Million Cooperation Agreement"
Germany and the Palestinian Authority have signed a 100 million euro ($117 million) cooperation agreement that will see German investment in areas under P.A. control.

The donation will finance "sustainable economic development in [Palestine] over the next two years," according to P.A. Prime Minister Mohammed Shtayyeh.

"We hope our friends in Germany, the European Union and the international community will help put pressure on Israel to allow elections to be held in all the Palestinian territories, including Jerusalem," he added.

Germany's representative to Ramallah Oliver Owcza praised the bilateral relations between his country and the Palestinians, reiterating German support for a negotiated two-state solution to the Israeli-Palestinian conflict.
No Western state bid for speech, leading role at Durban
No Western state has submitted candidacy for its leader to give a speech or lead a roundtable at Wednesday's event marking the 20th anniversary of the World Conference against Racism in Durban, South Africa, which was marked with antisemitism and anti-Israel bias.

At the beginning of September, UN General Assembly President Volkan Bozkir asked each group of member states to put in a bid for a president or prime minister to address the opening ceremony of Durban IV, and to send a representative to lead a roundtable on the topic of people of African origin.

Andorran Deputy Permanent Representative at the UN Joan Josep Lopez informed Bozkir in a letter a week later, "We have not received yet any candidature at the level of Head of State or Head of Government and no expression of interest for the position of Chair of the two roundtables."

The 28-state Western European and Others Group (WEOG) at the UN includes countries across Europe, as well as Turkey, Australia, New Zealand, Canada and Israel. The US is an observer.

Israeli Ambassador to the UN Gilad Erdan said the lack of interest from anyone in the Western group "means Israel succeeded in labeling the event antisemitic and anti-Israel."

Romania joined the list of countries boycotting Durban IV over its antisemitism, bringing the number to 20. The countries skipping the event, all of which are WEOG members, are: Australia, Austria, Bulgaria, Canada, Croatia, Cyprus, the Czech Republic, France, Germany, Greece, Hungary, Israel, Italy, the Netherlands, New Zealand, Slovakia, Slovenia, the UK and the US. Belgium downgraded its attendance from the ministerial level to the diplomatic level.

Portugal, a member of WEOG, facilitated the intergovernmental negotiations, together with South Africa, on the declaration to be adopted at Durban IV this week.
19 principled nations withdrew from #Durban antisemitic hate-fest at @UN.

But these countries not prepared to #SayNoToDurbanIV. They are Ok with antisemitism & racial hatred:@PolandMFA ????@dfatirl ????@NorwayMFA ????@SweMFA ????@SpainMFA ????@MFA_Lu ????@SwissMFA ????@BelgiumMFA ???? https://t.co/MbGhmFBTOq

— Arsen Ostrovsky (@Ostrov_A) September 17, 2021
Did he tell you that pulling a minister out of the Durban Conference doesn't count as boycotting it? https://t.co/FA1jSQO6oZ

— Lahav Harkov (@LahavHarkov) September 17, 2021
Biden Admin Dismisses Yom Kippur as 'Local Holiday'
The State Department's Palestinian Affairs Unit has come under scrutiny for a tweet stating that its office would be closed on Thursday for a "local holiday"—the Jewish religion's holiest of days known as Yom Kippur.

"Our office is closed today, Thursday, September 16, for the local holiday. We will reopen for normal business tomorrow, Friday, September 17," the bureau tweeted Thursday, on Yom Kippur. Yom Kippur is commemorated by Jews across the world, not just in Israel.

The tweet generated a flurry of responses on the social media platform from Jews and others who viewed the Biden administration as attempting to downplay the holiday on a Twitter account that primarily services the Palestinian community.

"The U.S. Embassy, including the Palestinian Affairs Unit, was closed from noon on September 15 through September 16, 2021, in observance of Yom Kippur," a State Department official told the Washington Free Beacon in response to questions about the tweet.

The Biden administration has made clear that it wants to elevate relations with the Palestinian government and move away from policies implemented by the Trump administration that they view as overly deferential to Israel and its government. One of the first foreign policy moves undertaken by the Biden State Department was to restart U.S. aid to the Palestinians even as they promote violence against Israel and use international aid dollars to pay imprisoned terrorists.
It turns out that whoever is doing social for @USPalAffairs also called Rosh Hashanah a "local holiday." Twice.

That's new language for the acct. Only other example that comes up is passport notice about upcoming airport holiday rush in 2016. Now it feels like cleared language. pic.twitter.com/rylVhBrw12

— Omri Ceren (@omriceren) September 17, 2021
The piece ran Yom Kippur eve in internat'l edition & just days after @nytimes falsely reported that longest period of Jewish sovereignty in antiquity was 80 years. (Kingdom of Judah was extant for >300 years.) https://t.co/8FKgipkpsU

— Tamar Sternthal (@TamarSternthal) September 17, 2021
AOC Proposes Amendment Blocking U.S. Weapon Sale to Israel
Some Jewish and pro-Israel groups criticized Ocasio-Cortez on Twitter.

"Slamming the Jewish nation in her new bill, AOC is silent when it comes to the 4500 terror rockets fired from Hamas, funded by US tax dollars," Stop Antisemitism tweeted.

The Israel War Room Twitter account similarly tweeted that Ocasio-Cortez "neglects to mention that Hamas launching offensive rocket attacks and using civilians and media building as human shields are the leading cause of civilian deaths in Gaza." Israeli Ambassador to the United States Gilad Erdan told AP executives in June that Hamas was using the building to "jam the Iron Dome."

On the other hand, Jewish Voice for Peace, a group that supports the Boycott, Divestment and Sanctions (BDS) movement, praised Ocasio-Cortez on Twitter. "The media may have turned its attention away from the US made bombs that Israel drops on Palestinians, but progressives in the House haven't."

The Adalah Justice Project, a pro-Palestinian advocacy organization, called Ocasio-Cortez's amendments "truly stellar" and urged people to pressure their members of Congress to support the amendments because "it's past time to stop these weapons transfers."

Ocasio-Cortez's office did not respond to the Journal's request for comment.
Slamming the Jewish nation in her new bill, AOC is silent when it comes to the 4500 terror rockets fired from Hamas, funded by US tax dollars ?? pic.twitter.com/eWX3Nov7te

— StopAntisemitism.org (@StopAntisemites) September 17, 2021
Next year in Jerusalem ???? https://t.co/YDyy3oHxd6

— StopAntisemitism.org (@StopAntisemites) September 17, 2021
"I blame this debate on the yahood [Jew]" - Nourhan Mesbah (@nourhanmesbah)

We're not sure what's worse - this antisemitic bigot heads up Diversity, Equity and Inclusion for the College Democrats of America or the fact she's running for Vice President. pic.twitter.com/0H5eEcZkcP

— StopAntisemitism.org (@StopAntisemites) September 18, 2021
IDF troops nab 3 Gazans who tried to infiltrate through Israeli border fence
Three Palestinians were detained by Israel Defense Force soldiers after trying to infiltrate into southern Israel on Saturday morning, the military said.

The suspects were found to be carrying knives and bolt cutters to break through the fence when they were captured near the northern section of the border, according to the IDF.

It was not clarified whether the three had successfully fully passed through the fence at the time of their capture.

The suspects were detained and taken for questioning.

While Israel has a high-tech series of fences and walls guarding its frontier with Gaza, both above and below ground, a number of gaps remain in the steel fencing surrounding the Strip.

These gaps have been used by Palestinians in Gaza to illegally enter Israeli territory, often with hopes of fleeing the beleaguered enclave.

While attacks on Israeli civilians by those infiltrating from Gaza are rare, in May, a Palestinian man, who crossed into Israel armed with several knives, attacked and lightly wounded a security guard some five kilometers from the border fence.
Palestinians in Lebanon are subjected to "apartheid" laws that prohibit them from 39 professions and from owning property, according to @WAFANewsEnglish.

Why are the "human rights" groups @hrw @amnesty silent about this discrimination? https://t.co/yAv76daIE1

— Tomer Ilan ?? (@tomer_ilan) September 18, 2021
Joint Israel-UAE Mission Rescued Dozens of Afghan Women, Human Rights Activists From Kabul
International efforts to rescue vulnerable Afghans after the country's takeover by the Taliban included the first-ever joint aid mission between Israel and the United Arab Emirates, almost one year after the two nations normalized ties.

The operation brought 41 Kabul Afghans — including human rights activists and members of girls' cycling and robotic teams — across Afghanistan's northern border into Tajikistan before flying them to the UAE, the UK's Telegraph reported Thursday.

Yotam Polizer, CEO of the Israeli NGO IsraAID, described rescuers' harrowing efforts to gather the passengers from a capital city suddenly under Taliban rule.

"The issue was they had to collect them from hiding," he told the outlet. "[The rescuers] had to do rounds around the city in alleys to pick up these people and try not to create any suspicious movement."

Those flown out of the country included a well-known singer, 19 members of the cycling team and three robotics team members, as well as female rights activists and a number of relatives.

Polizer said that after driving north, the group was temporarily delayed at the border with Tajikistan — stuck for two days in a safe house as they awaited permission from the Tajik government to enter.

"The stressful part really was around the border, there were a lot of Taliban in the area, they were not allowed to leave the shelter and we were very stressed that someone might find them," he said.

Israeli aid workers met the escapees in the Tajik capital of Dushanbe, and on Sept. 6, they boarded a jet bound for the UAE, chartered by Canadian-Israeli billionaire Sylvan Adams.
Peter Schweizer:
Biden's Afghanistan Mistakes
Trump's Doha Agreement only bound the United States to a "complete withdrawal of all remaining forces" with the "commitment and action" of the Taliban on its obligations as laid out in the accord. Those terms bound the Taliban not to "allow any of its members, other individuals or groups, including al-Qaeda, to use the soil of Afghanistan to threaten the security of the United States and its allies," as well as "not to cooperate with groups or individuals threatening the security of the United States and its allies," and to "prevent any group or individual in Afghanistan from threatening the security of the United States and its allies."

Even prior to the final assaults on Kabul and the suicide bombings at Hamid Karzai International Airport, it was clear the Taliban was neck-deep in a proxy relationship with al-Qaeda via its relationship with the Haqqani network. Once again, the information that should have led to a pause and a hard-nosed assessment of how to complete the withdrawal in an orderly, safe way was ignored to meet a political deadline.

Instead, the Afghan men who helped the U.S., the women who breathed freedom for the first time, the military veterans from the U.S. and its allies who fought and died there all feel a sense of abandonment and frustration at this endgame incompetence. Those in the government who continue to hunt terrorist jihadis have lost their sources, bases of operation, and ability to quick-strike military targets that a resurgent al-Qaeda will now present there.
US Says Kabul Drone Strike Killed 10 Civilians, Including Children, in 'Tragic Mistake'
A drone strike in Kabul last month killed as many as 10 civilians, including seven children, the US military said on Friday, apologizing for what it called a "tragic mistake."

The Pentagon had said the Aug. 29 strike targeted an Islamic State suicide bomber who posed an imminent threat to US-led troops at the airport as they completed the last stages of their withdrawal from Afghanistan.

Even as reports of civilian casualties emerged, the top US general had described the attack as "righteous."

The head of US Central Command, Marine Corps General Frank McKenzie, said that at the time he had been confident it averted an imminent threat to the forces at the airport.

"Our investigation now concludes that the strike was a tragic mistake," McKenzie told reporters.

He said he now believed it unlikely that those killed were members of the local Islamic State affiliate, ISIS-Khorasan, or posed a threat to US troops. The Pentagon was considering reparations, McKenzie said.

The killing of civilians, in a strike carried out by a drone based outside Afghanistan, has raised questions about the future of US counter-terrorism strikes in the country, where intelligence gathering has been all but choked off since last month's withdrawal.

And the confirmation of civilian deaths provides further fuel to critics of the chaotic US withdrawal and evacuation of Afghan allies, which has generated the biggest crisis yet for the Biden administration.
MEMRI:
The Beginning Of The Oppression Of Afghan Journalists Under The Taliban Regime
Since the Islamic Emirate of Afghanistan (the Taliban jihadi organization) seized power in Kabul on August 15, the Taliban mujahideen's violence against journalists is growing by the day. The Taliban have regularly threatened and beaten reporters, photographers, and television cameramen. Although the Islamic Emirate had promised the world that it would respect the rights of the media, women, and minorities, reports show that the Taliban have abducted and tortured journalists during the first four weeks of the jihadi organization's rule in Afghanistan.[1]

Mullah Khairullah Khairkhah, a former Guantanamo Bay prisoner and currently the Taliban's Minister of Information and Culture, told the media: "You are dangerous, that's our definition of media," and added: "You are like a pen that could turn into a shovel and destroy things."[2] The Taliban government's attitude toward the media has created a climate of fear among journalists, forcing many Afghan media organizations to shut down. According to a ToloNews report, at least 153 media organizations – radio, print, and television channels – have stopped publishing in 20 provinces of Afghanistan since the Taliban took power.[3]

After the Taliban took over, several reporters were beaten by jihadi fighters in various provinces. While the Taliban's torture of journalists in Kabul are noticed by the international press, such violence in other provinces goes unreported. "The Taliban's clash with journalists has been a concern for all reporters since they took control of Afghanistan and Kabul," said Parwiz Aminzada, the deputy head of a journalist's association in Parwan province.[4]

In late-August, TOLOnews reporter Ziar Yaad and his cameraman Baes Majidi were beaten by the Taliban in Kabul city while they were working on a report. "While we were taking footage, the Taliban came and, without asking us who we were... took my mobile phone and the camera of my cameraman," Yaad said, adding: "We showed our reporter badges but they came and slapped us and beat us with their guns."[5] On August 18, Taliban militants assaulted three journalists belonging to Ariana News, Pajhwok News, and Khurshid TV. Ariana News reporter Mahmoud Naimi and Pajhwok photographer Babrak Aminzadah were beaten while covering a demonstration in Nangarhar province, while Khorshid TV journalist Nawid Ahmad Kawesh was beaten at the Kabul international airport.[6]

On August 19, it emerged that the Taliban had forbade Shabnam Dawran, a female journalist at the nation's Radio Television Afghanistan (RTA), from returning to work. "I wanted to work, but they did not allow me to work. They told me that the regime has changed, and you cannot work," Shabnam Dawran said.[7] Khadija, another female journalist at RTA, was not allowed to work. "I went to the office, but I was not allowed in. Later other colleagues were banned, too. We talked with our new director who has been appointed by the Taliban," Khadija said, adding: "There has been a change in the programs; they broadcast their desired programs; there are no female presenters or female journalists.[8]
Taliban replace women's ministry with notorious vice department restricting them
Afghanistan's new Taliban rulers set up a ministry for the "propagation of virtue and the prevention of vice" in the building that once housed the Women's Affairs Ministry, escorting out World Bank staffers Saturday as part of the forced move.

It's the latest troubling sign that the Taliban are restricting women's rights as they settle into government, just a month since they overran the capital of Kabul. In their first period of rule in the 1990s, the Taliban had denied girls and women the right to education and barred them from public life.

Separately, three explosions targeted Taliban vehicles in the eastern provincial capital of Jalalabad on Saturday, killing three people and wounding 20, witnesses said. There was no immediate claim of responsibility, but Islamic State militants, headquartered in the area, are enemies of the Taliban.

The Taliban are facing major economic and security problems as they attempt to govern, and a growing challenge by IS insurgents would further stretch their resources.

In Kabul, a new sign was up outside the women's affairs ministry, announcing it was now the "Ministry for Preaching and Guidance and the Propagation of Virtue and the Prevention of Vice."

Staff of the World Bank's $100 million Women's Economic Empowerment and Rural Development Program, which was run out of the Women's Affairs Ministry, were escorted off the grounds Saturday, said program member Sharif Akhtar, who was among those being removed.
UN Security Council calls for Taliban to form inclusive Afghan government
The UN Security Council unanimously approved a resolution Friday saying that Afghanistan's new Taliban rulers need to establish an inclusive government that has "the full, equal and meaningful participation of women" and upholds human rights.

The resolution adopted by the UN's most powerful body also extends the current mandate of the UN political mission in Afghanistan for six months and delivers a clear message that its 15 members will be watching closely what the Taliban do going forward.

The statement reflects widespread disappointment over the recently announced interim Taliban government that left out women and minorities, heralding what could be a return to harsh Taliban practices during their 1996-2001 rule.

The Taliban have promised an inclusive government and a more moderate form of Islamic rule than during their previous rule. But many Afghans, especially women, are deeply skeptical and fear a roll back of rights gained over the last two decades.

Since their sweep into power last month and the departure of the last US forces after 20 years of war, the Taliban have broken up several protests by women and their supporters demanding equal rights from the new rulers.
"UN envoy meets new Afghan interior minister wanted by U.S."

"Haqqani, head of the eponymous network founded by his father, is one of the FBI's most wanted men with a reward of $10 million for information leading to his arrest."https://t.co/7KL9fZGy6c

— Richard Goldberg (@rich_goldberg) September 17, 2021
Mossad assassinated Iran's chief nuke scientist with remote AI gun — report
Iran's chief military nuclear scientist and the father of its weapons program, Mohsen Fakhrizadeh, was assassinated in November 2020 by the Mossad using a remote-controlled artificial intelligence operated sniper machine gun, The New York Times reported on Saturday.

From the start, there has been controversy about how Fakhrizadeh was killed, but The Jerusalem Post can now confirm the accuracy of the Times report regarding the remote-controlled gun.

When he was assassinated, multiple intelligence sources told the Post that the killing of Fakhrizadeh might be as significant a setback to Iran's pursuit of a nuclear bomb as the destruction of its Natanz nuclear facility in July 2020.

According to the report, "Iranian agents working for the Mossad had parked a blue Nissan Zamyad pickup truck on the side of the road connecting the town of Absard to the main highway. The spot was on a slight elevation with a view of approaching vehicles. Hidden beneath tarpaulins and decoy construction material in the truck bed was a 7.62-mm sniper machine gun."

"Around 1 p.m., the hit team received a signal that Mr. Fakhrizadeh, his wife and a team of armed guards in escort cars were about to leave for Absard, where many of Iran's elite have second homes and vacation villas," said the report.

Next, the report details how the sniper who took out Fakhrizadeh did so remotely from Israel, over 1,600 kilometers away, since the hit squad had long ago left Iran.

The gun which was used was a special model of a Belgian-made FN MAG machine gun attached to an advanced robotic apparatus. It was smuggled into the country in small pieces over several months because, taken together, all of its components would have weighed around a full ton.

One new detail in the report was that the explosives used to destroy evidence of the remote-gun partially failed, leaving enough of the gun intact for the Iranians to figure out what had happened.
Iran's Khamenei vows to back athletes from Muslim states who won't face Israelis
Iranian Supreme Leader Ayatollah Ali Khamenei on Saturday reasserted the Islamic Republic's longstanding ban on competitive sport with Israelis, and promised support for athletes disciplined by international bodies for respecting it.

Iran does not recognize Israel — with top officials like Khamenei regularly calling for its destruction — and its athletes usually refrain from facing Israeli opponents, whether by forfeiting the match or by simply not participating.

But while their actions earn them praise from top officials back home, they have sometimes resulted in disciplinary measures from international bodies.

"Any Iranian athlete worthy of the name cannot shake hands with a representative of the criminal regime in order to win a medal," Khamenei told a reception for Iran's medallists from the Tokyo 2020 Games.

"The illegitimate, bloodthirsty… Zionist regime tries to win legitimacy by taking part in international sporting events attended by the world arrogance (Washington and the West), and our athletes cannot just stand idly by," he added, in comments posted on his official website.

In Tokyo, Iran won seven Olympic medals, three of them gold, as well as 24 Paralympic medals.

Khamenei instructed "the sports and foreign ministries, as well as the judiciary, to deploy their legal resources to support athletes from this and other Muslim countries, like the Algerian who was recently disciplined."
Canadian Academics Suspend Censure of University of Toronto After School 'Re-Offers' Job to Anti-Israel Scholar
On Friday, a Canadian teacher's union suspended its censure against the University of Toronto, imposed over accusations that the school had inappropriately denied a job to a legal scholar due to pressure from a pro-Israel donor.

In April, the Canadian Association of University Teachers (CAUT), the union of 72,000 academic professionals in Canada, denounced University of Toronto officials for not hiring German law professor Valentina Azarova as director of the law faculty's International Human Rights Program. Alleging that it had "violated academic freedom," CAUT urged its members not to accept appointments or speaking engagements there.

While Azarova had drawn criticism for anti-Israel activism, an independent review in March determined that the university had based its decision on Azarova's inability to acquire a work visa.

On Friday, CAUT announced it was temporarily "pausing" the censure, after the University of Toronto had re-offered Azarova the job for which she was previously considered. CAUT said it will lift its censure entirely pending the extension of "academic freedom protections to academic managerial positions and developing policies that prohibit donor interference in internal academic affairs."

The Jewish group B'nai Brith Canada — which has previously characterized charges against the university's hiring committee as an "antisemitic fantasy" — responded to the CAUT announcement on Friday.

"Valentina Azarova should have not been recommended by the search committee in the first place," the group said on Twitter. "The suggestion that her initial non-hiring had anything to do with Jewish money and influence remains an unacceptable antisemitic trope."
Los Angeles high school classroom is decorated with Palestinian, BLM and Gay Pride flags together with posters saying 'F**k the police' and 'F**k America'
A Los Angeles school classroom has been pictured covered in flags and posters that include the messages 'F*** the police' and 'F*** America.'

Pictures posted to social media detail anti-America propaganda on the walls of Alexander Hamilton High School located in Los Angeles Unified School District (LAUSD).

They also included a pride, transgender pride, Black Lives Matter and Palestinian flag. Meanwhile, a stars and stripes flag could be seen flung over a piece of wooden furniture in the corner of the room.

Although the pictures were taken by a pupil at the school, they were seen by a parent who called them a 'disgusting brainwashing of students with taxpayer dollars.'

Alongside an anti-police poster, an anti-American poster depicts Christopher Columbus and the U.S. as being tied to the Ku Klux Klan, the New York Post reported.

One poster states 'F*** Amerikkka, This is Native Land' while the anti-police poster goes into some detail as to the stance.
Remember when CUNY Law student Nerdeen Kiswani threatened to set a black man on fire over an IDF sweatshirt?

She and her group (WOL Palestine) are now targeting Jewish orgs in NYC during their "Globalize the Intifada" gestapo like targeting event. https://t.co/Y9MznhzaNg pic.twitter.com/kLX1BoyO4i

— StopAntisemitism.org (@StopAntisemites) September 18, 2021
This is a gross disruption to business as well as highly frightening to children.

Why is this allowed @NYPDMTN ? https://t.co/TW5Vtv6sjD

— StopAntisemitism.org (@StopAntisemites) September 18, 2021
On NPR, a Different Kind of 9_11 Revisionism Blames Israel for Palestinian Terrorism
Listeners wouldn't know it, but even one of the Palestinian guests on the segment doesn't quite agree with NPR's narrative. Nasser Jumaa was a leader of the Al Aqsa Martyrs Brigade, an internationally designated terror organization responsible for dozens of suicide bombings and other attacks against Israelis. And even he has been more willing than NPR to place responsibility on Yasir Arafat and the Palestinian leadership.

Jumaa certainly faults Israel, as would be expected, and he does believe 9/11 changed international opinion. But unlike NPR and Estrin, he hasn't pretended the attacks changed Palestinian behavior. "It was clear that the Israelis closed the door on us, but also—let me be frank—the Palestinian leadership under Arafat was folly, mistaken," he told the Independent in 2005.

Part of that folly was continuing terrorism after the attacks on America. "The resistance after 11 September should have kept itself far away from terrorism," Jumaa said. It didn't. "We…should have behaved more wisely," he continued, saying it was the ongoing Palestinian terrorism that allowed Israel to make the case after 9/11 that the Palestinian groups were, like al Qaida, terrorists. And Jumaa continued to say what NPR wouldn't:

Hamas's strategy of suicide bombing, which helped to "drag" the Fatah factions into suicide attacks on Israeli civilians, was, he believes, a catastrophe. "The leadership led by Arafat took us to disaster … This is the fact."

In another interview that year, he made similar arguments. The "resistance," he told Al-Ahram Weekly, "made a number of mistakes." One was that different Palestinian groups "vied off one another, without a clear vision, specifically in regard to the strategy of suicide operations, which in the end classified the Palestinians and the Palestinian resistance as terrorists," an acknowledgement that his own group's suicide bombings weren't, as NPR suggested, simply a response to Israel's assassination of the terror leader Karmi, but were part of a competition between terror groups over which could cause more destruction.

Why such admissions didn't appear in NPR's segment, which after all quoted Jumaa, is anyone's guess. Did he simply not repeat for NPR what he's said elsewhere? Maybe. But considering the other liberties taken in Estrin's segment, it would be fair to ask whether such forthrightness about Palestinian responsibility just isn't what the broadcaster is looking for.
CAA launches new antisemitism teachers' guide for non-denominational schools, in addition to existing guides endorsed by BBC Teach
Our existing guides – Love Thy Neighbour, designed specifically for Church of England schools, and Love Your Neighbour, for Catholic schools – have also been updated to cover new cultural developments and manifestations of anti-Jewish racism, including with reference to the social media platform TikTok, Black Lives Matter and the antisemitic grime artist Wiley.

These guides, like so many of our projects, represent the hard work of our dedicated expert volunteers, who have poured their wealth of experience in education and teaching antisemitism to young people into these guides.

Binyomin Gilbert, Programme Manager at Campaign Against Antisemitism, said: "We are extremely proud of our teachers' guides, which, thanks to the efforts of our tireless volunteers, have enabled countless schoolchildren of all ages to learn about antisemitism from their own teachers. These guides provide teachers with accessible resources to teach a complex topic and satisfy important requirements of the national curriculum. Following the success of our guides in the Church of England and Catholic school systems, we are delighted to launch our non-denominational guide for wider use in schools across the country. We continue to pursue innovative ways to discharge our mandate to educate society, including our youth, about the dangers of antisemitism and what they can do to stand up against it."

You can download the guides here or visit BBC Teach here.
French court acquits imam who quoted text commanding Muslims to kill Jews
A senior imam in France who in a sermon recited a religious text commanding Muslims to kill Jews has been acquitted of incitement to antisemitic hate charges.

Mohamed Tatai, the rector of the Great Mosque of Toulouse, had no desire to incite hatred in his sermon from 2017, the Correctional Tribunal of Toulouse ruled Tuesday. The sermon came days after news broke that the United States would recognize Jerusalem as Israel's capital.

Jewish community leaders, who broke relations with Tatai and his mosque following the discovery of his sermon, protested the ruling. Tatai leads an interfaith dialogue group called the Circle for Civil Dialogue.

Franck Teboul, the president of the Toulouse chapter of the CRIF umbrella group of French Jewish communities, said it was reminiscent of a recent decision in France not to try the killer of a Paris Jewish woman who during the 2017 slaying of Sarah Halimi spewed antisemitic slurs and shouted about Allah. A court ruled that Kabili Traore was too high on marijuana to make him responsible for his actions.

"Even when you kill a Jew you're not convicted but considered crazy," Teboul told France Bleu. "So you tell thousands at a mosque to kill Jews and hide behind a centuries-old text to avoid conviction."
Man Charged in Toronto Liquor Store Assault on Elderly Jewish Employee Showered With Antisemitic Abuse
A Canadian Jewish group has revealed details of a shocking antisemitic assault on an elderly Jewish man in Toronto, during which he was punched unconscious.

The incident took place on July 28 at a liquor store where the victim worked. According to B'nai Brith Canada — an organization assisting victims of antisemitism in Canada — the accused, a 26-year-old man, allegedly entered the liquor store and attempted to purchase beer. When asked by the cashier to produce identification showing he was of legal age, he became belligerent, prompting another employee, the victim, to approach in support of the cashier.

The accused then called the victim "a dirty f***ing Jew," and lunged at him. As the melee developed, the attacker also hit the employee in the back with a wine bottle, threw other items at him and finally punched him in the face, briefly knocking him unconscious. The victim required stitches and was forced to take more than a week off work.

The suspect was arrested three weeks later and charged with seven criminal counts, including two counts of assault and two counts of assault with a weapon. B'nai Brith confirmed that Toronto Police are treating the incident as a hate crime.

"This deeply disturbing attack is yet another incident of antisemitic violence in Canadian cities," said Michael Mostyn, Chief Executive Officer of B'nai Brith Canada on Wednesday. "In the wake of July's National Summit on Antisemitism, it is imperative that all levels of government and law enforcement take action and work with the Jewish community to stem this flow of violence and hate."
Utilis wins American Water Works' first Innovation Award
Israeli company Utilis won the inaugural Innovation Award of the nonprofit American Water Works Association for its Asterra product line using patented algorithms to locate and assess underground leaks and other hazards around critical infrastructure from ground-penetrating satellite images.

The AWWA is an international scientific and educational society founded in 1881 to provide solutions for effective management of water. It is the largest organization of water supply professionals in the world.

Since 2016, Utilis technology used in multiple verticals around the globe has resulted in saving more than 9,000 million gallons of potable water and 22,000 MWH of energy per year, in support of United Nations Sustainable Development Goals. An average of 3.3 leaks are found per day at each subscribing utility.

The Asterra division is headquartered in Israel with offices in the United States and United Kingdom. CEO Elly Perets said the company has expanded from leak detection to data provision for the greater infrastructure industry.
Israel's Shalva Band Performs for Online WHO Event Promoting Disability Inclusion
An eight-member ensemble comprised of Israeli musicians with disabilities performed on Friday at an online gathering about disability inclusion, as part of the 71st session of the World Health Organization's (WHO) Regional Committee for Europe.

The Shalva Band performed "A Million Dreams" from the film "The Greatest Showman," a song they first performed at the 2019 Eurovision Song Contest in Tel Aviv.

Before the start of the track, vocalist Dina Samteh told viewers, "We are all humans. We have our differences. And that's what makes our lives interesting. Far too often, persons with disabilities face barriers and stigma, and don't receive the health services they need."

The band's lead vocalist, Anael Khalifa, added, "I think of what the world could be if we broke down these barriers: a world of respect and acceptance. It is our responsibility to ensure that our voices are being heard and that no one is left behind."

The online event on Friday was co-hosted by the European Disability Forum, Germany, Israel, Norway, and the United Kingdom of Great Britain and Northern Ireland. It was a side event of the 71st session of the WHO Regional Committee for Europe, a three-day agenda that formally ended on Wednesday.

In May 2021, the World Health Assembly adopted resolution WHA74.8 on the "highest attainable standard of health" for persons with disabilities. The goal of Friday's event was to raise awareness among member states about the resolution, identify ways to highlight the importance of and advance disability inclusion in healthcare, and determine the next steps for advancing the resolution's goals in Europe.
For years, to fulfill my second promise to Mom, I took on an 'alias' in the UAE.

I told people my last name had Polish Catholic (not Ashkenazi Jewish) roots.

To make my 'story' even more credible, I took Easter and Christmas off from work every year.

Sorry, former bosses!

— David Zabinsky (@DavidZabinsky) September 17, 2021
Why We Need Sukkot
One of the most frequently asked questions about Sukkot is why it takes place in the fall, and not in the spring, when the weather is more suited to the outdoor aspects of the festival. Answers are abundant, but the answer that has always struck me as particularly sharp is the one suggested by Rashi's grandson, Rabbi Shmuel ben Meir (1085-1158; "Rashbam").

He suggests that God deliberately chose the fall, after the harvest is over, when an agricultural society feels most successful and complacent. The storehouses are full, life is good, and there is nothing to be worried about. It is exactly now that God asks us to leave the comfort of our homes and spend some time in a temporary dwelling — although, despite their ramshackle transience, we are expected to decorate and make them as nice as our permanent homes, or even nicer. And then, after being in them for a week, we dismantle them completely, and they're gone.

As we approach the winter, God wants us to be aware just how temporary our livelihood and security really is — or can become; it's here one day, and gone the next. Because, in the final analysis, it is not our status, our homes, our possessions, or our strength that give us security — it is God. And all of it can be gone in the blink of an eye.

All of us in the Western world are endlessly dazzled by our prowess and self-diagnosed superiority, as we navel-gaze and shoot the breeze on every topic besides for our own existential vulnerability, while at the same time the barbarians are at the gate waiting to turn our harvest festival into the harshest winter we have ever experienced.

That's why we need Sukkot: so that we spend time reflecting on just how quickly our world can turn upside-down and be gone, with the edifice that is our home taken apart, leaving us to face the elements without the protection we took for granted. It is this Sukkot phenomenon that should have been the strategic takeaway of the Suez Crisis. Had that been the case, the Afghanistan situation might have unfolded quite differently. And this time the stakes are far higher, which is the reason I am so worried. Let us all hope and pray for a mild winter, and that spring comes much earlier than expected.
Shabbat Shalom from the soldiers who keep Israel's skies safe! pic.twitter.com/u9I3xdHkLA

— Israel Defense Forces (@IDF) September 17, 2021