From Ian:
Melanie Phillips:
The ongoing nakba of Britain's Labour party
Conference resolutions aren't binding on the party leadership but are nevertheless a powerful statement of Labour party feeling.

So now we know that the Labour faithful view Israel's rebirth as a catastrophe. The Labour faithful promote the legally and historical illiterate falsehood that there is such a thing as "Palestinian land". The Labour faithful misrepresent international law which, contrary to the persistent mis-statement of the relevant treaties by deeply anti-Israel international bodies and the British Foreign Office, the Israelis uphold.

The Labour faithful appear to believe that Israelis are not entitled to the protection of the rule of law, misrepresenting as "forced displacements" legal proceedings taken against Arab tenants in a district of Jerusalem, Shimon HaTzadik as it's known to Jews or Sheikh Jarrah as it's known to Arabs, because they were refusing to pay their rents.

The Labour faithful appear to believe that Israelis are not entitled to defend themselves against mass murder. Thus the motion demonised as Israel's "militarised violence" against the al Aqsa mosque the defence of Israelis against jihadi attacks launched from the al Aqsa mosque.

The Labour faithful similarly misrepresented the deadly bombardments with thousands of missiles and rockets from Gaza as a deadly assault by Israel on Gaza — because Israel defended its citizens by taking military action against Gaza's terrorists, an offensive that went to lengths unparalleled in the world to protect Gaza's civilians from harm.

The Labour faithful further want to make it easier for Israelis to be murdered. Thus they demanded the destruction of the security barrier which has stopped the mass attacks committed by Arabs from the disputed territories that slaughtered more than 1000 Israelis between 2000 and 2005.

And most vicious of all, the Labour faithful smeared Israel with the libel of "apartheid" — a claim as fatuous as it is pernicious. Apartheid was the appalling system of separate development by which white South Africans not only excluded black South Africans from public life and denied them their civic and human rights but prohibited them from sharing buses, public amenities or even park benches.

By contrast, Israel is a democracy committed to the human rights of all its citizens. Arab Israelis have full equal rights, as can be seen immediately from their numbers studying in Israel's universities, enjoying Israel's beaches and parks, receiving treatment in Israel's hospitals or working there as doctors and other medical staff, serving in the armed forces and as judges and members of Knesset in Israel's governing coalition.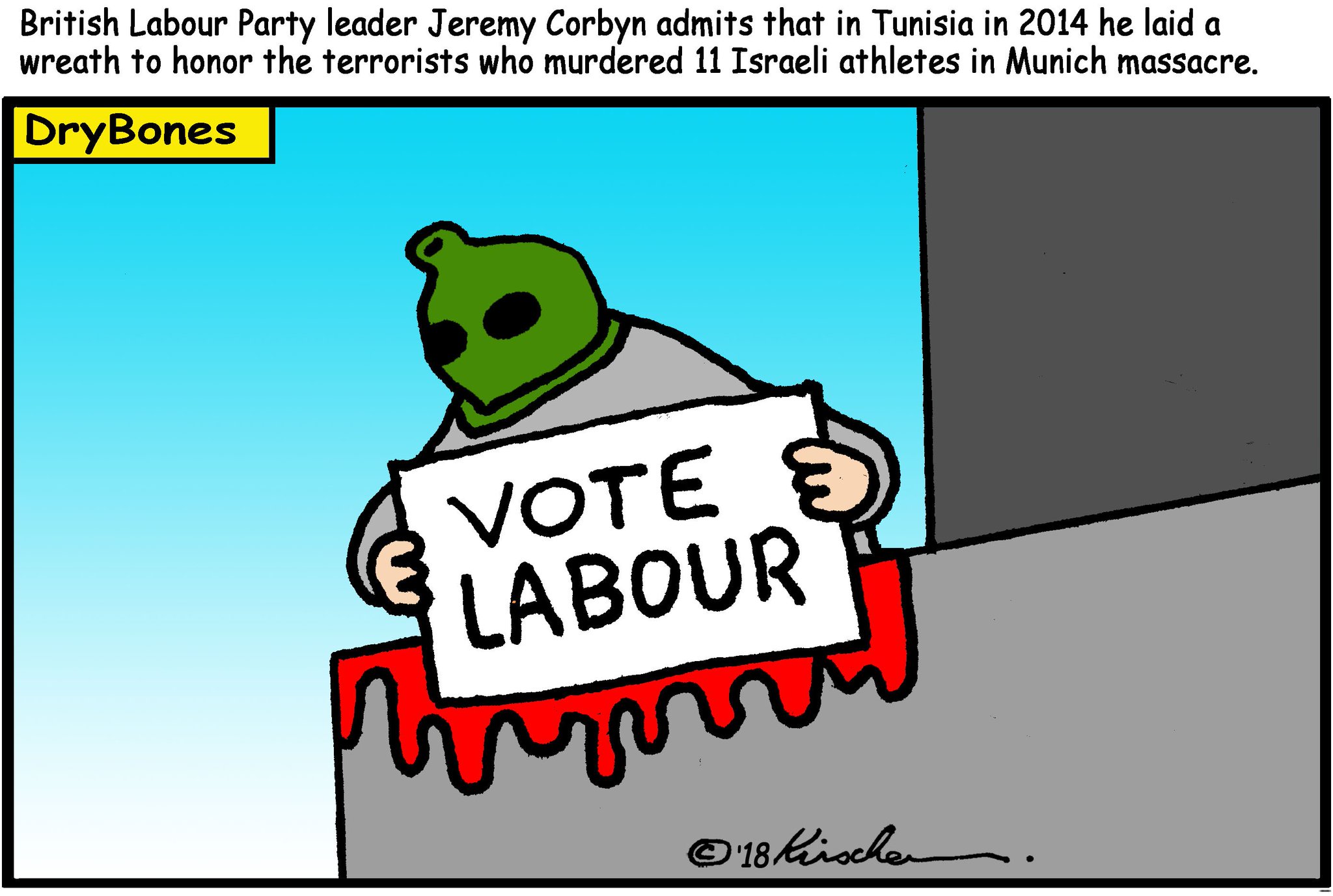 UK Labour party defines Israel as 'apartheid state'
Interview with Tom Gross, British journalist and political commentator.
Please stop applauding Labour for the bare minimum
Labour's response on this should have been led by Starmer and his shadow Foreign Secretary Lisa Nandy when the summer skirmishes started. Instead, they appeared hamstrung and for several days both only attacked Israel. Hamas weren't mentioned.

This obsession impacted on many of us during those dark days of the conflict. Our children were bullied in schools and universities, work was made uncomfortable for many of us if our colleagues were left-wingers, and there were physical attacks in the street. This demonisation of Jews because of their connection with Israel is the next obvious step; words lead to action.

The second is the uncomfortable truth that Starmer was next to Corbyn when he caused all that pain to our community. While he can insist that they rowed about it furiously in shadow cabinet meetings, we can only take his word for it; what we do know is that he barely criticised it in public, preferring to parrot the line that all this stuff about Corbyn was down to those awful creatures in the media.

When Ellman quit the party in October 2019 saying, "the Labour Party is no longer a safe place for Jews and Jeremy Corbyn must bear the responsibility for this," Starmer was asked about what she had said by Andrew Marr. He replied: "I don't accept that. I don't accept that. I am 100 per cent behind Jeremy Corbyn."

On winning the leadership, he called Corbyn his "friend" and even now he said that to win the whip back all the former leader has to do is apologise for saying the antisemitism crisis in Labour had been "dramatically overstated".

Why has no one guilty of the antisemitism crisis – which hurt so many of us, made us feel like strangers in our home, led to many of us contemplating leaving the country – properly apologised and acknowledged what they did? Why hasn't Corbyn, in particular, been thrust completely out of the party instead of headlining fringe events where they are still wailing 'Oh Jeremy Corbyn' like cultists? Why are Labour MPs, including deputy leader Angela Rayner, still attending events with Corbyn and people thrown out of the party for antisemitism? Why hasn't Starmer acknowledged and apologised for his own part in it?

This week I've been interviewing some of the brave men of the 62 Group who fought anti-fascists in the 1960s, and whose story will be told in new BBC series Ridley Road, which starts on Sunday night. They knew how you dealt with antisemites. While I'm not advocating starting fights at Labour meetings, I do think we need to put our heads up a bit higher, find a bit of Jewish pride, and only forgive the Labour party when they actually and completely solve their problem with antisemitism.
Corbyn still haunts Labour
At the Young Labour rally, in bright lipstick and with shiny hair, they thrill to protest. I think it is Oedipal, and more an emotional than a political imperative, but I am a Social Democrat. The room — called The Empress but no matter — is alive with protest; protest for its own sake. Beyond it there is nothing: certainly not power. Here, at the Empress, they would rather lead the party than have the party lead the country. That is clear. They speak to the voters, but they do not listen to them. Their voters are theoretical. Their analysis of the 2019 defeat is: not enough Corbynism, plus sabotage. The reason for their problems now is: purge.

They fete themselves, and attack the Labour leadership, which they treat like a pantomime villain, with boos and hisses. Starmer is obviously Sylvia Plath's Daddy: "Daddy, I have had to kill you". The leadership named this event "Cancelled" on the conference app, but changed their minds, and this is their revenge. I can hear their narcissism in their cadences, and their applause. It is their Conference. They are Labour. When a trade union leader says her union is not affiliated to the Labour Party, they cheer. The obvious question: so why are they?

We hear Richard Burgon MP, and John McDonnell MP, then Corbyn comes, still denied the Labour whip. I marvel at the vanity of this supposedly humble man, but I never believed in his humility, any more than I believed in his anti-racism. Anti-racism is only meaningful when you extend it to your political enemies, and he never did. He ignored the abuse of live female Jewish MPs but stands in solidarity with dead Jews, who need nothing from him, can't attack him, and are as theoretical to him as voters. The humble change their minds, and he never does: his humility is performative, in a shy glance at the youthful supporters, in a tender bowing of the head. He looks sorrowful — he lost — then happy: I still have you. To be fair, he does sound like the most sensible man in the room. But that is his job: to sound sane and vexed — Magic Grandpa — while his supporters bully and scream. "In the last leadership election, our members and unions were promised unity, but instead we are given division," he mourns. He will spend the whole of Conference inciting division, and haunting Conference with his vanity.
Labour MP apologises to members 'purged or set up with false allegation'
Labour MP Lloyd Russell-Moyle has issued a grovelling apology to party members who he claims are being "purged or set up with false allegations."

In a clear reference to members who had fallen foul of new rules proscribing groups that had downplayed or denied antisemitism, the Brighton Kempton MP told a rally held by Socialist Campaign Group MPs at a festival coinciding with Labour's party conference: "I want to apologise.

"I was struck by members who feel alone in our party at the moment. I want to apologise, from me in particular, because if we have made you feel like you are alone, if we have not reached out our arms enough in these tough times when you are being purged or set up with false allegations , Ii not only apologise, I will endeavour to do better because we have to support each other. "

One of Russell-Moyle's colleagues, who heard his speech at Tuesday's event at The World Transformed said they found his remarks "sickening" in a week in which leader Keir Starmer said the party was on the right path to rooting out antisemitism.

But Russell-Moyle was not the only speaker at the event to attack the suspension of members falling foul of the rules.
Harris Tosses Pro-Israel Cred Out the Window With Praise for Student Accusing Jewish State of 'Ethnic Genocide'
Pro-Israel groups are slamming Vice President Kamala Harris after she praised a student who accused Israel of "ethnic genocide," an exchange that threatens to undercut Harris's credibility as a pro-Israel voice in the Biden administration.

Harris was taking questions at George Mason University on Tuesday when a student in the audience criticized U.S. funding for Israel's Iron Dome missile defense system and argued that "just a few days ago there were funds allocated to continue backing Israel, which hurts my heart because it's an ethnic genocide and a displacement of people." Harris, who nodded during the student's comment, responded that she was "glad" the student spoke out and said, "Your truth should not be suppressed."

Pro-Israel groups said they were troubled that Harris—who is viewed as one of the more pro-Israel voices in a Democratic Party that is growing increasingly hostile to the Jewish state—failed to push back on the audience member's claims. The criticism of Harris comes as Democratic Party leaders are facing pressure from left-wing lawmakers and activists to withdraw support for Israel. Last week, House Democrats removed funding for Israel's Iron Dome missile defense system from a spending bill under pressure from progressive House members.

"The vice president should've challenged the student's baseless demonization of Israel," said CUFI Action Fund chairwoman Sandra Parker. "Unfortunately, instead, Vice President Harris chose to defend the individual's right to speak—something no one sought to deny. Harris's reaction was that of a politician afraid to speak honestly rather than a leader with the courage of her convictions."

The Simon Wiesenthal Center also questioned the vice president's response.

"Israel Genociders? Your truth can't be suppressed? No VP Harris don't validate PA/Hamas talking point lies. Truth is not a multiple choice question. Don't validate big lies that spawn anti-Semitism," the group wrote on Twitter.
I am honestly not surprised about Kamala Harris.

Last year, she made a video that said Chanukah, the festival that commemorates Jews fighting to defend their Jewishness & Judaism against cultural genocide, was about 'Tikkun Olam'. It is not.

— Ben M. Freeman (@BenMFreeman) September 30, 2021
The Israel Guys: Kamala Harris Gives Nod of Approval to Jew-Hatred
Naftali Bennett and Mahmoud Abbas both made speeches at the United Nations recently. What they had to say could not have been further apart.

Vice-President of the United States Kamala Harris created an outrage online this week by refusing to condemn lies accusing Israel of committing genocide. She even nodded her approval when a student at a Virginia University accused Israel of ethnic cleansing.
Iran state media promotes video of Kamala Harris not pushing back on Israel 'ethnic genocide' claimhttps://t.co/yBiKVAHP7d

— Fox News (@FoxNews) September 30, 2021
Jews could use more friends
Winston Churchill famously said that "nothing in life is so exhilarating as to be shot at without result." In the last several days, those of us who are part of the Jewish and pro-Israel communities have been repeatedly reminded of Churchill's maxim. While the bullets flying in our direction are metaphorical rather than ballistic, we've spent a lot of time recently dodging incoming political missiles with the potential to do great damage to the Jewish people and homeland.

Most visible in the latest fusillade was last week's congressional fight over whether the United States should provide financial assistance to help the Israeli military restock its Iron Dome defense system after their war with Hamas earlier this year. A small group of progressive Democratic House members forced their leadership to eliminate a $1 billion earmark from a must-pass government funding bill, and although the spending was later approved in a separate measure, it provided an opportunity for a vocal and growing faction of Israel's congressional foes to air their grievances with the Jewish state's efforts to defend its people against thousands of missiles fired at civilian targets.

In California's state capitol, meanwhile, legislation creating a mandatory ethnic studies course for the state's public schools was awaiting Governor Gavin Newson's signature. The bill is a vast improvement over the original version, which included a curriculum that neglected to mention anti-Semitism as a type of racial or ethnic hatred and uncritically held up the anti-Zionist BDS crusade as a worthwhile social movement. But it still allows for that objectionable earlier draft to be taught in local schools, and there is a well-organized advocacy effort to persuade school districts to use it.

And here in Los Angeles, a faction of United Teachers of Los Angeles (UTLA) union members had introduced a motion to be considered by the organization that would have put them on record in support of the BDS movement, following similar successful efforts by the Seattle and San Francisco teacher unions. The Jewish Federation LA effectively marshalled a broad-based opposition campaign and was able to convince union leadership to indefinitely table the proposal, but the fact that such a fight was necessary provided an uncomfortable reminder of the pervasiveness of anti-Zionist and and-Semitic sentiment in political circles.
After death threats, Iraqis who attended pro-Israel normalization summit recant
Iraqis who participated in a conference calling for normalizing ties with Israel disavowed or recanted their remarks after being subjected to death threats and arrest warrants, with some participants saying they had been duped into attending.

Last Friday, over 300 Iraqis from across the country gathered at a conference in the Kurdish capital of Erbil, where speakers called for peace and reconciliation with Israel. Iraq has been at war with Israel since 1948, when the Jewish state was established.

The conference immediately ignited a firestorm in Iraqi media, with Iraq's president and prime minister condemning the event as illegal and vowing to prosecute those who attended. Iraqi law mandates strict penalties for citizens and residents who maintain contact with Israelis. Normalization efforts are punishable by life in prison.

Three arrest warrants were issued following the conference: for tribal leader Wisam al-Hardan and Iraqi Culture Ministry official Sahar al-Ta'i, both of whom spoke at the conference, and for Iraqi parliamentarian Mithal al-Alousi, a longtime advocate of Israel normalization.

It is unclear if anyone had been arrested, as al-Hardan is reportedly under the protection of Kurdish authorities and Al-Alousi resides in Germany.
What kind of leader has Germany elected?
In foreign policy, the SPD and the FDP will both advocate business as usual with China and Russia. Only the Greens have called for greater emphasis on human rights and an end to turning a blind eye to tyranny.

On defence, it is a similar story: the German failure to contribute the Nato minimum of two per cent of GDP is likely to continue, with only the Greens favouring a tougher policy. Thus Emmanuel Macron's vision of a European army, to give the EU a clout commensurate with its economic weight, is likely to remain just that: a mirage of military prowess.

It was a previous Social Democratic Chancellor, Helmut Schmidt, who in the late 1970s and early 1980s was so determined to ensure that the Federal Republic played its part in the defence of the West that in the end it cost him his job. By then he had forced the pacifists and fellow travellers to leave the SPD and form a new party — the Greens. There is a certain irony, then, that 40 years later the Greens are slightly more hawkish than the SPD.

Olaf Scholz has a great deal to prove that he is worthy to inherit the mantle of Schmidt and the even more legendary Willy Brandt, the Chancellor who fell on his knees in Warsaw to atone for the crimes of the Nazis. But at least he has already arrested the decline, which had seemed terminal, of his party.

Not so Armin Laschet, the lacklustre leader of the CDU. The great Volkspartei ("people's party") created by Konrad Adenauer to rebuild postwar West Germany, repurposed by Helmut Kohl to rebuild East Germany after the fall of the Wall, then steered through multiple crises by Angela Merkel, has ceased to exist.
Israeli biopic about lawyer representing Palestinians wins Best Documentary Emmy
A biopic about an Israeli attorney who has defended Palestinian terror suspects won an award for Best Documentary at Wednesday night's News and Documentary Emmy Awards.

"Advocate" follows the story of Lea Tsemel, an attorney who represents Palestinian clients including civil rights activists and suspected terrorists — most recently Arafat Irfaiya, who has confessed to the brutal rape and murder of 19-year-old Ori Ansbacher in a Jerusalem forest in 2019.

The controversial movie — directed by Rachel Leah Jones and Philippe Bellaiche — was previously among 15 films shortlisted for the 2019 Academy Awards in the documentary feature category.

The film follows two cases from the past few years in which Tsemel, 74, represented Palestinians eventually convicted of terrorism.

One is the case of Ahmed Manasra, who was convicted of the attempted murder of two Israelis in a stabbing attack in Jerusalem in October 2015, when he was 13 years old, and is currently serving a 9.5-year prison sentence.

Manasra carried out the attack with his 15-year-old cousin Hassan Manasra. The two stabbed and seriously wounded a 20-year-old man and a 13-year-old boy in the Jerusalem neighborhood of Pisgat Zeev. Hassan Manasra was shot dead by security forces, while Ahmed Manasra was hit by a car as he fled.
The Squad keeps the dream of dead Jews alive
People Love Dead Jews: Reports from a Haunted Present is the title of Dara Horn's new book. I happened to receive a copy last week just as anti-Israel members of Congress were doing their best to ensure the proliferation of more endearing corpses.

In case you missed it: Last Wednesday, members of the "Squad," far-left House Democrats including Rashida Tlaib, Ilhan Omar and Alexandra Ocasio-Cortez, blocked a bill to keep the federal government operating until it was stripped of funds to replenish Israel's Iron Dome.

To be clear: The Iron Dome is not a weapon. It is a shield. It intercepts and destroys short-range missiles before they can reach their intended victims.

Developed through a blossoming partnership that produces next-generation military technology for Israeli and US warfighters, this miracle of engineering is now used to protect American troops as well.

The Iron Dome also defends Israelis who are not Jews. Say a missile strikes an Israeli hospital. Those inside will likely include Israeli Arabs, Muslims, Christians, Druze and other minorities. They may be doctors, nurses, or patients, because Israel has no laws separating by race, ethnicity, or religion.

In other words, Israel is not an apartheid state, although that's the slander you now incessantly hear from the Squad and others intent on demonizing, delegitimizing and, ultimately, destroying Israel.
College Democrats Leader Under Fire For Anti-Semitic Tweets
A College Democrats of America leader is facing pressure to resign after her anti-Semitic tweets resurfaced.

Just one day before Nourhan Mesbah was elected vice president of the College Democrats' executive board, the national student club's Jewish Caucus released a screenshot of a 2016 tweet where she blamed Jews for sabotaging Hillary Clinton in a debate against Donald Trump.

"I blame this debate on the yahood," Mesbah tweeted. "Yahood" is the Arabic word for Jews.

In her tweet, Mesbah tagged Dima Jubara, an acquaintance with a long history of anti-Semitic statements—including one 2016 tweet where she prayed that "God will kill the Jews." The College Democrats of America Jewish Caucus called on Mesbah to drop out of the race and resign from the organization. College Democrats chapters at George Washington University and American University echoed calls for Mesbah's resignation and threatened to withdraw from the national organization if it fails to address anti-Semitism within its ranks.

Anti-Semitism is on the rise in the Democratic Party. Reps. Ilhan Omar (Minn.), Rashida Tlaib (Mich.), and other left-wing members of the Democratic Party are quick to address instances of hatred toward minority groups but have largely ignored hate crimes against Jews, which far exceeded those against Asians, Muslims, and transgender people combined in 2020, according to FBI crime statistics released Sept. 27. House progressives earlier this month successfully lobbied to strip funding from Israel's Iron Dome missile defense system from a defense spending bill.

Mesbah issued an apology but denied her tweets stemmed from hatred toward Jews. She quickly turned to discussing her own experience with bigotry as a "Muslim, immigrant, woman of color."
US evaluating antisemitism complaint against Oberlin College
AFTER THE Post's revelations, Oberlin College's chief of staff David Hertz told the student paper Oberlin Review in April that "the college is aware of the allegations and is taking steps to address them." However, it has refused to answer multiple Post queries about its investigation into Mahallati and whether the findings will be published.

The most serious accusations against Mahallati involve his role as a former Iranian envoy in a mass murder in which he "committed crimes against humanity" by covering up the massacre of at least 5,000 innocent Iranian prisoners in 1988, according to an Amnesty International report titled "Blood-soaked secrets: Why Iran's 1988 prison massacres are ongoing crimes against humanity." The college's April inquiry also covers Mahallati's activity during the 1988 atrocities and his documented tirades against the persecuted Baha'i community in Iran.

The organization Oberlin Committee for Justice for Mahallati's victims will hold a protest against him and the management of Oberlin College on November 2 from 12:00-2:00 p.m. in front of the Cox administration building. Growing outrage over the college's alleged failure to hold Mahallati accountable for his reported "crimes against humanity" prompted the slated protest.

In 2020, the local Oberlin newspaper The Chronicle quoted Lawdan Bazargan, whose 29-year-old brother Bijan was one of the victims of the 1988 massacre. Bazargan said when her father asked for Bijan's body from the authorities, they told him that "he was a heretic, so he can not have any mourning ceremony, and we will not reveal his grave. You cannot have any ceremony for him."

After the victim's family members and human rights experts published their public letter in October 2020 stating that Mahallati carried out "crimes against humanity," the professor told the Post that "I was in New York the entire summer of 1988, focusing on peacemaking between Iran and Iraq and did not receive any briefing regarding executions. There was not a single communication from Tehran to Iran's UN embassy informing Iranian diplomats of those incidents.

"During my short-lived ambassadorial position (1987-1989), I was focused on peacemaking efforts to end the Iran-Iraq war, the most prolonged and devastating war in modern history."

Mahallati has refused to answer numerous Post media requests for comments about his alleged antisemitism and anti-Baha'i propaganda.
Terrorist-Sympathizing Panel Buries Identity of 9/11's Killers While Slandering Their Victims
"9/11, as we all know, does not begin on 9/11" when Al Qaeda waged jihad against the United States, but has an imperialist prehistory that goes "back really to the birth of the colonial order," stated UCLA history professor Robin Kelley during "Whose Narrative? 20 Years Since 9/11/2001," a September 11 webinar. He and his fellow panelists, including two terrorist supporters, hijacked a solemn day of mourning to whitewash any Islamist involvement in that day's horrifying events and portray America as righteously attacked by a vengeful world.

The first terrorist sympathizer to speak was San Francisco State University associate professor of ethnic studies Rabab Abdulhadi. In 2014, she used taxpayer dollars to send Americans previously imprisoned for terrorism to meet fellow terrorists at An-Najah University in the West Bank. Last September, she attempted to host via Zoom convicted Palestinian terrorist and hijacker Leila Khaled, but congressional pressure and online companies' wariness forced the event's cancelation.

This year, Abdulhadi denied the victims of 9/11 their dignity by adopting an "all lives matter" stance to her "moment of silence to honor all those fallen" by the attacks. "We depart from the U.S.-centric approach by remembering and thinking of all those who have fallen around the world as a direct result of U.S. interventionist and imperialist wars," she said. Lest anyone miss her viciousness toward her host country, she added a litany of anti-Western accusations, including slavery, "genocidal wars against the indigenous people of the Western hemisphere," and "disaster capitalism and racial capitalism." She thereby reflected Kelley's view that "The lessons I think every generation learns is that U.S. empire threatens the future of humanity,"
UJS is disgusted to hear that Wiley will be performing at @SwitchPreston as part of @UCLanSU freshers week. https://t.co/4qU1MdrgjB pic.twitter.com/syKDzRchig

— Union of Jewish Students (@UJS_UK) September 30, 2021
When the BDS movement attacks other Arabs for refusing to boycott Israel.

What a pathetic movement of losers. https://t.co/inDqNxsAHR

— Emily Schrader - ????? ?????? (@emilykschrader) September 29, 2021
Stand With Us: That time Nelson Mandela visited Israel
That time South Africa's then-President Nelson Mandela received an honorary doctorate from Israel's Ben-Gurion University of the Negev.
BBC News website corrects omission following complaint
CAMERA UK submitted a complaint to the BBC concerning that serious omission on August 31st. On September 8th we were informed that it would take the BBC more time to address that very straightforward issue. On September 20th we received the following response:

"Thank you for getting in touch about our article Palestinian President Abbas holds rare talks with Israeli minister and please accept our apologies for the delay in our response.

We have added this information, along with an update note advising readers of the change."

The relevant section of that report now reads as follows:

The footnote appended to the report reads:

The continued absence of a dedicated corrections page on the BBC News website of course means that few, if any, of the readers of that article in the first 19 days after its publication are likely to discover that it failed to provide them with that highly relevant information.
Irish Times replaces extremely misleading photo of IDF raid on Hamas cell
On Monday, we emailed and tweeted the Irish Times foreign editors over an extremely misleading photo accompanying an article about an IDF operation near Jenin that left five Hamas terrorists dead.

Though the article makes clear that those killed were all adult Hamas members who were were planning a series of deadly attacks on Israeli civilians, editors chose an undated photo of another incident, in another city, involving a young teen detained for rock throwing.

Our complaint was upheld, and the photo replaced with something far more appropriate:
96-year-old former Nazi camp secretary caught after skipping trial
A former secretary for the SS commander of the Stutthof concentration camp skipped the planned start Thursday of her trial in Germany on more than 11,000 counts of accessory to murder, officials said. She was picked up several hours later after the court issued an arrest warrant.

The 96-year-old woman left her home near Hamburg in a taxi on Thursday morning, a few hours before proceedings were due to start at the state court in Itzehoe, court spokesperson Frederike Milhoffer said.

The court issued the warrant and delayed the reading of the indictment until the next scheduled hearing on October 19 because that couldn't be done in the defendant's absence.

The accused woman previously had "announced that she didn't want to come" to court, but the statement did not provide sufficient grounds for detaining her ahead of the trial, Milhoffer said. Given the woman's age and condition, she had not been expected "actively to evade the trial," Milhoffer added.

The court said Thursday afternoon that the defendant had been caught and police would bring her to the court, German news agency dpa reported. A doctor was to examine whether she was fit to be jailed before the court decides whether or not to put her in custody.

Prosecutors argue that the woman was part of the apparatus that helped the Nazi's Stutthof camp function during World War II more than 75 years ago.
Neo-Nazi Convicted on Charges of Threatening Journalists, ADL Employee: 'You Have Been Visited by Your Local Nazis'
A member of a neo-Nazi cell operating in several US states has been convicted on five counts related to threats against journalists and Jewish activists.

Kaleb Cole, 25, was one of four neo-Nazis arrested by the FBI in February 2020 in Arizona, Texas, Florida, and Washington state.

The group called itself the "Atomwaffen Division" after the German term for "atomic weapon." Authorities charged that they cyber-stalked and sent swastika-laden posters to journalists and an employee of the Anti-Defamation League (ADL), telling them, among other things, "You have been visited by your local Nazis," and "We are Watching."

One of their targets was Mala Blomquist, an editor for Arizona Jewish Life magazine. A poster glued to her house displayed Nazi symbols alongside the threat, "Your Actions Have Consequences."

The Department of Justice said in a statement Wednesday that the jury in Cole's trial deliberated for about 90 minutes before delivering its verdict, finding Cole guilty of conspiracy, three counts of mailing threatening communications, and one count of interfering with a federally protected activity.

Prosecutors said during the trial that images sent by Cole to his victims "were selected by Kaleb Cole to send one message: 'We can get you in your home.' Cole wanted to terrorize them with threats of physical harm."

The Department of Justice said that Cole's victims "moved from their homes for a time and installed security systems."
New Report Says Anti-Feminism, Misogyny Used by Extremists as Path to Antisemitism
A new report contends that hatred of women and feminism on the far-right can easily slip into antisemitism.

According to the report from the UK-based organization Hope Not Hate, there is a strong correlation between antisemitism and anti-feminist and misogynist figures, groups, and publications among members of movements like the "alt-right."

In particular, the report points to conspiracy theories such as "cultural Marxism," which holds that intellectuals are seeking to impose communism via culture, education, and movements like feminism; and "white genocide," which holds that there is a plot to use Third World immigration to destroy the white race — both of which often lead into open antisemitism.

Members of the far-right accept these conspiracy theories but then connect them to larger antisemitic conspiracy theories, claiming that the Jews manufactured feminism and other supposedly destructive ideologies in order to harm men and white people.

The report describes how "antifeminism and misogyny can act as slip roads towards antisemitism and other forms of racism, due to a perceived loss of status among white men — and women — based on gender and racial hierarchies."

"In recent years," states the report, "the antisemitic far right, in particular, has become increasingly adept at steering antipathy to feminism and women more broadly towards Jew-hatred, reasserting men's status at the expense of others."
'Jewish Nose' Jokes Aren't Funny; They're Dangerous
A political candidate in Virginia, a television game show host, and a Washington, DC, historian seem to think that jokes about "Jewish noses" are funny. They're not. In fact, they're dangerous.

In Virginia, Hahns Copeland, a Republican candidate for the House of Delegates, last week mocked the size of a Jewish delegate's nose. Earlier this year, Mike Richards, who was almost the new host of "Jeopardy," was revealed to have made a joke about a Jewish woman's nose.

And then there's Dr. Rebecca Erbelding, a staff historian at the United States Holocaust Memorial Museum, who tweeted in 2019: "At a talk today, asked about my personal background. I confessed that I'm not Jewish, but with a Hebrew first name, German last name, and my nose and hair, I 'pass.'"

It's instructive to see how each of these controversies played out. Richards apologized — but was fired from "Jeopardy" anyway. Copeland apologized — but denied his slur was antisemitic. Erbelding has never apologized at all. In fact, she hasn't even acknowledged the public's legitimate concerns about what she wrote.
UK court to review 'unduly lenient' sentence of neo-Nazi told to read classics
The British attorney-general has told the country's Court of Appeal to review the sentencing of a right-wing extremist who was convicted of a terrorism offense and ordered to read classic literature as a punishment, the BBC reported Wednesday.

Though Ben John, 21, was also given two years' suspended jail time, the office of Attorney General Suella Braverman said in a statement the ruling was "unduly lenient."

"It is now for the court to decide whether to increase the sentence," a spokesperson said according to the report.

An anti-racism group in the UK had petitioned the attorney general with a call to re-sentence John, who was ordered last month to read classical literature in retribution for downloading almost 70,000 white supremacist documents and bomb-making instructions.

John avoided prison "by the skin of his teeth," Judge Timothy Spencer of the Leicester Crown Court said during a sentencing hearing August 31, instead handing him the suspended prison sentence.

Spencer said John's crime was likely to be an isolated "act of teenage folly" and ordered him to reappear in court every four months to be "tested" on classic literature by Charles Dickens, William Shakespeare, Thomas Hardy and Jane Austen.
Australian Civil Rights Group Denounces Antisemitic, Anti-Vax Graffiti Found at Melbourne IKEA
Australia's leading civil rights organization condemned antisemitic and anti-vaccine graffiti found on the side of an IKEA store in Melbourne, Australia.

The Ikea store in the suburb of Richmond was defaced Thursday on one wall with the words, "No Jew Jab for Oz," and "No Jew Jab" on another wall. A Jewish woman who saw the vandalism reported it to Victoria Police and the local Richmond Council, the Anti-Defamation Commission (ADC) said. The graffiti was then painted over by a council staff member.

In a statement Friday, ADC chairman Dvir Abramovich addressed the "poisonous alliance" between some opponents of the COVID-19 vaccine and antisemitic groups that are "feeding off each other's conspiracy theories and wacky narratives." He called on elected officials to condemn "this toxic intersection which may spill into violence" and explained how the coronavirus pandemic has produced a "fertile ground for extremists."

"The neo-Nazis who first accused Jews of creating the ongoing pandemic are now using the growth of skepticism about vaccines, and the fact that many people are online during the lockdown, to spread their dangerous ideas to a wider audience," he said. "This domestic radicalization is a cause for concern, and as the violent anti-lockdown, anti-vax protests of the last week in Melbourne and this latest incident demonstrate, there is a coalition of actors that have locked arms to spread these lies."
France's Voodoo buys Israeli gaming company Beach Bum for $300m
French gaming company Vodoo has acquired Israeli gaming company Beach Bum for an estimated $250-300 million, sources close to the deal have told "Globes." Beach Bum was founded by Gigi Levy-Weiss and Uri Shahak, who previously founded Israeli gaming company Playtika (Nasdaq: PLTK).

Beach Bum, which has developed digital board games backgammon, rummy and spades, is based in Ra'anana and had grown rapidly under the media radar in recent years, and gained millions of loyal users who have been able to play their 'real world' favorite games on their mobile phones.

Voodoo is a leading French mobile gaming company with a valuation of $1.4 billion, and whose shareholders include Tencent and Goldman Sachs.

Beach Bum lets users open their app and find partners to play against in real time. The app became especially popular during the Covid pandemic when millions of people were socially isolated at home in lockdown but using Beach Bum were able to find partners to play their favorite games. The company will soon launch a product which will take the experience in the world of video, making it possible to play backgammon or rummy against partners using video programs such as Zoom.
'In Sound Mind': New Israeli video game released for PC, PS5, Xbox
In Sound Mind, a new video game developed by Israeli game studio We Create Stuff and published by Modus Games, was finally released on Tuesday, hitting digital distribution services Steam, GOG, the Epic Games Store, Sony's PlayStation 5 and Microsoft's Xbox Series X/S.

The game is in the psychological horror genre, and the influences of some of the past luminaries of its kind, such as Amnesia: The Dark Descent, are very visible.

Like Amnesia, In Sound Mind is a game played in the first-person perspective with a heavy emphasis on puzzle-solving. However, it also shows its survival horror influences, with an additional focus on action and boss fights.

This is done through obtaining items through exploration, with new items opening up new gameplay avenues and progressing through the story. In In Sound Mind, players take the role of psychologist Desmond Wales, who has woken up trapped in a strange building. In his journey, he encounters horrific monsters, strange visions, a mystery involving a series of victims and experimental chemicals, and a cat named Tonia. The building itself serves as a sort of hub world, with a series of cassettes found serving as the game's levels, allowing the player to explore the minds of the victims and battle the various monsters within.
Jordanian Red Crescent Chief: Israeli Training Prepared Our Medics for Covid
Mohammed Al-Hadid, president of the Jordanian Red Crescent, spoke of how training in Israel helped equip paramedics in his country to face the Covid crisis.

Al-Hadid personally paved the way for the admission of Israel's Magen David Adom (MDA) to the International Red Cross and Red Crescent organization in 2006.

He told MDA UK that the Israeli emergency service was "a fantastic organization. I sent a cohort of Jordanian students to Israel."

"They spent four years there and made lots of friends. MDA trained them and trained them well. Now many of them are working in our center and were instrumental in the Covid crisis."
Czech Republic Buys Israeli Spyder Air-Defense Weapon for $627 Million
The Czech Ministry of Defence has signed a deal to acquire the Spyder surface-to-air missile systems made by Israel's Rafael Advanced Defense Systems. The contract is worth 13.69 billion koruna (US$627 million), the ministry said in a statement.

Czech Defence Minister Lubomír Metnar said the purchase would enable Prague to replace its outdated, Soviet-designed 2K12 Kub surface-to-air systems with modern military technology.

"I appreciate the willingness of the Israeli government to share with us a state-of-the-art defense system that will move our military towards 21st century capabilities," Metnar said, as quoted in the statement. "Finally, we will get rid of our dependence on the Soviet Kub [systems] from the 1970s which do not meet the current requirements for airspace protection."

Under the contract, the Czech defense industry will take part in the program, supplying products and services worth more than 30 percent of its value.

The Czech Armed Forces are expected to operate the supplied systems for at least 20 years. Combined with the costs of maintenance and repairs, the acquisition will cost the country's budget about 23 billion koruna, or $1 billion, according to the statement.
India buys 4 Heron MK II drones for surveillance in Ladakh
As tension continues to simmer between India and China over Ladakh, New Delhi will be buying four Heron MK II UAVs from Israel Aerospace Industries and will deploy them to the area for surveillance purposes.

The agreement between New Delhi and IAI was signed in mid-January, but the arrival of the UAVs was delayed due to the ongoing COVID-19 pandemic. According to The Times of India, the first two UAVs will arrive in India in two to three months, while the other two will arrive by the end of the year.

The deal, worth some $200 million, was at first set to be a three-year lease agreement, but New Delhi decided to purchase the platforms as part of the country's plans to upgrade its military amid the ongoing border conflict with China.

Indian media reported that the Indian Air Force's plan, dubbed "Project Cheetah," will see 90 Heron drones flying with the Indian Air Force, Indian Army, and Indian Navy be upgraded with laser-guided bombs, air-to-ground and air-launched anti-tank guided missiles.

The Indian Air Force already operates more than 180 Israeli-made UAVs, including 108 IAI-made Searchers and 68 unarmed Heron 1s for surveillance and intelligence gathering as well as a fleet of IAI-produced Harpy UAVs, which carry a high-explosive warhead and self-destructs to take out targets such as radar stations.
Willing Israel into life: As Expo Dubai opens, a look at Zionism and World Fairs
David Matlow, owner of the world's largest collection of Zionism founder Theodor Herzl memorabilia, was excited to learn that Israel was invited to participate in Expo 2020 Dubai, the first World's Fair hosted by an Arab country. (The event was postponed a year because of the coronavirus pandemic.)

Starting October 1, Israel will welcome visitors to its open-concept pavilion in Dubai, which is future-focused and highlights the ways in which the Jewish state can cooperate with other nations to solve the many challenges facing the global community.

"I was really struck by this. This invitation was extended before the Abraham Accords. It occurred to me that the presence of Israel's pavilion in Dubai is a continuation of more than 100 years of aspiration — initially of the creation of the Jewish state, and now for it to live peacefully with neighbors and be more accepted among the nations of the world," Matlow said.

While the presence of an Israeli pavilion in an Arab country is novel, Israel's participation in World's Fairs and other international exhibitions is not. In fact, this participation predates Israel's establishment by several decades. Major exhibitions were an important way for Zionists to show off positive social, economic and cultural developments in what was then British Mandate Palestine, and to advance the case for the creation of a Jewish homeland there.

"The idea was to basically will the country into existence. The purpose of having these pavilions was to imprint on people's minds either the possibility that Jewish people could have their own nation, or that it already existed — even if it didn't," Matlow explained.
EXCLUSIVE: 'British Schindler' who saved 10,000 Jews deserves honour
Fresh evidence of the bravery of a British spy who saved 10,000 Austrian Jews during WWII, and who may have helped Sigmund Freud escape Vienna, has prompted a JC campaign to have him honoured by Yad Vashem.

Spymaster Thomas Joseph Kendrick's dangerous, last-ditch operation to secure passports for thousands of desperate refugees is well known and has earned him the title "Austria's Oskar Schindler" – but he has not been recognised as a Righteous Gentile by Israel's Holocaust memorial centre, Yad Vashem.

A key reason for the omission has been Yad Vashem's consistent refusal to accept evidence on potential Righteous Gentiles from sources other than eyewitnesses.

Now historian Dr Helen Fry, who tells the story of Colonel Kendrick's Vienna operation in a new biography, Spymaster, says the Holocaust memorial has changed its rules and will accept documentary evidence.

As a result, Dr Fry submitted an application late last month to Yad Vashem, featuring new written testimonies — ­which the JC can reveal — about Col Kendrick's actions.

They include statements by Eric Sanders who, after escaping to the UK with the help of Col Kendrick, was trained to go back into Austria with British special forces; and Susan Gompels, who discovered how the British officer saved her family in a chance conversation with her father.

Fresh documentary evidence about how Col Kendrick helped 2,000 Jews flee to Rhodesia and Kenya was also sent to Yad Vashem last month.
Here's this week's front page pic.twitter.com/6zYjtFgNiM

— The Jewish Chronicle (@JewishChron) September 30, 2021