From Ian:
UN should bar future Durban debacles
Durban IV, held this year on Sept. 22 and marking the 20th anniversary of the World Conference against Racism, Racial Discrimination, Xenophobia and Related Intolerance turned out to be a debacle. This was expected.

But the lies that it propagated, like those of its predecessors, did not begin in 2001, with the first such gathering in South Africa. The world should have seen what was coming back in 1975 when the "Zionism is racism" mantra was introduced with the passage of UN General Assembly Resolution 3379.

Indeed, Durban was and remains a most regrettable creation of the United Nations.

It is high time for the United Nations to reject useless distractions from its mission of promoting humanity and peace. It must simply prohibit this hateful commemorative event from happening again.

If member countries want to hold a festival of hate, they should do so without the blessing or the name of the United Nations. To go through this dishonest exercise of announcing something in the name of fighting racism, which prompts at least 20 Western countries correctly to boycott it, while others attend under political pressure, is ridiculous.

The United Nations should just save itself the embarrassment of having its name attached to this fiasco. The countries firmly committed to Durban are those that have called for Israel's destruction. Many of them commiserate with Iran.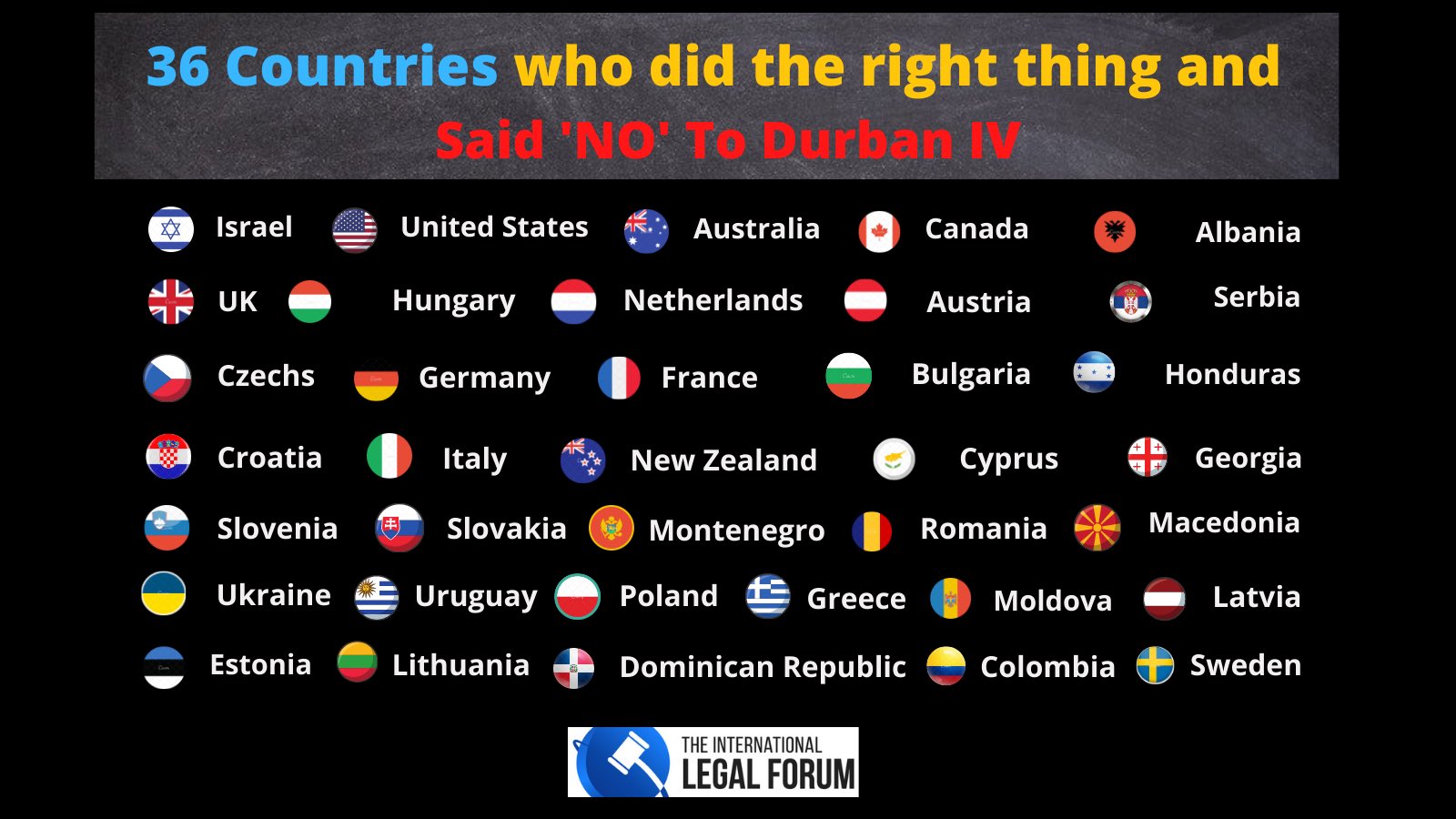 The 20 dark years of the Durban conference
On Sept. 22, 2021, an event marking the 20th anniversary of the Durban Conference will be held in New York as part of the annual UN General Assembly, but unfortunately, nothing has changed for the better in the last twenty years. They are the same wolves in sheep's clothing.

This year, too, when 31 [now 36] countries show support for Israel and are boycotting the event because of its antisemitic stench even more so than in previous conferences – it is not a real sign of progress. I do not believe for a moment that these countries tend to favor the State of Israel or are sympathetic to Jews wherever they are.

You can buy some fake smiles with money, but the world will not turn over and change as a result of it. It is impossible to solve the phenomenon of age-old antisemitism at conferences.

It is possible to gather from conference to conference, but other than money and publicity to promote political agendas or to mark that we have done something about it, no real benefit will come out from such events.

The only condition for change is the self-awareness of the people of Israel and a new attitude about our destiny. The Jewish people were founded from a collection of representatives from different peoples, a composition of different elements, equally committed to unity and love of others.

Antisemitism is resentment of us by the nations of the world. They feel Jews hold the secret for a better future but that we are not opening the pipe for that goodness to flow to all the peoples. Subconsciously, the world expects us Jews to connect with each other, to be united and reach a strong feeling of love for others. If we act in this way, we will be a light unto the nations, we will spread light and not darkness, love instead of hatred. Only in this way will we eradicate the hostilities against us.
UN commemorates controversial Durban summit with no apparent mention of Israel
The Foreign Ministry released a statement denouncing the conference as the commemoration began.

"The original Durban Conference, a UN-hosted event, became the worst international manifestation of antisemitism since WWII," it said. "Inflammatory speeches, discriminatory texts and a pro-Hitler march that took place outside the halls were only part of the ugliness displayed in 2001.

"The 'World Conference on Racism' actually ended up encouraging it, including through the parallel NGO forum, which displayed caricatures of Jews with hooked noses and fangs dripping with blood, clutching money."

"Twenty years later, some of the same organizations have waged a BDS campaign against the only democracy in the Middle East, but they have failed," the ministry added, referring to the Israel boycott movement.

"The halls of the #UNGA are empty, and with good cause," tweeted Foreign Ministry Director-General Alon Ushpiz along with a Foreign Ministry list of boycotting countries. "Honorable men and women will not dignify this antisemitic event with their presence."

The United States still faults "the anti-Israel and antisemitic underpinnings of the Durban process and has longstanding freedom of expression concerns" with the results, UN Ambassador Linda Thomas-Greenfield said in a statement on Wednesday explaining her country's decision not to participate in the anniversary meeting.

Thomas-Greenfield, who is African American, said that combating racism is a top priority for her and for the Biden administration. She said that the US would continue working on the issue in "more inclusive" settings, without detailing what she meant.

The US decision drew criticism from the American Civil Liberties Union, one of the nation's most prominent rights groups.

The boycott "sends the wrong message to the global community regarding the US commitment to fight all forms of racism and racial injustice everywhere," ACLU Human Rights Program director Jamil Dakwar said.
Opposed antisemitic Durban IV:
????
???? ????
???? ???? ???? ????????????????????????
???? ???? ???? ????
???? ????
???? ???? ???? ????
???? ???? ????????????????????????????
???? ????
???? pic.twitter.com/Ex0CkrAbnK

— Hillel Neuer (@HillelNeuer) September 23, 2021
BREAKING: ???? Sweden pulled out of the U.N.'s Durban IV conference yesterday, due to its history of antisemitism and anti-Israeli prejudice.

?? This is the first time in 20 years that Sweden has boycotted one of the UN's Durban-related racism conferences. Statement by @SweMFA: https://t.co/vG5X1kAWyd pic.twitter.com/pRNumYlfKB

— UN Watch (@UNWatch) September 23, 2021
In case you're wondering which side #Ireland & #Belgium stood on at #UNGA #DurbanIV conference yesterday, they shared platform with such noted liberal democracies Iran, Qatar, Venezuela & Pakistan.

cc. @BelgiumMFA @BelgiumUN @Sophie_Wilmes @dfatirl @irishmissionun @simoncoveney pic.twitter.com/XETPICW2PU

— Arsen Ostrovsky (@Ostrov_A) September 23, 2021
US House Approves $1 Billion Standalone Bill to Replenish Israel's Iron Dome Missile Defense
The US House of Representatives overwhelmingly passed a $1 billion bill to replenish Israel's defensive shield against rocket attacks on Thursday, also known as the Iron Dome missile system. The measure — which passed by a final tally of 420 to 9, with two members voting present — will now move to consideration in the Senate. The House voted on the standalone legislation after funding for the Iron Dome was removed from a broader spending bill. Israeli Foreign Minister Yair Lapid praised the results of the vote, saying that it "reaffirms the special relations between our two countries, rooted in shared values and strategic interests." "Upon my urging, House leadership has committed to bringing a standalone bill to the floor to replenish the Iron Dome missile defense system," said Congresswoman Kathy Manning (D-NC) ahead of the debate on the House floor. "We will pass this bill with the support of the majority of my colleagues and reiterate our ironclad support for our ally, Israel."
American Jews: A Threat Report
Is the Jewish-American love affair over? This is the question U.S. Jews are nervously asking—even sober souls not given to hysteria. The evidence is piling up: murder from Pittsburgh to Jersey City, Jews assaulted in West Hollywood and Times Square, vandalized synagogues, the BDS movement, ostracized Jewish college students, the ever-unfriendlier mainstream media. Add anti-Zionism, that veiled cousin of anti-Semitism, and the mob that stormed the Capitol on January 6, 2021, and inevitably, the memories of 20th-century fascism well up. Yet I still believe that "it can't happen here," unlike Sinclair Lewis, who used the phrase in bitter irony as the title of his 1935 novel about the attempted destruction of democracy in the United States.

That destruction does not happen in Lewis's novel, nor does it in Philip Roth's counter-historical tale of a Depression-era Charles Lindbergh presidency, The Plot Against America. In both dystopias, the good America triumphs over anti-Semitism and homegrown totalitarianism. Back in the present and in the real world, Donald Trump proved not even a pale copy of Mussolini despite the efforts of his enemies to liken him to the fascists of old, and his assault on norms as a return to the days of the Weimar Republic. The Weimar analogy betrays ignorance of the real thing. Weimar was 14 years old when it fell to Nazis and Communists; the U.S. Constitution has defied all attacks for 234 years. The Great Depression spawned Hitler in Europe; over here, it brought forth FDR.

So, amid justified fear, let's first lay out the good news. America, I will still argue, is different; hence, three cheers for the country's genuine, not self-hyping exceptionalism. Why did Jews do so well in this "blessed plot," to crib from the Bard? How did the "tired, huddled masses" make it from the Lower East Side to Scarsdale? How did their offspring move from the cheder to Columbia and into the highest reaches of government? Think Cabinet members such as Henry Morgenthau and Henry Kissinger plus a slew of Supreme Court judges from Brandeis to Breyer. Hollywood is another towering symbol of Jewish achievement, though I will concede that the transgressive humor of Groucho Marx and Mel Brooks would not make it in today's hyper-woke times. Recall the self-ironical black sheriff in Blazing Saddles who turns racial stereotypes into belly laughs. Today, that would be a "micro-aggression."

Jews also flourished in the Kaiser's Germany and continued to thrive in the doomed Weimar Republic. One-third of Germany's Nobel Prizes went to Jews. But it ended in the Shoah. Meanwhile, America remained the "Land of Gold" it had been in the Jewish imagination on the far side of the Atlantic. This is no fluke of history; it is integral to the American experience. Before we get to today's darker parts, let's look at the three pillars of the Jewish-American house—a palace, actually.1 It has no analogue in the 2,000 years after the destruction of the Temple. There was no such sustained Golden Age anywhere.
The Troubling Prevalence of Antisemitic Attacks in Brooklyn
Brooklyn's streets clearly aren't safe. Who's responsible? Felder pointed to Mayor Bill de Blasio's "getting rid of the broken windows policy, and any time crime goes up in general, hate crimes go up." For his part, Americans Against Antisemitism founder Dov Hikind cited now former Gov. Andrew Cuomo's embrace of bail reform, which created a 24-hour revolving door for arrestees.

Then there's the district attorney. Some cases probably weren't prosecuted because victims opted not to bother. Hikind has a different take, though: "I think people would be willing to pursue if they were encouraged by the DA, but I don't think the DA is interested in pursuing these cases."

There's clearly a gap between arrests and prosecutions. Reflecting on that, Brooke Goldstein, founder and executive director of The Lawfare Project, emailed: "What we are seeing is a systemic problem within our justice system that fails to recognize the severity of antisemitic hate crimes as compared to hate crimes against other minority groups. ... Crimes committed against Jews are often ignored or put aside due to a fundamental misunderstanding of what Jew hatred looks like today."

Any such misunderstanding could be remedied by communal engagement. However, Felder observed, "In general, the DA's office in Brooklyn does not have a relationship with the Jewish community at all, and I don't think they care much about the Jewish community."

As proof, Felder, who represents Borough Park and Midwood, observed, "'How many times has the DA's office been in touch with [my] office over the years?' The answer is zero. That's not good—not because I need his attention, but I represent a district that has the largest concentration of Holocaust survivors outside of Israel, so hate crimes take on a bigger significance."

Felder added, "Iam not by any means, G-d forbid, accusing him of being antisemitic in any way. ... [But] when hate crimes have occurred ... in this district, the Brooklyn DA has not been present ... whereas other times, when things happen in the city he makes sure to be around. ... the Brooklyn DA's office doesn't believe the Jewish community is a priority of any sort."

It's time for change. The next mayor should prioritize public safety and fully fund the police. New York's new governor should work to reform bail reform. The state legislature should pass legislation modernizing the courts; it's absurd that the public can't readily access public information about court proceedings. In general, it shouldn't be so hard for the public to access information about what's happened with reported crimes that directly affect members of the public. And Brooklyn's district attorney should consistently prioritize antisemitic hate crime prosecutions, as he recently did with two related May 2021 incidents. Because Brooklyn's Jews, like all other New Yorkers, deserve to live in safety.
Gil Troy:
Enough with the sniveling Zionists! - opinion
Too many apologists indulge Yasir Arafat's conceit that every Israel conversation must be about the Palestinians. That obsession distorts reality. It defines last year by Gaza, not the Abraham Accords. It defines the last half-century by the "intractable" Palestinian conflict, not Israel's progress with Egypt, Jordan, even Saudi Arabia. And it defines the last 75 years by Israel fighting, not Israel thriving, building, ever-improving. My Israel timeline is not '48,'56 '67… war-war-war. My chronology pivots around the Forties, the Fifties, the Sixties… – viewing the conflict in context, not making the conflict the context.

Most modern anti-Zionism is not logical or ideological but sociological – and irrational. In his important book The Constitution of Knowledge: A Defense of Truth, Jonathan Rauch quotes social science research proving that "believing is belonging." Most people cater their arguments and, increasingly, their truths, to reinforce their defining reference group.

These hyper-critical Jews are most committed to being Woke, to fitting in with Social Justice Warriors. They may sing Leonard Cohen's "Hallelujah," but they overlook Cohen's lesson during the 1973 Yom Kippur, when Montreal's legendary singer-songwriter traveled the Sinai, singing to buoy Israel's troops. Asked what he was doing there, despite having criticized Israel harshly, he explained: "I am joining my brothers fighting in the desert… A Jew remains a Jew. Now it's war and there's no need for explanations. My name is Cohen, no?" "A Jew remains a Jew" is the strategic insight – and ideological stance – shaping Identity Zionism. Emphasizing belonging invites Jews to dream about what we can become working together, tapping into our rich heritage. It's about values and vision, community and continuity, patriotism and pride. We didn't come to Israel to build what the writer Herman Melville called a snivelization – we mastered that for millennia in Exile! Snivelized types feel "dreadful about their souls," Melville warned; civilized types know how to nurture what the Home Depot philanthropist Bernard Marcus calls "a generation of proud Jews connected to Israel and the Jewish people." Through the teen trips Marcus sponsors, through Birthright, Masa, and other Israel Experiences, we don't start the conversation with "what's wrong with us" or even "where do we stand politically." We start with "who are we," "who have we been" and "who can we become?"

That's the recipe for long-term pride. Thats the recipe for a Zionism which isn't about twisting ourselves into pretzels – that's junk food! – but baking tasty Gen Z challahs: evoking warm memories, braiding us and our ideas together, while leaving us satisfied yet hungry for more.
David Collier:
Project Wikipedia – meet the antisemitic and terrorist supporting editors
Radicalisation is defined as the 'the action or process of causing someone to adopt radical positions on political or social issues'. Extremists know that they cannot easily enter the mainstream using traditional routes, but Wikipedia, one of the world's most popular websites, has provided them with a direct voice into every home with online access.

Editing Wikipedia, certainly at the high level needed to consistently edit Wikipedia's 'Jewish' 'Israel' or 'Palestine' pages (please don't tell me everyone can edit Wiki – it is a myth), is almost a full-time role that needs a particularly obsessive character. Who does this – and – more importantly why? I have no doubt the motives of some are benign – but what about those who you wouldn't want to speak directly to your children – and certainly not when their true intentions are masked?

This article is part of ongoing research into Wikipedia's radicalisation issue. It is even more timely considering that Wikipedia is currently on another donations drive. Please make sure that everyone you know is aware of the dangers inherent in using and funding the Wikipedia website.

The StandWithUs example
I start this tour with a look at the page for StandWithUs. SWU's main function is education – empowering young Jews with enough knowledge to counter the incessant demonisation campaign they will face, especially on campus.

This is Wikipedia's opening paragraph on the StandWithUs page:




Stand With Us - WikipediaThere are three issues here:
The opening sentence claims that it is a right-wing organisation; that it is known for working closely with the Israeli Government and the intro provides information regarding supposed positions on 'settlements' and the 'West Bank'. Everything else about SWU is lost beneath these meaningless smears. What does 'working closely with the Israeli government' even mean? And is Wikipedia suggesting that if Israel were to reach an accord with the Palestinians, and to withdraw from some lands to enable the creation of a viable Palestinian state, that SWU would oppose the Israeli government? How does that even make sense?

And where does the 'Right-Wing' label come from. When the page was originally edited to include the smear (and it was intended as a smear, which is why I reference it as such), it relied on a single source. It now relies on four.

- Source 1. The original source. A 'report' on the 'Israel Lobby' by David Miller and his gang that was published by Miller's outfit 'Public Interest Investigations' (Spinwatch and Powerbase). Anti-Israel conspiracy theorist Miller is currently under investigation for antisemitism. The other two authors are also anti-Israel BDS activists (Cronin, Marusek)
- Source 2 – an unsourced use of the words 'right-wing' in an Israel-bashing 2012 article from Israel-bashing 'Settler Colonial Magazine' written by Nada Elia. Elia is an anti-Israel BDS activist.
- Source 3 – an unsourced use of the words 'right-wing' in a book review written by Nicola Perugini. Perugini is an anti-Israel BDS activist.
- Source 4 – an unsourced use of the word 'right-wing' on page 298 of a book written by Ilana Feldman. Feldman is an anti-Israel BDS activist.

In other words – *all of the sources* Wiki have relied on to smear StandWithUS in the opening sentence, are from unreliable, Israel hating, BDS activists.
Antisemitism migrated from academia onto Capitol Hill - opinion
Jewish students deserve the same Constitutional protections as any other minority group.

I have been trying to get members to sign a letter to Education Secretary Miguel Cardona, saying simply that, and it has become increasingly difficult to get democrats on board. Once, this sort of letter would be a "no brainer" to obtain ample bipartisan support.

There is a war within the soul of the democratic party, which ultimately is a war of the soul of much of America, and within much of America's opinion shapers and thought leaders.

Enabling or accepting antisemitism within one major political party signifies a certain rot within our society.

As the late Rabbi Jonathon Sacks said, "The appearance of antisemitism in a culture is the first symptom of a disease, the early warning sign of collective breakdown."

Looking back historically, we know that Rabbi Sacks was right. We have got to clean up our act within academia, because it is causing a deep rot within our society that might not be so easily eradicated.
The court decision that is a clear and present danger to America's Jews Try painting a swastika on the wall of a synagogue, and you'll be arrested and charged with vandalism and probably serve jail time for a hate crime. But a federal appellate court has just gone out of its way to grant constitutional protection to signs bellowing "Resist Jewish Power" and "Jewish Power Corrupts" at Jews attending synagogue services every Sabbath morning for the past 18 years in Ann Arbor, Mich.

The judges didn't bother to explain why menacing Jewish Americans coming together to worship is less intimidating than cross-burnings were to church attendees in African-American churches in the South. The Supreme Court said in 2003 (Virginia v. Black) that "cross burning carried out with the intent to intimidate is … proscribable under the First Amendment." No sane American thinks otherwise today.

The voracious wolf of rank Jew-hatred is cloaked in the sheep's fleece of "American-Israeli relations."

A decision rendered by three federal judges on the eve of Yom Kippur should send shivers down the collective spines of the American Jewish community. Since September 2003, a group of Ann Arbor residents has been harassing Jewish attendees at Saturday-morning services in Beth Israel Synagogue, a Conservative congregation, by gathering between 9:30 and 11:30 a.m., and posting 18 to 20 aggressive signs on grass near and opposite the synagogue. The signs challenge "Jewish Power," and attack Israel as "apartheid" and as responsible for a "Palestinian holocaust." They demand a boycott of Israel and an end to U.S. aid to Israel.

But their timing and location demonstrate that they address Jews coming for religious observance, whether or not they support Israel. It takes only a rudimentary knowledge of history to recall that the Third Reich began a program that murdered millions with similar harangues against the Jewish religion by hostile hordes at the doors of Jewish synagogues.

Beth Israel's members suffered these meticulously timed taunts and the city's refusal to prevent them for years, but finally took their tormentors to federal court with a complaint alleging 13 violations of federal law and 10 violations of state law. They encountered a district court judge who, they later alleged, should have been disqualified because she "had pre-determined the outcome of the lawsuit." The judge brusquely dismissed the congregants' lawsuit on the ground that they experienced only "intangible injury," such as "extreme emotional distress." This harm, she said, was not "concrete" enough to give them "standing" to file a lawsuit in a federal court.
Major Media Outlets Mute as US States Divest from Unilever Over Ben & Jerry's Israel Boycott
The decision taken in July by the independent board of Ben & Jerry's to end sales in the disputed West Bank sparked a media field day. Countless articles and opinion pieces were published that proclaimed the ice cream brand was "changing the moral calculus" and living up to its "progressive values."

The subsequent backlash from Israeli politicians was widely reported.

HonestReporting published several pieces that laid bare the legal implications that could arise as a result of the Vermont-based company's action, specifically because 35 US states have enacted laws to counter the controversial Boycott, Divestment and Sanctions (BDS) movement against Israel.

These predictions have now come to fruition after multiple US states, including New York, Florida, Texas, Illinois, Maryland and Rhode Island, initiated reviews of their investments with Ben & Jerry's parent company Unilever.

Earlier this month, Arizona treasurer Kimberly Yee announced that all state funds would be divested from the British conglomerate in accordance with a state law that prohibits investment or contracts with businesses or people that participate in boycotts against Israel. In total, investments in Unilever were reduced from $143 million to $50 million on June 30, while the remainder was scheduled to be withdrawn this week.

In a similar vein, 2016 legislation against allowing state pension funds to be invested in companies that boycott Israeli firms, goods or products has prompted the New Jersey Department of the Treasury's Division of Investment to send a letter to Unilever notifying the corportation of the state's intention to divest approximately $182 million.
San Diego Teachers' Union Passes Resolution That Rejects Israel's Legitimacy
The AFT local guild resolution denounced Israel's "73-year occupation," a reference to the creation of the Jewish state in 1948. This claim goes beyond the accusations of many of Israel's harshest critics, who trace the "occupied territory" dispute to the 1967 Arab-Israeli war.

The union also defended itself against charges of anti-Semitism, claiming that "condemning Israel for its ethnic cleansing of Palestinians, occupation, apartheid, and war crimes is not anti-Semitism."

Some members of the guild objected to the resolution and expressed concern that it would encourage hate crimes against Jews, according to meeting notes from the Sept. 5 vote obtained by the Free Beacon.

One dissenter said the statement was "factually inaccurate and takes much out of context" and added that it could "provoke and give people permission to engage in anti-Semitism." Another member said "Israel has the right of self-defense" and called the resolution "an anti-Semitic hate crime."

Supporters of the resolution rejected these arguments, with one claiming that "conflating Israel and Judaism is anti-Semitic," according to the meeting minutes. Others accused former Israeli prime minister Benjamin Netanyahu of "openly advocat[ing] for the ethnic cleansing of Palestinians" and "engaging in a settler colonial project in line with historical colonialism."

The guild's president Jim Mahler did not respond to requests for comment. The National ATF did not respond to a request for comment.
McAuliffe Taps Onetime Vaccine Skeptic To Slam Youngkin on COVID
Sakran told the Washington Free Beacon he has "always been clear that vaccines work and ha[s] always encouraged their use" but declined to answer questions about his vaccine rhetoric during the Trump presidency. McAuliffe did not return a request for comment.

In his McAuliffe campaign ad, Sakran also made questionable claims to criticize Youngkin's positions on coronavirus-related measures. Sakran, for example, said Youngkin "is against requiring masks in schools, even though the science has made clear that's how we prevent outbreaks in schools."

That science, however, is far from clear. Many American allies in Europe have exempted children from wearing masks in schools, and the World Health Organization advises against requiring masks for children ages 5 and under.

"Scientists have an obligation to strive for honesty," hematologist and oncologist Vinay Prasad wrote in September. "And on the question of whether kids should wear masks in schools—particularly preschools and elementary schools—here is what I conclude: The potential educational harms of mandatory-masking policies are much more firmly established, at least at this point, than their possible benefits in stopping the spread of COVID-19 in schools."

McAuliffe's embrace of Sakran could also undermine the Democrat's position as a supporter of Israel. Sakran, a self-identified "Palestinian American," has referred to Israel as an "apartheid" state and condemned former president Donald Trump's "reckless" decision to recognize Jerusalem as the capital of Israel. As governor, McAuliffe notably denounced the Boycott, Divestment, and Sanctions movement but has since welcomed an endorsement from an activist group that staunchly defends the anti-Israel campaign. Sakran did not respond to a request for comment about his past Israel rhetoric.
Netflix Acquires Prominent Anti-Semite's Estate, Announces Epic Content Dump
Netflix, a media conglomerate with ties to former president Barack Obama, announced on Wednesday its acquisition of British author Roald Dahl's estate and promised to produce "a unique universe across animated and live action films and TV, publishing, games, immersive experiences, live theatre, consumer products and more."

In addition to authoring such classics as Matilda and Charlie and the Chocolate Factory, Dahl was a virulent anti-Semite who would have already been ruthlessly canceled by woke scolds if his bigotry had been directed at any other vulnerable minority.

Dahl, who served as a fighter pilot and intelligence officer during World War II, would go on to discharge a series of anti-Semitic tirades beginning in the early 1980s until several months before his death in 1990, when the author acknowledged he had "become [anti-Semitic] inasmuch as that you get a Jewish person in another country like England strongly supporting Zionism."

In a published review of a picture book about the Israeli-Lebanon War of 1982, Dahl lamented how the Jews had "switched so rapidly from victims to barbarous murderers" after the Holocaust, and compared Israeli Jews to German Nazis. "It is like the good old Hitler and Himmler times all over again," Dahl wrote.

"Must Israel, like Germany, be brought to her knees before she learns how to behave in this world?" Dahl asked rhetorically, while accusing the United States of being "utterly dominated by the great Jewish financial institutions," a common anti-Semitic trope.

In a series of subsequent interviews, Dahl took his already considerable anti-Semitism to new heights, telling the New Statesman in 1983 that Hitler might have been onto something. "There is a trait in the Jewish character that does provoke animosity," he said. "Even a stinker like Hitler didn't just pick on them for no reason."
Singer John Legend Says 'Unjust' Israeli Treatment of Palestinians 'Should Not Be Done in Our Name'
Legend, who is also a judge on the singing competition "The Voice," then called on the US to hold Israel "to a higher standard" in light of the fact that the Jewish state is "the recipient of so much American aid and support and is named one of our stronger allies."

"What [Israel is] doing to the Palestinian people is not fair and should not be done in our name and with our resources contributing to it," the father-of-two concluded by saying.

Legend, who tweeted "Palestinian Lives Matter" during the Israel-Hamas conflict in May, has made several claims in the past about Israel's actions towards the Palestinians. When asked about his position on the Palestinian territories in Israel during a live podcast recording with Hasan in 2020, the "Ordinary People" singer said, "There should not be a whole group of people in a country, because of their nationality or religion, being held in open-air prisons, denied freedom of movement and having their land annexed by settlers … that's just a human position."

In 2019, he defended US Congresswoman Ilhan Omar against accusations of antisemitism and discussed the Israeli-Palestinian conflict on HBO's "Real Time with Bill Maher."
Ukraine passes legislation effectively outlawing antisemitism
Ukraine's parliament passed a law Wednesday defining antisemitism and banning it in the country. The bill was approved by 283 votes, pending approval by Ukrainian President Volodymyr Zelensky to enter into force.

"The lack of a clear definition of antisemitism in the Ukrainian legislation does not allow for the proper classification of crimes committed on its basis," the lawmakers who authored the bill said.

The law defines antisemitism as hatred of Jews, including attacks on the minority, making false or hateful statements about them, or denying the mass extermination of Ukrainian Jewry during the Holocaust. Damaging buildings and religious institutions also falls under the definition.

As per the new law, victims of antisemitism will be able to claim compensation for moral and material damage.

World Zionist Organization chief Yaakov Hagoel praised the move.

"I commend the Ukrainian parliament on the precedent-setting step. This is an important milestone in the long international struggle" against antisemitism, he said, expressing hope that Zelensky – who is Jewish - will sign the law, making it "a model for parliaments around the world."

Less than 1% of Ukraine's 40 million citizens are Jewish. This year marks the 80th anniversary of the Babi Yar massacre, where over 30,000 Jews were killed over the course of just two days in a ravine outside Kiev.
Last Canadian Suspected of Nazi War Crimes Dies Before He Can Be Deported
Helmut Oberlander, 97, the last Canadian facing allegations of Nazi war crimes, died on Monday before the federal government could complete its 26-year-effort to deport him, according to Canadian media reports.

Oberlander had been in a legal battle with Canada's federal government since 1995, when Canadian authorities opened an investigation into his alleged involvement in atrocities during World War II, according to The Globe and Mail. The government claimed that during his 1954 immigration, Oberlander had hidden his role as a Nazi death squad interpreter. He obtained citizenship in 1960.

The government argued that his citizenship had been received through "false representation or fraud," and a Canadian court agreed that he had "significantly misrepresented his wartime activities when he and his wife applied to enter Canada," according to the report.

However, the effort to deport him bogged down in appeals. It was only in December 2019 that the Supreme Court of Canada declined to hear another appeal from Oberlander, opening the way for his deportation. In February 2021, a hearing to decide whether he should be deported was delayed.

Shimon Koffler Fogel, CEO of Canada's Centre for Israel and Jewish Affairs (CIJA), called the decision "the latest obscene abuse of the Canadian justice system," the Canadian Broadcasting Corporation reported.

Oberlander was conscripted at 17 into the Einsatzgruppen "mobile killing units" that followed the German army into conquered territory and carried out mass executions of civilians, according to the Globe and Mail. Oberlander claimed he only served as an interpreter and didn't take part in any killings.

In 2012, the Simon Wiesenthal Center added Oberlander to its list of 10 most wanted Nazi war criminals.
Pols condemn anti-Semitic graffiti scrawled on Harlem River Drive
Anti-Semitic graffiti has marred a section of the Harlem River Drive in Manhattan in recent weeks — drawing swift condemnation from elected officials and candidates.

Julie Menin, the Democratic City Council nominee for District 5, which covers the area, tweeted a photo Sunday of the graffiti seen near East 135th Street, including the word "Nazi," a swastika in the center of the Star of David, and "No More Killings" and "No More Settlements" — a reference to the ongoing conflict in the Gaza Strip.

"A family member driving southbound on FDR near 135th just sent this," she wrote. "This is totally unacceptable + must be immediately removed + condemned. My grandfather was killed in the Holocaust. There is no place for anti-Semitism."

It's unclear when the hateful messages first appeared.

Manhattan Borough President Gale Brewer re-tweeted Menin's post.

"It's completely abhorrent that this happened," she wrote. "I have followed up with DOT and they will be removing this hateful graffiti."

Governor Kathy Hochul also decried the images.
'Israel's Top 50 Christian allies'
In honor of the Sukkot holiday, which begins this year on Monday evening, the Israel Allies Foundation (IAF) has published its annual list of Israel's Top 50 Christian Allies.

The diverse list spans continents and denominations, and includes prominent leaders such as Christians United for Israel founder Pastor John Hagee, as well as lesser-known figures such as Dr. Young Hoon Lee, who serves as senior pastor in South Korea at the world's largest mega-church.

Former political leaders are also among the honorees, such as Mike Pence, who as U.S. vice president was active in moving the U.S embassy to Jerusalem, as well as Mike Pompeo, who defended Israel's rights to Jerusalem, the Golan Heights and Judea and Samaria while serving as U.S secretary of state. Both Pence and Pompeo were members of the Israel Allies Caucus during their tenures as U.S. Congressmen.

Leaders of Christian organizations and individuals who provide significant financial assistance to the State of Israel, especially for Holocaust survivors, the needy and immigrants, are featured as well.

Many Christians feel a special connection to Sukkot, which they refer to as the Feast of Tabernacles, because of the verse in Zechariah 14:16 which foresees a time when individuals from all nations will come to Jerusalem to celebrate the holiday.

In a typical year, when regular air travel is permitted, thousands of Christians from all over the world travel to Israel to celebrate Sukkot and hold festive parades and events in Jerusalem.

Thousands of Christian Evangelists and Israelis march at a Sukkot parade in central Jerusalem, Oct. 17, 2019. Photo by Yonatan Sindel/Flash90.

"Recognizing the heroic work of our Christian supporters is an important display of our hakarat hatov ['gratitude'] towards them," said IAF Director Josh Reinstein.

"It is only due to Christian political support for Israel, which we refer to as faith-based diplomacy, that Israel enjoys such steady support from its allies around the world. It is Christians, not countries, that we can count on to always stand with Israel," he added.
This guy's 'in awe' of Victorian Jews
HAVING retaken the helm of the Victorian Liberal Party as we push closer to the upcoming election, Matthew Guy has hailed the Jewish community and spoken of his admiration for Israel.

Earlier this month, longtime Zionist and supporter of Melbourne Jewry Michael O'Brien was replaced as Opposition Leader by Guy, whose landslide defeat at the polls in 2018 saw him hand the reins to O'Brien.

Speaking with The AJN, Guy reflected on past occasions he had spent with the Jewish community, including Yom Ha'atzmaut celebrations and the rally for Israel and Peace, and said he plans to "continue to develop this strong relationship as Opposition Leader and hopefully, as Premier".

"I am in total awe of probably the most-organised community in Victoria as it rallies around its members and supports each and every one at each life stage and at each momentous life milestone," he said, acknowledging the community's contribution to the state of Victoria.

The reportedly skilled shofar-blower took a trip to Israel with his new deputy leader David Southwick in 2017 where the pair was plunged into lockdown just hours after arriving in Jerusalem after three terrorists had killed two Israeli police officers in the Old City.

The Liberal leader said the trip "left a deep, meaningful and positive impression and a hunger to return to experience and learn more", adding that he looks forward to returning to Israel when possible.
Unicorn-nation: how Israel became a production line for companies valued at over $1 billion
2021 is not the year of the unicorn, because unicorns no longer garner attention. They are practically everywhere, in every corner like the e-scooters their employees enjoy so much. The real story of this past year is the additional leap forward the Israeli ecosystem took, and the birth of the first Israeli decacorn, the fintech company Rapyd, which reached a value of $10 billion in its first fundraising. Cyber company Snyk is also getting close to the new status with a value of $8.5 billion, and if China's Evergrande will not become 2021's Lehman Brothers, we are likely to see another Israeli decacorn by year's end.

Private companies worth $10 billion or more belong to an exclusive club, with less than 50 globally, including high-profile companies such as Elon Musk's SpaceX and gaming giant Epic Games, which has recently challenged Apple.

"In the first quarter of 2021 alone, 121 new companies received a valuation of more than $1 billion, compared to 159 new unicorns in all of 2020."

On the other hand, the number of unicorns around the world has already exceeded 800, double than at the end of 2019. In the first quarter of 2021 alone, 121 new companies received a valuation of more than $1 billion, compared to 159 new unicorns in all of 2020. In the second quarter, the number was even greater. Thus, a second look at the chart of Israeli unicorns illustrates well the inflation of unicorns both internationally, and in Israel, in the last two years. One has to look past the top 40 to find the Israeli unicorns trailing behind, those worth "only" $1 billion.

Swallowing unicorns
2021 is also not the year of the unicorn as the number of unicorns in Israel has declined, although it was for good reasons. 17 of them, from ironSource to Cellebrite, ended their role as a unicorn when they became publicly traded companies on Wall Street, each at more than $1 billion valuations. True, it feels less special because there are thousands of such companies in the American market, but in the end, most unicorns want to shed their wings and become a horse that gallops, with the help of the investing public and institutional bodies operating on Wall Street.
US giant Cisco invests in Israeli streaming software firm Qwilt
Cisco Systems Inc., a US maker of networking software and hardware, has led a $70 million investment in Israeli streaming software firm Qwilt at a valuation of $800 million, the company announced on Wednesday

Qwilt said the Series E funds will help fuel the company's ambitions to build one of the world's largest high-performing Content Delivery Networks (CDN) with global service providers. CDNs are a geographically distributed group of servers that work together to provide fast content delivery.

Founded in 2010, Qwilt built what it calls an Open Edge Cloud solution, running on commodity compute and storage infrastructure, that supports applications such as Open Caching, 4K Live Streaming, AR, VR and IoT. These solutions help deliver high-quality streaming experiences for consumers on a massive scale, the company indicated, and answer the huge demand for streaming video.

Qwilt has been working with Cisco since last year to offer a new service based on Open Caching, with BT, the UK's leading telecommunications and network provider, as the flagship customer.

Open Caching "federates content delivery infrastructure deployed deep inside service provider networks, into a global CDN with open APIs for content publishers" and "is designed to help service providers easily deploy an edge CDN footprint, offering them more control over content flows," the company said in 2020 when the partnership was first announced.
Holocaust Survivor Awarded Balzan Prize Honoring Scientific Achievements
A historian and Israeli-French-American Holocaust survivor was one of the recipients of this year's international Balzan Prizes, which recognizes distinguished scholars, artists and scientists.

Saul Friedlander, 88, was awarded the prize for Holocaust and Genocide Studies for his "unparalleled impact" on the development and study of the persecution of European Jews, and for "creating a historical narrative that expresses the unspeakable, intertwining scholarly analysis with the disruptive voices of the victims, perpetrators and bystanders."

The prizes will be presented in Rome on Nov. 18 by Italy's President Sergio Mattarella.

Born in Prague in 1932, Friedlander and his Jewish family fled to France after the German occupation in March 1939, reported The Associated Press. His parents hid him in a Catholic boarding school before they were captured and sent to the Auschwitz concentration camp.

Friedlander was baptized as a Catholic with the permission of his parents. He later considered becoming a priest, though said that after he was told in 1946 that his parents were killed at Auschwitz, "my Jewish identity was restored."

Friedlander is a professor emeritus of the University of California, Los Angeles, and Tel Aviv University. He received the Pulitzer Prize in 2008, was named a MacArthur Fellow in 1999 and was awarded the Dan David Prize in 2014 for outstanding achievement in interdisciplinary research.
Italy Recognizes Jewish Couple Who Resisted the Nazis
A park in the heart of Florence was named after Wanda Lattes and Albert (Aaron) Nirenstein in a ceremony on Monday.

The two were a Jewish couple who resisted the Nazis during the Holocaust and became central figures in the Florentine intellectual scene.

The quaint park, close to the famous Church of Santa Croce, includes a grassy area, a playground and a small community center for both children and the elderly.

Trumpeters dressed in official Florentine garb played during the ceremony and the Mayor of Florence, along with a long list of dignitaries, colleagues, and family members, spoke about the couple's film-worthy lives.

Wanda Lattes was born to a Florentine Jewish family in 1922. She was expelled at the beginning of high school in accordance with the fascist government's racial laws. Lattes was affiliated with a communist youth group and after her expulsion she joined the Florentine resistance movement, Giustizia e Libertà, and remained active as a partisan until the German retreat in 1944.

Wanda adopted a non-Jewish surname, Latansi, and her role was to transmit information via bicycle. Towards the end of the German occupation, Lattes became responsible for a clandestine network designed to provide medical treatment to wounded partisans, including during the bombardment of Florence during the dramatic German retreat. She also helped her family find refuge during the Nazi and fascist persecutions.
Meir Y. Soloveichik:
Hannah Senesh at 100
This is the biblical metaphor: the human being as candle. But Senesh gives us a more modern image, seizing on an invention that did not exist in the biblical era: the match. Lamps and candles are infused with fuel so that their flames sustain themselves, but a match brings forth a fiery force from within that is gone within seconds. Yet if the match successfully kindles another flame, even as it is consumed it still lives on, and its apparently transient life endowed with endurance, continuity. In Senesh's words, the match is nisraf, burnt up, consumed, but it can ignite others in its few moments in existence. And so we can pronounce ashrei hagafrur, fortunate is the match.

Did Senesh write these words because she had a sense of her coming death? We cannot know, but she certainly knew how dangerous her mission was, and this poem eerily captures her own life, one all too short but that nonetheless kindled and inspired others throughout Israel and the Jewish world. This past July, on the week of Senesh's birthday, more than 100 Israeli paratroopers, along with members of European militaries, re-created Senesh's jump. Their commander explained that they sought to perpetuate her memory in the land of her birth and "strengthen the sense of mission and the memory of heroism."

Was Senesh, who had asked for a Hebrew Bible while in prison, inspired by the verse in Proverbs that tells us the soul of man is the candle of God? Again, we do not know, but Senesh had certainly thought about her soul. Soon after her 15th birthday, she reflected in her diary: "I would rather be an unusual person than just average. When I think of an above-average man I don't necessarily think of a famous man, but of a great soul … a great human being. And I would like to be a great soul. If God will permit."

At this point, Senesh had not even embraced Zionism, and certainly could never have conceived of the horror that would descend on her home in Hungary. But she did become a great soul, not a candle but a match. It is overwhelming to think of a young woman who suffered in prison and was murdered for trying to save Jews being remembered on the very same soil by so many, and by soldiers of a Jewish state of which she had dreamed but did not live to see.

In the hours before Yom Kippur, Jews light memorial candles for those who have passed away, a ritual inspired by the biblical proverb that the soul of man is the candle of God. I do not know whether this year, in some homes in Israel, a candle was lit for Hannah Senesh; but the truth is that perhaps in this case a candle is unnecessary. I will wager that there are Jews around the world who, whenever candles are kindled on Shabbat eve, on Hanukkah, or before Yom Kippur, see a match struck right before the candle is lit and think of Hannah. I know I do.