From Ian:
Abdullah bin Zayed Al Nahyan and Yair Lapid:
The Abraham Accords are a catalyst for wider change in the Middle East
As two of the world's most dynamic and advanced countries, the UAE and Israel together can help turbocharge economic opportunity by pushing for deeper regional integration. One element should be new institutions and co-operation to facilitate trade and to co-operate on public health and development.

Second, continued US and European involvement is critical. Republicans and Democrats don't agree on much, but normalisation has had enthusiastic backing from both the Trump and Biden Administrations and across the aisle in Congress. Throughout Europe too, the Accords have been warmly received.

Active US and European political, financial, and technical support will help realise their full potential — as will the appointment of special envoys to co-ordinate these efforts. These moves will be welcomed as a clear signal of our friends' sustained commitment to the stability and security of the region.

Third, the Accords underlined that even if a comprehensive peace agreement is still not in sight, better conditions for the Palestinians are a shared interest for us all. Normalisation must help facilitate increased investment, trade, and exchanges between Palestinians and the Arab world.

Sceptics will remain cynical, but they should look at what's happened this past year, against all the odds. New ways of thinking and shared interests allow for breakthroughs and the building of relations. They encourage others in the region to initiate new channels of diplomatic dialogue.

Real breakthroughs are tough, but Emiratis and Israelis have shown that they are possible. This is just the beginning — the next step is to expand opportunity and connect people across the region. This is the best antidote to pessimism and the dead-end extremist ideology that has held the Middle East back for too long.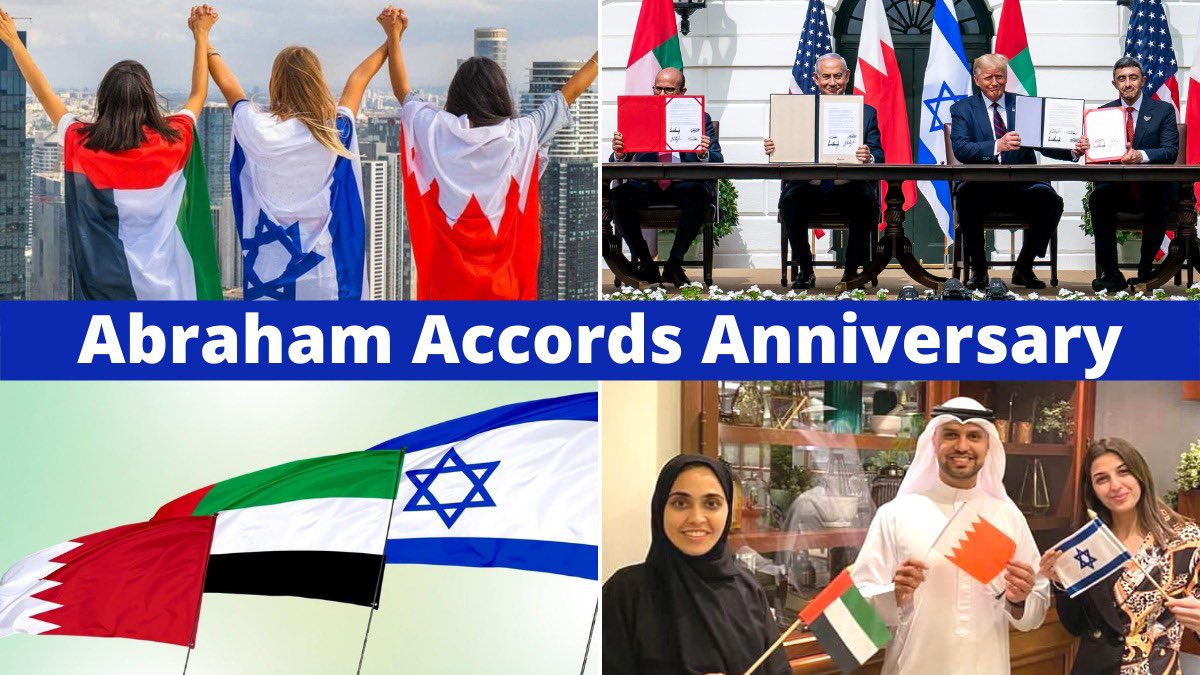 Israel Joins the Arab Club, With U.S. Sponsorship
Last week, a laconic statement from the Department of Defense marked a tectonic shift in Middle East security cooperation, as the United States formally designated that Israel would now be part of the U.S Central Command (CENTCOM). President Donald Trump announced the proposed change on January 15, 2021, and while the escalation of violence in Gaza this spring seemed to put the designation in some jeopardy, it went into effect on September 1, 2021. The initiative to move Israel into CENTCOM is a direct result of the Trump administration-led Abraham Accords normalization agreements between the United States, Israel, the United Arab Emirates and Bahrain, signed one year ago today on the South Lawn of the White House.

CENTCOM got its name because the Middle East is literally located in the middle of everything. Israel is the most central point in that centrally located region, sharing as it does a maritime boundary with a European country (Cyprus) and a border with an African country (Egypt), as well as boasting Asian neighbors such as Jordan. In the wake of the Abraham Accords and the resultant burgeoning economic and cultural ties among the signatories, the timing is now ideal to develop a similar regional security relationship. This relationship would expand cooperation and improve Israel Defense Forces (IDF) integration with U.S. and partner forces throughout the region. It would also help CENTCOM promote a more holistic and inclusive regional security framework. There would be opportunities to conduct joint military exercises that include the IDF, which would indirectly provide Israel the occasion to communicate with countries that have yet to sign normalization agreements. Additionally, Israel would now be able to assign IDF liaison officers to CENTCOM headquarters in Tampa—and, hopefully in the future, to subordinate headquarters across the region.

As events in the Middle East crashed into the American consciousness due to the Iran and Afghanistan crises in 1979, President Jimmy Carter established the Rapid Deployment Joint Task Force (JTF) as a response mechanism for rapidly unfolding events. In 1983, under President Reagan, that JTF became CENTCOM. Its area of operation runs from the Pakistani border with India to Egypt's border with Libya. U.S. military regional combatant commands, including CENTCOM, are responsible for the deployment, support and operational employment of U.S. forces in their areas of responsibility, as well as for developing military relationships with allies and partners in their respective regions.
We are thrilled to celebrate one year of successful relations between Israel & Bahrain, the United Arab Emirates & the Kingdom of Morocco. May peace continue to prevail through the #AbrahamAccords & normalization agreements. @BahrainEmbDC @IsraelinUSA @morocco_usa @UAEEmbassyUS pic.twitter.com/2uYRXkd0YI

— Ned Price (@StateDeptSpox) September 15, 2021
Building the Next Steps of the Abraham Accords
Gulf-based investors are often looking for the strategic value in every project. While financial returns are important, there is also a need for a strategic alignment. The Delek-Mubadala deal — in which Abu Dhabi-based Mubadala Petroleum purchased a $1 billion stake in the Tamar natural gas field — is a case in point. And more strategically-aligned projects like this are needed.

Cultural differences have also been identified. While Israelis have been looking for "quick wins," such as venture investing with a short time-frame, Emirati and Bahraini individuals and companies often have different time horizons, expecting relationships to develop and mature over time until they can generate the expected results. This gap has created significant frustrations on both sides, and should be considered as part of the learning curve of the Abraham Accords. While cultures cannot change overnight, governments on both sides should not create false expectations and should better prepare the parties for a more constructive dialogue.

In addition, we should not forget the framework of the Abraham Accords and the original text of the declaration. The accords are named after Abraham, the common patriarch of the three monotheistic religions, Judaism, Christianity, and Islam. The spiritual aspect was an important component of the journey to the accords. Leaders from all relevant religions have met over the years as part of the track-II diplomacy efforts to bring the countries together. They all emphasized what values and practices those religions have in common.

Unfortunately, the rush to advance commercial transactions left the spiritual component behind. While certain projects and deals are short-lived, the religious aspect can give the long-term legitimacy, and much-needed resilience, to the accords. Despite the ongoing political sensitivities in the region, religious leaders and programs should be accelerated in the country-to-country interactions.

The need to re-emphasize the religious component should be part of broader efforts to add bottom-up stories focusing on individuals in these countries. A recent report by the Atlantic Council and INSS think tanks and policy groups highlights the areas where civic engagement can be improved and developed. Religious dialogue, sports activities, and academic research programs are some of the key elements.

Though we are all eager to see the next chapter of the Abraham Accords and Jewish-Muslim relations in the Middle East advance, only a nuanced and transparent approach can lead to the desired progress and regional growth.
Kushner on Abraham Accords: 'We Are Watching the Middle East Transform Before Our Eyes'
Former White House senior adviser Jared Kushner called the Abraham Accords a "rare foreign policy effort that has achieved a bipartisan consensus" at an event in Washington on Tuesday celebrating the agreement's one-year anniversary.

The White House signing ceremony normalizing relations between Israel and the United Arab Emirates and Bahrain took place on September 15, 2020.

The US-brokered pact later added Morocco and Sudan.

"Thanks to the agreements, we are watching the Middle East transform before our eyes," Kushner said in his opening remarks, while cautioning that if the Abraham Accords "are not nurtured, we run the risk that they could go backward."

The event at the Four Seasons Hotel in Georgetown was hosted by the Abraham Accords Institute for Peace, a center established by Kushner to further advance the diplomatic relationships established last year.
Jason Greenblatt on the One-Year Anniversary of the Abraham Accords
Abraham Accords anniversary: how Israel & Bahrain are stabilizing the region
Abraham Accords anniversary: Dr. Najat AlSaied
Amb. Ron Dermer interviewed by Ethan Bronner:
Israel Is Becoming America's Most Important Ally
Israel's emergence as a regional power has been accelerated by a perception among our Arab neighbors that the U.S. role in the region is being reduced. Therefore, Israel's role in the strategic calculations of countries in the region is becoming more important, and the need to work with Israel, in terms of dealing with common challenges, becomes more important. There is a concern not only from Iran's fanaticism and radical revolutionary policies, but also from Sunni radical movements like al-Qaeda and ISIS.

You have a situation where you've got this Iranian tiger, and you've got this ISIS - or whatever comes next - leopard, and then you have an 800-pound American gorilla that's leaving the building. And so they look around and see, "well, there's this 250-pound gorilla wearing a kippah. Maybe we should work with them more closely."

In 2014, I said that I believe Israel will be the most important ally of the United States in the 21st century because of security and technology. Israel has a military that can defend itself by itself. Israel has a formidable intelligence capability and the finest intelligence service in the world. Israel is renowned for its cyber capabilities. Great Britain and Israel are the two allies whom the U.S. can partner with on a global level in terms of cyber. Then you have offensive and defensive weapons-making capabilities. There is the Iron Dome system that we jointly developed with the U.S. We have the Trophy system which helps tanks to avoid incoming missiles.

Israel, being the startup nation, is an emerging technology power and this affects its relations with other states. We are the second great center of innovation in the world after Silicon Valley. To the extent that leaders in the Arab world want to catapult their countries forward, Israel becomes a very good ally to do that with.

I think Israeli and American interests are moving closer together, not further apart. If the U.S. is going to withdraw militarily from the region, then the importance of having a solid, reliable, democratic ally in the heart of this region grows. Israel is bringing a lot more to the table than it did years ago.

The recipe for success is to confront Iran, embrace your allies in the region, and leave the door open for the Palestinians if they want to actually engage with us to reach peace. But don't give them veto power. The Palestinian Authority has poisoned an entire generation of Palestinians to hate Israel, to hate Jews, and has shown no willingness whatsoever to reach a historic compromise.

If you want to focus on the chances of the Palestinians moving towards peace, don't focus on what diplomats in Europe or the U.S. are saying. Just turn on a television set; look at what the Palestinians are watching; look at what they're reading. And then you understand whether or not you have a force here that is willing to compromise. There are Palestinians who would really like to reach a compromise with Israel, but they are not the ascendant force today.
#jerusalem #AbrahamAccords #israel #uae #bahrain #anniversary pic.twitter.com/xcRZPKdCY7

— ??? ??? ???? Fleur Hassan-Nahoum (@FleurHassanN) September 14, 2021
Morocco Strengthens Ties with Israel as Internal Opposition Grows
Morocco's hosting of an Israeli delegation in August, led by Foreign Minister Yair Lapid, was the first high-level bilateral meeting between the two countries since 2003.

Moroccan authorities have endeavored to present the normalization as a reconciliation between two natural allies due to the "Moroccanness" of so many Israelis, with over 800,000 Jews of Moroccan origin in Israel.

Diplomatic normalization was simply an opportunity for the Kingdom to recognize and strengthen cooperation that has always existed and meets essential needs - primarily in the areas of health, technology, tourism, defense, and cybersecurity.

Israel intervened with Pfizer so that the Kingdom could receive a shipment of two million Covid-19 vaccination doses.

Even before the normalization, some 50,000-70,000 Israeli tourists of Moroccan origin visited the Kingdom every year.

Yet in an opinion poll by The Arab Barometer, 59% of Moroccans say they are hostile to normalization between Morocco and Israel.

Several political parties have accused the Moroccan state of betraying the Palestinian cause and collaborating with the Zionists.
The Caroline Glick showEp 20 - September 11 as it looked from the Middle East
In Episode 20 of the Caroline Glick Mideast News Hour with Gadi Taub, Caroline and Gadi discuss the anniversaries we marked this week - 20 years since the Sept. 11 attacks, 28 years since the launch of the Oslo peace process between Israel and the PLO which led to 28 years of terror and war, and the one year anniversary of the Abraham Accord. What was learned, what was lost and who decided what we would understand and miss about the nature of our nations and our enemies.
Noah Rothman:
Antony Blinken's Credibility-Shattering Distortion
When it comes to Afghanistan, the central question before U.S. policymakers was not whether full withdrawal from the country advanced human rights. It wasn't whether our allies would be unnerved by America's conspicuous lack of resolve or if our partners abroad would be disinclined to cooperate with the United States in the future. All of these fronts have deteriorated as a result of America's bug out from Afghanistan. The central question facing America's public officials was far narrower than that: Are Americans safer as a result? The Biden administration's more political officials cannot answer that question honestly.

In testimony before members of the House of Representatives Monday, Secretary of State Antony Blinken insisted that the administration is "focused on counterterrorism." Toward that end, the Taliban have suddenly become our invaluable partners. "The Taliban has committed to prevent terrorist groups from using Afghanistan as a base for external operations that could threaten the United States or our allies, including al-Qaida and ISIS-K," Blinken claimed.

Based on all publicly available information, that statement is both preposterous and recklessly irresponsible.

Throughout the Trump administration's dubious negotiations with Taliban representatives over the final year of his presidency, the Taliban's steadfast rejection of Western request to renounce their support for al-Qaeda was a sticking point. It wasn't one that prevented the Trump administration from securing and celebrating a tentative withdrawal deal, to the Trump administration's discredit. But nor did that prove an obstacle for the Biden administration when its members renegotiated that deal, crafted their own plan for withdrawal, and executed it.
.@SenTedCruz to Sec. Blinken: "President Biden and the Biden administration have presided over the worst foreign policy catastrophe in a generation...just like Jimmy Carter owns the disaster of the Iran hostage crisis, you own this. The Biden administration caused this disaster." pic.twitter.com/Y0qBZOdroc

— CSPAN (@cspan) September 14, 2021
Lt.-Gen. (ret.) H.R. McMaster:
It Is a Delusion to Believe the Taliban Rebrand
Motivated by the desire to justify the surrender of Afghanistan to the Taliban, Western military and political leaders have forgotten who it was we fought in Afghanistan and Pakistan for two decades. Some now talk about "Taliban 2.0," as if it's a different entity, somehow, from the one that harbored al-Qaeda and Osama bin Laden as he plotted the mass murder of 2,977 innocents on U.S. soil 20 years ago.

The Taliban are determined to impose a brutal form of sharia on the Afghan people and are intertwined with terrorists determined to continue their jihad against all who do not conform to their perverted interpretation of Islam. After their defeat in 2001, the Taliban regenerated, with the help of Pakistan's Inter-Services Intelligence and al-Qaeda. The new Afghan interior minister, Sirajuddin Haqqani, is the military commander of the Taliban and the leader of a terrorist organization connected to al-Qaeda that specializes in kidnapping and mass murder attacks.

The first step in mitigating the calamity in Afghanistan is moral clarity based on an understanding of these enemies of humanity.
The War on Terror failed, it's time to review - opinion
We have reached a critical time in the global War on Terror in the wake of the US withdrawal from Afghanistan. We failed in this war; it's time to review what we have done and where we go next.

We are seemingly back to the time before the US invasion of Afghanistan. Terrorist organizations from the Middle East to the Horn of Africa and Central and Southeast Asia are now looking at what happened in Afghanistan and see it as an inspiring model.

They are hailing the defeat of a superpower. This message, the idea that they too can defeat the other powers, is spreading across the world's social media.

It is time to sit together, reflect on what happened and contemplate the lessons to be learned while we develop a new global strategy.

The security and intelligence services certainly have a role to play but we have to think holistically and develop a preventive strategy that will target the roots of terror: extremist ideology and hate.

The engagement of all stakeholders is crucial in the War on Terror. We must focus on education and the engagement of NGOs, community leaders, religious leaders, and all the stakeholders in all communities and countries in the world's fight against terrorism.

Religious leaders are vital in this war and must take the lead.
Does the Durban conference matter for Israel?
Jerusalem Post Editor-in-Chief Yaakov Katz and Diplomatic Correspondent Lahav Harkov sit down this week for a Yom Kippur edition of The Jerusalem Post Podcast.

As Israelis and Jews across the world prepare for the day-long fast to atone and repent for their sins of the year, Katz and Harkov discuss apologies in Israeli politics - or lack thereof - and the different ways Israel and its politicians have changed throughout the past year.

Later in the episode, Harkov sits down with the former secretary general of the World Jewish Congress Dan Diker to discuss the controversial annual Durban conference scheduled for September 22. The conference is marked by antisemitism and anti-Israel discussions. Israel has been singled out for opprobrium as racist in the declaration released by UN member states participating.

Some 18 countries will be boycotting the World Conference Against Racism.

In this episode:
> Yom Kippur and Israeli politics
> The controversial Durban conference - how it has changed, what stayed the same and does it matter for Israel?
Hey countries! Do you want to attend the @UN Durban IV conference and promote antisemitism?

Countries:
???? ???? ????????
???????? ???? ???? ????
???? ???????? ???? ????
???? ???? ???????? ????

— The Mossad: The Social Media Account (@TheMossadIL) September 14, 2021
Because he still is? pic.twitter.com/GUJoN3E7Og

— Arsen Ostrovsky (@Ostrov_A) September 15, 2021
Israeli Security Forces on High Alert for Possible Violence During Yom Kippur Holiday
Israel's security forces are on high alert as the Yom Kippur holiday begins, with fears of violence in the West Bank, rockets from the Gaza Strip, and fallout from the ongoing hunt for escaped Palestinian terrorist prisoners.

Walla reported that the IDF is imposing a closure of the West Bank beginning on Wednesday afternoon, with the holiday arriving in the early evening. It is also bolstering its forces in the area due to concerns about both civil violence and possible terror attacks.

There will also be a heightened alert along the border with Gaza in order to deal with border riots, incendiary balloons, and rocket fire.

Meanwhile, the hunt has continued for two of the six terrorist prisoners who escaped from Gilboa Prison in northern Israel. Four of the inmates have been found and arrested, and the Shin Bet, IDF, and Border Police are continuing their attempts to locate the others.

As a result, terror groups on the West Bank are attempting to foment further violence in order to express solidarity with the escapees.

IDF Central Command officers said that "any change in the issue, especially a worsening of [the prisoners'] conditions or harm to prisoners, can set fire to the territory, and cause violence and terror."

"The goal is to calm the territory," they said. "The holiday season is always tense even without connection to the issue of the security prisoners."
Man stabbed, seriously wounded in Jaffa
A man was stabbed and seriously wounded in Jaffa outside Tel Aviv on Wednesday afternoon, police and medics said.

The circumstances of the assault and the identity of the victim were not immediately clear.

Police said the assailant was a Palestinian man who had illegally entered Israel and he had been arrested. Police said the motive was apparently a terror attack and identified the victim as a resident of Jaffa.

However, the Magen David Adom rescue service identified the victim as a 49-year-old East Jerusalem resident.

MDA said he was taken to Wolfson Medical Center in Tel Aviv in serious condition with stab wounds.

Pictures from police appeared to indicate that the man had been stabbed with a screwdriver while fishing.
Smugglers helping terrorists and other criminals cross borders is nothing to be proud of.

Illegally crossing a border is a crime. Yet the @dailybeast praises it? pic.twitter.com/1nvkXeW4lM

— HonestReporting (@HonestReporting) September 15, 2021
The Israel Guys: Iran Almost to Nuclear Capacity | Uptick in Terrorism in Israel
Experts warn that Iran is only one month away from nuclear capacity, which means that they'll have the ability to build an atomic bomb, possibly within just a few months.

Prime Minister Naftali Bennett held a historic meeting with Egyptian Prime Minister El Sisi. It is the first such meeting in ten years. The two discussed economic and security cooperation, as well as peace between Israel and the Palestinians. El Sisi remains committed to a two-state solution.

Four out of the six terrorists who escaped from Israeli prison last week have been caught. Incredibly, instead of assisting the terrorists to escape, Israeli Arab citizens actually aided police in their capture.
Seth Frantzman:
Will pro-Iranian militias in Iraq work more with Palestinians?
Pro-Iranian militias have increasingly used drones to target US forces. In the last week they allegedly flew a drone toward Erbil International Airport to target US forces in the Kurdistan region of Iraq. Could those militias in Iraq now be working more closely with Palestinians? In an article at the pro-Iranian site Al-Mayadeen, hints of closer cooperation emerged this week.

Why does this matter? In May, an Iranian drone was flown from Iraq or Syria into Israeli airspace and shot down. Israel's Defense Minister Benny Gantz warned about Iran training proxy forces with drones in Iran this week. Hamas also used new Iranian-style kamikaze drones in May.

Gantz warned on September 12 at the annual International Institute for Counter-Terrorism (ICT) Conference at Reichman University that "Iran has developed 'proxy terror' which is perpetrated by organized 'terror armies' which are assisting Iran in achieving its economic, political and military goals. One of the most significant tools employed by Iran and its proxies is UAVs with a range of thousands of kilometers. Hundreds of these UAVs are spread across Yemen, Iraq, Syria and Lebanon. Iran is also attempting to transfer the know-how needed for UAV production to Gaza."

He said that the Kashan base in Iran is used to train terrorists from Yemen, Iraq, Syria snd Lebanon. These terrorists are trained to employ UAVs produced by Iran. This base is a key point from which Iranian aerial terrorism is exported to the region."
Palestinian security prisoners call off hunger strike
The Palestinian Prisoners Club announced on Wednesday morning that the Palestinian security prisoners have suspended their hunger strike, which was supposed to begin on Friday.

The club said in a statement that the "prisoners, in a unified and harmonious manner, decided to suspend the collective hunger strike, after their demands were met."

According to the statement, the Israeli authorities agreed to cancel the "collective punishments" imposed on the prisoners after the escape of six inmates from Gilboa Prison last week.

Israel also reportedly agreed "to stop targeting prisoners affiliated with Palestinian Islamic Jihad (PIJ), the statement added, without providing further details.

Five of the prisoners who escaped were members of PIJ.

Qadri Abu Bakr, head of the Palestinian Prisoners Affairs Commission, had said before that the first phase of the hunger strike would include 1,380 prisoners.
PMW:
"The freedom tunnel knights" – A full review of PA reactions to the escape and capture of the terrorist prisoners
While four of the six escaped Palestinian terrorists are back behind bars, the PA, PLO, and Fatah continue to highlight the "victory" of the six "heroes" and "revolutionaries who succeeded in liberating themselves," while praising all the imprisoned terrorists as "the best of us and a crown on the head of the Palestinian people." Moreover, Fatah describes "everyone who resists this occupation" as "a freedom fighter," while PLO calls the prison break "a mighty victory" and "heroic event":
"The Fatah Movement said that 'the prisoners are the best of us and a crown on the head of the Palestinian people, and we and the masses of our people will not stand idly by if our heroic prisoners are harmed in any one of the Israeli occupation's prisons.' … Fatah warned the occupation authorities against the consequences of harming the lives of the six heroic Palestinian prisoners who carried out their sacred right to freedom. It emphasized that the Palestinian people's struggle against the occupation is a legal right and that the occupation itself is the one that is invalid according to international law, and everyone who resists this occupation is a freedom fighter…

Head of the PLO Department of Expatriate Affairs Rawhi Fattouh… mentioned the six prisoners' liberation operation from the Israeli Gilboa Prison by saying: 'Our heroic prisoners in the Israeli occupation prisons recorded a mighty victory, which is added to the list of their victories and legendary resolve, after six of them escaped through a tunnel they dug at Gilboa Prison.'

He described what happened as a great victory and a heroic event."

[Official PA daily Al-Hayat Al-Jadida, Sept. 10, 2021]

The term "resist" is a term the PA uses for violence and terror. Even Palestinian terrorists who murder civilians are said to be legitimately "resisting."

An editorial in the official PA daily made light of the arrests, pointing out that the escape is a "magnificent example" that has "entered history":
An upset at the Palestinian Olympics
?? pic.twitter.com/63pRFIVtzy

— The Mossad: The Social Media Account (@TheMossadIL) September 14, 2021
Salafist militant group in #Gaza calls for more attacks against Israeli Jews after yesterday's stabbing attack at Jerusalem's Central Bus Station. pic.twitter.com/QlTI72avC4

— Joe Truzman (@JoeTruzman) September 14, 2021
Al-Majd, a Palestinian Facebook page that dealt with security awareness against Israel and had over a million followers was deleted by Facebook earlier today. pic.twitter.com/2mCIRZqyKt

— Joe Truzman (@JoeTruzman) September 14, 2021
Palestinian Islamic Jihad's Saraya al-Quds published a statement earlier today saying one of its field commanders, Sa'ad Hassanien, died after being infected with COVID-19. #Gaza pic.twitter.com/HV7Dda2ZG3

— Joe Truzman (@JoeTruzman) September 14, 2021
2/2 Egyptian TV Host Ibrahim Eissa: The Taliban Is the Essence and Culmination of All Islamic Ideas; Given the Opportunity the Muslim Brotherhood Would Implement the Same Version of Islam as in Afghanistan pic.twitter.com/m2efeZ6Kh1

— MEMRI (@MEMRIReports) September 15, 2021
Gantz: Israel could accept return to Iran nuke deal if US has 'plan B'
Israel could accept a return to a US-brokered Iran nuclear deal, but they are calling on Washington to have a demonstration of power ready should negotiations turn sour, Defense Minister Benny Gantz told Foreign Policy on Tuesday.

"The current US approach of putting the Iran nuclear program back in a box, I'd accept that," Gantz told Foreign Policy, referring to US President Joe Biden's efforts, but added that he wants the US to have a plan B with economic sanctions, and referred to Israel's plan C, which involves a military response.

Gantz explained to Foreign Policy what he would consider a viable plan B: full political, economic and diplomatic pressure by the US, Europe, Russia and China. However, he explained the IDF is preparing military means to stop Iran from getting nuclear weapons, should it come to that. The issue of the Iran nuclear deal has been a prominent one in Israeli and international politics for almost a decade now, especially with fears that Iran could be getting close to a nuclear weapon.

Opposition leader Benjamin Netanyahu accused Prime Minister Naftali Bennett of enabling the Biden administration to return to the Iran nuclear deal. He criticized Gantz's statements about Iran in the interview.

"They are making a dangerous mistake," Netanyahu said.
Iran's Energy Diplomacy
Iran uses its energy exports to take advantage of regional states' inability to fulfill their own domestic requirements, and exert its influence throughout the Middle East.

In Iraq, Iranian gas and electricity powers more than a third of the country, particularly in the south.

Tehran also exports electricity to Afghanistan and Pakistan, as well as Turkey, though there has been a recent drop-off in energy imports from that country.

In Lebanon, where the price of petrol has risen by 220% in a year, Iran's Lebanese ally Hizbullah claimed that Lebanon would be importing Iranian oil paid for in Lebanese pounds.

At the same time, this summer saw power blackouts in parts of Iran as increased demand (including from Bitcoin miners) coincided with reduced hydro-electricity output during drought conditions.
Iranian National Sentenced for Sending Nuclear Weapon Components to Iran
An Iranian national convicted by a federal jury was sentenced Tuesday for sending the Islamic republic advanced military components used in nuclear weapons and missile guidance systems.

Mehrdad Ansari, a resident of the United Arab Emirates who is originally from Iran, was sentenced to 63 months in prison for circumventing U.S. sanctions on Iran through his distribution of sensitive military matériel. Ansari, who worked alongside Taiwanese citizen Susan Yip and Iranian citizen Mehrdad Foomanie to evade the American sanctions, over a four-year period obtained or tried to obtain more than 105,000 parts valued at more than $2.6 million.

American officials said the sentencing shows the Department of Justice will relentlessly pursue anyone who poses a threat to national security.

"Ansari and his co-conspirators attempted to profit from a far-reaching, extensive scheme to evade U.S. sanctions on Iran," said National Security Division acting assistant attorney general Mark J. Lesko. "They repeatedly lied to numerous U.S. suppliers and illegally obtained very sensitive dual-use items. As demonstrated by this prosecution, DOJ pursues those who threaten U.S. national security, even years after their original crimes."
Iranian Army Unveils New Radar System That Is Said to Be Able to Detect and Intercept 300 Stealth Targets Simultaneously, 450 Kilometer Away #Iran pic.twitter.com/jOS0pqeAKK

— MEMRI (@MEMRIReports) September 15, 2021
Iranian Political Activist Heshmatollah Tabarzadi: Khamenei Is Responsible for Iranian COVID Deaths because He Banned the Pfizer Vaccine #Iran #COVID19 pic.twitter.com/R9RjCONPmA

— MEMRI (@MEMRIReports) September 15, 2021