From Ian:
Israel: Still the 'Strong Horse'
Israel -- no longer diplomatically isolated -- appears to be assuming a more prominent political and military role in the Middle East. Following Israel's generous peace terms with its Arab neighbors, states such as Egypt and Jordan decided decades ago to establish diplomatic relations with the Jewish state. More recently, Islamic countries such as the United Arab Emirates, Bahrain, Morocco and Sudan also decided to normalize ties with Israel. Presently, these strong new ties appear to be leading to cooperation on an ever-deeper strategic level, especially regarding the destabilizing threat to the area posed by an increasingly aggressive and hegemonic Iran.

Currently -- excluding its ventures into South America from where it can more easily threaten North America -- Iran, sometimes via proxies such as the Houthis, Hamas or Hezbollah -- has successfully inserted itself into Yemen, in a seeming bid to overthrow and supplant Saudi Arabia, as well as in Iraq, Bahrain, Syria, Libya, Lebanon and the Gaza Strip.

Iran's increasingly aggressive policies toward these regional states has accelerated the cooperation between primarily Sunni Muslim Arab Gulf states and Israel. The Sunni-Shia theological civil war within Islam still appears to be fueling the destabilization of the Middle East -- especially with the recently renewed courtship by the US administration of the Middle East's greatest disrupter, Iran.

The first time around, during the Obama years, one might understand the fantasy that enriching and empowering Iran might lead it to give up its long-desired nuclear program and expansionist activities, not to mention the extreme abuses of its citizens at home. Now, however, the world has seen that the plan did not work, and that Iran had been cheating all along, anyhow.

What in the world, then, is the US expecting from repeating this disastrous exercise? For both the Israelis and the Gulf's Arab monarchies, Iran's Shia regional empire and drive to lead the Muslim world is still justifiably considered an existential threat.
Houda Nonoo:
Rosh Hashanah, Abraham Accords' first anniversary, and what can change
On Rosh Hashanah, we celebrate the completion of one year and the beginning of the next. It is a time when we set goals for the future. Rosh Hashanah this year coincides with the first anniversary of the Abraham Accords, which is quite apropos because in many ways the themes of the two are very intertwined. As a Bahraini Jew, I couldn't be more excited about the opportunities which are ahead for our two countries. This past year brought with it many opportunities, but I firmly believe that year two will be even more successful.

Rosh Hashanah last year was also a very exciting time. I was honored and privileged to participate in Bahraini Foreign Minister Abdullatif bin Rashid Al-Zayani's delegation to Washington for the Abraham Accords signing ceremony on the White House lawn on September 15, and we flew back to Bahrain just in time for Rosh Hashanah three days later. It was a whirlwind of a week – in the span of seven days, Bahrain and Israel announced their new relationship (September 11), the signing ceremony was four days later (September 15) and Rosh Hashanah was three days after (September 18). Just as we ushered in the Jewish new year, we were ushering a new relationship and opportunity for the region.

Over the past year, we have seen successful collaboration in business, healthcare, travel, tourism and social activities. However, I predict that next year we will see activity double in each of these sectors as well as some new areas of collaboration.

We will see partnerships in healthcare, technology (including fintech, greentech and agritech), cyber security and education. Many of the leading companies and organizations in both countries have spent the past year working behind the scenes to build relationships and discuss how they can work together. Our two nations share several joint priorities, which make us prime partners for knowledge sharing.
Israel's trade with Arab states has surged since 2020 peace deals, data shows
Trade between Israel and countries in the Middle East and North Africa has grown significantly this year, following the Jewish state's normalization of ties with additional Arab states, new data revealed.

In the first seven months of 2021, trade grew by 234 percent compared to the same period in 2020, according to Central Bureau of Statistics figures cited by Yonatan Gonen, a Foreign Ministry cadet.

The statistics showed trade with the United Arab Emirates surged from $50.8 million between January and July 2020 to $613.9 million in the same period in 2021.

The UAE was the first of four regional states who normalized ties with Israel last year, following Egypt in 1979 and Jordan in 1994 as the only Arab nations to establish diplomatic relations with Israel.

Trade with Jordan has also increased this year, from $136.2 million to $224.2 million, and trade with Egypt went from $92 million to $122.4 million. With Morocco, trade rose from $14.9 million to $20.8 million.

According to the data, trade with Bahrain was practically non-existent in the first seven months of 2020. During that same period this year, $300,000 in trade was registered.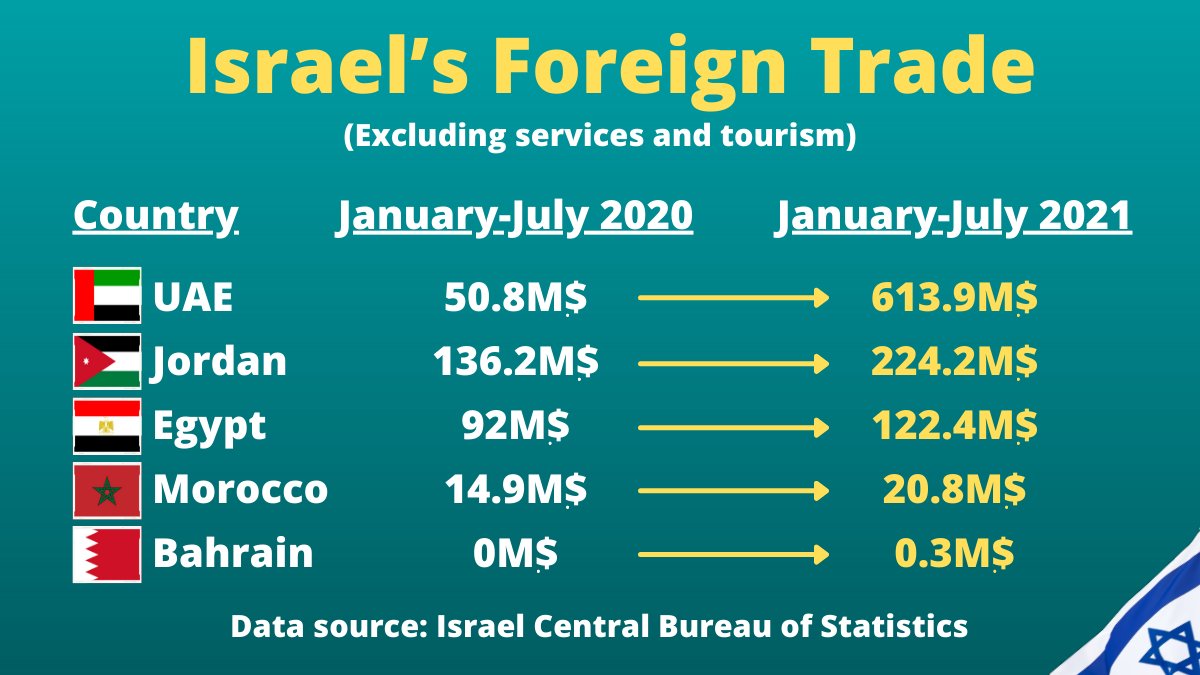 Israel a 'Tumor' on Islamic World's Body, Taliban Spokesman Tells Iranian Regime News Outlet
A leading Taliban spokesman in Afghanistan has issued a blistering attack on the State of Israel in an interview with an Iranian regime-backed media outlet, according to the semi-official Mehr news agency.

Speaking to Iran's Arabic-language Al-Alam TV network on Tuesday, Taliban spokesman Zabihollah Mojahed called the Jewish state a "tumor in the body of the Islamic Ummah," adding that "Quds [Jerusalem] is a common issue."

While there have been important political and religious differences in the past between Shi'a Iran and Sunni-dominated Afghanistan, Iran and its regional allies nevertheless welcomed the conquest of Afghanistan by the Taliban during a 10-day campaign in August.

"We are proud to have stood alongside our noble Afghan brothers and sisters during the jihad against the foreign occupiers,"Javad Zarif — until last month Iran's foreign minister — declared as Taliban fighters rolled into the Afghan capital Kabul. Senior Taliban delegations are reported to have visited Tehran on at least two occasions this year, in January and July.

Iran's ally in the Gaza Strip, the Palestinian Hamas organization, similarly welcomed the Taliban's seizure of power.

"Today the Taliban is victorious after it used to be accused of backwardness and terrorism," said Musa Abu Marzouk, a member of the Hamas political bureau, on Aug. 16. "Now, the Taliban is more clever and more realistic. It has faced America and its agents, refusing half-solutions with them. The Taliban was not deceived by the slogans of democracy and elections and fake promises."
Al-Qaeda plotted multiple terror attacks in Israel after 9/11, FBI agent says
Al-Qaeda planned to carry out massive terrorist attacks on Israeli nightclubs in 2002 and was in the final stages of the plan, but was thwarted with the help of United States intelligence operatives, a former Federal Bureau of Investigation researcher has said.

Ali Soufan, who with other agents had monitored al-Qaeda for the FBI both before the 9/11 attack on the World Trade Center in 2001 and afterward, told Israel's Yedioth Ahronoth newspaper on Friday that the details of the nightclub attacks plot had previously been blocked for publication by the Central Intelligence Agency and has only now been cleared for publication.

The counterterrorism expert said that the information on the plot was obtained during interrogations of a Palestinian al-Qaeda operative apprehended in Afghanistan.

Zayn al-Abidin Muhammad Husayn, also known as Abu Zubaydah, was a Palestinian al-Qaeda operative who was captured by the US in Pakistan in March 2002.

The US government says that he was an associate and longtime ally of Osama bin Laden.

Held at a secret CIA black site, Abu Zubaydah was interrogated by Soufan and revealed the Israel plot. Al-Qaeda estimated that the attacks — planned to happen simultaneously at several clubs — would have killed about 200 people.
At the chaotic Kabul airport, a Jewish group was this Afghan refugee's lifeline
Tahera had fallen down in the crush of Afghans pressed against the gate of Kabul's airport. Her son, 3 years old, was uncontrollable. Her husband's breathing was uneven. She also had to consider her four other children.

She had a lifeline on the phone: Her supervisor at Jewish Family Services in Seattle.

Cordelia Revells, the director of refugee and immigrant services for JFS Seattle, was on the other end of the line during Tahera's attempt to get into the airport, helping to get her employee out of the country.

"That was particularly terrifying," Revells said. "A gun was pointed out at one of her young children when they're being told they needed to back off."

Revells and JFS were instrumental in the extraction of Tahera and her family from Kabul as the city fell to the Taliban — a rare success story in the final weeks of the 20-year US presence in Afghanistan, as tens of thousands of Afghans who had worked with Americans rushed the airport seeking a way out.

Tahera, who asked not to publish her family name to protect relatives still in Afghanistan, said Revells's guidance during her final days in Kabul was life-changing, in part because her own desperation was keeping her from thinking clearly.
NATO Seeks More Afghan Evacuations, Vows to Hold Taliban to Promises
NATO Secretary-General Jens Stoltenberg said on Friday that the alliance would seek to evacuate more vulnerable Afghans and maintain contact with the Taliban, but that Afghanistan's new rulers would have to show themselves worthy of aid and recognition.

NATO member Turkey, which had run Kabul airport for six years, has offered to help keep it operational now that US and other NATO troops have left, and Qatar has offered to help.

Stoltenberg said he had discussed the issue with Qatar's Emir Sheikh Tamim bin Hamad al-Thani and the Qatari foreign minister.

He also said many Afghans who has cooperated with international forces and could therefore be at risk from the Taliban remained in Afghanistan.

"Operational contact with Taliban is necessary to get people out," he told Reuters in an interview. "NATO has been able to evacuate most of the staff working for us. But there are still many people left, and we will continue to do work to get them out."

He warned against expecting a swift recognition of a Taliban government, more than two weeks after the Islamist militia captured Kabul and brought an end to 20 years of war.

Stoltenberg said it was too early to pass judgment on Taliban co-founder Mullah Baradar's designation as head of the new government.

"We have to judge them on their actions, not on their words," he said. "We will hold them accountable to what they have promised – on preventing Afghanistan being a safe haven for international terrorists, on human rights, especially rights of women, and on free passage."
Let's hope Biden and Blinken follow Denmark's lead on this. https://t.co/3k9jKgfHds

— Eli Lake (@EliLake) September 3, 2021
Afghanistan May Be a Bellwether for Saudi-Iranian Rivalry
Had the US withdrawn from Afghanistan several years earlier than it did, chances are that Saudi Arabia would have sought to exploit military advances by the Taliban in far less subtle ways than it may do now.

Saudi Arabia was still channeling funds in 2017 to anti-Iranian, anti-Shiite militants in the Iranian-Afghan-Pakistani border triangle and further south on the Pakistani side of the frontier, despite Crown Prince Mohammed bin Salman (MBS)' efforts to distance the kingdom from identification with austere interpretations of Islam that shaped the country's history, and that it shared with the Taliban.

"The Taliban is a religious extremist group which is no stranger to extremism and murder, especially murdering Shiites, and its hands are stained with the blood of our diplomats," noted an Iranian cleric, referring to the 1998 killing of eight Iranian diplomats and a journalist in Afghanistan.

Outgoing Iranian Foreign Minister Muhammad Javad Zarif outlined the potential tripwire Afghanistan constitutes for Iran.

"If Iran doesn't play well and makes an enemy out of the Taliban soon, I think some Arab countries in the Persian Gulf and the US would attempt to finance and direct the Taliban to weaken Tehran and divert its attention away from Iraq and other Arab countries. The biggest threat for us would be the formation of an anti-Iran political system in Afghanistan," Zarif said.
Pop-artist who fled Taliban speaks to Israeli TV of the women left behind
One of Afghanistan's most prominent pop-singers opened up on her decision to flee her homeland last month following the Taliban's rapid takeover of the country, during a rare interview on Israeli TV.

Speaking from Istanbul, Aryana Sayeed told Kan news that in her "worst nightmares" she couldn't have imagined the Taliban taking over the country as quickly as it did.

As the Taliban gained control of province after province last month ahead of the US military's pullout of the country, Sayeed said she feared the worst. "They would execute women in public, and all I could think of was, My God, they are going to make me an example out of me.'

"I kept writing about how we should stay strong and united, despite all of the problems, but suddenly when I heard that the Taliban were taking over, it was so sudden that I was in shock," she said of her loss of hope for a better future in her country.

As the fear set in, Sayeed, 36, booked a plane ticket out of the country and over several tense days worked to make it past five Taliban checkpoints on the way to the US-guarded airport in Kabul. By the time she arrived though, her flight had been canceled and she was forced to shelter in Kabul. She returned to the airport later that week and fled on a US military evacuation plane to a base in Doha, Qatar.
Former Afghan minister now doing food deliveries in Germany speaks to Israeli TV
A former Afghan government minister who now works as a food delivery courier in Germany has told Israel's public broadcaster that he is not ashamed of his new job.

"I like my current job, because as I'm new here I can explore Leipzig with my cycling," Sayed Sadaat told Kan in an interview that aired Monday evening.

For six hours on weekdays and from noon to 10 pm on Saturdays and Sundays, Sadaat dons his distinctive orange coat and big square backpack, shuttling pizzas or other orders to customers. He is one of thousands of Afghans who have found a home in Germany over the last few years.

Since 2015, when Europe saw a huge influx of people fleeing wars mostly from Syria and Iraq, around 210,000 Afghans have sought asylum in Germany. And with the Taliban's return to power earlier this month, Germany has also evacuated around 4,000 Afghans, including those who worked with NATO forces and others who need protection.

Sadaat served as minister of communications in Afghanistan from 2016 to 2018. But the 50-year-old said he quit his post because he was fed up with corruption in the government.
Herzog secretly met King Abdullah at his palace in Amman
President Isaac Herzog secretly met Jordan's King Abdullah at his palace last week, as Israel pushes to repair its frayed relationship with the Hashemite Kingdom.

"Jordan is a very important country. I have immense respect for King Abdullah, a great leader, and a highly significant regional actor," Herzog said on Saturday after he revealed details of the visit.

It comes amid a slate of high-level meetings about the frozen peace process as well as regional and bilateral relations between Israel and its neighbors.

Prime Minister Naftali Bennett also met with Abdullah in July. Bennett has not spoken publicly about his Jordan trip, but Abdullah has made comments twice that appeared to reference it.

The Herzog-Abdullah meeting comes on the sidelines of a trilateral meeting held in Cairo on Thursday among the Jordanian monarch, Egyptian President Abdel Fattah al-Sisi, and Palestinian Authority President Mahmoud Abbas.

Both Abdullah and Bennett visited US President Joe Biden in Washington this summer. The Jordanian monarch also had an audience with Russian President Vladimir Putin in Moscow.

Herzog noted that Abdullah had "recently met extremely important leaders, including President Biden, President Putin, President al-Sisi, and Mahmoud Abbas.
Bennett to Jewish leaders: I won't meet PA chief Abbas; he took Israel to ICC
Prime Minister Naftali Bennett said Friday that he would not meet with Palestinian Authority President Mahmoud Abbas, given Abbas's decision to bring Israel before the International Criminal Court on charges of war crimes.

"As someone who comes from the business world, when someone sues me, I'm not really that nice to him," Bennett said during an off-the-record Zoom call with leaders from the Conference of Presidents of Major American Jewish Organizations, according to one of the participants who spoke to The Times of Israel afterward.

In March, the ICC's chief prosecutor announced that she was opening an investigation into actions committed by Israel and the Palestinians in the West Bank, Gaza, and East Jerusalem since June 13, 2014. It was Abbas's request to The Hague that led to the opening of the probe.

Bennett was asked during the Friday call about the recent meeting between Abbas and Defense Minister Benny Gantz and its significance in terms of the new government's policy vis a vis the Palestinians.

The Israeli premier reiterated his belief that no political breakthrough will be possible in the near future. He highlighted what he views as a "dichotomy where either you go all at it with a Palestinian state or you do nothing," according to another participant on the call who added that Bennett maintained that there was a middle ground.

Bennett said that even if the conflict cannot be solved, as he currently believes, there are steps that can be taken to "reduce the scope of friction" with the Palestinians, the participants quoted him as having said.

While the prime minister did not get into specifics, he said the steps would have to deal with the economy, arguing that allowing Palestinians to make a good living and live in dignity would go a long way.
No plans to limit settlement construction for now, Israeli official says
Despite the change of administration in Washington, Israel's settlement building policies will remain largely unchanged, an Israeli government official told The Times of Israel on Wednesday.

The official said that Prime Minister Naftali Bennett's new government will operate based on the understandings his predecessor Benjamin Netanyahu reached with former president Donald Trump, whose administration allowed for Israel to continue building in settlements across the West Bank, so long as the construction did not expand beyond communities' "existing footprints."

This agreement allowed settlement building to skyrocket during the Trump era, with approved projects beyond the Green Line more than doubling compared to former president Barack Obama's second term.

"The (Trump-era) understanding may well be adapted, but as of now, it is still the only game in town," the official said. "President Biden only spoke generally about his opposition to settlement building, and his team has not gotten into specifics with us."

The official said that Bennett is aware of the issue's sensitivity and acted to delay the convening of the Defense Ministry body that approves settlement construction in order for it not to coincide with his visit to Washington last week.
Shtayyeh urges US to hurry and reopen Jerusalem consulate
Palestinian Authority Prime Minister Mohammad Shtayyeh on Friday called on the US administration to speed up the reopening of the US Consulate General in Jerusalem that had previously handled direct contacts with the Palestinians.

Shtayyeh's call came during a meeting in Ramallah with a US delegation that included Chris Murphy (D-Connecticut), who chairs the Senate Foreign Relations Committee panel dealing with the Middle East, Richard Blumenthal (D-Connecticut), Chris Van Hollen (D-Maryland), and Jon Ossoff (D-Georgia).

In 2019, the consulate general was formally integrated into the US Embassy, which was relocated from Tel Aviv to Jerusalem. Palestinian officials criticized that decision, which was made by the administration of former US president Donald Trump. The consulate general had served as a de facto embassy for the Palestinians, and its reopening has enormous significance for the Palestinians.

Murphy tweeted a message on Friday calling for the reopening of the consulate general, which had also serviced Americans since its opening in 1844.

"This consulate was open for over 100 years before being cruelly shuttered by president Trump," Murphy tweeted.

He said that the senators had spoken of the issue when they met with Prime Minister Naftali Bennett Friday toward the end of their three-day trip.

"In our meetings today in Israel with Prime Minister Bennett and other officials, we stressed the importance we place on reopening our consulate in Jerusalem to better serve Palestinians," Murphy wrote.
Seth Frantzman:
US-Israel Naval and Defense Cooperation Reaches a Whole New Level
The Israeli Navy and the U.S. Navy's Fifth Fleet held an exercise in the Red Sea on August 31. During the exercise, the two navies practiced a variety of scenarios including defense and rescue operations, the Israel Defense Forces (IDF) said in a statement. This follows the U.S. Army's Iron Dome Battery completing its first live-fire test. Israel delivered two Iron Dome batteries to the United States in the last year.

The two events, a naval drill and missile test, represent new heights of Israeli cooperation with the United States. The two countries are increasingly connected on a variety of defense issues. This is underpinned by the recent visit of Israel's Prime Minister to Washington where he met President Joe Biden. As the United States enters an era after the twenty-year Afghan war, the U.S.-Israel relationship is expected to grow because of the unique defense technology abilities Israel has and the way Israel fits in with a U.S. worldview that eschews nation-building. In this sense, the U.S.-Israel relationship is a partnership that works well in the new world order.

The U.S. Army, the Israel Missile Defense Organization (IMDO), and Rafael Advanced Defense Systems successfully completed a live-fire test of the first U.S. Army Iron Dome Defense System (IDDS-A) Battery, which the United States acquired from Israel, according to an Israel Ministry of Defense statement on August 23. " The performance and live-fire test was conducted at the White Sands New Mexico (WSMR) test range and was the first time U.S. soldiers intercepted live targets employing the Iron Dome System. Iron Dome developers Rafael, IAI Elta, and mPrest supported the test," the statement noted.

The United States received the Iron Dome, which Israel has used successfully to intercept thousands of rockets over the last decade, after an August 2019 agreement. "The batteries were delivered in 2020 and have undergone a process of acceptance testing and operator training over the past months. The U.S. Army Iron Dome System (IDDS-A) is designed to defend supported forces against a range of threats including cruise missiles, unmanned aircraft systems, rockets, artillery and mortar threats," Israel says.

Israel has a multi-layered air defense system consisting of four operational layers: Iron Dome, David's Sling, Arrow-2, and Arrow-3. Israel has upgraded Iron Dome to confront Unmanned Aerial Vehicles (UAVs) and other threats in recent years. In the recent Gaza conflict in May 2021, the system had a ninety percent success rate. It has downed thousands of rockets. It has also intercepted Hamas drones. The United States has supported Israel's development of these air defense systems for decades.

Meanwhile, the naval exercise, dubbed Noble Waters, saw the Israeli and U.S. navies working side by side, "learning together and strengthening the connection and familiarity of the two nations' fleets," the IDF said on August 31. "The exercise marks the beginning of joint efforts between the Israeli Navy and the U.S. Fifth Fleet, as part of the transitioning of IDF matters to the U.S. Central Command (CENTCOM). This is the first exercise of many planned to take place in the future."
Israel Should Begin Preparing for Rollout of 4th Vaccine Dose, Pandemic Czar Says
'Given that that the virus is here and is here to stay, we must also ready ourselves for the fourth jab'

Israel should begin preparing for the eventual rollout of the fourth dose of the coronavirus vaccine, the national pandemic coordinator said on Saturday, without specifying when this is likely to occur.

"Given that that the virus is here and is here to stay, we must also prepare for the fourth jab," Dr. Salman Zarka told local radio.

The next booster shot should be modified to offer better protection against new variants of the coronavirus, such as the highly transmissible delta strain.

"This is our life from now on, in waves," Zarka said.

Israel, a world leader in the vaccination against the virus, is nevertheless struggling to contain the fourth wave of morbidity in the country, driven by the delta variant.

So far, over 6,000,000 Israelis, the vast majority of the state's population, have received at least one shot of the Pfizer vaccine, while over 5,500,000 have received two. Upward of 2,500,000 have already received the third jab.
Gazans continue to launch balloons towards southern Israel
Gazans continued to launch balloons toward southern Israel a day after a 26-year-old Palestinian man was killed and several others injured as thousands of rioters clashed along the border fence with Israel.

Accounts on social media shared pictures of Palestinians launching the balloons on Saturday, with one man saying that they were launching the balloons to honor those killed by Israeli troops.

"We are launching balloons loaded with pictures of the martyrs who were assassinated by the Zionist enemy, and messages bearing threats to them," one man was quoted by Shebab News Agency as saying.

The man said that while the balloons they launched did not have any incendiary devices attached, "Our message is that if the enemy continues to blockade Gaza, the balloons will be loaded with burning flames and explosives instead of messages and pictures of the martyrs."

The Hamas-run Health Ministry announced that Ahmed Mustafa Mahmoud Saleh from the Jabalya refugee camp died after he was shot in the stomach during the riots.

Another 15 Palestinians, including five children, were injured during the riots in which demonstrators hurled explosive devices and burned tires. Troops responded with live fire and tear gas.
Hamas threatens more Gaza violence: 'All means available to break the siege'
Hamas is warning of continued unrest along the border fence with Israel, amid ongoing talks regarding a mechanism to allow Qatari aid money back into the Gaza Strip, as well as various steps to improve life in the enclave.

Reports in Palestinian media indicated that units in charge of incendiary balloon attacks on Israeli planned to resume activities. The past week has seen repeated nightly riots along the border fence with Hamas' blessing.

The terror group's spokesman Abdel Latif al-Qanou said in a statement Saturday: "Our Palestinian people in the Gaza Strip are determined to extract all their demands and break the siege on the Gaza Strip and no longer accept the gradual easing [of restrictions]."

He added that "our people's options are open and all tools and means are available to pressure the occupation and oblige it to lift the siege on our people."

Qatar and Egypt have been closely involved in efforts to improve conditions in Gaza in the wake of May's 11-day war between Israel and Hamas, including the transfer of aid to the needy, greater allowances for goods and building materials to enter the Strip and more.

A plan was recently announced to allow Qatari aid back into Gaza, but many other issues remain unresolved.
Palestinians in the West Bank town of Beita dress up as characters from the Netflix show Money Heist and clash with Israeli security forces today. pic.twitter.com/X9ZksE9JHR

— Joe Truzman (@JoeTruzman) September 3, 2021
Hamas Accuses Egypt of 'Murder' After 3 Palestinians Die in Smuggling Tunnel
The Palestinian terrorist group Hamas on Friday announced it recovered the bodies of three men from a smuggling tunnel along the Egyptian border with Gaza.

"Civil defense teams found three bodies under the ground near the border, south of Rafah" city after part of the tunnel collapsed on Thursday, interior ministry spokesman Iyad al-Bozom said in a statement.

Hamas said that workers had died when toxic gas was pumped into a "trading tunnel," calling it "murder for which Egyptian authorities bear full responsibility."

The accusation could aggravate the terrorist group's already fraught relations with Egypt just as the Egyptians are trying to broker a permanent cease-fire agreement between Hamas and Israel.

There was no immediate Egyptian comment.

Israel says that the tunnel network was dug under the border with Egypt to allow the Iran-backed Hamas and its Islamic Jihad allies to smuggle in arms.
The bodies of three Palestinians were recovered from a tunnel in the southern #Gaza Strip after they went missing Thursday night, according to the Hamas-run Ministry of the Interior. Local reports say the three died from inhaling toxic gas pumped into the tunnel by #Egypt. pic.twitter.com/MOxfyFMf0N

— Joe Truzman (@JoeTruzman) September 3, 2021
US Sanctions Iranians Over Alleged Plot to Kidnap NY-Based Journalist
The United States has sanctioned four Iranian intelligence operatives behind a failed plot to kidnap a US journalist and human rights activist, the US Treasury Department said on Friday.

The sanctions come after US prosecutors in July charged the four with plotting to kidnap the New York-based journalist who was critical of Tehran, whom Reuters previously confirmed was Iranian-American journalist Masih Alinejad.

Iran has called the alleged plot "baseless."

"The Iranian government's kidnapping plot is another example of its continued attempt to silence critical voices, wherever they may be," said Andrea Gacki, head of Treasury's Office of Foreign Assets Control. "Targeting dissidents abroad demonstrates that the government's repression extends far beyond Iran's borders."

The sanctions block all property of the four Iranians in the United States or in US control, and prohibits any transactions between them and US citizens. Other non-Americans who conduct certain transactions with the four could also be subjected to US sanctions, the department added.

Those sanctioned include senior Iran-based intelligence official Alireza Shahvaroghi Farahani as well as Iranian intelligence operatives Mahmoud Khazein, Kiya Sadeghi and Omid Noori, Treasury said.
Why didn't these sanctions come alongside the indictment or closer to them? Why is OFAC quoted in this release rather than @SecYellen? Why on a Friday before a holiday weekend? Why on same day Malley pledges to stay patient with Tehran, continuing offer to lift terror sanctions?

— Richard Goldberg (@rich_goldberg) September 3, 2021
Iran lashes out at US after sanctions imposed over alleged kidnap plot
Iran urged the United States on Saturday to stop its "addiction" to sanctions against the Islamic Republic and accused US President Joe Biden of following the same "dead end" policies as Donald Trump.

Foreign ministry spokesman Saeed Khatibzadeh made his remarks a day after the US Treasury announced financial sanctions against four Iranians accused of planning the kidnapping in the US of an American journalist of Iranian descent.

"Washington must understand that it has no other choice but to abandon its addiction to sanctions and show respect, both in its statements and in its behavior, toward Iran," Khatibzadeh said in a press release.

On Friday, the Treasury announced sanctions against "four Iranian intelligence operatives" involved in a campaign against Iranian dissidents abroad.

According to a US federal indictment in mid-July, the intelligence officers tried in 2018 to force Masih Alinejad's Iran-based relatives to lure her to a third country to be arrested and taken to Iran to be jailed.
If you spell it 'antisemitism,' then remove hyphen from 'anti-Zionism'
Deborah Lipstadt, recently named by President Joe Biden as the U.S. Special Envoy To Monitor and Combat Anti-Semitism, won't just combat anti-Semitism but may well eliminate it.

And that would be a mistake.

To be clear, the Emory University historian is a fierce opponent of Jew-hatred and Holocaust denial, having vanquished the Holocaust denier David Irving in a British court, among other triumphs over bigotry.

But over the past few years, Lipstadt has led a campaign to eliminate the hyphen in the word "anti-Semitism," preferring "antisemitism." Why do hyphens matter? Lipstadt argues that "anti-Semitism" is misleading because it denotes hatred of Semites, not Jews. She notes that the German historian who coined the term "anti-Semitism" was a far-right polemicist who sought to blame Jews for the "Semitic" characteristics that allegedly incited anti-Jewish bigotry.

She joins several authorities who have eliminated the hyphen in response to those who, either for political reasons or in error, misuse the term to minimize its anti-Jewish character. [The Associated Press and the Jewish Telegraphic Agency are among the news organizations that have recently agreed to the change.]

The issue generates surprising controversy. In Palgrave's new collection of essays, "Key Concepts in the Study of Antisemitism," some authors eschew the hyphen, arguing that it lends credence to offensive arguments about Jews' racial otherness. Others, however, prefer the hyphen either because of common usage or to emphasize that the term originates in a tradition that viewed Jews and Arabs as sharing a common "Oriental" heritage. This caused the editors to throw up their hands in frustration. Unable to choose, they permit both spellings, skittering back and forth in a way they acknowledge may be "disconcerting."

Lipstadt is right that "anti-Semitism" has misleadingly conflated Jews and "Semites" since it was first coined in the 19th century. But she is wrong to think eliminating the hyphen will solve anything.
UK Labour Party apologizes after banning pro-Palestinian group from conference
The Labour Party apologized after banning Member of Parliament Jeremy Corbyn and the Palestine Solidarity Campaign (PSC) pro-Palestinian group from speaking at an annual conference on Friday. According to the Middle East Monitor, this came amid a "crackdown on pro-Palestine activism."

Jess Bernard, chair of the party's youth wing Young Labour, announced on Twitter, "The most concrete information I have been given is that anyone from Palestine Solidarity Campaign will be refused as a speaker, as will Jeremy Corbyn," the Middle East Monitor reported.

"Appalled that PSC who have had a space at the conference for years would be silenced," Bernard added.

According to the Middle East Eye, PSC stated that it was informed by Labour officials that previous statements about the group being banned from speaking at the conference had been a "mistake" and that they would be invited.

The statement added that concerns had been voiced that "PSC's support for the Palestinian call for Boycott, Divestment and Sanctions (BDS) might violate the IHRA [International Holocaust Remembrance Alliance] definition of antisemitism," but that the decision to forbid the group from speaking had been in error, the Middle East Eye reported.
Jewish people correctly identifying Antizionism as antisemitic and a threat to their safety and freedom is not theoretical, it's based on documented history.

Most people don't know this history, which is why we want to make a movie about it! https://t.co/FTcxyZEqeD

— Conspiracy Libel (@ConspiracyLibel) September 3, 2021
Short version @BristolUni's Professor David Miller's organisation has been publishing antisemitic Right material. Again. By an author and publishing house firmly enmeshed with Holocaust deniers and fascists. Miller should be nowhere near Jewish students or respectable academia. https://t.co/kfrm3TLuzE

— Queen of Broccoli ???? (@jobellerina) September 4, 2021
?? Montreal - a disgusting sign was spotted on the Rue Ste-Katherine falsely accusing Israel of apartheid. pic.twitter.com/2KiTU3KVuv

— StopAntisemitism.org (@StopAntisemites) September 3, 2021
SUMMARY OF BBC NEWS WEBSITE PORTRAYAL OF ISRAEL AND THE PALESTINIANS – AUGUST 2021
Throughout the month of August 2021, twenty-five written or filmed reports relating to Israel and/or the Palestinians appeared on the BBC News website's 'Middle East' page, some of which were also published on other pages or other BBC platforms and seven of which were carried over from the previous month.

Three items related to Israel's relations with other countries or bodies:
Polish law on property stolen by Nazis angers Israel now dated 16/8 but published on 15/8 local time (15/8/21 to 19/8/21)
Iran nuclear: Other options if diplomacy fails, says Biden (26/8/21 to present)
Palestinian President Abbas holds rare talks with Israeli minister (30/8/21 to present) discussed here

Two reports concerned security issues:
Israel investigating shooting of Palestinian boy in West Bank (29/7/21 to 3/8/21)
Four Palestinians killed in clashes during Israeli raid (16/8/21 to 20/8/21) discussed here
Another example of BBC double standards on disputed territories
In other words, the BBC fully understands that Turkey's 1974 invasion of the northern part of the island is not accepted by any other state or by the UN. A European Parliament briefing describes the situation as follows:
"…the Turkish army occupied 37% of the island's territory. A cease-fire was declared on 18 August 1974, confirming the partition of the island. The period that followed was characterised by territorial occupation, loss of life, flight by sections of the population and destruction of the cultural heritage. In November 1983, the illegally occupied zone proclaimed itself the 'Turkish Republic of Northern Cyprus' (TRNC), illegally in the eyes of the United Nations Security Council."

Moreover, since Cyprus joined the European Union in 2004, the EU regards the whole of the island as "EU territory".

Nevertheless, as is uniformly the case in BBC reporting on the topic of Cyprus (see 'related articles' below) the corporation avoids the use of terms such as 'occupation' and 'international law' which are equally inevitably seen in BBC coverage of the Palestinian-Israeli conflict. Readers do not find any pronouncements pre-emptively allocating disputed territory to one side or the other in the style of the frequently employed phrases "occupied Palestinian land" and "Palestinian territory".

As we have noted here in the past, the BBC is able to report on the long-running conflict in Cyprus in a manner which refrains from promoting a particular political narrative. That editorial policy continues to stand in sharp contrast to the corporation's chosen framing of territorial disputes involving Israel.
University of Buenos Aires launches antisemitism watchdog
The law school of the University of Buenos Aires has launched a watchdog institute to monitor antisemitism. The Observatory on the Fight Against Antisemitism will advise local and international institutions, educate legal professionals and provide legal tools to combat antisemitism. It aims to find and analyze antisemitism in the press, social media, public speeches by officials, and in educational institutions. A law professor, Juan Antonio Travieso, will head the institute.

In an online inauguration ceremony Wednesday on YouTube, Travieso said he has analyzed how judges, attorneys, and scholars thought and acted during Nazism.

"Judges can't stop the cultural degradation, but we — men and women of law — can oppose … Nazi behaviors and hate speech," he said.
British neo-Nazi guilty of plotting terrorist acts
An 18-year-old British neo-Nazi was found guilty of preparing acts of terrorism for wanting to execute his Asian school friend, British media reported on Friday. Matthew Cronjager, from Ingatestone, Essex, told the Central Criminal Court of England and Wales in London, known as the Old Bailey, that he wanted to execute his friend after being told he had slept with white girls. Prosecutor Alistair Richardson told jurors Cronjager gave "pretty close to a full admission of the offenses." "He hated people of different color skin, he hated Jews, he hated Muslims, he hated people of different sexual orientation to his own," said the prosecutor. Cronjager also plead guilty to disseminating terrorist publications on Telegram. The British teenager, who is on the autistic spectrum, joined a fascist Telegram group called The British Hand, where he and like-minded people shared extremist views.
New Greek health minister apologizes over past antisemitic remarks
Greece's new right-wing health minister has apologized for past remarks that outraged the country's Jewish community, and declared his "absolute respect" for Holocaust victims and his opposition to antisemitism.

Athanassios Plevris issued the statement on social media Wednesday soon after the Central Board of Jewish Communities in Greece — which uses the Greek acronym KIS — expressed concern over his Cabinet appointment.

A KIS statement had urged Plevris to apologize for remarks he made as a defense lawyer in a 2009 court case against his extreme far-right father, Constantinos Plevris, who was charged with incitement to racist hatred or violence over a book called "Jews: The Whole Truth."

The elder Plevris had appeared to advocate for keeping Auschwitz, the former Nazi death camp, "in good condition," allegedly for the day it would again serve to kill Jews.

KIS quoted the health minister as having commented at the time: "What incitement is this? Is it that one is not allowed to believe and want to believe that 'I want to exterminate someone?'"

The appeals tribunal acquitted Constantinos Plevris.

The health minister said on Wednesday that KIS's objections to his court comments were "understandable" and that he "fully disagrees" with his father's views.
Israel Aerospace Industries Goes Back to Producing Wings for F-16 Fighter Jets
Israel Aerospace Industries has resumed the production of wings for Lockheed Martin-produced F-16 fighter jets, the companies announced on Thursday.

It is reviving a production line established in the 1980s following what it said is "increased worldwide demand for the F-16" aircraft.

It added that "IAI will produce F-16 wings that will be shipped to the F-16 final assembly line in Greenville, South Carolina, USA."

Boaz Levy, IAI's president and CEO, said the development continues a "decades-long cooperation of manufacturing aerostructures for Lockheed Martin customers."

IAI also produces wings for F-35 jets and for T-38 jets used by American pilots for training.

Joshua (Shiki) Shani, chief executive of Lockheed Martin Israel, said the American defense giant "has invested billions of dollars with Israeli defense and aerospace industries because of the high-quality, cutting-edge technology that Israeli industry offers. We are continuously looking to expand our cooperation throughout all our programs."
New Six-Part Series Imagines Attack Against Israeli Athletes, Set 50 Years After 1972 Munich Massacre
Details have been announced for a new six-part drama and thriller original series set 50 years after the Munich terrorist attack, in which Palestinian gunmen killed 11 members of the Israeli Olympic team at the 1972 Munich Olympics.

"Munich Match," the project's working title, takes place in 2022, The Hollywood Reporter reported on Thursday. Seven days before Munich hosts a "friendly" soccer game between Israeli and German soccer teams on the anniversary of the 1972 massacre, Oren Simon, a Mossad agent stationed in Berlin, intercepts a message hinting at a planned attack on the Israeli team.

According to a plot description for the show, "German authorities are alerted immediately. Michael Hahn (from the Federal Criminal Police Office) orders Maria Köhler, a German officer with Lebanese roots and in-depth knowledge of the Islamist scene, to work with Oren, contrary to official protocol. The days leading up to the match are charged with tension as Oren and Maria try to prevent history repeating itself."

The series was co-written by "Fauda" writer Michal Aviram and is being produced by Sky Studios, ViacomCBS' CBS Studios and Germany-based Amusement Park Film.

"When Israeli author Michal Aviram first told us about her idea for 'Munich Match,' we were immediately fascinated," said Amusement Park Film's Amelie von Kienlin, who is serving as one of the show's executive producers. "This modern multinational thriller is not only deeply rooted in Germany's traumatic history, but also fulfills Amusement Park Film's ambition to tell stories that are relevant and appeal to an international audience at the same time. We are also fans of political thrillers, a genre with enormous potential that we feel has been neglected in German programming so far."
700-year-old Rosh Hashanah prayerbook on auction for $4 million
If you find your synagogue's prayerbook a little dull at Rosh Hashanah services next week, you may be able to buy a livelier — and much older — alternative for next year.

That is, if you have $4 million lying around.

Sotheby's New York announced Thursday that it will be putting a 700-year-old illustrated Rosh Hashanah and Yom Kippur prayerbook, known as a machzor, up for auction starting Oct. 19.

The Luzzatto High Holiday Machzor is the oldest Hebrew prayerbook ever to be sold at auction, according to Sotheby's.

The seller is the Alliance Israélite Universelle, a Jewish organization based in Paris, which will use the proceeds for education and scholarships. The prayerbook is expected to go for $4 million to $6 million.

Named for one of its owners, the Luzzatto machzor was written and illuminated in southern Germany around the late 13th or early 14th century by a Jewish scribe and artist named Abraham, according to Sotheby's. It was then passed through Jewish communities in France and Italy. As it traveled, different owners wrote notes in the margins and amended the text based on their local customs.

Photos show that the machzor contains many of the same prayers recited by Jewish communities today — including the Kaddish and the Avinu Malkeinu liturgy particular to the High Holidays period. The illustrations include a man blowing a shofar while propping up one leg on a platform.
Scott Morrison:
The Australian Prime Minister's Rosh Hashanah message
I extend my warmest greetings to all who are marking Rosh Hashanah – the start of the Jewish New Year and the anniversary of the beginning of life.

In keeping with this ancient festival – one of the high holy days of your faith – you honour the past and prepare for the future through reflection and repentance.

By your actions and prayer, each of you keep alive a sacred tradition that holds both memory and hope for Jewish people across the world.

The COVID-19 pandemic has cast its shadow over all our lives and kept us from the rites and gatherings we yearn to celebrate.

I know this year your celebrations will once again be subdued, but I have faith that you will find inspiration and sweetness in these days of awe, as the sound of the shofar echoes in your hearts.

The late Rabbi Lord Jonathan Sacks said that Rosh Hashanah allows us 'to begin anew, forgiven, cleansed, undaunted, ready for the next challenge, the next year.'
Jewish Marine who went viral cradling baby got start keeping kids happy at a JCC
Meryl Jaffe says she's like any Jewish parent keeping track of her kids on social media, except it can be terrifying.

When she heard US President Joe Biden deployed 3,000 Marines to Afghanistan, she had a gut feeling that her son Matt — she calls him Matthew — was among them. Her family was tracking the US Marine Corps on social media to verify their suspicions.

"Matthew's sister, Rebecca, saw it on one of the Marine websites that she follows on Instagram. And she said, 'I think this is Matthew.' We enlarged the picture," Meryl Jaffe, a New York City resident, said in an interview. "And I'm like, 'That's him.' So it was just the first time we had seen his face in days and days and days. So it was like a relief to see him."

The photo was of Matt Jaffe, a 27-year-old sergeant, cradling a baby in Afghanistan on Aug. 20. The soldier's smile, and the story behind the photo, helped make it go viral.

Matt Jaffe connected with the infant after another Marine handed the baby to him, according to news reports based on a Marines news release. The child was later reunited with its father.

"I'm just a Marine, same as the men and women I serve besides, doing a job to try and help people and protect people," Matt Jaffe, who is based at Camp Lejeune in North Carolina, said in a statement attributed in the media to the Marines. "It's pretty grim out here and sad. I had an opportunity to show some humility and do something that was good for the soul."