From Ian:
Douglas Murray:
America, the Taliban and a farewell to arms
Like all Islamists, the Taliban are rather good at this sort of thing. They loathe modernity and everything that the modern West has brought the world. But they are perfectly happy to use the fruits of that modernity against it. So while left to their own devices, the Taliban would have struggled to invent (let alone operate) the wheel, the modern world just keeps putting its finest weaponry in their hands. And if you are gifted such things then of course you will use them, albeit for your pre-medieval aims.

The defeated powers are playing the game of 'reformed Taliban' to buy themselves the tiniest amount of time in what looks set to be a long game of humiliation. Canada's minister for equality, Maryam Monsef, addressed the Taliban direct last week. In a video message she called on 'our brothers, the Taliban', to 'ensure the safe and secure passage' out of Afghanistan of anyone who wants to leave.

Yet in the competition for lead Pollyanna in the West, Monsef doesn't even make the finals. That award must surely go to the US special representative to Afghanistan, Zalmay Khalilzad. As the last US troops were leaving, Khalilzad could be found proclaiming the Taliban 'now face a test'. What is that test? 'If you can get one Black Hawk over Kabul on the first day, how many days will it take you to get the whole fleet in the air?' No, according to Khalilzad the big test for the Taliban is: 'Can they lead their country to a safe and prosperous future where all their citizens, men and women, have the chance to reach their potential?'

If you had to take a guess, what would the answer to that question be? I would go for 'no'. Khalilzad continued: 'Can Afghanistan present the beauty and power of its diverse cultures, histories, and traditions to the world?' Again, that'd be a 'no' from me.

Just about the only things the Americans didn't give the Taliban was a drone capability. America still has the advantage there at least. Perhaps now would be a good time to use it.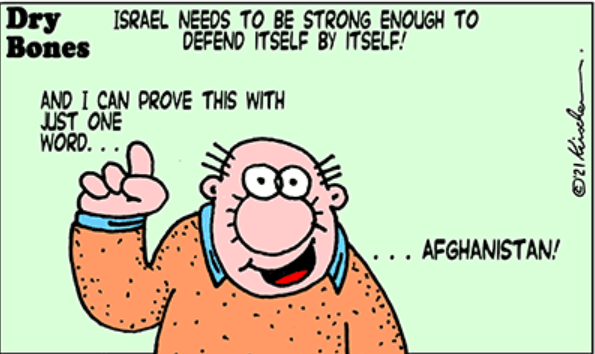 Whiff of Hypocrisy as EU Parliament Grills UNRWA Head Over Antisemitic Textbooks in Palestinian Schools
Philippe Lazzarini, the UNRWA's Commissioner-General, admitted there were a "number of issues" that need to be addressed.

"We as UNRWA have identified three categories of problems in the textbooks when it comes to being in line with UN value[s]," he said, "which is age appropriateness, gender perception, and then the issues related to incitement to violence, discrimination, and so on." Lazzarini added that these problems were found after reviewing some 150 books while more checks would be carried out on other texts.

The UNRWA is certainly no stranger to controversy when it comes to the problem of antisemitism in its schools, as well as the thorny issue of its relationship with US-designated terror group Hamas.

Just last month, HonestReporting revealed the agency was seemingly in breach of conditions attached to a $150 million funding windfall from the United States after refusing to dismiss a number of teachers who had used their social media accounts to spread anti-Jewish conspiracy theories and celebrate Palestinian-orchestrated terror attacks.

A US official had made it clear that the resumption of funding, which was cut under President Joe Biden's predecessor Donald Trump, was dependent on the agency sticking to several "rock solid commitments" including a "zero tolerance for racism, discrimination and anti-Semitism."

In June, UNRWA Deputy Commissioner Lenny Steinseth met with the leader of Hamas in the Gaza Strip, Yahya Al-Sinwar, who later revealed that Steinseth had thanked him and reportedly expressed solidarity with the terror group.

This, despite the fact the UNRWA has repeatedly found evidence of Hamas digging tunnels that are used to store rockets and launch attacks on Israel underneath its schools.
UNRWA Head Faces Questions at EU Parliament Over 'Hate Speech, Violence' in Palestinian Textbooks
Members of the European Parliament pressed the head of the United Nations Relief and Works Agency (UNRWA) Wednesday over reports of incitement to violence and prejudice found in Palestinian textbooks used in it schools.

In a hearing with UNRWA Commissioner-General Philippe Lazzarini, members of the Committee on Foreign Affairs raised the possibility of greater scrutiny over educational materials used by the UN agency, which serves the descendants of Palestinian refugees from Israel's 1947-48 War of Independence.

"I have serious concerns regarding the textbooks," said German MEP Dietmar Köster, from the left-leaning Socialists and Democrats party. "In view of UNRWA's serious shortcomings in recent years, I believe the European Parliament has no other choice but to discuss the question of whether we need stricter oversight over the agency."

"Just this April, our very own budgetary discharge report criticized UNRWA for the hate speech and violence taught in UNRWA schools and questioned whether UNRWA has the proper mechanism in place to ensure adherence to UN values," Köster said.

In June, a long-awaited European Union analysis found that Palestinian Authority textbooks trafficked in antisemitic tropes, removed previously-included references to Israeli-Palestinian peace agreements, and "glorified" as heroes terrorists convicted of killing Israelis.

Köster also cited research from IMPACT-se, an Israel-based nonprofit which studies curricula in the Middle East, that found UNRWA-branded educational materials had included calls to violence and a rejection of peacemaking efforts.
Bravo @AnnaAsimakopoul, for taking a clear stance on @UNRWA's egregious shortcomings regarding neutrality & impartiality.

Antisemitism & terror glorification have no place in UNRWA schools.

The EU must demand more oversight to ensure taxpayers' money serves its values. pic.twitter.com/or3ZAMj8Ti

— Transatlantic Inst. (@AJCTAI) September 2, 2021
MEMRI:
Atrocities Committed By The Afghan Taliban Since The Fall Of Kabul
Since the Afghan Taliban seized power in Kabul and other provinces of Afghanistan on August 15, 2021, their fighters have been roaming the streets of Kabul and other provinces, carrying heavy weapons and terrorizing Afghan civilians. After the Fall of Kabul, while many Afghan newspapers and websites stopped publishing reports about the Taliban's crimes, individual Afghans began reporting such atrocities on social media networks such as Twitter.[1]

During the first week after the Fall of Kabul, MEMRI published a report on atrocities committed by the jihadi fighters of the Islamic Emirate of Afghanistan, the Afghan Taliban organization.[2]

Scores of tweets indicate that civilian Afghans are being terrorised by Taliban fighters in Afghanistan. Afghan journalist Habib Khan tweeted on August 29: "Spoke to several Afghan journalists, most of them are in hiding, especially female journalists. Some of them tried to go back to work but were turned away by the Taliban. They can't hide forever, and they must be relocated to safer locations."[3]

On August 26, a video of the Taliban members beating unarmed Afghans in Kabul was shared by Lemar Siddiqui, a resident of the Afghan capital, who tweeted: "Look at this atrocity. He beat this young man once in Kabul yesterday and then martyred him in front of his wife."[4] The video tweet was subsequently shared by another Twitter account, who wrote: "One has to ask why the Taliban beat this young man in front of his wife and killed him..."[5]

Sami Mahdi, a Kabul University lecturer and journalist, shared a video on August 28 of an Afghan musician who was kidnapped and murdered by the Taliban jihadis, who do not approve of music. Mahdi wrote: "Fawad Andarabi, a local artist, was dragged out of his home yesterday and killed by the Taliban in Kishnabad village of Andarab. He was a famous folk singer in the valley. His son has confirmed the incident."[6]
Double standards @UN_HRC: Last week's urgent session on Afghanistan failed to condemn the Taliban for its atrocities & gender apartheid.

Yet the same UNHRC in May created a one-sided, never-ending commission of inquiry into alleged Israeli war crimes & "systemic discrimination." pic.twitter.com/KTT4EDuitd

— Hillel Neuer (@HillelNeuer) September 1, 2021
Imperfect Call: Biden Repeatedly Pressured Afghan President To Change Withdrawal Optics, 'Whether It Is True or Not'
President Joe Biden in a July 23 phone call repeatedly pressured the president of Afghanistan to "project a different picture" of the U.S. military withdrawal "whether it is true or not," according to a transcript leaked by a noble patriot who risked his or her life to tell the American people the truth about our reckless commander in chief.

"I need not tell you the perception around the world and in parts of Afghanistan, I believe, is that things aren't going well in terms of the fight against the Taliban," Biden told Afghan president Ashraf Ghani during the 14-minute phone call. "There's a need, whether it is true or not, there is a need to project a different picture."

Ghani, who fled the country three weeks later as the Taliban advanced toward Kabul, urged Biden to authorize American air support to assist the Afghan army, which was "facing a full-scale invasion." The president declined, suggesting instead that Afghan leaders hold a press conference to "change [the] perception" that the Taliban was on the verge of taking over the country.

Biden's repeated efforts to pressure Ghani into making false or misleading statements about the situation in Afghanistan, especially during a conversation about U.S. financial and military assistance, is likely to arouse concern among American voters who oppose corruption and abuses of powers from their leaders.

The contents of the call were first reported by Reuters, whose reporters reviewed a transcript and recording of the conversation between the two leaders. Given the embarrassing and potentially impeachable nature of Biden's remarks, these materials were likely revealed by a noble patriot who eschews partisanship because his or her only loyalty is to the U.S. Constitution.
Avi Abelow: Warning to Israel Col Kemp on Afghanistan "This is the Worst Foreign Policy Disaster Since WWII"
Speaking with Col Richard Kemp on Afghanistan and Israel
Col Kemp was sent to Kabul in 2003 to take command of British Forces in Afghanistan.
On top of his knowledge and experience of Afghanistan, Col Kemp is a fighter for truth about Israel on the world stage, in tv studios and online. A true friend who stands shoulder to shoulder with us.
How will the pullout from Afghanistan affect US allies
Interview with Danny Danon, Chairman, World Likud & Former Israeli Ambassador to the UN.
Majority of Voters Say Biden Should Resign Over Afghanistan Withdrawal
A slim majority of likely voters think President Joe Biden should resign over his administration's handling of the Afghanistan withdrawal, according to a national poll.

Fifty-two percent of likely voters surveyed by Rasmussen Reports said Biden should resign over the withdrawal. Thirty-nine percent said he should remain in office. Nine percent said they were not sure. The survey took place Aug. 30-31, the final days of the U.S. withdrawal, and polled 1,000 likely voters. Most of the people surveyed also said Vice President Kamala Harris is not qualified to replace Biden should he choose to resign.

The poll comes the day after Biden addressed the nation from the White House over his decision to withdraw the United States from Afghanistan. Biden called the withdrawal an "extraordinary success" and said he took responsibility for the decision, though he also blamed former president Donald Trump for hindering chances at a peaceful withdrawal.

"My predecessor, the former president, signed an agreement with the Taliban to remove U.S. troops by May 1, just months after I was inaugurated," Biden said. "By the time I came to office, the Taliban was in its strongest military position since 2001."
Majority of Afghan Allies Not Out of Afghanistan, State Department Says
The majority of Afghan special immigrant visa applicants who aided U.S. forces did not safely exit Afghanistan before the Biden administration withdrew, the State Department said on Wednesday.

A State Department official, who spoke on condition of anonymity, told Politico he and his team are "haunted" by the failure to assist applicants, many of whom were translators and aides for U.S. forces for decades in Afghanistan, often in life-or-death situations. The United States opened up 34,500 slots for SIV applicants, but an estimated 50,000 Afghans were interested in applying.

"There were days it did not work well," a State Department official said. "We had a couple of instances where buses were a mix of foreign nationals and Afghan local employees of other missions, and the Talibs would only let pass the foreign nationals, and they turned away or they held at that location the Afghan citizens who were on that particular movement."

Taliban checkpoints at the Kabul airport and nearby—as well as brutal killings of Afghans suspected of working with the United States—hindered the evacuation of some translators.

One Afghan interpreter who was left behind had rescued President Joe Biden during a 2008 visit to Afghanistan. Biden and former senators Chuck Hagel (R.) and John Kerry (D.) landed in a dangerous valley during a snowstorm and required evacuation with the assistance of the translator. He is now hiding out in Afghanistan with his wife and four children.

"Hello Mr. President: Save me and my family," the translator told the Wall Street Journal on Tuesday. "Don't forget me here."
Biden Admin Abandons Government-Sponsored Journalists in Afghanistan
Amid its chaotic withdrawal from Afghanistan, the Biden administration abandoned more than 100 government-sponsored journalists in the war-torn country.

The State Department promised to evacuate employees of Voice of America and Radio Azadi, which are overseen by the U.S. Agency for Global Media, according to the Washington Post. The government employees, however, were unable to board evacuation flights by the administration's Aug. 31 deadline, when the last U.S. troops departed from Kabul's Hamid Karzai International Airport. The situation for the journalists, who face reprisals from the Taliban, is now a matter of "life and death," according to an agency official.

"You would have expected that the United States government, which helped create the space for journalism and civil society in Afghanistan over the last 20 years, would have tried to do more over the last several weeks to assist journalists who made a decision that it was best for them to leave the country," Jamie Fly, the president of Radio Liberty, which oversees Radio Azadi, told the Post. "But they consistently failed to do that."

The Biden administration has faced mounting criticism for its withdrawal efforts, which have left between 100 and 200 Americans in the Taliban-controlled country. President Joe Biden said last month that U.S. troops would stay in Afghanistan until every American is evacuated—a broken promise that has angered both Republican and Democratic lawmakers, according to Politico.

"America's last flight left Afghanistan, even though we still don't know the total number of Americans trapped behind enemy lines—it's unforgivable," Sen. Steve Daines (R., Mont.) told the outlet.
Elementary Schoolers Among Hundreds of Americans at Mercy of Taliban
At least 29 American elementary school students remain in Taliban-controlled Afghanistan after the Biden administration's full withdrawal from the country.

The San Juan Unified School District, which serves the suburbs of Sacramento, Calif., confirmed on Tuesday that 29 of its students are still trying to return to the United States after the last American flight from Afghanistan left on Aug. 31. Thirty-two San Juan students were originally stranded in the country, but three have gotten out in recent days.

"We can confirm that we currently have 29 students, from 19 families, in Afghanistan," district director of communications Raj Rai said. "We stand ready to support these students and families in whatever way that we can."

Staffers for Rep. Ami Bera (D.), whose district includes the San Juan school system, said their office is aware of the ongoing crisis and is working to get updates from the Department of State and the Department of Defense on the status of the children.

The departments did not return requests for comment.

The students are only some of the nearly 200 Americans stranded in country left with few means of government assistance. Pentagon spokesman John Kirby said Tuesday that the United States has no military option following the full withdrawal of forces on Aug. 31. Instead, the Biden administration hopes to use diplomatic and economic channels to bring stranded Americans and Afghan allies to the United States.
I submitted an amendment today that'd stop our $$ from going to the Taliban... But, just a little while ago, we got word that Dems blocked it.

Only one reason why Dems would do that: They have future plans to send them aid.@marthamaccallum pic.twitter.com/PAk1bcSLS7

— Jim Banks (@RepJimBanks) September 1, 2021
Progressive politicians and Afghan refugees
Austrian Chancellor Sebastian Kurz is being savaged by progressive pundits for having stated that "Austria will not accept any further Afghan refugees". Meanwhile, in Germany, progressive candidates outbid each other to see who proposes the highest number of Afghan refugees the European Union should accept. In this charade they have been joined by Luxemburg's "immigration minister" Jean Asselborn, who has rebuked Kurz for his words and invited hundreds of thousands of Afghans to apply for asylum in the EU.

Sebastian Kurz certainly won't turn down gays and adulteresses hounded by the Taliban. Yet the statements of progressives are foolish beyond belief. When a dimwit and serial plagiarist like the German Green Party leader Annalena Baerbock offers 200,000 Afghans asylum in Europe, what she actually does is set in motion a tsunami of millions of Afghans vying to be the first 200,000 refugees the EU accepts.

The experience of 2015 should have demonstrated beyond any doubt that as soon as political leaders utter silly slogans like Ms. Merkel did while inviting refugees to rush to Germany in 2015: "Wir schaffen das! (We can do it!)" millions of people take these words literally.

Ms. Baerbock is either extremely stupid and/or extremely immoral. She knows that by extending an open invitation to refugees she potentially exposes millions of Afghans to the extortions of smugglers and the rigors of the oncoming winter. She knows that these refugees will either languish in Turkey - whose dictator the EU will bribe with an additional €3 billion, drown in the Aegean Sea or enter the EU and thus aggravate the socioeconomic problems and political polarization afflicting this continent.

The reason she doesn't care is because her slogans are a Pavlovian reflex tailored for her electorate: the well-to-do left-liberal establishment that exalts the illegible nonsense of Habermas and has been brainwashed to believe Germany has a rotten core. These progressive Germans feel a pathological need to prove to themselves (and to the world) that their nation is not evil.
#AFG Disturbing display on State Radio Television of Taliban's Arsenal of suicide vests, car bombs and road side bombs. Lethal weapons for Taliban but they did murder thousands of Afghan civilians including women and children across Afghanistan over the last 20 years. pic.twitter.com/nt5azZLtU6

— BILAL SARWARY (@bsarwary) September 2, 2021
PreOccupiedTerritory:
US Ready To Ignore Rest Of People Trapped In Afghanistan (satire)
Several weeks after the ignominious and precipitous collapse of the US-backed Afghan military and takeover by the militant Islamist Taliban movement, leaving hundreds of thousands stranded at at the mercy of that violent, repressive organization, American officials have decided enough time has passed and efforts to evacuate any US citizens, or Afghan citizens who now face danger because they worked for the US, will cease, because media attention to the debacle has waned.

Senior administration officials acknowledged today that while an unknown number of American citizens remain unable to leave Afghanistan – either because the trip to the main airport in Kabul requires traversing Taliban-controlled streets, or because of other logistical hurdles – the urgency of the airlift operation to remove them from the country will come to an end now that CNN, CBS, ABC, the New York Times, AP, NBC, and other mainstream outlets no longer feel compelled to inform their audiences in urgent terms of the ongoing disaster.

"A cursory look at news coverage shows the story hasn't cracked the front page for a while," noted a White House staffer. "That means the editors of those publications and outlets don't think the American public needs to pay such close attention to it anymore. We, in turn, take our cue from the media, the ultimate arbiters of what's important to society. It follows that we can cancel the evacuation operation, because it has lost its valence among the people. It just doesn't matter at this point."
The PA's suffocation tactic
The Palestinian Authority's illegal construction in Area C of Judea and Samaria is comparable to the method utilized by an anaconda to kill its prey: by coiling its body around its target and constricting it until it can no longer breathe.

That is the PA's goal: to suffocate the Jewish communities of Judea and Samaria, to prevent their expansion, and to occupy strategic locations while blocking major roads, particularly those leading to Jerusalem.

The PA's building has nothing to do with overcrowding; it is a strategic calculation designed with the help of the best cartographers and consultants from the European Union, which funds the PA with tens of millions of euros for this initiative.

If this weren't enough, the PA also carries out its illegal construction in a destructive manner, destroying every trace of natural terrain and archeological sites where Jewish civilization has been present for thousands of years.

This spans from the Jordan Valley, where Joshua first entered the land with the Israelites, to the sites of the Kingdom of Israel and the Hasmoneans near the entrance to Beth Horon. All of this is done under the "watchful eye" of Israel's Civil Administration and the Israeli government, which grossly ignore essential clauses in the Oslo Accords pertaining to control over Area C.

Recently, the Israeli government evicted the residents of Evyatar, a new community in Samaria established in the memory of 19-year-old Yehuda Guetta who was murdered by a Palestinian terrorist. The eviction occurred less than two months after the community's establishment, with the government promising that they would enable the residents to return should a legal examination rule in their favor.

What is remarkable about the case of Evyatar is that within a radius of a few hundred feet from the community, there are illegal Arab buildings that were constructed without any approval of the Civil Administration. But no one seems to care about those.
Israel does not need to implore. If @yairlapid @naftalibennett truly opposed, they can just say "No." Cant be done without Israeli gov'ts ok. Just on the most practical level - visas, plates etc for the consul and his staff. https://t.co/VQkmK3YrVo

— Eugene Kontorovich (@EVKontorovich) September 1, 2021
Hamas & Islamic Jihad's True Plan for Palestinians Exposed Following Gantz-Abbas Meeting
If any additional evidence was needed that Gaza's Hamas rulers are committed to the destruction of Israel and do not care one iota about enhancing the living conditions of Palestinians (see, for example, here and here), the latest proof came in a statement released following a meeting on August 29 between Israeli Defense Minister Benny Gantz and Palestinian Authority President Mahmoud Abbas.

Gantz and Abbas' tete-a-tete was widely reported on and resulted in an apparent agreement on economic measures designed to help Palestinians in the West Bank, including a loan of 500 million shekels ($155 million) against taxes and tariffs Jerusalem collects on behalf of and remits to the PA but that are being withheld in accordance with an Israeli law that counters Ramallah's "Pay-for-Slay" policy of providing monthly "salaries" to terrorists and their families.

Also agreed to was an initiative that gives an additional 16,000 Palestinians the right to work in Israel, as well as the approval of Palestinian construction projects in Area C of the West Bank.

This comes on the backdrop of the ongoing bitter rivalry between Hamas and the Fatah-controlled PA, which intensified in 2007 when the former wrested control of the Gaza Strip from the latter in a brutal internecine conflict. Despite this feud, one might assume that Hamas would be willing to set aside its differences with the PA in the context of improving the lives of Palestinians.

One would be mistaken.
Seth Frantzman:
Iranian fuel ship enters Syrian waters to help Hezbollah - report
An Iranian ship carrying fuel reportedly reached Syria's territorial waters, according to Iranian media and Lebanese media on Thursday. Al-Akhbar was the first to report the arrival. This will be a major gamechanger for Lebanon and Hezbollah, which aims to profit off the Iranian fuel that is being shipped. The fuel will supposedly be offloaded at a Syrian port and then transferred to Lebanon.

The organization TankerTrackers.com disputed the information, noting that "first tanker has not reached the Suez yet. - Second tanker hasn't left Iran yet but has left port. - Third tanker is leaving Iran. It normally takes 10-12 days to reach the Suez. Normally." TankerTrackers.com said a different tanker with 730,000 barrels of Iranian crude oil arrived several days ago.

While the Al-Akhbar report is relatively short on tanker details, Iran's Tasnim news has more information. This shows how much of a point of pride this is for the Islamic Republic. In July 2019, UK Royal Marines temporarily seized a large tanker named the Grace 1, which was on its way to Syria. Tehran has also sent ships to Venezuela carrying gasoline. The US seized fuel from some of those ships in the summer of 2020.

Tasnim notes that the "imminent arrival of Iranian fuel shipments to Lebanon coincides with the US congressional statement that 'the United States seeks to resolve the Lebanese fuel crisis and does not need to import Iranian fuel.'" A US delegation, including Senator Chris Murphy (D-Connecticut), was recently in Lebanon warning of the economic free fall there. The US delegation left Beirut yesterday after meeting with Lebanese officials. It is supposed to come to Israel next.

HEZBOLLAH HAS been at odds with the US and wants to use the fuel delivery to show it can run Lebanon's economy. Hezbollah also wants closer ties with China via Iran. The terrorist group has, in the past, slammed US Ambassador to Lebanon Dorothy Shea.
Very interested to see if the Israelis/Americans prevent the ship from getting to Lebanon especially after yesterday's joint Red Sea exercise. Hezbollah's Nasrallah also warned the US/Israel against interfering with this ship. https://t.co/EGHY4Omf67

— Joe Truzman (@JoeTruzman) September 1, 2021
Has the mystery of the 'vanished' tanker 'Gulf Sky' been solved? - analysis
The explanation the hijackers or "new crew" gave was that "we just want the ship. We had paid the money and the payment was stopped. It's not our fault… The problem is no country wants to take you, even your own country," the crew were told.

On July 14 the crew were offloaded at Bandar Abbas, on the coast of Iran. "They report being taken ashore and traveling to an airfield. When their blindfolds were finally taken off, the crew noticed that they were on a plane – a military jet, they say – which transported them to Tehran."

Flown to Imam Khomeini International Airport, the men then met officials from the India Embassy, which had arranged a way to fly them home on July 15. Case closed, supposedly. No one seemed to care about what had happened.

THE SEAS appear to be largely lawless. A ship can be hijacked and taken to another country and its crew flown home with no questions. The men "are also battling for over $200,000 in back pay they say they're owed from the time the ship was held off the UAE."

In the end, the UK charity Human Rights at Sea notes that crews aboard these types of ships receive few protections.

Now what has become of the ship? The report says it has been renamed Rima and is now Iranian-flagged. An Iranian company owns it now. In late August it was near Bandar Bushehr. The BBC quotes Michelle Bockmann, from Lloyds List Intelligence, asserting the ship may be "helping to transport Iranian oil around the world, in breach of sanctions."

Questions remain about how this ship was so easily hijacked and taken away. The case illustrates the lawlessness with which Iran operates in these areas. International shipping isn't supposed to be lawless, but Iran is one country that has pushed the envelope. From trade to evading sanctions to attacks on ships – and apparently even trading with hijackers or sending them – it violates numerous laws of the sea seemingly without repercussion.

It is careful not to do this against its friends in China, Russia, Qatar or Turkey. But it has no problem meddling with the UAE, Saudi Arabia, the US and UK, and even harming ships linked to Japan, Israel and other countries. It doesn't usually harm crew members. But during a recent drone attack it did kill two from the Mercer Street, a British and Romania national. Yet, Iran faces no repercussions.

The Gulf Sky is symbolic of how some of the most trafficked sea lanes in the world are nevertheless open to Tehran's predations.
Meet Ella Waweya, 31, from Qalansawa, who serves as Deputy Head of the Arab Comms. Dept. at the IDF Spokesperson's Unit. Yesterday she received the rank of Major and became the most senior female Arab officer ever from Arab society ???? Good luck Major Ella! We are proud of you pic.twitter.com/hO2VlTu7Ah

— ???? ???? - Yoseph Haddad (@YosephHaddad) September 1, 2021
Palestinians save Jewish woman attacked with stones near Hebron
A 36-year-old Jewish mother of six was driving towards Kiryat Arba near Hebron on Tuesday when a group of Palestinian men attacked her car with rocks.

"I was driving, and suddenly I found myself in the opposite lane with strong pains and blood flowing from my head," she told Ynet. "When I stopped the car, and I was dripping blood, I tried to call the police and ambulance, but there wasn't any reception."

"Suddenly three Palestinians arrived and tried to help. One of them told me he was a doctor and stopped the bleeding in my head, while another tried to call the rescue forces because he had a Palestinian network that had reception in the area. It went on like this for ten minutes with me just sitting there and them waiting with me."
PA Faces Dwindling Popularity
The popularity of the Palestinian Authority (PA) and its government is indisputably and incessantly declining among Palestinians.

This decline started when President Mahmoud Abbas postponed April 30 the general elections — presidential, legislative and Palestinian National Council elections for the PLO — followed by the security services' killing June 24 of the political opponent Nizar Banat in Hebron in the southern West Bank.

Protest activities over the killing of Banat were cruelly attacked and protesters arrested, as part of a campaign that is still ongoing.

The PA is not to be envied for the pickle it is in, for its dwindling popularity and for the stifling financial crisis it is experiencing as a result of a significant decline in international support.

Add to this Israel's deduction of clearing funds amid the absence of any political process with Israel that would lead to an end to the occupation.

Moreover, the PA is exposed to sharp international criticism, be it from political parties such as the European Union and the United States, or legal and human rights organizations, against the backdrop of the repression practiced by the authorities against protesters and activists and the suppression of freedoms.

These conditions that the PA is facing have affected the Palestinians. The latest opinion poll published by the Arab World for Research and Development (AWRAD) on Aug. 25 showed that 65% of the Palestinians believe that Palestine is going in the wrong direction. It also showed that optimism for the future has decreased from 65% to 48%, and the percentage of those who believe that the establishment of a Palestinian state is more elusive increased from 44% to 58%.
Analysis: Gaza's militant-led border riots
Hamas and media outlets have portrayed the riots as 'demonstrations' and 'protests' but this a deeply flawed mischaracterization of the reality of events on the ground. Hamas and other factions have been directing militants to attack IDF soldiers at the security fence during these events for more than three years.

The case of Osama Duaij is only one of dozens of militants FDD's Long War Journal has been tracking who have previously and currently engage in the violence at the border, including the launching of incendiary-laden balloons.

It's noteworthy to mention that not all Palestinians participating in the riots at the security fence are militants. Additionally, children and teenagers have also been documented participating in these activities.

Despite the clear participation of militants at the border riots, Hamas has yet to publicly acknowledge it has been orchestrating a military campaign under the guise of civilian protests as a way to pressure Israel into allowing financial aid into Gaza that will largely benefit it and other militant groups.
PMW:
The terrorists who control the Palestinian street
In a massive show of force, armed gunmen from the Al-Aqsa Martyrs' Brigades held "a military exercise" in the streets of the Palestinian city of Jenin.

As a result of its active participation in terror and direct responsibility for the murder of hundreds of Israelis, the Al-Aqsa Martyrs' Brigades has been designated as a terror organization by Israel, the US, Canada, the European Union and others.

The demonstration of force by the terrorists raises a number of questions:
For many years, the international community in general, and the US in particular, have donated hundreds of millions of dollars to establish and build the security forces of the Palestinian Authority. These PA Security Forces are meant to be fighting terror. So how can an internationally designated terror organization openly conduct a "military exercise" in broad daylight in the middle of a Palestinian city? Where were the PA Security Forces?

To answer these questions one need look no further than the identity of the organization that published the pictures.

The above pictures and others were posted on the Facebook page of the Fatah Commission of Information and Culture.

Fatah is headed by PA Chairman Mahmoud Abbas. The Al-Aqsa Martyrs' Brigades is the military wing of Fatah.
In a massive show of force, armed gunmen from the Al-Aqsa Martyrs' Brigades - the military wing of Fatah - held "a military exercise" in the streets of the Palestinian city of Jenin.

Fatah are currently in charge of the Palestinian Authority. https://t.co/G3ri3lLD87 pic.twitter.com/QNVoHuSiFH

— Pal Media Watch (@palwatch) September 2, 2021
PMW: PA TV commentator suggests PA fool donors and pay terror salaries as "social insurance" to relatives
"The entire issue is semantics" - PA TV commentator suggests PA fool donors and pay terror salaries as "social insurance" to relatives

[Official PA TV, Topic of the Day, Aug. 21, 2021]

Egyptian Washington-based journalist Atef Abd Al-Gawad: "The legal problem is that the American Congress is conditioning the reopening of the PLO office in Washington on the PA ending the [payments of] salaries to the young Palestinians who are carrying out suicide attacks – in Palestine they are called Martyrdom-seeking [operations]. These are the kinds of legal obstacles that are preventing [US President] Biden from reopening the office... The responsibility is laid on the Palestinians. The responsibility that these salaries won't be paid as "salaries" for Martyrs, but rather as compensation from the [PA] Social Insurance to the mothers and families of these fallen who are the young Palestinians. The entire issue is semantics."

PLO US office closure - The US State Department announced the closure of the PLO US office on Sept. 10, 2018, saying that there was no indication that the Palestinians had entered into meaningful negotiations with Israel. This was subsequent to the Trump administration announcing on Nov. 17, 2017, that the PLO has violated a 2015 Congressional mandate, which states that the PLO cannot operate an office in Washington if the Palestinians try to get the International Criminal Court to prosecute Israelis for crimes against the Palestinians. US Secretary of State Rex Tillerson determined that the Palestinians violated this mandate in September 2017, when PA Chairman Mahmoud Abbas called on the International Criminal Court to investigate and prosecute Israelis while speaking at the UN.
Hamas Leader, Officials: Uncompromising Resistance is Only Way to Expel 'the Occupiers'
Hamas leader Ismail Haniyeh and other officials were among the first to congratulate the Taliban on "expelling the occupiers" by means of their "jihad" in Afghanistan.

According to a report by the Middle East Media Research Institute (MEMRI) published on Tuesday, Hamas quickly released pictures of a meeting between Haniyeh and Taliban officials in Doha, Qatar.

Since the Taliban's swift takeover of Afghanistan, former Hamas officials and journalists affiliated with the movement published articles discussing the lessons learned from the debacle.

Yousuf Rizqa, a former Hamas information minister in Gaza and an advisor to Haniyeh, wrote in his column in Hamas' mouthpiece media outlet Filastin, "The lesson we can learn from the Taliban… is that resistance always defeats the occupier. An occupier, even one as big and strong as the US, will necessarily be defeated, and national resistance, wherever it takes place, will necessarily triumph."
Egypt pumps toxic gas into Gaza tunnel, three Palestinians dead
Three Palestinians died on Thursday as the Egyptian military pumped toxic gas into a smuggling tunnel, Palestinian media reported. The tunnel stretches from the Gaza Strip to the Sinai peninsula.
Iran sports minister joins 'antisemitic' attack against Israeli athletes
Seyed Hamid Sajjadi Hazaveh, the newly appointed Iranian minister of sports, joined members of the Islamic Republic's parliament in August in urging Iranian athletes from competing against their Israeli counterparts.

Hamid Sajjadi termed Israel a "child killing and occupying regime," sparking criticism from a highly decorated Iranian Greco-Roman wrestler. The former head of Iran's Greco-Roman wrestling team, Sardar Pashaei, who is now an American citizen, told The Jerusalem Post that "It is deeply sad for me and many other Iranian athletes such racist remarks by the Iranian authorities. Just a few days ago, members of the Iranian parliament called on the minister of sports to ban Iranian athletes from competing with Israeli athletes, and unfortunately we now see that the minister of sports of the new Iranian government has the same message: a message of enmity and hatred."

He tweeted that "The new Minister of Sports of Iran says we should be careful that Iranian athletes do not compete against the child-killing and occupying regime of Israel. I ask @Olympics Iranian athletes not be punished bc of anti-semitic and false prohibitions placed on them by Iranian regime."
Germany Urges Iran to Return to Nuclear Talks 'as Soon as Possible'
Germany called on Iran to resume nuclear talks with six world powers "as soon as possible" to revive a 2015 nuclear deal, the foreign ministry said, after a break in discussions following the election of a hardline Iranian president in June.

"We vehemently ask Iran to return to the negotiating table constructively and as soon as possible," a ministry spokesperson told a briefing. "We are ready to do so, but the time window won't be open indefinitely."

A sixth round of indirect talks between Tehran and Washington was adjourned two days after hardliner Ebrahim Raisi was elected Iran's president. Raisi took office on August 5.

Since April, Iran and six powers have tried to work out how Tehran and Washington can both return to compliance with the nuclear pact, which former US President Donald Trump abandoned in 2018 and reimposed harsh sanctions on Tehran.

In reaction, Tehran has violated the nuclear limits of the accord, under which Iran agreed to curb its nuclear work in exchange for lifting international sanctions.

Last month, France, Germany and Britain voiced grave concern about reports from the UN nuclear watchdog confirming Iran has produced uranium metal enriched up to 20% fissile purity for the first time and lifted production capacity of uranium enriched to 60%. Iran denies seeking nuclear weapons.
MEMRI: Washington D.C. Imam: Zionists Run America, Bombed Kabul Airport to Influence Biden's Policy on Iran
Imam Abdul Alim Musa, Director of Masjid Al-Islam in Washington D.C. said that "the Zionists" carried out the August 2021 Kabul airport bombings, killing American troops, in order to influence President Biden's policy on Iran. He made his remarks in a Friday sermon that aired on As-Sabiqun DC on YouTube on August 27, 2021. He said that the Israeli delegation was supposed to meet with President Biden, whom he referred to as "whatever his name is," but was delayed because of the bombing in order to gauge Biden's stance on Iran.

Musa also said that Islam's main enemy is the Zionists and that the Americans are the servants of the Zionists. He said that this is similar to the 9/11 attacks, which he claimed were also carried out by the Zionists. Musa continued to say that the Zionists are telling Biden what to do, but Biden has the opportunity to save America from Zionism. He said that the Zionists control Congress, the Senate, and American economy, and that they "run America."
Former Iranian Diplomat Amir Mousavi: Iran's Futile Diplomacy of Empty Smiles Is Over; Unless U.S. Returns to JCPOA, Iran May Increase Enrichment to 90%; Iran's Perspective Is Now Being Reiterated in the White House, Pentagon, and Congress, "They Got the Message" #Iran #JCPOA pic.twitter.com/WMMNaxsE0V

— MEMRI (@MEMRIReports) September 2, 2021
Ben Rhodes is kicking himself that this didn't happen when he was in the White House https://t.co/viK1MBMjCP

— Noah Pollak (@NoahPollak) September 1, 2021
When I stand at the Iranian border, I see not only the evils of the Iranian regime, but also the greatness of the Iranian people. Let's Imagine a future in which Israelis and Iranians work together, learn together, and dream together. pic.twitter.com/TBAWLv4Ckm

— George Deek (@GeorgeDeek) September 1, 2021