From Ian:
Jpost Editorial:
How can Israel respond to rocket fire? - editorial
Jerusalem is a handy battle cry and rallying point in the Muslim world. As The Jerusalem Post's Khaled Abu Toameh noted yesterday, both Fatah and Hamas are seeking to use the issue of Jerusalem to distract from the internal problems and challenges they are facing ahead of the PA elections scheduled next month.

Israel so far has refrained from stating outright that it will not permit the Palestinian elections to take place in east Jerusalem, but this possibility is already being used as a way to justify both the current violence and Abbas's possible postponement of the balloting altogether.

Hamas has a history of using rocket attacks on Israel to get what it wants, be it a cash inflow from Qatar, to divert attention from domestic problems, or this time, as an election ploy.

The situation is a tricky one for Israel. On the one hand, it does not want to risk an escalation that could so easily spiral out of control into a full-blown war; on the other, if Israel does not respond to a massive rocket barrage on its sovereign territory, it will lose its deterrence.

Hamas needs to learn that terrorism doesn't pay, and the international community needs to convey that message. There is no excuse for firing 40 rockets on a civilian population; not riots in Jerusalem and not the Ramadan festival.

Residents of the Negev cannot be held hostage in the political battle between Fatah factions and Hamas in their election campaigns.

Similarly, the renewed protests on the Gaza border must be halted at this early stage. As we enter into the hot summer season, care must be taken also that the "balloon" fire attacks and "incendiary intifada" are not resumed.

The peace agreements recently signed between Israel and the UAE, Bahrain, Morocco and Sudan show that Israel has no argument with the Muslim world. It seeks peace, not war. Unfortunately, the same cannot be said of terrorist organizations like Hamas. They should not be rewarded for their constant threats and belligerence.
Israel Issues Ultimatum to Hamas: 'Stop the Rocket Fire or We Will Hit You Hard, Tonight'
After days of absorbing rocket fire from the Hamas-controlled Gaza Strip, Israel's military and political leaders finally seem to have lost patience, presenting the terrorist group with an ultimatum.

"If the rocket fire from the Strip does not cease," it warned, "we will hit you hard, tonight."

Jihadist groups in Gaza — not all under the control of Hamas — have fired more than 40 rockets toward Israeli territory since Friday. Most have landed in open areas, the Iron Dome aerial defense system has shot several of them down, and the rest did not make it out of the Strip

Israel has retaliated with limited airstrikes on Hamas targets as well as the rocket launching sites. Jerusalem reiterated that although not all of the groups firing rockets may be connected to Hamas, they rule the Strip and will be held accountable.

According to sources from Hebrew outlet Walla!, Israel passed the message to the United Nations Special Coordinator for the Middle East Peace Process Tor Wennesland to transmit to Hamas and the Palestinian leadership in Ramallah.
Israel does not want to deal with a Gaza battle right now, and Hamas knows it
The IDF has also been fighting Iran at sea, conducting strikes and raids on its oil tankers, delivering fuel to Syria in violation of international embargoes. On Saturday, one such ship was reportedly attacked off the Syrian coast, though it was not immediately clear if Israel was involved.

In addition, Israel has its gaze fixed on Vienna, Austria, where US President Joe Biden is negotiating with Tehran through European intermediaries over a mutual return to the 2015 nuclear deal, a move that Jerusalem vehemently opposes.

On Sunday night, an Israeli security delegation — now not including Kohavi — took off for Washington to meet with American counterparts over the course of the week in a highly improbable effort to keep the United States from rejoining the Iran nuclear deal or at least to make the agreement more robust, with improved oversight.

The Gaza-ruling Hamas, which has for years worked out precisely how far it can push Israel before it triggers a major response, likely knows that Jerusalem is not interested in getting roped into a conflict in the Strip — meaning it can afford to allow terror groups to launch some 40 rockets at southern Israel, knowing that the IDF will keep its retaliations limited.

And indeed this was the case this weekend. After 36 rockets were launched toward Israel on Friday night and early Saturday morning, several of which actually struck inside Israeli communities, the IDF responded with a tank strike on an unmanned Hamas observation post and air raids targeting launchpads and other infrastructure — far from a major blow to the terror group. When four more projectiles were fired at southern Israel on Saturday night, the Israeli military refrained from retaliating at all.

Since then, both sides have put out both reassuring and threatening messages to one another, publicly and through the Egyptian military, making it clear that neither side wants a larger conflict but that each was prepared to fight if one were to break out.

It is a situation that Israel has found itself in many times before, often resulting in multiple days of intense fighting and with little to show for it at the end.
Report: Hamas rejects ceasefire offers, threatens 'major conflict' over Jerusalem
Palestinian Authority President Mahmoud Abbas said overnight that he would not agree to hold Palestinian legislative elections, scheduled to take place on May 22, if Israel will not allow east Jerusalem residents to participate.

"We will not agree to hold elections without Jerusalem and without its candidates, because it is our eternal capital. We are calling on the international community to pressure Israel to live up to the agreements," Abbas said.

Meanwhile, mediated attempt to deescalate violence from the Gaza Strip, led by a senior official in Egypt's security apparatus and diplomatic officials in the US, continued over the weekend.

The Lebanese newspaper Al-Akhbar, identified with Hezbollah, said Hamas officials had told it that there had been contact between Hamas and Israel in the past two days, via a third party, and that Hamas had rejected any proposal to reinstate calm as long as Israel continued its "current policy" in Jerusalem.

Al-Akhbar reported that Hamas wants to "prevent any incursion by settlers to Al-Aqsa mosque, and stop the plans to 'Judaize' the city, and [for Israel] to allow Palestinians in east Jerusalem to take part in the Palestinian elections."

According to the sources quoted, Hamas issued a warning to Egypt that if Israel continued its current policies, it would "lead to an explosion in various areas, especially Jerusalem, the West Bank, and Gaza, even if that drags down the situation in Gaza and things develop into a major conflict."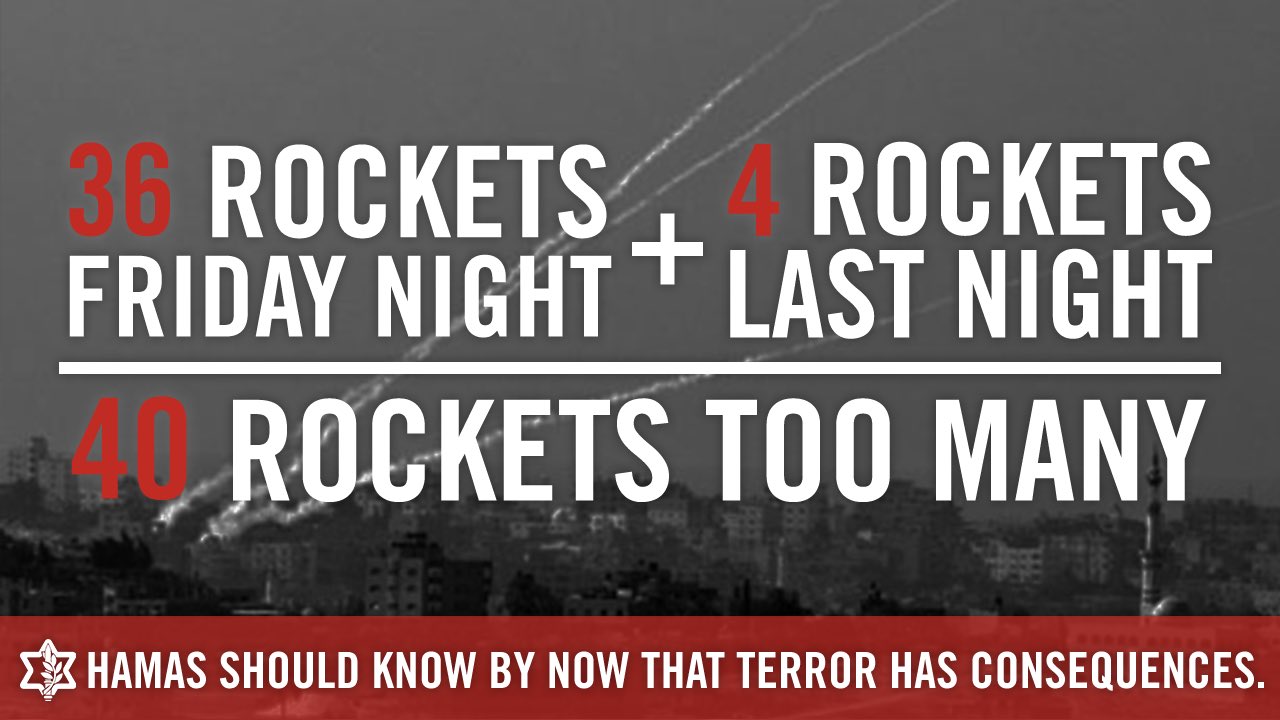 Biden's Team of Israel-Haters
Just days after Joe Biden was inaugurated, pro-Erdogan Turkish journalist Hakkı Öcal, according to Ahval News, "highlighted a report on the strong presence of Jews in the cabinet of U.S. President Joe Biden." The report claimed that there was an "over 50 percent Jewish presence in the new U.S. cabinet," and pointed Secretary of State Antony Blinken and CIA Deputy Director David Cohen, among others. But Öcal was off base: among Biden's handlers, Jewish and non-Jewish, there are few, if any, staunch friends of Israel. After just a few months in office, it was clear that Joe Biden's handlers' administration was shaping up to be the most anti-Israel presidency since the founding of the modern State of Israel.

Robert Malley, Special Envoy to Iran, has become notorious over the years for his support for Iran's Islamic regime and pronounced distaste for Israel. The Washington Times revealed in February 2021 that back in July 2019, "Iran's smooth, English-speaking foreign minister, Mohammad Javad Zarif, met with Robert Malley, who was President Obama's Middle East adviser, in an apparent bid to undermine the Trump team and lay the groundwork for post-Trump relations."

Malley (pictured above left) was a good choice for such an assignment. An Israeli security official noted in February 2008 that Malley "has expressed sympathy to Hamas and Hizbullah and offered accounts of Israeli-Palestinian negotiations that don't jibe with the facts." Obama dropped Malley in May 2008 after it came to light that he had met with representatives of Hamas, but six months later sent him as an envoy to Egypt and Syria.

Meanwhile, Reema Dodin is a deputy director of the White House Office of Legislative Affairs. According to the Jerusalem Post, "during the Second Intifada, in 2002, Dodin spoke about the Palestinian-Israeli conflict with residents of Lodi, California, saying that 'suicide bombers were the last resort of a desperate people.'" Also, "in 2001, Dodin took part in a demonstration at UC Berkeley calling for the university to divest from Israel….The demonstrators compared Israel to apartheid South Africa."

In a similar vein, Biden's handlers appointed Maher Bitar the Senior Director for Intelligence on the National Security Council. In 2006, while a student at Georgetown University, Bitar was a member of the executive board of the viciously pro-jihad, anti-Israel Students for Justice in Palestine, and was seen dancing in front of a banner that said "Divest from Israel Apartheid."
It's Time for President Biden to Get Tough on the International Criminal Court
From a US national security perspective, this flagrant indifference of prior jurisdictional arrangements is severely problematic. If the ICC is willing to ignore such monumental treaties as the Oslo Accords, what is to stop them from ignoring other bilateral jurisdictional arrangements, such as the dozens of Article 98 agreements that the United States currently shares with a host of countries?

These bilateral immunity agreements stipulate that an ICC member state will not surrender US nationals to the jurisdiction of the ICC, providing a measure of protection to US private citizens, as well as civilian personnel abroad. As attorneys John Yoo and Ivana Stradner have stated succinctly, "If the global elite want the United States to lead efforts to end killings in places such as Syria, Yemen, or Sudan, the last thing it should do is prosecute American troops when they take on the difficult jobs that no other nation can or will do."

Any discussion on the ICC must start with a recognition of the ICC's explicit purpose. Born in large part from the atrocities of the Holocaust, the ICC was established to address "the gravest crimes of concern to the international community: genocide, war crimes, crimes against humanity and the crime of aggression."

Conversely, the ICC was not designed to solve regional disputes involving competing territorial claims, as in the case of Gaza, nor was it designed to replace the court system of functioning democracies, as in the case of both Israel and the United States.

Thus, what makes the Biden administration's latest form of sanctions relief so pernicious is that ICC officials likely will treat the reprieve as an effective endorsement of their political biases. If the objective is to encourage the ICC to fulfill its role as "the court of last resort in punishing and deterring atrocity crimes," lamenting their decision-making while still upholding their institutional legitimacy sends a mixed message at best and a blessing at worst. It is time to use the leverage accumulated by the Trump administration — not squander it — in order to compel meaningful reform within the ICC. It starts with resuming a robust sanctions regime.
Jerusalem police remove barricades at Damascus Gate as Arab youth protest
The Israel Police lifted the barricades it had placed around the Damascus Gate to the Old City of Jerusalem on Sunday evening, removing what Palestinians claimed was one of the catalysts of the recent round of violence in the capital.

The barricades had been placed last week outside the gate to stop young east Jerusalem Arabs from congregating there and instigating violence against police and Jewish passersby. Hundreds of Arab youth converged on the area after the barricades were removed, chanting: "With blood and fire we will liberate you, Palestine."

Earlier in the evening, three Arab sanitation workers were attacked in downtown Jerusalem. One suspect, a Jewish Israeli, was apprehended by police.

Meanwhile Sunday, Palestinian factions in the Gaza Strip called on their supporters to "escalate the uprising in Jerusalem" and to form a "unified leadership for popular resistance" against Israel. The enclave's dominant group, Hamas, told terrorist entities to remain ready to launch more rockets at Israel.

Hamas's call came after Gaza's terrorist organizations more than 40 rockets into Israeli territory on Friday and Saturday.

"The masses of our people continue their uprising in the face of the occupier, their rebellion against its policies and their confrontation with his army and settlers in the streets and alleys of Jerusalem, the Palestinian capital and in the West Bank," the factions said in a statement.
Video of Israeli soldier using his riot shield to protect a Palestinian woman walking through an area where violent clashes had broken out in Hebron. https://t.co/2EH7fNUrtS

— Tovah Lazaroff (@tovahlazaroff) April 25, 2021
This image was from July 2015, during a time of violent mass Arab riots on Temple Mt. and surrounding area.

But some folks don't care about facts. They have an agenda to push. https://t.co/PfbW8EOwfB pic.twitter.com/j1e2ixOwQi

— Arsen Ostrovsky (@Ostrov_A) April 26, 2021
INTERCEPTED: Watch the Iron Dome Aerial Defense System intercept 2 of the rockets recently fired from Gaza over the southern Israeli city of Sderot.

(Credit: Or Heller) pic.twitter.com/AVpl5RqdhR

— Israel Defense Forces (@IDF) April 26, 2021
PMW:
Fatah lays the groundwork for canceling the PA elections
Fatah, the party of Palestinian Authority Chairman Mahmoud Abbas, has laid the foundation stones to cancel the first Palestinian elections to be held in over 15 years.

In order to avoid being seen as the one who canceled the elections for fear of losing, Fatah has set two preconditions for holding the elections that its leaders and members hope Israel will reject. When Israel then rejects the preconditions, Abbas will claim that he was forced to cancel the elections because Israel prevented them from being held.

The last elections for PA Chairman were held in 2005, and for the Palestinian Parliament in 2006. The upcoming elections were forced upon Abbas by the United States and the European Union with the intention of promoting democracy and giving legitimacy to the Palestinian leadership.

Intentions aside, as the date set for the elections draws near, the US, the EU, and Fatah have real and increasing fear that Fatah will lose the elections to its main rival, Hamas, which both the US and the EU have designated a terror organization. Politically, Abbas cannot be seen as the one canceling the elections for fear of losing to Hamas.

Laying the groundwork for the possibility of canceling the elections, Fatah is demanding that Israel agree to the elections being held in Jerusalem and that the terrorists serving prison sentences in Israel's prisons be allowed to vote.
Abbas expected to delay election, but could pay heavy price – diplomatic source
Palestinian Authority President Mahmoud Abbas will likely postpone the upcoming Palestinian elections, a diplomatic source told The Times of Israel.

"Our expectation is the elections are going to be postponed, but it will come at a very heavy price for Abbas," said the source, who spoke on condition of anonymity because they were not authorized to publicly discuss the matter.

Palestinians are scheduled to head to their first national vote in 15 years on May 22. The last Palestinian national elections were held in 2006, when Hamas defeated Abbas's Fatah movement in a landslide.

Should Abbas decide to delay the elections, the aging Palestinian president will likely cite as justification Israel's silence on whether East Jerusalem Palestinians can participate — but no one was likely to believe it, the source added.

The Palestinian leadership — including leaders of Hamas and Islamic Jihad — is scheduled to meet on Thursday to decide whether the elections can go forward without Israel officially permitting East Jerusalem Palestinians to participate.

Abbas's opponents have charged in recent days that the widely unpopular PA president, fearful of political defeat, is using Israel's refusal as an excuse to back away from holding the vote. Abbas's Fatah movement faces stark internal divisions, leading to fears of a loss to its Hamas rivals.
Official Palestinian TV greets released Palestinian terrorist with 'pride, glory and elation'
The Palestinian Authority's official broadcaster earlier this month greeted released Palestinian terrorist Rushdi Abu Mokh as a hero and a "model of sacrifice."

The segment aired on Palestine TV on April 8, 2021, upon Abu Mokh's completion of a 35-year sentence in Israel for his role in the kidnapping and murder of Israeli soldier Moshe Tamam in 1984.

"And now, with pride, glory, dignity and elation, but with humility as well, let us meet one of the outstanding people of our nation, and a family that is a model of sacrifice, defiance and patience," said the show's host by way of introducing Abu Mokh.

"We are proud to be with Rushdie Abu Mokh today on Palestine TV," he continued, "But we also bow our heads in humility before these luminaries."

It was a "disgrace" that Palestinian prisoners remained incarcerated in Israel, he added.
Palestinians rioting in front of the security fence east of al-Bureij earlier today. An IDF vehicle can be seen parked on the other side of the fence. #Gaza pic.twitter.com/dJ76sA9FnT

— Joe Truzman (@Jtruzmah) April 25, 2021
The first electric vehicle produced in #Lebanon was unveiled Saturday in Beirut. The vehicle is called 'Quds Rising' and the founder of the project is a Palestinian businessman born in Lebanon. pic.twitter.com/Zu1GlB1A7j

— Joe Truzman (@Jtruzmah) April 26, 2021
Israel to UN: Time to Focus Mideast Debate on Iranian Threat
Israel's UN Ambassador Gilad Erdan addressed the UN Security Council during the council's quarterly debate on "The situation in the Middle East" on Thursday.

"Iran's relentless attempts to acquire military nuclear capabilities, its terrorist proxies that continue to destabilize the region, and its grave human rights violations remain the most substantial threat to peace and security in the Middle East."

"This council does not take the steps necessary to stop Iran. It continues to ignore the most pressing matter in the Middle East and, instead, wastes these debates recycling useless discussions on the Israeli-Palestinian conflict, despite the fact that the Abraham Accords have clearly proven this is not the issue - Iran is."

"Just like in 2015, the fanatical ayatollahs will use sanction relief to fund their terrorist activities and continue to secretly develop their military nuclear program. All they will have to do is wait for the agreement to expire by 2030. Then, they will have international legitimacy to have thousands of advanced centrifuges enriching uranium and their breakout time will be almost down to zero."

"For Israel, Iran poses an existential threat. That is why we will not see ourselves bound by any agreement that does not fully address the threat against the existence of the State of Israel. And every one of you would do the same if you were in our shoes, particularly in light of the Holocaust."
Bahraini MP Jamal Bu Hassan: Iran's Military Nuclear Plan Must Be Stopped; The GCC Countries Are Capable of Attacking Iran if Necessary; Erdogan's Rule Constitutes a Threat to All Arab Countries @JamalBahrain #Bahrain #Iran #JCPOA pic.twitter.com/AVAECxgk86

— MEMRI (@MEMRIReports) April 26, 2021
Iranian foreign minister: Kerry informed us of hundreds of Israeli covert actions
Talk about burying the lede. The New York Times got information that a high-ranking official in the Obama administration tipped off Iran to Israel's covert actions, and that news ended up in paragraph 21 … in a 26-paragraph story. A leaked audio recording of Iranian foreign minister Mohammad Javad Zarif reveals that John Kerry revealed that information to Tehran, presumably during the negotiations for the deal with Iran over its nuclear-weapons development:
Former Secretary of State John Kerry informed him that Israel had attacked Iranian interests in Syria at least 200 times, to his astonishment, Mr. Zarif said.

The context for this is Zarif's attempt to explain the grip that the Revolutionary Guards have on the government in Tehran. The "astonishment" comes from Zarif's apparent ignorance of this fact while the Guards knew it all along, or at least that seems to be Zarif's point. The reference to "at least 200 times" is written somewhat ambiguously too; it could mean that Kerry told them one time about 200 Israeli operations, or told Zarif on 200 separate occasions, but it's almost certainly a reference to one discussion.

Let's chalk that up to poor writing and editing. The decision to bury this lede speaks more to the leadership of the NYT. While no one would be surprised to hear that Israel carries out covert operations against Iran, why in the world would an American Secretary of State pass that information to a regime that leads "Death to America" protests in its streets? Isn't this the real news in the US, especially with Kerry now joining another administration as its "climate change envoy"? At best, this shows that Kerry is enormously and irresponsibly indiscreet; at worst, he's exposing American intelligence to an enemy in order to attack an ally. And frankly, it looks a lot more like the latter than the former, and a lot more like an actual crime by a high-ranking US government official. And the NYT thinks the big story here is — and I quote from the lead paragraph — "Zarif said the Revolutionary Guards Corps call the shots, overruling many government decisions and ignoring advice"? Seriously?
He also alleges that #Soleimani's trip to #Russia in 2015 was made "to destroy the JCPOA" and that the U.S. knew about the attack on Ain al-Asad air base in 2020 before he was even informed of it. 2/2

— Jason Brodsky (@JasonMBrodsky) April 25, 2021
Zarif criticized Soleimani's power, said Russia tried to sabotage Iran nuke deal
Iranian Foreign Minister Mohammad Javad Zarif criticized the power of Qassem Soleimani in leaks published Sunday from an interview he gave last year, saying the assassinated head of the Islamic Revolutionary Guard Corps had been setting Tehran's policy.

Zarif said that Soleimani had worked with Russia to sabotage the nuclear deal and acted in Syria's long-running war in a way that damaged Tehran's interests, as well as undermining him on a number of occasions, the New York Times reported.

"In the Islamic Republic the military field rules," Zarif said. "I have sacrificed diplomacy for the military field rather than the field servicing diplomacy."

The extracts also suggested Soleimani refused to listen to a request by the Foreign Ministry that Tehran show less overt support for Syrian leader Bashar Assad, including not using state airline Iran Air to transport military equipment and personnel to Syria and not deploying ground forces to the war-torn country.

Zarif also criticized Soleimani for allowing Russian planes to fly over Iran on their way to bomb Syria.

Zarif said that he was often kept in the dark about security matters, and that "to his astonishment," former US Secretary of State John Kerry told him that Israel had attacked Iranian interests in Syria at least 200 times.

Zarif made the comments in an hours-long taped conversation with an economist named Saeed Leylaz that took place last March as part of an oral history project. A copy was leaked to the UK-based Persian language news channel Iran International, which is viewed as hostile to Iran and is owned by Saudi Arabians.

Zarif makes clear in the audiotape that the interview was never intended for publication.
Seth Frantzman:
Iran's secret tapes: Is Iran's Zarif really sidelined by the IRGC?
There is no reading of this tape in which Zarif should ever be seen as a player in Iran's foreign policy again. Yet he likely will be because these stunts have come and gone in the past. He once even pretended to resign.

The Zarif imbroglio comes after a similar battle between Iran's Press TV and Deputy Foreign Minister Abbas Araghchi. Last week, Araghchi slammed Press TV over its sourcing for a story on the Iran deal, mocking it as not being informed.

"I don't know who the 'informed source' of Press TV in Vienna is, but s/he is certainly not 'informed,'" he tweeted.

The embarrassing incident with Araghchi weakened the Foreign Ministry's image.

Zarif's even greater embarrassment should demolish the whole ministry, as well as anyone's pretense that they can talk to the ministry and get a straight answer. Of course, this should undermine the Islamic Republic's negotiations in Vienna.

But it also might lead to Western powers running to "strengthen the moderates" by caving in to Zarif's demands.

In such a scenario, it might be worth asking if this was all just an act designed to bring the US back to the table. Iran's administration has already tried to use its upcoming elections as a way to encourage America to move faster, warning that "hard-liners" might win.

Iran is a sophisticated country and regime. Unlike Turkey, a top-down authoritarian and fascist one, Iran's regime is willing to use more cunning and complex approaches. But overall, the regime is not divided between hard-liners and moderates; it is only hardliners.

The question may be whether there are hard-hardliners or other hard-liners. The pretense that there is some mythical good part of the Iranian regime is only sung by Zarif at Western think tanks, his natural habitat. And now it has also been heard about in ostensibly secret recordings.
So @FedericaMog , when you obey Sharia law in your meeting with the Islamic Republic's officials in Iran without challenging it, you allow the same officials to mock you and treat you like this. You empower this regime to put more pressure on us Iranian women.#WhiteWednesdays

— Masih Alinejad 🏳️ (@AlinejadMasih) April 26, 2021
Report: Natanz Blast "Likely Took 5,000 Centrifuges Offline"
The April 11 explosions at Natanz apparently took 5,060 IR-1 centrifuges offline.

Although some reports say it might take Iran up to nine months to recover from the explosion, that is the amount of time to rebuild the Natanz facility.

However, Iran could still break out using centrifuges at other plants, chiefly Fordo.

Tehran's decision to proceed with 60% enrichment is not necessarily a "major jump."

Reaching 20% enrichment represents roughly 90% of the effort required to reach weapons-grade uranium. Going from 20 to 60% requires only 5% of the total enrichment work.
Iran again unveils masses of small kamikaze drones
It appears that it's not a regular week in Iran unless the country is showing off more drones and warning about how it can strike at Israel or everywhere else in the Middle East. People are taking notice as well because US Central Command head Kenneth McKenzie has warned that US air superiority has suffered due to Iran's drone threat.

The latest is a ceremony where Iran showed off a series of small drones, some of which look like the usual Iranian kamikaze drones, often modelled after their Ababil series. This type of drone, as well as the Qasef, have been exported to Yemen. Tehran said this week that "the Iranian Army Ground Force has unveiled seven domestically-developed high-tech military achievements, including air defense systems, unmanned aerial vehicles (UAVs) and electronic warfare devices."

Iran has also created new radar for drones, according to Press TV. "The Taha 1400 system uses directional antennas to intelligently cover a wide area of ​​operation, and maintains the flight safety of various drones in the enemy's locale. The system is smart and light, a low-voltage consumer and can be installed quickly and easily. Finally, a land-based jamming system used for countering hostile drones and remote-controlled systems were among the new military achievements unveiled on Sunday."
Iran Sentences British-Iranian Aid Worker to One Year in Jail, Lawyer Says
An Iranian Revolutionary court has sentenced British-Iranian aid worker Nazanin Zaghari-Ratcliffe to a one-year jail term and she is banned from leaving the country for a year, her lawyer told a news website on Monday.

"Nazanin Zaghari was sentenced to one year in prison and a one year ban from leaving the country on charges of propaganda against the Islamic Republic," Hojjat Kermani told the Emtedad site.

Iran's judiciary was not immediately available to comment.

"I don't think it's right at all that Nazanin should be sentenced to any more time in jail," British Prime Minister Boris Johnson told reporters, adding that London was working with the United States on dual-nationals jailed in Iran.

Zaghari-Ratcliffe, a project manager with the Thomson Reuters Foundation charity, was arrested at a Tehran airport in April 2016 and later convicted of plotting to overthrow the clerical establishment.

She was released from house arrest last month at the end of a five-year sentence, but immediately ordered back into court to face the new propaganda charges.

Lawmaker Tulip Siddiq, who represents Zaghari-Ratcliffe's north London constituency, said the latest news was "absolutely devastating," adding on Twitter that it was "another abusive use of her as a bargaining chip."
---
---