From Ian:
Human Rights Watch's long war against Israel
HRW also refers to 6.8 million Jewish Israelis and 6.8 million Palestinians living between the Mediterranean Sea and Jordan River, maliciously blurring the distinctions between Arab-Israeli citizens, and Palestinians living under autonomous self-rule in the West Bank under the Palestinian Authority, and in Gaza, under Hamas's brutal dictatorship.

HRW further erases the distinct identity of Israel's Arab citizens by lumping them under the blanket term "Palestinian," although only 7 percent identify as such, and many belong to minority religious or cultural communities, such as Druze, Bedouin, Christian Aramean and Circassian.

In HRW's fantasy world, Palestinian terror is practically non-existent. According to HRW, most Israeli security measures "have no legitimate security justifications." HRW's dismissal of Israeli security concerns entirely ignores or whitewashes the thousands of Israelis brutally murdered or maimed by ongoing Palestinian terror.

Finally, HRW dishonestly claims that Gaza is under Israeli occupation and blames the humanitarian crisis there solely on Israel, despite Egypt's blockade of its borders and the fact that Israel withdrew from it completely in 2005. The Hamas terror organization has exclusively ruled Gaza since 2007, and is solely responsible for its failed rule and resulting humanitarian catastrophe.

It is worth recalling that this compulsive singling out of Israel for unjustified opprobrium led HRW's own founder, Bob Bernstein, to write in 2009 that the organization had "lost critical perspective" on the Israeli-Palestinian conflict, warning that if it failed to rectify this, it risked seriously undermining its credibility. Twelve years later, one must ask, does HRW have any real credibility on this topic?

HRW's report is another shot fired in the war to disenfranchise the Jewish people and criminalize the Jewish state.

Jews are no strangers to hysterical blood libels, hurled throughout history. Our response must be the same as that of Ambassador Chaim Herzog to the infamous 1975 U.N. "Zionism is Racism" resolution, of which this report is a natural continuation: "For us, the Jewish people, this resolution, based on hatred, falsehood and arrogance, is devoid of any moral or legal value."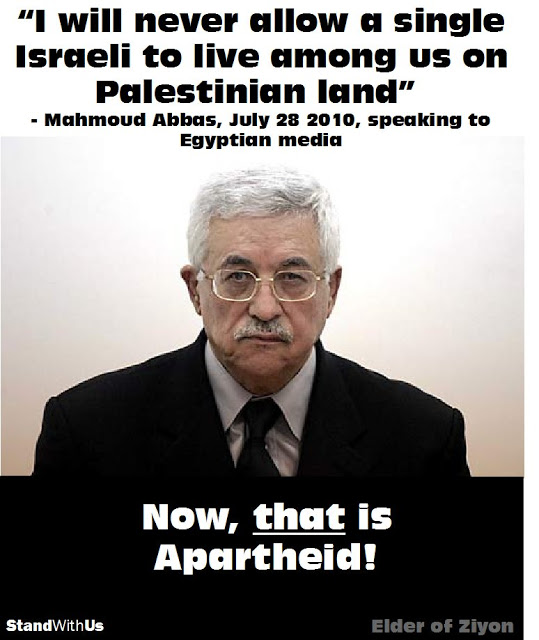 Seth Frantzman:
Human Rights Watch really wants to push Israel and PA into one state
AT THE end of the day, the Palestinian leadership doesn't want to surrender its autonomy and become part of Israel, and neither does Hamas in Gaza. The illusion that these areas are all seeking to be part of one state is used to present the area as a single entity.

There is no way, presented within these new human rights reports, for Israel to ever not control the "single entity." Despite the fact that various accords and UN plans and resolutions have indicated that these are not the same entity – but, rather, are defined as two states, an autonomous region, or "occupied" territory – the new reports seek a one-state analysis.

This definition may be designed to delegitimize Israel – because forcing the Jewish state to retake all these areas, and thus arguing it must grant citizenship to millions of Palestinians in Gaza and the West Bank, inevitably creates a road to a so-called "binational" state which would no longer have an Israeli majority.

Pro-binational arguments have been advanced for years without any evidence that the vast majority of people want this future. It would make more sense if half the people in the "single" area wanted a binational, one-state end result. That they do not and that they have lived apart for decades, and that Israel has improved its human rights record across the "single" area, indicates that advocating for this analysis has an agenda.

It remains to be seen if this new push will catch on among Western countries, which are the natural targets of this talking point. The fact that large parts of the world have less interest in the Israeli-Palestinian conflict and many states already recognize a Palestinian state, as opposed to recognizing the Palestinian state as part of Israel, would appear to negate the "river to the sea" analysis.

The reports may have been designed to preempt the fact that Palestinians and Israelis are growing apart and to prevent a Palestinian state from becoming more autonomous. While it not clear whether the Palestinians are on board with this idea, Israel is clearly not.
This is a great resource from @The_ILF, that contains:

✅ Original @hrw report
✅ Public statements from Israeli Government officials
✅ In-depth reports responding to #HRWLies
✅ Visuals & graphics
✅ Articles, opinion pieces and statements from NGOs https://t.co/PSOyQbhdZa

— Arsen Ostrovsky (@Ostrov_A) April 27, 2021
Watchdog slams human rights group for branding Israel an apartheid state
In its report, HRW is calling on the international community to support the BDS campaign, calling for an embargo, banning entry of Israeli citizens, freezing assets, and banning business deals with Israelis. It also called on the Palestinians to end the security coordination with Israel, a move contrary to all values of human rights and non-violence.

"The distorted reality presented by Human Rights Watch is part of its ongoing political and obsessive campaign against Israel in recent years," Strategic Affairs Minister Michael Biton said.

The Israel legal system is one of the most respected ones in the democratic world. It works tirelessly to protect civil and human rights. The HRW report has nothing to do with human rights. It only aims to discredit Israel's right to exist as a Jewish state, Biton said.

Arsen Ostrovsky, CEO of the International Legal Forum, an Israel-based global network of lawyers dedicated to fighting antisemitism, terrorism, and the delegitimization of Israel in the international legal arena, issued a statement denouncing HRW.

The group's report accusing Israel of apartheid "is just the latest attack in HRW's longstanding and relentless obsession and lawfare campaign against the State of Israel.

"Written under the guise of 'international law and human rights,' this report is replete with malicious lies and gross distortions of truth and law while peddling in unhinged hate, incitement, and racist stereotypes.

"In short, this report is tantamount to an antisemitic 'blood libel' against the Jewish state," he said.
Eugene Kontorovich: Yes, there is Apartheid in the West Bank
"It is an anti-Semitic slander," said Eugene Kontorovich, director of the international law department at Kohelet, a Jerusalem-based research group. "Once you say 'apartheid,' you basically call for the destruction of the regime." 2/4

— 🇮🇱Avi Hyman🇮🇱 (@AviHyman) April 28, 2021
Jerusalem's deputy mayor hits back at human rights watchdog over 'apartheid' report
Human Rights Watch @hrw accuses #Israel of 'Apartheid' crimes against #Palestinians:

'They could say the that earth is flat 200 times, but that would not make it any truer,' says International Legal Forum CEO and human rights lawyer Arsen Ostrovsky @Ostrov_A. pic.twitter.com/AuFAgiOUSk

— i24NEWS English (@i24NEWS_EN) April 27, 2021
PLO Chair Mahmoud Abbas, whose 1984 book based on his Soviet doctoral dissertation dismissed as a "myth" and "fantastic lie" that six million Jews had died in the Holocaust, welcomes a report accusing Israel of being racist.https://t.co/BNGxmicuwi

— Hillel Neuer (@HillelNeuer) April 27, 2021
Well I sent the memo to @CNN but @AP didn't get it.

I'm Yoseph, an Israeli Arab, and here is the actual definition of apartheid. @HRW actually *made up their own definition* because Israel ISNT this.

Israeli Arabs like me have equal rights and live, learn, and work, together https://t.co/kIAuOrP189 pic.twitter.com/AiVyK0udyS

— יוסף חדאד - Yoseph Haddad (@YosephHaddad) April 27, 2021
This kind of propaganda was effective back before the Arab states of the region made it official that they don't deal in this bullshit anymore. #AbrahamAccords https://t.co/vMmZi5X89N

— Abe Greenwald (@AbeGreenwald) April 28, 2021
Meet @KhuloodBadawi.

In 2012, while working at the UN, she tweeted a photo of a bloodied girl with the caption "Palestine is bleeding...Another child killed by Israel."

But the girl died in an accident. Nothing to do with Israel.

The UN fired Khulood.

Now she works for @HRW. https://t.co/f2Lje9uQsP pic.twitter.com/CH6vDINlhn

— Hillel Neuer (@HillelNeuer) April 27, 2021
Nothing to see here, just @HRW's @OmarSShakir flippantly using a picture from 2015, six years ago, after Arabs rioted on Jerusalem as if it's showing unequal treatment of Israelis and by Palestinians.

Typical bias for HRW, really >>>https://t.co/SyicKOtQu8 pic.twitter.com/oe26m3kx45

— HonestReporting (@HonestReporting) April 28, 2021
As Howard Jacobson said about such attacks: Jews are doubly damned: to the Shoah itself and to elevated moral scrutiny as a result of it: "the Shoah becomes an educational experience from which Jews were morally obliged to graduate summa cum laude, Israel being proof they didn't" https://t.co/5dTbEIzz0z

— CAMERA UK (formerly UK Media Watch and BBC Watch) (@CAMERAorgUK) April 28, 2021
We strongly reject the disgraceful report released today by Human Rights Watch that attempts to demonize, delegitimize, and apply double standards to the State of Israel. https://t.co/DY0KN70HES

— William Daroff (@Daroff) April 27, 2021
The Guardian and HRW allies in the demonisation of Israel
HRW's 217 page report follows a report by B'Tselem earlier in the year – refuted by CAMERA here – leveling the same charge of apartheid.

Both HRW and B'Tselem's reports are based on the same absurd premise: that all Palestinians, including those living under Hamas rule, and those in Area A and B of the West Bank controlled by the Palestinian Authority, are "ruled" by Israel. Two million Palestinians in the terrorist controlled Gaza Strip, the tortured logic would suggest, should be entitled to the same political rights as Israeli citizens.

Further, both HRW and B'Tselem come to the same insidious – and antisemitic – conclusion: that Israel is, by virtue of its Law of Return, and other practices designed to ensure that the state, born three years after the Nazis genocide, will serve as a safe-haven for the world's Jews, is intrinsically racist.

However, as CAMERA's rebuttal to the HRW report, published yesterday, demonstrates, "preferential immigration policies" to diaspora communities "are actually not uncommon" among European democracies. HRW, as blogger Elder of Ziyon wrote in his response, clearly "has a problem with the entire concept of a Jewish state, and by extension with the idea of a Jewish people".

Though the Guardian's Holmes frames the HRW report as drawing "on years of human rights documentation, analysis of Israeli laws, a review of government planning documents, and statements by officials", NGO Monitor's detailed review described it as a "mix of shrill propaganda, false allegations, and legal distortions"
The Times corrects on 'apartheid' definition
However, the Rome Statute, as correctly cited in the HRW report, officially defined apartheid – adopted a few years after the end of South African apartheid – in part as the "intent to maintain domination by one racial group over another".

The word "ethnic", contrary to the wording in The Times article, is not used in the definition.

This is important distinction, since the Israeli-Palestinian conflict can not reasonably be characterised as one based on race. The word "ethnic", in its common usage, encompasses of "large groups of people classed according to common racial, national, tribal, religious, linguistic, or cultural origin or background", a much broader category which, the Times journalist would have known, lends more credibility to the charge of apartheid against Israel.

Whilst we don't know what was in Ms. Philps' mind when she made that error, it seems unlikely she could have accidentally gotten the entire definition right, save that one word – especially since, as we noted, the HRW report she cited used the correct word "racial".

To their credit, editors promptly upheld our complaint and changed the word "ethnic" to "racial".
Globe Gives a Platform to Human Rights Watch's Slandering Israel as "Apartheid" State
Far from being a "leading" and "widely respected" arbiter of human rights as Globe and Mail reporter Mark Mackinnon claimed today, Human Rights Watch (HRW) is well known for its anti-Israel animus and has been discredited due to its faulty methodology and politicized smear campaigns.

Its latest report, whose lead author is Omar Shakir, an anti-Zionist supporter of the antisemitic BDS movement, declared Israel an "apartheid" state – a wholly disingenuous slur – while calling on foreign governments, including Canada, to impose sanctions on Israel and to reconsider trade deals with the Jewish state. This is the same Omar Shakir that Israel expelled due to his support for BDS.

In truth, Israel is the only liberal democracy in the Middle East where its 20% Arab minority enjoys full equal rights before and under the law. This is a country where an Arab Supreme Court judge sent a Jewish President of Israel to jail. Israeli Arabs consistently affirm they would rather live in Israel as a minority than anywhere else in the Middle East as part of the majority. Israel's vibrancy, its openness, and tolerance have solidified its credentials as a progressive liberal democracy whose Arab minority not only enjoys the same rights as all other Israeli citizens, they occupy positions at the pinnacle of Israeli society. Arabs have been elected to Israel's parliament, they fight in the Israel Defense Forces and partake in every facet of Israeli society.

HRW employed this empty rhetoric solely to demonize Israel. Where's its 233-page report on Hamas and the Palestinian Authority's terrorism, incitement, rejectionism, corruption, anti-democratic credentials, oppression, and other human rights violations?

Amazingly, not once in HRW's report is terrorism even mentioned! Israel's security concerns were completely ignored.
NJ Civil Rights Suit Accuses Township of Discriminatory Zoning and Surveillance to Stop 'Tsunami' of Orthodox Jews
The attorney general of New Jersey announced Tuesday that the state has filed a civil rights lawsuit against Jackson Township for discrimination against its Jewish community.

The complaint, filed by Attorney General Gurbir Grewal and the Division on Civil Rights in state Superior Court in Ocean County, names Jackson Township, the Jackson Township Council, the Jackson Township Zoning Board of Adjustment, the Jackson Township Planning Board, and Mayor Michael Reina as defendants.

According to a press release from the state's Office of the Attorney General, the defendants used zoning powers to prevent an influx of Orthodox Jews from establishing residency in the township and to make it more difficult to practice their religion, violating New Jersey's Law Against Discrimination.

Jackson is located next to Lakewood, New Jersey, which is home to 50,000 Orthodox Jews and the second-largest yeshiva in the world. Beginning in 2015, the complaint alleges, township residents began expressing opposition to Jewish residence to local officials. They also engaged in antisemitic rhetoric on social media, saying things such as "we need to get rid of them like Hitler did" and referring to Jews as "filthy f***ing cockroaches."

As a result, says the complaint, township officials sought to use their powers to stop what one former zoning board member described as "the tsunami of orthodoxy that is mounting at the border."

Four strategies were allegedly used, according to the suit. One was surveillance of the Jewish community, monitoring their homes in order to ascertain if they were engaged in religious activities.

Another was discriminatory application of land use laws to prevent Jews from buildings sukkahs after non-Jewish residents complained about them.
Just did an interview with @jewsandschmooze where we covered everything from anti-Zionism within progressive Jewish streams to whether or not anti-Zionism is antisemitism.

You can check it out here:https://t.co/FgJkMWafs8

— Israel Advocacy Movement (@israel_advocacy) April 28, 2021
Author of book on race identity alleged to have posted Nazi swastika and hate messages
Scotland Yard is reportedly investigating a Glasgow-born writer over claims she posted antisemitic messages on social media.

According to the Mirror, Shazia Hobbs was previously spotted at a Patriotic Alternative event and is alleged to have published racist posts on Telegram and Gab - two platforms which rose to prominence for attracting far-right users.

The report claims that her online activity includes posting swastikas, accusing "a Holocaust survivor of being a liar" and abusing an anti-antisemitism campaigner with Nazi imagery.

The Metropolitan Police told the Mirror that officers "received an allegation of malicious communications relating to content of an antisemitic nature that had been posted online.

"Officers are in touch with the complainant. Inquiries are ongoing. There have been no arrests at this stage," the spokesperson said.

Ms Hobbs told the Mirror she had a good relationship with police.

Her 2014 book, 'The Gori's Daughter', explores a young woman's mixed-race identity as she faces hostility for her dual Kashmiri and Scottish background.
Murray Friedman Would Not Recognize Temple University
For more than 40 years, he distinguished himself as a community activist and historian of Philadelphia's Jewish community, and of the national Black-Jewish civil rights coalition, whose "collapse" he chronicled in a still-impressive 1995 book.

Friedman pulled no punches, admitting the roles of Jewish paternalism and self-interest in the formation of the African-American/Jewish alliance. But he featured the role of left-wing Black politics and Black antisemitism, culminating in the rise of Louis Farrakhan and his role in fostering anti-Jewish hate (which has only increased over the past 25 years).

An insider will have to detail the "takeover" by anti-Zionists at the Feinstein Center — but it's a sad turn of events for a man who spent his life fighting to tell the truth about the Jews and Israel.

At a time of renewed Black-Jewish tensions, Friedman's work is worth revisiting. Friedman once argued that African-Americans and Jews needed a time out from each other. Readers will have to decide whether this is still true in the current crisis triggered by the police homicide of George Floyd in Minneapolis.

It used to be exultantly said that "we stand on the shoulders of giants." Now, at Temple University, upright men like Murray Friedman are being buried deeper.
Baptist-affiliated Oregon university fires Jewish tenured professor who alleged antisemitism
Linfield University, a small school in Oregon, has fired a Jewish professor who accused the university president of making antisemitic remarks.

Daniel Pollack-Pelzner, a tenured professor who taught English literature, has accused Linfield President Miles K. Davis of making multiple antisemitic remarks in recent years. The antisemitism, he said, was partly a backlash to Pollack-Pelzner demanding that the school do more to address allegations of sexual assault against multiple university trustees, including Davis.

Pollack-Pelzner and a Linfield University spokesperson both confirmed to the Jewish Telegraphic Agency that he had been fired but did not comment further. An email from Linfield Provost Susan Agre-Kippenhan to the school community, sent late Tuesday afternoon, said that a member of the faculty had been terminated for "serious breaches of the individual's duty to the institution."

"As a matter of policy and privacy, personnel matters are confidential, but maintaining that is not always possible, particularly when the precipitating events involve false public accusations that have, sadly, harmed the university," Agre-Kippenhan wrote, adding that a safe environment on campus "cannot be achieved if individuals abuse their positions of trust and take deliberate actions that harm the university."

Because Pollack-Pelzner has tenure, university policies appear to dictate that he must be granted a hearing before being terminated.

Pollack-Pelzner, who has taught at Linfield for more than a decade, recently went public with his allegations of antisemitism, prompting local and national press coverage. He and other professors alleged that Davis made antisemitic comments regarding Jewish noses and the Holocaust.

Linfield, a university near Portland with some 2,000 students, has almost no organized Jewish presence on campus and only a handful of Jewish students and faculty. It is affiliated with the American Baptist Churches USA.
OUTRAGEOUS- the California Dept. of Education have reinstated a Holocaust denying conspiracy theorist back to his six figure positioned salary. @CraigHeimbichn1 has the stated 9/11 attacks were an "inside job" and tHolocaust memorials are "part of a deep-state plot." https://t.co/OtnO9iSslk pic.twitter.com/YvLkZ7NCuX

— StopAntisemitism.org (@StopAntisemites) April 28, 2021
News Fit and Unfit to Print
For more than a century, ever since Adolph Ochs purchased the New York Times in 1896, his newspaper has proudly proclaimed (on the front page) its commitment to providing "All the News That's Fit to Print." Ochs declared his intention to make the Times a forum for the consideration of all questions of public importance, and to invite intelligent discussion "from all shades of opinion."

That pledge was severely tested once Adolf Hitler became Chancellor of Germany in 1933. Because Ochs was determined that the Times not be identified as a "Jewish" newspaper, it paid little attention to the Nazi leader. The Ochs legacy of evasion was embraced by his son-in-law Arthur Hays Sulzberger, who launched the multigenerational family dynasty that has guided the Times ever since.

Following his first trip to Palestine in 1937, Sulzberger expressed his concern lest Zionism compromise the loyalty of Jews to the United States. Editors were instructed not to refer to "the Jewish people," but only to "people of the Jewish faith." Reporters whose first name was Abraham received bylines with their initials only. Hitler identified Jews as a despised race, but Sulzberger insisted that they not be identified as a distinctive group.

In the summer of 1942, the Times barely noted (on page 5) the Nazi determination "to exterminate all Jews." More important front page stories that day focused on tennis shoes and canned fruit. The Warsaw Ghetto uprising occupied four paragraphs. Its solitary editorial referred to 400,000 "persons" who were deported to the Treblinka extermination camp. There was no indication that they were Jews. Auschwitz horrors never made page one. Times editorial page editor Max Frankel (a German-born Jewish refugee) subsequently described the "staggering, stunning failure" of the Times to report the Holocaust as "a horror beyond all horrors."
According to @jdforward reporter Joel Swanson, when a Jewish couple wants to have a child, they are contributing to rape culture.

Wow. pic.twitter.com/wdyUoGKKxI

— StopAntisemitism.org (@StopAntisemites) April 28, 2021
Success for CAA after BBC amends website to clarify that Jews are an ethnic minority after airing offensive "Should Jews count as an ethnic minority?" segment
The BBC has been forced to amend its website to confirm that Jews are indeed considered an ethnic minority, after Campaign Against Antisemitism demanded an apology in response to the BBC's airing of an offensive segment last month titled "Should Jews count as an ethnic minority?"

In addition to having launched a petition, signed by thousands, calling on the BBC to apologise for the "ridiculous" and insensitive segment, we also submitted a complaint to the Corporation.

The segment featured four panellists and a guest, Ben Cohen, the Editor of Pink News, who is Jewish. Mr Cohen rightly observed on air that "the notion of this debate is ridiculous".

Host Jo Coburn proposed that "many Jews have succeeded in reaching high political office and therefore don't need to be seen as a group needing recognition in the same way as others", but Mr Cohen observed that Jews "face antisemitism and racism very clearly" and referenced the Labour Party's institutional antisemitism.

The debate was triggered by social media backlash against Labour's Deputy Leader, Angela Rayner, who had tweeted that Scottish Labour's newly-elected leader is "the first ever ethnic minority leader of a political party anywhere in the UK".

The BBC has now confirmed to Campaign Against Antisemitism that our comments had been passed on to senior editors of the programme, and that they would publish a clarification to their website to "make clear that Jews are officially an ethnic minority."
EuroNews Corrects Arabic Report Sderot Not A 'Settlement'
CAMERA Arabic has prompted correction of a EuroNews Arabic-language article which erroneously referred to the southern Israeli city of Sderot as a "settlement."

The erroneous characterization appeared in both the headline ("An Israeli air strike on Palestinian sites in Gaza, after a rocket targeted the Sderot settlement") and in the body of the April 16 article. The article stated: "The IDF announced on Friday morning that it carried out air strikes on Gaza in response to a rocket launched from the Strip towards the Sderot settlement, located north of the Strip, as (according to IDF) settlers took refuge in shelters."

CAMERA Arabic contacted EuroNews, noting that Sderot is located within Israel's internationally-recognized territory, and is therefore not a "settlement." EuroNews commendably corrected the error on April 19, and the report now refers to Sderot as a "town."

Based in Lyon, France, EuroNews labels itself "pan-European." Its majority owner (88 percent) is Egyptian billionaire Naguib Sawiris, via his Média Globe Network. The remainder 22 broadcasters from Europe, North Africa (Egypt, Tunisia, Algeria and Morocco) and the Gulf (UAE), as well as French local authorities.
DPA Correct Captions No Israeli Areas in Gaza
An apparent typographical or grammatical error in numerous English-language Deutsche Presse-Agentur (DPA) captions last week resulted in a geographic gaffe, putting Israel back into the Gaza Strip. Multiple April 24 captions state: "Palestinian militants fired several rockets at Israeli areas in the Gaza Strip in response to overnight clashes in East Jerusalem."

Of course, there are no Israeli areas in the Gaza Strip, as Israel removed every last civilian and soldier from the coastal territory in 2005. The editor at the German news agency likely meant: "Palestinian militants in the Gaza Strip fired several rockets at Israel in response to overnight clashes in East Jerusalem."

In response to communication from CAMERA's Israel office, DPA commendably corrected all of the captions in question. They now correctly state: "Palestinian militants in the Gaza Strip fired several rockets towards Israel in the recent days, in the worst escalation of the violence between the two sides in a while."
AJC Releases Latest Edition of Most Common Antisemitic Terms and Expressions
The American Jewish Committee released on Tuesday an updated and expanded edition of Translate Hate, the group's widely used glossary of common antisemitic terms and tropes.

According to AJC, the date of the 2021 edition's release commemorates the second anniversary of the fatal attack on Chabad of Poway, Calif., and includes more than 40 terms and expressions that are examples of antisemitism, explaining their nature when used in certain contexts and their origins.

The illustrated glossary has been widely downloaded and disseminated to politicians, law enforcement and other leaders, according to the release. It also recommends actions to take against hate speech.

The first edition was issued in November 2019. According to the release, it was downloaded tens of thousands of times and shared by AJC staff with key political leaders, including members of Congress.

"Given the proliferation of antisemitism online and offline, including the introduction of new terms and tropes during the pandemic, Translate Hate is increasingly recognized as an essential tool," said Holly Huffnagle, AJC's US director for combating antisemitism.

The need for the glossary was reinforced by AJC's 2020 State of Antisemitism ins America report, which indicated that while 53 percent of Americans are familiar with the term and know what it means, nearly half do not; 21 percent have never heard of the word; and 25 percent have heard the word antisemitism but don't know what it means. These results were called a "stunning lack of awareness" about antisemitism.
Fourth Expert Resigns From Polish Government's Auschwitz Council After Appointment of Hardline Nationalist Stirs Controversy
Another expert has resigned from the Polish government's advisory council for the Auschwitz concentration camp, following the appointment of a hardline nationalist former prime minister to the same body earlier this month.

Prof. Edward Kosakowski announced his resignation from the council on Tuesday. While Kosakowski did not issue a statement explaining his decision, Polish media outlets underlined that his departure came less than two weeks after three Holocaust experts resigned from the council in protest at the addition of former Polish Prime Minister Beata Szydło, a leading figure in the ruling Law and Justice Party and presently a member of the European Parliament.

The resignation of Kosakowski, a Professor Emeritus at the Academy of Fine Arts in Krakow, means that four of the nine seats on the council — a group of eminent Polish citizens who meet annually to advise the director of the Auschwitz museum — are now vacant.

Critics have asserted that the presence of Szydło on the council marks a potentially fatal step towards "politicizing" the Auschwitz museum's content, in tandem with the government's wider campaign to muzzle historical research into collaboration between the occupying Nazis and Polish citizens in the extermination of the Jews.

The original announcement of her appointment was roundly condemned by Jewish organizations, with the Israel-Poland Friendship Society declaring itself "surprised and alarmed by the personnel changes in the Auschwitz Museum Council."
Jewish Groups, Local Communities Mark Two-Year Anniversary of Deadly Passover Shooting at Poway Chabad
Leading Jewish groups marked the two-year anniversary of the deadly attacks at a Jewish congregation in California, when a white supremacist gunman stormed Passover services with an assault rifle, killing 60-year-old Lori Gilbert Kaye and wounding three others, including the synagogue's rabbi.

"Today we remember two years since the deadly attack on the Chabad of Poway when a gunman entered the Chabad and started shooting. One person, Lori Gilbert Kaye was killed and three others injured," said the The Anti-Defamation League in a Twitter post. "Lori's memory will forever be in our hearts in our mission to #FightHateForGood."

The World Jewish Congress tweeted, "In memory of Lori Gilbert-Kaye, z"l, who was killed two years ago today in the shooting at the Poway Synagogue in San Diego, on April 27, 2019. It was a Shabbat. Her friends described her as 'a jewel of our community.'"

In memory of Lori Gilbert-Kaye, z"l, who was killed two years ago today in the shooting at the Poway Synagogue in San Diego, on April 27, 2019. It was a Shabbat. Her friends described her as "a jewel of our community."

May her memory be a blessing. pic.twitter.com/ehL9Jj15Ne

— WJC (@WorldJewishCong) April 27, 2021

The three others wounded in the attack were Noya Dahan, then 8; her uncle Almog Peretz, then 34; and the Chabad's then-rabbi Yisroel Goldstein, 57 at the time.
Two years ago today - 19 year old John Earnest stormed a San Diego synagogue with an AR15 assault rifle killing Lori Gilbert Kaye and injuring four, including an 8 year old girl.

Prosecutors are asking for the death penalty in the case. #Poway pic.twitter.com/Ts0QSeFRg6

— StopAntisemitism.org (@StopAntisemites) April 27, 2021
#HateCrime #Antisemitism

Clapton Common #E5

Serial offenders climbing on roofs throwing stones at a #Synagogue

Part of the ongoing daily harassment of #Jewish families & #Synagogues over the last 3 years by the same offenders 😱 @MPSHackney CAD 6793 26/04/21 pic.twitter.com/jRqgNuq8EO

— Shomrim (Stamford Hill) (@Shomrim) April 27, 2021
BREAKING NEWS - a synagogue in Bochum, Germany (just north east of Düsseldorf) was shot at tonight.

According to German police, plastic-coated metal bullets were shot at the building shortly after midnight.

Thankfully no one was hurt. https://t.co/Pct2UOI20j pic.twitter.com/EAbVP4VjpJ

— StopAntisemitism.org (@StopAntisemites) April 27, 2021
Oregon auction house pulls purported Himmler dagger after Jewish groups complain
"VERY RARE HEINRICH HIMMLER PRESENTATION SS HONOR DAGGER," said the entry posted Sunday on the website of the Portland auction house O'Gallerie.

On Monday, after Jewish groups complained, it became even rarer.

The auction house president, Thomas O'Grady, removed the ceremonial dagger purportedly owned by the leader of the SS, The Oregonian reported. He also removed other Nazi memorabilia and told the newspaper he would not auction such items again, although he had in the past without controversy.

"We don't believe that a business or an individual should be able to profit from something like this — it's shameful," Bob Horenstein, the director of community relations at the Jewish Federation of Greater Portland, told the newspaper on Sunday, when it first reported the listing.

On Monday, Horenstein said he was "pleasantly surprised."
France Says Hitler Not to Blame for Holocaust After Learning He Smoked Pot First (satire)
The French government has absolved former German Fuhrer Adolf Hitler of his role in launching World War II and the Holocaust after learning that the Nazi leader had smoked cannabis before hatching his plan for genocide and world domination.

Under French law, a perpetrator who commits an anti-Semitic act, no matter how barbaric, cannot be held responsible if he or she has ever smoked marijuana in their lives. The law recently helped Kobili Traoré, who admitted to murdering a 65-year-old Jewish French woman by throwing her off a balcony while yelling "Allahu Akbar," avoid prison.

"Can we really blame Mr. Traoré or Mr. Hitler for their actions when they were under the influence of a powerful narcotic like marijuana?" France's Court of Cassation Supreme Court of Appeals stated in its ruling. "Who among us has never tried to throw an old Jewish woman off a balcony or lead a genocide after taking a couple of bong hits?"
Intel Israel to build massive new Haifa campus, hire 1,000
Intel Israel said Wednesday it will begin the construction of the first hybrid campus of its kind in Israel, to be built in Haifa, with an investment of over $200 million.

The building will be built next to the company's existing buildings in Haifa for 6,000 employees working on hardware and software and the development of future chips. The project will require Intel to hire a thousand new employees by the end of 2021, Intel said.

Intel CEO Pat Gelsinger will visit Israel next week to formally announce the establishment of the center along with other announcements.

The building will cover an area of tens of thousands of square meters and will house thousands of workers working on a hybrid model, combining office and remote work time.

The building, which is expected to be completed in 2023, will include thousands of square meters of sports areas and green nature areas that will be located around the building, as well as a visitors center open to the public.

The building will use green and sustainable construction (LEED Platinum), alongside a completely smart-user experience that includes a direct interface between the employee and the smart and sophisticated building, the company said.
Lihi Kornowski to star in Six-Day War thriller, Jerusalem '67
Lihi Kornowski, best known for the series Losing Alice on Apple TV+ and Who Died? on Yes, will star in a new thriller by Emil Ben-Shimon about the Six Day War, Jerusalem '67, Deadline.com reported on Tuesday.

Kornowski will play Sarah, a woman living in Jerusalem who finds herself on the war's front lines. The summary of the film on the Internet Movie Database reads: "In Jerusalem during the Six Day War, a young civilian woman leaves her family to serve her country; a man who abhors war must fight within sight of his home; while paratroopers are dispatched to the city for a battle they never trained for."

Kornowski told Deadline, "It is a challenge and a great honor for me to play Sarah in Jerusalem '67, a period drama that takes place in Jerusalem during the dramatic and difficult time of the Six Day War. It feels like a mission to tell this story from a female point of view, because there was and still is a tendency to forget the heroines of this period."

Ben-Shimon's feature film The Women's Balcony, about a group of women in Jerusalem's Bukharan Quarter who rebel when a new rabbi orders that their neighborhood synagogue be rebuilt without a women's section, was a huge critical and commercial hit in Israel and around the world. It was recently spun off into a television series starring Tsahi Halevi along with the original cast, which is currently running on Keshet.
Netflix series starring Fauda's Lior Raz releases trailer
The Netflix series starring Lior Raz, Hit and Run, will be released on August 20, according to an announcement the streaming service made on Wednesday, and the company released the first trailer.

Raz, the star of Fauda, has appeared in other Netflix projects such as 6 Underground, but this is the first time he is the central character on an original Netflix series.

In Hit and Run, he plays a happily married former undercover agent who is wracked with grief when his wife is killed in a hit-and-run in Tel Aviv. He searches for his wife's killers in New York with the help of an ex-girlfriend (Sanaa Lathan), and learns that his spouse had been hiding disturbing secrets from him.

These secrets are more than hinted at in the trailer, as she is seen briefly covered in blood stains as she hurriedly gets dressed in a bedroom. Raz says that the hit may not have been about her, but about his work, saying, "Someone is coming after my family." People in New York are skeptical when they learn that "some crazy ass from Israel" is searching for her assassins, but Raz, in voice-over, says something we already knew, just a few seconds into the trailer: "They messed with the wrong guy."
Hebrew U team proves earliest evidence of cave dwelling, 1.8 million years ago
Researchers say they have confirmed their theory that humans were active in a cavern in South Africa far earlier than initially thought, dating occupation of the Wonderwerk Cave to 1.8 million years ago, the Hebrew University of Jerusalem said in a statement Monday.

The assessment by the team of geologists and archaeologists from the university and the University of Toronto pushes back the prehistoric past dwelling in the desert cave by nearly a million years.

Whereas ancient humans are known to have been using basic stone tools, known as Oldowan, already 2.5 million years ago, that activity was out in the open. Wonderwerk, meaning "miracle" in Afrikaans, holds the earliest evidence anywhere in the world of such tool use inside a cave.

The results of their study was published in Quaternary Science Reviews.

"We can now say with confidence that our human ancestors were making simple Oldowan stone tools inside the Wonderwerk Cave 1.8 million years ago," the lead author of the study, Professor Ron Shaar of Hebrew University's Institute of Earth Sciences, said in the statement. "Wonderwerk is unique among ancient Oldowan sites, a tool-type first found 2.6 million years ago in East Africa, precisely because it is a cave and not an open-air occurrence."
Elie Wiesel to be first modern Jew honored with bust in US National Cathedral
Washington's National Cathedral is honoring Elie Wiesel, the Nobel Peace laureate and Holocaust memoirist, with a bust, the first Jew to be so honored.

Or maybe not the first, depending on where you sit. "I would say he is the first 20th-century Jewish person," the cathedral's dean, Rev. Randy Hollerith, said after a reporter asked how Wiesel came to be the first Jew to earn a sculpted depiction at the cathedral.

Asked if he was referring to Jesus and some of the apostles, who also make appearances in statues and in busts in the Washington landmark, Hollerith said yes.

"I'm just being a little not quite tongue in cheek; it is accurate to say there are others," he said in an interview on Monday.

There are also depictions of Jewish prophets, including Noah, Joab, Isaiah, and Jeremiah, on the cathedral's stained glass windows.

Wiesel's bust joins other luminaries on the Human Rights Porch, visible as one enters the cathedral, which is known for its role during presidential inaugurations and other days of national import.

Among them are Mother Teresa, Rosa Parks, and Oscar Romero, the El Salvador archbishop who was assassinated in 1980 while saying Mass.

The cathedral, Hollerith said, is not just a Christian shrine, but a tribute to those who loom large in the American consciousness.

"It's important for us that whenever people come into the cathedral, that they see not only in the iconography reflected, you know, saints and other parts of the Christian faith, but they also see folks throughout the 20th century who stand as examples in our country," he said.
George Washington Letter to Savannah Jewish Community to be Auctioned Off
An original print of an early letter that George Washington wrote to the American Jewish community will be auctioned by Nate D. Sanders Auctions on April 29.

The letter was printed in the July 1, 1790 issue of the Massachusetts Spy: Or, The Worcester Gazette after the American Revolution. It was in response to an address made a year earlier by Levi Sheftall on behalf of the Hebrew Congregation of Savannah, Ga., which thanked America's first president for his support of religious tolerance.

Washington's letter reads, in part: "I thank you with great sincerity for your congratulations on my appointment to the office which I have the honor to hold by the unanimous choice of my fellow-citizens, and especially the expressions you are pleased to use in testifying the confidence that is reposed in me by your congregations …

He continued on to discuss the "spirit of liberality and philanthropy …. among the enlightened nations of the earth."

Washington concluded by saying: "May the same wonder-working Deity, who long since delivered the Hebrews from their Egyptian oppressors, planted them in a promised land—whose providential agency has lately been conspicuous in establishing these United States as an independent nation—still continue to water them with the dews of heaven and make the inhabitants of every denomination participate in the temporal and spiritual blessings of that people whose God is Jehovah."

Initial bidding for the newspaper clipping that contains the letter begins at $18,000.