From Ian:
How Israel kept the Arab Spring from becoming the winter of its discontent
Israel had much to fear 10 years ago. But the scenarios its leaders feared either didn't come to pass, or occurred at a much lower level than expected. Chemical weapons did not reach the hands of terrorists; Egypt remains very much committed to security cooperation with Israel; jihadist organizations did not emerge as a major threat to Israeli citizens or soldiers; King Abdullah sits securely on the throne in Jordan.

The outcome is even better when one surveys how Israel's adversaries fared. Iran, which enjoyed a wave of success in the early years of the Arab Spring, has been on the defensive of late. Senior commanders like Qassem Soleimani and key allies have been killed, it continues to suffer stunning intelligence failures around its nuclear program and its economy is in shambles under US sanctions.

The Sunni jihadist networks have also been hit hard. The Islamic State's caliphate was smashed, and al-Qaeda-linked groups have rejected it in Syria as senior leaders continue to be eliminated or spend long stretches in hiding.

At the same time, moderate Sunni states have come together around opposition to Iran and Turkey, while signing normalization agreements with Israel.

Though a number of factors played into the outcome, Netanyahu is credited for his leadership in navigating the drastic changes over the last decade, even by many who are not supporters of his policies in other realms.

"I personally disagree with Netanyahu's views on peace with the Palestinians and the JCPOA," said Byman, of the Brookings Institution. "However, given his beliefs, he played his hand very well. He helped foster discontent with the [Iran nuclear deal], which Trump withdrew from, and in general was able to use Iran to forge new relations with important states like the UAE. More broadly, he was able to work with Russia — though it was often difficult — as the US decreased its role in the region. Overall, Israel has emerged from the last decade with new or stronger ties to important regional players and has not had to make concessions on the Palestinian issue."

"I think that some of his decisions have been correct," said Svetlova, who served in the opposition as an MK while Netanyahu was prime minister, "such as the non-involvement in the Syrian civil war."

Looking at the entire period, Netanyahu's overall policy was correct, said Brun. "Israel took advantage of the chaos, or the war, to operate with relative intensity against existing and emerging threats. "
Analysis: Israel's three-front conflict with Iran
The attacks noted above have generally been measured and below a particular threshold as not to elicit a military response that would ignite a regional conflict. However, the amount of attacks on the nuclear, Syrian, and maritime fronts are intensifying during a time when Iran is seeking a renewed nuclear deal after years of heavy sanctions by the Trump administration.

It is also noteworthy to mention the uncharacteristic amount of leaks sourced from unidentified Israeli security officials about the maritime and Natanz attacks. The policy of strategic ambiguity has seemingly disappeared as detailed reports attributing Israel to attacks have been published mere hours after military operations have been executed – which in itself has caused a stir among some Israeli defense officials.

Additionally, Israel's former Prime Minister Ehud Olmert added to the cascade of leaks by revealing detailed information to the Israeli media by remarking that the April 11 explosion at Natanz was caused by a bomb planted over ten years ago.

The leaks about covert operations only encourages an Iranian response and serves no operational purpose.

It is difficult to ignore the significance of Iran being attacked on three fronts in the span of less than a week. It isn't a coincidence and the attacks are meant to send a message that Israel is willing to escalate the conflict despite the Biden administration's attempt to salvage the nuclear deal.

Whether this strategy will deter Iran or force it to harden its position has already produced some unfavorable results. Nevertheless, what is occurring is unprecedented, and on a course towards a regional conflict that neither country is likely looking for.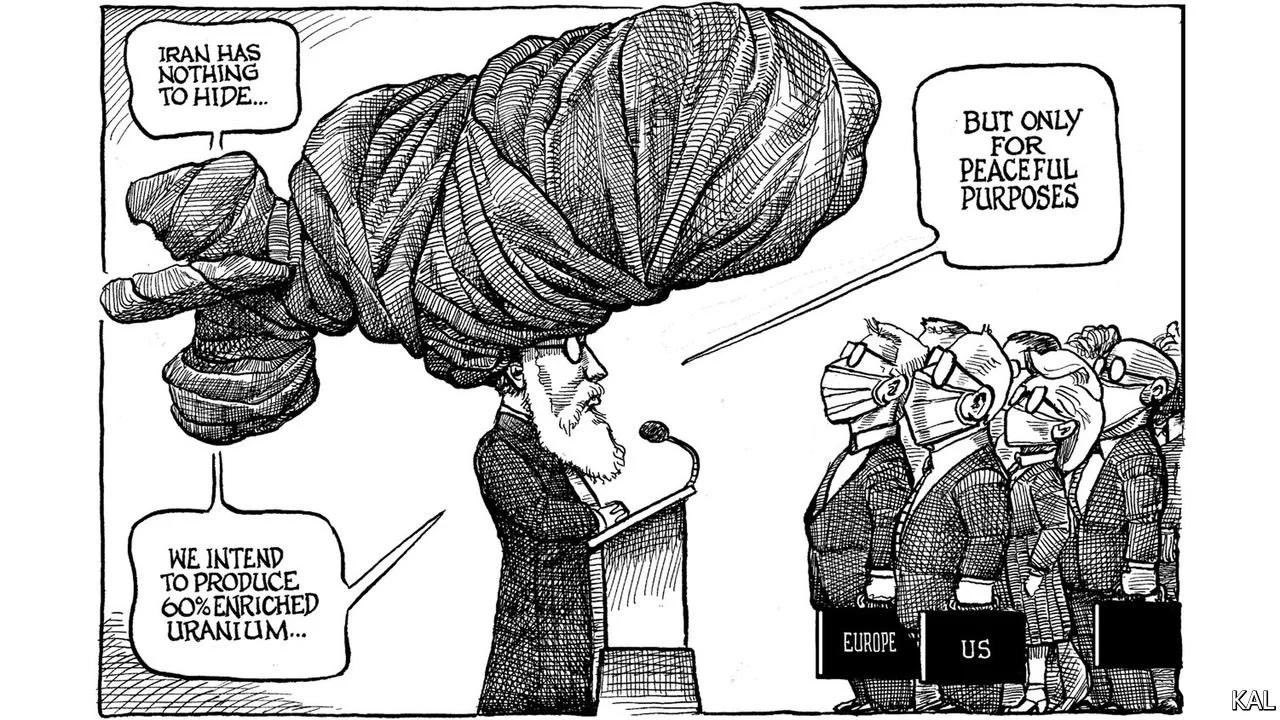 Media Ignore Outrageous French Court Acquittal of Antisemitic Murderer
France's highest court has ruled that a man who savagely attacked and killed his Jewish neighbor by throwing her out of the window of her Paris flat was not criminally responsible as he had smoked a large amount of marijuana, and therefore will not stand on trial.

The decision sparked outrage and shock from the local and global Jewish community, with many Twitter and Facebook users taking to social media to express their disgust at the atrocious miscarriage of justice.

However, virtually the entire media has elected to turn a blind eye to this grave injustice, with the result being zero mainstream coverage. To date, only Jewish news outlets and French media have touched the story.

On Wednesday, the Court of Cassation, the highest court in the French judiciary, upheld a 2019 Paris court decision that Kobili Traoré, who in 2017 broke into the home of his 65-year-old Orthodox Jewish neighbor, Sarah Halimi, before proceeding to beat and then kill her, was not fit to stand trial.

The police reports of the incident documents claims that Traoré shouted "Allahu Akbar" ("God is great" in Arabic) before throwing her out of the balcony of her home in a clearly antisemitic crime. However, because Traoré had consumed a significant quantity of marijuana, the court ruled that he could not be held responsible for his actions.

The media serve the critical role of keeping our public officials honest, and exposing injustice where it occurs. It is HonestReporting's role to keep the media honest, and ensure that the public can trust news coverage, safe in the knowledge that it fully, fairly and accurately reflects developments so that injustice is not allowed to occur unchecked.
ATTENTION THOSE IN L.A. - mark your calendars!

April 22nd at 2pm - Justice for Sarah Halimi
Consulate General of France
10390 Santa Monica Blvd. LA 90024#JusticeForSarahHalimi https://t.co/i0rHz7d0v2

— StopAntisemitism.org (@StopAntisemites) April 16, 2021
Pro-Israel Groups Slam Bill Putting Conditions on Aid to Israel Co-Sponsored by Tlaib, Ocasio-Cortez
Pro-Israel groups blasted on Thursday a new bill set to be introduced in Congress by Minnesota Democrat Betty McCollum that would condition US aid to Israel on the Jewish state conforming to specific conditions, mainly on the detention of juveniles, demolition of property, and "annexation."

McCollum has previously introduced several bills threatening to cut aid to Israel. According to The Hill, the new bill would ban the use of US aid funds for demolishing Palestinian properties in the West Bank and Israeli "annexation" of Palestinian-owned land, along with detention of juveniles.

The proposed legislation — dubbed "Defending the Human Rights of Palestinian Children and Families Living Under Israeli Military Occupation Act" — had 13 additional co-sponsors as of Thursday, including Rashida Tlaib (D-MI), Alexandria Ocasio-Cortez (D-NY), Bobby Rush (D-IL), Danny Davis (D-IL), Andre Carson (D-IN), Marie Newman (D-IL) and Ilhan Omar (D-MN), a spokesperson for McCollum told The Algemeiner.

In a letter to her colleagues, McCollum said, "Israel has been strategically expanding settlements, committing flagrant violations of human rights against Palestinian children and families, and aggressively undermining any prospects for a Palestinian state," Jewish Insider reported.

"US assistance intended for Israel's security should foster peace and must never be used to violate the human rights of children, demolish the homes of Palestinian families, or to permanently annex Palestinian lands," she added.

AIPAC's official Twitter account stated in response to the proposed bill, "We oppose @BettyMcCollum04's latest anti-Israel bill, which would condition aid to Israel, undermine U.S. interests and make peace less likely.

"We agree with @POTUS @JoeBiden: Cuts or conditions on aid to Israel would be 'irresponsible,' 'outrageous,' and a 'gigantic mistake,'" the group wrote. "Congress endorsed @POTUS44's 10yr commitment to Israel of full security assistance without added political restrictions. This policy has broad bipartisan support & is good for America."

"The @BettyMcCollum04 bill is both unnecessary and redundant," it continued. "Current law already establishes reasonable conditions for aid to Israel and any other nation. Aid can only be used for 'legitimate self-defense' and internal security. Our govt already reviews every Israeli purchase."
Bipartisan Bill Proposed to Reclaim Holocaust-Era Unpaid Insurance Policies
Legislation brought forth in the US Congress on Tuesday would allow insurance beneficiaries to recover billions in unclaimed payments from World War II.

The Holocaust Insurance Accountability Act of 2021 was re-introduced by Rep. Debbie Wasserman Schultz (D-Fla.) and Sen. Marco Rubio (R-Fla.), along with its original co-sponsors, who include Sens. Jacky Rosen (D-Nev.) and Rick Scott (R-Fla.), and Reps. John Garamendi (Calif.), David Kustoff (Tenn.) and Lee Zeldin (NY).

According to a statement announcing the legislation, 97 percent of the approximately 800,000 insurance policies held in 1938 were never honored "due to federal court rulings and a failure by insurance companies to adequately publish the names of recipients and pay these claims." Following World War II, insurers also demanded to see death certificates and original policy paperwork, which was nearly impossible for many who had just survived death camps, forced relocations, torture and death marches.

The proposed legislation would "validate state laws requiring insurers to publish policy-holder information; establish a federal cause of action in US courts to ensure that Holocaust survivors and heirs have access to US courts"; and "provide a 10-year period of time for cases to be brought after the date of enactment."

Wasserman Schultz said "it is the victims of the Holocaust and their families who should be the heirs to unpaid policies that were set aside for times of trouble, not the insurance companies. This legislation would help restore the rights of families who were forced to endure the worst that humanity can inflict on a people."
Maryland's Shane Pendergrass rebukes rival invoking Holocaust on assembly floor
It only took 54 seconds for Shane Pendergrass to stand up and call out another member in the Maryland General Assembly for diminishing the meaning of the Holocaust.

She wishes she had acted faster.

"The question was how did I make myself sit in my seat for the extra 15 seconds before I stood up," she told the Jewish Telegraphic Agency.

On Thursday, fellow delegate Daniel Cox rose to oppose a bill that would lower the age at which children can seek mental health treatment without their parents' consent. He compared the bill to the Nazi behavior revealed during the Nuremberg trials of 1946. Cox, a Republican, said he would mark Yom Hashoah, Israel's Holocaust Remembrance Day, by voting against the bill, which he said "interferes with the sacred right of parents and their children."

Pendergrass, a Democrat, rose and said she wanted to speak on a "point of personal privilege," a right granted by the House rules. Cox objected but the speaker allowed it.

"I am enormously affronted as a Jew when you in any way compare this bill to the Holocaust, especially today," she said. "Shame on you."

Talking about her response later with JTA, Pendergrass said, "I am the absolute least likely person to be doing this," noting that she was raised Jewish but no longer has any connection to religious ritual. "I have very little connection to the practice of the religion."
Ancient Libyan synagogue being converted into Islamic center, Jewish group says
An abandoned and ancient synagogue in Libya is being turned into an Islamic religious center without permission, the World Organization of the Jews of Libya said.

David Gerbi, a Libya-born Italian Jew, and member of the organization, which promotes the interests of people belonging to the Libyan Jewish Diaspora, wrote about the Sla Dar Bishi in Tripoli last week in a report published by Moked, a Jewish publication in Italy.

"Since there is now no Jew living in Tripoli and since the power is in the hands of the local authorities (read: militias) it was decided to violate our property and our history," he wrote. "The plan clearly is to take advantage of the chaos and our absence."

Gerbi said The World Organization of Jews in Libya "calls for this transformation to be stopped immediately and to leave the Tripoli synagogue intact with the hope that one day it will be restored."

Contacts on the ground provided Gerbi with pictures and videos over the past three months that have convinced him that the synagogue is being taken over illegally, he said
FM lauds new regional cooperation at strategic forum with UAE, Greece, Cyprus
Foreign Minister Gabi Ashkenazi convened Friday with his counterparts from the United Arab Emirates, Greece and Cyprus in the first meeting of a new regional strategic forum to discuss potential cooperation and threats.

Meeting in Paphos, Cyprus, the ministers spoke of economic and security issues, the pandemic and possible travel corridors to encourage tourism, a statement from the Foreign Ministry said. They will also meet with Cyprus President Nicos Anastasiades.

"Today's meeting is a first substantial step toward broadening the positive influence of the Abraham Accords to our partners in the Eastern Mediterranean," Ashkenazi said, in reference to the normalization deal between Israel and the UAE, signed under Washington's auspices.

"We've spoken of prosperity and stability that will arise as a result [of the accords] for the entire Middle East, and today we are broadening the circle of prosperity and stability to the Eastern Mediterranean. We are setting out on a new path of regional cooperation with the aim of making the vision of cooperation into a reality that will improve the lives of our citizens."

Ashkenazi said he was glad to discuss "issues of great importance to the entire region with them, particularly Iran's aggressive policy and the destabilization of the Middle East that results from it."

He added that "Israel is determined to defend itself from any attempt to harm its sovereignty and its people and will do anything required to prevent the extremist, anti-Semitic regime from acquiring nuclear weapons."
IDF strikes Hamas targets in Gaza in response to rocket fire
The IDF struck targets belonging to the Hamas terrorist group throughout the Gaza Strip on Thursday night in response to rocket fire earlier from the Strip towards Israel, according to the IDF Spokesperson's Unit.

The targets included a munitions manufacturing site, a weapons smuggling tunnel and a military post, according to the IDF. At least six strikes were carried out by the IDF on Thursday night, according to Palestinian media.

A rocket landed in an open area in Israeli territory earlier on Thursday evening, setting off rocket sirens in Sderot, Ibim and Nir Am in southern Israel.

Earlier on Thursday, an unarmed Palestinian was detained by the IDF after he infiltrated into Israel from the Gaza Strip.

This is the first rocket fire towards Israel since late March, when a rocket was fired from Gaza and fell in an open area near Beersheba as Prime Minister Benjamin Netanyahu was visiting a restaurant in the city.
Netanyahu urges Sa'ar to 'come home'; Smotrich says veto on Ra'am non-negotiable
With his prospects of forming a government in doubt, Prime Minister Benjamin Netanyahu on Friday called upon longtime political rival Gideon Sa'ar, the leader of the New Hope party, to join a coalition with Likud in order to allow the formation of a right-wing government.

"This is your home, you will be welcomed with open arms," Netanyahu wrote to Sa'ar.

Sa'ar, a former Likud minister, campaigned on a pledge not to join a government led by the incumbent prime minister and has so far rebuffed Netanyahu's appeals to scrap the promise.

"Likud is your home. You grew up in this home. This is not the time to form a left-wing government," Netanyahu said in his appeal to the New Hope leader.

Netanyahu also urged Yamina leader Naftali Bennett and Religious Zionism head Betzalel Smotrich to "put all considerations aside" and "establish the right-wing and national government Israel so desperately needs."

Even with Bennett and Smotrich, Netanyahu would still be two Knesset seats short of a majority in parliament. He would thus need support either from someone like Sa'ar (an improbable scenario) or the tacit backing of the Islamist Ra'am party from outside the coalition — a move Ra'am has indicated it would be amenable to, in return for clear gains for his constituents.

But Religious Zionism has repeatedly ruled out the latter scenario, and Smotrich reiterated on Friday his rejection of Ra'am, saying that he "will not give in to the suicide of the right" that would establish a government "dependant on anti-Zionist terrorism supporters, and make us all hostages."
Police Arrest Arab Who Slapped Haredi Youth on Jerusalem Rail
Police on Friday detained for questioning a suspect involved in a violent incident documented Thursday night on TikTok. The short video clip which was later published on Twitter and Facebook as well, shows two Haredi young men talking while traveling on the Jerusalem light rail when, suddenly, an Arab standing next to them slaps one of them with great force.

The 21-year-old suspect from the Beit Hanina neighborhood will be brought to court today, and police are expected to request an extension of his detention.

Transport Minister Miri Regev said in response: "I was shocked to see tonight the video of the attack on the young yeshiva student, on the light rail in Jerusalem. I instructed the National Public Transport Authority to cooperate with the Israel Police to bring about a speedy investigation of the incident and the application of the full severity of the law against those responsible for the attack."

United Torah Judaism chairman MK Moshe Gafni said in response to the video that "law enforcement agencies and Israel Police must act with all their might to catch this offender, who carried out an anti-Semitic attack on yeshiva students."
Coronavirus: Israel is nearing herd immunity, expert tells 'Post'
Israel is approaching herd immunity against corona, which has allowed the country to celebrate recent holidays and gradual rounds of openings without experiencing any new outbreaks, according to the head of the immunotherapy laboratory at Bar-Ilan University.

"My opinion is that we are nearing the state of herd immunity," said Prof. Cyrille Cohen. "Why do I say it? Because even after so many openings, and Purim, and Passover, the reproduction rate of the virus in Israel has remained between 0.7 and 0.8."

The reproduction rate, or 'R', measures how many people each virus carrier will infect. When it is lower than 1, the disease is considered in recession.

The World Health Organization defines herd immunity as the indirect protection from an infectious disease that happens when a population is immune either through vaccination or immunity developed through previous infection. When such a situation is achieved, even those who are not immune themselves are shielded from the disease because the virus does not find the right environment to spread.

When Israel launched its vaccination campaign in the second half of December, authorities and health experts hoped that herd immunity could be reached despite children under the age of 16 – about three million people - not being eligible for the shot.
Pfizer CEO: Third COVID-19 vaccine, annual booster shots likely scenario
It is a "likely scenario" that coronavirus vaccines will require additional annual booster shots, Pfizer CEO Dr. Albert Bourla said in an interview with CVS Health on Thursday.

"The duration of the immunity was unknown. Until yesterday, there was data only about the first 90 days," Bourla said, adding that the data published on Wednesday showed the Pfizer vaccine still provided people with "extremely, extremely high protection" from being infected with COVID-19.

He said that while this is "very, very good news," he also added that "vaccine protection goes down over time," adding that the virus is more similar in build and rates of mutation to the influenza virus than the polio virus.

"I think there will be a need, based on this data, for re-vaccinations. We need to see for how often we will need to do that, that remains to be seen."

"A likely scenario is that there will likely be a need for a third dose somewhere between six and 12 months [after the initial vaccination] and from there, there will be an annual revaccination."

"But all of that needs to be confirmed," he said, adding that "the variants will play a key role."
70,000 Muslim worshipers flock to Jerusalem for 1st Friday prayers of Ramadan
Tens of thousands of Muslim worshipers attended the first Friday prayers of the holy month of Ramadan at Jerusalem's Temple Mount, in the largest such gathering since the coronavirus pandemic began.

Sheikh Azzam al-Khatib, head of the Waqf Islamic affairs council, told AFP an estimated 70,000 worshippers came in from Jerusalem, the West Bank and from Arab communities inside Israel.

During last year's Ramadan, under the pandemic, "they [Israeli authorities] did not allow anyone to enter Al-Aqsa except for me," he said.

On Friday police shut down roads around Jerusalem as buses loaded with worshipers drove in. But the sprawling plaza of the compound was far from full.

The Coordinator of Government Activities in the Territories, Israel's military body that administers the West Bank, said 10,000 vaccinated Palestinians had been issued permits this year to enter Jerusalem for prayers.

The Friday prayers were held as tensions climbed in the capital. Police were heavily deployed around the Old City of Jerusalem in anticipation of possible unrest after three consecutive nights of rioting in the area.

The month of Ramadan normally sees increased tensions around Jerusalem's Old City, which houses the flashpoint Temple Mount site, holy to both Jews and Muslims.
PMW:
Why are Palestinians who sell land to Jews excommunicated?
Currently, Arab residents of the Silwan neighborhood in Jerusalem are calling to excommunicate and put fellow Arab citizens on trial because they sold property to "the enemy" – i.e., Israelis/Jews.

The PA does not recognize Israel's right to exist in any borders - as Palestinian Media Watch has documented – because they consider all of the land "Palestine," while the PA religious leaders add that it is holy Islamic land.

Therefore, the PA has forbidden selling land to Jews by law. Anyone who tries to sell land to Jews will be sentenced to 5 years of hard labor, and someone who actually sells land to Jews will be sentenced to life in prison with hard labor. PA officials have even instructed PA police to "take the firmest steps against anyone who is proven to have secretly sold or transferred lands to the occupation, or to have collaborated in the matter." [Official PA daily Al-Hayat Al-Jadida, Feb. 19, 2020]

Significantly, it is not just an issue of disputed borders. The PA asserts a God-given "exclusivity [for Muslims] to this land"– including all of the State of Israel. Consequently, the PA's Grand Mufti announced that according to Shari'ah law it is forbidden to transfer or sell Palestinian land to "the enemies" - i.e., Israelis/Jews – and that whoever does so is a traitor and a sinner.

Additional recent statements by Palestinian religious officials reiterated the religious source of this decision and explain the outcry against the sale of land and property to non-Palestinians and non-Muslims. A Shari'ah judge stated that Allah in the Quran said that "Palestine" is "a pure right of its Muslim owners":
Shari'ah Judge Nasser Al-Qirem: "[Allah] brought down a Sura called Al-Isra (i.e., "the Night Journey," Quran: Sura 17). In it God Almighty emphasizes to all of humanity that this land is a pure right of its Muslim owners, the people of Palestine. This event (i.e., Islam's Prophet Muhammad's Night Journey) and this Sura came to emphasize a fundamental truth regarding our birthright and our exclusivity to this land."

[Official PA TV, March 19, 2021]

Likewise, Head of the Supreme Muslim Council and head preacher of the Al-Aqsa Mosque Sheikh Ikrima Sabri said last month that "Palestine is entrusted to all the Muslims" and that anyone who "relinquishes a grain of soil" of it will have to answer to Allah:
"[Head of the Supreme Muslim Council and head] preacher of the blessed Al-Aqsa Mosque Sheikh Ikrima Sabri spoke from the Saladin Al-Ayyubi pulpit… and said: 'The land of Palestine is entrusted to all the Muslims, and Allah will demand an accounting from anyone who relinquishes a grain of soil from its pure and blessed land.'"

[Official PA daily Al-Hayat Al-Jadida, March 13, 2021]
Ahead of Palestinian elections, West Bank homes of 2 candidates hit by gunfire
Tensions in the West Bank city of Hebron have risen over the past two days, with the homes of two local politicians sprayed with bullets ahead of the Palestinian legislative elections in May.

Armed gunmen allegedly opened fire on the home and office of parliamentary candidate Hatem Shaheen early on Monday morning. Shaheen, a lawyer, is currently running on a list sponsored by former Fatah security chief Mohammad Dahlan.

Dahlan is a bitter rival of the current leadership in Ramallah, including Palestinian Authority President Mahmoud Abbas. He was exiled to the United Arab Emirates in 2013, but has hinted that he may use the Palestinian vote to launch a comeback in the West Bank.

"Around 2:30 before dawn, we awoke to the sound of heavy shooting towards our home. We rushed to see what was happening, and saw a white car fleeing the scene," Shaheen told reporters outside his home in Hebron.

Following the incident, Dahlan's supporters accused the Palestinian leadership, including Abbas, of creating an "unfree" environment for elections.

Another shooting incident took place early Tuesday morning, when gunmen allegedly fired at the house of Hebron Fatah party chairman Emad Kharwat.
With food and fuel, Hezbollah braces for the worst in Lebanon collapse
Lebanon's Hezbollah has made preparations for an all-out collapse of the fracturing state, issuing ration cards for food, importing medicine and readying storage for fuel from its patron Iran, three sources familiar with the plans told Reuters.

The moves, responding to a grave economic crisis, would mark an expansion of services provided by the armed movement to its large Sh'ite support base, with a network that already boasts charities, a construction firm and a pension system.

The steps highlight rising fears of an implosion of the Lebanese state, in which authorities can no longer import food or fuel to keep the lights on. They underline Hezbollah's growing role in tackling the emergency with services that the government would otherwise provide.

The plan chimes with worries in Lebanon that people will have to rely on political factions for food and security, in the way many did in the militia days of the 1975-1990 civil war.

In response to a question about Hezbollah's plans, Leila Hatoum, an adviser to the caretaker prime minister, said the country was "in no condition to refuse aid" regardless of politics.

The sources from the pro-Hezbollah camp, who declined to be named, said the plan for a potential worst-case scenario has gathered pace as an end to subsidies looms in the coming months, raising the specter of hunger and unrest.
How bad is Iran's 60% enrichment threat? - analysis
President of the Institute for Science and International Security David Albright told the Post, "In theory, if Iran has sufficient 60 percent enriched uranium for one nuclear weapon, it could break out ten times faster compared to the situation when it starts with enough 3.5 to 4.5 percent enriched uranium for a nuclear weapon (and no pre-existing 20 or 60 percent enriched uranium)."

In other words, in a vacuum, 60% enriched uranium could shorten the nuclear breakout process by a factor of 10.

At the same time, Albright cautioned, "The breakout times will shift after the recent attack [on Natanz last week, reportedly by the Mossad], but I do not know the extent of damage," and so he did not want to give a hard estimate.

Albright was even more doubtful or unclear about the issue of Iran's threat to install 1,000 additional first-generation IR-1 centrifuges. Farkash also pointed out that Iran could shorten the time even under six months if it used centrifuges at both the Natanz and Fordow facilities.

The former IDF intelligence chief recalled that Iran in theory could operate up to 60,000 centrifuges at Natanz if it assembled that many. About 13,000 centrifuges are currently disassembled, such that its total current centrifuge fleet, if reactivated, is around 20,000.

Basically, the idea is that, given time, the Islamic Republic could massively increase its enrichment capacity.

Yet, like Albright, Farkash was unsure about what impact last week's attack on Natanz would have on Tehran's ability to operate either previous centrifuges or install new centrifuges, let alone enrich uranium up to 60%.

Reports indicate that thousands of centrifuges were damaged and that Iran's nuclear efforts could be delayed by as much as nine months by losing its electric power at Natanz.

How will any centrifuges operate without electricity?

However, there are so many moving pieces to the nuclear program that a delay in one piece might not prevent a jump forward on another front. Farkash is doubtful that the Islamic Republic will jump forward too far at Fordow as action at that underground facility might also force Israel's hand.

The picture is extremely ambiguous and fluid.

Israel will need to keep a close eye on both the new moves at Iranian nuclear facilities and the ongoing negotiations in Vienna, which still may be Iran's true focus.
Accused Iranian-Agent New York Times Writer Claims 'Memory Loss,' Asks for Court Delay
The frequent New York Times contributor facing criminal charges for allegedly serving as an unregistered, paid agent of the government of Iran is asking for a three-month delay in his case, citing health problems including "memory loss."

Kaveh Afrasiabi, an Iranian national who is a US permanent resident, or green card holder, pleaded not guilty in February. Prosecutors say he was paid approximately $265,000 by the Iranian UN mission since 2007 and also received health insurance benefits. Afrasiabi has acknowledged to The Algemeiner that he received the money.

A status conference in the case had been set for April 21. In a recent filing, Afrasiabi, who is representing himself, asked Judge Edward Korman of the US District Court for the Eastern District of New York, "to postpone the hearing to sometime in late June or early July, by which time a clearer picture of his medical condition will emerge."

"As grounds for this Motion, Defendant states that he is still suffering from the head injuries inflicted upon him by police brutality as well as a highly suspicious car accident in February 2020 when his car was totaled by a tow truck backing into him on a broad day light when the Defendant was on his routine library visit in Watertown. Defendant has repeatedly asked the Justice Department to investigate that matter, that caused his hospitalization, and has been ignored, just as his pleas regarding police brutality against him have been ignored," the motion says. "Presently, the Defendant is under treatment at the Neurology Department at a local hospital, and is scheduled to undergo an MRI and other tests, e.g., concerning his memory loss … the MRI department is backed up and have informed Afrasiabi that it may take up to a month or more before they can do the test. Depending on the outcome of these tests and the effectiveness of the medication he is taking to deal with perpetual migraine headache, Defendant Afrasiabi may be physically and medically unable to represent himself in this instant action."

On March 9, Judge Korman denied Afrasiabi's motion requesting to continue the paid consulting work for Iran. "Defendant is free to pursue any form of employment that does not cause him to violate the terms of his release, which include the condition that he will not violate the law," Korman ordered. Afrasiabi replied in an email: "I am 64 years old, publicly smeared, under house arrest … what kind of employment can I possibly got? It is not realistic."
Three Iranians to go on trial in Denmark on terror charges
Three leaders of an Iranian Arab separatist group will go on trial in Denmark on April 29 accused of financing and promoting terrorism in Iran with Saudi Arabia's backing, prosecutors said Thursday.

"Three leaders of the ASMLA (Arab Struggle Movement for the Liberation of Ahvaz) are accused of financing and promoting terrorism in Iran in cooperation with a Saudi intelligence service," the Danish prosecution service said in a statement.

The case is to be heard at the Roskilde court, near Copenhagen, and the Iranians risk 12 years in prison if found guilty.

The trio have been in custody since February 2020, but the case dates back to 2018 when one of them was the target of a planned attack on Danish soil believed to be sponsored by the Iranian regime in retaliation for the killing of 24 people in Ahvaz, southwestern Iran, in September 2018.

Tehran formally denied the attack plan in Denmark, but a Danish court last year jailed a Norwegian-Iranian for seven years for his role in the plot.

Meanwhile, the attack put Danish authorities on the trail of the trio's ASMLA activities.

Police then arrested the three, suspecting them of collecting information on people and companies in Denmark and abroad, in cooperation with Saudi intelligence services.
British Islamic Scholar Abdurraheem Green: The Magic of Harry Potter Is Real and Dangerous; Harry and Hermione Use Disbelief in Their Actions to Cooperate with Jinns @jk_rowling @PotterWorldUK @HPANA @HarryPotterFilm @HPUpdate pic.twitter.com/CC7ZefyUkD

— MEMRI (@MEMRIReports) April 16, 2021
---
---