From Ian:
America's Racial Self-Flagellation at the UN Only Helps Rogue States
Racial discrimination against minorities is a chronic sickness in American society."

"…the challenges facing the United States in human rights are deep-seated. They did not just emerge over the past four years, such as Black Lives Matter."

"[S]lavery is the original sin of America. It's weaved white supremacy and black inferiority into our founding documents and principles."

What distinguishes these relatively similar remarks about America's flawed past and imperfect present? The first two were delivered by Communist Chinese officials in an effort to embarrass the United States on the world stage. The third is an indictment of the United States by the United States itself.

That particular remark comes from the head of the American mission to the United Nations, Linda Thomas-Greenfield, in a March speech before the UN General Assembly. She recently reiterated the themes of that speech in an address to the non-profit group founded by Rev. Al Sharpton, the National Action Network. "Of course, when we raise issues of equity and justice at the global scale, we have to approach them with humility," Thomas-Greenfield conceded. "We have to acknowledge that we are an imperfect Union and have been since the beginning."

Thomas-Greenfield is presently focused on getting the U.S. back into the United Nations Human Rights Council, an organization from which the U.S. withdrew in 2018—and for good reason.

The UNHRC is an organization plagued by corruption. It elevates miscreants like China, Algeria, Congo, Cuba, Pakistan, Venezuela, Russia, and Qatar to membership. It maintains a permanent agenda item—Item Seven—dedicated to the criticism of Israel. It elects people like Richard Falk, a 9/11 conspiracy theorist and obsequious apologist for the terror group Hamas, to oversee the situation in the Palestinian territories. It selects individuals like Jean Ziegler, a co-founder and recipient of the preposterous "Gaddafi International Prize for Human Rights," to defend Venezuela's murderous Maduro regime as a victim of America's "economic war." And so on.
In J Street speech, Abbas urges Biden to scrap US law deeming PLO a terror group
Palestinian Authority President Mahmoud Abbas on Sunday urged the Biden administration to revoke a US law that deems the Palestinian Liberation Organization and its affiliates a terror group.

In a video address to the national conference of the left-wing, pro-Israel J Street lobby, Abbas said he looked forward to "develop[ing] and strengthen[ing]" ties with Washington, which Ramallah severed in 2017 after the Trump administration recognized Jerusalem as Israel's capital.

However, he noted that doing so would require "the elimination of some obstacles, most important of which" was addressing the 1987 Anti-Terrorism Act.

Abbas maintained that the law's relevance had elapsed, as the PLO and Israel both recognized one another as the legitimate representative of the Palestinian and Israeli peoples in the 1993 Oslo Accords, with Ramallah, Jerusalem, and Washington subsequently signing agreements to fight terrorism together.

The Times of Israel reported in December that the PA is prepared to alter the way it pays stipends to Palestinian security prisoners, as well as the families of terrorists and others killed by Israelis, in an effort to convince the Biden administration to scrap the law.

Abbas appeared to hint at such plans during his J Street address. The PA president first called for the dovish lobby's "assistance with the US administration and Congress to repeal all laws that block the road toward enhancing Palestinian-US relations.

"On our part, we will remove all obstacles to achieve this goal," he added, not specifying which steps the PA plans to take.
No, this is him calling on Congress to repeal the Taylor Force Act so the PA can continue collecting hundreds of millions in American aid while paying terrorists and their families for murdering Americans https://t.co/BeWhe8wMXt

— Noah Pollak (@NoahPollak) April 18, 2021
Media Silent as Abbas Calls on Biden to Remove PLO's Terrorist Designation
Abbas' 'Sole Path to Achieving Peace'
During his J Street address, Abbas claimed:
We are ready to resume peace negotiations with our Israeli counterpart on the basis of international legitimacy resolution, the signed agreements, and under the auspices of the international Quartet…. We believe that dialogue and negotiations are the sole path to achieving peace."

Yet, the reality on the ground effectively reduces the probability of this potentiality to almost zero. In this respect, the PA continues to incentivize the murder of Jews with its "Pay-for-Slay" policy, which entails paying "salaries" to those who perpetrate violent attacks — with more money being doled out to terrorists who shed the most blood.

Though every public record of the law requiring that seven percent of the PA's budget be allocated toward this "Martyrs Fund" was removed in 2018, former Knesset Foreign Affairs and Defense Committee chairman Avi Dichter, who is fluent in Arabic, has confirmed its existence.

Indeed, it was this PA- mandated rule that led to the passage in 2018 of the Taylor Force Act, which suspended American aid to Ramallah so long as it continued to pay reward terrorism. Congress passed the law following the murder of Taylor Force, a 28-year-old US Army veteran who was stabbed to death by a Palestinian in Tel Aviv.

Turning 'Palestine' Into One of the Most Antisemitic Places on Earth
Moreover, Abbas used the opportunity to address some 4,000 people who reportedly registered for J Street's virtual event to tar Israel, blaming the Jewish state for the failure to implement a two-state solution.

That this is a patently false assertion — especially when considering that Abbas in 2008 rejected a comprehensive peace offer by then-Israeli prime minister Ehud Olmert — is underscored by the PA chief's rampant antisemitism. Abbas has accused Israeli rabbis of planning to poison Palestinian water wells, and claimed that Jews fabricated their ancient connection to Israel.

In 2018, Abbas argued that the Holocaust was not the end-result of rabid antisemitism but, rather, a response to the financial activities of European Jewry.

It is not surprising, then, that the Anti-Defamation League found that Palestinians in the West Bank are, on the whole, one the most antisemitic people in the world, with more than 90 percent of them harboring racist attitudes toward Jews.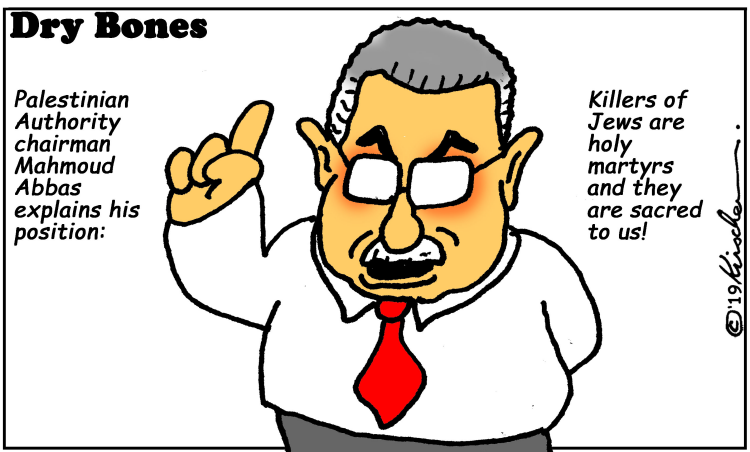 J Street supports conditioning US security aid to Israel
The dovish Jewish American J Street lobby has recommended the US limit security assistance to Israel. The unprecedented move follows a proposal by Rep. Betty McCollum (D-Minn.) that Washington suspend military aid to Jerusalem.

McCollum heads the House Appropriations Subcommittee on Defense. As part of the Defending the Human Rights of Palestinian Children and Families Living Under Israeli Military Occupation Act, she had proposed the US suspend the $3.8 billion in military aid to prevent Israel from using US taxpayer funds for "the military detention, abuse, or ill-treatment of Palestinian children in Israeli military detention; to support the seizure and destruction of Palestinian property and homes in violation of international humanitarian law; or, to extend any assistance or support for Israel's unilateral annexation of Palestinian territory in violation of international humanitarian law."

Collum's move angered pro-Israel lobbies across the US.

"Sadly, it's no surprise that Representative Betty McCollum, who regularly seeks to delegitimize Israel, is introducing yet another in a series of one-sided, demagogic anti-Israel bills—this one putting civilians at risk," Democratic Majority for Israel CEO Mark Mellman said.

Mellman further noted that McCollum's bill "criticizes Israel for the number of juvenile arrests it makes in the disputed territories without acknowledging that her home state of Minnesota incarcerates 2.3 times more juveniles per capita than Israel does in the territories, while the US as a whole holds 2.7 times more juveniles per capita than Israel does in the territories.

The Palestinian Authority itself arrests three and a half times more juveniles in the territories than Israel does, and is regularly accused of torture—but this one-sided bill is silent on that point."

The American Israel Public Affairs Committee also spoke out against the proposed legislation in a statement.

"We agree with @POTUS [US President Joe Biden]: Cuts or conditions on aid to Israel would be 'irresponsible,' 'outrageous' and a 'gigantic mistake.'"

The purportedly pro-Israel J Street, however, expressed support for the bill.
#MahmoudAbbas literally has blood on his hands of Israelis and Americans murdered by Palestinian terrorists and then rewarded by his PA. And folks at #JStreet21 give him a platform and cheer him like a hero! Tells you everything you need to know about #JStreet! pic.twitter.com/lRnF6C3tMO

— Arsen Ostrovsky (@Ostrov_A) April 18, 2021
McCollum's bill to Keep Palestinian terrorists free
Accompanying this essay is a picture of Khalil Yusef Ali Jabarin. At the time the picture was taken Jabarin was a 16-year-old Palestinian minor from the Arab village of Yatta, south of Hebron. Israeli police detained, arrested and jailed Khalil. Like so many other Palestinian minors, he will never be free again, and the Israeli army destroyed his family home to "act determinedly to prevent terror attacks and to deter terrorists." His family will never be with him again and they've lost their home. It's heartbreaking.

Congresswoman Betty McCollum's bill, co-sponsored by Representatives Bobby Rush (D-IL), Danny Davis (D-IL), Andre Carson (D-IN), Marie Newman (D-IL) and Ilhan Omar (D-MN) and supported by J-Street and Americans for Peace Now, aims to "Prohibit U.S. taxpayer funding to the Government of Israel from being used for 1) the military detention, abuse, or ill-treatment of Palestinian children in Israeli military detention; 2) supporting the seizure and destruction of Palestinian property and homes in violation of international humanitarian law." McCollum wrote, "U.S. assistance intended for Israel's security should foster peace and must never be used to violate the human rights of children, demolish the homes of Palestinian families."

The insinuation inherent in McCullum's bill and statements is that the detention, arrest and jailing of teenagers like Khalil, and the destruction of his home by Israel's military is a violation of children's human rights and the destruction of his family's home was a violation of international law.

If Paul Harvey was narrating this essay, he'd introduce the second half with the words, "Now here's the rest of the story." On Sunday morning, September 16th, 2018 Khalil, the sweet-looking minor in this picture, left his house and traveled to the Gush Etzion shopping center and waited outside of the Rami Levy Supermarket. On that bright and early Sunday morning, Ari Fuld, father of four, and resident of nearby Efrat, had been shopping at Rami Levy and walked out of the supermarket. Khalil attacked Fuld, mortality stabbing him. After heroically stopping Khalil from murdering other people in the shopping center, Fuld collapsed and died from Khalil's attack. Ari Fuld was an American citizen.
Betty McCollum is an anti-Semite with a long history of defending Palestinian anti-Semites who murder Jews.@SpeakerPelosi promoted her with full knowledge of her pro-Jew killer positions. https://t.co/wAcjCqD8yO

— Caroline Glick (@CarolineGlick) April 18, 2021
Says convicted criminal Ehud Olmert, who as Prime Minister of Israel, offered more of the Jewish state to the Palestinians than any leader in history. #JStreet21 pic.twitter.com/8nLF9bo2vu

— Arsen Ostrovsky (@Ostrov_A) April 18, 2021
Israeli Special Forces Arrest Wanted Senior Hamas Terrorist in Samaria
The Border Police's elite undercover operatives, supported by the IDF and police, tracked down and arrested a wanted terrorist in the Palestinian Authority (PA) city of Tulkarem, in the Shomron (Samaria).

Riots ensued during the operation, during which Arabs attacked the Israeli forces with rocks and firebombs who responded with live ammunition and means to disperse demonstrations.

The operation ended without any Israeli casualties, and the wanted terrorist, in his 50s, was taken for questioning by security officials.

The WAFA agency identified the wanted man as Adnan Khader Al-Husari, 56, the Hamas commander in the city.

"The Border Police, together with the other security organizations, will continue to work to prevent terrorism and arrest detainees who are engaged in planning and carrying out actions aimed at harming civilians and members of the security forces," it stated.
Air Force participates in a joint exercise in Greece
IAF fighter jets were set to take part in the "Iniohos" exercise starting on Sunday in Greece.

The exercise will include dozens of aircraft, in which the IAF will participate alongside several other partnering nations, the military said in a statement on Sunday. It said that they will simulate scenarios of air-to-air combat, air superiority, and advanced surface-to-air missile threats above enemy territory.

The exercise is designed to strengthen cooperation between the participating forces and sustain high-quality training between the participants. The multitude of partners in the exercise presents a unique challenge for the air crews involved, which will improve their ability to prepare for different combat scenarios, the statement read.

The IAF continues to carry out international exercises in the shadow of the coronavirus, in order to strengthen both its international ties as well as its readiness for a wide range of scenarios.

It will participate in the exercise with the "Raam" (F15i) aircraft from the 69th Squadron, the "Sufa" (F16i) from the 107th Squadron, the "Ree'm" from the 120th Squadron, and the "Nachshon" (G-550) from the 122nd Squadron.
The countries taking part include: •France with Rafale and Μ-2000D
• USA with F-16, MQ-9 and KC-135
• UAE with F-16
• Spain with F/A-18 Hornet
• Cyprus with the AW139 helicopter https://t.co/PY71z2K828

— Anna Ahronheim (@AAhronheim) April 19, 2021
Iranian Political Analyst Foad Izadi: Iran Has a Large Number of Ballistic Missiles in South Lebanon and That's Why Netanyahu Refrains from Attacking It #Iran #Lebanon #Hizbullah #Israel pic.twitter.com/w8SvvaOraJ

— MEMRI (@MEMRIReports) April 19, 2021
Colleague of assaulted rabbi says Jaffa yeshiva promotes 'good neighborliness'
The colleague of a yeshiva rabbi who was assaulted Sunday in Jaffa as the two were visiting a property said on Monday that the purpose of their presence in the city is "to do good."

"Rabbi [Eliyahu] Mali established the yeshiva and a number of other institutions 13 years ago in Jaffa," Moshe Shandovitz of the Shirat Moshe Hesder Yeshiva told the Ynet news site, adding that the institutions "educate for good neighborliness, altruism, and kindness."

Mali was violently attacked Sunday morning while seeking to purchase an apartment for his yeshiva. Two suspects, Arab residents of the city, were arrested.

Police said the suspects, both in their 30s, were brought before the Tel Aviv Magistrate's Court on Monday to extend their remand by two days.

While the police charged the two with a racially motivated assault offense, the suspects denied the attack was driven by racism in their initial investigation, Ynet reported.

Jaffa, which has now been incorporated into Tel Aviv, is traditionally Arab, but recent years have seen many Jewish residents move in, drawn by new luxury housing developments. The gentrification — along with the presence of the yeshiva and the expansion of its community into Arab areas — has fueled tensions in the city.

Mali is a former senior rabbi at the Ateret Cohanim Yeshiva, which seeks to populate the Old City and other East Jerusalem neighborhoods with Jewish residents by purchasing properties from Arabs.
Abu Dhabi's G42 forms AI joint venture with Israel's Rafael
Abu Dhabi-based technology company Group 42 (G42) has formed a joint venture with Israel's state-owned Rafael Advanced Defense Systems to commercialize artificial intelligence and big data technologies, the companies said on Monday.

The joint venture, called Presight.AI, will have a research and development site in Israel and will develop products for sectors including banking, healthcare and public safety, to be sold in Israel, the United Arab Emirates and internationally.

Israel and the UAE agreed to normalize relations in August, triggering a number of announcements from businesses stating their intention to cooperate across the two countries.

UAE Ambassador to Israel Mohamad al-Khaja said the joint venture strengthened the relationship between Israel and the UAE and opportunities for bilateral economic growth.

G42 is an Abu Dhabi-based artificial intelligence and cloud computing company set up in 2018 which works with government and private clients. In September it became the first UAE company to open an international office in Israel.

UAE national security advisor Sheikh Tahnoon bin Zayed Al Nahyan is its chairman and a shareholder. Abu Dhabi's sovereign fund Mubadala in November invested in G42 and last week US private-equity firm Silver Lake invested to help the company expand.
MDA delivers food baskets to Israeli-Arab city of Sakhnin during Ramadan
Magen David Adom volunteers in the Israeli-Arab city of Sakhnin are helping deliver food to families in need during the month of Ramadan.

The program delivers, tahini, sugar, salt, halva, soups, drinks and sweets, among other items to low income families unable to purchase the items for themselves.

MDA, working alongside local aid organizations in Sakhnin, personally collected and packed the first round of food baskets set to go out to the families this year, marking its fifth year for the initiative.

Last year, 600 food packages were collected and distributed. This year MDA hopes to reach even more families, it said.

Senior medic Ahmed Badarna noted that MDA has launched an informational campaign appealing for food donations for the public, asking for certain products specifically used during the month of Ramadan, so that "all residents would be able to eat a respectable meal."
Haifa hospital saves life of boy from Gaza suffering from kidney failure
Doctors at Rambam Medical Center in Haifa recently saved the life of a seven-year-old Palestinian boy from the Gaza Strip through lifesaving surgery, the hospital announced in a statement.

The boy, Madchat Tapash, was born with a medical defect that causes life-threatening kidney and bladder failure, resulting in the need for surgical intervention.

Three different surgeries, which were performed "almost simultaneously," ended up saving Tapash's life, according to the hospital. The boy's bladder was reconstructed and his mother donated a kidney.

"I would have given him my soul, my eyes, and that I should die so that he could live – anything to stop his suffering," said Madchat's mother Sumar.

Madchat had been undergoing dialysis treatment before arriving at the hospital in poor condition. He had previously undergone 15 surgeries and dozens of other procedures during his seven years of life.
EXCLUSIVE: US to Ramallah: State Dept. to Take Over Contact with PA from CIA; Will Demand Democratic Moves
"Sources at the US Embassy and the State Department in Washington recently clarified to the Palestinian leadership in Ramallah that now, under the Biden administration, the State Department will manage the Palestinian file, and not the CIA as it was during Trump's time," a Palestinian Authority source close to US officials told TPS.

The source added that "under the new American approach, the Biden administration will emphasize the demand for democracy in the Palestinian Authority as well, and this will be the leading approach that will also affect relations with the Palestinians, certainly if they postpone the legislative elections" which are slated for the end of May.

"The current administration, unlike the way Trump saw relations with the Palestinians as a major security issue, will require Abu Mazen [PA head Mahmoud Abbas] to demonstrate moves that are in line with the American perception," the source said, based on talks with the Americans.

"In doing so, the head of Palestinian intelligence, Majed Faraj, will lose much of his power that stemmed from good relations with the CIA," the source added.

He said the leak to the Al-Quds newspaper about alleged unofficial consent of the Biden administration to postpone the elections was a deliberate leak from Ramallah intended to serve as an experimental balloon and measure the reactions of the PA arena and Europe to a possible postponement.

"​​Hady Amr, Deputy Assistant Secretary for Israeli and Palestinian Affairs in the Bureau of Near Eastern Affairs within the US State Department, will arrive in the region in the near future and will discuss with the PA how the elections will be conducted and about sending international observers, and it seems that the leak to Al Quds does not reflect the American perception but rather the way Ramallah would like to see it," he concluded.
Palestinian writer Hassan Lafi: The Zionists Threatened Facebook into Removing any Support for Palestinian Cause, Made Hollywood Propaganda Movies about the Holocaust, Criminalized Holocaust Denial #Antisemitism #Facebook pic.twitter.com/R76H1F60MV

— MEMRI (@MEMRIReports) April 19, 2021
Despite a serious wave of #COVID19 infections in #Gaza, Hamas' military arm, Izz ad-Din al-Qassam Brigades, held a public funeral for one of its militants on Sunday. How did he die? He contracted #COVID19. pic.twitter.com/Bfs0fqHRT8

— Joe Truzman (@Jtruzmah) April 19, 2021
Antisemitism Is Inseparable from Khomeinism
In adopting the ideology of Ayatollah Ruhollah Mustafavi Khomeini upon its establishment in 1979, the Islamic Republic of Iran replaced the country's millennia-old monarchy with a radical Shiite theocracy. The regime has always openly expressed its antisemitism, which cannot be expunged, because it is indivisible from the Khomeinist thinking on which the Islamic Republic is predicated.

In the 1950s, as part of Israeli Prime Minister David Ben-Gurion's "periphery doctrine," Israel began to cultivate relationships with non-Arab states and ethnic minorities. On July 23, 1960, the Shah of Iran granted Israel de facto recognition. Israel and Iran both had strong relations with the US, and opposed Soviet efforts to gain influence in the region. The Mossad and the CIA had regular contact with Iran's intelligence service — the SAVAK — to monitor and control Islamic and Marxist terrorist groups that had ties to the KGB.

But Iran-Israel relations collapsed when the Shah was deposed in 1979. After taking power, Khomeini said, "I once again remind everyone of the danger of the prevalent, festering, and cancerous Zionist tumor in the body of Islamic countries." The newly installed mullahs used the mosques to spread antisemitic and anti-Israel propaganda. Israel and Iran have been antagonists ever since the Islamic regime took power.

The Iranian Republic, which has nuclear ambitions and an aggressive ballistic missiles program, has been virulently anti-US and anti-Israel since its inception. It has devoted itself to the construction of a transnational terrorist network, in its drive to become the regional hegemon. It expanded the theater of war and escalated conflict in the Middle East with the ultimate goal of establishing an unbroken Shiite crescent across the region as a stepping-stone to world domination. The transnational terrorist network that it created and supports, which it calls an "axis of resistance and regional power," threatens far more than only the Jewish State.

While neither side wants direct conflict, both Iran and Israel have warned that it might occur. The regime continues to support proxy terrorist groups that threaten Israel, and Israel continues to thwart those efforts. Since 2011, Tehran has provided military assistance and billions of dollars in financial aid to fuel the proxy war, and conducted several operations against Israel involving sophisticated weapons.
The Biden Administration's Time for Choosing On Iran
In short, the IAEA's 2015 decision—pushed by then-Secretary of State John Kerry—to close its investigation into the possible military dimensions of Iran's nuclear program was a serious mistake. The Archive findings and the IAEA's discoveries from its visits of Iranian nuclear sites demonstrated that the Islamic Republic was much closer to weaponization than was previously believed. The IAEA's failure to submit the reports outlining those findings represented one of the JCPOA's biggest flaws. What is the point of "unprecedented" monitoring of these sites if the IAEA never established a baseline of Iran's weaponization efforts?

"Fixing" the old deal by addressing sunsets, monitoring and missiles doesn't address today's problems: Nuclear weaponization, including Tehran's past activities and current violations, Iranian enrichment in underground facilities and its advanced centrifuge R&D. Even with the recent setbacks, the Islamic Republic is still hard at work on the weaponization of its nuclear program as it develops advanced centrifuges that give Tehran an easier clandestine "sneak out." These most powerful centrifuges—with fewer machines required to weaponize uranium—are easier to hide and more difficult to detect.

Gone are the days of keeping Iran at "one year" from producing a sufficient quantity of weapon-grade uranium for a first bomb. Returning to the JCPOA allows Iran to build on its advances and to continue installing advanced enrichment and infrastructure in undisclosed new facilities. The JCPOA all but gives a green light to the regime to clandestinely accumulate the enriched uranium it needs for a bomb, or several bombs. There are new concerns, too. The regime's advances in critical weaponization activities, like metal uranium processing, hot cells and irradiation of 20 percent-enriched materials, also must be addressed. All of this can help the regime build a nuclear weapon.

A "longer, stronger" deal must prevent Iran from being a "nuclear threshold country." The clerical regime cannot maintain a "civilian nuclear program" in underground facilities, and it must come clean about the past. A new deal must address all three elements of Tehran's illicit nuclear program: fissile materials, weaponization and the means of delivery. There may be time for a broader agreement that covers the regime's support for terrorism, as well as other regional concerns. But the nuclear problem must be solved first, or we run the risk of American diplomats giving concrete nuclear concessions for unenforceable Iranian commitments to limit their other nefarious regional activities.

The U.S. can permanently cut off Iran's pathways to nuclear weapons or collapse at the negotiating table. It's now time for the Biden administration to choose.
Maintain the Pressure on Iran
The New York Times editorial "Maximum Pressure on Iran Has Failed" (April 10) argues that the sanctions targeting terrorist entities and their funding streams should be lifted, and Iran should go unpunished for its slaughter and terrorism. On the contrary: more pressure is needed, not less.

The architects of the Iran nuclear deal made a serious mistake in 2015 when they pushed through an agreement without the support of members of both parties in Congress, Arab states and Israel. A result - providing upfront sanctions relief while establishing a clear pathway for an Iranian nuclear weapon - harmed our national security, fueled regional conflict, emboldened the regime's dangerous adventurism, and sowed doubt about U.S. reliability among our allies.

President Biden can use the leverage resulting from economic sanctions in conjunction with a broad and united coalition of members of Congress and allies to push for a comprehensive and durable agreement with Iran that accounts for our allies' concerns and elicits meaningful concessions from the regime. Now is not the time to change course, until Iran does.
AnalysisIranian enrichment is worrying, but weapons-grade uranium doesn't a bomb make
Iran's enrichment of uranium to 60 percent represents is not only the latest in a series of escalating violations of the 2015 nuclear accord, but the closest the Islamic Republic has ever come to producing weapons-grade fissile material.

For countries that oppose a nuclear Iran, it is a worrying development, bringing Tehran one step closer to a bomb. But it is also just one step, and not the final one, toward that goal.

In February, the Israel Defense Forces estimated that it would take Iran roughly two years to produce a nuclear bomb once it decided to do so. Most of that time would be needed not to produce the 90 percent enriched uranium needed for a weapon, but the other components of such a device, notably the detonator, which the Israeli military believes would take some 21 months to design and construct.

Though Iran has made some inroads on that front, beginning research in clear violation of the 2015 nuclear deal earlier this year into manufacturing uranium metal — a process of taking highly enriched uranium, in gas form, and turning it into solid metal, which is necessary to produce the core of a nuclear bomb — the IDF's general timeframe has not changed significantly.

Crucially, in Israel and the United States, the prevailing assessment is that Iran is not — at this stage — interested in "breaking out" and moving full-tilt toward producing a nuclear bomb. The regime's economy has tanked in recent years, due to crushing American sanctions and the coronavirus pandemic, making the prospect of a diplomatic agreement with the West, with sanctions relief and ensuing international investments, more alluring than an atomic weapon — at least for now.
Ex-IAEA official: In theory, Iran could reach weapons-grade enrichment in a week
With Iran's announcement Friday that it has begun enriching uranium to 60 percent purity, a former top official at the UN's nuclear watchdog said the Islamic Republic could potentially reach weapons-grade purity within the space of a week if it wanted to.

Olli Heinonen, an ex-deputy director-general of the International Atomic Energy Agency, stressed jumping from 60% to 90% in a week was theoretical, comparing it to the month or so needed to go from 20% to 60%. Enrichment at 20% is already a relatively short technical step away from weapons-grade levels of 90%.

However, Heinonen told the New York Times that Iran would still need months to produce a nuclear bomb even if it did so.

Heinonen also played down the significance of the latest increase in enrichment levels.

"It's not a huge difference. At this point, this is a demonstration," he said. "They want to show that they can do it."

At 60% purity, Friday's announcement marked the highest level to which Iran has enriched uranium. In January, it began enriching to 20%, a decade after its decision to begin enriching to that level nearly brought an Israeli strike targeting its nuclear facilities — tensions that only abated with the 2015 nuclear deal. Under that accord, Tehran was prohibited from enriching uranium beyond 3.67%.
Israel Would Support a Different Iran Deal
Israeli Prime Minister Netanyahu said at the Holocaust memorial ceremony earlier this month: "The nuclear deal with Iran is once again on the table. Such deals with extreme regimes are worthless. A deal with Iran that threatens us with annihilation will not obligate us." The war between Israel and the Islamic Republic is real and fundamental. A good new nuclear deal won't end it.

A great majority of Israelis - including most opposition party leaders - share Netanyahu's view of the Iranian regime and its intentions. Even if he were to leave office tomorrow, his policy of resistance to a nuclear Iran would remain baked into the strategic doctrine and national psyche.

Netanyahu is open to a different Iran deal. He insists that any new deal come with no expiration date, permits invasive international inspection of military as well as civilian nuclear sites, restricts Iran's missile and warhead capability and imposes sanctions on violators. Israel's demands also include a bilateral agreement with the U.S. for support against Iranian aggression and terrorism launched from Iraq, Syria, Lebanon, Gaza and the Red Sea.

For Israel, a retreat to the old, flawed deal, as Iran is demanding, would portend something much worse. As much as Biden would like to stay neutral, sooner or later he will have to pick a side.
Can Israel Live with a Nuclear Iran?
Can the US live with a nuclear Iran? The answer is probably yes, given the Indian, Pakistani and North Korea experiences, notwithstanding its statements to the contrary. It is not happy with these states, but with the exception of diplomatic activities and some economic pressures, not much is being done, or will likely be done, by the present administration despite its unequivocal commitment not to allow Iran to have a nuclear weapon.

Can the Gulf States live with a nuclear Iran? There is no simple answer to this question. They hate the idea, but cannot do much about it at present. Are they afraid enough to do something about it before Iran has gone beyond a point of no return? Probably not — not without active leadership or at least support from the outside.

The outcome of the above discussion is that Israel, viewing a nuclear-armed Iran as an existential threat, would have to go it alone. Any renewed agreement would probably not reduce its anxieties. It would need outside support, and at least the tacit agreement (an "amber light") from the US, without which its task would become horrendous. Military and intelligence authorities would have to supply the answer whether this can be done, without unacceptable damage to itself.

At present, all diplomatic efforts are now focused on finding the formula that can allow the US and Iran to return to compliance. If that happens, which is still an if, we will find ourselves in a different mode than today with new questions and challenges regarding the next steps. After all, both the US and the EU-3 have repeatedly stated that going back to the JCPOA is only the first step to further negotiations on the nuclear, missile and "regional behavior" issues. Time will be of the essence in these later stages, without which the Middle East situation can only worsen.
Deputy Quds Force Commander Dead of Heart Attack, Says Iran
The deputy commander of Iran's Quds Force has died of heart disease, the Islamic Revolutionary Guard Corps announced on Sunday.

Brig. Gen. Muhammad Hussein-Zada Hejazi, who died at the age of 65, took up the post in April of last year after leading the IRGC's force in Lebanon, according to the AP.

The Quds (Jerusalem) Force is the branch of the IRGC that deals with foreign operations and unconventional warfare.

The Israel Defense Forces had previously named Hejazi as the commander of Iran's precision-guided missile project in Lebanon, under former Quds Force commander Maj. Gen. Qassem Soleimani. Soleimani was killed in a US strike in Iraq in January of last year.

The Iran-backed Hezbollah terror group in Lebanon expressed its condolences in a message to Iranian leader Ayatollah Khamenei, according to Iran's Tasnim news agency.

"We are very saddened to hear of the passing of General Hejazi, and that while he was at the peak of his jihad and also when the Axis of Resistance needed his blessed presence," wrote Hezbollah chief Hassan Nasrallah.
Leader of extremist anti-Zionist Haredi sect, who met Ahmadinejad, dead at 87
A leader of the extremist anti-Zionist ultra-Orthodox sect Neturei Karta, who once met with then Iranian president Mahmoud Ahmadinejad, has died. Rabbi Moshe Dov Ber Beck was 87.

Beck, a central leader of the Neturei Karta for decades, died Thursday night of complications from COVID-19 following a long illness, according to the Israeli news site Behadrei Haredim.

His anti-Zionist group was established in 1938 and opposes the modern state of Israel based on the belief that only God, at the time of the coming of the Messiah, can return the Jewish people to the Land of Israel and reinstate Jewish sovereignty. The group has met with Holocaust deniers and leaders of the Iranian government, which has threatened Israel with extermination, even earning the condemnation of the leader of the Satmar Hasidic sect, also an anti-Zionist Orthodox group but less extreme.

In 2006, Neturei Karta participated in a Holocaust denial convention in Tehran. In 2008, Beck was among its leaders who met with Ahmadinejad in New York a day after the Iranian president made a speech at the United Nations that was widely condemned as anti-Semitic.
Former Saudi Intelligence Chief Prince Turki Al-Faisal: I Do Not Believe the JCPOA Will Stop Iran from Obtaining Nukes; GCC Countries Have the Capabilities of Obtaining Nukes in Response #Iran #KSA #JCPOA pic.twitter.com/6PFt70r42v

— MEMRI (@MEMRIReports) April 19, 2021
---
---