From Ian:
Seth J. Frantzman:
How Israel became a world leader in vaccination
Israel's unique approach has been to use a national security apparatus that is usually used to confront terrorists to fight against the virus. This was only possible because of a solidarity among Israelis. This wasn't always the case – some communities continued to hold weddings and funerals in breach of the guidelines and some officials violated the rules by inviting family members for holidays – but in general Israel was able to mobilise nationally against Covid because it has a citizen's army and national security ethos that is used to fighting wars. Israel's 'home front command' for instance often carries out drills to deal with earthquakes and national disasters, and has been tasked with distributing gas masks in past wars.

But the government of Prime Minister Benjamin Netanyahu, now in his tenth year in power and heading for his fourth election campaign in two years, had to balance lockdown with the destruction it wrought on the economy. After restricting travellers from entering the country, Israel's tourism industry was crushed and hundreds of thousands have lost work this year. Unemployment reached 26 per cent in May but by September the relaxed restrictions led to the highest infection rate in the world for Covid.

Israel's government gambled on acquiring masses of vaccines to try to right the ship in the fall of 2020. It acquired 8 million doses of the Pfizer vaccine in November, with some 4 million doses arriving in early December. Israel also scrambled to acquire Moderna's vaccine, purchasing 6 million doses in December. Israel's population is just under 9 million. After the Pfizer vaccine was approved in line with the US in mid-December, the rollout of the vaccine began on December 20, two weeks after the UK kicked off its own vaccine programme. The Israeli health authorities set a goal of 150,000 vaccinations a day, beginning with those over 60 years old, as well as soldiers, police and medical staff.
Small wonder: How Israel rolled up its sleeves and became vaccination nation
Caveats aside, there seems little doubt that Israel is in a stronger position than most people imagined.

It's due to a mixture of factors: good supplies, excellent logistics and strong community medicine. The campaign is also benefitting from traits in the population: it's tech-savvy, haunted by fears of missing out (also known as being a sucker), and the few anti-vaccination people are keeping mostly quiet.

Supplying Israel early was an attractive proposition for vaccine companies, firstly because Israel has shown a willingness to pay top dollar, and then some, to get the vaccine earlier than elsewhere. Some reports have put the cost at more than double what the US or European Union is paying for the Pfizer vaccine.

But Israeli officials have also said the pharma firms saw Israel as an excellent marketing tool for their vaccine, providing a mix of conditions that can showcase the power of their products.

Israel's small size, densely concentrated population and highly developed infrastructure mean that with a relatively small number of shipments, it could swiftly immunize a wide swath of the country. This would hopefully give the world an early glimpse of what widespread vaccination, and a COVID-safe nation, can look like. The theory, proposed by Israeli officials, has not been confirmed by any of the vaccine manufacturers as a motivating factor.

So far, Israel's drive has been boosted by its leveraging the military, and those with military experience, to deal with tough logistical challenges, like distributing Pfizer vaccines that need super-cold storage.

But the real key to making Israel Vaccination Nation has been the way its healthcare system is set up.

Unlike the US, where healthcare is privatized and payment is made through a web of employer-provided insurance schemes, Israeli healthcare is simple, overwhelmingly public and practically free. Unlike the UK, where the nation is served directly by the National Health Service, Israel's four health maintenance organizations (HMOs) compete for prominence and patients, which pushes them to perform well.
I Won The 'American Muslims for Palestine' Raffle, But Still Haven't Received My Kuffiya Socks
Back in November 2020, I registered for and attended American Muslims for Palestine's (AMP) annual Palestine Convention, presented via Zoom. American Muslims for Palestine randomly selected me as one of their raffle winners. But now, they won't send me my prize! I wonder why…

You can read my coverage of the event in 'American Muslims for Palestine' 2020 Annual Conf Exploited Racial Tensions to Use Against Israel.

This was the second AMP annual conference I've attended; you can read all about how AMP staffers kicked me out of their 2019 conference in Chicago and then assigned several of their large, male 'security guards' to follow me around the hotel for the remainder of the weekend—all because they were afraid of negative coverage—in Fearing Negative Coverage, 'American Muslims for Palestine' Conference Ejects Legal Insurrection Reporter. You can also read about the historical revisionism and blatant bigotry AMP fostered at the convention in Rep. Rashida Tlaib Keynotes 'American Muslims for Palestine' Conference Devoted to Destroying Israel.

This year, AMP was forced to try lots of new things to boost attendance and participation at their conference, given the continuing pandemic.

One of those was to guarantee that anyone who registered would be automatically entered into AMP's raffle for a wide variety of wonderful "Palestine"-related prizes donated by the conference's commercial co-sponsors, such as the company Halal Socks.

Interestingly, though I registered (as I usually do) with my LIF email address and real name, AMP did not seem to be vetting the registrants. I received lots of reminder emails and donation solicitations throughout the conference; on December 10th, AMP Development Coordinator Mohamad Habehh sent me an automated note letting me know that I had been randomly selected as an AMP Palestine Convention prize winner!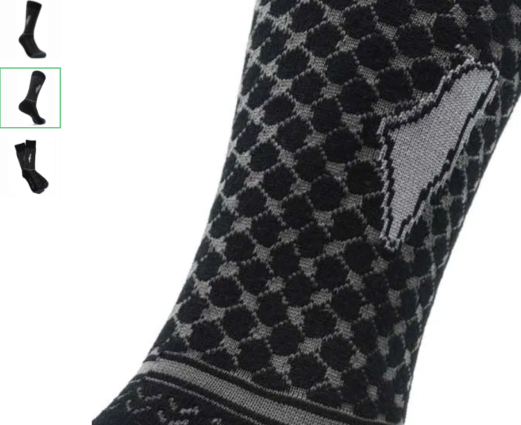 Israel to spend NIS 20m. to stop Palestinian takeover of Area C
Israel plans to spend NIS 20 million to put a halt to illegal building by Palestinians and settlers in Area C of the West Bank. But the primary drive is to thwart what the Israeli Right believes is an intentional plan by the Palestinian Authority to take over Area C by building illegally.

"In cooperation with Prime Minister [Benjamin] Netanyahu, we are mobilizing in full force for the battle against the hostile takeover of Area C," Community Affairs Minister Tzachi Hanegbi said Thursday. "The regional and local councils in Judea and Samaria will receive a dedicated budget to assemble effective and determined systems to thwart the Palestinian Authority's stated plan to establish facts on the ground, in violation of the law and the agreements it signed with Israel."

Among other items the money will be spent for are vehicle and drone patrols to collect information on illegal land activities in Area C, according to a joint press release from the offices of Hanegbi and the prime minister.

Right-wing NGO Regavim has long argued that the PA is working to create facts on the ground in Area C to ensure that the area can not become part of sovereign Israel. In particular it has complained against the lack of enforcement against illegal Palestinian building.

In the absence of any negotiations toward a peace deal, Israelis and Palestinians have focused their efforts on the retention of Area C. Many on the Right hold that all of that territory should become part of sovereign Israel, while the Palestinians say all the territory should be within the borders of their future state.

Much of the international community, including the United Nations and the European Union, concur, unless the PA and Israel agree to a different set of borders within the context of a two-state solution.

The Palestinians, the UN and the EU have argued that the Palestinians have little choice but to build illegally, given that permits for Palestinian construction in Area C are rarely granted. The UN and the EU have provided financial support to the Palestinians for such building.
Outgoing UN peace envoy: Palestinians can gain from Israel's normalization deals
The UN's outgoing Middle East peace envoy has said the Palestinians could gain from Israel's normalization agreements with Arab states, potentially strengthening their hand in peace talks.

Nickolay Mladenov, 48, finished his term as United Nations peace envoy this week after serving in the role since 2015. He previously was Bulgaria's foreign minister and had been set to become the special UN envoy for Libya, but last week said he couldn't take on the position for "personal and family reasons."

In a report on Mladenov's time in office published Saturday, the New York Times said the ambassador was one of the first officials to come to the conclusion that Prime Minister Benjamin Netanyahu was utterly serious in his pledge to annex parts of the West Bank, which he believed would be "terrible" for Israel.

"My thinking was: If this is the wrong way to go but you can see why it would be appealing to certain parts of the population, what would be appealing to a larger part that is not destructive but actually constructive?" Mladenov told the paper.

While he did not claim any credit for the agreements, the report said Mladenov helped build support for using normalization as a carrot for Israel in exchange for shelving the annexation plans.

"There were some people who were very much caught off guard by this," said Jared Kushner, US President Donald Trump's senior adviser and son-in-law. "He saw what we were doing. We confided in him, and he would give us constructive feedback."
They flash "Happy New Year!" in lights in 3 languages: Arabic, English and.... Can you guess what the 3rd one is? | https://t.co/WFQPaIwuDl https://t.co/tF97NthRcc

— Mike (@Doranimated) January 1, 2021
It was amazing when Mohammed's armies battled Rome for control of Jerusalem, especially since Mohammed wouldn't be born for 600 more years https://t.co/2V4Zwijt3i

— Noah Pollak (@NoahPollak) January 1, 2021
Pakistan nabs key suspect in 2008 Mumbai attacks; 166 died, 6 of them Israelis
Pakistan's security forces arrested Saturday an alleged leader of the terror group that was behind the bloody 2008 Mumbai attacks in India.

An official with the Pakistani counterterrorism police, Shakil Ahmed, said that Zaikur Rehman Lakhvi was seized in the eastern city of Lahore, on terrorism financing charges.

Lakhvi is alleged to be a leader of the Lashker-e-Taiba group that organized the Mumbai attacks in 2008 that killed 166 people.

The coordinated attacks on the city of nearly 20 million people hit luxury hotels, the main railway station, a restaurant popular with tourists and the city's Chabad center, where six Israelis were killed.

Lakhvi was detained days after the Mumbai attacks but released in 2015 by Pakistani courts.

Pakitani authorities allege that Lakhvi was running a dispensary in Lahore as a front for financing militant activities.

Prime Minister Benjamin Netanyahu meets with Moshe Holtzberg, the son of Rabbi Gavriel and Rivky Holtzberg, who were killed in the November 26, 2008, terror attack in Mumbai, during a memorial for the victims of the attack at Nariman Chabad House in Mumbai on January 18, 2018. (GPO)

Lakhvi was a prominent figure in Hafiz Saeed's charity Jamaat-ud-Dawa, which is believed to be a front for Lashker-e-Taiba.
Arafat's widow: Second Intifada was a mistake
Israel was not responsible for the death of Yasser Arafat – and the Second Intifada, which erupted in September 2000, was a mistake, Suha Arafat, widow of the former PLO chairman was quoted as saying over the weekend.

On her Instagram account, Suha wrote on Friday that she does not accuse anyone, "not even Israel, of killing [him], because until now I don't have evidence against anyone."

Suha said that she did not want the issue of her husband's death to be part of Palestinian "internal political battles."

She was apparently referring to allegations by senior Palestinian Authority officials that deposed Fatah operative Mohammed Dahlan was involved in the "assassination" of Arafat, who died in a French hospital in November 2004.

Dahlan, a former PA security commander in the Gaza Strip, moved to the United Arab Emirates after falling out with PA President Mahmoud Abbas 10 years ago.

PA and Fatah officials have since claimed that Israel, with the help of Palestinian "collaborators," was behind the "assassination" of Arafat. A special commission of inquiry set up by the PA leadership, however, has failed to substantiate the claim.

Suha confirmed that she was recently interviewed for an Israeli documentary about her husband, and said that the Second Intifada was a mistake.
Palestinian protest against music rave turns into anti-Israel rally
The saga concerning a music party at Nabi Musa near Jericho on Friday took a new twist as Palestinians staged an anti-Israel protest at the site, located between Jerusalem and Jericho.

Last week, the Palestinian Authority security forces arrested Sama Abdulhadi, the first Palestinian female techno-music DJ, for holding a concert at Nabi Musa, where Muslims believe Moses is buried. In addition to stables for horses and storage areas, the site includes a 100-room guesthouse, a series of halls and a mosque.

Defying COVID-19 restrictions, hundreds of Palestinians from east Jerusalem and the West Bank converged on the site to attend the Friday prayer.

After the prayer, the Palestinians staged a protest against the "desecration" of the site and chanted anti-Israel and anti-Jewish slogans, including "Khaybar, Khaybar ya yahood, jaish Mohammed sawf yaoud!" (Khaybar, Khaybar Oh Jews, the army of Mohammed shall return)– reference to the Battle of Khaybar fought in 628 between Muslims and the Jews living in the oasis of Khaybar, located 150 kilometers from Medina in modern-day Saudi Arabia.

Nabi Musa is controlled by the PA, although it does not have a security presence at the site.

The controversy surrounding the site began last weekend, when a number of Palestinians broke up a music concert organized by Abdulhadi with a permit from the PA Ministry of Tourism.

The Palestinians accused Abdulhadi and her friends of "desecrating" the shrine by holding a dancing party and serving alcohol. Her family denied the allegations, noting that the event was not held inside the mosque.
To add insult to injury,
Palestinians chanted very ugly antisemitic chants in #NabiMousa, after throwing musician #SamaAbdulhadi in jail.
As they defeated the *Jews* by throwing a musician in jail! https://t.co/VihPia4eTP

— Nervana Mahmoud (@Nervana_1) January 1, 2021
Remember when the security forces were called Dayton's army. Interesting development. https://t.co/artdwpRq4H

— Seth Frantzman (@sfrantzman) January 2, 2021
Abbas announces agreement with Hamas to hold elections
Palestinian Authority President Mahmoud Abbas announced on Saturday that he had reached agreement with the rival Hamas movement to hold presidential and parliamentary elections. Hamas did not immediately comment on Abbas's announcement.

Abbas's announcement came after he received a letter from Hamas leader Ismail Haniyeh about ending the dispute between Hamas and Abbas's Fatah faction. Since 2007, Fatah and Hamas have reached several "reconciliation" agreements but plans since then to hold elections have never materialized.

Palestinians said on Saturday they believe the announcement is intended as a message to the incoming US administration of President-elect Joe Biden that the PA is serious about holding new elections.

Abbas and senior Palestinian officials have indicated their desire to deal with the Biden administration. The PA leadership has boycotted the administration of US President Donald Trump since December 2017.

The last presidential election was held in January 2005, when Abbas was elected to a four-year term. A year later, the Palestinians held parliamentary election that resulted in a Hamas victory. In 2007, Hamas seized control of the Gaza Strip after overthrowing the PA regime there.

The letter was relayed to Abbas by senior Fatah official Jibril Rajoub, who has been negotiating with Hamas in recent months about ways to end the rivalry between the two parties.

"After reviewing Haniyeh's letter, Abbas gave his instructions to Rajoub to inform Hamas that he [Abbas] welcomes what was mentioned in the letter regarding ending the division [between Fatah and Hamas], establishing partnership and achieving national unity through democratic elections with full proportional representation," a statement issued by the PA president's office said. "Fatah is committed to the path of building partnership and national unity."
Congratulations to Palestinian Authority President Mahmoud Abbas on soon entering the 17th year of his 4-year term. pic.twitter.com/fdRXeLcbCU

— Hillel Neuer (@HillelNeuer) January 2, 2021
Abu Dis (near Jerusalem): Fatah celebrating the 56th anniversary of its first attack on Israel. pic.twitter.com/4S3zZDxBNz

— Khaled Abu Toameh (@KhaledAbuToameh) January 1, 2021
Billboards bearing the words of Qasem Soleimani have been erected in several areas of the West Bank. pic.twitter.com/7yCQG1GdDi

— Joe Truzman (@Jtruzmah) January 1, 2021
A campaign in Syrian cities bearing the slogan "A year of salvation from a serial killer" under the hashtag Qasem [Soleimani] the killer. pic.twitter.com/marMuD8xU9

— Joe Truzman (@Jtruzmah) January 1, 2021
One of the Shuja'iya homes that took heavy damage in what is being described by some residents as a rocket that fell short after being launched overnight. #Gaza pic.twitter.com/e8YZaVQXMf

— Joe Truzman (@Jtruzmah) January 2, 2021
Iran Tells IAEA it Plans to Enrich Uranium to up to 20% at Fordow Site
Iran has told the United Nations nuclear watchdog it plans to enrich uranium to up to 20% purity, a level it achieved before its 2015 accord, at its Fordow site buried inside a mountain, the agency said on Friday.

The move is the latest of several recent announcements by Iran to the International Atomic Energy Agency that it plans to further breach the deal, which it started violating in 2019 in retaliation for Washington's withdrawal from the agreement and the reimposition of US sanctions against Tehran.

This step was one of many mentioned in a law passed by Iran's parliament last month in response to the killing of the country's top nuclear scientist, which Tehran has blamed on Israel. Such moves by Iran could complicate efforts by US President-elect Joe Biden to rejoin the deal.

"Iran has informed the Agency that in order to comply with a legal act recently passed by the country's parliament, the Atomic Energy Organization of Iran intends to produce low-enriched uranium (LEU) up to 20 percent at the Fordow Fuel Enrichment Plant," the IAEA said in a statement.

An IAEA report to member states earlier on Friday obtained by Reuters used similar wording in describing a letter by Iran to the IAEA dated Dec. 31.

"Iran's letter to the Agency… did not say when this enrichment activity would take place," the IAEA statement said.

Fordow was built inside a mountain, apparently to protect it from aerial bombardment, and the 2015 deal does not allow enrichment there. Iran is already enriching at Fordow with first-generation IR-1 centrifuges.

Iran has breached the deal's 3.67% limit on the purity to which it can enrich uranium, but it has only gone up to 4.5% so far, well short of the 20% it achieved before the deal and the 90% that is weapons-grade.
Why is Iran pushing antisemitic dog-whistle on Israel 'false flag' attack?
Iran's foreign minister Javad Zarif took a page from antisemitic history by claiming that Israel could be behind a "fake casus belli" and conspiratorial plan to push Iran and the US toward war. He claimed that "new intelligence from Iraq indicate that Israeli agent-provocateurs are plotting attacks against Americans" and that this would lead to a "trap" for US President Donald Trump. Trump has vowed to hold Iran responsible for attacks against the US in Iraq. Iranian-backed militias have targeted US forces in Iraq since May 2019 in dozens of rocket attacks that have killed one US contractor and three members of the US-led international coalition.

A year ago the US killed Iranian IRGC Quds Force commander Qasem Soleimani. Reports indicate that Iran is on alert from the Persian Gulf to Iraq and that there is concern that Iranian-backed groups across the region could use the one-year anniversary of Soleimani's death as an excuse to attack the US or Israel.

Iran's foreign minister has long sought to blame Israel for US tensions, often singling out Prime Minister Benjamin Netanyahu as a warmonger and claiming the "B team" which is composed of US hawks and Israel "thirst for war." Zarif, who was educated in the US and frequently speaks at US think tanks and is toasted in western capitals, knows that the language he uses is designed to appeal to a certain type of western conspiracy that sees Israel as behind US tensions with Iran. This conspiracy has antisemitic roots dating to the Elders of Zion conspiracy that argued Jews sought to control the world and blamed Jews for being behind every ill, from economic disaster to war. The dog whistle claiming that Israel will be behind "false flag" attacks in Iran to bring the US and Iran to war is part of this history of blaming Jews for conflicts.

Over the years some have suggested a pro-Israel conspiracy to "drive" the US towards war. For instance, in 2017 an antisemitic conspiracy titled "America's Jews are driving America's Wars" sought to assert that "neo-cons" in the US, often a euphemism for Jewish commentators and policymakers close to the George W. Bush administration, were stoking tensions with Iran. This conspiracy has also claimed Israel was behind the US invasion of Iraq in 2003 and other US wars in the Middle East.

Malaysia's antisemitic leader Mahathir Mohammed told the Organization of the Islamic Conference that "Jews rule the world by proxy, they get others to fight and die for them." This antisemitic conspiracy has found root in Islamist groups, including the Muslim Brotherhood, Hamas and sometimes among members of the regime in Tehran. It is tied to claims that "ISIS was created by Israel and the US," another conspiracy theory that Iran's regime members have spread in the past. These conspiracy theories have also found their way to academics on US and British campuses and even been aired by members of political parties in the West who try to argue Israel "benefits" from conflict. For instance a 2012 terror bombing in Egypt was blamed on Israel, "in whose interest is it to kill Egyptians, other than Israel," one suggested.

Zarif's goal in this tweet is to lay the groundwork to blame Israel if Iranian-backed. Militias attack US forces in Iraq.
No flag, no warning, no fact check or anything from @Twitter, about this blatant lie & act of incitement from @JZarif. Twitter doesn't waste breath to call out @realDonaldTrump, but repeatedly turns back to #Iran's lies and calls for violence! Why @jack @TwitterSupport? https://t.co/OprnnOA17V

— Arsen Ostrovsky (@Ostrov_A) January 2, 2021
Hello @Twitter & @TwitterSupport. There is a blue tick person who is spreading false accusations and libels against Israel. Any chance you at least put a label: "this claim comes from a politically biased source" or smth or nah? https://t.co/Pgok9aYMLD pic.twitter.com/Pr1kJ6e7ds

— Michael Elgort 🤍❤️🤍 ✡️ (@just_whatever) January 2, 2021
Iranian news broadcasts the remains of the vehicle Qasem Soleimani and Abu Mahdi al-Muhandis were traveling in when they were killed. The remains were moved and set on display in #Baghdad before the anniversary of their deaths. pic.twitter.com/C8wNeUjjKh

— Joe Truzman (@Jtruzmah) January 1, 2021
Munich Olympics Official Who Negotiated With Palestinian Terrorists Dies at 91
The International Olympic Committee announced yesterday the death of Walther Tröger, a former Mayor of the Olympic Village during the 1972 Munich games who took part in failed negotiations with Palestinian terrorists.

On Sept. 5, eight members of the Palestinian terrorist group Black September took hostage nine athletes on the Israeli Olympic team, after killing two others. The hostages were held for more than 20 hours, during which the terrorists demanded the release of hundreds of Palestinian prisoners held in Israel. The Black Septemberists killed all of the Israeli hostages and a West German police officer during a failed rescue attempt.

Tröger recalled the tragic events in a 1987 interview with UPI, during which he spent hours dealing with the terrorists and police. "'I deeply regret what happened to my friends from Israel," he told the outlet. "I have been in the war and I have seen death. But I will never forget what happened in Munich."

Tröger told UPI that his presence was demanded at the negotiations by the hostage-takers, and that the lead terrorist held a live grenade in his hands during their talks.

"No event anywhere in the world is safe now — whether it is an Olympics or a Papal visit," he said in the 1987 interview. "At least Munich taught us to be alert. But it was a terrible lesson to learn.'

In a disastrous, heavily-criticized operation, Munich police tried to ambush the group at a nearby airfield. All of the Israeli athletes were killed, along with a West German police officer and five of the terrorists.
Amar'e Stoudemire's Jewish journey, from young scholar to aspiring 'prophet'
Asked by one of New York's wealthiest men, in a forum convened by one of the world's largest local philanthropies, how he would improve relations between Black and Jewish Americans, Amar'e Stoudemire had a quick answer.

"I've created a program … like an educational center where students can go and play basketball or they play their recreational sport and you have a rabbi who will come in and just have a lesson throughout the day," Stoudemire said. "You know, 'there's a 1 o'clock lesson, you guys want to join?' 'hey, Rebbe Pinchas is having a lesson on God's creation, feel free to sit in.'"

The exchange came during an extended conversation between Stoudemire, the basketball coach and former NBA star, and billionaire hedge-fund investor Dan Och Monday night, during a Zoom call organized by the UJA Federation of New York. (UJA-NY supports JTA parent company 70 Faces Media.)

With a laugh, Och suggested that Stoudemire was onto something.

"You know Eric Goldstein's on the call here," he said, referring to the CEO of the New York federation. "And I'm sure if we're not already involved in funding and growing that program, we're certainly going to be, starting tomorrow."

Stoudemire's idea marries his two passions. During the call, he explained how a 6-foot-10 NBA All-Star became so interested in religious Judaism and his African Hebrew roots that he underwent an Orthodox conversion. He also described how he has maintained his Jewish practice as a celebrity in the spotlight.

And he offered his uniquely Jewish vision for bringing together two communities whose historic alliance has frayed over time.
Customized van helps UK Holocaust survivors record their stories during pandemic
As one of the youngest Holocaust survivors, Eva Clarke has spent years telling the story of how her mother, weighing just 68 pounds, gave birth to her inside a concentration camp just a month before it was liberated.

But this spring, as COVID-19 shut down public life, Clarke's visits to schools and community centers in the United Kingdom "came to a screeching halt, indefinitely," she recalls.

Earlier this month, she got a fresh audience when an RV pulled into her driveway in Cambridge.

Inside was Antony Lishak and a retrofitted interior that would allow her to tell her story safely, and for posterity, during the pandemic.

Lishak has spent years teaching about the Holocaust to young audiences using the real-life testimonies of Holocaust survivors and rescuers. Even before the pandemic, time was not on the British educator's side.

First-person accounts, delivered live, have the strongest effect on the students Lishak is trying to reach, he said. But survivors are dying and the ones still alive find it more difficult year each to deliver the talks that he organizes for them at British schools.

The pandemic put these interactions on pause, costing him time that he "couldn't afford to lose," Lishak said.
Emotional! 300 Jewish Immigrants from Ethiopia have landed in Israel on first night of 2021.

Welcome home! ❤️ pic.twitter.com/JudLKEG6BB

— Hananya Naftali (@HananyaNaftali) January 2, 2021
---
---
We have lots of ideas, but we need more resources to be even more effective. Please
donate today
to help get the message out and to help defend Israel.