From Ian:
Meir Y. Soloveichik:
Israel's Vaccine Triumph
This lesson is the essence of Jewish identity. Rabbi Joseph Soloveitchik noted that "Israel," the name given by the Bible to the chosen nation, originally belonged to the patriarch also known as Jacob. This, he argued, is no coincidence: Jacob, he pointed out, is the only biblical progenitor who is seen interacting not only with children but grandchildren. Drawing Joseph's sons Ephraim and Menashe to him, the patriarch blesses them in the name of Abraham and Isaac, linking ancestors to descendants. We are all named for Israel because the original Israel, in joining generations, is our polestar; a nation that emulates his life cannot die.

With the coming of the vaccine, our forefather Israel was imitated in modern Israel. As Israeli seniors swarmed the vaccinations centers, one of them, Amnon Frank, expressed to the Israeli media what drew him there. "A grandchild without a hug is half a grandchild," he reflected. "We haven't hugged them since March." This single succinct sentence captures the meaning of l'chayim; life is truly life when it is shared.

These two Israeli sets of statistics—the vaccination of the old and the perpetuation of the young—are two trends that are wholly connected with each other. A country that toasts l'chayim, a society that desires life, illustrates what life truly means. It ensures that grandfathers and grandmothers are written in the book of life, so that they are thereby able to embrace their grandchildren once again.

In one of the most famous of Talmudic tales, a group of rabbis beheld a Jerusalem devastated by Rome and wept, while one of their colleagues, Rabbi Akiva, laughed and stubbornly cited the prediction of the prophet Zachariah: "There shall yet old men and old women dwell in the streets of Jerusalem, and every man with his staff in his hand for very age. And the streets of the city shall be full of boys and girls playing in the streets thereof." The story is cited as an example of profound faith, as indeed it is. But perhaps Akiva's insight also is that the prophetic verse, joining grandparents and grandchildren, contained the secret of Jewish survival: A nation that reveres its elders and celebrates new life would outlast an empire that glorified war and death. In Israel today, Akiva's seemingly preposterous prediction has come true, as the world discovers new meaning in the mantra am Yisrael chai—the nation of Israel lives.
I'm a so-called Palestinian.. I was born in Kuwait, now live in Israel on a permanent residency.. in this picture you see me getting my first covid shot..

How racist can Israel be to vaccinate a non-citizen Arab who is fraudenlantly claimed as a Palestinian refugee by PA & UNRWA https://t.co/OflSVLm4eS pic.twitter.com/ShwNmedjCU

— Mark Halawa - مارك حلاوه (@HalawaMark) January 19, 2021
Shumuely Boteach:
Should Europe's Jews move to Israel? - opinion
On Sunday, The Guardian reported the depressing fact that "almost half of British Jews avoid showing visible signs of their Judaism in public, such as a Star of David or a kippah, because of antisemitism," according to a new study.

"The Campaign Against Antisemitism and King's College London gave 12 statements that participants in the survey were asked to agree or disagree with," The Guardian reported. "Twelve percent showed 'entrenched antisemitic views' by agreeing with four or more of the statements. The one that had most backing was 'Israel treats the Palestinians like the Nazis treated the Jews,' affirmed by almost a quarter (23%) of respondents." That's pretty sobering. But it gets worse. "Among the general public, a similar proportion agreed with one or more antisemitic statements put to them, pointing to a 'deeply troubling normalization of antisemitism.'"

Is anyone surprised? The question is what to do about growing European antisemitism. Should Jews in Britain give up and move to Israel? On the other hand, making Europe "judenrein" is exactly what the Nazis sought through the annihilation of European Jewry, and should we give Hitler that posthumous victory?

Two of the greatest Jewish leaders of the 20th century had opposing views on this question.

Theodor Herzl concluded that antisemitism was unmovable, and the only hope for Jewish survival was the establishment of an independent Jewish state. He insisted on the necessity of using diplomacy to persuade the world that Jews have a right to self-determination in their historical homeland – Israel – and helped turn the centuries-old dream of returning to Zion into a reality.
Biden Changes U.S. Ambassador to Israel Twitter Name to Include West Bank and Gaza
The Biden administration on Wednesday reversed a change to the U.S. ambassador to Israel's Twitter account name to read, "the official Twitter account of the U.S. Ambassador to Israel, the West Bank, and Gaza" after a Washington Free Beacon report highlighting the shift.

For a time on Wednesday, the official Twitter feed for the U.S. ambassador to Israel had its title changed to add "the West Bank and Gaza," territories the United States has for decades avoided taking a stand on due to ongoing peace talks between the Israelis and Palestinians. The title change sparked an outcry online, including among Republican lawmakers, and was quietly changed back to read only, "U.S. ambassador to Israel." The State Department would not comment on the initial change or why it was changed back to its original form.

Embassy officials have speculated that the title was inadvertently changed by Twitter due to a technical glitch when the accounts were switched from the Trump administration over to the Biden administration. The Free Beacon could not confirm the veracity of these claims.

"The U.S. doesn't have ambassadors to any other disputed territory in the world. Singling out Israel, once again, is wrong," said Len Khodorkovsky, former deputy assistant secretary at the State Department. "Instead of building on all the progress that's been made toward peace in the Middle East, the Biden administration seems to be reversing course toward the failed policies of the Obama years."

During the Obama administration, former ambassador Dan Shapiro was referred to in official communications as the "U.S. Ambassador to Israel."

While President Joe Biden has said he would maintain the U.S. embassy facility in Jerusalem—which former President Donald Trump moved in a historic policy shift—it is likely he will put greater emphasis on Israeli-Palestinian peace talks, which have long been stalled. Biden also will grapple with the last administration's decision to recognize the Golan Heights area along the Israel-Syria border as officially part of the Jewish state.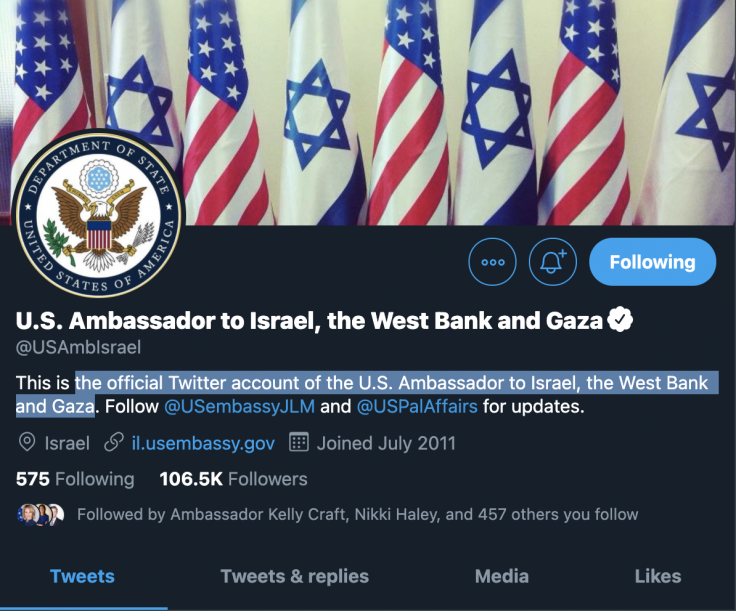 They switched it back pic.twitter.com/lhn8CsLHAC

— Katie Pavlich (@KatiePavlich) January 20, 2021
Coronavirus in Israel: Over half a million already got both shots
Some 550,000 Israelis have already received both shots of the coronavirus vaccine, and as many as 2.8 million at least the first, the Health Ministry reported Wednesday as some Israeli health funds stated that they would also allow people as young as 35 to make an appointment to be inoculated.

Clalit, the largest health fund in the country, made the announcement a day after the ministry expanded the vaccination campaign to include all people over 40.

Also, the Meuhedet health fund is allowing 35-year-olds to book a slot.

While the pandemic figures in Israel continue to be alarming, the country is also rushing to vaccinate its adult population as fast as possible, in the hope to reach herd immunity levels.

On Tuesday over 200,000 people were inoculated, marking a new record as the Health Ministry set a new goal of administering 250,000 shots per day.

About 77% of the population over 60 has already received at least the first vaccine.
🎙🆕PODCAST: #Israel's remarkable #COVID19 vaccine rollout
⭐️@COLRICHARDKEMP
⭐️@JakeWSimons
⭐️@RanBalicer
⭐️@DavidJonesMP
1️⃣science & healthtech innovation
2️⃣1st #AbrahamAccords peace dividend
🇬🇧How our successful 💉rollout can be improved further

🎧PLAY https://t.co/N5RrcyCve2 pic.twitter.com/6bAPTQJyp1

— Jonny Gould (@jonnygould) January 19, 2021
Soundcloud link:
Israel's world-leading Covid vaccine rollout story
Cabinet votes to extend lockdown by another 10 days
The government unanimously voted to extend Israel's tightened third lockdown for an additional 10 days, Tuesday. The decision by the cabinet will see the country begin to gradually exit the lockdown on January 31. The cabinet also approved mandatory coronavirus testing for anyone planning to enter Israel 72 hours ahead of their flight.

Arguing for a 10-day extension ahead of Tuesday's meeting, Prime Minister Benjamin Netanyahu said that ending the lockdown prematurely would be dangerous.

"Many countries in Europe are extending the lockdown until March and even April. We need to immediately decide to extend the current lockdown. It may not be popular and inconvenient during an election, but that is what we need to decide today, and I expect everyone to support" the move, he said.

Netanyahu argued an end to the lockdown would "cost many lives." He said the guiding principle needed to be "the saving of lives and the collapse of the healthcare system, no other consideration. I know it's a difficult decision for many of Israel's citizens but it requires one last effort, a joint effort by all of us to exit the corona [crisis] and save lives."

The cabinet also approved the continued use of the Shin Bet security agency's tracking capabilities for contact tracing purposes for an additional 21 days. Intelligence Minister Eli Cohen had requested the move during the meeting, saying that with the decrease in morbidity, the Shin Bet would employ selective use of the tool, which he noted had saved the lives of at least 500 Israelis to date.
TV personality and antisemitism activist Rachel Riley vindicated as judge strikes out all of the "fanciful" defences of Twitter troll she sued for defamation
Rachel Riley, the Jewish TV personality and campaigner against Jew-hatred, has been vindicated in a defamation case that she brought against a Twitter troll who Campaign Against Antisemitism exposed in 2017 over his blog in which he claimed that there was a "conspiracy" by Jews and those who would defend them in the UK, and in which he has posted and linked to the work of notorious antisemites.

Mr Sivier had promoted a narrative started by another online troll that Ms Riley was bullying a teenage girl.

In a statement celebrating today's judgement, Ms Riley noted that from the moment she began to criticise antisemitism in the Labour Party, she was subjected to a "large volume of abuse" that "seemed to increase exponentially".

Instead of addressing her concerns, she explained, trolls on social media "turned their attention to discrediting my arguments by smearing my character". One of them launched "a particularly nasty (defamatory and untrue) smear" accusing Ms Riley of bullying, but due to the fact that he was not located in the UK, Ms Riley did not pursue him for libel.

Today's judgement has vindicated Ms Riley and her persistence, with the court striking out all of Mr Sivier's defences, which the judge described as "fanciful" and "verging on the perverse". This judgement leaves Mr Sivier with the option to concede or proceed to a full trial in which he would need to meet evidentiary thresholds that, in the circumstances, are thought to be impossibly high.

Mr Sivier has continued his crowdfunding campaign for legal funds.

Ms Riley was represented by solicitor Dr Mark Lewis, who is also an honorary patron of Campaign Against Antisemitism, and barrister John Stables.

Campaign Against Antisemitism congratulates Ms Riley on her success today, and applauds her, Tracy-Ann Oberman, and other activists against antisemitism who are unafraid to confront and expose antisemitic abuse online.
Rachel Riley wins libel case against journalist who called her 'serial abuser'
Rachel Riley has won a decisive libel battle against a journalist who falsely accused her of being a "serial abuser", made claims verging "on the perverse" and whose supporters referred to her as a "lying malicious Zionists."

The Countdown presenter and campaigner against Jew-hate brought legal action against Vox Political reporter Mike Sivier, which was successfully pursued with fellow Jewish TV personality Tracy Ann-Oberman, represented by lawyer Mark Lewis.

Late last year a High Court judge heard pre-trial submissions over the pending libel case between Riley and Sivier, concerning the latter's 2019 article in which he called Riley a "serial abuser", including of a 16-year-old girl who received death threats.

On Wednesday Riley, who was a vocal critic of Labour's handling of antisemitism under Jeremy Corbyn's leadership announced victory, saying Sivier had "repeatedly made false allegations about me over the past two years, using arguments to defend his claims that in her judgment, the judge described as "fanciful" and verging "on the perverse.""

Riley said donors to Sivier's crowdfunding campaign, that raised more than £100,000 for legal fees, included "hardcore antisemites citing 'lying malicious Zionists', and vulnerable people with little income to spare."

Taking to Twitter, Riley said in a statement, that abuse began following the announcement of an interview two years ago.
Jeremy Corbyn launches High Court bid to reverse his suspension from the Labour Party, while a separate court challenge against the EHRC's devastating report goes nowhere
Jeremy Corbyn, the former leader of the Labour Party, has launched a bid in the High Court to overturn his suspension from Labour over remarks he made following the publication of the Equality and Human Rights Commission's (EHRC) devastating report into antisemitism in the Party.

The first hearing, which took place earlier this week, related to the disclosure of evidence pursuant to Mr Corbyn's insistence that there was a deal between his representatives and Labour leader Sir Keir Starmer on which Sir Keir supposedly reneged.

Campaign Against Antisemitism lodged a complaint against Mr Corbyn, holding him responsible for conduct that is prejudicial or grossly detrimental to the Labour Party, as the Leader during the period of the EHRC's shameful findings. Given the serious detriment that this conduct has caused, we are seeking Mr Corbyn's immediate resuspension and, if the complaint is upheld, we will be requesting his expulsion. On the day the publication of the EHRC's report, we also submitted a major complaint against Mr Corbyn and other sitting MPs. These complaints are yet to be acknowledged by the Party, and they must be investigated by an independent disciplinary process that the EHRC has demanded and Sir Keir has promised but has yet to introduce.

Separately, a case brought against the EHRC in connection with its report by two members of the public has apparently failed to advance because the claimants lacked legal standing. At least one of the claimants, Justin Schlosberg, last year lost a case in the High Court challenging Ofcom's decision not to sanction the BBC over the Panorama investigation into Labour antisemitism.

Another challenge against the EHRC has reportedly been brought by the disgraced former Mayor of London Ken Livingstone and Cllr Pam Bromley, who were both singled out for criticism by the EHRC's report.
Livingstone Fundraiser Falls Flat
Former Mayor of London Ken Livingstone's attempt to obtain a judicial review of the Equalities and Human Rights Commission report that blamed him and others for Labour antisemitism has gotten off to a poor start.

He launched a fundraiser together with Pam Bromley, also named by the EHRC, using Bristol University Professor David Miller's Left Legal Fighting Fund. The campaign launched six days ago and has raised a mere £15,747 out of their target of £40,000. Over the last 5 days it has raised around £1,500.

Those familiar with the group won't be surprised. A similar crowd funding campaign for "Esther" an anonymous Jewish activist (who we speculate is Naomi Wimborne Idrissi) has only succeeded in raising £6,000 out of its target of £30,000. Her appeal has been going for three months.

Perhaps even the most ardent of Corbynistas are tired of laying out for wealthy antisemites who don't think their cases are worth spending their own money on?

Just a thought.
Tom Tugendhat Tells Shami Chakrabarti She 'Only Got Her Peerage' for Covering Up Antisemitism
On this morning's PoliticsLive Tory Foreign Affairs Select Committee chairman Tom Tugendhat hit out at Baroness Chakrabarti's moral high ground hypocrisy. No holds barred, Tugendhat said:
"She only got her peerage because she cosied up and covered up antisemitism in the Labour Party"

Shami furiously denied the claims. Worth watching the frank exchange in full…
Richard Kemp:
Educational Ethnic Cleansing
"The goal is achieved! No more Jews at German universities," the leading Nazi student newspaper, Die Bewegung, triumphantly proclaimed in 1938.

Of course, nothing like it could ever happen again. Except something like it is happening again — now, and in Britain. According to a report published this week by David Collier, a British researcher, some UK universities are now virtually Judenfrei: free of Jews.

This is a chilling indictment not just of British academia but of a liberal democratic society that has tolerated, often through ignorance or complacency, a wave of discrimination against Jews that has swept through the universities over recent decades. From these halls of learning antisemitism has spread out, driving and empowering what is now a solid movement that threatens Jews in various parts of society and has led to many of them leaving. This is not just in Britain. Collier characterises academia as "the epicentre of global antisemitism".

This Jew-hate is cloaked in anti-Zionism, a doctrine that claims the Jewish state, alone among the nations, has no right to exist. It seeks to whip up anti-Israel hatred by focusing on three core lies: accusations of apartheid, ethnic cleansing and settler-colonialism.

As Jewish students and professors were hounded out and eventually banned from universities and high schools by German state edict, today in Britain anti-Zionist academics and the students they influence have created an environment that alienates many Jews, by using the pretext of their support for the Jewish state. Of course, not every Jewish student supports Israel and very few are uncritical, as with their own country. Nevertheless, Collier says:
"Jewish people today on campus can be tolerated, protected or abused. At no point are they treated as equals. The best they can hope for is protection and tolerance in a hostile environment. On the campus the prevailing wisdom is that their beliefs in Jewish identity are fundamentally wrong."

Specifically, Jews are grotesquely branded as members of a race that has no place in the land of Israel, but is a "white" colonialist occupier and oppressor of the indigenous peoples.
Florida State University Student Senate to Vote on BDS Resolution
Florida State University's student senate is scheduled to vote on a resolution on Wednesday that calls on the university to divest from companies that do business in Israel.

The BDS resolution calls on "FSU trustees to review their investments and to divest from companies that violate international humanitarian law," calling out Caterpillar, Hewlett-Packard and UK-based multinational security services company G4S as examples.

FSU spokesperson Dennis Schnittker told JNS on Tuesday that while the university "supports freedom of expression, it does not tolerate discrimination of any kind."

He said the student government "does not have oversight authority over the university or the FSU Foundation," whose board of trustees "has a fiduciary responsibility to manage its endowment consistent with the university's mission and independent of any outside influence. The foundation meets that obligation by investing endowment resources diversely with private fund managers, and not directly with companies."

Schnittker also noted that were the resolution to pass, "it would be advisory and non-binding on the foundation."

Over the past year, the university has experienced both positive and negative developments surrounding antisemitism.
"We live in a time of rising antisemitism and terrorist attacks, which makes our responsibility as faith leaders greater, and even greater as Imams."
Yet @jstreetdotorg @IfNotNowOrg and other lefty Jewish orgs see it fit to reject it. The sheer irony.https://t.co/lPif56jjRP

— Claire (@ClaireRedacted) January 19, 2021
Senior Resolution Specialist Omar Al-Sawass has a twisted problem with Israel's Holocaust museum: "Dude, yad vashem are zionists, hence they suck."https://t.co/FT8IrII1Vv pic.twitter.com/zyhyP31xIC

— Canary Mission (@canarymission) January 20, 2021
Is B'Tselem Israel's 'Leading Human Rights Organization'?
If the criteria for gauging success of a human rights organization is advancing human rights, then B'Tselem comes up woefully short. Progress in improving human rights in Israel and the West Bank is a legal battle waged in the Knesset and the courts, and in recent years B'Tselem has zero presence, activity and accomplishments in these areas. Tellingly, B'Tselem's 2019 Activity Report mentions no action taken in the Knesset or courts.

Also striking is the fact that the organization's 37-strong staff belong to a variety of departments: research (two staffers), data coordination (five staffers), field research department (12 staffers), public outreach department (nine), international relations department (three), administration department (six). Yet B'Tselem's staff list does not indicate that the organization employs a single lawyer. B'Tselem has no legal department or advisor listed, despite the fact that it is within the world of law that the human rights struggle is waged.

The lack of a legal department raises questions about B'Tselem's research and publications. How does the organization issue reports on international law without a dedicated legal team? The term "apartheid," central to the eponymous new "This is Apartheid" report, is a legal term. What legal expertise does B'Tselem possess enabling it to expand the definition to apply to Israel and the Palestinian territories? On the international level of advancing human rights, the battle is waged at the United Nations Council on Human Rights in Geneva, and B'Tselem is absent from that key venue as well. A number of Israeli human rights organizations submitted briefs to the 2019 International Convention for the Elimination For All Forms of Racial Discrimination, the premier international mechanism for ensuring Israel's compliance with human rights law. It is precisely the relevant forum for the issues that B'Tselem purports to address. The Israeli organizations that provided material for the important event included Adalah – The Legal Center for Minority Rights in Israel, Hotline for Refugees in Migrants, Israel Religious Action Center, Israeli Committee Against House Demolition, Negev Coexistence Forum for Civil Equality, and NGO Monitor. Nor did B'Tselem contribute to the 2018 Universal Periodic Review on Israel. (Adalah did.) Where was B'Tselem, allegedly the "leading human rights organization" in these critical forums?

With no activity in the Knesset, in the Israeli courts or at the Council on Human Rights, B'Tselem's accomplishments are limited to social media visibility, mainstream media coverage, field trips, publications, reports, freedom of information requests (how many were actually successful?), and community events, as detailed in the organization's 2019 activity report.
Powerful! Arab-Israeli & CEO of Together-Vouch for Each Other @YosephHaddad
has strong words for those who call Israel an "apartheid" state.
"To compare Israel to an apartheid regime is not only a distorted lie but an insult to all..South Africans who..lived through apartheid." pic.twitter.com/CD7NmCK3dp

— Teddy Mcnabb (@McnabbTeddy) January 20, 2021
BBC News website continues to promote unhelpful JCPOA graphic
Over the past fourteen months, several BBC News website articles relating to the topic of Iran's nuclear programme have included a graphic titled "Changes agreed under Iran deal to limit nuclear programme".

That illustration was most recently found in an article by BBC security correspondent Frank Gardner which appeared on the BBC News website on January 19th under the headline "Why Iran's nuclear facilities are still vulnerable to attack".

As has been the case on previous occasions (see 'related articles' below for some examples), insufficient effort was made to clarify to readers that the illustration does not reflect the reality of the current situation.

While the illustration tells readers that "changes agreed" under the JCPOA included Fordo being "converted from fuel enrichment to technology centre", they are not informed that Iran did not comply with that requirement – as the BBC presumably knows because it reported the IAEA's statement concerning uranium enrichment at that site earlier this month. Neither are readers of this article given any information about construction and development projects at two of the other sites named on the map – Arak and Natanz.

The provision of a graphic listing "changes agreed" years ago is clearly of little value if no mention is made of breaches of those agreements such as the one which prompted three of the parties that negotiated the JCPOA agreement to recently issue a joint statement – which went unmentioned by Gardner – describing themselves as "deeply concerned" by "potentially grave military implications".
Editors quickly upheld our complaint and revised the sentence: pic.twitter.com/gRawgxOZjS

— CAMERA UK (formerly UK Media Watch and BBC Watch) (@CAMERAorgUK) January 14, 2021
Author accused of antisemitism set to be Holocaust memorial speaker
The national commemoration committee of the Netherlands named as its keynote speaker a Muslim author who has called Gaza a "ghetto" and is accused of making anti-Semitic statements about Dutch Jews. The National 4 and 5 May Committee made the announcement Monday of Abdelkader Benali to deliver the annual address at the main memorial ceremony this year in Amsterdam on May 4, the date when the Dutch nation remembers its fallen soldiers and victims of Nazism, including 102,000 Dutch Jews. The king and other dignitaries attend the event.

According to a 2010 article published in the HP de Tijd weekly by Harald Doornbos, one of the Netherlands' best-known war correspondents, Benali went on an antisemitic rant in July 2006 in Beirut, Lebanon, during a conversation they had at a party.

"Benali let loose," wrote Doornbos, a former reporter for the NOS national broadcaster and a correspondent who specialized in the Muslim world. Doornbos quoted Benali as having said that southern Amsterdam "is full of Jews. And that's annoying that there are so many of them. Amsterdam Jews. Makes you feel uneasy as a Moroccan. It looks like Israel. So many Jews, it just feels crazy."

Benali, who was born in Morocco, called Gaza a "ghetto" in a 2009 op-ed in the Volkskrant daily. Comparing Israel's actions to those of the Nazis is a form of anti-Semitic hate speech, according to the EU working definition of antisemitism. The committee nor Benali and his agent immediately replied to requests for comment by the Jewish Telegraphic Agency.
German Police Investigation Into Antisemitic Assault During Elite Fraternity Party Delayed by Defense Lawyers
A German police investigation into a brutal antisemitic attack that took place at an elite college fraternity party last year has been extended into February, the public prosecutor in the case announced on Wednesday.

A spokesperson for the public prosecutor in the city of Heidelberg told the German news agency dpa that because of new statements from lawyers acting on behalf of the ten accused assailants — nine men and one woman — the police investigation would not be concluded before the middle of February "at the earliest."

The assault on a 25-year-old Jewish student took place last August at a party hosted by the elite Normannia fraternity at Heidelberg University.

A complaint filed by the student charged that when his Jewish ancestry came up in conversation during the Aug. 29 party, he was regaled with antisemitic insults, and several guests pelted him with coins and whipped him on his legs and back using belts.

Media coverage of the attack in Germany noted that German and Austrian fraternities, called Burschenschaften, are known for their nationalist leanings, with the Heidelberg chapter of Normannia sitting on the far right of the political spectrum.

While the fraternity's board later apologized for the antisemitic assault, several observers argued that the fraternity was simply covering its tracks.
How Ordinary Women Became SS Torturers in Nazi Camps
Polish Holocaust scholars on trial for suggesting mayor helped kill 22 Jews
Two well-known Polish Holocaust historians are on trial for alleged defamation over their claim that the late mayor of a town near Warsaw who saved one Jewish woman was involved in the murder of 22 other Jews.

Jan Grabowski and Barbara Engelking were sued last year in civil court by a niece of the mayor for what they wrote about him in their 2018 book "Night Without an End," about Polish collaboration. Their trial opened on January 12, the OKO news site reported Saturday.

The late mayor, Edward Malinowski, was acquitted in a trial after World War II of collaborating with Nazis in the town of Malinowo, which he headed and which is located about 70 miles northwest of Warsaw.

During the trial, the issue of the 22 murdered Jews arose. But a Jewish woman he saved, allegedly in exchange for payment, Estera Siemiatycka, testified in favor of the mayor, and he was acquitted.

In their book, Grabowski and Engelking revisit those charges, writing that in 1944, "It was said in the village that a group of 22 Jews was hiding in a nearby forest, had been betrayed by Poles and murdered by the Germans. It was said that the mayor of Malinowski was involved in this."

Asked by OKO whether it was certain that the mayor was involved in the murders, Engelking said it was not certain. "I didn't write that I thought he had betrayed the Jews. I reported on the witness's opinion," she said.
Startup hopes life-saving kidney monitor will hit US hospitals this year
Serenno Medical, a developer of medical devices for hospitalized patients, said Wednesday that Israel's Elcam Medical, a producer of medical devices, has invested $1.5 million in the company and will also manufacture the startup's urine monitoring device.

Serenno, based in Yokne'am Illit, Israel, has developed an output and intra-abdominal pressure digital monitoring device for the detection of acute kidney injury (AKI).

The company said that its Sentinel device offers a "simple and cost-effective solution" for precise, continuous measurement of urine volume and flow rate in real time. The system promotes early detection of kidney injury by detecting small changes in kidney function. This allows remote detection by medical staff, allowing for intervention to prevent further damage.

Continuous kidney function assessment allows the early detection of AKI, a common condition in hospitalized patients that significantly increases risk of mortality during and after hospitalization. Accurate measurement of urine output (UO) is clinically accepted as the best method for monitoring changes in kidney function. UO is currently monitored intermittently and manually by ICU staff, so acute changes in urine flow are difficult to detect. Thus, kidney injury is often detected relatively late, sometimes too late to prevent further progression.

Acute kidney injury often afflicts patients hospitalized with COVID-19, the illness caused by the coronavirus. The hands-free non-invasive Sentinel device allows medical personnel to reduce their exposure to patients yet allows them to be alerted to conditions that require immediate attention, the company said.
Ancient 'Christ, born of Mary' inscription unearthed in northern Israel
A 1,500-year-old Greek inscription bearing the name "Christ, born of Mary" was unearthed in northern Israel, the Antiquities Authority announced on Wednesday.

The archaeologists discovered the inscription engraved at the entrance of an impressive building from the Byzantine or early Islamic period, featuring mosaic pavements decorated with a geometric design.

The finding was unveiled in a salvage excavation directed by Tzachi Lang and Kojan Haku ahead of the construction of a road inside the village of Taiba in the Jezreel Valley.

"We did not know what to expect ahead of the work, but we knew that this was an area where archaeological remains had been found. When we came across the inscription, we knew we had a church," Antiquities Authority (IAA) archaeologist Yardenna Alexandre told The Jerusalem Post.

According to the law in Israel, a salvage excavation must be conducted prior to any construction project. People from local communities are usually invited to take part in the projects, according to a consolidated policy by the IAA to foster interest in archaeology and the country's heritage.

"Christ born of Mary. This work of the most God-fearing and pious bishop [Theodo]sius and the miserable Th[omas] was built from the foundation. Whoever enters should pray for them," reads the full inscription, according to Dr. Leah Di Segni, researcher at the Institute of Archaeology of the Hebrew University of Jerusalem.
Chris Froome tries out his Hebrew in new Israeli cycling team video
Team Israel Start-Up Nation put its 2021 season into motion with a lighthearted two-minute video showing newest team member Chris Froome trying out his new Hebrew phrases and scooping up hummus with pita like a pro.

Froome, a British four-time Tour de France winner, signed with the Israeli team last August.

Froome's teammate, Israeli rider Guy Sagiv, also appears in the video, which follows the two riders on their respective training rides via a split screen.

The action is interspersed with Froome using everyday Israeli phrases such as "yalla" (let's go) and "sababa" (amazing, cool). The video culminates with the two riders finishing their ride and enjoying a plate of Israel's popular chickpea dip, hummus.

The video was released ahead of a 10-day pre-season intensive training camp near Girona, Spain, some of which Froome will attend via satellite as he continues his training and post-injury rehab in California before returning to Europe to join the team's racing program.
Israel, UAE give wing to preservation of rare desert bird
The Abraham Accords recently signed between Israel and the United Arab Emirates are good news not only for the people of the region, but also for its birds.

More specifically, for an endangered houbara bustard for which conservationists on both sides of the Middle East are now joining hands to preserve.

Houbaras of different kinds reside in the area stretching from Mongolia to the Canary Islands. In Israel, their population numbers only 400, but that does not diminish their importance – they're an iconic desert bird and flagship species whose existence is telling of the state of their ecosystem.

"They're an environmental indicator. They mean that a wide variety of animals, from insects and plants to little mammals and reptiles, exist in the system," explains Ohad Hatzofeh, the Israel Nature and Parks Authority's avian ecologist.

"Mankind, with its technology and its ability to reach everywhere, has been hunting them, hurting them and harming their habitat, and there's a global effort to preserve them both as a group and this specific species, the houbara bustards," Hatzofeh says.
---
---