(Based on a Monday Twitter thread)
The lies of @btselem are so egregious.
Here are some screenshots from their position paper that pretends to prove that Israel is an apartheid state. Their arguments are not only weak – they are self-contradictory.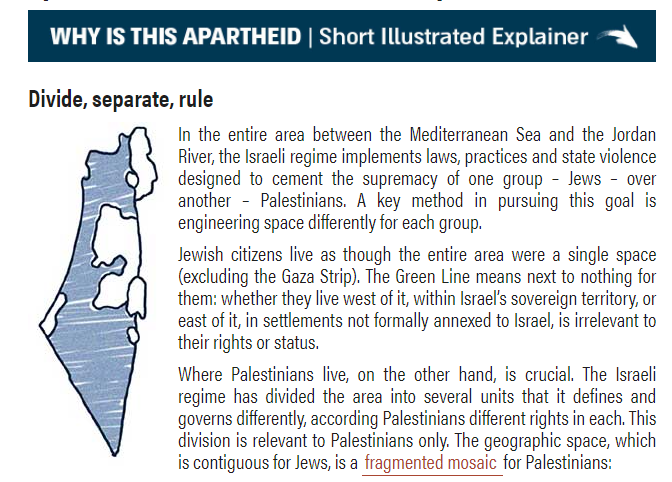 Jews cannot travel to Area A. Or Area B. Or Gaza. And severe limitations on the Temple Mount. So by B'Tselem's definition, Jews are the ones under apartheid.
In fact, the only people who can freely travel to all areas of the West Bank and Israel are Arabs in Jerusalem, who have far more freedom of movement than Jews do.

If nations giving preference to their own national group over others is apartheid, then most European countries are apartheid. Every Arab country is apartheid. Armenia, Ireland, Japan – all these nations have preferential immigration policies for people who share the ethnicity of the majority of the nation.
Worse, though, is that B'Tselem  ignores why Israel has a Law of Return. it must be nice to think that 2000 years of antisemitism has disappeared, and that Nazi Germany's Jew-hatred isn't worth remembering anymore, but the Jewish people are a nation and they have been pushed out of many countries over history.
B'Tselem, instead of acknowledging antisemitism, is hell-bent on perpetuating it.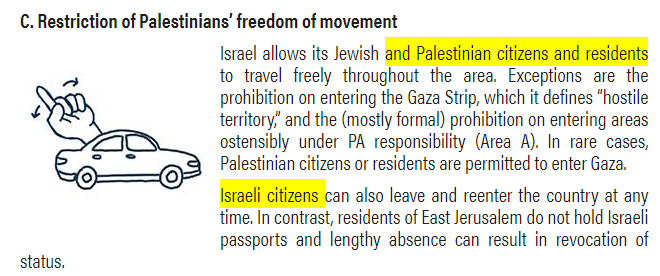 If even B'Tselem admits that Israeli Jews and Arabs have the same freedom of movement - in fact, Israeli Arabs have MORE - then where is the apartheid and "Jewish supremacy"?
Answer: Even B'Tselem knows this is a sham. .

So Israeli Arabs have full political rights. Doesn't that completely destroy the entire "apartheid" argument?
There is some racism in Israel. Just like in the rest of the world. If that is apartheid, then the word loses all meaning.
B'Tselem knows this. Their entire argument is hand-waving, and nothing that relates to real apartheid. They want to demonize Israel, not fight for human rights, because they can raise more funds from modern antisemites than anyone else. And when antisemites pay your salary, over the years you tend to agree with them.