From Ian:
Elder of Ziyon:
Martin Luther King Proves Palestinian Intellectuals Never Cared About Human Rights
Historian and scholar Martin Kramer writes:
Not a year goes by without an attempt by someone to associate the name of Martin Luther King, Jr. with the Palestinian cause. It's particularly striking because while he lived, no one had much doubt about where he stood. Here, for example, is the late Edward Said, foremost Palestinian thinker of his day, in a 1993 interview:

With the emergence of the civil rights movement in the middle '60s – and particularly in '66-'67 – I was very soon turned off by Martin Luther King, who revealed himself to be a tremendous Zionist, and who always used to speak very warmly in support of Israel, particularly in '67, after the war.

Kramer goes on to show how King was an unabashed Zionist even though today the anti-Israel crowd tries to steal his legacy.

The Edward Said quote is fascinating, though. It seems to indicate that all of the good King did – all of the progress he made towards equal rights for all people – is worthless to Said because of this one position. Never mind that King's position of support for Israel is entirely in line with his support for equal rights for all; after all, King saw the justice of having a Jewish state which in fact allowed Jews to be considered equals with other peoples in the world. But to Said, all of MLK's legacy seems to be worthless because of his Zionism.

Further reading into Said's writings show that this is in fact consistent. He addresses King briefly again in his memoirs, where he says:
Eleanor Roosevelt revolted me in her avid support for the Jewish state; despite her much-vaunted, even advertised, humanity I could never forgive her for her inability to spare the tiniest bit of it for our refugees. The same was true later for Martin Luther King, whom I had genuinely admired but was also unable to fathom (or forgive) for the warmth of his passion for Israel's victory during the 1967 war. (141)

Said didn't just disagree with these icons of human rights. He was revolted by them if they also were sympathetic to Jews and Jewish aspirations to self-determination.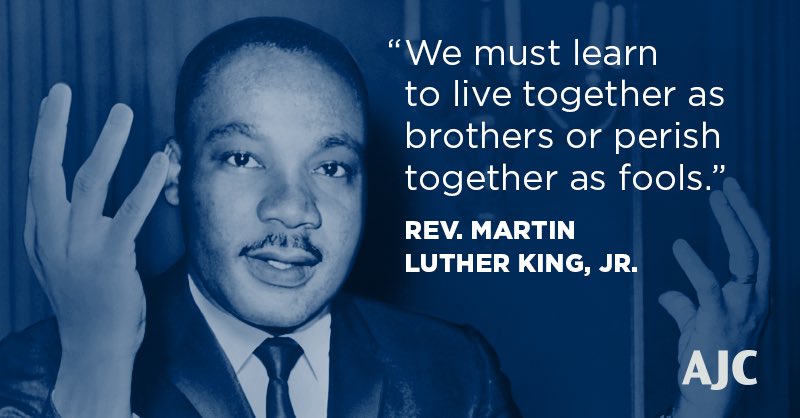 Dr. King's Clarion Call for Soviet Jewish Freedom Remembered on MLK Day
A 1966 speech by Dr. Martin Luther King Jr. urging justice for the persecuted Jewish communities in the USSR has been reissued to mark the annual US holiday honoring the civil rights leader, who was tragically murdered in 1968.

The speech by Dr. King was delivered to the American Jewish Conference on Soviet Jewry on what was billed as a "nationwide telephone hook-up" on Dec. 11, 1966.

On Monday, the National Coalition Supporting Eurasian Jewry (NCSEJ) — a US NGO supporting Jewish communities in the former Soviet Union — distributed the speech online in honor of Dr. Martin Luther King Day.

Opening his remarks with a famous John Donne quotation — "No man is an island entire of himself" — King said that these words affirmed "the interdependence and interrelatedness of mankind … particularly when we think of the plight of three million Jews in the Soviet Union."

"Jewish communal rights are deprived by the Soviet government of elementary needs to sustain even a modest level of existence and growth," King said.

King noted that while "Jews in Russia may not be physically murdered as they were in Nazi Germany, they are facing every day a kind of spiritual and cultural genocide."

He argued that African-Americans could "well understand and sympathize with" the plight of Soviet Jews.
The naked pleading for domestic surveillance + censorship is breathtaking. The man manages to keep a straight face while drawing direct comparisons to 9/11.

How could this end badly? One timely example: America's domestic surveillance apparatus was once directed at ppl like MLK. https://t.co/p59ZMGxIRC

— Kmele (@kmele) January 18, 2021
Anti-Semitic propaganda is not news
Accusing democratic Israel of committing "apartheid" against its Arab community, which enjoys full equality under the law and has been seeing an unprecedented rise in the number of working women (up 5%) and students in universities (up from 10% to 18%), while being highly represented among the country's doctors (17%) and pharmacists (47%), is patently absurd.

Finally, CNN echoes the outrageous position that Israel's identity as the homeland of the Jewish people, guaranteeing a Jewish majority and encouraging the "ingathering of exiles," should be considered racism. This reflects an attempt to apply globalist and racialist theories to the Israeli-Palestinian conflict, fundamentally considering the world as an ethnic struggle between "oppressors" and "oppressed," and rejecting the very concept of religious and national identity – yet only when it comes to Jews.

B'Tselem attempts here to fawn on world progressive movements, creating an artificial parallel to the common trope of "white supremacy," by considering the Jewish affinity to Israel a form of "Jewish superiority."

The recent example of this "fashion" on social media to refer to "Jewish privilege" as a parallel to "white privilege" proves how anti-Semitic sentiments traditionally and still apply to these groups' credo. This is not only an insult to the historic yearning of Jews worldwide, but also to Israel's recognition and endorsement by the international community – in the 1920 San Remo Conference, in the 1947 Partition Plan, preceding Israel's foundation a year later, and on countless other occasions.

It is regretful that CNN has chosen to cooperate with the attempt to subvert Israel's very existence. Far from covering news, it cherishes distortions.

Israel is not an identity-free immigration hub; it has always been intrinsically bonded with Judaism as an inseparable part of Jewish existence while preserving equality under the law of all of its citizens, as is stated in its Declaration of Independence.
Congresswoman Rashida Tlaib Calls Israel a 'Racist State,' Spreads False Claims on Vaccinating Palestinians
US Congresswoman Rashida Tlaib (D-MI) called Israel a "racist state" in an interview Tuesday with the left-wing news program Democracy Now!, and falsely claimed that it was denying coronavirus vaccines to Palestinians.

"I think it's really important to understand Israel is a racist state and that they would deny Palestinians, like my grandmother, access to a vaccine, that they don't believe that she's an equal human being that deserves to live, deserves to be able to be protected by this global pandemic," Rep. Tlaib said in the interview with program host Amy Goodman.

Jewish groups have criticized recent claims that Israel is preventing COVID-19 vaccines from reaching Palestinians in the West Bank and Gaza, noting that the authority to acquire and distribute them belongs to the Palestinian Authority. Last month, the Palestinian health ministry approved a Russian vaccine against the coronavirus, and is expected to receive shipments of the shot next month.

"They have the power to distribute that vaccine to the Palestinian people, their own neighbors, again, feet away from where they live, many of which, again, could expose them and their family," Tlaib continued. "If anything, it just reiterates what the Palestinian people and even human rights groups have been telling us, is that this is an apartheid state."

"Will anyone on the Left condemn this phony attack on Israel?", tweeted Richard Grenell, a former US Ambassador to Germany and Acting Director of National Intelligence who is now a special US envoy to Serbia and Kosovo.
Israeli citizens of any background get vaccinated, including Arabs. Perhaps she should direct her vitriol towards the Palestinian Authority, who are the state responsible for vaccinating Palestinians. https://t.co/0VezCTBcLT

— Farbrook (@dutchindian) January 19, 2021
Spanish Court Exonerates BDS Activists Who Forced Reggae Festival's Boycott of 'Zionist Artist' Matisyahu of Antisemitism Charges
A court in Spain on Monday dismissed charges of antisemitism against a group of activists whose anti-Zionist campaign against US Jewish hip hop artist Matisyahu forced the temporary cancellation of the performer's planned concert at a Spanish reggae festival in August 2015.

The provisional court in the city of Valencia upheld the appeals of the eight activists accused of antisemitic discrimination that resulted in Matisyahu's removal from the bill at the Rototom Reggae Festival in Benicàssim, Spain's national news agency EFE reported.

The decision to cancel the 2015 show was reversed after criticism, and Matisyahu ultimately performed.

The court Monday endorsed the argument made by the activists that they had not "discriminated against [Matisyahu] because he is Jewish but because of his alleged affinity with the policy of the State of Israel — that is to say, the apartheid Zionist political ideology is criticized, not religion."

The court's decision exonerating the activists of antisemitism could still be appealed. At the end of 2020, Spain's Higher Court of Justice rejected an appeal from the city of Cadiz to resume its municipal campaign in support of the BDS campaign targeting the Jewish state.

Anti-Zionist activists in Spain took to social media to welcome the Valencia court's decision.
Georgia Tech Embraces IHRA Definition of Antisemitism After Hillel Director Barred From 'Palestine 101' Event
One year after allegations that the Georgia Institute of Technology (Georgia Tech) had refused to protect the civil rights of Jewish students and faculty on campus, the university has reached an agreement with the complainant and has adopted the leading definition of antisemitism.

The American Center for Law and Justice (ACLJ), on behalf of Hillels of Georgia, had asked the US Department of Education to investigate whether Lauren Blazofsky, then the Georgia Tech Hillel director, was barred from a "Palestine 101" event because she was Jewish.

"Georgia Tech is pleased to announce that the parties have reached an agreement and the case is now closed," the university said Tuesday morning. "We are committed to fostering thoughtful interaction, global perspective, and intercultural sensitivity, and we maintain a strong equal opportunity, nondiscrimination, and anti-harassment policy that applies to every member of the Institute community."

"Anti-Semitism and any other forms of discrimination are not acceptable," it continued, accepting the working definition of antisemitism of the International Holocaust Remembrance Alliance (IHRA).

"I am pleased with the outcome as it drives us toward a direction in which students can feel safe and protected on campus," said Blazofsky, who is now Associate Director of Hillel at Emory University, to The Algemeiner. "Our goal all along was to ensure that Jewish students, along with any student on campus can rely on GT to protect them when faced with antisemitism or discrimination. We are happy to see that the University has recognized the IHRA definition of antisemitism, as it propels us to work together moving forward to educate the community about all forms of modern antisemitism."
You can't address a problem w/out defining it. @TheIHRA exposes & addresses double standards - the unequal application of laws & #HumanRights.

Those who have a problem with it undermine the mandate to uphold, promote & protect, to the detriment of all.https://t.co/Yry7aRKCpT pic.twitter.com/lrjxcST9aU

— מיכל קוטלר-וונש | Michal Cotler-Wunsh (@CotlerWunsh) January 18, 2021
"Zionist Brain" Professor at University of California Merced will not teach upcoming semester
A professor at the University of California Merced will not be teaching in the upcoming semester after he was revealed to have allegedly posted antisemitic tweets.

Prof. Abbas Ghassemi, who teaches engineering at UC Merced, will not be teaching in the upcoming Spring semester, according to reports.

Prof. Ghassemi has deleted a Twitter account, dating from July 2019, from which he allegedly tweeted a drawing labelled "the Zionist Brain" that divided an image of a brain into sections that used antisemitic tropes such as avarice and "world domination". Other areas of the brain were labelled "land usurpation" and "compulsive-lying". The same image has been seen on a website dedicated to peddling antisemitic conspiracy theories.

Other tweets included wording such as "Surprise, surprise!! The entire system in America is controlled by [the] Zionist. Change of president is just a surface polish, change of veneer. Same trash different pile!" and "the Zionists and IsraHell interest have embedded themselves in every component of the American system, media, banking, policy, commerce…just a veneer of serving US interest and population – everyone pretends that is the case."
U of California, Riverside prof says Zionism 'politically toxified our schools'
A University of California, Riverside professor who wrote recently that Zionism "politically toxified our schools" said that outrage by Jewish groups over his remark proves it's accurate.

Dylan Rodriguez, a media and cultural studies professor at the university and the current president of the American Studies Association, a group that promotes research on culture and history, wrote about Zionism on Twitter on January 12.

"A number of Zionist organizations want to convince us that Arab American Studies is 'anti-semitic.' This is not only intellectually insulting but is also an inherently racist position," he also wrote in the tweet about anti-Israel vitriol and Arab-American studies.

The Anti-Defamation League's Los Angeles deputy director, Ariella Lowenstein, told the Jewish Journal of Los Angeles in a statement about Rodriguez's statement that "Jewish self-determination is a right enshrined in international law, not a toxic subject to be avoided."

Rabbi Abraham Cooper, associate dean of the Simon Wiesenthal Center, told the paper that Rodriguez's remarks were part of a broader push in academia to "demonize Zionism" and tell Jews that they have to leave behind their Zionism if they want to engage in social justice issues.

StopAntisemitism.org, a watchdog website, called the Rodriguez tweet anti-Semitic.
WHO IS THIS GIRL 🔥🔥🔥
Every single word 👇 pic.twitter.com/cm3gWpfk7z

— Hen Mazzig (@HenMazzig) January 18, 2021
"But what about Palestine?"

By @jesterjacobs and additional lyrics by @leekern13pic.twitter.com/0P6b6AigTl

— The Mossad: Zionists and Loving It (@TheMossadIL) January 18, 2021
Guardian corrects claim that UN report accused Israel of apartheid
Though we've been posting about the Guardian's shameful promotion of a report by the NGO B'Tselem, smearing Israel with the false charge of apartheid, their coverage also included an article by their Jerusalem correspondent that contained a clear factual error.

Here's the relevant sentence from the article ("Israel is a non-democratic apartheid regime, says rights group", Jan. 12):
In 2017, the UN Economic and Social Commission for Western Asia became the first UN body to accuse Israel of apartheid, a crime under international law…

As we pointed out to Guardian editors, that report, accusing Israel of apartheid, was withdrawn by the UN shortly after it was published and removed from their website. The official responsible for its initial publication also resigned.

The Guardian editor upheld our complaint, and added this new sentence concerning the UN report:
The UN's leadership did not support the publication of the report, which was later removed from its website. The following addendum was added below the article:
Farcical @Reuters video cites a UN report from 2013 blaming Israel for the fact that many Bedouin do not have access to internet.

Or maybe it's because they are Bedouin, and choose to live a nomadic lifestyle? Just a thought. pic.twitter.com/9R3xRo6j0w

— HonestReporting (@HonestReporting) January 19, 2021
On Vaccines for Palestinian Prisoners, AFP Attributes Bogus Quote to Minister Ohana
In three separate English-language articles over the past two days, Agence France Presse has falsely alleged that Israel's Public Security Minister Amir Ohana "said Palestinian prisoners would be the last to get inoculated" with the coronavirus vaccine. For example, the Jan. 17 article entitled "Israel Prison Service to vaccinate Palestinian inmates" states:
But the Jewish state faced harsh criticism when Public Security Minister Amir Ohana said Palestinian prisoners would be the last to get inoculated.

Israel's Attorney General Avichai Mandelblit wrote to Ohana condemning the comment as "tainted with illegality", Israel's Ma'ariv newspaper reported.

Similarly, the article headlined "Global vaccine headline gains pace as Brazil approves jabs" errs:


In Israel, the prison service said it would begin vaccinating all inmates, following an outcry over an announcement from Public Security Minister Amir Ohana that Palestinian prisoners would be the last to get inoculated.

But Ohana never said that Palestinian prisoners would be the last to get inoculated. In late December, he said that prison staff would receive the vaccine but at that stage prisoners would not receive the vaccine. His Dec. 28 statement reads (CAMERA's translation):
The Minister of Public Security Amir Ohana directed the Israel Prison Services on Dec. 24, 2020 that only staff will receive the coronavirus vaccine; vaccination of prisoners will not take place without permission and only in accordance with guidelines for advancing vaccination which apply to the general population.

His directive didn't specify Palestinian prisoners. He referred to all prisoners. And he never said "last"; he said that they would not receive the vaccine at that point.
BBC's 'Dateline London' promotes Oslo Accords healthcare falsehood
The January 16th edition of 'Dateline London' – aired on the BBC News channel and the BBC World News channel – included a discussion concerning Israel's vaccination programme against Covid-19 and its potential effect on the upcoming election.

After the first part of the discussion, presenter Shaun Ley asked guest journalist Jonathan Sacerdoti the following question:
Ley [13:42]: "What about the Palestinians? Because healthcare is delegated to the PA and – to the Palestinian Authority – as far as the West Bank and Gaza but the Oslo Accords are very clear that in a crisis healthcare is ultimately the responsibility of the Israeli government."

The part of the 1995 Oslo II agreement relating to health (Article 17) says nothing of the kind and healthcare for Palestinians is not "delegated" to the PA: the first clause of that article clearly states that "Powers and responsibilities in the sphere of Health in the West Bank and the Gaza Strip will be transferred to the Palestinian side, including the health insurance system".
New Zealand's The Daily Blog publishes antisemitic cartoon three times
The Daily Blog, a far-left website in New Zealand, has shared an antisemitic cartoon three times.

The image depicts Zionism as a virus – reminiscent of the age-old antisemitic trope that Jews spread disease, which has received new life during the coronavirus pandemic – and features an "S" in a font widely associated with the Nazi "SS". According to the International Definition of Antisemitism, "Drawing comparisons of contemporary Israeli policy to that of the Nazis" is an example of antisemitism.

The first of the three articles to which the cartoon was attached – back in November – was titled the "crucifixion of Jeremy Corbyn", a further offensive allusion. The two more recent articles are from earlier this month.

The Daily Blog describes itself as uniting "Top Left-Wing Political Commentators and Progressive Opinion Shapers". It launched in 2013 and its editor is Martyn Bradbury. Sitting outside of the mainstream media landscape, it is not believed to have a large following.

This cartoon was apparently drawn by the notorious cartoonist Malcolm Evans, who claims that he was sacked from his job at New Zealand's largest newspaper, The New Zealand Herald, in 2003, for refusing to stop drawing controversial cartoons about the Jewish state, although the newspaper's editor denied that this was the reason.
Starmer Recruits Israeli Intelligence Cyber-Warfare Veteran for Social Media Role
Keir Starmer's desire to win the next election is not in doubt, to help him he has hired a former Israeli Defence Force cyber-warfare intelligence officer to help his campaign. This is something of change of hiring policy for the Labour Party since Corbyn was laying wreaths for PLO terrorists.

Assaf Kaplan's background was revealed by The Electronic Intifada, website, exactly the kind of online operation that in his previous role Kaplan would have been countering. He worked in Unit 8200 – the Israeli military's equivalent of GCHQ – generally considered among the elite of the world's cyber-warfare operators. Kaplan later got some handy experience of politics from being the deputy head of the Israeli Labor Party's digital campaign in the April 2019 election. An election that saw the party collapse from holding 19 seats to 6…

The appointment of Kaplan as Labour's "Social Listening and Organising Manager" will, according to the job specification, see him "help to move the social media listening framework of the party to be laser-focused on those we need to win over to form the next government". Not unexpectedly, the appointment has predictably outraged the hard-left, particularly as it is claimed that Kaplan is going to be based in the Leader's office. On national security grounds alone, it will make a welcome change for that office to contain former agents of an allied power…
Shortlisted Lib Dem London Mayoral candidate expelled from Party over historic antisemitic incident
Geeta Sidhu-Robb, who last year was shortlisted as a Liberal Democrat candidate for the London mayoralty, has reportedly been expelled from the Party.

Ms Sidhu-Robb was revealed to have made antisemitic comments when she was a Conservative candidate in the 1997 General Election (she apologised for the comments at the time and again more recently when they re-emerged).

However, the Liberal Democrats' leader, Sir Ed Davey, said that the Party's vetting process was "completely flawed" and that he was "furious" when the incident resurfaced.

A disciplinary panel was reportedly convened and, after hearing evidence, apparently unanimously decided to uphold all the complaints.

Ms Sidhu-Robb reportedly said: "I have already publicly apologized for an act of momentary stupidity that took place 24 years ago under extreme provocation, but I am not a racist or antisemite and never have been, as anyone who knows me will attest. I find it deeply disappointing that a faction within the Liberal Democrats, who felt threatened by a fresh, engaging, female-centric approach to politics, have used this incident as a pretext to remove me from the party. However, I am now looking forward to focusing fully on my broader work, empowering a new generation of women to become strong, healthy, confident leaders by sharing the tools which have helped me during my career as an award-winning entrepreneur."
Greek Jewish Group Condemns Newspaper Cartoon 'Trivializing' Holocaust by Depicting Auschwitz Gates
A group representing Greek Jewish communities condemned on Monday an editorial cartoon published in a local newspaper that depicted universities as the Auschwitz concentration camp, using the phrase "studies make you free" above the infamous camp gates.

"It is a hideous and vulgar instrumentalization of the Holocaust for political purposes," said the Central Board of Jewish Communities in Greece in a statement, referring to the cartoon published in the Efimerida ton Syntakton newspaper.

"In any case, the newspaper's expressed respect towards the victims of the Holocaust and its firm position against antisemitism cannot be used as excuses for the publication of such cartoons that insult both the memory of the victims and the survivors alike, by trivializing the place of their martyrdom," the Athens-based group said.

"The Central Board of Jewish Communities in Greece, the Greek Jews, those of us who passed through the gate of Auschwitz, survived and are still alive, as well as the descendants of the victims, we will never stop denouncing every attempt to diminish and exploit Holocaust which leads to oblivion and the distortion of history," it added.

The World Jewish Congress shared the statement on Twitter, saying, "A cartoon in a Greek newspaper – depicting universities as Auschwitz with the phrase "Studies make you free" at the gate – is a vulgar instrumentalization of the #Holocaust. It insults the memory of the victims & survivors."
The U.S. has become the first country to adopt these terms to describe the Chinese Communist Party's gross human rights abuses in its far northwest. https://t.co/C8KDy7GrzX

— Axios (@axios) January 19, 2021
Revving up electric car industry, Israeli firm develops 5-minute-charge battery
Israeli company StoreDot announced Tuesday that in a landmark achievement in the electric vehicle industry, it had managed to develop the world's first car battery that can be fully charged in just five minutes.

However, the invention will take time to become commercially feasible since the ultra-fast charge would require much higher-power chargers than are currently available, The Guardian reported.

Electric cars, which are a major part of global attempts to tackle the climate crisis, have faced the challenge of batteries taking hours to fully charge, giving rise to "range anxiety" — the fear of a battery running out mid-journey and the driver getting stranded at a charging station.

But now, provided that charging stations undergo a major upgrade, which could take years, charging an electric car could become as quick as stopping to refuel a gas-run vehicle.

In June last year, the startup said it achieved a "world first" when it fully charged a two-wheeled electric vehicle in just five minutes, together with BP Ventures, the venture arm of the British multinational oil and gas firm BP plc, which has invested $20 million into the startup.

It has also demonstrated ultra-fast charging times for phones, drones and scooters.
Israel's Aquarius Engines signs deal with Honda affiliate
Aquarius Engines has signed a partnership deal with Honda affiliate Musashi Seimitsu to co-develop electricity generators for the automotive and telecommunications industry, the company announced Tuesday.

Aquarius Engines now plans to establish a subsidiary in Japan to broaden its global reach, collaborate on R&D and seek new strategic partners. The Israeli firm is looking to Tokyo to boost existing relationships and foster new ones – with an eye on adapting their patented linear free-piston engine to operate on hydrogen.

In recent years the Japanese government has invested in an ambitious policy to encourage research and development into the use of hydrogen as an energy source.

"We are proud to be deepening our partnership with Musashi Seimitsu and establishing strong roots within the Japanese automotive industry. Japan's global reputation as a leader in the automotive industry makes it fertile ground for Aquarius Engines to evolve and grow," said Gal Fridman, Chairman of Aquarius Engines.
7 years on, Tamar natural gas partners make 1st payment to national wealth fund
More than seven years after it started commercial production, the Tamar Partnership has paid its first installment into a sovereign wealth fund aimed at ensuring that some of the profits of Israel's natural gas bonanza are spent on strategic projects for the nation's benefit.

The partnership transferred some $15 million at the end of last year, the business daily Calcalist reported Monday, with a further $300 million expected to be paid during 2021, in monthly installments of $25 million.

Now that the payments have started, any future deals the partnership signs will only increase the amount that must be paid into the wealth fund.

On the basis of the idea that Israel's natural resources belong to all of its citizens, all of the gas companies drilling off the country's Mediterranean coast are supposed to pay the state 62% on their profits. This is called the government take and includes the wealth fund levy, as well as royalties and corporate taxes, which have been paid all along.

In 2012, an inter-ministerial committee headed by then chairman of the National Economic Council, Eugene Kandel, predicted that by 2018, the fund would amass more than NIS 1.5 billion (according to 2012 dollar-to-shekel exchange rates), exceeding the NIS 1 billion required for the fund to start operating.
Izabella Tabarovsky:
Remembering the Wonderful Petra Marquardt-Bigman
I will always be grateful to Twitter for having brought Petra Marquardt-Bigman into my life. It was there, on a platform that is frequently, and justifiably, maligned for promoting strife and conflict, that we first "met" and began to "talk" about things that mattered to both of us.

One day, I messaged her to tell her that I was on my way to Israel. Might she want to meet in person? She agreed right away.

We met at Café Suzanna, a Tel Aviv institution that occupies a good chunk of a block on Shalom Shabazi Street — a quaint and trendy street that runs toward the sea through the city's historic Neve Tzedek neighborhood. We met again the next day, and on my next trip to Israel, Petra invited me to spend a weekend at her apartment that sat at the top of one of the high-rises towering over the beaches of Bat Yam.

We went shopping at Bat Yam's commercial center, where Russian ladies set up shops filled with stylish clothes whose "Made in Italy" labels likely meant "Made in Turkey," and we giggled as I translated the saleswomen's gossip to her. Then we sat on the balcony drinking tea and listening to the sounds of the Israeli summer rising from below: waves lapping at the shore, lifeguards barking orders at feckless swimmers, and the rhythmic back-and-forth of the Matkot — a ubiquitous Israeli beach tennis game.

The clothes we bought that weekend are still with me, but Petra no longer is. In early October of last year, shortly after Israel's second national coronavirus shutdown ended, she went to the hospital to check out a back pain that had been getting worse. Within two weeks, she learned it was cancer. She died on Jan. 7 at the Tel-Hashomer hospital in Tel Aviv.

Those who followed Petra on social media knew her as a fearless defender of truth and accuracy in public discourse about Israel. She fought tirelessly against antisemitism that hid under the label of "anti-Zionism." Her commitment to the Jewish people was all the more remarkable given that she herself was not Jewish.
International Holocaust Remembrance Day is next week (27 January) - visit our special mini-site for resources for marking #HMD2021https://t.co/QD6KzYgjPw pic.twitter.com/WtxeLSlXO4

— Yad Vashem (@yadvashem) January 19, 2021
Next week will mark International #HolocaustRemembranceDay. Fanny Ben-Ami, a Holocaust survivor, will share her testimony at @UNGeneva's ceremony, so that her memories and those of all other victims of the Holocaust can be kept alive for generations to come!@yadvashem https://t.co/eqIwRvgNCq

— Israel in UN/Geneva🇮🇱 (@IsraelinGeneva) January 19, 2021
---
---