From Ian:
'Hunka belonged to a unit that did not commit crime': American news organisation Politico defends Canada for honouring a Nazi in its Parliament
On 2nd October, Politico published an op-ed by author Keir Giles defending Canada in the Yaroslav Hunka Controversy. Giles is the author of several books on Russia, including his latest one titled "Russia's War on Everybody". According to him, the Hunka controversy is an outcome of massive Russian propaganda. Giles called the whole controversy a lie; he argued that fighting against the USSR during World War II did not necessarily means that the unit was Nazi.

Giles noted that the outrage stemmed from Hunka's association with one of the Waffen-SS units. Waffen-SS, where SS stands for Schutzstaffel (Protective Echelon), were the black-uniformed elite troops who self-described themselves as the "political soldiers" of the Nazi Party. Hunka was part of the 14th Waffen Grenadier Division of the SS that, comprised Ukrainian volunteers.

Giles argued that the history of that time is complicated. As Hunka was in a unit comprised of foreign volunteers, they were, according to him, on administrative rather than ideological grounds. However, Giles said the contention is hard to sell to the audience who "believe" the main objective of the SS was genocide.

Citing several investigations, including the Nuremberg trials, Giles said the unit Hunka belonged to did not commit war crimes or atrocities. Targeting Russia, Giles claimed that Moscow "shouts" Nazis whenever they want despite their own history of aggression and atrocities during WWII. He further argued that Russians were never tried for the alleged "war crimes" they committed during WWII, unlike Nazis.

Giles further claimed that Friends of Simon Wiesenthal Center's statement that the atrocities committed by Hunka's unit are well-documented was false and "doesn't seem to have any more substance than the accusation by Russia".

Citing the 1986 Commission report on War Crimes by the Canadian government, Giles argued that famous Nazi hunter Simon Wiesenthal himself was found to have made broad accusations against the unit in question, and the commission found them "nearly totally useless" and "put the Canadian government to a considerable amount of purposeless work."
CBC Journalist Laments "Cruel" Spotlight Shone on Yaroslav Hunka, WW2 Nazi-Unit Veteran
The fallout from the Yaroslav Hunka affair continues. Following the September 22 standing ovation on Parliament Hill given to the 98-year-old veteran of the First Ukrainian Division, a unit affiliated with the Nazi Waffen-SS during World War Two, condemnations from politicians, human rights organizations and the news media have been swift and widespread, and calls have grown for more concrete action against Ukrainian Nazis and memorials in their honour.

But in one recent incident, a journalist with CBC News seemingly expressed sympathy for a surprising character in the scandal: Yaroslav Hunka, a volunteer collaborator of the SS.

In the September 27 broadcast on CBC News, producer and host Natasha Fatah was asking an interviewee about the fallout from the controversy on Parliament Hill, and made the eyebrow-raising comment that Yaroslav Hunka and his family must be feeling embarrassment as a result of his appearance.

"And now this horrible series of events have happened. (Speaker of the House Anthony) Rota has lost his job, the government is again fractured on an issue, and in the meantime, the Hunka family, this man in question, is now in international spotlight. What was his role? And this is a 98-year-old man who would likely not have wanted this type of attention, so what consideration needs to be given? Because the spotlight can be so cruel. How do we manage to make sure that guests that are invited are also protected," Fatah asked.Fatah's question, appearing to seek sympathy for a 98-year-old who voluntarily joined a Nazi unit which was responsible for crimes against humanity during the war, displays a shocking lack of self-awareness. The victims of the scandal in Ottawa were not House Speaker Anthony Rota, and certainly not Yaroslav Hunka, but the innocent victims who perished in the Nazi genocide, including 6 million Jews, Poles, and others.

As former Member of Parliament and current CEO of the Friends of Simon Wiesenthal Center, Michael Levitt, told CTV News: "The Nazi units, like the one he was involved with, did not give the victims of the Holocaust, the millions of them, Jews and others, an opportunity to live their lives, have children and grandchildren and live to be 98 years old.

"In a twist of sick irony, Fatah's comments came only two days before September 29, the beginning of the Babi Yar massacre in the Ukrainian capital of Kiev.

Over a two day period in 1941 beginning on that date, the Nazis and their Ukrainian allies brought 34,000 Jews to the Babi Yar ravine in Kiev, where they machine gunned them to death.

Almost unbelievably, Fatah's thoughtless comments were not the only ones made by journalists in recent days, expressing sympathy for Yaroslav Hunka.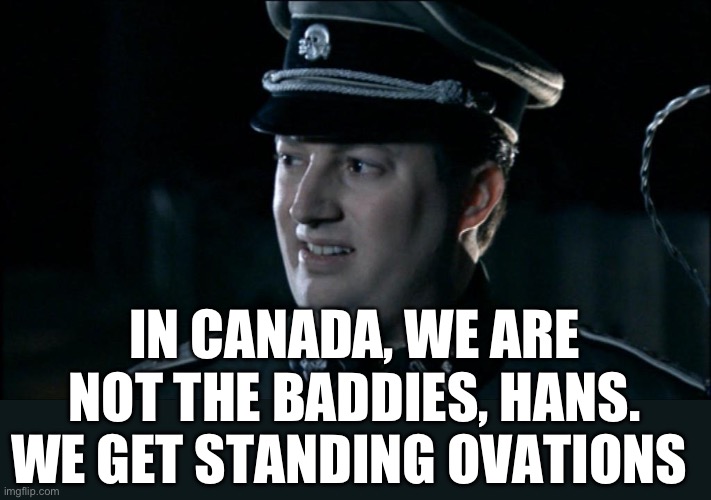 Lital Shemesh: International media is failing on Israel
Israeli Channel 14 news anchor Lital Shemesh visited Australia and was hosted by the "Outsiders" program on Sky News.

Shemesh said people are "not well informed on what is going on" and blamed media headlines for not getting the "true picture" of what is happening.

"We're dealing with a very hard year; in Israel, over 35 Israelis were murdered by Palestinian terrorists; it was actually the most lethal year since the second intifada," Shemesh told Sky News host Rowan Dean.

"The media is doing a really bad job in covering what is really happening in Israel; in the good case it will cover the story; in the worst case, it will completely change the narrative", she said, "It's just a shame, just a shame."

The Australian Jewish Association arranged the interview and hosted Shemesh for a speech with the local community.
Israel removes more content from TikTok than almost any other nation
A new analysis of TikTok use throughout the world conducted by Canopy.us, an AI app focused on digital family safety, has shown Israel as one of the countries most trigger-happy when it comes to the removal of content.

TikTok has faced significant backlash in recent years over what was seen as its lax moderation policies.

The research presented the number of video removals as a percentage of the local population who use the app between January and March 2023.

The results:
1. Pakistan – 70.91% 2. Azerbaijan – 65.30% 3. Dominican Republic – 21.70% 4. United Kingdom – 19.65% 5. Cambodia – 17.33% 6. Algeria – 14.48% 7. Turkey – 13.36% 8. Israel – 12.75% 9. Saudi Arabia – 11.85% 10. Philippines – 10.43%

Pakistan, a country with roughly 16,000,000 users, removed an entire 11,000,000 videos during the timeframe, earning it its first-place spot.

Runner-up Azerbaijan removed a full 65% of TikToks uploaded by its citizens.

The United Kingdom was also a special mention, removing a total of almost 20% of all videos uploaded to the social media site popular among the younger generation.

Why is Israel removing TikTok content?
The study also looked into the reasons most commonly given for the removal of content.

Minor safety was the most common reason given, making up 30% of all video removals. The display of illegal activities was the second most common reason.
Arsen Ostrovsky, leading human rights attorney and CEO of the @The_ILF, will show you how you can use the power of social media for good at Antisemitism: Face It, Fight It in Ottawa October 16-17, an unforgettable two-day conversation with Canada's Jewish community and our allies… pic.twitter.com/dKIfHWtjXV

— CIJA (@CIJAinfo) October 2, 2023
Susan Hall: 'I will not apologise for standing up for Jewish Londoners'
Susan Hall has hit back at her critics amid a furore over her claim that Sadiq Khan's "divisive attitude" leaves Jews "frightened", saying that she will not apologise for "standing up" for Jewish Londoners.

The Conservative London mayoral candidate made the comments, which were criticised by the Board of Deputies, during the Conservative party conference in Manchester.

Asked about the claim on Sky News, Hall said it had been "misinterpreted", adding: "I said Jewish people are frightened on our streets and I will never apologise for standing up for our Jewish community."

The London Assembly member later told GB News the claim was in context of policing. She said: "The way that policing is in London, so many Jewish people do not feel safe. That's wrong and so I will never apologise for defending the Jewish community.

"I've got so many [Jewish] friends that are literally talking about leaving the country because they don't feel safe. That is unacceptable in London."

Asked if those friends were Jewish, she added: "Yes. Yes, going to Israel. It shouldn't be in that state." Referring to antisemitic incidents, she said: "Since Sadiq Khan has taken over, these sort of attacks have doubled - literally doubled, over 1,000 or around about 1,000 this year… but that's not good enough."

Last night, in a speech at a Conservative Friends of Israel event, she said: "I live in north London and I know the wealth and joy of the [Jewish] community.

"But I tell you something else, I know how frightened some of the community is because of the divisive attitudes of Sadiq Khan.

"One of the most important things we can do when I become mayor of London is make it safer for everybody, but particularly for our Jewish community.
Congressman who pulled House fire alarm takes heat for calling Republicans 'Nazis'
Rep. Jamaal Bowman (D-N.Y.) was caught on video pulling a fire alarm in the Cannon House Office Building on Saturday, leading many to say he was stalling ahead of a crucial vote on whether to pass a stopgap funding bill or to shut down the U.S. government. At the last hour, a temporary bill to continue to fund the government was passed.

As for the other alarming news in question, the congressman's staff has said it was an honest mistake.

The latter appears to be plentiful, as Bowman has now disavowed talking points his staff circulated that referred to Republicans as "Nazis."

"I believe Congressman Bowman when he says this [pulling the alarm] was an accident," the guidance advises would-be defenders to say. "Republicans need to instead focus their energy on the Nazi members of their party before anything else," it adds.

"I just became aware that in our messaging guidance, there was inappropriate use of the term Nazi without my consent," Bowman wrote on social media. "I condemn the use of the term Nazi out of its precise definition. It is important to specify the term Nazi to refer to members of the Nazi party and neo-Nazis."

The conservative writer and commentator Mary Katharine Ham was one of many who mocked Bowman.

"The congressman's office did not know the use of the term Nazi would set off rhetorical alarms. They thought calling people Nazis was what opened rhetorical doors," she wrote. "This can all be very confusing."

"Man, you're having a rough couple of days," added Jeremy Redfern, press secretary to Fla. Gov. Ron DeSantis.

In March, Bowman referred to commentator Michael Knowles as a "Nazi" twice in a social-media post, one that remained live at press time.

The congressman sought to limit U.S. military aid to Israel in the past. He claimed that "many" Jewish constituents supported the decision.
Are you sure, @nytimes, that this should be considered "nonfiction?"

There's plenty here that sounds fictional to us based on @rozina_ali's review of @NathanThrall's book, which charges Israel with complete indifference to a tragic Palestinian school bus accident in 2012. 🧵 https://t.co/CQRffjKO54 pic.twitter.com/huopTS8s5J

— HonestReporting (@HonestReporting) October 3, 2023
While @haaretzcom reported that more than 50 ambulances & several rescue helicopters were called to the scene and that Israeli hospitals treated most of the injured.https://t.co/xIr6qTUWGx pic.twitter.com/p4RorWwVS0

— HonestReporting (@HonestReporting) October 3, 2023
Ali refers to "the apartheid system that intentionally divides Israelis and Palestinians, as Thrall does so convincingly in this grim narrative."

Yet, @BBCNews reported how Israelis & Palestinians worked together to save lives.https://t.co/nQOF6sJ4Hk

This is "apartheid"?! pic.twitter.com/KyPtRI3Iee

— HonestReporting (@HonestReporting) October 3, 2023
University of Michigan Athletes Disciplined for Graffiting Antisemitic Messages Outside Jewish Center, Watchdog Says
A University of Michigan athlete has been suspended indefinitely from the school's men's hockey team for graffiting antisemitic and homophobic messages on the sidewalk in front of the campus' Jewish Resource Center, according to a watchdog group that tracks antisemitic incidents across the world.

StopAntisemitism told The Algemeiner on Monday that sophomore and now-former Wolverines defenseman Johnny Druskinis was caught in the act of graffiting the hateful messages in broad daylight by a surveillance camera on the property. The group added that Druskinis was accompanied by a female companion, freshman lacrosse player Megan Minturn, noting that she has so far only been suspended and not removed from her team.

"Removal from the hockey team is not enough," said StopAntisemitism CEO Liora Rez. "Antisemitism is prevalent on college campuses across the US, and the University of Michigan has a responsibility to either suspend or even expel this student if they are truly serious about fighting bigotry."

News of the incident first broke in August, with the university denouncing an act of vandalism that occurred at the school's Jewish Resource Center. The Ann Arbor Police Department (AAPD) then shared surveillance footage of it last month, calling on the community's help in identifying the people caught on film. At the time of the footage's release, AAPD Interim Police Chief Aimee Metzer expressed certainty about the general age of the suspects, saying, "They're young adults, definitely."

On Friday, The Michigan Daily, the University of Michigan's campus newspaper, reported that Druskinis was removed from the school's hockey team.
A perfect explanation of how Jewish community organizations like @HillelIntl and @JCRCNY are not only unable to tackle antisemitism, they are actively making it worse.

Jeff Lax, a professor at @CUNY explains the most recent threats to the Jewish student community.@SAFECUNY… pic.twitter.com/X8evqpcOEI

— Jewish Leadership Project (@_TheJLP) October 2, 2023
"Falastini" by Toni Qattan glorifies violence against Israel, encouraging stone-throwing, martyrdom, and the spilling of blood.
It's an interesting song choice for the @palestinewrites recap video, which claimed to be a peaceful literary festival... pic.twitter.com/u4cFUbgrbP

— Israel War Room (@IsraelWarRoom) October 2, 2023
Al-Qassam's legacy is rooted in the terrorism he helped launch against Jews. Abun-Nadi's "admiration" for him is just another example of what we mean when we say @palestinewrites promotes antisemitism and terrorism. pic.twitter.com/whp8nbXaZG

— Israel War Room (@IsraelWarRoom) October 2, 2023
State College, PA (home to Penn State) - residents found these vile antisemitic flyers on Saturday evening, compliments of the white supremacist group 'Goyim Defense League' (GDL).

Local police are aware and are investigating.

If you, or someone you know, received these flyers… pic.twitter.com/dA3W12Cfyk

— StopAntisemitism (@StopAntisemites) October 2, 2023
BBC Blunders With Confusing 'Palestine' Map


So why does the BBC not also explain that Transjordan simply did not exist at the time when the British and French conquered the region from the Ottomans and was similarly hived off from the larger British Mandate?

This is noteworthy because the 1917 Balfour Declaration had called for the establishment of a Jewish homeland within the region of the entire British Mandate, as seen in the map below, but the vast majority of it went on to become the independent state of Transjordan, later known simply as Jordan – a Muslim Arab state whose population mostly consists of Arab Palestinians.

The BBC's map and failure to explain how the British Mandate came to be split in two erases some significant history. What the BBC labels as "Palestine" is only a fraction of the land that was originally part of Mandatory Palestine and ignores the fact that most of the area was given to Arabs some twenty years before the United Nations voted to partition the land again into two states.

The BBC had an opportunity to educate its audience beyond the dominant narrative that only begins with the Israeli War of Independence in 1947-48. But it failed to do so.

By omitting historical context, the BBC is content to let its audience draw its own potentially faulty and confusing conclusions.

Which is exactly what the people who spread maps claiming Israel "stole" Palestinian land in 1948 are happy to see. What the BBC Omitted
Pre-1921, the entirety of the area that covers both sides of the Jordan River was a single entity — it was only eight months after the San Remo Conference in 1920 that Britain designated the territory east of the river as the Emirate of Transjordan, under the leadership of Emir Abdullah bin Hussein.
The name "Palestine" which was chosen for the land west of the river was based on the term "Palestina" that was given to the country by the Roman Empire in the second century CE.
From 1923, Transjordan had semi-autonomy, with Britain controlling all financial, foreign and military affairs.
It was only in 1946 that Transjordan actually gained independence from Britain and became the Hashemite Kingdom of Jordan, although its military remained under British command.
"The Palestine Liberation Organisation (PLO), the armed group that launched attacks on Israel."

You can always count on @BBCWorld to minimize a terror organization. https://t.co/qNOdtujEjE pic.twitter.com/XuWsJSofH2

— HonestReporting (@HonestReporting) October 3, 2023
The @nytimes emotively captions this photo: "A diary left behind by a child in an abandoned Palestinian village."

We asked a native Arabic speaker to take a look. The writing is actually that of a teenager in love, not a child.

This is a deliberate misuse of a photo caption in… pic.twitter.com/nqq4yhB4tR

— HonestReporting (@HonestReporting) October 3, 2023
Scottish outlet peddles 'settlers-only roads' lie
The Dumfries and Galloway Standard (a regional affiliate of the Scottish Daily Record) repeated the lie about "settler-only roads" in the West Bank that we prompted countless corrections to over the years – a myth so discredited that not even the Guardian peddles it anymore.

In fact, in 2018 alone, we prompted corrections to that inaccuracy at five publications – the Independent, Financial Times, Telegraph, Guardian and the Daily Mail.

The Dumfries and Galloway Standard article in question, by Sharon Liptrott, in the print edition, ("Support for our friends in Asia; Palestine Solidarity Campaign", Oct. 3) about an event hosted by the "newly-formed Dumfries and Galloway Palestine Solidarity Campaign", includes other errors by framing claims by the speaker at the event, Michele Abendstern of Saddleworth Palestine Women's Scholarship Fund, as indisputable facts.

This includes her reference to events around 1948 – that is, the Arab war of annihilation against the nascent Jewish state – as the "forced expulsion of 750,000 Palestinian people from their homes in 1948."

In fact, as CAMERA has methodically documented, most of the 700,000 or so Palestinians who took flight during the Arab war against Israel were not expelled by Israel, but either left of their own accord to escape the violence, or were told to leave by Arab leaders who assumed they would be victorious. In fact, in our experience with the UK media, almost all news outlets use language to make clear that only some Palestinians were expelled, while others fled. There are no serious scholars or historians who claim that there was one single factor involved in the Palestinian flight.

The article also uncritically cites claims by Abendstern that UN Resolution 194 "enshrines the 'right of return' to all Palestinian refugees", a false allegation that has also been corrected at multiple outlets over the years following communication with CAMERA.
.@OwenBenjamin, who was kicked off Twitter for 5 years for his antisemitism, racism & misogyny, is now back on the platform claiming he doesn't have "an axe to grind against Jews or Israel." Really? WATCH this.https://t.co/OS8oPj0Lcw https://t.co/VwzEh10nnh pic.twitter.com/SCZAA6fnxT

— Canary Mission (@canarymission) October 2, 2023
Stephen Pollard:
The eternal Wagner dilemma: Should Hitler's favourite composer be cancelled?
But it is a mistake to think, as many do, that his antisemitism is in itself the problem with Wagner.

It is not and never has been. Chopin, Liszt and Mussorgsky — to name just three more or less contemporary composers — were all antisemitic and I have never come across anyone who seeks to cancel their music as a result.

Indeed, had he not written Judaism in Music, Wagner's antisemitism might never have been regarded as anything other than unexceptional and simply an example of him being beholden to typical and widespread stereotypes of Jews. I am being deliberately obtuse.

Because two words that I have so far ignored explain the focus on Wagner, of all antisemitic artists: Hitler and Holocaust. Hitler portrait crop

As Paul Lawrence Rose, author of Wagner: Race and Revolution, writes: "There was a Holocaust and Wagner's self-righteous ravings, sublimated into his music, were one of the most potent elements in creating the mentality that made such an enormity thinkable.

"If time renders ridiculous the ban on Wagner, then the simple passage of time will also cause the Holocaust itself to fade into a distant memory."

This is a powerful argument, albeit overwrought. Wagner was, indeed, Hitler's favourite composer.

But why should a 19th-century composer be held responsible for an act of 20th-century genocide?

Tosanini was lauded in Tel Aviv in 1936 for performances of the preludes to Acts 1 and 3 of Lohengrin with the Palestine Philharmonic, the precursor to the Israel Philharmonic.

The "ban" only came in because of what Daniel Barenboim has called the "use, misuse and abuse" of his music by Hitler. It is, to be blunt, irrational (although ignoring the role of emotion in such debates is obviously foolhardy).

Wagner was, quite apart from his antisemitism, a despicable human being, who betrayed his friends in every conceivable way — a leech and a liar.

But so what? We don't listen to Wagner the man. We listen to the creations of a genius. Which, in the end, is all that matters.
New Netflix Doc Examines How German Police Could So Easily Murder Jews
Browning notes that the German policeman justified their actions by seeing themselves as double-victims. They had to do dirty work that others didn't want to do. Although it was legal during the war, it later became illegal.

It is harrowing to see pictures of Jews shortly before their execution. Ohlendorf says that children were shot because if they grew up and knew what happened to their parents, there was a good chance they would come back for revenge later.

When you see pictures of these German men drinking and playing instruments, it's hard not to want to jump into the screen and murder them. Ohlendorf was sentenced to death by hanging, but almost all of the "ordinary" men got away with it.

Ferencz says he talked to Ohlendorf shortly before he was executed. He said he was surprised the Nazi offered no remorse and said he would have shot his own sister if that was what his country demanded.

Ferencz, a hero who should be praised for fighting for justice, offers a bizarre analogy that I wholeheartedly disagree with.

Browning says all sorts of people can become killers under the right circumstances. He should use the word murderer. There is a difference.

Sadly, Browning is naïve. People have a lust for power and a hunger to scapegoat. That will never change. At this moment, people making antisemitic comments are being elected to high positions of government in the United States.

While the film raises a couple of interesting points, it is lazily done. Earl says "we want to believe we would never do what those men did."

If Earl is admitting that she would be capable of murdering innocent people, she should look in the mirror and find out why that is.

The main problem of this film is that such an important topic is only given superficial treatment. Deeper questions needed to be asked — and they weren't.
Romania Marks Decision to Teach Jewish History, Holocaust in Schools
Romania, a former ally of Nazi Germany, on Tuesday marked its decision to make the Holocaust and Jewish history part of the school curriculum, with Prime Minister Marcel Ciolacu saying facing up to a dark past was necessary for a strong democracy.

Romania was a German ally in World War II until August 1944, and hundreds of thousands of Romanian and Ukrainian Jews and Roma were killed in areas it controlled.

The EU state admitted for the first time in 2003 that it took part in the killings.

"I am among those who do not hesitate to talk about patriotism," Ciolacu said at the ceremony to mark the new class in Jewish history and the Holocaust, which was approved in 2021.

"However, I believe that for a strong, democratic nation, patriotism also means not hiding the dark parts of history and those who created them."

Lawmaker Silviu Vexler, president of the federation of Jewish communities in Romania who initiated the curriculum change, said the class was "the first real move to fully take responsibility for what happened."
South Florida - Yudel Herrero has been arrested after yelling antisemitic remarks outside of the Chabad Jewish Center in Sunny Isles, FL during Sukkot.

Herrero is facing charges of disturbing a religious assembly as well as a hate crime.

Sukkot, the week-long Jewish holiday… pic.twitter.com/nIC8pKnmsX

— StopAntisemitism (@StopAntisemites) October 3, 2023
Hebrew-language comedy 'Bros' slated to hit Netflix next month
Streaming giant Netflix announced on Tuesday the upcoming premiere of "Bros," a Hebrew-language comedy created by and starring Israelis Guy Amir and Hanan Savyon.

The eight-episode series, which will premiere in 190 countries around the world on November 9, tells the story of two lifelong friends Pini and Nisso, natives of Jerusalem.

The pair own a bar in the Israeli capital and are also die-hard fans of the Beitar Jerusalem soccer club. According to the Netflix synopsis, "their friendship is tested when their lives take unexpected turns, their bar faces closure and their favorite team is set to play the most important match in its history."

The Beitar Jerusalem club has long been mired in controversy, most prominently due to a core group of virulently racist die-hard fans, known as La Familia.

The show, which is known in Hebrew as "Through Fire and Water," also stars Israelis Efrat Boimold, Yaniv Swissa and Shlomi Avraham, and was filmed in Israel, Poland, Ukraine and Georgia.

A brief trailer of the show posted on social media showed Amir and Savyon's characters in a Vespa and sidecar barreling through downtown Jerusalem in a comedic slapstick sequence.

גיא וחנן, ברוכים הבאים לנטפליקס!
סדרת הדרמה הקומית הישראלית מאת היוצרים חנן סביון וגיא עמיר
"באש ובמים" - 9.11.2023 - רק בנטפליקס! pic.twitter.com/d48wTN6dRI

— Netflix Israel (@Netflix_IL) October 3, 2023
Israeli Films 'Tatami,' 'Vanishing Soldier' Make Shortlist for European Film Awards
Two Israeli movies — one about a female Iranian judoka and the other about a soldier in the Israel Defense Forces (IDF) — have both been added to the shortlist of 40 feature films being considered for nomination at this year's European Film Awards, an annual event to honor the best cinematic projects akin to the Academy Awards in the US.

Tatami, a film from Oscar-winning Israeli director Guy Nattiv, centers on Iranian judoka Leila Hosseini, played by Iranian-Chilean Arienne Mandi, and her coach Maryam Ghanbari, played by Iranian actress and the film's co-director Zar Amir Ebrahimi. Hosseini is competing for gold at the Judo World Championships when she is ordered by the Islamic Republic of Iran to fake an injury and lose or be labeled a traitor by her home country. She must decide if she will obey the orders of the Iranian authorities or continue competing for the gold medal. Meanwhile, Hosseini's coach tries to convince her to comply with the Iranian regime and leave the competition.

Tatami is also the term used to describe the mat in judo bouts.

The Vanishing Soldier, from Israeli director Dani Rosenberg, is a Hebrew-language drama about an 18-year-old Israeli soldier named Shlomi who flees fighting in the Gaza Strip to head back to his girlfriend in Tel Aviv, only to discover that the army thinks he was kidnapped during the battle. Rosenberg and Amir Klinger co-wrote the screenplay for the film, which is Rosenberg's second feature. It is inspired by Rosenberg's similar but failed attempt to escape a military camp in the Judean Desert when he was 18 years old. The Vanishing Soldier was also nominated for Best Picture at Israel's Ophir Awards, the Jewish state's version of the Oscars.

Tatami is the first feature co-directed by an Israeli and an Iranian filmmaker — Nattiv and Ebrahimi — and made its world premiere early last month at the 2023 Venice Film Festival, where it received a standing ovation. The project has so far been sold to eight countries.

Nattiv also recently directed Golda, a film about former Israeli Prime Minster Golda Meir.
The secrets of underground Jewish tombs in Rome
The famous catacombs in Rome tell the story of Jewish life after the destruction of the Temple in Jerusalem in 70CE. Research director at IAA, Dr. Yuval Baruch breaks down the history of this archeological site.
Historic reenactment of Levite choir resounds near Temple Mount
Close to 1,000 Levites from around the world converged on Jerusalem's southern wall near the Western Wall to partake in a momentous reenactment of the ancient Levitical choir of the Temple, 2,000 years after its destruction.

Amid the historic Huldah Steps, which served as the entrance to the Temple Mount during its existence, the Levites, divided by their vocal ranges, echoed songs from the Psalms, reminiscent of those sung during the Sukkot holiday in ancient times.

Levites are Jewish males who claim descent from the Tribe of Levi, which descended from Levi, the third son of Jacob and Leah. Historically, the Tribe of Levi held specific religious, political, and educational duties among the Israelites, while in modern times, they maintain a unique status within Jewish communities, comprising about 4% of the total Jewish population.

The spectacle was accompanied by the harmonies of an orchestra, the sounds of trumpets, designed as it was during the time of the ancient Temple. In addition, participants adorned in costumes evocative of the Temple era. Among the performers was renowned artist and singer, Yonatan Razel.
Sukkot and the City of David
Interview with Oriya Dasberg, Vice President of Development at the City of David giving us a tour of a brand new park for families and children to enjoy the Sukkot Holiday.
---
---
Buy the EoZ book, PROTOCOLS: Exposing Modern Antisemitism today at Amazon!

Or order from your favorite bookseller, using ISBN 9798985708424.

Read all about it here!