From Ian:
Arab Demography Westernizes as Jewish Demography Thrives
In defiance of Israel's critics and conventional wisdom, the highest-ever Arab population growth rate in Judea and Samaria (West Bank) occurred during Israel's full control of the area (1967-1992).

Thus, from the end of 1967 (586,000 people) until the end of 1992 (1,050,000 people), the Arab population of Judea and Samaria expanded by 79%, compared to a mere 0.9% growth during the 1950-1967 Jordanian rule.

The unprecedented Arab population growth rate was the outcome of the unprecedented Israeli development of health, medical, transportation, education and employment infrastructure in Judea and Samaria, following the stagnation during the Jordanian occupation of the area. In addition, Israel offered employment opportunities, in its pre-1967 core, to Judea and Samaria Arabs, who preferred working in Israel to the far away Arab Gulf states, West Africa or Latin America.

As a result of the enhanced infrastructure (especially health and medical), Arab infant mortality was drastically reduced – and life expectancy surged – almost to the Israeli level. Furthermore, emigration was substantially curtailed due to new opportunities of employment and higher education.

Hence, while net-emigration during the 17 years of Jordan's control (1950-1967) was 28,000 annually, it subsided to 7,000 annually during the 25 years of Israel's full-control (1967-1992).

The exceptionally high Arab population growth rate, during Israel's full-control of Judea and Samaria, was highlighted by the 170% growth of the 25-34 age group, which is the bulk of emigration. That they stayed attested to the unprecedent development of employment opportunities for Arabs by Israel.

Compared to an Arab population growth rate of merely 0.9% during Jordan's rule – when the number of births was almost offset by net emigration – there was a 2.2% average annual population growth rate during Israel's rule. Moreover, 1990 and 1991 featured a 4.5% and 5.1% population growth rates.

Arguably, the surge of the Arab population growth was misperceived by the demographic establishment, which projected a continued growth, ignoring the "pre-fall-surge" syndrome. The latter characterizes population growth rates of third world societies, whenever integrated into Western world societies.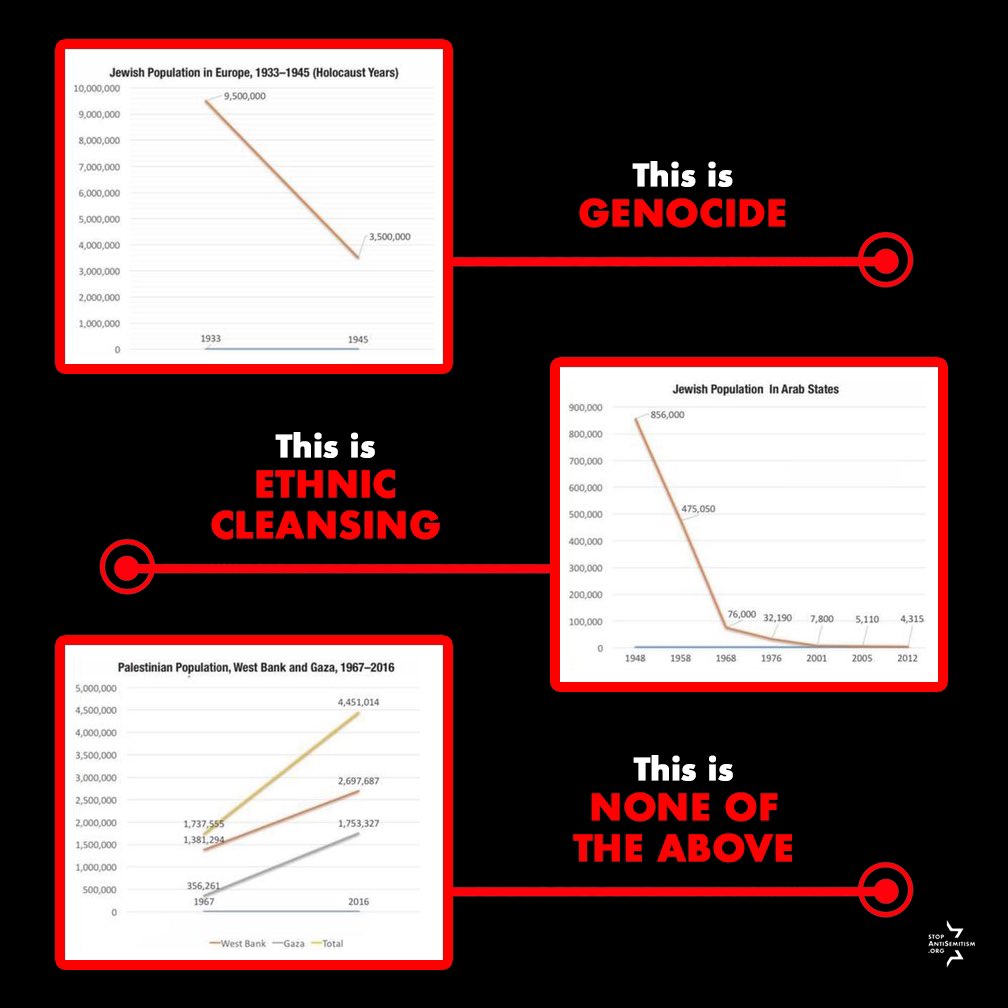 Rally Against Antisemitism Draws 3,000 in Show of Unity at US Capitol in Washington
More than 3,000 people from across the country gathered near the US Capitol on Sunday to stand in solidarity against the rising tide of antisemitism across the United States.

"No Fear: A Rally in Solidarity With the Jewish People" was organized by more than 100 Jewish and interfaith organizations from across the political and religious spectrum, under the leadership of business executive Elisha Wiesel, son of Holocaust survivor and Nobel laureate Elie Wiesel.

"Looking out at all of you today, it becomes clear that instead of dividing us, the enemies of the Jewish people—whether from the right or the left, at home or abroad—have instead united us," Wiesel told the crowd.

"Here we stand, a coalition of Jews and our allies from all backgrounds, all political beliefs and all religious affiliations, who have come together to stand up to antisemitism," he said. "This coalition will not be silenced whether Jews are facing violence in Los Angeles, or Brooklyn, or Paris or Tel Aviv. It won't be silent whether Jews are being attacked in our synagogues, on our streets, on our campuses or on the floor of the House of Representatives."

In a show of unity, Joshua Washington, executive director of the Institute for Black Solidarity with Israel, and Rabbi Menachem Creditor, UJA Federation of New York scholar in residence, appeared on stage together and led the crowd in singing, "Kol Ha'Olam Kulo Gesher Tzar Meod," meaning, "The whole entire world is a very narrow bridge, and the main thing is to have no fear at all."

'Fight the evil of antisemitism'

The event included speeches from Deputy Assistant to the President Biden Erika Moritsugu; "The View" co-host Meghan McCain; Israeli actress and author Noa Tishby; Republican Jewish Coalition (RJC) chairman and former Sen. Norm Coleman (R-Minn.); Jewish Democratic Council of America (JDCA) chairman and former Rep. Ron Klein (D-Fla.); former US Ambassador Rabbi David Saperstein; Arizona State Representative Alma Hernandez; and numerous faith and grassroots leaders.
"Do not concede." - @JoshWashIBSI, just now at "No Fear" in DC. pic.twitter.com/8Dsu44e1pB

— Conspiracy Libel (@ConspiracyLibel) July 11, 2021
Jewish 17 year old Talia Raab details her experience being physically assaulted and receiving violent threats from around the world for hosting a pro-Israel march in her hometown.

Today's rally against #Antisemitism in DC:@HikindDov@AmericansAA @MeghanMcCain@benshapiro pic.twitter.com/orDO7sV4zq

— Justine Brooke Murray (@Justine_Brooke) July 12, 2021
15 Years Later, Revisiting the Second Lebanon War
July 12, 2021 marks 15 years since members of Hezbollah launched a cross-border raid that ended with three Israeli soldiers killed and two more abducted into Lebanese territory. After five more soldiers lost their lives in the rescue attempt, Israel was drawn into a month-long war against the Iranian-backed terrorist organization. Join the fight for Israel's fair coverage in the news

Since its founding in the 1980s, Hezbollah has amassed a stockpile of rockets larger than all the combined armies of Europe, carried out some of the deadliest terror attacks around the world, and now facilitates Iranian expansionism.

Led by Sheikh Hassan Nasrallah, Hezbollah has also managed to maintain a stranglehold on Lebanese domestic politics. Origins

Hezbollah was founded in the early 1980s by Lebanese Shiite clerics inspired by the teachings of Ayatollah Ruhollah Khomeini, the radical leader of the Iran's Islamic revolution. They received crucial assistance from Iran's Revolutionary Guards and from Syria. Their immediate goals included driving the Israeli military out of a security zone in southern Lebanon and ridding the country of international peacekeepers; their long-term goals included launching a revolutionary Islamic movement in Lebanon and destroying Israel.

Hezbollah put itself on the map with coordinated pair of suicide bombings on the morning of October 23, 1983. The truck bombings of the Beirut barracks of US and French peacekeeping forces killed 241 US servicemen, mostly Marines, 58 French military personnel, and six civilians. Hezbollah's prominence rose even more when, four months later, the Western peacekeepers withdrew from Lebanon.

UN Resolution 1701: A Toothless Tool Which Allows Hezbollah to Prepare for the Next War
Following the 2006 Israel-Lebanon war, the United Nations Security Council adopted Resolution 1701, at the time perceived as a strongly worded document. It was aimed at not just maintaining the ceasefire, but of strengthening the hands of the government in Beirut by endorsing and calling for the central government to assert control over the entire country.

However, for the most part 1701 has reflected the toothless inability of the international body to take those words and effectively implement them on the ground.

The 2006 war was not between two countries, but between Israel and the terrorist Hezbollah organization headed by Hassan Nasrallah that is funded, trained and armed by Iran. Hezbollah is not under the control of the Lebanese government, is not part of the Lebanese Armed Forces, and thus considers itself not obligated at all to the document. Its terrorist activities have been documented for years.
Col Richard Kemp:
ISRAEL'S OPERATION BLUE SOUTH: DECEPTION AND MEDIA IN WAR
Indignation from Israeli and international media followed allegations that the Israel Defence Forces deliberately misled journalists during Operation Guardian of the Walls, the recent 11-day conflict with Hamas in Gaza.

The IDF was accused of posting an ambiguous tweet and sending text messages to journalists, interpreted as meaning Israeli forces had entered the Gaza Strip when in fact they had not, and Lieutenant Colonel Jonathan Conricus, IDF international media spokesman, was alleged to have personally confirmed to journalists that a ground incursion was in progress.

Conricus denies he deliberately misled the media, claiming an honest mistake. The tweet, however, was enigmatically worded, saying the IDF was 'attacking in the Gaza Strip'. Israeli tanks and artillery were indeed firing at Hamas targets inside Gaza, but from the Israeli side of the border. The IDF had massed forces along the fence-line to deceive Hamas that a ground offensive was imminent.

Hamas took the bait and sent dozens of fighters underground into the 'Metro', a vast tunnel network constructed since the last Gaza conflict in 2014, to outflank, ambush and abduct IDF troops. Once the fighters were inside, the Israel Air Force unleashed Operation Blue South, attacking the tunnels with 160 combat planes in just 40 minutes.

Leaving Conricus's personal role aside, it appears possible the IDF did seek to manipulate the media into inadvertently supporting their deception operation with its tweet and text messages. Reading the media outrage, you would be forgiven for thinking the IDF in 2021 had invented this kind of manipulation. So often, IDF operations are viewed in isolation and their tactics painted as outside the norms of war by the press. That is usually far from the truth, including in this case.
JPost Editorial:
Can Israel, Jordan be good neighbors once again?
Despite the diplomatic tensions, Israel and Jordan have continued to maintain good, ongoing security cooperation due to the common threats to both countries and the long, shared border.

Israel has a strategic interest in making sure that Jordan remains secure and stable. That the Jordanian border has remained quiet for the last few decades has been an essential tenet in Israel's defense strategy. Jordan serves as a buffer between Israel and the threats emanating from Iraq and even further afield. The Hashemite Kingdom, whose population includes a Palestinian majority, is also concerned by the threat of terrorism emanating from the Palestinian Authority areas. Israel and Jordan therefore have several important mutual interests.

Israel's eastern neighbor is not in good shape. Its economy has been badly hit by the repercussions of the coronavirus pandemic. In addition, 10 years after the start of the so-called Arab Spring and the Syrian civil war, an estimated one million migrants have sought refuge in Jordan, increasing the burden on the economy and resources, including water.

Under the terms of the peace treaty, Israel already provides some 50 million cubic meters of water to Jordan annually. Israel, unlike Jordan, is able to meet most of its water needs through desalination projects along the Mediterranean coast. The lack of progress in plans to jointly build a canal between the Red Sea and the Dead Sea that could help ease Jordan's severe water shortage is one of the causes of tension.

Abdullah is scheduled to meet with US President Joe Biden in Washington next week, and Bennett is expected to meet the president later this summer. It would be good news if the Jordanian monarch were willing to meet the Israeli premier out in the open, to send a message of normalization to his people.

Israel is obviously interested in extending a helping hand to its neighbor. Jordan, for its part, should accept the hand in friendship. Good ties between the two countries benefit both – and the region.
My interview (in German) to #Austrian newspaper @exxpressat, on Austria's principled decision to withdraw from #DurbanIV, Israel's deep respect for Chancellor @sebastiankurz friendship and rise of #antisemitism in Europe today.

Read here: https://t.co/axqKpEPjGY

— Arsen Ostrovsky (@Ostrov_A) July 11, 2021
.@EVKontorovich on the Left's plan to open a US consulate for Palestinians in Jerusalem: "When you treat Israel by a standard that you don't apply to anyone else, that's the definition of antisemitism." #CPACTX pic.twitter.com/AThjCNOdes

— CPAC 2021 (@CPAC) July 11, 2021
.@elliecohanim at #CPACTX: "I am here to demand that the Democratic party stand up to antisemitism that they are finding in their ranks." pic.twitter.com/2kJIKG6nBL

— CPAC 2021 (@CPAC) July 11, 2021
Lieberman Urges Bill Clinton to Unite Dems on Israel, Tell Anti-Israel 'Squad' Members to 'Cut It Out'
Sunday on New York WABC 770 AM radio's "The Cats Roundtable," former Sen. Joe Lieberman (I-CT), the 2000 Democratic Party vice presidential nominee, called on former President Bill Clinton to play the part of uniter with the party when it comes to Israel.

Lieberman noted that members of the so-called "Squad" within the Democratic Party are anti-Israel, which he said differs from the "reflexively pro-Israel" Democratic Party of the past.

"I witnessed in my lifetime a real flip in American political party reflexes toward Israel," Lieberman advised. "When I was a kid growing up, in my household, there was a tremendous devotion to President Truman because he recognized the state of Israel 11 minutes after it declared its independence. … The Democratic Party, for a lot of generations, was the reflexively pro-Israel party. The Republicans were not anti-Israel. … Now that has changed. And the Republican Party … is pro-Israel. The Democrats are mostly that way, but now there is a whole new group coming up. Part of it is the so-called Squad."

He continued, "Suddenly, [Democrats view] Israel as the wrong party in the Middle East. And people try to punish Israel. … It's the time for the majority in the Democratic Party — who I'm confident are still pro-Israel — to stand up and say to the loud minority who are anti-Israel, 'Cut it out! It's wrong for our party. It's wrong for our country. And it's wrong for the world. Israel is our ally. We could trust him to always be with us. We should be with them.'"
Gazan "civil society orgs" (@pchrgaza@AlMezanCenter etc. ) function as a branch of Hamas & PFLP terror group, as @HadyAmr @StateDept_NEA surely know, and documented by @NGOmonitor. Main role is political warfare & demonization via media, @IntlCrimCourt. https://t.co/dxpS4ruyqu

— Prof Gerald M Steinberg (@GeraldNGOM) July 12, 2021
#uae #israel pic.twitter.com/CAGyzv7LOe

— Eye On Antisemitism (@AntisemitismEye) July 11, 2021
Is Israel Preparing For the Inevitable Civil War in the West Bank?
As Ghaith al-Omari, a fellow at the Washington Institute for Near East Policy, wrote, "Fatah is facing one of its worst crises since its creation. The divisions that emerged in the run-up to the canceled elections will not go away, as they are rooted in longstanding grievances and dissatisfaction with Abbas' authoritarian leadership style. ... Once the dust settles, Hamas will probably find itself more popular among Palestinians outside Gaza than within. Hamas will try to use this to agitate in the West Bank and try to organize mass protests to put pressure on the Palestinian Authority."

Hamas has made great strides in positioning itself to take over the West Bank when Abbas's tenure ends. Since its coup in Gaza 15 years ago, Hamas has been preparing for the opportunity to create an uprising in the West Bank. Today's conditions are ripe for such, and a single Hamas match could ignite the region in a Palestinian civil war — which Hamas is likely to win. The losers would be Israel, Jordan, America, Egypt, the Gulf states and the Palestinian people. The winners would be Iran, Turkey, Russia and Qatar. How will the losing side adjust to a Palestinian Authority controlled by Hamas in charge of Gaza and the West Bank?

Are Israel, America and their Middle Eastern allies planning a strategy for the likely possibility of a civil war in the West Bank? Do they believe that funneling humanitarian aid to Gaza through the PA will lead to a long-term cease-fire between Israel and Hamas or inhibit Hamas from setting the West Bank on fire once sufficient arms, material and money get into their hands?

The attention of the international community is focused on Gaza, but Hamas apparently is one step ahead, strategizing with its Islamist patrons to find opportunities to move closer to taking over the West Bank. Then it could impose Muslim Brotherhood control on the rest of the Palestinian State. Funding from Iran, Qatar and Turkey is in place to help make this happen.

Israel's next war with Hamas may be not just in Gaza but also in the West Bank, centered in Judea and Samaria, as happened during the Second Intifada of the early 2000s. This time, Israel may be fighting on three fronts simultaneously. Add to that Iranian-controlled militia embedded in Syria and Iraq, ready to transfer arms and troops to tip the balance in favor of Hamas.

America has one foot out of its small presence in Iraq and Syria and is counting on a strong Israel for its security interests. America should be encouraging and helping Israel to strategize with Jordan, Egypt and their Gulf allies for a Hamas-instigated civil war in the West Bank, which appears more and more to be inevitable. Now is the time for all the players against Hamas to coordinate for such an eventuality, changing the primary focus from Gaza to the West Bank.
In Europe, Lapid tells NATO chief Israel wants to deepen ties
Foreign Minister Yair Lapid met in Brussels with NATO Secretary-General Jens Stoltenberg on Monday, ahead of a series of bilateral talks with several of his European counterparts.

Lapid expressed his desire to deepen ties with NATO and declared Israel's readiness to support the alliance on matters of intelligence, cybersecurity, counter-terrorism, climate change, maritime security, missile defense, and civilian emergency management. He also invited Stoltenberg to visit Israel.

After the hour-long talk with Stoltenberg, Lapid was scheduled to hold short conversations with his counterparts from Germany, France, the Netherlands and the Czech Republic.

At 1 p.m. (Israel time) Lapid will address the European Union Foreign Affairs Council, the first Israeli minister to do so since Tzipi Livni in 2008.

Lapid is seeking to reboot relations with Europe under the new government in Jerusalem, diplomatic sources have told The Times of Israel.

On Sunday evening, Lapid met with his Egyptian counterpart Sameh Shoukry on the sidelines of the Foreign Affairs Council meeting.

During the hour-long talk, the two discussed Israeli-Palestinian relations, with Shoukry stressing the need to launch peace negotiations and break the impasse between the sides.
WaPo, AP, Reuters Omit Critical Context About PA's Pay-for-Slay, Turn Facts About Policy Into Israeli 'Claims'
The Washington Post, The Associated Press and Reuters are also seemingly oblivious to the fact that Israel's decision to freeze part of the tax transfers aligns with United States policy to prevent taxpayer money from going to the PA so long as it continues its Pay-for-Slay program.

Named for an American murdered in a 2016 Palestinian terror attack in Tel Aviv, the Taylor Force Act was passed in 2018 with strong bipartisan support. Its purpose is to end US funding to the Palestinian Authority due to the stipends paid to terrorists and their families.

In fact, it would seem that an article ostensibly castigating Jerusalem for taking steps to deter terrorism would include related information about how Washington has done the same thing. Albeit, the Biden Administration has seemingly found a loophole and intends to provide groups supporting Palestinians with hundreds of millions of dollars.

By failing to note the Taylor Force Act, WaPo and The Associated Press can proceed to blithely spread the following:
For the Palestinians, the families of attackers are widely seen as victims of a half century of Israeli occupation. The Palestinians say that many Palestinians are unfairly held by Israel and that the number of prisoners involved in deadly attacks is a small percentage of those aided by the fund."

It is difficult to fathom how any news article could include an apparent justification for terrorism.

Moreover, the problem is widespread. Research conducted by HonestReporting shows that between July 6 and July 12, the term 'Taylor Force Act' has been included a total of 52 times in news items and television segments. Over the same period, 'Taylor Force Act' and 'Israel' were mentioned in the same article or segment a mere 15 times. When you add 'terror' to the mix, there were only five results.

By uncritically relaying the PA's stance on Pay-for-Slay, news organizations are proving to be obstacles to the kind of transparency needed to facilitate a robust public debate on the issue of aid to the Palestinian people — especially regarding where it winds up.
Bedouin Israeli millionaire charged with spying for Iran
A Bedouin Israeli millionaire who briefly ran for Knesset with former defense minister Moshe Ya'alon was charged on Monday with passing information to Iranian intelligence through contacts in Lebanon, the Shin Bet security service said after a gag order on the case was partially lifted.

Yaqoub Abu al-Qia'an, a former politician and construction magnate who is a resident of the Bedouin town of Hura in the southern Negev region, was indicted at the Southern District Court in Beersheba on charges of contact with a foreign agent and passing information to an enemy.

He is suspected of maintaining prohibited contacts with a Lebanese-Iraqi man and, through him, having contact with Iranian intelligence figures to whom he passed information, according to the Shin Bet. Channel 12 news reported that he supplied information of "no value" to the Iranians, including details on the movements of Benny Gantz, today Israel's defense minister, that was publicly available.

In 2019, Ya'alon put Abu al-Qia'an onto his Telem party's slate for the March election of that year. He was never officially registered and did not ultimately make it into the running for Knesset after Telem merged with two other parties to form the Blue and White coalition.
Truly a provocative performance. ???? https://t.co/y2cwEcvmdr

— The Mossad: The Social Media Account (@TheMossadIL) July 12, 2021
Gaza Professor of Islamic Studies Nasr Fahajan: When Palestine Is Liberated, the Jews Will Not Be Annihilated. Some of Them Will Be Allowed to Escape Abroad #Antisemitism #Gaza #Hamas pic.twitter.com/1eZshJ6eBJ

— MEMRI (@MEMRIReports) July 12, 2021
Hamas rejects proposed mechanism for transfer of Qatari funds
A senior security delegation will leave Israel later this week to Cairo with the aim of reaching a long-term ceasefire agreement with the Hamas terrorist organization, which will include the rehabilitation of the beleaguered coastal enclave.

Senior Egyptian intelligence officials confirmed to Israel Hayom that once in Cairo, the Israeli delegation will also discuss the matter of missing and captive Israeli soldiers and civilians currently being held by Hamas in Gaza.

While Israel insists on tying Gaza's rehabilitation to the return of Israeli captives, Hamas has adamantly objected the premise.

"A strong message was delivered to the Egyptian mediators that our patience has limits and we won't agree to the continued foot-dragging," a senior Hamas official said.

According to the official, Hamas also told the Egyptians that it won't agree to an alternate mechanism for the transfer of Qatari aid money to Gaza.

Recent media reports, however, said a deal had been reached with the Egyptian mediators, whereby the monthly funds from Qatar will be transferred through a mechanism supervised by the United Nations and the Palestinian Authority in Ramallah, to be earmarked for employment initiatives in Gaza.
Ramallah: Palestinians protest the death of activist Nizar Banat, call on Mahmoud Abbas to 'leave.' pic.twitter.com/pfNLlCjKsd

— Khaled Abu Toameh (@KhaledAbuToameh) July 11, 2021
Palestinian security forces arrest university student Dia Mufid Zaloum during a protest in Ramallah against the death of activist Nizar Banat. The protesters called on Mahmoud Abbas to step down and described the PA as a 'mafia.' They also called on the PA government to resign. pic.twitter.com/cZYiS7WvjN

— Khaled Abu Toameh (@KhaledAbuToameh) July 11, 2021
The Cairo Book Fair remains rife with antisemitism - opinion
The Simon Wiesenthal Center annually monitors the shelves of seven Arab Book Fairs for incitement to hatred and violence. We send our findings to the Frankfurt Book Fair, where measures are taken to ban the listed offenders.

COVID-19 closed down some of the Arab fairs, but until last year, Abu Dhabi was among the offenders. This May, in the spirit of the Abraham Accords, that book fair was totally clean.

This was not the case of Egypt, however, where the ongoing fair hosts 1,218 publishers in 756 stands representing 25 countries, led by Spain, whose ambassador recently waxed lyrical regarding Hispano-Arab literature.

At the same time, Egyptian author Mansour Abdel Hakim was signing at the Dar Al Kitab Al Arabi (House of the Arab Book) stand, the fourth volume in his series The Great Secrets of Freemasonry – The World Hidden Government (in English and in Arabic). This demeaning book takes you through various conspiracy theories and the beliefs they promote, including one that says Jews divided the world into two parts: masters and slaves.

Each year in Frankfurt we present The Worst Offender Award. In 2019, it went to Iran for its books for four-to-seven year old children extolling "shehada," suicide martyrdom. The runner-up award went to Egypt for a plethora of questionable editions.
Egyptian Military Analyst Brigadier-General (ret.) Safwat Al-Zayyat: Why Does Egypt Have a Military Force if Not to Strike the Renaissance Dam? We Will Not Allow This "Aquatic Bomb" to Threaten Egypt #GERD #Egypt #Ethiopia pic.twitter.com/ZFKB6JvMjv

— MEMRI (@MEMRIReports) July 12, 2021
MEMRI:
Iraqi Journalist: Iraqi Prime Minister Mustafa Al-Kadhimi Is Subordinate To Iran And Should Be Ousted
In a July 4, 2021 article in the London-based daily Al-Arab, Iraqi journalist Ibrahim Al-Zubaidi harshly attacks Mustafa Al-Kadhimi, Iraq's prime minister since April 2020, and calls for his ouster. He writes that, despite enjoying the full backing of the security forces and unprecedented popular support, Al-Kadhimi has disappointed, like all his predecessors in the last decade: he has not accomplished any of the tasks he was appointed to carry out, and has subordinated himself to Iran. One piece of evidence for this, says Al-Zubaidi, is Al-Kadhimi's participation in a recent military parade of the Popular Mobilization Units (PMU), a military organization operating in parallel to Iraq's army, which consists mainly of Iran-backed Shi'ite militias and is legally subordinate to Al-Kadhimi's office. [1] Al-Zubaidi slams the prime minister for congratulating the fighters and embracing the commander of the PMU militias, even though these militias have frequently insulted and threatened him.[2] He adds that, since coming into office, Al-Kadhimi has tried proving that he is not subordinate to Iran, but reality proves otherwise, for Iraq is now a country without proper borders, sovereignty or dignity. Moreover, the Iran-backed PMU militias are more powerful than the Iraqi armed forces, and Iran is the real decision-maker in the country. Al-Zubaidi expresses hope that Al-Kadhimi will soon be ousted.

The following are excerpts from his article: [3]
"The politicians who control [Iraq] today blame the American invaders for the destruction of the homeland, [claiming] that they deliberately destroyed the state institutions and spread chaos after dismantling the army and the other security apparatuses. The Iraqi citizen also blames [the Americans], but [for something else:] for collecting [all] the greedy and power-hungry politicians from the cafes of London, Damascus, Amman and Riyadh and appointing them rulers of the [world's] richest and most beautiful country [Iraq], knowing that the country under their control will be exactly what it is today: a failed and bankrupt state, ruled by the law of the jungle.

"All this is no doubt true, but the American invaders left, or were ousted, from Iraq in 2011, and we are now in 2021. In other words, nine years have passed in this country, which is [still] unfree and unhappy – despite the heaps of money poured into its coffers – under the rule of the religious 'patriots' who fear Allah and love Muhammad and his descendants. Specifically, [we had] three years under [former prime minister] Nouri Al-Maliki in his second term in office after the withdrawal of the Americans in 2011; four years under Haider Al-'Abadi; one year under 'Adil 'Abdul-Mahdi, who was ousted on December 1, 2019 by the uprising that year, and one year under the current prime minister, Mustafa Al-Kadhimi. His term in office will [probably] end in a few months when the Iraqis oust him just as they ousted his loathsome predecessors, who are wanted by the law.

"In nine years, despite 1,500 billion dollars [granted to Iraq in aid], these consecutive religious governments never [managed to] take the oil revenues out of the hands of the militias that smuggle it or manipulate the oil-export figures. Nor did these governments oversee the border crossings, prevent gangs from taking over [the oil sector] and stealing its revenues, or direct even half the money that entered the state coffers towards construction, rehabilitation, education, healthcare, agriculture, industry or services. The other half they stole.
Kazem Darabi, Iranian Intelligence Operative Convicted of Assassinating Dissidents in Berlin: The Resistance Axis Must Assassinate Trump for Ordering the Killing of Soleimani; This is an Islamic Duty #Iran #Trump #PresidentTrump #IRGC #JCPOA pic.twitter.com/2xaYvKBtMG

— MEMRI (@MEMRIReports) July 12, 2021