From Ian:
Melanie Phillips:
The flavour of malice
It should be constantly hammering home to the world the fact that the indigenous people of the land of Israel are the Jews while the Palestinians are the would-be colonisers; that the notion of Palestinian rights to any of that land is a legal and historical fiction; and that Israel liberated the disputed territories from the truly illegal occupation of those lands by Jordan between 1948 and 1967.

It should be constantly hammering home to the world that the Palestinians reveal by their words, actions and insignia that their aim remains the obliteration of Israel; that the "two-state solution" is a convenient untruth by which they dupe the useful idiots of the west; and that it is only Israel that stands for peace, justice and the rule of law.

Alas, though, the Jewish community itself won't stand up and tell the truth about the Jews' unique rights to all the land (whether or not Israel actually wants it all), the legality of all Israel's actions or the hysterical Jew-hatred spewed out by the Palestinians without remission.

Indeed, given the Palestinian Authority's repression of its own dissenters, its incitement to murder Israelis and steal their land and its Nazi-themed demonisation of the Jewish people, the question that might properly be raised is whether there's a moral duty to boycott the Palestinians.

But instead of saying any of this, the Jews are mostly divided between those who believe these lies themselves and those who know they are lies but are too terrified to say so.

Until and unless the Jewish world starts properly exposing the falsehoods and demented antisemitism that are driving the vilification of Israel, boycotting the boycotters will always leave the defenders of truth, justice and sanity behind this particular murderous curve.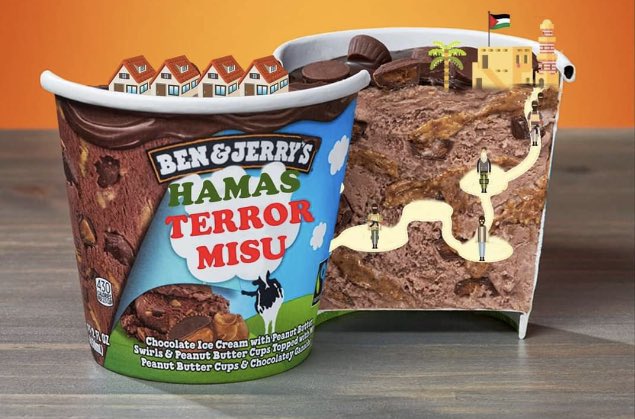 Damage Control: Unilever's 'Inclusive' CEO Struggles To Renounce Ben & Jerry's Anti-Semitism
The Unilever boss has also helmed the company's operations in Russia, Africa, and the Middle East, regions that do not exactly comply with the "inclusive" standards Unilever projects to Western audiences.

Last month, for example, the company launched an initiative called "Act 2 Unstereotype" and vowed to "provoke inclusive thinking across the end-to-end marketing process." Its goal is nothing less than to "help influence the next generation of people to be free of prejudice." Except, apparently, when it comes to prejudice against Israeli Jews.

Jope, who once served as a guest judge on The Apprentice with Donald Trump, has written extensively on his business philosophy, which espouses a "multi-stakeholder approach," a "collaborative mindset," "collective reinvention," and other iterations of corporate nonsense.

"Stakeholder capitalism is about radically changing the values of the company, and the way it operates, to reflect the interests of multiple stakeholders all the time," Jope wrote last year in the Telegraph. "It means taking action to address the climate crisis, and also looking at the favelas of Brazil, the townships of Africa and the slums of India to see what business can do to help tackle social and economic inequality."

Ben & Jerry's decision appears at odds with this philosophy, to say the least. As the Washington Free Beacon editors wrote on Tuesday: "We're not clear how exactly removing Ben & Jerry's ice cream from grocery stores in the West Bank will benefit the Palestinians. The move appears to be primarily an act of guerrilla theater and a demonstration of base prejudice."

Israeli prime minister Naftali Bennett had a similar reaction and promised to hold the Unilever CEO accountable for the "clearly anti-Israel step." According to Bennett's office, the prime minister spoke directly with Jope and told him the decision would have "serious consequences, legal and otherwise," as Israel would "act aggressively against all boycott actions directed against its citizens."
WOW - Anuradha Mittal funneled Ben & Jerry's $$$ through her Oakland Institute, ultimately sending funds to Badil, a Palestinian organization with a history of vile antisemitism such as publishing Nazi era cartoons like this. @alanjope @Unilever https://t.co/bR1MToKTBk pic.twitter.com/QQMGvGbZ8r

— StopAntisemitism.org (@StopAntisemites) July 23, 2021
The Caroline Glick Show: Episode 14 – Ben and Jerry's join the Jew haters
0:00 Ben and Jerry's joins the war against the Jewish state
31:35 Iran revolts and Biden sides with the ayatollahs
42:26 Netanyahu's trial unravels and the left attacks Gadi
In Episode 14 of the Caroline Glick Mideast News Hour, Caroline and Gadi discussed Ben and Jerry's Ice Cream announcement that it is joining the Jew haters in the BDS campaign. They talked about its consequences for the Israeli franchise, and about what Americans can do to fight the hate, (spoiler alert: there's a lot that can be done fairly easily).
Caroline and Gadi moved on to discuss the nationwide uprising of the Iranian people against the regime and what the regime's overthrow would mean for the world. The Biden administration's refusal to say a word of support for the Iranian people also received the proper treatment.
Finally they closed this week's show with a discussion of how Gadi is rocking the world of Israeli leftists by publishing a report in Haaretz of Netanyahu's trial revealing to the left that the state prosecution indicted Netanyahu without a shred of evidence of wrongdoing, (oops).
Join our dynamic duo for this lively discussion, and get the bonus of meeting Caroline's mom!
Subscribe to the show and subscribe your friends and family as well.
Israel critics comprise UNHRC's permanent war-crimes probe
International jurist Navi Pillay has been tapped to head the United Nations Human Rights Council's permanent three-person probe into alleged Israeli war crimes.

All three panelists have a history of activism and inflammatory rhetoric against Israel.

The UNHRC voted to mandate such a probe at a special May 27 session in Geneva held in the aftermath of the 11-day Gaza war in May and the ethnic riots between Jews and Arabs that rocked the country.

Pillay is known in Israel for her work as the former high commissioner for the Human Rights Council from 2008 to 2014. In that time, she appointed four fact-finding missions targeting Israel, more than any other country, including the Goldstone Report, which was later discredited by its lead author.

She was responsible for the appointment of the deeply anti-Israel professor of international law Richard Falk as special rapporteur for the Palestinians, and she convened the Durban II conference against racism, which gave antisemitic former Iranian president Mahmoud Ahmadinejad a platform, which he used to deny the Holocaust.

According to the UN, the South African native is currently serving as judge ad hoc of the International Court of Justice in the Application of the Convention on the Prevention and Punishment of the Crime of Genocide (The Gambia vs Myanmar).

The judicial panel also includes Miloon Kothari of India and Chris Sidoti of Australia.

Sidoti has worked closely with Palestinian NGOs for more than 15 years. The Palestinian Authority's Independent Commission for Human Rights called him a "close friend and ally," think tank NGO Monitor reported.

These connects make Sidoti "incapable of independently and critically evaluating factual and legal claims," it said.
2/ As UN rights chief in 2008-14, Pillay endorsed the UN Human Rights Council's anti-Israel bias, including its agenda item targeting Israel at every meeting.

By contrast, UN Secretary-General Ban Ki-moon & her predecessor Louise Arbour had called out the UNHRC's bias on Israel.

— Hillel Neuer (@HillelNeuer) July 22, 2021
States look at options for enforcing anti-BDS laws in wake of Ben & Jerry's pullout
Each state has its own process by which to determine whether a company has violated state laws regarding BDS. Some states, like Illinois, have an independent board to determine which companies are in violation of the state's laws regarding boycotts of Israel, as well as other state laws involving Sudan and Iran. The board lists more than three dozen companies that are prohibited from state investment, though a handful are, according to the board, in talks with the IIPB on the issue.

Daroff noted that he spoke to corporate executives at Unilever on Tuesday about the potential fallout from the decision to pull Ben & Jerry's products. "It was very positive," he said of the meeting. "They were very much trying to assure us that it wasn't Unilever [that made the decision], that it was this board at Ben & Jerry's, and they were somewhat apologetic but also mostly in listening mode."

Unilever may be able to override the decision by the Ben & Jerry's board, according to a proxy statement filed with the Securities and Exchange Commission at the time of the corporation's acquisition of the ice cream company in 2000.

Citing the license agreement, the statement said that "Unilever has agreed to undertake activities related to the 'social mission' of the Company in connection with the Unilever Affiliates' activities under the Ben & Jerry's trademark" and lists a number of activities, including commitments to purchasing fair-trade products and using unbleached paper products, that could fall under that agreement.

If Unilever is in breach of the agreement, according to the filing it must pay an 8% royalty to Ben & Jerry's, a 3% increase from the percentage agreed upon by both parties.

That clause, Daroff said, provides an out for the parent company. "This seems to me to be a way for Unilever to pull off the Band-aid, and do away with this obviously, radically extreme Ben & Jerry's board," he said.

A number of anti-BDS laws have faced court challenges, with some found to be constitutional, but to date no piece of legislation focused on pensions has been successfully challenged.
Florida and Texas Threaten Sanctions Against Ben & Jerry's Over Israel Boycott
lorida and Texas have both threatened sanctions against the ice cream brand Ben & Jerry's following the brand's announcement of an upcoming boycott that will end sales of its product within Israel's occupied Palestinian territories.

Florida and Texas are two of 35 states that have passed laws or have executive orders that forbid companies and organizations from participating in the Boycott, Divestment and Sanctions movement (BDS). The BDS movement seeks to economically harm Israel for its actions against Palestinian people.

"It has come to my attention that Ben and Jerry's has announced plans to remove its products and prohibit the sale of its ice cream in Judea and Samaria," Republican Florida Governor Ron DeSantis wrote in a letter to the executive director of the state's administrative board on Thursday.

DeSantis' letter noted that Ben and Jerry's is a wholly-owned subsidiary of Unilever, a publicly traded company that holds multiple Florida investments. If Ben & Jerry's continues with its planned boycott, DeSantis wrote, the executive board will have to stop acquiring "any and all Unilever assets" in order to comply with the state's anti-BDS laws.

Similarly, Republican Texas Comptroller Glenn Hegar said that his staff is investigating whether Ben & Jerry's had violated the state's anti-BDS laws. While the state has blacklisted nine companies allegedly involved in the BDS movement, a search of state records conducted by The Houston Chronicle couldn't find any existing contracts with the ice cream brand.
Florida Gov. DeSantis Threatens to Sanction Ben and Jerry's, Unilever Over Boycott
Florida's Governor Ron DeSantis threatened legal action on Thursday against Ben and Jerry's and its parent company, Unilever, over the recently announced boycott of ice cream sales in the West Bank.

DeSantis asked Florida's State Board of Administration to add the companies to the Continued Examination Companies that Boycott Israel List.

Florida is one of 35 US states that have laws to opposing the Boycott, Divestment and Sanctions (BDS) movement against Israel.

"It has come to my attention that Ben and Jerry's has announced plans to remove its products and prohibit the sale of its ice cream in Judea and Samaria," DeSantis wrote.

"Should the State Board of Administration affirmatively place Unilever and its corporate entities on the Scrutinized Companies List and these companies do not cease the boycott of Israel as required by Florida Law, the Board must refrain from acquiring any and all Unilever assets consistent with the law."
Thread - States responding to @benandjerrys antisemitic boycott of Israel

1. Florida Gov. @GovRonDeSantis asks SBA (State Board Admin.) to examine if anti Israel boycott laws were broken by #Benandjerrys and parent company @Unilever pic.twitter.com/fcRXF82LKF

— StopAntisemitism.org (@StopAntisemites) July 22, 2021
3. Pennsylvania State Rep. Aaron Kaufer called on Gov. Tom Wolf, Attorney General Josh Shapiro and state Treasurer Stacy Garrity to enforce PA's Act 163 which prohibits state agencies and affiliates from contracting with companies engaged in a boycott of Israel.

— StopAntisemitism.org (@StopAntisemites) July 22, 2021
Who are the real victims of the Ben & Jerry's Israel boycott?
Ben & Jerry's Israel has not just been providing jobs to the area, but contributing to charities and social projects.

According to Zinger, his company has given to charities focusing on Israeli-Ethiopian communities. It also contributed to an entrepreneurial program that brought young Israeli Jews and Arabs together.

According to Zinger the company employs Ethiopian immigrants and refugees, and has Israeli Arab distributors that rely on them.

These initiatives, opportunities and jobs are all at risk.

Gabi is a division head at Ben & Jerry's Israel. He is married with three kids, and has worked at the factory for 24 years.

If the factory closes, Gabi joked that "it will be hard for my kids because they love to eat ice cream." He took a more serious tone when he said, "but they are also very proud that their father works in an ice cream factory."

In addition to his family, his workers' livelihoods prey on his mind. "I worry for them."

When asked what would happen next, Zinger said that "We have to let people go, we have to shut down the company if we lose the license."

However, Zinger emphasized that he is an optimist. He doesn't believe that will happen, because of all the support they've received in Israel and around the world.

This cautious optimism is shared by his employees.

"The factory may close in a year," Itai told the Post. "We don't know what will happen, we hope the political pressure will prevent that from happening"

"I think it will be okay," a line worker said.

The resilient mood seemed to have been amplified by the visit of social media influencers, pundits, and NGOs that came with the Strategic Affairs Ministry's Digitell branch. As the group arrived, workers were hanging new Israeli flags on the front gate.

At the end of the tour, the event turned celebratory, with some of the Digitell group climbing onto a Ben & Jerry's truck with an Israeli flag, cheered on by Zinger and other workers.

While the workers at Ben & Jerry's have been caught in the middle of a conflict, they are unwilling to be forgotten. They have not just embraced the support they've received, they've been actively fighting the closure of their factory.

"Everyone is behind us," Zinger said excitedly.
Powerful! Avi Zinger, CEO of @BenJerrysIsrael: "At end of the day, this is a war against #Israel & the Jewish people. We have to fight it together, to make sure @benandjerrys understand that Israel is not something they can play with or try to hurt and there is price for that." pic.twitter.com/dtfr0ygRYy

— Arsen Ostrovsky (@Ostrov_A) July 23, 2021
Ben & Jerry's Graphic Designer Quits after 21 Years over Boycott
Susannah Levin, an Albany, NY graphic designer whose company served Ben & Jerry sine 2000, posted on her Facebook page this week: "Effective immediately, I have quit my job of 21 years at Ben & Jerry's, over the statement on Israel. If you want to get an idea of why, please watch this wonderful video by the great Rabbi Jonathon Sacks, z"l. He explains how anti-Zionism IS the new anti-Semitism. My company's response is part of this despicable trend and I will have no part of it."
Communal outrage over 'insulting and absurd' attacks on Lord Austin
Leading community and anti-racist figures have expressed their outrage over an accusation of racism against Lord Austin, the former Labour MP who resigned from the party over its antisemitism, by left-wing Jewish organisation Yachad and Labour MP Alex Sobel, who supported Jeremy Corbyn's leadership of the party.

On Wednesday, Lord Austin tweeted a satirical image of a "terror-misu" ice cream tub, accompanied by the statement: "Ben and Jerry's have stopped selling ice cream in the West Bank, but they've introduced new flavours for Gaza."

In response, Yachad tweeted: "Living in Gaza does not translate into being a Hamas terrorist. This is a reckless generalisation that feeds into anti-Palestinian racist narratives."

Jewish Labour MP Alex Sobel, a supporter of Jeremy Corbyn during his time as Labour leader, then weighed in with a further accusation of racism: "It's racist to say all Palestinians are supporters of Hamas. It's the same racism that says all Jews are supporters of the Kahanists. I'm sure Ian didn't create it, but he can't spot racism and also fails to understand International Law which says settlements are illegal."

But the accusations against one of the leading fighters against racism in the Labour Party under Jeremy Corbyn, who resigned from the party in 2019 to sit as an independent, prompted fury.

Fiona Sharpe, spokesperson for Labour Against Antisemitism, said: "The attacks on Lord Ian Austin are insulting and absurd. They are nothing more than childish mischief-making. He is, and always has been, a vocal and courageous campaigner against antisemitism and extremism. He is a man of integrity who put his principles ahead of his own political career to stand alongside the Jewish community."
Paul Koretz Condemns Ben & Jerry's, Urges Them to Reverse Course
Los Angeles City Councilmember Paul Koretz sent a letter to Ben & Jerry's on July 21 condemning their July 19 decision to cease operations in the "Occupied Palestinian Territory" and urging them to reconsider.

Koretz noted that the Boycott, Divestment and Sanctions (BDS) movement is celebrating over Ben & Jerry's decision. "The purpose of BDS is not to protest or change Israeli policy as some claim, but to isolate and pressure Israel until it ceases to exist. BDS co-founder Omar Barghouti has said 'we oppose a Jewish state' and that Jewish people 'are not entitled to self-determination.' BDS also actively harms peace efforts by opposing Israeli-Palestinian cooperation, fueling more conflict and suffering for both peoples. Even more disturbingly, the movement is led by the Boycott National Committee (BNC) and according to the New York Times, 'terrorist organizations, including Hamas' are members of the BNC."

He added that the BDS movement has resulted in the promulgation of "dehumanizing propaganda about Israelis and promote[s] injustice. The campaign against the Ben & Jerry's factory in Israel calls its location a 'settlement,' when it is in fact an internationally recognized part of Israel. It's clear this isn't really about Israeli settlements, but about opposing Israel's existence."

Koretz concluded the letter with a call for Ben & Jerry's "to strengthen your ties with Israelis and Palestinians, support efforts that uplift both communities, and refuse to let your company be used for more hatred and division."
Our Chair & CEO @Ostrov_A was interviewed on @ILTVNews yesterday, discussing the legal ramifications for @benandjerrys and @Unilever under the anti-BDS laws in the United States. pic.twitter.com/1EW8g94ep1

— The International Legal Forum - ILF (@The_ILF) July 23, 2021
NYC's Morton Williams to Limit Ben and Jerry's Sales After Boycott
US tells Israel 'refrain' from settler building as de-facto freeze sets in
The United States publicly called on Israel to refrain from West Bank settlement construction as some settler leaders have warned that a half-year freeze on planning activity is already in place.

"I think there is definitely a de facto freeze," Efrat Council head Oded Revivi told The Jerusalem Post, noting that the facts speak for themselves.

The last meeting of the Higher Planning Council for Judea and Samaria in which substantive projects were advanced was in January, before US President Joe Biden was sworn into office.

The Council typically meets four times a year, but to date no additional meeting has been held, save for one last month in which a few minor items were advanced.

To date the Higher Planning Council has pushed forward only 780 homes this year from the January meeting, compared to 12,159 last year and 8,457 in 2019. Unless another meeting is held, this will be the worst year for settlement planning in almost a decade.

In Washington on Wednesday a journalist asked US State Department spokesman Ned Price if the Biden administration was pressuring Israel to halt all settlement activity.

"When it comes to settlement activity we have been clear and consistent," Price said.

"We believe it's critical to refrain from unilateral steps that increase tension and make it difficult to advance a negotiated two-state solution.

"This is a message we have conveyed in public, as I have just now, but also in private," Price said.
Shaked says she'd torpedo coalition if it agrees to settlement freeze
Interior Minister Ayelet Shaked has warned that she would leave the coalition government if it agreed to a request from the Biden administration to implement a building freeze in West Bank settlements.

In an interview published Friday in the Makor Rishon newspaper, Shaked was asked what her "red lines" are, which would lead her to leave and destabilize Israel's new government.

"If the government does something that is ideologically serious in my view, we will not be a part of it. For example, if the US administration demands a freeze in Judea and Samaria — there will be no government," the Yamina MK said, using the Biblical names for the West Bank.

There has been no such request yet from the Biden administration which has been careful not to stress the new coalition. It is also unlikely that the government, currently headed by Yamina leader Naftali Bennett would agree to such a freeze.

Settler leaders have said that they have been assured that under the coalition agreement that brought together eight ideologically diverse parties there was an agreement that there would be no freeze on building in the West Bank.
Palestinian official says PA ready for direct talks with Israel
Civil Affairs Minister Hussein Al-Sheikh is one of the leading figures in the Palestinian Authority hierarchy and is one of President Mahmoud Abbas' closest advisers. Al-Sheikh is the point person to Israel in all security matters and chairs the dialogue between the Palestinian government and the United States administration.

Al-Sheikh, who rarely gives public statements and has not given a full interview in some years, sat down with The Media Line's Felice Friedson in his Ramallah office for this exclusive conversation that included the current political situation, the next steps in jumpstarting the Israeli-Palestinian peace process, and the American role in the conflict and internal security issues.

Born in Ramallah in 1960, Hussein Al-Sheikh is the longtime head of the General Authority of Civil Affairs. As head of the Coordination and Cooperation Committee, he is the point person for contacts with Israel regarding civilian matters in the Palestinian territories. He also represented the Palestinian side on the Trilateral Gaza Reconstruction Committee following the 2014 Gaza War.

He's a member of the Palestinian National Council, the PLO Central Council, and the Fatah Central Council, and chair of the dialogue with the US administration.
36 members of French parliament visit Israel
A delegation of some 36 members of parliament from France visited Israel this week, seeing Israel's Iron Dome air defense system and meeting key officials from Sderot to Jerusalem.

The delegation came as part of an initiative by ELNET. The organization, which is non-profit and non-partisan, said that this is the largest delegation of its kind to visit during the Covid pandemic. The politicians held meetings with Prime Minister Naftali Bennett, President Isaac Herzog and opposition leader Benjamin Netanyahu and other officials.

According to Yossi Abravanel, Deputy Executive Director, ELNET-Israel, Herzog asked the members of the delegation to raise concerns about France's participation in the Durban conference. Czech Republic has become the ninth country to pull out of the Durban IV meeting. The Durban conference has been well-known for its anti-Israel and antisemitic rhetoric in the past.

Abravanel said that for 22 of the members of the delegation, this was their first time in Israel, noting that they came from across the political spectrum and did not include any members from extreme left- or right-wing parties. Jews and Muslims were part of the delegation. "The idea was to bring the first large delegation during Covid. We had special authorization to bring them and the idea was to bring them to meet the new government and administration," he said.

Many were not familiar with Israel and got to see Sderot, a community that has been bombarded by Hamas rockets for decades, as well as see the innovative Iron Dome defense system and meet IDF officers. On the second day of the visit, they met the president of Israel and key members of the Knesset. They also toured the Old City and Yad Vashem and went to the Davidson archaeological site near the Western Wall where they were given a presentation about Jewish history.
Polish Law preventing restitution of Jewish property passes in senate
The Polish Law that essentially prevents Jews from getting back property that was stolen from their families during the Holocaust and after the war by the Communist regime in Poland was passed in the Polish senate on Friday.

The law will make it near impossible to appeal decisions made on property that was stolen more than 30 years ago.

However, the law passed on Friday includes two amendments that were not part of the original draft bill.

First, an extension of three months was approved for submitting requests before the law comes into effect. Second, the new law will not apply on existing claims and ongoing cases.

Nonetheless, "the law will strongly harm [Israel's] relations with Poland," said Foreign Minister Yair Lapid following the announcement. "Poland knows very well what is the right and decent thing to do," he added.

"Israel is deeply concerned about the Polish legislation on the issue of restitution rights for the victims of the Holocaust. Every step in the legislative process is a worrying development," Lapid tweeted Friday afternoon.

"We will not backtrack on our commitment to the dignity of Holocaust victims, on maintaining their rights and preserving their memory," he added.
?????? The @UN has now spent over $70 million at the Four Seasons #Damascus.
(@USTreasury sanctioned the hotel in 2019 because of its owner's role in financing the regime of Bashar al-#Assad) https://t.co/WNmAew64jX pic.twitter.com/O1rgQPc2l0

— FDD (@FDD) July 22, 2021
How AI helped Israel defeat Hamas in the recent war in Gaza
A buzzword for the past few years, "artificial intelligence" (AI), is changing not only the civilian world but militaries and battlefields across the globe, with the Israel Defense Forces at the forefront.

The IDF has been working on AI for decades after troops and officers first recognized the need and realized that the military and defense establishment had to invest time and manpower in the development of the technology.

"The world has changed; we are living in a world full of data," Maj. M., a senior officer in the C4I Directorate told The Jerusalem Post as we sat in his office in a nondescript base in central Israel.

In the small base with old buildings, his office is full of plaques and awards for his unit, which has been at the forefront of the IDF's digital revolution.

"Since 2005 the technology has made a revolution in the military. It's allowed us to acquire a lot more intelligence with a lot more velocity." With battlefields changing, a central part of the IDF's Momentum multiyear plan is to transform the IDF into a "smart army," holistic and tech-friendly, using simulators for more and more battalions and using AI to significantly increase its target bank.

The IDF is now "data-driven," Maj. M. said, adding that "it's no small challenge" to take the data, use algorithms to analyze them, and get them to the troops on the front lines.
Two missing Palestinian youths found safe in the Dead Sea after lengthy searches
Large-scale searches were launched Thursday night after two youths went missing in the Dead Sea in southern Israel, police said.

After eight hours of searches, the two were found, using drones with thermal cameras, some two kilometers from the coast.

A boat then evacuated them to shore, where they received initial medical treatment and were then evacuated by the Red Crescent.

They were both listed in moderate condition after spending some eight hours in the salty body of water.

According to the Ynet news site, the two had come from Ramallah and Bethlehem.

The two were apparently carried out to sea by strong winds. The Israel Defense Forces, Israel Police, and rescue organizations all took part in the search.
I didn't realize until recently that the State of Palestine signed this statement (recently reaffirmed) supporting China's policies in Xinjiang due to the damage caused by "terrorism, separatism, and extremism." https://t.co/8JMjMK1y5r

— Julian Ku ??? (@julianku) July 20, 2021
IDF's Arabic Spokesperson @AvichayAdraee states the explosion occurred at a Palestinian Islamic Jihad weapons depot. https://t.co/1q0hwW19lm

— Joe Truzman (@JoeTruzman) July 22, 2021
IDF Arrests Two Lebanese Who Infiltrated Northern Israel, as Border Tensions Simmer
The Israeli military arrested two infiltrators from Lebanon early Thursday morning, further raising tensions along its volatile northern border.

The IDF initially announced early Thursday, "Overnight, our troops spotted 2 suspects crossing the Blue Line from Lebanon into Israel and are now conducting searches in the area."

"We have isolated the area and are using all means in order to apprehend the suspects," the army added.

Some three hours later, the IDF tweeted, "Our troops apprehended the 2 suspects who crossed the Blue Line from Lebanon into Israel overnight near the border fence. Following questioning at the scene, the suspects appear to be job seekers."

Israel is increasingly concerned about the situation on its northern border, where it faces the Iran-backed terrorist group Hezbollah, which dominates southern Lebanon.

The catastrophic economic and political situation in Lebanon has led the Israeli security establishment to fear that a war with Hezbollah could be set off as a result; or, conversely, that Hezbollah could lose control of southern Lebanon, creating chaos that would be exploited by other terror groups.

Earlier this week, rockets were fired at northern Israel from Lebanon, causing no injuries. The IDF responded with artillery fire. The rockets are believed to have been fired by a Palestinian group.
The IDF cannot let Lebanon become like Gaza - analysis
At least five significant drug- and weapons-smuggling attempts have been thwarted since the beginning of the year by the IDF and the police:
In February, 12 kilos of drugs were seized in the area of Dovev, and one suspect was arrested in Israel.
In early April, two pistols and two kilos of drugs were seized in the area of Metulla, and several suspects were arrested.
In early June, 15 pistols, dozens of cartridges and 36 kilos of drugs were seized, and a number of suspects were arrested.
In mid-June, 12 pistols were seized near Metulla, and one suspect was arrested in Israel.


Though infiltration and the smuggling of drugs and weapons into Israel are not the same as rocket attacks, they are a wake-up call for the military.

If the IDF continues to respond to such incidents like it responded in Gaza, will the residents of the North become like those in the South? Will they become victims of constant rocket fire, or tiftufim (drips), as they're referred to in Hebrew?

While Hezbollah may be preoccupied with the collapse of Lebanon, the terrorist group has not stopped learning and watching its back.

The Shi'ite terrorist group is using every opportunity to gather intelligence on the IDF and will not miss an opportunity to strike.
UN agency warns Lebanon's water supply could collapse in a month
The shortages and currency crunch in Lebanon could lead to a collapse of the mains water supply in Lebanon within a month, the UN's Children Fund warned Friday.

"More than four million people, including one million refugees, are at immediate risk of losing access to safe water in Lebanon," UNICEF said.

The UN agency said that maintenance costs incurred in US dollars, funding shortages, and the parallel collapse of the power grid were rapidly destroying the water sector.

"UNICEF estimates that most water pumping will gradually cease across the country in the next four to six weeks," it said.

"A loss of access to the public water supply could force households to make extremely difficult decisions regarding their basic water, sanitation, and hygiene needs," UNICEF Representative in Lebanon Yukie Mokuo said.

Lebanon's meltdown, which started with a financial crisis caused by state corruption and mismanagement, is fast spreading to every aspect of daily life.

The Lebanese pound, which for years was pegged to the US dollar, has lost more than 90 percent of its value over the past 18 months.

Electricity in most places is barely available an hour a day while the fuel needed to power generators is also in short supply.
Why is Israel's state budget so important for the fight against Iran?
A series of leaks over the last week make it seem like Israel is once again on the verge of launching an aerial assault against Iran's nuclear facilities.

In coordinated reports on two TV stations, reporters revealed that the IDF is upping its preparations again for a possible strike against Iran – and to do so, is asking the state for a bump in its budget to the tune of up to NIS 25 billion over the next five years.

On the one hand, this makes sense. Iran is plowing ahead with its nuclear program despite efforts by the Biden administration to get the ayatollahs to agree to a new – and ideally "longer and stronger" – deal that would set back their race to a bomb. Iran has new, sophisticated centrifuges that can enrich uranium to higher levels at a faster pace, in addition to the Islamic Republic accumulating larger quantities of enriched uranium.

It also makes sense that Israel's military readiness for an operation of the scope to attack Iran would need to be updated. The last time Israel was seriously considering military action was back in 2012, a couple of years before the JCPOA nuclear accord was reached between the P5+1 and Iran.

After that deal was reached in 2015, then-IDF chief of staff Gadi Eisenkot privately admitted that one of the benefits of the deal was that it moved an anti-Iran operation off the military's front burner, allowing him and the General Staff to change the way they were allocating the defense budget.

If until the deal the IDF needed to invest more in long-range aerial capabilities and munitions, now it could invest the money in the ground forces. Eisenkot said this even though the prime minister at the time, Benjamin Netanyahu, was still actively fighting against Barack Obama and his nuclear accord.
Bipartisan Lawmakers Want Iran's Illicit Financial Empire Exposed
A pair of bipartisan congressmen want the U.S. intelligence community to pull the curtain back on the Iranian regime's illicit financial empire, providing a window into the hardline government's funding networks as the Biden administration moves to unwind harsh economic sanctions on the country.

Reps. French Hill (R., Ark.) and Al Lawson (D., Fla.) seek to force the Biden administration to disclose intelligence information it has on the Iranian regime's illicit financial channels, which have helped keep the government afloat as its economy flounders under American sanctions. Iranian supreme leader Ali Khamenei controls a business empire reportedly worth $95 billion. This money has helped to keep the clerical regime in power as its people face food, water, and gas shortages.

The lawmakers filed legislation on Wednesday that would require the Treasury Department to brief Congress on how Iran's hardline government acquired the funds in the face of sanctions. "By combining publicly available information with U.S. intelligence that can be made public, the legislation can provide a valuable window into the corrupt business practices of Iran's top kleptocrats and limit their financial holdings which are used to support and sponsor terrorism," the lawmakers said when they unveiled the bill, which is likely to receive broad support among members of both parties who want to hold Iran accountable.

The information could be used by Congress to sculpt sanctions that target Iran's illicit financial networks, banks involved in processing these funds, and senior Iranian officials complicit in any sanctions-busting schemes. It could also fuel further opposition to the Biden administration's ongoing negotiations with Iran aimed at inking a revamped nuclear deal. Tehran is demanding full-scale sanctions relief, including those that target Khamenei's billion-dollar empire. A large amount of that money is frozen in international accounts due to U.S. sanctions that will likely be lifted if a deal is reached.

Iran also launders large sums of money, though it is unclear how much is pushed through the country. Much of this money goes to regional terror groups, including Hamas in the Gaza Strip, Hezbollah in Lebanon, militants in Syria, and terrorist factions in Iraq and Yemen. The Hill-Lawson bill, dubbed the Holding Iranian Leaders Accountable Act, could make a firm number on this activity public.
China's CCPC Takes Center Stage in Iran, Venezuela Oil Trade-Sources
A Chinese logistics firm has emerged as a central player in the supply of sanctioned oil from Iran and Venezuela, even after it was blacklisted by Washington two years ago for handling Iranian crude, seven sources with knowledge of the deals told Reuters.

The more prominent role of China Concord Petroleum Co, also known as CCPC, and its expansion into trading with Venezuela, have not previously been reported and highlight the limitations of Washington's system of restrictions, analysts say.

The details of the deals were described to Reuters by a range of individuals including one China-based source familiar with CCPC's operations, Iranian officials and a source at Venezuela's state-owned oil company PDVSA.

CCPC got involved in the Venezuelan oil trade this year through deals with small independent Chinese refineries known as teapots, according to monthly loading schedules, export schedules and invoices from April and May this year from PDVSA, as well as tanker tracking data and the PDVSA source.
New York Times Opinion Writer Was Paid Iranian Propagandist, Prosecutor Says
A frequent New York Times opinion writer facing criminal charges for allegedly being a paid foreign agent of the Iranian government appeared virtually this month before the federal judge hearing the case, as a prosecutor told the judge that the writer's crime was not only "lobbying" for the regime in Tehran but also "the dissemination of propaganda."

"Lobbying is not the only means by which he committed the offense," the prosecutor, Ian Richardson, told Judge Edward Korman. Richardson said the writer, Kaveh Afrasiabi, had also served as an "agent of influence" by disseminating propaganda.

Afrasiabi, an Iranian national who is a US permanent resident, pleaded not guilty in February. Prosecutors say he was paid approximately $265,000 by the Iranian UN mission since 2007 and also received health insurance benefits. Afrasiabi has acknowledged to The Algemeiner that he received the money.

In a July 12 court filing, Afrasiabi said the charges "stem from a basic misjudgment of the nature of my work as a responsible social scientist committed to the cause of peace, dialogue, and harmony between nations."

The filing says, "until my arrest by the FBI in January, 2021, I never thought that my consulting role with the Mission of Iran to United Nations was unlawful. To reiterate, various Iranian ambassadors to UN, beginning with ambassador Javad Zarif in 2007, repeatedly assured me that under UN rules Iran was entitled to two outside consultants and that it was perfectly legal."
Why would Iranian dissidents risk everything, even risk their families in #Iran being threatened to visit #Israel?

Check out the inspiring voices fighting against the Iranian regime (and a message in Farsi at the end too!):

W/ @elliecohanim #IranProtests #Khuzestan #FreeIran pic.twitter.com/rgqBroTHRB

— Emily Schrader - ????? ?????? (@emilykschrader) July 22, 2021
In Memory of Ruth Pearl, Mother of Slain Journalist Daniel Pearl
To understand a mother's love is to know the story of Ruth Pearl.

Ruth, as many called her, knew before anyone that her son's life was in danger.

On January 23, 2002, she awakened in her home in California with a startling dream and wrote an email to her son, Danny, warning him to be careful, thousands of miles away in Karachi, Pakistan, where he was staying with his wife, Mariane, at a home I had rented on Zamzama Street. Danny and I were friends from our work together at the Wall Street Journal. Alas, later that evening, Danny slipped into a taxi for an interview from which he never returned.

Five weeks later, the FBI learned militants had slain Danny. It was a mother's nightmare come true. Ruth would outlive her child. Born Ruth Rejwan in Baghdad, Iraq in 1935, Ruth Pearl died this week, 19 years later.

But what Ruth did over these 19 years is testimony to a mother's love and her character and grace. "My beautiful, wise, generous, loving mama who overcame the traumas in her life with strength and vitality and dedication to helping others died today," her eldest daughter, Tamara, wrote to friends.

In June 1941, as a six-year-old girl in Baghdad, born in the capital of Iraq to one of the city's Jewish families, Ruth witnessed a massacre, the Farhud, when at least 180 Jews were killed by locals, wreaking chaos during a power vacuum. "It was like a movie," she recalled in an interview, watching looting and violence. As bullets flew, her father led her family to the cellar. "I had nightmares," she said, for decades.

She met her husband, Judea, at Technion, the Israel Institute of Technology. With her passing, he wrote, "I've lost my dear wife this afternoon, my northern-star and my college sweetheart."
Ruth Pearl, Mother of Daniel Pearl z"l, has left us. She & @yudapearl have breathed soul into their son's legacy:

"I am #Jewish.
My mother is #Jewish.
My father is #Jewish.
I come from a #Zionist family."

Be Proud. Be #Jewish.

May Ruth's memory be a blessing ????@benshapiro pic.twitter.com/j7bC2NnsmZ

— Shahar Azani (@ShaharAzani) July 23, 2021