From Ian:
Mixed judo team wins bronze, 2nd medal for Israel at Tokyo Olympics
Israel's mixed team in judo won a bronze medal at the Olympics on Saturday, the nation's second medal at the Tokyo games.

The team scored a victory over their Russian opponents in the consolation round of an event that is being held for the first time this year.

In the battle for bronze, Israeli judoka Gili Sharir lost to Madina Taimazova, giving a 1:0 lead to the Russians.

However Sagi Muki took his bout against Mikhail Igolnikov, bringing the Israelis level at 1:1.

Next up was Raz Hershko who beat Aleksandra Babintseva to take the Israelis ahead 2:1, before Peter Paltchik took the score to 3:1.

A final victory for Timna Nelson-Levy gave Israel a 4:1 win and a spot on the podium.

Muki said the whole team had given everything they had to win the medal.

"Everyone here gave their heart and soul, and together we did it," he said.

After a week of losses for Israel's judokas, Paltchik said that the team had finally come together on Saturday.

"Everyone had a week that was very disappointing on a personal level, but something about this special day led to everyone giving a little more for the team, and that's what made the difference," he said of the victory. "We were eulogized too soon."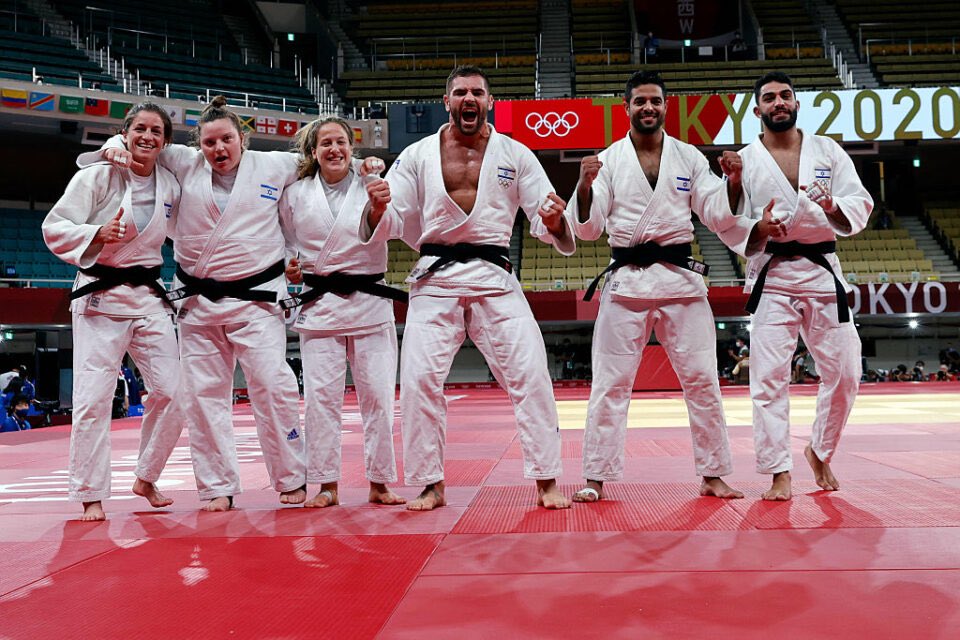 The biggest winners and losers in the Tokyo #Olympics:

? IDF soldier Avishag Semberg winning ??
? Iranian defector Saeed Mollaei's silver??dedicated to Israel
? Saudis and Israelis together for sport ???? ????

?Iran sending an IRGC terrorist#tokyo2020
pic.twitter.com/87dFvct0Sc

— Emily Schrader - ????? ?????? (@emilykschrader) July 31, 2021
Congress must fix UNRWA's Hamas problem
The House Appropriations Committee this month approved the annual foreign aid bill on a party-line vote. The proposal includes the Biden administration's full request to provide at least $150 million, with no strings attached, to the United Nations Relief and Works Agency. The proposal is highly controversial, with scrutiny growing over the organization's ties to terrorist entities in Gaza. As Senate appropriators eye their own markup, now is not the time for blank checks. Members of both parties should demand much-needed changes.

The urgent need for reform and oversight of UNRWA has been obvious for years. The organization has inflated its registry by falsely accepting the descendants of refugees into its ranks. This has led to bloated budgets and the needless perpetuation of the Palestinian-Israeli conflict.

But the need for reform became increasingly obvious in the wake of the recent Gaza war. The drama began when the guns fell silent. Matthias Schmale, the director of operations for UNRWA in Gaza, told Israel's Channel 12 that Israeli military operations during the war were carried out with "sophistication" and "precision." This ran counter to the Hamas narrative that Israel was attacking Gaza indiscriminately. Indeed, Schmale was confirming that Israel operated within bounds of international law during the war.

Schmale also noted, to the surprise of the Israeli anchor interviewing him, that during "the 11 days of war, we did not run out of food, water, and supplies …. So, from my point of view, there is no acute or serious shortage of medical supplies, food, or water." Again, this was not the Hamas narrative.

Finally, Schmale ceded that UNRWA "cannot work in a place like Gaza without coordinating with the local authorities [Hamas]; that's true for any autocratic regime of this nature." This was the real bombshell. Schmale's interview acknowledged that UNRWA was actively coordinating with Hamas — a terrorist group pursuant to the laws of most Western countries that support his agency.

Not surprisingly, Hamas authorities soon declared Schmale to be persona non grata in the Gaza Strip. He had broken ranks. His organization for more than a decade had toed the Hamas line, parroting the organization's false accusations against Israel and pretending that its operations inside the Gaza Strip were not structured as a quid pro quo. UNRWA has some serious explaining to do. And Congress should be posing tough questions.
What I will remember most is when @matzschmale dared to speak the truth that Israel only targeted Hamas, only for his bosses at @UN to acquiesce to Hamas pressure, force him to embarrassingly apologize and then withdraw him from #Gaza. https://t.co/WwSM37I9Fq pic.twitter.com/GpTCUc3w4I

— Arsen Ostrovsky (@Ostrov_A) July 31, 2021
@SecBlinken You gave $300 million to UNRWA. Now a top official has been fired for refuting Hamas' lie that Israel fired indiscriminately & inflicted mass civilian casualties. If telling the truth is what ruins one's career at UNRWA, something is profoundly wrong with the agency.

— Hillel Neuer (@HillelNeuer) July 30, 2021
GOP senators introduce bill for Israel label on West-Bank products
Seven Republican senators are backing a bill that would enshrine as law one of former President Donald Trump's final orders — requiring products from the portion of the West Bank controlled entirely by Israel to be labeled as originating in Israel.

The Anti-BDS Labeling Act introduced this week by Sen. Tom Cotton, R-Ark., refers to the movement to boycott, divest from and sanction Israel. It comes on the heels of the controversy surrounding ice cream maker Ben & Jerry's recent decision to pull its products out of the West Bank. Republican lawmakers, however, have been talking about enacting the Trump order since Dec. 23, when the lame-duck president issued the measure less than a month before leaving office.

Biden has not rescinded the order, which applies to goods manufactured in Area C, which is under Israeli control. Former Israeli Prime Minister Benjamin Netanyahu had contemplated annexing the area.

The bill has no chance of passage in the Democratic-controlled Senate.

Area C is where Jewish settlements are concentrated, although it also includes a Palestinian population.

Also in the West Bank are the much smaller Area A, which is under total Palestinian Authority control, and Area B under joint Israel-P.A. control. Under Trump's order, products from those areas are labeled as coming from the West Bank.

In addition to Cotton, the bill is being backed by Marco Rubio and Rick Scott of Florida; Marsha Blackburn and Bill Hagerty of Tennessee; Ted Cruz of Texas; and John Boozman of Arkansas.
Sen. Cruz isn't "blocking" Senate floor consideration he's forcing it (so the opposite). Line in bill doesn't "express US support" for 2 state solution it has Congress mandate it as new US policy. More than 50 of cosponsors joined before line was inserted.

Otherwise, nailed it. pic.twitter.com/NL4vXh7cdC

— Omri Ceren (@omriceren) July 31, 2021
Dore Gold:
Israel's Jordan policy misrepresented in the press - opinion
Anyone who has been in public life can find himself misrepresented in the press, but sometimes there are broader implications for what has been written. Last Sunday, Fareed Zakaria interviewed Jordan's King Abdullah on his CNN show, when all of a sudden the interviewer threw out "Dore Gold, an influential adviser to prime minister [Benjamin] Netanyahu, recently said, Jordan needs to start thinking of itself as the Palestinian state."

Whether he realized it or not, Zakaria was feeding into a long-held fear in Jordan that Israel was scheming to solve the Palestinian problem at Jordan's expense. The problem was that I never uttered the words that were attributed to me. Having been a diplomatic envoy to Jordan in the 1990s, I knew how careful a representative of the Israeli government had to be when it came to this subject. That I would make a statement of this sort was not only inaccurate but it also underestimated the sensitivity Israeli envoys had for their eastern neighbor.

So where might a top American journalist gain the impression that this was nonetheless Israeli policy – or the policy that I advocated? In 2006, Hamas won the Palestinian elections in both the West Bank and in the Gaza Strip. At the time, the Jerusalem Center for Public Affairs hosted the former Jordanian prime minister, Abdelslam al-Majali. In our meetings, and in public addresses he gave in Washington, Majali proposed a peace arrangement based on a confederation between the West Bank and Jordan. He said that this configuration had the support of the king.

Having been a part of roundtable discussions between Israelis and various Arab parties in Rome in the years that followed, the confederation option was discussed. No one said that this means that Jordan is the Palestinian state. It would be a complete misinterpretation of those discussions to reach such a conclusion. But this mythology persisted that this was what Israel was seeking to implement.
82 MKs appeal to Polish counterparts to block anti-restitution law
Amid a spat between Israel and Poland over a law being advanced by Warsaw to prevent restitution to heirs of property seized by the Nazis during the Holocaust, 82 of Israel's 120 members of Knesset signed a letter earlier this week to members of the Polish parliament asking them to oppose the legislation.

"We, members of Israel's Knesset, are contacting you with a request to vote against the law that denies Holocaust survivors and descendants of Holocaust victims [the right] to demand the return of the property stolen from them," reads a Hebrew-language version of the letter published by the Ynet news website.

If adopted, the law would prevent property ownership and other administrative decisions from being declared void after 30 years, which would mean that pending proceedings involving Communist-era property confiscations would be discontinued and dismissed. It affects Polish, Jewish and other property claims that are subject to contested previous determinations.

"There is no doubt that Poles took part in the persecution, theft and extermination" during the Holocaust, reads the letter spearheaded by Likud MK May Golan and Yesh Atid MK Yorai Lahav Hertzanu. "That is the historic truth and it cannot be changed. The attempt by Poland to distance itself from the crimes committed in its territory by Poles is mistaken and dangerous, because how is it possible to educate young people not to repeat crimes that weren't committed?"

The lawmakers added: "We implore you — as Polish citizens, as public leaders, as humans — to acknowledge the crimes and act to fix them. Not just for the sake of the victims' memory and respect for the survivors, and not for the sake of the relations between our countries, but for Poland. Acknowledging history, not rewriting it, is the act that would increase the respect for the Polish nation."
Meretz lawmaker faces internal pushback for rejecting use of term 'occupation'
Meretz lawmaker Yair Golan faced internal pushback from a senior official in the left-wing party, after saying he refuses to use the word "occupation" to describe Israel's military control over the West Bank.

"What Golan does not understand is that the 'occupation' doesn't refer to the capture of the land but the situation in which 3.5 million Palestinians have been in for 54 years," Uri Zaki, a member of Meretz's leadership, wrote Saturday on Twitter.

He added: "Living under a military occupation, without basic rights or citizenship, while alongside them more and more Israeli citizens in the same territory have full democratic rights."

Zaki, who is the partner of Meretz Minister Tamar Zandberg, said it was "very sad that comments like these came from a MK included on the Meretz [electoral] list."

The criticism of Golan came a day after he made the remark in an interview with Channel 12 news, which noted that the term "occupation" appears numerous times in the party's platform.

"This word has a connotation of a callous act, as if we took a piece of land that we have nothing to do with. Ultimately our roots are in the territory of Judea and Samaria and Jerusalem," Golan said, using the biblical names for the West Bank.

"I dream of the land of the bible," he added. "I tell my friends on the right, my connection to every clump of the Land of Israel is no less than yours."
Biden's Pick for Anti-Semitism Envoy Said Ilhan Omar's Israel Comments Were Anti-Semitic
President Joe Biden's pick for U.S. envoy to combat anti-Semitism once called Rep. Ilhan Omar's (D., Minn.) comments on Israel anti-Semitic in nature.

Deborah Lipstadt, a Holocaust historian and leading expert on anti-Semitism, was formally nominated Friday to serve in the State Department as U.S. ambassador to combat and monitor anti-Semitism. In 2019, Lipstadt told Jewish Insider that Omar's depiction of pro-Israel Americans as having "allegiance to a foreign country" is a clear example of anti-Semitism.

"I believe it is" anti-Semitic, Lipstadt said. "Dual loyalties is part of the textbook accusations against Jews. They are cosmopolitans, globalists, not loyal to their country or fellow citizens."

While Omar has said multiple times that she does not view her remarks as anti-Semitic, the lawmaker's views are colored by this attitude, according to Lipstadt.

Omar "may think she is only criticizing Israel and its policies but one cannot ignore the fact that she is relying on traditional anti-Semitic tropes to do so," she said. "What it suggests to me is that, at best, these people exist in a place where anti-Semitism is out in the ethosphere; they hear it, breath it in, and don't even recognize it as anti-Semitism."

Lipstadt will need to be confirmed by the Senate before assuming her role. She is expected to garner broad bipartisan support given her status as one of the leading authorities on anti-Semitism.
It's becoming quite the High Holidays tradition: New York City Mayor de Blasio expressing his thoughts about the Jews and how they need to stop spreading diseases. Consistent. Not very original. But you can't deny his consistency. pic.twitter.com/IgTXcMKYPd

— Omri Ceren (@omriceren) July 30, 2021
Lebanese athlete said to pull out from MMA contest to avoid facing Israeli
A Lebanese mixed martial arts fighter announced on Saturday that he will not compete in an upcoming championship in Bulgaria to avoid facing an Israeli opponent, according to media reports.

Abdullah Miniato and his coach Muhammad Al-Gharbi said they are withdrawing from the International Mixed Martial Arts Federation Youth MMA World Championships, after a draw placed Miniato against an Israeli, the Hezbollah-affiliated al-Manar said.

The Lebanese television station said that the player "refuses to recognize Israel or practice any form of normalization" and therefore pulled out of the competition immediately upon learning who he'd face.

The IMMAF Youth MMA World Championships for 12 to 18-year-olds is being held this weekend in Sofia, Bulgaria.

Seven Israeli athletes are registered, according to the event's organizers. Eight are from Lebanon, including Miniato.

There was no immediate statement from the IMMAF on the matter.
US State Department okays potential sale of 18 heavy lift helicopters to Israel
The US State Department said Friday it approved the potential sale of 18 Sikorsky CH-53K King Stallion heavy lift helicopters to the Israel Defense Forces as part of a deal worth up to $3.4 billion.

The Defense Ministry chose the US-made helicopter earlier this year to replace the IDF's fleet of CH-53 Sea Stallions which have been in service since the 1960s.

The deal includes engines, navigation systems, weaponry, support equipment, spares and technical support, the Reuters news agency reported.

Although a contract has not necessarily been signed, the State Department said in a statement that "the United States is committed to the security of Israel, and it is vital to US national interests to assist Israel to develop and maintain a strong and ready self-defense capability."

The prime contractors on the deal are the Lockheed Martin Corp and General Electric Co.

The Defense Ministry had been wavering between the Boeing CH-47 Chinook and Sikorsky CH-53K King Stallion heavy transport helicopters to replace its 50-year-old CH-53 helicopters, whose Israeli version is named Yassur.

When Defense Minister Benny Gantz came into his post he ordered the military to reconsider its plan to purchase the V-22 tilt-rotor aircraft, which can function as both an airplane and a helicopter, giving the military — particularly special forces — greater flexibility.
Seth Frantzman:
Iran trying to draw retaliation red line at sea against Israel
Within hours of reports that an Israel-linked ship had been targeted by drones off the coast of Oman some pro-Iranian social media accounts and media began to discuss the attack as "retaliation" for what they claim are Israeli attacks. The claims appear to point to a new Iranian red line that is being drawn at sea. The message from Tehran is that this is where Iran will strike. Iran has the drones and weapons, such as mines and IRGC fast boats, to target commercial vessels. It has done so over the last several years. It is saying it will strike at what it sees as a soft underbelly of Israel, or a kind of weak link, which is commercial shipping.

What is Iran openly saying? Press TV released a clip on Saturday claiming that "informed sources believe that the raid has been in response to an Israeli missile attack on Syria." Press TV quotes western media and Israeli sources, appearing to launder information on the attack to others. What matters here is the overall depiction of this attack as an escalation, a response and a new type of response. This is because all the former attacks did not appear to try to inflict casualties. This attack apparently involved precision drone strikes aimed at areas where crew would have been on the ship.

Defense and security analyst Farzin Nadimi writes that that the unique "Attack was designed to be merciless: one of the drones was directly aimed at the tanker's bridge, to kill people, because it was in retaliation for April 24 attack off Baniyas against Lebanese/Iranian product carrier Wisdom, in which 3 were killed, incl 2 crews [sic]." He notes that "this attack was a follow-up to the Jul 5 attack on CSAV Tyndall which was a misidentification. If Israel chooses to retaliate in kind, Iran will do the same." Al-Alam TV in Iran says the attack was retaliation for a July 22 airstrike near Qusayr in Syria at Al-Dabaa airbase.

Veteran war correspondent Elijah Magnier asserts that this attack represents a new phase as well. "Iran started a 'battle between wars' against Israel. The Israeli killing of members of the 'Axis of the Resistance' in Syria won't be disregarded. Israel was expecting a reaction from #Iran following the attack in #Syria against al-Daba'a airport. Therefore, it should stop playing the victim and understand that every act of killing will be met by a similar act in the future," he writes.

Meanwhile Israel's Foreign Minister Yair Lapid has slammed Iran in the context of the incident and he has spoken with the UK's Foreign Secretary. "Iran is not just an Israeli problem, but an exporter of terrorism, destruction and instability that harms us all. The world must not be silent in the face of Iranian terrorism," Lapid said.
Seth Frantzman:
Deadly attack on Israel-linked tanker is major escalation - analysis
IRAN HAS been practicing using drones at sea in recent drills and operations, and has tested drones and missiles for precision attacks. The Islamic Republic has also outfitted IRGC fast boats with small drones that can be launched from the boats. Hours after the first reports of the attack on the tanker, the Saudis said they thwarted a drone attack on a ship as well.

The picture emerging is that Iran was behind the attack – and that it was sophisticated. Tehran has previously been careful about using drones to kill people. In September 2019 it used more than a dozen drones and cruise missiles to attack Saudi Arabia's Abqaiq facility, but no one was killed. In Iraq the Iranian drones have not killed US personnel, but targeted a CIA hangar.

What this means is that this is a potential game changer. While there have been numerous incidents at sea in the last six months, the overall goal of those carrying them out appears to be to avoid casualties. Iran, for instance, likely mined ships in May and June 2019 in the Gulf of Oman, but no one was killed. The question will be how countries that have now been threatened will respond.

The National's report says that the British military group said it was "investigating another unexplained incident in the same area, but did not elaborate." This is unclear but it hints that something else happened.

The fact that a drone attacked an oil tanker is also an escalation from attacks on commercial cargo ships. "At the time of the incident, the vessel was in the northern Indian Ocean, travelling from Dar es Salaam to Fujairah with no cargo on board," Zodiac said of the incident. The fact that the ship had no cargo may mean that whoever planned the attack didn't want to risk a major oil spill. However, the fact they killed two people would appear to point to a murderous act. Whether the international community and local naval powers will take this seriously remains to be seen.
Seth Frantzman:
What does Iran's use of drones against ships mean for the future?
IF IRAN has reached a new level of precision drone strikes and is using them against shipping in deadly attacks, this is a major milestone. Iran may also be moving these drones to the Houthis or others, or basing them on ships. Iranian ships have recently sailed all the way to Russia, around Africa, and brought drones with them. It has also placed drones on its Islamic Revolutionary Guard Corps fast boats. Additionally, Iran has tested drones in recent naval exercises.

The Iran threat from drones based in Syria, or with Hezbollah, Hamas and pro-Iranian militias in Iraq, was known. The Houthi drone threat was also well known, and in addition, Iran's use of drones to attack Saudi Arabia's Aramco oil-processing facilities in Abqaiq in September 2019 was a major incident that some experts described as a sort of Pearl Harbor in using this technology.

Air defenses have been improving against drones, but the Houthis continue to use them against Riyadh, and pro-Iran militias in Iraq have showcased dozens of Iranian drones that are now in their arsenal. It is believed they used a drone to strike a secret CIA hangar in Erbil in the Iraqi Kurdistan Autonomous Region in April of this year. In 2019 it is also believed that the Kataib Hezbollah proxy, active in Iraq, used an Iranian-supplied drone to strike at Saudi Arabia.

Iran also used drones to monitor attacks on ISIS and in Syria in 2017 to help fight ISIS. It also used drones flown from Kirkuk in 2018 to target Kurdish dissidents; in July 2019 it again used a new drone unit to target Kurds.

All of this shows how Iranian drones and drone technology are now a major emerging threat: from Lebanon all the way through Syria and Iraq to the Persian Gulf and then to the Gulf of Oman and Yemen, stretching thousands of miles and potentially putting ships and forces from the US and many allies and partners in danger.

Iran may be signaling that it will strike using drones at sea in deadly attacks in what it claims are responses to Israeli strikes in Syria or elsewhere. A pro-Iran social media account says that Tehran's armed drone ability is increasing and that this incident showcases the new Iran policy of retaliation.
Israel passing intel to US, UK tying Iran to deadly attack on ship — report
Israel has been providing the United States and United Kingdom with intelligence showing Iran was responsible for a deadly drone attack against an Israeli-operated ship, in an effort to ramp up international pressure on Tehran, according to a Saturday television report.

Israel was arguing to the international community that Iran didn't just hurt this country with Thursday's attack, but harmed global interests, including shipping routes, Channel 12 news reported. The Jewish state has been holding talks with the US and UK over the past day and passed on the information marking Iran as culpable, the report said.

"Iran is not just an Israeli problem, but an exporter of terrorism, destruction, and instability that are hurting us all," Foreign Minister Yair Lapid said on Friday.

The MT Mercer Street oil tanker, managed by an Israeli billionaire, was struck on Thursday in the northern Indian Ocean, killing two crew members — one British and one Romanian national — in what American and Israeli officials said was a drone-style attack.

A senior Israeli government source said on condition of anonymity Friday evening that "Iran is sowing violence and destruction in every corner of the region. They were so eager to attack an Israeli target that they've embroiled themselves and incriminated themselves in the killing of foreign citizens."

The source said that with a new hardline Iranian president set to be sworn in, "the masks are coming off and no one can pretend they don't know the character of the Iranian regime.
UK avoiding placing blame after attack against Israeli-operated vessel that killed two of its crew. https://t.co/5w5A8YuAsP

— Joe Truzman (@JoeTruzman) July 30, 2021
Iran. https://t.co/b6MNMxqd5m

— Joe Truzman (@JoeTruzman) July 30, 2021
US Military Says it is Assisting Tanker That Was Attacked off Oman
The US Navy is assisting an Israeli-managed petroleum products tanker that was fatally attacked on Thursday off the coast of Oman, the US military said on Saturday, adding the ship was most likely hit by a drone strike.

The Mercer Street, a Liberian-flagged, Japanese-owned vessel, is currently being escorted by the aircraft carrier USS Ronald Reagan, the US Central Command said in a statement.

"US Navy explosives experts are aboard to ensure there is no additional danger to the crew, and are prepared to support an investigation into the attack," said the Central Command, which oversees American military operations in the Middle East and Central Asia.

"Initial indications clearly point to a UAV-style (drone) attack," it added.

Israel's foreign minister blamed Iran on Friday for the attack, which killed two crewmen, a British and a Romanian.

US and European sources familiar with intelligence reporting said on Friday Iran was their leading suspect for the incident, which a US defense official said appeared to have been carried out by a drone, but stressed their governments were seeking conclusive evidence.

Al Alam TV, the Iranian government's Arabic-language television network, cited unnamed sources as saying the attack on the ship came in response to a suspected, unspecified Israeli attack on Dabaa airport in Syria.
During the same period, Iran has killed, kidnapped, detained, and endangered ship crews from:
???? United Kingdom
???? South Korea
???? Philippines
???? Indonesia
????Myanmar
???? Romania
???? Vietnam
???? Georgia
???? Russia
???? Latvia
???? India

How long of a list is too long?

— Gabriel Noronha (@GLNoronha) July 30, 2021
Khaled Abu Toameh:
Despite thaw in relations, Palestinians to step up 'popular resistance'
Despite the apparent rapprochement between the new Israeli government and the Palestinian Authority, Palestinian officials called this weekend for escalating the "popular resistance" against IDF soldiers and settlers in the West Bank.

The officials accused the IDF of killing three Palestinians in the West Bank last week, a move which, they said, shows that the Israeli government "is not serious about improving its relations with the Palestinians."

One of the victims was 12-year-old Mohammed al-Alamy, who was reportedly shot by IDF soldiers at the entrance to the village of Beit Umar on the Bethlehem-Hebron highway. After his funeral, Shwkat Awad, 20, was shot dead during clashes with IDF soldiers, according to the PA Health Ministry.

In a third incident, Palestinians said that Shadi Salim, 41, an employee with the Beita Municipality near Nablus, was shot dead by troops near the town. Security sources said that he was targeted after he approached soldiers in a menacing manner while holding what appeared to be an iron bar.

Last week, the Israeli and Palestinian health and environmental protection ministers held rare meetings as part of a US-sponsored effort to improve relations between the two sides.
BDS Announces Boycott of the Palestinian Authority, Citing "Close Economic Ties With Israel" (satire)
In a surprising turn of events, organizers of the BDS movement (Boycott, Divestment, and Sanctions) have announced that the internationally recognized political representative of the Palestinians – the Palestinian Authority (PA) – will become a target of their activities. The BDS movement, originally a place where anti-Semites could hide behind a more civil banner, is dedicated to convincing people, governments, and corporations that Israel is worth thinking about in their spare time. Still attempting to boycott anything related to Israel, it appears that BDS is collecting controversies like Jews collect pennies (to put it in terms they'd understand). Despite this questionable position, support for BDS remains strong, leading many followers to wonder about their newest announcement concerning the PA.

"The PA has all the hallmarks of an organization we'd like to boycott," BDS leader Jon Katz told The Mideast Beast. "The PA does business with Israel, works on joint projects with Israel, many of the people it represents work in Israel and for Israelis. Just look at a map- it's even touching Israel. I have to tell you, it makes me sick." Katz hopes to see international support for the PA evaporate, and as a result, Israel along with it. "When you really think about it, the Israeli military industrial complex needs the PA; how could they justify buying so many guns for shooting civilians without an enemy to fight?" And with this point, the logic of the argument is revealed like the horns on a Jew when taking off his hat.
Israel said set to toss 80,000 expiring vaccine doses at midnight
Israel was set to dispose of 80,000 COVID-19 vaccines due to expire at midnight, Channel 12 news reported Saturday evening.

The Pfizer-BioNTech vaccines were said to be worth NIS 6 million ($1.8 million).

According to the network, which said that Pfizer refused to extend the expiration date, Israel has not previously thrown out such a high number of vaccines during the pandemic.

"The State of Israel is managing its stock of vaccines while paying attention to the expiry of the product," the Health Ministry said in response.

"The state signed confidentially agreements and cannot reveal the exact amount of vaccines," it added.

Earlier this month, Israel shipped some 700,000 doses set to soon expire to South Korea, as part of a deal that will see Seoul send fresh vaccines in exchange later this year.
If you aren't prepared to defend your statements and instead opt to insta-block instead, why are you on twitter? pic.twitter.com/NiII1Bqt8Q

— The Mossad: The Social Media Account (@TheMossadIL) July 31, 2021
Another #Hamas advert boasting how they make rockets out of #Gaza water pipes.
Then they run to the western media to complain they have no water!
And gullible western activists call out Israel for Hamas neglect of sewage in Nuseirat!#TheGazaYouDontSee https://t.co/gXdJq83JUO pic.twitter.com/kDdO33PR3e

— Imshin (@imshin) July 31, 2021
MEMRI: Iranian Political Analyst: Iran Had the Ability to Make 10 Nuclear Bombs Even before the JCPOA
Iranian political analyst Emad Abshenas, the editor-in-chief of Iran Diplomatic Newspaper, said that unlike Rouhani's team, President-elect Raisi's administration does not seek to reach a fundamental resolution of all disagreements with the U.S., but only to have the sanctions lifted. He made his remarks in a show that aired on Sky News Arabiya (UAE) on July 24, 2021. Abshenas said that he does not think that Raisi's team wants to obtain nuclear weapons, although Iran has all the technology to manufacture a bomb, and if it wanted to, it could do so at any time.

Abshnenas also said that "even before the JCPOA, (Iran) had the ability to manufacture ten nuclear bombs." He added that Iran's first priority will be resolving disagreements with the neighboring countries and getting closer to "the countries of the East" like Russia and China instead of getting closer to Europe and the United States.
Philip Carl Salzman on the Perils of "Scholar Activists" in Middle East Studies
Philip Carl Salzman, an MEF writing fellow and professor emeritus of cultural anthropology at McGill University in Montreal, was interviewed by Winfield Myers, director of the Middle East Forum's Campus Watch project, in a July 16 Middle East Forum webinar (video) about the increasingly ideological and politicized nature of what passes for scholarship in Middle East studies.

Salzman, a specialist in the study of tribal societies in the Middle East whose works include Culture and Conflict in the Middle East, and Postcolonial Theory and the Arab-Israeli Conflict, found himself the target of the cancel culture in November 2020. An open letter circulated by McGill students called for the university to revoke his emeritus title, accusing him of writing articles that were "racist and Islamophobic" and complaining that they didn't "feel safe."

The letter took particular issue with an article by Salzman that set out to explain "the nature of conflict in tribal societies and pre-industrial states" of the Middle East. The article made no mention of either race or Islam – it was his depiction of the region as "a place where doing harm and being cruel to others is regarded as a virtue and a duty" to which his detractors took offense, which is ironic. "I suspect that the families of most of them came to North America because they didn't feel safe in the Middle East."
Ice cream boycott shows radical Left is running the show
The Knesset vote on applying sovereignty to Judea and Samaria, which was designed to embarrass members of the coalition, managed to put on full display their opposition to the move. But we must also look at the pressure waged by some on the anti-Israeli Left on senior coalition members.

Who would have thought that Meretz MK Yair Golan would withdraw his signature from a letter that condemned the Ben & Jerry's boycott over Judea and Samaria. Golan claimed that only after affixing his signature was he made aware that Jewish settlements there are not part of the State of Israel. So what if those settlements are currently not considered within Israeli borders. As far as sovereignty is concerned, Israel is the sovereign power in Judea and Samaria and has every right to exercise its sovereignty. The Ben & Jerry's boycott is an antisemitic move because it targets Jewish communities. In that sense, it's worse than a boycott of Israel.

But fellow Meretz faction member MK Mossi Raz's pressure on Golan dovetails with the campaign led by anti-IDF movement Breaking the Silence, in which it has warned Defense Minister Benny Gantz and Public Security Minister Omer Bar-Lev that "violence by settlers should NOT happen under your watch." Using building wraps, they put on this slogan with quotes from the two ministers. The wrap was taken down after people realized that it was on a government building.

When you combine the ice cream boycott, Raz and the Breaking the Silence campaign, it becomes clear that the radical anti-Israel Left has been setting the tone and has adopted an arrogant approach that wants to dictate to ministers how to act. So in this climate, how can a deputy minister oppose a boycott on Jewish settlements?
Artists cut ties with museum over owners' alleged Israel connection
A group of 25 artists have ended their connections with the London contemporary art museum, the Zabludowicz Collection, over the museum's alleged connection to Israel and the Israeli military, ArtForum Magazine has reported.

The artists, who have all either exhibited at or collaborated with the Zabludowicz Collection in the past, sent letters to the museum and its affiliates, detailing their plan to "de-author" all the "conceptual content" that they had created for the museum.

This included any screenings, talks, initiatives, and commissions, as well as the artwork itself.

The letters, all signed individually, were authored by the Boycott/Divest Zabludowicz (BDZ) movement, which was established in 2014 and calls for a boycott of the Zabludowicz Art Trust, of which the collection is a subsidiary.

The boycott calls for an end to the trust's "continued complicity in the ongoing colonization and occupation of Palestine, and of apartheid policies against Palestinians," according to ArtForum.
Look at the hysteria from anti-Israel bigots: ?? ?? pic.twitter.com/wP3t9qADLd

— Emily Schrader - ????? ?????? (@emilykschrader) July 31, 2021
Antisemite Lamis Deek stands outside the home of a Jewish man moving to Israel in New York harassing him and accusing him of ethnic cleansing.

Jews are literally being chased and harassed by "free Palestine" Jew haters.

Where the hell are the police!?
pic.twitter.com/aDSG8QzU70

— Emily Schrader - ????? ?????? (@emilykschrader) July 31, 2021
.@CUNY already has a Dept. of Education Title VI antisemitism complaint filed against them thanks to the bigotry of its students like Nerdeen Kiswani

Now they're allowing this lunatic to teach students?

What's next - 'Genocidal Marketing Techniques according to Goebbels 501'? https://t.co/tZ6rf0z9km

— StopAntisemitism.org (@StopAntisemites) July 30, 2021
.@Rutgers pro Palestinian groups are now backtracking about their antisemitic targeting Hillel after causing massive outrage, including condemnation from Rep. @JoshGottheimer (D-NJ)

Second sentence highlighted shows their clear identification of Hillel. pic.twitter.com/SoxDQGDwzh

— StopAntisemitism.org (@StopAntisemites) July 31, 2021
MEMRI:
MEMRI TV YouTube Channel Reaches 15 Million Views – And Almost 50,000 Followers
WASHINGTON, D.C., July 29, 2021 – The MEMRI TV YouTube channel has passed the milestone of 15 million views since its launch in December 2017. It has also acquired nearly 50,000 followers during this time. You can subscribe to our channel here.

To date, the MEMRI TV YouTube channel has posted 2,248 clips, of the nearly 9,000 on the MEMRI TV website, and had 15,006,317 views; it reached one million views in November 2018 and 10 million views in June 2020.

You can receive all the latest clips by visiting the MEMRI TV YouTube channel and clicking on "Subscribe." Join over 500,000 daily subscribers to MEMRI content on social media: Facebook, Twitter, LinkedIn, Instagram, Vimeo, and TikTok.
Argentine show uses Anne Frank to illustrate 'women who don't leave house' song
In a recent episode of "Showmatch," one of Argentina's most popular talent contest shows, a contestant sang about "women who don't leave the house" — in front of a background image of Anne Frank.

The song, titled "I'm Not That Woman" and written by Spanish singer Paulina Rubio, refers to empowered women who do not follow traditional societal norms. The image of Anne Frank appeared on a giant monitor right as singer Sofia Jimenez sang the lyrics "I'm not the type of woman who doesn't leave the house" on an episode that aired last Friday. The screen showed other prominent female figures throughout the song, including Oprah Winfrey and Mother Teresa.

Argentine Jewish institutions condemned the incident, and some of the show's producers, as well as its host, visited the Anne Frank House in Buenos Aires, a museum that recreates the famed Jewish diarist's attic hideout.

"To use Anne Frank as the background for a song by a woman who refuses to stay at home is to bring the banalization of the Holocaust to its extreme expression," the Anne Frank House had written in a statement. "Anne Frank did not stay at home because she was a submissive woman, but had to hide to escape the persecution of the Nazi machinery."

The DAIA Jewish umbrella group called the show's image choice "unfortunate and confusing."
MEMRI:
The San Francisco-Based Internet Archive – Neo-Nazis' Favorite Website For Spreading Their Materials
In an op-ed published by SFgate.com on July 20, 2021,[1] titled "This San Francisco-Based Website Is A Favorite Of Neo-Nazis To Spread Their Hatred," MEMRI Executive Director Steven Stalinsky summarized MEMRI's comprehensive study[2] of the massive amount of neo-Nazi, white supremacist, and Holocaust denial content hosted by the San Francisco-based Internet Archive.

The MEMRI report, published in January 2021, included a preface by renowned Holocaust historian Prof. Yehuda Bauer, the academic advisor to Yad Vashem, the World Holocaust Remembrance Center and a member of the MEMRI Board of Advisors.

Bauer wrote in his preface that this study "is of major importance in the fight against hate speech generally, racism, and extreme rightist white supremacy propaganda, and especially its central antisemitic component... The Internet Archive, which is universally available, is circumventing all the efforts, in themselves laudable ones, to limit hate speech disseminated via social media."

Op-Ed By MEMRI Executive Director Steven Stalinsky: 'This San Francisco-Based Website Is A Favorite Of Neo-Nazis To Spread Their Hatred'

In recent years, neo-Nazis, antisemites and other white supremacist and racist groups have been using the San Francisco-based Internet Archive (archive.org) for spreading their propaganda and incitement online. The massive online digital library allows them to, in its own words, "upload movies, audio, texts, software, images, and other formats ... any time you wish" and to freely share the link to the resulting page.

For the past decade, Middle East Media Research Institute (MEMRI) research has been exposing the Internet Archive's enabling of Al-Qaeda, ISIS and other jihadi propaganda efforts and its function as a database for their distribution of materials, recruitment campaigns, incitement of violence, fundraising and even daily radio programs. We wrote that ISIS liked the platform because there was no way to flag objectionable content for review and removal — unlike on other platforms such as YouTube. Today, the Internet Archive enables neo-Nazis and white supremacists in the same ways, and its terms of use still deny responsibility for content uploaded to it.
France's Macron to sue advertiser for depicting him as Hitler
French President Emmanuel Macron's attorneys announced this week that he is planning to sue a billboard owner for depicting him as Adolf Hitler.

Several such images were placed across the southern province of Vaud as part of a broader backlash against Macron's coronavirus restrictions policy.

One billboard in the city of Toulon portrayed Macron in a uniform as the Nazi leader, with a hairstyle and mustache similar to that of Hitler's. The swastika armband was changed to LREM – La République En Marche – the name of Macron's ruling party. An accompanying slogan read: "Obey. Get vaccinated."
Swastikas scrawled on Bnei Brak synagogues
Swastikas were scrawled on the walls of two synagogues in Bnei Brak on Saturday, with Israel Police opening an investigation on Saturday night.

In front of one of the synagogues, photos of Shira Banki, who was murdered by a haredi extremist in the Jerusalem Pride Parade in 2015, were scattered in front of the entrance. Friday marked 11 years since the murder took place.

"The bullying rampage and spray-painting of swastikas on a synagogue in Bnei Brak on Shabbat is the rotten fruit of continued and unbridled incitement against everything that smells of Judaism and haredim," said United Torah Judaism MK Yaakov Asher on Saturday night, expressing hopes that he would be able to pass an amendment to expand the legal definition of racism to include incitement against haredim.

In 2015, Yishai Schlissel, a resident of Modi'in Illit, stabbed six people at the Jerusalem Pride Parade. In 2005, Schlissel stabbed several people at the pride parade, serving 10 years in prison until he was released just weeks before carrying out the attack in 2015.

"The swastikas painted on the walls of the synagogue in Bnei Brak are a despicable, dangerous and disgusting act," said Labor MK and Reform Rabbi Gilad Kariv on Saturday night. "The dumping of photos of the late Shira Banki on the spot only adds to the ugliness of the act and desecrates her memory and the message her parents have been carrying since her murder."
Helping the disabled regain their independence with a flick of a wrist
Being disabled doesn't only inhibit a person's ability to move but also limits their social, financial, and physical independence. Israeli startup 6Degrees Ltd. focuses on improving disabled persons' mobility with its wearable bracelet device that studies a patient's movements similar to how a voice-activated device "learns" a person's voice, and alongside bluetooth connectivity, allows users to control their electronic devices. Its second-generation device, still in the works, functions as a virtual reality (VR) video game, and helps disabled and amputee persons overcome the pain caused by phantom limb syndrome.

Yet, the impact-oriented startup is about more than just doing good. Its founders, husband-and-wife team Miri Berger and Aryeh Katz, understand the pain of being disabled from up-close. Katz was injured during his military service in a paratrooper's unit, and the duo searched for ways for them to regain their independence.

"The thing that hits you isn't just the pain or the loss of a limb," 6Degrees CEO Miri Berger noted, "it's the loss of independence. We want to encourage the disabled or those suffering from an amputee or mobility-restricting disease such as cerebral palsy to 'get back on their feet' both financially and socially," she said. Israel promotes impact-oriented businesses that are sustainable, and the group jumped at the chance upon their return from the United States. Berger holds a background in industrial design, while Katz, who serves as CTO, was Head of the Innovation Lab at NYU and holds a background in electrical engineering and software development.

6Degrees operates in the digital health field, and its first-generation device is already available, while its second is in the works. "We created this technology to empower mobility-challenged individuals who have lost mobility. Our product addresses key human needs, such as gamification, employment, and recovery as well as encouraging individuals to pursue social, financial, and physical independence."
3 women receive kidneys in Israel-UAE organ exchange, 1st with Arab state
An Israeli woman has donated a kidney to a recipient on Abu Dhabi, in a first-of-its kind arrangement that will bring a kidney from the United Arab emirates to a different Israeli woman.

At 5:30 a.m. on Wednesday, doctors at Sheba Medical Center removed a kidney from Shani Markowitz, 39. The surgery went smoothly, and the organ was raced to Ben Gurion Airport in a special cool box, to be flown to Abu Dhabi.

Meanwhile, a woman in Abu Dhabi underwent surgery and her kidney is en route to Israel, for a woman at Rambam Medical Center in Haifa. The husband of the Rambam patient is giving a kidney to Markowitz's mother, via a surgery at Rabin Medical Center. And Markowitz's kidney has gone to the mother of the Abu Dhabi donor.

It is part of an arrangement between three families, in which one person in need of a kidney receives a suitable organ, while their relative donates their kidney to a stranger. This complex system is needed because none of the patients have relatives whose kidneys are suitable for them.

"This is very exciting. It's the first time we have conducted such a process between Israel and an Arab state, and it really shows that medicine has no borders," Dr. Rafi Bayer, chairman of the Israel Center for Organ Transplantation, told The Times of Israel.

Negotiated by the center's chief executive, Dr. Tamar Ashkenazi, it is one of several instances of health cooperation brought about by the year-old Abraham Accords between Israel and the United Arab Emirates. Bayer said that, given the proximity of the UAE, it is an arrangement that can be used regularly to save lives.