From Ian:
NGO Monitor:
See No Evil: NGOs Turn Terrorists into Civilians in 2021 Gaza Conflict
A major element of NGO propaganda consists of accusing Israel of targeting and killing civilians in Gaza. NGO Monitor has examined the use of this subterfuge during the May 2021 Gaza conflict, as well as in previous confrontations.

One method used by NGOs to inflate civilian casualty numbers, accompanied by allegations of "war crimes," is to obscure or omit essential details about specific incidents – thereby erasing the role of terrorist groups. NGOs falsely classify Palestinian terrorists as civilians and ignore evidence that implicates terror groups in the deaths of Gazan civilians.

NGO Monitor research has identified 50 incidents in which Hamas and Islamic Jihad operatives killed in Gaza were falsely labeled by NGOs as civilian casualties, or in which civilians killed by Hamas were implicitly attributed to Israel. (Approximately 15 percent of the 4,300 missiles fired towards Israel fell short and impacted in Gaza.)

In failing to report accurately, Palestinian NGOs amplify the demonization strategy, ignore the commission of war crimes by Palestinians, and distort the reality of Israeli efforts to limit civilian casualties during the fighting. These manipulated NGO accounts also serve as the basis of inflammatory media projects, such as the infamous New York Times front page story with pictures of children, and for international "investigations", such as a forthcoming UN Human Rights Council commission of inquiry.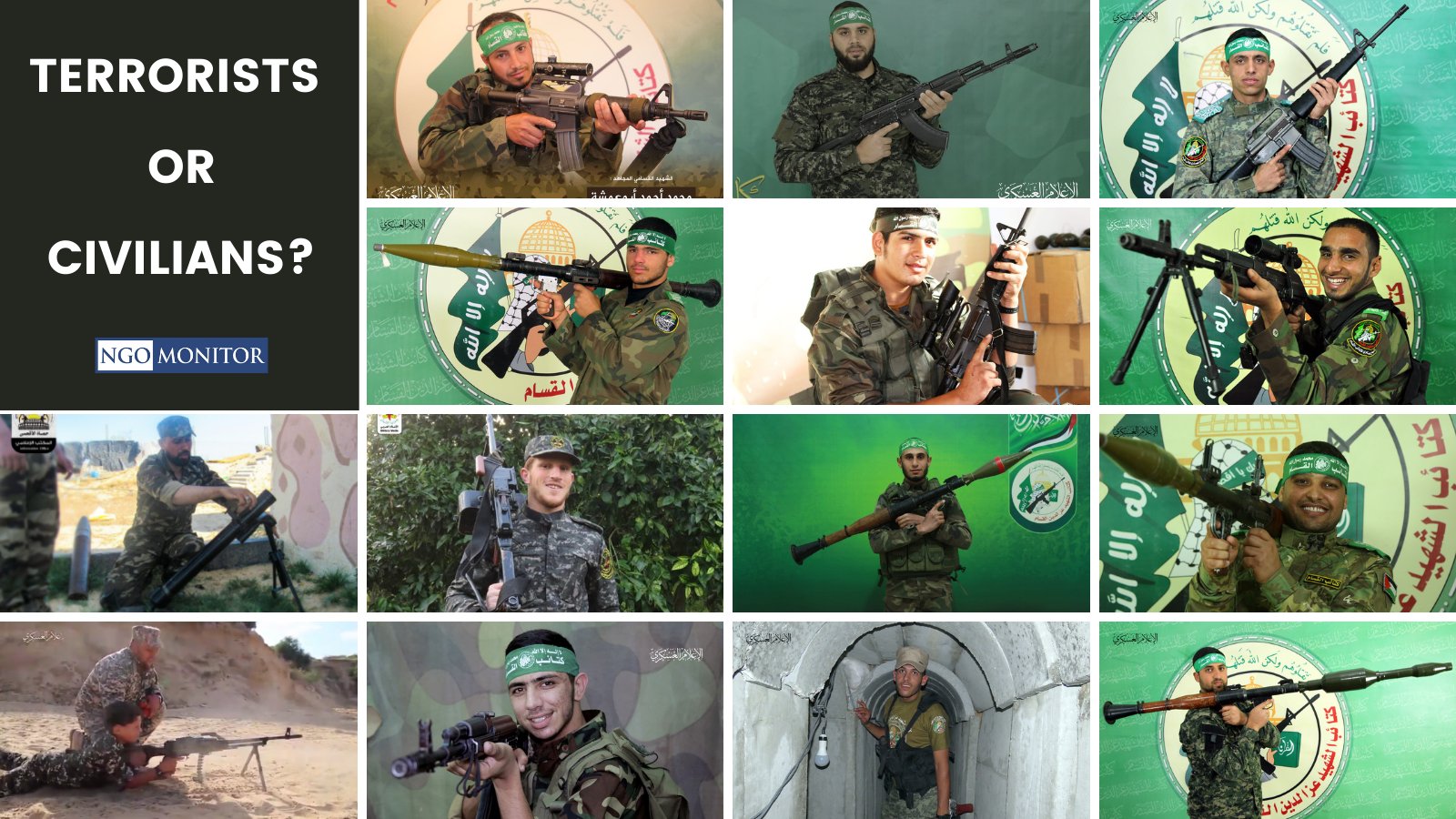 Emily Schrader:
Iran must be banned from Olympics - opinion
Iran's alarming abuse of athletes is not new. It's been occurring since the Islamic Revolution in 1979. For example, in 1981, wrestler Hooshang Montazeralzohoor was executed for his anti-government stance. In 1988, the regime executed volleyball player Fouzan Abdi and football player Mahshid Razaghi – both political dissidents. In 1984, they executed football player Habib Khabiri for the same reasons. In 2012, they executed kickboxer Majid Jamali-Fashi, accusing him of being an Israeli spy. In 2021, after the execution of Afkari, they executed a second champion wrestler, Mehdi Ali Hosseini as well as a champion boxer and prominent sports coach, Ali Mutairi.

How many athletes have to die under this regime for the IOC to take action? It's not as if Iran conducts its business in a sportsmanlike fashion in any case – Iran has been throwing matches to avoid Israelis for years, repeatedly forcing athletes to resign rather than face Israeli athletes. In one of the most famous cases, Iranian wrestler Saeed Mollaei threw a match in judo to avoid facing an Israeli, only to defect later and compete for another country after fleeing to Berlin.

He is not alone. Dozens of Iranian athletes have fled the oppression of the regime which destroys their hard work and dreams. One Iranian ex-athlete who fled to the United States confessed to CNN that Iranian intelligence watches the teams 24/7 and they are punished if they do anything wrong while abroad. "I want to ask [the] IOC, are you aware of this? You talk about gender equality and race equality. Are you aware that one of your members is violating the charter all the time? You have been silent about this... This is sport, it has to be about peace and friendship, but they teach you to hate," he said.

The IOC has no excuse. It is well known and documented – by both international human rights organizations as well as refugee athletes who have fled Iran for their lives – that the state of Iran violates every principle the Olympic Games represent. Iran has no place in the Olympics and the IOC cannot continue to allow these egregious violations of human rights to occur right in front of their faces. The IOC must ban Iran from the Olympic Games.
The international Olympics Committee's Jewish problem
The Berlin Olympics reinforced Brundage's admiration of Nazi Germany. During a speech at Madison Square Garden, he praised Nazi Germany as "60 million people believing in themselves and their country... we can learn so much from Germany."

Two years later in 1938, Germany awarded his construction company the contract to build a new embassy in the United States.

Brundage probably never changed his anti-Jewish animosity. Just as he was dismissive of Jewish athletes' expulsions from German sports, his attitude of disdain towards Jewish athletes continued with "the games must go on," following the murder of the Israeli athletes at the Munich Olympics.

His dismissal of Jewish sporting achievements was made hollow by swimmer Mark Spitz two days after the massacre, who won seven gold medals for America. This record was finally beaten by American swimmer Michael Phelps at the 2008 Beijing Olympics.

The IOC still "does not get it,"- in July 2020 it used promotional material taken from Hitler's 1936 Olympics using the slogan "stronger together," which was deleted after protests.

Notwithstanding the persistence of Israeli athlete widows Ankie Spitzer and Ilana Romano to have the massacre commemorated with a minute's silence, IOC presidents always turned a deaf ear until the current president, Thomas Bach agreed.

The IOC has awarded itself a behavioral medal 49 years later.

Finally the right thing, but certainly not gold.
Winning judo silver in Tokyo, Iranian defector Mollaei dedicates medal to Israel
Saeid Mollaei, a former Iranian judoka now representing Mongolia, took home the silver medal in the men's 81-kilogram division, losing the gold to Takanori Nagase of Japan.

It was the first Olympic medal for Mollaei, two years after he left his native Iran, revealing that his national team coaches had ordered him to lose in the semifinals of the 2019 World Championships in Tokyo to avoid facing Israel's Sagi Muki in the final. Mollaei subsequently moved to Germany and then acquired Mongolian citizenship.

Mollaei told the Israeli Sports Channel that he was thankful for the support he's received from Israel over the years.

"Thank you to Israel for the good energy. This medal is dedicated also to Israel," he told the network. "I hope the Israelis are happy with this win."

He added in Hebrew: "Todah" (thank you).

Muki congratulated his friend on his achievement, despite his own disappointing finish on Tuesday.

"I'm super happy for Saeid," Muki told a press conference of Israeli reporters on Tuesday. "I know what he's gone through, and how much he wanted it. He's a very close friend of mine, and I'm so happy that he succeeded in achieving his dream. He deserves it — his journey is incredibly inspiring."
International Olympic Committee 'concerned' by forfeits to avoid Israeli judoka
A representative of the International Olympic Committee said Tuesday that it is "monitoring" reports that two judokas forfeited their matches rather than face an Israeli opponent, and vowed to "take all necessary measures" against the athletes.

Sudan's Mohamed Abdalrasool failed to appear at his slated competition against Israeli judoka Tohar Butbul in the men's 73-kg division on Monday, without providing a reason. On Saturday, Algerian judoka Fethi Nourine pulled out of the contest to avoid facing Butbul, citing his support for the Palestinian cause.

"Obviously the IOC is always concerned in these cases and is monitoring it very closely," International Olympic Committee director of solidarity James Macleod told a media briefing in Tokyo on Tuesday. "Clearly if there are flagrant abuses of the Olympic charter, the IOC will take all necessary measures in that respect."

Macleod noted that Nourine and his coach, Amar Benikhlef, had their Olympic accreditation withdrawn on Saturday and were sent home.

"In the case of the Algerian athlete and coach, the national Olympic committee took immediate action, very prompt action, to remove the athlete and the coach from the team and send them home," he said.

Nourine told an Algerian TV station last week that his political support for the Palestinian cause made it impossible for him to compete against an Israeli.
Cruz Blocks Israel Bill Over Watered-Down Support for Jewish State
Sen. Ted Cruz (R., Texas) is blocking a piece of Israel-related legislation over concerns that the measure's language waters down support for the Jewish state, congressional sources confirmed to the Washington Free Beacon on Monday.

Cruz will also introduce an amendment to the legislation that strips the contested language and replaces it with a statement enshrining American support for Israel, according to a copy of that amendment also obtained by the Free Beacon. The senator will block the bill from moving forward until his amendment is considered.

The bill in question is the Israel Relations Normalization Act of 2021, which has been working its way through the Senate Foreign Relations Committee and is now coming up for a vote in the Senate. The legislation broadly aims to solidify congressional support for Abraham Accords peace agreements but has been subject to increasing controversy in recent weeks due to the last-minute inclusion of language that would establish a different U.S. policy equivocating on diplomatic support for Israel and Palestinian statehood.

The changes prompted Cruz to pull his sponsorship of the original legislation late last month. Cruz says the current version of the bill would pour millions of dollars in aid into the Palestinian government and completely rewrite longstanding U.S. policy, which specifically supports Israel in its peace negotiations. Cruz's amendment would strip the language in question, bringing the bill back in line with established U.S. policy on the issue.

The dispute hints at deeper divisions in the Senate over the direction of U.S. policy on peace negotiations and relations with Israel. The Biden administration wants to boost diplomacy with the Palestinian government and has unfrozen millions of dollars in U.S. taxpayer aid as a good-will gesture—a decision that Cruz and many other Republicans opposed, citing the Palestinian leadership's ongoing support for terrorism and incitement against Israel.

The most controversial change in the legislation is the insertion of language that would rewrite American policy regarding peace talks between Israel and the Palestinians.

Congress has mandated since 2012 that U.S. policy must be to "assist" and "support the Government of Israel" in its ongoing talks with the Palestinians. The Israel Relations Normalization Act, however, alters this language to strip statements of American support for Israel in peace talks, instead stating only that the United States supports "a negotiated solution to the Israeli-Palestinian conflict resulting in two states living side by side in peace, security, and mutual recognition."
Human Rights Watch Peddles 'War Crimes' Accusations in Biased Anti-Israel Report
HRW initially describes an alleged May 10 Israeli missile strike in Beit Hanoun, located in the northern Gaza Strip, that ostensibly took place in the first minutes of the conflict. "Shortly after 6 p.m. on May 10, a guided missile struck near the town of Beit Hanoun and killed 8 people, including 6 children, all apparently civilians, and reportedly injured 18," the report states. According to HRW, eight people were killed, including five children of the al-Masri family.

While the report asserts — without reservation — that these deaths were caused by "an Israeli-guided missile," previous research has cast doubt on this. In May, HonestReporting already noted that the explosion in question might have been caused by a Palestinian-launched rocket that fell short of Israeli territory.

Reports by Palestinian and Israeli NGOs that have alluded to this point are simply ignored by Human Rights Watch.

Indeed, IDF radar images show that at least 15 percent of all rockets launched by Hamas and the wholly-owned Iranian subsidiary Palestinian Islamic Jihad (PIJ) landed inside Gaza, including in Beit Hanoun, unquestionably killing and injuring many civilians. At 6 PM on May 10, Hamas had just launched a salvo of rockets at Jerusalem, quickly followed by an anti-tank missile that was fired from the northern Gaza Strip.

Crucially, the Meir Amit Intelligence and Terrorism Information Center revealed that the event in Beit Hanoun occurred before the IDF had initiated its anti-terror operation in Gaza.

[…] It can be assumed it was a failed launch or fire by terrorist organizations in the Gaza Strip," the organization wrote in June. "Nevertheless, the Arab media in Gaza treated the incident as an Israeli 'massacre,' and exploited the incident for propaganda purposes against Israel, even though Palestinian organizations have stated the cause of their deaths has not yet been determined."

The likelihood that Hamas or PIJ bears responsibility for the deaths in Beit Hanoun is furthermore reinforced by four witness statements included in the HRW report. According to their testimony, "shortly before the [alleged Israeli] attack, they heard one or more munitions being launched into Israel from Gaza."
Another 'report' from @hrw replete with more lies & complete distortion of the law. It is no more than Palestinian propaganda whitewashing Hamas crimes. If you want to really understand int'l law & the conflict in May, see this report from @The_ILF: https://t.co/hLk9nrCzqV https://t.co/WAbdvWHuJL pic.twitter.com/2l3lL6iURG

— Arsen Ostrovsky (@Ostrov_A) July 27, 2021
ABC Australia's One-Sided Article About HRW Report Mischaracterizes International Law
The Australian Broadcasting Corporation has published an article about Human Rights Watch's latest anti-Israel report that is even more biased than the HRW report itself. ( "Human Rights Watch alleges Israeli attacks were not aimed at military targets," July 27, 2021 by Sowaibah Hanifie).

The article contains an inaccurate characterization of international law: "Under international humanitarian law, warring parties can target only military objectives and must take precautions to minimise harm to civilians, including by providing warning of a planned attack."

International law does not require warning of a planned attack in all cases, but rather, only when practicable. For example, according to the International Committee of the Red Cross:
Australia's LOAC Manual (2006) states:
When a planned attack is likely to affect the civilian population, those making the attack are required to give, if practicable, effective advance warning of the attack to the authorities or civilian population. This requirement must obviously be applied in a commonsense manner in light of all other factors. If the proposed action is likely to be seriously compromised by a warning then there is no requirement to provide any warning.

US and UK military manuals provide similar guidance.

Even the HRW report itself stated that, "under international humanitarian law, or the laws of war, warring parties may target only military objectives. They must take all feasible precautions to minimize harm to civilians, including by providing effective advance warnings of attacks."

In addition, the article in question has omitted important and relevant information.
The study released by @HRW today said there were "apparent war crimes," a devious linguistic trick designed to imply something that happened without actually saying or proving it.

And then @AP and @WashingtonPost report as if @HRW had said Israeli war crimes had occurred. pic.twitter.com/LPTYhbN4Wp

— HonestReporting (@HonestReporting) July 27, 2021
Israeli Tourists Greeted by Traditional Musicians as the First Israeli Plane Lands in Marrakesh, Morocco #Israel #Morocco pic.twitter.com/6NNasN654T

— MEMRI (@MEMRIReports) July 27, 2021
Israel, Bahrain to sign economic cooperation agreement
Israel and Bahrain have agreed on a framework for economic cooperation to be submitted for government approval.

The agreement deals with developing economic relations and encouraging free movement of goods and services between the countries. It also states that they intend to encourage private sector cooperation, cooperate in matters of standardization and regulation, encourage joint R&D projects, hold joint business and professional seminars and exchange expertise and knowledge in diverse fields. The countries will also welcome each other's professional and diplomatic delegations, and cooperate on commercial exhibitions.

The agreement will also establish a joint economic committee to promote the implementation of the agreement and examine ways to remove trade barriers and increase the volume of trade between the two countries.

"The geographical location of Bahrain, as well as the geopolitical importance of the kingdom, put this agreement on par with other agreements recently signed with Bahrain's neighbors in the Gulf region," said Economy Minister Orna Barbivay.

"The Economy and Industry Ministry will continue to cooperate with the Foreign Affairs Ministry to promote the economic interests of the State of Israel, to increase Israeli exports to the Bahraini market, to attract investment from Bahrain to Israel and to strengthen economic cooperation, in order to enable more and more Israeli companies to break into the Arab Gulf markets in particular and the international space in general."

The potential for trade between the countries is in the hundreds of millions of dollars in the coming years, the ministry estimated.
Jordan Prevents Islamic State Attack on Israeli Troops Along Border — Report
Jordan intercepted an attempt by members of the Islamic State (IS) to attack Israeli soldiers.

Four members of the jihadist organization were arrested in February, thwarting their efforts to attack troops on the Jordanian-Israeli border, the Al-Rai newspaper reported Tuesday.

The planned raid was to occur in the Ghor es-Safi area, near the southern stretch of the Dead Sea, in the Jordan Valley, the paper reported.

Jordan's General Intelligence Directorate (GID) arrested the four individuals before they launched the operation, detaining the first of them late last year. They have been charged with conspiring to conduct a terrorist attack and promoting the ideology of a terrorist organization, according to a charge sheet brought by prosecutors.

The charge sheet noted that the IS fighters intended to attack Jordanian troops en route to hitting the Israeli position on the border.

Relations between Jordan and Israel reached a recent low point earlier this year with revelations that Israel's former prime minister Benjamin Netanyahu had been involved in efforts to undermine the Jordanian monarch.

Following a change of government in Israel, the countries went through a diplomatic thaw, with King Abdullah II meeting Israeli Prime Minister Naftali Bennett — the first meeting of the two nations' rulers in five years.
Bennett won't order Arab eviction from Sheikh Jarrah - gov't source
The government does not plan to evict Arab residents of Jerusalem's Sheikh Jarrah neighborhood over a property dispute in light of how heated the matter has become, according to a source close to Prime Minister Naftali Bennett.

The High Court of Justice scheduled a hearing for Monday on the eviction of four Palestinian families from Sheikh Jarrah, the east Jerusalem neighborhood known in Hebrew as Shimon Hatzadik. Lower courts have upheld claims that the property is owned by the Nahalat Shimon Company, which seeks to develop the land for Jewish housing.

Even if the verdict allows for the eviction of the Palestinian residents, the court is unlikely to order the state to enact it or give a deadline to do so, the source close to Bennett said, adding that the government will take advantage of that to not fuel the flames of conflict in Jerusalem.

The plight of Sheikh Jarrah's residents has received international attention, and not evicting them will refute claims that the fighting between Israel and terrorist groups in the Gaza Strip in May began because of evictions in the Jerusalem neighborhood, the source added.

Israel has argued that Hamas, which shot a barrage of rocket at Jerusalem and thousands into other areas of Israel, took up the issue of Jerusalem and escalated its attacks as part of a power struggle with the Palestinian Authority after the PA canceled a parliamentary election. A difference between the Sheikh Jarrah case and the illegally built Bedouin enclave of Khan al-Ahmar near Kfar Adumim in the West Bank is that the government is not a party to the Sheikh Jarrah dispute, the source said.
Palestinians in the West Bank village of Beita detonate a device causing a small explosion. I've identified some evidence of militant activity (al-Aqsa Martyrs Brigades) within these groups of Palestinians that are often referred to as 'night confusion' units. pic.twitter.com/6hg6qKJa5F

— Joe Truzman (@JoeTruzman) July 27, 2021
'Palestinians headed towards fourth wave of COVID-19' - health minister
The Palestinians are heading toward a fourth wave of COVID-19 infections, especially with the spread of the Delta and Delta-plus variants, Palestinian Authority Health Minister Mai Alkaila said Tuesday.

She called on Palestinians to get vaccinated and adhere to all preventive measures, including wearing masks and maintaining social distancing. Alkaila and members of a Palestinian epidemiological committee, which includes experts from various national, health and academic institutions, met on Tuesday to discuss ways of curbing the rise of infections in the West Bank and the Gaza Strip.

The committee discussed expanding the target groups for the vaccination rollout and policies that can be taken to give a third dose to the groups most vulnerable to serious complications from infection, she said.

There is a great discrepancy in the percentage of vaccinations between the West Bank and the Gaza Strip, Alkaila said. It is important to work with the relevant authorities and partners to encourage the public to receive vaccinations, especially in the Hamas-ruled enclave, she added. A total of 477,027 people have been vaccinated against coronavirus in the West Bank and 101,337 in the Gaza Strip, according to Palestinian health officials.

The West Bank recorded 26 new cases over the past 24 hours, while the Gaza Strip had 113 new infections and one death, Alkaila said.
5 arrested over shooting death of Islamic Movement leader in Jaffa
Police said Tuesday they had arrested five people in connection with the deadly shooting of an official in the Islamic Movement in the central city of Jaffa in January.

Police said the arrests were the result of a wide-ranging undercover investigation that concluded the killing was part of a feud between families over control of businesses in the city.

Mohammad Abu Nijm, a well-known activist in the political movement, and his nephew, Omar Kurdi, were injured when a gunman opened fire on January 24.

The two were taken to Wolfson Hospital in Holon for treatment, where Abu Nijm later succumbed to his injuries.

According to Channel 12 news, the investigation revealed the murder was part of a conflict between families in Jaffa that has claimed at least 10 victims.

Abu Nijm, 39, had no criminal background but was connected to one of the families that was party to the conflict.
Basel Fakhri Al-Ja'bari, a taxi driver from Hebron, has been shot dead by unidentified gunmen. Several shops and cars were set on fire in the city after the murder. pic.twitter.com/rqO0k9NPsI

— Khaled Abu Toameh (@KhaledAbuToameh) July 27, 2021
The reported absence of Palestinian Authority security forces is adding to the unrest in Hebron today. pic.twitter.com/1FtTaLC36i

— Joe Truzman (@JoeTruzman) July 27, 2021
EU 'appalled' by alleged killing of 2 Gazans by Hamas security forces
The European Union said on Tuesday that it was "appalled" by the deaths of two Gaza residents during or immediately following altercations with Hamas security forces, as human rights groups call for independent investigations of both deaths.

Hassan Abu Zayed, a 27-year-old resident of Gaza City, was driving on Friday night when he was shot and killed by Hamas security forces, allegedly as he sped through a checkpoint.

According to the Hamas Interior Ministry, security forces spotted a car speeding toward them as they manned the checkpoint in Gaza City's eastern al-Tuffah neighborhood. The driver ignored calls to stop, Interior Ministry spokesperson Iyad Bozm said.

"Two shots were fired at the vehicle, which did not stop and sought to flee. It later became clear that one of the passengers had been injured. He was taken to a hospital where he passed away from his wounds," al-Bozm said.

But the Independent Commission for Human Rights, who brought in a physician to attend Abu Zayed's autopsy, said it had found unexplained discrepancies between the autopsy and the ministry's account.

Imad Tawil, a 27-year-old resident of Deir al-Balah, was allegedly beaten by Hamas police early on Sunday during a raid by officers in the city's al-Nuseirat Refugee Camp. A half hour later, Tawil began to complain of chest pains before collapsing. Although he was rushed to a nearby hospital, he later died, according to the Independent Commission for Human Rights.
Remember the explosion in Gaza last week that killed one person and injured 14 including 6 children? Of course you don't. MSM didn't care.

Palestinian Islamic Jihad took responsibility for storing weapons in densely populated areas. pic.twitter.com/Ty2JBQH9Vd

— The Mossad: The Social Media Account (@TheMossadIL) July 27, 2021
As Lebanon collapses, Hezbollah members enjoy extravagant weddings
Lebanese citizens expressed outrage in recent days after pictures and video from the lavish weddings of the daughters of two Hezbollah-affiliated politicians were leaked on social media, showing the politicians celebrating in style while most of Lebanon is suffering the effects of a worsening economic crisis.

Video showed Free Patriotic Movement MP Ibrahim Kanaan and former Hezbollah MP Nawwar Al-Sahili walking their extravagantly dressed daughters down the aisle and revelers enjoying alcoholic beverages and luxurious meals, including salmon and truffles.

The FPM, of which President Michel Aoun is a founding member, is a Christian party allied with Hezbollah.

Social media users expressed outrage at the lavish events that took place despite the extreme conditions much of Lebanon is facing as part of its worsening economic crisis, with many mocking Hezbollah leader Hassan Nasrallah by referencing his past statements calling on his supporters to be patient and sacrifice.
Ruthie Blum:
How do you say déjà vu in Farsi?
It's easy to have 20-20 hindsight, to be sure. But how can one come to terms with Team Biden's refusal even to read the eye chart?

The answer is simple.

Though the US administration should have taken the opportunity at the time to help the Iranians trapped in the clutches of a dictatorial Islamist regime to extricate themselves from it − not perpetuate their misery while endangering Israel and the rest of the world − doing so wouldn't have suited its view that America was no better than other countries.

Acknowledging that it was necessary for US interests to topple the Iranian regime, and not conduct "dialogue" with it through "goodwill gestures," would have turned the entire Democratic Party dreams into nightmares.

Sadly, nothing has changed. If anything, the Democrats' delusions have increased.

This makes sense. The only way to adhere like Krazy Glue to policies that have proved detrimental at best and perilous at worst is to concoct cockamamie theories about the "urgency" of implementation before the situation gets worse. And that's a generous interpretation of what's going on in the White House and State Department.

A more cynical but increasingly realistic assessment is that any administration headed these days by a Democrat, especially one held hostage by his party's radical elements in Congress, has a dim view of America and wishes to downgrade its status as the world's most powerful force for good.

Obama made no bones about intending to "lead from behind." At this he was so successful that his replacement was an "outsider" who vowed to "make America great again."

If it hadn't been for the coronavirus pandemic, which put a severe dent in the otherwise booming US economy, Trump would have provided hope for the people of Iran, bent on extricating themselves from the grip of Khamenei and his latest protégé, Raisi.

What they grasp and the Biden administration ignores is that sanctions relief will not rid them of their misery. The only beneficiaries of cash from the United States and Europe have been, are and will be the nuclear program and global terrorism.
Iran Says it Detains Agents Working for Israel, Seizes Arms Cache
ran said on Tuesday its security forces had arrested a network of agents working for Israel and had seized a cache of weapons it said were planned for use during recent unrest sparked by water shortages in the Islamic Republic, state media reported.

Iran often accuses its enemies or rivals abroad, such as Israel, the United States and Saudi Arabia, of trying to destabilize the country by stoking protests and violence.

Tuesday's announcement came after nearly two weeks of protests over water shortages, mostly in southwest Iran, which have turned political and spread to other areas.

Authorities have accused armed dissidents of provoking clashes during the street protests. Human rights groups say security forces have opened fire on protesters.

"Mossad operatives intended to use the equipment in urban riots and assassinations," an Intelligence Ministry official said, according to state media, referring to Israel's intelligence agency. The official did not give details.

The seized weapons included pistols, grenades, assault rifles and ammunition, the unnamed official said, adding: "Some of these are used to provoke clashes during protests."
The Ayatollahs have said exactly what they want, and it comes down to just six words: death to America, death to Israel.

Joe Biden must not sign a deal with Iran. Now is the time to put more pressure on Iran, not less. pic.twitter.com/dQ4RRBDoWI

— Nikki Haley (@NikkiHaley) July 26, 2021
Tehran's latest nuclear demand is that the Biden Administration agree that the U.S. can't withdraw from a deal without United Nations approval. https://t.co/cXKOH11C7A via @WSJOpinion

— Clifford D. May (@CliffordDMay) July 26, 2021
Hey Intl Olympic Committee, this is one of your newly crowned gold medalists Javad Foroughi elaborating on his role as an IRGC terrorist in #Syria!

He also dedicated his win to the human rights violating Ayatollah of Iran.

Apparently this is fine with you? #olympics #tokyo2020 pic.twitter.com/DFihwft8Ik

— Emily Schrader - ????? ?????? (@emilykschrader) July 27, 2021
MEMRI: Brother Imran: According to 'The International Jew,' Jews Plot to Program People to Commit Heresy
Mujtaba Hussain Siddiqui, an Indian Islamic scholar who goes by "Brother Imran," said that according to Henry Ford's The International Jew and the secret "world program known as the 24 Protocols," the Jews make movies in order to program people to commit heresy. He made these remarks in a video that was posted on his official Ask Br Imran YouTube channel on May 29, 2020. In the video, Siddiqui claims that the "top class Jews" have "made a mission" to introduce an education system in the world that programs people to believe that anything good in the world can only be done by the Jews.

Similarly, he said that the Jews make movies that program people to commit heresy and disbelief in the Quran and the Sunna by using humor. Siddiqui said that the Jews introduced the concepts of men dressing like women and women dressing like men, and also embracing of homosexuality, even though no religion permits men marrying men and women marrying women. Siddiqui, who is the founder of IERF (Islamic Education and Research Foundation), was arrested in 2018 by Indian authorities for inciting against Shiite Muslims.