From Ian:
Ruthie Blum:
Esther Horgen's killer can count on Abbas
Cabha, who has served time in prison for terrorism-related activities—told Israeli security services that he had been planning such a killing for six weeks. The idea for the location, he explained, came to him one day when he climbed through a hole in the security barrier in the Reihan Forest, near the northern Samaria settlement of Tal Menashe, and saw Israelis strolling there.

One reason he gave for wanting to commit the heinous act was to avenge the death of a friend, a Palestinian prisoner who died of an illness in an Israeli jail.

In the warped world of Palestinian terrorists, this is sufficient cause to come upon an innocent 52-year-old woman jogging through a forest and bash her head in with a rock. It didn't occur to Cabha, of course, that the woman's husband and children would be frantic when she failed to return home after her daily run, or that their lives would be forever marred by her absence, not to mention by the horrific manner in which she died.

No, all that was on his mind was fleeing from justice. He was abetted in this attempt by four other Palestinian paragons of virtue, who themselves are now in custody for helping him hide. All are likely to be tried by the Samaria Military Court.

If and when convicted, Cabha can expect to receive a life sentence. Once in jail, he will be put on Abbas's payroll in accordance with "[P.A.] Government Decision Number 23 of 2010, Regarding the Regulation of Payment of the Monthly Salary to the Prisoner."

The amount that he will get—as the murderer of an Israeli—will reach 12,000 shekels ($3,800) per month or four times the average earned by residents of the P.A. Even more extraordinary and disturbing is the process that he will undergo in order to receive the money, as it requires his signing over power of attorney to the Red Cross. Yes, as PMW has documented, the international humanitarian movement is actively involved in facilitating the payment of P.A. salaries to terrorists.

Because the anti-terror law was implemented in Judea and Samaria on Friday, Cabha and his cohorts may have to wait quite a while before being properly remunerated. After all, the money that Abbas pushed through on Thursday is earmarked for prisoners already behind bars, and future funds will have to wait until the "Independence Bank" is operational.

But leave it to the head of the P.A. to figure it out. Cabha's literally counting on it.
Widower remembers wife killed in W. Bank terror attack
Widower of Esther Horgen raises funds for memorial park after his wife was killed in a terrorist attack in the West Bank: 'This is the place that she loved and we want to make it available to all,' says Benjamin Horgen.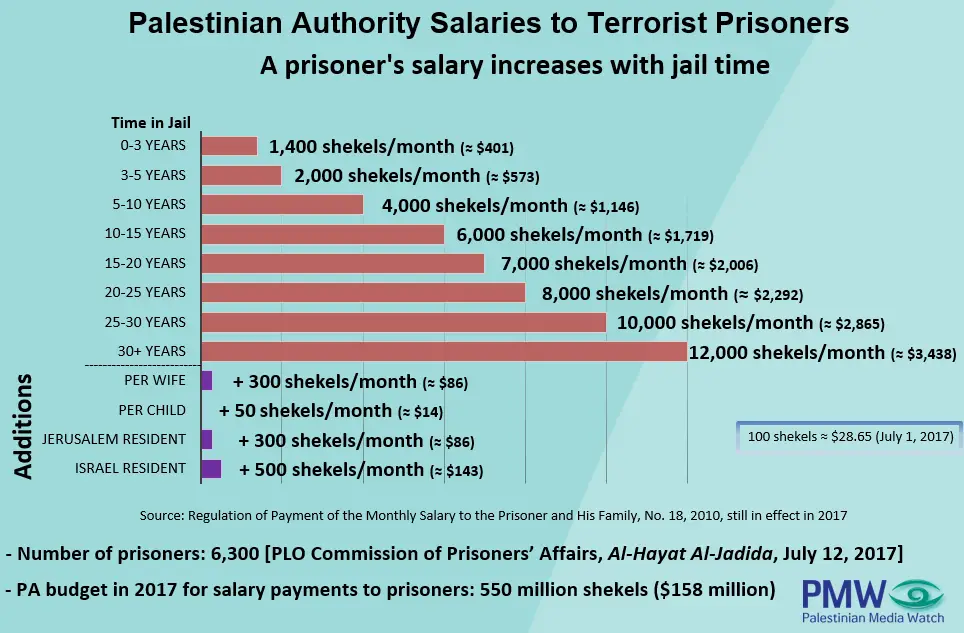 MK Michal Cotler-Wunsh: Prompting a paradigm shift between Israel and the Diaspora
Michal Cotler-Wunsh is an Israeli-Canadian member of Knesset currently serving within the Blue and White Party, though just announced that she will not run with Blue and White in the upcoming elections—Israel's fourth round in two years—slated for March 23. She entered the Knesset in June as a replacement for Alon Schuster, who resigned his seat under the Norwegian Law after being appointed to the cabinet.

Though she was born in Jerusalem and returned to Israel eight years ago with her spouse and four children, Cotler-Wunsh spent her formative years in Canada and made aliyah to join the IDF as a lone soldier, serving as an officer in various training and command positions.

An international-law, human-rights and free-speech expert, she earned degrees from the Hebrew University Faculty of Law in Jerusalem and at McGill University Faculty of Law in Montreal. She has held a number of legal positions, and during her years in Canada worked in mediation, formal and informal education, and extensive public activity. Her other experience has included bridging the religious-secular divide, countering terrorism and anti-Semitism, increasing legal services to nonprofits and preventing sexual harassment in the workplace.

In her Knesset role, Cotler-Wunsh has headed efforts to plan, develop and strengthen connections between Israel and the Diaspora, raising awareness and providing exposure of both challenges and opportunities for new immigrants (olim) to Israel.
Click below to watch the entire video ⬇️https://t.co/J9ujLuewXR

— BrookeGoldstein (@GoldsteinBrooke) January 5, 2021
Breakthrough Reached in Gulf Dispute With Qatar: Senior Trump Administration Official
A breakthrough has been reached in Qatar's three-year-old dispute with Saudi Arabia and three other Arab countries and an agreement aimed at ending their rift is to be signed in Saudi Arabia on Tuesday, a senior Trump administration official said.

The development is the latest in a series of Middle East deals sought by Washington — the others involving Israel and Arab states — aimed at building a united front against Iran.

As part of the deal, Saudi Arabia will reopen its airspace and land and sea border to Qatar as of Monday, Kuwaiti Foreign Minister Ahmad Nasser al-Sabah said on Kuwait TV ahead of a Gulf Arab summit in Saudi Arabia on Tuesday.

Saudi state agency SPA quoted Saudi Arabia's de facto ruler Crown Prince Mohammed bin Salman as saying the annual gathering of Gulf leaders would unite Gulf ranks "in the face of challenges facing the region".

Qatar's ruler, Emir Sheikh Tamim bin Hamad al-Thani, will attend, the royal court said. The U.S. official said the Saudi crown prince and Qatari emir would sign the deal.

Saudi Arabia, the United Arab Emirates, Bahrain and Egypt have imposed a diplomatic, trade and travel embargo on Qatar since mid-2017 accusing it of supporting terrorism. Qatar denies it and says the embargo aims to undermine its sovereignty.

While Saudi Arabia made clear it intended to lift the blockade, the other three countries did not, but the Trump official said "it's our expectation" they would also join in lifting the blockade. Under the emerging agreement, Qatar will suspend lawsuits related to the blockade, the official said.
Seth Fantzman:
Saudi Arabia and Qatar reconciliation: What might change in the region
THIS LEADS to questions about whether the change in narrative and new relations will lead to changes on the ground. Will conflicts from Yemen to Libya be reduced? Will Turkey's militaristic adventurism slow down?

Turkey also has talked up reconciliation. What will the effect be on Iran, which continues to try to hijack Iraq, Yemen, Syria and Lebanon? Will Iran find that it can't prey on divisions in the Gulf as easily? What will it mean for the incoming Biden administration and its tendency to be tougher on Egypt and Saudi Arabia? What will it mean for the Abraham Accords? Will other countries join the peace deals, or will new focus on Gulf harmony lead to a colder shoulder for Israel?

What will happen with Hamas reconciliation with the Palestinian Authority, which it appears many countries want, but which Israel may be less enthusiastic about? Will the reconciliation lead to a new era, or will there be some backsliding? What will it mean for US foreign military sales, whether F-35s for the UAE or other massive purchases in the region?

Many questions remain, but what is clear is that at least some of the narratives we have heard over the last year will likely change. The caricatures we heard over the last year about Saudi Arabia, which was once heralded for the hajj, Vision 2030 and new tourism opportunities, suddenly were being critiqued, and the stories about Qatar's role throughout the region may shift.

For Westerners who made a living off selling "Qatar is bad" or "Saudi Arabia is bad," the message may now be: "Qatar is fine; Saudi is fine," a less interesting story. For those being backed in Tripoli, Tunisia, Libya, Somalia and elsewhere by one side or the other, there may be questions about whether this might heal some local scars or whether the proxy conflicts will continue.

The question is whether the push for stability in the region, a major vision of Abu Dhabi, will be cemented by this. Will stability increase in places like Iraq or other areas? Ten years after the Arab Spring, a new era could be upon us, with peace deals, a new US administration and reconciliation in the Gulf.

Or it could be the calm before the storm as Iran, Hezbollah and their friends seek to capitalize and move forward with the instability they have spread in places such as Iraq.
Israel-Europe ties improving, warming up to Abraham Accords - exclusive
The Foreign Ministry sees positive trends in Israel-Europe relations and has even won over some of the Abraham Accords skeptics. "For years, European states connected developing relations with Israel to the conflict with the Palestinians," Foreign Minister Gabi Ashkenazi said in a video conference with Israeli ambassadors across Europe on Monday. "The ministry's goal has been to reduce the tension and the connection and continue advancing bilateral dialogue while dealing with the Palestinian issue."

Ashkenazi said that improving ties with Europe has been his priority since entering office in May, and on that front, he has sought "direct, positive and constructive dialogue," as opposed to "megaphone diplomacy."

Foreign Ministry Deputy Director-General for Europe Anna Azari said that a year ago, when she prepared her working program for 2020 and looked at the challenges and goals ahead, blowback from the possibility that Israel may extend its sovereignty to parts of Judea and Samaria was at the top of the agenda.

"There were catastrophic forecasts of tensions across the board," Azari said.

But once "annexation" was suspended, in favor of the Abraham Accords signed with the United Arab Emirates and Bahrain, "we had two to three months of the reverse, even in an exaggerated way, that soon we will solve all our problems with Europe," she recounted.
UAE denies report it thwarted an Iranian plot to kill Israelis
The Emirati government on Monday denied an Israeli television report that its security services had arrested a number of Iranian suspects who were planning to carry out a terror attack against Israeli citizens in the country.

"The Government of the United Arab Emirates has denied media reports circulating today regarding the foiling of an alleged attack in Dubai," it said in a statement.

On Sunday night, Israel's Channel 12 news reported that authorities in the United Arab Emirates had arrested a number of Iranians in Dubai and Abu Dhabi over the previous few days on suspicion that they planned to carry out terror attacks there.

The TV report said UAE authorities were probing whether the thousands of Israeli tourists and businesspeople were the intended targets of the Iranian terror cell and that the Emiratis were sharing the information revealed in the investigation "with friendly states," apparently referring to Israel, which normalized ties with Abu Dhabi last year.

In its statement, the UAE called the information in the Channel 12 report "rumors" and said they were "wholly false, and urged accuracy in reporting."

The report came one year after the United States killed Iranian general Qassem Soleimani and a month and a half after the head of Iran's military nuclear program, Mohsen Fakhrizadeh, was killed, allegedly by Israel. Since Fakhrizadeh's death, Israeli officials have warned that Tehran may seek to exact revenge by targeting Israelis abroad, including in the UAE and Bahrain.
Attempted terror attack at Gush Etzion Junction thwarted
A stabbing attack was thwarted at the Gush Etzion junction on Tuesday, the IDF said.

According to an IDF spokesperson unit statement, a security guard that was present at the scene spotted the suspect and together with an IDF soldier started the IDF procedure when encountering a suspect - which includes shooting to the air.

The suspect then threw his knife at the security guard, who responded by shooting him and neutralizing him, the IDF said.

No other injuries were reported.

Following the attack, Israel Police announced that they closed route 367 to all traffic.
Palestinians plotted with Jerusalem resident to steal from Yad Vashem
A group of Palestinians colluded with a resident of east Jerusalem to break into and steal valuables from Yad Vashem, the Wilfrid Israel Museum and Caesarea, court documents published on Monday show, as reported by N12.

The string of thefts occurred from August 2020 up until two weeks ago, when they were arrested by police, according to the chief investigator on the case.

The group broke into Yad Vashem on August 31, though the monetary value of what was stolen is still unclear. No historical items appear to have been taken from Yad Vashem itself.

"The break-in to Yad Vashem was in its offices and not in the museum," Yad Vashem said in a statement to The Jerusalem Post. "No historical items or any items of value were stolen.

"Some cash was stolen from the drawer of one of the employees, as well as some chocolate. A beverage machine was also damaged."

They also stole from the Museum of Kibbutz Hazorea, according to court documents, as well as caused extensive damage to the property. Video evidence of the museum robbery in Kibbutz Hazorea revealed a sophisticated and professional operation.
Police nab grave robbers who stole Jesus-era artifacts worth millions
An international trio of grave robbers who stole and traded in precious artifacts from around the world was thwarted on Monday when police raided a Tel Aviv flat.

The officers on the scene discovered ceramic pottery, coins, jewels and protomas of Roman deities valued at roughly tens of millions of shekels.

The criminal ring comprised three men, two residents of Tel Aviv in their 60s and one resident of Holon in his 40s.

The stolen items originated from the Middle East, South America and several African countries.

The men are suspected of fraud and money laundering in addition to illegally selling archaeological items.

The joint inquiry by police officers, the Tax Authority, and the Antiquities Authority (IAA) went on for several months, with the Monday bust being the result.
PMW:
Sale of land to Israelis is "betrayal of Jesus" - Christian writer in official PA daily
Palestinian Authority law prohibits the sale of land to Israelis/Jews. Palestinian Media Watch reported that PA Chairman Abbas himself issued the decision in 2014 that orders "life imprisonment with forced labor for the clandestine transfer, leasing or selling of lands to a hostile country or its citizens."

In addition, Palestinians also portray selling land to Israelis as a religious transgression. A regular Christian columnist for the official PA daily, Muwaffaq Matar, wrote that "Christian Palestinians understood the danger of Judaization" and "therefore,they view the sale of Palestinian lands to the Israeli racist colonialist occupiers and settlers as a betrayal of Jesus." It seems that the columnist believes there is Christian holiness to all the land of Israel that is defiled when any land is sold to Jews:
"The Christian Palestinians understood the danger of Judaization to their existence and to their holy sites… They also know that the Zionist plot is not limited only to Judaizing the holy sites of the Muslim Palestinians…
Therefore, they view the sale of Palestinian lands to the Israeli racist colonialist occupiers and settlers as a betrayal of Jesus. They think that whoever does this… is not eligible to represent the church or any Christian citizen in Palestine."
[Official PA daily Al-Hayat Al-Jadida, Dec. 27, 2020]

Similarly, Muslim Palestinians see all the land of Israel as Islamic holy land and so the PA's Grand Mufti and the Fatwa Council have warned that such sales are not only against PA law but also against Islamic law: "Anyone selling Palestinian real estate to the enemy [is] a traitor to Allah and His Messenger, as well as to his religion and homeland" [Official PA TV, Oct. 23, 2014]

The Grand Mufti repeated this in 2020 at a conference titled The Deal of the Century and Giving Lands to the Enemy From a Religious Perspective, stating that "the land" is "the property the Islamic nation." He further instructed that anyone selling land to "the enemy" should be ostracized and warned that such a person won't be buried in a Muslim cemetery:
Trump Effigy Hanging from a Noose during Fatah Anniversary Celebration in North Lebanon Refugee Camps pic.twitter.com/Vw1o7HXOk2

— MEMRI (@MEMRIReports) January 5, 2021
Jordanian-Palestinian Academic Dr. Ibrahim Alloush: No Jew or Non-Jew Died in the Gas Chambers, Because There Were No Gas Chambers pic.twitter.com/C2dKWiIMtn

— MEMRI (@MEMRIReports) January 5, 2021
Interesting, this is where Ankara's diplomatic footprint and influence is being moved; Ankara is strategic and military-diplomacy-aid and media tend to move in same direction, not always but often. https://t.co/bNll9GKv9r

— Seth Frantzman (@sfrantzman) January 4, 2021
Seth Frantzman:
The Soleimanification of the Middle East
This Soleimanification of the Middle East is an attempt to use Soleimani to project Iran's influence. Hassan Nasrallah, the leader of Hezbollah, has vowed revenge for the death of the Iranian general. Soleimani did play an important to role in the past few decades in the Middle East. He helped convince Moscow to intervene in the Syrian civil war in 2015, changing the map of Syria. He also advised the Iraqi government on recruiting Shiite militias to fight Islamic State. This led to the empowering of an Iraqi version of Lebanon's Hezbollah, forever shifting Iraq's security forces toward a more balkanized network of groups linked to Iran. He also worked closely with Nasrallah during the 2006 war against Israel. Israel and the U.S. had considered targeting Soleimani in the past due to his support for Iranian-backed terror networks across the region.

Now in death, Soleimani is being used as a symbol by Iran to knit together a plethora of extremist groups it supports. The messaging is not just about the groups. Iran wants a face of a "martyr" it can use to showcase its role to the public. Pictures of the Ayatollah Khamenei are seen as more narrowly Shiite and sectarian, thus lacking broad appeal. Iranian president Hassan Rouhani is a dour and uninteresting functionary. Soleimani, by contrast, is presented a noble and modest soldier confronting American "arrogance" as part of Iran's "resistance."

The mushrooming of Soleimani posters across the region on the anniversary of his death is an example of this public relations onslaught by Iran. It is timed to coincide with a new U.S. administration about to take power in Washington and present the U.S. and allies with a kind of fait accompli, an Iranian influence-peddling octopus astride the region. The U.S. and partners have an uphill battle confronting this Soleimanification of the region. However, there is a silent majority in the region who don't feel connection to these powers—whether it is Kurds in Kirkuk, or average Gazans who have torn down the Soleimani posters. Iran may have overplayed its hand. Most of the region has no clear affinity for the Iranian general, once dubbed the "shadow commander." He was more successful in the shadows than as a poster child for Iran's attempt at regional hegemony.
Congressmen Beating the Drum for Iran's Mullahs
More than 100 Congressmen recently signed a letter expressing their support and urging presumptive President-Elect Joe Biden to rejoin the nuclear deal, which, incidentally, Iran never signed.

Biden... also appears to be on board with the lawmakers to appease the mullahs: "I will offer Tehran a credible path back to diplomacy. If Iran returns to strict compliance with the nuclear deal, the United States would rejoin the agreement as a starting point for follow-on negotiations. With our allies, we will work to strengthen and extend the nuclear deal's provisions, while also addressing other issues of concern." — CNN, September 15, 2020.

This means that as sanctions will be lifted against the Iranian regime, the ruling clerics will ensure the survival of their theocratic establishment and militia groups across the Middle East.

Have these lawmakers and Biden learned nothing from recent history? Some may argue that Iran's mullahs would change their destructive behavior if they were rewarded in advance with appeasement policies and financial incentives. This argument, however, has been proven to be breathtakingly wrong.

Tehran also used that influx of revenues to expand its influence throughout the region, including in Syria, Iraq, Yemen and Lebanon -- and as far away as Venezuela. Iran apparently sees Venezuela as its "beachhead for diplomatic and commercial expansion into Latin America," including "underground 'missile cities'" along the Gulf coast.

"You young people should be assured that you will witness the demise of the enemies of humanity, meaning the degenerate American civilization, and the demise of Israel". — Iran's Supreme Leader, Ayatollah Ali Khamenei, on his official website after a meeting with students, Reuters, May 22, 2019.
Khamenei's Senior Advisor General Yahya Rahim-Safavi: Iran Can Turn the American Aircraft Carriers into Submarines in a Matter of Hours pic.twitter.com/UdUXYslUKz

— MEMRI (@MEMRIReports) January 5, 2021
MEMRI:
Lebanese Media Figure Baria Alamuddin: It's Time The World Put A Stop To Hizbullah's And Iran's Global Web Of Criminality And Corruption
In a December 20, 2020 column in the Saudi English-language daily Arab News, Lebanese media figure Baria Alamuddin reviews Hizbullah's globe-spanning criminal activities, which include drug smuggling - including into the U.S. - and trafficking weapons and diamonds, as well as extensive money-laundering schemes and protection rackets. She notes that Hizbullah insists on controlling Lebanon's ministries of finance, health and transportation precisely because control of these ministries increases its opportunities for illegal activity - which enriches Hizbullah and its leaders while impoverishing the Lebanese people and state. Western sanctions, she states, have not only failed to hobble Hizbullah, but have prompted Iran to increase its aid to this organization and for its illegal operations, thus enabling them to continue flourishing. Meanwhile, in Iraq and Syria, these criminal activities are perpetrated not only by Hizbullah but also by other Iran-backed militias, she says. Alamuddin laments the fact that many world countries are inclined to appease Hizbullah and Iran, and concludes: "Iran and its mafioso affiliates represent one of the world's largest and most lucrative criminal franchises. Only when we begin dealing with these entities as the criminal-terrorists they are can progress be made in confronting the hydra-like threat that Tehran poses."

The following is her article:
"Hizbullah Is Profiteering From Lebanon's Demise"

"While Lebanon bleeds, many essential medicines are unobtainable in mainstream hospitals and pharmacies. Yet in Hizbullah-land a parallel system of health facilities exists where a full spectrum of cheap Iran-imported drugs are readily available. Hizbullah uses its control of the health ministry to systematically divert medical funds for its own purposes. Hospitals damaged by the Aug. 4 Beirut port explosion, while treating thousands of injured blast victims, lost out on funds — but the Hizbullah-affiliated Al-Rassoul Al-Azam Hospital, far from the blast zone, raked in $3.6m in additional funding. With its system of parallel ATMs from which dollars are miraculously available —parallel schools, parallel banks, parallel economies, parallel systems for paying salaries — Hizbullah is profiteering from Lebanon's demise. Hizbullah demands continued control over Lebanon's finance, health and transport ministries precisely because the budgets and executive powers of these ministries multiply opportunities for criminal gain. Lebanon's airport, ports and national borders are vital nodes for smuggling arms and narcotics. Lebanese financial institutions have been sanctioned for laundering funds for Iran.

"Since Hizbullah's 2018 State Department designation as one of the top five global criminal organizations, its criminal operations have massively increased, following explicit instructions from Tehran to "make money" any way it can to offset the impact of sanctions. Drug enforcement officials have been surprised to find Hizbullah criminal networks sometimes operating hand-in-hand with both Daesh operatives and Israeli criminal gangs to achieve this goal.

"Hizbullah exports tons of the amphetamine-based drug Captagon throughout the Middle East and Europe,most of it produced in Hizbullah-controlled areas of Lebanon and Syria. A single 2020 seizure in Italy consisted of 84 million tablets worth $1.1bn. Europol warns of intensified Hizbullah criminal activities 'trafficking diamonds and drugs.' Between Africa and Europe, Hizbullah has used its Lebanese émigré connections to carve out a niche in the illegal diamond trade, as well as major arms-smuggling operations throughout Africa.
Jamal Wakim, Lebanese Professor on Hizbullah's TV: Lebanon Must Sever Ties with West, France, America, and Guillotine Local Elites pic.twitter.com/heA8mQD7aT

— MEMRI (@MEMRIReports) January 5, 2021
Iran temporarily frees Jewish prisoner for her crime of visiting Israel
Iran's clerical regime on Monday temporarily released an Iranian Jewish woman who was arrested for her alleged visit to Israel. "Farahnaz Kohan, an Iranian Jewish woman was released from Evin prison. The 50-year-old woman was detained for undisclosed period, due to alleged travel to Israel---a crime in the Islamic Republic of Iran," the Alliance for Rights of All Minorities first reported in English.

Marjan Keypour Greenblatt, the founder of ARAM, told The Jerusalem Post: "Once again the Iranian regime is reminding the international community of its arbitrary and illogical 'justice' system that exercises cruelty and injustice on a daily basis. There's a deluge of daily arrests, executions and accounts of torture that we can't afford to ignore."

"For the sake of those lives, rather than turning a blind eye in the name of non-intervention, US and EU officials must hold the Iranian government accountable for their human rights violations and cruel treatment of fellow citizens," she said.

ARAM Iran promotes equal rights for women, religious and ethnic minorities as well LGBT groups in Iran.

The Persian language website HRA News first disclosed the release of Kohan. The article noted that the Iranian's regime determines that any Iranian who travels to Israel can be sentenced up to five years in prison and can be deprived of a passport.
So that it can then claim it isn't making weapons, while you're in a deal to stop it making weapons and it says if you leave the deal then it will enrich the uranium...but it doesn't want weapons...but you have to make a deal to stop it making the weapons it says it doesnt want

— Seth Frantzman (@sfrantzman) January 4, 2021
A gathering of Lebanese residents in Nahr al-Kalb burn the picture of Qasem Soleimani Monday night. #Lebanon pic.twitter.com/DSLND6JyBt

— Joe Truzman (@Jtruzmah) January 5, 2021
Sudanese Imam Muhammad Al-Amin Ismail Has a Meltdown over the Inclusion of Michelangelo's The Creation of Adam by Michelangelo in a New History Textbook: Let Us Close Our Schools! pic.twitter.com/zWBiUYEehA

— MEMRI (@MEMRIReports) January 5, 2021
---
---
We have lots of ideas, but we need more resources to be even more effective. Please
donate today
to help get the message out and to help defend Israel.