From Ian:
---
Netanyahu to Modi on apparent election victory: 'Well done, my friend'
Prime Minister Benjamin Netanyahu phoned his Indian counterpart Narendra Modi on Thursday to congratulate him on his landslide victory, the second time this week that a key Netanyahu ally won an election abroad.

On Sunday Netanyahu congratulated Australian Prime Minister Scott Morrison on his surprise re-election the day before.

"Narendra, my friend, congratulations! What an enormous victory," Netanyahu enthused in a phone call. Excerpts of the call were videoed and placed on the prime minister's Facebook page, after it became clear that Modi had won a clear majority following an election process that took six months.

"I hope that we can see each other very soon, as soon as you form a government and as soon as we form a government," Netanyahu said. "There is much to discuss on so many other things."

Netanyahu thanked Modi as well for his warm wishes following the Israeli elections, but added a caveat: "There is one difference: you don't need a coalition, I do."

Netanyahu – who likes to underline Israel's vastly improved relations with a number of countries around the world – tweeted his congratulations to Modi in Hebrew even before their phone call. (h/t MtTB)
Morrison's win in Australia foretells even stronger ties with Israel
The surprise election victory of Australian Prime Minister Scott Morrison last weekend not only shook up the country's political landscape but also potentially bodes well for another country thousands of miles away – Israel.

"We have had a strong and constructive relationship with Scott Morrison personally and had a very good working relationship with the government he led," Jeremy Jones, director of international and community affairs for the Australia/Israel & Jewish Affairs Council (AIJAC), told Jewish News Syndicate. "We also have worked with many members of the Opposition and the Cross-benchers. We saw the defeat of a number of racist candidates and MPs who associated with maximalist anti-Israel groups."

The victory by Morrison, who hails from the center-right Liberal Party, echoes some of the surprise electoral success other decidedly pro-Israel right-wing candidates have seen in recent years around the world, such as with U.S. President Donald Trump and more recently with Jair Bolsonaro in Brazil and potentially in Canada as well next October. However, Austria's Sebastian Kurz, who has also staked a strong pro-Israel stance in Europe, now faces snap elections after his junior coalition partner resigned from the government following a video scandal.

"The Australian government is not 'populist' in the sense of Donald Trump or Bolsonaro or even [Prime Minister Benjamin] Netanyahu. It is conservative, center-right and ran on a platform of economic responsibility, not populism. Australia has compulsory voting, which militates in favor of responsible centrism," said Jones.

Netanyahu, who visited Australia in 2017, quickly congratulated Morrison on his victory.

"I send congratulations to another friend of mine, Australian Prime Minister Scott Morrison, who won the elections after the polls consistently predicted that he would lose. At the last minute, in the final hours, he won," Netanyahu said on Sunday during his cabinet meeting.

Morrison, who took office last August after ousting former party leader and Prime Minister Malcolm Turnbull, drew headlines last fall after he suggested that he was "open" to the idea of moving the Australian embassy to Jerusalem.
Lyn Julius:
Challenging the myth of 'white, colonial' Israel
The misconceptions lurking behind Hill's tweet merit unpacking. By clumsily referring to Mizrahim as a false Jewish component of "Palestinian" identity (it is no longer necessary to talk about the "Arab-Israeli" conflict), Lamont-Hill is purveying the notion that Mizrahim are Jewish Arabs.

It is fashionable in far-left circles to push the line that Mizrahim have been torn away from their Arab brethren by Zionism, which has prevented them from making common cause with the Palestinians. The Mizrahim allegedly suffer from a "false consciousness," alienated from their true, "Arab" selves.

Radical leftists align themselves with anti-Zionists who argue on behalf of an "Arab Jewish" identity as a way of repudiating Jewish nationalism. They presuppose that Jews were just another faith group in the Arab world, that Arabs and Mizrahi Jews are natural allies and that both are postcolonial victims of the Ashkenazim, who lured Mizrahim to Israel under false pretenses as a reservoir of cheap labor.

Israel is thus delegitimized, and to blame for ruining the harmonious relationship which supposedly prevailed between local Jews and Arabs.

The myth is easily debunked – as Mazzig points out, Jews were always inferiors in Muslim society, never equal and ever more marginalized in the post-Ottoman Arab successor states. Sporadic outbreaks of mob violence, such as the 1941 Farhud in Iraq, meant that Jewish citizens were never going to be assured of the security they deserved.

Mizrahi Jews are loyal and fervent Zionists, taking a full part in building and defending their ancestral homeland. They have stamped an unmistakably Middle Eastern identity on the Jewish state. Israel is the free and democratic expression of the self-determination of an indigenous Middle Eastern people after centuries of Arab and Muslim subjugation and colonization.

This is what social justice warriors in the West ought to be celebrating and fighting for.
Israel is not a European State because Jews are Indigenous to the Middle East
It is also worth noting that a new form of antisemitism – emanating from the Left social justice community – revises the historical targeting of light skinned Jews specifically, once again defining the Ashkenazi Jewish community as a race in order to assign sinister powers to them — this time framing them as 'white Jews'.

It is also worth noting that a new form of antisemitism – emanating from the social justice community – seems to target light skinned Jews specifically and frames them as 'white Jews'. As Berkovits states, 'assimilating Jews to whiteness conceived in this manner is not innocent social history.' By denoting Ashkenazi Jews as white the social justice movement frames us with an inflated privilege, with a narrative that in itself is designed to further antisemitism. It creates a narrative whereby Israel is made up entirely of the 30% of the population that is Ashkenazim (defined as white European) and therefore the issue with Israel is an issue of white on black racism. This is not the case.

Israel is not a European state; the majority of its population never left the MENA region, and for those who were forced to spend circa a thousand years fleeing from danger, continue to live an existence where their ethnicity and existence makes them a target for those who will either never see them as white or never see them as the indigenous Levantine and Middle Eastern people they are.

Ultimately, the most important argument against the 'whiteness' of Ashkenazi Jews is the simple fact that Jewish history – supported by archaeology, biology, DNA, archives, artefacts, records as well as Jewish traditions and oral history – proves that all Jews are indigenous to the Middle East, regardless of how some people try to frame us.
Are Israelis All European?
In a week when a benign article outlining the fact that Israelis are not all European was greeted with outrage, we'd like to invite people to listen to some Israelis speak about themselves
Debunking the Khazar Jew myth - ft. Imran Hosein
In this video we sit down with Lee Kern and debunk an antisemitic video by Sheikh Imran Hosein in which he lies about the origins of Ashkenazi Jews.
The Tikvah Podcast:
Francine Klagsbrun on Golda Meir—Israel's Lioness
She was one of only two women to sign the Israel's Declaration of Independence. She served as Israel's first ambassador to the Soviet Union, as labor minister, foreign minister, head of the Israeli Labor Party, and the Jewish state's only female prime minister. After Israel was hit with a surprise attack on Yom Kippur of 1973, she was a rock for the nation. Golda Meir was Israel's lioness, the mother of her country.

In Lioness: Golda Meir and the Nation of Israel, Francine Klagsbrun tells the story of Golda Meir's remarkable life—from her childhood in Milwaukee to her time on a kibbutz to her ascent to Israel's highest office. Klagsbrun shows how Meir's plainspoken appeals and shrewd political instincts allowed her to build relationships throughout the world, and she takes a look at the darkest moment in Meir's premiership—the Yom Kippur War—and what, if anything, the prime minister could have done to prevent it.

In this podcast, Klagsbrun sits down with Jonathan Silver to discuss her book and the life and times of Golda Meir. They explore the impact America had on Meir's worldview, what she thought of American Jews, how she rose through the ranks of her party, and the mistakes and misjudgments that led to the Yom Kippur War.
Mikhael Smits Details Virginia Lawmaker's Connections to Anti-Semitic Orgs.
Washington Free Beacon media analyst Mikhael Smits discussed Virginia delegate Ibraheem Samirah's connections to anti-Semitic organizations, and his father's role as a Hamas fundraiser, on the One America News Network Wednesday.

Appearing on Tipping Point with Liz Wheeler, Smits laid out the findings of his report on the member of the Virginia legislature published Tuesday by the Free Beacon.

Smits explained how the delegate's father, described by Samirah as having taught him to "dedicate my life to the liberation of Palestine," was politically active in Jordanian politics and called for a military invasion of Israel. The father lived in the United States illegally, and was barred reentry after visiting a relative in Jordan in 2002.

"[The father] appeared on Al Jazeera a number of times," Smits said. "He ran for public office, and he was also identified as the spokesman for the Islamic Action Front, which is a political arm of Jordan's Muslim Brotherhood."

Smits then discussed some of the delegate's own comments and connections to an organization called American Muslims for Palestine, which has a history of circulating anti-Semitic sentiments.

"Reporting found that he had made a number of what were considered anti-Semitic comments on Facebook in five-year-old posts at the time," Smits said. "They were posts that compared Israel's soldiers to worse than the KKK; when Israel's former prime-minister passed away he said that he should burn in hell…now, some of these comments are much more recent, his participation in AMP's conference in 2017 is very recent."
Rantz: After Seattle groups defend anti-Semite Ilhan Omar, she returns favor
Earlier this month, various local Seattle groups held an event to defend Congresswoman Ilhan Omar, who I believe is anti-Semitic, apparently at the congresswomen's behest. This weekend, Omar comes to Seattle for a fundraiser — on a Saturday, when orthodox Jews won't be able to protest.

The Council on American-Islamic Relations of Washington (CAIR-WA) will host Omar (D-MN) for a fundraiser in Bellevue on May 25 as they hope for an "evening of conversation, inspiration, and strategizing on how we can best defend our community everyday while building power for 2020." They're having trouble selling out. They've repeatedly claimed "tickets are selling fast" but earlier this week tickets were still available.

CAIR, which recently "condemned Los Angeles Mayor Eric Garcetti's endorsement of Jerusalem as the site of the U.S. embassy to Israel," seeks to normalize and mainstream Omar's hate. On the CAIR-WA Facebook page, they criticized critics of Omar: "We KNOW the attacks against Rep. Ilhan Omar are rooted in Islamophobia, anti-black racism, and xenophobia."

It's always interesting to hear bigots tell Jews why we feel angry when we're criticized for our religion. CAIR-WA "know" what's up, after all. This is how you defend anti-Semitism in an intersectional world. Omar has been condemned by her own party for using anti-Semitic tropes to attack Jews and Israel. She doesn't criticize Israeli policy; she criticizes Jews. She hates us.

The fundraiser comes after a somewhat bizarre revelation uncovered on the Jason Rantz Show on KTTH. Community groups organized an anti-Semitic event last month in Seattle to defend Omar, using the same claim that criticism of her bigotry is the actual bigotry. One of the groups was the King County chapter of the NAACP. Their spokesperson said groups here were actually contacted by Omar's office, asking them to host the event.
Ilhan Omar: U.S. Strategy in Syria Taking 'Cues' from Russia, Turkey, Israel
U.S. President Donald Trump's strategy to resolve the Syrian conflict is taking "cues" from Russia, Turkey, and Israel, Rep. Ilhan Omar (D-MN) argued during a House panel hearing Wednesday without acknowledging that the three countries stand on opposing sides of the more than eight-year-old war.

During a House Foreign Affairs Committee hearing, Omar told Ambassador James Jeffrey, the president's special envoy for Syria engagement who was invited to testify:
It seems that the particular conflict in Syria is being birthed out of a need for the people to have freedom and to actualize democracy and I'm concerned that most of our cues right now [are] being taken from Russia, and Turkey, and Israel, and so I'm wondering if that's sort of a counter message to what we say we are interested in achieving in Syria.

Jeffrey responded by saying the United Nations, backed by the United States, is committed to giving the Syrian people democracy "through free and fair elections monitored by the U.N., including the diaspora."

"I believe Democracy should not be given, it should be earned by the people, and we should be in partnership with them," the Minnesota Democrat followed up.

Omar suggested that Russia, Turkey, and Israel are influencing Trump's Syrian strategy even though these countries do not coincide in their strategy with each other, making it impossible to appease all three.
NYU Graduation Speaker Smears Trump, Israel
A graduation speaker at New York University called President Donald Trump a "fascist," described Israel as an "apartheid" state, endorsed the Boycott, Divestment, and Sanctions (BDS) movement, and praised Occupy Wall Street in a two-minute excerpt from his Monday speech.

Speaking at the convocation ceremony for NYU's Graduate School of Arts and Sciences, Steven William Thrasher praised his fellow doctoral graduates for their fight against the various perceived evils.

"Many of us have been together at Occupy Wall Street, and at Black Lives Matter protests, and against that fascist in the White House," Thrasher said to cheers.

When the applause quieted, Thrasher took aim at Israel, which hosts the largest pro-gay "Pride Parade" in the Middle East.

"I am so proud, so proud, of NYU's chapters of Students for Justice in Palestine and Jewish Voices for Peace," he said, "for supporting the Boycott, Divestment, and Sanctions movement against the apartheid state government in Israel."

The BDS movement targets Israeli organizations and companies doing business in Israel in an effort to weaken Israel economically and politically, forcing the Israeli government to change its policies. Israel is not an apartheid state.
140 NYU School of Medicine Faculty, Alumni Urge President to Address 'Climate of Antisemitism'
Alumni and faculty members of New York University's School of Medicine called on President Andrew Hamilton to combat a "climate of anti-Semitism at NYU that creates a hostile environment for Jewish students, prevents honest discourse and limits academic freedom on our campus."

The letter, which attracted more than 140 signatories as of Wednesday afternoon, warned that "anti-Semitism has been normalized on our campus" in recent months.

"Students for Justice in Palestine (SJP), an organization that has become a symbol for anti-Israel and anti-Semitic hatred, was awarded the highest honor of any organization at NYU, the President's Service Award," the letter read.

SJP has faced criticism for spearheading the passage of a student government resolution in December endorsing the boycott, divestment, and sanctions (BDS) campaign, which has been denounced by top Jewish groups in the US and globally, and leading an earlier boycott of Zionist student clubs, all Israeli goods and universities, and the Anti-Defamation League. Last year, while participating in a protest that saw two of its members arrested and accused of physical assault, SJP's president said the group sought "to make being Zionist uncomfortable on the NYU campus."
Is AJ+ Anti-Semitic?
AJ+ was created by Al Jazeera in an attempt to present a fresh and moderate face to new audiences, but trying to hide their anti-Semitism wont work - Canary Mission will expose it.
BDS activists disrupt Israeli author's book event in Germany
Anti-Israel activists last week interrupted an event in Germany for a new book on anti-Semitism by a German-Persian-Israeli author.

Arye Sharuz Shalicar, a former IDF spokesperson, currently serves as head of international relations at Israel's Intelligence Ministry, but was in Germany on a privately organized book tour.

Shalicar was reading from his new book, "The New-German Anti-Semite – Do Jews today belong to Germany?" in the town of Aurich, East Friesland, when several activists turned on loud music and started shouting "war criminal," "child murderer" and "representative of an apartheid state."

Some of the roughly 100 people in the audience called on the demonstrators to leave, but they continued to disrupt. After a few minutes the activists were removed by German police. Shalicar was able to continue with his lecture, focusing his remarks on the different strands of German anti-Semitism, some of which he has had painful personal encounters with growing up in Berlin's tough Wedding neighborhood.
Covering Eurovision, Rolling Stone Can't Report Accurately on Either Music or Politics
Madonna's recent Eurovision performance, not easily viewable within the US, was widely reported to be, well, objectively not that good. Tragically, multiple sources reported that she sang off-key. Yet, in a May 19 article, Rolling Stone described her performance as "haunting."

The article itself was titled "Watch Madonna and Quavo Perform 'Future' in Controversial Eurovision Set," yet the embedded video of that song is blocked, ostensibly on copyright grounds.

The fact that the music magazine failed to inform readers about the music at a music event, however, is the least of the problems with the reporting in the article.

During her appearance, Madonna talked about "the power of music to bring people together." Reporter Ilana Kaplan characterized this statement as an "acknowledge[ment]" of the "divisiveness" of her performance, even though there's no evidence that is what Madonna meant. It seems more likely that was another expression of the same sentiment as when Madonna featured dancers with Israeli and Palestinian flags walking arm in arm.

In fact, Madonna tweeted after the performance that she was "grateful. For the opportunity to spread the message of peace and unity with the world." Madonna used her performance to call for coexistence and engagement, which is, in fact, the opposite of what Boycott, Divestment, and Sanctions (BDS) proponents advocate. Rolling Stone, however, in covering the story, opted instead to amplify the divisive campaign for boycotting Israel.
Walk with Israel protesters unclear on why they're protesting
David Menzies of TheRebel.media reports: The 50th annual Walk with Israel fundraiser held by the GTA Jewish community attracted 30,000 supporters and several dozen protesters.
Clearly an anti-Zionist, not an antisemite, since does not want ALL Jews dead 🤦‍♂️https://t.co/7FLqmEGKdt

— Ozraeli Dave (((דיויד לנג))) (@Israellycool) May 23, 2019
I guess the choice is whether to consider them pathetic cowards or despicable haters. https://t.co/vbYQkHJjvg #Eurovision #Hatari

— Ozraeli Dave (((דיויד לנג))) (@Israellycool) May 23, 2019
Once Again, the BBC Promotes Palestinian Propaganda About the Mideast Peace Process
In addition to avoiding the obviously inconvenient fact that the Palestinians have repeatedly rejected offers based on the two-state solution — which the BBC claims they "support" — the BBC's implication that there is one unified Palestinian voice that supports the two-state solution is clearly inaccurate and misleading.

Factions such as Palestinian Islamic Jihad and Hamas — which the BBC repeatedly reminds us won the majority of the popular vote the last time elections were held in Gaza — obviously do not support the two-state solution or any other formula short of the destruction of Israel. Other factions, including the Popular Front for the Liberation of Palestine, for which al-Maliki was formerly spokesman, were opposed to the Oslo Accords.

In addition, the BBC's wording does not inform readers that an essential part of the two-state solution is the concept (repeatedly endorsed by the Quartet) of "two states for two peoples" — a definition which would require Palestinian recognition of Israel as the Jewish state, and that Fatah and the Palestinian Authority have repeatedly refused to do this.

The article's claims concerning "East Jerusalem" conceal the fact that — as the BBC itself reported in 2003 — the text of the "Roadmap" compiled by the United Nations, the European Union, the United States, and Russia (the Quartet) defines the two-state solution as including:
…a negotiated resolution on the status of Jerusalem that takes into account the political and religious concerns of both sides, and protects the religious interests of Jews, Christians, and Muslims worldwide…

Given that it rejected complaints on this issue over two years ago, we should of course not be surprised that the BBC continues to promote its inaccurate narrative concerning Palestinian support for a two-state solution (along with a portrayal of entirely passive Palestinians, devoid of agency or responsibility) as part and parcel of its framing of anticipated events relating to the "peace process."
Wholly inadequate headline from The @Independent. The video wasn't simply removed, but the subject of widespread outrage for clear Holocaust denial and manipulation. pic.twitter.com/UrPwP6cv9P

— HonestReporting (@HonestReporting) May 23, 2019
Pittsburgh synagogue massacre shooter wants plea deal to avoid death penalty
The man charged in the Pittsburgh synagogue massacre still wants to plead guilty in exchange for a life sentence, his lawyer said Thursday.

Judy Clarke told a judge she hopes the case against Robert Bowers can be resolved without a trial. The 46-year-old truck driver wasn't in court.

Authorities say Bowers killed 11 people and wounded seven at Tree of Life synagogue last October. It was the deadliest attack on Jews in US history. He has previously pleaded not guilty.

Prosecutors in Pittsburgh have previously indicated their intent to seek the death penalty against Bowers, but a final decision rests with the US attorney general.

Assistant US Attorney Troy Rivetti said Thursday the death penalty review process is ongoing. He said the government won't discuss plea negotiations in open court. Both sides met on May 9.

Clarke, who is known for negotiating plea deals that helped some of the nation's most infamous killers avoid death row, had said at Bowers' February arraignment that he was open to such a deal, telling a judge the defense wanted to avoid a trial.
Buenos Aires cantor attacked in third antisemitic incident in 3 months
A cantor was brutally attacked Friday night after leaving the Mikdash Yosef synagogue in Buenos Aires' Palermo neighborhood.

"I left the shul with a friend and we were about to cross the street when suddenly I felt something strike my head and cheek from the side," Cantor Eliyahu Chamen told The Jerusalem Post. He said he turned around to see what hit him and saw a man poised to attack.

"He was screaming, 'the Jews,' 'the Jews.' He started shouting antisemitic slurs," Chamen described. "I called for the police, but there were no police. Then he came at me again, chasing after me and broke my hand, but I just kept running."

Chamen said several passers-by witnessed the incident but neither stepped in nor offered comfort when the event was over. This, he said, is what hurt the most.

"Maybe they could have helped, maybe not," he said, "But when you see something like this happen, why don't you come over? Help me calm down. Tell me it's going to be OK. Say we'll call the police. Something. Anything. But there was nothing."

Chamen waited until after Shabbat to go to the hospital where his broken bone was X-rayed. He then notified the police of the attack. Nevertheless, he does not believe that Buenos Aires is antisemitic.
Vienna: Photos of Holocaust survivors defaced with swastikas
Photos of Holocaust survivors exhibited on a central Vienna street have been defaced with swastikas, drawing condemnation from political and Jewish leaders.

Broadcaster ORF reported Wednesday that ESRA, a group that brought the work by German-Italian photographer Luigi Toscano to the Austrian capital, said several photos were daubed with swastikas and other graffiti on Tuesday. The exhibition opened on part of the Ringstrasse, a busy road that runs around downtown Vienna, on May 7 and the group said some portraits were previously damaged with knives.

Chancellor Sebastian Kurz tweeted that he was "dismayed by the anti-Semitic defilement" of the photos and called for a thorough investigation.

The leader of Austria's Jewish community, Oskar Deutsch, said that "it is an anti-Semitic attack on all of Austria" and that police are investigating.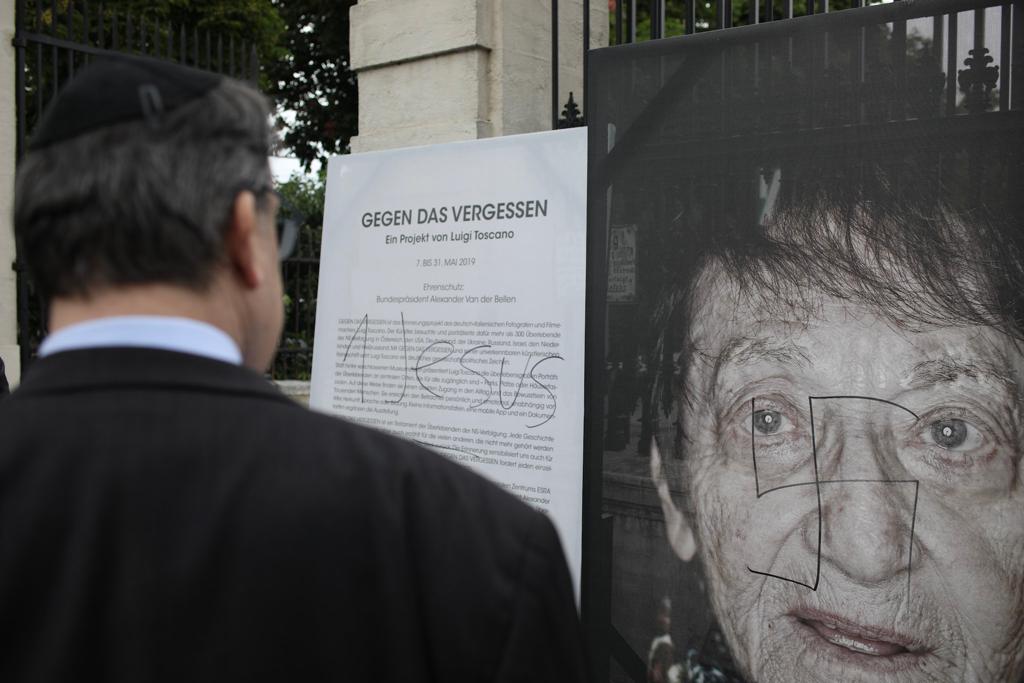 Remains of More Than 1,000 Jews Shot by Nazis Unearthed in Belarus Reburied
The remains of more than 1,000 Jews shot by the Nazis during the Holocaust that were uncovered in Belarus in February were reburied on Tuesday.

The burial was administered by volunteers from the Israeli emergency response group Zaka and supervised by a local Chabad-Lubavitch rabbi, reported the news website Jewish.ru. In a Jewish ceremony, the remains were inserted into several coffins and then buried.

They were originally unearthed by Belarusian soldiers in a pit at a construction site for a luxury housing project in Brest, a city along the Polish border. The historic city of Brest was the location of the Union of Brest and Treaty of Brest-Litovsk.

Some 17,000 people were known to have been shot in October 1942 near the Bronnaya Gora rail station, as thousands more were presumed to have been massacred.

Some 66 percent of Belarusian Jews perished in the Holocaust, according to American historian Lucy Dawidowicz in The War Against Jews.
Indiana man gets 3-year prison sentence for Nazi graffiti on synagogue
An Indiana man sympathetic to Nazism and white supremacy was sentenced to three years in prison for spray-painting anti-Semitic graffiti on the property of a suburban Indianapolis synagogue.

Nolan Brewer, 21, of Eminence, was sentenced Monday for conspiring to violate the civil rights of Congregation Shaarey Tefilla in Carmel. He pleaded guilty to a federal hate crime, the Indianapolis Star reported.

In July he spray-painted a black swastika surrounded by a red background and the German and Nazi Military Iron Cross on a wall of a brick shed outside the synagogue. He also attempted to set the property on fire. Brewer also was ordered to repay the synagogue $700 for the damage.

His wife, who is a minor, helped to paint the graffiti, according to the newspaper. Both were arrested days after the attack, having been caught on surveillance video purchasing red and black spray-paint and bandannas from a Wal-Mart the day before the vandalism.
"Homelands" a film discussion about the root causes of antisemitism in Europe and attacks on Jews and Christians isn't comfortable viewing, but must be talked about https://t.co/bqmC0bJiYm pic.twitter.com/to0UYA05dA

— Eye On Antisemitism (@AntisemitismEye) May 22, 2019
Holocaust hero Chiune Sugihara's son sets record straight on his father's story
After decades of relative obscurity, the tale of the Japanese diplomat Chiune Sugihara has become one of the best-known Holocaust rescue stories, rivaling those of Oskar Schindler and Irena Sendler.

The late Sugihara, who issued thousands of life-saving visas to Jewish refugees in Lithuania in defiance of his pro-Nazi government, became popularly known only about 20 years ago, in part due to the 2000 opening of a museum about him in Japan. A year earlier, a Sugihara museum celebrating his actions had opened in Kaunas, Lithuania.

Amid the growing recognition, one of the Sugihara's four children, Nobuki, recently began traveling around the world telling audiences about his father's legacy.

But Nobuki Sugihara's aim is not to glorify his father, he told the Jewish Telegraphic Agency. If anything, his goal seems to be to cut his father's public image down to size.

"I noticed a few years ago there are inaccuracies in circulation about what my father had done," Nobuki Sugihara, 70, said in an interview earlier this month in Minsk, Belarus, where he spoke about his father at the Limmud FSU conference on Jewish learning. "I started speaking just to set the record straight on those embellishments."
Florida Governor Ron DeSantis unveils huge Israel trade delegation
More than 90 delegation members will join Florida's Governor Ron DeSantis on Saturday as he leads a business development mission to Israel, his first international trip since taking office in January.

Elected officials, state workers, businessmen, senior academics and religious leaders will participate in the six-day trip with DeSantis, who has repeatedly promised to be the "most pro-Israel governor" in America.

"This group of diverse Florida leaders will represent our state and nation proudly on this historic business development mission to Israel, the only democracy in the Middle East," said DeSantis, revealing the names of participants.

"Our delegation includes professionals and experts from a wide range of policy and business areas, representing every corner of our state. During this trip, we will affirm Florida as the most pro-Israel state in the nation and strengthen the bond between Florida and Israel for decades to come."

The delegation will visit Tel Aviv and Jerusalem, and DeSantis will hold a cabinet meeting at the US Embassy in Jerusalem.

DeSantis will also give the keynote address at the 2019 Israel-American Business Summit, hosted by the Federation of Israeli Chambers of Commerce and the US Embassy on May 29, where he is expected to present opportunities for Israeli companies in Florida.
Wounded British and Israeli veterans to compete in sporting event
More than 100 disabled veterans from Israel and the United Kingdom will join forces next week in Israel not for battle but in a groundbreaking celebration of family and sports.

The Veteran Games, being held May 26-30 in Tel Aviv and Jerusalem at rehabilitation centers run by Beit Halochem, will see participants compete, try new sports, and learn about how their respective countries provide specialist care for those wounded in combat.

The games will include a three-day conference about PTSD among veterans, chaired by Sir Simon Wessely, professor of psychological medicine at the Institute of Psychiatry, King's College London, and a consultant adviser in psychiatry to the British Army, and by Prof. Zahava Solomon of Tel Aviv University.

"It is vitally important to look not just within our own country and its armed services, but also to look beyond. Some important issues will be missed if we are solely inward-looking," Wessely said of the event.

"It's in that spirit of collaboration that we have brought together a diverse group of medical experts and commentators to discuss some of these issues here in Tel Aviv," he continued, adding that "connecting colleagues, friends and strangers can often have the most unexpected but perhaps the most interesting and rewarding outcomes."
Author of children's book 'When Hitler Stole Pink Rabbit' dies at 95
Judith Kerr, the author of "The Tiger Who Came to Tea," has died at the age of 95 after a short illness, her publisher said.

"It is with great sadness that we announce that Judith Kerr, author and illustrator of 'The Tiger Who Came to Tea,' 'When Hitler Stole Pink Rabbit,' 'Mog the Forgetful Cat' and many other classic children's books, died at home yesterday aged 95 following a short illness," HarperCollins said.

Born in Berlin, Kerr's family left Germany in 1933 to escape the rise of the Nazi Party and came via Paris to England.

The family's struggle to get by as impoverished refugees in Paris and then wartime London formed the subject of Kerr's autobiographical trilogy that started with "When Hitler Stole Pink Rabbit," published in 1971.

The book has been translated into many languages and taught to school children as an introduction to a dark chapter of history. It won the prestigious Youth Book Prize in Germany, and in 1993 a school was named after Kerr in her native city of Berlin.

In an interview with Reuters in 2015, Kerr said that as she had got older she began to think more often of the Jewish children from her generation who perished in the Holocaust, and of the lives they might have lived.

"If you've got a life that so many people didn't have, you can't waste it," she told Reuters.
---
---
We have lots of ideas, but we need more resources to be even more effective. Please
donate today
to help get the message out and to help defend Israel.