From Ian:
---
Review: Undeclared Wars with Israel
Nothing new under the sun, King Solomon said about three thousand years ago. Those who fight for BDS, who make the apartheid analogy with Zionism, who accuse the Zionists of having collaborated with the Nazis and who spread the legend that Zionists define Jews as a "chosen people" and are therefore racist have not invented something new. They just continue the Soviet and communist propaganda that stopped with the crumbling of the system in the late 1980s. Probably nowhere outside the Soviet Union was this propaganda take more seriously than in East Germany (the so-called German Democratic Republic).
Cambridge University Press has recently published Undeclared Wars with Israel: East Germany and the West German Far Left, 1967–1989 by the American historian Jeffrey Herf.
Nothing new under the sun. Herf shows the origins of the present strategy to delegitimize Israel and amalgamate anti-Zionism with antisemitism. Shortly after Israel's victory in the Six-Day War, East German leader Walter Ulbricht said on June 15, 1967 that the Israeli government had made itself into a "tool of a new despicable imperialist aggression" and had "brought shame and disgrace on itself by playing the role of an imperialistic aggressor against the Arab states". Ulbricht turned a source of pride in West Germany – the tradition of Vergangenheitsbewältigung, its policies of restitution and support for Israel – into liabilities of shame and windows of opportunity for East German diplomacy in the Arab states. Israel, he insisted had not faced any threat at all. Rather than have regard for human rights, "the government and militarists of the state of Israel [then still led by the Labor Party] are apparently struck with blindness, due to chauvinism, racial madness and class rule."
East Germany wanted to publish statements by Jewish citizens of the GDR which expressed indignation about "Israeli aggression" and the "Israel-Washington-Bonn conspiracy." However, it was difficult to obtain supportive statements. Several prominent Jewish writers and leaders in East Germany, including the author Arnold Zweig, refused to sign such a statement. The singer Lin Jaldati referred to the PLO's Ahmed Shukeiri's call to annihilate the Jews. Helmut Aris, president of the Association of Jewish Communities in East Germany, refused because "in the past our brothers and sisters in Germany were murdered and today their lives are at risk in the Near East".
Ulbricht proposed to Brezhnev in 1969 to send East German "volunteers" to fight Israel. According to Herf, the issue of whether East German soldiers ever engaged in combat with the IDF remains unresolved. Nevertheless we find in the book long lists of East German arms and munitions sent to the Arab states and terrorist organizations fighting Israel. East Germany became a safe haven for anti-Israel West German terrorists.
Vic Rosenthal:
How to talk to Jews about Israel
I tried to buy a day sponsorship from the local NPR station "in honor of the 1000 [or whatever the number was at the time] Israeli victims of Palestinian terrorism since 2000." They refused, saying that I couldn't prove that there were so many victims. I provided names, dates and locations. They said that it was 'too political'. I said it wasn't political, it was factual and asked how it was different from the sponsorship they did accept "in honor of the victims of the Stonewall Uprising." That's different, they said. That was a matter of civil rights, not politics. Anyway, you can't prove that there were so many victims.
The local newspaper sometimes printed my letters, all 200 words of them, and sometimes not. They rarely printed op-eds that I wrote. Meanwhile the 'news stories' that ran every day pushed the 'cycle of violence' line that presented the attempts to kill us as a squabble between two parties both at fault.
My personal approaches were, if anything, more frustrating. People were polite, but noncommittal. As time went on, I realized that they weren't uninterested; rather, they sensed that my position wasn't shared by many Democratic politicians, NPR and the New York Times. They suspected that I was influenced by Republican ideas or even becoming a Republican myself. I realized, in 1960s slang, that they were shining me on. Anything I said was tainted and could be ignored.
As time went by and Barack Obama became president and Israel more and more a partisan issue, it got much worse. Now it wasn't the 'cycle of violence' anymore, it was 'Netanyahu won't negotiate and won't stop building settlements'. The local Reform rabbi refused to allow a film critical of J Street to be shown in his building. The Jewish Federation, of which I was a board member, was increasingly nervous about programs related to Israel.
It soon became clear that there weren't very many 'undecideds'. There were those that were pro-Israel, those that were against us, and those that would not listen because being pro-Israel was out of their political comfort zone.
Remembering the Destruction of Iraqi Jewry
One of history's most devastating pogroms is also one of its least well-known. A historian analyzes how it happened, and why its origins have such troubling resonance today.
Seventy-five years ago, on June 1, 1941, a massive pogrom broke out against the Jews of Iraq. Committed by Muslim mobs influenced and incited by Nazi propaganda, it has come to be called the Farhud, and it remains the primal trauma of Iraqi Jewry, beginning the process of oppression and violence that ultimately forced the ancient community to emigrate en masse, most of them to Israel.
The Farhud killed hundreds of Jews and wounded thousands. The cruelty reached its height during a massacre in Baghdad. Interviews I have conducted with survivors paint a picture of inhuman violence. Children were murdered and the legs of babies were cut off because the Iraqi Jews placed bracelets on their children's legs to ward off evil spirits and track their movements by attached bells. Pregnant women were raped in front of their husbands.
Jewish property was looted and Jewish homes burned to the ground. "The destruction itself was enormous," future Israeli president Yitzhak Ben-Zvi reported to the Jewish Agency in 1941. "From 2,000-3,000 were left without a means of making a living. … The damage to property is valued at a million Palestinian pounds. This amount is not exaggerated."
In contrast to popular myth, however, the Farhud did not break out spontaneously, but in fact was well-organized. Ezra Levi, a witness to the events, showed me photographic evidence that several days before the Farhud, Baghdad Jews noticed that Arab names had been written on Arab-owned shops, apparently to ensure that only Jewish businesses were looted.
'Netanyahu was used to smuggle Auschwitz blueprints out of Germany'
The original Auschwitz architectural plans were smuggled out of Germany by Prime Minister Benjamin Netanyahu in 2009 against the wishes of the German Interior Ministry, former Bild editor-in-chief Kai Diekmann said.
The original construction plans used for a major expansion of the Nazi death camp at Auschwitz in 1941 were found in 2008 in a Berlin flat, Germany's Bild newspaper reported.
The plans were subsequently acquired by Bild and made available to the public.
The daily printed three architect's drawings on yellowing paper from the batch of 28 pages of blueprints it obtained. One has an 11.66 meter by 11.20 meter room marked "Gaskammer" (gas chamber) that was part of a "delousing facility."
"We had to decide what to do with the drawings. I was convinced that they need to get to Yad Vashem," Diekmann told the Berlin-based Hebrew-language magazine Spitz.
The National Archives of Germany disagreed and Diekmann was warned by the German Interior Ministry that should he attempt to take the documents outside of Germany, he would be arrested.
"They and the German Interior Ministry told us that these documents belong to the government of Germany, because the German government is the legal successor of the Third Reich," Diekmann said.
"Then I had an idea: to find someone who can take them past the border, someone who would not be arrested."
Idi Amin's son: 'My dream is to meet with Entebbe victims' families to apologize'
He was raised by one of the most notorious tyrants in history, but the son of Ugandan despot Idi Amin wants to come to Israel with a conciliatory message: 'I have a list of the five Entebbe victims from Israel, and I want to meet with their families to say sorry,' says Jaffar Amin.
Jaffar Amin, the son of Uganda despot Idi Amin, was only 10 years old when Israeli commandos stormed the old terminal in Entebbe, rescuing the passengers of a hijacked Air France flight brought by the Palestinian and German terrorists to the African country. But he remembers the next morning and the reactions from his classmates well.
And while Jaffar defines himself as a Muslim, he says, "I tend to look at the unifying factors rather than the ones that divide. I realized that if we focus on Abraham, we can find unity in a lot of the problems we have in the world." He notes that asking for forgiveness is the most important thing for him. "I have a list here of the five victims from Israel: Yoni Netanyahu, Dora Bloch, Ida Borochovitch, Pasco Cohen and Jean-Jacques Mimouni. People always focus on the great hero Yoni Netanyahu, but my dream was to meet with all of their families and apologize. I'm one of the 50 children of Amin, and I felt that if I took a stand, it'll mean something symbolically.
"It's a personal journey for me. I am taking ownership of my name. People with big names normally shy away from their names. But taking ownership of my name involves coming out in the open and declaring who I am and also going and sincerely meeting the victims, wherever they are. And I believe that by coming out and doing this and actually having the courage to go to Israel—if that dream can become a reality—for me it would be the ultimate pilgrimage.
At genocide memorial in Rwanda, Netanyahu vows 'Never again'
Prime Minister Benjamin Netanyahu arrived in Rwanda on Wednesday, a highly symbolic part of a "historic" African tour, boosting ties between two countries with a history marked by genocide.
Netanyahu, welcomed at the airport by Rwandan President Paul Kagame, later visited the Kigali Memorial Center, where more than 250,000 victims of the at least 800,000 victims of the 1994 genocide are buried in mass graves.
"We are deeply moved by the memorial to the victims of one history's greatest crimes – and reminded of the haunting similarities to the genocide of our own people. Never again," Netanyahu and his wife, Sara, wrote in the guestbook at the memorial, according to a tweet by Kagame.
"The Rwandan government felt a real affinity with Israel for obvious historic reasons," said Phil Clark, a Rwanda specialist at London's SOAS university.
Reaching out to Muslims, Netanyahu plans Kazakhstan, Azerbaijan trips
Prime Minister Benjamin Netanyahu is planning to visit Kazakhstan and possibly Azerbaijan this winter, he said Tuesday, as he looks to extend a series of overtures aimed at expanding Israel's diplomatic reach.
Netanyahu announced his travel plans during a briefing with Israeli reporters accompanying him on his current four-country tour in eastern Africa.
During the briefing, he laid out his plan to create new alliances around the globe in a bid to strengthen Jerusalem's position in the conflict with the Palestinians.
He said the trip would take place in the winter but did not give exact dates.
Azerbaijan, which has a long border with Iran, is a secular state that has long had warm relations with Israel. Nearly 98 percent of its 10 million inhabitants are Muslim, the vast majority of them Shiites.
Kazakhstan, which was recently elected to a two-year term on the United Nations Security Council, is the world's tenth largest country. Some 70 percent of its 18 million inhabitants are Muslim.
Paris attacks inquiry finds multiple failings by French intelligence agencies
A French parliamentary investigation into last year's terrorist attacks on Paris has identified multiple failings by France's intelligence agencies.
The parliamentary commission was set up to assess the failure to prevent a series of attacks that killed a total of 147 people in 2015 – from January's gun attacks on the Charlie Hebdo offices and a kosher grocery store to the coordinated gun and bomb attacks on 13 November outside the national sports stadium, at bars and restaurants and at a rock gig at the Bataclan concert hall.
The commission highlighted a "global failure" of French intelligence and recommended a total overhaul of the intelligence services and the creation of a single, US-style national counter-terrorism agency.
"Our country was not ready; now we must get ready," said Georges Fenech, head of the commission.
France has six intelligence units answering variously to the interior, defence and economy ministries.
Fenech said the multi-layered, cumbersome intelligence apparatus was like an army of soldiers wearing lead boots.
He said that without the multiple intelligence failings, the Bataclan attack, which killed 90, could have been prevented.
13 Belgian ISIS Terrorists Linked To Paris Attack Sentenced To Prison
A Brussels court sentenced 13 Islamic State members Tuesday to between eight and 16 years in prison for planning attacks.
Members of the so-called "Verviers cell" operating outside Brussels have ties to both the Charlie Hebdo and Nov. 13 attacks in Paris in 2015. Nine of the men are still at large and were sentenced in their absence.
Police raided the cell days after the Charlie Hebdo attack. Belgian authorities believe the group's ringleader was Abdelhamid Abaaoud, the main suspect from the Nov. 13 attack. Abaaoud died during a raid in Paris days after the attack.
The length of the sentences are unprecedented by Belgian standards. A life sentence can only be given to people convicted of murder and it comes with the possibility of parole after 15 years.
Clinton campaign 'rejects' Blumenthal's attacks on Elie Wiesel
Max Blumenthal, the controversial anti-Zionist writer and son of long-time Clinton confidant Sidney Blumenthal, sparked a firestorm on Sunday with a series of Twitter posts lambasting Holocaust survivor and human rights advocate Elie Wiesel, who passed away on Saturday.
Blumenthal, an outspoken opponent of the Jewish state who has in the past compared Israel to ISIS, ripped Wiesel's support for Israel, characterizing Wiesel's pro-Israel views as support for "ethnic cleansing", apartheid, and 'incitement'.
On Tuesday Blumenthal reiterated what he described as "criticisms" of Wiesel in an article published by Alternet, accusing Wiesel of manipulating the legacy of the Holocaust and endorsing Israel's "unspeakable crimes".
Later on Tuesday Hillary Clinton's presidential campaign released a statement "rejecting" comments made by the younger Blumenthal regarding Wiesel.
"Secretary Clinton emphatically rejects these offensive, hateful, and patently absurd statements about Elie Wiesel," senior Clinton advisor Jake Sullivan said to the Jerusalem Post. "Elie Wiesel was a hero to her as he was to so many, and she will keep doing everything she can to honor his memory and to carry his message forward."
Max Blumenthal's father, Sidney Blumenthal, was found to have given then-Secretary of State Hillary Clinton advice on foreign policy issues, including US-Israel relations, in emails to her private email server.
Despite having no formal position in the administration, and being rejected by White House officials for a potential State Department job, Blumenthal remained a trusted confidant to the Secretary throughout her term.
Republicans possibly ready to reject two-state solution, Trump advisor says
A policy advisor to Donald Trump told CNN that the Republican party might be due to assert more support for Israeli settlements, and possibly reject all together the idea of a two-state solution, which has long been a pillar of both Democratic and Republican policy in the region.
David Friedman, a real estate lawyer and bankruptcy expert who Trump has described as one of his advisors on Israel, staked out a position further to the right of the current Republican Party platform ahead of its nominating convention later this month.
"It ought to be time to at least take a fresh look at this," Friedman said in reference to the two-state solution, suggesting some Arabs might prefer Israel's complete control. "The two-state solution might be one answer, but I don't think it's the only answer anymore."
Last month, Friedman told Haaretz that Trump would support Israel's annexing parts of the West Bank.
Trump, the presumptive Republican presidential nominee, has articulated his strong support of Israel in recent days, after raising concern among some in the pro-Israel community early in his campaign by staking out a "neutral" stance on the Israeli-Palestinian conflict.
Friedman suggested Trump would consider support of an undivided Jerusalem as the capital of Israel and would not openly oppose Israel's policy decisions. He also echoed comments by Trump in support of a policy of not "imposing" US policies on Israel.
PreOccupiedTerritory:
Nazis Upset At Trump Appropriation Of Sheriff Symbol (satire)
Followers of Hitlerian National Socialism objected today to Donald Trump's presidential campaign's use of a "sheriff's star" in an image targeting opponent Hillary Clinton, noting that their movement first employed the star as an identifier of undesirables more than eighty years ago.
Hans Altzeiter of the American Nazi Party voiced outrage that the presumptive GOP nominee used a red, six-pointed star to decry Clinton's corruption, when the use of the sheriff's symbol should be the intellectual and cultural property of his organization and its affiliates.
"This is outrageous," declared Altzeiter. "The sheriff star is a Nazi thing, and Trump, or whichever campaign intern of his it was, can't just take it and apply it as he pleases to whomever. We were doing it long before he even knew what a sheriff's star was."
Nazis contacted by PreOccupied Territory stressed that their objections to Trump's use of the sheriff's star in no way implied a defense of Clinton, or that the sheriff's star should not be used as a symbol of evil. "Trump isn't perfect, but Hillary would be a disaster for the Aryan race," argued Jörg Gauleiter. "At least the The Donald hasn't explicitly disavowed the support of white supremacists, unlike a certain other candidate." He added that while Trump used a red sheriff's star, and theirs was yellow or yellow-orange, depending on the quality of dyes available in Nazi Germany, pigmenation was immaterial to the deeper ethical question of appropriation.
"Sheriffs and their famous stars have long been associated with our ideology of racial purity," insisted Nazi academic Ward Churchill. "In the popular consciousness, westerns, which feature six-pointed stars all over the place, are often concerned with the effort to establish a white homeland in America and to rid the place of racial filth, whether red or brown. It was a natural progression from that genre to marking the untermenschen with that star."
British Jewry welcomes return of repentant Labour MP suspended for anti-Semitism
British Jews welcomed the reinstatement of a Labour lawmaker who apologized for suggesting Israeli Jews should be moved en masse to America.
Naz Shah was re-admitted into the party two months after she was suspended for a comment she made on social media two years ago. She was one of at least 20 Labour figures who had been either suspended or kicked out of the party amid intense public scrutiny over the proliferation of anti-Semitic and vitriolic anti-Israel rhetoric after the 2014 election of Jeremy Corbyn to lead the party.
"Of all those suspended by the Labour Party for anti-Semitic actions, Naz Shah stands out as someone who has been prepared to apologize to the Jewish community at a local and national level, and make efforts to learn from her mistakes," the Board of Deputies of British Jews wrote in a statement Tuesday. "In that regard, her reinstatement today seems appropriate and we would hope for no repeat of past errors."
During a visit in May to a synagogue in Leeds, Shah told an audience that she wanted to make a "real apology" rather than a "politician's apology." She said: "I looked at myself and asked whether I had prejudice against Jewish people. But I realized I was ignorant and I want to learn about the Jewish faith and culture. I do not have hatred for Jewish people."
Shah, one of nine Muslims in Parliament, was suspended for sharing a post on Facebook suggesting Israel's Jews should be relocated to the US and tweeting the hashtag "#IsraelApartheid" and a quote saying, "Never forget that everything Hitler did in Germany was legal." (h/t Think of England)
Muslim Socialist Speaker In Toronto: Kill Israeli Jews
Toronto saw anti-Israel agitators commemorating the annual Iranian-conceived "Quds Day" this past weekend. Overtly anti-Zionist and supportive of the Palestinian national movement, one of its feature speakers likened Israeli Jews two foreign conquerors and home invaders.
Devised by the Iranian regime in 1979, the virulently anti-Semitic gala presents itself as an expression of solidarity with the Palestinian Arabs. Calling for the "liberation of Jerusalem," the event rejects Jewish national sovereignty over Israel's capital city.
The event played host to Ali Malllah, the former vice-president of the Canadian Arab Federation (CAF), a Canadian Union of Public Employees (CUPE) member, a Toronto municipal worker, and former executive member of Canada's socialist New Democratic Party.
A radical left-wing Islamist, Mallah indulged the anti-Semitic exigencies of his audience. He justified Palestinian terrorism against Israel, stating, "Palestinians… have the right to resist their occupation by any means necessary."
Dumping another gallon of fuel onto his anti-Semitic bonfire, Mallah added that Israeli Jews ought to be shot en masse. "In the United States, if somebody makes a mistake and walks into somebody's home, he will be shot, right? Here in Canada, if somebody attacks us we will attack and shoot them, alright? So why is it okay then to occupy Palestinian land and oppress Palestinian people?"
This came weeks after Palestinian Arabs really stepped up their game with peace negotiations, in which a top aid of Mahmoud Abbas stated, "Wherever you see an Israeli, slit his throat". This was then followed by exactly that. Peaceful Palestinian resistance.
DaphneAnson:
Anglican Father Dave: "Al Quds Day is a Day when God Brings Us Together ... An Intrinsically Religious Event" (video)
Although very much an Aussie in speech and rough diamond manner, Israel-bashing Sydney priest Father Dave Smith can be considered the antipodes' answer to the smoother, softer spoken English Rev Stephen Sizer.
I last wrote about Father Smith here (where the photo of him at left appears in context).
Not that the Rev. Sizer, to my knowledge, has ever swathed himself in a keffiyeh (correct me if I'm wrong.)
No friend to Israel, but seemingly very warmly disposed indeed towards Islam, Father Dave (as he likes to be known) is a staunch supporter of BDS, of the "Right of Return" and of the other goodies in the anti-Zionist box of tricks.
And that includes, just like Sizer, support for the Iranian-inspired annual excrescence known as Al Quds Day. (Here he is on that day back in 2014, where his demagoguery drew forth spontaneous cries of "Free, Free Palestine". Note the reference to "well-financed and powerful" regarding pro-Israel "propaganda". Is dat da Lobby, den?)
Here's the former boxer (who's yet to hang up his gloves) addressing his Muslim friends in Melbourne this year and demonstrating once again his repellent lack of empathy with Israel).
The Antisemitism of BDS
The Boycott Divestment Sanctions (BDS) campaign is inherently antisemitic. BDS campaigners deny this. They indignantly claim that they have nothing against Jews or Judaism, and are "only" opposed to Zionism and the State of Israel. They are either being disingenuous or it is evidence of their utter lack of comprehension of the protean nature of antisemitism. Regardless, the aims, rhetoric, and actions of the BDS campaign show it is a campaign seeped in antisemitism.
The antisemitism of the BDS campaign manifests itself in three main ways.
Firstly, BDS denies the right of national self-determination to the Jewish people in their national homeland. The Jewish people are indigenous to the land of Israel, and there has been continuous Jewish habitation in the land for 3,500 years. BDS campaigners support a State of Palestine for the Palestinian Arab people, which will give paramount expression to their aspirations, language and culture, and their predominantly Arab and Islamic identity. Yet they deny this same right of national self-determination to the Jewish people with regard to Israel. This form of discrimination is antisemitism.
10 Greek anarchists arrested during protest against El Al
Greek police arrested at least 10 members of an anarchist group who were protesting at the check-in desk of El Al airlines at Athens airport.
The protesters chanted "No to the agents of the Mossad," at passengers waiting to check in on Wednesday, the Kathimerini news website reported.
The anarchist group, known as Rouvikanos, said in an online statement that its members were protesting an incident last week in which a Colombian man was allegedly assaulted by El Al security staff for acting suspiciously at the airport.
Brian of London: Why the public in the UK don't trust the BBC
CNN omits Judea and Samaria in report on terror
CNN on Tuesday published an updated map showing places in the world in which terrorist attacks had taken place during the Muslim month of Ramadan – but failed to include Judea and Samaria.
"Updated map: This graphic shows the extent of terror attacks throughout Ramadan in 2016 ," the network tweeted.
The map identifies places such as Orlando, Paris, Istanbul and Lebanon, and also lists the June 8 attack on the Sarona Market in Tel Aviv in which four people were murdered.
It does not, however, point out the two attacks last week against Israeli citizens of Judea and Samaria in which 13-year-old Hallel Yaffa Ariel and Rabbi Michael Mark were murdered.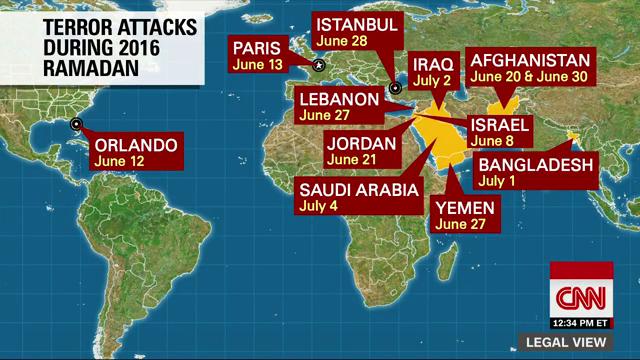 Bogus Page-One Haaretz Headline: 'Donors Halt Funds' to Ben-Gurion University
More importantly, who are the two so-called "donors"? The minority of readers who look past the headline and first paragraph (and onto the jump page, in the case of the print edition) will find that one, Michael Weiler of Switzerland, "had made donations between 1991 and 1993, but not since then. He remains on the board of governors out of respect to his parents who had contributed significantly larger sums." In other words, Weiler has not been a donor to BGU in over two decades.
And who is the second alleged "donor" who halted funding? He is, by Or Kashti's own description (again buried low down in the story), an "Israeli relative of a donor." Kashti writes:
Another Israeli relative of a donor wrote that even though he wasn't a wealthy American donor, only someone whose uncle had donated his small estate to the university, he wished to express his humiliation and anger at the decision.
Thus, no actual donors have halted funded to the university due to the decision over the award — only a former donor and the relative of a donor. An accurate story would have stated: "Two individuals with family connections to the university have said they will not in the future donate to Ben-Gurion University. . . " Accurate, but hardly worthy of page-one coverage.
CAMERA has contacted editors to request corrections, both online and in print. Stay tuned for an update.
BBC News erases Hamas terror from portrayal of Gaza blockade
On July 3rd the BBC News website published an article on its Middle East page titled "Turkey sends Gaza aid after six-year rift with Israel ends" in which readers were told that:Turkey ship art main
"A Turkish ship carrying 11,000 tonnes of humanitarian aid for Gaza has arrived in the Israeli port of Ashdod. […]
The Lady Leyla ship was carrying food, clothing and toys intended to arrive in Gaza in time for Eid celebrations marking the end of Ramadan.
It has been unloaded at Ashdod and the aid donations will be transported overland through Israel to Gaza."
Readers were not however given any information which would allow them to put those 11,000 tonnes of goods into context because the article refrained from informing them how much aid is transported into the Gaza Strip on a regular basis.
In the week preceding the arrival of the Turkish ship, 107,531 tons of goods entered the Gaza Strip: in other words, nearly double the amount of goods carried by the Turkish ship on every working day. On the day that the Turkish ship docked, 18,531 tons of goods entered the Gaza Strip in 602 trucks.
BBC News coy on lawfare NGOs it previously quoted and promoted
If the names of those political NGOs engaged in lawfare against Israel and its public figures seem familiar to readers, that is because the BBC has quoted and promoted them extensively over the years – and in particular during its coverage of the conflict between Israel and terrorist organisations in the Gaza Strip in the summer of 2014.
Not only were the Gaza Strip casualty figures cited by the BBC based on information sourced, inter alia, from the PCHR and Al Mezan, but the corporation engaged in vigorous amplification of unsubstantiated claims of 'war crimes' by the PCHR literally from day two of the conflict.

The BBC has never provided its funding public with a satisfactory explanation as to why it uncritically amplifies the agendas of organisations which make no secret of the fact that they are involved in a political campaign of lawfare against Israel or why it rejected complaints which challenged the BBC's use of obviously politically partisan information from those sources.
Polish party leader gets anti-Semitic death threat
A Polish lawmaker from a political party with a strong anti-racism agenda said her party head received a hand-written, anti-Semitic death threat whose author signed it as "Sniper."
The note, which is presumably addressed to the leader of the Modern Party, Ryszard Petru, read: "A bird that shits over its nest needs to be shot. Time unknown, Jewish son of a bitch. Sniper."
Joanna Scheuring-Wielgus, a lawmaker for the party headed by Petru, who is not Jewish, on Monday, published on Twitter a photo of the note.
Earlier that day, the Modern Party, which in the 2015 election won 30 seats out of 460 in the Polish parliament, presented its program for combating discrimination.
It proposes several steps to increase protection for homosexuals and people with disabilities.
Argentina Jewish sports club gets threat invoking Islamic State
A Jewish sports club in Argentina was the victim of a threat that included what is reported to be the first manifestation of Islamic State in the country.
The threatening note was attached to a plastic bottle filled with cement that was thrown through a window of the Maccabi Jewish community center and sports club in the Santa Fe province of Argentina.
The note, which read "This is a warning, the next one will explode," and "Allahu Akbar," or "God is great" in Arabic, also included the logo of the Islamic State.
The representative of the Argentinean Jewish political umbrella DAIA in the Santa Fe province, Horacio Roitman, denounced the attack in interviews with local and national media. He met with police and security authorities to strengthen surveillance of the institution and to put in place preventive measures.
Holocaust survivors to receive increased aid from Germany
In the ongoing fight against poverty and deprivation amongst Holocaust survivors, the Claims Conference has just scored a major victory.
Julius Berman, President of the Conference on Jewish Material Claims Against Germany (generally known as the Claims Conference), announced today (Wednesday) that the organization has negotiated an agreement with the government of Germany securing substantial increases in funding for homecare for poor Holocaust survivors worldwide in need of care. The agreement, subject to approval by the German Parliament, provides for approximately $500 million in additional funding over previous levels for the coming two years, including an increase of $111 million for 2017 and a total of nearly $388 million for 2018.
"We commend the government of Germany for recognizing its continuing obligation to victims of the Holocaust, more than 70 years after liberation," said Claims Conference Special Negotiator Amb. Stuart Eizenstat. "We have worked exhaustively to arrive at this agreement with the German government. Holocaust survivors, now in their final years, should know of our total commitment to trying to ensure they live in dignity, with the help they need."
Over eight months of ongoing discussions, the Claims Conference has negotiated with the German government to address the significant and increasing need for homecare among Holocaust survivors around the world. The need is expected to rise in the future, as all the survivors who remain alive are increasingly elderly, with many growing more frail and vulnerable.
400-Year-Old Jewish Cemetery in Turkey to Be Restored in Effort to Commemorate Once-Vibrant Jewish Community in Milas
A 400-year-old Jewish cemetery in southwestern Turkey will be restored as part of local efforts to commemorate the area's once-vibrant Jewish community, Turkey's Daily Sabah reported.
The cemetery, in the town of Milas, will undergo restoration under a special project entitled "Silent Witnesses to Milas Jewry." According to the report, local officials hope the cemetery will become a tourist faith destination.
Approximately 170 graves — some dating as far back as the 16th century — is what's left of the Milas Jewish community, which has long since left. Milas Mayor Muhammet Tokat told the Turkish daily that the city was once home to a large number of Jews.
"We had Jewish neighbors. They were mostly merchants. I remember them well, but future generations should also be aware that Jews once lives in Milas. Researchers will study the graves and experts will renovate it as part of our project," he said.
The restoration project is taking place under the coordinated auspices of the local municipality, governorate and a Jewish foundation. Dr. Siren Bora — one of the historians who will be conducting research at the cemetery — said she hopes by examining the headstones, new information on the city's former Jewish culture will emerge.
Israel, US successfully test integration of missile defense systems
The Israeli Missile Defense Organization (IMDO) and the US Missile Defense Agency (MDA) have successfully conducted a test meant to check the integration of Israeli and American missile defense systems, it was announced Wednesday.
The "Integrated Ground Test," the first of its kind with the new defense systems, spanned over five days and ended on June 22.
It tested the real-time communication between missile defense systems in Israel and the US, simulating a scenario in which thousands of rockets and missiles from Iran and Lebanon are fired at Israel at the same time to see how efficiently the six different missile defense systems can work together eliminate the threats. The focus was on connecting the missile defense system to the US radar system to detect the projectiles.
The missile defense systems tested were Arrow 2 and Arrow 3 as well as Israel's David's Sling in conjunction with US systems Aegis Ships, Terminal High Altitude Area Defense (THAAD) and Patriot missile defense systems.
The test was conducted simultaneously at command and control centers in Israel, which simulated Israel's multi-leyered missile defense system, and at development centers scattered across the US.
Bill Gates among investors in new Israeli incubator
Gates has made his first Israeli investment through Intellectual Ventures in the MEDX XELERATOR incubator.
Bill Gates has invested indirectly in a newly established technological incubator for the development of medical devices, sources inform "Globes." As far as is known, this is Gates first-ever investment in Israel. The investment is in the XELERATOR incubator, which was set up by the MEDX medical device developer, managed by entrepreneur Harel Gadot (previously a senior Johnson & Johnson executive and a former Maccabi Tel Aviv basketball player). There are three other partners in the incubator - Boston Scientific, the Sheba Medical Center, and Intellectual Ventures. The partners are committed to an overall investment of $65 million over eight years in the incubators' companies and graduates.
Gates is one of the investors in Intellectual Ventures, a set up by Nathan Myhrvold, a former colleague at Microsoft. Intellectual Ventures was initially a patent company which two years ago switched to being an investment vehicle in inventors and technological ventures. The company has 120 employees including first rate professors, researchers and engineers (for example MIT's Prof. Robert Langer)
In Iraqi Kurdistan, a Jewish Past Comes to Life
The Kurds are the world's largest ethnic group without a state of their own. As they prepare for possible independence, they are reaching out to both Israel and their own Jewish community.
Prayers were said, speeches made, and candles lit in memory of the six million Jews who lost their lives in the Holocaust. It seemed like any other remembrance service held on Yom HaShoah. Yet it was anything but ordinary. It was history in the making. For the first time, the Holocaust was being marked by the Kurdistan Regional Government (KRG) in the semi-autonomous region in northern Iraq.
The Jewish Remembrance Day for Victims of the Holocaust in Kurdistan was organized by the Office of the Jewish Representative, a special department within the Kurdistan Ministry of Endowments and Religious Affairs, as part of a wider push by the KRG to foster a climate of peaceful coexistence between people of different religious backgrounds.
In a region torn apart by endemic sectarian violence and just a few miles away from where the KRG's Peshmerga army is engaged in a brutal fight with the genocidal terrorist organization ISIS, the KRG is a sanctuary of religious pluralism. While Islamic extremists indiscriminately slaughter, torture, and enslave the young and old for being a Yazidi or a Christian, the KRG has taken in hundreds of thousands of refugees from Syria and other parts of Iraq, many of whom belong to persecuted ethnic and religious minorities.
But that is not the end of the story. The KRG offers more than just clean water, hot meals, and a roof over the heads of refugees. Last year, the government passed the Law of Minorities and appointed official representatives for all religious communities in Iraqi Kurdistan, including Jews, Mandaeans, Baha'is, Kaka'is, Shi'a Muslims, and Zoroastrians. Previously, only Sunni Muslims and Christians had representation. This is an unprecedented initiative by a Muslim-majority government in the modern Middle East, where minorities are often systematically persecuted or worse.
---
---
We have lots of ideas, but we need more resources to be even more effective. Please donate today to help get the message out and to help defend Israel.