From Ian:
---
Israel fires back at US over criticism of settlement building
The Israeli government on Friday fired back at the US State Department over its criticism a day earlier that Israeli construction over the Green Line is "provocative and counterproductive."
In a statement, the Israeli Foreign Ministry rejected the US argument that recently announced plans to build in East Jerusalem were undermining the prospects for a two-state solution, calling that argument "factually baseless."
On Wednesday, Israel announced the approval of 323 tenders for housing units in East Jerusalem, and plans to build 770 units in Gilo. While much of the international community considers Gilo a settlement, Israel considers it a neighborhood of annexed East Jerusalem and argues that it will be part of Israel in any negotiated peace agreement.
The international outcry, said Foreign Ministry spokesman Emanuel Nachshon on Friday according to Haaretz, "was done with the full knowledge that the neighborhood of Gilo in Jerusalem will be part of Israel in any conceivable agreement reached through negotiations. The argument that building in Gilo undermines the two-state solution is factually baseless and distracts from the real obstacle to peace — the persistent Palestinian refusal to recognize Israel as a Jewish state, under any borders."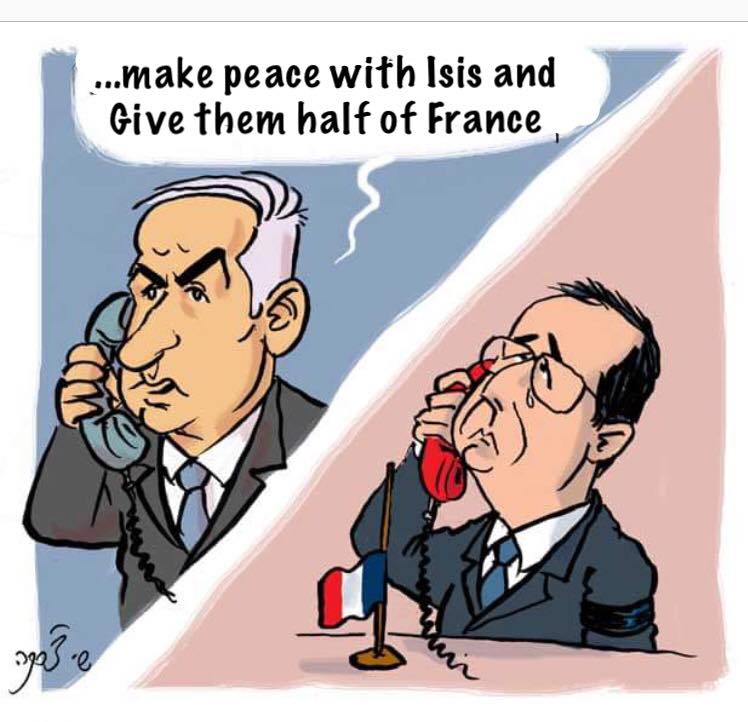 Golan Druze leader disputes UN statement on 'hardship of Israeli occupation'
A leader of the Druze population of the Golan Heights disputed the assertion of a United Nations committee that accused Israel of imposing economic and social hardships on his community.
Dulan abu-Saleh, the mayor of Majdal Shams, the largest Druze town in the Golan, told Makor Rishon that the UN Economic and Social Council's recent statement on the area was "a total joke," the daily reported Friday.
Unlike other Druze populations in Israel who serve in the Israel Defense Forces, the Golan's Druze population of some 20,000 has been careful not to align itself publicly with the Jewish state, which annexed the Golan Heights in 1981 after capturing it from Syria during the Six-Day War in 1967.
The eruption in 2011 of a civil war in Syria changed that, causing a sharp increase in the number of Golan Druze who applied for Israeli citizenship, which has been available to them since 1981.
Abu-Saleh objected to the inclusion of his native area in the UN panel's statement earlier this month, which said that "economic and social repercussions of the occupation on the living conditions of the Palestinian people in the occupied Palestinian territories, including East Jerusalem and the Arab population in the occupied Syrian Golan."
The UN Funds Repressive Regimes at the Expense of US Taxpayers
A new report shows how the U.S. contributes more money to the U.N. than it spends on shipbuilding for the Navy, yet there is a huge disparity in what it receives back compared to many repressive countries.
The United Nations recently released a report detailing the countries of registration of the recipient vendors of $17.6 billion the U.N. system spent on goods and services in 2015.
The report received some modest attention in the press. However, the general unfamiliarity with the U.N. can lead to misunderstandings about what information this report was actually providing. For instance, a Forbes article misinterpreted the report as one listing which countries contribute most to the U.N. system. This misinterpretation inspired this article piece to illustrate the difference.
Unfortunately, the U.N. system does not report its revenues as frequently as it does procurement. Analysis requires going back to 2013, which is the last year that both procurement and revenue data were published by the U.N. Chief Executives Board for Coordination.
In 2013, the U.N. system procured $16.38 billion in goods and services (the summary page for procurement of goods says $16.1 billion, but the dataset yields the higher number) and (after eliminating duplicate information for Aruba, the "State of Palestine," the Republic of Korea, and the Holy See) $53.9 billion in revenues from governments in 2013. In other words, in 2013 the U.N. system spent about 30 percent of the revenues received from governments on goods and services.
Many nations benefit significantly from this system, receiving far more from the U.N. than they pay into the system in contributions. For instance, a Swiss news outlet observed, "Switzerland is the United Nation's fourth-biggest supplier, behind only the United States, India, and the United Arab Emirates, providing almost 5 percent of all the world body's goods and services in 2015."
The following video is truly shocking and enraging! (h/t k)
An Arab father sends his three year old son to confront the Israeli border police, while shouting at the solders to "shoot the child".
In addition, the Arab father urges his little son to throw rocks at the solders, but the youngster misunderstands and throws them sideways.
Now do you understand what we are dealing with?
The whole thing is being encouraged by radical left-wing protestors (you can hear them shouting through loudspeakers)
Douglas Murray - The Origins of Islamic Violence
Douglas Murray on BBC Radio Ulster arguing about the origins of Islamic violence.
Belgian police arrest 2 suspected of plotting attack
Belgian police arrested two men "suspected of planning an attack" in Belgium following raids late Friday ordered by an anti-terror judge, federal prosecutors said on Saturday.
Belgium has remained on high alert following deadly March bombings claimed by the Islamic State group in Brussels and a wave of deadly attacks in the last month in France and Germany, some of them claimed by IS.
The two men, identified as Noureddine H. and his brother Hamza H., were arrested following house searches in the French-speaking areas of Mons and Liege, a spokesman for the federal prosecutors said.
"Both are suspected of planning a terrorist attack somewhere in Belgium," the spokesman said in an English version of the statement. The French version referred to "planning attacks" in the plural.
The prosecutor's office said there was for now no connection with the bombings on March 22 at Brussels airport and a metro station near the European Union headquarters that left 32 people dead.
Normandy mosque refuses to hold funeral for terrorist who killed priest
A local mosque in the French town where an elderly priest was killed in a jihadist terror attack at a church on Tuesday has refused to hold a funeral service for one of the two terrorists who perpetrated the attack.
The two, Adel Kermiche, 19 and Abdel Malik Nabil Petitjean, also 19, were killed by police after a standoff outside the church which they had stormed during morning mass. They took at least five people hostage before slitting the priest's throat at the altar and leaving another person in a critical condition.
The killing of 85-year-old Rev. Jacques Hamel as he celebrated morning Mass sent shockwaves around France and deeply touched many among the nation's five million Muslims. The Islamic State group claimed responsibility for the attack, as well as the July 14 truck attack in Nice, where 84 people were killed by a man who plowed his truck down a seaside promenade.
According to Le Parisien on Saturday, the leader of the mosque in Saint-Etienne-Du-Rouvray in Normandy where the church attack occurred — and a personal friend of the murdered priest — said the mosque would not bury Kermiche in a Muslim service so as not to "sully Islam with this person."
Washington Post Commentary Engages in Sharia Myth-Making
Writing in The Washington Post's Outlook section, University of Wisconsin law Prof. Asifa Quraishi-Landes's Op-Ed "Five Myths on Sharia" (June 26, 2016) offered an at times informative, but too often misleading commentary on Islamic law.
Quraishi-Landes claimed it is a "myth" that "Sharia" means Islamic law. This is incorrect. As writer Immanuel al-Manteeqi noted in The Counter Jihad Report, a Web site on Islam and Islamism, in the Arabic language sharia "does in fact mean Islamic law. Indeed, the word 'Sharia' in Arabic comes from the trilateral root, sh-r-a, which means 'to legislate.'"
Quraishi-Landes asserted that "Sharia is not a book of statues or judicial precedent imposed by a government, and it's not a set of regulations adjudicated in court. Rather, it is a body of Koran-based guidance that points." However, later in her Op-Ed, Quraishi-Landes seems to contradict herself by noting that Sharia is "Islam's legal framework."
The law professor erred in tackling what she said is the second myth: "In Muslim countries, sharia is the law of the land." Although conceding that "it's true that sharia influences the legal codes in most Muslim-majority countries," Quraishi-Landes then claimed that "these codes have been shaped by a lot of things, including, most powerfully, European colonialism. France, England and others imposed nation-state models on nearly every Muslim-majority land, inadvertently joining the crown and the faith."
Yet, this deflection fails to take into account that many of these countries, upon gaining freedom from European mandates and trusteeships, either kept such measures or adopted them after the fact. One strict enforcer of sharia law, Saudi Arabia, was never under direct European control.
Additionally, sharia does not merely "influence" the legal codes in most Muslim-majority countries; this misleading description minimizes the extensive role which it plays. As al-Manteeqi noted, both the Egyptian and Pakistani constitutions, among others, state in some form that "Islam is the religion of the state" and "the principles of Islamic Sharia are the principal source of legislation."
Between 'martyr' and murderer: Abbas's top cleric takes on a most emotive term
How can the Palestinians condemn the act of murdering an innocent Israeli, but label the murderer a martyr?
During his most recent interview on prime time Hebrew news, in April, Palestinian Authority President Mahmoud Abbas set the stage for this question.
Speaking directly to Israelis, Abbas spoke out against the hundreds of attacks against Israeli civilians since a spike in violence began in October 2015. And yet, he also insisted on referring to these attackers as martyrs, which Israelis argue is incitement to more violence and terrorism.
"Once he is dead, he is a martyr," Abbas said. But doesn't that set a bad example for the next generation? the interviewer asked. "No, no," Abbas answered, shaking his head — and they left it at that, with the question hanging.
The Times of Israel met recently with Dr. Mahmoud Habbash, the supreme sharia judge in the Palestinian Authority and Abbas's adviser on religious and Islamic affairs, to see if he could answer this question, as well as get his opinion on other pressing religious matters central to the Israeli-Palestinian conflict.
The judge defined a martyr, or shahid in Arabic, as "anybody who has been killed in a war against non-Muslims." He also said Palestinians are in an open "state of war" with the "Israeli occupation." In the context of this state of war, he argued, any Palestinian killed as a result of it — whether directly or indirectly, whether an Israeli fundamentalist firebombed his home, or whether he attacked a soldier or a civilian, and yes, even if he was killed while stabbing to death a teenage Israeli girl in her bedroom as was the case of the murderer of 13-year-old Hallel Yaffa Ariel last month — is a "victim" of the conflict because his actions were a product of it. And therefore, said Habbash, he is a shahid.
South African NGO brings together Palestinian factions for unity talks
An initiative geared towards creating Palestinian unity is taking place in South Africa this week.
A conflict resolution non-governmental organization, In Transition Initiative, is hosting Palestinians from across the political spectrum to "hammer out their differences and forge a common political vision for the future," in partnership with the Institute for Palestine in South Africa, according to the Cape Times.
This is the second intra-Palestinian dialogue to be organized by the NGO in the country this year.
"No other country has invited us to engage in dialogue among ourselves; it is only to South Africa that we would go to do that," Dr. Nabil Shaath, a senior Palestinian figure in Fatah and former chief negotiator for the Palestinians during peace talks with the Israelis, told Independent Media. Shaath was due to meet the Minister of International Relations and Co-operation Maite Nkoana-Mashabane, as well as Gwede Mantashe, secretary-general of the country's ruling party, the African National Congress.
Palestinian Authority President making laws by decree, highlighting problems
A new social security law in the West Bank has sparked protests against both the content of the law and the way it was legislated. Palestinian Authority President Mahmoud Abbas signed the law with a presidential decree, as the Palestine Legislative Council (PLC) has not functioned for almost ten years.
Palestinians who work for the Palestinian Authority (PA) already have a social security plan, but the new law, which Abbas signed in March, will apply to Palestinians working in the private sector and for NGO's. Opponents say it abandons rights for disabled workers, includes a minimum wage that retirement benefits that will not be enough to live on, and a provision that discriminates against women by denying death benefits to dependents of female workers.
"A lot of the Palestinian NGOs have their own provident fund mechanism already in place for their staff and employees," Lubnah Shomali, administrative and financial affairs manager of BADIL, a Palestinian human rights organization told The Media line. "This law would force them to pay into the national social security fund instead."
News of the law sparked protests in April in the West Bank city of Ramallah, the political and financial capital of the West Bank, with one demonstration attracting almost 10,000 people. The PA leadership formed a ministerial committee that met with NGO's, trade unions and human rights organizations to discuss amendments to the law, but media reports say those amendments were recently cancelled.
In financial plight, Hamas hands out former settler lands
Earth movers dig into sand dunes on land where once Jewish settlements stood — prime real estate that the Gaza Strip's ruling Hamas group hopes will ease its worsening financial crisis.
Hamas has begun handing out plots of the land to 40,000 civil servants loyal to the group, to make up for millions of dollars in salaries it owes them for the past two years.
The land giveaway is the latest sign that Hamas is struggling financially after almost a decade of uncontested power in the coastal strip.
Gazans grumble about lack of jobs, constant electricity shortages and a blockade imposed by Israel and Egypt that has confined the territory's 1.8 million people to the tiny strip. The World Bank says unemployment is 38 percent.
Since 2014, Hamas's main problem has been a dire lack of cash amid Egypt's clampdown on smuggling tunnels underneath Gaza's border with Egypt's Sinai Peninsula. Before the tunnels closed, Hamas earned millions of dollars from taxes on smuggled consumer goods, including subsidized Egyptian fuel.
New Mall to open in Gaza
Oh, that cruel, cruel "siege".
The mass media and social media are full of testimony claiming the "siege" of Gaza has prevented rebuilding and construction. The reality is quite different.
Gaza is anxiously awaiting the grand opening of its new "Capital mall"
The new plan was designed by Gaza's Innovative Design team
It seems modern and quite luxurious.
Its yet another snapshot from Gaza that you'll never see in the mainstream media, because it doesn't play into the Palestinian narrative of eternal victimhood.
Gaza Amusement Center Opens
Among the social justice warriors of the hard left and the hard right, the Gaza as "open air prison" meme predominates. They paint a vision where a besieged people live a hard scrabble life among the rubble, completely cut off from the outside world.
Its a false narrative. Just yesterday there were 1,085 crossings of foreigners, merchants and others between Gaza and Israel.
Where are the merchants heading? Some are off to China.
From Xinhua
Dozens of Gaza merchants and businessmen are importing Chinese-made goods by traveling to China to buy products, ship them to an Israeli port and then deliver them to Gaza through Israeli-controlled crossing points.
There are no official figures to show how big the scale of the import is. However, Maher Taba'a, the man who is in charge of public relations in Gaza Chamber of Commerce, told Xinhua that more than 50 percent of the general import of goods is coming from China.
In spite of the big challenges and deterioration of economy, around 2,000 Palestinian businessmen are seeking opportunities in Chinese goods, because the Chinese products are "special and distinctive" ...
Highlighting some of these Chinese imports, the StarsCenter - an indoor amusement park has recently opened in Gaza, featuring bumper cars, rides and arcade games.
Nasrallah slams Saudis for 'normalization with Israel for free'
Hezbollah leader Hassan Nasrallah criticized Saudi Arabia on Thursday night for an apparent warming of ties with Israel, accusing it of "normalizing for free, without receiving anything in return."
Nasrallah, whose Shiite terror group is closely allied with Saudi rival Iran, said in a speech that "It seems the future of Palestine and the fate of its children have become a trivial matter for some Arab states recently."
He warned that recent public meetings between Saudis and Israelis — including a recent visit to Israel by a former Saudi general and a joint appearance of the kingdom's prince and Jerusalem's former national security adviser — were giving "a problematic and dangerous example" to other Arab nations.
Israel, he said, had effectively ceased to be an enemy for many Arab states, and Palestine had become an issue "that is touched on only as a cursory matter."
Nasrallah accused Riyadh of having long-held clandestine ties with Israel, but was aghast at the change "from secret channels to public channels."
Hezbollah to air 'new footage' on raid that sparked 2006 Lebanon war
The Lebanese terror group Hezbollah said it will broadcast new footage showing the moments leading up to the 2006 cross-border raid into Israel, in which three soldiers were killed and two — Ehud Goldwasser and Eldad Regev — were captured. The raid sparked the 34-day Second Lebanon War where thousands of rockets fell mainly in northern Israel.
The war claimed the lives of 165 Israelis, including 44 civilians. Over 1,100 Lebanese, including both Hezbollah fighters and civilians, were killed.
In a promo video released on the Hezbollah-affiliated al-Mayadeen TV station on Friday, the terror group said it prepared a three-part "documentary" on the reconnaissance preparations for the raid and the subsequent kidnapping. The first part of the "documentary" is set to air on Saturday.
The promo clip shows Hezbollah commandos training for the raid, which is said to have taken three months of planning. The training, according to al-Mayadeen, was under the watchful eye of Hezbollah commander Imad Mughniyeh, who can be heard saying "someone just needs to fire at them."
Mughniyeh was assassinated in Syria in 2008.
Report: Syrian commander escapes Israeli assassination attempt
A senior commander in the Syrian army recently escaped unharmed an Israeli assassination attempt in the Golan Heights, the Iranian semiofficial Fars news agency reported Friday.
According to the report, the man in question is Majid Heymoud, who was visiting the town of Eastern al-Samdaniya.
Heymoud's convoy, according to the report, came under two missile attacks in the part of the Golan Heights which is under Israel's control, but he escaped unharmed.
The report did not specify when this incident took place. The IDF Spokesperson's Unit told Kol Yisrael radio on Friday that it does not respond to reports in foreign outlets.
According to the Fars report, the Al-Nusra Front Syrian rebel group also tried to kill Heymoud after the alleged failed Israeli missile attack, but they did not succeed to do so.
Iran Ranked World's Top Money Laundering Risk, Despite Relaxing of Financial Sanctions
Iran was ranked as the world's top global money laundering threat by the Basel Institute on Governance this week, marking the third straight year that the Islamic Republic held the position.
The 2016 Basel Anti-Money Laundering (AML) Index identified Iran as the highest money laundering risk out of 149 countries surveyed, The Wall Street Journal reported. A statement (.pdf) accompanying the index explained that "Although a majority of countries legally comply with current AML/countering terrorism financing (CTF) standards, they fall short in the effective implementation and enforcement of these laws."
According to the Journal, companies are hesitant to resume commercial ties with Iran because of money laundering concerns.
The publication of the index comes a month after the Financial Action Task Force (FATF), a global anti-money laundering watchdog, suspended financial countermeasures against Iran for one year. At the time, sanctions experts Mark Dubowitz and Toby Dershowitz of the Foundation for Defense of Democracies (FDD) wrote that the decision to temporarily suspend sanctions rather than totally remove Iran from the FATF's high-risk blacklist indicated that the country "still has a long way to go before it's safe to do business there."
Dershowitz and Saeed Ghasseminejad, an associate fellow at FDD, wrote earlier this week that Iran is attempting to convince nations that it is serious about complying with FATF standards, including on combating the financing of terrorist groups, by referring to recent legislation passed by its parliament. However, according to Abdolmahdi Arjmandnejad, the Central Bank of Iran's deputy for anti-money laundering affairs, "liberation organizations are not subject to this law and the Supreme National Security Council decides who is a terrorist."
Iran's global banking problems deepen with rise of Trump, Brexit
Britain's vote to leave the European Union and the rise of U.S. presidential nominee Donald Trump have paralyzed efforts by Western governments to encourage already highly reluctant international banks to do business with Iran.
Uncertainty is frustrating Tehran's push for foreign investment to revive its struggling economy: over Britain's political and economic future, over whether Trump - who wants to scrap a nuclear deal with Iran - will get into the White House, and over whether banks will fall foul of U.S. sanctions if they process transactions with the Islamic Republic.
Iran's failure to get full access to the global financial system a year after it signed the nuclear deal with world powers has intensified domestic political infighting. It has also turned up the heat on President Hassan Rouhani, a pragmatist facing re-election next year, who has gambled on attracting foreign investment to help raise voters' living standards.
Under the deal, international financial sanctions on Iran were officially lifted in January this year and yet it has secured banking ties with only a limited number of smaller foreign institutions.
One senior Iranian official said Tehran was examining alternatives. "Iran will continue to work with small banks, institutions as long as major European banks are reluctant to return to Iran," said the official.
"Our estimation is that this uncertainty will continue for a few years. We are in talks with many countries, mainly China, Russia and African countries to widen our banking cooperation aimed at resolving existing banking, financial problems."
U.S. banks are still forbidden to do business with Iran under domestic sanctions that remain in force. European lenders also face major problems, notably rules prohibiting transactions with Iran in dollars - the world's main business currency - from being processed through the U.S. financial system.
Convicted bomber Rasmea Odeh opposes mental examination in immigration fraud case
Rasmea Odeh is the Palestinian terrorist group member convicted of the 1969 supermarket bombing in Jerusalem that killed two Hebrew University students, Edward Joffe and Leon Kanner.
Rasmea was released in a prisoner exchange in 1979 for an Israeli soldier captured in Lebanon.
Rasmea eventually made her way to the U.S., where she lied on both her visa and naturalization applications, by falsely stating that she never was convicted of a crime or served time in prison. She told other lies as well, such as not disclosing the time she spent in Lebanon after release from Israeli prison, or that she was a military member of the terrorist Popular Front for the Liberation of Palestine.
Rasmea became a U.S. citizen in 2004 on the basis of those lies.
Catholic Charity Promotes Hamas Narrative in Fundraising Magazine
Unfortunately, there is another article in One magazine that demonizes Israel. It was titled "A Letter from Gaza," written by Suhaila Tarazi, a Palestinian Christian who directs the Al Ahli Hospital operated by the Anglican Diocese of Jerusalem and supported by CNEWA.
In her letter, Tarazi told an all-too-familiar narrative of innocent suffering on the part of the Palestinians and unrelenting villainy on the part of the Israelis.
For example, she describes the installation of the Palestinian Authority after the signing of the Oslo Accords in the early 1990s as heralding a moment of "peace and tranquility" that was brought to an end when Israel imposed restrictions on Palestinian economy, restricted freedom of movement and constructed a "separation" wall, which she says "have left no hope for the establishment of a Palestinian state."
She also complained about the construction of settlements in the West Bank.
Nowhere does she recount the failure of Palestinian leaders to negotiate in good faith at Camp David in 2000, nor does she mention Yassir Arafat's refusal to accept the Clinton Parameters, which, if accepted, would have established a Palestinian state on all of the Gaza Strip and most of the West Bank and would have brought an end to the settlement construction she condemned.
Nor does she mention the suicide attacks that took place during the Second Intifada that prompted Israel to build the security barrier she bemoans. Tarazi also failed to mention that Israel withdrew from the Gaza Strip in 2005 only to be met by increased violence, rocket attacks, especially, perpetrated by Hamas. No Christian can offer a reasonable judgment about the rights and wrongs of the Arab-Israeli conflict without knowing about these things.
As Tarazi's letter progresses, it becomes a pro-Hamas screed, stating that in 2006, "Hamas won parliamentary elections in Gaza, which the international community described as transparent and legitimate."
In her effort to portray Hamas as a legitimately elected government, Tarazi fails to include any reference to Hamas's deeply antisemitic ideology and well-documented calls for Israel's destruction and its support for Muslim supremacism over Christians in Gaza. How can a Catholic publication publish an article that ignores these issues?
Los Angeles Times Whitewashes Murder of 3 Israelis
On New Years' Day, Israeli Arab Nashat Milhem opened fire in a Tel Aviv bar, killing Alon Bakal and Shimon Ruimi and injuring at least three others. During his flight from the killing scene, Milhem killed taxi driver Amin Shaaban, his third murder victim.
Here's how The Los Angeles Times whitewashed that deadly attack this week:
"After an Arab citizen attacked a Tel Aviv bar in January. . . "
The assailant did not merely attack a Tel Aviv bar. He murdered three people, so why the obfuscation?
Israeli, American Teams Emerge as Frontrunners in Google Space Challenge
The Israeli and American teams vying to win Google's Lunar XPRIZE challenge have emerged as the competition's two frontrunners, CNN reported on Tuesday.
Thirty private teams from 16 countries initially entered the competition, which challenged participants to land a spacecraft on the moon, move it 500 meters in any direction, and send live high-definition video back to Earth. The competition began in 2007 as a way to open a new era of space exploration.
The teams have until December 31, 2017 to complete their mission. The two main challengers still remaining — the Israeli team SpaceIL and the American team Moon Express — have scheduled launches for some time in 2017.
The first team to complete the mission will receive a $20 million prize, though that's a fraction of the total cost of building, launching, and landing a spacecraft on the moon.
SpaceIL CEO Eran Privman said that his team did not enter the competition for any monetary reward. "There are many reasons why [we want] to be there. We, as the Israeli team, would like to put Israeli technology on the moon next to the Russians, the Americans, and China. That by its own will be a great achievement."
Accomplishing the mission could open a new era of commercial travel to the moon, Mars, or elsewhere, Privman said.
From British battles to Bauhaus, touring a century's stunning Tel Aviv architecture
Nearby, Brender Park, on the other side of Hyrcanus Street, features a large, movable menorah created by contemporary artist Yaakov Agam. Famous the world over for his kinetic and optic art, Agam produces interactive works that allow viewers to create their own abstract designs.
Then, continuing on, streets are named for biblical figures – mainly prophets. Here, one enters the world of Bauhaus.
In 2003, Tel Aviv was declared a World Heritage Site by the United Nations because of the predominance of Bauhaus architecture (a 1930's style also called International) that originated in pre-Nazi Germany. Turns out that Tel Aviv has more buildings designed in Bauhaus than any other city in the world.
Some of the houses on the streets here are slightly newer than the original 1930's structures on Rothschild Boulevard, Ahad HaAm, Engel and Melchett streets in Tel Aviv. Nevertheless, they were influenced greatly by Bauhaus principles: the use of pure classical architecture without any kind of ornamentation, and the addition of flat roofs, smooth exteriors and geometric shapes.
Others are completely eclectic: one, on the corner of Yehashua Ben Nun and Simon HaTarshi, features an unusual turret.
Among the structures on Hagai, Amos and Ovadia streets are houses built on thick stilts – a Middle Eastern adaptation of the Bauhaus style. For when new immigrant architects who had been studying Bauhaus in Europe began designing in this country, they realized that they had to adapt their designs to a new climate and type of land.
Tel Aviv was only a mass of sand dunes when established in 1909, and it is difficult to build foundations on sand. So the Bauhaus architects raised them up on thick stilts, which created air flow and left plenty of space for gardens.
---
---
We have lots of ideas, but we need more resources to be even more effective. Please donate today to help get the message out and to help defend Israel.