From Ian:
JPost Editorial:
Abraham Accords stronger than ever, two years later
This week marked the second anniversary of the Abraham Accords, under which Israel signed normalization agreements with the United Arab Emirates and Bahrain, which were later extended to Morocco.

Skeptics at the time noted that Israel had not been at war with these Arab Muslim states and downplayed the idea that the accords – reached under the Trump administration and Netanyahu government – could be called "peace treaties."

But their importance should not be underestimated. The Abraham Accords marked a strategic diplomatic shift for Israel and the region and the relationships with the countries has flourished beyond even optimistic expectations.

As the UAE minister of state for foreign trade Thani Al Zeyoudi wrote in an opinion piece in yesterday's Jerusalem Post, "It was a moment that changed the course of history. On the bright, sunlit morning of September 15, 2020, when Abdullah bin Zayed al-Nahyan, foreign minister of the UAE; Israel's prime minister Benjamin Netanyahu; and Abdullatif bin Rashid al-Zayani, foreign minister of Bahrain, held aloft signed copies of the Abraham Accords in front of the White House, it signaled not simply the end of 48 years of hostility and distrust but the beginning of a new political and economic era for our region.

"In establishing full diplomatic relations, the UAE, Bahrain and Israel had chosen prosperity over politics, cooperation over isolation, opportunity over suspicion. Everyone present on the South Lawn understood the magnitude of the occasion – and its potential to elevate the lives of people across the Middle East in the decades to come."

What about today?
Today, it seems natural that a minister from a Gulf state would write in The Jerusalem Post praising the relations between the countries, but we need to remind ourselves that it was not always obvious. Similarly, to mark the anniversary, Prime Minister Yair Lapid yesterday hosted the UAE Minister of Foreign Affairs and International Cooperation at the Prime Minister's Office in Jerusalem. It is important to note that although the administration and government in the US and Israel changed in the meantime, the accords hold firm, as seen, for example, in the so-called Negev Summit earlier this year. This is the mark of true treaties between countries rather than agreements between leaders.
What has the game-changing Abraham Accords accomplished after two years?
Israel has spent much energy touting the success of the Abraham Accords and encouraging other countries to join. In July, U.S. President Joe Biden visited Israel and Saudi Arabia, where there was speculation over warming ties between Jerusalem and Riyadh.

While Jordan and Egypt remain aloof from the developments, in part due to the Palestinian issue as well as widespread anti-Israel public sentiment in the two countries, the Abraham Accords, and Israel's subsequent close ties with the UAE and Bahrain in particular, have led to agreements on everything from tourism to defense. Trade between the countries has reached approximately $2 billion annually and is expected to pass $10 billion within the next five years; Israeli officials point to this as a sure sign of success, with more to come.

But a poll in July by the Washington Institute reports that the proportion of those who view the Abraham Accords favorably in Saudi Arabia, Bahrain and the UAE "has dropped over the past year to a minority view," David Pollock and Dylan Kassin said in an analysis.

According to them, "current attitudes contrast with the relative optimism exhibited by a significant percentage of Emiratis, Bahrainis, Saudis and even some Egyptians in the months after the announcement of the Abraham Accords."

The authors also noted, however, that the data "indicates a countercurrent of openness to allowing business and social ties with Israelis in some parts of the Gulf, especially in comparison to their peers in Egypt, Kuwait and the Levant." Opposition to allowing business or sports ties with Israel "remains at 85% in Egypt and 87% in Jordan despite long-standing official relations," they wrote.

It is unclear whether there is a difference in these countries between the older generation, which has spent decades considering Israel as an enemy, and the younger generation, which is connected on social media and may have differing opinions on the subject.

Critics note that the Abraham Accords have failed in a number of ways. First, they have not led to new agreements with other Gulf Cooperation Council countries such as Oman, Qatar or Saudi Arabia, and they do not appear to have led to an improved view of Israel on the street. The agreements have also not led to any tangible improvement on the Palestinian front.

The March 2022 "Negev Summit," a gathering of foreign ministers from Bahrain, Egypt, Israel, Morocco and the UAE, and facilitated by U.S. Secretary of State Antony Blinken, went off course when Blinken used it to talk about the Palestinian issue instead of focusing on Iran, which was the original purpose of the gathering.

However, according to Gerald Feierstein and Yoel Guzansky of the Middle East Institute, "normalization has opened new opportunities for defense and security cooperation, especially among Israel, Bahrain and the UAE, which share a common perspective on the security threat posed by Iran."

They said the Negev Forum that grew out of the Negev Summit and which folded Egypt into the Abraham Accords coalition "offered additional possibilities for cooperation on shared interests, including energy, food and water security, health and other issues."

Jonathan Schanzer, senior vice president of research at the Foundation for Defense of Democracies, told JNS that "normalization is a process, not an event. There is no timeline or handbook for establishing warm ties after decades of enmity."

Still, he remains optimistic about Israel's ties with the UAE, Bahrain and Morocco. He is also confident that other Arab countries "will prioritize their national interests over the Palestinian issue.

"Much of the region is undeniably ready to steer their countries toward stability and prosperity," Schanzer said.

Others are optimistic as well.
Abraham Accords: A promising start with challenges ahead
Despite this somewhat optimistic view, it is essential that we invest serious effort to bolster the framework of the Abraham Accords and expand it, while doing our utmost to prevent Iran from wielding its negative influence to halt the trend of progress.

In addition to the security-related activity, and the economic, commercial progress being made, the policymakers in Israel would do well to consider adopting the following steps:

Firstly, strengthening the circle of peace-supporting countries and expanding it. It is important to invite Sudan and Chad (which was unjustly left out of the states party to the accords) to participate in all forums and working groups. It is important for them too to enjoy the fruits of peace and benefit from their decision to engage in normalization with Israel. As, if this is not the case, it might well result in negative momentum, possibly even leading to withdrawal – either publicly declared or discreetly – from the agreement. This will serve to encourage additional countries to join too.

Secondly, recognition of Morocco's sovereignty over Western Sahara. Although Israel provided no outright commitment to this, there is clear expectation of this in Rabat, especially after Washington and others have declared their recognition.

Thirdly, the opening of an overland trade route via Israel (or from it) to the Gulf States. Such a route would be considerably more efficient and less expensive than those currently in use, it would provide significant economic profits to the regional states and to the EU states too, which would be able to benefit from it for both the import and export of vehicles. This would be a tremendous boost to trade among the member countries of the Abraham Accords, while also contributing to the global economy.

Fourthly, expediting joint ventures for marketing solutions to globally urgent problems in the fields of energy, food and water, while exploiting the relative advantages of Israel and the Gulf States.

Fifthly, expanding educational and cultural initiatives to reinforce deeply-entrenched attitudes in favor of peace and so weaken separatist approaches and radical Islamic ideas.

This is a critical component for establishing peace at the popular level, between citizens and peoples, rather than just between states and governments.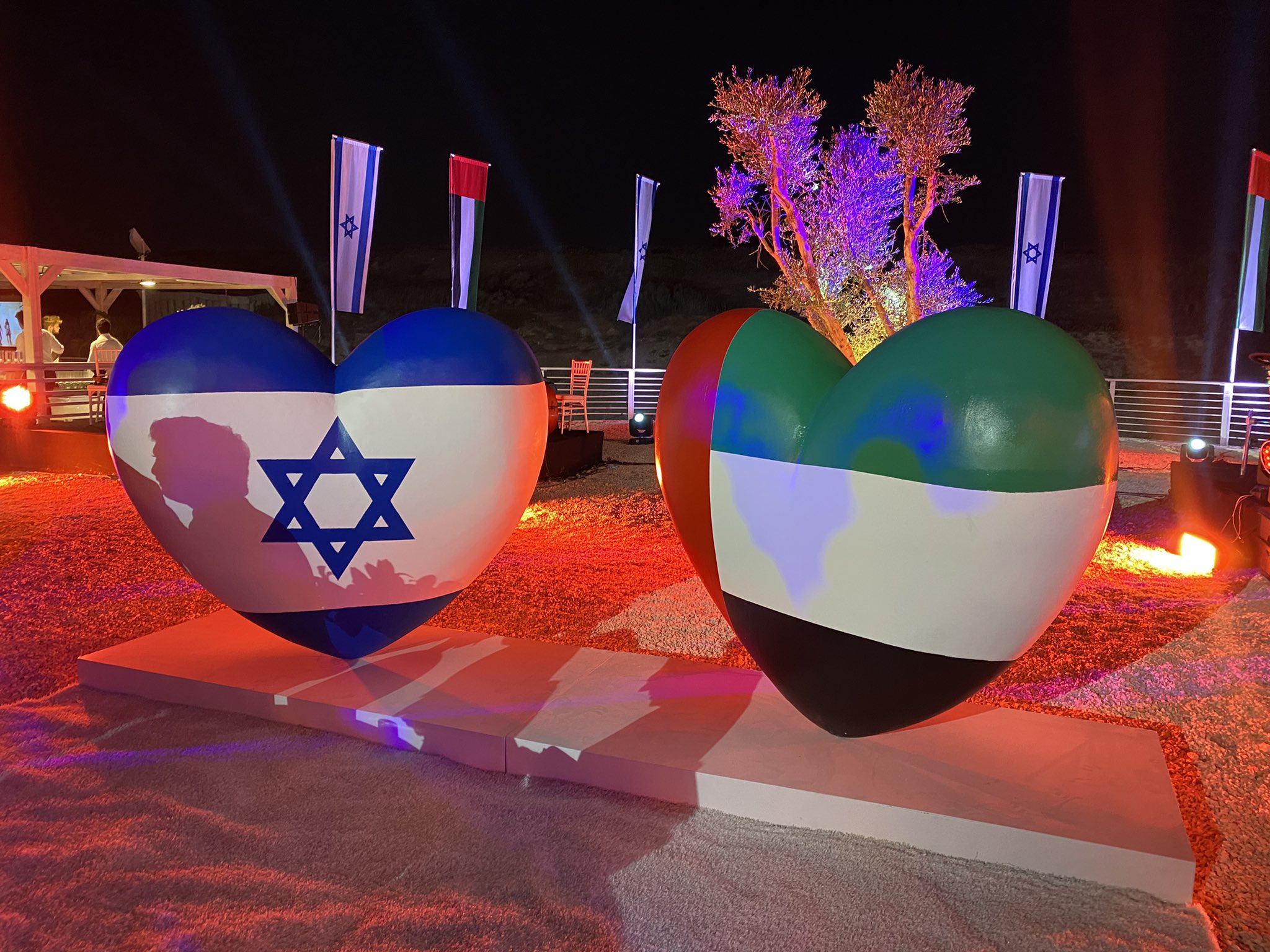 Herzog says planning to soon visit Bahrain, hopes normalization with Sudan advances
President Isaac Herzog said on Thursday that he soon plans to visit Bahrain, while speaking at a reception hosted by the United Arab Emirates to celebrate two years since Jerusalem established diplomatic ties with Manama and Abu Dhabi.

"I intend to visit Bahrain in the coming months as the guest of His Majesty King Hamad bin Isa Al Khalifa in order to continue exploring together new ways to enhance our nations' cooperation, for the sake of the peace, prosperity, and success of our entire region," Herzog announced.

The event in Herzliya Pituah was hosted by UAE Ambassador to Israel, Mohammed Al Khaja, and attended by Foreign Minister Sheikh Abdullah bin Zayed Al Nahyan, who was visiting Israelis as the countries celebrated the second anniversary of the US-brokered Abraham Accords.

The 2020 agreement normalized relations between Israel, the UAE and Bahrain. Morocco followed suit some months later. Sudan also signed onto the accords, but the process to establish full diplomatic relations with Khartoum has since stalled.

Herzog praised bin Zayed as "a man of peace" and called him "a central actor" in the drafting of the accords. Herzog also hailed the role played by then-prime minister Benjamin Netanyahu and former US president Donald Trump in securing the agreements.

Herzog sounded optimistic that progress could be made with Sudan, noting "positive conversations" he has held with Sudanese leaders which indicated a "mutual desire" for improved ties between the countries.
Beautiful statement from the heart by the UAE's ???? Sheikh Abdullah bin Zayed @ABZayed visiting Israel ????.
"A relationship where Emiratis and Israelis feel the benefit, feel the joy, feel the pride and feel the hope."
pic.twitter.com/58KOzqnVKV

— Avi Kaner ??????? ??? (@AviKaner) September 15, 2022
Love this video! On the occasion of the 2nd anniversary of the #AbrahamAccords, the Ambassadors of #Bahrain, #UAE & #Israel, come together to give a glimpse how the Accords are changing the face of the Middle East.

???? @AmbHerzog @IsraelinUSA
???? @UAEEmbassyUS
???? @BahrainEmbDC pic.twitter.com/P5Sz2hRif5

— Arsen Ostrovsky (@Ostrov_A) September 15, 2022
The Jews of the Jews
The Haredi rejection of contemporary cultural mores sticks in the craw of many enlightened Jews. Like the maskilim, they frame Haredi life in ways that are not necessarily anti-Semitic themselves, but that can certainly be used to justify anti-Semitism of the worst kind.

This all has real-world consequences. Society's lack of knowledge about Haredim and its lack of empathy for them make for a deadly brew. Haredim in the New York area have been subject to near-constant anti-Semitic attacks over the past few years, ranging from physical assaults to swastikas on buses to slurs hurled at little children to broken windows and defaced schools. But hardly any of these attacks have been more than a blip on the local news. It may come as a surprise to those outside the Haredi community to know that a Haredi attack has occurred nearly weekly —sometimes even daily—over the past two years.

Haredim are the most visibly Jewish Jews. They are also the last Jews to resist the adoption of a purely Western, enlightened worldview. The anthropologist Jonathan Boyarin has described them as being racialized in ways other Jews currently aren't, "the result not only of prejudice against them but also as the result of a certain refusal of whiteness on their own part." Even—no, especially—other Jews code Haredim as deviant, dangerous, and threatening. Thus, the unending hate directed at Haredim is ignored. Until they are actually slaughtered, as they were almost three years ago in a Jersey City supermarket, no sympathy (and certainly no empathy) is offered for the hate directed their way. Nobody even notices. An anti-Semitic mass rampage in Lakewood, New Jersey, in April that left people in critical condition barely made the local news. Even after the Jersey City attack, a member of the Jersey City government opined that the Haredim had it coming to them.

Why does this community provoke so much outrage?

Usually, the answer I receive is that they deserve it. They really are that bad.

Everyone knows.
The New York Times's botched attack on Jewish schools
There are lies, damned lies, and New York Times statistics.

Last Sunday, the New York Times published a hit piece on yeshivas, the religious schools that serve Orthodox Jewish students. The piece, rife with half-truths and distortions, was clearly timed to influence a vote by the New York Board of Regents on a proposal to regulate private schools.

Although aimed at the yeshivas, the proposal would require all private schools to prove that they provide an education that is "substantially equivalent" to that provided by the public schools, including a minimum amount of time spent on several academic subjects. The board received more than 350,000 public comments, a record high, overwhelmingly opposed to the proposal.

Nevertheless, the New York Times article appears to have had its intended effect. On Tuesday, the board voted unanimously to approve the regulations. There was no debate.

Most yeshivas teach secular subjects, and many are among the highest-performing schools in the state, but a subset of Hasidic yeshivas focuses primarily on religious instruction and minimizes secular education. Its rejection of mainstream culture and its values has kindled the ire of the New York Times.

The New York Times's narrative about the yeshivas is evident in its headline: "In Hasidic Enclaves, Failing Private Schools Flush With Public Money." Public money invites public oversight, and Hasidic yeshivas perform poorly as measured by standardized test scores. The New York Times inevitably concluded: Yeshiva graduates, supposedly lacking basic skills, are doomed to lives of poverty and dependency. Hence, the government must intervene.

But the New York Times failed to make its case on all counts. It relied on anecdotes and the selective use of data to further its narrative, carefully presenting facts in a manner designed to leave a desired impression while omitting key context that would undermine that narrative.

Are the yeshivas "flush" with taxpayer dollars? The New York Times claimed that the Hasidic yeshivas have received about $1 billion in public funding over the last four years. That sounds like a lot, at least until you crunch the numbers.
How NYT-Style Advocacy Journalism Can Fuel Antisemitism
Even before the report's publication in the New York Times, anger surged within the Orthodox Jewish community regarding what they had already seen of the investigation. 'Pre-buttals' to the report were written that refuted the charges brought by the New York Times and defended the education offered in private Hasidic schools. After the report's publication, the Orthodox Jewish organization Agudath Israel put out a statement decrying what it called the "one-sided New York Times hit piece" on New York State's Hasidic community. On the other side of the debate, some Jewish representatives applauded the report, deploring its findings, while others focused solely on the report's findings, urging fellow Jews not to dismiss them. Outside the Jewish community, editorial pages of the nation's newspapers included both opinions that sided with the yeshivas and those that advocated for more government intervention.

The ramifications of the NYT campaign, however, extend far beyond providing a topic of intense debate or the government's regulation of ultra-Orthodox schools. The NYCLU was among the first to use the New York Times campaign as a vehicle to scapegoat Jews to further their race-based agenda, and it is still uncertain where all this will ultimately lead.

Choosing to spotlight and amplify failures and foibles of people within an already targeted community creates risks to the entire community. And the NYT's relentless media campaign does just that, reinforcing the worst antisemitic stereotypes of the "other" and evoking ancient tropes of Jewish control and money grubbing. There was no question that such a presentation would promote resentment and ill-will toward identifiable Jews in New York – a minority that is increasingly targeted with physical violence motivated by antisemitism. It raises further, serious questions about the handling of the campaign, as well as the content of the analysis.

Amplification of a Limited, Local Story
If the goal of the exposé was solely to highlight educational deficiencies in Hasidic New York state schools, why was it not presented as a local story in the New York section of the newspaper? Why was it amplified with front-page coverage, reiterating the same inflammatory charges day after day, four days in a row?

Reinforcement of Negative Stereotypes
The report does not merely address educational shortcomings within the yeshivas but reinforces antisemitic tropes and negative stereotypes of Jews through innuendo, implying Hasidic schools and leaders are deviously siphoning off public money for themselves to the detriment of others. Repeated insinuations of wrongdoing, coupled with decontextualized assertions and numbers, raise multiple questions about the reported findings.
Yeshiva University: With dismissal, Supreme Court gave roadmap to block LGBTQ club
Yeshiva University on Thursday said the US Supreme Court had provided a "roadmap" for blocking an LGBTQ student club, even as the court dismissed the university's request to intervene in the case.

The flagship Modern Orthodox university in New York City had asked the highest US court to overrule a state court's demand that the university recognize a campus Pride club.

The Supreme Court said in a 5-4 decision on Wednesday that Yeshiva University needed to exhaust other options for appeals before it would hear the case. The decision means the university must recognize the club, at least for now.

The decision was made on procedural grounds, not the larger religious issues, and the dissenting justices said the university could appeal to the Supreme Court again down the road and would "likely win" in such a scenario.

"The Supreme Court has laid out the roadmap for us to find expedited relief and we will follow their instructions," university president Rabbi Ari Berman said in a Thursday statement.

The case hinges on whether the university is a secular institution, bound by New York State human rights laws, or a religious institution with beliefs protected by the First Amendment.

The university has attempted to tread a line between welcoming LGBTQ students and refusing to recognize the YU Pride Alliance on religious grounds.
GOP Probes Academic Group After It Defends Professor Who Blamed Rushdie Attack on Israel
Republican foreign policy leaders in Congress are accusing one of the country's most prominent Middle Eastern academic groups of promoting anti-Semitism after the organization defended a college professor who accused Israel's Mossad of organizing the recent attack on author Salman Rushdie.

Three Republican lawmakers penned a letter to the Middle East Studies Association (MESA) demanding that the organization explain why it is defending University of Denver professor Nader Hashemi. The professor claimed that Israel's secret service may have orchestrated the attack on Rushdie as part of a plot to derail ongoing negotiations with Iran over a new nuclear deal, according to a copy of the letter obtained by the Washington Free Beacon.

The letter appears to be the opening salvo in a bid by leaders in the Republican Study Committee (RSC)—the largest conservative caucus in Congress—to investigate instances of pro-Iran bias on U.S. college campuses. RSC chairman Jim Banks (R., Ind.) told the Free Beacon earlier this month that Hashemi's "anti-Semitic and anti-American conspiracy theories are now widespread in universities," highlighting the need for congressional intervention.

Banks, along with Reps. Claudia Tenney (R., N.Y.) and Doug Lamborn (R., Colo.), are demanding that MESA, which represents more than 2,800 college professors at 50 institutions across the country, explain why it is giving credence to the baseless theory that Israel was involved in the Rushdie attack. The investigation, they write, is being conducted as part of the RSC's effort to provide "oversight of the anti-Semitism and anti-Americanism which have become rampant in higher education."
Anti-Israel activists are upset because the Israeli Marvel comics superhero is named Sabra ????, which sounds similar but is unrelated to the Arabic names ???? ??????? Sabra and Shatila — The camps in Lebanon where there was a massacre committed by other Arabs (not Israel)??????? pic.twitter.com/x3YnkiDGEs

— Emily Schrader - ????? ?????? (@emilykschrader) September 16, 2022
SFSU event with terrorist speakers was unauthorized by university
A conference with speakers who were terrorists and affiliated with terrorist groups held by San Francisco State University's Arab and Muslim Ethnicities and Diasporas Studies (AMED) on September 10 in Beirut was unauthorized and not sponsored by the university, a representative of SFSU told The Jerusalem Post on Thursday.

SFSU media relations specialist Kent Bravo told The Post that the two-day conference, "Memorializing the Sabra & Shatila Massacre: Bearing Witness, Resilience, & Accountability" organized by SFSU professor and AMED department director Dr. Rabab Abdulhadi was "neither sponsored nor authorized by SF State, and we have contacted organizers to notify them of unauthorized use of the SF State name."

Bravo reiterated that SFSU supports the academic freedom of faculty but condemns terrorism and violence, referring to previous statements by SFSU president Lynn Mahoney on controversies that arose from the previous programs involving terrorist figures by its AMED department. Mahoney had supported Abdulhadi's right to hold the events.

However, an open letter published by Abdulhadi accused the university of "threatening Dr. Abdulhadi with disciplinary action for listing her academic affiliation with AMED in conjunction with two conferences on Teaching Palestine which she is organizing or co-organizing, and in which she is participating as an SFSU faculty member."

Materials advertising the first conference in Beirut showed AMED's logo and was hosted on its platforms. A second conference will be held in Tunisia on September 19.

Terrorist speakers at conference
Salah Salah, described by SFSU AMED as "one of the founders of the Arab Nationalist Movement and the PFLP," spoke on a September 10 panel. The last panel of the event on September 11 was set to feature Dr. Sami Al-Arian and infamous PFLP airplane hijacker Leila Khaled. Al-Arian, who had previously been hosted by AMED at an event called "Whose Narrative? 20 Years since September 11, 2001," was indicted and struck a plea deal over his alleged affiliation with Islamic Jihad.

Palestinian-Lebanese guerilla fighters Kifah Afifi and Anwar Yassine also spoke at the conference.
New York College Assigns Former Leader Of Pro-Hamas Group To Investigate Alleged Antisemitism
The City University of New York (CUNY) is assigning a former leader of the Hamas-linked Council for American Islamic Relations (CAIR) to investigate an antisemitism and anti-Zionism complaint made internally by a Jewish professor.

CUNY assigned its chief diversity officer, Saly Abd Alla, the former civil rights director of CAIR's Minnesota chapter, to investigate an email sent by Kingsborough Community College (KCC) professor Jeffrey Lax, accusing its president of anti-Zionist antisemitic discrimination. CAIR is listed by the U.S. Department of Justice as an unindicted co-conspirator in funding millions of dollars to the Palestinian terrorist organization Hamas, and their leaders have previously called for the destruction of Israel.

The United Arab Emirates (UAE) named CAIR a terrorist organization in 2014.

"We don't want Jews here. That's the message that it sends," said Lax in an interview with the the Daily Caller News Foundation.

He noted that Alla is in charge of overseeing all discrimination investigations at the "single largest urban university in the country," which encompasses 25 campuses and close to 300,000 students. "When you have someone from CAIR leading a discrimination office throughout the university, you are the biggest cause of the antisemitism," he continued.

Lax shared his email to CUNY's Office of Recruitment and Diversity with the DCNF. (NYC's Universities Allegedly Turned A Blind Eye To Antisemitism For Years, Complaint Says)

He told the DCNF his complaint emphasized that KCC President Claudia Schrader "completely stopped" communicating with him regarding previous internal complaints he made after the U.S. Equal Employment Opportunity Commission ruled the college repeatedly discriminated against observant Jews and supporters of Israel. He added that Schrader hired a proponent of the anti-Israel Boycott Divestment and Sanctions (BDS) movement to the school's Diversity Equity and Inclusion search committee, which includes no Jewish members, despite being created partially to address antisemitism claims.
U. of Vermont President Suresh Garimella is doubling down on the school's antisemitism, denying all allegations of Jew hatred.

Meanwhile:
- Jewish kids were denied access to clubs
- TA threatened to reduce grades of Zionists
- Jewish student had rocks thrown at his residence pic.twitter.com/E52FUb0OVY

— StopAntisemitism (@StopAntisemites) September 16, 2022
Revisiting a BBC report from May 2021
As noted at the time, the BBC's portrayal of the events – bizarrely presented as "an incident with a car" – describes the rock-throwing mob as "protesters". It distorts the chain of events, stating that "the driver said he lost control of the vehicle" before mentioning the throwing of rocks and without clarifying that it was those attacks which caused the driver to lose control of his car.

On September 12th 2022, journalist Haim Goldberg reported that two of the people described by the BBC as "protesters" (one of whom was supposed to be under house arrest at the time of the incident) had been convicted by the Jerusalem District Court.

"…the defendants were convicted (each according to their part) of a terrorist act of aggravated malicious damage, wilful damage to a motor vehicle, violation of a legal order and obstruction of justice.

The court ruled that "the attack[ing] of the defendants, which was directed at people whose appearance indicates their religious and national affiliation, clearly indicates the existence of a racist motive for their actions and a performance [action] aimed at inciting fear and panic.""

Unfortunately for BBC audiences, as is all so often the case, what will remain available online as "permanent public record" is a sixteen-month-old misleading report which will not be amended to reflect subsequent developments in the story or to give an accurate account of the chain of events as proven in court.
Success! Radio-Canada Retracts Claim That Israel Killed 49 Palestinian Civilians
Radio-Canada's falsely claiming that all 49 Palestinian casualties were "civilians" was a bold falsehood that painted a picture of Israel killing over four dozen innocent Palestinian civilians with zero casualties from terrorist organizations.

In light of this information and with consideration for how egregious this error was, HonestReporting Canada took immediate action and filed a formal complaint calling for corrective action to be taken by Radio-Canada.

We are pleased to note that Radio-Canada upheld our concerns and retracted this claim. Furthermore, Radio-Canada deleted the offending paragraph from its news report and published the following correction:
"Clarification: A previous version of this text presented a toll of the victims of Operation Breaking Dawn, but this toll has been withdrawn due to lack of verifiable information."

While we thank Radio-Canada for implementing these remedial measures, we are nevertheless concerned by how this serious error was made by the CBC's journalist in the first place and how it was overlooked by layers of editorial oversight. We've communicated these sentiments directly to Radio-Canada.
NY Times Editorial on Israeli Investigation Relies on Dubious Insinuations
All of this is simply passed over by Schmemann, who instead seems to find fault with the IDF's investigation because it didn't reach its conclusion as fast as that of CNN – which relied on questionable sources and failed to inform the audience of important assumptions and caveats – and the NY Times.

This is like chastising the authors of a peer-reviewed study for taking longer to prepare their paper than it did for a popular magazine on the same subject. It should go without saying that a formal investigation by authorities into a deadly incident, which could result in criminal charges, will be subject to much more rigorous standards and processes than that of NY Times journalists. Given the paper's lengthy history of basic errors and partisanship, this should be a relief.

But even the NY Times' own reporting doesn't support the other insinuation made by Schmemann, who writes:
"The Israel Defense Forces has so far not acknowledged that killing a journalist whose helmet and flak jacket were clearly marked 'Press' was a grave violation of how an occupying army should behave."

The implication here, of course, is that the IDF deliberately shot Abu Akleh knowing who she was. Yet, despite Schmemann's emphasis on "clearly marked 'Press'," even the NY Times' own investigation said it "was unable to determine whether the shooter saw that she and her colleagues were wearing protective vests emblazoned with the word Press." She was, after all, approximately two entire football fields away from the IDF position.

Similarly, the U.S. Security Coordinator which analyzed the bullet and oversaw both the Israeli and Palestinian investigations stated that while gunfire from the IDF was "likely responsible" for the death of Abu Akleh, it "found no reason to believe that this was intentional."

Despite this, Schmemann's piece insinuates otherwise, replacing his lack of evidence with emotive accusations like "callousness and moral corruption."

Whatever shortcoming one may find in the IDF investigative process, Schmemann's critique certainly doesn't capture it. It seems the New York Times values a narrative of evil Israel over a thoughtful analysis.
As tragic as this incident was it's interesting that @MediaFreedomC never once in the past 3 years issued a statement regarding the death of a specific journalist.

I'm pretty sure it's not because there weren't other tragic incidents.

Anyone have any ideas? pic.twitter.com/UZlai5XgxU

— Eli Lipshitz ???? (@EliLipshitz) September 15, 2022
Social media platforms like @TikTok are failing the Jewish community in their inability to moderate #antisemitism.

I came to Washington DC to speak in Congress about why this is such a problem and speak about what can be done. pic.twitter.com/IwzJ3r2WkH

— Emily Schrader - ????? ?????? (@emilykschrader) September 16, 2022
ESPN Documentary About Munich Massacre Follows Israeli Survivor of Olympic Attack and Holocaust
A new episode of ESPN's documentary series "E60" will profile a former Israeli athlete who survived the Holocaust when he was a child and also the terrorist attack that took place at the 1972 Olympic Summer Games in Munich, Germany, in which 11 members of Israel's Olympic delegation were murdered.

In "The Survivor," former Israeli race walker Shaul Ladany, 86, shares his life story from World War II to Munich and Israel, where he now lives, with reporter Jeremy Schaap, who traveled to Israel and Germany to learn more about the two-time Olympic athlete who has won five gold medals at the Maccabiah Games.

Ladany was also the recipient of the Pierre de Coubertin medal, the International Olympic Committee's most prestigious honor, and in July he completed the Maccabiah Games half marathon in four hours and 27 minutes. He is now a professor at Ben Gurion University in the Department of Industrial Engineering and Management.

As the Nazi regime attacked Ladany's home country of Yugoslavia in 1941, a bomb fell directly on his house. Miraculously, he survived and three years later, during the Holocaust, he was deported by the Nazis to the Bergen-Belsen concentration camp and again survived. Twenty-eight years later on Sept. 5, 1972, at the Munich Olympics, Ladany faced death once more when the Palestinian terror group Black September broke into the athletes' village at the Munich Olympics and kidnapped, and ultimately murdered, 11 Israeli athletes and coaches.

"The Survivor" features archival video and news reports, as well as new interviews and reporting, to share details about what happened at the Munich Olympics through Ladany's perspective.

Those interviewed for the documentary include former Israeli sports shooter Zelig Shtroch, who was Ladany's roommate at the Munich Olympics and has been tormented with survivor's guilt for 50 years; Shlomo Levy, an Israeli photojournalist who stayed in the same building as the Israeli delegation at the Olympics; and US Special Envoy to Monitor and Combat Antisemitism Deborah Lipstadt.
How American Anti-Semitism Helped the Nazis
A new PBS series by Ken Burns argues xenophobia, the Great Depression, incredulity toward the media, and State Department antisemitism combined to keep Jewish refugees out of America.

Two-thirds of European Jews were killed by the Nazis during World War II in a systematic, relentless process that still exceeds our ability to comprehend its origins and consequences. The Final Solution, which was the Nazi plan to exterminate all European Jews, wasn't implemented until 1942, but Hitler's government had begun openly dehumanizing, harassing, and attacking Jews upon taking power nine years earlier.

Even when the Nazi death machine kicked into high gear, America kept its doors mostly closed to Jews, as filmmakers Ken Burns, Lynn Novick, and Sarah Botstein recount in The U.S. and the Holocaust, a new three-part documentary series on PBS.

Some lobbied to open the country to refugees in the run-up to war, but anti-immigration legislation, the economic devastation of the Depression, incredulity toward a press that had trafficked in false atrocity accounts during World War I, and deep-seated antisemitism, especially in Franklin Roosevelt's State Department, combined to thwart those efforts.

Reason talked with Burns and Novick about why a nation of immigrants remains so deeply ambivalent about newcomers and the lessons that 21st-century America should draw from our country's response in the lead-up to the Holocaust.
Top French Jewish Actor Says He Can't Mourn 'Antisemitic' Movie Director Jean-Luc Godard
One of France's top actors has confessed that he is unable to mourn Jean-Luc Godard, the pathbreaking Franco-Swiss film director who died on Tuesday, citing the cineaste's bombastic comments about Jews and the State of Israel as the reason.

"I can't admire Jean-Luc Godard, I can't admire someone who hates Jews so much," said actor Gérard Darmon in an interview with French broadcaster BFMTV on Thursday.

The son of Algerian Jews, Darmon has appeared in numerous films since the 1970s, working with leading directors such as Jean-Jacques Beineix, Neil Jordan and Élie Chouraqui. He asserted that Godard — arguably the most influential filmmaker of the post-war period in France who launched the "New Wave" movement in the 1960s — "was not very benevolent towards my community, for the Jews in general and for Israel in particular."

Long associated with the far left, Godard was an enthusiastic supporter of the Palestinian national cause and was given to condemning Israel in antisemitic terms, frequently invoking the Holocaust as a stick with which to critique the Jewish state. He once told his biographer, Alain Fleischer, that the suicide bombings undertaken by Palestinian terrorists "resemble what the Jews did, by letting themselves be driven like sheep and exterminated in the gas chambers, in order to bring about the existence of a Palestinian state."

In his later years, Godard became a supporter of the campaign to subject Israel to a regime of "boycotts, divestment and sanctions" (BDS), advocating a boycott of the 2018 France-Israel film festival.

Godard — whose numerous titles included the classic A bout de souffle ("Breathless") of 1960 as well as Pierrot le Fou in 1965 — journeyed to the Middle East in the 1970s to make a documentary about the Palestinian struggle. The result, Ici et Ailleurs ("Here and Elsewhere"), released in 1976, compared the former Israeli Prime Minister Golda Meir with Adolf Hitler and was widely denounced as antisemitic. A further film focused on the Palestinians, 2004's Notre Musique ("Our Music"), was described by the Belgian filmmaker Chantal Akerman as "obscene and antisemitic."
"Solidarity with racist rappers and 9/11 truthers!"

Taj Ali is a big fan of Lowkey.

When he was at Warwick, a hotbed of antisemitism, he led a band of bellowing thugs disrupting a Jewish Israeli Society talk and rejected Jewish concerns.

So, a perfect speaker for the RMT left. https://t.co/3VvaQDgOhc pic.twitter.com/CTXmsG3zZp

— habibi (@habibi_uk) September 15, 2022
Toronto activist dressed as Jew harasses Holocaust survivor about Israel
A Canadian Holocaust survivor was harassed with queries about her support of Israel by a leader of an anti-Israel organization who had dressed as an orthodox Jew, at a United Jewish Appeal (UJA) Federation of Greater Toronto event on Monday that featured guest speakers former US president George Bush and former Canadian prime minister Stephen Harper.

"If you're a Holocaust survivor, why do you support oppression? Why do you support people who are killing?" Canadian Defenders for Human Rights (CD4HR) leader Firas al Najim demanded of the elderly woman in videos he published on his social media. "She escaped the Nazi evil regime, is that correct? How come now the Israelis are killing the Palestinians and hurting them and you're not doing anything about it? Why are you standing with Israel? Just because you want to have a Jewish homeland, you want to kill everybody? You want to murder and steal people's homes?"

Najim compared the State of Israel to Nazi Germany, chiding the Holocaust survivor, as "When you come out of oppression, you shouldn't be doing oppression. You tasted that evil lifestyle, you should be coming out to help the oppressed."

The Holocaust survivor was brought into a nearby building, but it was unclear if it was to attend an event or to escape Najim's harassment.
This man has been identified as Firas Al Najim and runs an Instagram account documenting harassing Jews, specifically elderly ones (next video).

Al Najim states he doesn't hate Jews, only Zionists, YET target Jews in Toronto, yelling "Free Palestine". pic.twitter.com/K2CYGGM9u3

— StopAntisemitism (@StopAntisemites) September 15, 2022
It is unclear if Abuhayyeh still works part time as an EMT but someone with this much antisemitic hatred needs to be kept as far away from the medical arena as possible! pic.twitter.com/Ak5ZeAMT8f

— StopAntisemitism (@StopAntisemites) September 16, 2022
Members of this hate group - David N. Anderson and Francine Graham - murdered 4 people a Kosher supermarket in Jersey City, including a police detective.

More from Wiki here: https://t.co/hPPMrBDQUS

— StopAntisemitism (@StopAntisemites) September 15, 2022
Hi @webuyanycar, I've just encountered antisemitic hate speech on Facebook, posted by someone whose profile claims that he is one of your branch managers.
Cc: @GnasherJew pic.twitter.com/XSfW3MniMa

— Steve Lewis (@LewisSJ) September 16, 2022
Israel's Technion Ranks Top University in Europe in Field of Artificial Intelligence For Second Year
The Technion-Israel Institute of Technology, the country's university for science and technology, has been ranked the top institution in Europe in the field of artificial intelligence (AI), for the second year in a row, according to a global ranking of computer science institutions.

The Haifa-based Technion-Israel Institute of Technology was selected 16th globally in AI and 10th in the world in the subfield of learning systems by CSRankings, a metrics-based ranking of top computer science institutions around the world. Tel Aviv University was ranked 6th in the field of AI after Germany's Max-Planck Society and before University of Edinburgh and University of Oxford.

"The Technion continues to establish its position as the leading research institution in Israel and Europe in the core areas of artificial intelligence, thanks to the unique work environment that exists in this field at the Technion," said Shie Mannor, co-director of Tech.AI, the Technion's Center for Artificial Intelligence.

Tech.AI researchers work on applying advanced AI methodologies and tools in in a number of fields including data science, medical research, mechanical engineering, civil engineering, architecture, and biology.

"Solidifying the Technion's position as a pioneer and world leader in the field of AI and spreading the knowledge acquired in this process to the commercial world in all its aspects, are very important national tasks," commented Prof. Assaf Schuster, co-director at Tech. AI.
Nano drugs dosed via skin could become easier to develop, thanks to Israeli research
Israeli scientists say they have overcome a major hurdle that today holds back the development of nano drugs that can be given through the skin.

The pharmaceutical industry knows how to administer substances through the skin, as in the case of nicotine patches and contraceptive patches. But it hasn't become a popular route for dosing drugs.

A major challenge is that it's hard for scientists to get an accurate picture of how effectively particles are reaching the correct destination in the body. This is because, with a maximum size of one-thousandth of a centimeter if they're to penetrate the skin, they are too tiny to then detect through noninvasive means.

Given that a key part of developing a drug is tracking exactly where it reaches in the body and assessing its effectiveness, this presents drug developers with a significant problem.

Scientists currently check where nanoparticles reach using invasive means such as a biopsy. But this causes pain and is hard to conduct on a mass scale, such as for the types of large-scale trials normally necessary to develop drugs.

"The new research could really push forward the development of nanomedicine, by giving us a way to gauge the concentration of medicines in different layers of the skin," Channa Shapira, one of the key scholars, told The Times of Israel.

Shapira overcame the problem of the particles being too small to track by using lasers and has published her peer-reviewed results in the journal ACS Nano.
Fixing weak electric current in part of brain may treat Parkinson's — Israeli lab
Fixing weak electric currents in part of the brain may treat Parkinson's, according to Israeli scientists.

They say their research, peer-reviewed and published in the journal NJP Parkinson's Disease, could open up a new approach to fighting the disease and may enable detection when people are young.

A major difficulty in developing drugs for Parkinson's is that though it's referred to as a single disease, many scientists think of it as a term for numerous diseases with shared characteristics.

The genetic mutations underlying Parkinson's have only been identified for around 15 percent of cases. As a result, scientists struggle to find common — or in medical jargon convergent — characteristics in the brains of Parkinson's patients which could be targeted by drugs.

Dr. Shani Stern, a neurologist at the University of Haifa, found in a study that regardless of whether or not patients have an identified mutation, they all had a reduction in the rate of synaptic currents in specific parts of the brain compared to healthy people. These are specific currents generated under synapses, which are conductors between neurones.

Stern and her colleagues wrote in their study that the changes they identified in the brain "are central and convergent to Parkinson's Disease."

"We discovered mechanisms that are shared by all Parkinson's cases we examined. These are mechanisms that weren't known to be related to Parkinson's, and now we have new targets for which drugs of the future could now be developed, which could make them more like healthy neurones," she told The Times of Israel.

Now that her research has identified the connection between synaptic currents and Parkinson's, she hopes for a new strategy to fight the disease. Drugs could be developed that return the currents to normal levels and through this change, potentially slow or reduce the onset of Parkinson's.
Unearthed Byzantine mosaic hailed as one of Gaza's greatest archaeological treasures
Last spring, a Palestinian farmer was planting a new olive tree when his shovel hit a hard object. He called his son, and for three months, the pair slowly excavated an ornate Byzantine-era mosaic that experts say is one of the greatest archaeological treasures ever found in Gaza.

The discovery has set off excitement among archaeologists, and the territory's Hamas rulers are planning a major announcement in the coming days.

But it is also drawing calls for better protection of Gaza's antiquities, a fragile collection of sites threatened by a lack of awareness and resources as well as the constant risk of conflict between Israel and local Palestinian militants.

The mosaic was uncovered just a kilometer (half a mile) from the Israeli border. The floor, boasting 17 iconographies of beasts and birds, is well-preserved and its colors are bright.

"These are the most beautiful mosaic floors discovered in Gaza, both in terms of the quality of the graphic representation and the complexity of the geometry," said René Elter, an archaeologist from the French Biblical and Archaeological School of Jerusalem.

"Never have mosaic floors of this finesse, this precision in the graphics and richness of the colors been discovered in the Gaza Strip," he said.

Elter says the mosaic pavement dates back to a time between the 5th and the 7th centuries. But he said a proper excavation must be conducted to determine when exactly it was built and whether it was part of a religious or secular complex.
Chart-topping Hasidic Jewish rapper says his way of fighting antisemitism is "to be proudly Jewish"
Moshe Reuven, a chart-topping Hasidic hip-hop artist, appeared on the most recent episode of Podcast Against Antisemitism where he spoke about his journey of breaking antisemitic stereotypes as an identifiably Jewish musician.

As well as having his debut single top international charts, he recently collaborated with Julian Marley, son of the legendary reggae musician Bob Marley, on a single. He described the experience of working with Mr Marley as "surreal", and a "huge blessing". When asked about the compatibility between the two artists, the Hasidic hip-hop star said that it "makes a lot of sense" due to how, in his view, the "spirituality of Hasidism" can be harmonised with the "sort of spirituality people think of" when it comes to the younger Marley.

The rapper revealed that he got into hip-hop music in his youth. "I didn't grow up religious," he said, adding that "part of being a kid in the secular world, hip-hop is pop culture…more people listen to it than any other genre".

The musician's religious journey drove him to get into creating music, as he found the content that characterised mainstream hip-hop music was "treif", meaning not kosher, and in his view, "not teaching the right morals".

He describes his musical journey as part of "bringing myself into Hasidism, Torah, and how I'm relating to what I know is right".

In previous instances, hip-hop music has contained antisemitic lyrics. Earlier this year, the UK media regulator Ofcom sanctioned London-based radio station Rinse FM after they aired a Jay Electronica song that was deemed to have contained "antisemitic hate speech."

In recent times, musician Nick Cannon apologised for alleged antisemitic comments and claimed to make an effort to educate himself, while the rapper Wiley has only continued to double down on the severity of the antisemitic tweets that he posted in July 2020.

Commenting on the dichotomy between the two, the Jewish rap star said that "it's sad that someone took the other approach" and that this "shows the two options a person has if they make such a mistake".

He said that people can "grow up with the wrong information" and repeat "what someone they look up to says" without reflecting on its wider potential to offend, adding that sometimes animosity "isn't a general 'we hate the Jews' and sometimes it is", but that either case is problematic if it ends up in widely distributed song lyrics.
Jewish partisans recount struggle against Nazis in new documentary 'Four Winters'
In 1944, Faye Schulman, a young Jewish partisan, emerged from the forest into her hometown of Lenin, Poland, on a mission to burn houses the Nazis were using as their wartime offices. One of those houses, she soon discovered, was her own.

As she wandered through her childhood home, she spied an old potato peeler still on the floor. Schulman thought of the rest of her family — already murdered by the Nazis by that point — and realized, even if she survived the war herself, that she would never be able to live in that house again.

"Burn it," she told her fellow partisans. She lit the match herself. Then she posed for a photograph among the ashes.

The new documentary Four Winters is full of riveting accounts like Schulman's. Written and directed by Julia Mintz, the film recounts the story of several Jewish partisans: women and men from the ghettos who escaped Nazi roundups to the concentration camps, fled to the woods of Eastern Europe, and carried out guerilla attacks on Nazis and their collaborators for the remainder of the war.

It's told in an oral history style, with eight former partisans sharing their accounts of wartime survival, accompanied by some remarkable archival images of the partisans in action (Schulman was a photographer).

The sight of these Jews huddling together in the woods in winter, men and women alike armed with repatriated Nazi weapons and fed with stolen food, makes for a potent rejoinder against partisan Michael Stoll's comment, early in the film, that "Jews have a reputation" for not being "fighters."

The film explains that there were more than 25,000 partisans who fought the Nazis from the forest during the war. On camera they're a hardened sort, as you might imagine, having survived brutal conditions without adequate supplies while carrying out several successful operations. (The documentary takes its title from how the partisans measured time, the winters being the most difficult stretches).
If you will indulge for a minute, this one is rather personal … how the death of Danny Pearl (of blessed memory), was "a wake up call", starting a journey of deep personal reflection into my own Jewish & Zionist journey!

In conversation with @ShaharAzani. cc: @yudapearl pic.twitter.com/o6ZuqlySrI

— Arsen Ostrovsky (@Ostrov_A) September 16, 2022
---
---
Buy the EoZ book, PROTOCOLS: Exposing Modern Antisemitism today at Amazon!

Or order from your favorite bookseller, using ISBN 9798985708424.

Read all about it here!