From Ian:
Dara Horn:
At Harvard, Facts Are For Losers
The BDS movement, as it's known, is old news on college campuses and elsewhere; it's been around long enough that it no longer bothers to hide its goal of eliminating the world's only Jewish state. But I had to hand it to The Crimson for timing, given that the editorial followed several weeks of terror attacks in Israel during which 15 people were stabbed, shot and car-rammed to death while engaging in such provocative behaviors as drinking at a bar or walking down the street. One victim was an Arab Israeli police officer rushing to the crime scene. Even Palestinian Authority president Mahmoud Abbas, not known for his Zionism, condemned these attacks. Two of the attackers were apparently connected with Islamic State, a medieval-cosplay sex-slavery outfit whose genocidal goals are entirely unrelated to Palestinian national aspirations. Why after these events, one might ask, would these Harvard students change their position now?

Well, one might ask that if one knew nothing about how college students think. The editorial made clear that the editors were inspired less by events overseas than by events in front of students' noses—specifically, a billboard-sized mural created by Harvard's Palestine Solidarity Committee. Its prominent placement in Harvard Yard meant that its contents were forced onto the eyeballs of every undergraduate on campus for a week, and it was apparently quite inspiring. As my old newspaper put it: "Art is a potent form of resistance, and we are humbled by our peers' passion and skill."

When I was in graduate school 15 years ago, such murals typically displayed news stories and grim statistics about the harsh realities of Israel's military occupation of the West Bank, and back then, Gaza. The information was often presented in a tendentious fashion and frequently featured obvious distortions. (At that time I was teaching Israeli history and literature, so I was aware of many things that most people casually encountering this information would miss.) But—this is the key point—these displays were attempting to persuade people with information. They were making an argument, as Crimson editors once did every week in the Sanctum. Even if the facts were cherry-picked or taken wildly out of context, there was, at a bare minimum, a pretense toward presenting facts.

After reading the Crimson editorial's rave review of the newest mural, I decided to take a look at the online photos of this art display. I naively expected those old-school panels of facts and figures, interspersed, as per usual, with paintings of doves. But that loserly premise of persuading people with facts turned out to be long gone, along with the doves. Instead, I saw a propaganda mural that would have been at home in any Middle Eastern authoritarian state, where it would have been painted by government lackeys to illustrate classic regime talking points that openly genocidal groups like Hamas, Hezbollah and their state sponsors in Iran have been pushing to local and Western audiences for years.

The opening panel's "art" consisted entirely of large words, which read—wait for it—"Zionism is Racism Settler Colonialism White Supremacy Apartheid." (Even the U.N. gave up on "Zionism is Racism," a moldy Soviet slogan that the USSR spent decades promoting to its client states in the developing world.) Another panel featured a faceless police officer bearing a truncheon over the bodies of dark-skinned people behind bars with bullet wounds on their chests, their blood dripping onto an overturned American flag. This subtle image was nearly identical to memes circulated by Iranian-backed groups online. (If you're too thick to get it, American police brutality is the Jews' fault.) Two more panels included anodyne images of doctors and a pill bottle, with vaguely worded references to "health." Those digging online for what this could possibly have to do with "Zionism" will quickly encounter long-debunked lies about Israel withholding Covid vaccines and harvesting Palestinian organs—part of a centuries-old tradition in both the Christian and Islamic worlds of accusing Jews of spreading disease and killing children. Another panel went all-in on Holocaust imagery, featuring gray-clad prisoners with a Palestinian flag behind Auschwitz-style barbed wire fencing, along with a boxcar train headed for a bricked-up destination marked with an Israeli flag.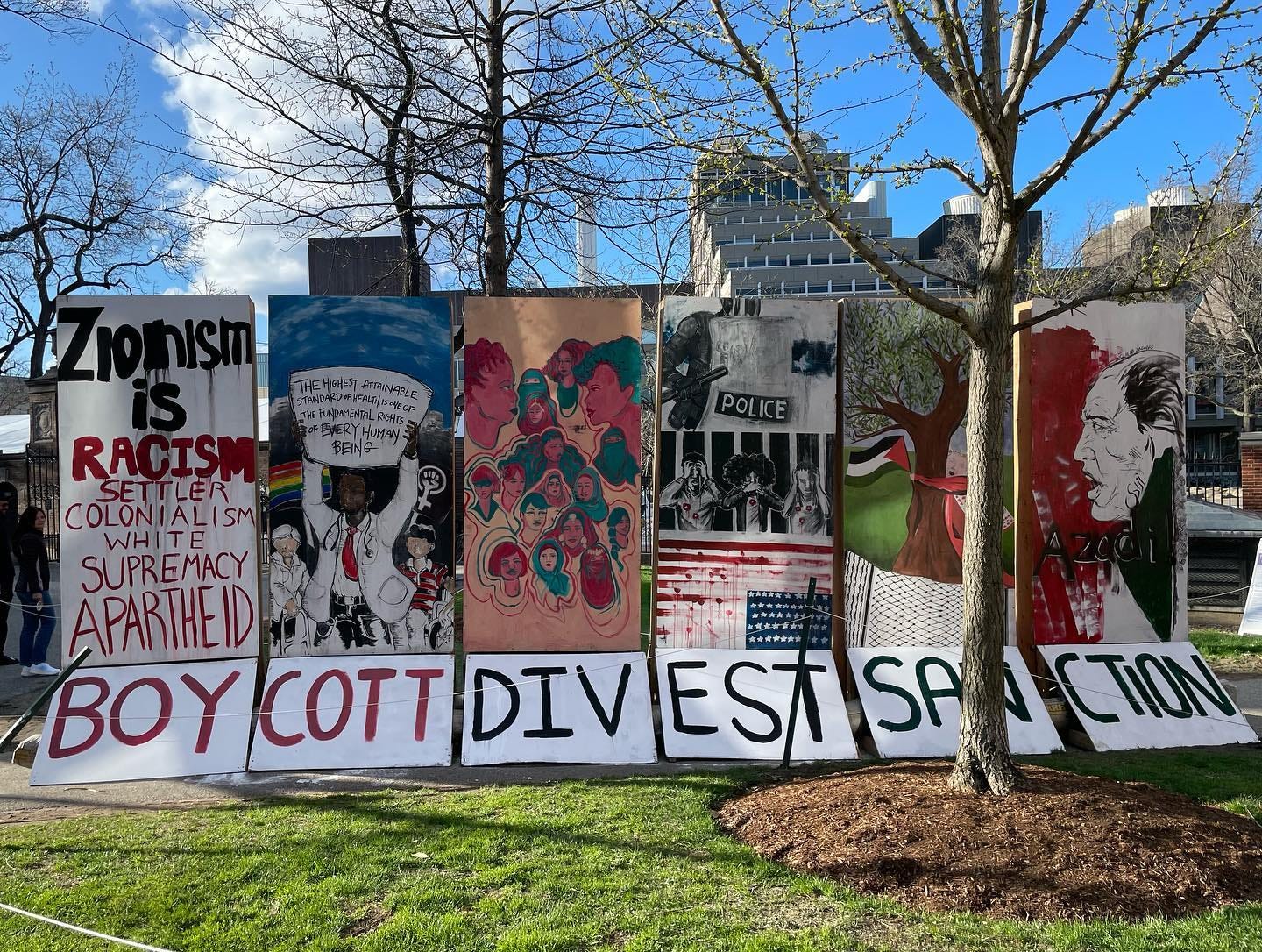 'Disrespectful of Jews': 70 Harvard faculty reject student paper's BDS endorsement
Seventy Harvard-affiliated faculty have condemned the university's student newspaper for endorsing the boycott movement against Israel 10 days ago, a move that whipped up a firestorm of controversy and was seen as a possible omen of changing sentiment toward Israel on campuses.

An editor at the newspaper, the Harvard Crimson, and at least eight former staffers also condemned the editorial board's endorsement of the Boycott, Divestment and Sanctions (BDS) movement on April 29.

The faculty statement released on Monday was signed by leading scholars including Steven Pinkner, Ruth Wisse, Jesse Fried, Gabriella Blum, and Lawrence Summers, who is also a former president of the university and was the US secretary of treasury under former US president Barack Obama.

"As members of the faculty of Harvard University, we are dismayed by The Crimson Editorial Board's enthusiastic endorsement of the Boycott, Divestment, and Sanctions (BDS) movement against Israel," the statement said.

"In seeking to delegitimize Israel through diplomatic, economic, academic, and cultural isolation, and by opposing the very notions of Jewish peoplehood and self-determination, BDS is disrespectful of Jews, the vast majority of whom view an attachment to Israel as central to their faith identity," the faculty said.

The statement said the signatories were "deeply concerned" about the endorsement's impact "on the morale and well-being of Jewish and Zionist students at Harvard."

The faculty voiced support for continued ties with Israel, and acknowledged students' right to support BDS, but said they were "firmly opposed to this movement" that "contributes to antisemitism."
UN Watch:
UN Palestine Investigator Must Return 'Unethical' PLO Medal, Says Watchdog
The independent non-governmental human rights group UN Watch is accusing outgoing UN investigator on Palestine Michael Lynk of violating UN neutrality rules by accepting an award yesterday from Palestinian President Mahmoud Abbas, and called on U.S. Ambassador Linda Thomas-Greenfield and UN human rights chief Michelle Bachelet to demand that Lynk return it.

"President Mahmoud Abbas has awarded the Order of the Star of Jerusalem to Professor Michael Lynk, presented by Foreign Minister Dr Riad Al Malki in Dublin," tweeted the Palestinian embassy in Ireland, along with a photo.

Lynk only ended his term as Special Rapporteur on Palestine last week, after a 6-year term. He was appointed by the UN Human Rights Council in 2016, despite rare objections about his lack of impartiality by the Canadian government of Prime Minister Justin Trudeau.

"For the past six years, we documented how Lynk was acting not like an impartial UN investigator, but rather like an agent for the PLO," said Hillel Neuer, executive director of UN Watch. "He turned a blind eye to Hamas and Fatah terrorism, and demonized Israel. Lynk insisted he was impartial, but now he isn't even pretending any more."

"It is repulsive that Lynk accepted this award from Mahmoud Abbas at a time when his Fatah group participated in and praised the latest spate of Palestinian terrorist attacks that have killed 19 people in Israel."

Abba's Fatah-linked Al-Aqsa Martyrs Brigades distributed sweets in Gaza the evening after Thursday's terrorist attack in Elad that killed three Israeli fathers, orphaning 16 children.

UN Watch says that Lynk's acceptance of an award from one of the parties in a dispute that he was judging for the UN until last week sets a dangerous precedent.
On the services rendered to the PLO by UNHRC "independent expert" Michael Lynk during his 6-year term: https://t.co/zyBOGRF8Kh@MichaelLynk5 now joins the exclusive club of luminaries to receive awards from PLO chief Abbas which includes war criminals Vladimir Putin and Maduro: pic.twitter.com/bktJ0xs621

— Hillel Neuer (@HillelNeuer) May 9, 2022
New Book Takes on the Cultural Boycott Against Israel
"Artists Under Fire: The BDS War against Celebrities, Jews, and Israel" by Lana Melman (Lioncrest Publishing 2022).

International entertainers of every color and creed are besieged by pressure to boycott Israel as part of an antisemitic smear tactic that spans the globe. Behind it all is the Boycott, Divestment, and Sanctions (BDS) campaign, an intimidation network masquerading as a human rights movement. In "Artists Under Fire," entertainment industry insider and activist Lana Melman puts BDS on trial, and tells the stories of celebrities like Scarlett Johansson, Alicia Keys, The Rolling Stones, and more, who are used as pawns in BDS' destructive crusade. She calls out a vocal group of artists, led by Pink Floyd co-founder Roger Waters, who has joined the attack and created a star-studded battle between themselves and the thousands of musicians, filmmakers, and authors who refuse to be cowed.

Below is an excerpt from her book:
Outside of rap music, which is singular in its provocative and often antagonistic lyrics directed toward a wide spectrum of groups, including women and gay people as well as Jews, I rarely witnessed an outward expression of classic antisemitism in my twenty-plus years working in the entertainment business.

When Mel Gibson was arrested for drunk driving in 2006 and, according to the police report, blurted out a barrage of antisemitic remarks about the "f*****g Jews," saying, "The Jews are responsible for all the wars in the world," members of the entertainment industry, along with the rest of the country, were shocked by his comments. Anti-Zionism, on the other hand, has been slowly rising since the start of the cultural boycott campaign in 2005.

Both classic antisemitism and anti-Zionism in the entertainment industry, however, exploded in 2020 during the COVID-19 pandemic and the summer of protests that divided our nation. There are two main reasons for this: first, Jew-hatred wanes during times of prosperity but inevitably flows during chaos and unrest; and second, fifteen years of the BDS movement describing the Jews of Israel as monsters had normalized and even legitimized this perversion.

BDS entangles the ideas of the bad Jew and the bad Israeli and provides artists — and others — with the language and ideas of classic antisemitism when it criticizes the Jewish state. When BDS proponents or others vilify Israelis, they are not referring to the Arab citizens who make up 20 percent of the population; they are talking about the Jews.
BDS fails, May 2022 Stories ignored by the British media
Economic BDS Fails
Moody's upgrades Israel's outlook to positive, affirms A1 rating
April 8 (Reuters) – Global ratings agency Moody's on Friday upgraded Government of Israel's outlook to "positive" from "stable" and affirmed sovereign credit rating at "A1"

Moody's said the key drivers for the change in outlook included the government's reform agenda that aimed to address longer-term challenges and the agency's expectation of a further reduction in the government's debt ratio.

Israel's economy grew 8.2% in 2021, above forecasts by the country's central bank, after a 20.2% contraction in 2020. Israel's annual inflation rate hit 3.5% in February, the highest since 2011. read more

Israel ratifies free trade agreement with South Korea
Israel is accelerating efforts to sign free trade agreements with East Asian economic powers and Israel's vehicle market is likely to benefit from this over the coming months.

Sources close to the matter have informed "Globes" that the free trade agreement between Israel and South Korea, which was formally signed last year, has been formally ratified by Israel over the past few weeks – a major step which brings implementation of the free trade agreement closer.

Unemployment in Israel hits 50-year low
The unemployment rate in Israel fell to 2.9% in the first half of April, from 3.7% in the second half of March, the Central Bureau of Statistics reports – a 50 year low. There were 120,000 jobseekers in the first half of April, while there were 150,000 job vacancies.

At the same time, the unemployment rate under the broad definition fell to 4.4% in the first half of April from 5.3% in the second half of March. The broad definition includes employees put on unpaid leave at the start of the Covid crisis two years ago and who have still not returned to work. These employees are mainly in the tourist industry.

Trade with Arab countries accelerates

Fruits of peace: Israel's trade with Arab states has grown significantly@IsraelArabic pic.twitter.com/qMr0Z5mmWN

— Yonatan Gonen (@GonenYonatan) April 5, 2022
Guardian and Times whitewash NUS president's antisemitism
In an April 20th Guardian article ("New NUS leader welcomes antisemitism inquiry, but fears for her safety") Sally Weale, the outlet's education correspondent, casts Shaima Dallali, the new president of the National Union of Students (NUS), as a victim while downplaying her record of antisemitism.

Readers are told that the current investigation into antisemitism within the NUS , prompted complaints from Jewish student organisations, including the Union of Jewish Students (UJS), and a letter signed by 21 former NUS presidents, has made Dallali feel "unsafe". The article then quotes her saying she's been "misrepresented since her election and denied that she was antisemitic".

However, the only example of Dallali's antisemtism by cited by the Guardian is a Twitter post from 10 years ago which read: "Khaybar Khaybar O Jews … Muhammad's army will return Gaza", referencing the Muslim massacre of the Jews of the town of that name in northwestern Arabia in 628 CE.

Weale then writes:
Dallali has apologised for the tweet, saying she is not the same person she was then and has since changed the language she uses to talk about the Israel-Palestine conflict.

However, the Guardian fails to cite widely reported evidence that she hasn't in fact "changed the language she uses" to talk about the conflict. As the Jewish Chronicle reported, at the height of the war between Israel and Hamas last year, Dallali tweeted a justification for Hamas terror, writing: "Palestinians have a right to resist by all means possible — even with weapons — this right is acknowledged in international law — Hamas did not start the aggression, what would you like them to do for example?"

This post came just two days after three Israelis were killed when a barrage of rockets were fired from Gaza at Tel Aviv.
On April 20th Saadah Masoud brutally assaulted Adam Greenman in NYC.

Masoud, a vile antisemite with a violent past, has still not been arrested despite video footage of the attack.

Why has he still not been arrested @NYPDChiefOfDept @NYPDCommAffairs @NYPDHateCrimes @NYCMayor? pic.twitter.com/vgSak0zJ0i

— StopAntisemitism (@StopAntisemites) May 9, 2022
Getty Images Corrects Captions on 'War' in Gaza
CAMERA's Israel office last week prompted corrections of multiple Getty Images captions which erroneously referred to Palestinians in the Gaza Strip celebrating the holiday of Eid al-Fitr "against a backdrop of war."

While Hamas is attempting to stir up violence in the West Bank, there is currently no war in Gaza, the West Bank, or Israel. While there have been several deadly Palestinian terror attacks in Israeli cities and West Bank settlements in the last month, and Palestinians have attacked Israeli soldiers carrying out arrest operations, leading to clashes, there is not "war."

Palestinian Muslims attend the morning Eil al-Fitr prayer, marking the end of the holy fasting month of Ramadan in Gaza City on May 2, 2022 in Gaza City, Gaza. Palestinians living in the Gaza enclave mark the end of the holy Muslim month of Ramadan with Eid al-Fitr celebrations against a backdrop of war. (Photo by Fatima Shbair/Getty Images)

In response to communication from CAMERA staff, Getty editors promptly and commendably amended the captions to accurately refer to "a backdrop of increased Israel-Palestinian tensions."
In redux of scandalous @nytimes Alice Walker profile plugging antisemitic author David Icke, @nytimes again broadcasts: it's chic to be antisemitic (2/2) https://t.co/T8PAogEeAx

— Tamar Sternthal (@TamarSternthal) May 9, 2022
BBC Arabic avoids correcting biased terminology
The action taken regarding the webpage was less straightforward. Instead of following the model of other outlets and simply correcting the inaccurate terminology, BBC Arabic editors opted to delete all evidence that Jewish visitors were ever present on Temple Mount, thus changing the news items retroactively. Below is a detailed account of the edited parts (original version is available here, deleted text striked, amendments in bold):
AT WHAT POINT WILL AL-AQSA MOSQUE VIOLENCE END?
"Israeli settlers police forces intruded on the morning of April 21 the courtyards of al-Aqsa Mosque in the city of Jerusalem, amidst a close guard by the Israeli police with clashes between police and worshippers having occurred. "The intrusion lasted about three and a half hours, punctuated by clashes between worshippers and the Israeli police, which spread in the al-Aqsa Mosque courtyards, prior to the police and the settlers departing al-Aqsa.
"The Islamic Waqf Department in the city of Jerusalem has said that the number of settlers who intruded into the Mosque has reached 762 settlers.

"Shortly before the settlers intruded, the police forced the worshippers to evacuate the Mosque's courtyards, which caused the clashes to erupt.
"Palestinian media outlets have reported that the occupation Israeli forces shot gas grenades and rubber bullets to get the worshippers out of al-Qibli house of prayer [i.e. al-Aqsa Mosque, the southern building of the compound]" […]

"REPEATED ISRAELI INTRUSIONS
"Hundreds of settlers storm al-Aqsa Mosque on a daily basis since Sunday, in coincidence with the Jewish holiday of Passover, which began last Friday evening and ends on Thursday.
"The intrusions were carried out by group, with each group including dozens of settlers, guarded by Israeli police officers, causing the occurrence of clashes with Palestinians who opposed this. Dozens of Palestinians and several Israelis got wounded during the clashes, and the Police arrested several Palestinians.
"Israeli Broadcast Corporation said that the police will stop Israeli intrusions beginning Friday, April 22 until Eid al-Fitr, to mark the last ten days of Ramadan."

This 'online correction' from BBC Arabic presents an account of events detached from reality. Not only does the report now exclude the Jewish visitors to the site, it also obfuscates the fact that violent reactions to their presence were the reason for the clashes between Palestinian "worshippers" and the Israeli police.

With the Jewish civilians removed from the story, BBC Arabic's version implies that the police spontaneously clashed with Palestinians throughout Passover and, more bizarrely, subsequently announced it would stop "intruding" the sanctuary. In fact it was visits by non-Muslims that were suspended during the last ten days of Ramadan.

This edit indicates that BBC Arabic has not reached the appropriate conclusions. Indeed an item dating from Thursday, May 5th used the same method of reporting clashes between the Israeli police and Palestinians without mentioning that they occurred after the site was reopened to Jewish visitors.
Israel's new envoy to combat Antisemitism & delegitimization - Noa Tishby
Israel continues to remain strong in the face of adversity…Whether facing terror attacks at home or antisemitic attacks around the globe, Jerusalem pushing back in new and improved ways though…And with new young faces.

Noa Tishby | Special Envoy for Combating Antisemitism & Delegitimization
Lufthansa Accused Of Discriminating Against Jews
DansDeals has a detailed description of what happened, though let me try to simplify it a bit further. This situation started on Lufthansa flight 401 from New York (JFK) to Frankfurt (FRA) on Wednesday, May 4, 2022.

It's estimated that there were 135-170 Orthodox Jews traveling on the flight, including many connecting to Budapest (as part of an annual pilgrimage to visit the grave of a Rabbi). This estimate is based on knowing that one travel agency sold 80 tickets, another travel agency sold 30 tickets, and then a bunch of people booked individually, either with cash or points.

There were apparently some mask compliance issues onboard. While the United States no longer requires masks on planes, and while Frankfurt Airport no longer requires masks when at the airport, masks are required on flights to & from Germany.

The crew was apparently extremely vigilant about ensuring that everyone wore their mask, which is fair enough. There were allegedly mask compliance issues with some passengers, to the point that the decision was made that these passengers should be denied boarding on their connecting flight to Budapest, due to not following crew member instructions.

That's fair enough, except…

By association, Lufthansa denied all Jews boarding

Passengers connecting from Frankfurt to Budapest were in for quite a surprise, as the departure gate had many armed German police officers there. Lufthansa didn't deny boarding just to those who were confirmed to have mask compliance issues on the flight to New York, but seemingly to anyone coming from New York who "looked" Jewish (it's claimed that non-Jewish passengers were allowed to board).

According to reports, it was the captain who made the decision about which passengers should be denied boarding.
Imagine if a couple Black people didn't wear their masks properly on a plane so the pilot decided to kick all Black people on the plane off their connecting flights as collective punishment.

Really classy, @lufthansa. https://t.co/26VvmMlfWI

— Jason Bedrick (@JasonBedrick) May 8, 2022
German police officers don't have a problem enforcing @lufthansa discrimination against Jews for the crime of simply being identifiable Jewish, but leap to action because a frustrated Jew has the temerity to say the word "Nazi," and demand justice for someone saying "the N word." pic.twitter.com/ABD5oCZ77f

— The Meturgeman (@HaMeturgeman) May 8, 2022
Novel nasal spray delivers psychedelic drugs for PTSD
Israeli biopharmaceutical company Madrigal Mental Care is developing a novel nasal spray to deliver psychedelic drugs to the brain for treating and preventing post-traumatic stress disorder (PTSD).

The nanotechnology-based delivery system will be introduced at the Biomed Israel 2022 international Life Science and HealthTech conference in Tel Aviv, May 10-12.

It is estimated that approximately 3.5% of American adults had PTSD in the past year.

Treatment traditionally includes psychotherapy as well as medications that affect the neurotransmitters serotonin or norepinephrine (SSRIs and SNRIs). The remission rate, however, is high.

The experimental spray contains biodegradable nanoparticles encapsulating molecules of psychedelic substances such as psilocybin (the active ingredient in "magic mushrooms"), ketamine, mescaline and MDMA (Ecstasy).

"An increasing number of studies point to the advantages of using psychedelic drugs for the treatment of psychiatric disorders such as PTSD, depression, anxiety, obsessive compulsive disorder, and even addiction, with low doses," said the system's inventor, Prof. Amnon Sintov of the department of biomedical engineering at Ben-Gurion University of the Negev (BGU).
New blood test device saves chemo patients time and energy
Chemotherapy patients are at major risk of infection because they are immunocompromised. Limiting the time they spend in hospitals or clinics for treatments could therefore be a lifesaver.

Israeli company PixCell Medical can help by enabling cancer patients to perform pretreatment blood tests rapidly onsite — or, in the future, at home.

PixCell's HemoScreen device is FDA-cleared for point-of-care complete blood count (CBC) tests.

Using a disposable cartridge that includes all necessary reagents and requires no maintenance or calibration, HemoScreen delivers lab-accurate data from a single finger-prick of blood within five minutes.

"Even before we get approval for home use, we can improve the life of cancer patients dramatically," says Armin Schon, PixCell's chief commercial officer.

"They get blood drawn before chemotherapy and if their white blood cell count has recovered sufficiently since the last treatment, they can get the next dose. If not, they are sent home. They have to sit and wait till the central lab returns results, which takes half an hour to several hours," he explains.
The Roots of Israel's Diplomatic Revolution
Israel's standing in world affairs is unprecedented in its reach and influence.

One reason stems from the growing sense that the world is a more dangerous place than many had hoped it would be in the post-Cold War era.

This sense was first triggered by Islamist terrorism and later by Russian invasions into neighboring countries.

Israel's security-oriented policies, once derided as irrelevant in our times, are becoming better understood against this background.

Israel's most valuable asset is its demonstrated willingness to act to oppose Iran's revolutionary ideology.

Its relentless Campaign Between the Wars has been conducted mainly by the Israeli air force and backed by highly penetrating intelligence on Iranian activities in the region.

This campaign has the effect of continuing to draw Arab states toward Israel.
Kosovo, Israel ink cooperation deal a year after Jerusalem embassy opens
Israel and Kosovo further cemented relations with a series of bilateral agreements on Monday. Foreign Minister Yair Lapid met with his Kosovar counterpart, Donica Gërvalla-Schwarz, who visited Jerusalem for the first time.

They discussed bilateral ties, aid and the war in Ukraine and signed agreements in the areas of culture, education, science and film co-production, the Foreign Ministry said. The Kosovar foreign minister also signed a Holocaust education agreement with Yad Vashem chairman Dani Dayan.

Gërvalla-Schwarz is the highest-level official to visit Israel from Pristina since Kosovo opened its embassy in Jerusalem last March, making it the first Muslim-majority state to do so.

Kosovo was one of the Muslim-majority countries that established relations with Israel in 2020. The normalization was separate from the Abraham Accords and was part of a US-mediated agreement between Serbia and Kosovo.

Israel became the 117th country to recognize Kosovo's independence, which was declared in 2008. Jerusalem had previously been reticent to do so out of concern it would set a precedent for recognition of a Palestinian state.

Serbia had said it would open an embassy in Jerusalem, but it did not do so after Israel recognized Kosovo as a sovereign state.

Regional Cooperation Minister Esawi Frej became the first Israeli cabinet minister to visit Kosovo last month. He joined Kosovo's health minister on a visit to a local hospital to which Israel donated 90 wheelchairs. They met with Israeli doctors working with the Israeli humanitarian organization Save a Child's Heart who traveled to Kosovo to diagnose children who need heart surgery.
Bahrain, Israeli health bodies to collaborate on research
Israeli and Bahraini healthcare groups signed a collaborative medical research agreement on Sunday.

KSM (Kahn-Sagol-Maccabi), the Research and Innovation Center of the Maccabi health fund and the government hospitals of Bahrain aim to encourage healthcare research and cultivate joint medical innovation ecosystem between the two nations.

A signing ceremony took place in Bahrain in the presence of Bahrain's Ambassador to Israel, Mr. Khaled Yousif al-Jalahma and Israel's Ambassador to Bahrain, Eitan Na'eh.

The agreement focuses on collaborative research with the Bahraini Government Hospitals and will include big data research and various clinical trials focusing specifically on personalized medicine in FemTech (women's health), health economics, COVID-19, trauma and emergency medicine, and diseases endemic to the region.

In addition, the collaboration seeks to promote the co-development and implementation of medical innovation tools, developing learning infrastructure programs, as well as hosting joint seminars, regional conferences, and more. All joint studies will be subjected to regulatory requirements and research will be conducted in full respect for the confidentiality and privacy of patients.

Dr. Tal Patalon, head of KSM, said "We aim to advance medical research and development while creating added value for the entire Middle East. Our peoples have much in common, and by paving this road through science, we choose to move forward with what unites us, a shared vision of progress and better health for all."
---
---
Buy the EoZ book, PROTOCOLS: Exposing Modern Antisemitism today at Amazon!

Or order from your favorite bookseller, using ISBN 9798985708424.

Read all about it here!