From Ian:
Senators Demand Biden Pull Taxpayer Funding for Anti-Israel Initiative
Senate Republican foreign policy leaders are demanding the Biden administration pull nearly $1 million in taxpayer funding for groups to investigate alleged human rights abuses in Israel, the West Bank, and the Gaza Strip—an effort that the senators say is fueling a "new anti-Semitism."

The State Department's Bureau of Democracy, Human Rights, and Labor (DRL) announced in March it will pay nonprofit groups up to $987,654 to "strengthen accountability and human rights in Israel and the West Bank and Gaza," according to a grant notice first posted online in February. Groups angling for the grant money are instructed to investigate alleged crimes inside and outside of Israel to "collect, archive, and maintain human rights documentation to support justice and accountability and civil society-led advocacy efforts, which may include documentation of legal or security sector violations and housing, land, and property rights."

The grant was seized upon by Israel's defenders on Capitol Hill as a prime example of the Biden administration's efforts to undermine the Jewish state and strengthen the anti-Semitic Boycott, Divestment, and Sanctions movement, which wages economic warfare on Israel. Sen. Ted Cruz (R., Texas) and 11 other Republican lawmakers are calling on the Biden administration to cancel the grant program and live up to its repeated pledges to combat the BDS movement.

"As a policy matter, it is wholly unacceptable for the State Department to fund NGOs to delegitimize and isolate Israel," the lawmakers write, according to a copy of the letter obtained by the Washington Free Beacon. The State Department, the lawmakers allege, is using taxpayer dollars to promote a "new anti-Semitism" that is "driven by a global network of anti-Israel nongovernmental organizations (NGOs) and human rights groups."

Senior Republicans on Capitol Hill who spoke to the Free Beacon say the grant is part of a larger effort by Biden administration officials to mainstream the BDS movement and undermine the U.S.-Israel alliance, even as terror attacks on the Jewish state spike. The State Department has already come under scrutiny from the GOP and pro-Israel groups for hiring several people who worked in the anti-Israel community and promoted the BDS movement.
William Jacobson:
Playing Defense Is Not Working on Campuses
A Reactive Approach is Not Working
The problem with pro-Israel Jewish campus organizations is less what they've done than what they've left undone. The actions they have taken thus far are all commendable and have been helpful in limiting damage. They're necessary, but they're not sufficient.

Currently, Jews are playing defense. By itself, that's rarely a winning strategy. The false narratives that Israel is a racist colonial enterprise and that Jews are "white" oppressors are rarely addressed head on, because to do so would require taking on the progressive power on campuses.

Contrast this with campus anti-Israel activists. They have been playing offense against Israel, its supporters, and Jewish students generally for many years. Groups like Students for Justice in Palestine have pursued an organized campaign of shutting down debate about Israel, imposing a narrative making outrageous claims against it (such as accusing it of Nazism and apartheid), and hounding Israel's supporters or presumed supporters into silence.

Their cause—destroying Israel and persecuting Jews—is unjust, and their tactics harmful to the very nature of the university. Nevertheless, their public relations has been wildly successful. They have controlled the narrative of converting Israel and Jews into pro-apartheid Nazi racists, and their opponents into persecuted underdogs. Jews have responded to attacks and challenged them, but have rarely set the agenda, or tried to reframe the narrative to expose their opponents' blatant anti-Semitism and goal of annihilating the Jewish State.

Jews were not always so passive. The Soviet Jewry movement, for instance, gained much of its energy from resourceful and provocative tactics like protestors chaining themselves to the Soviet Embassy fence, releasing black balloons during a candlelit vigil outside the Moscow Circus, picketing the Bolshoi Ballet, or unfurling banners before TV cameras at the Flyers/Soviet exhibition hockey game. These actions may or may not have had direct political impact, but they effectively framed the issue as one of Soviet repression of Jews and kept it in the public consciousness. Activists reached out directly to Soviet Jews, visiting them and supplying them with religious materials and gifts, as well as moral support, and keeping their struggle in the public eye. They also employed more conventional tactics, such as lobbying for passage of the Jackson-Vanik Amendment, which conditioned trade benefits on increased freedom of emigration from the Soviet Union.

Jews could apply similar initiative to the current campus climate. For example, Jewish student activists could:
- Turn the tables on Students for Justice in Palestine and similar groups by protesting their events, holding up pictures of Nizar Banat and journalists wrongly imprisoned and tortured by the Palestinian Authority and Hamas, with captions underscoring that SJP is really not interested in "justice in Palestine," but only in castigating the Jewish State. Better yet, Jewish activists could stage mock arrests of journalists by Palestinian security services.

- Protest (through traditional means like outside SJP events, or through mock trials or some other attention-grabber) the oppression of homosexuals in Palestinian society. Ditto for the treatment of women. Besides potentially embarrassing pro-Palestinian groups and creating pressure to improve the lot of homosexuals and women in Palestinian society, protests like this might shame gay advocates and advocates for women into joining the protests against Palestinian authorities. It's one thing to claim "pinkwashing" when an Israeli quotes facts and figures, and it's another when confronted with protests against anti-gay oppression, honor killings, and so forth.

- Likewise, find a way to visualize the persecution of Arab Christians by Palestinian Muslims, leading to their departure from the West Bank and Gaza. Over the past fifty years, the Palestinian Christian population has shrunk from roughly 15 percent to about 1.5 percent of the Palestinian population.

- Stage a mock trial/sentencing of Isaam Akel, an American citizen sentenced to life in prison for facilitating the sale of Arab-owned land to Israeli Jews, for the blatant religious and ethnic prejudice of barring land sales to Jews, and for demonstrating that what the Palestinian Authority actually wants is to make its territory Judenrein.

- Find some way to dramatize the reality that it's the Palestinians, not Israel, holding up a peace agreement. For example, they could demonstrate outside SJP events with posters captioned "Palestinian Peace Proposal"—with the rest of the poster blank, as empty as Palestinian proposals.

- Demonstrate both the Jewish people's indigenous connection to Israel, and Palestinian efforts to erase same. For instance, students could conduct mock archeological digs on campus "finding" ancient Jewish artifacts, bulldozing them, and throwing the artifacts into the trash.

The student-founded, grassroots organization Students Supporting Israel has begun to use more offensive tactics. During so-called Apartheid Week 2022, SSI tested out messaging similar to the above suggestions. That's an excellent sign. Hopefully, where they lead, others will follow.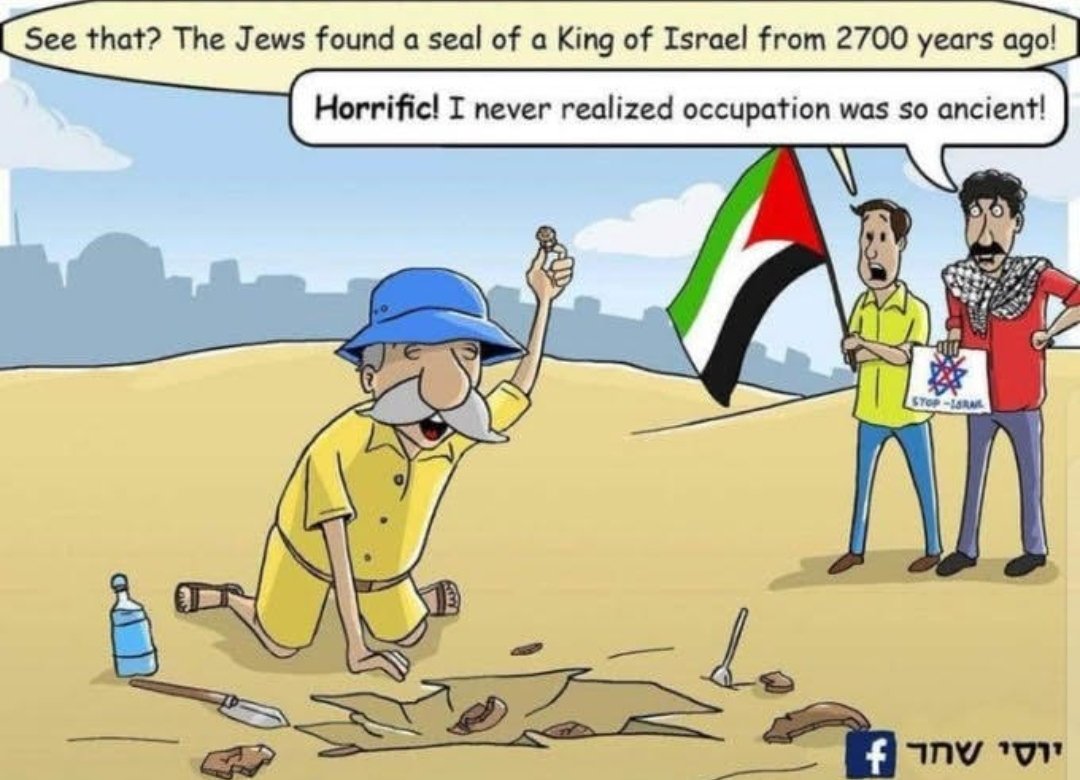 Ruthie Blum:
Noa Tishby's Surprisingly Welcome Splash on the 'Hasbara' Scene
But Tishby's real tour de force came in the form of a Tik Tok video, which has gone viral on every social-media platform since its release on Wednesday.

"Here are some facts you may not know," she begins, in the minute-and-a-half clip. "The International Federation of Journalists, the IFJ, conducted a report about the number of death cases of journalists in war zones between 1990 and 2020. According to the report, 2,658 journalists have been killed in that period of time. Three hundred forty were killed in Iraq, 178 in Mexico, 160 in the Philippines, 138 in Pakistan and 116 in India. Twelve of the cases were Al Jazeera journalists. Seven of them were killed in Syria, two in Iraq, one in Yemen, one in Libya and one case from last week."

She goes on: "Each one of these deaths is horrific, but you can't name the other 2,657 journalists. You can only name the one [who] was killed in clashes between Palestinian terrorists and the Israeli army. In any of the other deaths, we did not see such vitriol, hateful, horrific reactions and rhetoric as we've seen by the international community, social media, celebrities and the United Nations towards Israel."

This, she concludes, "is what we call a double standard … and it's purely rooted in sometimes subconscious antisemitism, anti-Jewish racism. So, please, just think about that for a minute, as well. Okay? And rest in peace, Shireen."

Tishby's splash on the scene brings to the fore the decades-old debate about Israel's ostensibly poor hasbara (public diplomacy). Ironically, it's the one issue on which even politically diverse pundits and politicians — other than those who agree with the Jewish state's detractors — agree. The consensus throughout the years, particularly since the advent of social media, has been that Israel is losing the propaganda war to forces bent on its destruction.

These armies possess proverbial pens that are sometimes mightier than metaphorical swords, though they have the power to incite Israel's enemies to mass murder. The many, varied and often top-notch efforts by pro-Israel organizations and individuals to rebut the onslaught of anti-Zionist lies haven't excused successive coalitions from being charged with sleeping on the job where hasbara is concerned.

It's an unfair claim. Those who argue that it's the government's job to tackle the problem have a fantasy that Jew-hatred can be conquered, or at least minimized, through an allocation of budgets for the endeavor and the hiring of the right people for the job.

Though the latter makes sense, the former is ridiculous. The most important thing that hasbara can do is sing to the choir. Indeed, Israel's champions need ammunition to fling, intelligently and accurately, in the face of foes.

Tishby, thus far, is proving to be just the right purveyor of the message that needs to be voiced over the incessant and diabolical cacophony.
Yesterday an antisemitic mob led by Ali Dawah surrounded and attacked me.

We refuse to be intimidated by such thuggery.

Am Yisrael Chai. pic.twitter.com/z05LNgB7nw

— Israel Advocacy Movement (@israel_advocacy) May 23, 2022
A response to BDS at Princeton - opinion
In other words, the BDS referendum failed to pass. The pro-Palestinian group even acknowledged to The Daily Princetonian that USG did "not declar[e] a clear winner in this referendum election." Periman's false attestation of victory, seen as well on PCP's official Instagram account, contradicts both reality and his own previous statements.

As an unfortunate side effect of the heated campus climate, members of the election administration were targeted by independent outside actors. Several Princetonians accused opposition-aligned students such as myself of actively endangering the safety of these administrators, due to the actions of external entities that bore no relation to student efforts.

THESE CLAIMS are categorically false. Throughout the campaign and its aftermath, I and other leaders of opposition efforts condemned in no uncertain terms all attacks on student election administrators. For the referendum's proponents to conflate principled student opposition efforts with extraneous groups and outside attacks on USG members is woefully inaccurate and defamatory.

BDS referenda stake out their presence on American university campuses in an eerily formulaic manner. By either wholly or tacitly acknowledging their relationship to the broader BDS movement, tethering themselves to progressive social causes, and disregarding their outsized effect on the safety of Jewish students, BDS-aligned resolutions run amok through college campuses with little institutional resistance.

As BDS has become increasingly normalized at institutions of higher education, Jewish students are oftentimes pressured to interpret BDS referenda at face value, dismissing their harmful underpinnings to maintain social comfortability. Meanwhile, when BDS-aligned resolutions pass, often with low student turnout and little contextual engagement, the broader movement strengthens and compounds, turning immediately to its next institutional target.

It is evident that proponents of BDS will distort reality to claim victory. When Jewish and Zionist students band together with courage and tenacity in the face of BDS, as has been done twice at Princeton within the past eight years, we emerge triumphant. In doing so, we uphold the legitimacy of our people, our heritage, and the State of Israel, which has been disproportionately targeted by radical actors around the world.

For too long, tertiary institutions have remained complacent amidst the blatant Jew-hatred of the BDS movement. At Princeton, we demonstrated how students can successfully fight back. Now it's time to continue the charge.
Mark Regev to Head Abba Eban Institute of Diplomacy at Reichman University
Former Israeli Ambassador to the United Kingdom Mark Regev has been appointed as head of the Abba Eban Institute for International Diplomacy, which is housed at Reichman University's Lauder School of Government.

Regev will take up his post on July 1, 2022, replacing Ambassador Professor Ron Prosor, who was recently appointed as Israel's ambassador to Germany.

Regev, a senior diplomat with the Israeli foreign service, has also served as the former prime minister's senior adviser on foreign relations and international communications. He has held a number of diplomatic positions at the Israeli missions to Washington, Beijing and Hong Kong.

Regev holds a bachelor's degree in political science and modern history from the University of Melbourne, a master's degree in political science from The Hebrew University and an additional master's degree, in management, from Boston University.

Reichman University President Professor Rafi Melnick congratulated Regev, saying, "I am delighted with the appointment of Mark Regev to head the Abba Eban Institute for International Diplomacy.

"Regev brings with him extensive experience in the diplomatic world, and I am confident that under his leadership, the institute will continue to be one of the most important centers in Israel for teaching and applied research in diplomacy, a key component of national security.

"On this occasion, I would like to thank Ambassador Professor Ron Prosor for his important work as head of the institute and as a faculty member at the university. He has contributed greatly to the education of the next generation of leaders."
Money quote from a Disney statement in 1999 when they got clobbered around the world for agreeing to host an Israel pavilion that had a ride about Jerusalem:

''We are an entertainment company and we do not take political positions.''

Time is a flat circle.

— Seth Mandel (@SethAMandel) May 23, 2022
BBC reports unnecessarily qualify Palestinian rioting in Jerusalem
Once again Bateman makes no mention of the relevant fact that Hamas claimed after his death that Walid al Sharif was a member of the terrorist organisation or that it urged participation in his funeral as a "challenge to the occupation".

Although he did not question the family members he interviewed about the extensive violence at Walid al Sharif's funeral, Bateman did however find it appropriate to give uncritical amplification to allegations of 'racism':
'"Discrimination and racism are practiced against us by the [Israeli] occupation," says Nael. "They make you feel that you are not welcome here, and this causes psychological pain."'

As we see, while the BBC is eager to promote talking points about "unjustified force", police violence, maliciousness and "brutality", it considers it appropriate to put the term "rioters' in inverted commas even though there is ample filmed evidence of those people engaging in extremely violent disturbances.

As was the case in reporting on Shireen Abu Akleh's funeral, the BBC is notably less interested in telling its audiences about the use of such events for incitement and their exploitation by Palestinian factions, including terrorist organisations, for the purpose of delegitimisation and demonisation of Israel.
Items connected to Leo Frank lynching to be auctioned in Jerusalem
A collection of approximately 25 items related to the story of Leo Frank are being put up for auction this month at Jerusalem's Kedem Auction House. Frank was an American Jew wrongfully convicted of murder in Georgia in 1915. He was subsequently imprisoned, and then kidnapped from prison and lynched.

Frank was born in Texas but spent his formative years in New York, graduating from Cornell University with an engineering degree in 1906. Four years later he married Lucille Selig and the couple moved to Atlanta where he took a position as the superintendent of the National Pencil Factory.

In April 1913, Frank was accused and convicted of the murder of 13-year-old Mary Phagan, an employee at the factory. He was given the death penalty.

The police investigation was significantly muddied by anti-Northern sentiment as well as antisemitism. According to the Brandeis University Library Archives website, "the trial was widely considered a mockery of justice, with crowds shouting 'hang the Jew' outside the courtroom."

Georgia's governor, John Slaton, commuted Frank's sentence to life in prison in August following the murder. Unfortunately, a few days after the sentence was announced, a mob broke into the prison where Frank was being held, kidnapped him and hanged him.

The trial and its gruesome end were heavily covered by the press and the whole affair is very well documented in the correspondences of Leo and Lucille Frank with friends, family and others.

"A toxic mixture of hatreds – racism, antisemitism, tensions between disparate socioeconomic groups, mutual loathing between 'traditional Southerners' and 'progressive Yankees' from the North – was brought to bear, and Frank's brutal lynching was the tragic result. It is a grim reminder of America's past that, however, must be remembered", says Meron Eren, CEO and co-founder of Kedem Auction House.

The collection up for auction includes a postcard with a photograph showing Frank's hanged body; a piano roll for a player piano, with the melody of a ballad written about the murder; extensive legal correspondence dating from the 1980s regarding the struggle led by the Anti-Defamation League to exonerate Frank.
Antisemitic Vandalism Is a True Threat to the Jewish Community
Of the 2,717 antisemitic incidents reported by the ADL last year, 853 were acts of vandalism.

We might want to breathe a sigh of relief to know that roughly one third of the hateful attacks against Jews were not physical assault — but we would be very wrong to minimize the severity and consequence of hate-motivated defacement. In fact, the rise of antisemitic graffiti likely portends the rise of more serious and violent personal attacks.

The "broken windows theory" teaches that "if a window in a building is broken and is left unrepaired, all the rest of the windows will soon be broken … one un-repaired broken window is a signal that no one cares, and so breaking more windows costs nothing."

In other words, as soon as we become complacent about any form of hate crimes, all forms of hate crimes become more and more acceptable. And as the past has shown us, repeated and unchecked antisemitic graffiti will ultimately lead to the devaluation of Jewish life.

I also posit that the rise of vandalism speeds the pace and severity of violent, even deadly, attacks for two reasons.

First, the radical left and radical right both thrive in an atmosphere of one-up-man-ship. So, if you've scribbled some antisemitic message in your notebook, someone else has painted it on a building, and then someone else must — as they do in Williamsburg — play "punch a Jew." Of course, we know the next step — just look at the Pittsburgh and Buffalo shootings. In both cases, the murderers wrote extensively about how others of similar minds had not gone far enough in their hateful pursuit.
Don't Exclude Antisemitic Motive in Investigation of French Jewish Man's Brutal Killing, Community Urges
France's Jewish community has called on the authorities in the city of Lyon to retain the possibility of an antisemitic motive in the investigation of the chilling murder last Tuesday of an 89-year-old Jewish man.

René Hadjaj was pushed to his death on May 17 from the balcony on the 17th floor of the apartment building where he lived in the Duchère district of Lyon. Hadjaj's murder brought to mind the similar fate met in April 2017 by Sarah Halimi, a Jewish woman who was beaten and tortured in her apartment by an Islamist intruder who then ejected her from her third-floor window. The accused assailant, Kobili Traore, was excused from trial in April 2021, on the grounds that he could not be held criminally responsible, as his intake of marijuana on the night of Halimi's killing had rendered him temporarily insane.

Police have arrested a 51-year-old man in connection with the killing of Hadjaj, described as a gentle man who was known as "Tonton René" ("Uncle René") and had lived the Duchère district for over 20 years. However, critical details of the crime have yet to be made public — among them how Hadjaj, whose apartment was located on the second floor, ended up being pushed to his death from the 17th floor.

Local news outlet Le Progrès reported that the police in Lyon had examined and then discarded the possibility of an antisemitic motive, claiming that the killing was the result of a dispute between neighbors. The accused killer has not been named and no biographical details have been released. However, the BNCVA — a Paris-based antisemitism watchdog — has claimed that Hadjaj was acquainted with the man, and that he is a Muslim of Arab origin.
??Opposing the Jewish people's right to self-determination - is #antisemitism.

??WJC put together an explainer to understand more: https://t.co/fiLRKigPjs pic.twitter.com/rnUqpMSkEf

— WJC (@WorldJewishCong) May 23, 2022
Shockingly his mother had stated Andrew comes from a "large mixed-race family" and he most certainly has Jewish lineage on both sides of his family. https://t.co/iskvCcvaK3

— StopAntisemitism (@StopAntisemites) May 23, 2022
'The Nazis are coming' - Beverly Hills hotel guests harassed by white supremacists
Guests of the Beverly Hilton were harassed by white supremacists from the Goyim Defense League dressed as Nazi brownshirts on Sunday, the NGO StopAntisemitism claimed.

In a video of the incident, a member of the Goyim Defense League (GDL) with a black hat and fake sidelocks shouted "The Nazis are coming" at guests at the hotel entrance, and two other members dressed as Nazis patrolled the driveway.

"We are aware of an incident that occurred yesterday involving non-guests outside of The Beverly Hilton," A hotel spokesperson told The Jerusalem Post. "Upon being notified of the incident, we contacted local authorities immediately. We take this matter very seriously as our hotel has zero tolerance for discrimination of any kind and we are committed to providing a welcoming, hospitable and safe environment for our guests and team members."

The trio had parked their truck, which was emblazoned with antisemitic rhetoric, in the middle of the hotel's driveway. According to Beverly Hills Mayor Lili Bosse, the truck was also seen driving through the city.

"A disgusting antisemitic truck spewing vulgar Jew-hatred drove through our streets today. An example of inhumanity," Bosse wrote on Twitter. "As a daughter of an Auschwitz survivor, I will always stand up, speak out and fight this hatred."

According to StopAntisemitism, the police issued no citations.
The friendliness this Beverly Hills police officer shows the 'Goyim Defense League' white supremacists driving around Beverly Hills yesterday harassing Jews is simply horrific @BeverlyHillsPD @LiliBosse1 pic.twitter.com/sdEbfstkNp

— StopAntisemitism (@StopAntisemites) May 23, 2022
New film brings Eichmann's Holocaust confessions to life using his own voice
Convicted Nazi war criminal Adolf Eichmann is heard but not seen in a new film as an actor mouths the words he used over 60 years ago to describe his key role in the Holocaust.

Eichmann, a key architect of Nazi Germany's Final Solution, went into hiding after the war and was snatched from Argentina by Israeli intelligence in May 1960 to be put on trial in Jerusalem. Israel executed the top Nazi official by hanging in 1962 for his role in the mass murder of six million Jews.

Four years before he was captured, Eichmann gave hours of interviews to Dutch Nazi journalist Willem Sassen at the reporter's home in Argentina. Sassen was one of many Nazis who also fled to the South American country after the war.

The recordings include remarks attributed to Eichmann that prosecutors presented at the trial, but that he denied at the time, including his clear declaration of having no regrets about the mass murder and even an expression of disappointment that millions more Jews were not killed.

Eichmann claimed in his defense during the trial that he was just a minor bureaucrat.

"In conclusion, I must say to you… I regret nothing. I have no desire to say that we did something wrong," Eichmann said in the recordings.

"If we had killed 10.3 million Jews I would say with satisfaction 'Good, we destroyed an enemy.' Then we would have fulfilled our mission. And thus, to my regret, it was not to be,'" Eichmann is heard saying in parts of the recordings that feature in the film and in which he was apparently referring to the entire Jewish population of Europe on the eve of the Holocaust.
In new Hopkins, Hathaway film, Jewish family navigates injustice in 1980s New York
A moving drama starring Oscar winners Anthony Hopkins and Anne Hathaway premiered to cheers at Cannes, charting what director James Gray on Friday called the moment when America lost its way.

"Armageddon Time," which also features Jeremy Strong from TV's "Succession," is a semi-autobiographical story set in the New York borough of Queens in 1980, just as the Trump family and Ronald Reagan were on the rise.

Gray said 1980 — with Reagan's election, the looming threat of nuclear war with the Soviet Union, his hero Muhammad Ali's "humiliating" loss to Larry Holmes and the murder of John Lennon in Manhattan — gave the film its title.

"I also believe that was the beginning of a Market-is-God idea where, if you look at the rise of inequality as a world issue, it began around 1979, 1980," he told reporters, calling it an "underrated inflection point in history."

Gray said it was also the end of auteur-driven New Hollywood movies in favor of blockbusters, "which meant the end of the certain type of film that I really love and feel very passionate about and feel an obligation to try and continue."

The intimate family drama probes big political and historical issues, as the clan of descendants of Ukrainian Jews who fell victim to the pogroms encounter an America riven, decades later, by racial and economic injustice.
'Who By Fire': Leonard Cohen's surprising Yom Kippur War performance in Sinai
For First Time in 40 Years, Israeli Orchestra Plays Middle Eastern Music in Egypt
For the first time in 40 years, an Israeli orchestra performed in the Egyptian capital of Cairo, as part of Independence Day festivities at the Israeli embassy in the Arab country.

Firqat Alnoor, an orchestra of Jewish, Muslim, Druze and Christian musicians from across Israel, performs classical Arabic and Middle Eastern music. Established in 2013, the musical ensemble has come to represent the religious and social diversity of Israel. Under conductor Ariel Cohen, a Haredi Jew, and the management of Hana Ftaya, it is considered one of the few existing orchestras to play music from across the Arab world to preserve the Arab classical musical tradition and Jewish culture.

Israeli Ambassador to Egypt Amira Oron, who hosted the festivities at the embassy in Cairo and at her residence, said that "events such as these express the way that the words peace and stability, which diplomats use so often, can become a practical reality."

"Every day, the staff of the Israeli embassy in Cairo creates more peace with the help of our Egyptian partners," Oron said during her speech.

The orchestra was welcomed with great enthusiasm by the guests, which included Egyptian and foreigner dignitaries alike, Israel's foreign ministry said in a statement. The orchestra's visit and performances seek to help expand connections between Israeli and Egyptian peoples, the ministry added.
New York philharmonic fills ex-Nazi weapons site with music
Israel Negotiating Gas Exports to Europe
Israel and the European Union have been in negotiations for the past month to export gas to Europe via Egypt, Energy Ministry Director-General Lior Schillat said on Sunday.

The EU and Israeli working groups launched talks days after Energy Minister Karin Elharrar told The Jerusalem Post last month that Israel "will take full advantage" of the opportunity in the energy market offered by European sanctions on Russia over the invasion of Ukraine.

Cairo and Jerusalem signed an agreement in November to create a framework for transferring Israeli gas to Egypt. Once the Russia-Ukraine war began in February, Elharrar and her Egyptian counterpart, Tarek El Molla, discussed how they could work together to fill some of the gaps left in the European energy market by sanctions on Russian gas.

"Egypt has two gas liquefaction facilities and is able to export gas to Europe, where they have the facilities to turn it back into gas," Schillat explained.

Elharrar further discussed the matter with EU Commissioner for Energy Kadri Simson at the International Energy Agency's conference in Paris in March, and later met with the European Commission's vice president, who "officially asked for Israel's help to get through the energy crisis," Schillat said.

Talks between the EU and Israel toward a framework agreement for transferring gas officially began in late April. It will not only cover the current Ukraine crisis, but will allow Israel to provide Europe with gas in the longer term.

"The Europeans and Americans expect that the energy crisis will influence the continent not only in the next couple of years but for the next decade as they try to reduce dependence on Russian gas," Schillat said. "Israel, as part of this effort, will have to build infrastructure to send more gas to Egypt and then to Europe. It is a long-term effort."
Israel and Morocco are tightening their business relationship
Israel and Morocco have been engaging in increased business collaboration since December 2020, when the Israel-Morocco normalization agreement was signed, opening a world of opportunities between the two countries from direct flights to economic cooperation and innovation collaboration. The latter point is the focus of the Morocco-Israel Connect to Innovate forum taking place in Casablanca from May 23-26.

The first-of-its-kind forum, coordinated by Israel's Start-Up Nation Central and CPR in close collaboration with the General Confederation of Moroccan Enterprises, will introduce top Israeli entrepreneurs to the Moroccan market, aiming to increase bilateral trade and provide technological solutions to some of the North African country's biggest pain points. Moroccan and Israeli leaders from governmental institutions, major companies and tech innovators will be brought together to focus on technological innovations across the sectors of AgriFood, water, logistics, energy and sustainability.

The primary objective of the event is to build a strong foundation for business opportunities through tech innovation, with the secondary objective of exploring the potential for creating tech jobs in Morocco. Start-Up Nation Central executives have already been invited to Morocco to meet with senior leaders and strategize together about how to accomplish these goals.

The three-day conference will feature keynotes from speakers including Dganit Vered, investor, board member, business leader and mentor with senior management experience with Intel, Perrigo and Hazera in innovation, engineering, R&D, operations and projects; Nadav Berger, an early food-tech pioneer, co-founder of the Foodlab application lab, Foodlab Capital and the first VC in the Israel FoodTech scene; Ido Yosovzon, Start-Up Nation Central's AgriFood-Tech Sector Lead; and Yosef Abramowitz, named by CNN as one of the top six Green Pioneers worldwide, former president of the Arava Power Company and current CEO and president of Energiya Global.

Israel has been busy in the international business collaboration field lately, having also made moves to tighten its new relationship with the United Arab Emirates following the signing of the historic Abraham Accords.
Celebrate Israel Parade marches down 5th Ave for first time in 2 years
For the first time since the COVID pandemic began in early 2020, New York's annual Celebrate Israel Parade took place on Sunday under the slogan "Together Again."

Despite the unseasonable heat, which neared 90 degrees, tens of thousands of participants showed up for the largest pro-Israel gathering outside of Israel.

New York City Mayor Eric Adams participated in the march, saying that it was an acknowledgement of the special relationship between the city and Israel.

"We have the largest Jewish population outside of Israel. Right here in New York... and it's good to be back. New York is back," Adams exclaimed.

The mayor then pointed to a sign he was holding along with an Israel flag, repeating its message: "We got this, New York. We got this."

Defense Minister Benny Gantz, Diaspora Affairs Minister Nachman Shai, Aliyah and Absorption Minister Pnina Tamano-Shata and other Israeli government officials also attended the parade.

Other high-profile participants included Grace Meng, a Democrat representing the 6th Congressional District of New York; Asaf Zamir, Israel's consul-general in New York; and Israeli Olympic medalist Ori Sasson.

New York resident Tova Friedman, who attended the parade said it was important to her, as a Holocaust survivor, to show that the Jewish people were alive. Friedman's grandson Aaron posted a TikTok clip ahead of Holocaust Remembrance Day telling his grandmother's story. The clip went viral, garnering millions of views – mostly by non-Jewish users.

Aaron said he has "no idea" how the clip blew up, but there were so many people who didn't know the history of the Holocaust.

Congressman Ritchie Torres, a progressive Democrat who attended the event, told Israel Hayom that there was a need to send a "powerful message" that New York would continue to be a home for Jews and that the US would continue to be Israel's "best friend."
New York City celebrates Israel Parade for 1st time in two years
Proud to Fly the Israeli Flag in the Heart of Manhattan
One day a year, New York wears blue and white. The "Celebrate Israel" parade is a tremendous show of support, and one of the most impressive events in the city-that-never-sleeps. The Jewish Community Relations Council of New York (JCRC-NY), which organizes the event, is a tremendous supporter of Israel, and, together, we are excited about the return of the parade after a three-year hiatus, due to the coronavirus.

As minister of aliyah and integration, I will, for the first time, have the privilege and honor of marching up Manhattan's Fifth Avenue with thousands of Israel-loving Americans — members of the Jewish community in New York and elsewhere in the United States — as well as many Israelis.

As someone who has personally experienced aliyah, albeit at a very young age, I can say that the experience has remained in my soul and shaped my identity throughout my lifetime. I immigrated to Israel in 1984, when I was 3 years old. My family and the Beta Israel Jewish community of Ethiopia were redeemed from the bonds of exile. We returned to our homeland and to the Jerusalem we always dreamed of. We were part of the first big wave of emigrants from Ethiopia, and went straight to the absorption centers.

From the first moment, I felt 100 percent Israeli, and for me to be minister of aliyah and integration now represents significant closure. I feel a powerful sense of mission; it is my job to make sure that every immigrant feels at home and is integrated into the State of Israel in the best way possible.

On Sunday, I will proudly march as a cabinet minister who represents our unity as a people, embodying the visions of the prophets, the realization of the dream of aliyah, and the joy in our eternal capital, which we will celebrate on Jerusalem Day exactly one week later. Many eyes are on Israel and many hearts carry a prayer for the peace of the city that has been reunited, the love for which beats in the hearts of millions of Jews and non-Jews the world over.
May 22, 2022
Asking NY congressman @RitchieTorres if he will condemn Palestinian groups calls to "globalize the intifada"

Torres responds: "I condemn globalize for the intifada, it's anti Semitic, it's a call to violence, it's unacceptable. It has no place in nyc" pic.twitter.com/mYs2xyt03S

— Elad Eliahu (@elaadeliahu) May 22, 2022
---
---
Buy the EoZ book, PROTOCOLS: Exposing Modern Antisemitism today at Amazon!

Or order from your favorite bookseller, using ISBN 9798985708424.

Read all about it here!