From Ian:
Caroline Glick:
Iran – where Biden and Israel's legal fraternity converge
Consider past efforts. According to a 2012 exposé by Israel's investigative journalism program Uvda ("Fact"), in 2010, Prime Minister Benjamin Netanyahu and then-Defense Minister Ehud Barak ordered the IDF and Mossad to prepare plans to attack Iran's nuclear installations. Then-Mossad director Meir Dagan and then IDF chief of general staff Gabi Ashkenazy refused to follow the order. They claimed that Netanyahu and Barak lacked the legal authority to give such an order. At the time, current attorney general Avichai Mandelblit served as the IDF's Military Advocate General. In a posthumously broadcast interview, Dagan insisted that Netanyahu's determination to destroy Iran's nuclear program was driven by "political" considerations.

In 2016, Uvda broadcast an interview with Leon Panetta. In 2010, as Obama's CIA director, Panetta was Dagan's counterpart. In the interview, Panetta revealed that after refusing Netanyahu's order, Dagan travelled to Washington and informed Panetta about the order – thus alerting the US to Israel's plans.

Dagan's move was arguably treacherous, but more to the point, the fact that in 2010 he had faith in the Obama administration's commitment to Israel's security than he had in Netanyahu shows that at a minimum, Dagan had no understanding of international politics. The year before, at his address at the American University in Cairo, Obama declared before the world his intention to realign US policy away from Israel and the US's traditional Sunni Arab allies and towards Iran and the Muslim Brotherhood. Dagan clearly failed to grasp the implications of the speech. Netanyahu and Barak clearly understood them.

As Attorney General, the same Mandelblit who claimed in 2010 that Israel's elected leaders lacked the authority to determine strategic policy has even more aggressively eroded the governing powers of Israel's political leadership, while arrogating those powers and authorities to himself and his office. Just this week, Mandelblit took his legally ungirded efforts to new heights by declaring illegal a legal vote of the government which approved the appointment of a justice minister that Mandelblit didn't want.

In this state of affairs, with elected leaders hamstrung by unelected lawyers devoid of international political awareness or accountability to the voting public, the likelihood that Israel's elected leaders will be capable of conceiving and carrying out a policy to block Iran's rise as a nuclear power is not high.

The Israeli public discourse about legal reform generally focuses on the domestic implications of the legal fraternity's seizure of the political powers of elected officials. But as the episode from 2010 makes clear, the current power imbalance between unelected lawyers and elected politicians has acute strategic implications. Until Israel's elected leaders seize back their powers from the government attorneys, they will be unable to contend with the strategic challenge posed by the Biden administration's embrace of Iran and gutting of the US-Israel alliance.
Michal Cotler-Wunsh:
'Canceling' Human Rights
After decades of "Israel apartheid weeks" on campuses around the world, the HRW report is a final nail in the coffin of the "apartheid" narrative. It is vital to identify and expose it for what it is—yet another manifestation of a systematic strategy to replace bullets with words, still intent to destroy the state of Israel. As the report indicates, the war rages on. There is, after all, zero legitimacy for a true apartheid state to exist. It cannot be repaired and must be dismantled. And erasing Israel from the map is the ultimate goal of the "industry of lies," perversely done in the name of human rights.

However, this war gnaws away not only at Israel's legitimate existence, but at the very foundations upon which democracy, international law and human rights rest. It is therefore not only the right and responsibility of Israel, but the imperative of all guardians of international law and human rights, to identify, expose and address the abuse and double standards that enable and empower this damaging process. Among its damaging lies, the HRW report strips Palestinians of agency; ignores the existence and responsibility of the Palestinian Authority; inserts the Oslo Accords, which merited Nobel Peace recognition, into the apartheid narrative; and erases the identity other minorities in Israel, referring to Druze, Bedouin and Circassian all as Palestinians. Overall, the report constitutes not only an obstacle, but an outright impasse to peace.

Robert Bernstein z''l, founder and CEO of HRW, understood the power of the tools he had championed in order to uphold, promote and protect human rights. He recognized that they were being weaponized to turn Israel into a pariah state. In his important New York Times 2009 article, titled "Rights Watchdog, Lost in the Middle East," he wrote: "Only by returning to its founding mission and the spirit of humility that animated it can Human Rights Watch resurrect itself as a moral force in the Middle East and throughout the world." He continued: "If it fails to do that, its credibility will be seriously undermined and its important role in the world significantly diminished."

How right he was. Much like what happened with Albert Einstein, the powerful tools Bernstein had helped develop, intended to be used as a force for good, have destructive potential and threaten not only the continued existence of Israel, but the foundational principles of democracy, international law and human rights. Left unchecked, these tools may end up empowering the continued culture of impunity toward the most truly egregious violators of human rights.

The HRW report can, and should, serve as a wake-up call. It underscores the imperative and collective responsibility of all trustees of real international law and real human rights. It requires we identify, expose and address the lies and double standards, demanding equal and consistent application of expectations and law, ensuring these powerful tools are not utilized to undermine peaceful coexistence. It necessitates an understanding that this is a war for our very collective survival, one that we can and must fight—together.
JPost Editorial:
Israel needs a Diaspora Affairs Ministry and Diaspora Jewry needs Israel
These programs are important, but they are not the only reason why a Diaspora Ministry is needed. An office dedicated to the Jews of the world sends a message to those Jews that Israel cares about them and that they have an address to come to discuss issues that concern them.

As two distinct Jewish communities, the Jews of Israel and the Jews of the United States – the largest Jewish community outside of Israel – are never going to agree on everything. The simple fact that both communities live in different parts of the world and face different daily challenges will mean that they will almost always view situations differently and will have different perspectives on those experiences.

Nevertheless, the majority of Jews in the world recognize that there is more that connects them than there is that divides. A 2019 study by the Jewish People Policy Institute found that a third of Israeli Jews view US Jews as siblings; a third of French Jews consider Israeli Jews to be siblings and only a minority of French Jews (16%), and a minority of American Jews (28%) say they do not regard Israelis as "family."

Studies like these show that the situation is far from being lost. Work is needed, but there is common ground that can be built upon to establish even stronger relations.

Since its inception 73 years ago, Israel has taken pride in being the state which all Jews can call their home. For this to happen, Diaspora Jews need to be made to feel that they have a home here, and that there is someone listening to them and thinking about them.

We understand the need to cut spending and establish a government with less ministries. But the Diaspora is not something to be sacrificed. Israel needs a Diaspora Affairs Ministry and Diaspora Jewry needs a strong Israel. Keep the ministry open.
Jerusalem's Old City lights up in solidarity with Mount Meron victims
The Jerusalem Municipality illuminated the walls of the Old City on Saturday evening in a show of solidarity with the families of the victims of the Mount Meron disaster in which 45 were killed and 150 were injured in a stampede during Lag Ba'Omer ceremonies. Speaking about the tragedy at Mount Meron, Jerusalem Mayor Moshe Lion said "this is the largest civilian disaster that the State of Israel has ever seen. The City of Jerusalem embraces the families of the victims and wishes all the injured a fast recovery." This is not the first time that messages of solidarity have illuminated the walls of the Old City. In 2018 they lit up with a message to the Jewish community of Pittsburgh following a deadly synagogue shooting. Other occasions that the walls have been illuminated include both Remembrance Day and Independence Day of this year.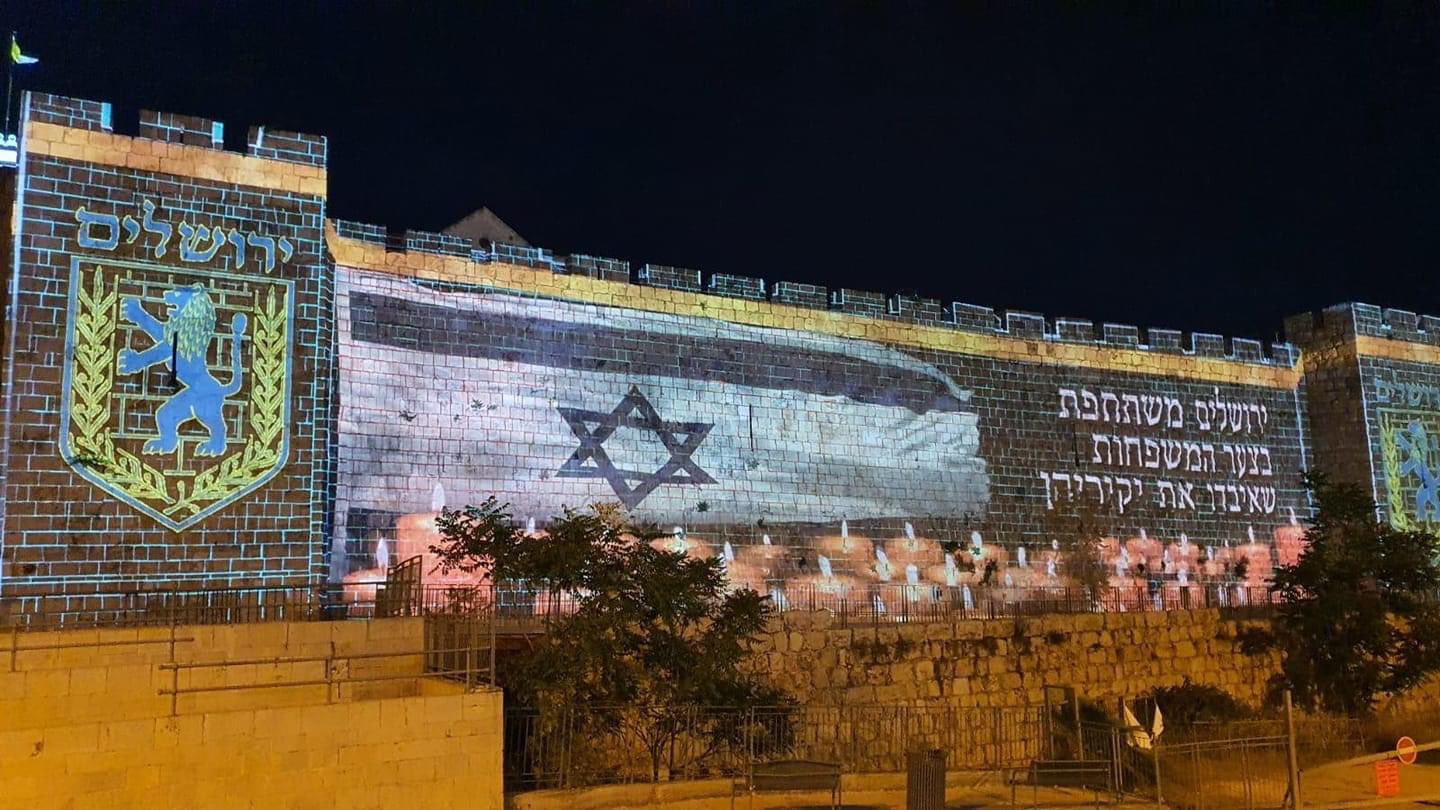 Seth Frantzman:
Mount Meron disaster solidarity emphasizes importance of Abraham Accords
Across the Middle East, there has been an outpouring of solidarity with Israel following the Mount Meron disaster.

Egypt joined several Gulf states and others in offering official condolences. This is important symbolically, because it is in contrast to the pro-Hezbollah social media accounts that celebrated the deaths. In contrast to the hatred on Al-Jazeera, where commentators said they were happy to see Israelis die, the message from the UAE, Bahrain and other countries was to express remorse.

This is an important symbol, illustrating the strength and importance of the Abraham Accords. The accords have provided a stamp of approval for much wider relations between Israel and many Arab states. They have also opened up people-to-people exchanges and interactions. This has humanized both sides to each other and means that disasters like Meron now strike a larger cord in the region.

If for years Israelis were either ignored or their lives seen as less important, today things have changed. These are small changes that generally are trickling down from the top, because the condolences mostly come from the top echelons of these countries and a few people online who have generally been part of the vanguard involved in coexistence.

Egypt's Foreign Affairs Ministry joined others on Friday, saying that "we express our sincere condolences and sympathy to the victims of the stampede that took place today in northern Israel and claimed dozens of lives. We also wish a speedy recovery for all of the injured."

Turkey also issued a statement of condolences.

In the UAE Dr. Majid Al-Sarrah wrote that he was "sending my sincere condolences and prayers to all those who lost their lives and to their families during the sad event at Mount Meron in Israel. May they all Rest In Peace! Sending love and support from UAE."

In Bahrain, Foreign Minister Dr. Abdullatif Bin Rashid Al Zayani sent a condolence message to Foreign Minister Gabi Ashkenazi. He expressed sadness at "the terrible tragedy at Mount Meron."
The Queen has sent a message of condolence to the President of Israel, following the disaster at the Lag B'Omer festival in Meron, Israel. pic.twitter.com/Ayg7tMttRB

— The Royal Family (@RoyalFamily) April 30, 2021
Statement from President Joe Biden on the Tragedy in Israel pic.twitter.com/7kXROq7COd

— Aaron Keyak (@akeyak) April 30, 2021
We learned with deep sadness the very unfortunate tragedy that resulted in the loss of lives during celebrations of Lag Baomer at Mount Meron.
Our sincere condolences and sympathy to the families of the victim.
We wish the injured prompt recovery.
With our deepest sympathy

— Morocco In Israel (@morocco_israel) May 1, 2021
Arsen Ostrovsky interviewed on Sky News UK about Mt. Meron tragedy in Israel
MDA asks for more blood after 2,208 Israelis donate on Friday
Following the deadly stampede during Lag B'omer celebrations at Mount Meron Thursday night, more than two thousand Israelis donated blood at locations throughout the country on Friday. Magen David Adom on Saturday asked the public to continue doing so during the coming weeks.

Among the 2,208 Israelis who showed up at the MDA mobile units was Prime Minister Benjamin Netanyahu, who arrived at a blood donation station near the Shaare Zedek Medical Center in Jerusalem on Friday afternoon.

On Thursday night at least 45 Jewish worshipers were crushed to death and more than 150 people hurt, including many critically, in a stampede at a mass gathering at Mount Meron.

"Magen David Adom would like to thank the public for their extensive and emotional response, in just a few hours, and reminds that the blood unit collected is intended to save the lives of those injured in the festival in Meron and other patients hospitalized in hospitals across the country," the organization said in a statement.

"The blood unit is only valid for 35 days and therefore the MDA blood services ask the public to continue to come and donate blood during the coming weeks," they added.

One donor told Channel 12 news on Friday that said she waited for two hours to donate, but felt that it was important to stay in light of the deadly disaster.
El Al Airlines Offers Free Israel Flights to Relatives of Meron Victims, as Immigration Authority Helps Families With Travel Permits
El Al Israel Airlines is offering free flights to immediate family members of those injured and killed in the Meron mass casualty incident on Thursday night.

Two airline tickets per family will be provided and must be used by May 4th. Relatives need to only pay the airport tax; all other charges will be waved. El Al opened a customer service phone number to help with the matter.

Information about the free flights was shared on Twitter by Rabbi Yisroel Kahan, executive director of the Oizrim Jewish Council, a Jewish outreach group based in New York.

Kahan told The Algemeiner that Israel's Population and Immigration Authority also opened a designed email address to help immediate family members fast track the process of obtaining travel permits to Israel. The email address is harigim-natbag@piba.gov.il; "Harigim" means "the dead" in Hebrew.

The Oizrim Jewish Council is offering additional assistance to those who need help in securing travel permits.
Arab Towns in Israel's North Rally to Aid of Jewish Mount Meron Disaster Survivors
As Israeli authorities continued work to identify the victims of the tragic stampede on Mount Meron early Friday morning, nearby Arab communities in Israel's north sprung to the aid of Haredi survivors of the disaster.

In the Arab city of Tamra — about an hour's drive from the site of the incident, where tens of thousands of ultra-Orthodox Jews celebrating the Lag B'Omer holiday — a refreshment station was set-up for those heading south from Meron, Israel's Walla news website reported.

"Food, drink and a place to refresh are waiting for every passerby," the Tamra Gardens event space said.

The Israeli-Arab activist Yoseph Haddad called it an act of "touching solidarity in the midst of such tragedy."

In Tamra, a refreshment station is being set up for the evacuees from Mt Meron who can rest, eat, drink and contact the families. There are many initiatives of Arab Israelis coming together, even now during the Ramadan fast. Touching solidarity in the midst of such tragedy pic.twitter.com/UXSfmxDsjd

— יוסף חדאד - Yoseph Haddad (@YosephHaddad) April 30, 2021

Another refreshment station was set up in the village of Zarzir, near Nazareth, according to journalist Sami Abed Alhamid.

"Our hearts go out to the families, out of responsibility, solidarity and out of a belief in human equality, a refreshment station and water for the evacuees from Mount Meron," said Council Chairman Amir Mazarariv, Alhamid reported.
IDF: Female soldiers were attacked by Haredim when assisting at Meron disaster
Soldiers of the Israel Defense Force's Home Front Command were physically and verbally attacked by ultra-Orthodox Jews while they were assisting in searching for dead and wounded in the stampede during Lag B'Omer celebrations at Mount Meron, the IDF said late Saturday.

"We entered the gravesite to search for injured people and suddenly a commotion began that there are female soldiers in uniforms who are touching the wounded," a soldier told Army Radio earlier.

"They started to kick and spit on us. The female soldiers were kicked, spit on, and punched from every direction," the radio station quoted the soldier saying. Hebrew media reports said five female soldiers were targeted.

The military confirmed the incident, saying in a statement that "the force continued on its mission and ignored the harmful behavior."

"The IDF views this incident very gravely and condemns any violence — physical or verbal — toward female and male soldiers. The IDF in general and the Home Front Command in particular will continue to extend a hand, to assist and to save any citizen or resident in a time of need," a spokesperson for the military added.

Defense Minister Benny Gantz said in a statement: "Saving live is a supreme value and I'm proud of all IDF soldiers in treating the wounding in the disaster at Miron and firmly condemn whoever attacked the soldiers there.
'We Gloat Over The Jews' Misfortune': Jihadi Groups on Social Media in Macabre Celebration of Mount Meron Tragedy in Israel
Jihadis around the Middle East took to social media channels on Friday to gloat over the death toll of Jews crushed to death during a stampede at a Lag B'Omer festival on the slopes of Mount Meron in northern Israel.

Analysts at the Middle East Media Research (MEMRI), a Washington, DC based think-tank, shared their gruesome findings exclusively with The Algemeiner. On the messaging service Telegram, supporters of Al Qaeda and other jihadi groups engaged in a macabre celebration of the tragedy.

Prominent Al-Qaeda supporter Warith Al-Qassam posted a photo showing the bodies of Jewish pilgrims who were killed. He commented: "These bodies do not belong to our people in Gaza, rather they are the carcasses of the Jews who were killed in the collapse of the building. Oh Allah, we gloat over their misfortune."

An ISIS supporter, Mousa, commented in a post he shared on Telegram: "More than 25 Jews were killed and more than 100 others were wounded, some of them in critical condition, following the collapse of the staircase."

Another post uncovered by the team at MEMRI's Jihad and Terrorism Threat Monitor celebrated the rise in casualties. "The number of those who were killed, the ancestors of monkeys and pigs is on rise," the post declared. "More than 40 were killed and hundreds were wounded. Many of them are in critical condition. The state of Jews is horrified, living a state of horror and grief."

Mousa also posted photos showing the festival scene before and after the accident. On the photo that showed the dead victims, he wrote: "The Jews' corpses are filling the road, praise be to Allah."

On Twitter, supporters of Hezbollah also celebrated the tragedy, the Jerusalem Post reported — with one account that has over 2,000 followers cheering that "more than 20 terrorist murderers occupying Palestine dead." Another pro-Palestinian account, with over 24,000 followers, asked God to "increase this night of hell fire."
HRW crosses line with apartheid accusation against Israel
Michal Cotler-Wunsh, an Israeli politician who previously served as a member of Knesset for the Blue and White Party, told JNS "after decades of 'Israel Apartheid' weeks on campuses around the world, this report is just the final nail in the coffin of the deceitful false narrative."

This report is "a complete hurdle to peace," she said, "driven by blind hate" and singles out the Jew among the nations.

"It is vital to identify and expose it for what it is—yet another example of a systematic strategy to use not bullets, but words, in the war waged to destroy the State of Israel in the name of human rights," she said.

Cotler-Wunsh said the most dangerous part of the report is that "people who do not know better will believe it." Moreover, she said, it "creates a barrier to peace with the Palestinians and makes a complete Orwellian, inverted reality of what apartheid actually was."

Cotler-Wunsh said HRW itself notes that "there is no such thing as an apartheid state, as far as international law is concerned," but has redefined the term "apartheid" in the report in order to fit its anti-Israel obsession.

Israel must use the "lingua franca," the "rhetoric" and "language of human rights," and "not to sit in the dock of the accused and react, but to go on the offensive," she emphasized.

"We have a responsibility to identify, expose and address the double standards. From a perspective of law, double standards are the worst offense you can commit because if you don't apply the law equally and consistently, it is not worth the paper it is written on," said.

Cotler-Wunsh explained that HRW founder Robert Bernstein "acknowledged that the tools he had championed in order to uphold, promote and protect human rights were being weaponized in order to turn Israel into a pariah state. 'Only by returning to its founding mission … can Human Rights Watch resurrect itself as a moral force in the Middle East … ,' Bernstein warned. 'If it fails to do that, its credibility will be seriously undermined and its important role in the world significantly diminished.' "

"How right he was," she said.
BBC's 'Today' tosses editorial guidelines aside in HRW report promotion
Husain failed to enquire when exactly Shakir thinks that "corner" was turned or why he claims that the situation now is any different than in previous years.

Husain: "You didn't share this report with – for comment – with any Israeli authority the ministry of foreign affairs has said, which is why they accuse you of having an anti-Israel agenda."

Shakir claimed that HRW had written to the Israeli government in July 2020 and "last week" to the prime minister's office but "they never responded".

Had Husain bothered to adhere to BBC editorial guidelines at the beginning of the item and given audiences a clear view of Human Rights Watch's record on Israel and its political agenda, listeners would of course have better understood Israel's reaction to this latest in a long line of monotone HRW 'reports'.

Husain then introduced Professor Gerald Steinberg of NGO Monitor (from 2:44:53) who, among other points noted HRW's failure to include the component of Palestinian terrorism in its report.

One of Husain's 'questions' was as follows:
Husain: "The international…the international lawyer Philippe Sands – who is himself Jewish – has said that this report is a balanced and rigorous wake-up call by a serious and authoritative organisation."

The BBC would of course do well to explain to its audiences why Mishal Husain apparently thinks that Mr Sands' ethnicity has relevance to his opinions as a lawyer.

In this item we see once again that when promoting campaigns by 'Human Rights Watch' the BBC tosses editorial standards on impartiality aside, failing to provide its audiences with the full range of information concerning that organisation's long-standing anti-Israel stance that are necessary for proper understanding of the story.
John Kerry's Actions Are a Scandal — Whether the Media Covers Them or Not
Since Kerry's denial, Adam Kredo at the Washington Free Beacon got his hands on the tapes; an independent translation offers some more context. After Zarif says, "Kerry told me that Israel had launched 200 airstrikes against you," the interviewer specifically asks him: "You didn't know?" "No, no," Zarif replies.

Now, it's unknown why Zarif would lie to an ally in an off-the-record conversation about an interaction with his favorite Westerner, but it's certainly a possibility. It's Blinken, Kerry, and other Iran Deal proponents who have been taking the Iranian government at its word. And they'll go right back to trusting Zarif soon enough.

Rest assured, however, that if Mike Pompeo were caught having clandestine meetings with adversarial Sunni terror groups to undermine Biden's foreign policy, a relentless media would be digging until they got to the bottom of situation. The liberal punditry would be shrieking about Logan Act violations. It would be huge scandal.

The question isn't whether Kerry would sell an American ally out to the Iranian terror state — everything in his history says he would. The fact is that a former high-ranking member of the opposition party went abroad and met with a violent American adversary, likely discussed the military actions of an ally (known or unknown to the public), and, most important, undercut the official foreign policy of the United States government. The man who did this is now a member of the new administration. And no one in mainstream political media thinks it's worthy of more scrutiny.
Jonathan S. Tobin:
Why is Joe Biden embracing the group that promotes the 'apartheid state' libel?
Margon's views fit in nicely with the Biden administration's declared intention to downgrade advocacy for religious freedom abroad. She's also on board with a desire to demote Egypt and Saudi Arabia, which are brutal dictatorships at home but have embraced peace with Israel, from the status of important allies to objects of criticism and censure. That's despite the fact that the only alternative to the authoritarian leaders of those nations are Islamists who are just as opposed to human rights as the government. The upshot of her advocacy is to treat American forces fighting Islamists as villains and to attack friends of America and Israel. As Rep. Lynne Cheney (R-Wyo.) told The Washington Free Beacon, Margon "has a record of prioritizing the interests of terrorists over the security of the United States."

Just as damning is her support for the blatantly anti-Semitic United Nations Human Rights Council from which Trump rightly withdrew and which Biden has rejoined. She's also supported the International Criminal Court and its attempt to label Israeli self-defense against Palestinian terrorism as war crimes.

Margon is not the only Biden nominee with a record of hostility to Israel, but she is unsurpassed in terms of her ties to anti-Zionists and anti-Semites.

Democrats may claim that Margon will merely be taking orders from Biden and Secretary of State Antony Blinken. But just as the appointment of Robert Malley signaled the administration's determination to return to a policy of appeasement of Iran, so, too, does the choice of Margon indicate what can be expected on policy towards Israel. Indeed, Biden would have been hard-pressed to find anyone else who would be more likely to undermine the alliance with Israel or to support those seeking to delegitimize it.

Biden's apologists claim that despite differences with Israel's government on the conflict with the Palestinians or the threat from Iran, he and Blinken are still strong friends of the Jewish state and opposed to those who wish to see it eliminated. Yet the appointment of Margon exposes that argument to be a lie. A pro-Israel administration simply doesn't put someone with Margon's beliefs in a position to wreck the alliance and give aid and comfort to the Jewish state's enemies.

On this nomination, there can be no compromise. Supporters of Israel—be they Republicans or Democrats—are obligated to vote against her. Margon's confirmation would make it clear that Israel has an enemy in a position of power in Washington who will assist those who masquerade their hate under the guise of human-rights advocacy rather than to oppose them.
Biden Nominee Denied Working With An Anti-Semitic Poet, But An Academic Journal Shows Otherwise
Justice Department nominee Kristen Clarke said while under oath she didn't work with an anti-Semitic poet, though she was listed as an assistant editor for the same scholastic journal as the poet for several years.

Clarke said she never worked with poet and political activist Amiri Baraka despite being named an assistant editor for a scholastic journal that listed Baraka as a contributing editor in 1999 and 2000, according to the journal's archives, first reported by The Washington Free Beacon. Baraka was known as a black nationalist and Marxist and was criticized for anti-Semitic lines in his poem "Somebody Blew Up America" after the Sept. 11 terror attacks, The New York Times reported in his 2014 obituary.

Republican Sen. Mike Lee questioned Clarke's relationship with Baraka as a supplement to her April 14 confirmation hearing, the Free Beacon reported. Lee asked Clark if she was ever "on the editorial staff of a journal with Amiri Baraka" to which she replied "no."

Clarke was listed as an associate editor of the scholastic journal Souls, A Critical Journal of Black Politics, Culture, and Society for two years along with Baraka, who was named as one of 25 contributing editors. She also shared Baraka's essay "Mumia, 'Lynch Law' & Imperialism" which compared law enforcement officers to Klu Klux Klan members with one of her mentors in June 1999, the Daily Caller News Foundation reported.

Baraka's work was criticized for including anti-Semitic, racist, isolationist, homophobic and militant content, the Times reported. In "Black Art" he wrote, "we want … dagger poems in the slimy bellies of the owner-jews."

"Who put the Jews in ovens, and who helped them do it Who said 'America First' and ok'd the yellow star," Baraka wrote in "Somebody Blew Up America." He included that Israel knew of the Sept. 11 attacks beforehand and told 4,000 Israeli workers to stay home from work that day, though the statement was found to be a baseless conspiracy theory.
INSS:
Out of Sight, Out of Mind? Understanding the Houthi Threat to Israel
Against this background, there are five key points critical to the formulation of an Israeli policy on the Houthi threat, including military force buildup efforts:

1. Despite their rhetoric, the Houthis do not appear to have taken a decision to strike Israel, and they may never decide to do so. However, strategic developments in the region, such as intensifying pressure from Iran or a shift in domestic Yemeni dynamics, could make a Houthi attack on Israel more likely. Our primary concern is that such a decision is likely to be made through an opaque process among the Houthi leadership, with no discernible signals and in an environment that has comparatively poor intelligence coverage, so it may happen suddenly and unexpectedly. Therefore, much of Israel's focus on Yemen should be directed toward monitoring (and ideally, if necessary, limiting) Houthi capabilities.

2. As they have no real direct/concrete grievances against Israel, the Houthis' willingness to strike Israel on behalf of Iran remains an open question. The degree to which the Houthis are an Iranian proxy will only become evident in real-time when the interests of the Houthis and Tehran diverge. The Saudis used to joke "you cannot buy a Yemeni but you can rent him for a while";[37] in other words, leverage derived through patronage, in this case Iranian, is not absolute and may last for a limited duration.

3. At present, the Houthis do not appear to have the capabilities to pose a major strategic threat to Israel. In the future, it is conceivable that that:
The Houthis will build up an arsenal of weapons capable of reaching Israel's strategic assets.
Iran will provide a critical mass of range-capable PGMs.
Houthi maritime warfare capabilities will advance significantly to the critical point where they are capable of posing a considerable threat to Israeli shipping.
The Houthis prove willing to offer Yemen as a launch pad for IRGC missile units.
The Houthis increase support to Hamas or PIJ in Gaza through the group's indigenous military industrial production and with Iran's encouragement.

4. Even without direct hostilities between Israel and the Houthis, developments in the Yemeni civil war could affect Israel negatively. The theater serves as a testing ground of sorts for Iranian weapon systems in conflict, and in particular their use against Western platforms. The rapid pace of improvement in Houthi capabilities, from amateurishly using RPGs in 2010 to using precision-guided missiles for well-coordinated assassination attempts in 2020,[38] indicates a learning process that could create knowledge that is then (directly or indirectly) disseminated among other axis partners, including Hezbollah and Hamas.

5. A Houthi strike on Israel or the group's accumulation of a disproportionate stockpile of weaponry that threatens Israel will present the Israeli leadership with a dilemma of if/when to strike – at risk of being drawn into the Yemeni quagmire. Israel will face this challenge with considerable difficulty due to operational and intelligence gaps as well as the absence of a clearly defined strategy toward Yemen, all of which limit decision makers' ability to maneuver strategically.

Relegating the Houthi threat to "out of sight, out of mind" may allow Israel to focus its resources on more immediate challenges, but doing so is accompanied by its own set of risks.
Hackers Reveal Thousands of Email Addresses and Passwords of Israeli State Employees
Around 5,000 email addresses with the suffix of gov.il belonging to Israeli state employees, as well as their passwords, have been discovered as part of an analysis of a massive 100GB leak uploaded to a hackers forum. The stockpile, known as COMB21 (standing for Compilation of Many Breaches and the year of its discovery) includes 3.2 billion passwords and 2.18 billion addresses.

The leak was analyzed by Brazilian network security company Syhunt and according to its report, the stockpile of emails and passwords is "being actively shared among hackers and cybercriminals in the form of a single, 7zip compressed archive."

Based on the Syhunt report, 4,984 passwords from domains using gov.il were affected. This is a small fraction compared to the US with 625,505 .gov passwords exposed, but nevertheless not insignificant.

The report added that "despite the efforts over the recent years by the companies and organizations to monitor password leaks, harden the security of web applications, login mechanisms, switch to HTTPS and respond to password leaks, the publication and active sharing of this password leak compilation is a major blow to Internet security."
PA President Mahmoud Abbas Wants to 'Annihilate Jewish State,' Warn 1,800 Retired Israeli Generals, Officers
A group of retired Israeli military officer and intelligence officials issued a warning on Friday against placing any political trust in Palestinian Authority President and PLO Chairman Mahmoud Abbas.

A position paper shared on Friday with The Algemeiner by "Habithonistim" — a group of 1,800 retired Israeli generals, officers and Mossad operatives — asserted that "Abu Mazen (Abbas's nom-de-guerre) and the PLO have never given up the way of terrorism, and they consider all kinds of struggle against Zionism legitimate and complementary of each other."

It argued: "While Abu Mazen, like many other Palestinians, thinks that at this point, popular violence without using firearms and explosives is more effective than armed struggle as a tool for promoting Palestinian goals, he is ready to support all sorts of struggles conducted by other factions within the Palestinian community, including those who are part of the PLO, like the Popular Front for the Liberation of Palestine (PFLP), and those who are not members of the PLO, such as Hamas and the Palestinian Islamic Jihad."

The paper highlighted the PA's "payments of hefty salaries to terrorists who are imprisoned in Israel, as well as monthly stipends to the families of dead terrorists and a wide variety of additional benefits to the arrested terrorists and to their relatives."

The paper argued that the "explanation for the gap between the public image of Abbas and the PLO and their real behavior is clear when looking at the history of the PLO and the phased program [for the elimination of Israel as a sovereign state.]"
Peace in texts used by UNRWA Schools
At a time when UNRWA education is widely discussed, the Bedein Center for Near East Policy Research asked Dr. Arnon Groiss (see biography at end of article) to summarize the conclusions of his 20 year study of all 1,000 school books that the Palestinian Authority, operating under the aegis of the Palestine Liberation Organization, has supplied to UNRWA as the exclusive source of texts for their schools in in Judea, Samaria, (aka "West Bank") East Jerusalem & Gaza.

Dr. Groiss's conclusions:
The United Nations Relief and Works Agency for the Palestinian refugees of the 1948 war and their descendants (UNRWA) provides educational services to school children of this population in Syria, Lebanon, Jordan, the 'West Bank', East Jerusalem and the Gaza Strip. Regarding the latter three regions it operates 274 schools in Gaza with close to 280,000 students and 96 schools in the 'West Bank' (including 2 in East Jerusalem) with some 47,000 students in grades 1-9 (as well as grade 10 in some of its schools), that is, about a quarter of the Palestinian student body in these areas.

UNRWA uses in its schools the textbooks provided by the Palestinian Authority, which contradicts UNRWA's commitment – as a UN agency – to neutrality and to peaceful resolution of the Palestinian-Israeli conflict, as decreed by UN resolutions:

The PA books delegitimize the existence of the State of Israel – a full member-state of the UN. They replace it both in text and on maps with 'Palestine' as the sovereign state in the region, define its pre-1967 territory as "the Palestinian territories occupied in 1948", and refer to it as "the Zionist occupation" rather than by its name.

The texts also de-legitimize the presence in the country of its 6.5 million Jewish citizens, whose history and holy places there are denied, their cities – including Tel Aviv – are absent from the map or given Arabic names, and their language – Hebrew – is erased, literally, from historical documents.

The schoolbooks used by UNRWA demonize both Israel and the Jews as the source of all evil. Jews are also demonized as enemies of Islam from its very inception.
Will Abbas survive the elections crisis?
The controversy over the Jerusalem vote provided Abbas with a good excuse to call off the elections. There's nothing better than blaming Israel for obstructing the planned elections – or anything else.

This option is certainly much better than having to face the challenges from disgruntled Fatah officials and Hamas.

Fatah is already witnessing a serious crisis, especially after the decision by Nasser al-Kidwa, a veteran official of the faction, to form his own list for the parliamentary election together with jailed Fatah leader Marwan Barghouti.

The Kidwa-Barghouti alliance and the list belonging to exiled Fatah operative Mohamed Dahlan, an archrival of Abbas, meant that Fatah was running on three separate slates.

The past five months have shown that the challenges Abbas is facing from within Fatah are no less serious than those posed by Hamas. The president was also undoubtedly wary of the fact that most of the 36 electoral lists that had registered for the parliamentary elections included candidates known for their public and strong criticism of him and the old-guard leaders of the PA.

Abbas may have found a way to climb down from the high tree of the elections – but there is no way to weasel out of the serious challenges he is expected to face in the aftermath of his decision to delay the elections.

Judging from the strong reactions of the decision's opponents, the political crisis in the Palestinian arena appears to be headed toward escalation.

Abbas's exclusive control over Fatah is now at stake, and his dispute with Hamas is likely to intensify. His decision is likely to end the honeymoon between Fatah and Hamas, which surfaced thanks to former US President Donald Trump's "hostile" policies and decisions against the Palestinians.
A Palestinian elector list is calling on the EU to halt funding to the Palestinian Authority after President Abbas's decision to delay the elections. pic.twitter.com/26XrvE19qI

— Khaled Abu Toameh (@KhaledAbuToameh) May 1, 2021
Al-Qassam Brigades displayed their homemade Merkava IV battle tank in the northern #Gaza Strip on Friday. The tracks don't turn, nor does the turret and it doesn't fire but the militant group had produced several of these trainer tanks over the years. pic.twitter.com/zJjue2KHuC

— Joe Truzman (@Jtruzmah) May 1, 2021
Biden to green-light intifada if Israel opposes Iran deal - opinion
Over strong Israeli opposition, and despite Iranian promises to destroy the Jewish state, US President Joe Biden is moving quickly to restore Barack Obama's Iran nuclear deal, paving the way for Iran to acquire nuclear weapons.

At the same time, there has been a decided uptick in the number and severity of Palestinian and Iranian attacks against Israel. My sources inside the US government suggest one factor behind this may be tacit Biden permission or support for increased violence from Gaza and a new intifada if Israel refuses to accede quietly to a new Iran deal or takes "unapproved" steps to defend itself against the Iranian threat. This would be a catastrophic mistake and horrific breach of trust. But on the facts, the idea the Biden government would pressure the Israeli government by green-lighting Iranian or Palestinian terror attacks against innocent Israelis cannot lightly be dismissed.

The evidence of Biden/Obama duplicity regarding Iran is hard to miss. Recently, The New York Times reported that Iranian Foreign Minister Mohammad Javad Zarif was recorded on recently leaked tapes saying John Kerry, secretary of state during the Obama administration, informed him of more than 200 secret Israeli operations in Syria. This report is credible given Kerry's happy collusion with Iranian leaders to undermine the Trump administration's efforts to isolate the mullahs, impose an effective sanctions regime, and choke out their nuclear and conventional weapon programs.

That Kerry, who has a seat on Biden's National Security Council, was passing US intelligence information on Israeli defense activities to a regime sworn to wipe Israel from the map might seem to be an unseemly betrayal of America's closest Middle-Eastern ally. But when it came to Iran, the Obama administration did not merely betray the Israelis. It also lied repeatedly to Congress and the American people.
Will Biden sacrifice Israel over Iran? - opinion
It is also because the agreement is full of loopholes and does not address all sources of Iranian threat. Add to this the aggressive intentions and considerations of geographic proximity, especially after the stationing of Iranian militias in Syria, and we can easily understand Israel's concerns.

These concerns are very similar to the Gulf Cooperation Council countries' concerns about Iran's nuclear program. During his recent visit to Israel, US Secretary of Defense Lloyd Austin emphasized the US's full commitment to Israel's security, noting its position as a strategic partner.

Bilateral relations, he added, are important to stabilize the Middle East. Israeli political and security circles are well aware of this. But the experience of the 2015 agreement casts a shadow over relations.

The question here is not really about whether Prime Minister Netanyahu is exploiting the Iranian issue politically or not, for the simple reason that Israel's intelligence and cyber-military operations to reduce the Iranian threat require consensus at the highest level of Israeli security and military and cannot come from a political level alone.

The question now: is Israel poised to derail the agreement signed in Vienna with sudden military action against Iran's nuclear facilities, which increasingly risks involving the US administration in a war of necessity against the mullahs?

This question resonates in the minds of some observers, and I think that avoiding this is linked to the policy of the Biden administration. Experts and specialists believe that it is more committed to Israel's long-term security. That is regardless of anything that former president Trump has achieved on this front.

But what is certain on this issue is that Biden will not risk angering his Israeli partners. However, results are not just a matter of intentions. Rather, it is necessary to listen properly to the views of fellow countries in order to formulate a strategic approach that meets the requirements and interests of all parties.
Blinken, Yossi Cohen meet in Washington as Israel presses its case on Iran
US Secretary of State Anthony Blinken met Thursday in Washington with visiting Mossad chief Yossi Cohen and Israel's ambassador Gilad Erdan, as Israel sought to convince Washington to seek an improved deal to prevent Iran from attaining nuclear weapons rather than reenter the limping 2015 accord.

The two-hour meeting was the second this week in Washington involving senior officials from the two countries and underscored Israel's unease with ongoing indirect nuclear negotiations between Iran and the United States in Vienna, the officials said. Although other issues were discussed, Israel used Thursday's meeting to "express strong concerns" about Iran, one of the officials said.

Blinken attended Thursday's meeting along with his newly confirmed deputy, Wendy Sherman, President Joe Biden's national security adviser Jake Sullivan and two other senior officials, Brett McGurk from the National Security Council and Derek Chollet from the State Department. Cohen and Erdan represented Israel.

The State Department declined to comment on the meeting or even to confirm that it had happened, but said the Biden administration is committed to coordination and transparency with Israel in its nuclear diplomacy with Iran. Head of the Mossad Yossi Cohen speaks at a cyber conference at Tel Aviv University on June 24, 2019. (Flash90)

Earlier Thursday, Erdan said the US understood Israel retained "freedom of action" to act against Iranian activities that threatened the Jewish state.

"The freedom of action of Israel to prevent Iran from becoming an existential threat is a freedom of action that will be preserved," Erdan said, adding that "the current government respects" that Israeli demand.
FDD:
Iran Is More Than Persia
The Islamic Republic's status as a unitary state rather than a federation or confederation also favors continuation of Persian dominance. Federative and confederative structures facilitate empire disintegration, thanks to their clear internal borders and local government officials who often benefit from the demise of central rule. As an additional protection, the clerical regime has a track record of appointing governors and local security chiefs who are not native to the regions they govern and do not speak the local languages. Thus, in contrast to the Soviet model, there are few official local leaders with an interest in breaking away from the center.

In addition, most of Iran's neighbors, such as Turkey and Iraq, do not support a change in its borders.

However, a major development may have taken place among Iran's largest ethnic minority, the Azerbaijanis. For many decades, Western scholarship has assumed that Azerbaijanis are the most well-integrated minority in Iran,138 sharing common Shiite faith with Persians. But that may be a misreading of this ethnic group, especially after Iran's support for Armenia in the 2020 war with Azerbaijan. The war was a watershed moment for Iranian Azerbaijanis, who observed in real time Iranian trucks transiting Russian arms and supplies to Armenia. Hundreds went to the border area with Azerbaijan, observed the battles, and openly expressed encouragement to the Azerbaijani soldiers despite the regime's best efforts. The Republic of Azerbaijan's subsequent success on the battlefield inspired ethnic pride among Iranian Azerbaijanis. The Iranian government's arrests of dozens of Azerbaijanis during and following the war did little to curb that.

For most of its history, the Islamic Republic has faced insurgencies and security threats in Iran's Kurdish, Baluch, and Arab provinces. Tehran has rarely enjoyed satisfactory security in these areas. However, these insurgencies have proven manageable for Tehran, since those ethnic groups are relatively small and the attacks were confined to their home regions. Their armed attacks rarely affect Iran's Persians, since they take place in minority-inhabited provinces. However, the Azerbaijani Turks are a different story. If a large percentage of this group were to break with the regime, it would pose a formidable threat. Losing Azerbaijani support would be akin to the Soviet Union's loss of support of Ukraine during the Gorbachev era, on the eve of the Soviet demise.

Another challenge to regime stability is the environment. Iran's environmental challenges are growing more severe, with extreme water shortages in many parts of the country, frequent dust and salt storms, and toxic pollution. The most foreboding threats, especially the water shortages, are largely located in Iran's ethnic minority provinces. Thus, environmental challenges reinforce ethnic grievances. As Iran's environmental threats mount, they will fuel additional ethnic unrest.

Over the last two years, the clerical regime has sought to foster Persian nationalism to bolster support in the face of growing domestic opposition. Both Supreme Leader Khamenei and Foreign Minister Zarif have extolled Persian culture in their public messages. This is reminiscent of Stalin's use of the Russian Orthodox Church and Russian nationalism to galvanize Soviet subjects to fight during World War II. While this may galvanize Persians, it incites ethnic minorities and may further weaken Tehran's hold on more than half the population.
Seth Frantzman:
Iranian families slam Zarif for slandering Soleimani
In Iran a series of families of "martyrs" have sent a message in the wake of Iranian Foreign Minister Javad Zarif's insults against the late Qasem Soleimani. An audio of Zarif giving an interview in which he slammed Soleimani and appeared to suggest the IRGC had undermined him, has led to controversy.

The message is directed to "dear Dr. Zarif, honorable Minister of Foreign Affairs of the Islamic Republic of Iran." It notes the publication of the recent audio file and seeks "to prevent the distortion of the line of resistance and the great benefits gained for Islamic Iran by this dear martyr [Soleimani]."

It says the Soleimani's role was portrayed unfairly in Zarif's leaked tape. It says that it does not "correspond to reality and now the question arises why these ambiguous words should be said at some point. That he is not alive and cannot seem to defend himself against your words? Is this a tradition of fairness and morality? Mr. Zarif, the published words were so unfair," the letter says.

It says that Zarif had disputed the "regional decisions of Haj Qasem Soleimani" but notes that without Soleimani "you could not conduct diplomacy in the region as you wished…you have been negotiating with Europe and the United States for a long time, and these negotiations are not limited to your eight-year responsibility in the government…In previous periods, you did not achieve a tangible achievement for the people of Iran, but not for the reason that you cowardly linked it to the decisions of the dear martyr [Soleimani] and expressed it."
Biden Administration Needs to Halt Talks with Iran's Mullahs
The Biden administration seems more determined than ever, however, to "reward" Iran's dangerous and predatory regime by returning to a deal that has sunset clauses, as well as an expiration date after which the mullahs can enrich uranium, spin centrifuges at any level they desire, and make as many nuclear weapons as they like.

A return to the 2025 deal would help to lift all major sanctions against Iran -- sanctions it took years to put in place. The deal would enable Iran's military sites to be exempt from inspection by the International Atomic Energy Agency. The deal would allow Iran to rejoin the global financial system with full legitimacy, so that billions of dollars could begin flowing into the treasury of Iran's Islamic Revolutionary Guard Corps (IRGC) and its expanding militias across the Middle East.

Finally, amid the talks to revive the "nuclear deal," Iran's leaders signed a 25-year strategic deal with China. In addition, the Iranian authorities are also engaged in high-level talks with Russia, "in order to help establish stability and combat American interventions."

The Biden administration's silence in the wake of Iran's increasing threats and nuclear defiance will only embolden and empower this predatory regime. The Iranian regime clearly believes it can get away with its violations. Instead of "rewarding" this dangerous Islamist regime, the Biden administration needs to take a firm stance and hold the ruling mullahs accountable.
Good bye, Iran sanctions. Hello, pallets of cash! https://t.co/ZoaHKAlPLx

— Mike (@Doranimated) May 1, 2021
Little noticed in most recent DIA testimony: "Ayman al-Zawahiri remains in hiding, while a handful of Iran-based al-Qa'ida leaders oversee al-Qa'ida's network." (ten years since UBL killed--Iran shelters AQ leaders let that sink in)

— Barbara Starr (@barbarastarrcnn) April 30, 2021
The Islamic Republic of Iran is an ISIS in power. With their medieval mentality, they terrorise Iranian women for their dress

An army of morality police officers seen chasing after a young girl for her hijab

This regime is elected to UN's top body for women#MyCameraIsMyWeapon pic.twitter.com/r8IEbF2MTk

— Masih Alinejad 🏳️ (@AlinejadMasih) April 30, 2021
Argentine police say they thwarted neo-Nazi attack on synagogue; 2 arrested
Police have arrested two people who authorities believe were planning a Friday-night attack on an Argentine synagogue.

The country's federal judiciary was investigating a group called Goy Group Unleashed, according to the Simon Wiesenthal Center, when prosecutors found evidence on the messaging services Telegram and WhatsApp of the imminent Shabbat attack in the Tucuman province of northern Argentina.

Police ordered two raids on the capital city of the province, San Miguel de Tucuman, and in a smaller town called El Manantial. In addition to the two arrests, they found guns, knives, radio communications equipment and Nazi literature.

"That two of the group decided to take violent action against a Jewish community is a worrying step, as the threat in Latin America had, until now, come from the far left and Islamist/Iran," Shimon Samuels, director for international relations of the Wiesenthal Center, said in a statement Monday.

Antisemitic incidents are rarely physical in Argentina — most are online or graffiti — but there were three violent ones in 2019. The number of total antisemitic incidents rose by 107% in 2018 over the previous year, according to a report by the DAIA Jewish umbrella group.

The head of DAIA has been under police protection since February, when he received antisemitic threats.
Top English Soccer Club Chelsea Imposes 10-Year Ban on Supporter Who Sent Violently Antisemitic Messages
Top London soccer club Chelsea announced on Friday that it had banned one if its supporters for 10 years for sending a series of antisemitic messages on social media.

The English Premier League side imposed the ban on 20-year-old Sam Mole, from Kettering near London. Mole was charged in Oct. 2019 with sending highly abusive antisemitic messages to Dan Levene, a freelance journalist.

Mole described himself in his Twitter bio as "one of the 'coke sniffing apprentice tommy boys'" and appended the words, "F*** Dan Levene." In one exchange, Mole called Levene a "dirty y*d," adding that it was "unfortunate" that he hadn't been gassed in the Auschwitz concentration camp.

Mole appeared in court in February, but was found not guilty after it transpired that he had sent the messages to Levene while on vacation in Australia, outside of UK jurisdiction. "You can regard yourself as fortunate the law prohibits me from punishing you for an offense most people would say for which you should be punished," the presiding judge told him.

Now Chelsea have stepped up with their own sanction — a 10 year ban on Mole attending Chelsea's games and having any contact with the club.
Soccer-German FA boss apologizes for Nazi reference to vice president
The president of Germany's Football Association (DFB) Fritz Keller on Tuesday apologized publicly for making a Nazi reference when talking to his vice president in a meeting last week, saying it had been a "grave mistake."

Keller referred to vice president Rainer Koch, a civil judge, as "Freisler", a reference to prominent Nazi judge Roland Freisler, a participant at the 1942 Wannsee Conference where the Nazis laid out their "final solution" plan to exterminate the Jews.

Keller has had strained relations with several other senior DFB members, including Koch, who along with general secretary Friedrich Curtius were part of a tax evasion probe last year that included police raids on the association's headquarters.

"With my remark during the board meeting last Friday towards my first vice president Rainer Koch I committed a grave mistake," Keller said in a statement.

"I assumed that he would accept my apology, which I offered both in writing and by phone. This estimation was wrong," said Keller, who took over at the DFB in 2019.
City Councillor Heinz Nittel, President of the Austrian–Israeli Society & co–founder of @JWS_Vienna was murdered #otd 1981 by the Abu Nidal terror group, the beginning of a series of terror attacks against Jewish & Israeli institutions in Austria in the 1980s https://t.co/WvRX3ooL7P

— Hannah Liko (@HannahLiko) May 1, 2021
Crowds Gather for Holy Fire Ceremony at Jerusalem's Holy Sepulchre
Orthodox Christians flocked to Jerusalem's Church of the Holy Sepulchre on Saturday to celebrate the Holy Fire ceremony, gathering in far greater numbers than last year because coronavirus restrictions have eased.

This season's religious holidays in the Holy Land, home to religious sites sacred to Christians, Jews and Muslims, have been overshadowed by tragedy, as Israel mourns the death of 45 Jewish worshipers killed in a stampede overnight between Thursday and Friday at a religious festival in the north of the country. Children were among the casualties.

"I listened to the radio, when the parents were talking, I was crying because I have a small son. I cried for the kids," said Zaira Didmanidze, 40, one of the 2,500 people who attended the Holy Fire ceremony.

The ceremony, symbolizing Jesus's resurrection, is one of the most colorful spectacles of the Orthodox Easter season, usually attended by many pilgrims.

With Jerusalem under lockdown last year's Holy Fire ceremony was held in the near-empty church that is revered by Christians as the site of Jesus's crucifixion, burial and resurrection.

"Last year it was a sad year," said Rosaline Manees, a pilgrim from Jaffa. "This year is better, though not like other years as pilgrims from all over the world are not visiting the country. Today it is only us who live in the country. But, sure, better than last year."

Israel's swift vaccination drive has largely beaten back the pandemic in the past few months, allowing for restrictions on gatherings to be greatly eased as officials plan a resumption of international tourism in the coming months.