From Ian:
Bret Stephens:
For the Sake of Peace, Israel Must Rout Hamas
What can't be emphasized enough, especially among those who think of themselves as pro-Palestinian: If you want a Palestinian state to exist and succeed, you must also want Hamas to be humiliated and defeated. Hamas's sole aim for over 30 years has been to turn a difficult, but potentially negotiable, conflict into a nonnegotiable, zero-sum holy war. That strategy has to be proved a loser before Palestinian politics can move in a better direction.

By the same token, if you'd like a more moderate cast of Israeli leaders, then the last thing you'd want is for Hamas to emerge emboldened and essentially unscathed in the current round of fighting. No Israeli government of any ideological stripe is going to concede territory for a Palestinian state that's likely to look like a larger version of Gaza today: one that terrorizes its neighbors while tyrannizing its people.

Nor is the Israeli public going to pay much heed to hectoring critics in the West who, like Sanders, somehow think that, for Hamas, a legal case involving an ugly eviction effort in East Jerusalem was anything more than a pretext to start a war while jockeying for political advantage against its Palestinian rivals in Fatah.

Israel made plenty of mistakes in the run-up to the current fighting, including heavy-handed policing in Jerusalem at Ramadan and inadequate policing in Arab-Israeli towns that have been hit by mob violence. But there is a vast difference in moral weight between Israel's miscalculations and Hamas's calculations, between blunders and crimes. That's something to bear in mind when Palestinian rockets hit Israeli civilians by design and Israeli missiles hit Palestinian civilians inadvertently.

Contrary to conventional wisdom, the U.S. does not have a vital national interest in creating a Palestinian state: It's on the "nice" but not "necessary" list of America's Middle East priorities. But we do have a vital interest in nurturing and sustaining an alliance of moderates and modernizers, people who can offer a plausible alternative to the forms of politics that have dominated the region and spread their pathologies worldwide: terror-sponsoring theocracies like Iran; military dictatorships like Egypt; cult-of-personality regimes like Turkey.

When it comes to Gaza, the goal of U.S. policy is to support Israel's efforts to defang, deflate and ultimately disempower Hamas, not just for the sake of Israelis living under threat but also for Palestinians living in fear. Moderates only thrive when the shadow of terror lifts.
White House not bending to pressure from progressives to condemn Israel
President Joe Biden and the White House are showing little willingness to bend to pressure from liberal Democrats calling for more robust condemnation of Israel's actions amid the worst regional violence in years.

Speaking at the White House, Biden said he did not detect a disproportionate response to Hamas' rocket attacks from Israel, which has launched airstrikes in Gaza that have so far killed at least 87 people, including 18 children and eight women, according to the Gaza-based Palestinian Health Ministry.

Later, press secretary Jen Psaki declined to say whether Biden pressed Israeli Prime Minister Benjamin Netanyahu on the growing Palestinian civilian death toll in a telephone conversation on Wednesday.

"In our view, attacks from Hamas into civilian neighborhoods is not self defense, so he certainly reiterated that, but also reiterated the need to move to de-escalate the situation on the ground," she said.

Behind the scenes, officials have been more forceful with their Israeli counterparts, including urging against evicting Palestinians from their homes in East Jerusalem, according to officials familiar with the matter. And a readout of Biden's phone call with Netanyahu said he "shared his conviction that Jerusalem, a city of such importance to people of faith from around the world, must be a place of peace."

But in his public statements on the crisis, Biden has hewed toward staunch support for Israel, despite calls from within his own party to adopt a tougher stance.

"One of the things that I have seen, thus far, is that there has not been a significant overreaction. The question is, how we get to a point where -- they get to a point where there is a significant reduction in the attacks, particularly the rocket attacks that are indiscriminately fired into population centers," Biden said at the White House when asked whether Netanyahu is doing enough to stop violence from escalating.
Unreported: IDF Values Life as Hamas Aims to Maximize Casualties
After hundreds of rockets from the Gaza Strip targeted central Israel on Tuesday night, killing three more Israeli civilians, IDF airstrikes overnight destroyed military positions belonging to the Hamas and Palestinian Islamic Jihad terrorist groups. According to the IDF, several senior terror operatives were killed in the retaliatory attacks. In some cases, the Israeli Air Force must contend with Hamas' well-known strategy of militarizing residential areas by striking, for example, a house that was allegedly used as a weapons depot.

The world's leading news organizations have repeatedly and uncritically cited the Hamas-run Gaza Health Ministry when it accuses Israel of "targeted attacks against civilians." Experts, however, have cast doubt on these claims. Hamas has issued guidelines calling on Palestinians to always describe casualties as "innocent civilians," even when they are terrorists. Moreover, roughly a third of the projectiles fired from Gaza landed inside the densely populated enclave, feeding suspicions that at least some of the civilian casualties were actually victims of Hamas rockets.

Several journalists were eager to blame Israel for the deaths of civilians. In some cases, they resorted to blatant lies to prove their point. For example, Bel Trew — Middle East correspondent for The Independent — on Tuesday said that in Gaza, "families don't have warnings" against incoming airstrikes. That same day, her lie was refuted on Al Jazeera. In a news segment, a reporter for the Qatar-based news agency acknowledged that Israel gave advance warning before hitting a target: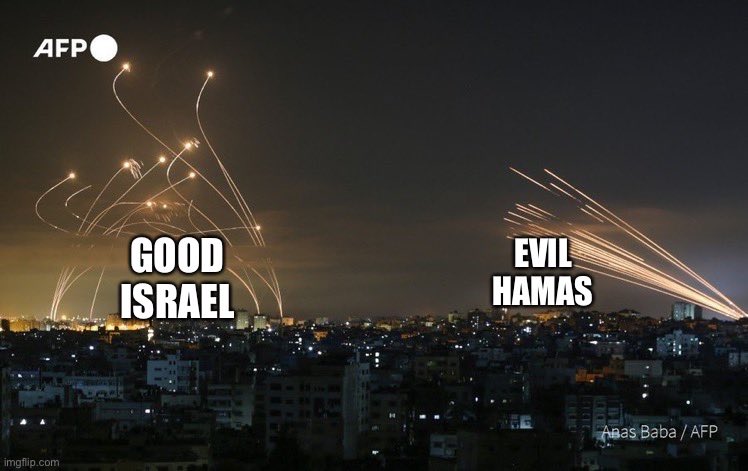 DISGUSTING: Leftists COVER For Terrorist Group Hamas
Darren Grimes: Media & UN Anti-Israel BIAS Inflames Tensions
Joseph Cohen of the Israel Advocacy Movement offers his take on what is happening in Israel today, as well as answering some of the criticisms made by the United Nations and mainstream media outlets.
Mahmoud Abbas: The biggest loser in Israel-Gaza escalation - analysis
Moreover, Abbas and the PA are not directly involved in the Egyptian, Qatari and UN efforts to end the fighting. Instead, Hamas leaders in Qatar and Lebanon are said to be in contact with Arab and Western mediators on the possibility of reaching another truce agreement with Israel.

Aware of Hamas's growing popularity among the Palestinians, Abbas does not even dare call on the terrorist group to stop firing rockets at Israel. In the past, Abbas used to mock Hamas's homemade rockets, dubbing them "futile" and "harmful" to the Palestinians, especially those living in the Gaza Strip.

He is now directing his criticism only toward Israel with the hope of scoring points in the Palestinian street. But this attempt to win the hearts and minds of the Palestinians has so far proven unsuccessful.

The Palestinians are angry with Abbas because of his decision to call off the elections and his failure to assist the Palestinians in Jerusalem and in the Gaza Strip. They are also upset with him because of the continued security coordination in the West Bank between the Palestinian security forces and Israel.

The conflict between Israel and Hamas may have diverted attention from Abbas's decision to postpone the elections, but it has also shown that he is no longer a relevant player in the Palestinian arena, particularly with regard to what happens in Gaza.

All Abbas can do now is hope that the violence does not spread to the PA-controlled areas of the West Bank. His biggest fear is that Hamas and other Palestinian factions will use the violence to undermine his rule and remove him from power. This is why he has instructed Palestinian security forces to do their utmost to prevent pro-Hamas demonstrations from taking place in the West Bank.

Hamas may suffer severe military blows in the current fighting with Israel, but there is no underestimating the political achievements it has already gained among Palestinians and other Arabs by showering Israel with hundreds of rockets.

When the current round of fighting ends, Hamas will emerge as the biggest winner and "defender" of the Palestinians and all Arabs and Muslims. Abbas, on the other hand, will again appear as the biggest loser, a "traitor" and a "failed" leader.
In rocket war 'for Al-Aqsa,' Hamas has already won the Palestinian leadership
'Hostages of Hamas'
The social media discourse among Arab Israelis, some of it conducted in Hebrew, is full of calls to reject this new pressure from Hamas. Police officers clash with Arab Israeli rioters in Ramle in central Israel, on May 10, 2021.(Yossi Aloni/Flash90)

"To my brothers, the Arabs of this land, we all know where we come from and who we are. It's a vast distance from there to turning ourselves into hostages of Hamas," pleaded one man. "I refuse to do that. Our grievances are just. Our rights are inalienable. But we're also citizens of this state. What Hamas is doing is a war crime; what's happening in Lod, Acre and other places is a crime against the country. Enough!"

"We're Arab Israeli citizens and we must not become the playthings of Hamas or be dragged to the chaos that the extremists in our midst are trying to lead us to," said Yoseph Haddad, an Arab Israeli coexistence activist and IDF veteran.

The sense that the Hamas narrative is making inroads this week into the Arab Israeli consciousness is palpable in the community. As in Jerusalem and the West Bank, here, too, Al-Aqsa is key. It is hard to rally around coexistence and integration, say many, when the clashes at Al-Aqsa overwhelm the senses.

As one Arab Israeli commentator put it, "The Palestinian nation is the most divided nation on Earth: Rival political movements, religious and secular streams that can't stand one another, different territories and countries, rural and urban, Bedouin and peasants, diverse dialects and accents, and a clannish and tribal social structure. And then Israel comes along and strikes at the one thing that unifies them all: The Al-Aqsa Mosque."

The Israeli-Palestinian conflict is entering a new era. Fatah, still nominally in charge of a decrepit PA in Ramallah, has lost any influence it once had over the Palestinian agenda. Hamas, despite Gaza's woes and regardless of the blows it sustains in the coming days or weeks, is now securely in the driver's seat. And for the first time in a generation, Israel's Arab citizens are on the front lines.
IDF deception leads to massive aerial assault on Hamas's 'Metro'
At midnight, the IDF Spokesperson's English department tweeted that "IDF air and ground troops are currently attacking in the Gaza Strip." The foreign media jumped at the tweet, interpreting it to mean that Israel was sending ground forces into Gaza, a major escalation in the current operation and a sign that it was far from over.

Websites of media outlets around the world, including the Washington Post and ABC, reported the incursion. "Israeli troops have entered the Gaza Strip as conflict with Palestinians escalates, Israeli military says," was the tweet put out by the Washington Post.

The problem was that there was no ground invasion. Yes, the IDF had deployed troops along the border but they did not cross into Gaza. What did happen was in the air where 160 aircraft had assembled for a massive bombing run over the Gaza Strip. Their target was what the IDF called Hamas's "Metro", an underground network of tunnels where Hamas stored its weapons and used to move throughout Gaza hidden from Israeli aircraft.

The "Metro" had been built in the years after the 2014 war in the Gaza Strip, also known in Israel as Operation Protective Edge. It was a network of dozens of kilometers of tunnels that crisscrossed Gaza and provided safety from Israeli aerial incursions.

According to reports, due to the deployment along the border and the news coming out in the foreign media of a ground incursion, Hamas and Islamic Jihad sent their first-line of defense into the tunnels to start taking up positions. These were the anti-tank missile teams and mortar squads meant to strike at incoming Israeli ground forces.

What these Hamas operatives did not know was that there was no ground offensive. Instead, once they were out of the tunnels, they were exposed to Israeli aircraft. Within minutes, the "Metro" attack went ahead. This led to speculation that the tweet about the ground incursion was intentional and made to get Hamas to believe it was safe to enter the tunnels.

How many Hamas and Islamic Jihad terrorists were killed in the operation? That remains to be seen. IDF Spokesperson Brig.-Gen. Hidai Zilberman said on Friday morning that the military was still evaluating the consequences of the operation.
The target: The Hamas 'Metro' tunnel system in Gaza.

The operation: 160 aircraft, tanks, artillery and infantry units along the border.

We struck 150 targets and damaged many kilometers of the Hamas 'Metro' network. pic.twitter.com/otn7JKxB9c

— Israel Defense Forces (@IDF) May 14, 2021
I don't understand how journos screwed this one up. There's a fence. You're physically right there looking at it. Either tanks crashed through the fence and now there are big holes where parts of the fence used to be, or the fence is still there. How do they think this happens? https://t.co/yxZn6AZM9F

— Omri Ceren (@omriceren) May 14, 2021
May 14, 2021
Israel's Envoy to the UN Calls on Secretary-General to Condemn 'Double War Crime' of Hamas Rocket Attacks
Israel's Ambassador to the United States and United Nations called on Thursday for UN Secretary-General Antonio Guterres and President of the UN Security Council Zhang Jun to condemn Hamas' ongoing rocket attacks on Israeli civilians and support Israel's right to self-defense.

In an official letter, Ambassador Gilad Erdan noted the causalities Israel has suffered from the rocket attacks, and said, "The indiscriminate rocket fire constitutes a double war crime: targeting Israel's civilian population and launching the rockets from within Gaza's civilian neighborhoods and institutions."

"Hamas purposely places its terror facilities in the heart of the civilian population, including within multi-story buildings, cynically using the local Palestinian population as human shields," he asserted.

Addressing the flashpoint issue of the Temple Mount, which partly triggered the current conflict, Erdan said, "Hamas is presenting itself as the 'defender of Jerusalem and the holy sites.' This is, of course, a lie. It is clear that Hamas premeditated this escalation in violence and terrorism and is happy to pay the price of casualties on both sides in order to strengthen itself politically."

He emphasized that the "status quo" on the Temple Mount "has not and will not change."

Erdan also pointed to the Fatah-run Palestinian Authority as a responsible party, saying, "This latest round of escalation, which has caused great suffering to countless innocent civilians, is a direct consequence of an ongoing incitement campaign by the Palestinians, directed by the upper echelons of the Palestinian Authority."
The Biden administration needs to act today to ensure that Israel has an adequate supply of Iron Dome missiles. pic.twitter.com/PdDkpIFhFj

— Ted Cruz (@tedcruz) May 13, 2021
A Hamas terror squad was about to launch more rockets from Gaza into Israel.

We stopped them before they could. pic.twitter.com/d7TRrS4yxz

— Israel Defense Forces (@IDF) May 14, 2021
This Palestinian photographer in Gaza has complete confidence in the trustworthiness of the Israeli Air Force, which announced its target in advance, allowing the building to be evacuated. He, whose life depends on it, trusts Israel's statements more than does the Western media. pic.twitter.com/oXiv9sxtvO

— Mike (@Doranimated) May 14, 2021
IDF publishes footage of an attack on a Hamas naval compound. #Gaza #Israel pic.twitter.com/cMOn1DGmEh

— Joe Truzman (@Jtruzmah) May 14, 2021
Failed Hamas Rockets Falling Short in Gaza Killed 17 Civilians in Monday Incidents Before IDF Airstrikes, Says Security Official
Rockets fired by Hamas at Israel that fell short within the Gaza Strip killed 17 residents in the hours preceding Israel Defense Forces (IDF) operations on Monday, according to an Israeli security official, as the IDF reiterated that errant missiles launched by the terrorist group continued to kill Palestinian civilians during the current hostilities.

The volleys of over 1,750 missiles fired into Israeli territory by Palestinian terrorist groups since fighting began Monday has included at least 300 errant rockets — falling short within the Gaza Strip and causing casualties that Hamas officials have blamed on Israel, according to the IDF.

The rocket barrage began by Hamas firing missiles towards Jerusalem on Monday, after a 6 p.m. "ultimatum" elapsed which had called for Israel to withdraw security forces from the Temple Mount and release Palestinian prisoners. An Israeli security official said that the deaths of 17 civilians in Gaza on Monday were caused by failed Hamas rockets — before Israel commenced retaliatory airstrikes against the terrorist group. The official cited international human rights organizations in Gaza, which published reports of the civilians' deaths.

On Thursday, the IDF published a video of a misfired Hamas rocket that fell back into Gaza, noting that "this isn't the 1st time — Hamas misfired 350 rockets in the last 3 days. These rockets result in the deaths of innocent Gazan civilians."
WATCH as a Hamas rocket aimed at Israel misfires and falls back into Gaza.

But this isn't the 1st time—Hamas misfired 350 rockets in the last 3 days.

These rockets result in the deaths of innocent Gazan civilians.

It's time for the world to hold Hamas accountable. pic.twitter.com/vmhmXTZrl6

— Israel Defense Forces (@IDF) May 13, 2021
Cheers as rockets are fired from the #Gaza Strip towards #Israel. pic.twitter.com/BsR2JdnuUP

— Joe Truzman (@Jtruzmah) May 13, 2021
Seth Frantzman:
Iran's hand seen in Hamas drone threat against Israel - analysis
Israel has increasingly had to deal with drone threats by Hamas, and said on Thursday that it downed a UAV that crossed from the Gaza Strip into Israeli territory. The new drone threat has also been showcased by Hamas in a video circulated online that shows the Palestinian terror group with several medium-size drones in Gaza. Hamas says its new drones are called "Shehab."

Drone Experts such as Nick Waters and others have pointed out the close connection between the Hamas "Shehab" and the Iranian Ababil.

The IDF has released video of the drone flying and being shot down. These drones appear to be based on Iranian Ababil drones, models of which have been exported to the Houthis in Yemen, and which the Houthis built and used against Saudi Arabia. The US has warned for years about the Iranian drone threat, including putting Iran drones on display in Washington.

The IDF said on Wednesday that it "struck a squad of terrorists operating explosive UAV launchers belonging to the Hamas terrorist organization in the Gaza Strip. The squad was struck while they were preparing to launch the UAV into Israeli territory."
Press TV, an Iranian channel, broadcast a clip of Hamas fighters in tunnels preparing to attack Israel. Iran is Hamas's patron and is behind this round of violence. pic.twitter.com/K4HZw5X5ms

— Mike (@Doranimated) May 14, 2021
??Red Alert in #Israel??#???_????
17:57 Local / 14:57Z
Lakiya and the Bedouin Diaspora, Lehavim, Idan HaNegev Industrial Zone, Rahat and the Bedouin Diaspora pic.twitter.com/1y9Dwo48xa

— Aleph ? ?? (@no_itsmyturn) May 13, 2021
Soldier viciously beaten in Jaffa, synagogue burned in Lod, as rioting deepens
Fresh violence erupted Thursday evening in several Jewish-Arab cities, a night after some of the worst internal unrest in years, as intense fighting also continued between Israel and Palestinian terror groups in the Gaza Strip.

Two civilians and a policeman were reported to have been shot by Arab assailants in Lod and Ramle.

In Jaffa, a 19-year-old soldier was in serious condition after being beaten, and was suffering from a skull fracture and a cerebral hemorrhage, Ichilov Medical Center in Tel Aviv said, after he drove himself there.

In Lod, a central city with Jewish and Arab populations that has become an epicenter of the ethnic violence gripping the country, a Jewish paramedic was lightly wounded after being shot. Reports later said a second Jewish man was shot in the city, after an overnight curfew took effect at 8 p.m. for a second night in a row.

Arab rioters also torched a synagogue, the fifth in the city to be set alight in the recent violence, according to Channel 12 news.

Kan news posted video from the city of what it said were armed citizens accompanying officers to the site of clashes.

Along with the curfew, which ends at 3 a.m., police began barring non-residents of Lod from entering the city as of 5 p.m.
This isn't Nazi Germany 1939 but rather a synagogue in Israel (Lod) that has been vandalized and set on fire by its Israeli Arab residents who continue to riot and destroy the normally calm town. pic.twitter.com/Xz3oQiialT

— StopAntisemitism.org (@StopAntisemites) May 14, 2021
Jamal Amara, an Arab man, saved Reuven Nehorai from an attempted lynch by an Arab mob in Amara's village. https://t.co/YLHyKeyQYg

— Lahav Harkov (@LahavHarkov) May 13, 2021
Patients at an Israeli hospital, including babies and the elderly, are stuck in the facility basement tonight thanks to the endless Hamas terror rockets coming out of Gaza. pic.twitter.com/Z6mUAyIp0z

— StopAntisemitism.org (@StopAntisemites) May 14, 2021
Loading S-40 Hamas rocket into a buried launcher. Note more launchers on the right side of the picture pic.twitter.com/890bnxeKej

— Tal Inbar (@inbarspace) May 14, 2021
Reports from #Jordan that groups protesting the Gaza conflict are attempting to enter #Israel. It's unclear if they have. pic.twitter.com/JWHSzl4Y1H

— Joe Truzman (@Jtruzmah) May 14, 2021
#BREAKING: Dozens of Lebanese broke through the fence with Israel - and broke into Israeli territory pic.twitter.com/U03Kz2vSWR

— Amichai Stein (@AmichaiStein1) May 14, 2021
The US pours billions of dollars into Iran-controlled Lebanon, including for the Lebanese Armed Forces. The justification for that assistance is so the LAF can exert control over the Lebanese border.

I'm not sure that money is being well-spent. https://t.co/4YjB1xpHQD

— Omri Ceren (@omriceren) May 14, 2021
GLOBAL ALERT: Al-Qaeda media outlet calls on all capable Muslims to attack Israeli and Jewish attacking embassies, assets and civilians.

PLEASE maintain increased vigilance in the vicinity of Israeli and Jewish-identified areas including religious sites and companies. pic.twitter.com/dRXxwInc1a

— StopAntisemitism.org (@StopAntisemites) May 13, 2021
Italian politician under fire for supporting Israel
The head of Italy's right-wing Northern League party, Matteo Salvini, has sparked anger with a tweet he posted in solidarity with Israel as the Jewish state comes under attack from seemingly endless rocket salvos from the Gaza Strip. Death threats have also been made against Salvini, who until recently served as the European nation's deputy prime minister and interior minister.

In the tweet, posted to Twitter after he addressed a rally in support of Israel in Rome, Wednesday, the Northern League leader said, "I expect a clear stance from the Italian government, for them to have the courage to say that Hamas and Islamic Jihad are TERRORISTS: they do not want peace but destruction. #IsraelUnderAttack."

Those making the threats against Salvini are members of Italy's political Left as well as Arab and Muslim immigrants in the country.

In an interview with Israel Hayom, Salvini, whose party is now leading in Italian opinion polls, reasserted his total support for Israel and its right to self-defense.

"I had the opportunity to recognize and appreciate the Israeli people: a generous, supportive, welcoming, and industrious people. I express my support for the children, families, older people, and soldiers under threat for years from missiles, attacks, and Islamic violence. I hope the Palestinian refusal to recognize the legitimacy of the Jewish state will come to an end"
Thank you Chancellor @sebastiankurz and the people of Austria for standing with Israel ???????? https://t.co/hod1rxb1Lm

— Benjamin Netanyahu (@netanyahu) May 14, 2021
Wow: the Israeli flag is raised at Prague Castle at the direction of Czech President Zeman in solidarity with the people of Israel as they endure Hamas rocket fire.

Thank you, Mr. President! ???????? pic.twitter.com/fPTLkKGoOm

— Avi Mayer (@AviMayer) May 14, 2021
#Israel truly has some incredible friends and support in Europe. Here are Austria, Germany, Czech Republic and Hungary, showing their solidarity, as #IsraelUnderFire.

🇮🇱 🇦🇹 🇩🇪 🇨🇿 🇭🇺 🇮🇱 pic.twitter.com/nXkLUIRgie

— Arsen Ostrovsky (@Ostrov_A) May 14, 2021
Israeli Flag Hoisted over German City Hall Is Taken and Burned
An Israeli flag hoisted in the city of Solingen was set on fire on Thursday as a wave of antisemitic attacks in Germany is taking place against a backdrop of ongoing conflict in Israel.

The city, located in North-Rhine Westphalia, hoisted the Israeli flag at city hall in commemoration of diplomatic relations being established between West Germany and Israel on the 12th of May, 1965.

The flag had only been outside of the city hall for little over a day when an unknown suspect set it on fire, German tabloid Bild reports.

Tim Kurzbach, a member of the Social Democrats (SPD) and the current mayor of Solingen, called the burning of the flag a "disgraceful act" and told the newspaper: "Anyone who thinks that he can shake our solidarity by burning a flag is mistaken."

"We are resolutely opposed to the hatred of Jewish people, which is becoming increasingly apparent at the moment," he added.

Police say they are investigating the incident, but so far, no arrests have been made.
I took to the House Floor today to speak out in support of our ally Israel, and its right to defend itself from rockets fired by the terrorist group Hamas.

Our commitment to our ally Israel's security is, and will remain, ironclad.

Watch here: pic.twitter.com/JhquEujcBB

— Rep Josh Gottheimer (@RepJoshG) May 13, 2021
I just introduced a resolution condemning the acts of terrorism by Hamas against the State of #Israel.

Each Member of Congress now has a decision to make. Either you #StandWithIsrael or you stand with the terrorists. pic.twitter.com/fDdUN4ZzQD

— Congressman Carlos A. Gimenez (@RepCarlos) May 13, 2021
There is no equivalence between terrorists raining down rockets on civilians and a legitimate, democratic Government defending itself.

My question in the Lords earlier today pic.twitter.com/LauGnaFPfL

— Ian Austin (@LordIanAustin) May 13, 2021
FANTASTIC @RepElaineLuria!#AmIsraelChai #IsraelUnderAttack https://t.co/7fEZ8X3cJD

— StopAntisemitism.org (@StopAntisemites) May 14, 2021
As the only Jewish religious refugee in the New York State Legislature, I feel it is my duty to speak out in support of Israel.

Read my full statement ?? pic.twitter.com/7ANrOIrddA

— Senator Anna M. Kaplan (@AnnaMKaplan) May 14, 2021
Heute wurde als Zeichen der Solidarität mit #Israel die israelische Flagge am Dach des Bundeskanzleramtes gehisst. Die terroristischen Angriffe auf Israel sind auf das Schärfste zu verurteilen! Gemeinsam stehen wir an der Seite Israels. pic.twitter.com/FR42K3iA4z

— Sebastian Kurz (@sebastiankurz) May 14, 2021
Israeli Soccer Stars Form Defensive Wall on Social Media as Pro-Palestinian Players Launch PR Offensive
Israeli soccer players competing in Europe's elite leagues have leapt to the defense of their country, as some of the continent's top players issued messages of solidarity with the Palestinians.

On Wednesday, several of Europe's top Muslim players — including Riyad Mahrez of Manchester City, Paul Pogba of Manchester United and Miralem Pjanic of Barcelona — urged their followers to "pray for Palestine." Liverpool striker Sadio Mane published a photo on his Instagram feed showing the Temple Mount in Jerusalem with the slogan "Free Palestine" and a Palestinian flag, with a comment that said simply, "heartbreaking."

In Turkey, senior players at Istanbul club Fenerbahce wore shirts reading "Free Palestine!" with the Turkish and Palestinian flags entwined as they warmed up before a match.

Their Israeli colleagues were quick to respond, however.

On Wednesday, Manor Solomon — a forward for Ukrainian side Shakhtar Donetsk widely viewed as Israel's most promising soccer export — shared a post from a pro-Israel advocacy group that displayed an Israeli flag alongside the pledge, "I support Israel's right to defend itself." A similar post was shared by Shon Weissman, the highly regarded forward with both Real Valladolid in Spain and the Israeli national team, which pointed out that Israel had been targeted by more than 150 rockets on the same day.
Former NFL Player Julian Edelman Releases Statement About Israel-Palestinian Violence
Recently retired NFL player Julian Edelman spoke out on Wednesday against the ongoing violence in the Middle East between Israel and the Palestinians, which has resulted in casualties on both sides of the conflict.

The former New England Patriots wide receiver, who is Jewish, called the situation "complex" and ultimately urged a peaceful resolution.

"My heart is broken for the Israeli and Palestinian people," he said in a statement that he shared on his various social media accounts. "Over the past few days, I've been asked to say something. I'm a proud Jew and a lover of Israel, but this is a complex issue, and somewhat beyond my ability to speak confidently about. So I'll just say this: People are not their governments. Israelis and Palestinians are both warm and loving people, deserving of a safe prosperous existence.

"I can't help but think of this picture. It was taken in Tel-Aviv a few years ago with my Israeli and Arab friends when we ate way too many Sambusak (cheese pastry). That night, we used the word 'Yalla' a lot, which means 'let's go' in both Hebrew and Arabic. We are often more alike than we think."
The Squad Is Rooting for Hamas
Israelis aren't dying in numbers that satisfy Omar's sense of fairness — as if there is any moral equivalence between the actions of a genocidal theocratic terror group that targets civilians and a state that does all it can to protect its civilians. Of course, we don't know how many Palestinian children have really died because Hamas lies and because around 30 percent of their Qassam rockets land on their own people. Iran's proxy, moreover, wants its people to die martyrs. They know that useful idiots in the west will use their tragic deaths in public-relations efforts.

In reality, Israel shows a preternatural restraint in these situations. Its responses are tactical, aimed at diffusing threats, not at punishing children. If Israel wanted to see suffering, they could instantly shut down electric power and clean water in Gaza long term. And if Israel relied on a disproportionate use of force, as its critics claim, Gaza City would be a prosperous Jewish resort town by now.

One can be critical of Israel, just as they can be critical of Germany or Brazil. Israel is an imperfect democratic state, after all. Yet, those who want to deny the Jewish people their homeland, or the ability to defend themselves, are, functionally speaking, peddling the most virulent strain of anti-Semitism. And the fact is that Tlaib wants what Hamas wants: an Arab state from the river to sea.

When Tlaib says "Nakba" — or, catastrophe — she isn't talking about '67 armistice lines, she is talking about the creation of Israel in 1948. She believes "Palestine" should replace Israel on the map. And before the Corbynization of the Democratic Party, this position would have generated widespread condemnation. Today, Hamas has a booster club in one of our political parties, and no major Democrat dares criticize it.
Muslim Brotherhood Praises Dems for Abandoning Israel in Time of War
The Muslim Brotherhood's official online mouthpiece offered praise this week to Democratic members of Congress who are publicly criticizing Israel as it defends itself against an onslaught of terrorist rockets.

"Democratic representatives demand the protection of Palestinians from Zionist attacks," reads a headline in Ikhwan Online, the Brotherhood's official propaganda site. The jihadist extremist group, which is designated as a terror outfit in multiple countries, highlighted critical remarks about Israel's defensive operations made by outspoken opponents of the Jewish state—Reps. Ilhan Omar (D., Minn.), Rashida Tlaib (D., Mich.), Alexandria Ocasio-Cortez (D., N.Y.), Andre Carson (D., Ind.), Debbie Dingell (D., Mich.), Mark Pocan (D., Wis.), and Cori Bush (D., Mo.), as well as Sen. Bernie Sanders (I., Vt.).

"A large number from the American Democratic Party urged their government to try stopping the violence of the occupation forces against the Palestinians in Jerusalem and the West Bank," the Arabic language article states, highlighting the support these liberal American lawmakers have among anti-Israel extremist groups in the region. The article was independently translated for the Washington Free Beacon.

All of the lawmakers mentioned above are widely known for their anti-Israel views and supporting a range of organizations that seek to boycott the Jewish state and promote anti-Semitic slurs about the country. Their criticism follows Israeli airstrikes directed at terrorist groups operating in the Gaza Strip. These groups, including Hamas, bombarded the country with more than 1,000 missiles in just more than two days. Israel says it will continue to conduct defensive operations until Hamas and other Palestinian terror groups that are funded by Iran stop their attacks.

Omar, Tlaib, and Pocan, who are among the most outspoken anti-Israel members of Congress, harshly criticized Israel for protecting its citizens from missile attacks.
Sen. Ted Cruz responds to The Squad's comments about Israel: "AOC and Rashida Tlaib and Ilhan Omar who are tweeting things that are frankly indistinguishable from what they have would be saying if they were actually the press secretaries for Hamas." pic.twitter.com/9RiZYFuUxz

— Steve Guest (@SteveGuest) May 13, 2021
Tlaib and Omar tried to go on a trip sponsored by an org that claims Jews consume Christian blood. This *fact* has been known for years now. Will reporters covering finally note it? @mikedebonis @NiallStanage @Rho_Co https://t.co/cUNRDwnBrn https://t.co/wxWO2EvBeX

— Sean Durns (@SeanDurns) May 14, 2021
This is just crazy. Jihadists who believe the Jews are occupiers in their own land are firing rockets at Jewish babies, and @CoriBush gets up and says this hate propaganda? To believe that the worlds problems are interconnected and the Jews are responsible is not unfamiliar. https://t.co/mLpTeyALge

— The Conspiracy Libel (@ConspiracyLibel) May 14, 2021
Anti-Israel Congressman You Never Heard Of Whines About Why No One Is Attacking Him On Social Media
It's never a good idea for an elected official to reveal themselves as a Useful Idiot, especially when it comes to their country and/or its allies defending themselves from terrorist attacks.

That's exactly what happened earlier this week when a Wisconsin Democratic congressman defended Rep. Ilhan Omar by insinuating that criticism of her anti-Semitic stance on Israel defending itself against Hamas attacks was based on racism.

Rep. Mark Pocan has spent the last several days doing what appears to be auditioning for an honorary spot on the Squad by either tweeting or retweeting one attack after another on Israel for having the nerve to respond accordingly to rockets launched against them by Hamas.

On Tuesday, Pocan alleged there was something else behind the right's criticisms of Omar beyond their disgust over her predictable displays of anti-Semitism masquerading as "concerns" over supposed "human rights abuses" against the Palestinians. In Pocan's view, the right's bigger issue with Omar is that she's Somali-American:

Omar, of course, amplified his tweet and also retweeted a biased Nation piece that referenced his insinuation that racism was the primary motivation for the right's disagreements with her:

Pocan's suggestion backfired spectacularly when Omar's critics pointed out they didn't give him equal treatment because no one knows him:
In the 19th century, national movements began viewing the newly emancipated Jews as an international and nefarious power.

This was described by adherents at the time as "antisemitism".

Today, progressive racists are doing the same thing, but to Israel. It will only get worse. https://t.co/rGfQliCmWy

— The Conspiracy Libel (@ConspiracyLibel) May 14, 2021
Pro Palestinian groups are thugs who love nothing more than attacking Jews and Jewish property. They use these movements as a vehicle for their Jew hate. Part 2. New York. https://t.co/ejFi4OZzLl

— Judean ??? Junglist #KroenkeOut (@MeshugaNinja) May 13, 2021
Here's Ewa, Corbyn's "very good friend" who desecrated the Warsaw Ghetto with anti-Israel graffiti, retweeting a quote from a PFLP terrorist. Kanafani was PFLP spokesperson during the Lod Airport massacre that killed 26 innocent civilians and wounded 80. That was his 'cause'. pic.twitter.com/wwHQ4OlRLa

— Lord Matzo the Unleavened, Int'l Zionist Clown (@MatzoBalling) May 13, 2021
Phara Souffrant Forrest (@phara4assembly) Wants to wipe @Israel off the map.
Her district borders Crown Heights.
Is it any wonder Jews routinely get assaulted in Brooklyn?
Anti-Israel not Antisemitic?
(her website: https://t.co/TV9odNc704)
CC: @AIPAC pic.twitter.com/I0ERliK9hR

— Marc Leibowitz (@Marc_Leibowitz) May 13, 2021
Virginia School Board Member Makes Anti-Israel Social Media Posts
A Fairfax County school board member referred to Israel as an "apartheid" state that "kills Palestinians" in two social media posts Thursday morning.

In posts celebrating the end of Ramadan, Fairfax County School Board member-at-large Abrar Omeish wrote that Israel is a colonizing state that "desecrates the Holy Land." Omeish posted the same message on her public Facebook and Twitter accounts, which she uses both in her private capacity and as a district official.

"Hurts my heart to celebrate while Israel kills Palestinians & desecrates the Holy Land right now," Omeish said in the posts. "Apartheid & colonization were wrong yesterday and will be today, here and there. May justice + truth prevail."

Fairfax County Public Schools have come under fire for allegations of anti-Semitism in recent years. Jewish parents have publicly criticized the district's treatment of religious minorities, and superintendent Scott Brabrand was forced to apologize in 2019 after a teacher displayed a student art project that depicted anti-Semitic stereotypes.

Omeish's anti-Israel posts follow nearly a week of deadly conflict between Israel and Palestinian militants and Hamas terrorists in the Gaza Strip. While Gaza-based terrorists have killed seven people in Israel as of this writing, supporters of Palestine like Omeish have only condemned Israel's counterstrikes, which have so far killed more than a dozen terrorists.
Meena Harris Strikes Again
Vice President Kamala Harris's most controversial family member continues to post her thoughts on social media. Meena Harris, who makes money selling woke children's books and Dr. Anthony Fauci coffee mugs for $52 a pop, weighed in on the Israeli-Palestinian conflict, equating the Palestinian cause with that of LGBT and women's rights advocates.

"One cannot advocate for racial equality, LGBT & women's rights, condemn corrupt & abusive regimes and other injustices yet choose to ignore the Palestinian oppression," Meena Harris wrote in an Instagram post. "If you are neutral in situations of injustice, you have chosen the side of the oppressor."

A Washington Free Beacon analysis, however, was unable to find instances of Harris expressing solidarity with women and LGBT individuals residing in the Palestinian territories, where human rights groups have documented widespread abuse and discrimination.

According to Amnesty International, women in the West Bank and Gaza routinely face "discrimination and violence, including killings as a result of gender-based violence," which was responsible for at least 37 deaths in 2020. Members of the LGBT community are "denied the freedom to exercise their rights," particularly in Gaza, where the penal code "criminalizes consensual same-sex sexual activity and makes it punishable by up to 10 years' imprisonment."
Pro-Wrestler Slanders Israel and Supports Terror; WWE, NBC, Fox Refuse to Respond
Rami Sebei, an entertainer who performs under the name "Sami Zayn" for World Wrestling Entertainment (WWE), headquartered in Connecticut, has taken to the Internet to condemn Israel, falsely accusing the Jewish state of ethnically cleansing Arabs living in Jerusalem, and seemingly supporting rocket attacks and violence against innocent Israeli civilians.

In a Tweet posted on Sunday, May 9, 2021, Sebei declared, "There is no viable moral defense for stealing people's homes based on their ethnicity." He then invoked the "SaveSheikhJarrah" hashtag to tell his 1.2 million Twitter followers that he was talking about Israel.

The defamatory Tweet has been retweeted more than 1,200 times and has received more than 5,600 likes on the social network, which has become synonymous with anti-Israel incitement and Jew-baiting in recent years.
I'm just here to say sorry to all of those actually experiencing settler colonialism and ethnic cleansing that your enemy isn't the Jews and that the world couldn't give a shit about you. I truly feel that the world's oppressed are victims of this virulent antisemitism https://t.co/ivlZ5zyATF

— Shoshanna Keats Jaskoll (@skjask) May 14, 2021
PreOccupiedTerritory:
International Community Urges Restraint By Britain Amid Blitz (satire)
As German bombs rained down on London and other British cities, diplomats, government officials, and human rights activists encouraged Prime Minister Winston Churchill and the British military to respond only in a measured way and not, as they fear, in a manner that could be construed as disproportionate.

Luftwaffe aerial assaults on the United Kingdom last night dropped hundreds of bombs in and around the British capital and other industrial centers. Fears of escalation prompted UN mediator Nickolay Mladenov and numerous other international figures to preach restraint, both by tweets and in official statements.

"I urge all sides to exercise restraint and to deescalate," stated Mladenov. "The violence harms innocents and serves no one's interests. I call on both parties to the conflict to reach a cease-fire and from there, work to reduce tensions."

Human Rights Watch Director Ken Roth went further. "Britain's brutal blockade of the German coast is the root of this conflict," he declared. "It is inhumane. It causes untold suffering among noncombatants. The interdiction of German shipping, on the pretext of preventing war material from entering the country, has created an open-air prison in Germany. This only serves to radicalize the population and pushes a peaceful resolution and humanitarian relief farther away. Britain must lift its siege which, while technically legal under international law, is applied with a brutality for which I don't have an analogy yet because Holocaust comparisons haven't come into fashion yet."
After Removing Hamas from Terror List, EU Decides to Stop Calling Projectiles from Gaza 'Rockets' (satire)
Following its decision to remove the Islamist militant group Hamas from its list of terrorist organizations, a top court of the European Union will now meet to decide what to call the aerial projectiles launched from the Gaza Strip at Israeli cities.

While Sweden has proposed calling the projectiles, previously known as missiles or rockets, 'aeronautic modern art,' Spain has suggested they be defined as 'scrap metal donations' or 'failed satellite launches.'

"While we acknowledge that, from time to time, large pieces of metal do come flying out of Gaza and, on occasion, do land in major Israeli population centers, we believe that using military terms to define these objects is misleading and counterproductive," EU Foreign Minister Federica Mogherini told The Mideast Beast. "It implies that Hamas is some kind of a violent or malevolent organization, which we've already decided isn't true."

In addition, the EU must decide what to call the fatal shooting of suspected informants and political opponents, previously called 'executions' or 'murders.'

"We're thinking of going with 'involuntary humanitarian euthanasia,'" explained the EU foreign minister. "Israel has made life in the Gaza Strip so miserable that tying someone to a motorcycle and dragging their lifeless body through the streets is really an act of mercy."
Gaza media rules
No sooner had Palestinian "worshipers" on the Temple Mount chanted "Bomb, bomb Tel Aviv," than Hamas gladly obliged and fired hundreds of rockets at Israeli civilians. To the applause of some of Jerusalem's Palestinian residents, the Islamists' first target was the very city they claimed to defend as their supposedly holy, future capital.

With that, the Islamist terrorists ruling Gaza have turned local street protests into another war against Israel. It's time, therefore, to dust off this 10-point reporter's guide for how to correctly cover the Israeli-Palestinian conflict, useful both for rookies and old hacks who may need a refresher course:
1. The first order of business is for you to understand that your job isn't to report the facts. Instead, your role is more that of a bard recounting a well-known epic, a morality play really, whose basic theme is quite familiar to your audience as it has a 2,000 year-long oral and written tradition: "The Jew as a uniquely wicked being." In the modern era's updated version this means depicting Israel as a "colonialist, racist, Jewish ethnostate that apparently delights in killing Palestinian babies."
2. For this blood libel to properly stick, you must reverse chronology and causality. It cannot be stressed enough how crucial it is to always lead with the Israeli response and bury somewhere deep in the text the barrage of Palestinian rockets that preceded. Under no circumstances must the headline reflect the true course of events. The innocent reader may otherwise conclude Israel is acting in self-defence.
3. Always use intransitive verbs or the passive voice for Palestinians and the active voice for Israel. So when Palestinian terrorists try to infiltrate into Israel or fire missiles, please use such inconspicuous phrases as "Violence Broke out at the Gaza Border" respectively "Rockets Fired at Israel." Once Israel is forced to respond, make sure everybody knows exactly who is doing the action and to whom. So write something like "Israel Bombs Gaza." You don't want to assign agency to Palestinians or accidentally remove it from the Jews.
4. A special note to photo and TV journalists: Please forget all ethical standards normally guiding your war reporting. Your editors will expect a good number of crude close-ups of Palestinian casualties. You don't want to disappoint them. It's pivotal that viewers can juxtapose the gory pictures you deliver from Gaza to the sanitized or completely missing images they know from all other conflicts. Otherwise, they may actually come to believe that war is always hell and not only when Israel is involved.
Death threats against Gazan prompted Norwegian Broadcasting Corporation to remove article where he said that Israel did not seek to hit civilians
Wednesday 12 May at 10.09 AM Norwegian Broadcasting Corporation (NRK) published an interview [original link, content now removed] of a Palestinian employee to an international NGO in the Gaza Strip. The Palestinian said the Israeli bombing in Gaza on the night of Wednesday, May 12, had been "the worst he had experienced." That was NRK's title.

But the Palestinian aid worker also said that "he does not think the attacks were intended to hit civilians."

– We understand that the attack was directed against security targets. It was not aimed at civilian buildings, but the problem is that the Gaza Strip is very densely populated. So all the bombing will hit civilians, he said.

NRK published the article with name and photo of the employee.

On the morning of Thursday 13 May, MIFF – a Norwegian pro-Israel NGO of more than 11.000 members – quoted from the NRK article , using this title Palestinian in Gaza to NRK: "do not think Israel's attack was intended to hit civilians". This was indeed a more news worthy title than the one NRK used.

A little before 3 PM on Thursday 13 May, MIFF was contacted by the NGO active in Gaza:

"Hi, I'm informed that the article on your website puts our employee in direct danger of death! NN [name removed by MIFF] is threatened with death. NRK has removed the article. Requests that it be removed from [MIFF's] website and Facebook. "
Next up: a Washington Post expose on how Israeli soldiers fighting against Palestinian terrorists aren't wearing masks. pic.twitter.com/zOB0IL2Anz

— Omri Ceren (@omriceren) May 14, 2021
Shameful to raise money for UNRWA, a deeply corrupt extremist organization that perpetuates conflict and promotes anti-semitism and violence. Be better, Jesse. https://t.co/bUXZ5LZriJ

— Noah Pollak (@NoahPollak) May 13, 2021
God bless Joan Rivers RIP. Here's what she had to say about the war between Israel and Hamas on 2014! pic.twitter.com/FMQDWWCyHz

— Yair Netanyahu ???? (@YairNetanyahu) May 13, 2021