From Ian:
---
Three Reasons why a Corbyn Government would Threaten Jewish life in Britain
2. Security of Jewish Community Buildings

It is a horrifying reality that in 2019, Jewish communities across the world live in fear of violent terror attacks. The traumatic scenes outside of the Tree of Life Synagogue in Pittsburgh, or the recent attack on the Halle synagogue in Germany, are ones we fear being repeated in the UK. When a kosher shop became a target in France's wave of terror attacks in 2015, it struck a raw chord with many in Britain's Jewish community. I recall the Friday night sabbath dinner conversation — what if I had been one of those hostages? How worrying that it is only the small English Channel separating us from the wave of terror against Jewish communities in Europe? This fear only increased with the stabbings of Jews outside a synagogue in Marseille later that year and the subsequent murders in Paris of Sarah Halimi and Mireille Knoll in further antisemitic incidents.

I recently enrolled my daughter at a nursery school based at a synagogue. Upon visiting the nursery — as much as I wanted to meet the staff, see the space and learn about the daily schedule — the thing I spent the most time checking-out was the security set-up for the building. From the age of one, my daughter will be attending daycare with a guard at the front door and constant security presence. That is not the desires of an over-protective parent — it is a necessary precaution of 21st century Jewish life. In this environment, the Jewish community relies on a supportive government who understand and sympathise with these very real security threats — a government that will help overcome any administrative or regulatory hurdles to protecting Jewish community centres, schools and places of worship.

I can recall hearing this support loud and clear from successive political party leaders over the past decades, whether Labour, Conservative or Lib Dems. I have never once heard Jeremy Corbyn utter his commitment. In fact, when I searched out looking to find and consolation that Jeremy Corbyn might understand the nature of anti-Jewish terrorism, I only found the opposite. Down the road from my home is a Jewish community building named Balfour House. I recall visiting it as a teenager when taking part in a youth volunteering programme. In 1994, the building was bombed in an antisemitic incident, and one backbench MP spent the subsequent years campaigning for the release of two of the terrorist attackers. His name was Jeremy Corbyn.
CAMERA:
Jeremy Corbyn's Antisemitism Crisis A Timeline
An antisemitism crisis has engulfed the Labour Party in the UK, and party leader Jeremy Corbyn is at its center. Corbyn and his supporters insist he is entirely innocent. "He does not have an antisemitic bone in his body," one of his Labour allies has said.

Others aren't so convinced. "What is racist bone and how do you know whether another person has one?" asked renowned British author Howard Jacobson at an Intelligence Squared debate on the Labour leader's fitness to be prime minister. To left-wing author James Bloodworth, meanwhile, the problem isn't in the bones. "While I genuinely believe that Corbyn does not have an antisemitic bone in his body," Bloodworth wrote, "he does have a proclivity for sharing platforms with individuals who do; and his excuses for doing so do not stand up."

A poll in the summer of 2018 found that an overwhelming majority of British Jews, and a plurality of the general British public, believe Corbyn is antisemitic. Even Labour members who feel there is a deliberate campaign to exaggerate antisemitism charges against Corbyn and his party acknowledge that the party has a "genuine problem" with antisemitism.

While there has been some coverage in the U.S. press of the antisemitism scandal across the Atlantic, it has rarely been detailed and comprehensive — perhaps owing to the frequency of revelations about Corbyn's past associations and statements. This timeline seeks to fill in the gaps left by coverage of Corbyn's antisemitism scandal (it does not focus on antisemitic comments by other Labour members and activists, although those play a significant role in the Labour crisis).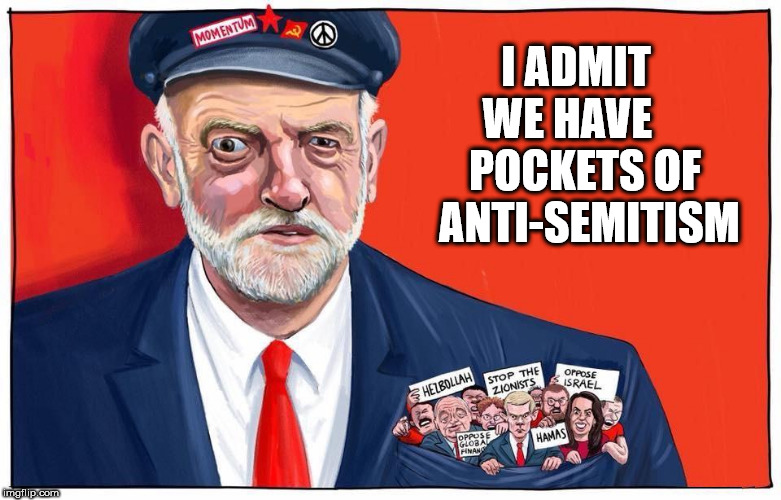 Revealed: UK Labour Party Candidate Said She Would Celebrate Deaths of Blair, Bush and Netanyahu; Slandered Pro-Israel Students
A UK Labour party candidate in the upcoming December parliamentary elections has been found to have said she would celebrate the deaths of former British Brime Minister Tony Blair, ex-US President George W. Bush and current Israeli Prime Minister Benjamin Netanyahu, and also to have slandered pro-Israel student activists.

The Jewish Chronicle reported that Zarah Sultana, who was nominated last week to contest the parliamentary seat for Coventry South, had once posted on social media that she did not agree it was wrong to "celebrate the death of any person regardless of what they did."

"Try and stop me when the likes of Blair, Netanyahu and Bush die," she wrote.

"The sooner they meet their creator the better," she added. "The concepts of justice and accountability don't truly exist in this life. Only in the next."

She also appeared to endorse terrorism, saying, "I wrote 'right to non violent resistance.' Best believe that was an error and I meant to write 'violent resistance.'"

Furthermore, Sultana libeled supporters of Israel, posting, "There will come a time in the near future where those (who) lobby for Israel feel the same shame and regret as South African apartheid supporters."

"It is not progressive to champion a state created through ethnic cleansing, sustained through occupation, apartheid and war crimes," she added.

While she was at university, Sultana attacked pro-Israel students, writing, "Those within the student movement who go to Zionist conferences and trips should be ashamed of themselves. You're advocating racist ideology."
US Jewish groups demand freedom for Jonathan Pollard
Several major American Orthodox Jewish organizations wrote pleas to US President Donald Trump to terminate Jonathan Pollard's parole so that he can care for his ill wife.

Agudath Israel of America, the Orthodox Union, and the Coalition for Jewish Values each sent their own petition to the president.

Agudath Israel Executive Vice President Rabbi David Zwiebel wrote that his organization has argued for Pollard's release for years, "and we now plead on humanitarian grounds for the commutation of his sentence and the termination of his parole."

"In order to simply accompany his wife to her doctor 's appointments and her chemotherapy sessions, which assistance she very much needs, Mr. Pollard is required by his parole conditions to give three days advance notice and submit a formal written request to leave Manhattan and go to wherever she needs to be taken. Unless he receives written permission, which is not automatic but can be denied and must be negotiated each and every time, he cannot accompany her," Rabbi Zweibel added.

Orthodox Union President Mark Bane wrote that the parole conditions preventing Pollard from leaving his home between 7 PM and 7 AM would prevent him from being able to assist his wife in the event of an emergency.
ADL's negation of Muslim Jew-hatred pandemic - sorry, it won't wash
Absent significant cognitive dissonance, anyone keeping abreast of the ongoing global jihad carnage—from Afghanistan to India to Yemen—even Germany—would not be surprised that "white supremacist" killings remain a marginal epiphenomenon. Just in the past 30 calendar days through November 2, 2019, there were (at least) 72 Islamic jihadist attacks (tabulated here) in 19 countries, during which 352 persons were killed, and 304 injured.

Perusing, or drilling down on the most recent U.S. Department of State (USDOS) "Country Reports on Terrorism 2018" (just published November 1, 2019), confirms, again, this irrefragable truth, as summarized by City Journal's Seth Barron, when he reviewed the 2017 report:

…[A]lmost all the world's extremist violence is concentrated in a handful of regions, where very few white people live

Methodical key word searches of the (11/1/19-released) 2018 USDOS 332pp. report reveal, tellingly, the following references:

83 for "jihad-jihadist"; 14 for "Communist", with another 8 for "Marxist", including the Basque ETA, often dubbed "Nationalist"; 4 for "Nationalist" itself, but this includes only the
(1) Marxist Palestinian PFLP,
(2) the Kurdish Marxist-Maoist PKK, and Marxist Turkey-based Revolutionary People's Liberation Party/Front,
(3) the jihadist spearheaded "ethno-nationalist insurgency" in southern Thailand, and
(4) so-called "regional nationalist groups" in Bosnia Herzegovina—which also includes jihadists who attempted to "travel to foreign battlefields";
5) a solitary—one—"white supremacist" reference to Sweden, in this full context—"Sweden faces 'a new normal,' with an estimated 2,000 'Islamist extremists' and 1,000 'white supremacist and leftist violent extremists' present in the country."
Jonathan Tobin:
New Israel Fund's war on Jewish life
According to the Forward, the rationale for the New Israel Fund's push to create an alternative philanthropic system can be explained by what a Philadelphia psychologist named Roy Idelson considered to be a reasonable request. He wanted his local umbrella Jewish philanthropy – the Jewish Federation of Greater Philadelphia – to allow him to use its foundation to donate money to an entity of his choice, IfNotNow.

A number of federations and many others operate foundations that allow their supporters to create so-called "donor-advised" philanthropic funds to funnel money to non-profit groups of the individual's choice. The arrangement is profitable for federations since they make money by fees earned by managing the donor's money and hopefully increasing it by wise investment decisions.

But, to its credit, the Philadelphia federation refused Idelson's request.

The reason was that giving money to IfNotNow was contrary to the interests of the community. IfNotNow is, contrary to the Forward's description of its activities, not just critical of Israeli policies but avowedly neutral about Zionism.

Idelson was outraged and now thinks that Philadelphia's federation – and others that share its policies – aren't operating a big enough tent. That's why he's supporting the New Israel Fund's new project. The NIF is seeking to create an alternative to federations by allowing donors to give money to exactly the kind of groups that mainstream philanthropies want no part of.

The NIF's Progressive Jewish Fund, which was launched late last month, will do just that. That's good news for groups like IfNotNow, which hope to reap more donations, in addition to the New Israel Fund, which will profit from such gifts.
Ocasio-Cortez apologizes for blocking ex-lawmaker Hikind on Twitter
US Rep. Alexandria Ocasio-Cortez said Monday she is sorry for blocking a former Brooklyn elected official from her Twitter account after he was critical of her.

In a statement, the Democrat said she had reconsidered her decision, as part of the settlement of a federal lawsuit that Dov Hikind had brought against her this year.

"Mr. Hikind has a First Amendment right to express his views and should not be blocked for them," she said. "In retrospect, it was wrong and improper and does not reflect the values I cherish. I sincerely apologize for blocking Mr. Hikind."

Hikind, a former New York state Assemblyman, said he was blocked from Ocasio-Cortez's extremely popular @AOC campaign account, which has 5.7 million followers, after he criticized her comments comparing border detention camps to concentration camps.

Hikind was pleased with the representative's comments. "I couldn't ask for much more at this point," he said.

He said he hoped it would be the beginning of a dialogue between himself and Ocasio-Cortez.
Today was a great victory not only for me, but for citizens and free speech everywhere!

However, the fight against antisemitism and its apologists continues and we need your help to achieve more such victories! Please do your part by visiting https://t.co/7UTMXpMF2f today pic.twitter.com/dtuIP2ClMj

— Dov Hikind (@HikindDov) November 4, 2019
Jewish group accuses NDP MPP Joel Harden of supporting Palestinian 'terrorist leader'
A Jewish advocacy group called Monday for an apology from an Ontario New Democrat who tweeted in support of a member of a terrorist group.

Joel Harden, who represents Ottawa Centre in the provincial legislature, tweeted last week about the treatment of a senior official with the Popular Front for the Liberation of Palestine, which Canada has listed as a terrorist entity.

"Saddened, sickened and disgusted by the continued abuse of Khalida Jarrar, my parliamentary colleague, by Israeli occupation forces," Harden wrote.

He urged Prime Minister Justin Trudeau to demand her immediate release.
Sut Jhally Is Not the Victim
It's kind of pathetic when a privileged college professor — who has been allowed to organize two anti-Israel rallies at a state's "flagship" university — complains of being censored and silenced by people who disagree with him and have done an effective job of pointing out factual misstatements in his attacks on Israel.

But that's exactly what Sut Jhally, chairman of the communications department at UMass Amherst, has done. In a recent email to Mondoweiss, an anti-Zionist website, Jhally complained about the efforts of the Committee for Accuracy in Middle East Reporting and Analysis (CAMERA) to hold him accountable for his incessant and counter-factual propagandizing against Israel.

In the statement published on November 1, 2019, Jhally complains that he has been "a long-standing target of CAMERA mostly as a result of the films I have been involved in." He then states: "They have filed formal complaints to the university and have written long exposes about my 'shameless propaganda.'" Jhally explains, "When I say 'they,' it is actually one sorry individual, Dexter van Zile, who has written every piece and filed every complaint."

Jhally, who has admitted publicly that he views college classrooms as a good place to promote his anti-Israel propaganda because they provide a "captive audience" of students who can be forcibly exposed to his films and then tested on them afterwards, wrote this statement after UMass Chancellor Kumble Subbaswamy condemned the BDS movement on October 21.

Subbaswamy said he would not interfere with an anti-Israel event organized by Jhally scheduled to take place on November 12, but lamented that such a one-sided event was scheduled. Jhally organized a similar event at UMass Amherst in May 2019.
Anti-BDS Maccabee Task Force to expand to 11 universities in Europe
In the past two decades, one of the most critical frontlines of pro-Israel advocacy has been the college campus. Today, a number of passionate and dedicated organizations work in this space to counter the virulent anti-Israel movement found at many universities in North America.

With this presence, some US-based pro-Israel organizations are now turning their sights on Europe in an attempt to tackle what many feel is a significantly more difficult environment for supporters of Israel.

The Maccabee Task Force has recently announced that it will expand into 11 universities in Europe in six countries.

"This year we will be on over 100 North American campuses; we are almost on all the campuses that meet of criteria of support. What we saw abroad was a significant need," said CEO David Brog, noting that MTF focuses on campuses with a "serious" BDS threat and ones that will produce "tomorrow's leaders and influencers."

Launched in 2015, the Maccabee Task Force goal is focused on combating the BDS movement by investing directly in Jewish and pro-Israel organizations, while building a broader consensus supporting Israel on campus.

After its initial foray into six campuses in 2016, the Maccabee Task Force has rapidly expanded each school year, with a current presence on 80 campuses across North America.

"We had another very good year last year. We were able to support more than 1,200 pro-Israel events on our 80 campuses," said Brog. "We were able to bring 1,500 campus leaders and influencers to Israel. That, to us, is a significant investment. Nobody else is bringing that number of campus leaders to Israel, and these are primarily non-Jews as well."
Cultural BDS: Artists Are Under Attack
The malicious demonizing of Israelis has inevitably led to a dramatic rise in antisemitism and violence against Jews everywhere. BDS exploits classic antisemitic tropes associating Israelis with theft, blood libel, and the cause of war. Brandeis University and the AMCHA Initiative studies reveal a direct correlation between BDS activities and antisemitism on US college campuses, and a 2019 poll from the Institute for Jewish Policy Research found an established link between the BDS movement and antisemitism in Great Britain.

Critics accuse President Donald Trump of exciting antisemitism on the extreme right. There is no doubt, however, that antisemitism is coming from both sides of the political spectrum, and that BDS is leading the rise on the left.

Utterly absent in BDS rhetoric is a call for artists to foster peace and reconciliation. Artists are routinely shunned for their attempts to bring both sides together or any sign of a balanced perspective.

Support for peace typically comes from entertainers who refuse to boycott the Jewish homeland. Music legend Leonard Cohen donated proceeds from a 2009 Tel Aviv concert to organizations working for peace. Ian Anderson, lead singer of the rock band Jethro Tull, donated earnings from three separate concert tours to charities including the Polyphony Foundation, which brings together Arab and Jewish children for the study and performance of classical music.

BDS has demonized Israelis and artists, fomented antisemitism, and made peace a more distant dream.

If you think BDS is a nonviolent campaign with humanistic goals, think again.
Demi Lovato, the Portland Trailblazers and you
Of all the enemies of the State of Israel, only one often harms more non-Israelis than Israelis: the boycott, divestment and sanctions movement.

The BDS movement is so ineffective at damaging the Israeli economy that it can more accurately be categorized as an anti-associated-with-Israel group, not an anti-Israel group. Every day, Israel-supporting Americans, now including singer Demi Lovato and the Portland Trailblazers basketball team, become the targets of the BDS movement's hate-filled agenda.

Lovato, a Christian with Jewish ancestry, traveled to Israel in early October, where she was baptized in the Jordan River, visited the Western Wall, met with special-needs children and toured Yad Vashem Holocaust memorial and museum. She posted pictures about these experiences to her 74 million Instagram followers.

She did not take a political position, meet with Israeli leaders or discuss regional issues. There are unconfirmed reports that she was paid approximately $150,000, partly by the Israeli Foreign Ministry, to take the trip in exchange for posting on Instagram.

For these actions, she was excoriated on social media. CodePink, a "women-led grassroots organization," claimed on Twitter that Lovato's actions were "unacceptable" and that she was "legitimizing apartheid." Lovato, whose career hinges on her likeability, rushed to apologize.
Report Shows Uptick in Anti-Israel Activity on American College Campuses
Anti-Israel activity on college campuses in the United States increased during the 2018-19 academic year, according to an Israel on Campus Coalition report that shows there was a record number of anti-Israel disruptions at pro-Israel campus events.

During the academic year, campuses on the East Coast experienced more anti-Israel events than any other region, including an increase in anti-Israel activity at Ivy League schools such as Columbia University, Brown University and Cornell University.

Harvard University experienced a rise in anti-Israel events over the past two academic years.

Overall, 28 BDS and other anti-Israel campaigns were run on college campuses—an increase of a few more over the 2017-18 academic year and a decrease of 16 over the 2014-15 academic year.

"As the BDS movement has become more established over time, anti-Israel tactics have become increasingly hostile as Israel's detractors double down on efforts to make campuses inhospitable to Jews and Zionists," according to the report.

The 2018-19 academic year consisted of the highest recorded number of anti-Israel interruptions at pro-Israel events at 23, an increase of five from the previous academic year.
A Fraternity of Silence
In the 1940s, the ADA formed a council on dental education in an attempt to improve the field. The organization hired a consultant named Harlan H. Horner, who published a report in 1940 suggesting all the ways dental schools could do better. One important step was admitting fewer Jews.

"He wrote that 36% of the dental students come from four states—New York, New Jersey, Illinois and Pennsylvania—and those students are all from the same 'immigrant background,'" Brickman said, the quotation marks audible in his tone. "In other words, they're Jewish. Maybe a few are Italian. And this is not good. We need representation of all people; if you're a dental school in Georgia you need good ol' country boys! You shouldn't have any Jews! Some of this made sense: He wanted students from everywhere. It sounds real good. But he obviously had an agenda." The ADL leaked the story to The New York Times, and the American Dental Association issued a statement saying no worries; they'd never agree to Horner's recommendations. "This was in the middle of the war, and they said Jewish boys were fighting like the other boys," Brickman said. But the Horner commission had already approached individual dental schools urging them to take action. One of the schools was Temple; when Brickman visited its archives, he said, "I found a letter the dean of the dental school wrote to the president saying that his number one accomplishment was improving the school's horrible physical plant, and number two was that four years ago, 72% of the freshman class was of the Jewish persuasion and now, only 24% were. They said it wasn't anti-Semitism or anything against the Jews, it's just that we were admitting too many students from New York state. But the number of Jews went from 72% to 24%."

Brickman went through old yearbooks from dozens of dental schools to see how Jewish student populations changed in the wake of the Horner commission. "I looked at names and fraternities," he said. "And if it was a name that you couldn't really tell, but he was married to Sadie Goldberg, I knew a boy was Jewish." Sure enough, he found that the numbers of Jews in dental schools—"even Columbia!"—plummeted. "It was a conspiracy, no question about it," he said.
Rivlin urges 'anti-Semitism czars' to urgent action
"Anti-Semitism is not a Jewish problem alone. It is a problem for all humanity. We are engaged in a bitter joint fight against any expressions of anti-Semitism – from the Right, the Left or from radical Islam," President Reuven Rivlin said Monday at a meeting with special envoys from Europe and the US charged with leading the fight against anti-Semitism in their home countries.

Officials who attended the meeting at the President's Residence included European Commission Coordinator on Combating Anti-Semitism Katherina von Schnurbein; US Special Envoy for Monitoring and Combating anti-Semitism Elan Carr; UK Special Envoy for post-Holocaust issues Lord Eric Pickles; German Government Commissioner on Anti-Semitism Dr. Felix Klein; and French Special Representative on Racism, Anti-Semitism and Discrimination Frédéric Potier, all of whom provided Rivlin with overviews of their work.

"Your clear voices and the work you do are crucial, particularly at such a challenging and hostile time," the president told the representatives.

"Anti-Semitism is anti-Semitism is anti-Semitism. There are no gray areas and there is no option other than zero tolerance. One can criticize us so long as it is criticism. The moment it turns to boycotts and actions against Israel that are influenced by anti-Semitism – we will not accept it," he said.

Carr said, "Many leaders around the world understand that anti-Semitism is not only against the Jews, but against society as a whole. It is a great honor to work alongside such leaders for a better and more just world, and I am proud to call them partners.

"It is important that you know that my country, headed [by my] boss President Trump, and my boss Secretary of State Mike Pompeo, stand with you in the struggle for the security of Jewish people around the world and for the State of Israel," Carr added.
European MP: We need to increase security 'wherever Jewish life takes place'
Europe needs to do much more to protect its Jewish community, including stationing police outside every Jewish institution, according to the new head of the working group on anti-Semitism in the European Parliament.

"In front of every synagogue, every Jewish school — anywhere where Jewish life takes place — there should at least be the awareness of the police, and depending on the risk assessment there also has to be the presence of the police [so that it] can act if there's an attack," Karoline Edtstadler said.

"Unfortunately, there is a pressing need for this. We can argue about whether police presence in front of synagogues is good or bad, but it's clearly a necessity," she added.

In a wide-ranging interview with The Times of Israel, Edtstadler, a former deputy interior minister in Austria who entered the European Parliament earlier this summer, also said Brussels should support Israel as the only democracy in the Middle East and not assume the role of a greater "moral authority" that can force its views and positions on Jerusalem, especially regarding the conflict with the Palestinians.

"There are three kinds of anti-Semitism: the old-fashioned kind, a new imported one, and anti-Zionism. It took a long time before people dared speaking about the imported anti-Semitism, but it's a fact," Edtstadler said, alluding to Jew-hatred among immigrant communities.

"Anti-Zionism, which targets Israel, is the most difficult one, because you have to be well-educated to find out about it. We can never stop fighting anti-Semitism. It will exist forever," she added.
German students allegedly sing antisemitic songs after Buchenwald visit
Just hours after visiting the Buchenwald concentration camp as part of a school trip, three 14-year-old high school students reportedly started playing antisemitic songs and singing along with the lyrics.

According to a German police press statement, the students are being investigated for alleged incitement.

The police said that the three were on the school bus returning from the trip when they turned on the music and began to sing along. The incident occurred on October 15, but was reported to police over the weekend, according to the statement.

According to Deutsche Welle, the students are from Theo Koch School in the western city of Grunberg.

In a short statement to the press, Hessen's Minister of Culture Alexander Lorz stressed that "hate speech and insults are no trivial offense."

"The teenagers must be made very clear that we do not tolerate such a thing in our country," he added.
I'm an Indian Immigrant. I was Accosted in Bonn, Germany, Because I was Mistaken for a Jew
As a foreigner moving to Germany, I sensed the Antisemitism early on. I knew the perpetrators all too well. They were mostly men my age, the majority of them from the Middle East or Muslim-majority North Africa.

As I strolled Cologne's inner city for the first time some ten years ago, the Jew-hatred stared right at my face.

It was not the well-disguised Antisemitism that my progressive and woke German friends and colleagues displayed. Like the time when one of them claimed that Palestinian suicide bombers killing innocent Jews were mere "freedom fighters." Or things you heard between the lines every time Jews or the Jewish State was mentioned in an academic debate.

The Jew-hatred on the street was free from polite inhibitions you generally expected from educated Germans mindful of their historical responsibility and guilt. These men, mostly from Turkey or the Middle East, do not know such restraints. They praised Hitler, glorified the Holocaust, and called for the destruction of Israel. Harmless conversations in cafés or streets often veered towards wild claims of Jewish conspiracies.

Even for Indian migrants like me, with no ax to grind on the issue of the Middle Eastern conflicts, it was clear that something was deeply wrong here. In the wake of the 2012 Gaza conflict and the ensuing antisemitic hate-fest on the streets of Cologne prompted me to mobilize fellow Indians living in Germany and the West. If immigrants fueled Antisemitism on German roads, then we immigrants had to take it head-on.

The overwhelming support I got from the Indian community led to the creation of the social media initiative 'Indians For Israel.' My subsequent visits to Israel and my interactions with the German Jewish community only strengthened my commitment.
Flyers slammed as anti-Semitic, racist distributed in Philadelphia
Flyers described by local US media as anti-Semitic and racist have recently been placed on cars in parts of South Philadelphia.

The page-long flyer makes several false claims about the Jewish community and African Americans, the local CBS affiliate reported Sunday.

"In general it profiles a really negative light on people of the Jewish faith, and their business dealings. It is anti-Semitic, and in my opinion it was trying to galvanize the African American community, to kind of be against the Jewish community," Betsy Oliphant Ross, who found one of the flyers, told ABC6. She said she was "disturbed" by the flyer she found on Friday afternoon.

More flyers were discovered on Saturday and Sunday.

State Rep. Joanna McClinton called the flyers "hate-filled" and "unacceptable."

Police reportedly are looking for video from security cameras in the area to try to find the person or persons who left the flyers.
Multiple Jewish residents of Borough Park assaulted on same night
Several Jewish members of Borough Park's Jewish community were attacked on Friday night.

The first attack occurred on New Utrecht Avenue and 53rd Street at around midnight. A few men exited their vehicle and chased two ultra-Orthodox boys as they were walking down the street. The two boys escaped unharmed after being chased, which was caught on CCTV camera.

The same assailants returned to their vehicles and drove to 48th Street, within range of the Bobover Bais Midrash, where they punched an ultra-Orthodox man as he sat in his vehicle. The men once again fled the scene after being caught on film.

Additional reports of assault on two other ultra-Orthodox residents of Borough Park occurred Friday night, one on 14th Avenue and 51st Street, and separately, another on 14th Avenue and 55th Street.

This series of assaults come amid reports of rising antisemitic sentiment and attacks on Jews in the United States, in addition to numerous incidences of defacement of Jewish-owned properties, gravestones and community institutions.
Suspect arrested after Minnesota school tagged with swastika
US police have arrested a suspect in a Minneapolis suburb after a swastika and other offensive graffiti were found at an elementary school.

In an email to Edina School District families, Superintendent John Schultz wrote that "when an act of hatred occurs anywhere in Edina, it affects our entire community."

Police said the arrest occurred Monday after the suspect was caught on security video. The vandalism at Concord Elementary School happened over the weekend.

The Star Tribune reported that Schultz said the district has turned to the Jewish Community Resource Council for guidance as they work through the issue.

"We strongly believe that these types of incidents are carried out by individuals who do not reflect the sentiments of the community as a whole," he added. "They remind us, however, that we must be vigilant in our work around equity and cultural understanding. The future-readiness of our students depends on their ability to work collaboratively with others from vast numbers of cultures, religions and backgrounds."
Utah school principal, teacher placed on leave after student dresses as Hitler
The principal and a teacher at an elementary school in Utah have been placed on paid administrative leave after a student dressed in an Adolf Hitler costume and participated in the school's Halloween parade.

The student at the Creekside Elementary School in Kaysville, Utah, wore a brown long-sleeved shirt with a red swastika armband on the sleeve, in photos that circulated Friday on social media. He also appeared to be wearing a Hitler mustache.

The Davis School District apologized for the incident in a statement, the local Fox affiliate reported.

"The Davis School District apologizes for what took place yesterday. It does not tolerate speech, images or conduct that portray or promote hate in any form. The district is taking the matter very seriously and is investigating every aspect of the situation," the statement said. "It does not tolerate speech, images or conduct that portray or promote hate in any form."
Always remember that the @jdforward and @jvplive are on the side of Richard Spencer (who calls Jews "K*kes")... but only in his criticism of Israel. ?? pic.twitter.com/acxg5BwKjF

— The American Zionist (@americanzionism) November 4, 2019
How the Jew Whom Hitler Blamed for Kristallnacht Outsmarted His Captors
When, a Polish Jew named Herschel Grynszpan walked into the German embassy in Paris and assassinated an official in retaliation for the Nazis' persecution of his family, Adolf Hitler immediately used it as a pretext to launch violent attacks on Jews throughout the Third Reich. Saturday marks the 81st anniversary of these pogroms, which came to be known as Kristallnacht. Stephen Koch, whose biography of Grynszpan was reviewed in Mosaic, explains how Grynszpan—arrested by the Gestapo in 1940—foiled Nazi plans to use him as a pawn:

Hitler had decided to turn [Grynszpan] into the defendant in a major show trial in Berlin, "proving" that World War II had been started by the "World Jewish Conspiracy," using the "evil" Herschel as their trigger. . . . Enormous amounts of Nazi money, time, and energy went into planning this charade. Hitler was kept constantly informed. The star witness was to be no less than the former French foreign minister Georges Bonnet, a covert Nazi fellow-traveler and major player in Munich, who promised the Nazis to tell the world that, yes, indeed, France went to war in 1939 only because of relentless, irresistible, warmongering pressure from "the Jews."

The trial . . . never took place because Herschel Grynszpan kept it from taking place. As a prisoner of the Nazis, Herschel had quickly grasped that he was being primed for more anti-Semitic propaganda. To prevent that disgrace, he concocted an extraordinarily ingenious lie. He claimed that he had not really killed the German diplomat for any political reason at all. His "protest" had merely been his cover for a deeper secret: the unspeakable truth that he'd killed the diplomat in the midst of a homosexual lovers' quarrel.

This inspired falsehood was certain to turn into the trial's most scandalous news story. It made an enraged Goebbels advise Hitler to postpone the whole thing. It stayed postponed forever.
World War II pilot's heroic Holocaust secret revealed
It was a secret that Royal Air Force pilot Halsey Roscorla took to his grave in 1966 – a secret that would not surface for more than half-a-century.

But this week, the full story of his heroism was revealed by the ahead of Remembrance Day on Monday by Royal Star and Garter, a British charity that cares for military veterans and their partners living with disability or dementia.

Roscorla's family never learned of his heroic action since he never spoke of his time in the military to his wife, Joan, or children, Anne and Charles.

When he died in 1966 at the age of 47, his family thought his military stories were gone forever. But in 2005, pieces of his remarkable story came to light after a chance sighting of a photograph and film footage in a news report. That fateful night, Charles was watching the television news when he spotted a familiar photograph.

"In our photo album drawer at home, there is a series of pictures of planes lined up on a runway, and [it's] looking like refugee children going into these planes," he recalled. "I've known them forever. And we turned on the news one night in 2005, and it was a celebration of the refugee children being picked up at Prague airport.

"Children who had been in camps to be brought to this country, they were taken to Windermere. It was the 60th anniversary. My wife Martine and I [said] 'Oh! What was that?'" the 68-year-old recalled.
Hall of Famer Staubach to be honored for support of Israel
Hall of Fame quarterback Roger Staubach will be honored "for his work as a strong supporter of Israel and other Zionist causes."

The Bnai Zion Foundation, a nonprofit organization based in the United States that identifies and funds capital projects in Israel, will present the Dallas Cowboys great with its 2019 American-Israel Friendship Award at an event in Dallas on Monday.

Staubach wrote in a commentary published in the Dallas Morning News ahead of the awards ceremony that "(M)y Catholic roots have always helped me see the importance of an Israeli homeland."

The Heisman Trophy winner called the purchase of Israel Bonds while a student at the U.S. Naval Academy, because they were affordable, "my first link to Israel."

He also wrote: "Israel is a very special place that represents so many faiths. It covers everyone and everything, and you don't have to be Jewish to understand its singular status and to support it as a nation and an idea."
Heschel quote to be centerpiece of public mural in Buenos Aires
A quote from the late Rabbi Abraham Joshua Heschel will be the centerpiece of a mural painted in a public square in Buenos Aires.

The Buenos Aires city government and the Latin American Rabbinical Seminary held a contest to design the mural to honor human rights activist Rabbi Marshall Meyer. It will be located in the north of the city, close to Meyer's Bet El synagogue.

Meyer, who was mentored by Heschel, explained his commitment to social justice causes and the reason for publicly demonstrating that commitment by saying that "when you march for fair causes, you are praying with your feet." That vision was taught to Meyer by Heschel, an activist who spoke about that idea after he marched from Selma to Montgomery in 1965 with Martin Luther King.

Meyer, a New York native who worked in Buenos Aires from 1958 to 1984 to revitalize the Conservative movement, spoke out for liberty while working in Buenos Aires during the military dictatorship government in Argentina from 1976 to 1983.

A graffiti design of the phrase "Marchar es como rezar con los pies" ("Marching is like praying with your feet") was proposed by artist Ariel Mintzer, 29.
As Israel celebrates Aliyah Day, 2019 figures point to a peak year
For the fourth straight year, Israel is marking Aliyah Day, celebrating the ingathering of the exiles and the contribution of Jewish immigrants to the state.

According to official statistics, 2019 has so far been a good year for aliyah, with 28,629 olim making Israel their home as of October. Only a decade ago, the number of olim for roughly the same period in 2009 stood at 17,179.

In 2014, more than 27,000 olim arrived in Israel, and a year later the number rose to 31,858, marking a record for the period of 2009-2019.

The number of olim in 2018 was close to that record, standing at 30,381, and 2019 may end with an even higher figure.

The breakdown of the numbers for the period of January through October 2019 is as follows: 12,722 from Russia; 5,247 from Ukraine; 2,470 from the United States; 276 from Canada; 143 from Australia; 1,996 from France; 469 from the UK; 350 from Brazil; 321 from South Africa; 93 from Venezuela; 127 from Mexico and 143 from Turkey.

According to government agencies, olim also arrived from Muslim countries, including 57 from Iran.

Even Thailand and Japan are represented in this year's figures, with 14 olim arriving from former and 5 from the latter.
Today, we honor the memory of former Prime Minister and Chief of the General Staff, Lt. Gen. Yitzhak Rabin.

May his memory be a blessing. pic.twitter.com/aSxgufuJYi

— Israel Defense Forces (@IDF) November 4, 2019
---
---
We have lots of ideas, but we need more resources to be even more effective. Please
donate today
to help get the message out and to help defend Israel.