From Ian:
---
Trump Administration Vows To Fight EU Decision To Put Warning Labels On Jewish Products
The origins of the legal dispute stretch back several years to when the EU issued a mandate in 2015 declaring that products produced in the West Bank and Golan Heights be labeled as coming from an Israeli settlement, facially for the purpose of promoting "consumer protection," although it's unclear if that is actually achieved here. In late 2016, France became the first EU member state to attempt to enforce the mandate, resulting in the Israeli winery Psagot filing a lawsuit claiming that such a mandate violated the EU's anti-discrimination laws.

Under the new rule, goods produced by Jews will be labeled as having been produced in an Israeli settlement, while goods produced by Muslims may be labeled as made in "Palestine," indicating blatant discriminatory treatment. Unsurprisingly, Israel's presence in the West Bank and the Golan Heights are the only contested areas in the world to be the focus of the labeling ire of the EU.

"No other territory, occupied, disputed, or otherwise is subject to such requirements," noted Eugene Kontorovich, director of the Center for International Law in the Middle East at George Mason University. Kontorovich emphasized the peculiarity of the ruling. "In no other case does any 'origin labeling' require any kind of statement about the political circumstances in the area. This is a special Yellow Star for Jewish products only."

Indeed, there are a multitude of contested areas throughout the world that produce goods for which the EU has deemed politicized labeling requirements unnecessary. Despite Russia's occupation of parts of Georgia or Morocco's occupation of Western Sahara, nothing in EU law or greater international law requires labeling goods produced by Russia in occupied parts of Georgia as "Made in Georgia" or goods produced by Morocco in Western Sahara as "Made in Western Sahara."

As Kontorovich explained on Twitter, "Products around the world are made in many situations that raise 'ethical' and legal questions, from Chinese prison labor factories to Moroccan drilling Sahrawi oil. Only such concern that requires labeling in EU is Jews living in neighborhoods where they are not 'supposed' to be."

Sen. Ted Cruz (R-TX), who has led the fight against antisemitism on a federal level, echoed those thoughts: "This labeling singles out Jews who live in communities where Europeans don't think they should be allowed to live and identifies them for boycotts." The senator elaborated on the somber gravity of the EU ruling, declaring the decision to be "reminiscent of the darkest moments in Europe's history."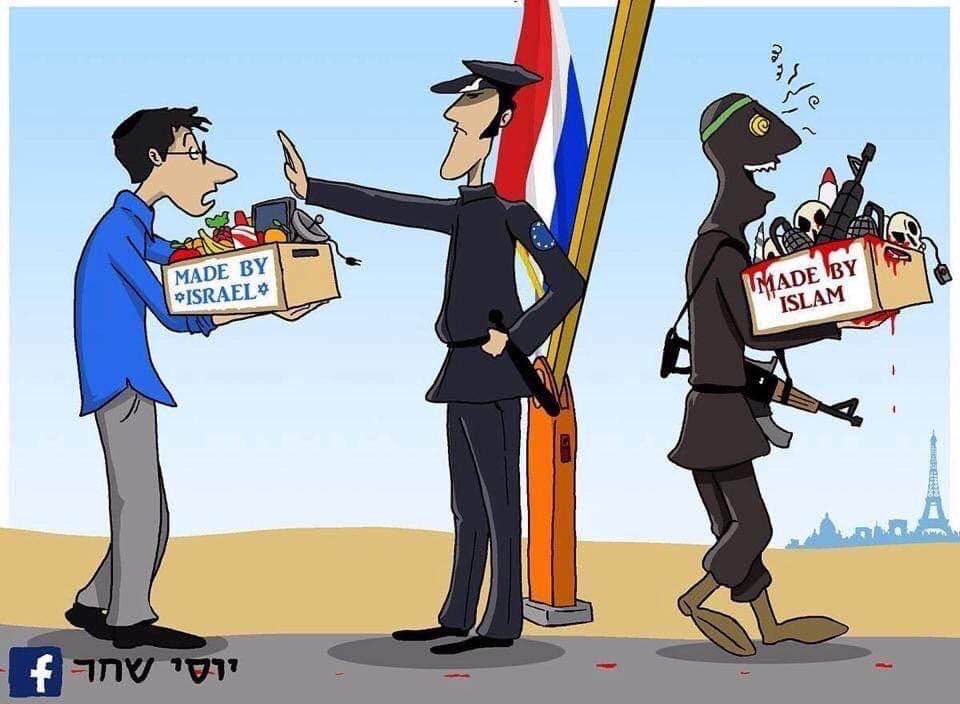 PMW:
It's time to ban the PA from international football like Iran was banned from international judo
Compare:
Iranian Violation:
Iran refused to let its judo athlete compete against an Israeli athlete
IJF Punishment:
International Judo Federation immediately suspended Iran from all competitions

Palestinian Violation:
The Palestinian Football Association (PFA) refuses to let Palestinian players compete against Israelis
FIFA Punishment:
None - The International Federation of Football Association (FIFA) ignores the fundamental PFA violations

On October 22, the International Judo Federation showed its clear moral fiber by suspending the Iran Judo Federation "from all competitions, administrative and social activities organized or authorized by the IJF and its Unions, until the Iran Judo Federation gives strong guarantees and prove that they will respect the IJF Statutes and accept that their athletes fight against Israeli athletes."

The suspension followed Iran's forcing its athlete to withdraw from the Judo World Championships last August, rather than compete against an Israeli.

For years, the Palestinian Football Association (PFA) under Jibril Rajoub, President of the Palestinian Football Association and Head of the PLO Supreme Council for Youth and Sports, has prohibited Palestinian participation in any sporting event with Israel. Rajoub has also used Palestinian football to support and glorify terrorism; incite hatred and violence; and promote racism.

While Palestinian Media Watch has provided FIFA - the international football association - with all the proof necessary to penalize the PFA and to suspend its membership in FIFA, as well as to take disciplinary measures against Rajoub, to FIFA's great shame, it sadly lacks the moral clarity that was shown by the International Judo Federation, and only temporarily suspended Rajoub himself and has not yet penalized the PFA.

In the terminology of the Palestinian Authority, participating in any joint activities with Israelis, including sporting events, is called "normalization." It is strictly forbidden, and also when it comes to football.
UK PM Johnson: More must be done 'to stamp out' antisemitism
British Prime Minister Boris Johnson said that more must be done to eradicate antisemitism from modern society in the UK, and that the current government was investing in the protection of places of worship and in tolerance education.

Johnson made his comments in a letter to Jewish Agency Chairman Isaac Herzog, who wrote last month to the British prime minister expressing concern about rising antisemitism in Europe in the wake of the Halle, Germany, synagogue attack, and to call for heightened security measures at Jewish institutions.

Johnson's letter comes as the UK is currently in the midst of a campaign leading to the December 12 election in which antisemitism has become a key issue, due to the failure of the Labour Party to adequately tackle the widespread antisemitism among its members at all levels of the party.

According to the annual report by the Community Security Trust in the UK, 2018 saw a record level of antisemitic incidents, following two other record-breaking years in 2017 and 2016.

"Please be assured of my resolute support for all aspects of Jewish life," Johnson said in his letter to Herzog, adding that he had read "with a heavy heart" about the Halle synagogue shooting and other recent incidents of antisemitism in Europe.

"I completely agree that we need to do more to stamp this out and better protect our Jewish friends and neighbors," the British prime minister said.
Report: UK Labor candidate behind Facebook group defending alleged Holocaust deniers
A Labor candidate in the 2019 general elections co-founded and ran a secret Facebook group focused on helping the party's members avoid allegations of anti-Semitism.

The allegations were presented on Sunday in a joint report by the Daily Mail, Labor Against Antisemitism group and Gnasherjew, researchers focused on left-wing antisemitism.

According to the probe, Labor's Maria Carroll, a Jeremy Corbyn supporter and a candidate in the 2019 general elections, co-founded and ran the Labor Party Compliance: Suspensions, Expulsions, Rejections Co-Op group on Facebook.

The group is said to be inaccessible via open search, with its membership list hidden from non-members.

The group allegedly advised Labor members on how to counter the allegations of anti-Semitism, with at least two alleged Holocaust deniers -- Alan Bull and Mollie Collins, both Labor activists, -- counseled on the matter.

The two were advised to delete all of their anti-Semitic posts but those posted in the secret group and to refuse to co-operate with a Labor probe unless the investigators shared all data the party had on them.

Wary of potential damage, Carroll sought to keep the group under the radar, posting: "REMINDER: Posts from this group are not to be shared."

She claims to have left the group some time after the 2016 Labor elections as it turned increasingly anti-Semitic, with her latest post there dating to May 2019.
So firstly this is Mollie COLLINS who we exposed in August. She's referred to in the Mail piece, this exposure gained a lot of media. But, still, this group happily endorsed her membership and supported her, despite the fact she is a Holocaust denier. 3 #GE2019 @AndrewMarr9 https://t.co/TvvPoA3ZU1

— (((GnasherJew®גנאשר))) (@GnasherJew) November 17, 2019
Labour's Coventry South candidate taunted NUS vice president over Israel
Evidence of the new Twitter message, which appeared to contravene the IHRA definition of antisemitism, emerged only days after Ms Sultana said she had "been on a journey" to help her avoid straying into comment that was racist.

She said she had been "working closely with Jewish comrades who have taught me about the language and history of antisemitism" and cited a trip to Auschwitz in 2013 as helping with this leaning process.

One tweeter wryly noted that her jourmey "appears to have been a round trip".

In the latest controversial message Ms Sultana attacked Mr Vinson after he blocked her on Twitter in 2015.

She wrote: "Under your 'leadership' you lost control of NUS....and you didn't serve Israel as well as you would've liked."

Ms Sultana then wrote to Mr Vinson, who grew up in Cornwall, that "you can always got to Israel and work on anti-BDS campaigns as you did so well in the UK."

During his days in the NUS Mr Vinson, who is not Jewish himself, was said to be an "amazing ally" of those opposing the drift into hard-line anti-Israel sentiment within the student movement.

In June 2015, he had tweeted:"Antisemitism is like a virus, it mutates and infects everything it touches. It's mutated into BDS and NUS is infected."
Bernie Sanders says that as president he'd give AOC 'very important' role
Democratic presidential candidate Bernie Sanders said that if he is elected, he would give a "very, very important role" in White House to Rep. Alexandria Ocasio-Cortez (D-NY).

Sanders, a senator from Vermont, said this in a joint interview with Ocasio-Cortez last week to ABC News, adding that the Bronx-Queens freshman congresswoman has ideas that "are resonating all over this country," and: "If I am in the White House, she will play a very, very important role. No question."

"I don't want you to hear this, because your head will explode," Sanders said in jest to Ocasio-Cortez, before adding, "I don't know of any person … who has had more of an impact on American politics as a freshman member of Congress than she has."

Polls from the previous two weeks have Sanders, who is Jewish, in second or third place, trailing Joe Biden and, in most polls, also Elizabeth Warren. Ocasio-Cortez is not running and has endorsed Sanders.

Ocasio-Cortez has drawn considerable admiration and criticism for her recent insistence on calling migrant detention centers at the U.S.-Mexico border "concentration camps."
AOC wants to be the Party that extends a depression, puts people in camps based on their ethnicity, turns away Jewish refugees trying to escape the Holocaust, and trades basic liberties for government control.

Sounds about right. https://t.co/tbVPB1zmFq

— (((AG))) (@AG_Conservative) November 17, 2019
Pompeo: Iran behind Islamic Jihad rocket attacks against Israel
Iran is behind the latest round of Israeli-Gaza violence, US Secretary of State Mike Pompeo tweeted on Saturday, as the fragile ceasefire understanding held for its third day in spite of sporadic rocket fire.

"Iran uses its terrorist proxy Palestinian Islamic Jihad to strike our great ally Israel. Iran does not want peace in the region. It does not want the Palestinian people to prosper. It wants more conflict. Until we address Iran's threats, the cycle of violence will continue," Pompeo tweeted.

It's actions proves that international pressure is needed to curb Tehran's aggression, he said.

"The way forward is clear: continued pressure until Iran negotiates a comprehensive agreement that includes halting its support to terror groups like PIJ. Nations around the world can no longer claim to want peace in the region yet allow Iran's threats to go unchallenged," Pompeo wrote.

He spoke out one day after US sanctions against Iran forced its government to introduce gasoline rationing and price hikes of at least 50 percent, drawing sporadic protests and widespread worries over rising inflation despite official promises that the revenue would be used to help needy families. One person was killed and several people were wounded in the city of Sirjan in Kerman province on Friday, the ISNA news
agency quoted a local official as saying on Saturday.

Riot police and security forces clashed with demonstrators in Tehran and dozens of cities across Iran on Saturday, Iranian news agencies and social media said.
As Gaza Ceasefire Wobbles, a Full-Scale Israeli Military Incursion Remains on the Table
The ceasefire put into place on Thursday morning between Israel and the Palestinian Islamic Jihad (PIJ) terror organization stood on shaky ground as terrorists violated it and launched a number of rockets from the Gaza Strip at Israel throughout the day, with Jerusalem refraining from responding.

Skeptical Israelis see no end to the rocket fire, even if a temporary halt is reached. Some see an Israeli military ground incursion into Gaza as the only solution to finally wipe out the military capabilities of PIJ and Hamas, which would ultimately eliminate the terror threat that exists today against millions of innocent Israeli civilians.

Udi Dekel, managing director of the Institute for National Security Studies, told JNS he believes that "there is no good format to solve Gaza" and since, at the moment, Israel does not have a government that can make the hard decisions, "it is better to manage the situation" than to launch a major operation in Gaza.

However, some advocate going in—if not now, then at least eventually.

Israel's Deputy Defense Minister Avi Dichter recently told reporters that "Israel's political and military leadership need to decide at a certain point to launch a campaign that will destroy the terrorist infrastructure in Gaza."
US, Israeli Firefighters Work Side by Side as Rockets Fall
As rockets fell on southern and central Israel last week, a team of US firefighters worked side by side with their Israeli counterparts to extinguish brush and building fires and deal with other emergencies.

The US firefighters are part of the Emergency Volunteer Project (EVP), which trains US firefighters and medical personnel and deploys them to Israel in times of need. However, according to EVP Emergency Deployment Director Eitan Charnoff they were already in the country when the flare-up in hostilities between Israel and Gaza-based terrorist groups broke out.

"They were originally deployed because of anticipated high winds later in the week," said Charnoff. "We were fortunate to have them here given the unexpected rocket attacks."

Each of the American firefighters trains and travels to Israel on their own personal time, and some have even defrayed a portion of the deployment cost. Jake Papageorgiou, a firefighter and evangelical Christian from Greenville, Texas, left his wife and two children for a week to travel to Israel.

"I wanted to come to show that Americans support you. It is great to be here. You can feel the firefighter brotherhood is alive and well. Everyone really watches out for each other," he said.
Inside Israeli Intelligence: Targeted Killings
Senior commander of the PIJ, Abu Al-Ata, was assassinated by the IDF in last week's Operation Black Belt. For an inside scoop on Israeli intelligence and its program for targeted killings, Jotam Confino spoke with former Mossad chiefs about fighting Israel's enemies
NGO Monitor:
NGOs Blame Israel for Islamic Jihad Rocket
On November 12, Palestinian Islamic Jihad launched hundreds of rockets at Israeli population centers. According to media reports, one of these projectiles misfired, hitting a Gaza building that houses the office of the Palestinian Independent Commission for Human Rights (ICHR).

However, several international and Palestinian non-governmental organizations (NGOs) immediately blamed Israel for the attack, providing no evidence for their claims.

This episode highlights the lack of rigorous fact-finding and objective analysis on the part of these organizations, which substitute politicized agendas for accuracy.

The following NGOs published statements condemning Israel for the attack. Some of these groups are tied to the Popular Front for the Liberation of Palestine (PFLP), which is designated as a terrorist organization by the US, EU, Canada, and Israel.

Amnesty International
"We strongly condemn attack on the Palestinian Independent Commission for Human Rights whose office in Gaza was struck by an Israeli missile earlier this morning. Strikes targeting civilian buildings is a violation of international law. We are sending our solidarity to @ICHR_Pal." (Twitter, November 12)

After its initial statement, Amnesty backtracked partially when it became clear that Islamic Jihad terrorists were responsible for the rocket strike. Ironically, Amnesty discussed the importance of verification after it had accused Israel without confirmation.
"Conflicting information is circulating about what exactly hit the @ichr_pal office in Gaza and where the attack came from. @amnesty is calling for an impartial investigation into this incident and other events in Gaza today" (Twitter, November 12)
"We have already acknowledged there are conflicting reports about this attack & called for investigation to establish the facts. The Israeli authorities' persistent refusal to grant @amnesty access to Gaza since 2012 only makes verifying the source of such attacks a harder task." (Twitter, November 13)
Israel's National Anthem "Hatikvah" 🎶 playing in Abu Dhabi 🇮🇱

Israel's Alon Leviev is the new world champion in #jiujitsu after winning the 🥇medal in his category (<55kg).

Kol Hakavod / Congratulations Alon!pic.twitter.com/BzXpDFTs6d

— Israel ישראל (@Israel) November 17, 2019
Qatar had prior knowledge of Iran attack on vessels, failed to tell allies: report
Qatar had advance knowledge on an Iranian attack on four commercial vessels in the Gulf of Oman in May and may have failed to warn its U.S., French and British allies, a western intelligence report alleges.

The report, obtained exclusively by Fox News, claims that Qatar had prior knowledge of the May 12 attack of two Saudi tankers, a Norwegian tanker and a UAE bunkering ship near the port of Fujairah in the vital waterway, which connects the Strait of Hormuz to the Indian Ocean, near the United Arab Emirates.

"Credible intelligence reports indicate that the IRGC-Quds Forces Naval unit is responsible for the Fujairah Port attacks, and the elements of civilian government of Iran, as well as the State of Qatar, were aware of the IRGC's activities," the report said.

The U.S. has classified Iran's Islamic Revolutionary Guard Corps as a foreign terrorist organization.

A U.S. Department of Defense spokesman reached for comment by Fox News said: "We do not discuss matters of intelligence."

Lawmakers from two European NATO powers told Fox News that it would demand answers to the report from their respective governments.

Nathalie Goulet, a member of the French senate and a major figure in European counterterrorism, told Fox News via email that she was "very concerned" after seeing the intelligence report.

"I intend to raise questions with colleagues in other countries with strong connections in the Middle East such as Britain and with our government," she said. "I will send the report to the head of the security department and also the minister of defense."
"We have no money or fuel, to hell with Palestine." Anti regime protests in Islamshahr, #Iran. pic.twitter.com/DS4PfThifs

— Alireza Nader (@AlirezaNader) November 16, 2019
Pro-Palestinian rally held in Sweden chants death threats targeting Israel
At a pro-Palestinian rally in the city of Malmö, Sweden, protesters were chanting antisemitic slogans in the streets in response to their ideological beliefs about the plight between the Palestinian people and the State of Israel.

"We are a people of giants," the crowd would repeat after the lead protester. "Millions of Martyrs are walking towards Jerusalem."

They continued that the pro-Palestinian community in Sweden and in particularly the city of Malmö has "made a decision... to launch a determined intifada."

"The people will be steadfast and freedom will return," the crowd chants. "Aim and shoot at the Jews... At the settlers and at the soldiers. Our people are determined to finish it."

"So throw stones and shoot bullets. Burn, oh fire, burn.... until we sweep out the settlements."
NYU Department Co-Sponsors Anti-Israel Speaker, Rejects Request to Host Pro-Israel One
New York University's Asian/Pacific/American Studies Institute has denied a pro-Israel student's request to host a Zionist speaker in response to an event it hosted last month with anti-Israel Palestinian-American lawyer Noura Erakat, according to emails obtained by JNS.

Citing NYU's policy regarding speakers, which includes "the free exchange of ideas and open inquiry are the bedrock principles at NYU," Ben Newhouse, a junior, emailed on Oct. 15 to request that the department of social and cultural analysis (SCA) host one of the following speakers in response to the Oct. 23 event with Erakat as part of her tour promoting her book Justice for Some: Law and the Question of Palestine: former Israeli Ambassador to the United States Michael Oren; Alan Dershowitz, constitutional law scholar and author of The Case for Israel; Alex Safian, associate director of the Committee for Accuracy in Middle East Reporting in America (CAMERA); legal scholar Eugene Kontorovich; and former World Jewish Congress secretary-general Dan Diker.

In the email, Newhouse said that having one of these speakers would "show the school's commitment to freedom of expression and inquiry. Sponsoring just [emphasis his] Noura Erakat's perspective undermines NYU's promise to provide its students with a free exchange of ideas and open inquiry."

Erakat's book claims that the "Israeli-Palestinian conflict can only be understood through a settler-colonial framework; the international community has failed Palestinians by bending the laws in favor of the Jews; and attempts should be made to prosecute Israeli veterans for war crimes," wrote CAMERA campus adviser and strategic planner and former Israel Defense Forces paratrooper Yoni Michanie.
MESA's Statement Defending Academic Freedom and Condemning Anti-Semitism Does Just the Opposite
In a statement released Thursday in conjunction with its Annual Meeting, the Middle East Studies Association (MESA) condemned "attacks" on academic freedom.

Oddly, the statement's first paragraph juxtaposes the "pressing need to continue to combat anti-Semitism" with "affirming the protection of academic freedoms." But what does anti-Semitism have to with academic freedom?

The answer (such as it is) comes a few paragraphs down. MESA condemns "what appears to be an orchestrated campaign by groups based outside of academia that seek to delegitimize and silence scholarship and teaching with which they disagree." Critics of the Boycott, Divestment, and Sanctions (BDS) campaign against Israel, MESA claims, conflate "criticism of Israeli actions and policies, and of Zionism as a political ideology, with anti-Semitism."

Where to begin?

BDS isn't speech; BDS is a campaign. The 2018 case of University of Michigan professor John Cheney-Lippold is instructive. Cheney-Lippold refused to write a recommendation for a student to study abroad in Israel because he adhered to the BDS campaign's guidelines, which call for participants not to assist students who wish to study abroad in Israel. Cheney-Lippold's refusal violated his academic responsibilities and thwarted the student's ability to pursue her academic interests.

BDS isn't "criticism" of Israel or Israeli policies; it is active opposition to Israel's existence.

Moreover, BDS isn't "criticism" of Israel or Israeli policies; it is active opposition to Israel's existence. As Omar Barghouti, co-founder of the Palestinian Campaign for the Political and Academic Boycott of Israel, told the New York Times this past summer, the "Jewish state" of Israel must be "opposed categorically."
Forget AAR, @rogerwaters . You clearly need AA. https://t.co/4tqchUuUk3

— (((David Lange))) (@Israellycool) November 16, 2019
.@Cornell professor Eric Cheyfitz made this disgusting statement: "Gaza has become an extermination camp, run by Jews." #NeverForgethttps://t.co/e3Mu9DSg6Z pic.twitter.com/xYaNfshQdZ

— Canary Mission (@canarymission) November 16, 2019
Yahoo News UK op-ed on Gaza amplifies Hamas talking points
When Nicolay Mlandenov – the UN's special coordinator for the Middle East peace process – said that "the core of the crisis in Gaza is political", he was right. The Hamas terrorist group has subjected Gazans to lives of immense suffering. Months after Israel's complete withdrawal from Gaza in 2005, Hamas won a majority of seats in their legislative elections after promising to continue the armed struggle against Israel.

Unsurprisingly, both Israel and Egypt soon imposed a military blockade on Gaza following Hamas' bloody coup – seizing government institutions and replacing Fatah/PA officials with Hamas loyalists.

Waves of terrorism – mostly in the form of rocket attacks – against Israeli civilian communities ensued.

All of which Yaser Alashqar, Lecturer in Conflict Studies and Middle East Politics, Trinity College Dublin, fails to mention in his Yahoo News UK op-ed titled "Life under the continuing Israeli blockade".

Context and critical thought are prerequisites to academic integrity – neither of which feature in this article portraying the crisis in Gaza as one solely of Israeli making.

For example, Alashqar states:
"They [Gazans] have been subjected to brutal military assaults since 2008, in the context of the Israeli policy of "mowing the lawn", military attacks and bombardment which indiscriminately kill civilians and cause massive levels of damage to civilian infrastructure in Gaza. This Israeli campaign continues under the pretext of undermining the military power of Hamas, the Palestinian political armed movement which runs Gaza."

First of all, Israel has only engaged with Gaza from a point of self-defence with maximum regard for civilian safety, and the IDF has been called the "most ethical army in the world" by several respected military experts.
Indy corrects false claim that Gazans get only 3 hours of electricity a day
On Nov. 4th, we posted about an article in the Independent, written by their deputy international editor, Gemma Fox, which included the following claim:
"[The} enclave's two million residents [are] forced to try to survive on roughly 3 hours of electricity since Israel imposed a blockade in 2016 [sic]".

We complained to editors, citing a detailed report and graph by United Nations Office for the Coordination of Humanitarian Affairs (OCHA) demonstrating that Gazans now receive around 12 hours of electricity a day. (Further, most hospitals received 22 hours of electricity per day).

After a series of emails with editors, they finally upheld our complaint, and revised the sentence, which now only narrowly claims that Gaza "residents [are] forced to try to survive on reduced hours of electricity.
Just three words are needed to make this @Guardian headline reflect reality: "Responding to missiles".

It's really not so hard, is it? pic.twitter.com/PucoPk6Wun

— HonestReporting (@HonestReporting) November 17, 2019
BBC Arabic whitewashes PIJ's history of killing Israeli civilians
Omitted and distorted facts:

1) The Beit Lid 1995 attack killed 22 people – 21 soldiers and one civilian.

2) The Beit Lid attack is the only PIJ attack mentioned by name in the entire article. Regardless of how "well known" it is (it was the first double suicide bombing attack in Israel's history and is the PIJ-orchestrated attack with the highest number of casualties to date), ignoring other attacks committed by the organisation creates the erroneous impression that the PIJ targets soldiers rather than civilians.

In fact, over the years PIJ terrorists have deliberately and consistently attacked civilians, more often than not choosing them over soldiers and police officers as easy targets. Since its establishment in the early 1980s, PIJ terrorists killed or assisted others in killing around 300 Israelis, more than 210 of whom were civilians. Around two-thirds of PIJ-orchestrated attacks killed only civilians. Similarly, more than half of the deadly attacks that PIJ committed jointly with other organisations (Fatah/Hamas) claimed only civilian lives. Nevertheless, the PIJ celebrates the attackers who belong to its ranks, as well as their heinous deeds (links in Arabic).

3) The attacks carried out by PIJ terrorists in Tel Aviv that are mentioned in the profile claimed the lives of at least 16 civilians – yet the BBC Arabic website chose not to inform its readers of that fact despite having cited an example a PIJ attack that it inaccurately claimed had killed only soldiers.

4) Along with the United States and Israel, the following countries consider PIJ a terrorist organisation: the EU, Japan, Australia, New Zealand, Canada and the BBC's own home country the United Kingdom. BBC Arabic however mentioned only the US and Israel.

Additionally, this article breaches the BBC Academy's style guide regarding the use of the word "Palestine" by twice referring to the West Bank and Gaza Strip using that terminology.
Deutsche Welle Corrects There Are No Jewish Settlers in Gaza
CAMERA's Israel office today prompted a correction at Deutsche Welle after an Op-Ed incorrectly reported that 600,000 Jewish settlers reside in the Gaza Strip. Remarking on both the European Court of Justice decision last week regarding the labeling of Israeli products produced across the 1949 armistice line, along with the Islamic Jihad rocket barrage on Israel, Rainer Hermann of the Frankfurter Allgemeine Zeitung newspaper wrote ("Opinion: Terrorists and Settlers," Nov. 16):
Both events shine a light on two particular reasons the conflict remains unresolved. The first is the situation in Gaza — an area where more than 600,000 Jewish settlers have built residences in what is internationally recognized as territory belonging to the Palestinian National Authority.

There is not a single Israeli settler in the Gaza Strip. Israel withdrew all of its civilians and soldiers from that territory in 2005, as DW has itself reported in the past. Moreover, there were approximately 8,500 settlers prior to the evacuation – not 600,000. The only Israelis currently known to be in the Gaza Strip are two mentally challenged civilians held hostage by Hamas which denies them Red Cross in violation of international law.

In response to communication from CAMERA, DW editors quickly amended the article, commendably removing the false assertion that 600,000 settlers reside in the Gaza Strip.
Former Le Figaro editor: anti-Zionism is antisemitism
Journalist and former Le Figaro editor-in-chief Franz-Olivier Giesbert told a conference on antisemitism in France that anti-Zionism is antisemitism.

The well-known French writer made the comments over the weekend during a keynote speech at the iVision conference hosted by the Diaspora Activities department of the World Zionist Organization held in Marseilles.

Part of the conference looked at the dramatic rise of antisemitism in France in the last few years.

Giesbert said in his speech that antisemitism "is a dirty word, and therefore we must use the term anti-Zionism," making it clear that the two have become interchangeable. "We must preserve history and tell it as it is because there are those who are now telling a different history," referring to antisemites and Holocaust deniers.

The former editor also said that "French media is skewed every time the Israeli or Jewish issue comes up in the media," and "we should take this into account."

Giesbert's comments come just a day after the president of the Representative Council of French Jewish Institutions (CRIF) Francis Kalifat told a Le Figaro talk show that antisemitism in France continues to be on the rise.
Almost 1 in 10 US Christians have heard their clergy speak negatively about Jews
Thirty-nine percent of American Christians who attend church have heard their clergy speak out about Jews, and 9 percent have heard them say something negative.

That's according to a study published Friday by the Pew Research Center on religion and public life.

The survey found that American Jews were ambivalent toward the role of religion in public life.

Some other numbers among churchgoers:
- 20% have heard their clergy speak positively about Jews.
- 8% have heard both positive and negative things from clergy.
- 1% have heard mostly negative things.
- 9% percent have heard neither positive nor negative things from their clergy about Jews.
Half a year after attack, Yisroel Goldstein retires as rabbi of Poway synagogue
The rabbi of the Chabad of Poway, who lost his finger in the April 27 attack that killed one of his congregants, has stepped down as the congregation's leader.

Rabbi Yisroel Goldstein, 58, who founded the Chabad of Poway in 1996, retired this week, the synagogue announced. His son, Rabbi Mendel Goldstein, will assume the leadership of the synagogue and its religious school, the Los Angeles Times reported.

"We are grateful for Rabbi Yisroel Goldstein's thirty-plus years of leadership, especially in the aftermath of the terror attack, and he will forever be a part of our community's story," the synagogue said in a statement Friday.

"As a community we have suffered a great deal, more than any community should know of," the statement also said. "We are working hard to heal and get back on our feet, and now, under the leadership of Rabbi Mendel Goldstein, we look forward to continue to grow and create more light and goodness around us."

Since the attack, the rabbi has given speeches around the world about the attack and its aftermath, while spreading the Lubavitcher Rebbe Menachem Mendel Schneerson's teachings about light and love. His activities have taken him to the White House and the United Nations, and to other countries such as Brazil and Poland. He reportedly declined the chief rabbi of Israel's invitation to speak in Jerusalem.
Dutch government gives $2.76 million for restoring Jewish cemeteries
The Dutch government has allocated $2.76 million toward the maintenance and restoration of Jewish cemeteries in the Netherlands.

Culture Minister Ingrid van Engelshoven announced the funding last week in a letter to the lower house of the parliament.

Local Jews have trouble maintaining the graves because the community's numbers never recovered after the Holocaust. Dutch Jews suffered the highest death rate of any Western European country occupied by the Nazis, in part because of local collaboration.

Fewer than 40,000 Jews survived of a population of some 140,000, and fewer still returned to the Netherlands. Today there are about 45,000 Jews living in the kingdom, including more than 5,000 Israelis, according to the Organization of Jewish Communities in the Netherlands, or NIK.

Thus the small Dutch Jewish community is stretching its resources to maintain more communal property than it can handle.
India seeking Israel help for 'tap-water to every Indian by 2024': Minister
India is seeking Israel's help to ensure functional tap-water to every Indian household by 2024 with a senior minister visiting the country next week to fulfill the government's mission, India's envoy here has said.

During his Independence Day speech, Prime Minister Narendra Modi said that more than Rs 3.5 lakh crore will be spent in the coming years under the 'Jal Jeevan Mission' to bring piped water to households by 2024.

"During the historic visit of our Prime Minister (Modi) to Israel in July 2017, India and Israel agreed to establish a 'Strategic Partnership in Water and Agriculture' in view of the centrality of these areas to development. Under Prime Minister Modi's leadership, the Government of India is according top priority to conservation, development and management of water resources", India's newly appointed Ambassador to Israel, Sanjeev Singla, told PTI.

"The visit by Jal Shakti Minister, Gajendra Singh Shekhawat is significant as both sides will explore possible areas for further collaboration and tangible outcomes. It is also in line with the Prime Minister's vision to ensure functional tap-water to every household in India by 2024 under the Jal Jeevan Mission," Singla, who served as Private Secretary to Prime Minister Modi, emphasised.

Israel has made water recycling an integral part of daily life.

More than 80 per cent of household waste water is recycled, amounting to 400 million cubic meters a year, the Environment Ministry says. That ratio is four times higher than in any other country, according to Israel's water authority.

Shekhawat, who will be on a three day visit to Israel between November 17 and 19, will interact with Yuval Steinitz, Israel's Minister of Energy, who is also responsible for natural resources like water, with leading experts in the field of water management, some identified Israeli companies active in the field and other relevant stake-holders.
Virginia governor lands in Israel for trade mission
Virginia Governor Ralph Northam arrived in Israel on Saturday to lead a six-day trade and marketing mission in the Middle East.

Northam, accompanied by Virginia's Secretary of Commerce and Trade Brian Ball and the state's Secretary of Agriculture and Forestry Bettina Ring, will visit Tel Aviv and Jerusalem before continuing to Dubai in the United Arab Emirates.

"We live in a competitive global economy, and it is important that we share the Virginia story with businesses and trade partners around the world who are interested in buying our goods and services," said Northam in a statement prior to departure. "International trade and marketing missions are critical tools to recruit new investment to the Commonwealth and maintain the relationships that will lead to new jobs, more exports by Virginia companies, and shared economic growth."

The Democratic governor will also be joined by representatives from the Virginia Israel Advisory Board, Virginia Economic Development Partnership, Virginia Department of Agriculture and Consumer Services and Virginia Tourism Corporation.

During his visit to Israel, Northam will host a Virginia reception in Tel Aviv, meet US Embassy officials and visit Yad Vashem Holocaust Museum in Jerusalem. In the UAE, he will speak at a Dubai Chamber of Commerce event and also meet with embassy officials.
Two US-Israeli firms in Top 10 of Deloitte's Technology Fast 500 Winners
Two Israeli companies, SentinelOne and Wibbitz, placed in the top 10 of 500 companies featured in the Deloitte Technology Fast 500 North America Rankings list for 2019. The list was published Thursday by the London multinational Deloitte Touche Tohmatsu.

The annual list, which is marking its 25th anniversary this year, ranks the fastest-growing public and private companies in North America in technology, media, telecommunications, life sciences, and energy tech sectors, based on the percentage of their revenue growth over the past four years (2015-2018.)

"Once again, we saw innovation across the board, with software companies continuing their dominance of the top 10. It's always inspiring to see how the Fast 500 companies are transforming business and the world we live and work in," said Sandra Shirai, vice chairman, Deloitte LLP, and US technology, media, and telecommunications leader of the 2019 winners.

Deloitte also has separate lists for specific regions of the world, including Asia Pacific and Europe, the Middle East, and Africa (EMEA.) In September, the multinational published the Deloitte Technology Fast 500 EMEA list, highlighting the fastest-growing companies in that region in 2018. Twenty-three Israeli companies were ranked on the list, including a software startup in the top 10. The list was based on the percentage of revenue growth from 2014 – 2017.

In the North America list, SentinelOne took 7th place with a growth rate of 10,275 percent, while Wibbitz placed 8th with growth of 9,083 percent.

Founded in 2013, SentinelOne is a US-Israeli cybersecurity company delivering autonomous endpoint protection through a single agent that prevents, detects, responds, and hunts attacks across all vectors. SentinelOne says it is the only solution providing full visibility from edge to cloud across the network. In June, the company raised $120 million in a Series D round, bringing its total capital raised to date to $230 million.
Bellator 234 returned to Tel Aviv, showcasing top Israeli MMA talents
On November 14, major MMA promotion Bellator returned to Israel for Bellator 234, with fifteen under card bouts coupled with a much anticipated home crowd main event, showcasing some of the best Israeli mix martial artists across the country, all up and down the card.

The event, taking place in Menorah Mivtachim Arena in Tel Aviv, featured a series of over 20 combined under card and main card bouts - including Israeli mixed martial artists such as Haim Gozali, his son an up and coming undefeated jujitsu specialist Aviv Gozali, Simon "The Assassin" Smotrisky, Raz Bring, Adam Keresh and Olga Rubin, just to name a few.

While the hometown crowd vigorously cheered on their Israeli representatives in the cage - with the arena erupting into cheers as the Israeli fighters gained the upper hand - the main event saw the heavyweight bout featuring former English Ultimate Challenge MMA heavyweight champion Linton Vassell (19-8-0) against Russian kickboxing specialist Sergei Kharitonov (30-7-0).
Uruguay's national soccer team arrived to Israel to play against Argentina. The game will take place tomorrow in Tel Aviv. Israeli fans are stoked! https://t.co/uJxlraafyN

— StandWithUs (@StandWithUs) November 17, 2019
Things @IlhanMN @RashidaTlaib @lsarsour won't admit about Israel, so here it is from a Muslim woman who didn't mind to take a trip and learn about the country... something we should all do before we lecture people on a place we never been.

Sincerely,
Miss Iraq pic.twitter.com/q7jBQ3ufRy

— Sarai (Sarah Idan) Miss Iraq (@RealSarahIdan) November 17, 2019
---
---
We have lots of ideas, but we need more resources to be even more effective. Please
donate today
to help get the message out and to help defend Israel.