From Ian:
---
Shift on settlements creates space for political resolution, Mike Pompeo says
US Secretary of State Mike Pompeo addressed his latest announcement about the legality of the settlements on Wednesday, and said he is confident that the administration was right about that decision.

"President Trump made clear we were going to recognize facts on the ground, the reality of the situation," he said in an interview on The Ben Shapiro Show.

"In this case, the State Department's previous view had been that settlements were illegal under international law, and we now have taken another look at that issue and have concluded that the settlements themselves are not per se illegal. The Israeli courts are quite capable of making determinations about particular settlements, but it's our conclusion – and we're confident that we're right – that the settlements themselves are not per se illegal under international law," he added.

Pompeo stressed that this move was important also in the perspective of reaching an agreement between Israelis and Palestinians.

"We know that the resolution of the conflict that is there between Israel and the Palestinians is going to be a political resolution," he continued. "We want to create the maximum space for that political resolution. And so, our legal conclusion we think facilitates an increased likelihood that we can ultimately see a political resolution between Israel and the Palestinian people."

The Secretary of State also spoke about the protests in Iran and said that the administration is taking "the opposite" approach compared to the Obama administration.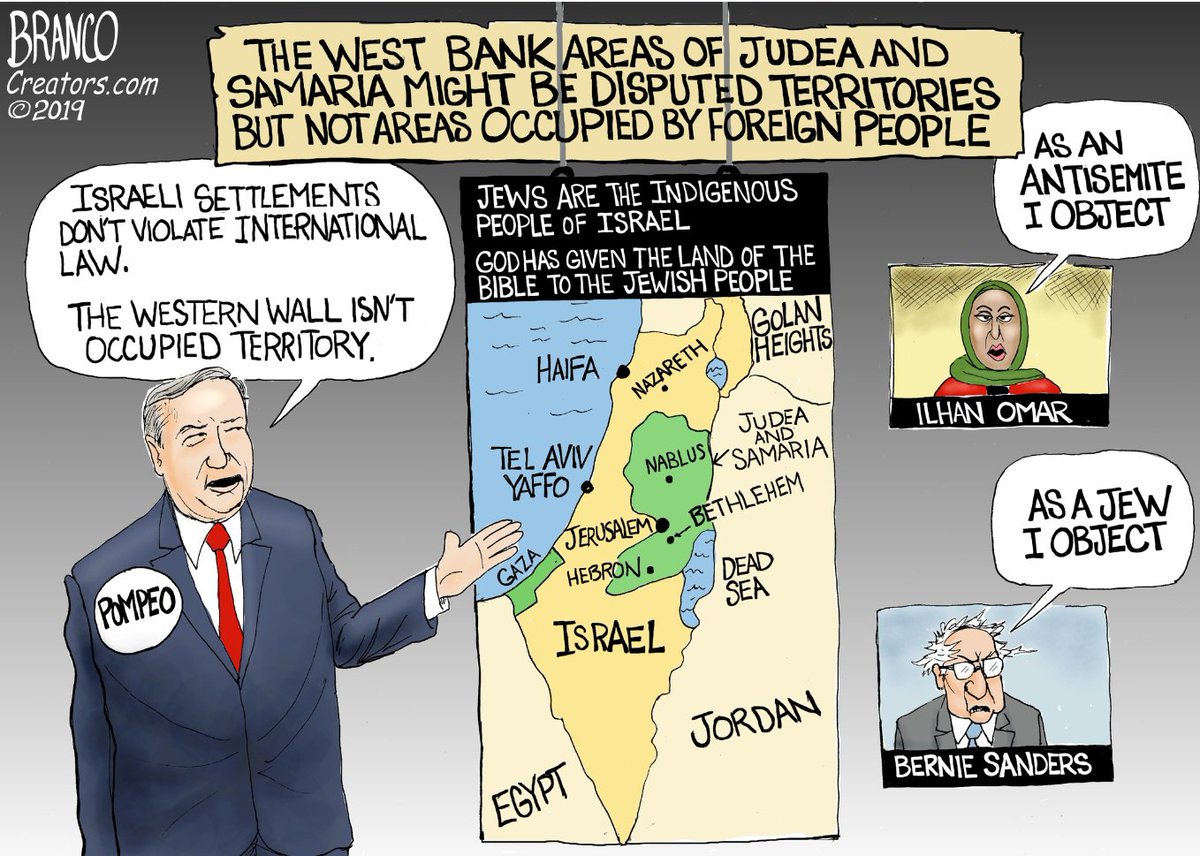 Today's award for most courageous politician: @LanceForman of @brexitparty_uk for his 1-minute blast of truth. Hello, @EUpalestinians - anyone home? pic.twitter.com/sTBDSqPLdC

— Regavim (@RegavimIsrael) November 27, 2019
PMW:
On Day of Rage, Palestinians burn Trump, Pompeo, and Netanyahu, Fatah official participates
The Palestinian leadership called for Tuesday to be a "Day of Rage" to protest US Secretary of State Pompeo's announcement that the US no longer views Israeli settlements in the West Bank as being "inconsistent with international law."

Many Palestinians took to the streets to participate in the "Day of Rage," including Fatah Central Committee member and Fatah Commissioner of NGOs Dalal Salameh, who joined the ceremonial burning of images of US President Trump, US Secretary of State Pompeo, and Israeli Prime Minister Netanyahu in Nablus.

Abbas' Fatah Movement chose to promote this event and posted the images with the following text:

Posted text: "Burning pictures of [Israeli] occupation Prime Minister [Benjamin Netanyahu], US President [Donald Trump], and his Secretary of State [Mike Pompeo] during a protest procession in Nablus against the American steps." [Official Fatah Facebook page, Nov. 26, 2019]

Palestinian Media Watch reported that the PA Ministry of Education urged children to participate in the "Day of Rage" processions, so much so that the ministry closed all PA schools for an hour in the middle of the day to ensure children would join the demonstrations. And indeed, kids participated in the rallies, a fact that Fatah promoted on Facebook. In the image below children with their school backpacks are seen at a "Day of Rage" rally:

This is not the first time Palestinians have burnt in effigy or otherwise shown their disrespect for members of the US administration or the Israeli government. Earlier this year, in protest of the US-initiated Bahrain Conference, Palestinians hung an effigy of Trump on the gallows and burned it:
'The Day of Rage': Palestinians Riot Against US Admin & Israeli Gov't
Palestinian Security Analyst Mohammad Najib joins Jeff Smith to discuss the 'Day of Rage' and what Fatah leaders are saying is a reaction towards the US administration and the Israeli government, both they believe are preventing them from a having a future Palestinian state.
Dexter Van Zile:
It's Time to Cancel the Jew Exception
I am going to need a financial advisor.

In a few months I'm going to get a check from the US government for $5 million.

Here's how it's going to work. Right after I submit this article to The Algemeiner, I'm going to call the local FBI office and tell whoever picks up the phone that one of their most wanted terrorists, Ahlam Tamimi, is living in Jordan — a country which, conveniently enough, has an extradition treaty with the United States.

"I saw the wanted poster for Tamimi on the Internet," I'll tell them. "It says $5 million for information leading to her arrest or conviction! When do I get my money? Do you need my routing number for my bank account?"

Once paperwork is completed and the FBI is alerted to Tamimi's location, the agency will put a call in to the US State Department which will contact King Abdullah II of Jordan, a moderate opposed to terrorism. And for sure, King Abdullah will do the right thing and put her on a plane to the US. A few days later, I'll get my money and call my newfound financial advisor who will tell me where to invest so I will never have to work again.

We're talking inter-generational wealth here!

I just hope that Tamimi's neighbors in Jordan haven't called the US Embassy in Amman to try and collect the money! It's a real possibility. Not only did the FBI produce wanted posters in English, they printed them in Arabic as well. Maybe one of Tamimi's neighbors in Jordan will turn her in and deprive me of my reward!

Get real.

The FBI's wanted posters have about as much force and credibility as the United Church of Christ's (UCC) 2015 vote to divest. Four years later, the church's pension fund still owns the stocks the church said it would sell and two years after the FBI issued its wanted poster, Tamimi walks free in Jordan.
A tribute unfit for a king who harbors our child's killer
The bombing of a pizzeria filled with children and the horror of losing our sunny, compassionate 15-year-old daughter, Malki, in the inferno reverberates through our lives.

With the passing years, the corrosive pain of that loss remains a constant. What keeps changing – growing – is a cast of officials, politicians and public figures who have brought us frustration, deep bitterness, and a crushing sense of injustice.

In the latest chapter, the individual who personally harbors the bomber and keeps her safe from prosecution is being awarded a prestigious honor in front of an adoring crowd tonight, in New York City. He is King Abdullah II, the absolute ruler of the Hashemite Kingdom of Jordan.

How did we get here?

Malki was one of 16 victims in an Islamist assault on a busy pizzeria in the center of Jerusalem. Half of them were children. The bomb – a human being carrying an explosive-laden guitar case on his back – was massive. Several kilograms of nails inside the case maximized the flesh-shredding impact. Survivors were left grotesquely injured.

A Jordanian woman of 21, Ahlam Tamimi, was soon arrested. A journalism student and part-time Arabic TV news reader, she confessed to her central role: scouting potential sites, selecting Sbarro for the large number of children there, delivering the bomb to the target in the heart of Israel's capital.

To us, the devastated parents of one of Tamimi's child victims, it is clear that handing her over to American justice would be unpopular in Jordan.

Sentenced to 16 consecutive life terms, she was one of 1,027 Palestinian Arab prisoners – more than half of them convicted of killing people – set free by Israel in a calamitous 2011 deal with Hamas to secure the freedom of an Israeli hostage, Gilad Shalit.

Tamimi returned to Jordan as a hero and celebrity. In short order, she became a bride, a mother, an inspirational speaker in front of live audiences across the Arab world, a TV show presenter. Her message: support for Arab terrorists serving lengthy prison sentences in Israel and incitement towards still more terrorism against Jews and Israelis.
When the Dutch stopped funding the PA's 'Pay-for-Slay'
In a demonstration of moral clarity, and setting the continental precedent, Holland just became the first European country to discontinue aid to the Palestinian Authority because of its "Pay-for-Slay" terror reward policy.

Since its creation, the PA has been paying ever increasing salaries to terrorist prisoners and released terrorist prisoners and allowances to wounded terrorists and the families of dead terrorists, including suicide bombers. These payments, have become known as the PA's "Pay-for-Slay" policy. In 2018 alone, the PA admitted to spending 502 million shekels (over €131 million) on the salaries to the terrorist prisoners and released prisoners and it is estimated that it spent an additional 241 million shekels (€63 million) just on the allowances to the families of the dead terrorists. The salaries and the allowances are paid irrespective of any needs based criteria. Rather they are paid solely as a reward for terrorism.

When the Dutch parliament was originally exposed to the PA's noxious policy, its first steps were cautious, calling on the government to further investigate. As the unequivocal evidence of the policy grew, the parliament decided to reduce their aid to the PA by a symbolic seven percent – a sum equivalent to the percentage the PA devoted from its entire 2018 budget to its policy. Having further engaged with the PA, and noting the PA's refusal to cease funding the policy, the Dutch government decided to discontinue all the aid.

The Dutch decision was monumental, not only because it was the first European country to cut all aid to the PA, but rather because the Dutch knew definitively that their aid was not supporting the "Pay-for-Slay" policy. The Dutch were actually supporting the PA judicial system.
Nir Barkat proposes bill to end UNRWA services for Israel's Arab residents
Former mayor of Jerusalem and Knesset Member Nir Barkat has proposed a bill calling for the end of the United Nations Relief and Works Agency (UNWRA) services for Israel's Arab residents by January 1.

The bill "aims to exercise the sovereignty of the State of Israel and implement Basic Law: Jerusalem, the capital of Israel," it states. "UNRWA will cease to have representation, provide any service or conduct any activity in Israel. UNRWA will not open or operate a mission, provide services or hold a meeting or activity in the States of Israel - directly or indirectly."

It also calls to end UNRWA's involvement in some of Jerusalem's Arab educational institutions by the end of June 2020.

Basic Law: Jerusalem, enacted in 1980, names "Jerusalem, complete and united" as Israel's capital, defining greater Jerusalem as "the Historical Basin and the rest of East Jerusalem, taken over from Jordan during the 1967 Six Day War."

A spokesperson for Barkat said the bill would apply only to east Jerusalem and not to Palestinian territories in Judea and Samaria.

"UNRWA explicitly encourages incitement against Israel and attacking our citizens," Barkat said, citing the discovery of UNWRA school texts that glorify terrorists and support antisemitism. "UNRWA facilities are also known to be terror bases in Gaza that store missiles used against Israeli civilians."
Aid to Israel Keeps America Safer
The $3.8 billion provided annually to Israel by the U.S. is actually an investment in America's own security - one that delivers an incomparably high return. The U.S. currently spends $75 billion on military operations in and aid for Afghanistan, $65 billion for Iraq, and $3.25 billion for Pakistan. Few Americans complain about this $143.25 billion.

U.S. funds do not support day-to-day operations of the Israel Defense Forces, but rather are largely used by Israel to purchase armaments from the U.S., such as the F-35 stealth fighter, and to develop together with the U.S. new, advanced weapon systems, such as the Iron Dome, Arrow 3 and David's Sling missile defense systems. This spending on U.S. military equipment supports U.S. high-tech defense jobs and our industrial base.

The nations and forces that threaten Israel are also those that threaten U.S. interests - Iran, Syria, U.S.-designated terrorist groups like Hizbullah and Hamas, and actors like al-Qaeda and Islamic State.

Israel destroyed a nuclear weapons factory in Saddam Hussein's Iraq in 1981 and a Syrian nuclear facility under construction in 2007. Israel assists Egypt in destroying al-Qaeda cells in Sinai.

Israel is a world leader in cyber security and intelligence, providing the U.S. with a continuous feed of priceless intelligence on Iran, Syria, al-Qaeda, Hizbullah, and Hamas.

As U.S. Representative Steve Rothman (D-N.J.) put it, "For about two percent of what the U.S. spends in Afghanistan, Iraq and Pakistan this year, Americans can take pride in the return on our investment in aid to Israel."
Israel should not worry about Arab outrage
The rest of the Arab world has other major problems to deal with, most notably armed conflicts. The war in Syria is still ongoing. Iraq is still not entirely stable following the US-led coalition invasion of the country that removed dictator Saddam Hussein, as terrorist attacks in the country are still common.

Moreover, the Iraqi people have recently begun what seems to be a mass uprising against the country's government, demanding jobs, an end to corruption and better public services. In addition, civil war continues in Libya and Yemen. The latter faces one of the worst humanitarian crises in the world. Its people are too busy dying of famine and starvation to worry about what Israel is doing.

The fact of the matter is that the Arab world has enough problems of its own and the Israeli-Palestinian conflict is no longer a major priority.

Prime Minister Benjamin Netanyahu is very likely aware of this, which is probably one of the reasons he was not afraid to promise that he would annex territory in the West Bank. He also knows that he'll get little to no pushback from the United States, whose current administration under President Donald Trump has been nothing but supportive of the Jewish state and is probably the most pro-Israel administration in US history. If ever Israel was contemplating annexing territory in the West Bank, now would be the perfect time to do it.
Saudi reporter secretly visits Israel, says 'loves Jewish people'
It is no secret relations between Israel and the Saudi Kingdom have improved over the last few years. But for Saudi citizens it is uncommon to pay visits to the Jewish state, as there remains significant hostility toward it within the kingdom's public sphere.

However, one such Saudi – a reporter, cultural researcher and scholar of Jewish text – made a secret trip this week after accepting an invitation by Israel's foreign ministry.

Speaking to Israel's Army Radio on conditions of anonymity, the Saudi journalist expressed opinions seldom heard in the Arab world.

"There is no escape from establishing normal relations with Israel," he said in an interview aired Tuesday morning following his return to the kingdom.

But those "normalized relations" cannot be like the ones Israel has with Jordan or Egypt, stipulated the anonymous Saudi, a prominent figure in his home country, according to the army broadcast. He dismissed them as mere connections between governments, as opposed to "real peace" agreements.

Criticizing Israel's neighboring Arab states, he argued that their cross-border relations cultivate hate, which at the same time he said should be prosecuted.

On the Palestinian conflict, the interviewee also presented an unconventional opinion.

"Why should the Arab world ignite problems with Israel and the superpowers because of a small minority? This minority had a chance to form a state in '47 but refused because it only dealt with the question, 'why do the Jews have an independent country?'"
China Bids to Replace US Influence in the Middle East
In what could prove to be a serious challenge to the long-standing hegemony Washington has enjoyed in the region, Beijing is seeking to deepen its commercial ties in the Arab world, thereby encouraging Arab states to look to China to safeguard their future security needs rather than maintaining their traditional reliance on the US.

Beijing is particularly keen to stress China's high-tech capacities in areas such as its position as a global leader in building 5G telecoms networks, as well as its Belt and Road Initiative, the ambitious economic plan to build trade networks across the world which is designed to deepen commercial ties with the Middle East.

The US, however, might bear in mind that "withdrawing from 'forever wars'" might be seen by adversaries of the West as an invitation to move in.
Viral video of kids crying after rocket scare underlines frustrations in south
A video of young children whimpering in an Ashkelon bomb shelter during a rocket scare has gone viral, highlighting frustration among southern residents at the persistent waves of violence battering the region.

The video was taken Tuesday night after a rocket alert siren went off in the coastal city just before midnight. The army later said no rocket was launched at the area, but that assurance didn't help Reut Shpilman's children as they shook in fear in the shelter.

"It's very frustrating, the gap between understanding what's happening here in the south and the way life just goes on outside the siren areas," Shpilman, a mother of four, told Channel 12 news on Wednesday.

"In 30 seconds [after a siren sounds], we have to get four kids to the bomb shelter, which is outside the house. We can't go on like this."

The video, viewed over 86,000 times in the 20 hours after she posted it at 1:15 a.m. Wednesday, shows three of her children in the local bomb shelter.
Last night 2 rockets were fired from Gaza at Israeli civilians in the south.

A mother filmed how her children felt during the air-raid sirens last night for the world to see. 💔 pic.twitter.com/IBD3m4MOvX

— Hananya Naftali (@HananyaNaftali) November 27, 2019
Palestinian terrorist confesses to Ofra, Givat Assaf attacks
A Palestinian man has confessed to carrying out deadly terror attacks last year which claimed the lives of two IDF soldiers and an unborn baby in the West Bank.

Assam Barghouti confessed during a hearing at the Ofer Military Court to the murder of Amiad Ish-Ran outside the settlement of Ofra and St.-Sgt. Yuval Mor Yosef and St. Yosef Cohen at the Givat Assaf Junction in two separate attacks in December 2018. Another IDF soldier, Netanel Felber, was critically wounded in Givat Assaf attack.

Barghouti also confessed to other charges.

Ilanit and Motti Mor Yosef, the parents of IDF soldier, Sgt. Yovel Mor Yosef, who was murdered by Barghouti, did not attend the hearing but called for the death penalty for Palestinians convicted of carrying out terror attacks.

"We are pleased that the circus in the military courts is coming to an end. From our point of view, once the decision was made not to request the death penalty for the murderer, we knew that justice would neither be seen or done," they said in a statement. "The murderer was a "ticking bomb" and we are sad that he was not killed instead of being arrested. It is time to change the policy on the death penalty, and restore the deterrence of the State of Israel, that does not exist."

Barghouti carried out the attack at Givat Assaf just days after he and his brother Salah Barghouti shot seven Israelis in a drive-by-shooting attack in the settlement of Ofra, just north of Givat Assaf. Amiad Ish-Ran, who was delivered prematurely as a result of the attack, died three days later.
IDF razes homes of terrorists who killed yeshiva student Dvir Sorek
The IDF raided the southern West Bank town of Beit Kahil, near Hebron, in the early hours of Thursday and razed the homes of two Palestinian terrorists implicated in the August murder of a yeshiva student in Samaria.

Eighteen-year-old Dvir Sorek was found stabbed to death near his hometown of Migdal Oz in Samaria. Sorek had gone to Jerusalem to buy books for his teacher as an end-of-year present and was returning home when he was targeted by Palestinian terrorists. His body was found by the side of the road, still clutching the books he had purchased, by popular Israel novelist and outspoken left-wing activist David Grossman.

Cousins Nasir Asafra, 24, and Qassem Asafra, 30, were arrested shortly after the attack and charged with Sorek's murder. Three others were also indicted on terror charges in connection with the attack.

The military said local residents clashed with the troops at the scene.

Israel maintains that the practice of razing terrorists' homes is an effective means of discouraging future attacks, though it has been criticized by human rights groups as a form of collective punishment and by some analysts as an ineffective deterrent measure.

Defense Minister Naftali Bennett said in a statement that those who carry out terror attacks will be punished.

"Unfortunately, we cannot guarantee that there will be no more terror, but we must exact a heavy price from anyone who raises a hand against an Israeli citizen," he said.
IDF Seizes Huge Shipment of Military Equipment on Its Way Into Gaza
Israeli security forces have thwarted an attempt to smuggle a massive quantity of military equipment into the Gaza Strip, the IDF revealed on Thursday.

The Israeli military said that officials from the Defense Ministry's Crossings Authority, along with officers from the Gaza District Coordination Office and the Office of the Coordinator of Government Activities in the Territories (COGAT) seized hundreds of parcels of dual-use products at the Erez Crossing.

The products were bought online in hopes of eluding detection and were destined for terrorist groups in Gaza, the military said.

Israeli authorities, including the Crossing Authority, the Israel Security Agency (Shin Bet), COGAT, the Israel Police and Israel Tax Authority, regularly intercept contraband heading for Hamas or Palestinian Islamic Jihad at crossings from Israel into the Gaza Strip.

According to COGAT officials, the shipment seized on Wednesday included 325 packages ordered online from popular websites such as AliExpress and Amazon. The goods confiscated included military and electronic equipment such as skimmers, knives, scuba gear, drones, satellite communications equipment, binoculars and more.

Special permits are required from Israeli authorities to import dual-use goods, such as cameras, into the Gaza Strip, according to COGAT.
PMW:
Extreme Palestinian child abuse! Mom tells her son he is destined for Martyrdom - in girl's poem
A young boy is brimming with excitement waiting for a toy from his mother. But instead of rewarding her son with a toy for finishing his food, his mother hands him a rifle. When the boy expresses confusion, she responds with a grim announcement:
"My son, we were not created for happiness. In my eyes, you are meant for Martyrdom!" [Official Fatah Facebook page, Nov. 22, 2019]

This is one of the abusive messages in a poem recited by a young girl on Palestinian radio that Abbas' Fatah Movement chose to share with its 250,000 followers on Facebook. A second message in the poem that is clear child abuse tells Palestinian children why they are to die as Martyrs: They are merely the "ammunition" for Islam – the "weapon" with which to liberate and conquer Jerusalem.
"Jerusalem is ours, our weapon is our Islam, and our ammunition is our children. And you, O my son, are meant for Martyrdom."

The ideologies expressed in this poem illustrate the Palestinian Authority's abuse of its own children that Palestinian Media Watch has documented since the first years of the PA. Palestinian children are taught to romanticize and seek death.
Extreme Palestinian child abuse: Mom tells her son he is destined for Martyrdom - in girl's poemhttps://t.co/uvRnxmNveG pic.twitter.com/AFF6XyobXX

— Pal Media Watch (@palwatch) November 28, 2019
NGO Monitor (podcast):
Season 2, Episode 8: Gaza Kids Betrayed by International NGOs
Last week was Universal Children's Day, a day to promote the rights of children around the globe. But are human rights groups actually protecting the rights of all children? Why is the Swedish government sponsoring a project with an Islamic Jihad-run kindergarten? On this week's episode, our host Yona Schiffmiller and expert Shaun Sacks uncover the abuse of children by NGOs active in the Arab-Israeli conflict.
Hamas Cancels Friday Gaza Border Protests for Third Week
This week's protests were intended to mark the anniversary of the UN resolution on the establishment of the state of Israel.
The announcement was made on behalf of all the Palestinian Gaza factions but Hamas is thought to be behind the decision.

Israeli authorities Wednesday notified Gaza's fisherman that all boats were now allowed to extend their fishing area to up to 15 nautical miles from shore after only certain vessels were given the permission to sail that far until now.

Earlier this week, Qatari deputy envoy Khaled al-Hardan arrived in Gaza for a visit during which his government announced the monthly stipends of $100 to families in need, will be distributed.

Ynet has learned that al- Hardan traveled between the Strip and Israel for meetings with Israeli security officials. A source estimates these talks included agreements Israel and Hamas can reach to promote a long-term understanding.

Defense Minister Naftali Bennett met with UN special envoy to the Mideast Nickolay Mladenov. The two discussed the security situation with an emphasis on the northern part of the enclave.
German Government Will 'Ban' Hezbollah Outright in Coming Week, Report Claims
One of Germany's leading dailies reported on Thursday that the federal government will next week issue a complete ban on Hezbollah, the Shi'a terrorist group that serves as the Iranian regime's proxy in Lebanon.

According to Der Spiegel, the decision had been coordinated by the Foreign, Interior and Justice Ministries in Berlin and would likely be formally announced at a conference in the coming days.

Following the ban, all activities of Hezbollah would be forbidden in the country, including the public display of the group's flag — which has been flown at various pro-Palestinian demonstrations in the past.

In 2018, protesters attending the annual "Quds Day" rally in Berlin distributed antisemitic signs comparing Zionism with Nazism and calling for a boycott of Israel, along with Hezbollah flags.

Like most member states of the European Union, Germany has only recognized the organization's "military wing" as a terrorist entity, withstanding Israeli and American pressure to blacklist the group in its entirety.
US Accuses Russia of Helping Syria Cover Up Chemical Weapons Use
The United States on Thursday accused Russia of helping Syria conceal the use of banned toxic munitions in the civil war by undermining the work of the global chemical weapons agency trying to identify those responsible.

The comments by the US representative to the Organisation for the Prohibition of Chemical Weapons (OPCW), Kenneth Ward, drew a rapid denial from Moscow and came as Western powers and Russia clashed at the agency's annual conference in The Hague.

Moscow has for months cited dissent by two former OPCW employees who leaked a document and an email as evidence that the OPCW doctored the conclusions of a March 1 report which found that a toxic chemical containing chlorine was used in a 2018 attack near Damascus.

More than 40 people were killed in that attack in Douma, a town on the outskirts of the capital then held by rebels, on April 7, 2018.

The United States, Britain and France retaliated a week later by firing missiles at Syrian government targets, the biggest Western military action against the Damascus authorities of the eight-year-old war.
Russian Ambassador: We Condemn Israel's Public Strikes in Syria
Russian Ambassador to Israel Anatoly Viktorov on Israel's actions in Syria and Israeli prisoner Naama Isschar who has yet to be released from Russian jail. Full interview with hosts Nurit Ben and Calev Ben-David
MEMRI:
Syrian Journalist And Human Rights Activist Urges Google To Remove From Google Play An App Serving The Syrian Regime Which Commits War Crimes
Writing in the Syrian opposition weekly Anab Baladi, journalist and human rights activist Mansour Al-'Omari noted that an app called Smart Window[1] that is available on Google Play is publishing advertisements on behalf of Syrian regime institutions, such as Syria's Air Force Intelligence, that are guilty of war crimes and crimes against humanity. Google, he stated, is therefore abetting these war crimes, both in violation of its own stated policy prohibiting apps that promote violence and in violation of the UN Guiding Principles on Business and Human Rights. Since Google does not vet apps it offers, he added, users should flag this app and demand its removal from Google Play.

It should be noted that Syrian Air Force Intelligence has been subject to U.S. and European sanctions since 2011, because of its involvement in dispersing demonstrations with live weapons.[2]

The following are excerpts from Al-'Omari's article, as posted on the Anab Baladi website.[3]

"Google Play has a [Syrian] application called Smart Window, which supports [Syrian] Airforce Intelligence. [The app] displays announcements on behalf of the institutions of the Assad regime, including Air Force Intelligence, and thereby takes part in supporting this [state] apparatus that tortures and kills Syrian [citizens].

"The app's Facebook page posted the following advertisement, [for example]: 'The Armed Forces General Headquarters has announced that it is recruiting a new class of young women interested in volunteering for the Airforce Intelligence Directorate.'
Iraq protesters burn down Iranian consulate; protester killed
Anti-government protesters burned down the Iranian consulate building in southern Iraq on Wednesday, while six protesters were killed by security forces who fired live rounds amid ongoing violence, Iraqi officials said Wednesday.

Protesters destroyed the Iranian consulate in the holy city of Najaf in the evening. One protester was killed and at least 35 people were wounded when police fired live ammunition to prevent them from entering the building, a police official said. Authorities declared curfew in Najaf after the incident. The official spoke on condition of anonymity, in line with regulations.

The demonstrators removed the Iranian flag from the building and replaced it with an Iraqi one. Iranian staff were not harmed and escaped the building from the back door.

The incident marked an escalation in the demonstrations that have raged in Baghdad and across the mostly Shiite southern Iraq since October 1. The protesters accuse the Shiite-led government of being hopelessly corrupt and complain of poor public services and high unemployment. They are also decrying growing Iranian influence in Iraqi state affairs.

Security forces have fired bullets, tear gas and smoke bombs on a near daily basis since the unrest began. At least 350 people have been killed and thousands wounded, in what has become the largest grassroots protest movement in Iraq's modern history.
🗣️ "By setting fire to the Iranian consulate in Najaf, the protesters are sending a clear message to Iran" pic.twitter.com/zypKMi359F

— FRANCE 24 English (@France24_en) November 28, 2019
JCPA:
Are the Protests in Iran Waning?
The Iranian regime has shown that it does not shy away from firing at protesters and that it is prepared to take dramatic and brutal measures. The Iranian regime has resorted to shutting down the Internet, indiscriminately shooting protestors, holding dead bodies for ransom, and arresting journalists and their families to contain the protests as quickly as possible.

The regime killed hundreds of Iranians since the protests began and injured about 7,000. More than 10,000 were arrested, and arrests are still ongoing. Along with killing protesters and demanding huge sums from families to recover their bodies, security forces have stepped up their efforts to arrest journalists inside and outside Iran. According to testimonies from expatriate journalists, intelligence agencies inside Iran have tortured their parents for hours and days, urging the parents to call their children abroad and demand that they terminate their reporting immediately.

During the recent wave of protests, Iran demonstrated an extraordinary ability to disconnect the country from the worldwide web, and this option appeared to have been prepared in advance of the latest wave of protests. Iran recently blocked Wikipedia within the country. The decision was probably made after Wikipedia launched pages covering the recent riots in Iran. Internet experts have stressed that access to the Internet in Iran will no longer return to its previous state.
Khamenei: Iran's quashing of protests 'hard blow' to Zionism
After Iran was rocked by anti-government protests throughout the country, the Islamic Republic's Supreme Leader Ayatollah Ali Khamenei expressed his "deep respect and admiration to the great Iranian nation" for quashing "the enemy's movement with its magnificent display," during a meeting with thousands of members of Iran's Basij paramilitary force on Wednesday.

The meeting took place during Basij, a week-long glorification of the volunteer paramilitary force associated with the Iranian Revolutionary Guards Corp (IRGC) that mostly deals with domestic security and threats, according to Radio Free Europe/Radio Liberty (RFERL).

Khamenei claimed that "the enemies" spent a large amount of money designing the "conspiracy, and were waiting for an opportunity to implement it with destruction, killing, and villainy," adding that they thought they could use the hike in gas prices as an opportunity to carry out the "conspiracy." "However, the Iranian nation quashed the enemy's movement with its magnificent display," he said.

"The magnificent movement of the Iranian nation – that began in Zanjan and Tabriz, even spread to some villages, and ended in Tehran – was a hard blow to Global Arrogance and Zionism, forcing them to retreat," said Khamenei, stressing that the actions of the Iranian nation were more important than the actions of the police, the IRGC and the Basij.

The supreme leader called the week of protests – during which, according to Radio Farda, over 140 people were killed by security forces and up to 7,000 people were arrested throughout the country – "the highlight of the Iranian nation's magnificence and greatness."
Iranians: "Why is the world silent as our government is murdering us?"
Since demonstrations broke out over high gas prices on November 15 across Iran, at least 140 protesters have been killed. Amnesty International reports that Iranian security forces "shot unarmed people on streets, from rooftops and a helicopter". Thousands have reportedly been arrested.

The internet was blocked by the Iranian government for a week to prevent the world from seeing these abuses. And many human rights organizations believe that the death toll is significantly higher.

Amnesty further reported on November 25 that,
"[T]he Iranian authorities have been moving injured protesters from hospitals to detention facilities, putting their lives at risk by denying them potentially life-saving medical care.

"[I]n many cases, the Iranian authorities have refused to return victims' bodies to their families and, in some cases, the security forces have removed dead bodies from morgues and transferred them to unknown locations.

"There are also shocking reports that, when the authorities have returned victims' bodies to their families, they have demanded payment citing several reasons, including the cost of the bullet that killed their loved one, or compensation for property destroyed during the protests. These allegations have been denied by at least one official in Khuzestan province.
Iranian Quran Expert Bahrampur on National TV: Protesters Should Be Slaughtered or Have Their Feet and Hands Chopped Off on Alternate Sides; If We Kill 10,000 of Them, It Will Not Be an Exaggeration pic.twitter.com/EurmMlpWa8

— MEMRI (@MEMRIReports) November 28, 2019
MEMRI:
Turkish Columnist In AKP Mouthpiece: 'Erdoğan Is The Embodiment Of Anti-Colonialist Policy'; 'Different Power Centers... Can Create Lines Of Resistance Against The West'
In a November 18, 2019 column titled[1] "Erdoğan Is The Embodiment Of Anti-Colonialist Policy" in the Adalet ve Kalkınma Partisi (AKP) mouthpiece Yeni Şafak, Turkish columnist Selçuk Türkyılmaz wrote that "the bells are ringing for the truly colonial West. In a vast world from Central and Latin America to Africa and Asia, different power centers are being formed and these centers can create lines of resistance against the West."

Türkyılmaz wrote: "It is clear that people and groups who are deemed useful by America and Western European countries use certain ideas, beliefs and identities as tools... We know that those who are hostile to Erdoğan day in and day out have caused harm to this country." Defining Turkey's policy as anti-colonial rather than anti-Western, and Erdoğan as its embodiment, Türkyılmaz wrote: "Turkey is neither the enemy of America nor the West. Turkey is following an anti-colonial policy that is called anti-imperialism and anti-colonialism. Erdoğan is the embodiment of this policy... Erdoğan is trying to keep a region on its feet in spite of America and Russia."

Following is Yeni Şafak's translation of Türkyılmaz's column:
"The Bells Are Ringing For The Truly Colonial West – In A Vast World From Central And Latin America To Africa And Asia, Different Power Centers Are Being Formed And These Centers Can Create Lines Of Resistance Against The West"

"We are going through a period when the West is being openly questioned by its former spheres of domination. If this were but a mere lapse of conviction, we would not have considered it as an ideological extremism (!). We are at a time when questioning is more than an intellectual pursuit, and the bells are ringing for the truly colonial West. In a vast world from Central and Latin America to Africa and Asia, different power centers are being formed and these centers can create lines of resistance against the West. It is not possible to understand this new situation using the concepts of liberal thoughts and practices.
Pompeo: Turkey's Test of Russian Weapons System 'Concerning'
Turkey carrying out tests with the Russian defense system it purchased was "concerning," U.S. Secretary of State Mike Pompeo said on Tuesday, but added that talks between Washington and Ankara to resolve the issue were still underway.

Speaking at a news conference, Pompeo said the United States has made it clear to Turkey that Washington wants to see Ankara move away from full operation of the S400 air defense system.

"Yes it is concerning," Pompeo said, when he was asked about the reports that Turkish F-16 warplanes flew over the country's capital Ankara on Monday to test its new Russian S-400 missile system.

David Rutz breaks down the most important news about the enemies of freedom, here and around the world, in this comprehensive morning newsletter.

"We are hopeful. We are still talking to the Turks, still trying to figure out our way through this thing," he said.

Ankara and Washington have been at loggerheads over Turkey's purchase of the S-400 system, which Washington says is not compatible with NATO defenses and poses a threat to its F-35 stealth fighter jets, which Lockheed Martin is developing.
Going through old things in my parents' basement and found this, from 1967: a nearly 100-page special edition of @LIFE commemorating Israel's miraculous victory in the Six-Day War. pic.twitter.com/YO4elYVLhR

— Seffi Kogen (@seffikogen) November 28, 2019
---
---
We have lots of ideas, but we need more resources to be even more effective. Please
donate today
to help get the message out and to help defend Israel.