From Ian:
PMW:
Murderers of 3 Israeli women are "heroic Jihad fighters" - according to PA/Fatah
Over a month ago, Israeli-British Lucy Dee and two of her daughters, Maia and Rina Dee, aged 48, 20, and 15 respectively, were brutally murdered while driving in the Jordan Valley.

Two Palestinian Hamas terrorists, Hassan Qatanani and Moaz Al-Masri, shot at their car, killing the young women instantly, while their mother succumbed to her wounds a few days later.

Having vowed that no murderer of Israelis should ever feel safe, Israeli forces tracked down and killed the terrorists and their accomplice Ibrahim Jaber who was hiding them in his apartment in Nablus, on May 4, 2023.

As Palestinian Media Watch has documented it is PA/Fatah policy to side with terrorists including terrorist murderers and so too in this case.

PA Chairman Abbas' spokesman Nabil Abu Rudeina "condemned the ongoing invasions of the cities and the daily crimes of murdering our people, the latest of which was the ascent [to Heaven] of 3 Martyrs [Hassan Qatanani, Moaz Al-Masri, and Ibrahim Jaber] in the old city of Nablus." [Official PA daily Al-Hayat Al-Jadida, May 5, 2023]

PA Prime Minister Shtayyeh not only "condemned the Israeli act of aggression due to which 3 Martyrs ascended to Heaven" [WAFA, official PA news agency, May 4, 2023] and "called on the European Union to condemn the occupation's crimes." [Official PA daily Al-Hayat Al-Jadida, May 5, 2023] He even shared a post by the PA Government's Spokesman Ibrahim Melhem with praise and pictures of the murderers and their helper:

Terrorist murderer Moaz Al-Masri (left), terrorist murderer Hassan Qatanani (upper right), and terrorist Ibrahim Jaber (bottom right), who hid them in his apartment. Posted text: "Glory and eternity to our righteous Martyrs, and shame on the criminal occupation.

This morning [May 4, 2023], the occupation renewed its attack against our people in Nablus, and 3 Martyrs ascended to Heaven. They are: Moaz Al-Masri, Hassan Qatanani, and Ibrahim Jaber."

[PA Prime Minister Muhammad Shtayyeh, Facebook page, May 4, 2023]
David Singer:
Islamic Jihad may ease way for Hashemite Kingdom of Palestine
The decapitation of Islamic Jihad's senior leadership in Gaza should help facilitate negotiations to successfully implement the creation of the Hashemite Kingdom of Palestine and end 100 years of conflict between Jews and Arabs.

The current conflict between Israel and Islamic Jihad was initiated when 100 rockets and mortars were fired into Israel from Gaza by Islamic Jihad following the death of a senior Islamic Jihad figure – Khader Adnan - after an 87 day hunger strike in an Israeli jail.

A targeted counter-response by Israel killed three Islamic Jihad commanders. A further 1000 missiles fired into Israel saw another three Islamic Jihad leaders eliminated by Israel.

A fragile ceasefire now exists.

Hamas stayed out of this current conflict – but threatened to enter the fray if Israelis hold a Flag March through Jerusalem on 19 May to commemorate the reunification of Jerusalem following the 1967 Six Day War. It, however, refrained from any action and the flag march took place.

Israel and Islamic Jihad last clashed in August 2022 – when Hamas also did not become involved.

The Saudi-based Hashemite Kingdom of Palestine solution published on 8 June 2022 – and subsequently amended – provides:

"The proposal for this expanded kingdom includes Jordan with its current borders, the Gaza Strip, and the 'West Bank' (areas inhabited by Palestinians that border Jordan, which means that they are not divided into islands). Hence the Israeli arguments about the need to preserve the Jordan Valley and other areas will become weak since these lands will then be under the control of a Jordanian government that has the credibility of keeping the peace with Israel. And the usual Israeli claim that it has no "peace partner" will also end.

Neither the PLO nor Hamas shall govern the new entity - whose capital will be located in Amman – not Jerusalem, which will become the capital of Israel only.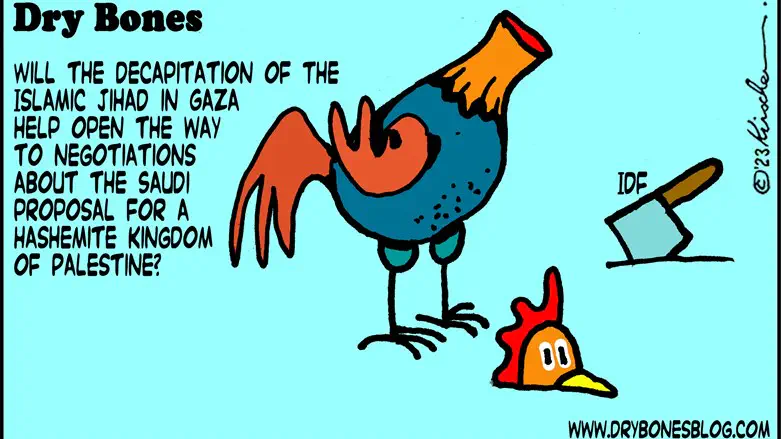 The 'Nakba' and How it Grew
Along with "apartheid" used as an adjective – as in "Israel is an apartheid state" – haters of Israel have taken to referring to the "Nakba," the Arabic word for "catastrophe."

The "Nakba" is the word the Arabs now use to describe the failure in the 1948 war of five Arab armies to destroy the Jews of Israel, by expelling or killing every last one. That, of course, is not how the Arabs put it to the Western world: they claim the "Nakba" refers to the defeat of the Arabs who had intervened only to help their Palestinian brothers hold onto the land that had been theirs for centuries, land that the "Zionist entity" was stealing for itself.

More on the history of the "Nakba" can be found here: "The Nakba Narrative: A History of Deception," by Chaim Lax, Honest Reporting, May 8, 2023:
"'The Nakba' is repeatedly invoked in the media, academic literature, politics, and popular culture surrounding the Israeli-Palestinian conflict. Its appearance is so ubiquitous at this point, that it seems like it has always been part of the general lexicon.

"However, that is not the case.

"Here, we'll look at the significance of the term 'Nakba,' the history of the term from 1948 until the present, how this Arabic term gained popularity around the world, and the new adoption of the term to refer to anti-Jewish persecution by the Arab and Muslim worlds.

"In Arabic, the term 'al-Nakba' means 'the catastrophe.' In the context of the Israeli-Palestinian conflict, the catastrophe that the 'Nakba' is referring to is the founding of the State of Israel in 1948, and the disintegration of Palestinian Arab life in Israel.

"For those who adopt this narrative, the Zionist movement and Israel are solely responsible for the displacement of Palestinian Arabs between 1947 and 1949, while the Arabs themselves are the exclusive victims of the conflict.

"By failing to take into account the Palestinian and Arab refusal to accept a two-state solution in 1947 and the subsequent military attempt to destroy the Jewish state, the Nakba narrative advances the claim of perpetual Palestinian victimhood and serves as a historical basis for the Palestinian 'right of return.'"
The Occupation Myth pic.twitter.com/fG9SqiKmri

— Corrected Media (@correctedmedia) May 22, 2023
Richard Goldberg:
The Road to Israel-Saudi Normalization Runs Through Washington
Saudi Arabia's crown prince reportedly told senior U.S. officials earlier this month that he is prepared to normalize the kingdom's relations with Israel as part of a broader reset in relations between Riyadh and Washington. That's welcome news for a White House scrambling to repair a rupture in U.S.-Saudi ties, as Riyadh appears to be inching toward the exit from its historic relationship with the United States.

For two years, President Joe Biden found every opportunity to distance the U.S. from its decades-long Arab partner in the Gulf. And as a result, Crown Prince Mohammed bin Salman went shopping for new allies—with China, already his country's largest trading partner, at the top of the list.

Without a change in course, the United States and Saudi Arabia are headed toward a strategic divorce. Were that to happen, sensitive military and dual-use commercial relationships between Riyadh and Beijing would preclude Washington from sharing certain military hardware, intelligence, and high-tech systems with the kingdom. And as the Chinese-Saudi partnership grows, Israel will also find itself under pressure to keep its distance, although normalization with the Saudis remains a coveted strategic prize for its prime minister, Benjamin Netanyahu. Any exposure and vulnerability to China inside Israel's defense and high-tech sectors inevitably causes problems for U.S.-Israel defense and high-tech cooperation; in effect, were the Saudis to leave the American alliance structure and integrate into China's, Israel would be forced to choose between its most important benefactor and diplomatic relations with the most significant kingdom in the Arab world.

All of this is great news for China and its most natural ally in the Middle East, Iran. As the U.S. pulls back further from the region and Saudi-Israel normalization gets put on hold, China will fill the vacuum—using its influence on both Iran and on America's erstwhile Gulf allies to play the kind of global energy politics the U.S. mastered during the cold war. What is now a primarily commercial partnership between Beijing and Riyadh will take on increasing strategic significance, and Saudi Arabia (along with Iran) will become one of several oil-producing friends China can rely upon during moments of confrontation with the United States.

Tehran, for its part, will score a major victory by blocking the development of an integrated U.S.-Israel-Arab security architecture that could contain it, and perhaps even defeat it. Instead, it will use its Palestinian terror proxies to provoke clashes with Israel that stir emotions in the Arabic-language press and refocus Middle Eastern attention on the Israel-Palestinian conflict instead of on its own role in fomenting chaos and bloodshed around the region. For the Saudis, normalization with the Jewish state will lose its appeal, becoming a risky move in support of an alliance with the U.S. that no longer appears worthwhile.

If Crown Prince Mohammed bin Salman (known in the Western media as MBS) intended to send Washington a wake-up call by cozying up to Beijing, he succeeded. After nearly a year of inaction, the White House leaned on the Senate to confirm a new U.S. ambassador to Saudi Arabia, Michael Ratney, who presented his credentials in Riyadh in late April. National Security Advisor Jake Sullivan visited the kingdom in early May, and Secretary of State Antony Blinken is planning to follow in June. These are important steps, but healing the relationship's open wounds and brokering Israeli-Saudi normalization will take more than promises and platitudes; it will require creative reimagination from both capitals and a commitment not merely to maintain, but to upgrade, the alliance.
Benjamin Netanyahu, MBS spoke twice on Israel-Saudi normalization
Prime Minister Benjamin Netanyahu and Saudi Crown Prince Mohammed bin Salman (MBS) spoke on the phone twice in recent weeks, with Bahraini Foreign Minister Abdullatif bin Rashid Al Zayani facilitating the calls, a foreign diplomatic source said Monday.

Netanyahu and MBS spoke before and after last week's Arab League meeting to discuss the possibility of normalization between Israel and Saudi Arabia.

No progress was made in the conversations, and MBS rejected a request from Netanyahu to meet, the source said.

'Optimism' in Jerusalem about direct flights to Saudi Arabia
The leaders did not discuss the possibility of direct flights from Israel to Saudi Arabia for the Hajj, the annual pilgrimage to Mecca, this year, but according to an Israeli diplomatic source, "There is optimism" in Jerusalem about the continuing efforts.

The Saudis presented a list of demands for Israeli concessions vis-à-vis the Palestinians, the N12 news site reported. Those demands include allowing the Palestinian security apparatus to be strengthened at the expense of the IDF in Judea and Samaria, the report said. MBS also requested Palestinian security control over al-Aqsa Mosque and the Church of the Holy Sepulcher, while the Western Wall would remain under full Israeli control.

Foreign Minister Eli Cohen and Zayani spoke on the phone on Sunday night, the Foreign Ministry said.

Last week, Cohen told The Jerusalem Post normalization with Saudi Arabia was "not a matter of if, but of when. We and Saudi Arabia have the same interests."

He said White House Coordinator for the Middle East and North Africa Brett McGurk and Special Presidential Coordinator for Global Infrastructure and Energy Security Amos Hochstein had spoken to Saudi Crown Prince Mohammed bin Salman (MBS) about peace with Israel during their visit to Jeddah this month.
Tablet Goes to Saudi Arabia
For nearly a half-century, American Jews understood the Middle East as a product of the Cold War, in which two external powers—the U.S. and the Soviets—tried to flip individual states in the region to one side or the other. After 1967, Israel proved its worth to Washington by demonstrating that it could defeat Soviet proxies in the Arab world, and also help bring countries like Egypt into the U.S. camp by ceding land as part of peace deals. In the wake of that success, Israel became a linchpin of American foreign policy, playing two roles: that of the U.S.-dependent military power, and of the U.S.-dependent peace partner.

That world ended with the dissolution of the Soviet empire, though we understand it that way only in hindsight. The period between 1990 and 2010 was merely an interregnum, in which U.S. hegemony ensured a semblance of continuity in the lives of its allies, while former Soviet clients seemed to lose their great power patron.

But a new era—the current era—was about to begin.

As president, Barack Obama not only withdrew U.S. forces from Iraq but overturned the old Cold War alliance structure by sidelining traditional status quo allies like Saudi Arabia and Israel and moving closer to the regime in Iran. The decision to demote U.S. alliances in the Gulf in particular was supported by the illusion that fossil fuels would soon be phased out of world energy markets, to be replaced by renewable energy technologies primarily manufactured in China.

Obama largely succeeded in creating a new geopolitical reality in the Middle East, which is largely the one we see today. In it, there are only three major powers: Israel, with the region's only technological and military capacity to combat all security threats; Iran, too militarily weak to remake the region in its image, but strong enough to break formerly sovereign countries through mass violence; and Saudi Arabia, with the natural resource capacity to swing global energy markets and the cash to pay for social stability at home.

Each of the more populous Arab states that was seen during the Cold War as potentially more stable and influential than Saudi Arabia—Egypt, Iraq, Syria, Libya, Lebanon—is now a shattered wreck. Only the Saudis have emerged from the bloody 20th century with a young population and young political leadership unscathed by the experience of either communism or fascism; Pan Arabism or Islamist fanaticism; civil or sectarian war. It also retains the Sunni world's greatest claim to religious legitimacy, with the House of Saud seen as the most responsible available stewards of the holy sites in Mecca and Medina.
Birth of a Nation
The young former consultant who worked on the reforms described them as "fast-paced social nudges, rather than shocks." Some nudges are less subtle than others, and one of them comes in the form of a vast and mostly empty construction site surrounding an isolated gray slab south of the Jeddah race track. "Here they are building the world's tallest tower," a young government official told me, referring to the slab. "Here is the megaproject, downtown Jeddah. It is one of the five megaprojects."

The word "megaproject" fails to fully capture the awesome scope of reform-era Saudi ambition. Saudi Arabia has become perhaps the only country on earth where the term "gigaproject" is employed without irony. Behind the future downtown was a glorious sunset, yellow fire turning palm trees into arching shadows, with the light breaking through a sky of soft neon blue. There were no human beings anywhere near the deserted base of the future tower, in the empty center of a city of nearly 4 million.

Who will live and work in this high-rising city-within-a-city an hour-and-a-half from Mecca and 10 minutes from the excitement and inconvenience of an annual Formula 1 grand prix? The answer, broadly speaking, is young Saudis, the roughly 40% of the country that's under the age of 25. "This is going to have a very young population," promised one official who showed off a model of Diriyah, a city-size planned sector of Riyadh built in traditional clay-colored crenelated north Arabian architecture. If completed, Diriyah will have 500 times the square footage of Manhattan's Hudson Yards project.

Significant portions of Diriyah, including an attractive dining and retail district opposite the ruins of Turaif, the place where the Saud dynasty was launched in the 18th century, have already been built. The neighborhood-in-progress is where nationalism, development, and high-end consumption have already merged into a tangible whole. An Ivy League-educated Saudi financier in his mid-20s I met suspected that 10 years from now most of his social circle will have relocated to Neom, the futuristic megacity-by-decree planned for an empty stretch of Red Sea coastline 100 miles south of Eilat.

'In a not-so-distant past, a pricey handbag was a Saudi woman's only means of flaunting any higher status in public, a realm she could only enter when covered head-to-toe in a black abaya'

There have also been policy "nudges": For instance, the Saudi government has implemented a new requirement that any company whose largest regional client is the Saudi state must have its Middle East headquarters somewhere inside of Saudi Arabia itself, which is part of a broader attempt to force large corporate offices to relocate from the United Arab Emirates. Other nudges have come in the form of capital, much of it from the government's $620 billion Public Investment Fund. In another bid to keep young people engaged and employed, the state has taken a marked interest in every manner of tech play, pouring money into online retail and ride-sharing. The Central Bank has started its own "fintech sandbox," which will make it easier for nontraditional financial institutions to operate in the country, explained Tala al Jabri, the startup investor. "I would not be investing in startups if I didn't think they had a culture to disrupt markets," she said as we both ignored the action below us on the Corniche Circuit. "Startups believe the government has their back," al Jabri continued. "They think they can succeed because they think the government wants them to succeed."
Ibn Saud, FDR, and the Future of the Jewish State American ambivalence a
We learn more about the meeting from Ibn Saud's account to the American envoy Eddy, Hoskins' cousin, who later worked for the Arabian oil company Aramco. In this telling, Churchill was "confidently wielding the big stick. Great Britain had supported and subsidized me for twenty years, and had made possible the stability of my reign by fending off potential enemies on my frontiers. Since Britain had seen me through difficult days, she is entitled now to request my assistance in the problem of Palestine where a strong Arab leader can restrain fanatical Arab elements, insist on moderation in Arab councils, and effect a realistic compromise with Zionism." Ibn Saud asserted Churchill was demanding "an act of treachery to the Prophet and all believing Muslims which would wipe out my honor and destroy my soul. I could not acquiesce in a compromise with Zionism much less take any initiative. Furthermore, I pointed out, that even in the preposterous event that I were willing to do so, it would not be a favor to Britain, since promotion of Zionism from any quarter must indubitably bring bloodshed, wide-spread disorder in the Arab lands, with certainly no benefit to Britain or anyone else. By this time Mr. Churchill had laid the big stick down."

The ailing American president had other goals, and sold out the Jews, and the British, to appease the Saudi leader.

Churchill thought he could leverage what he considered Ibn Saud's obligation to him and Britain; believed a British-supported Arab confederation headed by Saudi Arabia would offer an important inducement; and, perhaps most importantly, hoped that Roosevelt would press the Zionist cause. The Saudi king was unimpressed with past British support, as Britain continued to support his Hashemite rivals in Transjordan and Iraq, and embraced the ascendant United States over the descendant Britain. Meanwhile, the ailing American president had other goals, and sold out the Jews, and the British, to appease the Saudi leader.

Of course, even if Ibn Saud was inclined to agree to Churchill's proposal, it is unclear if it would have mattered much. The Saudi leader had little money (the petrodollars did not roll in until after the war) and only a weak hold over the religious tribes across the vast Arabian desert, let alone over Palestinian Arabs, whom Churchill hoped the Saudi leader would restrain. It might have been more practical for Churchill to focus on achieving American support for a Jewish state, and then impose it on the Palestinian Arabs and the region, as he was willing to do for years. But he was wedded to the 1920s' pan-Arab views of many British officials, even though the Arabs had become more fractured, and less accommodating to Zionism and Britain. But, again, U.S. support was lacking. For Roosevelt, the budding relationship with Saudi Arabia came first.

Churchill's wartime quest to ensure a postwar Jewish state had failed. Several months later in July 1945, he wrote to some British officials, "I am not aware of the slightest advantage which has ever accrued to Great Britain from this painful and thankless task." He wanted the United States to deal with Palestine, thus extracting Britain from the challenging situation while pulling America into the Mediterranean.

Eight decades later, even with waning influence and appetite, America has become an even more critical country for regional peace and stability than it was in 1945. The Jewish state, which was founded in 1948, has become, as Churchill (and very few others) projected, a strong military, cultural, and economic force closely aligned with the United States and the West. Equally dramatic, Saudi Arabia's current de facto leader, 37-year-old Crown Prince Mohammed bin Salman, known as MBS, is trying to modernize the country, moderate its Islamic orientation, liberalize the role of women, and diversify the state's reliance on oil revenue. And, as authoritative Saudi leaders told me and colleagues last year, MBS is prepared to normalize relations with Israel, with which his country now has many fundamental common strategic, security, and economic interests—if, critically, he gets certain U.S. guarantees related to security, weapons, and a restoration of close bilateral relations. And there's the rub: America is now, alas, chilly to the Saudis, disengaged, fearful of conflict and still keen for an Iran nuclear deal that threatens Saudi Arabia's and Israel's existence.

U.S. ambivalence, flawed thinking, or worse, contributed in the 1940s to delays and complications in the establishment of a Jewish state and in the search for Israel-Arab entente. Ibn Saud's vehement anti-Zionism certainly influenced the U.S. attitude. But nearly 80 years later, with large parts of the Arab world increasingly looking for some kind of accommodation with Israel, and the de facto Saudi leader declaring his readiness to normalize relations, it would be tragic indeed if American ambivalence, or faulty thinking, again contributed to a failure to achieve entente between the world's only Jewish state and the world's leading Arab power.
UAE invites Netanyahu, Herzog to UN climate summit in Dubai
Israeli Prime Minister Benjamin Netanyahu was invited on Monday to attend the United Nations Climate Change Conference in Dubai, scheduled to run from November 30 until December 12.

It would be his first official visit to the United Arab Emirates.

An invitation was also extended to Israeli President Isaac Herzog.

UAE Ambassador to Israel Mohamed Mahmoud Al Khaja delivered the formal invitations in separate meetings with Netanyahu and Herzog in Jerusalem.

The letters were signed by UAE President Sheikh Mohamed bin Zayed Al Nahyan and UAE Vice-President and Prime Minister Sheikh Mohammed bin Rashid Al Maktoum.

Some 70,000 participants are expected to gather in Expo City Dubai for the summit, including a large Israeli delegation of around 100 companies.

Netanyahu was scheduled to visit the UAE earlier this year, but that trip was postponed.
I'm deeply troubled that the State Department is deeply troubled
The U.S. State Department says it is "deeply troubled" that the Israeli government has lifted a ban on Jews living in the community of Homesh. Well, I'm deeply troubled that the State Department is deeply troubled.

Homesh was one of four Jewish communities in northern Samaria that then-Prime Minister Ariel Sharon unilaterally dismantled when he undertook the withdrawal from Gaza in 2005.

Nothing in the Oslo Accords required Israel to withdraw from the entire Gaza Strip or to dismantle all the Jewish communities there. And nothing in them obligated Israel to withdraw from any Jewish towns in Judea and Samaria, either. But Sharon had a majority in the Knesset, so those withdrawals went ahead. That's democracy.

Last year, a majority of Israelis voted for political parties that believe the dismantling of those four Samaria communities was wrong, so the new government has partially reversed that 2005 decision. And that's democracy, too.

The same principle of "new administration, new policies" applies in the United States, too. A new administration from one party always overrides or cancels policies that were implemented by a previous administration from the other party.

For some reason, the Biden administration's State Department doesn't seem to have much respect for Israel's democratic system. It seems to think that Israel is obligated to keep making concessions to the Arabs, no matter what Israeli voters want.
'Why do you expect the Israelis to uphold this when you guys haven't for 12 years?' reporter slams State Dept.
In Matthew Miller's first State Department briefing on May 22, about a quarter of the question-and-answer period—11 minutes—was devoted to Israel.

The first question centered on a statement that Miller, State Department spokesman, released on May 21, which Matt Lee, of the Associated Press, characterized as "highly critical" of Israel's decision to walk back legislation barring Israeli citizens from entering Homesh in northern Samaria.

Had Washington heard back from Jerusalem? Lee wanted to know. And, he added, the statement referred to letters that former Israeli Prime Minister Ariel Sharon and former U.S. President George W. Bush exchanged.

"You seem to be complaining, and this is the second time this has happened—not, the first time under your name but the second time it has happened—that you guys have complained about this. And yet it was in fact the Obama administration that said when it was in office that it no longer recognized or no longer felt bound by the assurances that were given by both sides in these," Lee said.

"So, why do you expect the Israelis to uphold this when you guys haven't for 12 years?" he asked.

Miller reiterated that Foggy Bottom is "deeply troubled" by the Israeli government's order. He added that the order is both inconsistent with Sharon's "written commitment to the Bush administration in 2004 and, significantly, the current Israeli government's commitments to the Biden administration." (Miller added that Washington and Jerusalem communicate "on a number of levels, all the time," without speaking more specifically.)

Lee persisted.

"I don't care who the letters were exchanged between. They could have been between Golda Meir and Lyndon Johnson, but the fact of the matter is—is that you guys were the ones who first said you're no longer bound by them, so why do you keep bringing—why—if you think that what the Israelis are doing now is inconsistent with what they've told you—I mean 'you' meaning this administration—that's one thing," he said. "But why keep bringing up the Sharon-Bush letters?"
We already knew that Bernie Sanders is a danger to American Jews, but where were other Jewish members of Congress during the "Nakba" event in the Senate?

Jewish elected officials like Senate Majority Leader @SenSchumer and Senators @SenBlumenthal, @SenatorBennet, and… pic.twitter.com/H91HrTcE8D

— Jewish Leadership Project (@_TheJLP) May 22, 2023
Detroit Imam Imran Salha Warns Against Making Pro-Palestine Alliances with People Who Endorse LGBTQ Principles and Are "At War with Allah" Like the Democratic Party, Adds: May Allah Eradicate the Sick, Disgusting Zionist Regime pic.twitter.com/fqQEA4k9dK

— MEMRI (@MEMRIReports) May 23, 2023
The sheer, unhinged Jew hatred of this man, @KenRoth, that he even has to put terrorism in quotations. https://t.co/GSfaGk6Rxz

— Arsen Ostrovsky (@Ostrov_A) May 23, 2023
(The book is in Greek because "Palestine" is a Greek colonial name for Israel.) https://t.co/QRQlsP2H4V

— Bad antizionist takes (@antiantizionist) May 23, 2023
Terrorists open fire on Israeli car in Samaria; Mother, four daughters unhurt
Palestinian gunmen opened fire on an Israeli woman and her four daughters driving near Tapuach Junction in Samaria on Monday night.

Two bullets hit the vehicle, but none of the occupants were injured.

In video footage taken inside the car during the incident, multiple shots can be heard, with the mother shouting in Hebrew "get down, get down! Girls, are you okay?"

The Israel Defense Forces was reportedly preparing on Monday morning to launch an operation in response to the shooting in the nearby Arab village of Jamma'in.

"Again and again and again we encounter an ever-growing wave of terrorism led by the Palestinian Authority, led by the terrorist in a suit Abu Mazen [P.A. leader Mahmoud Abbas]," said Samaria Regional Council head Yossi Dagan, according to Israeli media reports.

"Unfortunately, the national government has not changed the [record] and it could cost a lot—a lot—of blood," he added.

"I demand from the prime minister, the minister of defense and all the ministers of the government to launch a determined military operation against the murderous Palestinian Authority and to close the checkpoints already," he continued.

"You will not stand by your neighbor's blood. The residents of Samaria cannot be turned into ducks [in a shooting gallery]. We demand security. We demand that the government come to its senses."
??West Bank: Terrorist shoots toward car in which a woman was driving with her 4 children

No casualties reported

??Samaria Regional Spokesperson pic.twitter.com/zAotTqkt34

— i24NEWS English (@i24NEWS_EN) May 22, 2023
??Disturbing footage of an attempted terror attack in the West Bank last night.

A #Palestinian terrorist shoots at a mother and her four children while driving. Two bullets hit the vehicle.

Bullets and rocks are not harmless; they are weapons used to murder unarmed civilians. pic.twitter.com/uFECDDfB4D

— HonestReporting (@HonestReporting) May 23, 2023
#OnThisDay in 1970, Palestinian terrorists ambush an Egged school bus on the road from Moshav Avivim, near the Lebanese border, to Dovev and kill eight children and four adults. None of the attackers was ever caught. Israeli intelligence blames the Lebanese and Syrian government. pic.twitter.com/g1FnxY8D1q

— Eretz Israel (@EretzIsrael) May 22, 2023
Israeli Soccer Team Loses Its First Ever Game in FIFA U-20 World Cup in Argentina
Israel's first-ever match in the 2023 FIFA Under-20 World Cup ended on Sunday in Argentina with it losing 1-2 to Columbia, who scored a late win.

Israel completed its goal after half-time when Dor Turgeman made a penalty spot in the 57th minute. Colombia responded with a penalty shot from Oscar Cortez in the 74th minute followed by a second goal by Gustavo Puerta, who helped his team win the game in the 90th minute. Ofir Haim, the coach of the Israeli team, said his players were up against an "excellent team with talented players who will be talked about around the world," The Times of Israel reported.

The Israel vs Colombia match took place at Diego Maradona Stadium on the first day of Group C games as part of the FIFA tournament. The top two teams from each group will move on to the next stage of the tournament.

Israel's next game will be on Wednesday against Senegal and then they will compete against Japan on Saturday. A total of 24 national teams are competing in the U-20 World Cup, which is taking place in four venues across Argentina from May 20 until 11 June.

Argentina replaced Indonesia as host and participant in the U-20 World Cup shortly before the tournament was about to start. FIFA stripped Indonesia of hosting rights following protests in the Muslim-majority country against Israel's participation in the competition and after the governor of Bali said he would not allow the Israeli team on his island. Indonesia has no diplomatic relations with Israel, refuses to recognize the Jewish state and is an avid supporter of the Palestinian cause.
Palestinian flag causes tension at Israel's first U-20 World Cup game
Around 4,000 Jewish Argentines showed up to cheer on Israel at their first appearance in a FIFA World Cup tournament in over 50 years, at times chanting songs in Spanish. But their festive mood changed after a Palestinian flag surfaced in the crowd — and after the Israeli team lost narrowly in the final minutes to Colombia.

On Sunday, Israel lost 2-1 in the first match of the first round of the U-20 World Cup, which features the world's best soccer talent under 20 years old. When Colombia scored its first goal, in the second half of the game — after a first half that was dominated by Israel — supporters in a Colombian fan section raised a Palestinian flag.

Almost immediately, nearby Israel supporters in the stands began shouting at the flag bearer, saying "This is not politics, this is soccer." Police eventually intervened and expelled the Palestinian flag holders.

Some Israeli fans followed them on their way out of the stadium in La Plata, in Buenos Aires province.
Tenso momento en el Estadio Único de La Plata, simpatizantes muestran una bandera de Palestina en pleno encuentro entre Colombia e Israel, por la Copa Mundial Sub 20 de Argentina. La policía interviene. pic.twitter.com/cxdHB0tImS

— Braian Villagra 🇦🇷 (@BraianlVillagra) May 21, 2023
IDF demolishes home of Palestinian terrorist behind Tel Aviv attack
The IDF demolished the home of the terrorists who conducted the March shooting attack on Dizengoff Street, Tel Aviv in which Or Eshkar was murdered, entering the West Bank town of Ni'lin early on Tuesday morning.

During the operation, clashes broke out between Israeli forces and Palestinians, with four Palestinians wounded, according to Palestinian reports.

A video reportedly from the scene showed the walls of the terrorist's apartment being demolished by Israeli forces. The rest of the apartment building was left intact.

Likud MK Danny Dannon responded to the house demolition on Tuesday morning, tweeting "Is this what a terrorist's 'destroyed' house looks like?"
"Israel Suspends Qatari Payments to Gaza Families"
Israel suspended the transfer of payments from Qatar to Gaza families on Monday until further notice, according a report by Israel's Channel 20 News.

For years, Qatar has been paying a monthly stipend of $100 to 1,000 needy Gaza families through an arrangement with the State of Israel.

Qatari envoy Mohammed al-Emadi arrived in the enclave this past Friday night, ostensibly to announce the timeline for the next payments, according to the Abu Ali news site. It's not clear whether the envoy returned to Qatar.

The decision to suspend the payments was made by Prime Minister Benjamin Netanyahu, allegedly in response to a rocket attack fired at southern Israel from Gaza. The attack was intercepted by Israel's Iron Dome aerial defense system and the Israeli military carried out air strikes on Hamas targets in northern Gaza in retaliation.
MEMRI:
Nakba Day Events At West Bank Schools Assert Palestinian Refugees' Right To Return To Homes Inside Israel
On May 15, 2023 the Palestinian Authority (PA) marked the 75th anniversary of the Nakba with an array of activities, chief among them an unprecedented high-level event at the UN General Assembly. The event included a speech by Palestinian President Mahmoud 'Abbas, in which he called for the return of the Palestinian refugees to their homes and stated that he himself is a refugee who wishes to return to the city of his birth, Safed, in the north of Israel.[1] At many Nakba Day rallies and events in the West Bank, officials from the PA, PLO, and Fatah also stressed that the Palestinians will never relinquish the refugees' right to return to their original homes.[2]

The same message was highlighted in a broad range of Nakba Day activities in West Bank schools, in which children held up posters showing maps of Palestine "from the river to the sea," bearing names of cities and villages within Israel to which the Palestinians seek to return, such as Haifa, Acre, Tiberias, and Lod, and proclaiming that the right of return is "sacred." Very prominent at these school events and activities was the motif of the "key of return," symbolizing the refugees' aspiration to return to their homes.

It should be noted that the narrative of return is a major component in the PA's school curricula and textbooks.[3]

Below are pictures of Nakba Day activities at West Bank schools that were posted to social media.

The "Key Of Return" Symbolizes The Refugees' Desire To Return To Their Original Homes

As stated, the key – a major Palestinian symbol representing the refugees' desire to return to their original homes – was very conspicuous at Nakba Day events at West Bank schools. Pupils held up models and pictures of keys.
UN commemoration of Nakba Day proves "a crime took place"
Official PA TV broadcast on the UN commemorating the 75th anniversary of the "Nakba," i.e., "the catastrophe" - the Palestinian term for the establishment of the State of Israel

PLO Central Council member Ghassan Barakat: "This decision [by the UN to mark Nakba Day] emphasizes that a crime took place, and international law and the international resolutions acknowledge that a crime took place against the Palestinian people... There are international resolutions that confirm that a crime took place, whose perpetrators are the State of Israel and the Zionist gangs in 1948 and prior to this – from the days of [Zionist leader Theodor] Herzl and before Herzl they planned this crime."
[Official PA TV, Personal Encounter, May 4, 2023]

Nakba Day - Palestinians commemorate Nakba Day on May 15, the day after the establishment of Israel. On May 15, 1948, combined forces from Egypt, Jordan, Syria and Iraq joined local Arab forces in an attempt to eradicate the newly established State of Israel. The Nakba (Arabic = catastrophe) refers to the establishment of Israel, and the subsequent defeat in the war, including the killing and displacement of Arab civilians that occurred during the war. The 2 fundamental messages of the term "Nakba" are to transfer Arab responsibility for the tragedies they themselves caused by placing the blame on Israel and to deny Israel's legitimacy as a state.
The Joint Operations Room (JOR) of the Palestinian factions published a martyr video of Islamic Jihad leader Khalil al-Bahtini who was killed by Israel in the initial stage of Operation Shield and Arrow two weeks ago. I believe this is the first martyr video the JOR has produced. pic.twitter.com/vKJWYB8F0V

— Joe Truzman (@JoeTruzman) May 22, 2023
This is the Hamas "Palace of Justice" judicial compound in Az-Zahra, south of Gaza City, widely referred to as the "Palace of Injustice" by regular Gazans. #TheGazaYouDontSeehttps://t.co/LCyDWiOkJV
Palestinians Palestine https://t.co/crDnFyxbER pic.twitter.com/AgP5vdEoxs

— Imshin (@imshin) May 23, 2023
Mohammad Abu Nada's wedding procession in Gaza. #TheGazaYouDontSee https://t.co/UqKHBlri1l
Palestinians pic.twitter.com/v0DvPZ2RVo

— Imshin (@imshin) May 23, 2023
"Neighborhood of the Jews" in #Lebanon coastal town of Saida. No Jews left here. Most of them still hold deeds to property long confiscated by non-Jews. Most of them live in #Israel but are sometimes called alien to the Middle East. Antisemitism is still strong worldwide. pic.twitter.com/XFDYwL74UY

— Hussain Abdul-Hussain (@hahussain) May 23, 2023
Netanyahu: Israel is 'far ahead' of its enemies
Israeli Prime Minister Benjamin Netanyahu visited an IDF Intelligence base on Tuesday together with the head of IDF Intelligence Maj.-Gen. Aharon Haliva and additional commanders.

The prime minister received an in-depth briefing on the efforts being made in various fields regarding the Iranian threat.

He was also presented with details of the daily efforts to thwart terrorism in Judea and Samaria, and reviewed intelligence information that enabled the targeting of the senior Islamic Jihad commanders in the Gaza Strip during "Operation Shield and Arrow" earlier this month

"I have just finished visiting one of our intelligence bases and I leave very encouraged," Netanyahu said.

"Israel has opened a gap against all of our enemies and it has done so with a combination of human intelligence and artificial intelligence. What I saw here is that the future is already here today. So let all of our enemies know: We are far ahead of you."
Israel says 'no place can't be reached' after report on Iranian nuclear-related activity
National security advisor Tzachi Hanegbi on Tuesday said a new nuclear facility being built by Iran would not be immune from attack, despite assessments by experts it will be beyond the reach of last-ditch U.S. bunker-busting bombs.

Tzachi Hanegbi made the comments in response to an Associated Press report that said the new facility appears to be as deep as 100 meters (328 feet) below ground.

Hanegbi, speaking at a security conference near Tel Aviv, said he was not surprised by the report, noting that Iran has other underground facilities. While he acknowledged the location would complicate any potential military strike on the facility, he said there are still solutions to the challenge.

"What is possible to say about this matter is that there is no place that can't be reached," he said. He declined to say whether Israel had the ability to do this on its own.

"We hope we won't get to a situation where the solution to the story of a nuclear weapon in Iran is a kinetic solution, a solution involving an attack," he said, adding that Israel prefers to see the international standoff with Iran resolved through diplomatic means.
Iran does not have a nuclear weapon yet - IDF intelligence chief
IDF Intelligence Chief Maj.-Gen. Aharon Haliva said on Monday that Iran has not yet decided to break out to a nuclear weapon, on either the uranium enrichment or weapons group fronts.

The IDF intelligence chief reaffirmed that, "Iran is the greatest threat to Israel, their conflict not just restricted to the nuclear issue or the precision missiles issue, or the proxies issue, or Hezbollah."

IDF intel chief: Iran is targeting Israel on multiple fronts

Rather, in agreement with Defense minister Yoav Gallant, he said the Islamic Republic is trying to go after Jerusalem in a comprehensive way on multiple fronts simultaneously.

The Palestinians have their own reasons for fighting Israel, but Iranian funds and weapons encourage the Palestinians to fight and make fighting more effective.

Interestingly, Haliva said that Hezbollah chief Hassan Nasrallah now views his group's roadside bomb attack on March 13 near Megiddo as a mistake because he realizes that it could have led to a much wider conflict. The intelligence chief said that despite Iran's normalization process with the Saudis and other Arab states and Syria's return to the Arab League, "there are still new opportunities" for Israel to forge additional normalization deals to strengthen Israel's position versus Iran.
Turkey said to bust Mossad ring operating against Iranian targets
Turkish authorities have reportedly arrested 11 people suspected of spying on Iranian targets for Israel.

According to a report Tuesday by the Daily Sabah, which is widely seen as supportive of Turkish President Recep Tayyip Erdoğan, authorities have identified 15 suspects, 11 of whom were arrested, who allegedly were part of a 23-member ring of operatives.

Turkey's National Intelligence Organization and the Istanbul Chief Public Prosecutor's Office suspect the 15 used a company that does business in Iran to gather intelligence for Israel's Mossad spy agency, the newspaper reported.

Authorities are searching for two additional suspects.

The 18-month long investigation initially had focused on 23 individuals, according to Sabah, which said two of the suspects are Turkish citizens.

Unusually, the report included the name of a suspect alleged to be the ring's leader: Selçuk Küçükkaya. A picture said to be of Küçükkaya shows a bearded, middle-aged man. Sabah said Mossad recruited Küçükkaya through an alleged member of the Gülen movement, an opposition network that Turkey has designated as a terrorist group.

Küçükkaya allegedly met with Mossad agents in Europe, who gave him five test assignments before recruiting him to establish a ring, follow people of interest and transmit to Mossad "the family members of the target persons, phone calls and signal information, bank accounts and assets," the report said.
MEMRI:
Renowned Baloch Leader Hyrbyair Marri: A Nuclear Deal With Iran Is A Deal With The Devil
Baloch leader Hyrbyair Marri is the head of the political platform called the Free Balochistan Movement and is one of the most popular leaders among Baloch youth. He was born in Quetta, in Pakistan's Balochistan region, in 1968, and he currently resides in London. He is the son of the renowned Baloch nationalist leader Khair Bakhsh Marri, who was the chief of the Marri Baloch tribe and head of the National Awami Party (NAP). NAP, comprising Baloch and Pashtun leadership, won elections in Balochistan and Khyber Pakhtonkhwa and formed a Baloch-Pashtun coalition government in 1970s.

The NAP comprised Baloch and Pashtun leaders and believed in the path toward a federal system. However, in the 1970s, after Pakistani President Zulfikar Ali Bhutto's violent crackdown on the NAP and the Baloch people, the Baloch Liberation Front launched an uprising against the central Pakistani government that lasted from 1973 to 1977, in which the Marri clan led the way. Nawab Khair Bakhsh Marri, who was the father of Khair Bakhsh Marri and died in 2014, was "the linchpin" of the 1973 Baloch insurgency.

Fearing that the Baloch uprising would expand from Pakistan-Occupied Balochistan (POB) to Iran-Occupied Balochistan (IOP), Iran sponsored ground and air military operations against the Baloch people. The Shah's army provided military hardware and financial support to the Pakistani army. A mutual agreement between the two countries paved the way for Pakistan to avail itself of 30 Huey Cobra attack helicopters and financial aid of millions of dollars to conduct and sustain military operations against the Baloch people. The conflict took the lives of approximately 15,000 Balochs and 5,000 Pakistan army personnel. The Bhutto regime was then overthrown by General Zia-ul-Haq, who released the NAP leadership from jail. Nawab Khair Bakhsh Marri, along with thousands of Marri Baloch patriots, migrated to Afghanistan and from there continued their political struggle for independence from Pakistan.

Nawab Marri stayed with his thousands of patriot followers in Helmand province and Kabul for more than two decades during the 1980s. He fully supported his son Hyrbyair Marri to politically prepare the Baloch people for their national independence.

After the withdrawal of the Soviet army from Afghanistan, Nawab Marri entrusted Hyrbyair Marri with the responsibility of taking over the Baloch movement.
Dr. Mordechai Kedar:
How Iran targets dissidents outside its borders
Historical Azerbaijan was divided about a hundred years ago by two countries: the northern part was annexed to the Soviet Union and the southern part was annexed to Iran. Over the years, two conflicting trends developed within the population of the southern, Iranian part. Some of them aspired to merge with the Iranian state under Persian hegemony and the others aspired to separate from Iran and join the northern part, which since the collapse of the Soviet Union (1989) has gained independence and is the state of Azerbaijan.

In recent years, separatist activity has increased in the Azeri region of Iran, and one of the organizations leading this trend is "The South Azerbaijan National Freedom Front".

It was recently reported that Ahmad Obali, the chairman of the International Relations Committee at The South Azerbaijan National Freedom Front and the head of Gunaz TV, was targeted in a terror attack in the US, in Santa Clara, CA. As a result of the attack, which was carried out by an unknown number of assailants, he suffered serious injuries, including fractures of the cervical vertebrae, all fingers of his right hand, and his eyes were deliberately injured. He is known as a famous South Azerbaijani dissident journalist critical of the Iranian regime - who were most probably behind this attack. A journalist with damaged eyes and broken fingers cannot work effectively and the message to other dissidents is clear.

Iran has a long record of targeting Iranian dissidents in other countries. Between 1989 and 1996, the Iranian regime assassinated more than 160 Iranian dissidents across the globe. For example, on September 17, 1992, prominent representatives of the Democratic Party of Iranian Kurdistan, Dr. Sadegh Sharafkandi, Fattah Abdoli, Homayoun Ardalan and their translator Noori Dekhordi were murdered in the Mykonos restaurant by Iranian hired assassins. A plaque in the victims' memory in Germany states: "They died in the battle for freedom and human rights."

More recently, in 2019, the Iranian intelligence abducted dissident journalist Ruthollah Zam who was then visiting Iraq and took him back to Iran, where he was executed in 2020. In 2022, an assailant sympathetic to the Iranian regime and with possible links to Hezbollah, stabbed the novelist Salman Rushdie multiple times, almost killing him. Following the publication of "The Satanic Verses," Ayatollah Khomeini issued a fatwa calling for his assassination and set a bounty of $3 million for his death.
Appalled that the Iranian Ambassador, from a country with a deplorable human rights record, may serve as Chair of the Social Forum in November. This move would undermine the credibility and purpose of both the HRC and the Social Forum. More in my full statement ??… pic.twitter.com/fxeTZvLb2u

— Ambassador Michèle Taylor (@USAmbHRC) May 23, 2023
---
---
Buy the EoZ book, PROTOCOLS: Exposing Modern Antisemitism today at Amazon!

Or order from your favorite bookseller, using ISBN 9798985708424.

Read all about it here!