From Ian:
Alex Ryvchin (The Australian):
Cheerleaders for Palestine Ignore Dysfunctional Society
With the Palestinian Authority's payment of life pensions to the families of terrorists, Palestinian society operates under a system of inducement and reward that has turned the killing of Jews into an industry.

Any visitor to a Palestinian village in the West Bank will have seen the banners and posters dedicated to their "martyrs," with photoshopped photos of smiling terrorists to convince the youth that there is glory in death.

The violent purging of suspected "collaborators" is another feature of this system.

To make them worthy of the adulation, the marches, and the pledges to recognize a Palestinian state, the Palestinians have been reconstructed as a mythical version of themselves, cleansed of all sin and stripped of all responsibility.

The consequence is that there is absolutely no incentive for Palestinians to self-examine, let alone reform, let alone develop a society that is functional, just and worthy of a state.

Should our new government wish to revisit Australia's position on aspects of the Israeli-Palestinian conflict, it ought to see the Palestinian leadership not as it wishes it to be but as it is, and to hold Palestinian leaders to the same standards as in every other society.

The writer is the co-CEO of the Executive Council of Australian Jewry.
Michael R. Pompeo:
Terror-finance rulings the Supremes must strike down, despite Biden's pleas
The Supreme Court is set to decide if it will consider two important terror-financing cases centering on the ability of Americans who have been harmed in terrorist attacks to seek redress against financial institutions that knowingly funnel money to fronts for terrorist organizations such as Hamas.

But the Biden administration has urged the justices to let lower court rulings stand in Weiss v. National Westminster Bank and Strauss v. Credit Lyonnais — and so undercut 25 years of bipartisan consensus that Americans must be able to seek redress against those who knowingly facilitate terrorism.

Terrorism, its reach and its sources of funding constitute a central security issue of our times. Hamas, Hezbollah and other terror groups seek to alter the geopolitical calculus of target nations through intimidation, extortion and carnage to rain destruction on the innocent.

They also use purported charities to finance their networks and to recruit personnel to carry out terror operations. Why is the Biden administration intent on accommodating this deceit?

Knowingly giving support to a foreign terrorist organization has been a federal crime since 1996. More, Congress has recognized that terror groups often hide their intent, using charitable fundraising to help finance slaughter, so such "charities" are inexorably entwined with their terrorist elements. Four successive administrations have worked to expose these schemes.

Yet the US solicitor general's brief calls this principle into question by suggesting that some support to terrorist groups might back "legitimate activities." This would set an appalling precedent that will help Hamas, Hezbollah, Iran's Islamic Revolutionary Guard Corps and other hostile entities that use front charities, and so endanger the safety of Americans abroad.

These cases are not the first time the Supreme Court has addressed these issues. In 2010, in Holder v. Humanitarian Law Project, the justices affirmed Congress' findings that terrorist groups "are so tainted by their criminal conduct that any contribution to such an organization facilitates that conduct."

Elena Kagan, then the US solicitor general, stated emphatically in her oral argument before the court: "Hezbollah builds bombs. Hezbollah also builds homes. What Congress decided [in crafting the law] was when you help Hezbollah build homes, you are also helping Hezbollah build bombs."
JCPA:
Israel's E1 Building Plan: The Most Strategic, Consensual - and Frozen - Project
The plan to link the city of Maale Adumim (pop. 40,000) to Jerusalem by building housing units in the E1 area, a proposal backed by nine Israeli prime ministers, has been frozen for 28 years because of U.S. and European opposition. The E1 plan covers an area of 12 square kilometers of state land. In April 1994, Prime Minister Yitzhak Rabin gave the mayor of Maale Adumim the documents for the annexation of E1 to his town.

The central claim of the plan's opponents is that building E1 will obstruct Palestinian continuity of building and traffic between Ramallah and Bethlehem, from north to south. Yet Israel wants to preserve continuity from west to east, between Jerusalem and Maale Adumim, leading to the Dead Sea and the Jordanian border.

There has been large-scale illegal Palestinian building between Maale Adumim and Jerusalem along the Jerusalem-Jericho road and in the E1 zone itself for many years. This illegal activity - conducted in Area C under Israeli civil and security control - has already significantly narrowed the corridor through which the main traffic artery runs between Jerusalem and Maale Adumim.

The international community has worked to thwart measures to stop the illegal building in the area. Often, the Europeans themselves are involved in illegal construction activity in Area C.

Israel is offering the Palestinians a solution to maintain transportation continuity between the northern and southern West Bank by the use of a road to link these areas, providing the Palestinians free movement from the Ramallah area to the Bethlehem area.

Israel's need for strategic depth, as an aspect of defensible borders, is now recognized by most Israeli security and military professionals. In case of the reemergence of an eastern front that threatens Israel, the area between Maale Adumim and Jerusalem - and further eastward, toward the Dead Sea - is essential for Israel's strategic depth.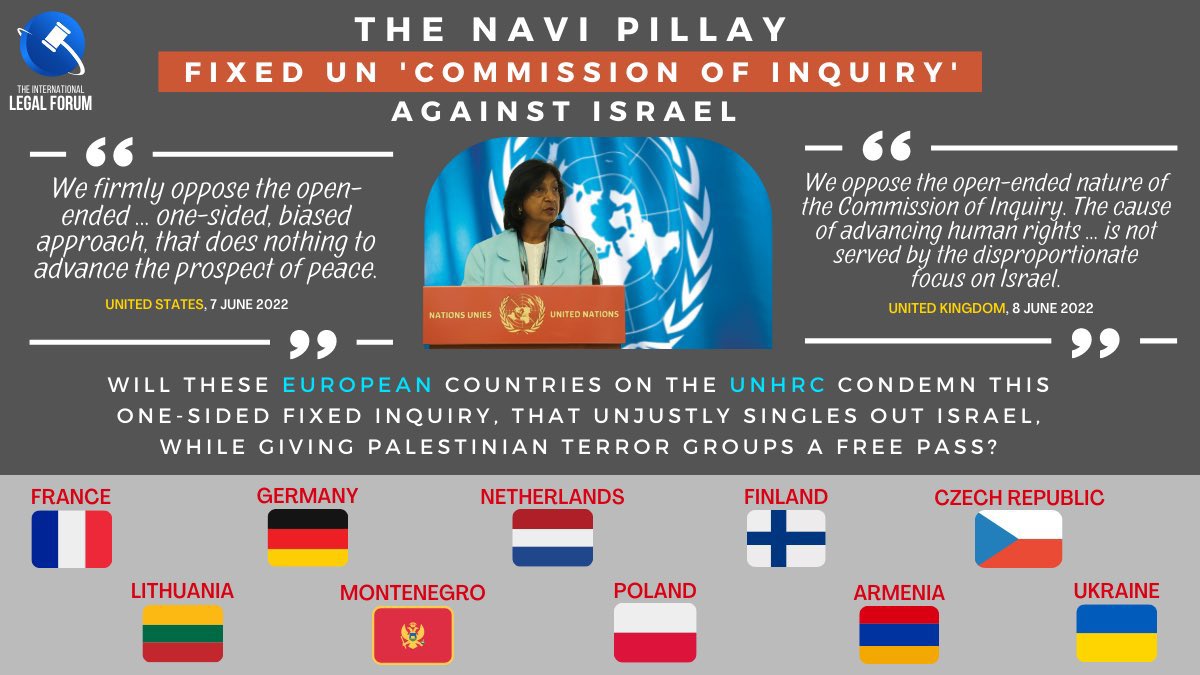 Elliott Abrams:
The U.S. Fixation on the "Two-State Solution"
Barak Ravid of Axios reported on June 8 that the Biden administration proposed to hold a high-level summit with the Palestinian Authority. A high-level summit with the PA right now would serve no useful purpose. As the Israelis suggest, there is a real downside in creating an expectations crisis.

Even inveterate peace processors in the U.S. and Israel acknowledge that there is no chance for any agreement today. This is largely because the PA has the support of so few Palestinians, and is viewed widely as both incompetent and corrupt. As of last fall, 80% of Palestinians were demanding the resignation of PA President Mahmoud Abbas, and roughly the same number have complained of corruption in poll after poll. Another 2021 poll found that 67% of Palestinians want to annul the Oslo Accords entirely.

Even more significantly, 60% opposed the principle of a two-state solution, and 54% opposed resuming negotiations with Israel. Perhaps strong, credible leaders could change public opinion, but the Palestinians have no strong leaders who favor peace. Serious negotiations always require compromises, and the PA is in no condition to make any.

U.S. officials should be seeking pragmatic ways to help Palestinians, who face enormous economic and governance problems. They should be dealing with realities on the ground and trying to make lives better. And they should stop dreaming of summits that would very likely produce nothing but more tension.
When will be the right time for Israel to define its borders? - analysis
Israeli negotiator Tal Becker, who has advised Israeli governments for over 30 years, said the conflict is what makes you a Palestinian. Palestinian identity is primarily about opposition to Zionism. To Palestinians, the Abraham Accords, which acknowledge that Jews have a right to be here, conflict with their negation of Jewish national rights. Palestinian society glorifies a narrative even if they don't believe it.

Palestinian-Israeli journalist Khaled Abu Toameh said if Palestinians have an election, they will vote for the guy who wants to destroy Israel. He went on to say that if you watch Palestinian TV for five minutes, you would like to grab an ax and kill a Jew. I can't find one Palestinian willing to talk about concessions. Palestinian education starts at home; Jews don't belong here, Jews stole the land, and Palestine is compensation for the Holocaust.

This is what Europeans and many American foreign policy experts purposely ignore, and why there is no partner to mutually agree to a defensible Israeli border for the foreseeable future.

IF YOU ARE someone who prioritizes Israel's security above all else, the answer is more complex. The security-oriented group prioritizes Israel's defensible borders and demographics but realizes you need to remain in good standing with your allies, posing unique challenges. Explaining why security considerations must dictate final boundaries should be self-evident; however, making the case to nations that have swallowed the Palestinian narrative makes this an uphill fight.

Donald Trump's Peace to Prosperity Plan attempted to prioritize Israeli security concerns but was never taken seriously, despite its attempt to solve long-standing differences with innovative ideas. This was because the messenger was Donald Trump, persona non grata. Yet, it did have many creative ideas trying to bridge the divide between Israeli security needs while calling for a Palestinian state, something maximalists on both sides oppose.

So the question is, is it worthwhile for Israel to begin the arduous process of bringing together its security, intelligence, and defense experts to come to a consensus on what Israel's minimum territorial requirements are, if and when a government believes it is time to have what every other nation in the world has – defined borders.
Biden's July trip to Saudi Arabia & Israel confirmed
Is the UN Commission of Inquiry truly impartial and objective?
Read for yourself the ONLY paragraph that was removed from the draft report! #HRC50
SHARE pic.twitter.com/x2cIGmLTWb

— Israel in UN/Geneva???????? (@IsraelinGeneva) June 13, 2022
'My people's suffering under apartheid used to criminalize Israel' - South African activist
The suffering of blacks in South Africa under its apartheid regime has become an antisemitic tool by which to delegitimize Israel, well-known Christian pro-Israel activist and resident of Johannesburg Olga Meshoe Washington said on Monday.

"My people's history and experience is being used as an antisemitic tool to politically, morally and with incredible pretzel-like twisting and legal gymnastics, legally delegitimatize Israel with the hope to criminalize her," Washington said. The damning COI report

She spoke at a Geneva event hosted by the NGO UN Watch, in advance of a UN Human Rights Council debate on the first presentation of what will be an annual report, by the UN's three-member "Independent International Commission of Inquiry on the occupied Palestinian territory, including east Jerusalem and Israel," otherwise known as the COI on Israel.

The initial 18-page report explained that the COI on Israel held blamed Israel for the conflict with the Palestinians, and insisted that it had no intention of ending its oppressive systematic "occupation" of them. The COI also spoke of its intention to investigate issues of discrimination against Israeli-Arabs living within Israel's sovereign borders. The COI is headed by former UN High Commissioner for Human Rights Navanethem ("Navi") Pillay.

Why Israel is nervous about the report
There was no mention in the COI about any plans to investigate Israel for the crime of apartheid, but Israeli officials and critics of the report fear that it is laying the groundwork for such a change in the future.

Legal expert Ann Herzberg of the group NGO Monitor, who also addressed the UN Watch event said that accusing Israel of apartheid "is on the UNHRC agenda. It is just building up its case for it."
.@COLRICHARDKEMP on the UN's anti-Israel #PillayReport: "The UN Human Rights Council is guilty of perpetuating this conflict, causing bloodshed. And this report will ensure that will be more of these types of Hamas attacks on Israel."

Follow live here: https://t.co/FQKZlnugoE pic.twitter.com/HPI36acJyp

— UN Watch (@UNWatch) June 13, 2022
From my interview on @CBNNews, on how @The_ILF is leading a global coalition speaking out against the @UN_HRC lawfare attack on #Israel, through its one-sided #FixedInquiry being handed down today at #HRC50 by the viscerally biased Navi Pillay. pic.twitter.com/AHWZMUfiEj

— Arsen Ostrovsky (@Ostrov_A) June 13, 2022
ILF CEO Arsen Ostrovsky interview on i24 TV about UN Inquiry against Israel
Ahead of the release today of the UN 'Commission of Inquiry' against Israel, ILF CEO Arsen Ostrovsky explains on i24 TV why this is a one-sided, pre-determined inquiry, where the result against the Jewish state was fixed from the outset … and how ILF, together with our global coalition, is leading the fightback!
Say no to the @UN_HRC #FixedInquiry against #Israel, which is a one-sided political attack on the Jewish state, while giving Palestinian terror groups a free pass!pic.twitter.com/kP27MWcjJ1

— Arsen Ostrovsky (@Ostrov_A) June 13, 2022
Today in Geneva, the @UN_HRC will issue the #PillayReport, a #FixedInquiry against #Israel. The woman chairing this unprecedented assault on the Jewish state is Navi Pillay. Watch this @The_ILF video 'Navi Pillay - In Her Own Words' and then ask if she is fit to judge! #HRC50 pic.twitter.com/ePYo4rUQFa

— Arsen Ostrovsky (@Ostrov_A) June 13, 2022
Thank you @RepGregSteube (R-FL) and @RepGonzalez (D-TX), for leading the bi-partisan effort in Congress to pass the COI Elimination Act, in response to the one-sided and antisemitic @UN_HRC #FixedInquiry against #Israel.

See more below via @AIPAC. pic.twitter.com/6QaznQbhoz

— Arsen Ostrovsky (@Ostrov_A) June 13, 2022
Wednesday: Anti-Israel activists to descend upon Geneva at instigation of Amnesty International. Speakers include Philip Luther, author of Amnesty's "Israel Apartheid" report; ex-PLO spox Diana Buttu (of: https://t.co/fCOrZtw7Fo) & Palestinian Liberation Movement's Lina Hadid. /2 pic.twitter.com/smQSnSUOCV

— Hillel Neuer (@HillelNeuer) June 13, 2022
Does this sound impartial to you?

See more in this Report by @The_ILF and a global coalition of over 25 organizations, calling out the @UN_HRC #FixedInquiry #PillayReport against Israel, which is being presented at #HRC50 today: https://t.co/vvJjpzbDaF pic.twitter.com/o56aCLtpZW

— Arsen Ostrovsky (@Ostrov_A) June 13, 2022
Instead of dealing with the urgent human rights challenges of the day, the UN Human Rights Council is releasing the commission of inquiry once again condemning #Israel. I went to #Geneva to see what all the fuss was about…and this is what OBSESSION looks like. #FixedInquiry pic.twitter.com/Nf96URjV2U

— Emily Schrader - ????? ?????? (@emilykschrader) June 13, 2022
UN Rights Chief Says No to Second Term Amid China Trip Backlash
The United Nations human rights chief, Michelle Bachelet, said on Monday that she would not seek a second term for personal reasons, refuting speculation that it was a decision linked to blowback over her trip to China last month.

Bachelet, 70, was criticized by rights groups as well as some Western governments, including the United States, who said the conditions Chinese authorities imposed on the visit did not enable a complete and independent assessment of the rights environment.

"As my term as High Commissioner draws to a close, this Council's milestone fiftieth session will be the last which I brief," she said in a surprise announcement at the end of a wide-ranging speech to the Geneva-based Human Rights Council.

Later, she said the decision was not related to the trip, adding that she intended to return to Chile and spend time with her family.

"Two months ago, before even going to China, I made a decision and I informed my boss, the Secretary-General (Antonio Guterres). So it has no relationship," she told reporters.

Some diplomats said they had expected Bachelet, a 70-year-old former president of Chile, to stay on after her four-year term expires later in August. There was murmuring in the Geneva Council room when she made the announcement.

In her speech, she said her office was working on an updated assessment of the human rights situation in China's western region of Xinjiang, where there are widespread allegations that mostly Muslim Uyghur people have been unlawfully detained, mistreated and forced to work.
Renwed EU Aid to Palestinian Authority Will Compromise Fight Against Antisemitism in Europe, Dutch Parliamentarian Says
The fight against resurgent antisemitism in Europe will be dangerously compromised when the EU resumes funding to the Palestinian Authority, a Dutch member of the European parliament has warned.

As the European Commission President, Ursula von der Leyen, arrived in Israel on Monday on the first leg of a tour of Middle Eastern states, Bert-Jan Ruissen — vice-chair of the European Parliament's committee for relations with the Jewish state — counseled against the resumption of aid to the PA. EU funding has been frozen for nearly two years over objections to the presence of antisemitic images and themes in school textbooks authorized by the PA. In March of this year, the EU withheld more than $220 million in aid, citing the same concerns. The bloc has historically been a major donor to the PA, contributing about $265 million annually, most of which is used to pay the salaries of the PA's civil servants.

Von der Leyen will visit PA leaders in the West Bank city of Ramallah on Tuesday bearing a message about the resumption of funding. At a press briefing on Monday, Ana Pisonero — the European Commission's spokesperson on Neighbourhood and Enlargement — confirmed that the move to restore the flow of aid was being "finalized." Once this was achieved, EU funds would be prioritized towards East Jerusalem hospitals and vulnerable Palestinian families, she said.

Ruissen argued that the resumption of aid would result in the further "poisoning" of the minds of Palestinian children. "In this way, we also make the fight against antisemitism here in Europe an empty shell," he told the Dutch newspaper Trouw on Monday.
Settlements excluded from EU cultural program joined by Israel
Israel on Sunday announced it will join the European Union's "Creative Europe" program that promotes cultural cooperation between artists in member-nations.

The government approved the state's participation in the program through 2027 at a cabinet meeting in Jerusalem, The Times of Israel reported.

Israel considers the program essential to increasing cooperation with Europe and developing Israel's cultural scene, the Foreign Ministry said.

"Creative Europe" offers around $2.6 billion every seven years toward films, visual art, literature, and other creative works. As part of the program, the EU will invest heavily in artists from Israel and across Europe who initiate cross-cultural events with each other.

The initiative, which will reportedly cost Israel nearly $1.7 million in yearly admission fees, is a way for Europe to promote its cultural sphere on the international stage, according to The Jerusalem Post.

The agreement included a "territorial clause" that only recognized sovereign Israeli territories, The Jerusalem Post reported, something that angered groups and regional council heads in Judea and Samaria. As a result of the clause, Jewish communities in east Jerusalem, Judea and Samaria, and the Golan Heights will be excluded from the program.
Yair Lapid:
Israel Never Targets Journalists
Less than two hours after the death on May 11 of journalist Shireen Abu Akleh, I contacted Hussein al-Sheikh, the Palestinian minister responsible for cooperation with Israel, and proposed that we hold a joint investigation into her death. The Palestinians refused. Being a journalist in wartime is a dangerous business. I know - I was a journalist for 31 years and covered the First Lebanon War.

What happened next can't be excused by the fog of war. Palestinian propaganda used Abu Akleh, accusing Israel of deliberately targeting her. She would surely have known better. If the outrageous claim that Israel targets journalists were true, why would she have worked in the region for more than 20 years? Today hundreds of foreign journalists work in the same place. Al Jazeera, a network run by an Islamist state that is openly hostile to Israel, has permanent staff in Israel.

Everything you know about this conflict is the product of hundreds of journalists who work in the field under the protection of a democratic state that believes with all its heart in both freedom of expression and freedom of the press.

Missing from the media coverage of Shireen Abu Akleh's death is the reason for the fighting that led to it. Israel conducted antiterror operations around the city of Jenin because terror cells that murdered innocent Israeli civilians came from there.
Another one-sided @washingtonpost 'investigation', which like the ones that preceded it by CNN and AP, is absolutely meaningless, in the absence of a forensic investigation of the bullet that killed Shireen Abu Akleh. https://t.co/T5lfKwBrOG

— Arsen Ostrovsky (@Ostrov_A) June 12, 2022
"Lapid's New Advisor: We Must Acknowledge the Injustice of 1948"
Foreign Minister and Alternate Prime Minister Yair Lapid's new communications advisor Mia Bengel, who used to work for Justice Minister Tzipi Livni, believes Israel must recognize the inequities of the "Nakba," Catastrophe, the Arab name for Israel's independence. She also believes Israel must pay reparations to the uprooted Arab refugees.

Good to know.

Bengel has a serious leftist track record, going back to her membership in Breaking the Silence and Yesh Din. According to Makor Rishon, in a podcast interview with Keren Haber a few months ago, Bengel said about 1948: "We don't recognize our own iniquity, that's where the problem lies." She then added: "There's one thing that must be done and that's to acknowledge the injustice. Forget the cost of it for a moment. "Our state is strong enough to acknowledge injustice without paying a cost. It's possible to offer a moral recognition that can also be an economic recognition, with reparations provided with the help of the countries of the world."

A staunch leftist, Bengel believes the 1967 liberation of the territories that had been under Arab illegal occupation for 19 years, marked the start of the deterioration of the Israeli left over the years that followed. She told Haber: "In 1967, the concept of God ruling the land, of the Jewish religion ruling the territories, of the political perception of the religious Zionists was given legitimacy, and this is the moment when the branch on which the left was sitting was broken. Ever since then, the left doesn't realize they are on the ground, they're being stepped on, and it hurts, and it's not from Allah."

Before she was hired, Bengel's tweets had been scrutinized, and they were not kind to her future boss. One memorable tweet suggested Lapid was the type who bought his bookshelves from Ikea and filled them up with books he never read.
Judea-Samaria leaders planning quarter-million acre national park
An ambitious new plan from leaders in Judea and Samaria calls for the establishment of a new national park on nearly 1 million dunams (247,000 acres) of land between Jerusalem and the Dead Sea, which would transform the area into a tourist attraction.

The area in question begins in the west of Kochav Hashahar and extends to the Herodian site in eastern Gush Etzion. According to the plan, the park will include approximately half the land bordering the Dead Sea, from Qasr al-Yahud – the traditional site of Jesus' baptism – to the Darga and Hazazon ravines. The territory is considered the only open land separating Judea and Samaria, and the political ramifications of implementing the new plan are still unclear.

For decades, the Israeli Right has sought to build in the E1 area near Maaleh Adumim in an attempt to link the two regions, a step that thus far has yet to be taken.

The Palestinians claim that Israeli construction in E1 would be the nail in the coffin of the two-state solution and have been building illegally in the area to stop Israel from doing the same.

In Judea and Samaria, leaders are skipping over the political questions and focusing on the practical aspects of establishing the new park. They say that the land in question includes a number of tourist attractions and would primarily draw day trippers.
Israelis Strongly Urged to Leave Turkey After Iranian Kidnapping Plot Foiled
The Israeli government is warning its citizens to avoid Turkey, where an Iranian plot targeting Israelis was foiled last month, Israeli media reported Sunday.

The plot involved kidnapping Israeli nationals and was reportedly foiled with the cooperation of Israel and Turkish authorities, according to Hebrew-language reports, which cited unnamed security officials. The Iranian cell behind the attempt was part of the Islamic Revolutionary Guard Corps (IRGC) Quds Force, and was caught after contacting Israeli tourists, Channel 13 reported.

Israeli officials believe that the threat of another attack remains elevated.

A number of similar Iranian cells are still in Turkey, especially in tourist destinations like Istanbul and Antalya, and looking to kidnap and kill Israelis, the outlet's military correspondent added.

An unnamed security source told Channel 13 on Sunday that there is "a clear and immediate threat to the lives of Israelis in Turkey."

A day earlier, the outlet reported that Iran is looking to target Israeli tourists as they remain unable to reach senior Israeli officials. The plots are seen as an attempt to retaliate against assassinations in Iran that have been attributed to Israel, including the killing of a senior IRGC officer Hassan Sayad Khodayari in Tehran last month.

Shortly following Khodayari's death, which Iran has vowed to avenge, Israel's National Security Council (NSC) warned nationals against traveling to Turkey due to the threat of Iranian attacks, saying it was "high-risk country."
Undercover Police Officer Wounded in Attempted Lynching in Jerusalem
An undercover Israeli police officer was lightly wounded on Thursday night in an attempted lynching in Jerusalem's French Hill neighborhood, according to Israeli media reports.

The incident began after two off-duty officers in civilian clothing drove into the city's Issawiya neighborhood. The officers were confronted by residents for an undetermined reason, who pursued them to the nearby French Hill neighborhood, according to Channel 12.

There, "at least" six assailants fell upon the officers' vehicle, hurling a heavy stone block though the windscreen, wresting the doors open and assaulting the vehicle's occupants. One of the officers was pulled from the vehicle by the mob, which also managed to steal one of the officers' weapons.

The other officer fired into the air to disperse the crowd, according to the report.

Six Issawiya residents were subsequently arrested in connection with the incident, the investigation into which is ongoing, according to police.
A Hamas publication lauding the anniversary of the kidnapping and murder of three Israeli teenagers by Marwan al-Qawasmi and Ammar Abu 'Aisha. The teens are referred to as "Zionist soldiers" in the publication. pic.twitter.com/3OUd90dYCP

— Joe Truzman (@JoeTruzman) June 12, 2022
Abbas to US Envoy: 'Our Goal Is to Get Rid of the Occupation'
Palestinian Authority leader Mahmoud Abbas hosted a US delegation on Saturday led by Assistant Secretary of State for Near Eastern Affairs Barbara Leaf.

Her three-day visit comes amid a degree of uncertainty surrounding US President Joe Biden's first trip to the region, scheduled for July.

Leaf met with Abbas "to discuss the US-Palestinian relationship, US assistance to Palestinians, deepening ties, and how Palestinians and Israelis alike deserve equal measures of freedom, security and prosperity," the US State Department said in a statement.

In the meeting, Abbas reiterated his request that the Palestine Liberation Organization be removed from the US list of terrorist entities, according to a statement from his office. He also requested that the PLO's office in Washington and the American consulate for eastern Jerusalem be reopened. Both were closed under the Trump administration.

Abbas also discussed "Israeli escalations" against Islamic and Christian holy sites, the expulsion of Palestinians in eastern Jerusalem, settlement approvals and settler violence, according to the statement.

"Our goal is to get rid of the occupation on the basis of the resolutions of international legitimacy. East Jerusalem is and will remain forever the capital of the State of Palestine," he told Leaf.
Palestinian official: "Renaming the Palestinian Affairs Unit in Jerusalem insufficient. We insist that the US Consulate be reopened in Jerusalem, the capital of the State of Palestine."

— Khaled Abu Toameh (@KhaledAbuToameh) June 12, 2022
PMW:
Fatah official calls for terror: "Allah willing there will be a Shireen Intifada, a Jenin Intifada, a Jerusalem Intifada… this intifada will be the Liberation Intifada"
A few days after Palestinian-American journalist for Al-Jazeera Shireen Abu Akleh was shot and killed while covering a gun battle initiated by Palestinian terrorists who attacked Israeli forces during an operation in Jenin on May 11, 2022, a Fatah official called for a new Palestinian wave of terror. In fact, he called for several waves of terror – intifadas – one of which he suggested be named after Shireen Abu Akleh.

The goal of these terror waves would be the "liberation" of "Palestine":
Fatah Nablus Branch Secretary Muhammad Hamdan: "All of this pressure, all of this crime, and all of this terror that the Israeli occupation is carrying out and the settlers are carrying out will lead the region to a full-blown explosion. Allah willing there will be a Shireen [Abu Akleh] Intifada, a Jenin Intifada, a Jerusalem Intifada, and all of our people's activity will be planted in this intifada in the defense of Jerusalem and Jenin. Allah willing this intifada will be the Liberation Intifada."

[Official PA TV, Palestine This Morning, May 16, 2022]

In a recent interview, top Fatah official Abbas Zaki likewise expressed his hope for an intifada:
Fatah Central Committee member Abbas Zaki: "I think that the Palestinian people is on the brink of a great intifada."

[Facebook page of Fatah Central Committee member Abbas Zaki, May 31, 2022]
Palestinian officer sells guns to undercover agent to 'use against Jews'
The Israeli police revealed Monday that a widescale undercover investigation into illegal trade of firearms uncovered many high-profile sellers, including a Palestinian security officer who sold his guns on condition it would be "used against Jews".

The police recruited a former criminal turned state agent for the "The Silver Bullet" operation to try and purchase improvised explosive devices (IEDs) and illegal arms from various sellers, mostly in the Arab community.

The transactions he pursued included IEDs, assault rifles, rifles, ammunition, and drugs.

On Monday morning, with the start of the overt part of the operation, hundreds of cops and Border Police officers conducted raids and searches nationwide. The forces have arrested over 30 suspects, including outlaws from the crime domains in the cities of Jaffa, Lod, Ramla, Haifa, Kafr Qasim, Barta'a, and Sajur.

The secret agent himself has an extensive criminal background, having served years in prison. He was identified as a potential agent for the operation and recruited as an intelligence man. He then went on to pursue dozens of trade deals involving arms, explosives, and drugs. He engaged in deals nationwide, while his focal point was Jaffa.

Amid an assault rifle deal in the north of Israel, the agent met a PA officer, who later on sold him an M-16 rifle, improvised submachine guns, and pistols, while ensuring they would be used to harm Jews.

In a ceremony at Tel Aviv District Police headquarters, Police Commissioner Kobi Shabtai commended the forces for their impressive work.
Former jailer of Hamas head Sinwar: He's a coward who used others for his dirty work
The former jailer of Hamas's leader in the Gaza Strip, Yahya Sinwar, has described the terror leader as "a coward" and a cruel and callous man who prefers to let others do his dirty work. However, she also said he is a very intelligent man who used his team in prison to learn as much as he could about the Israeli mindset.

In the early 2000s Betty Lahat, a former warden of Hasharon Prison and head of the Israel Prison Service's Intelligence Department, was in charge of top security prisoners, among them Sinwar, Salah Shehade, Saleh al-Arouri, Marwan Barghouti and others.

In an interview with Maariv this week, Lahat said her impression of Sinwar was far-removed from that of the defiant Gaza resistance leader he now cultivates.

Lahat described Sinwar as "a coward" who often plotted violence and turmoil inside the prison but never took responsibility.

Sinwar was convicted in 1989 of leading the abduction and murder of two Israeli soldiers, as well as four Palestinians he suspected of working with Israel. He was given four life sentences but was released after 22 years as part of the deal to return captured Israeli soldier Gilad Shalit.

Lahat described him as "adversarial and cruel… Before his arrest he led by fear and terror. He'd dig holes, throw in people he suspected were against him and pour cement on them while they still lived. In prison he also sent out people to hurt those he didn't like. But he himself never got his hands dirty."

She said Sinwar often used people for his purposes before abandoning them. (h/t L_King)
Senior Hamas official Khalil al-Hayya: "Israel is attacking Syria because it failed to get Syria to normalize its ties with Israel." pic.twitter.com/LXlTmk4ai5

— Khaled Abu Toameh (@KhaledAbuToameh) June 12, 2022
Will there be beans? https://t.co/TI9kPbpRas

— Mossad Assassination Commander Asa Flotz (@TheMossadIL) June 13, 2022
In a message directed to Lebanon, the IDF's Chief of Staff Aviv Kochavi warned the next war against Hezbollah will be unprecedented in terms of rate of attacks, including extensive damage and firepower. pic.twitter.com/5KE5GTP6yb

— Joe Truzman (@JoeTruzman) June 12, 2022
Damascus Airport Strike Reflects a Shift in Israeli Policy
The central goal of the Israeli Air Force's alleged strike on Thursday night was not Iran, but Syria. By striking the runways at Damascus International Airport and suspending flights for hours, Israel may have sought to pressure Syrian President Basher Assad into adopting a more active and assertive position against Iran's use of its territory and infrastructure to continue to smuggle arms to Hezbollah and various other powerful elements inside Syria.

In this alleged attack, one can identify a certain shift in Israeli policy. While Syrian infrastructure has been targeted in previous strikes, this time the damage appears to have been collateral.

If Syrian anti-aircraft batteries posed a risk to Israeli jets, they were struck, and if Iran or its emissaries acted from Syrian facilities, those facilities were attacked.

Israel Defense Forces Chief of Staff Lt. Gen. Aviv Kochavi has said that in recent weeks the military carried out a double-digit number of strikes in the region. One can assume a significant number of those targeted Iranian activity in Syria.

While such strikes certainly cost the Iranians quite a few assets and abilities, they did not change Tehran's strategic decision to surround Israel with a ring of missiles.
Some images from Syrian media of the damage caused by reported Israeli airstrikes against the runway at Damascus International Airport. The IDF has previously warned of Iranian weapons smuggling to Hezbollah through passenger flights at the airport. pic.twitter.com/WtdA6TW85k

— Joe Truzman (@JoeTruzman) June 12, 2022
MEMRI:
Senior Saudi Journalist Tariq Al-Homayed: Tehran Is Pursuing Its Goal Of Obtaining Nuclear Bomb, While West Avoids Serious Action To Prevent This
In a recent article headlined "Iran's Anger!", senior Saudi journalist Tariq Al-Homayed expresses puzzlement over a Reuters report which stated that Iran is likely to respond with "anger" if the International Atomic Energy Agency officially rebukes it for its lack of transparency regarding its nuclear activity. The talk in the Western media about Iran's possible fury, he says, is merely a Western excuse for avoiding any serious action against this country. This reluctance, he adds, plays into the hands of Iran, which has repeatedly proved that it is not committed to agreements or international decisions, nor is it deterred by sanctions or rebukes. Its only goal at the moment is to buy time until it can obtain a nuclear weapon.

Al-Homayed states further that the example of Russia shows how difficult it is to curb the ambitions of a nuclear power. Once Iran achieves this status, the region will be like a time bomb, he says, and concludes: 'Iran understands only the language of force. If it becomes a nuclear state, then the region will head steadily towards a real disaster.'

The following are excerpts from the English translation of the article, published June 8, 2022 in the English edition of Al-Sharq Al-Awsat:[1]
"Reuters reported that the United States and the European Troika sent a draft resolution to the International Atomic Energy Agency's Board of Governors to criticize Iran for not fully answering the agency's questions regarding uranium traces at undeclared sites.

'The United States, France, Britain and Germany are pushing for the U.N. nuclear watchdog's Board of Governors to rebuke Iran for failing to answer longstanding questions on uranium traces at undeclared sites,' Reuters said, adding that the step was likely to 'anger Iran.'

"What kind of anger are we talking about here? And what will it entail? Is talking about Iran's 'anger' an accurate expression, or a mere justification for Tehran's manipulative positions on the nuclear file?

"Since the beginning of Khomeini's era, the Iranian approach shows that Tehran is not committed to any decisions, agreements, settlements, or the outcome of any negotiations, but only seeks to exploit the time factor until it obtains its desired goal.

"With regards to the nuclear file, Tehran is evidently following the same path, manipulating time and even reaching its goal of acquiring a nuclear bomb, regardless of whether former US President Donald Trump is to blame for withdrawing from the 2015 agreement, or not.

"The Iranian plan is clear. Everyone knows that the regime in Tehran says something but does the opposite. In fact, this regime is determined to reach the nuclear goal, even if the Supreme Leader talks about a fatwa that prohibits the acquisition of a nuclear bomb.
Nuclear Strategy: The War on Expertise
Prager and Kaptanoglu apparently think the "U.S. defense establishment" is less qualified than "Those who promote arms control and disarmament," like themselves.

So the philosophy of "a little child shall lead them" is prescribed for the field of nuclear strategy, just as the views of Greta Thunberg are supposed to silence the many scientists who doubt that "climate change" is an existential threat. We live in a time when the "Wokists" are at war with any expertise that contradicts their agenda, a time of unthinking egalitarianism when all opinions are supposed to matter equally (providing they are "Woke") — and the West may die from it.

College physicists, political scientists, physicians, pediatricians, and their impassioned students who comprise much of the anti-nuclear movement typically have little or no expertise in nuclear weapons and strategy. Yet Prager and Kaptanoglu would substitute their uninformed opinions for those of national security experts who have spent professional lifetimes studying nuclear weapons, theories of nuclear conflict, nuclear exchange modeling analysis, and other disciplines related to nuclear war.

Academics and anti-nuclear activists have only themselves to blame if they are largely ignored by the national security community, because they so often falsely accuse the national security community of bad faith, conspiracies, corruption, and irrationality for disagreeing with them.

Anti-nuclear activists, if they want to be taken seriously, have an obligation to educate themselves on the facts, and to stop exaggerating and stop lying. Examples of five whoppers, and not necessarily the worst ones, that often appear in the Bulletin of the Atomic Scientists...
Senate Foreign Affairs Committee approves Stop Iranian Drones Act
The Senate Foreign Relations Committee on Thursday approved the Stop Iranian Drones Act, which aims to prevent the Islamic Republic and terrorist groups and militias associated with it from obtaining lethal Unmanned Aerial Vehicles (UAVs).

The act is an amendment to the Countering America's Adversaries Through Sanctions Act (CAATSA), enacted in 2017, clarifying that CAATSA sanctions apply to combat UAVs as well as to conventional combat aircraft.

US Senators Bob Menendez (D-N.J.) and Jim Risch (R-Idaho), chairman and ranking member of the Senate Foreign Relations Committee, said in a statement that Iran's "reckless" use and production of drones represents a "a significant threat to United Stations national security and that of our allies and partners."

The amended legislation, the statement continued, makes clear that "supporting the supply, sale or transfer to or from Iran of UAVs, or providing other assistance related to UAVs, is sanctionable under US law."

"Today's Committee approval of the Stop Iranian Drones Act serves as an important step forward in ensuring that US law keeps pace with Iranian regional aggression and holds Iran accountable for its destabilizing actions," said Menendez.
Iran says its actions in contravention of 2015 nuclear deal are 'reversible'
Iran said Monday that all measures it has taken to roll back its commitments under the 2015 nuclear deal with world powers are "reversible."

"If the agreement is finalized in Vienna tomorrow, all the measures carried out by Iran are technically reversible," Iran's foreign ministry spokesman Saeed Khatibzadeh told reporters.

Iran said on Wednesday it had disconnected some UN nuclear watchdog cameras monitoring its nuclear site.

The move came as a resolution was adopted by the International Atomic Energy Agency's Board of Governors censuring the Islamic Republic for its lack of cooperation.

IAEA chief Rafael Grossi said Thursday his agency had been informed that 27 cameras were being removed, leaving about 40 still in place.

He warned that the move could deal a "fatal blow" to negotiations to revive the 2015 nuclear accord, stalled since March.

Iran meanwhile says the disconnected cameras were not part of a safeguards agreement with the IAEA.
Iranian aerospace scientist dies 'during mission' in northern Iran base
An Iranian Air Force scientist from the Aerospace Unit was killed "during a mission" at the Semnan Air Defense Base in northern Iran, state-owned Fars News Agency reported on Monday morning.

The scientist, identified as Mohammad Abdous, reportedly worked on the Islamic Republic's satellite program, in addition to developing UAVs and ballistic missiles as part of his work in the air force.

Details on the circumstances leading to his death were not reported.

The news of Abdous' death comes less than 24 hours after Ali Kamani, another member of the air force's Aerospace Unit, died in a car accident in the city of Khomein.

Iranian state-owned media Tasnim's report described Kamani as a "martyr who died in his mission to protect the homeland."

Earlier in June, an IRGC Quds Force officer was found dead under mysterious circumstances. Iranian officials told his family that he fell to his death from the roof of his home in Karaj, possibly in an act of suicide due to "psychological problems caused by separation from his wife."

However, Iran International reported the officer was suspected of leaking information that led to the assassination of Hassan Sayad Khodayari in May. The two officers, both members of the secretive Unit 840 responsible for terror operations against Israeli targets abroad, were reportedly "close associates."
---
---
Buy the EoZ book, PROTOCOLS: Exposing Modern Antisemitism today at Amazon!

Or order from your favorite bookseller, using ISBN 9798985708424.

Read all about it here!