From Ian:
UN Watch:
UN Agency Suspends 6 Staff for Calling to Murder Jews
As exposed in the report, UNRWA teacher Hana'a Daoud in Jordan called on Muslims to "fight against the Jews and kill them"; UNRWA teacher Elham Mansour in Lebanon repeatedly called to "slaughter Zionists"; and UNRWA computer teacher Nihaya Awad in the West Bank glorified Hamas rocket attacks on Israeli civilians.

Nevertheless, the suspensions provoked a sharp response from Palestinian groups, which falsely portrayed the teachers' open calls to slaughter Jews as "instilling Palestinian national pride."

A coalition that includes the PA, Hamas and the Islamic Jihad, known as the Joint Committee for Palestinian Refugees, has called on UNRWA "to immediately rescind its procedure of suspending six employees, and not to respond to US-Israeli pressures and dictates."

In an additional statement, Walid Al-Awad, head of the Palestinian National Council's refugee committee, said UNRWA's suspension of six teachers was "unacceptable and must be dropped immediately."

He described the decision as "dangerous" because it "aims to extract the teacher from the heart of the cause of his people."

Likewise, the Popular Front for the Liberation of Palestine, designated as a terrorist organization by the United States, Canada and the European Union, demanded the teachers' suspensions be reversed.

"The UNRWA administration's reliance on a report issued by UN Watch to take these measures confirms its complicity and identification with the state of incitement practiced by the Israeli occupation against the Palestinian people, especially the employees, just because they are biased towards their cause, and express their adherence to national principles and rights on social network pages and websites, and participate in various national events and activities."

"Our people will not in any way allow this decision to be implemented, and it will respond with full force to the administration's acquiescence to Zionist pressure and incitement," said the PFLP.

UNRWA has refused to provide even minimal transparency as to which of the perpetrators it has suspended.
UN Palestinian Refugee Agency Puts Six Educators on Leave Amid Accusations of Hate Speech, Incitement
In the announcement to donor states, Stenseth pointed out that similar allegations against UNRWA employees last year resulted in staff receiving "written censures, significant fines, deferment of eligibility for promotion, and in the case of daily-paid staff, up to two-year prohibitions on working for the Agency."

Stenseth pledged that the agency would uphold UN humanitarian principles and its "zero tolerance of hate speech and incitement to discrimination, hostility, or violence."

Commenting on the decision, Hillel Neuer, executive director of the Geneva-based UN Watch, said that "teachers who call to murder Jews must be barred from the classroom for life, while these temporary suspensions are just a slap on the wrist."

"UNRWA is trying to pretend the problem is now gone, while at the same time signaling to Palestinian staff — and to terrorist organizations like Islamic Jihad which pressed UNRWA to reject the UN Watch report — that they don't really object to the virulent antisemitism of their teachers, which UNRWA and its donors know pervades the agency," said Neuer.

"We have now exposed more than 120 UNRWA teachers and other staff who praise Hitler, glorify terrorism and spread antisemitism, and UNRWA has not given the name of a single one who has been fired," he lamented.

In response to the dozens of antisemitic statements by UNRWA teachers detailed in the UN Watch report, Israel's Ambassador to the UN, Gilad Erdan, last week called on member states to freeze donations to the agency until all workers responsible were dismissed.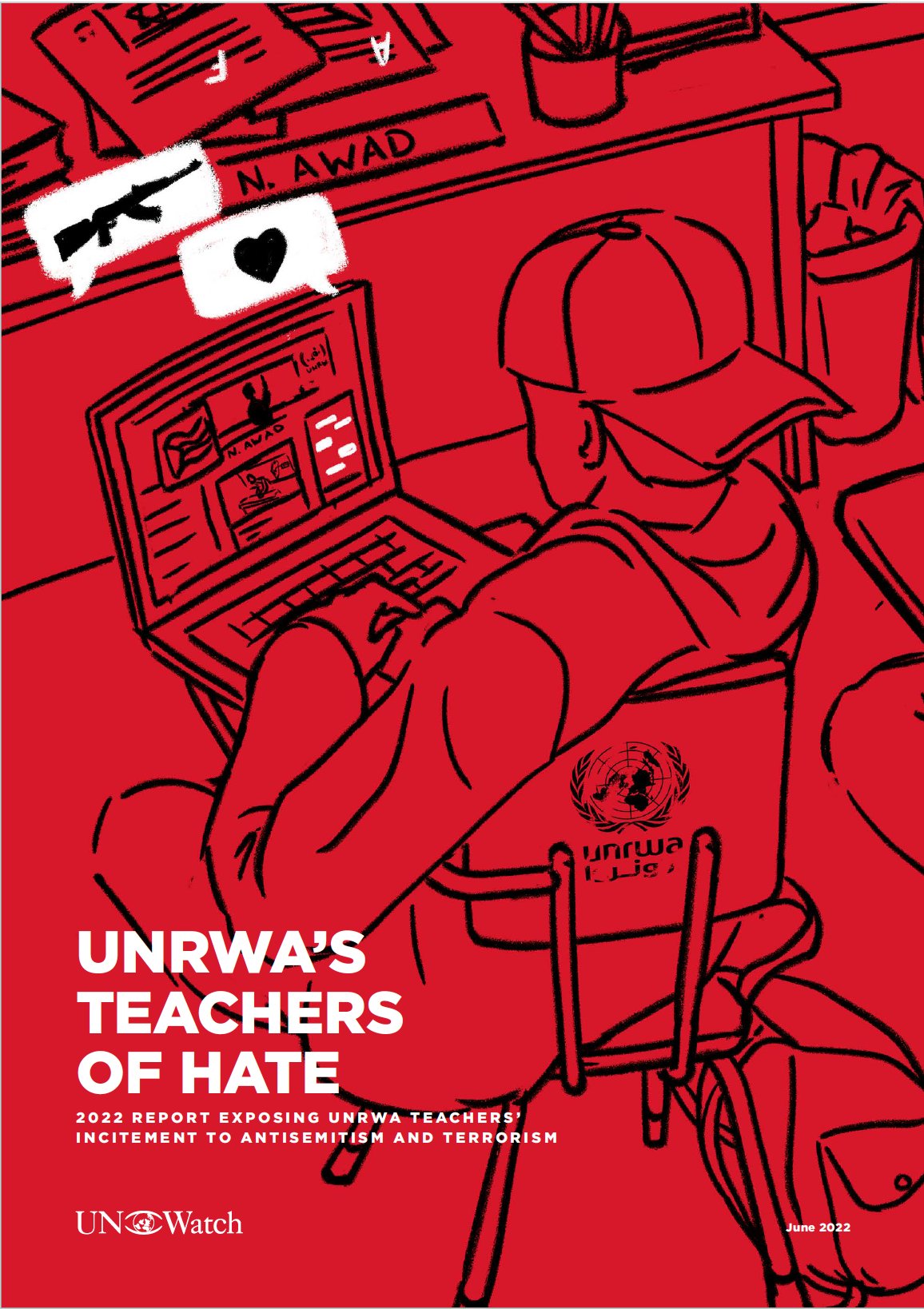 Saudi Arabia open to interfaith dialogue to combat religious intolerance, says US Special envoy to combat and monitor antisemitism
Ambassador Deborah Lipstadt, US special envoy to monitor and combat antisemitism, said in an interview with Arab News that openness and honesty when addressing important topics such as antisemitism or hate of Muslims is how change can happen.

Repeatedly confronted by real-world antisemitism, she is perhaps best known for the libel suit filed against her, in the UK, by the Holocaust denier David Irving. Lipstadt won the case in 2000, with the judge describing Irving as a "neo-Nazi polemicist" who engaged in "racist and antisemitic" discourse.

Lipstadt's visit comes ahead of US President Joe Biden's trip to the Kingdom next month and at a time when US-Saudi relations have been in "one of the downs," as Prince Turki Al-Faisal said in a previous interview on Arab News' "Frankly Speaking" when describing the fluctuating but strategic relationship.

On May 24, Vice President Kamala Harris swore in the Emory University historian and professor as special envoy. Only a month later, she made her first international trip to the Kingdom, telling media outlets that "Saudi Arabia is a very important country in the Gulf and it has shown a willingness and openness to hosting me."

On the sidelines of a roundtable discussion held at Arab News headquarters in Riyadh, she noted how "depiction of the Jew, that in years past, often decades passed, the Jew was demonized. The Jew was spoken about in very derogatory language and that had its impact outside the Kingdom in the rest of the Muslim world." She added that she has observed the change in notion and was "exceptionally encouraged" upon meeting people who recognize the need for change.
#INTERVIEW: Keeping up with open dialogue, US Special Envoy for Antisemitism @deborahlipstadt delves into the manner from which prejudice works as she sits down with #Saudi journalists | Full interview: https://t.co/qu9LRkXPg8 @StateSEAS pic.twitter.com/QcWjY7WYm7

— Arab News (@arabnews) June 29, 2022
#INTERVIEW: "Women who have fought so hard are reveling in these changes:" #US Antisemitism Special Envoy @deborahlipstadt on women's empowerment in #SaudiArabia | Full interview: https://t.co/qu9LRlfqEI @StateSEAS pic.twitter.com/dGtINlXHNS

— Arab News (@arabnews) June 30, 2022
Who stole Palestinian land? Jordan
For years, Jordan was the only Arab country that granted Palestinians citizenship, but that is no longer the case. Most of the Jordanian population is Palestinian, but they are feared as a fifth column that threatens the Hashemites' dominance. Those fears have been exacerbated by the influx of thousands of Palestinian refugees from Syria. The king also remembers the PLO's attempt to take over the country in 1970, which led to the expulsion of Palestinians to Lebanon.

While it has come to be associated with the right-wing in Israel, it is a fact that Jordan is geographically and demographically a Palestinian state. The Hashemite dynasty is over if Jordan becomes the de facto Palestinian state. Is it any wonder King Hussein abandoned his claim to Judea and Samaria?

Ironically, the Palestinians and their supporters don't recognize that having their state on both banks of the Jordan would give them a stronger foothold and the capacity to build a modern state with an army. They would also not have to contend with a dispute over the rightful owners of the land. Israel could say the Balfour Declaration (and the historical record) intended that the area given to Jordan should be part of Israel, but the Zionists long ago gave up that claim. If the Hashemites want to fight over their homeland, they will have to challenge the Saudis.

Given these facts, shouldn't the BDS movement be directed at Jordan? Isn't the minority tribal autocracy in Jordan akin to apartheid? Shouldn't human rights advocates focus their ire on the Hashemites, the true interlopers in Palestine, instead of the Jews who have lived in the land for millennia? Shouldn't the international community insist that Jordan be recognized as the Palestinian state and that Palestinians living in Gaza and the West Bank be given Jordanian citizenship?

There is no need for a second Palestinian state.

These are all good points to rebut specious arguments about Israel stealing or occupying Palestinian land that are not being employed. That's hasbara (or PR, which is not a dirty word), but the political reality is something else.

Besides Palestinian and Jordanian opposition to the idea, recognizing Jordan as Palestine would have mostly negative consequences for the United States and Israel. It would mean the end of the pro-Western Hashemite dynasty. It would give Palestinians, potentially led by Islamists, control over an area more than four times larger than Israel, a stronger state than what two-staters advocate and a direct link to Israel's most implacable enemies. The Palestinians, who covet the small fraction of Palestine that is Israel, are too myopic to see the benefits of the Jordan solution. Many Israelis who make this case are equally foolish, because Palestine replacing Jordan would create a greater security threat than a rump state in a portion of Judea and Samaria linked to Gaza, which would be surrounded by stronger powers whose interest is to ensure the Palestinian state remains as weak and unthreatening as possible.

Still, the fact remains that Jordan is the occupier denying Palestinians self-determination and most guilty of the sins detractors attribute to Israel.
Masafer Yatta: Fact and Fiction
The Masafer Yatta case illustrates how anti-Israel organizations, foreign governments and the Palestinian Authority have turned a run-of-the-mill case of illegal construction into a massive international issue.

Masafer Yatta in the southern West Bank is state land, which was declared a military training ground in the early 1980s. There has not been settlement of any kind on the land in over 100 years. This is a desert area, very difficult terrain, with no water and not arable. British Mandate-era maps show no settlement of any kind. Aerial photos from as recently as 1997 make this point unequivocally.

A recent Israel High Court decision holds that the residents of the illegal "villages" of Masafer Yatta arrived after the IDF closed off the area. It also holds that these residents, almost without exception, have permanent homes in the nearby town of Yatta. Yet two decades passed before the High Court finally asserted that Arab claims to this land are unfounded, and the claim that Israel is dispossessing indigenous people is a lie.
PMW:
PA expects President Biden to ignore US law
Two of the fundamental demands of the Palestinian leadership is that President Biden renew US funding to the Palestinian Authority and re-open the offices of the Palestine Liberation Organization (PLO) in Washington. The problem is that the PA is knowingly and openly flouting at least 2 fundamental provisions of US law that prohibit providing the bulk of US funding to the PA and also prohibit re-opening the PLO offices. By making these demands, the PA is implicitly demanding that President Biden either ignore US law or actively pursue a change to widely accepted bi-partisan legislation.

In a recent interview, PA Minister of Foreign Affairs Riyad Al-Malki expanded on the ongoing discussions between the PA and the ICC prosecutor, and the latest PA move to include the killing of Al-Jazeera journalist Shireen Abu Akleh in the investigation. Al-Malki added that the PA also wrote to the ICC Prosecutor, urging him to add the "crime of Apartheid" to the subjects the prosecutor needs to investigate:
Official PA TV reporter: "[PA Minister of Foreign Affairs Riyad] Al-Malki and his accompanying delegation discussed ways of developing the activity and cooperation with the [International Criminal] Court (ICC), and all the complaint cases against Israel. The ICC also received the evidence, proof, and report of Palestinian [PA] General Prosecutor [Akram Al-Khatib] on the case of the assassination of Palestinian Martyr journalist Shireen Abu Akleh and the occupation's crimes against our [Palestinian] people with all its layers."

PA Minister of Foreign Affairs Riyad Al-Malki: "We submitted a copy to him of the results of the investigation carried out by the Palestinian general prosecutor regarding the assassination of journalist Shireen Abu Akleh, and the results of the investigation. He officially asked us to provide him with details about this investigation so that he would be able to follow this issue with the necessary seriousness. We gave him a letter discussing the need to add the crime of apartheid as part of the [Israeli] crimes that the ICC needs to investigate."

[Official PA TV News, June 9, 2022]

Al-Malki's discussion with the ICC prosecutor followed the statement of PA Chairman Mahmoud Abbas in which he rejected Israel's call to conduct a joint investigation into the killing of Abu Akleh, saying the PA would "immediately go to" the ICC:
"[PA] President Mahmoud Abbas held the occupation authorities fully responsible for the crime of killing journalist Shireen Abu Akleh. In a short speech during the funeral ceremony of Martyr Abu Akleh at the [PA] presidential headquarters in Ramallah yesterday, Thursday [May 12, 2022], the president [Abbas] said: 'We have refused and will refuse a joint investigation with the Israeli authorities, because they committed the crime and we do not believe them and will immediately go to the International Criminal Court (ICC) to prosecute the criminals.'"

[Official PA daily Al-Hayat Al-Jadida, May 13, 2022]
The question is serious. It's directed at the powerful forces in Washington and the media who, by their calculated silence, allow Jordan to shield its highest-profile terrorist, an admitted bomber, from US justice. pic.twitter.com/CgA8tSde6e

— This Ongoing War (@ThisOngoingWar) June 29, 2022
Palestinian org.: Israeli poem read by Pelosi 'romanticizes Israeli settlement'
American Muslims for Palestine (AMP), a US-based Palestinian rights nonprofit, erroneously referred to Israeli poet Ehud Manor as "romanticizing an illegal Israeli settlement that sits atop an ethnically cleansed Palestinian village" when his poem, "Ein Li Eretz Acheret" ("I have no other land") was recited by House Speaker Nancy Pelosi after the Supreme Court overturned Roe. v. Wade last week.

The poem, written by Manor as a late response to the killing of his brother in the War of Attrition (1967-70), was released in 1986 and became an anti-war anthem over the years, starting with the First Lebanon War in 1982. The context

Roe v. Wade was a landmark case of the US Supreme Court in 1973, ruling that pregnant women have the fundamental right to receive an abortion. This decision ignited the ongoing deliberation on whether or not abortion should be legal.

Almost 50 years later, the US Supreme Court voted 5-4 to overturn the ruling, allowing individual states to decide the circumstances under which a woman can or cannot receive an abortion. Hundreds of protests across the US erupted in response to the ruling, as activists attempted to send a clear message to the justices about their stance on the recent overturn.

In response to the life-changing ruling for over half of the American populace, Pelosi decided to recite Manor's poem.

Jewish Voice for Peace wrote: "It is absurd yet fitting that Pelosi reads Israeli poetry expressing "love" for the settler-colonial nation despite the violence inherent to it."
Caroline Glick: This is why the Bennett-Lapid gov't really fell
In this week's episode of "Mideast News Hour," Caroline Glick and Gadi Taub tackle the reasons for the fall of the Israeli government and what the Jewish state can expect with Lapid as prime minister. They also discuss the anti-democratic disposition of Israel's ruling class in the framework of the outgoing coalition's last-ditch effort to pass a law that will bar Benjamin Netanyahu from forming a government.

What else is on the agenda?

U.S. Supreme Court vs. Israeli High Court
Iran and Jerusalem under Yair Lapid
Why Glick was fired from Israel Hayom
A first: UAE officer to learn at Israel's National Defense College next year
A military officer from the United Arab Emirates will attend Israel's National Defense College (INDC), marking the first time that an officer from an Arab state will attend the prestigious institution.

First reported by KAN Public Broadcaster, the officer, a fighter pilot with the rank of colonel, will study at the college this coming year, the IDF Spokesperson's Unit confirmed to The Jerusalem Post.

The INDC's curriculum runs for around 10 months and includes a graduate degree in Political Science from Haifa University. It prepares senior IDF staff as well as defense and government officials for senior command positions and brings in several students from overseas every year.

According to The New Arab news site, the officer previously studied at the UAE's defense college, which follows a US curriculum. He received the approval to study in Israel from the UAE's president, Sheikh Mohammed bin Zayed.

Symbol of regional cooperation
It's believed that the officer's time at the INDC is not only of symbolic importance but a move that will also increase regional cooperation.

Israel and the UAE normalized relations in 2020 as part of the Abraham Accords and have since exchanged ambassadors, signed dozens of bilateral agreements, and several senior military officials have visited.

Last October, the Commander of the Kingdom's Air Force Maj.-Gen. Ibrahim Nasser Mohammed al-Alawi landed in Israel for the first time as the guest of former Israel Air Force Commander Amikam Norkin during the large-scale international Blue Flag aerial exercise.
Israel, Cyprus Sign Defense Export Agreements
Israel and Cyprus signed a number of government to government (GTG) agreements in Nicosia, Cyprus, on Wednesday, including one for the sale of personal protective equipment and tactical equipment to the Cyprus National Guard.

The agreements were signed in the presence of Cyprus' Defense Minister Charalambos Petrides and Defense Ministry Director General Andreas Louka, as well as the Chief of the National Guard General Staff, Demokritos Zervakis.

"The agreements will provide integrated soldier systems … which include personal protective equipment, carrying equipment, and dynamic weight distribution (DWD), which will significantly improve soldier effectiveness," according to the Israeli Defense Ministry.

During the visit, IDF Brig. Gen. (res.) Yair Kulas, the head of the Defense Ministry's International Defense Cooperation Directorate (SIBAT), met with Louka, the Defense Ministry said in a statement. The two discussed the strengthening of security cooperation between the two countries' defense ministries.

"The agreements that were signed today reflect our close relations with Cyprus and indicate the joint goal to protect soldiers' lives," said Kulas.
Germany Seeking Israeli Weapons Systems
As Germany rebuilds its military after Russia's invasion of Ukraine, it is looking to Israel to help improve its preparedness. In the past decade, a reciprocal security relationship has provided Germany with UAVs built in Israel and air-to-surface missiles fired from UAVs developed by Israel's defense industry. Israel also sells anti-tank missiles and missile defense systems to Germany. A German request to purchase the Arrow 3 long-range missile defense system is also being discussed.

"From the moment the German army's procurement list was published, that is, the key areas where it intends to spend the 100 billion euros, the phones have not stopped ringing," said an Israeli source familiar with security procurement relations between the two countries.

Dr. Peter Lintl, of SWF, the German Institute for International and Security Affairs, said, "The Germans see clearly that Israel arms work, and there's no doubt that Israel is a leading country in this area....There are many considerations in buying weapons systems, but they are undoubtedly always joined by a longstanding German consideration - reinforcing ties between the countries, because of the history."
US govt sponsored @RFERL film on a village of settlers mostly from Lebanon and Syria, which were sponsored to settle in occupied #Azerbaijani territories by American Armenian diaspora orgs. https://t.co/5wqr66OkCM

— Brenda Shaffer (@ProfBShaffer) June 30, 2022
Palestinian Gunmen Wound Three Israelis at Joseph's Tomb
Three Israelis were wounded on Wednesday night in a shooting at Joseph's Tomb in Nablus/Shechem.

Israeli forces and a civilian group they were escorting to the site came under "massive" Palestinian gunfire, the Israel Defense Forces said in a statement. Two civilians and one officer suffered light wounds in the attack. Israeli forces returned fire while evacuating the civilians, according to the IDF.

One of the Israeli casualties was identified by the IDF as Col. Roy Zweig, the commanding officer of the Samaria Regional Brigade. He was wounded by shrapnel and evacuated to hospital for treatment, according to the military.

Yossi Dagan, head of the Samaria Regional Council, praised Zweig for his bravery under fire.

"Col. Zweig refused to treat his own injury before he finished evacuating all of the worshippers securely," said Dagan, according to Kan.

Dagan condemned the "barbaric terrorism of the Palestinian Authority" and vowed that Israelis would not be dissuaded from visiting Joseph's Tomb.

According to Kan, some 300 worshippers were at the site when the attack occurred.
Gunfire at Joseph's Tomb while Jewish worshippers were visiting Wednesday night. pic.twitter.com/63023ljY7y

— Joe Truzman (@JoeTruzman) June 30, 2022
Gunmen in Nablus fire at IDF troops operating in the area. Al-Aqsa Martyrs Brigades in Nablus had also issued a statement saying it fired on IDF troops near Joseph's Tomb. pic.twitter.com/THWoD11Ael

— Joe Truzman (@JoeTruzman) June 29, 2022
Sderot Flourishing under Constant Threat of Rocket Attacks from Gaza
Sderot is an idyllic, well-maintained small town of 30,000 located less than a mile from Gaza.

It's also a place where almost everyone suffers from PTSD due to thousands of Palestinian rocket attacks launched from Gaza since 2001. Nevertheless, the town is expanding, building new neighborhoods, creating high-tech jobs, hosting large institutes of higher learning, and opening new museums.

"Terror helps you understand your purpose here," says Mayor Alon Davidi. "We understand what it is to be a Zionist. Hamas has not beaten us." Rockets fell twice in the yard of the Davidi home, and in their neighborhood, one house was hit three times over the years.

Therapist Ephraim Rosenfeld notes, "We have a lot of experience with PTSD, but we never get to the 'post' of post-trauma, it's constant trauma."

He says Sderot is the center for teaching resilience and trauma response to others, and recently therapists from the Resilience Center traveled to Ukraine to help the Jewish community there.
PMW:
Terrorist murderers from Munich Olympic massacre are "heroes," says Fatah official
Although almost 50 years have passed since Palestinian terrorists murdered 11 Israeli athletes at the Munich Olympics, the planners and those who carried out the attack - "the operation" in Palestinian terminology – are still regularly lauded as "heroes" by Fatah.

Fatah Central Committee member Tawfiq Tirawi, a senior member of Abbas' party, recently kept this tradition alive when he glorified the perpetrators of the massacre as "heroes of the Munich operation." He also called the head of the Black September terror organization Salah Khalaf, who was among the planners of the attack, a "Martyr leader":
Posted text: "On the anniversary of the death as a Martyr of national fighter and exceptional self-sacrificing fighter Atef Bseiso (i.e., terrorist, involved in Munich Olympics massacre in which 11 were murdered), we will raise the memory of the revolution in our memories. Before us stand Martyr leaders Abu Ali Iyad (i.e., Fatah terror leader), Salah Khalaf 'Abu Iyad' (i.e., head of Black September terror organization), and the heroes of the Munich operation (i.e., Munich Olympics massacre). The land will take back its glory through its righteous sons who create the glory of the revolution. [May there be] great peace and mercy on your soul."

[Facebook page of Fatah Central Committee member Tawfiq Tirawi, June 8, 2022]

Fatah's praise of past terrorists is not due to a lack of current "heroes." Palestinian Media Watch exposed that another Fatah official supports "the pure and heroic" terrorists who recently murdered 8 in Tel Aviv and Bnei Brak:
Fatah Secretary in Jenin Ata Abu Rmeileh: "The Jenin district is triumphing, triumphing over the occupation…  As a sign of support for the blessed Al-Aqsa Mosque and the pure Martyrs and heroic Martyrs Ra'ad [Hazem], Diya [Hamarsheh] (i.e., terrorists who murdered 8), and all the Martyrs, today we light the torch of freedom and the torch of the prisoners to emphasize that we adhere to the covenant and the oath to these Martyrs and to the Martyr leader, the First Stone and the First Bullet, Khalil Al-Wazir 'Abu Jihad' (i.e., terrorist, responsible for murder of 125)."

[Official PA TV,  Giants of Endurance, April 19, 2022]
A video published by Palestinian Islamic Jihad today confirms the formation of Islamic Jihad subunits in West Bank cities. The arm bands in the beginning of the clip say Katibat Jenin, Nablus and Tulkarem. We at FDD's @LongWarJournal have reported on this for some months now. pic.twitter.com/LDVs8Af8ZF

— Joe Truzman (@JoeTruzman) June 30, 2022
Jamil Ziyada Hamas TV Commentator: We Cannot Coexist with the Jews, Life Is All About Fighting, Not Negotiations #Palestinians #Hamas #Antisemitism pic.twitter.com/4IIu0GUJO6

— MEMRI (@MEMRIReports) June 30, 2022
Gaza man offers his children for sale due to economic hardship.
https://t.co/g37ue9pP37 #AmadPS

— Khaled Abu Toameh (@KhaledAbuToameh) June 30, 2022
MEMRI:
UAE Journalist: The Only Option For The Countries In The Region To Tackle The Iran Threat Is A Regional Defense Pact And Closer Ties With Israel And Turkey
In an article published June 25, 2022 on Elaph.com, UAE political analyst and commentator Salem Al-Ketbi wonders what options are available to the countries of the region for tackling the Iranian threat, given that the current nuclear negotiations between Iran and the West in Vienna are "almost clinically dead," and also given that, in recent years, Iran has come close to making a nuclear bomb and has expanded its arsenal of weapons and drones.

Noting that reality has proven the ineffectiveness of economic, political, or diplomatic pressure on Iran, Al-Ketbi states that the European countries, which are interested in cooperation with Iran, are unlikely to allow such pressures, and the same is true of Russia and China, who are allies of Iran. He adds that the U.S. too will not hasten to use pressure against Iran, either because of its approaching midterm Congressional elections or for fear that such a move will encourage the establishment of an Iran-Russia-China alliance. The military option is an effective way to eliminate the Iranian regime, he says, but that the chances that the U.S. will pursue this option are slim. He thus concludes that the only option left to the countries of the region is "establishing a network of defensive alliances" to deter Iran and defend any country it threatens. He adds that the Gulf states have no choice but to strengthen their ties with Israel and Turkey.

It should be noted that the article was published against the backdrop of reports that, during his upcoming visit to Saudi Arabia in mid-July, U.S. President Joe Biden will discuss with Arab leaders the option of forming a regional military alliance against Iran.

The following are translated excerpts of Al-Ketbi's article.[1]
"The discussion of Iran's nuclear dossier has reverted to square [one] of the pre-2015 [JCPOA nuclear agreement], with considerable differences – all of which serve Iran's interest. The first of these differences is Iran's exploitation of the nuclear agreement that it signed with the 5+1 group, which served it as a cover and provided international legitimacy for its nuclear activity in the years [since the agreement] – to the point where it is approaching the level of uranium enrichment required for a nuclear bomb. This is in addition to [Iran's] development of its project for ballistic missiles that can strike nearby countries in the Middle East and [even] reach eastern and central Europe. Another [of these differences] is Iran's expansion of its influence – including the construction and establishment of a network of regional agents that have the power to spread chaos in various areas of the Middle East – to the point where this influence has become a significant card for Iran [to play] in its negotiations with the regional and international powers. A third [difference] is that today [Iran] possesses an arsenal of conventional weapons, including drones, which play a central role in its ability to threaten the security of the countries of the region, as well as strategic U.S. interests.

"In light of the revived tensions between Iran and the International Atomic Energy Agency [IAEA] and the signs of failure hovering above the [current nuclear] talks in Vienna – which appear to be in a state of clinical death – this most troubling question arises: What options do the countries of the regions have if the American scenario for controlling the Iranian nuclear and missile threat fails?
Top Former Israeli Officer: Iran Nuclear Deal Revival Would Have "Unprecedented Devastating Consequences"
Brig.-Gen. (res.) Yossi Kuperwasser, former head of the Israel Defense Forces Intelligence Assessment Division, warned that returning to the 2015 nuclear deal that Iran struck with world powers will result in "unprecedented devastating consequences" on the global stage. "The ramifications of a return to the emerging deal will be catastrophic across the board," Kuperwasser told Fox News. "Ending sanctions would position Iran to spend billions of dollars on developing military capabilities, arming its militias, solidifying the regime's domestic grip and bolstering its regional standing, which could lead to escalation in the Middle East."

"Secondly, the international agreement in question would undermine Israel's international legitimacy to act toward mitigating Iranian capabilities. It is worth noting that current Iranian unilateral actions to blind international monitoring cameras, along with Iran's insistence on non-disclosure of its actual activities at its nuclear sites, make it impossible to guarantee that a deal would prevent Iran from attaining nuclear weapons, since the very same deal was ineffective in preventing its progress toward the very nuclear weapons arsenal it is poised to achieve," Kuperwasser said.

"A nuclear Iran will trigger a regional nuclear arms race, which will jeopardize not only Israel's safety, but global security and stability. Therefore, at this time, Israel should focus the bulk of its capabilities on preparing to thwart the Iranian nuclear arms program while generating the support of its allies - first and foremost the United States."
Israel Will Respond to Iranian Cyberattacks
Prime Minister Naftali Bennett told the Cyber Week conference in Tel Aviv on Tuesday: "We don't go around wreaking havoc in Tehran - that's never been our policy. Our policy is, if you mess with Israel, you'll pay a price." On Monday, a cyberattack forced Iran's state-owned Khuzestan Steel Co. to halt production, and two other major steel producers also reported being targeted.

Israeli military correspondents, who are regularly briefed off-the-record by senior Israeli officials, hinted that Israel was responsible for the assault in retaliation for a suspected cyberattack that caused rocket sirens to be heard in Jerusalem and Eilat last week. Israeli officials have accused Iran of attempting to hack Israel's water system in 2020.

Bennett said, "Today you can get stuff done hitting your enemy through cyber which in the past would require to covertly send 50 or 100 commando soldiers behind enemy lines with huge risk. And now you can get a bunch of smart folks sitting at a keyboard to achieve the same effect."

He added, "And you can no longer hit Israel indirectly through proxies, through Hizbullah, through Hamas, and think you'll get away with it. If you're the bully who's sending folks to hit us, we're going to try and not fight with those folks; we're going to hit the bully....If anyone attacks us on cyber, we're going to attack back."
Iranian Officials Admit Damaging Effect of Israeli Security Operations
For more than a decade, Hossein Taeb, chief of intelligence for Iran's Revolutionary Guards, crushed domestic dissent and expanded covert operations beyond Iran's borders, until he was abruptly removed from his position last week. According to Israeli intelligence officials, a botched Iranian effort to target Israeli citizens in Turkey, which caused an embarrassing diplomatic crisis with Ankara, eventually tipped the balance.

Mohammad Ali Abtahi, a reformist former vice president of Iran, said, "The security breaches inside Iran and the vast scope of operations by Israel have really undermined our most powerful intelligence organization. The strength of our security has always been the bedrock of the Islamic Republic and it has been damaged in the past year."

Israel's spy network has infiltrated deep into Iran's security circles, Iranian officials have acknowledged. Several dozen employees of the Ministry of Defense's missile development program were arrested on suspicion of leaking classified military information, including design blueprints of missiles, to Israel, according to an Iranian official.
And yet, the official never stops playing the game. The window never closes. Time never seems to run out. And the centrifuges spin. https://t.co/uYKHbOeBYW

— Richard Goldberg (@rich_goldberg) June 29, 2022
The author is in the most notorious prison in Iran, yet he manages to pen an oped for the NYT? To say that the Iranian regime approves of this article is an understatement. Iran uses hostages to manipulate the West, and Western institutions aid and abet their own manipulation. https://t.co/wjYUBvOHU6

— Mike (@Doranimated) June 30, 2022
Canadian Imam Younus Kathrada: Homosexuality Is an Abomination; Oh Allah, Bring Annihilation Upon the Plundering, Criminal Jews! #Canada #antisemitism #homophobia pic.twitter.com/XQCzdFCPyc

— MEMRI (@MEMRIReports) June 30, 2022
---
---
Buy the EoZ book, PROTOCOLS: Exposing Modern Antisemitism today at Amazon!

Or order from your favorite bookseller, using ISBN 9798985708424.

Read all about it here!