From Ian:
White House announces Biden trip to Israel, West Bank and Saudi Arabia July 13-16
The White House on Tuesday announced the dates for US President Joe Biden's highly anticipated first trip to the Middle East, which will include stops in Israel, the West Bank and Saudi Arabia from July 13 to July 16.

Biden accepted an invitation to visit Israel in late April. The trip was initially planned for late June, but was later delayed to July over what the White House said were scheduling issues. According to an Israeli official, those scheduling issues related to the Saudi leg of the trip, which was a later addition that exposed the president to criticism from some Democrats, who expected him to maintain a firm stance against Riyadh over its human rights record.

The trip will begin in Israel, where the president will meet with Israeli leaders, White House Press Secretary Karine Jean-Pierre said in a statement. An Israeli official told The Times of Israel that Biden will meet with Prime Minister Naftali Bennett, President Isaac Herzog, Foreign Minister Yair Lapid and Defense Minister Benny Gantz. The official added that Biden is also slated to visit the Yad Vashem Holocaust memorial and East Jerusalem.

A senior Biden administration official briefing reporters on Monday said the president would likely tour a US-funded missile defense system in Israel in order to highlight White House efforts to secure an additional $1 billion in funding for Iron Dome battery replenishments after the May 2021 Gaza war. Biden will also "discuss new innovations between our countries that use laser technologies to defeat missiles and other airborne threats."

The administration official said the Israel visit will also focus on the Jewish state's "increasing integration into the region through the Abraham Accords — normalization agreements Jerusalem signed with the UAE, Bahrain and Morocco — through the strengthening of Israel's ties with Israel and Egypt and through the creation of a new forum established by the Biden administration that includes the US, the UAE, Israel and India — the I2U2."
The U.N. Abandons Impartiality
This COI contravenes the impartial standard Canada holds dear and violates the UN's own standards dictating that those undertaking the investigations should "in all cases, have a proven record of independence and impartiality. It is also important to ensure that the background of candidates, prior public statements or political or other affiliations do not affect their independence or impartiality, or create perceptions of bias."

South African jurist Navanethem Pillay was selected as chair of the UNHRC COI focused on Israel. Ms. Pillay has an impressive resumé that qualifies her generally to serve on COIs. Regarding Israel, however, she has a well-documented bias which, according to the UN's own guidelines, should disqualify her from participating in this COI.

Justice Pillay has accused Israel of apartheid and claims to be "very pleased" with the BDS (boycott, disinvestment, sanction) campaign against Israel. Historically, Canadian Prime Ministers, conversely, have condemned this campaign, rightly calling it antisemitic. Pillay hailed the "huge victory" against Israel when the UNHRC issued a blacklist against companies doing business in the territories. She publicly supported probes into "Israel's war crimes" and lent her signature to petitions demanding further investigations targeting Israel. Despite these and other demonstrations of her bias, the UNHRC nevertheless appointed her to chair the COI, a decision that, by exposing the bias of the UNHCR against the Jewish state, is itself deeply troubling.

Justice Pillay is certainly entitled to her views on Israel. But those views, expressed repeatedly and publicly, call her impartiality into question, and should disqualify her from this role.

While it has, unfortunately, become standard for the UN to ignore its own guidelines of impartiality when it comes to Israel, we expect more from our own government.

Canada should recognize and refute this failure publicly. Given Canada's domestic experience regarding impartial COIs and clear foreign policy values of supporting the credibility of international institutions, we call on our government to reject the findings of this biased commission. The dictum "Justice must not only be done but must also be seen to be done" is an important principle of our legal tradition.

By June 13, at the start of the UNHRC's session, Justice Pillay will release her report, one that will be informed by her personal bias. The world will once again condemn Israel yet remain silent about the UN's disregard for its own guidelines and principles intended to assure the integrity of its COI.

To maintain its own credibility and to urge reform at the UN, Canada must demonstrate leadership and reject this report.
U.S. condemns UN Human Rights Council over anti-Israel bias
The United States condemned the United Nations Human Rights Council on Monday for a report published last week that accused Israel of perpetuating the conflict with the Palestinians.

In its 18-page report which focuses on the root causes of the conflict, the United Nations Independent International Commission of Inquiry on the Occupied Palestinian Territory, including East Jerusalem, and Israel identified "forced displacement, threats of forced displacement, demolitions, settlement construction and expansion, settler violence, and the blockade of Gaza" as "contributing factors to recurring cycles of violence."

The report was presented during a hearing at the UN Human Rights Council headquarters in Geneva.

While prompted by last year's Gaza war, the UN Human Rights Council inquiry mandate includes alleged human rights abuses before and after that.

The open-ended inquiry is headed by former United Nations human rights chief Navi Pillay who is joined by Miloon Kothari of India, the first UN special rapporteur on adequate housing, and Australian international human rights law expert Chris Sidoti.

The U.S.-initiated declaration is signed by at least 22 countries, including Austria, Canada, Germany, the United Kingdom and Brazil, and criticizes the broad authorities bestowed to the inquiry and cites its very existence as evidence of the disproportionate attention that the Human Rights Council dedicates to Israel, a treatment that it seeks to end.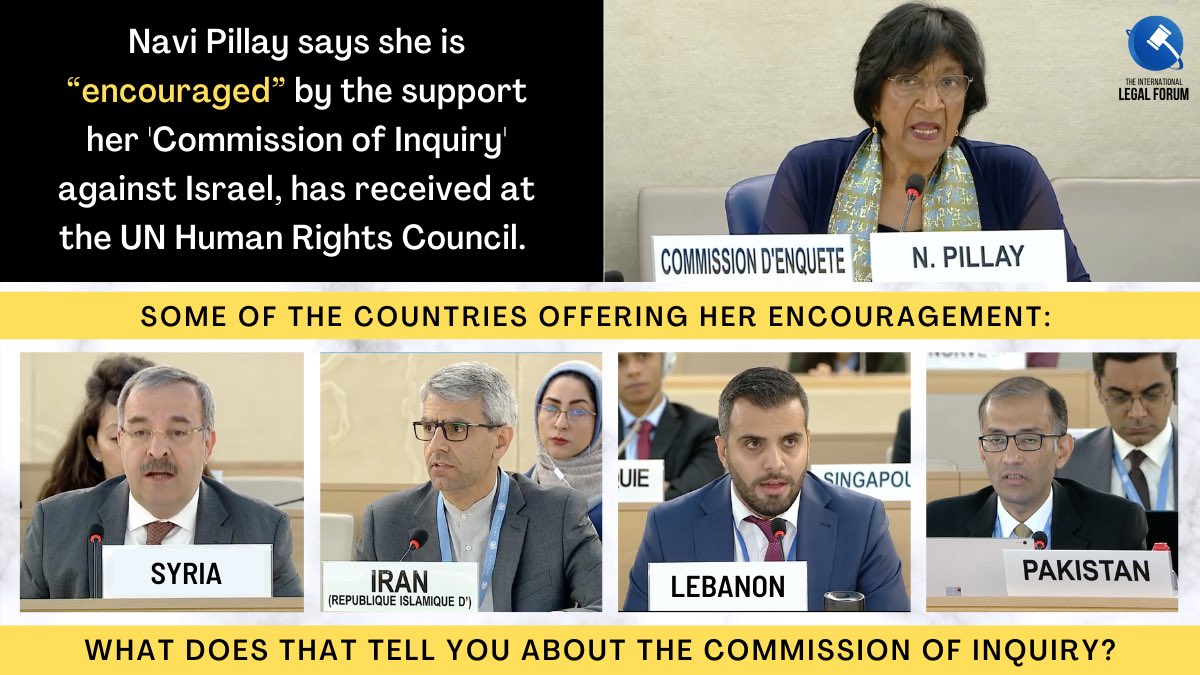 US, 21 other countries lash UN rights council for report blaming Israel for conflict
The US and 21 other countries issued a harsh rebuke on Monday to the United Nations Human Rights Council after a Commission of Inquiry formed to probe Israel released a report last week condemning the Jewish state.

The report — the first submitted to the Commission of Inquiry (COI) established last year by the Human Rights Council — blamed Israel's "persistent discrimination against Palestinians" for violence between the two sides.

"We believe the nature of the COI established last May is further demonstration of long-standing, disproportionate attention given to Israel in the Council and must stop," US Ambassador Michèle Taylor read out at the 50th session of the Human Rights Council in Geneva, where the report was being debated.

"We continue to believe that this long-standing disproportionate scrutiny should end, and that the Council should address all human rights concerns, regardless of country, in an even-handed manner," she said.

"Regrettably, we are concerned that the Commission of Inquiry will further contribute to the polarization of a situation about which so many of us are concerned," Taylor said.

In addition to the US and Israel, the statement was signed by Austria, Bulgaria, Brazil, Canada, Cameroon, Colombia, Croatia, Eswatini, Germany, Guatemala, Hungary, Liberia, Marshall Islands, Micronesia, Nauru, North Macedonia, Holland, Palau, Togo and the United Kingdom.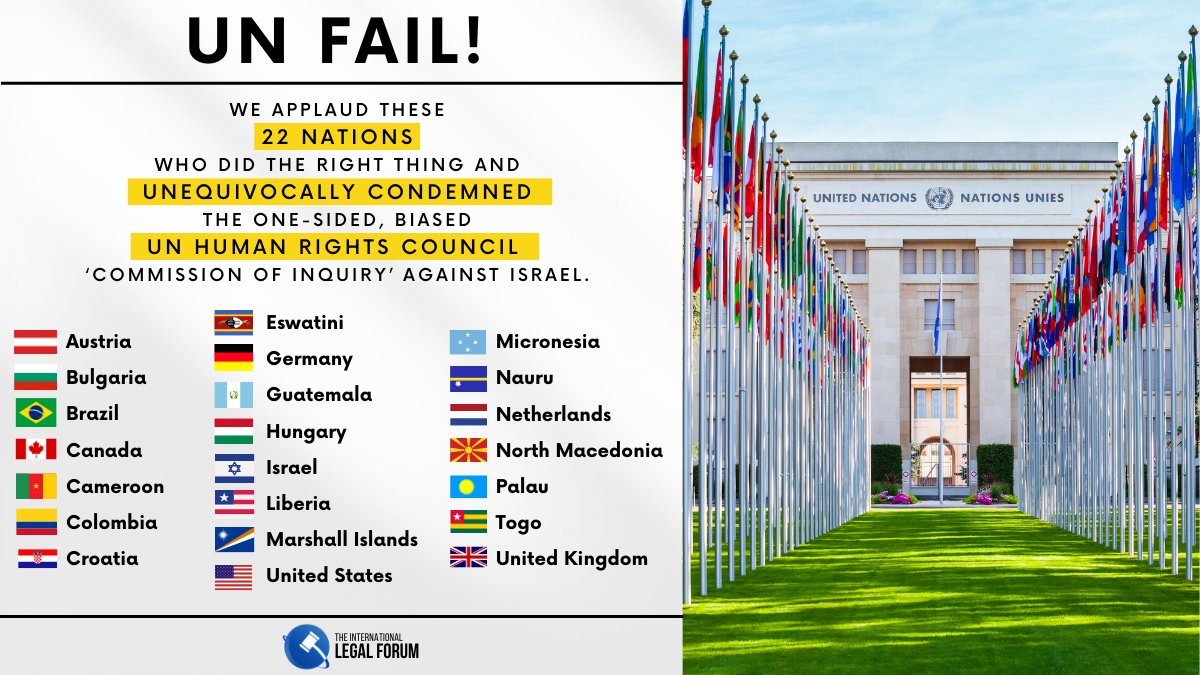 Today I delivered a joint statement on behalf of the United States and 21 countries expressing deep concern about the open-ended Commission of Inquiry. The nature of the COI is further demonstration of disproportionate treatment of Israel at the HRC.

??https://t.co/iBCAK29riE pic.twitter.com/qQVePZLE8S

— Ambassador Michèle Taylor (@USAmbHRC) June 13, 2022
Bravo #Australia, speaking at #HRC50 now:

"The @UN_HRC brings a disproportionate scrutiny to Israel. We do not support the proposition that #Israel is the only country that is a permanent item on the HRC Agenda. We retain our fundamental concerns about the nature of the COI." pic.twitter.com/FaTBQTCl4g

— Arsen Ostrovsky (@Ostrov_A) June 14, 2022
Of 76 speeches delivered yesterday and today at the UN Human Rights Council in Geneva, mostly bashing Israel, mine was the only one to be interrupted by another delegate. The Palestinian Authority ambassador objected to my comments. pic.twitter.com/lm1iDFTunJ

— R?????? K??? ? (@COLRICHARDKEMP) June 14, 2022
Executive Director of @UNWatch & Canadian #HumanRights activist @HillelNeuer shares his expertise on the UN Human Rights Council's lack of impartiality and why this should matter for all Canadians. pic.twitter.com/aO9x9theEP

— CIJA (@CIJAinfo) June 14, 2022
Yesterday at the Human Rights Council I went up to Navi Pillay, chair of their new permanent inquiry on Israel, and handed her our 35-page request—backed by 10,000—that she recuse herself on account of her conflict of interests as an anti-Israel lobbyist. https://t.co/llkqixDGes https://t.co/j33BqMKX87 pic.twitter.com/8g2n74sWJx

— Hillel Neuer (@HillelNeuer) June 14, 2022
UN Watch Side Event on The Pillay Commission's 1st Report to the UNHRC
On June 13th, the Human Rights Council will hear the first report of its new Commission of Inquiry into last year's Hamas-Israel war, and alleged systematic discrimination in Israel and the Palestinian territories. To bring critical information to the public debate, UN Watch has invited experts to present testimony that will be submitted to the Pillay Commission:
Col. Richard Kemp
Lt. Col. Geoffrey Corn
Yoseph Haddad
Anne Herzberg
Olga Meshoe-Washington
Dr. Einat Wilf
Col. Richard Kemp on UN's Pillay Report
UN Watch panel of experts respond to the UN Commission of Inquiry, chaired by Navi Pillay, that was created in wake of the 2021 Hamas-Israel war. Side event of the 50th Session of the United Nations Human Rights Council, Monday, 13 June 2022.
And "its gongos." This is Chris Sidoti, one of Pillay's Commission of Inquiry co-members, who shares her disdain for Israel and impartiality. pic.twitter.com/iG4DopwVaw

— Arsen Ostrovsky (@Ostrov_A) June 14, 2022
Contrary to what the UN claims, ending the occupation will not advance the status of Palestinian women in their society nor will it stop domestic violence, only the Palestinian gov holding Palestinian abusers accountable will#FixedInquiry @UNHumanRights
pic.twitter.com/YGQFaxKTSE

— Emily Schrader - ????? ?????? (@emilykschrader) June 14, 2022
Hamas has issued a statement lauding today's Human Rights Watch report charging Israel with apartheid and persecution of Palestinians. Though Hamas' statement does not reflect it, the @hrw report also blames Egypt for assisting Israel. pic.twitter.com/aRwf46DWWU

— Joe Truzman (@JoeTruzman) June 14, 2022
Von Der Leyen: EU 'Stepping Up Energy Cooperation' with Israel
European Union leader Ursula von der Leyen, who also serves as president of the EU Commission, told Israelis Tuesday the EU is "stepping up energy cooperation" with Israel to "help the EU break free from Russian fossil fuels."

Von der Leyen made the announcement Tuesday morning in remarks delivered at Ben Gurion University of the Negev upon receiving an honorary doctorate from the school, adding the EU is also preparing infrastructure projects that will "help us along the green transition."

Israel has an estimated gas reserve of at least one trillion cubic meters. Domestic use over the next 30 years is not expected to exceed 300 billion cm. At present, Israel exports gas to Egypt, some of which is then liquified and sent on the Europe. That process may be expanded if an agreement is signed to provide the EU with more Israeli energy.

Following a quick midday meeting with Prime Minister Naftali Bennett, the European Union leader rushed to Ramallah to meet in the afternoon with Palestinian Authority government officials and update them on Europe's latest efforts to donate to their coffers.

The Palestinian Authority spends nearly a third of its annual budget on monetary support for terrorists incarcerated in Israel and their families following attempts to murder Jews and other Israelis. And that doesn't include the money spent on publicity campaigns to encourage those terrorists — and the youngsters they recruit — to carry out their attacks.

"Good to be in Ramallah," von der Leyen told reporters at a briefing there. "Team Europe is the largest donor of support to the Palestinian people. We'll discuss how to boost economic, social development, including access to clean water, reliable energy supply and food security."
Blocked European funds to Palestinian Territories to be released
Hundreds of millions of euros in European funds to support the Palestinian Territories can be paid out following the resolution of problems that had blocked their release, European Commission President Ursula von der Leyen said on Tuesday.

Payment of the funds had been held up by a dispute over proposals by the EU Commissioner for Neighbourhood and Enlargement, Oliver Varhelyi, to condition funding on educational reform including the content of Palestinian school textbooks.

"I am glad to announce that the EU funds for 2021 can be disbursed rapidly," she said during a visit to Ramallah, in the West Bank. "All the difficulties are gone. We have made clear the disbursement will take place."

The European Commission, which contributes some 300 million euros a year along with other European states and institutions which contribute a similar amount, are together the largest donors to the Palestinian Territories, which had faced an increasing financial squeeze.

"Thank you for resuming your assistance to us. This is a day of happiness," Palestinian Prime Minister Mohammad Shtayyeh told von der Leyen.
Why is @EU_Commission President @vonderleyen refusing to disclose the precise details of the #EU decision to renew funding to the #Palestinians? What are they trying to hide @EUinIsrael? That the money will towards payment of Palestinian terrorists salaries? https://t.co/fM4XqOmr3A

— Arsen Ostrovsky (@Ostrov_A) June 14, 2022
An American General, an Israeli Defense Minister, and Qatari Handlers Make a Deal
According to the FBI document, "the Qataris"—which in context means the Qataris who were handling Zuberi, who had in turn hired Allen—"had asked Allen to endorse 5D's product to Qatar's head of intelligence and minister of defense—two of the Qatari government officials with whom Allen later met in Doha in June 2017. Allen opined that his endorsement would 'likely complete their decision making and result in Qatar deciding to buy the 5D product.'" To break that down: A firm headed by Benny Gantz paid John Allen to help broker a sale of its software to Qatar, a government that Israel accuses of supporting Hamas and that has also been suspected of aiding the Iranian Revolutionary Guards Corps and various Sunni jihadist groups. The FBI document notes that the agency "has not determined whether the Government of Qatar agreed to the 5D proposal." The deal would have been worth some $70 million, netting Allen a $1 million commission.

What's going on here? As The Times of Israel once put it, 5D sought to produce "artificial intelligence solutions for law enforcement agencies." At one point, it attempted to get itself acquired by NSO Group, maker of the infamous Pegasus cyber-weapon, a deal that was scuttled when the U.S. government stepped in to stop it.

It is unclear if Gantz knew the company he helped lead was attempting to sell potentially sensitive technology to a country that has pursued a range of policies hostile to Israel. It is unclear if this was in fact a part of a deliberate Israeli-Qatari back channel—if the sale of such technology was a quid pro quo for a shift in Qatari behavior or maybe an entrée to closer or more formalized relations with a government that has built up regional clout through its ties to Palestinian Islamists while investing extensively across the Palestinian Territories and even inside Israel itself. It is also unclear if there are others in the Jerusalem or Washington diplomatic or national security apparatus who also knew about something as potentially momentous, not to mention geopolitically notable, as a software company headed by an ex-IDF chief of staff making a $70 million deal with Qatar.

The truest explanation might turn out to be the simplest one, though: Two former military chiefs saw nothing more or less than a sweet business opportunity. Maybe no higher idealism was at play, but also no special nefariousness either—perhaps this was merely the kind of payday that senior former officials are constantly on the prowl for in a time when a big career in government can be so easily monetized and when the civic and moral guardrails against public-sector-adjacent self-enrichment have become almost laughably brittle. Though maybe the Allen case will prove to be a turning point, given his lofty résumé and Brookings' centrality to the Washington ecosystem: The general has been placed on leave from the think tank until the investigation ends.
Poll: 56% of Israelis want current government's term to end
The majority of Israelis want Prime Minister Naftali Bennett's governing coalition's term to end, a Channel 12 News survey published Monday has found.

The numbers show that 56% of Israelis believe that Bennett's government should not "continue to exist," and only 35% still support the government.

Bennett's government was sworn in last June after four deadlocked elections. The coalition, which includes a collection of eight hard-right, liberal and Arab parties, has staggered ever closer to imploding in recent weeks, with several MKs bolting its ranks.

Among those who voted for the coalition parties, 63% said they still support the government with 29% stating it should end its tenure.

According to the poll, were elections held at this time, the Likud would win 36 seats, followed by Yesh Atid (20), Blue and White (10), Religious Zionist Party (9), Sephardi ultra-Orthodox party Shas (8), Ashkenazi Haredi party United Torah Judaism (7), Labor (6), Yisrael Beytenu (5), Yamina (5), Ra'am (5), Joint Arab List (5), and Meretz (4).

Justice Minister Gideon Sa'ar's New Hope fails to cross the prerequisite four-Knesset-seat electoral threshold of 3.25% of the votes.

These results give the ruling coalition only 55 seats in the 120-seat Knesset, while the opposition bloc could secure 60 seats – just one seat shy of the necessary minimum required to form a government.
Tom Gross: One of the most diverse coalitions anywhere, turns one. How long can Israel's govt. last?
Israel's most diverse and narrow coalition ever was sworn in a year ago today. Its members include religious right-wing settlers and left-wing gay rights activists; feminists and conservative Arab Islamists.

Even though it may be just about the most diverse coalition ever formed anywhere during peacetime, says Tom Gross, it has actually managed to get quite a lot done and brought about a period of much needed political stability to Israel. At least until now. Tom Gross examines how much longer it can survive.
Israel's Counter-Terrorism Bureau Raises Istanbul Travel Warning to Highest Level
Israel's Counter-Terrorism Bureau, a part of the National Security Council, has raised the travel warning for Istanbul to Level 4 — the highest level — on Monday.

The rise in alert status came after the bureau reissued a previous warning from May 30 for all of Turkey in light of security concerns regarding Iranian attempts to attack Israeli targets in the country.

"Given the continuing nature of the threat and in light of the increased Iranian intentions to attack Israelis in Turkey, especially Istanbul, the National Security Council has raised the travel warning for Istanbul to the highest level, Level 4," said the bureau in a statement.

"Accordingly, the NSC calls on Israelis currently in Istanbul to leave the city at the earliest opportunity and on Israelis planning to travel to Turkey to avoid doing so until further notice," it added.

"It should be recalled that other areas in Turkey are under a Level 3 [intermediate] travel warning; therefore, the NSC recommends that Israelis also avoid non-essential travel to other parts of the country. There is no reason to avoid flights with connections in Istanbul provided that one does not leave the airport," said the bureau.

Earlier on Monday, Israeli Foreign Minister Yair Lapid said that "after a series of attempts to conduct Iranian terror attacks against Israelis who went on vacation in Istanbul, we call on Israelis: Don't fly to Istanbul, and if you don't have an essential need, don't fly to Turkey. If you are already in Istanbul, return to Israel as soon as possible."
We feel that presenting the information in this manner is intended to deliberately mislead, we do note that you bury your assessment in text in other segments of your Website.

Please clarify which of our claims you consider to be inaccurate?

— DigFind (@DigFind_) June 13, 2022
Yahya Bassem al-Ajla - a civilian casualty according to @airwars pic.twitter.com/mrV6d3yFbK

— DigFind (@DigFind_) June 13, 2022
IDF operations in the West Bank Tuesday morning resulted in the arrest of Iyad al-Akka. Katibat Nablus issued a statement saying it fired on IDF troops in the area during the arrest. pic.twitter.com/j9ooY6yZa3

— Joe Truzman (@JoeTruzman) June 14, 2022
JCPA:
Hussein Al-Sheikh Is Gradually Stepping into Mahmoud Abbas' Shoes
Israeli security officials are watching with concern the efforts by senior Fatah officials to undermine the process of turning Al-Sheikh into Abbas' temporary successor. Not only are Al-Sheikh's rivals building their power by distributing hundreds of weapons to their militias on the West Bank. Lately, they have also spread fake news about the 86-year-old PA chairman's state of health in the territories' social media and that he has conferred some of his powers on Al-Sheikh. These Fatah officials hope to drive a wedge between Abbas and Al-Sheikh by creating the false impression that Al-Sheikh is trying to "bury" Abbas so that he can become his successor – an inversion of the truth.

A few days ago, a report emerged on social media claiming that a critically ill Abbas had been brought to a hospital in Amman and died there. Fatah spokesman Osama al-Qawasmi hastened to publish a denial in the Palestinian media: "The reports in the social media about the PA chairman's death are not true, and his state of health is good."

To discredit the rumors, Abbas' office issued pictures of Abbas addressing by telephone a conference on the Jerusalem issue that was held in Al-Bira, as well as a short video segment in which he appears to be working in his office.

This is not the first time fake news about the PA chairman's health status has been spread on social media. Two years ago, similar reports were disseminated, and PA officials claimed that Mohammed Dahlan, a bitter adversary of Abbas, was behind them. Dahlan vehemently denied the accusations.

In recent months Dahlan has ceased his attacks on the PA chairman and his associates. Fatah sources say this was at the behest of the rulers of the United Arab Emirates, for whom Dahlan serves as a security adviser, to help achieve reconciliation between them and the Palestinian Authority.

The Quds News Agency reported on June 6 that Abbas was having trouble conducting his work. Citing unidentified sources, the agency claimed Abbas had been exhausted by the visit to the Mukata in Ramallah last week by Jordanian Foreign Minister Ayman Safadi and had to take a two-day absence from his office.
June 14, 2022
An armed man (likely a PA security forces member) chases students - some claimed to be Hamas supporters - at An-Najah university in Nablus during a protest. pic.twitter.com/qY6RSxfi74

— Joe Truzman (@JoeTruzman) June 14, 2022
Some of the other factions at the ceremony. Interestingly, this particular group of al-Aqsa Martyrs Brigades - Nidal al-Amoudi are loyal to Muhammed Dahlan, not Mahmoud Abbas. Thus Hamas conducts joint operations with them and allows them to openly carry weapons in Gaza. pic.twitter.com/i6eIr32rrQ

— Joe Truzman (@JoeTruzman) June 13, 2022
Nawwaf al-Hasanat, 44, who was detained by Hamas security forces in November 2021, died on June 11, two days after he was transferred from prison to a hospital. pic.twitter.com/gZC1YpFSiM

— Khaled Abu Toameh (@KhaledAbuToameh) June 13, 2022
15 years of Hamas rule of Gaza
We tried to tweet a list of all the good things Hamas has done in the 15 years since it violently took control of Gaza, but... pic.twitter.com/pRXeRD4M3A

— Israel Defense Forces (@IDF) June 13, 2022
IDF Exposes Hezbollah Forward Command Post in Southern Lebanon
The IDF has exposed a new forward command post of the Hezbollah terrorist army in southern Lebanon, which is used to gather intelligence on the Blue Line under the guise of working for the "Green Without Borders" organization. New photos reveal Hezbollah operatives, disguised as members of the organization, operating in the new post built near the Blue Line.

"Green Without Borders" claims to be an environmental organization in Lebanon that works to preserve forests near the Blue Line. However, in practice, the organization operates forward command posts for the Hezbollah terrorist army near the Blue Line. These posts serve as a cover for Hezbollah operations carried out under the cover of civilian activism—a clear violation of U.N. Security Council Resolution 1701.

The Commanding Officer of the Northern Command, MG Amir Baram, stated, "recently, the establishment of Hezbollah's forward command posts at the Blue Line has intensified. We are aware of their presence and origin. When the day comes, the operatives, their handlers and the nearby towns which are used as a military base for terrorism will face the consequences of their actions. We will destroy all infrastructure in the combat arena".

The Hezbollah terrorist armyis onceagain blatantlyviolating U.N. resolutions despite the Lebanese Armed Forces presence in the region. This information constitutes further proof of the deception behind the activities of the "Green Without Borders" organization.

The IDF and additional security forces will continue to operate as necessary to maintain security in the region and to thwart any attempt to violate Israeli sovereignty.
British-Palestinian Journalist Abdel Bari Atwan: The Lebanese Resistance Does Not Need Permission from the State to Attack the Greek FPSO Ship at Karish Gas Field; Drones, Missiles Are Ready to Strike @abdelbariatwan #Hizbullah #Lebanon #Israel @amoshochstein pic.twitter.com/q9YzJQwTGO

— MEMRI (@MEMRIReports) June 14, 2022
Israel warns Assad, will bomb palaces if Iran operations continue -report
Israel has threatened Syrian President Basher Assad with bombing his palaces if he does not cease or reduce military cooperation with Iran within his territory, the Arabic news site Elaph reported late on Monday.

The Jerusalem Post was unable to independently confirm the dramatic developing story, and the IDF declined to comment. The report could either dovetail with ongoing Israeli efforts to rid itself of an Iranian threat embedded in Syria, or could be an exaggeration of such efforts by various interested parties.

Based in London and owned by Saudis who have a mixed relationship with the Saudi leadership, Elaph has been used in the past by Israeli officials to reach out to the Arab world, including a famous first interview for a Saudi publication by then IDF chief Gadi Eisenkot in 2017.

Eisenkot told Elaph that the IDF and the Saudis had been sharing intelligence on an ongoing basis.

According to an English translation of an Elaph Arabic article, it "learned from a senior source that Israel sent a message to Syrian President Bashar al-Assad, warning him against continuing to cover up Iran's operations in his country and the transfer of quality weapons to Syria, and informed him that one of his palaces would be a target in the next raid carried out by Israeli fighters in Syria."
MEMRI:
Articles In Syrian Press: Monkeypox Is The Last In A Series Of Viruses And Plagues That The U.S. Created And Spread Around The World
Russia's propaganda campaign against the U.S. as part of the war in Ukraine is fully endorsed by the Syrian regime, which repeats the Russian conspiracy theories, including the claim that the U.S. creates deadly viruses in biolabs in Ukraine and elsewhere and then spreads them in various countries of the world.[1] As part of this, Syrian regime officials and journalists in the Syrian state press have accused the U.S. of manufacturing plagues as a weapon against its rivals.[2] Recently, articles in Syrian papers claimed that the U.S. is responsible for the outbreak of the monkeypox virus in various countries. Columnists in the state daily Al-Thawra wrote that monkeypox is the last in a series of pathogens that the U.S. developed in its labs and spread with the aim of harming or even exterminating peoples around the world. One of these articles claimed that "experience and current events prove that the American serpent will only spew deadly poison, even if sheds its skin hundreds or thousands of times."

The following are translated excerpts from these articles.
Syrian Journalist: The Peoples Of The World Will Not Be Surprised To Discover That The U.S. Created And Spread The Monkeypox Virus

'Abd Al-Rahim Ahmad , the former director of Syria's official news agency SANA and currently a columnist for the state daily Al-Thawra, claimed that the U.S. attacks the peoples of the world by means of the terror organizations it has established, such as Al-Qaeda and ISIS, by causing poverty and hunger, and by creating deadly diseases and spreading them around the world, the last of these diseases being monkeypox. He wrote:

"I believe that most of the peoples of the world won't be surprised when it emerges that the U.S. is the one responsible for creating and disseminating the monkeypox virus, whose spread in several countries is becoming a cause of global concern. After all, the criminal American hand has not and will not stop threatening the future of the world's peoples and causing destruction, poverty and starvation, whether by means of wars and blockades or by creating and disseminating diseases.

"It has been proved that the monster of terrorism was manufactured in the laboratories of U.S. intelligence and released in Afghanistan in the 1980s in the form of the Al-Qaeda organization, so it would fight America's rival at the time, the Soviet Union. Unsatisfied with that brand, which is registered under its name, the U.S. designed many improved versions of it, in the form of ISIS, [Jabhat] Al-Nusra and the Nazi Azov Regiment [in Ukraine]. Furthermore, the U.S. is also responsible for the monstrous [phenomenon] of the fatal viruses, which were created in its biolabs and spread around the world. Recently the world has begun to fear the spread of the monkeypox virus, after several cases were recorded outside Africa – where it originated – [namely] in Europe, Asia and America. Several days later we discovered that, according to a report published by the World Health Organization, the U.S. manages several biological laboratories in Nigeria, where the first cases of monkeypox were recorded. What can be concluded from this? Does the U.S. establish these laboratories to serve the people of the African continent? I doubt this, and believe that these labs are involved in the dissemination of this disease…
Seth Frantzman:
Iran is angry about foreign reports of assassinations
Tehran accuses the Times of publishing information regarding one Iranian being poisoned, asserting that the claim is based on an anonymous Iranian source. It also says there is no evidence of "assassination." Iran is obviously feeling the heat from these reports, otherwise government-linked media like Tasnim wouldn't work so hard to slam the reports.

"According to Tasnim, in recent months, some Western media, especially Persian-language media, have been trying to portray any incident inside Iran as a security issue in a joint psychological operation, in which the Zionists are playing a more prominent role," the report says.

Iran now understands the importance of the information war and that, regardless of how the two men were killed, what matters is perception. The regime is concerned about the reports, maybe even more than the actual loss of key IRGC personnel. It also now knows that its statements are being monitored.

The recent reports about the deaths of several key IRGC personnel are based on Iranian information. Iran's regime has admitted the deaths. It doesn't dispute that the men died, just how they were killed, whether the circumstances are natural or mysterious, or if the men were "martyrs."

Iran is now paying close attention to foreign reports and is concerned about Western legacy media reporting about its failure to protect key IRGC figures.
Two Deceased Iranian IRGC Officers 'Were Developing Arms for Hezbollah'
Two members of Iran's Islamic Revolutionary Guards Corps whose deaths were announced on Sunday were "developing arms for Lebanon's Hezbollah," London-based Iran International reported on Tuesday.

Ali Kamani and Mohammad Abdus, both described in the report as IRGC aerospace engineers, "were not killed in accidents as the Islamic Republic claimed," according to the report.

Iranian media first announced that Kamani, a relatively junior officer, died in a "car accident in line of duty" in Khomein, in central Iran, while a few hours later, reports surfaced that a second IRGC officer died "in the line of duty" in the province of Semnan, where Iran's space launch center is located.

The IRGC aerospace force is tasked with Iran's missile development and space programs. The country has made considerable progress in developing long-range ballistic missiles that can strike almost anywhere in the Middle East, including Israel.

Iran's Defense Ministry emphasized that both officers died as "martyrs," but did not offer any specific details.

"The two died in separate incidents in two different areas, but the source did not provide further details about the circumstances of their deaths. What was clear from the information received is that the two officers did not die as a result of a car or workplace accident," according to the report.
Iranian phishing attack said to target top Israeli officials, former US ambassador
Iranian hackers recently led a spear-phishing operation against high-ranking Israeli and Israel-linked targets, including former foreign minister Tzipi Livni and a former US ambassador to the Jewish state, an Israeli cybersecurity firm said Tuesday.

In a statement, Check Point Research described the attack, saying it employed a wide array of fake email accounts to impersonate trusted parties, take over the targets' accounts, steal information and use it to attack new targets. In many cases, the email correspondence or documents linked to by the attackers referenced security issues related to Iran and Israel.

Check Point said its analysis led it to believe the attack was perpetrated by an Iranian group called Phosphorus, which has a long history of conducting high-profile cyber operations aligned with Tehran's interests as well as targeting Israeli officials.

The targets weren't named by Check Point to protect their privacy, with the exception of Livni, who agreed to let her name be published. The list of targets also included a well-known former major general in the Israel Defense Forces who served in a "highly sensitive position," the current chairperson of one of Israel's leading security think tanks, the former chairperson of a well-known Middle East research center, and a senior executive in the Israeli defense industry.

According to the statement, the hackers "performed an account takeover of some victims' inboxes and then hijacked existing email conversations to start attacks from an already existing email conversation between a target and a trusted party and continue that conversation in that guise."
Meet Masih Alinejad. She gives voice to millions of Iranians crying out for democracy. So the mullahs tried to crush her. They got her sister to disown Masih on TV, imprisoned her brother, then tried to kidnap her from NYC. Why hasn't Masih given up? Watch her incredible speech: https://t.co/oJXDh7SWI2

— Hillel Neuer (@HillelNeuer) June 14, 2022
---
---
Buy the EoZ book, PROTOCOLS: Exposing Modern Antisemitism today at Amazon!

Or order from your favorite bookseller, using ISBN 9798985708424.

Read all about it here!