From Ian:
Israel Foreign Minister Lapid celebrates Unilever's Ben & Jerry's sale as 'victory' against BDS
Israeli Foreign Minister Yair Lapid hailed Unilever's decision to sell its Ben & Jerry's business interests in Israel as a "victory," as the new arrangement allows the ice cream products to be sold throughout Israel and the West Bank.

Last year, Ben & Jerry's announced that they would no longer sell their products in the West Bank, which it referred to as "Occupied Palestinian Territory." That policy is now scrapped, now that parent company Unilever is no longer involved in the Israeli market after selling the interests to American Quality Products Ltd, which had been the Israeli licensee for Ben & Jerry's.

"The Ben & Jerry's factory in Israel is a microcosm of the diversity of Israeli society," Lapid tweeted Wednesday. "Today's victory is a victory for all those who know that the struggle against BDS is, first and foremost, a struggle for partnership and dialogue, and against discrimination and hate."

The initial decision to end sales in the West Bank was met with sharp criticism from Israeli and American officials alike.

"Now we Israelis know which ice cream NOT to buy," former Prime Minister Benjamin Netanyahu said at the time.

Unilever has insisted that they have never supported BDS, the anti-Israel Boycott Divestment and Sanctions campaign that seeks to isolate Israel in order to pressure the Jewish state into changing its policies regarding Palestinians. The BDS movement had celebrated last year's decision to stop selling the ice cream in the West Bank, which includes Jewish settlements and Palestinian territories.

The statement continued: "We have never expressed any support for the Boycott Divestment Sanctions (BDS) movement and have no intention of changing that position."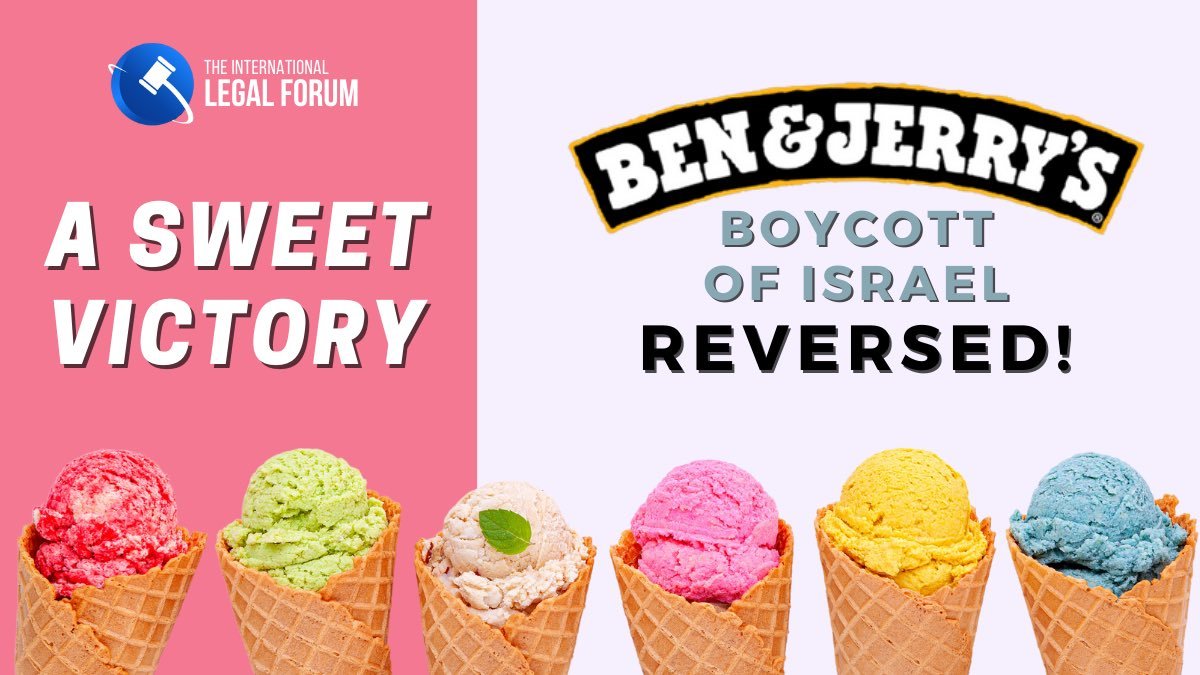 From my interview with @davidmatlin on @i24NEWS_EN on @Unilever's reversal of @benandjerrys boycott of #Israel:

"A sweet victory and a clear, unequivocal repudiation of the racist, antisemitic BDS movement promoted by Ben & Jerry's."

Full interview: https://t.co/HjdBZNrh0u pic.twitter.com/hyzHYB8xLL

— Arsen Ostrovsky (@Ostrov_A) June 30, 2022
Today is a great day for the fight against BDS's hate speech & bigotry towards #Ben&Jerry's Israel.
A huge thank you to Unilever and all those who supported us in this moral fight against hate! pic.twitter.com/etsBvAXJQd

— Lior Haiat ???? (@LiorHaiat) June 29, 2022
Ben and Jerry's Denounces Unilever's Move to Stay in Israel
Ben & Jerry's boycott of Israel is still intact even though the local company can continue to produce ice cream under an amended brand name, the Vermont-based creamery clarified on Twitter.

"Our company will no longer profit from Ben & Jerry's in Israel," Ben & Jerry's said in a statement after an agreement was announced on Wednesday that ended a year-long battle by businessmen Avi Zinger.

Under an agreement reached as the result of a lawsuit Zinger filed in New Jersey Federal Court together with the Louise B. Brandeis Center for Human Rights Under Law, he is allowed to continue making the ice cream under his company, American Quality Products.

Zinger can continue to make the same Ben & Jerry's ice cream the Israeli consumers have come to know, but he cannot do so under Ben & Jerry's English-language brand name. He can only use the name Ben & Jerry's in Hebrew and Arabic.

His company will also now be independent from Ben & Jerry's and its parent company the London-based conglomerate Unilever. The agreement was reached between Unilever and Zinger.

Ben & Jerry's objection
"We are aware of the Unilever announcement. While our parent company has taken this decision, we do not agree with it," Ben & Jerry's tweeted.

It underscored that there would now be no connection between its Vermont-based company known for taking social values stands and the Israeli company.

"Unilever's arrangement means Ben & Jerry's in Israel will be owned and operated by AQP," Ben & Jerry's said, referencing Zinger's company.

"We continue to believe it is inconsistent with Ben & Jerry's values for our ice cream to be sold in the Occupied Palestinian Territory," Ben & Jerry's tweeted.
Will you be boycotting @Unilever then? https://t.co/Ih729N6EwV

— Eugene Kontorovich (@EVKontorovich) June 29, 2022
Unilever reverses @benandjerrys decision to boycott #Israel ???? and condemns the BDS movement. ?? pic.twitter.com/rRka9vnOWO

— Emily Schrader - ????? ?????? (@emilykschrader) June 29, 2022
1. Unilever says they will have no part of an antisemitic boycott.

2. Ben and Jerry's have just officially said they are not happy with that.

3. Conclusion: Ben and Jerry's support antisemitic boycotts.

Thankfully their hate driven agenda has totally failed.

— David Collier (@mishtal) June 29, 2022
Walter Russell Mead:
The American Zionist Dream
On March 5, 1891, evangelical minister William Blackstone presented a petition to President Benjamin Harrison asking him to use his influence to persuade European leaders to prevail upon the Ottoman sultan to open the province of Palestine for Jewish settlement and the creation of a Jewish national home.

Among the 400 signatures on Blackstone's petition were J. P. Morgan, John D. Rockefeller, Cyrus McCormick, the editors of most of the leading American newspapers, leading clergymen from the East Coast and the Middle West, the chief justice of the Supreme Court, and the speaker of the House of Representatives. It had also been signed by prominent media corporations, including The New York Times.

For many of the signers, the petition merely expressed the long-held belief among both religious and secular people of the 19th century that the Jews, like the Greeks and the Italians, could regain some of their ancient glory and greatness if freed from foreign rule and oppression. Blackstone presented a new version of his petition to Woodrow Wilson in 1916 and saw his principles enshrined in American law in 1922.

On December 11, 1917, British forces under General Edmund Allenby entered Jerusalem unopposed as the Turks retreated, and for the first time since the Crusades a Christian power found itself in control of the city. The conquest of Jerusalem ignited a media firestorm across the U.S. The next year, Theodore Roosevelt wrote, "There can be no peace worth having" until "the Jews [are] given control of Palestine."

The New York American commented in an editorial: "It is certainly true that the passage of Jerusalem into the hands of the Allies means the swift establishment of that re-gathered and redeemed Zion for which the world's Jews have dreamed ever since the tribes were scattered in the breaking up of Israel."

Support for Zionist aspirations in Palestine quickly became part of the boilerplate foreign policy prescriptions of American politicians in both major political parties. Franklin and Eleanor Roosevelt backed this idea; so did Herbert Hoover and Calvin Coolidge.
Passion for Advocacy: Meet Israel's Special Envoy for Combating Antisemitism
This interview has been edited and condensed.

Q: What was the catalyst for you to become an advocate and educator?

A: I started becoming an advocate for Israel because I just couldn't sit still based on what I was hearing. People had severe misunderstandings about Israel; they knew nothing about it and yet had very strong opinions. At first, it started out as this thing I would do at dinner parties—explaining to people, talking about it, drawing little maps on napkins. I went professional and took it to the next level in 2011 when I founded the first online advocacy rapid response organization dedicated to refuting lies about Israel.

Q: What do you see as the future of Israel education and advocacy?

A: We are experiencing a complete breakdown in Jewish education when it comes to Israel. We are doing an incredible job of giving a beautiful Jewish education when it comes to values and traditions, but we fail when it comes to talking about Israel and its thorny issues. We look at claims against Israel, such as that Israel is an "apartheid" state, as fake news, and rightly so! But then we don't discuss these claims with our children. This is a big mistake because they end up completely unprepared when they get to college. The fact that we don't address it head-on means we let the other side get to them first.

Unfortunately, what happens is they are vulnerable, they get exposed to these lies, and sometimes we lose them forever because they think we lied to them. This needs to be addressed in every primary school, high school and certainly before college. We need to directly address the lies, fake concepts and words they may face before hearing it from someone else.

Q: When you speak to students and young adults, what is the biggest message you try to convey?

A: The biggest takeaway that I have for young Jewish adults and for Jews in general is that wherever they live, their sense of freedom and their ability to do whatever they want, is directly connected to the fact that there is a Jewish state and a Jewish military. You cannot separate these two things. Much of the younger generation fails to make the connection between themselves and Israel. They don't understand that the Jewish experience of the last 70 or so years is profoundly different—for the better—because of Israel's existence. Making that connection for the younger generation is important for the continuation of the Jewish story, not just for the State of Israel.
Russia's antisemitism aimed at Zelensky is a variant of a very old European virus
From Munich to Kyiv
After the Holocaust, European Jewry was reduced to a mere shadow of its prewar size. There were only a handful of Jewish political leaders, among them a couple of short-term prime ministers of France, and most prominently Bruno Kreisky, chancellor of Austria from 1970 to 1983. In contrast to Rathenau, who was shot after three months in office, Kreisky was reelected several times.

Official antisemitism was taboo in post-Holocaust Europe, and the voices who criticized Kreisky for his Jewish background did so indirectly. Kreisky had a difficult relationship with his own Jewish heritage. He invited former Nazis to his government and distanced himself from Austria's Jewish community. He called Israeli Prime Minister Menachem Begin "a little lawyer from Warsaw with a soul of a small-minded shopkeeper" while at the same time becoming the first West European politician to embrace PLO leader Yasser Arafat. The most famous Jew in postwar Vienna, Nazi hunter Simon Wiesenthal, and Kreisky shared a well-known aversion for each other.

The first Jewish leader of a European state who speaks openly about his own Jewishness is Ukraine's Volodymyr Zelensky. Zelensky is president of a country that is certainly not free of its own antisemitic tradition.

The antisemitic attacks on Zelensky, who might one day be remembered as the most popular Jewish hero of this era, now come from outside the country. As a historian of European Jewish history and antisemitism, I believe they are designed to foment hate and undermine his extraordinary leadership in the face of an unsolicited attack on a free nation.

The fate of today's Jewish politicians in Europe will most likely not be as tragic as Eisner's, Rathenau's and Luxemburg's. But as the Russian attacks on Zelensky demonstrate, in times of conflict, the Jewish background of a leader can be used as part of a broader political and wartime strategy of defamation.

This latest version, originating in the Kremlin, is just a new, perfidious variant of the old virus called antisemitism.
Muslim and Jew debate Christian Zionists
During a debate at Speakers Corner, a Muslim tells a Jew that Christian Zionists are not his friend.
Feds charge pro-Palestinian activist with hate crime for assaulting Jewish man in NYC
Federal prosecutors have charged a pro-Palestinian activist with a hate crime for an assault on a pro-Israeli Jewish man that took place following an April protest in Midtown, Manhattan, The Post has learned.

Saadah Masoud allegedly battered Matt Greenman because of his "actual and perceived religion" following a pro-Palestine demonstration on April 20, according to a newly unsealed criminal complaint filed by the Manhattan US Attorney's Office, The Post has learned.

Greenman, a 28, a pro-Israel counter-protester, had the Israeli flag draped around himself when he was attacked near Lexington Avenue and East 42nd Street, the filing said.

The victim was taken to the hospital, where he was treated for injuries, including a concussion.

The arrest comes amid a dramatic increase in hate crimes, including antisemitic attacks, in New York City.

In the complaint, dated June 10 and first filed under seal, special US agent Lavalle Jackson alleged that Masoud had participated in two other violent attacks against Jews last year.

Last June, Masoud allegedly threatened a Jewish community leader in Brooklyn by saying, "We know where you live, we will get you" and then struck the man twice in the head and body, the court documents state.

The following month, he confronted another man in Brooklyn carrying an Israeli flag and struck him in the face and stole the flag, the filing alleged.

The complaint also detailed threats against Israel supporters on Instagram, including a post that said, "I wish I could show you the things I do to Zionist but I can't post them."
More than 80 scholars form group to fight anti-Zionism on campus
More than 80 scholars of Jewish and Israel studies have joined together to form an initiative to combat on-campus anti-Zionism: The Jewish Studies Zionist Network.

The organization is the brainchild of Jarrod Tanny, an associate professor of Jewish history at the University of North Carolina-Wilmington.

The scholars who signed up for the initiative include Israeli political philosopher and author of The Virtue of Nationalism Yoram Hazony of the Herzl Institute, the University of Florida Holocaust historian Norman J.W. Goda and Georgetown University Center for Jewish Civilization Director Bruce Hoffman.

"As experts in Jewish studies with a commitment to the peace and welfare of all communities in Israel, the world's sole Jewish state, we reject characterizations of Zionism and Israel that seek to discredit their legitimacy and that judge them according to standards not applied to any other nation," the scholars wrote in an open letter published on the project's website.

Tanny said that he founded the network after being "troubled at the extent to which anti-Zionism has become pervasive in academia," according to a news release.
University of London College Launches Investigation Into Antisemitism Allegations
Goldsmiths, a constituent college of the University of London, has announced it will hold an independent review into claims of antisemitism at its school.

In a statement released Friday, Goldsmiths said it is consulting with the British government's Equality and Human Rights Commission on conducting a review "with a view to appointing a barrister to undertake this work beginning later this summer."

The announcement follows reports of antisemitism received by the college this academic year, "including those linked to Goldsmiths Students' Union," the school said.

Goldsmiths also confirmed that its warden, Prof. Frances Corner, has offered "public support" to Jewish professor David Hirsh of the department of Sociology, who was called a "far-right white supremacist" and "racist Zionist" by student leaders last month.

"We are supporting Dr. Hirsh after unwarranted messages about him were posted on social media which I believe are utterly without foundation," Corner said. "These kinds of behaviors are completely unacceptable and will always be challenged. As warden, I want to make it clear that this kind of conduct is not in line with the college's values and that it brings harm to individuals as well as our good reputation as a place of learning."

Goldsmiths announced in the same statement that it will also adopt the International Holocaust Remembrance Alliance's definition of antisemitism and the Jerusalem Declaration on Antisemitism.
It's Time to Fight Anti-Israel Hate at CUNY
The singular hostility to Israel is devastating to heroic Palestinians who yearn for peace. It strengthens their authoritarian and terrorist leaders, and stifles ties between Palestinians and Israelis that alone can bring stability and peace to the region.

In a world that moves forward by engagement and not by boycotts, by opening rather than closing doors, CUNY can lead the way.

Chancellor Matos Rodriguez and many CUNY college presidents recently visited Israel to build bridges with scholars at Israeli universities that are at the forefront of innovation and cultural integration of all segments of Israel's society. Recently, the inauguration of the Photonics Initiative at CUNY's Advanced Science Research Center was celebrated by its initiating the US/Middle East Conference on Photonics, which highlighted the contributions of scientists from all countries in the Middle East and called for the free exchange of ideas.

Many at the City University see strengthened connection among all peoples in the Middle East as the road towards peace. We call on the City Council to insist that CUNY and all universities in our city live up to their mandates to push the boundaries of knowledge and break down antagonisms, and to create a campus climate in which no student needs to hide their identity to feel safe.

A resolution of the PSC-CUNY last June demonizes, delegitimates, and applies a double standard to Israel — since it condemns Israel for defending itself — and also "condemns racism in all forms, including anti-Semitism."

It is clear the union needs help identifying its own antisemitism. It would therefore be a great boon to union members and to the citizens of New York for the New York City Council to be a model for universities in New York City by adopting a meaningful definition of antisemitism. Governor Hochul has recently highlighted the widely recognized working definition of antisemitism of the International Holocaust Remembrance Alliance (IHRA), which has been adopted by the US Department of State. This definition places no limit on speech but provides a tool for gauging when speech has crossed the line into antisemitism. This definition encourages spirited dialogue about the Middle East and makes clear that criticism of Israel, were it similar to criticism leveled against any other country, would not be considered to be antisemitic.

I would like to invite the members of the City Council and the citizens of New York to visit the website of our group, the CUNY Alliance for Inclusion. The website presents a deep look at Israel and attempts to demonize it, and the hostility experienced by students at CUNY. Our group presents a series of seminars and discussions, and articles from a broad range of sources that present a full picture of Israel and its place in the Middle East — which is sadly lacking at CUNY.
When did it become the mission of Yachad, an organisation that claims to "support Israel" and "support a political resolution to the Israel Palestine conflict" to support divisive campaigns that single out Israel and treat it in a way Unilever wouldn't do with any other country? https://t.co/SQrjVeszA9

— Ian Austin (@LordIanAustin) June 29, 2022
Rayner's Opera Mate's Anti-Israel History Revealed
The Westminster bubble has slightly lost the plot following yesterday's enjoyable PMQs. Raab's attack against Rayner, that while her fellow MPs were out on the pickets lines she was quaffing champagne at an opera festival, is now being spun as some sort of Bullingdon-esque snobbery about working class people not being able to enjoy opera, rather than pointing out the hypocrisy of champagne socialism. It's somehow managed to drown out the horror of Raab's greater transgression – that wink…

Taking to Twitter afterwards, Rayner showed off another photo from the event, naming Tom Eisner as the person who invited her. Tom, she boasts, is a "working-class lad from Buxton", who's been "playing at the Glyndebourne for 36 years".

Unsurprisingly Rayner didn't manage to fit Eisner's full CV into her tweet. He's also been in the First Violin section of the London Philharmonic Orchestra since 1986. A long and illustrious career, Rayner would perhaps prefer to airbrush Eisner's low point in 2011, when he along with three other members of the orchestra were suspended for up to nine months after signing a letter calling on the BBC to cancel a Proms concert by the Israel Philharmonic Orchestra, on the grounds the country is "an apartheid state".

In 2016 Eisner also signed a letter in The Guardian that accused the Chief Rabbi of joining in with "sensationalist allegations of antisemitism in the Labour party, where the headlines' decibel level is in inverse proportion to the evidence supporting them". Other signatories of this letter also included Jackie Walker, Alexei Sayle and Tony Greenstein…

Labour can deal with the champagne-quaffing; this awkward fact could be slightly more difficult to bat away…
BBC's 'Woman's Hour' jumps on the Abu Akleh narrative bandwagon
As we saw last week in the BBC News website's report about another 'investigation' that clearly could not provide definitive conclusions, the tactic now being employed is to present the Palestinian Authority's refusal to cooperate with ballistic analysis of the bullet it holds as an "Israel says" issue.

That tactic was on display again on June 27th when the BBC Radio 4 programme 'Woman's Hour' – billed "Women's voices and women's lives – topical conversations to inform, challenge and inspire" – devoted over eight remarkably uninformative minutes to the topic.

Presenter Emma Barnett introduced the item with an explanation of its timing: a memorial service at a Fleet Street church in London. Neither at that point nor on the subsequent occasions when that memorial service was mentioned were listeners informed that it was organised and promoted (and later attended) by anti-Israel activists.

Barnett: "Now a memorial service will be held in London tomorrow for the Palestinian-American journalist Shireen Abu Akleh who was killed while reporting in the occupied West Bank last month. The Al Jazeera journalist was shot in the head while reporting on a raid by Israeli forces in the city of Jenin [mispronounced]. She was wearing a protective vest with the word 'press' on it as well as a helmet. On Friday the United Nations High Commissioner for Human Rights said the bullet had been fired by Israeli security forces; something the Israel Defence Force disputes."

Failing to clarify to listeners that the UN's claims cannot be considered conclusive because the relevant ballistic analysis was not carried out, Barnett then brought in her colleague Yolande Knell of the BBC's Jerusalem bureau. The two discussed Knell's casual familiarity with Abu Akleh and the significance of her being a female journalist in the region. At 51:58 Barnett again brought up the UN statement.

Barnett: "And the circumstances in which she was shot. I mentioned there that the United Nations High Commissioner for Human Rights have made an announcement – a statement – on that and yet that's not something that the IDF – the Israel Defence Force – agrees with."

Knell: "That's right. I mean there's just huge controversy still over how she was killed. I mean just to put it in context, it was on the 11th of May. Shireen set off early for what must have seemed to her like a routine assignment in Jenin – it's in the north of the West Bank – and she just emailed colleagues that she was heading to the edge of the camp to check on reports of an Israeli military raid. It was really early; just after dawn. And she sent a message saying 'I'll bring you the news as soon as the picture becomes clear'. Ahm…I mean, as you described she was wearing her bullet-proof vest – all very familiar to me – ehm…she was with a group of journalists close to where there were Israeli military vehicles but in a place where the journalists have often gathered because unfortunately there have been a lot of raids in this camp recently."

Notably, what Knell chose to describe as 'unfortunate' are counter-terrorism operations necessitated by attacks given a glaze of false equivalence by Knell in her subsequent portrayal of a "spike in violence".
NBC Corrects Israeli Settlements Not on 'Palestinian Territory'
Indeed, in no time in history was the West Bank "Palestinian territory" until the Oslo Accords put limited areas (Areas A and B) under control of the Palestinian Authority. These Palestinian-controlled areas do not include Area C of the West Bank, upon which all Israeli settlements are located.

NBC agreed that a correction was in order, and subsequently amended the text to accurately refer to "Jewish settlements on disputed territory Palestinians hope will form part of a future state." In addition, editors commendably appending the following clarification to the bottom of the article:
CLARIFICATION (June 29, 2022, 12:23 p.m. ET): This article has been changed to reflect that Jewish settlements are on disputed land that Palestinians hope will form part of a future state.

Other media outlets which have previously commendably corrected the inaccurate designation of disputed West Bank lands as "Palestinian" include The New York Times, Los Angeles Times, Voice of America, Wall Street Journal, and The Washington Post.
'Calling Israel 'apartheid' is plan antisemitic' - VP of European Parliament
Leaders from around the world spoke out on Thursday against the appropriation of the term "apartheid" from its historical South African context with the goal of defaming and isolating Israel by portraying it as a racist entity.

The comments were said at a conference that was cohosted by the Combat Antisemitism Movement (CAM), World Zionist Organization (WZO) and NGO Monitor. The event was titled "Trivializing History: How Anti-Israel Activists Have Hijacked the South African 'Apartheid' Label to Attack the Jewish State."

World leaders, diplomats, legislators, and policymakers discussed what must be done to restore the "apartheid" term to its proper context and delegitimize its use in discourse about a conflict to which it has no relevance.

"Categorizing Israel as an apartheid state is just plain antisemitic," said Vice President of the European Parliament and Special Envoy on Combating Religious Discrimination Including Antisemitism Nicola Beer.

"In my opinion, such characterization counters progress made in the region concerning the peace process," she said. "Instead, it deepens the rifts and fuels antisemitism around the world."

"In my opinion, such characterization counters progress made in the region concerning the peace process, instead it deepens the rifts and fuels antisemitism around the world."
Special Envoy on Combatting Religious Discrimination Including Antisemitism Nicola Beer

The conference was held in response to the global rise in antisemitism.

The apartheid campaign questions Israel's right to exist as a Jewish and democratic state by framing Israel as an inherently racist state.
Pharma giant Bayer to set up cybersecurity center in Israel
Pharmaceutical giant Bayer will open a cybersecurity development center in Israel, as part of the German multinational's global cybersecurity operations, in a bid to engage and partner with one of the strongest Israeli sectors in the local tech ecosystem.

Hugo Hagen, the managing director and country division head of Bayer Israel, made the announcement Wednesday together with the Ministry of Economy and Industry, following the visit to Israel this week of a delegation of senior Bayer executives.

Israel is currently hosting the Cyber Week conference at Tel Aviv University, an annual cybersecurity summit that draws government officials, intelligence authorities, and entrepreneurs and executives from all over the world. Both outgoing Prime Minister Naftali Bennett and Defense Minister Benny Gantz spoke at the conference this year, warning that the cyber sphere was the most prominent dimension of future warfare, including attacks on critical infrastructure such as energy, water and manufacturing, and supply chain operations.

Israel is a cybersecurity powerhouse with companies in the sector raising a record $8.8 billion in 2021, a figure that accounts for 40% of the total funds raised by cybersecurity firms worldwide last year, according to data provided by the Israel National Cyber Directorate.

Overall cybersecurity exports from Israel were estimated at $11 billion in 2021, according to separate Israeli Export Institute data.

A number of multinationals have opened cybersecurity centers in Israel including Mastercard, Japanese IT multinational Fujitsu, Anheuser-Busch InBev (AB InBev), the world's largest beer maker, and multinational consulting firm PricewaterhouseCoopers.

For Bayer, Hagen said in a statement Wednesday: "As a company engaged in R&D in the core areas of life sciences, the ability to integrate with Israel's unique cybersecurity ecosystem, alongside sectors such as medical innovation and agricultural development is an opportunity to integrate as players in the Israeli market and provide added value for Bayer and for the ecosystem."
Israeli Researchers Use Breakthrough Tech to Treat Prostate Cancer for First Time
Patient, 60, is given alpha-radiation to target the tumor without harming healthy tissue in 'historical' procedure

Medical pioneers in Israel say they have, for the first time, successfully treated a prostate cancer patient using alpha-radiation – injecting a radioactive isotope into the tumor.

Alpha Tau Medical has been running clinical trials of the treatment for patients with skin cancer, breast cancer, and oral cavity cancer, with promising results.

But this is the first time in the world that the revolutionary therapy – called Alpha DaRT (Diffusing Alpha-emitters Radiation Therapy) – has been used to treat a patient with prostate cancer, the company's CEO Uzi Sofer tells NoCamels. It directly damages the cell DNA, creating double-strand breaks which kill the cancer cells.

The patient, a 60-year-old man with an aggressive form of prostate cancer, felt no pain after the two-hour outpatient procedure and went home the same day from the Rambam Health Care Center in the northern Israeli town of Haifa.

He will return 50 days later to have the prostate surgically removed. Alpha DaRT is designed to destroy the tumor without harming the healthy tissue around it.
International artists return to Jerusalem Jazz Festival
When the 8th Jerusalem Jazz Festival runs at the Israel Museum July 5-7, it will be the first in several years to feature international artists.

"We've been waiting for this for a while," said CEO Eyal Sher. "The artists are so hungry to perform live again and to tour."

Sher points out that Israel usually hosts some 100 international events each year, and is looking at around 70 this summer alone.

The three-day jazz festival, which runs each day from sundown into the night, includes visiting artists from North and Central Africa, Switzerland, Turkey, the US, South America and Israel.

With a lineup created by Israeli trumpeter and festival director Avishai Cohen, who is also launching his latest album, artists include American pianist Fred Hersch, and Israeli musician Zion Golan meeting the modern Israeli sound of four-piece El Khat, alongside Turkish musician Dilan Balkay.

There's also American guitar luminary Julian Lage with his trio, Israel's Boom Pam and Kutiman with Turkey's Melike Sahim, Israeli Lala Tamar with Morocco's Samir Langos, and others.
Opera legend Placido Domingo to perform in Tel Aviv in September
Opera legend Placido Domingo will perform in Israel on September 4 at Tel Aviv's Menora Mivtachim Arena.

The 81-year-old maestro will hold the role of soloist, singing with the Jerusalem Symphony Orchestra, led by conductor Eugene Cohen.

Domingo is marking a nearly 70-year career, having performed more than 150 roles and 4,100 performances globally.

The NIS 290 ($84) tickets can be purchased online.

The Spanish opera star survived coronavirus and accusations of sexual misconduct in the last two years.
Second Annual Holocaust Survivor Day Embraces 'the Spirit of Celebrating Life'
On Sunday, over 1,000 Holocaust survivors gathered at various Survivor Day events, including those held at Tel Aviv's Beit Lohamei Hagetaot and Habima National Theater, attended by Israeli President Isaac Herzog. The events brought together groups including the Center Organizations of Holocaust Survivors, the World Zionist Organization, Seed the Dream Foundation, the Jewish Federations of North America and dozens of other partners.

"This is our day to say thank you," Shelley Rood Wernick, Managing Director of the Jewish Federations of North America's Center on Holocaust Survivor Care and Institute on Aging and Trauma, told The Algemeiner last week. "This is a date on the calendar to recognize and honor and celebrate the contributions that Holocaust survivors have made to their communities and to humanity at large."

Wernick noted that as many as 35% of survivors in the US are living in poverty, and are often in need of both material and emotional support.

"If you're in poverty, you need help with everything," Wernick said. "And for many Holocaust survivors, not only are they getting older, but many have fewer family members who can help care for them because of their past history. Families are smaller. People were killed. The extended family members simply don't exist."

On Wednesday, as the US Congress negotiated the 2023 fiscal budget, the House Appropriations committee proposed $10 million in funding for the public-private Holocaust Survivor Assistance Program — up from the current $6 million currently allocated.
---
---
Buy the EoZ book, PROTOCOLS: Exposing Modern Antisemitism today at Amazon!

Or order from your favorite bookseller, using ISBN 9798985708424.

Read all about it here!