From Ian:
Three fathers named as victims of Elad attack, leave behind 16 children
The three victims of the deadly terror attack in Elad were named early Friday as Yonatan Havakuk, Boaz Gol and Oren Ben Yiftah, all young fathers who leave behind 16 children.

The men were slain in the attack that came at the end of Israel's Independence Day, and followed a wave of terror attacks in Israel and the West Bank in recent weeks, and repeated threats by Palestinian terror groups over the Temple Mount in Jerusalem.

According to eyewitnesses, two terrorists attacked several people with an axe and a knife at a central park and a nearby road in the largely ultra-Orthodox city. At least one of the wounded was in critical condition, and up to seven were hurt in the attack.

Neighbors and friends describe Yonatan Havakuk, a man in his 40s, as someone who always had a smile on his face.

Havakuk, a father of five, worked as a car mechanic in the ultra-Orthodox town.

"He was a wonderful person," local resident Yaakov Bar Noi told the Haaretz website, describing how he was known to all as "our brother," because of his habit of addressing everyone as "our brother."

"He always had a smile on his face," Bar Noi said, recounting that Havakuk would sometimes fix people's vehicles for free if they had financial difficulties.

Havakuk's neighbor, Amir Mizrahi, told the Walla news site that he was killed when he went outside to search for his son.

The second victim of the deadly terror attack in Elad was named as Boaz Gol.

Gol, in his 40's, was also a father of five.

The third victim of the Elad attack was named as Oren Ben Yiftah, a 37-year-old father of 6.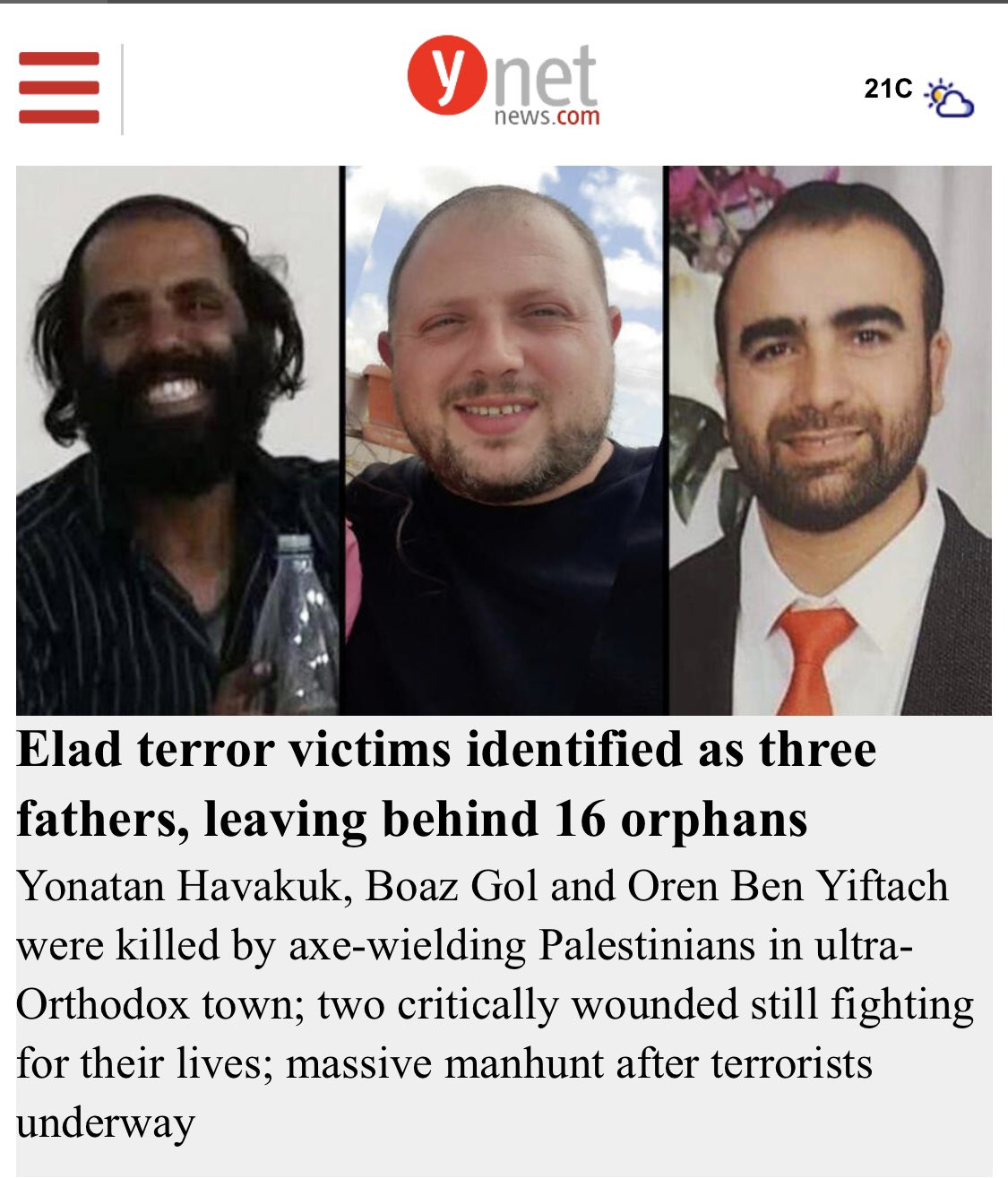 Widow of Elad terror victim says he fought attacker, enabling others to escape
The widow of Yonatan Havakuk, one of three men killed in a terror attack in Elad on Thursday evening, said her husband fought one of the attackers, enabling others to flee to safety.

"My heart refuses to believe that I was left alone with five orphans. My heart burns that my tender child saw his father in his last moments," wrote Linor Havakuk in a post in a Facebook group for residents of Elad.

"My husband fought against them with great heroism and saved many lives. He fought with them for long minutes, which allowed many to flee the scene," she wrote. "God bless you, dear and beloved husband. We will miss you very much."

Galit Gol, the widow of Boaz Gol, another one of the victims of the attack, decried her family's loss.

"How did I lose him? God, why did this happen to us? Why do we deserve this?" she shouted outside the family's home in Elad, according to the Ynet news site.

"In one day my life ended. In one day everything turned upside down." Israeli security and rescue personnel work at the scene of a terror attack in Elad, May 5, 2022. (Yossi Aloni/Flash90)

Boaz Gol's sister-in-law said he was walking to a Torah lesson when he was killed.

"His daughters, may they be healthy, said they can't be without him. His wife also… I told the girls that dad went to get the messiah. I believe wholeheartedly he went to get the messiah," Rozie Levy told Ynet.
'Impossible to comprehend': Thousands at funerals for 3 killed in Elad terror attack
Yonatan Havakuk, Oren Ben Yiftah and Boaz Gol, the three victims of the terrorist attack in Elad, were laid to rest on Friday afternoon.

A joint funeral procession began at 12:30 p.m. at the site of the deadly attack the night before at Ibn Gabirol Square in the central city.

Ben Yiftah, 35, a driver who was working in Elad for an event at the time of the attack, was buried in Lod. Havakuk, 44, a resident of Elad, was buried in Petah Tikva while Gol, 49, also from Elad, was laid to rest in Jerusalem.

The three men were murdered Thursday evening by two Palestinian terrorists who attacked a crowd of people with an axe and a knife near a park in the religious city of Elad towards the end of Israel's Independence Day. At least seven others were wounded in the attack, including three seriously.

The deaths bring to 19 the number of people killed in terror attacks against Israeli targets since March, in the worst spate of terrorism for years.

The two terrorists — identified by police as As'ad Yousef As'ad al-Rifa'i, 19, and Subhi Emad Subhi Abu Shqeir, 20 — remained at large as of Friday afternoon.

Thousands of mourners turned out to pay their final respects to the three men, who left behind 16 children between them — six to Ben Yiftah and five each to Gol and Havakuk.
Funerals for victims of Elad terror attack
Heartbreaking scenes from the central Israeli city of Elad on Friday afternoon as the funeral for the victims of Thursday night's terrorist attack took place. A manhunt is underway for the two Palestinian terrorists from Jenin.
Melanie Phillips:
Why Russia has once again turned on the Jews
This reversal of truth and lies, victim and aggressor, right and wrong is the hallmark of Soviet and Russian propaganda. It was no accident that the Arabs intent on destroying Israel developed modern anti-Zionism in cahoots with the Soviet Union.

The big anti-Zionist lie about Israel was created in the 1960s when the terrorist leader Yasser Arafat made common cause with the Soviet Union to rewrite history, demonize the Jewish state and thus subvert the West by twisting its collective mind and destroying its moral compass.

Israel's difficulties with Russia are growing. Russian Defense Minister Sergei Shoigu recently canceled a scheduled phone call with his Israeli counterpart Benny Gantz, which was intended to discuss the cooperation and security coordination essential for Israeli airstrikes on Iranian targets in Syria.

Without that cooperation, Israel's defense against Iran on its Syrian border will be undermined. More ominously still, Russia is further cozying up to Iran. And meanwhile, it is ratcheting up its verbal aggression against Israel.

A spokeswoman for Russia's foreign ministry claimed earlier this week that Israeli mercenaries were fighting alongside the neo-fascist Ukrainian Azov regiment. In fact, Israel has sent no mercenaries nor supplied arms to Ukraine – a cause of bitter complaint by Zelensky.

But last week, a group thought to have close links with the Kremlin posted a list of 20 Israelis claiming that they were fighting as mercenaries in Ukraine.

Most of those names belonged to Israeli security guards, consular officials and employees of the Jewish Agency for Israel. They had merely been sent to bolster Israeli embassy staff who had been evacuated to Poland in order to aid the return of Israelis stuck in Ukraine.

"He who sups with the devil," it is said, "should have a long spoon." Israel is only now realizing that, in supping with Russia, its own spoon has been far too short.
BBC R4 reports on Lavrov comments promote an existing narrative
Donnison's response was to cite anonymous "criticism" of Israel in order to promote the notion that Israel has not been doing enough to help Ukraine.

Donnison: "Well I definitely think the government here is going to face a bit of pressure here to do so. You're right: Israel has been walking a fine line if you like. It is of course a strong ally of the United States. On the other hand, eh…it needs Russia for some of its strategic aims in the region. There has been criticism of the Israeli government for not being tough enough on Vladimir Putin…eh…for not backing sanctions strongly enough and also for not supplying direct military aid to Ukraine. It has supplied some protective equipment – flak jackets, helmets, that sort of thing – for civilian use. But I do think these remarks are going to put pressure on the Israeli government to perhaps change its policy."

Listeners were not told that "strategic aims in the region" actually means not letting Iran and Hizballah use Syria as a base from which to attack Israel.

An hour later BBC Radio 4's 'Six O'Clock News' programme aired another report (from 09:34 here) from Donnison. After again portraying statements made by Israeli officials and while again failing to explain in the BBC's own words that Lavrov's claim is false, Donnison once again turned audience attentions to the topic of anonymous "criticism" of Israel.

Donnison: "Over recent months, Israel – which has a large Russian speaking population – has tried to act as a mediator between Russia and Ukraine. But the government has faced criticism for not taking a tough enough line with President Putin and for not offering enough direct military support to Ukraine. Sergey Lavrov's remarks could increase pressure for that policy to change."

Since the beginning of Russia's invasion of Ukraine, the BBC has largely avoided reporting on the humanitarian aid and medical delegations sent there from Israel. Israel's absorption of over 8,000 new immigrant refugees from Ukraine has been the topic of just one minute and 47 seconds of BBC coverage to date.
You really just can't bring yourself to condemn Russia for this. You really are a sick Jew hater, @KenRoth. Sooner you leave, the better https://t.co/Kx3nrW64FO

— Arsen Ostrovsky (@Ostrov_A) May 5, 2022
Israel to advance plans for 3,988 settler homes despite US objections
Israel is set to advance plans for 3,988 West Bank settler homes despite US objections, with the White House - according to N12 - sending a message against it to Israeli officials.

The White House message was conveyed in talks between at least three different American parties and senior Israeli officials in Israel. According to one source speaking with N12, the White House even conditioned President Joe Biden's visit to Israel next month on the issue of the plans for West Bank settler homes.

It's a move, however, that will likely shore up Prime Minister Naftali Bennett's fragile coalition in advance of the opening next of the Knesset's summer session. According to Walla, Israel explained this to the US.

The Biden Administration has been clear about its opposition to settlement activity, with US Ambassador to Israel Tom Nides calling such construction "stupid" because it harms the two-state solution when he spoke at a virtual event with the left-wing Israeli group "Peace Now." But the Biden Administration and Nides have been very supportive of Bennett and his coalition which is made up of parties from the Left, Center and Right of the political map.

The Higher Planning Council for Judea and Samaria at its Thursday meeting is slated to give its final approval for 2,536 new settler homes, including the authorization of the Mitzpe Dani outpost as a new neighborhood of the Ma'aleh Mikhmas settlement, and allow for the deposit of plans for 1,452 other homes.

Some 38% of the plans are for homes in isolated settlements.

To offset the anticipated anger by the US and other allies, Defense Minister Benny Gantz is expected to advance plans and or issue retroactive authorizations for over 1,000 Palestinian homes in Area C of the West Bank, which is under IDF military and civilian control.
Nakba Day: Annual Reminder that Palestinians Learned Nothing from History
A decision rooted in ignorance of history

As we know, the Jews accepted the plan whereas the Arabs rejected it. In other words, the Jews chose compromise, and the Arabs gambled on war. As a result of the Arabs' decision, the Palestinian Arabs lost a golden opportunity for autonomy at an equal status with the Palestinian Jews, and thousands of Arabs and Jews were killed while hundreds of thousands of Arabs and Jews became refugees.

Seventy-five years later, the Palestinian Arabs are still stateless, and there is still no serious prospect of them having a state of their own. One huge obstacle that stands in the way of them having a state is the realization that their gamble of rejecting the UN partition plan was a mistake.

Whether the Arabs' rejection of the UN partition plan was due to antisemitism, greed, or anything else, it certainly was not driven by understanding of Jewish history. In calculations of Jewish population versus Arab population, the Arabs did not account for the Jews who needed to return home, even though the Holocaust that ended three years earlier would have made that fact obvious. If the Arabs had accounted for that, all other points being considered, the UN partition plan (which essentially consisted of one Arab state and one binational state) would have appeared much more beneficial to them than to the Jews.

Even today, however, there is little Palestinian recognition of Jewish history. As recently as four years ago, Abbas stated that Israel is "a colonial project that has nothing to do with Judaism".

The fact that Abbas recognizes that the Arabs made a mistake by rejecting the 1947 UN partition plan seems to be in contradiction with the fact that he does not recognize Jewish history, but I don't believe that it is a contradiction. It simply means that Abbas sees the Arab rejection of the 1947 UN partition plan as a tactical mistake, but he still does not think that it would have been the historically correct decision. In other words, Abbas' ideology does not differ from Hamas' ideology except in terms of tactics.

If the Palestinian leadership continues to reject the facts of history, they will likely continue to reject solutions that allow their people to have a state, because they do not accept that a Jewish state has any historical right to exist next to a Palestinian state. They believe that agreeing to any solution that doesn't involve the destruction of Israel is a hugely unfair compromise, and for anyone, that is a very difficult compromise to accept.
MEMRI: UAE Politician, President of Global Council for Tolerance & Peace, Praises Normalization with Israel
In an April 29, 2022 interview on Asharq TV (Saudi Arabia), UAE politician Ahmed Al-Jarwan, the president of the Global Council for Tolerance and Peace, praised normalization with Israel and condemned the Muslim Brotherhood, the Houthis, Hizbullah, and the IRGC. He said that the Muslim Brotherhood is a harmful extremist group, that the Houthis tarnish the name of Islam, that Hizbullah is hijacking Lebanon, and that the Arabs don't have a problem with the Shi'ites or Iran, but with the Iranian ruling system and the IRGC. In addition, he said that while in the past, Egypt was the only Arab country that could help the Palestinians negotiate with Israel, there are now five such countries who have normalized relations with Israel. He urged the Palestinians to "make good use" of these normalization initiatives, which can help establish a Palestinian state.
Biden Taps Anti-Israel Activist, CNN Spouse as White House Press Sec
The White House announced on Thursday that Karine Jean-Pierre, a veteran anti-Israel activist who is married to CNN correspondent Suzanne Malveaux, will replace outgoing press secretary Jen Psaki, raising potential ethical quandaries.

The announcement drew celebratory headlines in the mainstream press: Jean-Pierre is the first black woman and openly gay person to serve in the role.

But her relationship with the CNN reporter raises ethical questions about her new role. The White House did not respond to a request for comment about whether Jean-Pierre would recuse herself in dealing with CNN. Malveaux's colleagues include Valerie Jarrett's daughter, CNN justice correspondent Laura Jarrett, and Israel ambassador Tom Nides's wife, Virginia Moseley, who serves as CNN's senior vice president of news gathering.

"Suzanne Malveaux will continue in her role as CNN national correspondent covering national/international news and cultural events but will not cover politics, Capitol Hill, or the White House while Karine Jean-Pierre is serving as White House press secretary," a CNN spokesperson told the Washington Free Beacon.

Jean-Pierre's anti-Israel past—which includes a stint as senior adviser and national spokeswoman for MoveOn.org, a far-left anti-Israel group that advocates for boycotts of the Jewish state—is raising red flags in the pro-Israel community. The selection of an Israel critic is also likely to further strain ties with the pro-Israel community and Israeli government, which already is strongly opposed to the Biden administration's efforts to ink a new nuclear deal with Iran.

Jean-Pierre has been open about her animosity toward the Jewish state. She has accused Israel of committing "war crimes" and has backed efforts to boycott the American Israel Public Affairs Committee, the United States' most prominent pro-Israel lobbying shop, cheering Democrats in 2019 for boycotting the group's annual gathering in Washington, D.C., for "boldly [choosing] to prioritize diplomacy and human rights over the power of a lobbying organization." AIPAC, she claimed, helped the Trump administration "sabotage" the Iran nuclear deal and also "supported the group that's credited with inspiring President Trump to enact the Muslim Ban and has been known to spread anti-Muslim racism." She accused the group without evidence of trafficking in "severely racist, Islamophobic rhetoric."

Ellie Cohanim, who served as the State Department's deputy special envoy to monitor and combat anti-Semitism during the Trump administration, told the Free Beacon that Jean-Pierre's promotion sends the wrong signal during a time of rising anti-Semitism.
AOC btw is a big fan of this most famous of blood libels as well, the go-to for setting off pogroms. My family survived one pogrom in Jaffa a hundred years ago so I'm glad I'm here, and I would like the incitement to stop, and I'm not sure why you don't also pic.twitter.com/hVSgIKA5GG

— Seth Mandel (@SethAMandel) May 6, 2022
Jewish Woke: Heritage Museum Bans Florida Governor from June's Jewish Leadership Conference
According to a Thursday Wall Street Journal editorial (Ron DeSantis Is Persona Non-Grata at a Holocaust Memorial) by Elliott Abrams and Eric Cohen, who lead the Jewish non-profit Tikvah Fund, which describes itself as a "philanthropic and ideas institution," the New York Museum of Jewish Heritage in Battery Park City, Manhattan, has banned Florida Governor Ron DeSantis from speaking at June's Jewish Leadership Conference.

"A few years ago, we helped launch the Jewish Leadership Conference, an annual gathering to consider the challenges facing the Jewish people and Israel," Abrams (who served in foreign policy positions under presidents Ronald Reagan, George W. Bush, and Donald Trump) and Cohen (the Executive Director of the Tikvah Fund since 2007) write.

"We thought it would be interesting to invite Gov. Ron DeSantis to discuss how the 'Florida model' has contributed to the growth and vitality of Jewish life in his state. The event was to be held at the Museum of Jewish Heritage in New York City. Until, as the saying goes, we got canceled," they continued.

They lament: "…we know things are bad when a Jewish institution—in this case, a museum whose purpose is to keep Jewish heritage alive by remembering the Holocaust—turns on its own and tries to make a virtue of its own intolerance."

Abrams and Cohen reveal that "when pressed for a further explanation of why our event was canceled, the museum's CEO adopted a common form of doublespeak: We don't do politics, he told us, whether left or right." Apparently, that was Museum CEO Jack Kliger's way of handling this embarrassment. Kliger's successful career in media began in the mid-70s, at the Village Voice. He later became publisher of GQ Magazine and Conde Nast Publications, and Executive President of Parade Publications.

"Not surprisingly, this was false," they push back. "In August 2018, Alexandria Ocasio-Cortez, then a Democratic candidate for Congress, was a featured speaker at an event at the museum, sponsored by the Immigrant Arts Coalition. Her speech was widely covered in the news—both before and after the event—including public criticism of the museum for giving such a vociferous critic of Israel a prominent platform at a Jewish institution. Yet the event went on as planned."
LibDem Porno Candidate Elected... Then Suspended... for Antisemitism
You read that right: not only has the LibDem candidate who Guido revealed earlier in the week to have a prolific porno portfolio been elected this afternoon, they were immediately suspended by the Liberal Democratic Party. Not for her porno history – for some vintage antisemitism…

An email seen by Guido shows the candidate, Little Brighouse, had been reported for uploading a TikTok where she is pictured next to a photo of a burning Israeli flag with the infamously anti-Israeli statement "from the river to the sea". A LibDem spokesperson has said:
"We have received a complaint regarding this candidate which has been reviewed under our independent complaints process. As a result they have been suspended from the Party while the complaint is fully investigated. Liberal Democrats have a long and proud record of standing up against antisemitism and continue to champion a liberal, tolerant and inclusive society for all."

Given the press officer confirming Brighouse's suspension previously ignored repeated requests for comment from Guido, it's interesting to see the party confirm the ranking of sackable offences…
Israeli Security Forces Launch Manhunt for Two Palestinians Suspected of Killing Three in Elad Terror Stabbing
Israeli security forces on Friday launched a massive manhunt for two Palestinians identified as the suspects who carried out the terrorist stabbing attack in the central city of Elad, murdering three young fathers and wounding several more Israeli civilians.

The three Israeli men "killed yesterday in the brutal attack in Elad, left 16 orphaned children behind," Israeli Prime Minister Naftali Bennett said Friday.

Large forces of the Israel Police and military have been mobilized to locate the two Palestinian suspects, identified as Assad Yosef Assad Al-Rafa'i, 19, and Subhi Emad Subhi Abu Shqeir, 20 — both residents of a village close to Jenin, in the West Bank. The two men are not believed to be part of any terror infrastructure and are said to have not been connected to previous terrorist activities. They entered Israel illegally through a breach in the West Bank security barrier, Hebrew media reported.

As Israel celebrated its 74th Independence Day, the two suspects on Thursday evening, armed with axes and knifes, stabbed civilians in a crowded park and other nearby locations in the largely ultra-Orthodox city, leaving three fathers dead and multiple injured.

The three Israeli victims were identified as 40-year-old Yonatan Habakuk, a father of five; 40-year-old Boaz Gol, also a father of five; and 35-year-old Oren Ben Yiftach, a father of six from the city of Lod. Funerals were held on Friday.
After deadly attack, chief rabbi urges synagogue-goers to bring guns
The Sephardic chief rabbi of Israel called on Orthodox Jews to arm themselves when they attend synagogue over the weekend, after a terror attack Thursday night that left three dead.

The rare statement from Rabbi Yitzhak Yosef on a matter outside of religious law reflected the tense security situation in Israel following the deadly stabbing, the latest in a series of attacks by Palestinian and Islamic State-inspired Israeli terrorists, including in the ultra-Orthodox cities of Bnei Brak and Elad.

"Due to the tense security situation, those with a license to carry a weapon… should bring it to the synagogue and help secure the public," Yosef said in a statement.

The chief rabbi's statement asked those with firearms to conceal them while in synagogues for "modesty" reasons. Many Orthodox Jews believe it is inappropriate to openly display weapons inside synagogues.

Police officials indicated that the two Palestinian terrorists who carried out the axe and knife attack at a central park and nearby road in Elad Thursday night may still be in the area, raising fears the pair may attack again.

Hebrew media reports said the two entered Israel illegally through a breach in the West Bank security barrier. They are believed to have been familiar with the city, which sits east of Tel Aviv fewer than three kilometers (two miles) from the Green Line.
Blinken Decries Terror in Israel: 'We Stand Firmly With Them in Face of This Attack'
The Biden administration condemned the terrorist attack that killed three people and left several wounded in the central Israel city of Elad on Thursday night.

US Secretary of State Antony Blinken said in a news release that the horrific attack on innocent men and women was particularly heinous coming as Israel celebrated Yom Ha'aztmaut—Independence Day.

"Our hearts are with the victims and loved ones of those killed, and we wish those injured a speedy recovery," he said. "We remain in close contact with our Israeli friends and partners and stand firmly with them in the face of this attack. May the memory of those who passed be a blessing."

Earlier that day, US State Department spokesman Ned Price said that he saw the news of the attack just as he was walking into the daily State Department briefing.

"If these reports are accurate, and there is certainly no reason to doubt them, it would be the latest in what has been a string of despicable terrorist attacks that have rocked Israel in recent weeks," he stated. "We saw them in advance of this holy period—the confluence of Easter of Passover of Ramadan. We saw them in advance of the Negev Summit, and if this is what it appears to be, it is something that we would condemn in the strongest terms.

"Our commitment to our Israeli partners, Israel's security, is ironclad," said Price, "and we'll provide any and all assistance that may be required in this case."
Elad terror attack: Terrorists from Jenin worked in the city illegally
The two Palestinian suspects thought to be behind the Elad terrorist attack, Jenin residents Assad al-Rafai (19) and Tzabahi Abu Shakir (20), worked in Elad and knew the area, despite having illegally entered into Israeli territory after having breached the Seam Line, Army Radio confirmed Friday morning.

The two were identified by police and their pictures have been shared by security forces asking for the public to help locate them, indicating they are likely still in Israeli territory. Abu Shakir's father, Imad Abu Shakir, was arrested by Israeli law enforcement, KAN reported, citing Palestinian media.

The two are thought to have attacked several people in Elad Thursday with knives and axes — And in some eyewitness accounts hammers — resulting in three deaths and four injuries.

Public Security Minister Omer Bar Lev vowed that the terrorists responsible would be apprehended "dead or alive."

A manhunt is currently underway in an attempt to catch them, but the details of this investigation have been placed under a gag order.
Elad terrorists did not belong to any group, families claim
The two Palestinians who carried out the terrorist attack in the city of Elad on Thursday night were not affiliated with any terror group, members of their families and Palestinian sources claimed on Friday.

The terrorists, who murdered three Israelis, are from the village of Rummaneh, northwest of Jenin.

The two, Subhi Abu Shkair, 20, and Assad al-Rifa'i, 19, worked as electricians at construction sites in Israel.

Residents of Rummaneh, which is known as a stronghold of Fatah, the ruling Fatah faction headed by Palestinian Authority President Mahmoud Abbas, said that the two were close friends and worked together in Israel.

Many of the villages and towns in the Jenin area are known as strongholds of Fatah and Palestinian Islamic Jihad.
Head of Knesset Panel Says Hamas Will Pay for Inciting Terrorism
The chief of the defense panel in Israel's parliament said Friday that Hamas will pay the price for inciting terror following the latest attack of a terror wave in Israel.

"Hamas calls on people to carry out terrorist attacks and gives them instructions. They need to understand that they need to stop this, and we will exact a price for incitement," Ram Ben-Barak told Army Radio.

"What exactly is being done? It has not yet been decided," added Ben-Barak, who heads the Knesset's Foreign Affairs and Defense Committee.

While Thursday's attack — which claimed the lives of three people and left several others wounded — is not thought to be affiliated with any terror group, Gaza's Hamas hailed it as "heroic" and said it was in response to Jews ascending Jerusalem's Temple Mount.

In a speech last week, Hamas's Gaza chief Yahya Sinwar threatened violent consequences if Israelis continued to visit the holy site, the stage of recent violent clashes between Palestinian demonstrators and Israeli authorities.

On Thursday, hundreds of Jewish Israelis visited the site – Temple Mount for Jews and Al Aqsa Mosque for Muslims – for the first time since the Jewish holiday of Passover, which resulted in clashes between Palestinians and Israeli authorities.

The holy compound was previously closed to Jews for the end of the Muslim holy month of Ramadan.
Massacres like we saw in #Elad last night, in which 3 #Israelis were murdered by Palestinians with axes, do not occur in a vacuum.

Only days ago, leader of #Hamas, Yahya Sinwar, called on Palestinians to attack Israelis with "cleavers, axes & knives."

Incitement = Terror. pic.twitter.com/mAKUUg89SR

— Arsen Ostrovsky (@Ostrov_A) May 6, 2022
Gaza-Based Jihadi Clerics Laud Terrorist Attack in Elad
Hamas described the terrorist attack in Elad on Thursday evening as heroic, saying it was a response to the crimes committed against the Palestinians at Al-Aqsa mosque, according to a Jihad and Terrorism Threat Monitor report distributed by the Middle East Media Research Institute (MEMRI).

"The heroic 'Elad' operation represents a severe blow to the occupation [i.e., Israel] and its security system in response to the crimes of the occupation and its incursions into Al-Aqsa mosque," said Hamas spokesman Abd Al-Latif Al-Qanou.

"Our people will continue their struggle and defense of Al-Aqsa mosque using all means and tools, and its strikes will reach the Zionists and the herds of rapists, wherever they go and settle," he added.

Jihadi cleric Nail bin Ghazi, who is based in the Hamas-ruled Gaza Strip, published a post on the instant messaging service Telegram praising the attack.

"The lie of the so-called Independence Day of their mutant state has ended with great pain. … By Allah, there is no place for you on a single speck of dust from our stolen country," he wrote.

Ahmad Qanitah, another Gaza-based jihadi cleric, also encouraged violent resistance to Israel, posting on Telegram: "The occupier wanted this day to be a day of humiliation and oppression for our people and our nation, with their celebrations of the anniversary of occupying Palestine[;] but Allah wanted it to be a day of glory, victory, and prestige for our people and our nation, at the hands of the first servants, with great might."
PA leader Abbas condemns Elad terror attack; Israel extends West Bank, Gaza closure
Palestinian Authority President Mahmoud Abbas condemned the terror attack in Elad that left three Israelis dead on Thursday night, the official PA WAFA news agency reported.

"The killing of Palestinian and Israeli civilians only leads to a further deterioration of the situation, at a time when we all strive to achieve stability and prevent escalation," Abbas said in a statement.

Abbas has long advocated nonviolent resistance and negotiations with Israel rather than organized terrorism, but officials in the PA and his Fatah group have been repeatedly blamed by Israeli governments for inciting violence and terror, and the PA leader has rarely denounced specific acts of terror. Surveys regularly show many Palestinians see "armed struggle" against Israel as legitimate.

During the recent terror wave, however, Abbas has condemned three of the deadliest killing sprees committed by West Bank Palestinians. The string of terror attacks has taken the lives of 19 Israelis and foreigners residing in Israel since mid-March, the deadliest such violence in years.

In his statement late Thursday, Abbas also cited recent tensions at the flashpoint Al-Aqsa Mosque holy site. The mosque, the third holiest place in Islam, lies on the Temple Mount, Judaism's most sacred site as the place of the biblical temples.

The PA leader condemned "the continuous attacks against our people and their Islamic and Christian holy sites which have created an atmosphere of tension and instability."
Abbas is a two-faced liar. This is no 'condemnation' of #Elad attack. As long as he continues to push the Al Aqsa lie and equate Israelis & Palestinians in same breath, he is only inciting further violence.https://t.co/dfbUOmKbuo

— Arsen Ostrovsky (@Ostrov_A) May 6, 2022
I am not sure it's wise to call them "sick, barbaric society", because it implies that up until seeing their celebration we thought they act as "healthy, humane and reasonable" society. If we thought that way, why couldn't Israel make peace with these humane and rational people? https://t.co/s7TauMegjb

— Judea Pearl (@yudapearl) May 6, 2022
Please take a moment to hear what these children are saying. This is the brainwashing of hatred paid for by the countries that fund #unrwa. Until Palestinian children are educated for peace there never will be pic.twitter.com/gYcNBcYWJf

— ??? ??? ???? Fleur Hassan-Nahoum (@FleurHassanN) May 6, 2022
Still can't tell if @KenRoth of @hrw is actually condemning Hamas over #Elad attack or not … https://t.co/XbVCijVLLU

— Arsen Ostrovsky (@Ostrov_A) May 6, 2022
.@SariBashi is the new Program Director at Human Rights Watch, overseeing 271 researchers & associates.

Sari tweets daily on Israel, but only to denounce it.

Sari even found a way to portray Israel's welcoming of Ukrainian refugees in a negative light.

Sari is silent today. https://t.co/w6zegsT3wk

— Hillel Neuer (@HillelNeuer) May 6, 2022
Hi @nytimes, there you go. Fixed it for you! #Elad pic.twitter.com/WFsfqleQm6

— Arsen Ostrovsky (@Ostrov_A) May 6, 2022
We fixed it for you, @BBCNews. pic.twitter.com/XEDD4QRyYS

— StandWithUs (@StandWithUs) May 6, 2022
It seems impossible for the @guardian to give the facts when Israelis are victims & Palestinians are aggressors (never the case when it's the other way round, though). Y'day, Palestinian attackers murdered innocent Israelis in Elad with an axe. WHY is it so HARD to report FACTS? pic.twitter.com/uH3qbMK0Q0

— Ohad Zemet (@OhadZemet) May 6, 2022
@ElonMusk,So actual terrorists @AlftaAlhr07 from proscribed terror group Hamas use Twitter to target me for calling them out for promoting terrorism,inciting murder against Jews which is against Twitter rules &unlawful!https://t.co/xhLgHPjWEA
??Reported @TwitterSupport @IsraelMFA pic.twitter.com/Qy2ZSS9JGC

— Shaun Murray (@BestWebEnglish) May 6, 2022
Snapshot of 'Miss Palestine' Reminds How Images Can Distort Reality of Israeli-Palestinian Conflict
A striking photo is a powerful thing. The right image can change minds, tug at heartstrings, illicit anger, and prompt tears. Pictures are potent; they document our past, keep us apprised about our present, and, sometimes, inform the future.

They can also lie.

Photos have been one of the most effective propaganda tools for those wishing to smear Israel, with such images now frequently "going viral" on social media.

A case in point illustrating this fact came at the end of last year, when a Facebook user posted a black and white image of three women alongside the caption: "Miss Palestine with her two Runners-up in 1947. Very fashionable and celebration without fear!"

It quickly garnered hundreds of likes and shares, while comments included: "The most important thing without fear. Totally different from the time we live in unfortunately," and "The era of ancient history and civilization before its desecration."

However, a reverse image search on Google reveals the shot actually depicts competitors in the Miss Europe pageant in 1930, and that the women are from Russia, Austria, and Holland. The picture was featured on a postcard by Alfred Noyer, a French photographer who worked out of his studio in Paris up until the 1940s.
The Long, Disgusting History of the Al-Aqsa Libel
In 1969, a mentally ill, non-Jewish Australian set fire to Al-Aqsa, damaging the roof. But as late as 2018, an advisor to Palestinian Authority (PA) President Mahmoud Abbas was blaming "a Jewish terrorist of Australian origin," and claiming that Al-Aqsa was "still burning today, as long as the noble sanctuary and the holy city [of Jerusalem] are violated by the Israeli occupation."

Fathi Hazem is a colonel in the PA's security forces. But he is also the father of Ra'ad Fathi Hazem, who was killed by security officers after murdering three Israelis in an April 7 Tel Aviv terror attack. The elder Hazem praised his son as a "martyr," saying, "our people wants [sic] the al-Aqsa mosque …"

During Ramadan, Israeli police repeatedly cleared hundreds of stone-throwing Hamas sympathizers out of Al-Aqsa. They did so to allow tens of thousands of Muslims to pray there. But Palestinian propaganda portrayed the crowd control as proof that Israel threatened the mosque.

On April 17, an imam on the PA's television network offered a Ramadan prayer that included the following: "Allah, delight us with the conquest and liberation of the al-Aqsa mosque. … Allah, delight us with the extermination of the evil Jews."

The TV imam merely echoed President Mahmoud Abbas. He invoked the "Jews endanger Al-Aqsa" libel in an infamous Sept. 16, 2015 speech, broadcast on the PA's TV channel, which helped incite the "knife intifada": "The al-Aqsa [mosque] is ours, the Church of the Holy Sepulcher is ours, and they [Jews] have no right to defile them with their filthy feet. … We bless every drop of blood that is spilled in Jerusalem."

Hamas resorted to the Al-Aqsa lie in starting its 11-day missile war against Israel in 2021, and continues that libel to this day.

That's what the Israeli-Palestinian conflict has always been about; Palestinian leaders incite the murder of Jews and destruction of Israel, and they use lies like the al-Aqsa myth to do it.

When it comes to confidence building, Israel should demand something from Palestinian leaders — adherence finally to their 1990s peace process commitment to end anti-Israeli incitement. They can start by repudiating the "Jews endanger Al-Aqsa" lie.
Controversy in Canada over resident's alleged Palestinian terrorism ties
The status of a man living in Canada alleged to be a senior member of the Popular Front for the Liberation of Palestine terrorist organization has become the topic of concern for the Canadian Jewish community and the subject of debate in the Canadian Senate after an exposé by The National Post.

Khalid Barakat, who resides in Vancouver, has been named by Israeli intelligence services as a leader of the PFLP, the Post's Terry Glavin reported. Barakat has also been described as such by Palestinian news outlets, and at times, on the PFLP website. Supporters assert that he is a maligned Palestinian rights activist.

Debate in Canada's senate
"Khalid Barakat has been barred from the United States, he has been barred from Germany, yet the Trudeau government still allows this individual to remain in Canada, despite a Canadian law that forbids any individual with connections to terrorist organizations from entering our country or receiving Canadian Citizenship," said Sen. Leo Housakos in a debate with Sen. Marc Gold, the representative of the government in the Senate. "Why does your government allow him to remain in the country?"

According to Glavin, Barakat has been banned from Germany.

"I'm very aware of the person you described and the story that appeared in the press," said Gold, who is Jewish and heavily involved in Jewish and Israeli Canadian affairs. "I cannot comment on specific cases such as the one you identified. But everyone who may be ordered to be removed remains entitled under our system of justice to due process before the law and are subject to many levels of review and appeal."
Ahmad Warasneh, who was held in a Palestinian Authority detention center near Hebron, has died. He was transferred to hospital on Tuesday night and pronounced dead on Friday. pic.twitter.com/3dSR1ydy3e

— Khaled Abu Toameh (@KhaledAbuToameh) May 6, 2022
Senior Hamas Official Khalil Al-Hayya in Tehran: The Path to Victory Is Marked by the Blood of Martyrs; We Do Not Fear Death #Iran #Hamas #terrorism pic.twitter.com/mWQZF8a5fI

— MEMRI (@MEMRIReports) May 6, 2022
We are horrified to see your employee engage in obscene Holocaust denial on LinkedIn @RoyalJordanian pic.twitter.com/OuaO0vdafZ

— StopAntisemitism (@StopAntisemites) May 6, 2022
Swedish Man Detained in Iran as Relations Sour Over War Crimes Trial
A Swedish man has been detained in Iran, the Swedish foreign ministry said on Friday, just days after it advised against unnecessary travel to Iran, citing a deteriorating security situation.

Relations between Sweden and Iran are tense after Sweden detained and put on trial a former Iranian official on charges of war crimes for the mass execution and torture of political prisoners at an Iranian prison in the 1980s.

The trial, condemned by Iran, ended on Wednesday and the verdict is due in July.

"We are aware that a Swedish citizen, a man in his 30s, has recently been detained in Iran. The embassy in Tehran is seeking information on the case and is in contact with local authorities," the Swedish Foreign ministry said in an e-mailed statement, offering no further details.

According to Swedish daily Aftonbladet, citing unnamed sources, the man is a tourist traveling with other Swedes and was detained after a few days vacation.

There was no report of any such arrest on Iran's media and Iranian officials could not be immediately reached for comment on Friday, which is the weekend in the country.

Sweden amended its travel advice for Iran on April 28 as the trial of Hamid Noury, 61, was drawing to a close. Noury is accused of having played a leading role in the executions of political prisoners on government orders at the Gohardasht prison in Karaj, Iran, in 1988. He has denied the charges.

On Monday, Iran's foreign ministry summoned the Swedish envoy to protest "the baseless and fabricated accusations that the Swedish prosecutor made against Iran during Noury's court case," Iranian media reported.
Senior IRGC General Mohammad-Reza Naghdi: Even Israel's PM Is Concerned Israel Won't Last Longer than 80 Years; Israelis Are Besieged by Mujahideen, Would Be Wise to Pack Up and Leave; Some Have Already Bought Land in Latin America #Iran #IRGC #Antisemitism pic.twitter.com/Mvu4nGKSnn

— MEMRI (@MEMRIReports) May 6, 2022
---
---
Buy the EoZ book, PROTOCOLS: Exposing Modern Antisemitism today at Amazon!

Or order from your favorite bookseller, using ISBN 9798985708424.

Read all about it here!