From Ian:
Why we haven't solved antisemitism yet
November 9, 1938, anti-Jewish demonstrations broke out across Germany, Austria, and the Sudetenland region of then-Czechoslovakia. Over the next 48 hours, about 7,500 Jewish-owned businesses, homes and schools were destroyed. Ninety-one Jews were murdered, with another 30,000 Jewish men arrested and sent to concentration camps. The Jews were officially blamed for their own victimization and German Jews were fined one billion reichsmarks (today that would be worth over $7 billion) for the riot that rose up against them.

Kristallnacht ("The Night of Broken Glass"), the night when anti-Jewish rhetoric turned into state-sanctioned action that would culminate with the Holocaust, was over eighty years ago, yet Jews all over the world are still living with the reality – and the increasing prevalence – of violence against them for the sole reason of who they are.

The United States is unique in the world for recognizing the moral responsibility to respond to the rise in antisemitism. Yet President Joe Biden's nominee to The Office of the Special Envoy to Monitor and Combat Anti-Semitism, Holocaust scholar Deborah Lipstadt, has still not gotten her confirmation hearing. The reason: political rancor over determining the country's self-proclaimed identity.

The "Jewish question" was first asked in the 19th and 20th centuries as countries began debating what defined them as nations, and it is still the question that undergirds national identity. What to do about the Jew in society is just another way a society asks, "How do we define ourselves?" It is the leitmotif of the modern world's life story.

The Jewish question always demands a reason for the Jew – since a Jew's very being says something about everyone else. The very begging of the Jewish question reveals the structural antisemitism that pervades western society.
'Anti-Zionism is Antisemitism,' Head of ADL Declares in Speech to Summit Combating Hate and Discrimination
The head of the Anti-Defamation League (ADL) will warn in a speech on Tuesday night that a belief is taking hold on the political left "that all Jews are oppressors — part of a white establishment that has exploited racial and ethnic minorities for generations."

In his address to be delivered later to the ADL's three-day "Never is Now" annual summit, the organization's CEO, Jonathan Greenblatt, said that such views represented an "ugly form of historical revisionism" that would "come as a big surprise to my grandparents who fled Europe for their lives — only to come to this country and experience discrimination. Or to Iranian or Ethiopian Jews who came more recently but also seeking refuge from vicious persecution. Or to the more than half of Israeli Jews who aren't of European descent."

Greenblatt's speech, a copy of which was shared with The Algemeiner in advance, sounded the alarm on antisemitism on both left and right. Comparing the rise of antisemitism to the global environmental crisis, Greenblatt quoted the observation of a German anti-racist activist who told him that far-right antisemitism was reminiscent of devastating weather events like hurricanes, whereas antisemitism on the left was akin to the gradual change in climate.

"Slowly and surely, the temperature is increasing," Greenblatt said. "Often people don't perceive the shift or choose to ignore it even when there are once uncommon storms. But the environment is becoming more hostile, and the conditions threaten to upend life as we know it if we sit back and do nothing."

Addressing the widespread hostility on the left to Israel and Zionism, Greenblatt said, "Don't get me wrong: there certainly are things that the Israeli government has done that deserve rebuke. But, criticizing the actions of a government is categorically different than deeming it illegitimate because of wildly inaccurate claims that it is instituting 'apartheid' or leading a 'genocide.'"
StandWithUs:
Launches Website Exposing Corporate Antisemitism
StandWithUs is proud to announce the launch of a website dedicated to exposing corporations that are complicit in discrimination and hatred against the Jewish people. The site is located at www.corporatehate.com

"Corporations are among the most powerful and influential forces in the world today, and it is crucially important to hold them accountable when they promote or enable antisemitism," said Roz Rothstein, CEO of StandWithUs. "An initial focus of this effort is Unilever, a multinational corporation which owns Ben & Jerry's and is complicit in a discriminatory boycott targeting Israelis. In the face of ample evidence that Unilever's actions empower extremists who oppose Israel's existence, and despite multiple requests that Unilever reverse course, the company has refused to do so."

The new website includes a video explaining how Unilever is enabling antisemitism, along with additional resources about the company. It also exposes the corporate sponsors of a non-profit called Slow Factory, which has repeatedly promoted antisemitic rhetoric and double standards. Additional corporations will be added to the site as appropriate.

Corporate antisemitism exists when a corporation or business promotes or enables hatred and discrimination against Jews, individually or as a group. StandWithUs uses the IHRA Working Definition of Antisemitism, which is the internationally accepted standard, to determine whether a corporation falls into this category. Corporate antisemitism is not new and has taken many forms. Henry Ford, who founded the Ford Motor Company in 1903, was one of the most prominent sources of anti-Jewish propaganda in the United States. Volkswagen, a company established under Nazi rule in Germany, used Jews to do forced labor in its factories and operated four concentration camps and eight forced-labor camps on its property (it has since taken significant steps to atone for this history). In the 1970s and 1980s, numerous Japanese car companies and other corporations refused to do business in Israel because they were afraid of economic punishment from the Arab League. The Arab League was engaged in a boycott of Israel, aimed at destroying the one Jewish state in the world.
Arab, Israeli, and Proud
Yoseph Haddad has served in the Israeli Defense Forces. He's also an Arab. Why would an Arab volunteer to join the Israeli military? If Israel really is an apartheid state, why would Haddad be proud to defend it? He explains. (h/t NormanF )
Melanie Phillips:
The unconscious historical experience of the Royal Court theatre
In 2009, the theatre put on Caryl Churchill's ten-minute playlet, Seven Jewish Children. Ostensibly a reaction to an Israeli military strike on Gaza a few months previously, it was actually an attack on Judaism and the Jews.

This vicious diatribe accused the Jews of inflicting upon others, through the State of Israel, the exterminatory treatment that had been meted out to them during the Holocaust.

It presented Israeli Jews as monsters who killed Palestinian Arab babies intentionally:
Tell her we killed the babies by mistake. Don't tell her anything about the army.

And it rooted this psychopathic trait in Judaism itself with a key reference to the "chosen people". Written as a kind of litany, it went on:
Tell her there's dead babies, did she see babies? Tell her she's got nothing to be ashamed of. Tell her they did it to themselves. Tell her they want their children killed to make people sorry for them, tell her I'm not sorry for them, tell her not to be sorry for them, tell her we're the ones to be sorry for, tell her they can't talk suffering to us.

Tell her we're the iron fist now, tell her it's the fog of war, tell her we won't stop killing them till we're safe, tell her I laughed when I saw the dead policemen, tell her they're animals living in rubble now, tell her I wouldn't care if we wiped them out, the world would hate us is the only thing, tell her I don't care if the world hates us, tell her we're better haters, tell her we're chosen people, tell her I look at one of their children covered in blood and what do I feel? Tell her all I feel is happy it's not her. Don't tell her that.

In the Middle Ages, "mystery plays" which portrayed the Jews as the demonic killers of Christ helped fuel the murderous pogroms against the Jews of Europe. With Seven Jewish Children, I wrote in my Spectator blog at the time, the Royal Court was staging a modern "mystery play".

But hey, it must have been just another case of "unconscious bias".

Clearly, the Royal Court theatre is subject to unconscious historical experience.
Animation Studio, Young Zionist Group, Digital Comedy Series Among Winners of Funds From Jewish Group to Fight Antisemitism
Five new projects developed by young American Jews have each received a $10,000 award from the American Jewish Committee to fight antisemitism in new and innovative ways.

The projects, which include an animation studio, a digital comedy series, and a new activist group for young Zionists, received the award from the AJC's Disrupt Antisemitism initiative, which the organization calls "the first incubator to fund innovative ideas by young American Jews to combat antisemitism."

Each of the winners will receive a $10,000 grant and access to AJC resources. They include Olive Branch Pictures, which uses animation and graphic novels to bring Israelis and Palestinians together; Uri L'Tzedek, an Orthodox group that deals with issues of social justice and fighting antisemitism within the progressive movement; and the Inter-Community Youth Initiative, which seeks to foster understanding and combat antisemitism through interactions between Jewish and non-Jewish high school students.

AJC also selected Jew or False, a satirical news show that uses comedy to attack antisemitism and promote Jewish pride; and the New Zionist Congress, a group that seeks to promote Zionism and oppose antisemitism in youth movements and spaces.

"Bold new ideas are critical to combat the growing threats to Jews in the US," Meggie Wyschogrod Fredman, the director of AJC's Alexander Young Leadership Department, said in a statement. "The creative thinking of Jewish innovators will help the rising generation of American Jews lead us in fighting hate."
Austria communist party rejects BDS, recalls Nazi boycott of Jews
One of the world's oldest communist parties bucked the hard-left pro-boycott Israel trend, declaring in October its opposition to the Boycott, Divestment and Sanctions campaign targeting the Jewish state.

"Israel's right to exist is inviolable for the KPÖ [Communist Party of Austria]. A boycott of Israeli goods – as demanded by the BDS campaign – recalls, against the background of German-Austrian history, the disgusting 'do not buy from Jews' propaganda of the Nazis,… [and] is deeply rejected," wrote the Austrian communist party for the state Styria.

The party's answer came in response to thirty questions submitted by politician Kurt Hohensinner from the Austrian People's Party in Graz, the capital of Styria.

"Because of different statements, there was always repeated irritation between representatives of the KPÖ and the Jewish community. Where do you stand with respect to the BDS movement? Where do you stand with respect to Israel's right to exist?"

The Austrian People's Party sent the questionnaire to the communists to gauge whether the parties could cooperate on city policy and lawmaking. The conservative Austrian People's Party classified BDS as antisemitic in a federal parliamentary vote in 2020.

Germany's federal parliament declared BDS an antisemitic campaign in 2019. A year later, the Austrian federal parliament voted unanimously that BDS is antisemitic.
SFSU Faculty Panel Said Overruled in Finding for Scholar Who Was Denied Platform for Event With Palestinian Terrorist
San Francisco State University has reportedly rejected a faculty panel's ruling that the school violated the academic freedom of Professor Rabab Abdulhadi, whose 2020 seminar was cut off for featuring a speaker affiliated with a Palestinian terrorist group, according to a group advocating on the scholar's behalf.

In October, the three-member Faculty Hearing Committee upheld a grievance filed by Abdulhadi, ruling that the university violated her academic freedom by "not providing adequate support" as the planned seminar was shut down over the participation of Leila Khaled, an affiliate of the Popular Front for the Liberation of Palestine (PFLP). As a member of PFLP, US-designated foreign terrorist organization, Khaled hijacked a Tel Aviv-bound commercial flight in 1969.

The online seminar, titled "Whose Narratives?, Gender, Justice, and Resistance," briefly streamed live on YouTube in Sept. 2020 before the service provider cut its feed, and was previously denied a platform by both Zoom and Facebook.

In an Oct. 14 ruling, the panel called on SFSU to issue a public apology to Professor Abdulhadi, issue a "public letter of support of faculty with regards to academic freedom," and provide a site for rescheduling the event.

On Thursday, the International Campaign to Defend Professor Rabab Abdulhadi claimed in a press release that SFSU President Lynn Mahoney had overruled the panel decision, and said an arbitration hearing to resolve the scholar's grievance would follow. "President Mahoney's decision upholds University's corporatized acceptance of Big Tech's increasing control over academic discussion and its complicity with Zionist organizations that stifles all discourse on issues of human rights and dignity for the Palestinian people," the group charged.

A San Francisco State University spokesperson did not immediately confirm the administration's decision on Monday, but told The Algemeiner that the school was "deeply committed" to the College of Ethnic Studies, where Abdulhadi teaches.
Branding American Jews as War Criminals: The Campaign to Ostracize American Jewry
At a recent event on October 29, a number of student groups at the City University of New York (CUNY) laid out their ongoing campaign that purportedly targets the tax-exempt status of a number of Jewish nonprofits — such as the Jewish National Fund (JNF), the Hebron Fund, and Regavim.

However, the mask quickly came off, as panelists revealed their ultimate aim: to demonize and ostracize proud American Jews.

The event was moderated by Students for Justice in Palestine (SJP) CUNY Law member Nerdeen Kiswani. Among the panelists was Suzanne Adely, president of the Marxist and anti-Israel National Lawyers Guild; Missy Risser-Lovings, a CUNY Law professor; and Abdallah Maraka and Sami Hurani, respectively from the anti-Israel groups Christian Peacemaker Teams and Youth of Sumud.

Vitriol and a complete break from objective reality characterized the meeting.

For example, Huraini and Maraka each made a number of statements suggesting they view Jews celebrating holidays and visiting their religious sites as problematic. Maraka, based in Hebron, even lamented the presence of American Jews in the Jewish "settlement" of Hebron (though he conveniently forgot to mention that Hebron was ethnically cleansed of its longstanding Jewish population decades before).

At one point, Adely, referencing a terrorist organization — the Popular Front for the Liberation of Palestine (PFLP) — stated: "There's nothing criminal about Palestinian resistance. And that's what we need to normalize, as well." Baseless accusations of "genocide" and "apartheid" were also frequent.

At first glance, the participants just don't seem to be very bright legal minds.

At one point, Adely claimed "[the Jewish organizations] are using their 501(c)(3) status as a cover for, basically, to commit war crimes." Even under the most generous, strained anti-Israel interpretation of an already stretched Rome Statute, it's silly to suggest private citizens and nonprofits are the ones committing "war crimes."
Haha. Folks are mad cuz we spy on terror groups. Hi nice to meet you. https://t.co/luFs6XuIPe

— The Mossad: The Social Media Account (@TheMossadIL) November 8, 2021
This is like the 5th post on NSO by @KenRoth today. It's as if he gets a high, every time he can insert and attack Israel. Man truly ravaged by Jew hatred to the core! https://t.co/Pq5E6RjpZB

— Arsen Ostrovsky (@Ostrov_A) November 9, 2021
HonestReporting's Work Exposes Antisemites, Prompts Apology From Twitter Employee & Garners 100+ Media Citations
HonestReporting's efforts to ensure that international media outlets report on issues pertaining to Israel fairly and accurately continue to be more critical than ever. And we are proud to share that over the past two months our work again produced a significant impact, including exposing biased journalists, prompting major news organizations to correct numerous falsities and getting shared far and wide.

Between August 29, the release date of our previous impact report, and November 8, we published 40 in-depth news critiques, 15 educational articles and 14 videos. Furthermore, our work was cited some 100 times by widely-read English-language media outlets.

Concurrently, HonestReporting is constantly reaching new audiences through social media, being mentioned some 11,000 times during the above-mentioned period by Twitter users alone.

Jewish groups demand resignation of Twitter Middle East news director after anti-Israel tweets resurfacehttps://t.co/ml1Ad79uh8

— Fox News (@FoxNews) November 8, 2021

Just last week, we induced an apology from Fadah Jassem, Twitter's new Editorial Curation Lead for the Middle East and North Africa (MENA).

Jassem, who worked as a journalist for Al-Jazeera, in a tweet announcing her hiring had included the flags of 16 countries in the MENA region, as well as the Palestinian banner.

Conspicuously absent, however, was the Israeli flag.

Jassem's unsavory social media history quickly came to light, perhaps foremost that she had disseminated a tweet declaring that Israel was "not born" but, rather, "dropped like a bomb in the middle of Palestine."

In 2010, she seemingly cited notorious Jew-hater and Nation of Islam leader Louis Farrakhan as saying that, "we give you our tax dollar to support Israel every year."
Armchair activism at its finest.

I wouldn't expect anything less from this coward angrily tweeting from his Israeli developed technology in New York City ?? pic.twitter.com/KuQkWGzmfS

— Emily Schrader - ????? ?????? (@emilykschrader) November 9, 2021
BBC's Bateman gets Gaza water shortage right for a change
The BBC News website's live page has been dominated by the COP26 UN climate conference in recent days. One of the items which appeared on that page on November 3rd was also posted in the 'updates' section of the 'Middle East' page.

As we see, the BBC Jerusalem bureau's Tom Bateman correctly states that the coastal aquifer is polluted "because over-pumping causes Mediterranean seawater to flood in". Subsequently readers encounter the apparently reflexive use of the word "blockaded" even though it has nothing to do with the item's topic.

"Meanwhile, Dajni walks to a grocery store where he spends up to £35 ($47) per month to fill a can with clean water from filtration and desalination plants in the blockaded strip."

BBC audiences have in the past been erroneously but repeatedly led to believe that there is a connection between the counter-terrorism measures imposed by Israel and Egypt on the Gaza Strip since its violent take-over by Hamas in 2007 and the shortage of clean drinking water there.
Dutch Entrepreneur Resigns From Right-Wing Broadcaster After Virulent Antisemitism Exposed
The chairman of a much-heralded right-wing broadcaster in the Netherlands has resigned amid a scandal over virulently antisemitic remarks he made on behalf of a far-right policy foundation that traffics in Holocaust denial and other conspiracy theories centered on Jews.

Taco Dankers, 56, resigned last Wednesday as chairman of the supervisory board of Ongehoord Nederland (ON!) — a right-wing channel that is scheduled to become part of the Dutch public broadcasting system in Jan. 2022.

Ongehoord Nederland, which means "Unheard Dutch," bills itself as the voice of those Dutch citizens wary of the European Union, opposed to mass immigration, and committed to retaining controversial elements of Dutch culture such as "Zwarte Piet" — a Black "helper" to Santa Claus who appears during the Christmas holiday, when many white Dutch people don "blackface" to celebrate a tradition that has been widely slammed as racist.

An investigative report published last week by the Dutch news outlet NRC noted that Dankers, a successful IT entrepreneur, had maintained a steady rightward political drift since 2012.

In 2015, Dankers was one of the founders of Gefira, an erstwhile think-tank has actively promoted antisemitic conspiracy theories under the guise of concern about mass migration from the Middle East, Africa and Asia into Europe.
Given the amount of horrendous #antisemitism on Tiktok, to claim Tiktok is biased towards Israel is *almost* comical. This absurdity represents one person from #Iraq who even from her quotes has a clear bias against #Israel in the first place. I call BS. https://t.co/zqYpcEkMK5

— Emily Schrader - ????? ?????? (@emilykschrader) November 9, 2021
MEMRI:
Antisemitic Imams In American Mosques
In Islam, imams serve not only as prayer and faith leaders, but as pillars of the Muslim community. They have the ability to inspire their community members and to shape their religious outlook. Thus, speeches and statements made by American imams may provide valuable insight into what they preach to the members of their communities.

To explore the views preached by imams in the United States, I used the rich archives of the Middle East Media Research Institute (MEMRI) – which contain over 300 sermons and speeches made by imams and Islamic figures in the West – to collect a sample of statements made by Islamic scholars and imams in America. As it turns out, these imams' statements make it evident that antisemitism – often in the form of anti-Zionism or anti-Israel sentiment – is very present in some of America's mosques, and this might reflect a worrying reality about the presence of antisemitism in some of America's Muslim communities.

In this article, I shall present some of the themes I have found in statements made by American imams and Islamic scholars, and I shall give an example of each theme.[1]

Palestine As An Islamic Waqf – Imam Hasan Sabri
In his Friday sermon of October 12, 2018, at the Islamic Center of South Florida (ICOSF) in Pompano Beach, Imam Hasan Sabri spoke about Palestine as an Islamic waqf:[2]

"Palestine in its entirety is Islamic land, and there is no difference between what was occupied in 1948 and 1967. There is no difference between this village or that village, this city or that city. All of it is Islamic waqf land that was occupied by force."

Imam Sabri's reference to Palestine as an Islamic waqf is reminiscent of the Charter of the Islamic Resistance Movement (Hamas):[3]

"The Islamic Resistance Movement believes that the land of Palestine has been an Islamic Waqf throughout the generations and until the Day of Resurrection, no one can renounce it or part of it, or abandon it or part of it... Palestine is an Islamic Waqf throughout all generations and to the Day [of] Resurrection."

The Bureau of Counterterrorism at the United States Department of State designated Hamas as a Foreign Terrorist Organization (FTO) in 1997.[4]
Museums unite to fight near record levels of antisemitism
Last month, at the Auschwitz concentration camp complex, a series of English messages were sprayed onto buildings that—only 80 years ago—held some of the circa 960,000 Jewish prisoners on their way to the gas chambers. The graffiti claimed the Holocaust never took place.

In May of this year, swastikas were sprayed or glued onto the Florida Holocaust Museum, the Alaska Jewish Museum and the Oregon Holocaust Memorial. In March, a news investigation by the Guardian newspaper found a series of antisemitic messages on the reviews section of a Google search for the Auschwitz Memorial, some published almost a decade ago. In February, at the Sherwin Miller Museum of Jewish Art in Tulsa, Oklahoma, five statues dedicated to Jewish children killed during the Holocaust were destroyed.

According to the Anti-Defamation League's 2020 audit, antisemitism remains at a near all-time high in the US.

"Antisemitic vandalism has defiled and defaced museums and sites of memory in the US repeatedly over the past six months," says Michael Glickman, the founder of the American arts philanthropist organisation jMuse and the former president of the Museum for Jewish Heritage in New York.

"We can no longer afford to ignore such signs of hate. We must insist Jewish communities are safe and empowered to create public spaces where people of all backgrounds can gather, learn and remember."

What can museums and archives do to achieve this, and to counteract such modern, endemic and commonplace forms of racial and ethnic hatred towards Jewish people? This question formed the basis of a symposium, "Confronting Antisemitism: Activating Archives, Libraries, and Museums in the Fight Against Antisemitism", at the Centre for Jewish History in New York on 17 October.

The event was organised by Glickman and included contributions from the presidents of Princeton and Harvard Universities and the Library of Congress, as well as multiple leaders from public institutions around the world including the Polin Museum of the History of Polish Jews in Warsaw, the National Library of Israel and the New York Historical Society.
Eco mob compare not acting on climate change to NAZIS and #Holocaust https://t.co/EZ7rw49pLh via @MailOnline

— Eye On Antisemitism (@AntisemitismEye) November 8, 2021
SICKENING - footage from a Boca Raton, FL High School (Olympic Heights) party shows a student dressed in a Nazi SS uniform and his fellow classmates yelling "Sieg Heil" while performing Nazi salutes towards him. pic.twitter.com/7TJI2jtN9S

— StopAntisemitism.org (@StopAntisemites) November 9, 2021
Ford taps Israeli water-from-air firm Watergen for in-vehicle drinking water
US carmaker Ford is partnering with Israeli water-from-air tech company Watergen to deliver a built-in drinking water generator in the automotive giant's adventure and recreational vehicles.

The announcement was made on Tuesday in Tel Aviv on the sidelines of the Smart Mobility Summit 2021, an annual conference for the transportation sector organized by the Smart Mobility Initiative, a unit of the Prime Minister's Office that promotes smart mobility solutions.

Founded in 2009, Watergen has developed a patented technology that enables cost-effective, low-energy generation of clean drinking water from air, using a series of filters. After the air is sucked in and chilled to extract its humidity, the water that forms is treated and transformed into clean drinking water. The technology uses a plastic heat exchanger rather than an aluminum one, which helps reduce costs; it also includes proprietary software that operates the devices.

The company, headed by Russian-Israeli billionaire Mikhail Mirilashvili, has a number of products already on the market including large- and medium-scale generators that the company says can produce between 220 and 6,000 liters of water per day, depending on the generator, as well as an at-home device that can produce 25-30 liters of water per day. Watergen also developed generators for the automotive market including the Watergen Onboard which can generate up to 50 liters of water per day and can be installed in motorhomes, RVs, caravans, trucks, and buses, and the WaterGen Mobile Box, a portable, lightweight generator that can make up to 20 liters of fresh drinking water a day.
13 Israeli plays set to debut internationally, online
Israeli theater continues to serve as a cultural ambassador for the nation, and on Nov. 17, a four-day event co-sponsored by the Culture and Sports Ministry and the Foreign Ministry will see the curtain go up on 13 Israeli plays that will debut internationally in an online format.

Of the 100 plays submitted to the committee in charge of making the selections for iSRA-DRaMA – International Exposure of Israeli Theatre 2021, 13 were selected.

The event will also include various online meetings and discussions about issues such as the burgeoning trend of theater versions of productions that started as other media; works focusing on fluidity of the concepts "masculine" and "feminine"; gender issues in the #MeToo age; and Israeli plays that saw success around the world.

The festival will launch with a special session titled TRANS-FORMANCE, in which author A.B. Yehoshua, Director-General of Habima Theater Noam Semel, Sapir Prize winner Noa Yedlin, singer and conductor David Zebba; director Yair Sherman, and actor and director Dr. Roy Horowitz are slated to participate.

This year, special emphasis will be placed on women creators in theater, such as Aya Kaplan, Rotem Volk, Daphna Silberg, Shirli Deshe, Michal Savironi, Yael Rasoli, Maayan Kilchevsky, Tali Hecht, Hadar Galron, Noga Ashkenazi, and the late Nava Semel.
Israeli Medical Delegation Arrives in Romania to Aid With Worsening COVID-19 Crisis
An Israeli emergency medical delegation arrived in Romania on Sunday night to help the country contain the fourth wave of the COVID-19 pandemic.

"Romania is going through a difficult period," said David Saranga, Israel's Ambassador to Romania. "The team of COVID-19 intensive care and logistics experts will share Israel's experience in coping with the coronavirus. The delegation will be ready to go wherever is needed in Romania, to come to the aid of the medical staff and provide them with guidance."

Israel has been among the leaders of the global COVID-19 vaccination drive, including through its rollout of a booster dose received by almost four million Israelis so far. As a result, the country has recently seen its active coronavirus cases drop to their lowest level in three months. At the end of October, Israel reported 41 percent fewer cases per day — the biggest reduction in coronavirus morbidity anywhere in the world, according to global trackers.

The five-member Israeli delegation is headed by Dr. Rami Sagi, deputy head of the hospitals division at the Israeli Ministry of Health.

The team arrived after a shipment of oxygen generators donated by Israel was sent to Romania last week through Jerusalem's embassy in Bucharest. The shipment is part of a humanitarian aid package for Romania from the Israeli government and private sector, with the oxygen tanks donated by Elbit Systems and Effi Europe.
Woman Who Lost Brother in Surfside Building Collapse Runs NYC Marathon Alongside IDF Soldier From Rescue Mission
The 50th annual New York City marathon on Sunday brought together a woman whose brother died in the July collapse of a Surfside, Florida condominium and a member of an Israel Defense Forces' team who took part in the recovery effort, CBS reported.

Micaela Naibryf and Amnon Leibowitz crossed the finish line side by side after pledging to run in the marathon in memory of Nabibryf's brother Ilan, who was staying in the Champlain Towers South condominium to attend the funeral of a friend's father. Leibowitz also ran on behalf of first responders around the world.

The two friends trained together for the marathon from a distance, with Naibryf in Chicago and Leibowitz in Israel. Naibryf ran on Sunday wearing shoelaces from a pair of shoes given to her by Ilan, while both runners wore matching shirts designed by Leibowitz's daughter.

Naibryf and Leibowitz met days after the collapse of the high-rise condo building near Miami Beach, which killed 98 people. Leibowitz was a member of the IDF National Rescue Unit that traveled to Florida to help victims trapped under the rubble of the collapsed building.

"I think we kind of just clicked, we were speaking the same language," Naibryf told the outlet. "We're both engineers … we're both, I think, very logical, and I think that's how we first started to bond."

Leibowitz, a structural engineer and lieutenant colonel with the Israeli Home Front Command, has been a part of rescue and recovery missions around the world for more than 20 years. He told CBS he had never spoken to family members of the missing until meeting Naibryf.
Kanye West praises kibbutzim, receives invitation from kibbutz movement
Kanye West's trips to Israel clearly left a mark on the rap superstar.

In a wide-ranging podcast interview released Friday, West — who recently changed his legal name to Ye — said he thinks Christians should form kibbutz communities, modeled off the Jewish versions, to help foster a sense of togetherness.

"We need Christian kibbutz, we can have communities," West said on the "Drink Champs" hip-hop podcast.

He had to clarify the term to co-hosts N.O.R.E., a rapper, and DJ EFN, a record executive.

"Jewish people have this type of circular community… it's like where they live, and where we need to live, where the grandparents can take care of the kids," he said. "It's better to have a grandparent taking care of the kids than a nanny taking care of kids — hired love. You get what I'm saying? That we move as a community, and as a community, we will not fail."

It isn't clear if West has ever visited a kibbutz, the collectively-owned community format that Jews pioneered even before the establishment of the State of Israel. But the rapper and Kim Kardashian, who is seeking a divorce from him, have visited Israel several times. In 2015, when West performed near Tel Aviv, the couple visited Jerusalem to baptize their daughter in an Armenian church in the Old City.
Yo kanye, strip clubs are out of the question, but you are more than welcome to drop by and visit our kibbutzim here in the holy land.@kanyewest pic.twitter.com/VstbyhcosP

— ?????? ???????? (@KibbutzMov) November 7, 2021
How Lachish fell: Study reconstructs Assyrian onslaught almost 3,000 years ago
Israeli and American archaeologists say they have managed to reconstruct how the Assyrian army may have built a massive ramp to breach the Judean city of Lachish in 701 BCE, deepening their understanding of the Iron Age power's military prowess as it conquered almost the entire Kingdom of Judah.

Using a wide variety of sources and data, the study concluded that the Assyrians, led by King Sennacherib, likely collected three million stones from a quarry near the hilltop city overlooking the Judean plain. In an exceptionally orderly process, the army constructed a huge siege ramp that allowed battering rams to be transported up to the city's defenses, breaching the walls and resulting in the city's complete destruction.

The siege ramp in Lachish is the biggest surviving siege ramp in the Near East, and the only surviving Assyrian siege ramp.

The study, published last month in the Oxford Journal of Archaeology, was led by Professor Yosef Garfinkel and Dr. Madeleine Mumcuoglu of the Institute of Archaeology at the Hebrew University of Jerusalem, and Professors Jon W. Carroll and Michael Pytlik of Oakland University.

They drew on extensive data that includes biblical texts, stone reliefs depicting Assyrian battle scenes, Akkadian inscriptions, archaeological excavations and photogrammetric analysis of aerial drone photographs that created a detailed digital map of the area's landscape.

The resulting analysis was hailed Tuesday by the Hebrew University as "a practical model that accounts for all available information about that battle."
Israel Commemorates 83 years Since Kristallnacht
Israel is preparing to commemorate the 83rd anniversary of Kristallnacht, the Night of Broken Glass, a pogrom that targeted Jews in a series of attacks throughout Germany and Austria on the night of November 9, 1938.

During the pogrom, synagogues were heavily damaged and thousands of Jewish-owned businesses were destroyed. Estimates of the fatalities during the attacks vary - with low figures citing around 90 deaths - and as many as 30,000 Jewish men were arrested.

To commemorate Kristallnacht, International March of the Living, a Holocaust education program, launched an initiative known as Let There Be Light.

The movement encourages people and places of worship to leave their lights on during the night of November 9 to show solidarity with victims of hate.

"Over the last year we have witnessed a frightening rise of global antisemitic rhetoric and events," International March of the Living President Phyllis Greenberg Heideman explained on the movement's website.

"As the torchbearer of memory, the March of the Living's mission is to remind the world what happens when antisemitism is left unchecked."

"The 'Let There Be Light' initiative unites the world, if even for a single moment, against antisemitism, hatred, and racism in all its forms. Our educational mission is today more necessary than ever."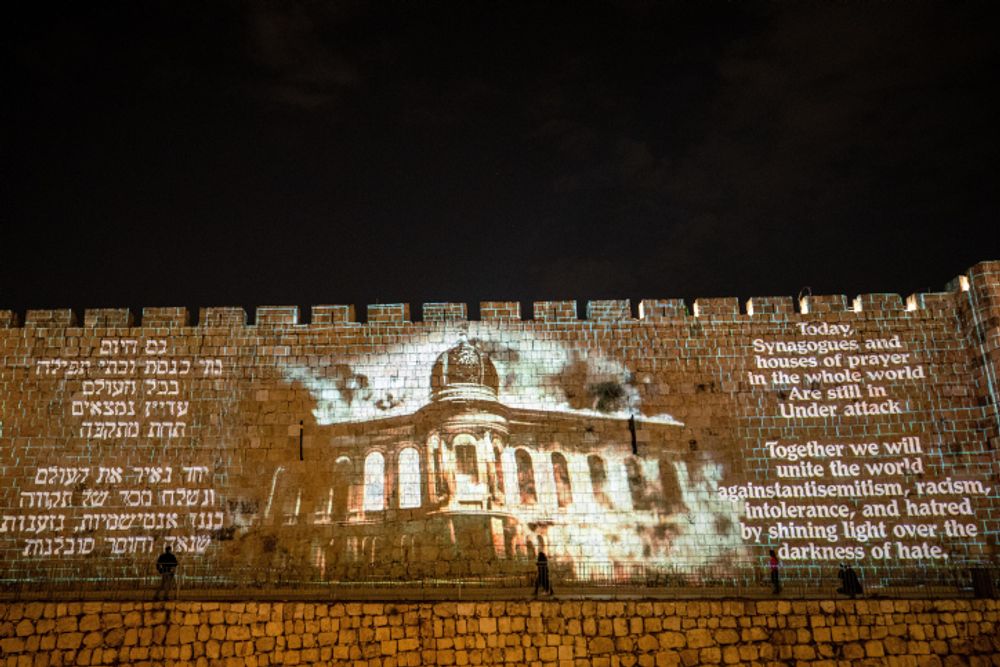 Tomorrow marks the anniversary of Kristallnacht, the "Night of Broken Glass," where violence against Jews erupted in Germany and Austria on November 9-10, 1938. Ninety-one Jews were murdered, more than 1,400 synagogues were torched (1) pic.twitter.com/dGxR4KSP0K

— Eye On Antisemitism (@AntisemitismEye) November 8, 2021
European lawmakers commemorate Kristallnacht at Auschwitz ceremony
A delegation of European lawmakers and Jewish communal figures commemorated the 83rd anniversary of Kristallnacht during a ceremony at Auschwitz on Tuesday, calling for enduring memory and education to counter the forces of hatred.

Capping off a conference on antisemitism organized by the European Jewish Association, the delegation — including representatives of more than two dozen countries — held a short candelighting ceremony at the Birkenau section of the notorious concentration camp, before laying wreaths at the "death wall" where thousands of Auschwitz inmates were killed by firing squad.

"On this day exactly 83 years ago, hundreds of Jews were murdered, fathers, mothers, children, by my countrymen, in my country," said Stefanie Hubig, the education minister for the German state of Rhineland-Palatinate, during the ceremony. "Synagogues and prayer houses were set on fire, Jewish cemeteries were devastated. Countless people were arrested and deported to Nazi concentration camps."

Kristallnacht, the night of broken glass, is seen as one of the key events heralding the outbreak of the Holocaust. In Jewish communities across Germany, Nazi forces as well as German civilians attacked synagogues and other Jewish-owned buildings, smashing their windows, burning them to the ground, killing hundreds of Jews and arresting thousands more.

The events of Kristallnacht, said Hubig, "showed the world the depths to which Germany was sinking." And ever since, "from generation to generation, we must counter those who try to deny or to distort what happened here, or those who call for an end to remembrance. Germans cannot cease to remember. Because the facts of history leave no doubt whatsoever."
#OTD, 83 years ago: Kristallnacht.

Words have meaning, and have a very real effect on the world.

It is our duty to remember, and to stand up to hate speech, propaganda and lies. pic.twitter.com/DVvGGheR2s

— HonestReporting (@HonestReporting) November 9, 2021