From Ian:
UK to designate entire Hamas a terror group, outlaw support
The United Kingdom will designate Hamas as a terror organization on Friday and outlaw support for the group, with violators liable to face up to 10 years in prison, the British Embassy in Israel confirmed.

UK Home Secretary Priti Patel will make the announcement Friday during an event in Washington, DC, according to a statement from the embassy.

The UK recognized the Hamas military wing — the Izz ad-Din al-Qassam Brigades — as a terror organization in 2001, but did not extend that designation to its political arm, which rules Gaza.

Speaking to reporters in Washington on Thursday, Patel said that distinction was no longer defensible.

"We've taken the view that we can no longer disaggregate the sort of military and political side," she said, according to The Guardian. "It's based upon a wide range of intelligence, information and also links to terrorism. The severity of that speaks for itself."

Patel will advance the designation through parliament next week, according to The Guardian. The outlawing of the group would see those who express support for Hamas, meet with its members, or fly its flag, face criminal punishment of up to a decade in prison.

In her speech on Friday, Patel will call Hamas "rabidly antisemitic," and say the outlawing of the terror group aims to make Britain's Jews feel more secure.

"Hamas has significant terrorist capability, including access to extensive and sophisticated weaponry, as well as terrorist training facilities, and it has long been involved in significant terrorist violence," her prepared remarks said, according to a statement from the British Embassy in Israel.

"But the current listing of Hamas creates an artificial distinction between various parts of the organization – it is right that the listing is updated to reflect this. This is an important step, especially for the Jewish community. If we tolerate extremism, it will erode the rock of security."
Israel cheers as UK says it will designate Hamas as terror group
Israel on Friday praised the United Kingdom's planned move to designate the entirety of Hamas as a terror organization and outlaw support for the group.

Foreign Minister Yair Lapid thanked UK Home Secretary Priti Patel after she announced Friday that the British government intends to eliminate the distinction between the group's political and military wings.

"This is an important and significant decision that gives British security bodies additional tools to prevent the continued buildup of the Hamas terror organization, including in Britain," Lapid said.

"There is no legitimate part to a terror organization and any attempt to separate parts of a terror organization is artificial," the foreign minister added.

The decision was also cheered by Prime Minister Naftali Bennett.

"Hamas is a terror organization, plain and simple. The 'political wing' enables its military activity. The same terrorists — only in suits," Bennett tweeted.

Bennett thanked his counterpart, UK Prime Minister Boris Johnson for his "leadership on the subject."
Extremist jihadism has no place in democratic countries or anywhere else.
It is impossible to separate between the political wing and the military wing of an organisation that has murdered innocent civilians for decades. 2/3

— Tzipi Hotovely (@TzipiHotovely) November 19, 2021
Corbyn Would Face 10 Years in Prison If He Defies UK's New Total Ban on Hamas
Patel told reporters in DC on Thursday: "We've taken the view that we can no longer disaggregate the sort of military and political side. It's based upon a wide range of intelligence, information and also links to terrorism. The severity of that speaks for itself."

Back in 2009, then-Labour leader Jeremy Corbyn called Hamas and Hezbollah "friends." In a testimony he gave in 2016 in an investigation of anti-Semitism within his party, Corbyn said: "The language I used at that meeting was actually here in parliament and it was about encouraging the meeting to go ahead, encouraging there to be a discussion about the peace process."

When asked if he still thought Hamas and Hezbollah were friends, Corbyn answered, "No. It was the inclusive language I used which with hindsight I would rather not have used. I regret using those words, of course."

Corbyn also said he regretted comparing Israel to Iran, but that would not land him in jail after the new ban on Hamas takes effect. Saying Hamas are friends of the UK would.

Home Secretary Patel's paternal grandparents were born in Gujarat, India, and immigrated to Uganda where they ran a convenience store in Kampala. Her parents immigrated to the UK in the 1960s and settled in Hertfordshire, where they established a chain of newsagents in London and the South East of England. Priti was raised as a Hindu. Her father was a candidate for the right-wing UKIP for Hertfordshire in 2013. His daughter became involved in Conservative Party politics in 2005.
Another member of Hamas' politburo, Fathi Hamad, has long been suspected of creating a Hamas proxy militant group, Humat al-Aqsa. The group was involved in the latest round of fighting in May. Hamad also recently visited an al-Qassam site to inaugurate a mock Merkava IV tank. pic.twitter.com/OKywsAEgJu

— Joe Truzman (@JoeTruzman) November 19, 2021
Hamas has issued a statement re: its reported designation as a terrorist entity by the UK. The group derided the decision & described it as a continued betrayal of the Palestinian people and claimed the UK should apologize for past actions such as the Balfour Declaration. #Gaza pic.twitter.com/7HXmfDcWvr

— Joe Truzman (@JoeTruzman) November 19, 2021
Hamas calls on Justin Bieber to cancel show in Israel
Hamas called on Justin Bieber on Thursday to cancel his planned concert in Tel Aviv scheduled for October 13, 2022, KAN news reported.

On Monday, it was announced Bieber will perform at Hayarkon Park next year as part of his Justice World Tour.

Hamas has also reportedly called on Bieber to boycott Israel altogether due to its "crimes against the Palestinian people."

The last time that Bieber had set foot in Israel was in 2017, where he performed at the same venue. Approximately 50,000 people were in attendance.

The first time that Bieber appeared in Israel was in 2011.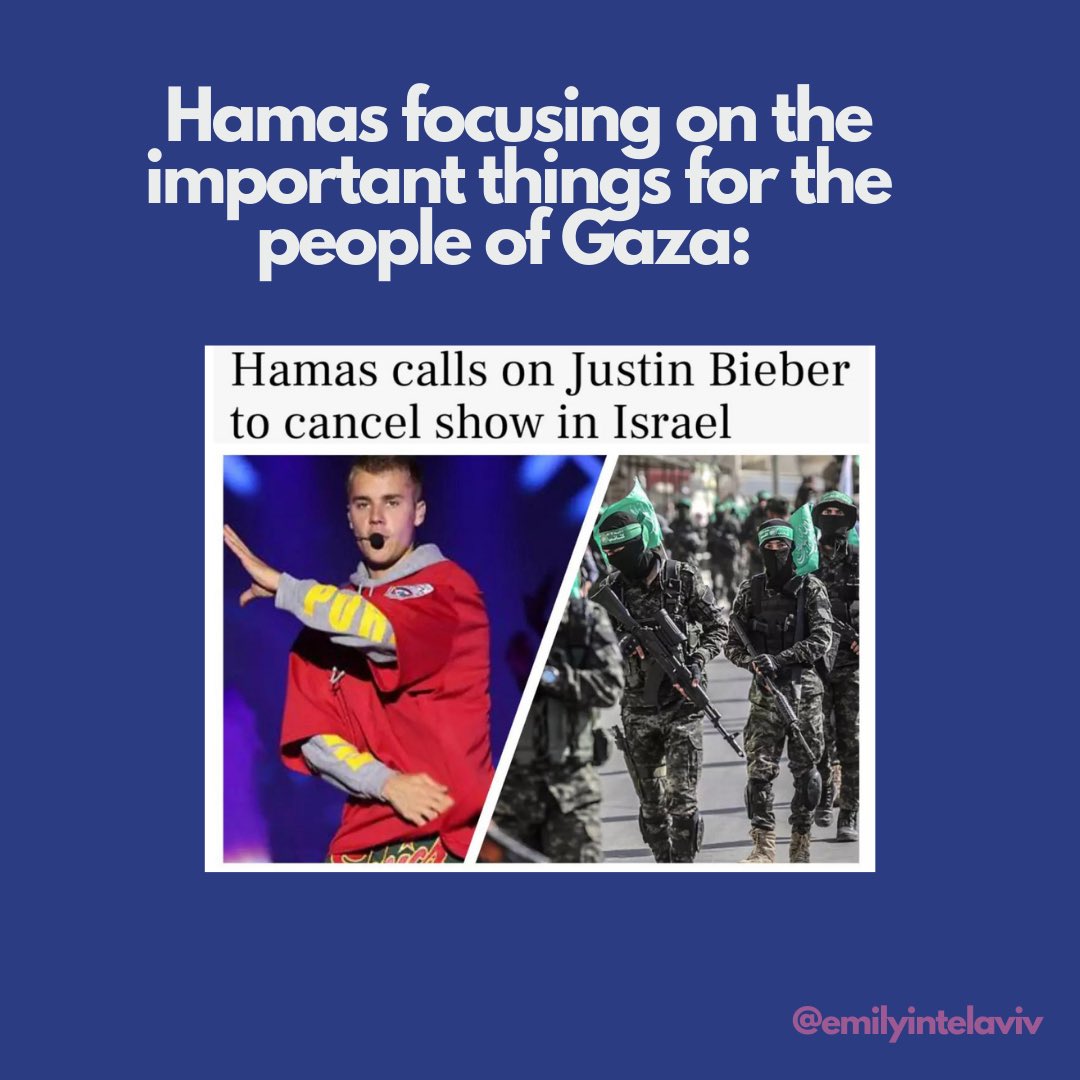 Report: The PA Uses Alternative Land Registry to Claim Half of Judea and Samaria
The European Union and the Palestinian Authority are working to create an alternative land registry in Judea and Samaria which would retroactively cancel all land acquisitions by Jews in the last 140 years, Makor Rishon reported Friday (הפלסטינים רשמו בטאבו כמחצית משטחי יו"ש). According to the report, by the end of 2019, they had managed to regulate the registration of ownership on about 45% of Judea and Samaria including in Area C, which is ostensibly under full Israeli control.

According to Ad Kan researchers, the Palestinian Land Registry employs hundreds of architects and government officials to create a new land registry of the villages of Judea and Samaria, while completely ignoring historical purchases by Jews as well as the Israeli and Jordanian land registries that are under the Coordinator of Government Activities in the Territories' control.

Registration of land ownership in Judea and Samaria began in the days of the Ottoman Empire and continued under the British Mandate and Jordanian occupation, until in 1968 Israel halted the regulation of land ownership there, and it has not been completed to date. Following the Oslo Accords, the Land Registry is divided between the Palestinian Authority, which is responsible for Areas A and B, and Israel, which is responsible for Areas C.

In 2002, the Palestinian Authority established the Palestinian Lands Authority, which resumed the land regulation with a $6 million grant from the World Bank. In 2016, the Palestinian Lands and Water Settlement Authority, headed by Acting Minister Mohammad Sharaka. The new agency has also taken upon itself to begin regulating land ownership in Area C, in brazen violation of Israeli sovereignty and the Oslo Accords.

Sharaka's agency has been able to accelerate its activity thanks to a $12.6 million grant from the World Bank slated for registering lands in areas A and B (the former under full PA control, the latter under both PA and Israeli control – DI), and $4.4 million from the European Union specifically for Area C. The UN also supports this alternative registry through its United Nations Human Settlement Program (UN-Habitat).

Showing far more resilience and decisiveness than his lethargic Israeli officials, Sharaka has recently obtained from the Turkish government the Ottoman Kushan-land ownership archive, which contains valuable information the PA would be able to manipulate in the future in front of international mediation panels.
UN Watch: Fighting Anti-Israeli Bigotry
On Thursday, November 18, at 12 pm EST, UN Watch's Fundraising Campaign continues. Hillel Neuer will speak about our fight against anti-Israeli bigotry at the UN and answer your questions.

Mark your calendars and send your questions in advance to: campaign@unwatch.org

About the Campaign:
UN Watch needs to raise $500,000 by the end of November to ensure the continuation of its vital work. We are turning to our social media community to help us reach our goal.

To take part in the campaign, all you have to do is make a $5 donation and inspire 5 friends to do the same so that we can reach our $500,000 target by the end of November. It might not sound like much, but if every one of our social media followers gives $5 and asks 5 friends to do the same, we will surely hit our goal.
.@antonioguterres says UNRWA provides "quality education" with "unrelenting commitment to humanitarian principles and shared UN values." Unrelenting?

FACT-CHECK: #False. UNRWA systematically hires teachers who glorify Hitler, antisemitism and terrorism: https://t.co/RLG2HFegd6 pic.twitter.com/AccxuS2Ku1

— UN Watch (@UNWatch) November 19, 2021
The Israel Guys: This is the Worst Thing That Ever Happened to the Palestinians
UNRWA was fundraising in Brussels this week to the tune of 800 million dollars. During the Obama years, they were used to receiving millions from America. After a dry spell with Trump, Biden has already given them 318 million this year. We're not sure what they do with all that money however, as UNRWA is undoubtedly one of the worst things that has ever happened to the Palestinians.

Investigative reports have exposed the Raam Party (currently in Israel's coalition government) as having ties to terrorists, and transfering funds to Hamas in Gaza. Thankfully, the good guys have already shut down one of these channels and vowed to watch any other funds that are heading for Gaza.
Over 100 Celebrities Support Palestinian Groups Designated as Terrorist by Israel
More than 100 celebrities, including Richard Gere, Claire Foy, Susan Sarandon, Mark Ruffalo, and Peter Gabriel, signed onto an Artists for Palestine statement released Wednesday in support of Palestinian organizations designated as terrorist groups by the Israeli government.

The statement accuses Israel of launching "an unprecedented and blanket attack on Palestinian human rights defenders."

In October, six Palestinian organizations claiming to be human rights groups were designated as terrorist organizations by the Israeli government: Addameer Prisoner Support and Human Rights Association, Al-Haq Law in the Service of Man (Al-Haq), Bisan Center for Research and Development, Defense for Children International-Palestine (DCI-P), the Union of Agricultural Work Committees (UAWC), and the Union of Palestinian Women's Committees (UPWC).

All groups are connected to the Popular Front for the Liberation of Palestine (PFLP), a Marxist–Leninist terrorist organization responsible for dozens of kidnappings, suicide bombings, and other attacks, including the infamous Entebbe Hostage Crisis.

Even according to Fatah, the political party of Palestinian Prime Minister Mahmoud Abbas, Addameer and UAWC are affiliates of the PFLP. Addameer works to support Palestinian "political prisoners" convicted of security offenses. According to the U.S. Agency for International Development, UAWC is the PFLP's agricultural extension.

UPWC is an official affiliate of Fatah and has a counterpart organization designated as a PFLP Women's Union by the U.S. Agency for International Development. The group's website claims normalization of ties with Israel is "treason," and members support the "boycott of occupation in all forms."
It's like as if @KenRoth wakes up in the morning and his first thought is: How can I engage in some Jew hatred … https://t.co/EfR3KyBuSo

— Arsen Ostrovsky (@Ostrov_A) November 19, 2021
Caroline Glick:
Bennett builds a terror state
The Bennett government's reversal of Netanyahu's policies was supposed to usher in a new era of friendship between Israel and the Democrats and post-nationalist western Europeans. But the opposite has happened. While Biden is happy to ignore the Taylor Force Act and finance the PA, his administration grows more hostile to Israel by the day.

Last week the US abstained in a UN General Assembly vote on a resolution endorsing the so-called "right of return," of Palestinian "refugees." As the Biden administration understands well, the Palestinian demand for a "right of return" or unfettered immigration of millions of foreign- born Arabs to Israel and the PA, is a demand for Israel's destruction. If the Jewish state is flooded with millions of Arab immigrants, it will be undone.

So, while Israel's government is running around the world raising money for the establishment of a Palestinian terror state, Washington no longer can say whether it supports Israel's existence.

When seen in the context of his government's actual policies, it is clear that Bennett's statement at the Knesset was a head fake. You don't need to negotiate the establishment of a terror state in the heart of Israel. You can simply raise the money to establish one, give its leaders control of the territory they will need to attack Israel, and convince the international community that Israel wants them to fund Palestinian terrorism. This is what Bennett is doing.

It took the Netanyahu governments ten years to repair the damage the catastrophic Oslo process caused Israel. It will take many more years to repair the damage the Bennett government is causing the country today.
The Caroline Glick Show: Ep27 – Why Did Israel's Left Choose the Muslim Brotherhood over the Right?
In Episode 27 of the Caroline Glick Mideast News Hour, Gadi Taub returned after a long trip to the United States. Caroline and Gadi focused today's discussion on the transformation of Israel's left from an economic socialist political camp into a post-nationalist ideological camp that prefers to empower Israel's Arab enemies over sharing or ceding power to the Israeli Right. They then moved to the implications of the inclusion of the Ra'am Party, which is affiliated with the Muslim Brotherhood on Israel's ability to survive and on chances for peace between Israel and the Palestinians.
A tale of two cities: Dubai, Ramallah and their views on Israel
This is the new Middle East blessedly created by the "Abraham Accords." Unfortunately, it is not a "tale of two cities." The peace dynamic runs from Jerusalem all the way to far away Dubai (and Manama and Rabat, etc.), but it does not extend from Jerusalem to nearby Ramallah.

RAMALLAH: The Palestinian Authority's highest religious authority, Grand Mufti Muhammad Hussein, assured PA television viewers that the destruction of Israel, and the "liberation" of Jerusalem and "its return to Islam," is only a matter of time. That same Grand Mufti issued a fatwa forbidding Muslims who come via the UAE to pray at al-Aqsa Mosque on the Temple Mount in Jerusalem.

Then PA TV broadcast a filler between programs which spoke of the fact that "history has never let the colonialist remain, and the occupiers have always left in the end. One day they [the Jews], too, will return to where they came from."

A magazine published by Fatah's youth movement and distributed in Pa schools called Waed regularly demonizes Israel and incites to violence (according to Palestinian Media Watch report released this week). It gushes about "the giant Israeli murder machine" and "the Israeli monster," and accuses Israel of behaving like Nazis. Palestinians have a "right to wage an armed struggle to take back its stolen homeland," according to this official propaganda organ.

Archaeological evidence of Jewish history in the Land of Israel is presented by Waed as Palestinian artifacts, such as a coin with ancient Hebrew script on it being called ancient Palestinian currency. Israelis are called "foreigners who came from all ends of the earth… who did not know Palestine and did not live in it – neither them nor their fathers and forefathers," as well as "invading Jews."

Thus, it is no surprise that PA President Mahmoud Abbas gives one rambling, semi-coherent speech after another where he calls Israel "brutal" and "colonial," accuses it of "ethnic cleansing" and "extrajudicial executions," and rages wildly about "racist gangs of settlers." He libels Israel as possessing "a culture of racism, incitement and hatred, and rants dangerously about non-existent Israeli "aggression and provocations against the Holy al-Aqsa Mosque and Christian sanctuaries in Jerusalem."
MEMRI:
Senior Saudi Media Figure, Director-General Of Al-Arabiya And Al-Hadath Television Channels: We Need Enlightened Leaders To Lead A Reform And A Renaissance In The Muslim World
In an October 26, 2021 article in the Saudi daily Al-Sharq Al-Awsat, senior Saudi media figure Mamdouh Al-Muhaini, director-general of the Al-Arabiya and Al-Hadath television channels, called for a comprehensive reform in the Muslim world to instill rational and scientific thinking that will promote tolerance and eradicate extremism. Al-Muhaini wrote that Martin Luther's challenge to the Roman Catholic Church in the 16th century extricated Europe from religious fanaticism and paved the way to the Renaissance. A similar reform in Islam, he said, does not require waiting for a "Muslim Luther" to appear, because the Muslim world had, and still has, hundreds of thinkers who present a moderate and rational perception of Islam. Rather, what is needed is enlightened and inspired leaders who will encourage and sponsor these thinkers, as Frederick the Great of Prussia and Catherine the Great of Russia did centuries ago.

It should be noted that Saudi papers recently published a number of articles in this vein, calling for religious reforms and praising the decision to teach philosophy and critical thinking in Saudi schools. This discourse seems to be directed from above and recalls far-reaching statements made by Saudi Crown Prince Muhammad bin Salman in an April 2021 interview, in which he stressed the importance of employing independent reasoning (ijtihad) in interpreting the shari'a and adapting it to the spirit of the time and place, as well as the need to fight extremism. In February 2021 Bin Salman also announced his intention to enact legislative reforms informed by current international judicial practices. These statements may be part of his bid to strengthen the kingdom's ties with the West and refute its image as a rigidly conservative country.[1]

The following are excerpts from an English translation of Al-Muhaini's article posted on the Al-Arabiya website.
"We often wonder how Europe and America reached such a level of rationality and religious tolerance, with dozens of religions, sects, and beliefs coexisting in peace. Open debates on religions and their history in prestigious Paris, London, and New York universities; in their libraries, shelves upon shelves of philosophy, psychology, and anthropology books and magazines discussing the evolution of humankind and the human brain over the course of thousands of years.

"Among the factors that led to the West's prosperity and advancement is a German monk by the name of Martin Luther. Despite the passage of five centuries since, Luther's ideas that changed the face of Europe and the world forever are still relevant to many. The importance of Luther's story lies in the lessons from which we can benefit in today's world, which has become burdened by a culture of hatred and racism.

"This man, who chose to become a monk after being hit by thunder, took three groundbreaking steps. The first was rejecting the idea that salvation can only be achieved through the torture of the self for sins committed, which requires man to practice long and difficult tasks and rituals. Luther himself had suffered from mental anguish due to his obsession with cleansing his dirty soul from indelible sins, which pushed him to make confessions that lasted up to six consecutive hours for fear of the dark destiny that awaits him.
Former Saudi Ambassador to Lebanon Abdulaziz Khoja: Hizbullah Is Iran's Trojan Horse in Lebanon, It Is Our Enemy – We Should Not Be Expected to Deal with Lebanon's Government Since Hizbullah Is Part of It #Lebanon #SaudiArabia pic.twitter.com/npAIllhbW7

— MEMRI (@MEMRIReports) November 19, 2021
157 nations call on Israel to halt exploitation of Palestinian resources
The United Nations Second Committee approved 157-7 a draft resolution that called on Israel to halt its exploitation of Palestinian natural resources in Gaza, the West Bank and east Jerusalem.

It issued a similar call for Israel to cease such activity on the Golan Heights.

This included recognition of the rights of Palestinians and Syrians to claim restitution for the loss of such resources.

The resolution is part of a package of some 16 texts that will be approved this year by the UN General Assembly. Some ten of those resolutions, including this one, first receive preliminary approvals in their relative committees, before their final passage by the General Assembly.

The seven countries that opposed the resolution on Thursday were: Canada, Israel, Marshall Islands, Micronesia, Nauru, Palau and the United States. All of the European Union countries supported the text. Another 14 countries abstained, including Australia.

"The US remains disappointed that this body has again taken up this unbalanced resolution that is unfairly critical of Israel, demonstrating a clear and persistent institutional bias directed at one member state," a US representative said.

"One-sided resolutions like those introduced here today only distract from the effort of to advance peace. This effort will be strengthened when the bias against Israel ends. The US will continue to oppose every effort to delegitimize Israel," a US representative said.
Footage from Ramla, Israel were a motorcycle bomb exploded on a highway.@YidInfo pic.twitter.com/K6ddzLr7Eu

— Eye On Antisemitism (@AntisemitismEye) November 19, 2021
Is the 'Star of Italy' decorating the glory of Palestinian terror?
We were shocked to learn that Sabri Saidam, a former Palestinian Authority education and higher education minister from 2015 to 2019 and currently deputy secretary-general of the Central Committee of Fatah, had been decorated with the prestigious "Commander of the Order of the Star of Italy."

The medal was awarded in October by the consul general of Italy in Jerusalem, but the decree conferring this honor was signed by the Italian president in May 2018, based on the decision of the then-foreign minister.

What caused a delay of over three years between the decree and the formal ceremony? More importantly, on what basis was the "Star of Italy" granted? This insignia is a reward to those who deserve "particular merits in promoting relations of friendship and collaboration between Italy and other countries."

So, what would be the merits of Sabri Saidam? That Saidam has expressed gratitude and friendship toward one of the main donor countries – directly and through international institutions (EU, UN, UNRWA, etc.) – to the PA budget, would seem self-evident.

Moreover, one can only speculate that the eligibility assessment procedure probably took into account some form of institutional assistance for the opening of an Italian language school in Ramallah, or the launch of the pedagogical program planned for the period 2017-2022, aimed at "improving the quality, accessibility and sustainability of the Palestinian early childhood education system," – a program materially supported by Italy.
39 Palestinians seeking asylum stranded in Barcelona airport
A group of 39 Palestinian refugees were waiting in a restricted area of the Barcelona airport for a fifth day Friday after they used a stopover of their South America-bound flight from Cairo to request asylum in Spain, the country's authorities said.

Police are investigating the charter flight that flew into Barcelona on Monday, a spokesman with Spain's Interior Ministry told The Associated Press.

The flight from Cairo had the Ecuadorean capital, Quito, as its final destination, with scheduled layovers in Spain's second-largest city and Bogotá, in Colombia. A spokeswoman with the Spanish government's delegation in Catalonia said that once they landed at El Prat airport on Monday, the group refused to get back on the aircraft to continue with their scheduled trip.

Since then, they have been taken care of with food and assistance in police facilities at the airport, the spokeswoman said. Press officials in Spain are not usually authorized to be identified by name in media reports.

Authorities are "processing" the group's asylum request, the official said, adding that in the meantime the group hasn't been arrested and that they are "free to continue with their trip."

Sophie Muller, the representative in Spain for the United Nations refugee agency, or UNHCR, said that the passengers were carrying refugee documents issued by UNRWA, the UN's agency that provides essential services to Palestinian refugees. She also said that many in the group had previously submitted asylum applications in Egypt and Ethiopia. A Palestinian woman attends a demonstration outside the outside UNRWA's Headquarters in Gaza City, on August 16, 2015. (AP Photo/Khalil Hamra)

The spokesman for the Interior Ministry, which oversees the office for asylum applications in Spain and the customs checkpoints at airports, said the individual applications of the refugees were being examined, a process that can take from days to weeks or even months.
Bipartisan Lawmakers Endorse Bill to Thwart Funding Hamas Via Cryptocurrency
A bill aimed to cut off funding of the Hamas terror group that rules the Gaza Strip was endorsed on Wednesday by the bipartisan House Problem Solvers Caucus.

The Hamas International Financing Prevention Act would create sanctions against foreign individuals, organizations and governments that assist Hamas, Palestinian Islamic Jihad (PIJ) or their affiliates.

The effort was led by Rep. Josh Gottheimer (D-NJ), caucus co-chair and author of the bill, and Rep. Van Taylor (R-Texas), who brought the legislation for endorsement, garnering support from 75 percent of the members.

"I'm honored that the Problem Solvers Caucus endorsed my bipartisan legislation, the Hamas International Financing Prevention Act. With their support, the Caucus reinforced just how critical it is that the United States and our allies continue to isolate terrorist groups including Hamas and Palestinian Islamic Jihad and cut them off at the source," said Gottheimer in a news release on Wednesday. "This bill will strengthen sanctions to weaken these terrorist organizations which threaten our key ally Israel, undermine peace and further destabilize the Middle East. I hope Congress will come together to pass this critical piece of legislation in our fight against terror."

Gottheimer introduced the bill in the House of Representatives on June 4. It has remained in the House Foreign Affairs and Financial Services committees ever since but has garnered 92 co-sponsors: 61 Republicans and 31 Democrats.

He drafted it after reports that terrorist organizations—namely, Hamas and PIJ—had seen a surge in donations made using cryptocurrency after the organizations launched more than 4,000 rockets from Gaza at Israeli population centers for 11 days in May.
Jonathan S. Tobin:
Biden gives a clinic on how not to negotiate with Iran
It's hard not to sympathize a bit with Israeli Prime Minister Naftali Bennett and his coalition partner Foreign Minister Yair Lapid. Despite their best efforts to make nice with the Biden administration, they are quickly catching on to the fact that despite all the happy talk being exchanged between Washington and Jerusalem, the United States is about to leave the Jewish state out on a limb with respect to the greatest threat to its security.

That's the upshot of an Axios report that states that Biden's National Security Advisor Jake Sullivan told his Israeli counterpart, Bennett's National Security Adviser Eyal Hulata, that the United States is re-adjusting its goals for ongoing nuclear talks with Iran, which are scheduled to resume later this month in Vienna. Rather than stick to its position about wanting the Islamist regime to re-enter the already dangerously weak 2015 deal negotiated by the Obama administration, the Americans are already waving the white flag on that point—let alone their supposed long-term objective of getting Iran to agree to a new, stronger agreement that would fix the problems with the original Joint Comprehensive Plan of Action.

According to the report, which the publication claims was confirmed by both Israeli and American sources, the Biden foreign-policy team is afraid that the situation is getting away from them. What they are now proposing is an interim agreement that will serve as a way to stall for more time rather than actually pressing Tehran to rejoin the old deal or face the consequences. Indeed, consequences—or anything like holding Iran accountable for the way it's moving inexorably towards its nuclear goal—are not on the table.

The terms of the proposal involve getting Iran to agree to freeze its nuclear enrichment at current levels, estimated to be at the 60-percent level, in exchange for "some frozen Iranian assets" and "waivers on sanctions."

There are two problems with this.

One is that bribing Iran with billions in order to, as former President Barack Obama disingenuously noted at the time, get them to "get right with the world" hasn't worked. More gifts to the ayatollahs along with reduced sanctions will only reinforce that lesson.

The other is that it grants legitimacy to Iran's current rogue behavior in pushing ahead with enrichment. The JCPOA was a disaster for Western security, though it did place some limits on Iran's uranium enrichment activity—up to 3.67 percent. In the last six years, it's been obvious that Iran was cheating on that, but by legitimizing the 60-percent level, the United States would be rewarding them for violating the accord.
France Warns Iran Against 'Sham' Nuclear Negotiating Stance
France's foreign minister warned Iran on Friday not to come to the next round of talks on reviving the 2015 nuclear deal with a "sham" negotiating stance, a day after Paris urged the board of the UN atomic watchdog to send Iran a tough message.

Tehran had earlier responded to Paris by saying the International Atomic Energy Agency (IAEA), which verifies Tehran's compliance with the 2015 deal with world powers limiting Tehran's nuclear program, must be "free of any political conduct

The statements highlighted rising tension before the United States, Iran and world powers resume indirect negotiations on reviving the deal on Nov. 29, five days after a meeting of the IAEA's Board of Governors.

Western diplomats say time is running low to resurrect the pact, which then-US President Donald Trump abandoned in 2018, angering Iran and dismaying the other world powers involved – Britain, China, France, Germany and Russia.

Six rounds of indirect talks were held between April and June. The negotiations were interrupted after the election of a new Iranian president, Ebrahim Raisi, who has said Iran will not back down in the talks.

Paris warned Tehran over what US and European diplomats view as unrealistic demands, including a call for all U.S. and EU sanctions imposed since 2017 to be dropped.
The IAEA Board of Governors becomes a laughingstock if it fails to pass a resolution yet again.

Iran is using JCPOA talks and threats over safeguards data as cover for carte blanche nuclear advances & NPT noncompliance. This is about more than the JCPOA. @usunvie https://t.co/ye3z267YwM

— Andrea Stricker (@StrickerNonpro) November 18, 2021
Iran drone attack on US base in Syria was response to Israeli strikes — NYT
A drone attack on a remote United States outpost in southern Syria last month was an Iranian retaliation for Israeli airstrikes in Syria, American and Israeli officials told the New York Times in a report published Friday.

Five "suicide drones" were launched at the al-Tanf base on October 20, according to the report. Two detonated on impact, and were loaded with ball bearings and shrapnel with a "clear intent to kill," a senior US military official told the paper.

No deaths or injuries were reported as a result of the attack.

At the time, Pentagon spokesman John Kirby called it a "complex, coordinated and deliberate attack," without providing further details.

According to the report, since three of the drones did not explode, US officials were able to study them and determine that they employed the same technology as UAVs used by Iran-backed militias in Iraq.

US troops are based at al-Tanf to train Syrian forces on patrols to counter Islamic State jihadists. The base is also located on a road serving as a vital link for Iranian-backed forces from Tehran all the way to southern Lebanon and Israel.

Most of the 200 American troops stationed at the base had been evacuated just hours before the attack, after being tipped off by Israeli intelligence, the officials said, according to the report.

In retaliation, the US Treasury Department announced new penalties against two senior members of Iran's Revolutionary Guard Corps and two affiliated companies for supplying lethal drones and related material to insurgent groups in Iraq, Lebanon, Yemen, and Ethiopia.
Two Iranians Charged for Cyberattacks Meant To Influence 2020 Election
The Justice Department charged two Iranian nationals for cyberattacks meant to influence the 2020 U.S. presidential election and infiltrate the Trump campaign's computers.

A federal indictment was unsealed on Thursday charging two Iranians "for their involvement in a cyber-enabled campaign to intimidate and influence American voters, and otherwise undermine voter confidence and sow discord, in connection with the 2020 U.S. presidential election," according to a Department of Justice press release.

Iranian nationals Seyyed Mohammad Hosein Musa Kazemi, 24, and Sajjad Kashian, 27, are accused of obtaining "U.S. voter information from at least one state election website" and sending "threatening email messages to intimidate and interfere with voters," according to the indictment. The pair also attempted to gain unauthorized access to state voting sites and accessed an unnamed U.S. media company's computer network.

Assistant Attorney General Matthew G. Olsen, a member of the Justice Department's National Security Division, said the indictment provides evidence on how the Iranians "waged a targeted, coordinated campaign to erode confidence in the integrity of the U.S. electoral system and to sow discord among Americans."

The indictment was unsealed just one day after a U.S.-based advocacy group critical of the Iranian regime disclosed that Iran-backed hackers attempted to infiltrate their computers and gain access to communications with former Trump administration officials, the Washington Free Beacon reported on Wednesday.
Iranian TV Airs Song Titled "The Great Satan" on Anniversary Of U.S. Embassy Takeover In Tehran: If You Want to Know the Evil and Deceitful Essence of America – See the JCPOA #Iran #anti_americanism #JCPOA pic.twitter.com/sz0oyfmz4K

— MEMRI (@MEMRIReports) November 19, 2021